Red Oxx C-ruck Carry-on Rucksack Review
Durable and thoughtfully designed, the Red Oxx C-ruck Carry-on Rucksack is a solid backpack—as long as you like its militaristic, heritage vibe.
Our Verdict
Unlock the Pro Summary
Save time. Get access to brief summaries of our reviews so you can browse and make decisions more efficiently.
Pros
Made with durable materials and top-notch craftsmanship
Maximizes internal space and allows you to create your own organizational system
Soft, padded shoulder straps
Cons
Minimal interior organization (despite several compartments)
Laptop compartment doesn't feel secure
No option for a hip belt
Recent Pack Hacker Video
Technical Details
Capacity

39l

Weight (lb)

3.7 lb (1.7 kg)

Denier

1000D

Dimensions

18 in x 15 in x 7 in (45.7 x 38.1 x 17.8 cm)

Notable Materials

CORDURA® Nylon, YKK Zippers, Nylon

Manufacturing Country

United States

Laptop Compartment Size

15"

Warranty Information
Full Review
Alright—we're going to be real right out the gate. If you like sleek, modern backpacks with streamlined, advanced features, you're probably not going to fall in love with the Red Oxx C-ruck Carry-on Rucksack. That's because the C-ruck Carry-on Rucksack is a heritage, militaristic style of pack that shines in its simplicity and durability.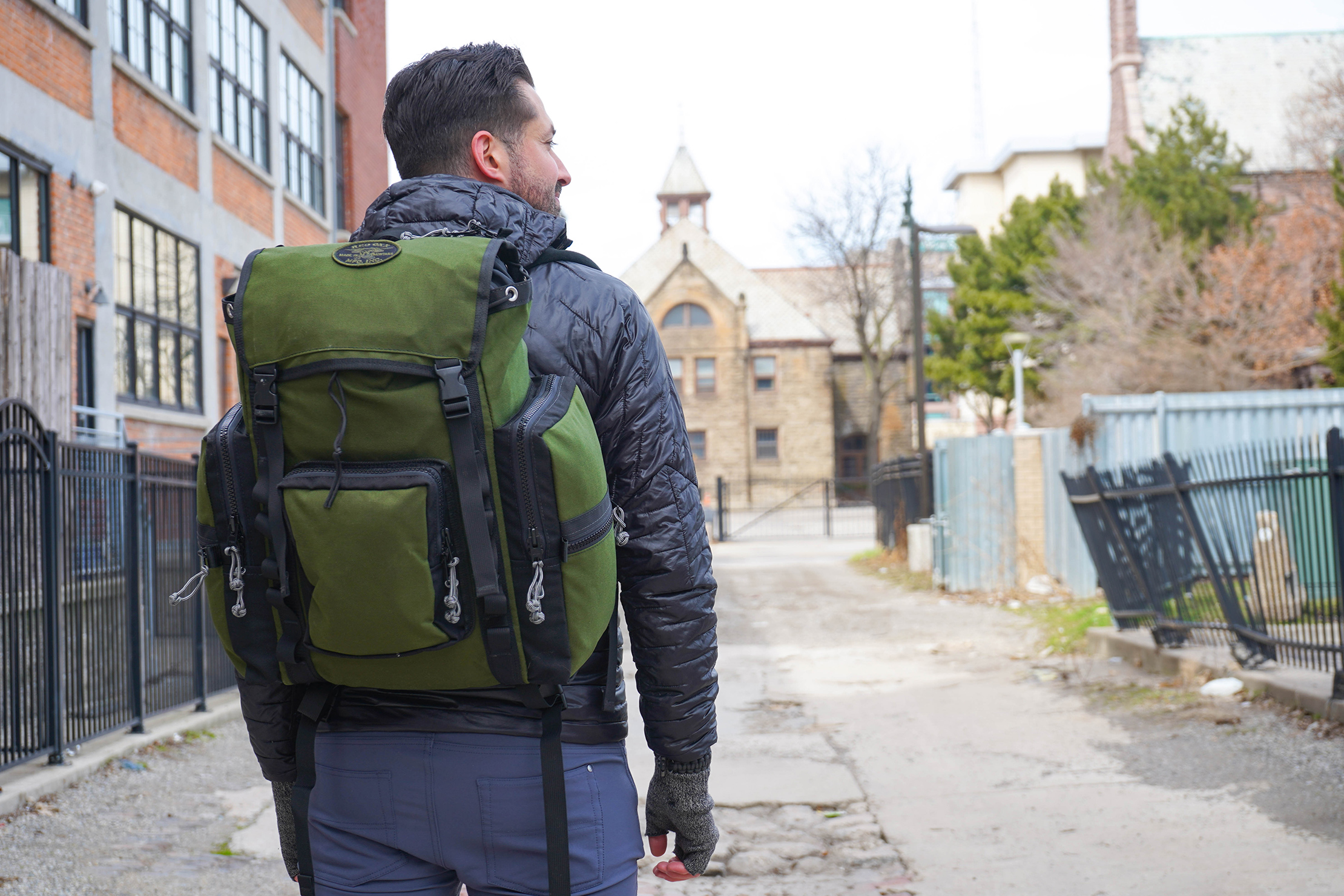 As long as that's the vibe you're looking for, the Red Oxx C-ruck Carry-on Rucksack may be a great pick for you. And—as its name suggests—it's been designed to easily fit in the overhead bins of most airplanes.
That said, let's hop into the full review.
Materials & Aesthetic
Like we said, the Red Oxx C-ruck Carry-on Rucksack has a strong heritage and militaristic vibe. And that's not only due to the shape of the pack, but other various details as well. You'll find a couple of Red Oxx logo patches stitched onto the pack—lest you forget where you purchased it—as well as a Dog Tag and clear ID card. The design of the pack is based on a French Foreign Legion bag from the 1950s, according to the folks at Red Oxx, which is a Fun Fact we had to mention.

At the time of this review, you can pack up in 12 colorways. Some of them—like the Olive colorway we've been testing—skew more heritage. While offerings like Red and Violet give the pack a more fun, vibrant look.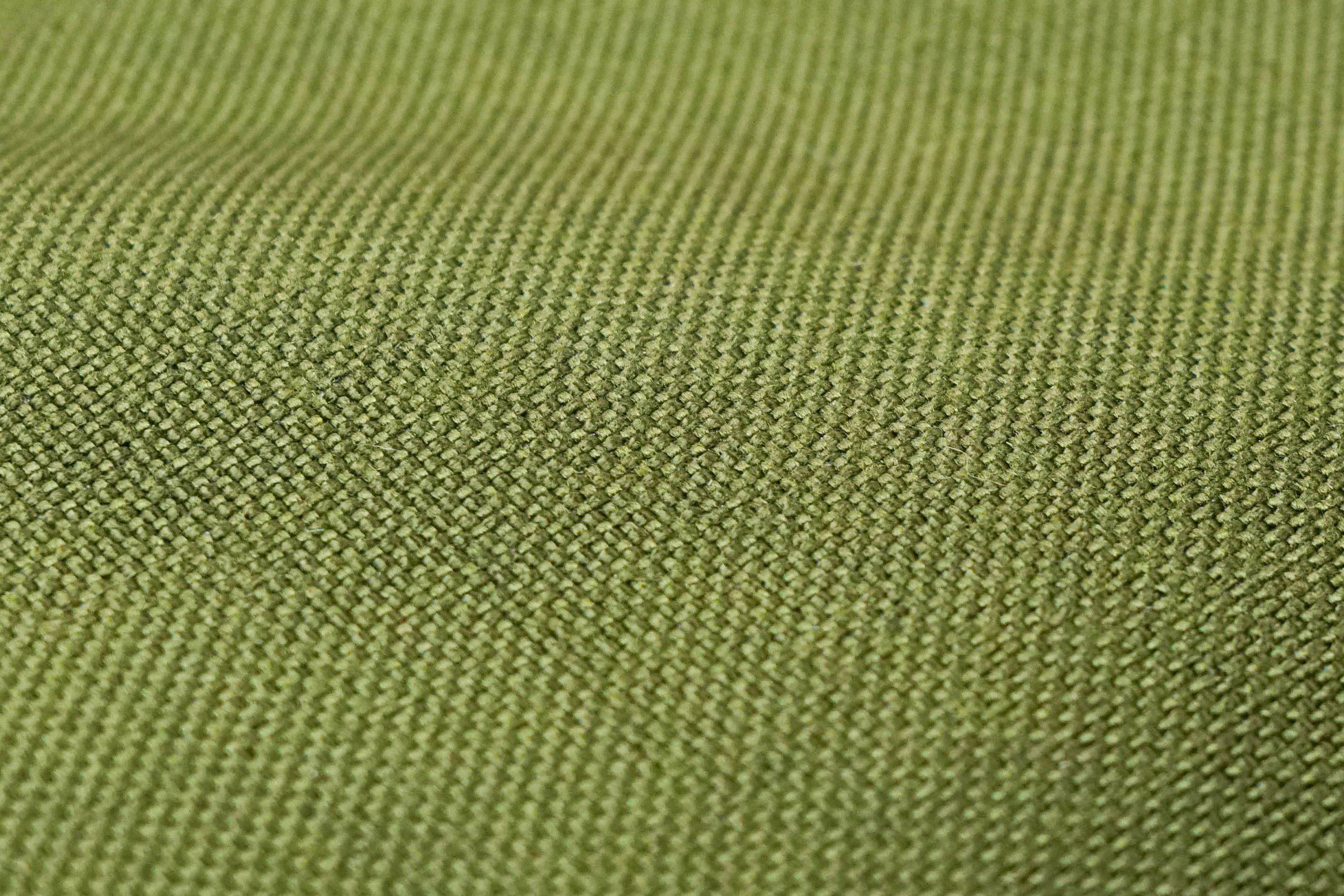 The Rucksack is made from durable 1000D CORDURA® nylon. This stuff is high-quality and shouldn't let you down. It also has a polyurethane coating for added abrasion and water resistance. To be clear, this pack is not waterproof. It's not the ideal companion to take white water kayaking, but you should be all set if you get caught in the rain.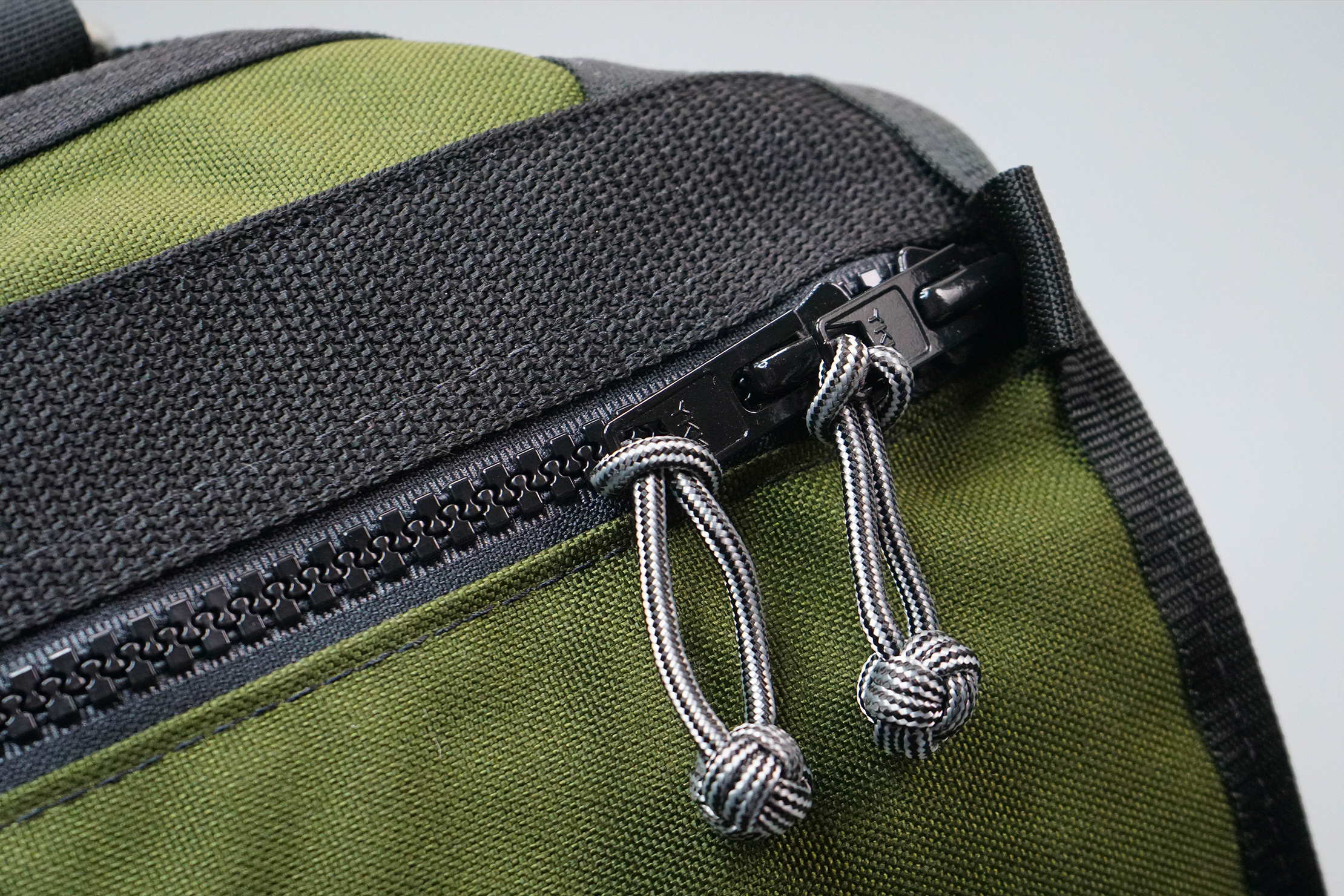 The pack features super beefy YKK #10 zippers (for those of you not familiar with zipper sizes, #10 is quite chunky. The extra chunky salsa of the zipper world, if you will). These zippers are smooth to work, even around corners, which is not something that can always be said. They're also so beefy, we have no qualms about durability.
That said, not everyone on the Pack Hacker team is on board with these zippers. Some of us feel that they're overkill, while others are digging them. It all comes down to personal preference. The parachute cord zipper pulls are also nice and big, allowing you to easily grab them.
Finally, we want to note that the Rucksack is made in the U.S. and is a Veteran-owned company. The craftsmanship also appears to be top-notch.
External Components
The exterior of the Red Oxx C-ruck Carry-on Rucksack is exactly what you would expect for a military-inspired pack. There are daisy chains on the front of the pack primarily for carrying gear externally—think lights, water bottles, etc. To be clear, they're not PALS webbing, although you may be able to attach MOLLE accessories. You'll also find daisy chains on the shoulder straps for the same purpose.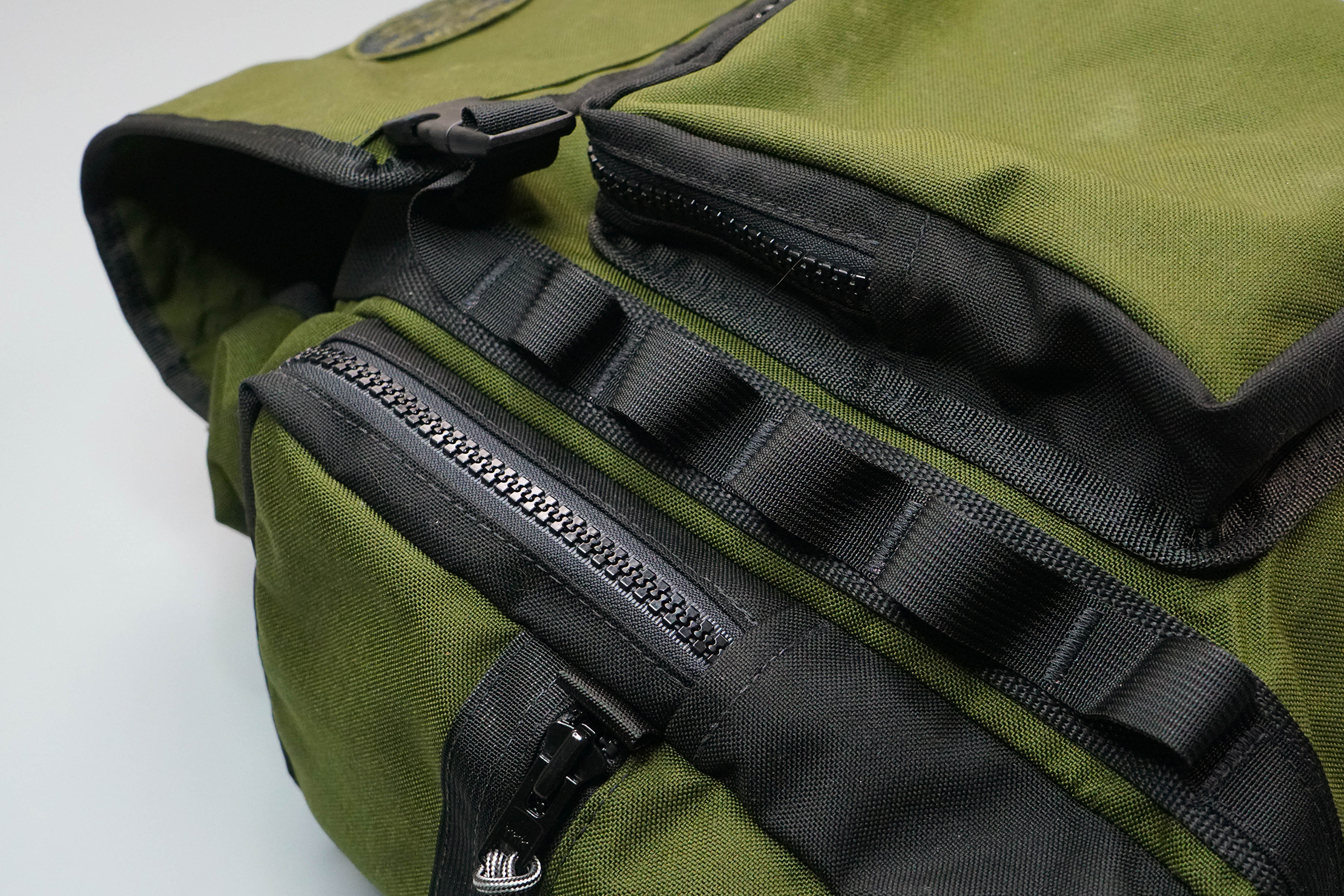 On the bottom of the pack, there are Fastex straps to carry even more gear externally (if you like hanging things off the exterior of your pack, you'll love this thing!). These straps are best for a sleeping roll, rain jacket, tripod, yoga mat, or things of that nature.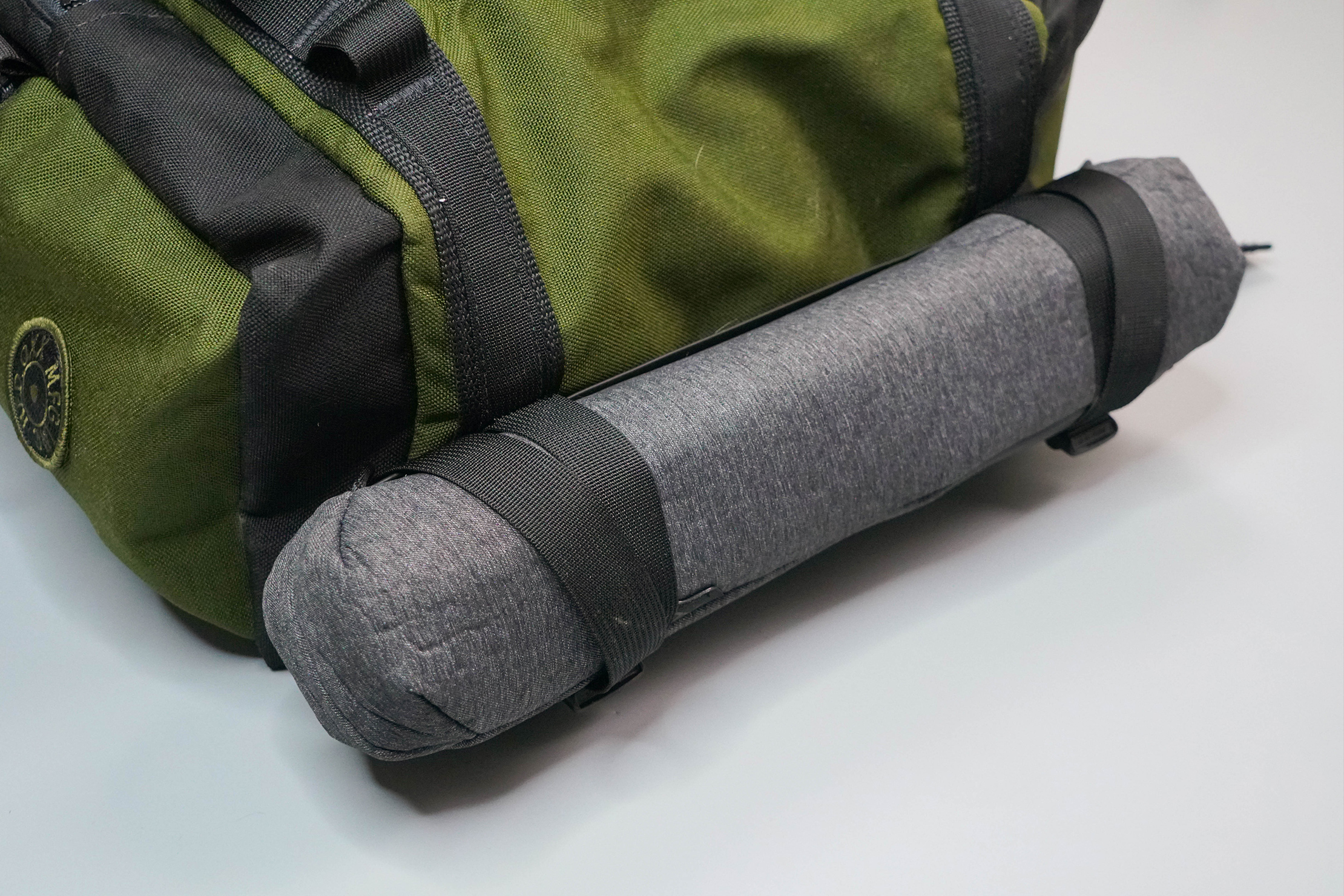 Of course, you'll find the classic backpack top handle for all top handle things—hanging the pack off of disgusting floors, swinging it out from overhead bins, etc. It's a simple nylon loop, which has been reinforced with double box stitching.
Although simple, we've found the harness system to be fairly comfortable.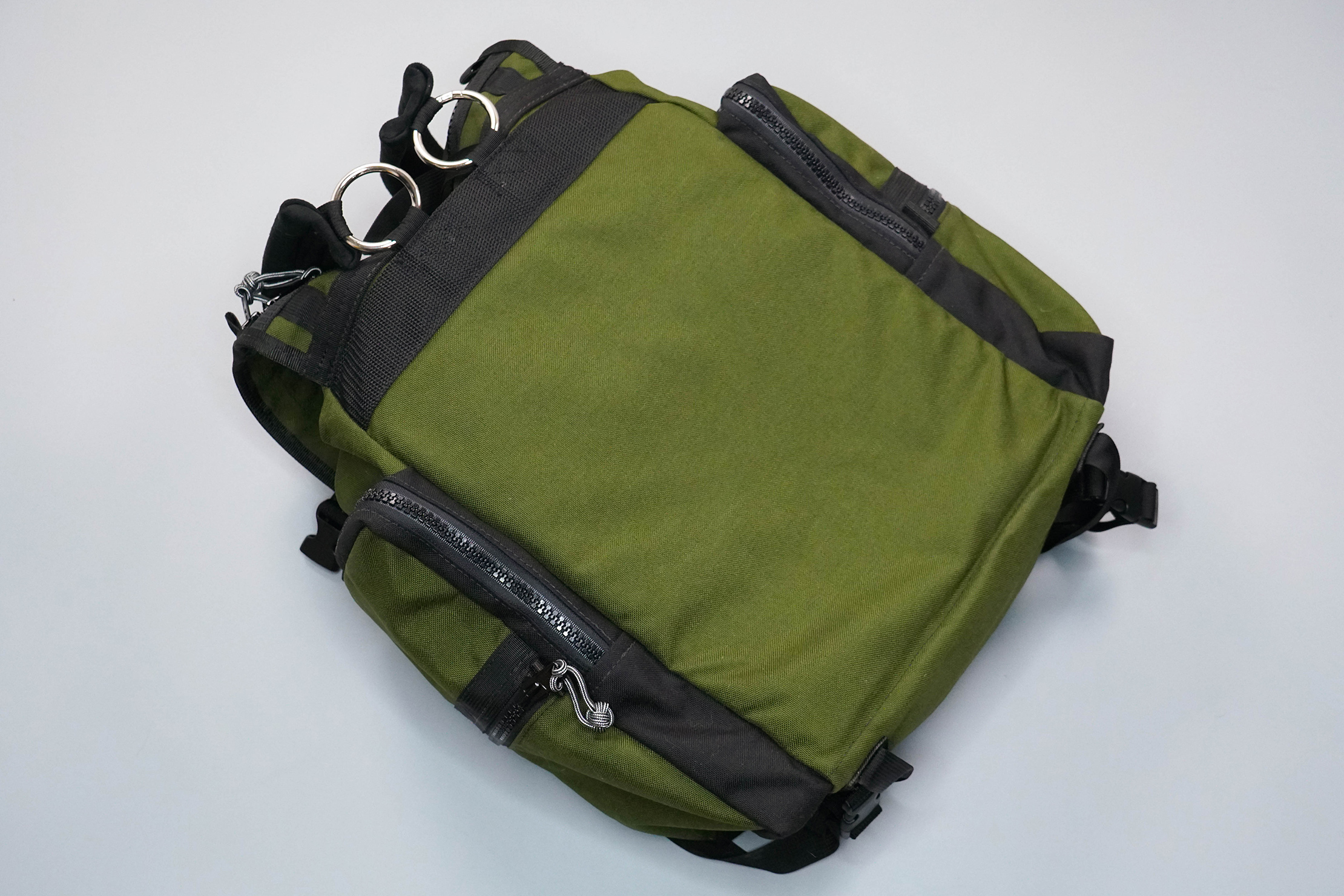 There's no frame sheet to speak of, although there is a foam backing inside the laptop sleeve, which gives this pack a touch of structure. Overall, the carry is slouchy unless the bag is fully packed. Not a huge deal, but something to keep in mind.
The back panel doesn't have much padding. It also doesn't have any air channels or mesh for airflow or ventilation. We're not saying that #SwampBack is a guarantee, but you'll likely get at least a little sweaty on hot days.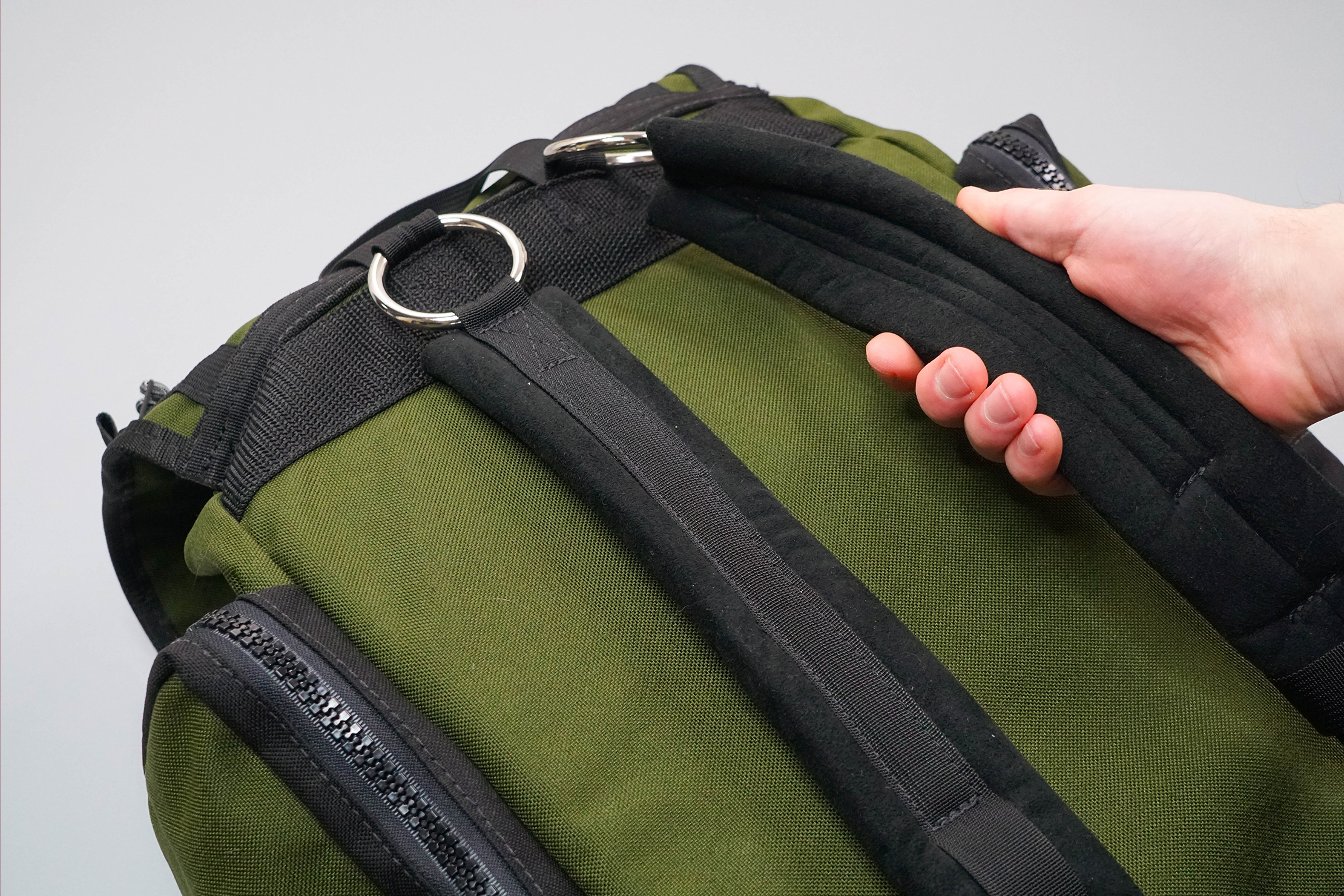 The shoulder straps are super soft and padded, although there isn't any mesh for airflow on them either. The straps are anchored to the bag via metal rings. This unique style of attachment allows the straps to move with your body. However, they're anchored fairly close together. This isn't a bad thing per se, it's just different and takes a little bit of time to get used to.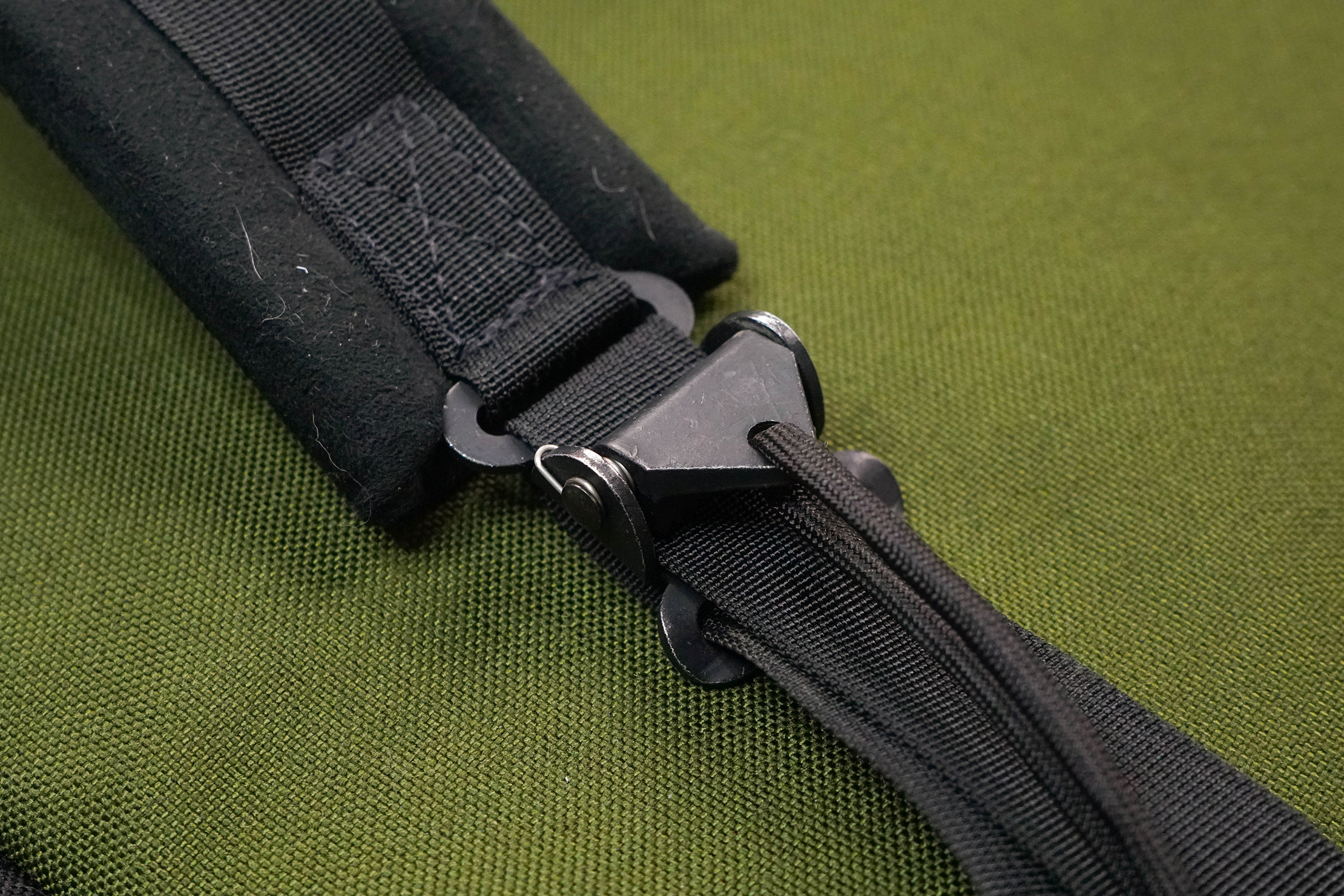 The straps also have metal adjusters on them, so you can swiftly loosen or tighten the straps. The hardware is really beefy, particularly compared to adjusters you see on most packs. That goes along with the militaristic theme of the pack and adds some great durability—even if it doesn't look the cleanest.

You'll find an adjustable sternum strap, which is secured with snap buttons. To be frank it's not our favorite design. The sternum strap can easily slide off the padding down to the straps below, which is annoying. Plus it takes effort to pull them up past the padding again.
Lastly, there is no hip belt option on this bag at all. It's up to you whether that matters or not, but we tend to believe any bag at 30-plus liters should at least give you the option.
Inside the Pack
There are quite a few compartments on the Red Oxx C-ruck Carry-on Rucksack, although they're all very simplistic. Meaning you won't find any interior pockets inside any of the compartments except the main one. This bucket style means that the interior spaces can be fully maximized. And you can also take organization into your own hands with accessory pouches and packing cubes.
However, this open style is not for everyone. If you prefer packs with organization panels and/or a spot for everything, this pack is probably not the one for you.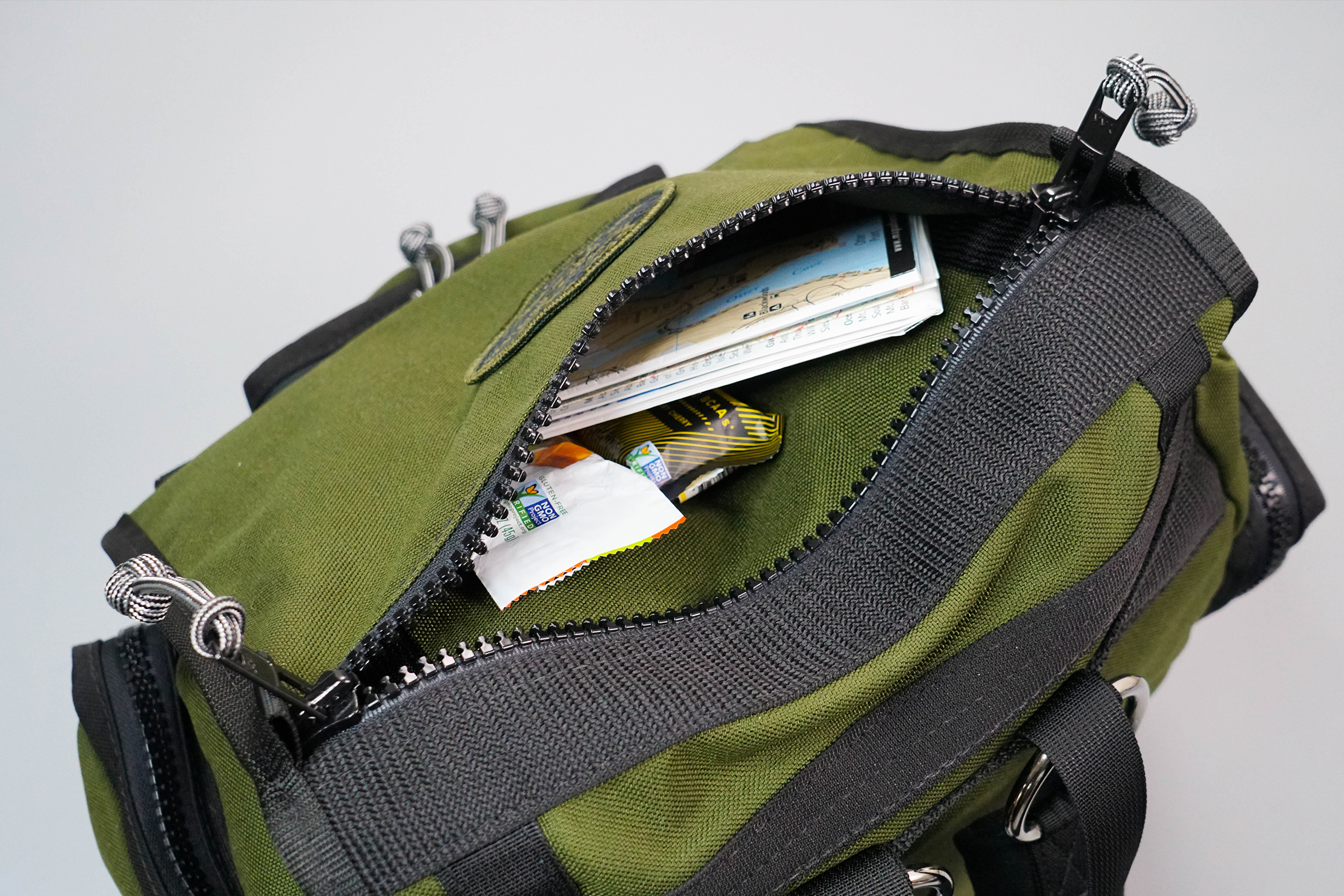 Let's start with the top flap pocket. When you unzip it, you'll be greeted with…nothing, of course. There's no interior liner either. It's an open spot to throw items you'll want to be able to access quickly. Note that it's not ideal for heavy, bulky things.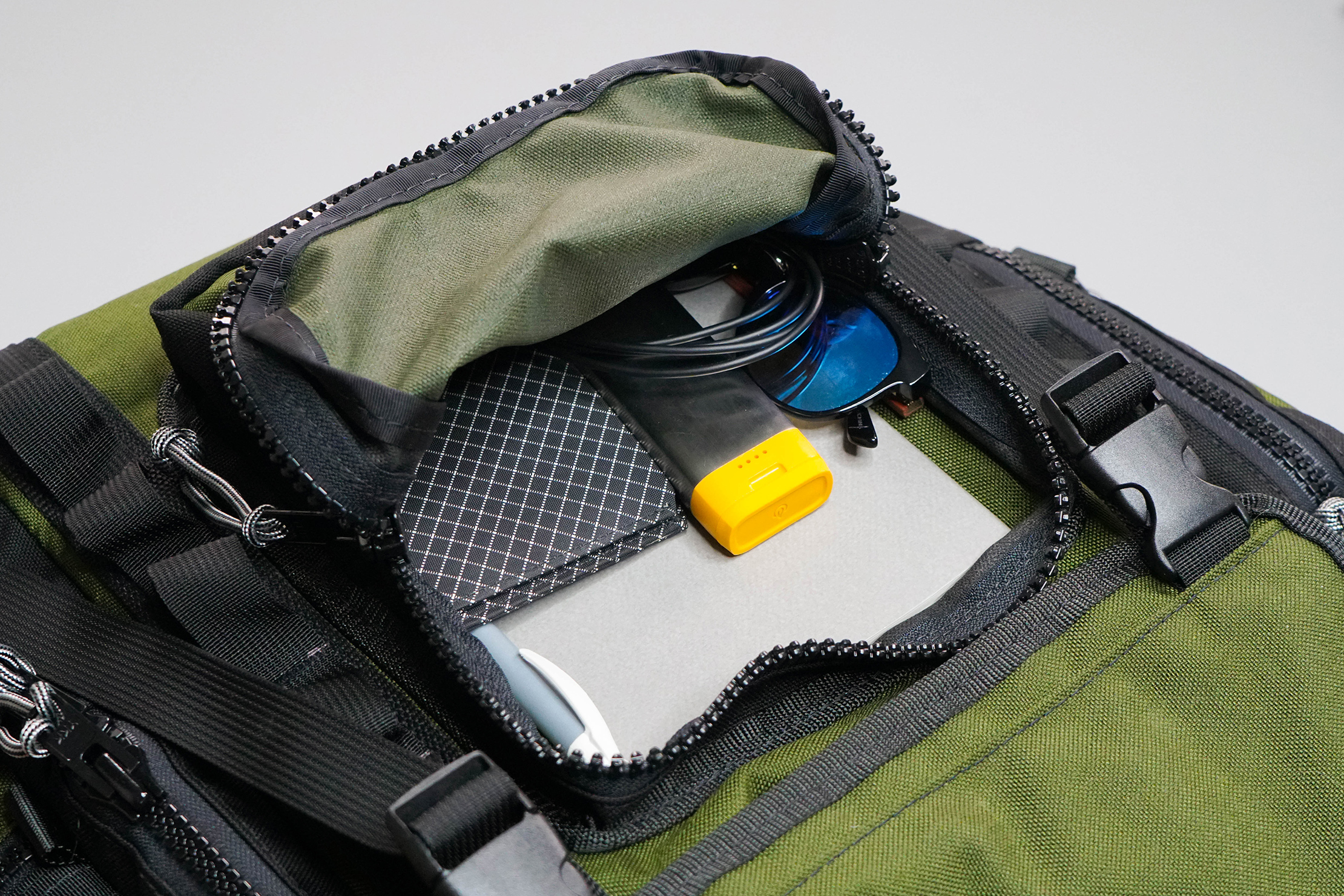 The front pocket is also ideal for quick-grab items—phone, wallet, keys, snacks, etc.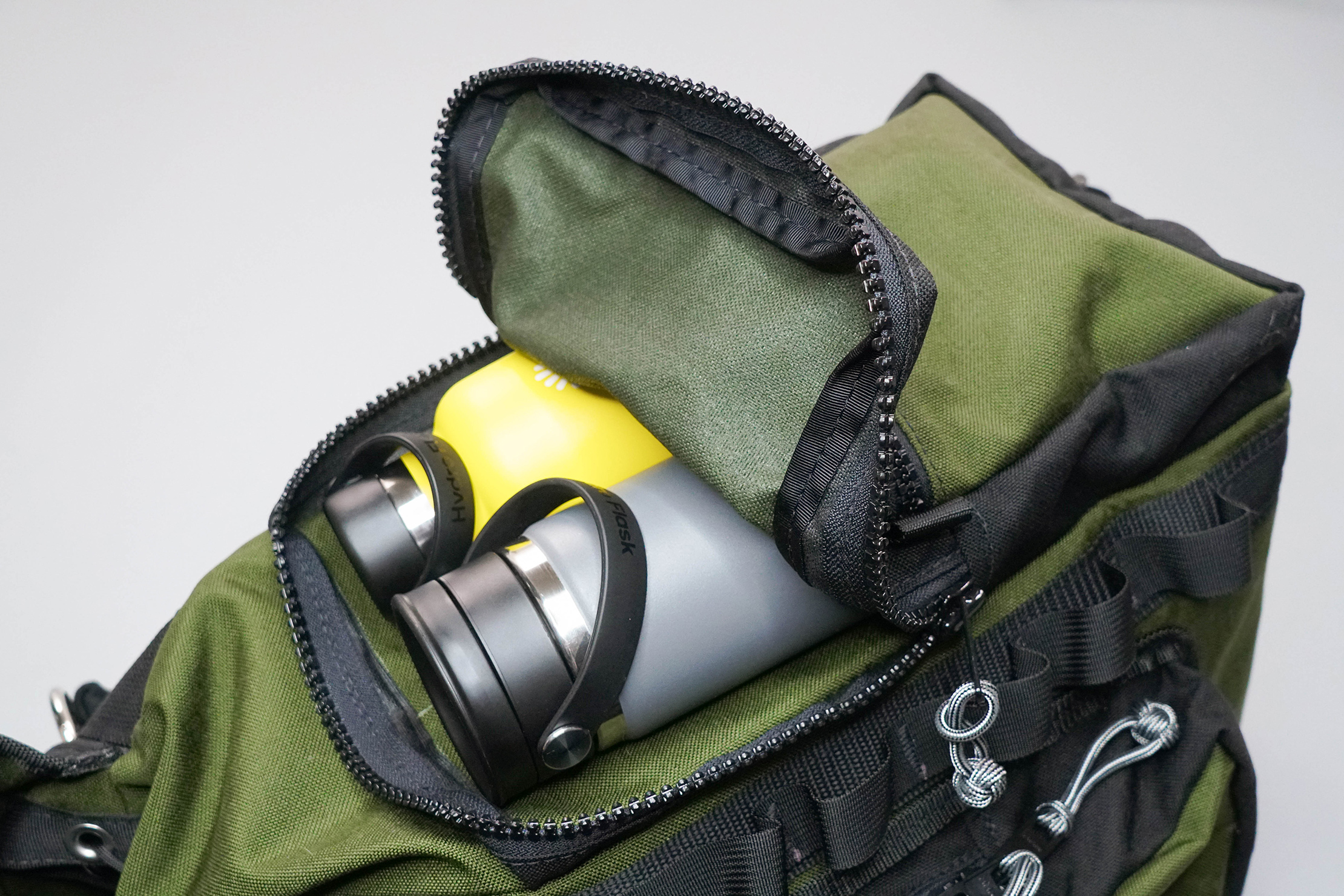 On each side, there's a tall zippered pocket that works well for water bottles. Although, you can obviously put whatever you want in them (the folks at Red Oxx say a package of a dozen eggs fit, so you can truly be as creative as you want here). In front of the water bottle pockets, there's a shorter, zippered pocket. Again, none of these pockets have any organization inside of them.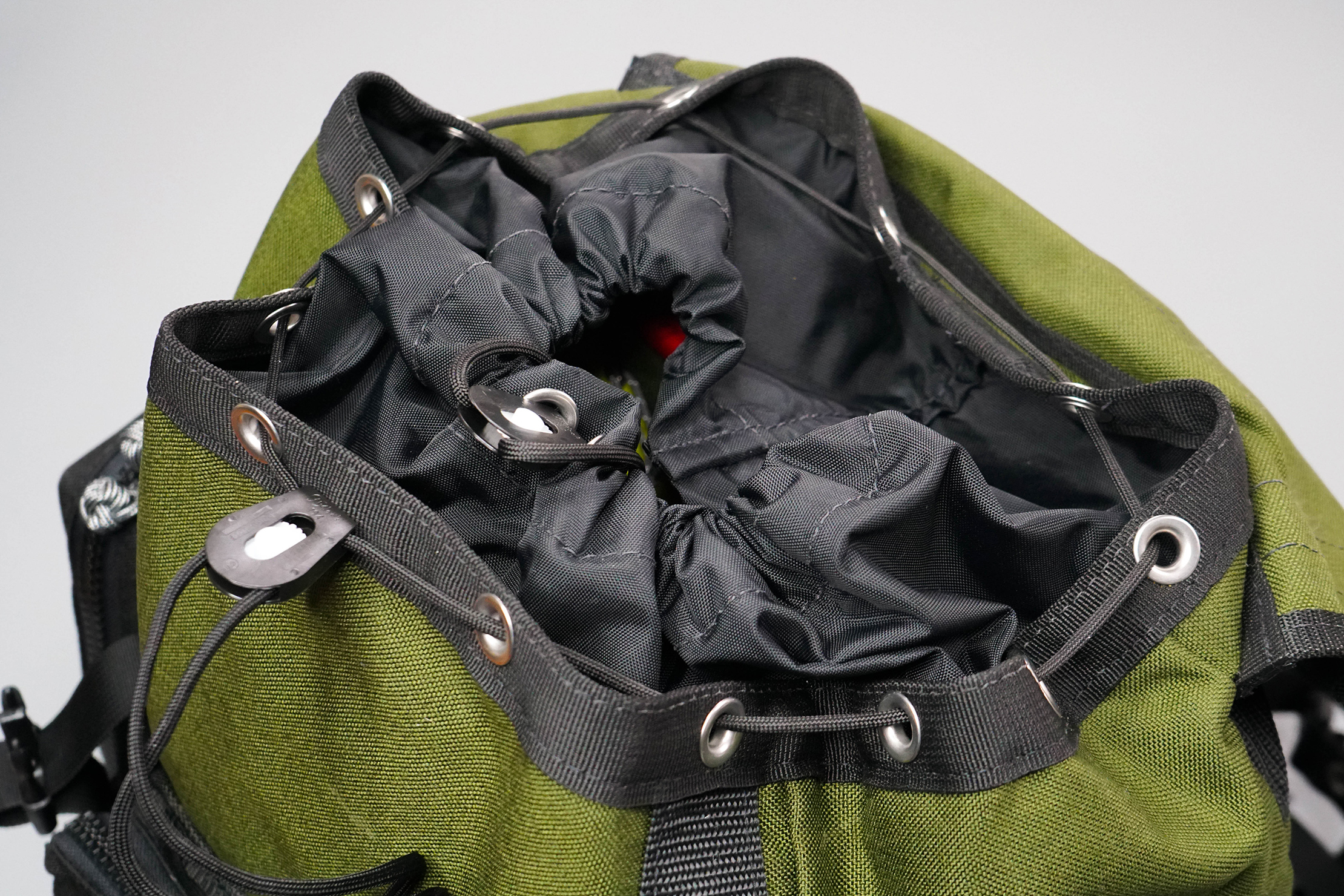 And that brings us to the main compartment, which is a top loader. Once you unbuckle the flap and flip it open, you'll see the dual drawstring opening. That's right, there's not one, but two drawstrings. The first one opens up the main compartment opening while the second is for the dust collar (as Red Oxx calls it).
The collar gives the compartment added weather-resistance and security. It also gives you the ability to expand the internal capacity of the pack a small bit if you pick up extra odds and ends in your travels. That said, the two drawstrings impede on quick access (luckily, there are so many quick-grab pockets on this thing).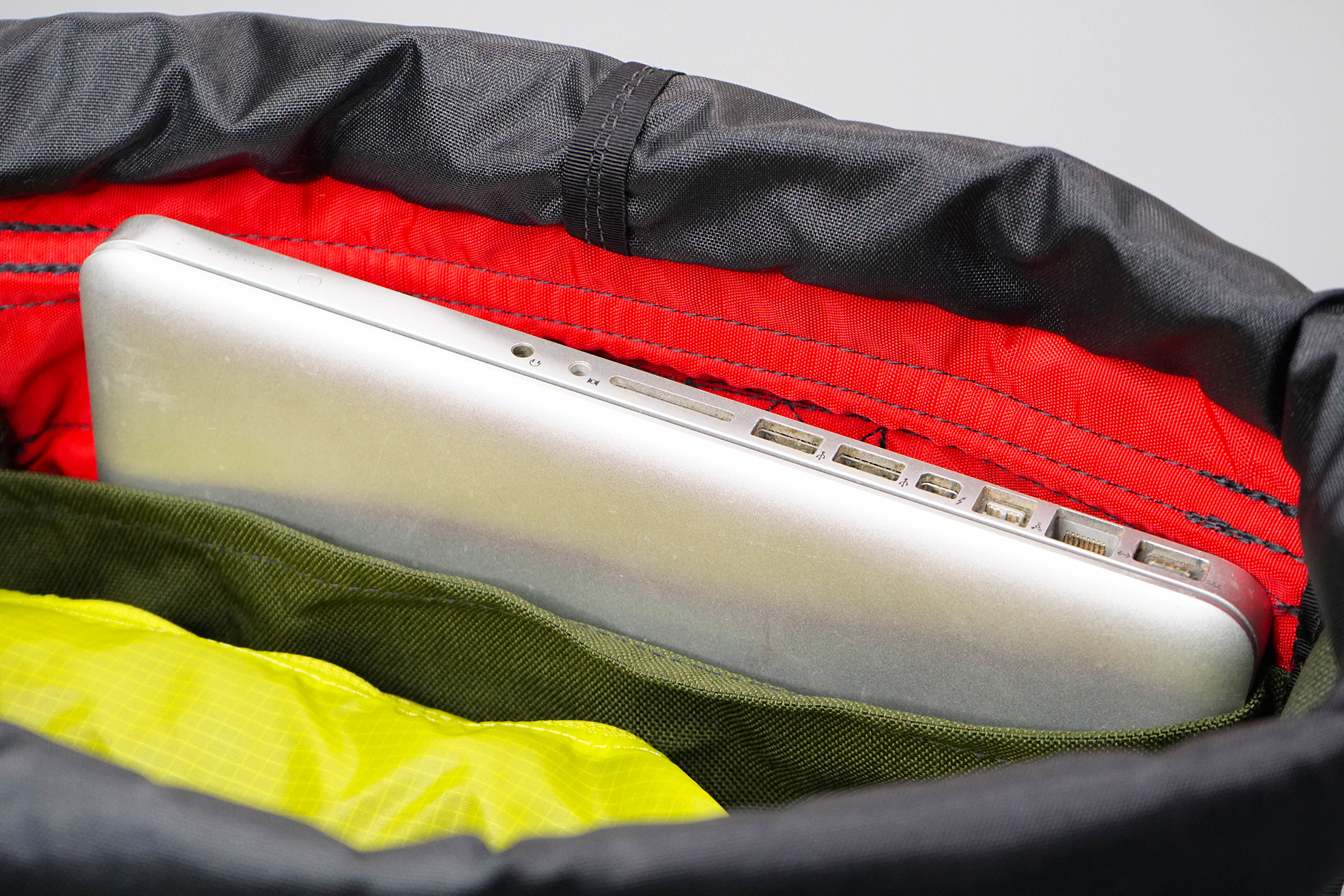 Sticking with the theme, this compartment is very simple. Inside, there's a sleeve for laptops up to 17'', tablets, notebooks, or whatever else. There's a foam backing to give this sleeve a bit of padding. But—to be frank—we haven't loved putting a laptop here. There's not a lot of structure to the sleeve, so it doesn't feel safe and secure. We've been keeping our laptop in a protective sleeve and we'd suggest you do the same if using the C-Ruck to haul around your precious tech.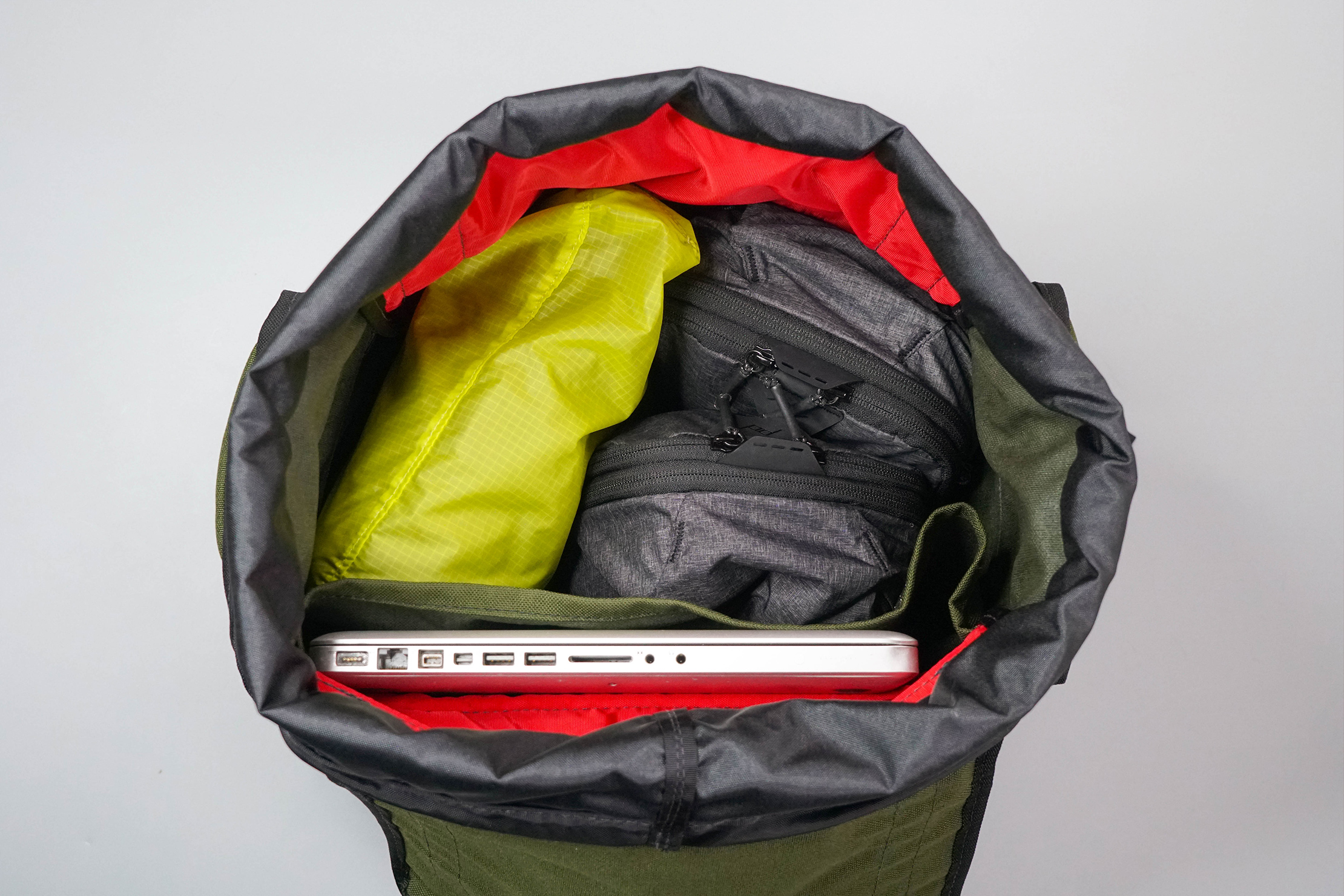 The rest of the compartment is a big ole bucket of space. We're digging the red interior, which makes it super easy to spot your gear (something that can be tricky on top-loaders). We recommend using packing cubes in this space for easier access and to ensure that your stuff doesn't end up in a chaotic jumble.
Simple, right?
Durability & Testing
We've been testing the Red Oxx C-ruck Carry-on Rucksack for two weeks in Detroit, Michigan. We've primarily been using it as a daily driver, although we've been sure to pack it out as we would for travel to see how it would perform. Our conclusion? This pack works well as long as you know what you're in for. So if you're looking for a heritage, almost old-fashioned backpack for daily life, outdoor adventures, or minimalistic travel, the Carry-on Rucksack is a solid pick.
As far as durability is concerned, we have nothing to report. Everything is looking good. We're not surprised seeing as the Red Oxx C-ruck Carry-on Rucksack has been made with durable materials and features top-notch craftsmanship.
Usage Timeline
Initial Usage
Condition: Excellent
Old military backpack style
Every compartment is large bucket style so the space can be fully maximized
2 Weeks of Use
Condition: Excellent
This bag features a bunch of unique, durable, heritage-like items—there's a lot of interesting stuff going on
The classic, military-style isn't the type of bag we test often, but it's really working here
Carry is slouchy unless the bag fully packed up. There's not much of a frame sheet, but there is a foam pad that helps a little
Zippers are massive all over the bag—some of us on the team like this, others think it's overkill
The two drawstrings on the top of the bag can make it slow to access, but that's kind of just the style of this bag
Access the Pro Community Discussion
Get your questions about the Red Oxx C-ruck Carry-on Rucksack answered from our team and the Pro Community right here on the page. Plus, join discussions with other members about gear, guides, and more.
Other Bags & Luggage Reviews