ULA Equipment Dragonfly Review
ULA Equipment's Dragonfly is extremely lightweight and has versatile features that make it a dynamic travel companion for trips of all varieties.
ULA Equipment has released an update to this pack, including removing the front shoulder pockets and adding a keychain carabiner. Plus, they now offer the pack in ULTRA 800™ Fabric and feature ULTRA Stretch Mesh.
Our Verdict
Unlock the Pro Summary
Save time. Get access to brief summaries of our reviews so you can browse and make decisions more efficiently.
Pros
Extremely lightweight for its capacity
Oversized water bottle pockets fit variety of large gear
Spacious main compartment
Cons
A number of loose threads
S-shaped shoulder straps may not suit all body types
Can be difficult to zip when full
Recent Pack Hacker Video
Technical Details
Capacity

30l

Weight (lb)

1.75 lb (0.8 kg)

ROBIC ver. | 1.81 lbs X-Pac VX21 ver. | 1.88 lbs X-Pac X50 ver.

Denier

500D

CORDURA ver.| 420D ROBIC ver. | 210D X-Pac VX21 ver. | 500D X-Pac X50 ver.

Dimensions

19.5 in x 11 in x 7 in (49.5 x 27.9 x 17.8 cm)

Notable Materials

ROBIC®, CORDURA® Nylon, X-Pac, YKK Zippers

Manufacturing Country

United States

Laptop Compartment Size

17"

Warranty Information
Full Review
ULA Equipment stands for Ultralight Adventure Equipment, and the Dragonfly appears to be a pack that's just that: ultralight and made for adventures. You usually get one or the other, so we're always happy to see both features in one. Will the Dragonfly be the unicorn it's touted as online, or is it a hiking pack pretending it can be used in the city? Let's find out!
Materials & Aesthetic
At the time of writing, there are three material options for the Dragonfly. There's the one we have on hand, which is X50 X-Pac, a 500D Cordura, which is lightweight but still durable. There's also VX21 X-Pac, which is a blend of 60% nylon and 40% polyester. The last offering is Robic nylon, which is super strong nylon.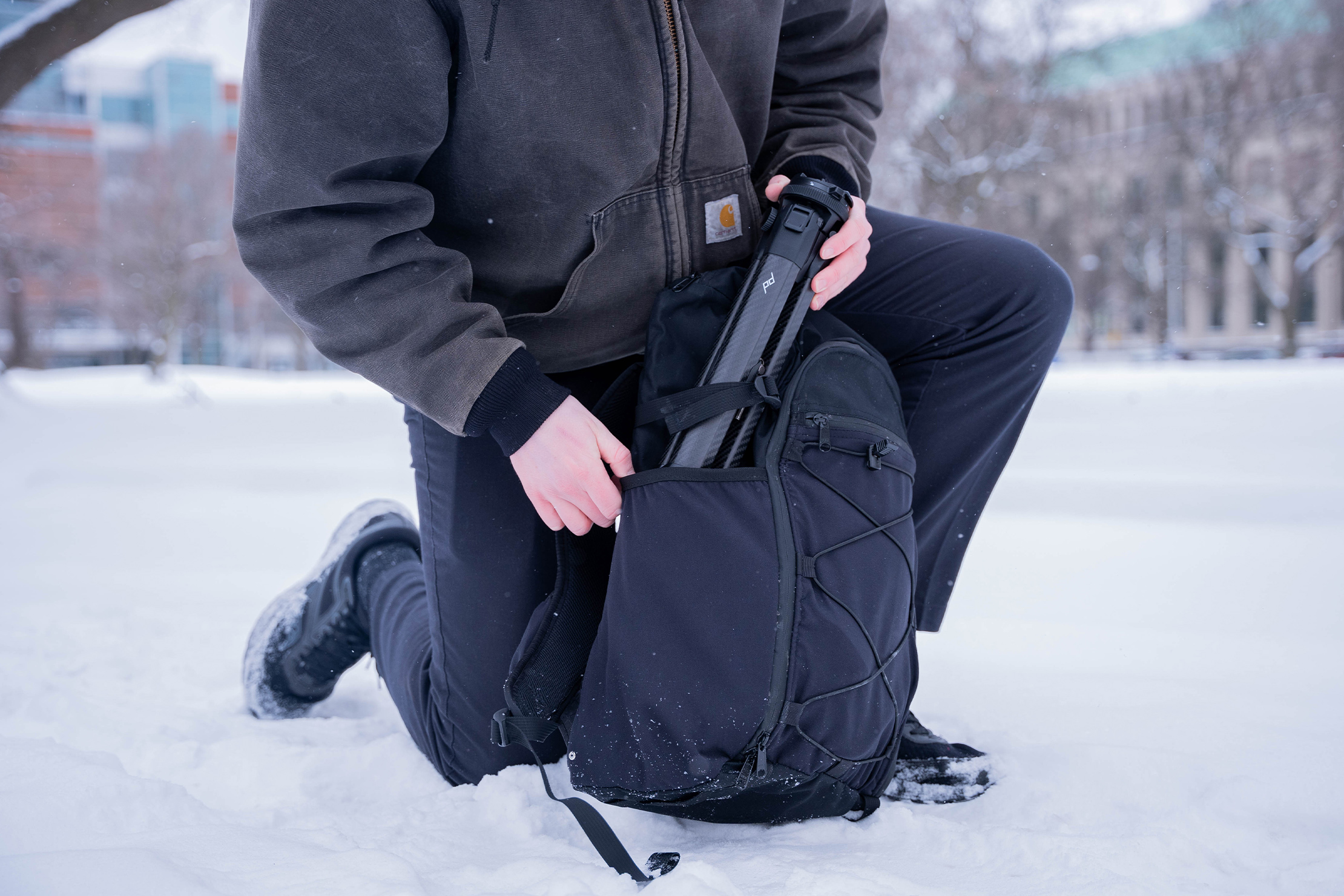 Although their website doesn't mention anything about a DWR coating, it handles the elements very well. During winter commutes in Detroit, we were hit with snow and freezing rain from the skies with slush and salt splashing up from the roads. Our gear stored inside stayed dry even in the harshest conditions, and the external material has not shown any signs of wear and tear.
Salt and mud stick onto the fabric, but it cleans pretty easily with a wet rag. Don't use paper towels, as the X-Pac likes to grab onto the fibers, leaving white fuzzy residue. We learned this the hard way, and it took us a while to clean up the fabric. A damp rag or a soft sponge does the trick, and if salt or mud grind themselves into the fabric, a scrub brush or rough sponge will easily get it out.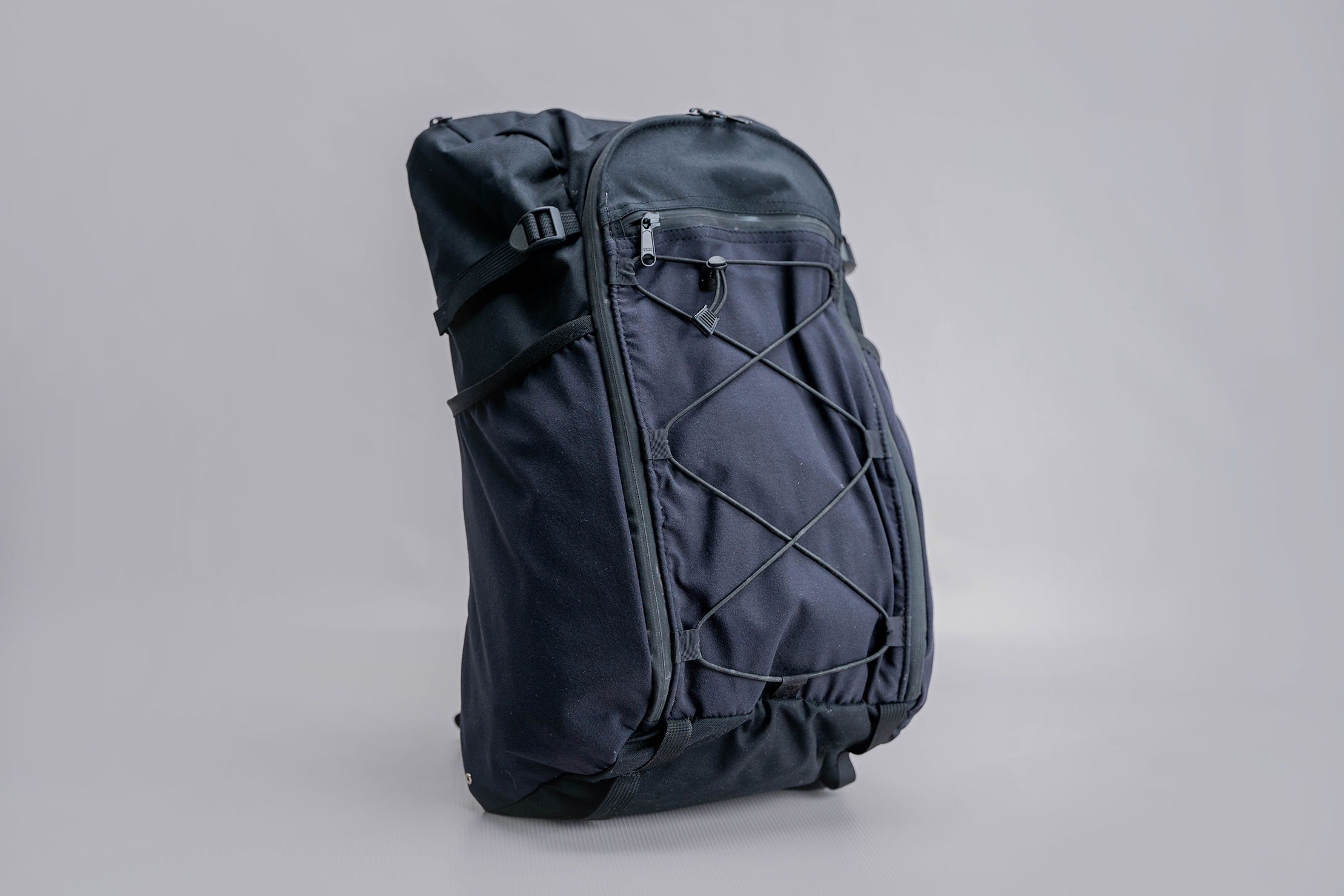 With the different material options come a ton of different colorways. The options have changed since we first looked, so you never know when a new color will pop up. However, that also means that you may want to consider jumping on a style you like while it's still available. We love the look of our all-black model, but the added pop of color on some variations is a nice touch. You can customize the pack with an embroidered name, which is unique and something we wish more companies offered.
The different materials and colors do affect the overall weight, though. The Robic nylon weighs 1.75 lbs (794 g), the VX21 option comes in at 1.8 lbs (822 g), and the X50 model we have on hand is 1.875 lbs (850 g). This puts the heaviest option at well under 2 pounds, which is remarkable considering it's a 30L pack. Compared to the GORUCK GR1, which is only 26L, the Dragonfly comes in just under 60% of the GR1's weight when empty.
The secondary material on the pack is a tweave that consists of 94% nylon and 6% spandex. It gives the fabric a little flexibility, which allows you to fit more into the pocket as it expands. This material is on the front pocket, side pockets, and shoulder strap pockets. This makes each of those areas much more dynamic, as those style pockets are often crafted from a more rigid material and can't be overstuffed. We'll dive into each of those pockets soon, but we'll leave it at that for now.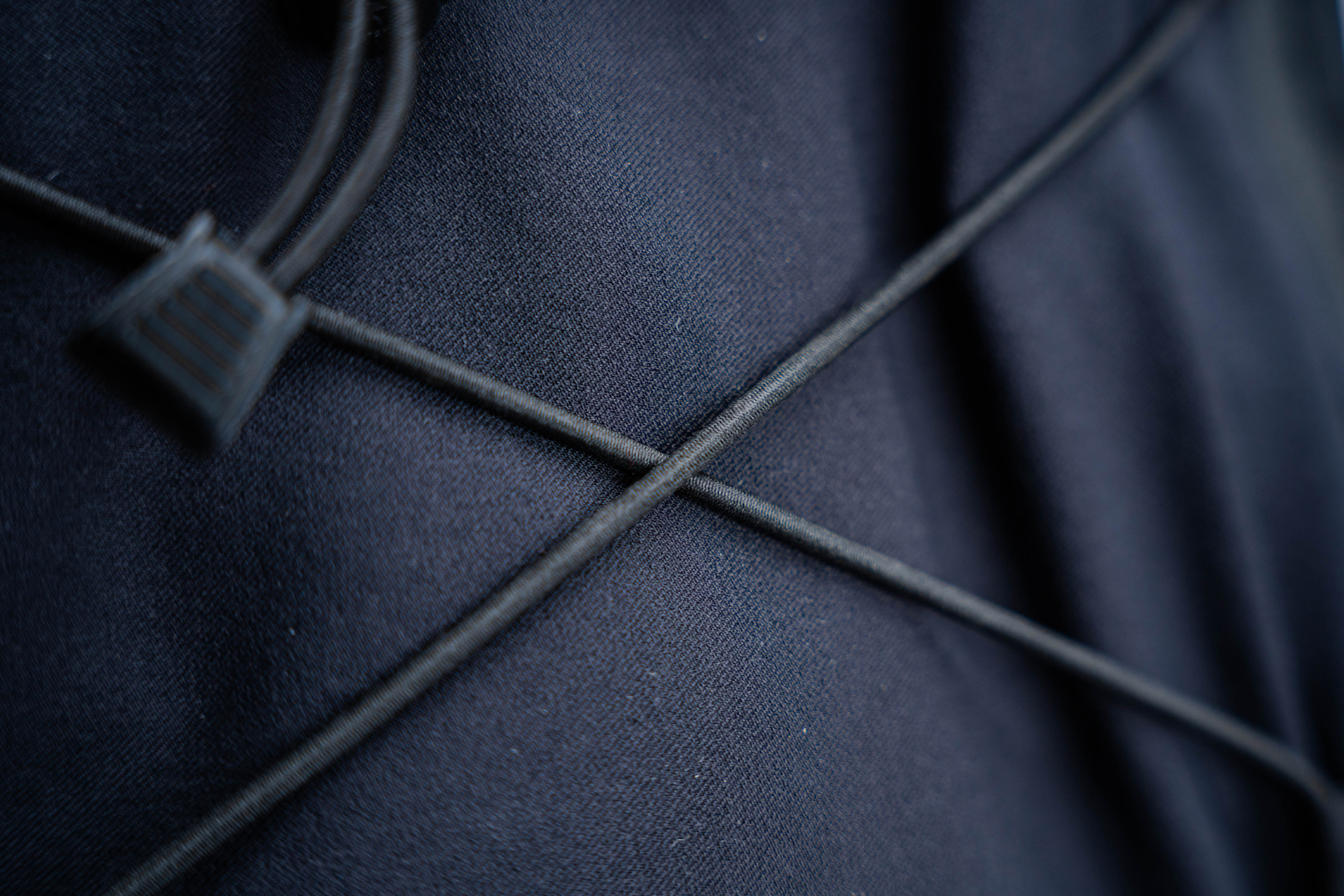 When it comes to branding, the ULA logo is nowhere to be found. The black model we have on hand is minimalistic, and the only thing on the exterior that isn't black is two small metal eyes on each of the water bottle pockets. We've received a ton of compliments on this pack, and it really does make you look like you know what you're doing and isn't very touristy. It's safe to say that we like this pack enough that we wouldn't mind repping it if it did have a logo.
We see YKK #5 zippers throughout the pack, which is a great shout for us. They're smooth and easy to open and close. The exterior zippers have AquaGuard protection, which adds to the water resistance of the pack. The main zipper can be a little tough to open and close when it's stuffed full, but it isn't an issue unless you really shove a ton in there.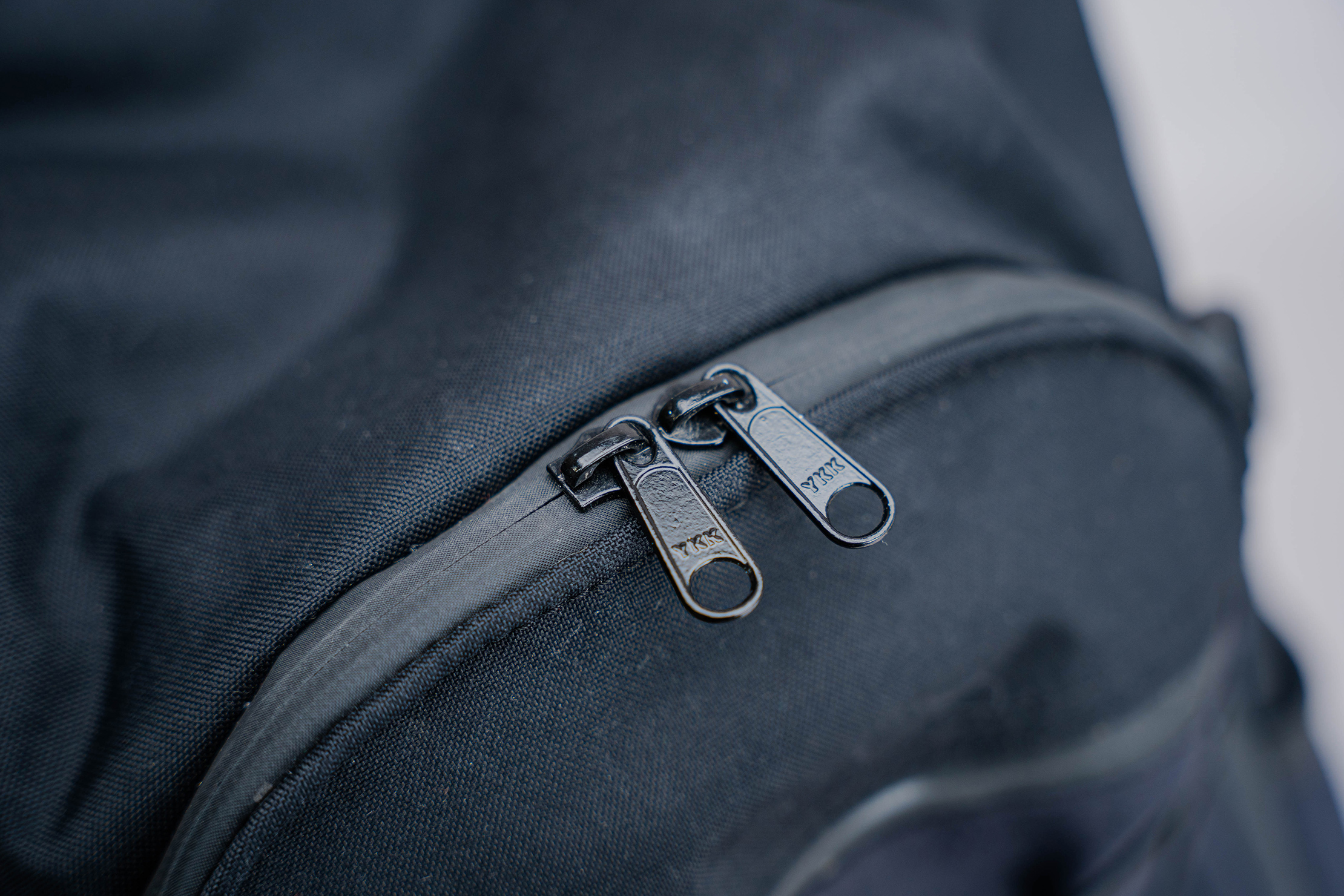 We also see Duraflex hardware throughout the whole pack. The hard plastic buckles, rings, and loops feel durable and close nicely. The only piece of hardware that doesn't appear to be Duraflex is the front bungee clamp, but it works well.
Upon closer inspection, we've noticed a few loose threads on and around the Dragonfly. They aren't anywhere that feels important to the pack's integrity, but loose threads are never a good look. The black colorway enables them to blend into the pack's material, but if you look closely, you'll find them. It isn't a huge bother for us, but it may be for you.
External Components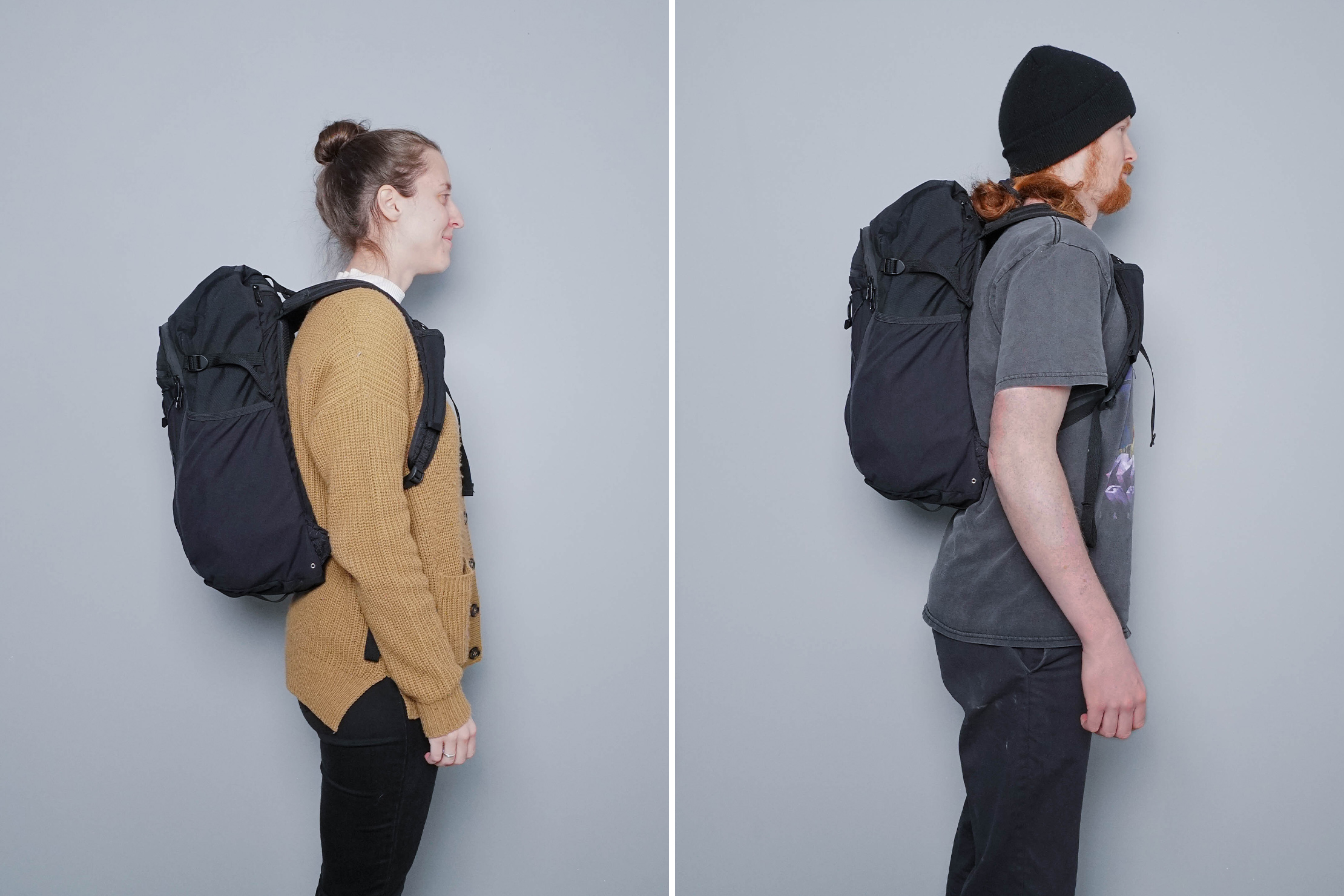 There's bungee webbing on the front of the pack, which is an excellent spot for an oversized sweatshirt that won't fit into the pack or if you have wet clothes you don't want to store with everything else inside. The clamp to tighten and loosen the webbing doesn't come undone either, ensuring you don't lose anything secured properly.
If there was a hall of fame for water bottle pockets, the Dragonfly would receive top honors and be immediately inducted. There are two on either side and are made from the tweave we mentioned earlier, which allows them to fit…well, quite literally everything we tried (within reason).
The pockets can absorb a 32 oz bottle with ease, and there isn't a water bottle that we've tried that can't fit inside. It's also a perfect place for a tripod. Notice we didn't say travel tripod, as it can also fit a regular tripod, with help from the compression straps just above the pocket. More on those in a minute.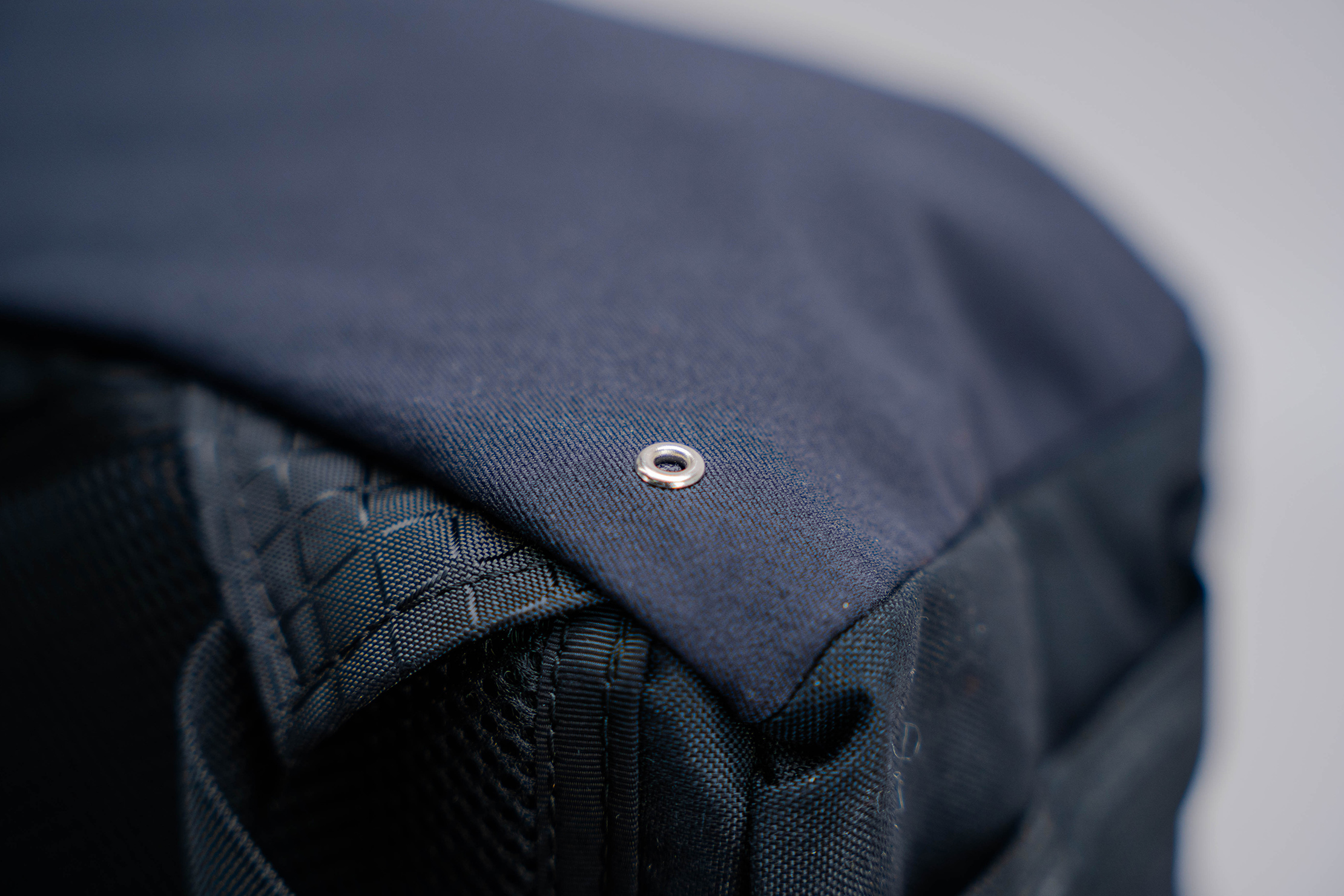 As we mentioned before, the bottom of each pocket has a little metal eye with a hole in it. This is so that if any water makes its way into the pocket, it can exit through the hole. The material may still get wet, but with an exit strategy in place, there's a much lower chance that the gear inside gets wet. This is great for items like an ice-pick or trekking poles, as you don't have to worry about them being completely dry before sliding them into your pack if you need to change directions quickly. If you get caught in bad weather while traveling, you can stow your umbrella without fear of the rain residue making its way inside your pack.
Now, about those compression straps. They're located just above the pockets and keep the bag's fabric from looking saggy when it's empty. However, the compression straps shine when used in tandem with the water bottle pockets, as they enable you to tie down larger items like a tripod, ice pick, or trekking pole like we mentioned earlier.
There's a line of attachment loops on the bottom of the pack made from durable nylon. You can easily attach a carabiner or strap to make the pack more modular. We found the pack's interior suits our needs, so we don't need to make any additions, but it's nice to have the option.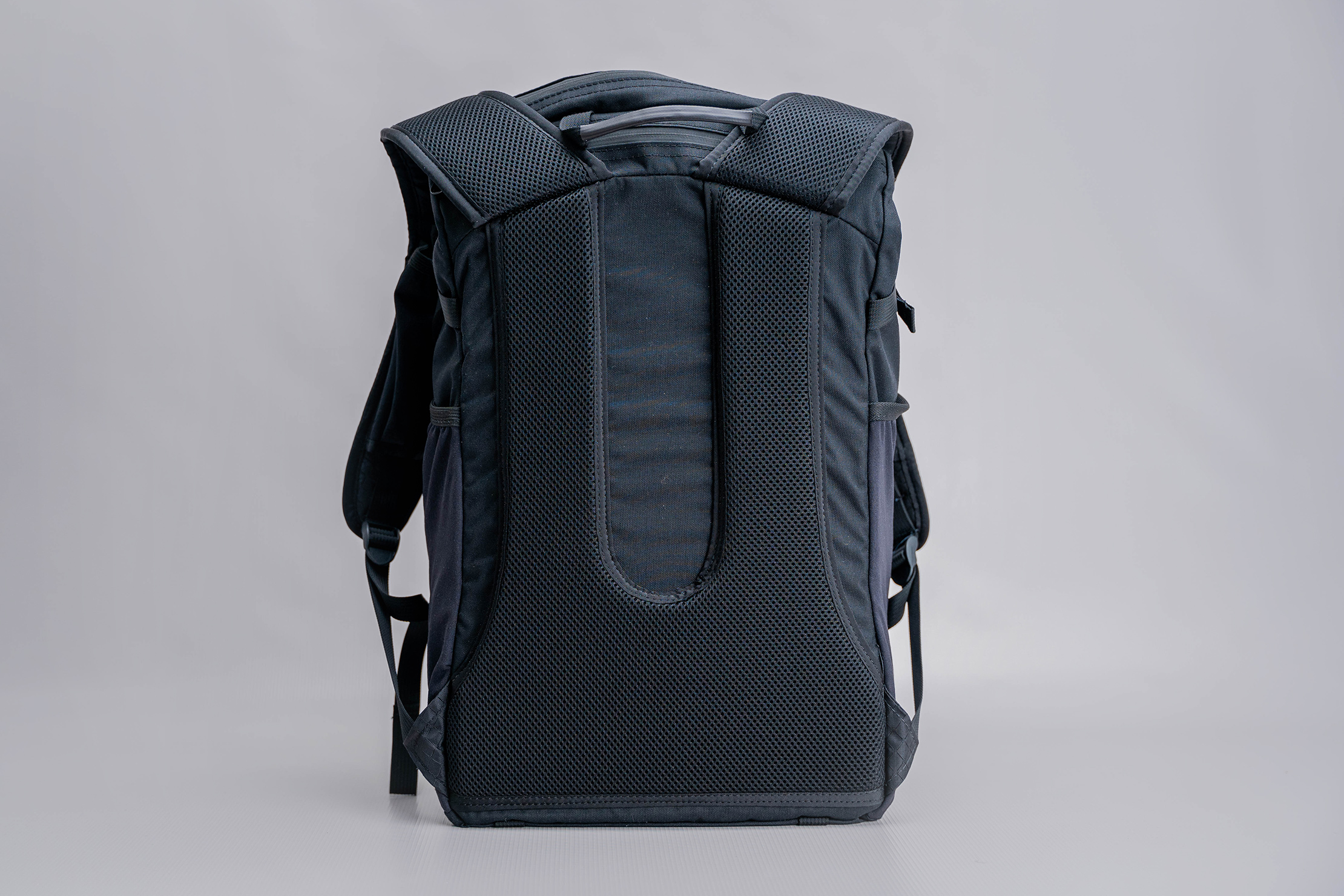 The back panel is rigid but has enough padding to be comfortable. It's aerated too, which is great for hot days or longer hikes across a new city or rugged terrain. There aren't channels for airflow, but we found it more than capable. Although it has a fair amount of padding, it's oddly rigid. It feels sturdy and durable, which is important for long journeys, no matter where they take place.
The shoulder straps have the same amount of aeration but less padding. They aren't entirely devoid of it, but we would describe them as rigid. The straps are shaped like an S, a ULA trademark. Even with their rigidity, the S shape conforms to your body. It isn't a perfect fit for everybody, but everyone on the Pack Hacker team feels that the combination of the back panel and shoulder straps make for a comfortable carry.
Each shoulder strap has a small pocket made from the tweave blend. These pockets are well suited for a snack bar, small wallet, or even some cash. Most modern smartphones won't fit here, but if you have a smaller phone you may be able to stow it.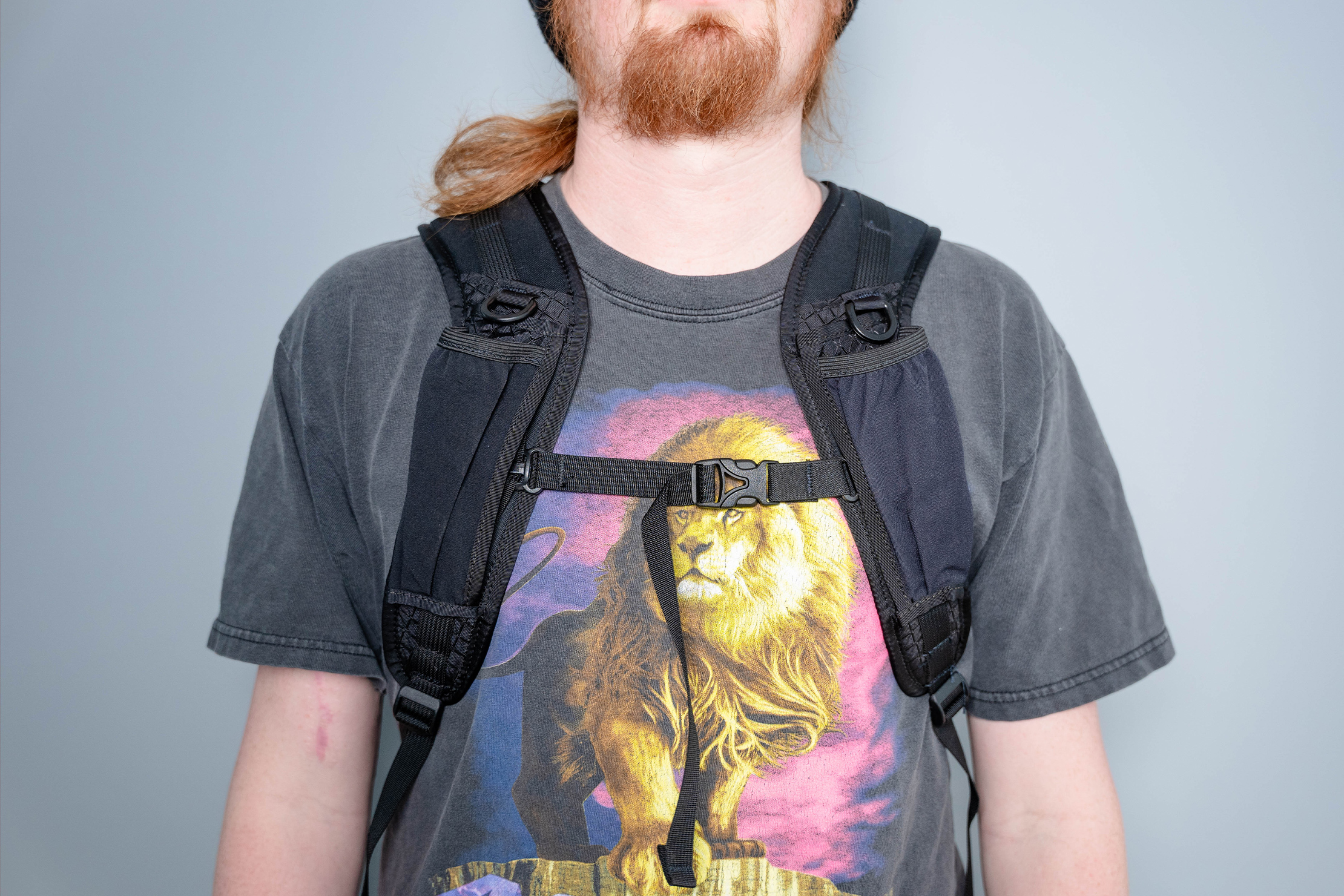 There are a few more attachment loops on the shoulder straps and a D ring on each side. This is great for attaching gear to the pack as we mentioned earlier, especially on long day trips where you might want to add a little more storage for water, a camera, or odds and ends for working.
The sternum strap is pretty thin but clips easily and offers a little bit of security when the pack is loaded to the max. We find it especially useful while moving quickly or cycling, as it helps keep the back flat on our back instead of shifting with quick turns.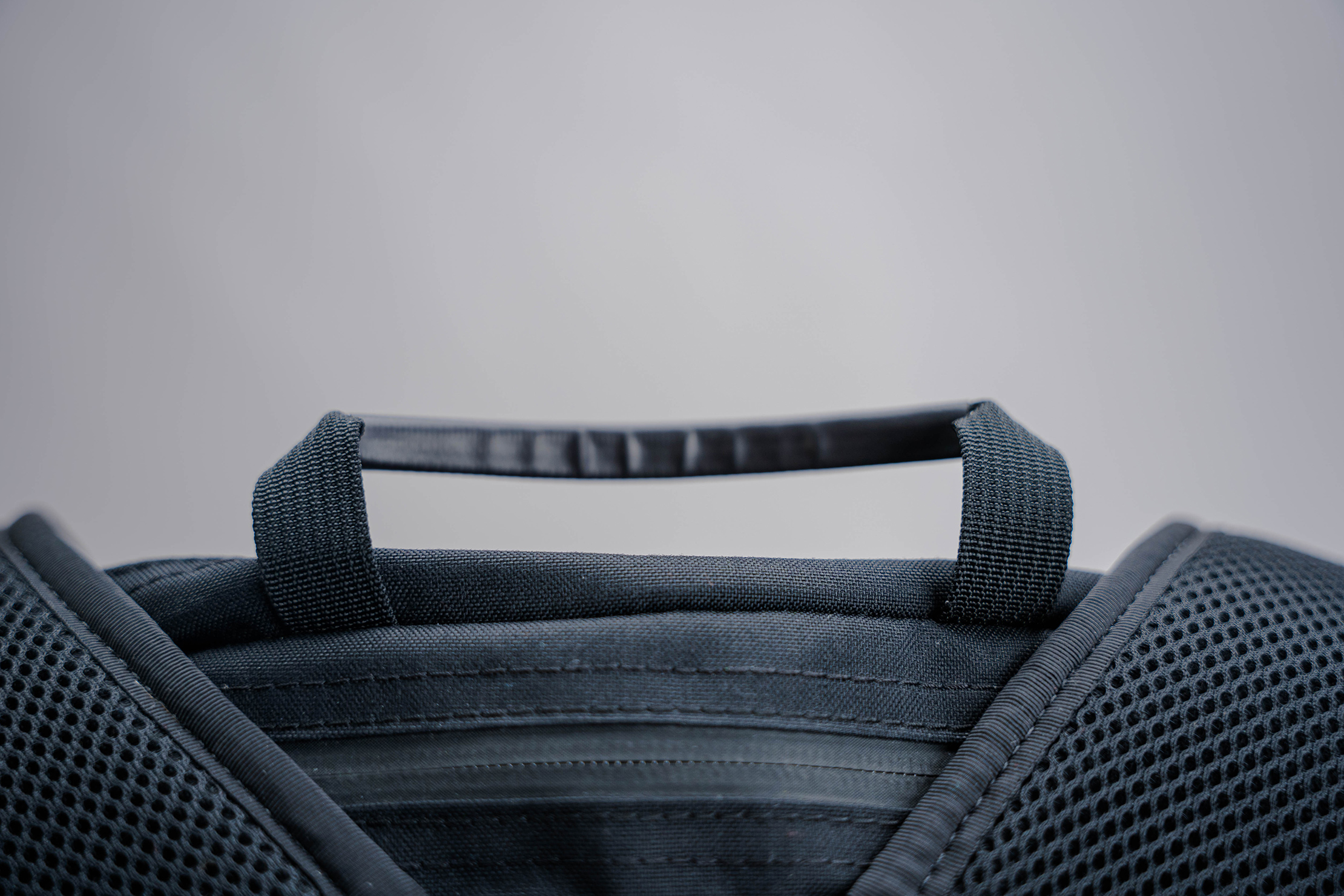 The top handle is very minimalistic. It's a skinny slice of nylon fabric with a heat shrink plastic coating over it. It's pretty uncomfortable even after just a few minutes of holding it by the handle..
Inside The Pack
The front pocket is flat, and the front face is yet again the tweave material we've been raving about. Front pockets often cannot fit much more than a book, tablet, or another small item. Because of the tweave's stretch, we can fit much larger items. Shirts, socks, a hat, gloves, and other small but not necessarily flat items work nicely here. If you pack it out, it makes stowing things in the bungee webbing harder as the pocket expands into its space.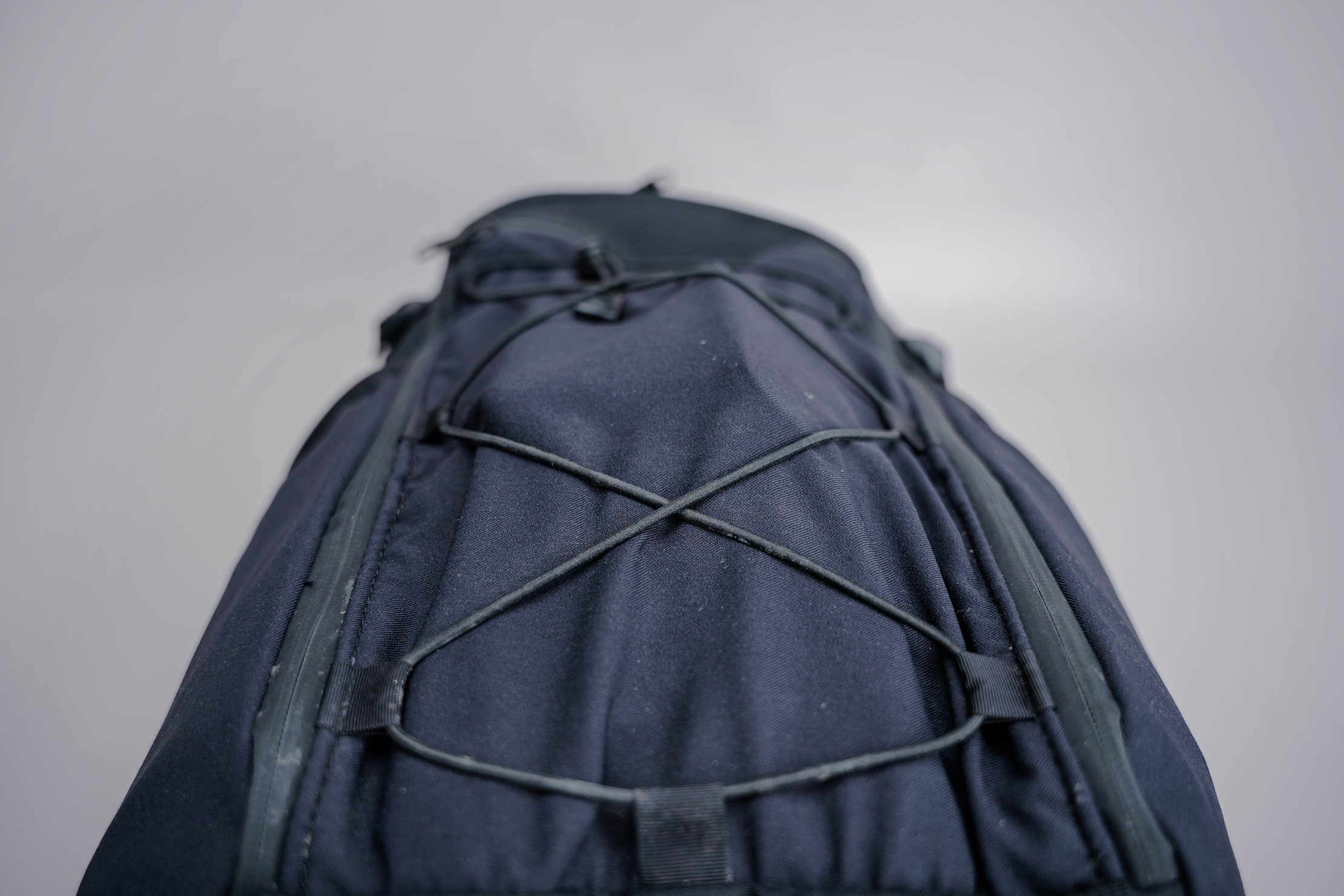 The top pocket has ample space but shares it with the main compartment. It's an excellent area for stowing quick access items like your cell phone, wallet, keys, or anything else you might need in a hurry. We could also fit larger items here, like a set of Bluetooth over-ear headphones or a compact camera, but packing this space out takes away space in the main compartment, which is important to note.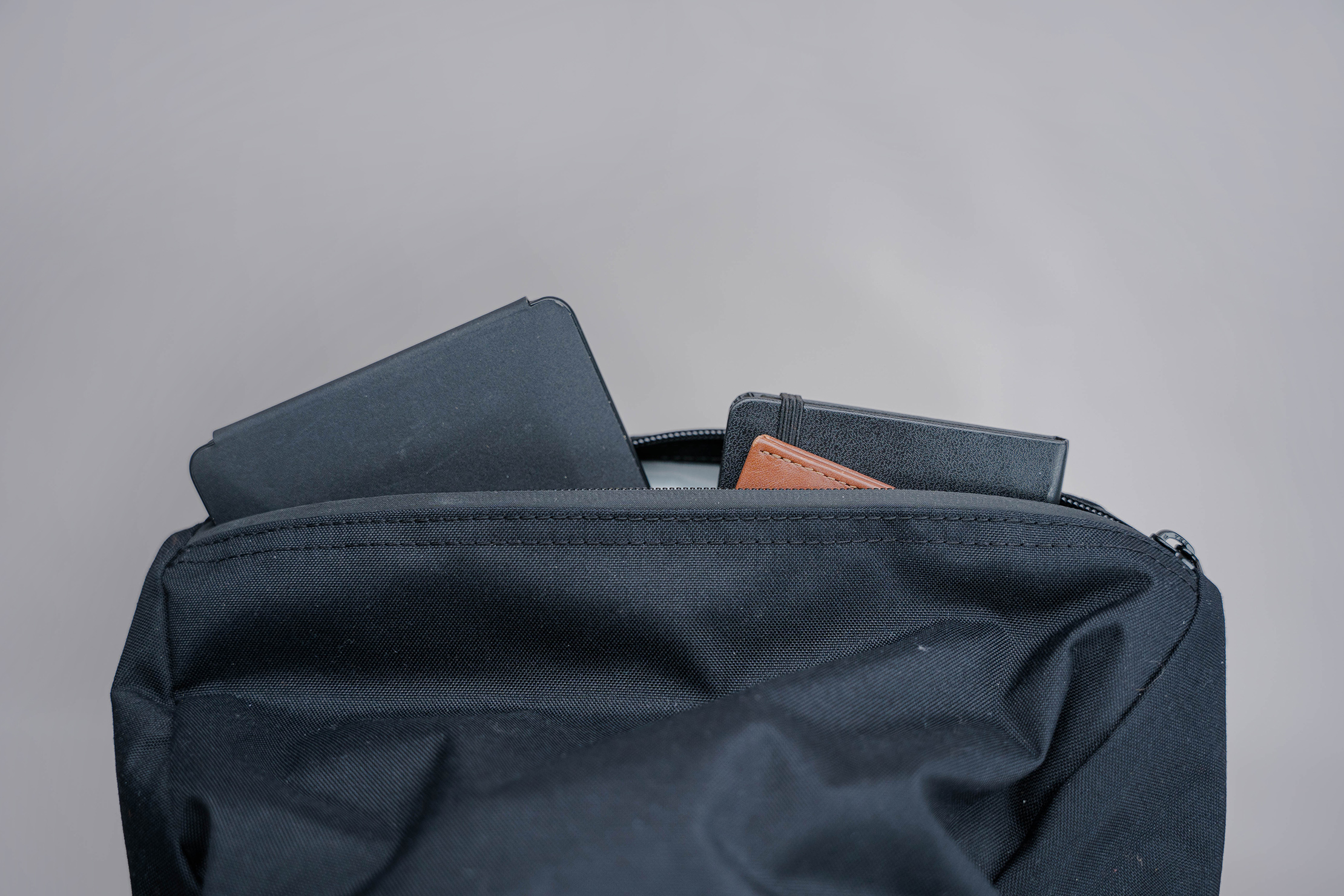 The main compartment opens like a clamshell to reveal two zippered pockets on the flap's interior. The top pocket is larger, and both are crafted from stiffer mesh. It doesn't have any give, and they don't fit a ton of gear, but it's a little bit of organization within the main compartment that is, for the most part, a free for all.
There are two compression straps on the back wall of the compartment that help with packability. You can tie down items you won't need in transit, tighten them down to make more room, and pack the rest of your gear on top. They aren't removable, but they don't particularly get in the way when not in use.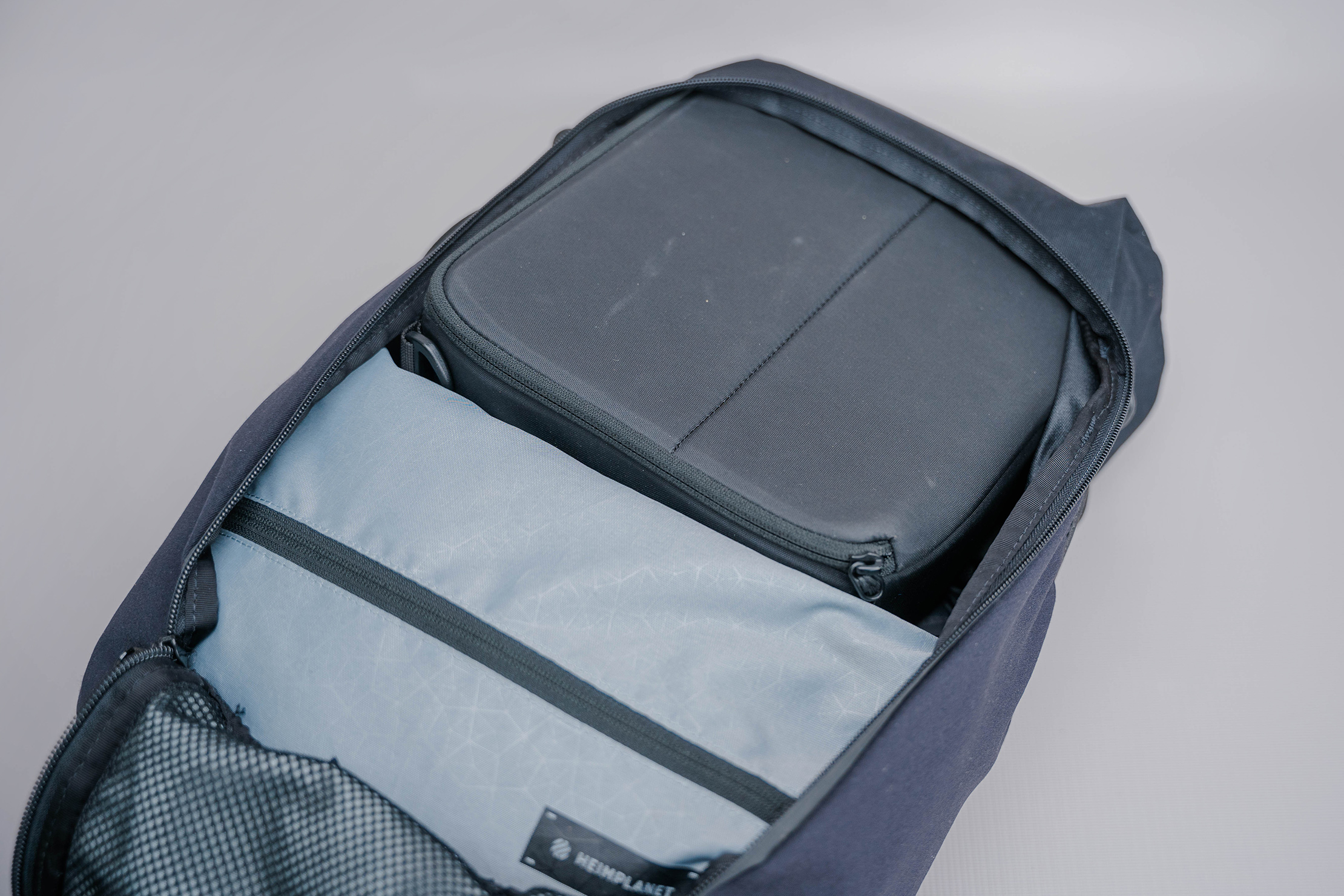 We fit a camera cube, a large packing cube, and two smaller packing cubes within the main compartment. We think this is a remarkable amount of gear for such a light pack. With that setup, we're still able to utilize the top pocket to its full potential, too.
We feel that the Dragonfly is suitable for a week-long trip if you pack lightly. Especially if you bring along a sling for shorter adventures, the Dragonfly negates the need for a smaller daypack. Just unload your gear at your hotel or Airbnb and hit the town with just what you need for the day. Through the use of the compression straps and dynamic front and side pockets, the world is your oyster.
The laptop compartment almost seems hidden, and if you didn't know it was there, you might not notice it. It's placed oddly far back on the top of the pack, which isn't something we see all the time. It fits up to a 17" laptop, which is largely due to the fact that it's a whole dedicated compartment rather than a sleeve. There isn't much padding on either side of the compartment, and most of the padding it does have comes from the back panel. Even without a ton of padding, like many other comfort features on the Dragonfly, it just works.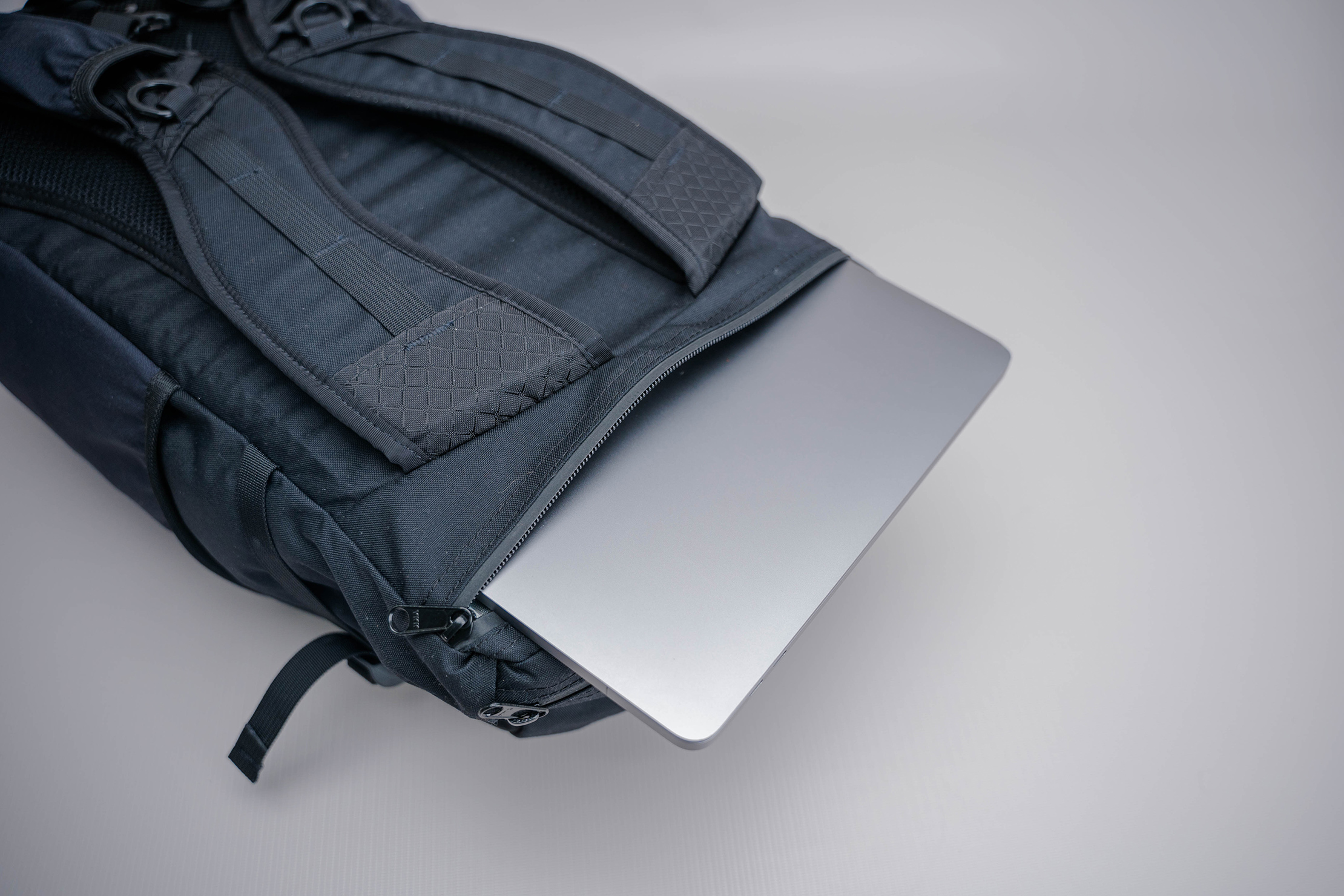 There isn't much between the back wall of the main compartment and the laptop sleeve directly behind it, so in theory, items from inside the pack could poke your laptop. We didn't have any issues, so as long as you pack properly, (and likely even if you don't) your laptop (and your gear) should be just fine.
We found the Dragonfly comfortable enough to sometimes forget whether or not there's a laptop in the pack. You may find yourself questioning yourself halfway through your commute, "Did I remember to put my laptop in my bag? I don't feel it…It's gotta be there…but what if it isn't? I'd better look…Oh yes, there it is. Thank you, Dragonfly!" Well, maybe it won't go exactly like that, but you get the point.
The laptop sleeve can double as a hydration bladder, which makes it a perfect companion for those who like to go from completing tasks at work to trekking on the trails quickly and efficiently. Just head back home, trade your laptop for a water bladder, and head out. It should be noted there isn't a pass-through for a water bladder hose, but you can close the hose into the corner with the zipper to keep it secured in place.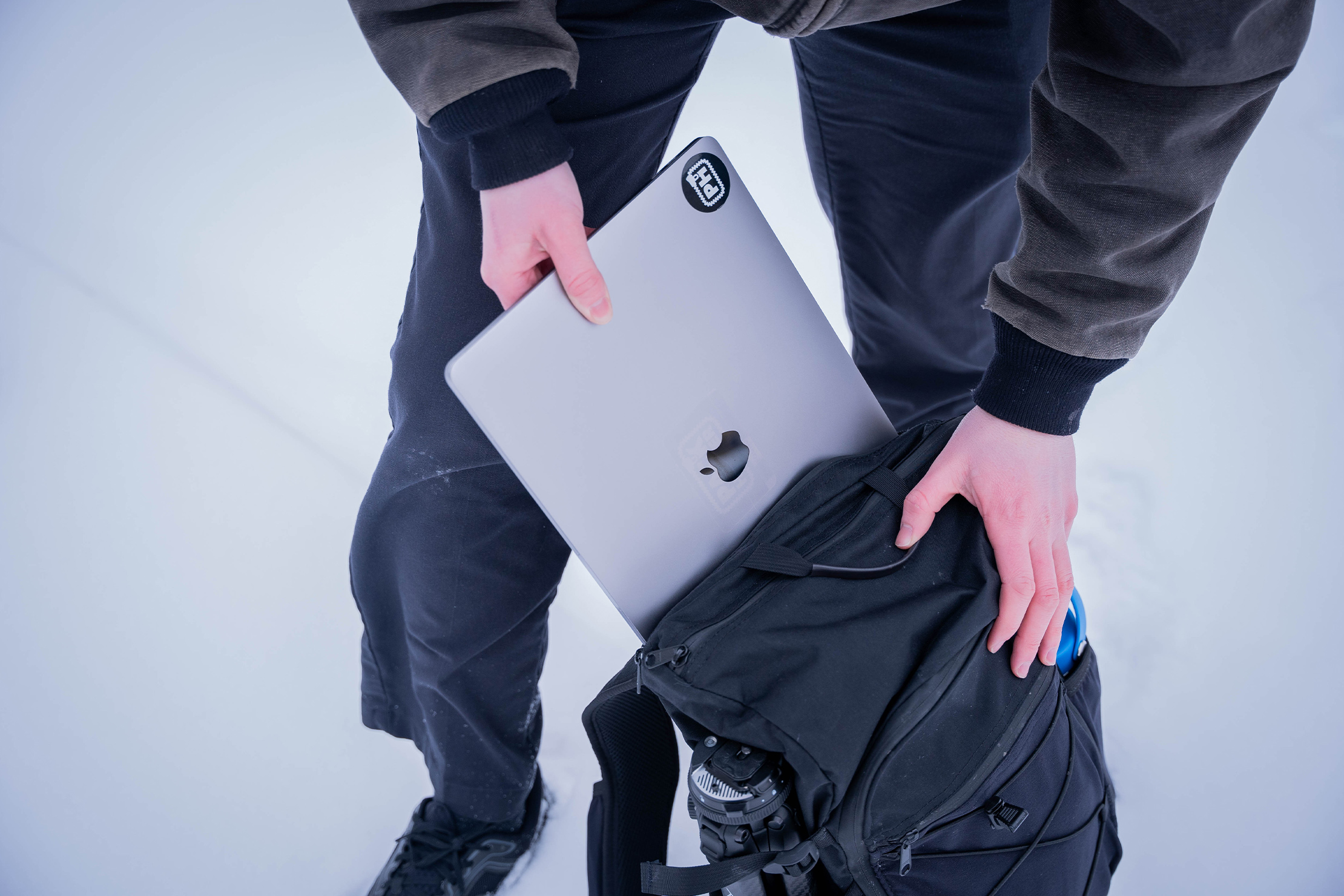 Overall, we are extremely impressed with the innovations from ULA on this pack. We're also surprised with how much gear we can stow inside for a pack that weighs so little. With versatile features and a lightweight design, it's a pack that can take you anywhere. The loose threads are a bit of a bummer, and the S-shaped shoulder straps may not be perfect for everyone. Still, we will continue testing the Dragonfly in the coming months to see if it continues to blow away our expectations.
Usage Timeline
Initial Usage
Condition: Excellent
Water bottle pockets are relatively tall
The shoulder straps each come with a mesh pocket—handy for smartphones
The laptop compartment goes deep; fishing small items out will be tricky
2 Weeks of Use
Condition: Excellent
Exterior looks sharp even after handling mud, snow, ice, and rain
Material cleans easily with a sponge or towel
A few loose threads, but nothing major
Access the Pro Community Discussion
Get your questions about the ULA Equipment Dragonfly answered from our team and the Pro Community right here on the page. Plus, join discussions with other members about gear, guides, and more.
Other Bags & Luggage Reviews