Boundary Supply Prima System Modular Travel Backpack Review
The Boundary Supply Prima System Modular Travel Backpack has a lot of clever features—although the components don't feel as cohesive as we'd hope.
Our Verdict
Unlock the Pro Summary
Save time. Get access to brief summaries of our reviews so you can browse and make decisions more efficiently.
Pros
Made of quality, durable, bluesign® approved materials
Digging the Field Space organization panel and Verge Camera Cube
Customizable
Cons
Camera cube takes up a majority of the space inside the main compartment
Top access isn't fast
Heavy (the whole system weighs over 3 pounds when empty)
Recent Pack Hacker Video
Technical Details
Capacity

30l

Compressed mode is 25L

Weight (lb)

3.75 lb (1.7 kg)

With no accessories

Dimensions

21 in x 12 in x 7 in (53.3 x 30.5 x 17.8 cm)

Notable Materials

Kodra Nylon, DWR Coating, EVA Foam, YKK Zippers, Hypalon®, Fidlock Hardware, Nywool, Nylon

Manufacturing Country

Indonesia

Laptop Compartment Size

15"

Warranty Information
Full Review
With a name like Boundary Supply Prima System Modular Travel Backpack, you know things are about to get technical. This expandable travel backpack, built with photographers in mind, has a huge host of unique features. So grab a mug of coffee or tea, settle in, and let's get straight to it.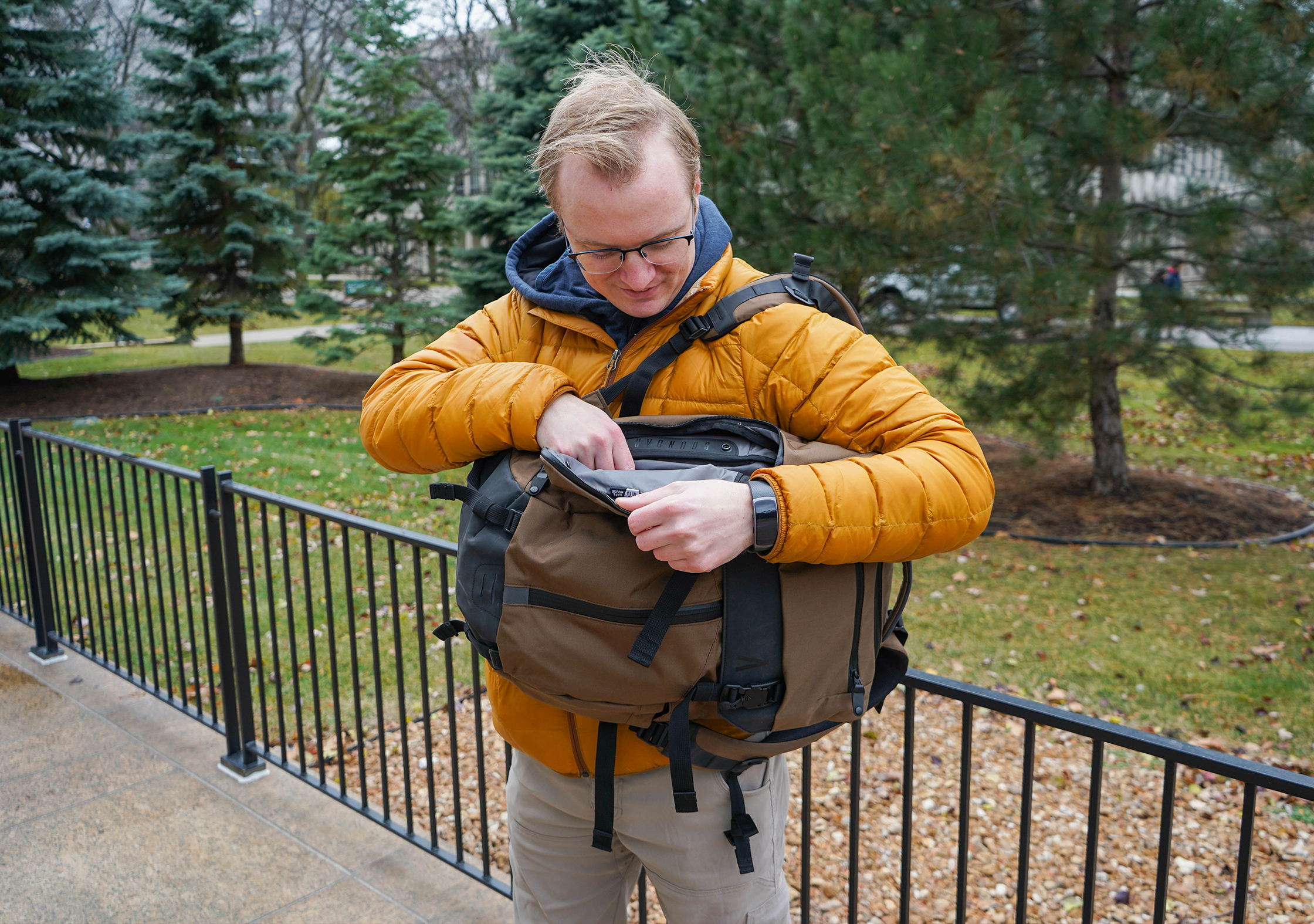 Materials & Aesthetic
The Boundary Supply Prima System Modular Travel Backpack looks like its name. It's sort of sleek with minimal branding and matte colorways, but there are numerous straps and buckles that make it look nearly as complex as it is. It's one of those packs that you'll either love the look of or…not. As far as colorways, at the time of this review, you can pick it up in a brown, black, or silvery gray.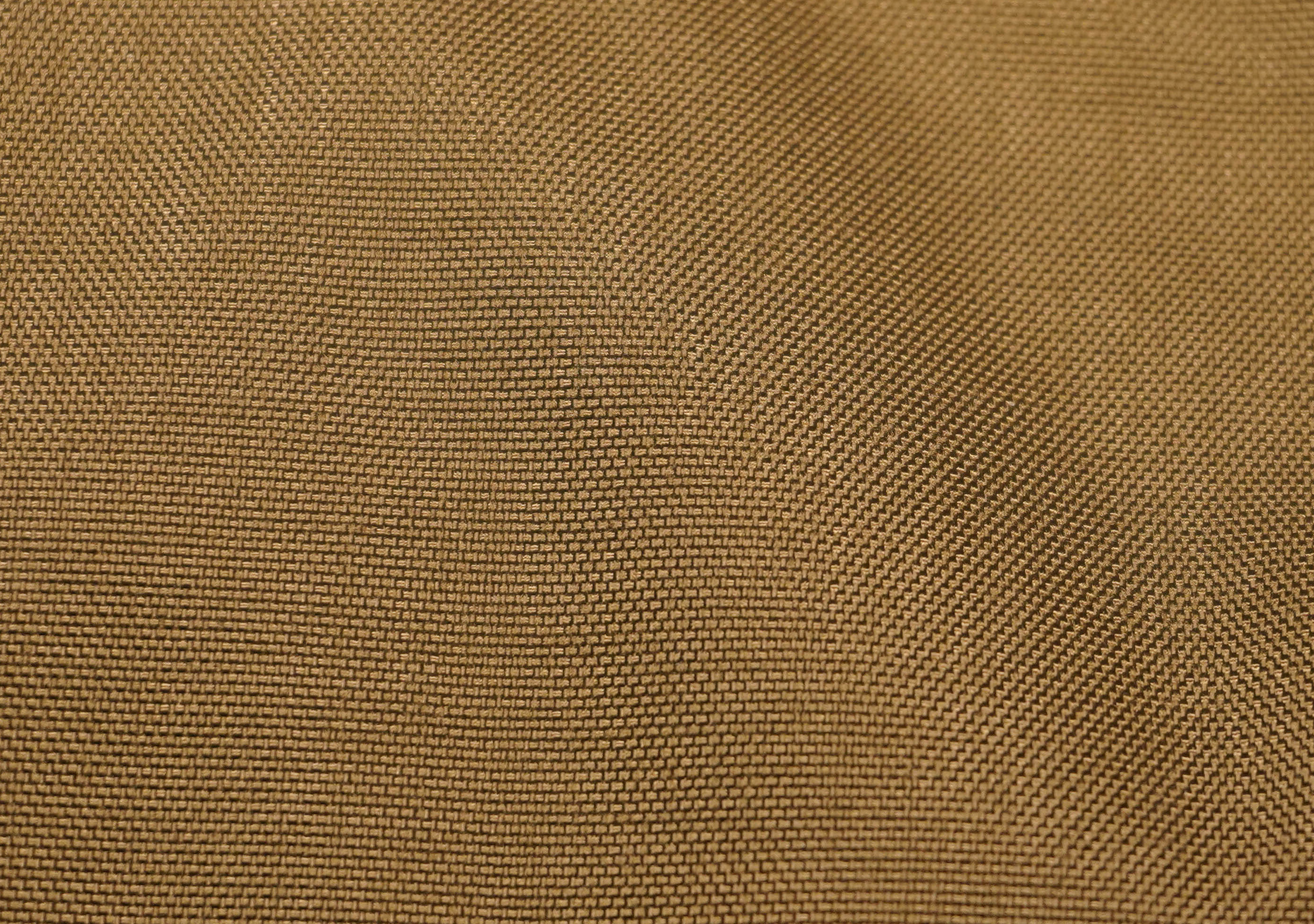 The materials are basically the same as you'll find on the Boundary Supply Errant Travel Bag—a 500D Nylon Kodra exterior, with Hypalon (a highly water-resistant, rubbery fabric) panels, and a DWR coating that makes the entire pack weather-resistant.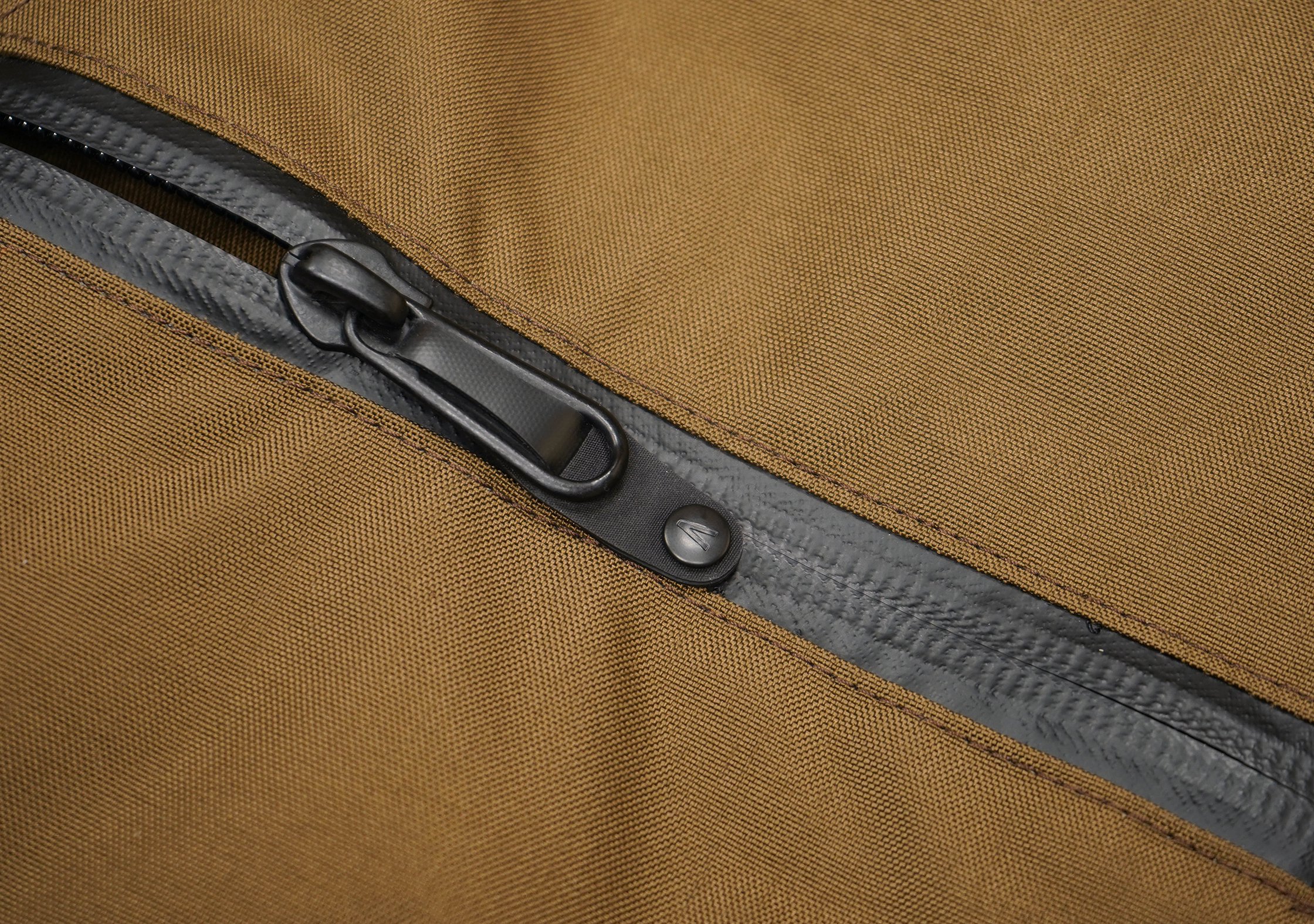 The zippers are YKK Stormguards® (also weather-resistant, as you would guess from the name) and there are magnetic fidlocks around the bag that are way too fun to fidget with and easy to use. Finally, you'll find some dense LFT™ EVA foam on the back panel and shoulder straps.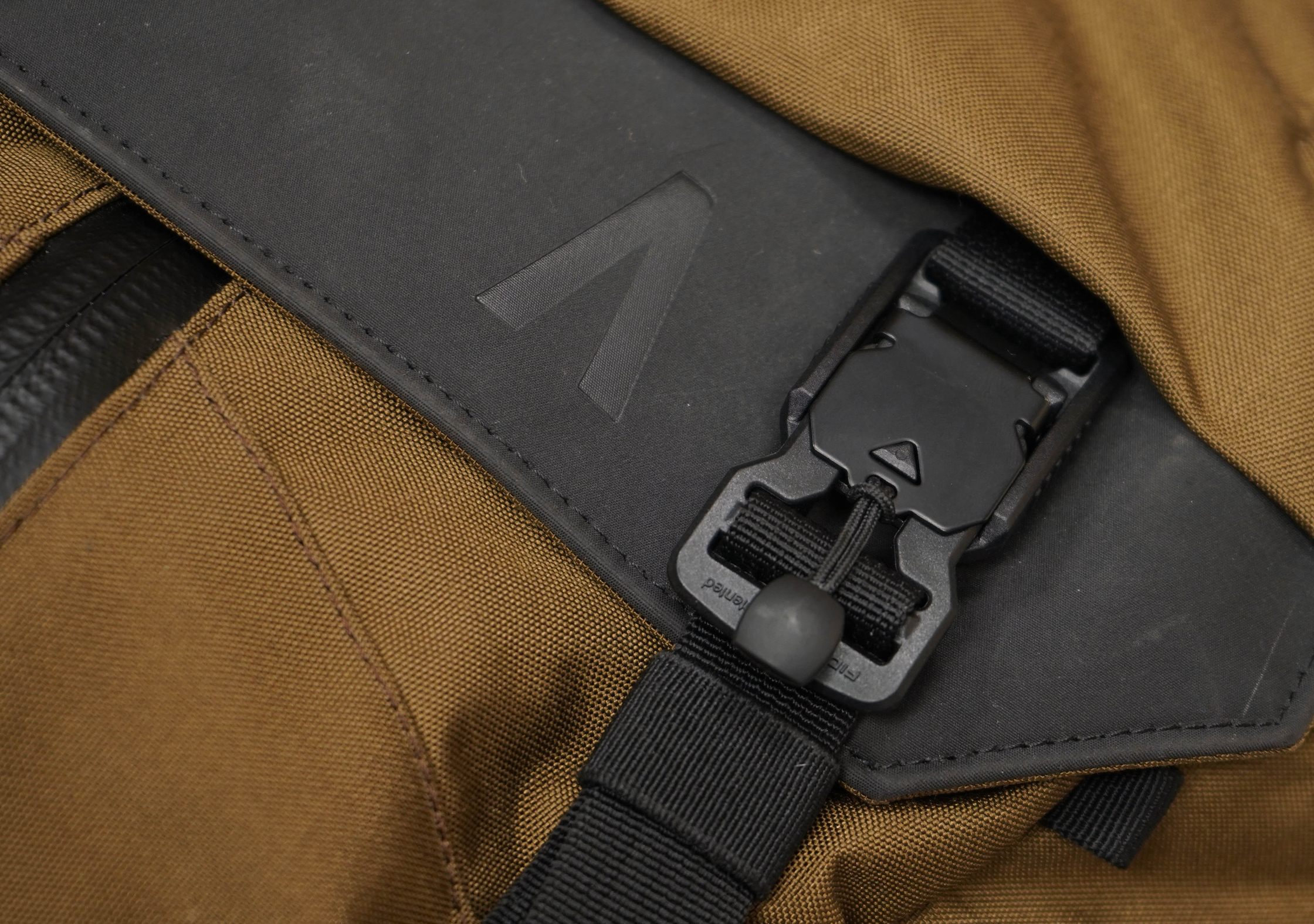 Overall, an impressive collection of materials that should keep up with whatever you throw at it. Plus, nearly all of the materials are bluesign® approved, ensuring social and environmental responsibility along the manufacturing process, which is something we certainly appreciate here at Pack Hacker.
External Components
Let's begin with something simple, shall we? The pack features a typical backpack top handle for typical top handle things—maneuvering the pack in and out of overhead bins, hanging it up off disgusting airport bathroom floors, swinging it in front of you like a pendulum for a creative arm workout (just us?). And it has plenty of cushion to make holding it a pleasant experience.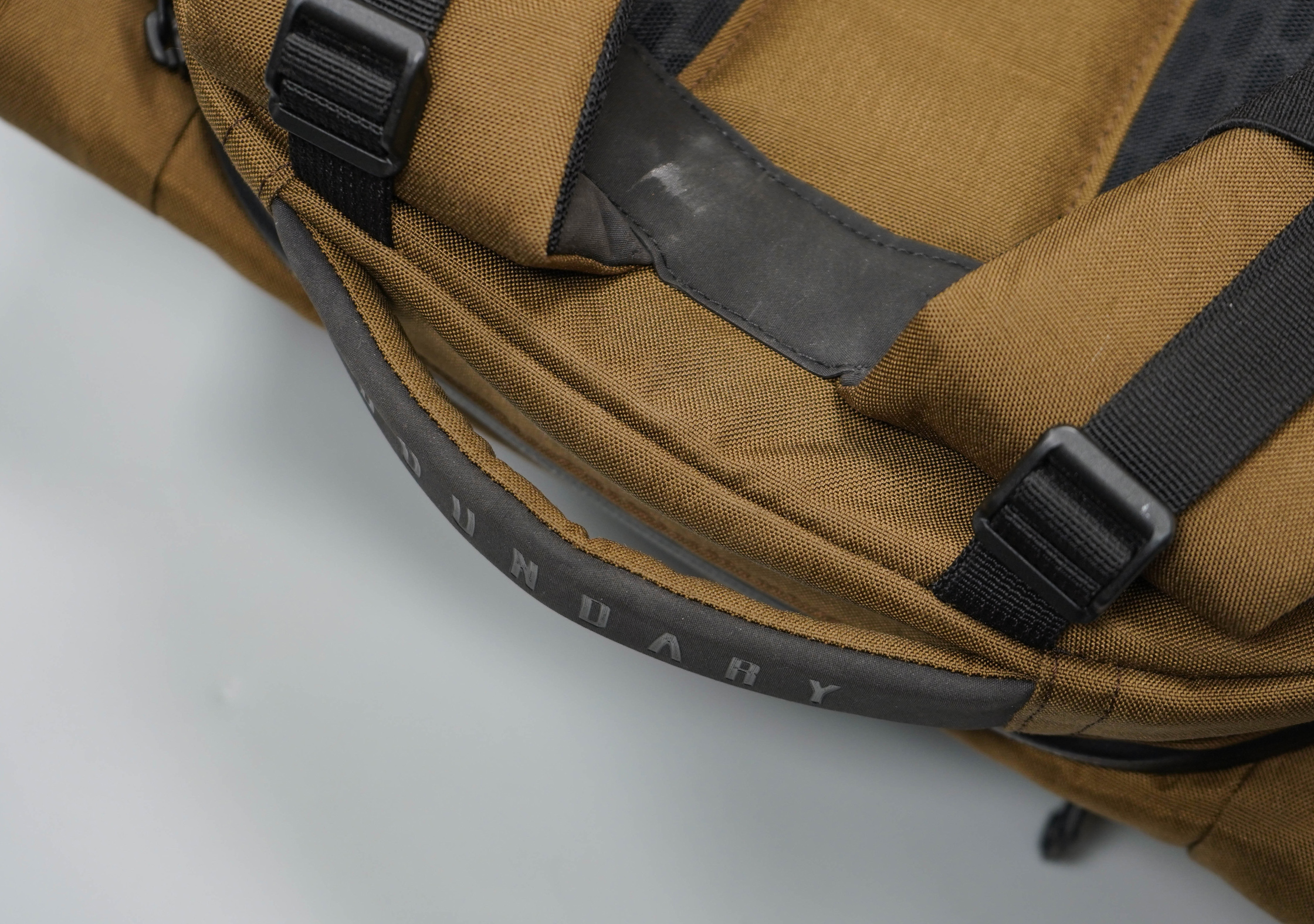 There's a second, simpler handle on the side also for maneuvering or carrying the backpack in briefcase mode. It's obvious the pack hasn't been designed to be carried as a briefcase, but know the option is there in dire situations. Really, the point of this handle to help you access the camera cube via the side zipper. We'll discuss this further in the "Inside the Pack" section, but we wanted to point it out now to explain why the handle sits on the left side of the pack.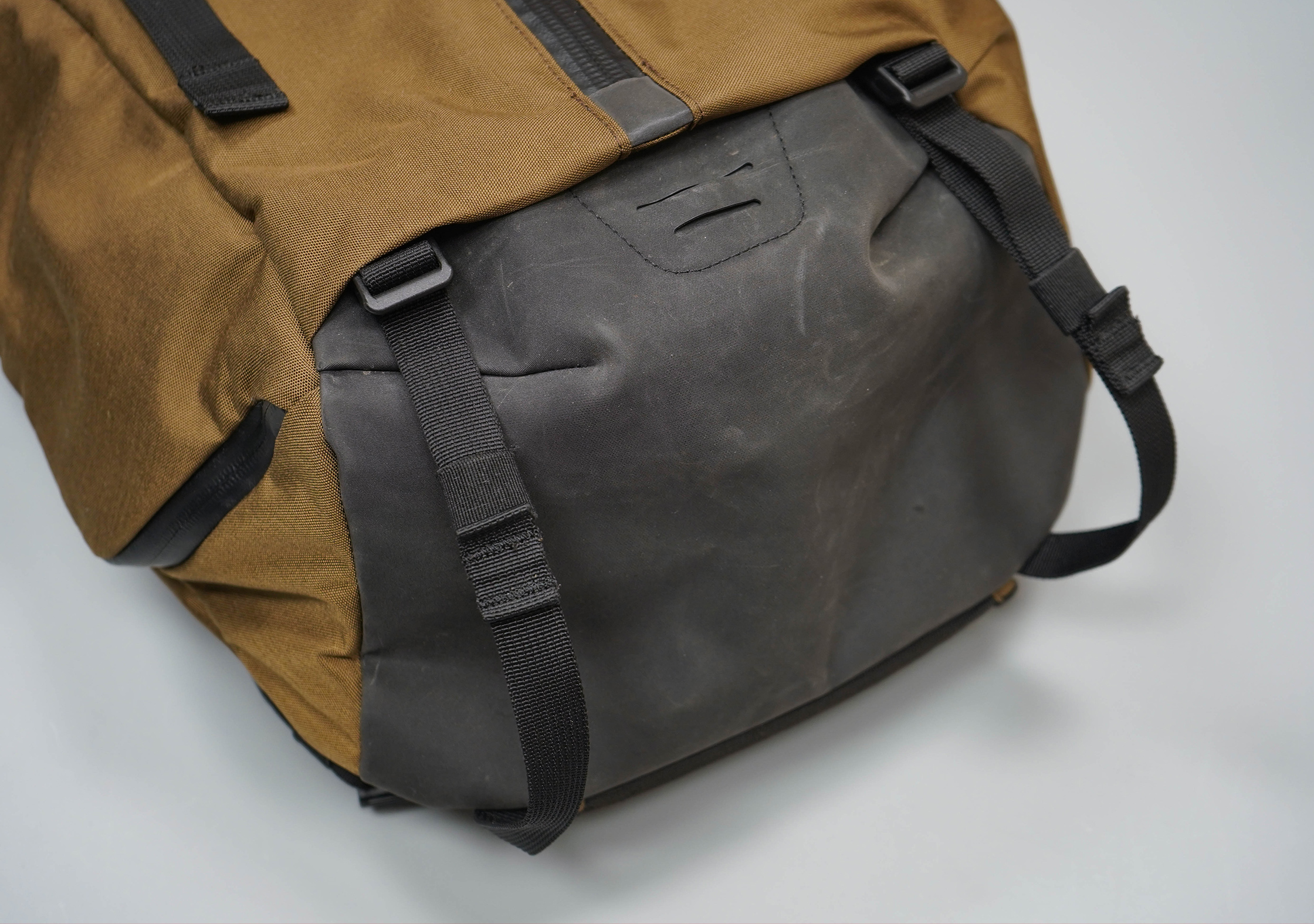 On the bottom of the bag, you'll find lash straps where you can attach extra gear (say a tripod) or modular accessories that the folks at Boundary Supply have designed specifically to work with the Prima System.
You'll also find a spot to secure a small light, so you can go on late-night adventures.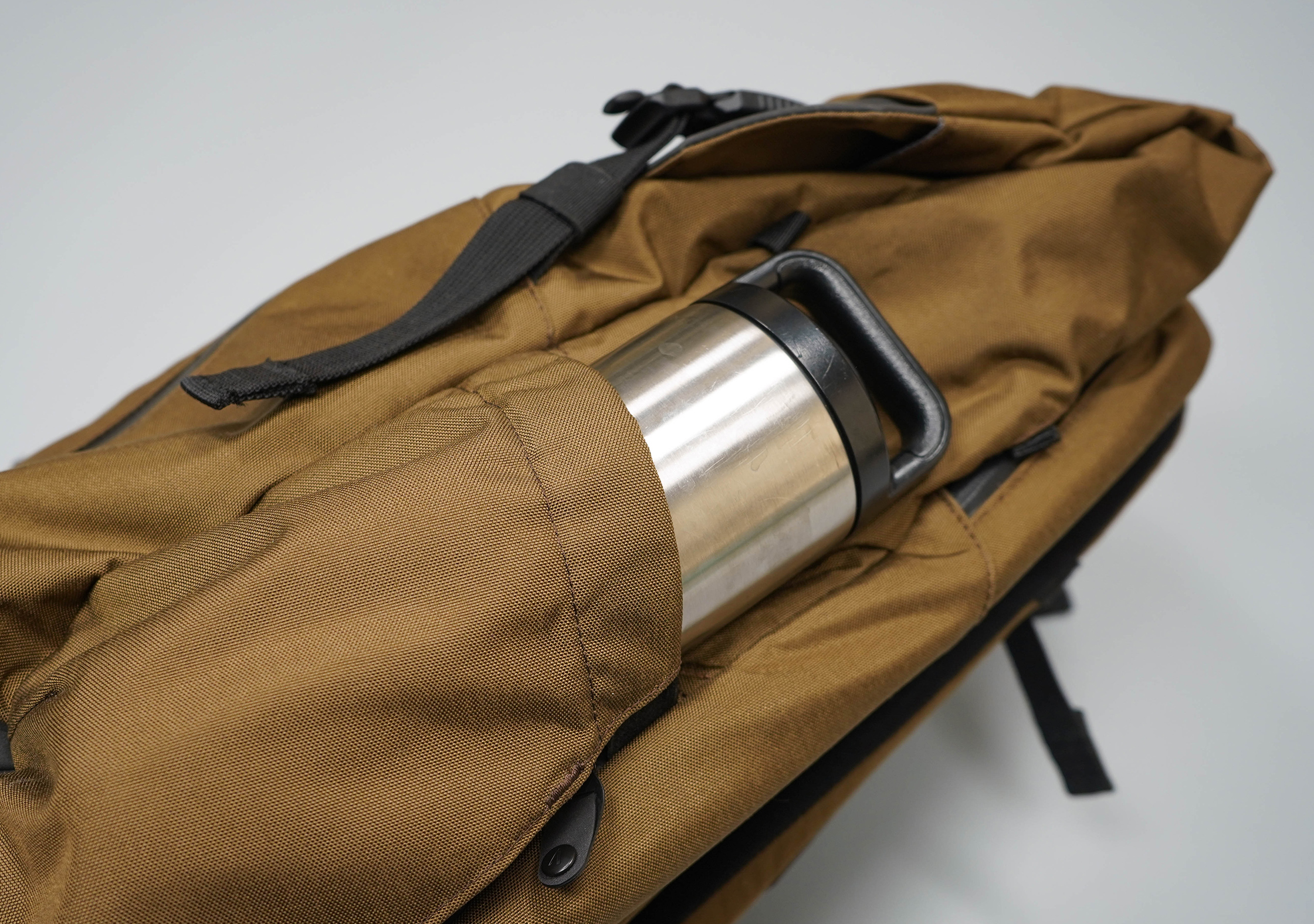 There's also a water bottle pocket on one side, which has been thoughtfully designed. It's elasticated, so it can hold massive bottles (up to 32oz) if you like to chug water, but will also hold smaller bottles securely. There's another lash strap above the water bottle pocket. Great to keep tall things secure—like that tripod.
Simple exterior components aside, let's check out the harness system.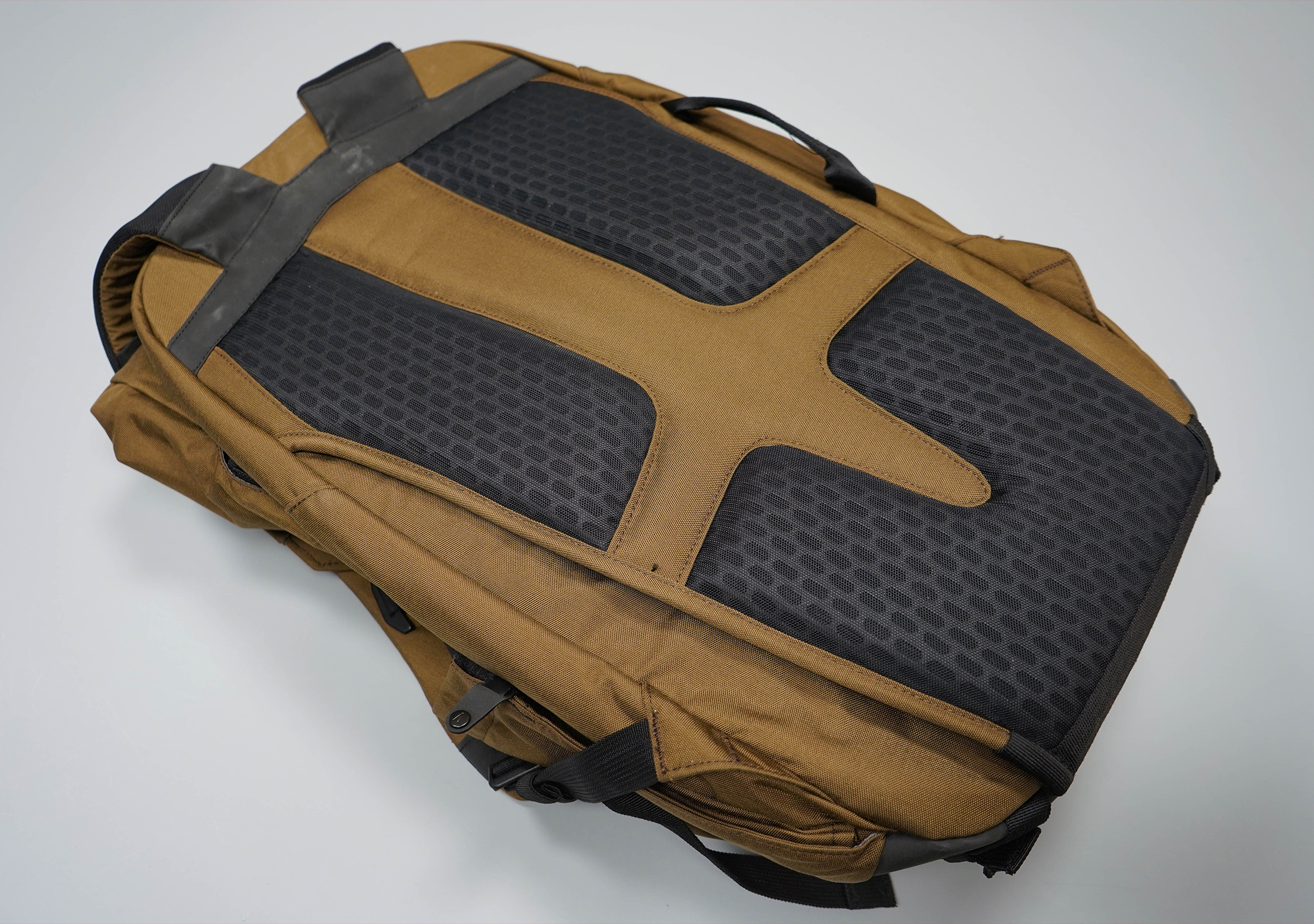 The LFT™ foam on the back panel is thick and comfortable. Its honeycomb design and mesh overlay help with airflow and avoiding that dreaded swamp back. Plus, it has a nice curve to it. Behind the back panel is a luggage pass-through, so you can easily travel with a rolling suitcase.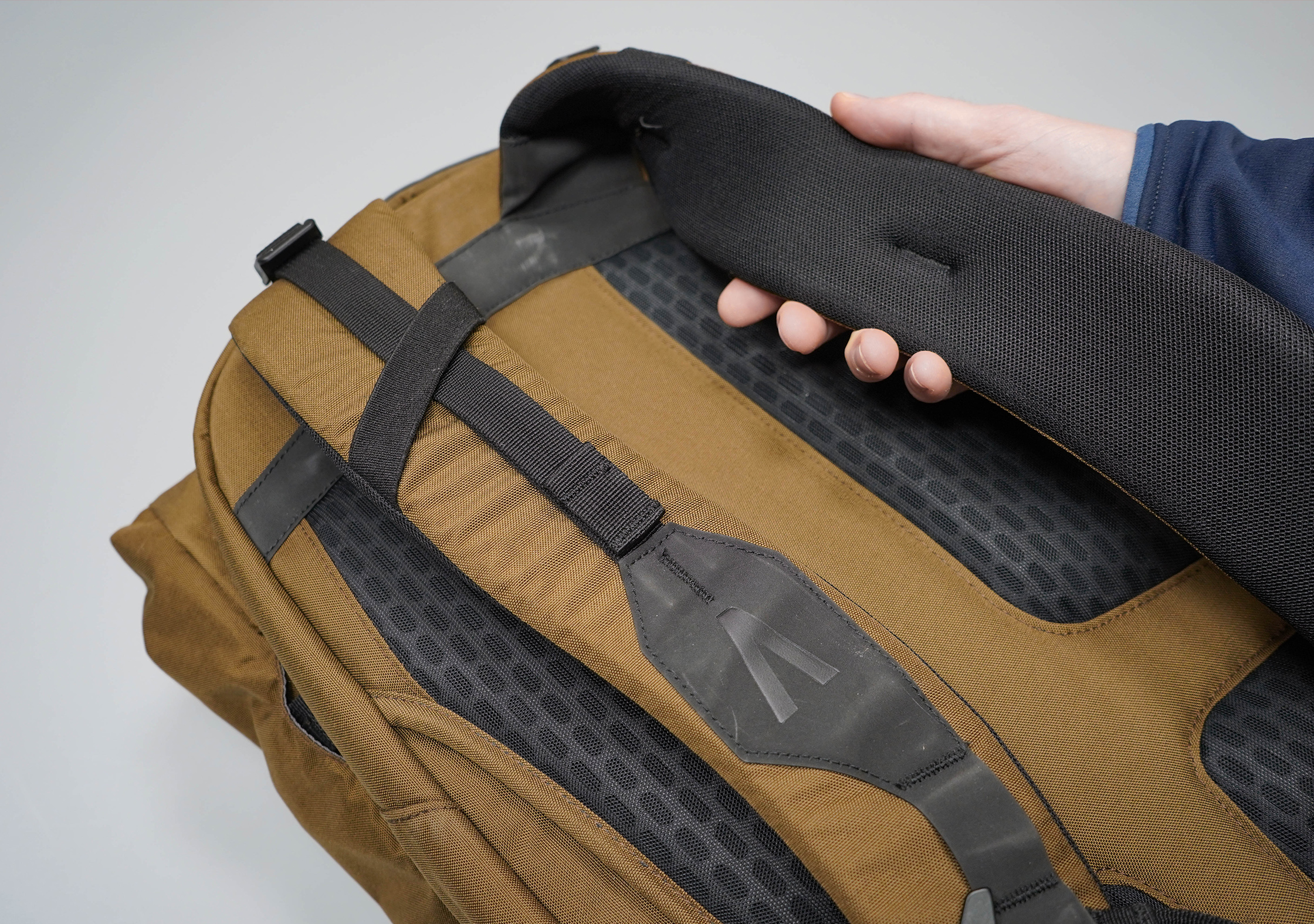 The backpack straps are equally as thick, padded, and comfortable. Although they can be a little stiff right out of the box. The straps have load lifters to help lift the load by pulling the top of the pack closer to your back, which is always nice to have.
And there are also a few loops on the shoulder straps to attach things externally if that's your cup of tea.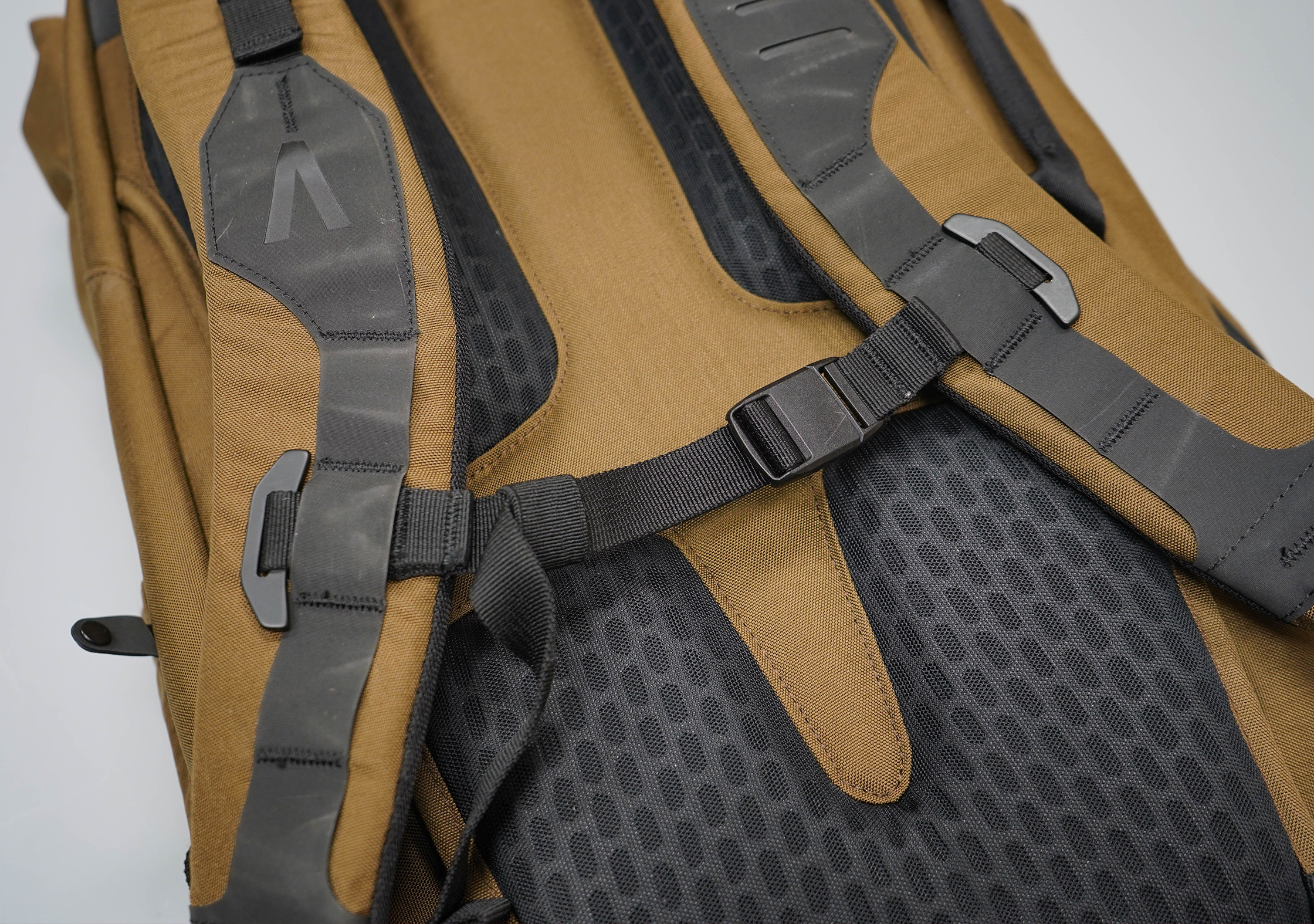 The magnetic, adjustable sternum strap is fun—it clicks in quickly and only requires one hand—but it's not secure. Due to the way the sternum strap adjusts, it can easily slip out without you knowing it. We haven't had this issue on this pack—yet—but it happened to us while testing the Errant (which has a similar sternum strap design).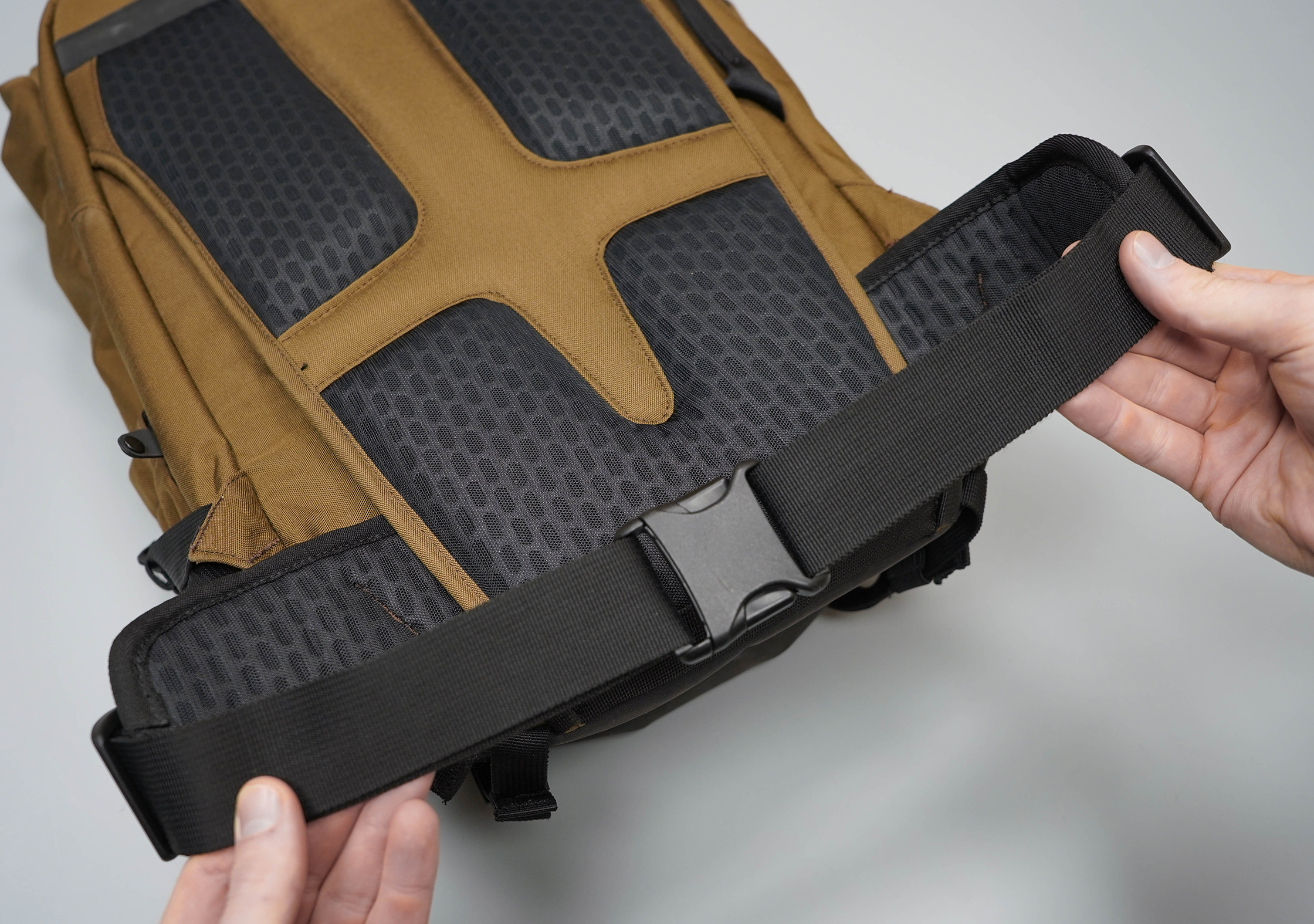 The pack also comes with a detachable hip belt, which is held in with velcro and features the same foam as the back panel and shoulder straps. It's adjustable on both sides, with the excess strap kept tidy by elastic loops for the coveted #DangleFreeExperience. It's the little things, you know? Overall, it's cushy and comfortable.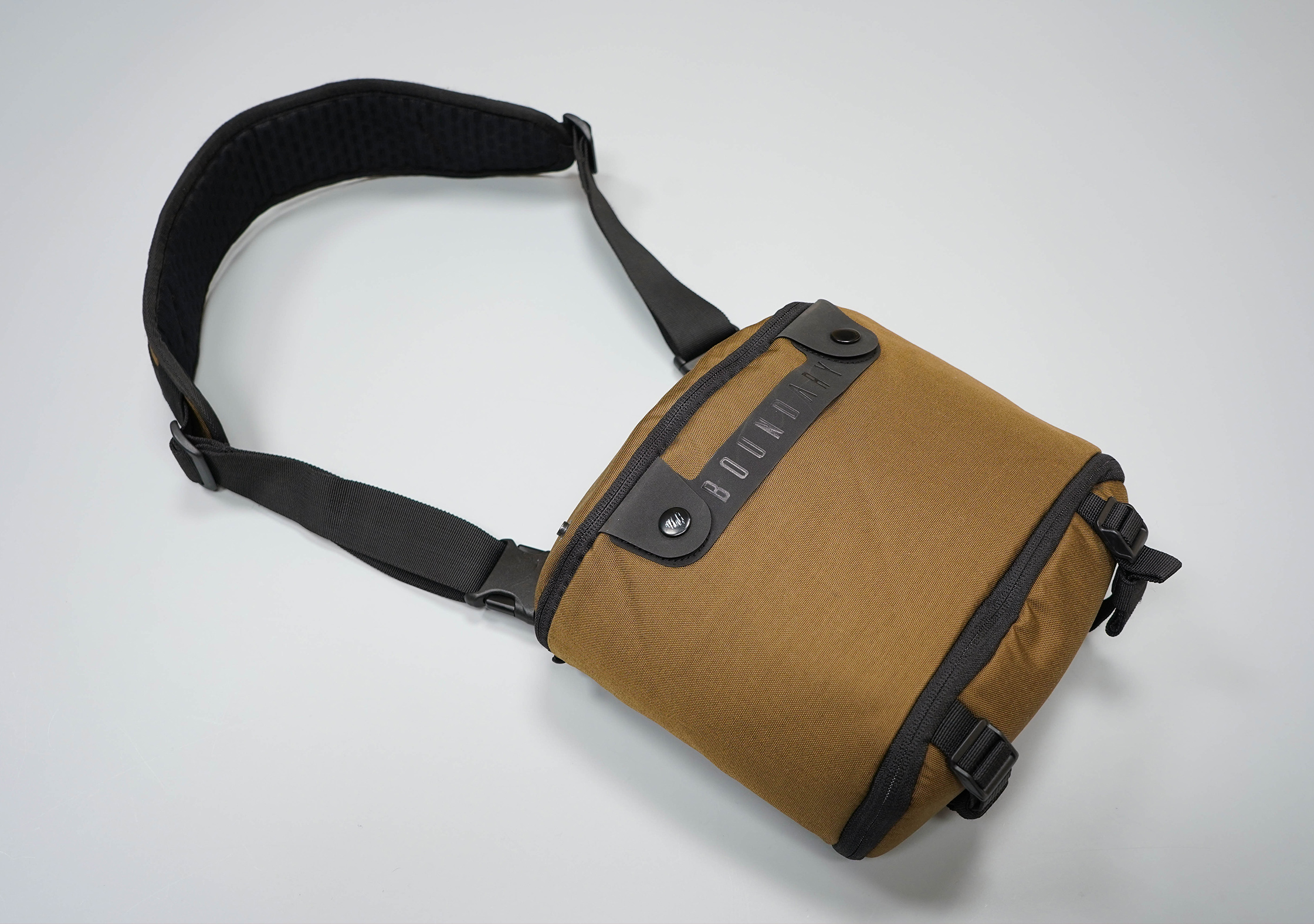 But wait, there's more. The hip belt doubles as a shoulder strap and hip belt for the camera cube that comes with the pack. You simply clip the hip belt to the cube for shoulder strap mode or attach it via the velcro for hip belt mode. Now, it takes time and a heck of a lot of patience to do the latter since you have to thread the belt through the back of the cube without the velcro getting caught too early. It can be a bit of a pain.
Inside the Pack
If you thought the external components were complicated then you may be overwhelmed with everything going on inside of this pack. We might even say packs since the Prima System comes with the backpack and the Verge Case (that camera cube we talked about above).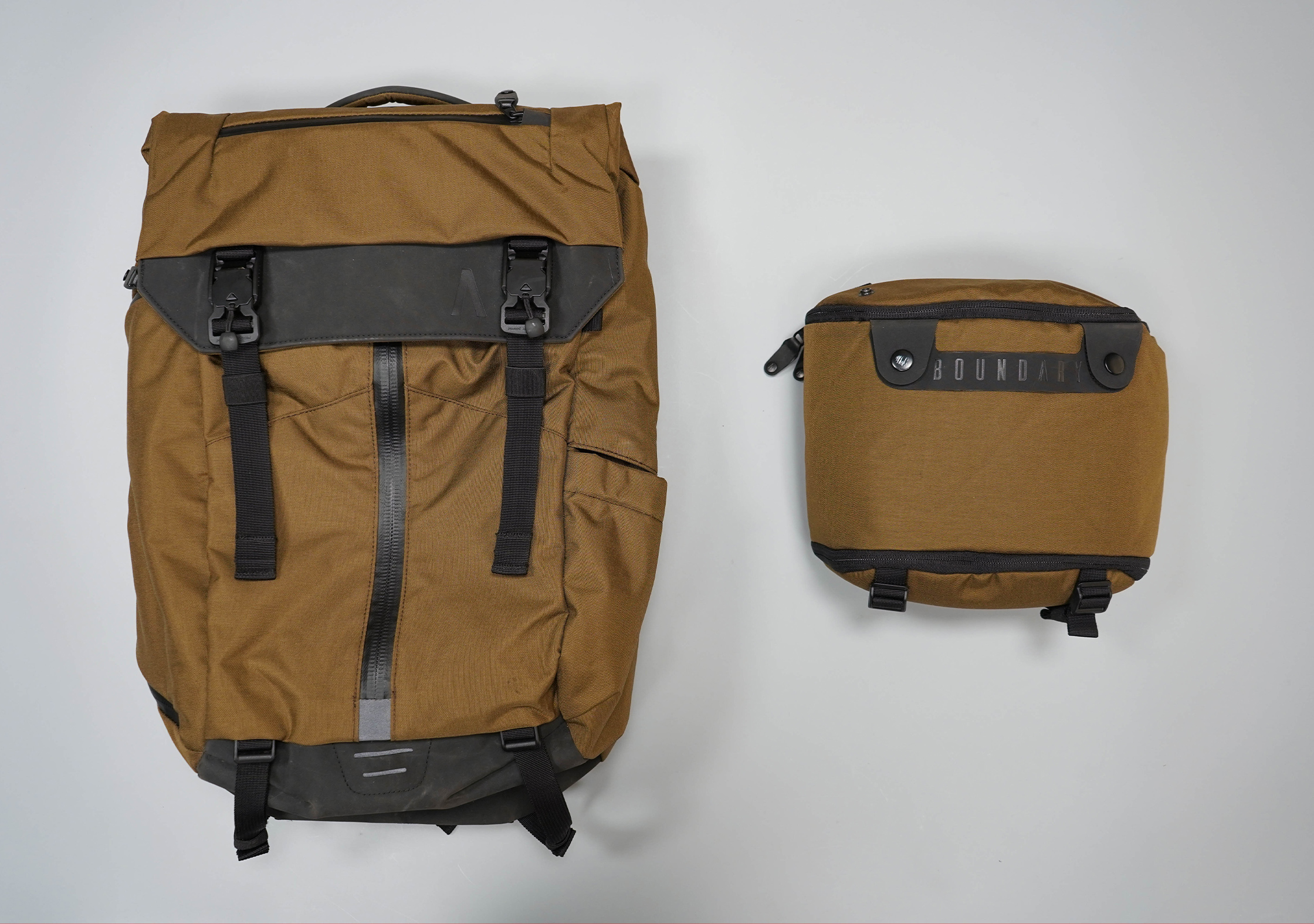 If this isn't complicated enough for you, Boundary Supply offers more customization with four system options—the Commuter, Photographer, Traveler, and a custom option. These systems come with other cases, packing cubes, and all that jazz. To be clear, we're not going to discuss those. Today, we're only taking a look at the Prima System.
Let's set the camera cube aside for now.

The backpack has a rather large quick-grab pocket at the top for all those quick-grab items. Inside, you'll find a divider pocket that closes with a magnet and is lined with a super soft fabric that'll help protect your phone, sunglasses, or other fragile items. That super soft fabric is called Nywool™, and while it mimics real wool, it's synthetic.

There's also a magnetic key clip that sits outside of the divider pocket, so your keys and phone will be separated here and you don't risk your keys scratching up your phone. It's a great design that you can tell the folks at Boundary Supply really thought through.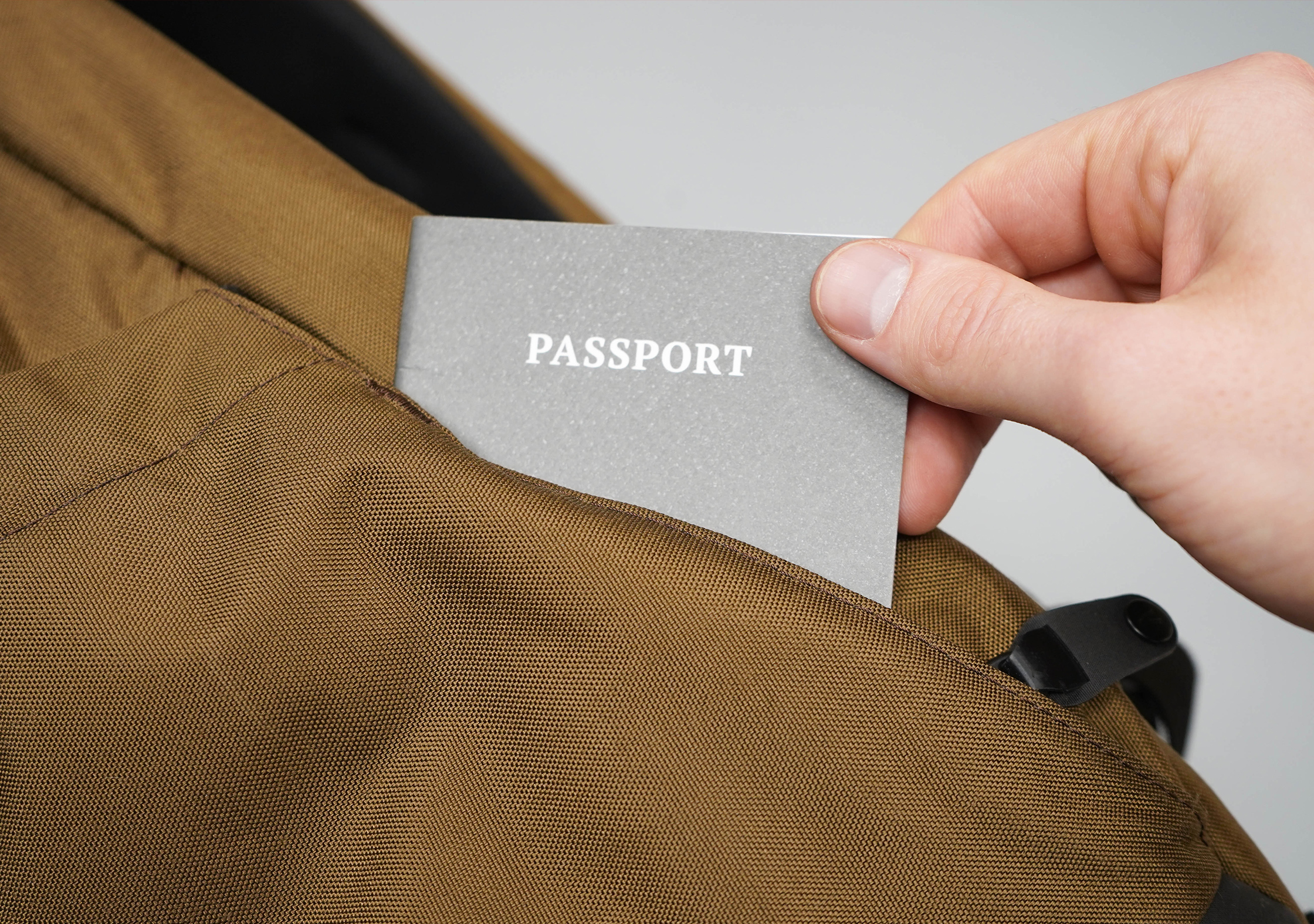 Next up, you'll find a security pocket that tucks behind the water bottle pocket. This is great for passports or other small, flat items. It'll be hard for pickpockets to steal something here without you noticing. (Unless they're a world-class pick-pocketer.)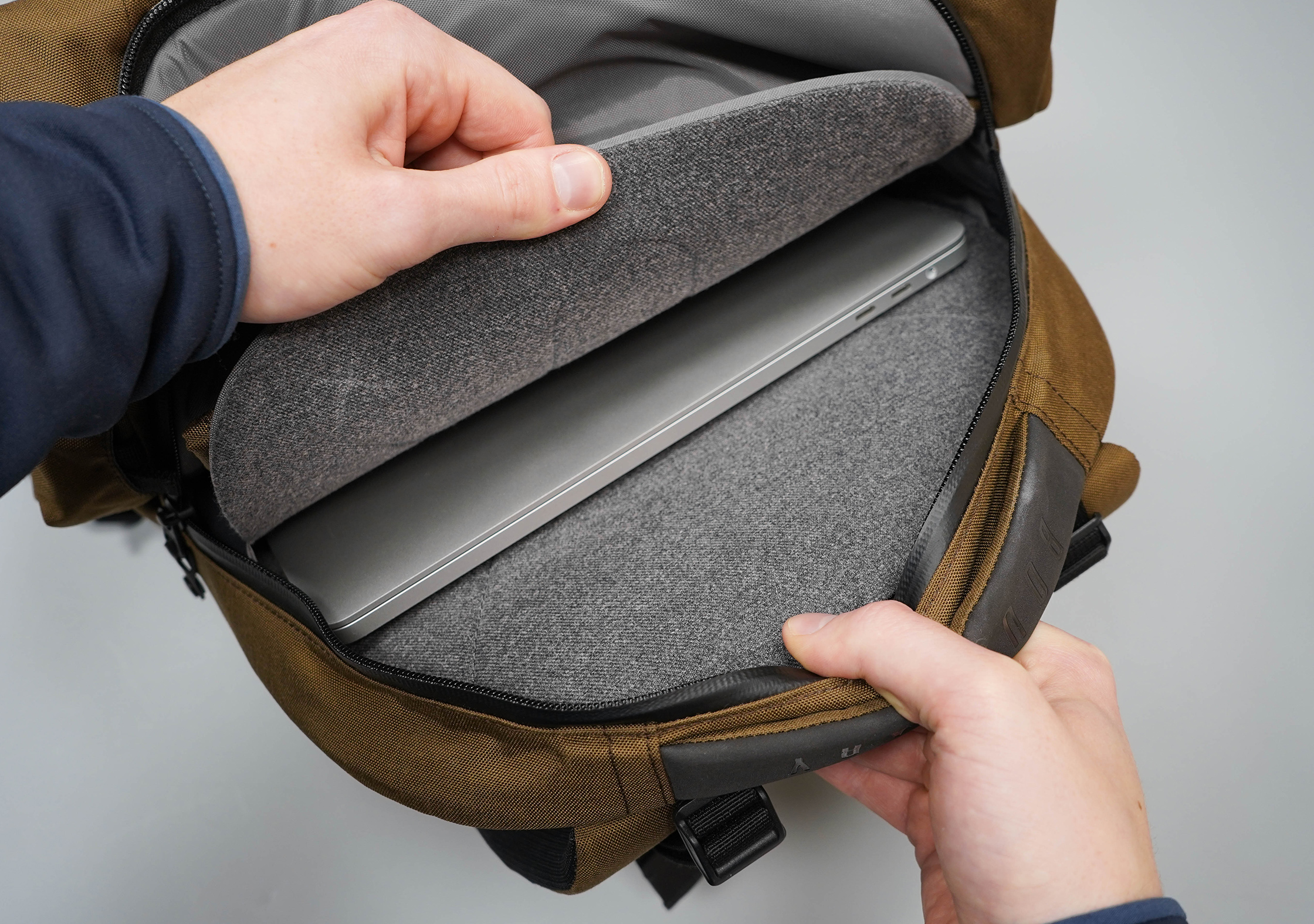 There is a separate laptop compartment, which we always love to see. Inside this compartment, there's a sleeve that'll fit up to a 17'' laptop.
In front of the sleeve is what Boundary Supply calls the "Field Space." Essentially, the Field Space is an organization panel to hold a tablet, small laptop, documents, or other miscellaneous tech accessories. The best part about it is that it's removable. It "docks" into the laptop compartment via a magnet.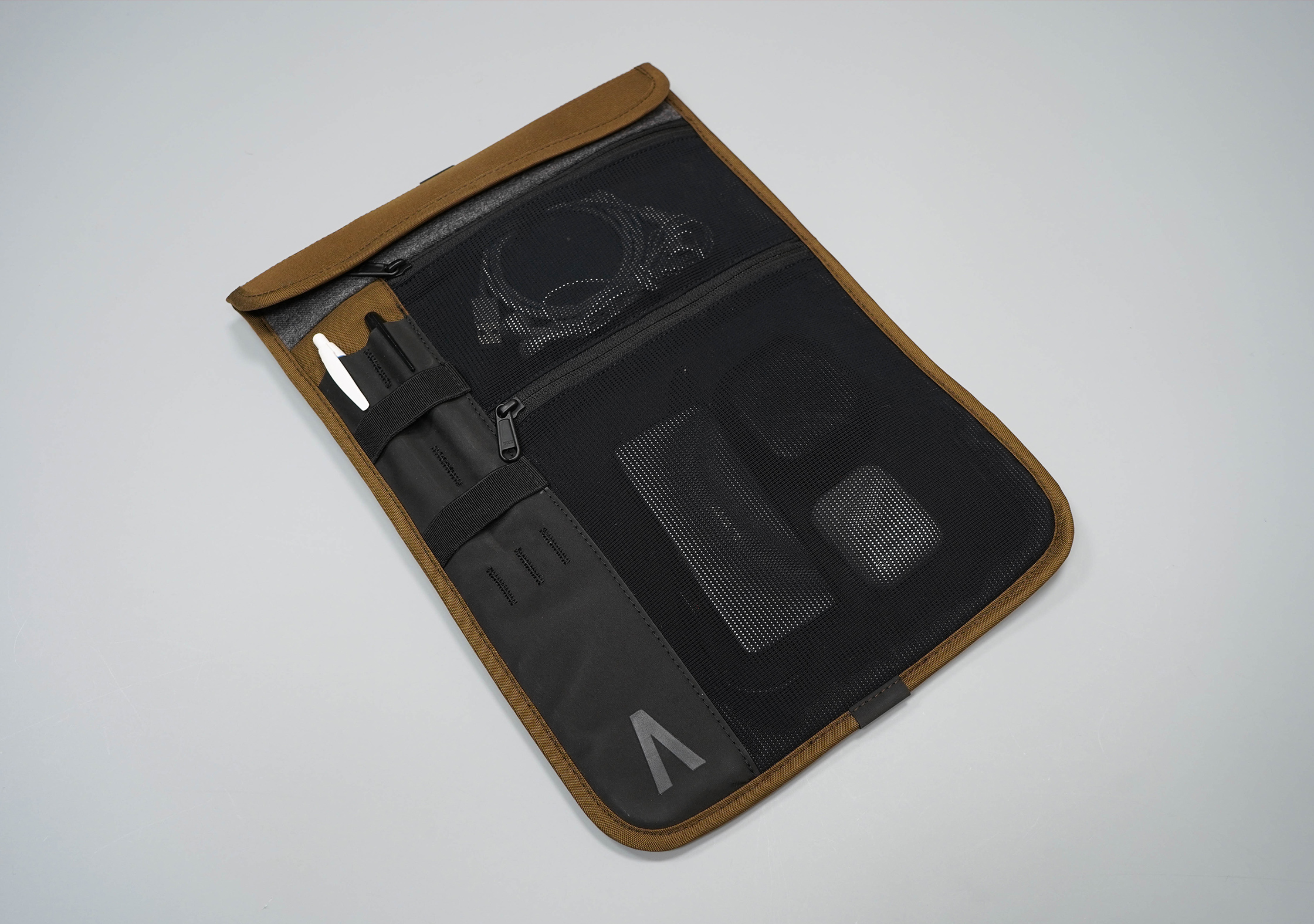 Because you can remove it, it's super easy to manage and access. (Unlike organization panels in other packs.) The Field Space is an awesome addition to the pack. We've enjoyed using it during testing, primarily to hold a portable monitor and its accompanying cords and dongles.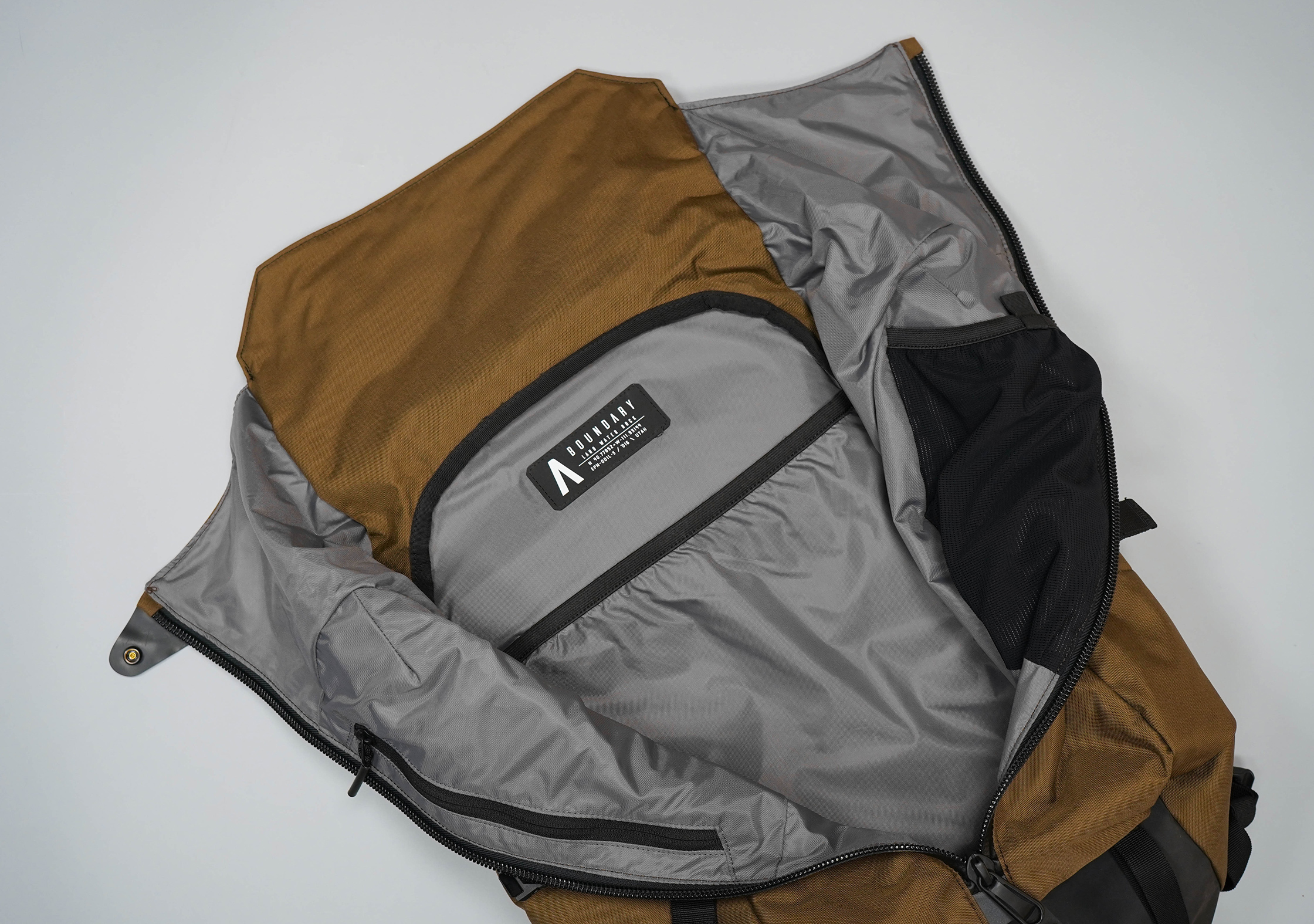 And that brings us to the main compartment. Getting inside of this compartment is a process…to say the least. First, you have to unclip the two fidlock buckles. Next, you have to unroll it. Then you have to undo the snap that covers the top of the zipper (to keep it from randomly unzipping). And, finally, you can zip it open. To be frank, it's a bit much. At least for us.
Note that because it's a roll-top, you can roll the top more or less depending on how much stuff you have. This is what makes the pack compressible—from 35L to 25L.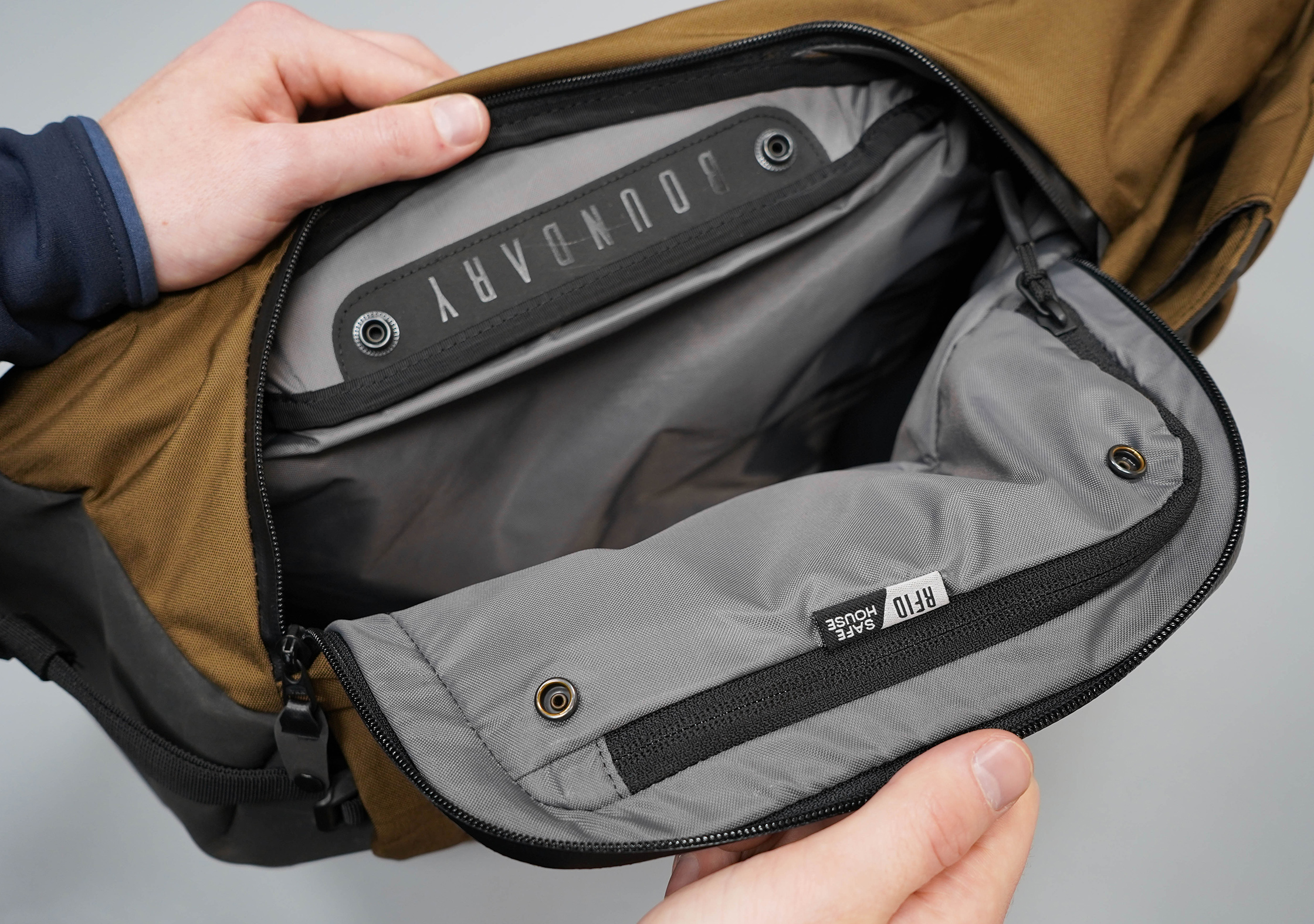 But you don't always need to fully undo everything to quickly grab some things out of the pack. Plus, there's a sneaky side access. This zipper on the side of the pack allows you to swing the pack forward off of one shoulder and easily get into the side of the pack…as long as the camera cube isn't in the way (we'll talk about this more in a minute).
You'll also find an RFID pocket here to stash your wallet, credit/debit cards, or hotel key cards. Basically, anything you have that has an RFID chip.
Inside the main compartment, there's not too much going on. There's an elastic document sleeve against the back, which is nice, although you can feel the uneven bumps of the back panel inside of it. Because of that, we wouldn't suggest putting anything too sensitive here (it might get bent).
There's also a zippered pocket on one side—perfect for smaller items—and a stretchy pocket on the other, which looks like it's been designed for a water bottle. But any tall items would also work here—a small tripod, computer stand, etc.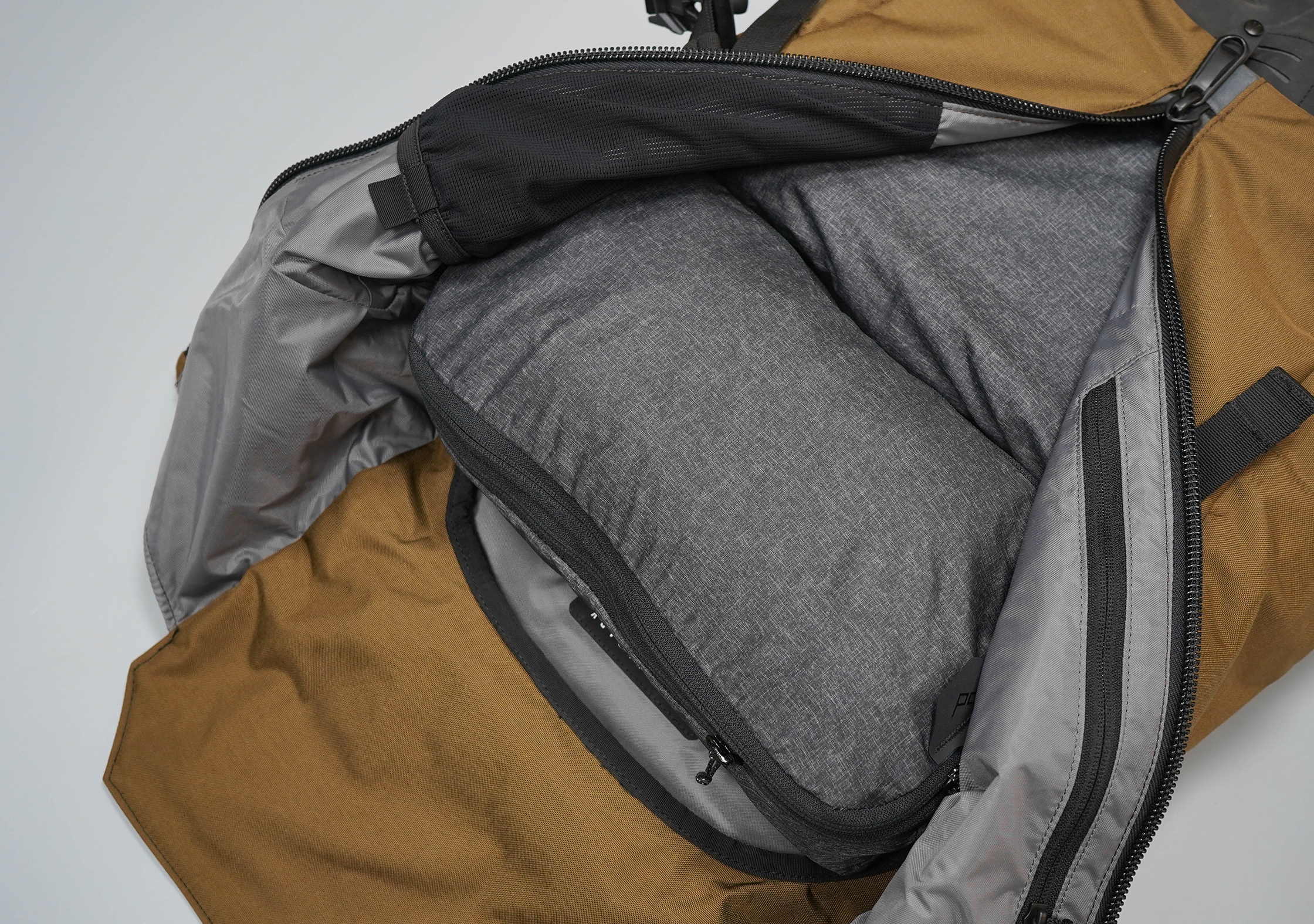 The rest of it is open space. As always, we suggest using packing cubes and accessory pouches here to keep all of your stuff organized.
Before we start talking about the camera cube, now would be a good time to brew another carafe of coffee or pour some more hot water over your teabag. Ready? Let's go.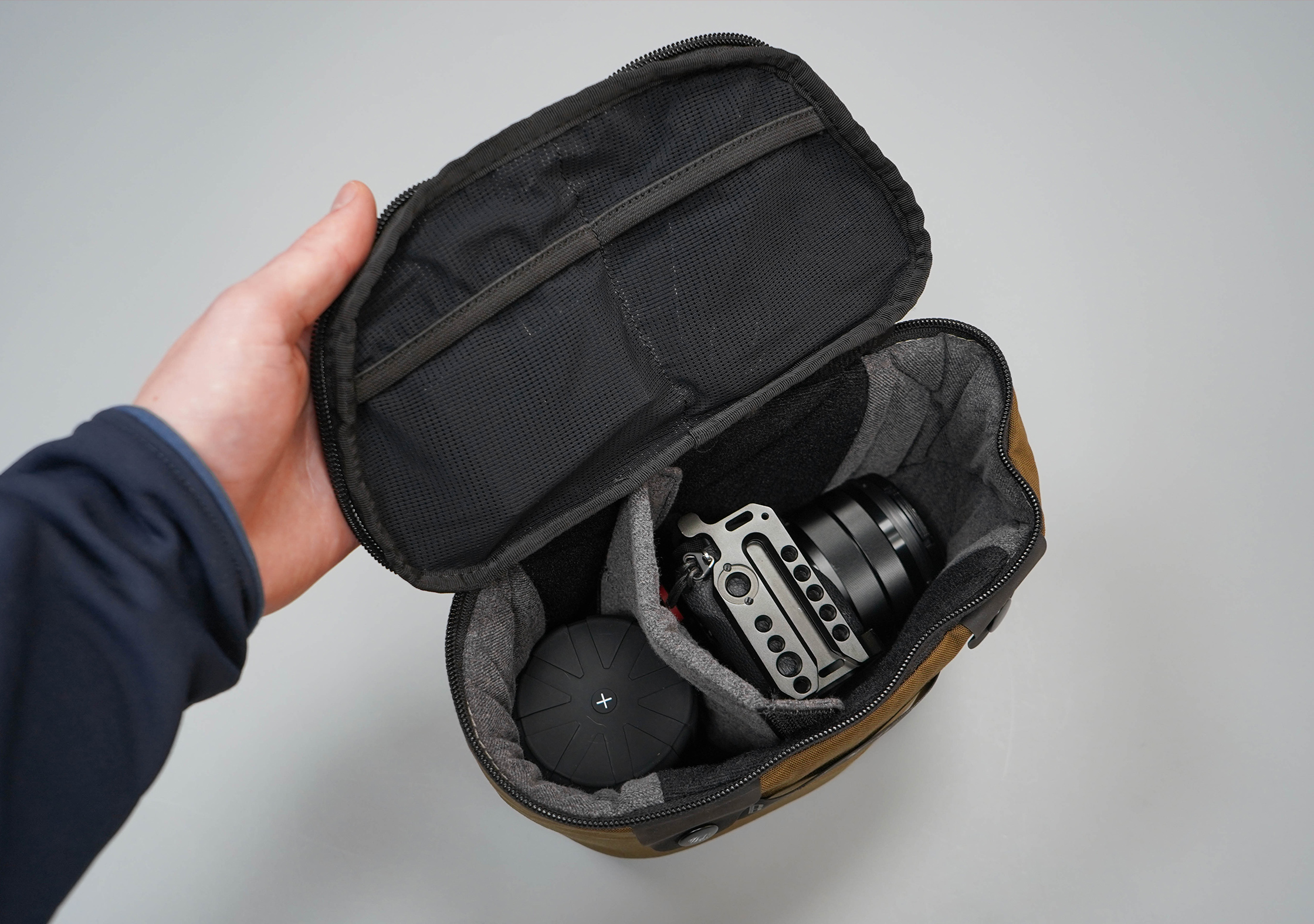 The camera cube—called the Verge Case by Boundary Supply—neatly holds and protects your camera and accessories. The interior has a soft divider that allows for full customization of the cube's space, although we would've preferred one more divider just to get really granular with our organization. The bottom also unzips and stretches out, so you can fit longer lenses (again, more than one divider would be nice here).
There are additional pockets for small camera accessories—think extra batteries or SD cards. The pockets are designed in such a way that they close with double elastic, keeping your stuff safe. Finally, there's a zippered pocket on top of the cube for other small stuff and compression straps that can hold a travel tripod.
The Verge Case has been designed to either sit inside of the pack, connect to the exterior of it, or be carried separately.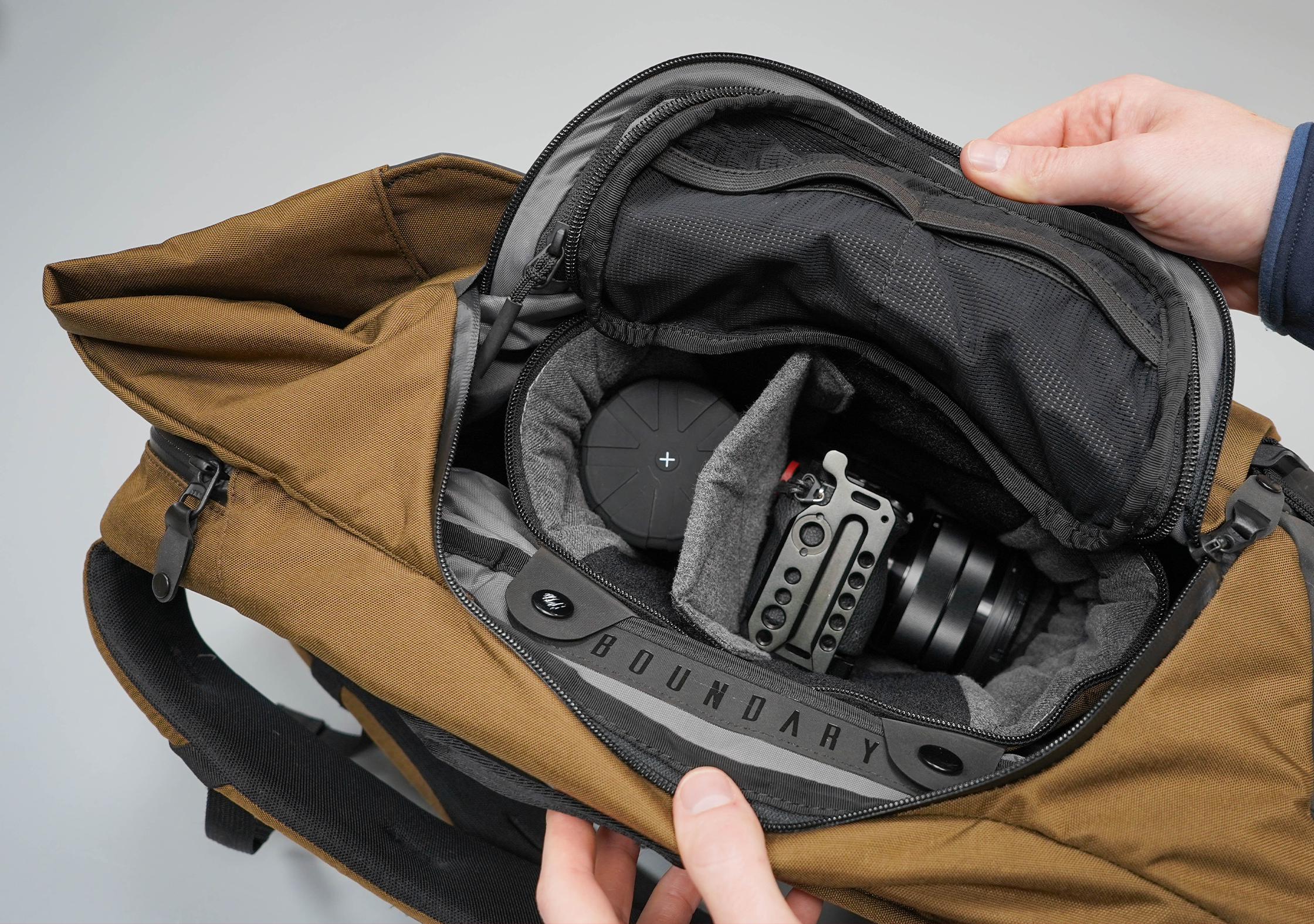 To attach the cube to the inside of the pack, stick it through the side access, and button it in place. You'll need to have the camera cube opened up because its lid attaches to the pack. It's designed this way so that when you open the side access, you'll be granted access into the camera cube. You won't need to open zippers on zippers.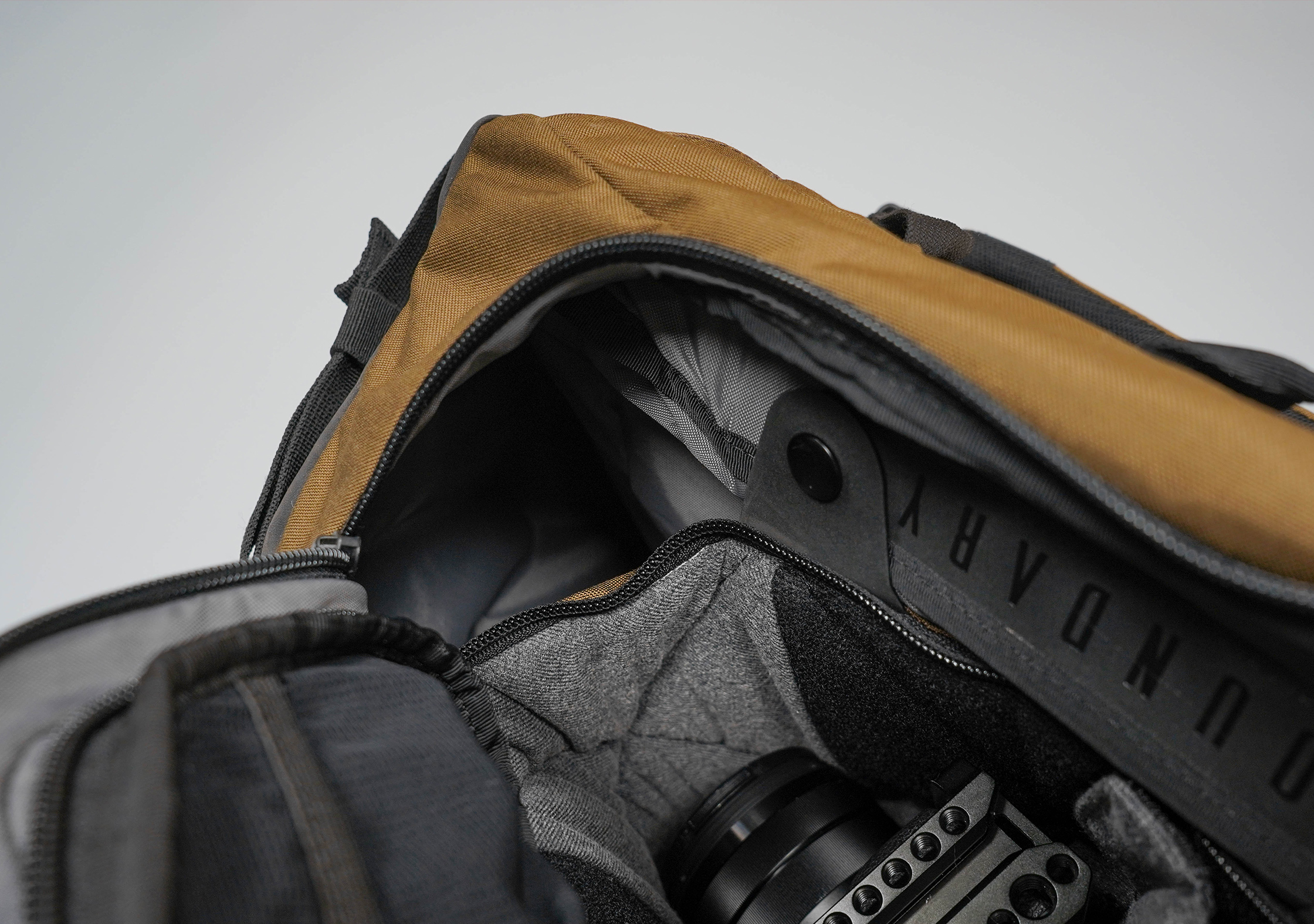 Unfortunately, when you carry your pack as a backpack, small stuff can fall out of the camera cube and into the pack's main compartment via a gap along the side of the cube. Not ideal, obviously.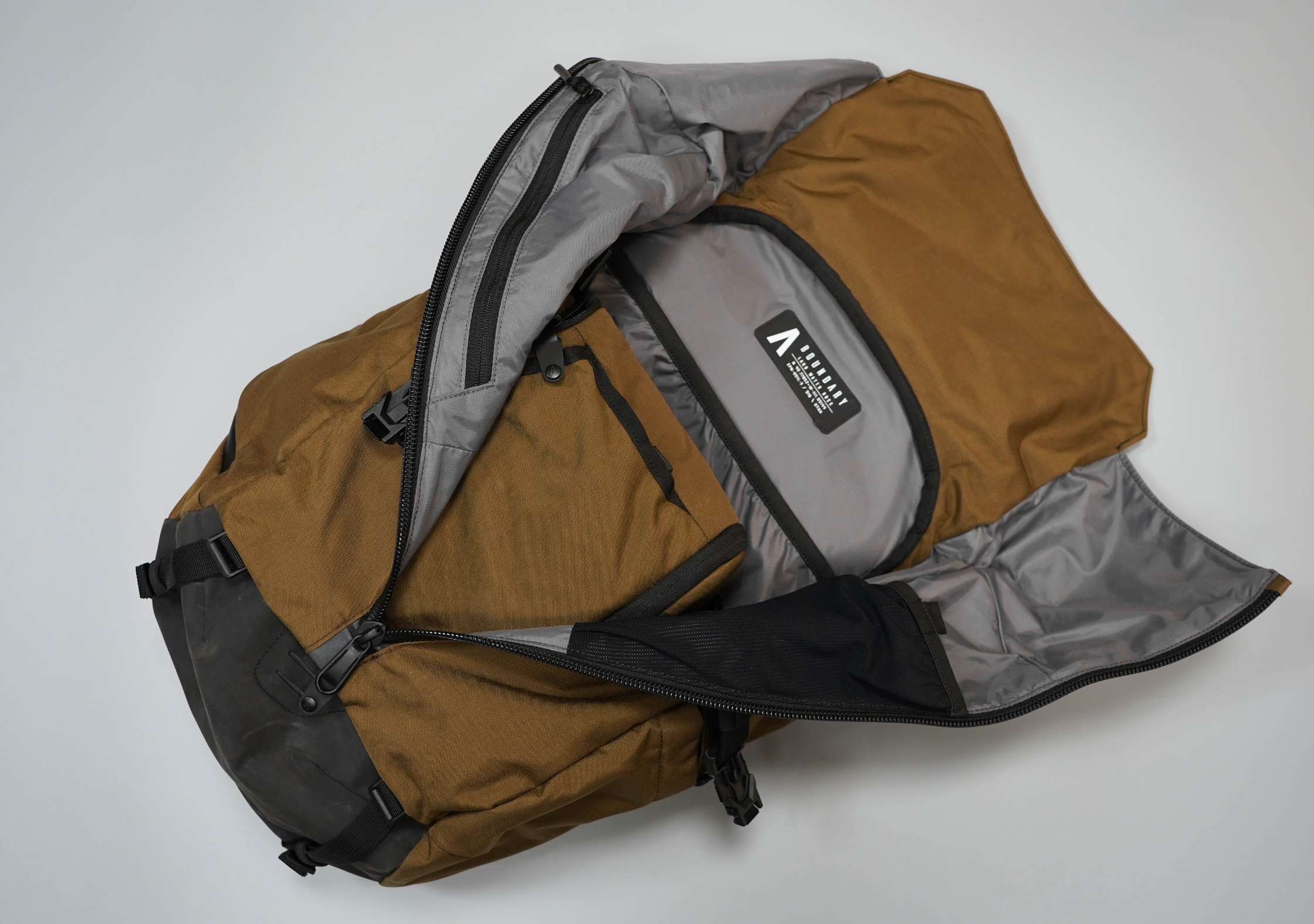 Plus, the camera cube itself takes up a huge amount of the main compartment. You won't be able to put much else inside—maybe a spare outfit, but not nearly enough for longer trips.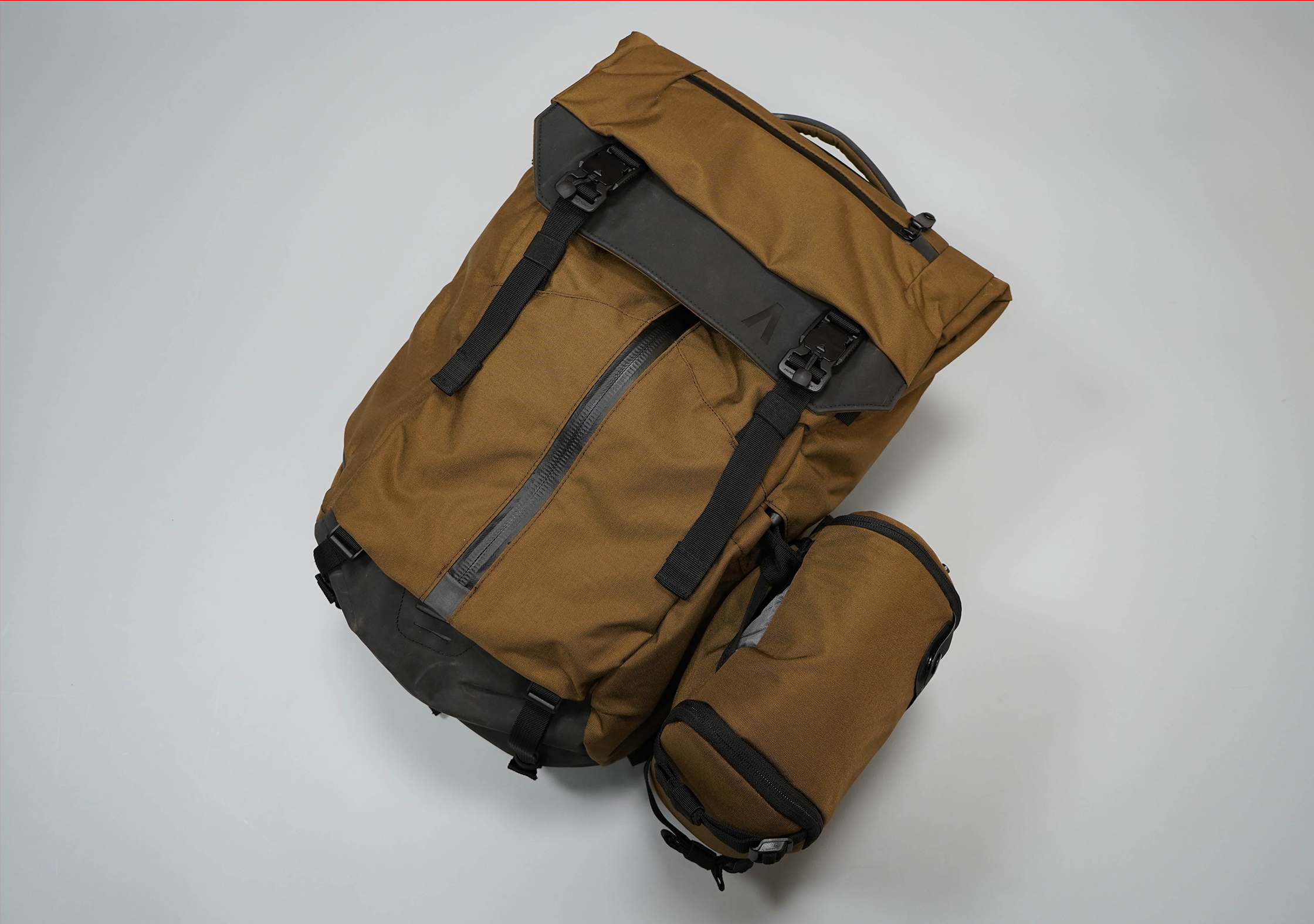 If you do want to use the main compartment for other stuff, you can attach the cube externally via a couple of hidden buckles (one is stashed behind the back panel, the other always takes us a second to find and is above the water bottle pocket, tucked behind some fabric). It works well, but you won't be able to use the water bottle pocket (which may be why there's an internal water bottle pocket), and accessing the security pocket will be difficult.
And that's it! Phew.
Durability & Testing
We've been testing the Boundary Supply Prima System Modular Travel Backpack for a few weeks as a daily driver around Detroit, Michigan and have taken it with us to photograph a wedding. Overall, we like several of the individual components, but the features aren't as cohesive as we'd like. Particularly how the camera cube attaches to the pack and how much space it takes up internally. The pack's advertised as "the perfect cross over travel/photography pack for daily use or extended weekend travels." But the latter is difficult if you actually pack a camera.
Plus, all of those features make this pack on the heavier side. Together, the bag, cube, and organizer weigh three pounds when empty.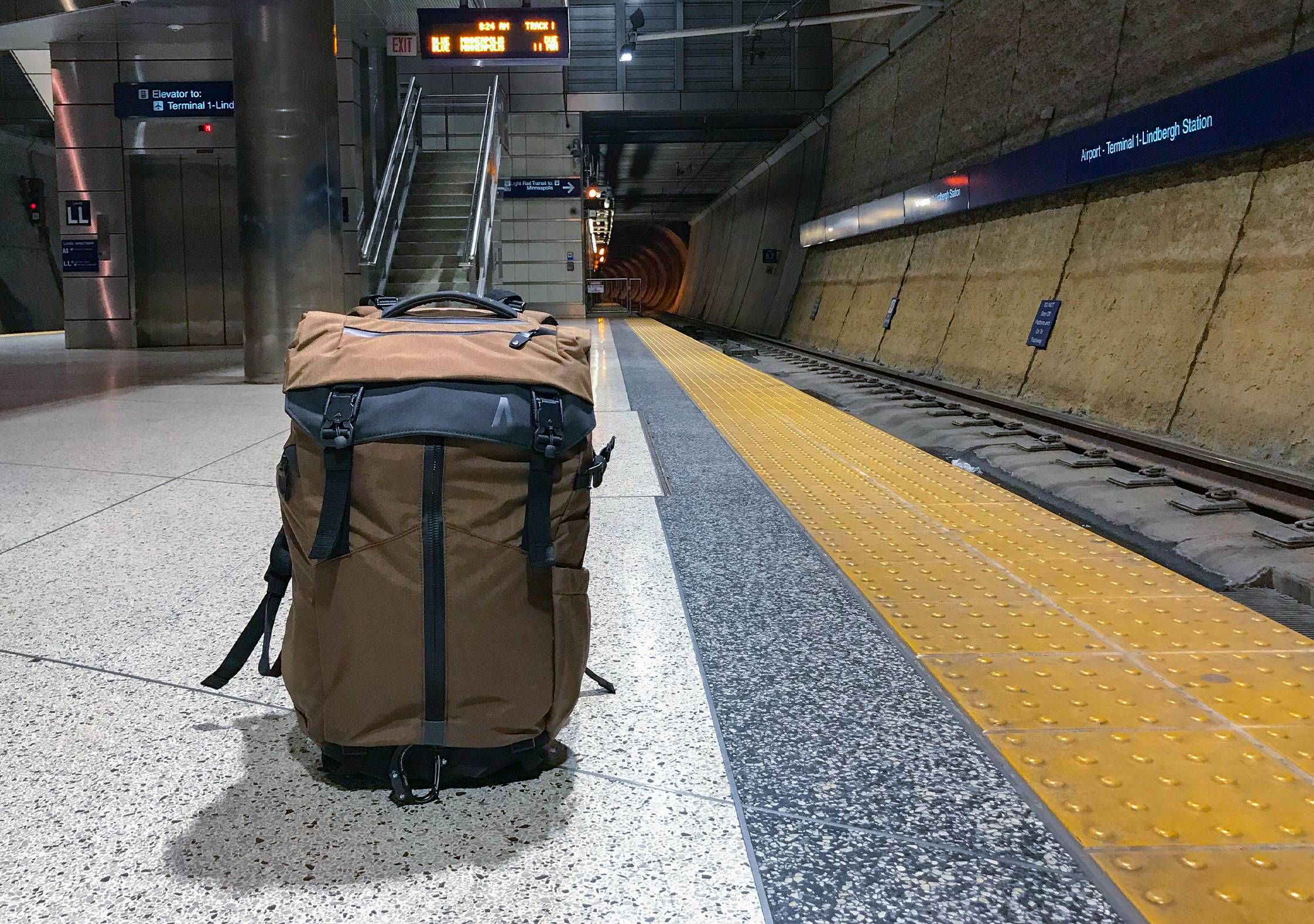 Still, you can tell that the folks at Boundary Supply put a lot of thought into this pack. And it's mostly solid.
We also want to note that Boundary Supply has had some problems on Kickstarter. If you order any of the brand's products on its website, you'll be good to go. But, because the brand uses Kickstarter to get money to make a product (instead of as a marketing ploy or pre-order system like other companies), you may run into issues. In the past, the brand has made promises they never hit, pushing back release dates or pulling back colorways. But, like we said, if you make a purchase from the website, you'll be all set.
From a durability perspective, the backpack is looking great. Nothing major or minor to report.
Usage Timeline
Initial Usage
Condition: Excellent
A ton of well-thought-out features going on.
The Verge Camera Cube is nice to access from the outside, but it takes up quite a bit of space inside the main pack.
Hip belt versatility – there's a bunch of ways to use it.
Camera cube works well as its own sling
1 Month of Use
Condition: Excellent
So far, so fun to test. We're really digging a lot of the thoughtful features going on, although we've found it's better to carry the camera cube separately. The cube takes up so much space inside the interior of the bag, you can't fit much else in there.
Access the Pro Community Discussion
Get your questions about the Boundary Supply Prima System Modular Travel Backpack answered from our team and the Pro Community right here on the page. Plus, join discussions with other members about gear, guides, and more.
Other Bags & Luggage Reviews