Here at Pack Hacker, we're pros at minimalist travel. From finding ways to lighten our packs to figuring out what gear we can live without for a few days, we're always searching for ways to make the most out of what we're packing.
While your vacation packing list may change from place to place and season to season, you'll always find room for some travel essentials. From a way to carry your cash and cards to how you'll stay hydrated and energized on the road, there are some things we can't live without, even for a few days. Your phone isn't any good without a charge, after all.
In this post, we're taking a look at the gear we never leave home without, whether we're heading across town or around the world. Let's get down to the bare travel necessities.
Minimalist Wallet
An unsightly bulge in your front pocket can lead to questions from friends and odd looks from strangers. Avoid the embarrassment—and the backache that comes from sitting for hours on a pile of credit cards and cash—with a minimalist wallet.
It gives you just enough space for your travel essentials, so you can spend less time searching through the cards you don't often use or won't need on the road. The frequent sipper card to your local cafe won't do you much good at the Starbucks in Seattle, after all. It's more packable, too, so it will fit in a small sling or the front pocket of your pants—without any wardrobe malfunction—for added security against pickpockets.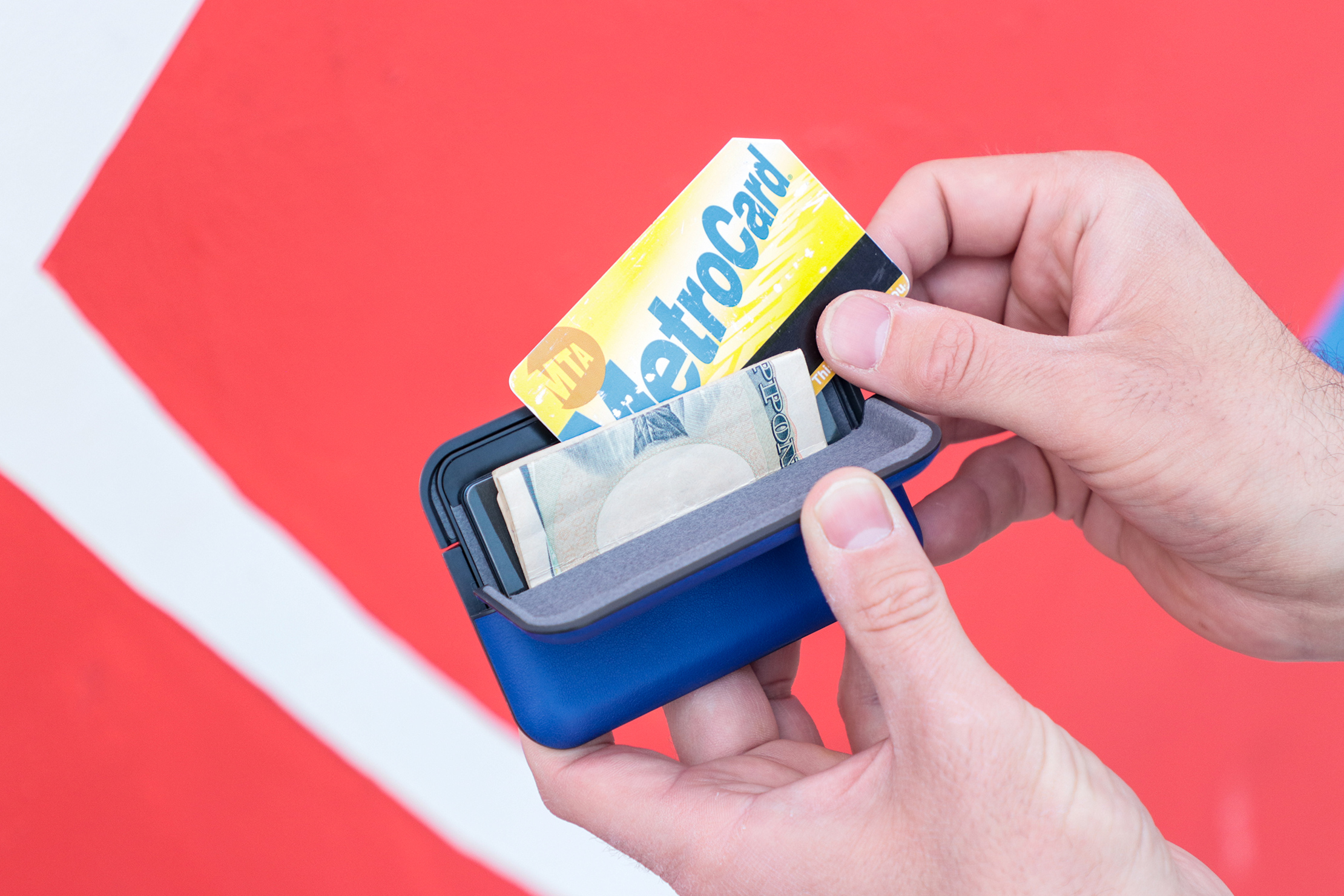 We like the Bellroy Flip Case Wallet because its hard shell keeps our cards from getting bent, and its leather design looks sleek and professional, so it'll fit in whether you're at a fancy dinner or a street market—unlike the duct tape wallet you made in middle school. However, the lack of flexibility limits you to only eight cards or six plus a few bills. Look on the bright side—Bellroy is guiding you on the path to minimalist travel with this one.
Or, for more versatility, try the Fjallraven Kanken Card Wallet. We like that its flexible shape expands to fit more cards and cash when needed without taking up much more space. And since Fjallraven uses the same heavy-duty materials for the Kanken Card Wallet as Kanken bags, it'll make your travel essentials list for years to come.
Battery Banks and Wall Chargers
A power bank can turn that emoji frown upside down, ensuring you stay connected while on the road. And while it's nice to have continuous juice to your phone for social media and games, a battery bank becomes a true travel essential when using it for your digital boarding pass. We like banks that fit in our pocket, like the Clutch Charger V2, one of the thinnest power banks we've tested. It has a built-in charging cable, so you don't have to pack anything extra, though you will have to choose whether you want Lightning, Android, or wireless charging when you buy it.

It's also important to know the size of your device's battery before buying a power bank, so you can get a charger that will get your device back up to 100%—maybe even more than once.
While you may have USB plugs at home, or a wireless charger, make room in your backpack for a wall charger. There's no guarantee your Airbnb will have a place to plug in your cord, so they're travel necessities. We like to choose a wall charger with multiple ports to charge several devices simultaneously, minimizing the wall chargers we have to pack in our carry-on bag.
Merino Wool Clothing
The path to minimalist travel nirvana goes through a sea of versatile gear. Packing options that work for more than one reason will reduce the weight of your bag. We like Merino wool travel clothing because you can bring fewer items, saving space in your pack. You won't need a T-shirt for each day of your trip if your clothes are made with Merino since it's naturally antimicrobial and moisture-wicking to give you more wears between washes.

We suggest washing Merino wool T-shirts after 10 to 20 wears, and underwear can last between 5 and 10 uses before washing (if that doesn't gross you out). You can wash Merino wool more frequently; just know that the product's lifecycle may shorten the more times it's submerged in soap.
Otherwise, it's durable, which is great for the digital nomad who needs fashion that lasts through months of non-stop travel—you're not packing your entire walk-in closet to country-hop through Europe, after all.
You can find just about anything made with Merino wool, from button-downs and dresses to socks, underwear, and workout clothes. Depending on your comfort level, you can wear the same pair of socks or underwear for days between washings, and Merino wool T-shirts act as great base layers, so they're travel necessities in any season. We add Merino wool pants to our travel essentials list because they're durable enough for any adventure—unlike thin cotton spandex leggings.
Crossbody Sling
Finding the right size bag for any situation is the key to a great trip, and when you're exploring a new city or checking out the local farmer's market, a sling can make it easier to carry your travel essentials. Wearing one crossbody style keeps your hands free and your gear within reach.
They're not just great for shopping for snacks and souvenirs; they can also be great airport companions. When you have to empty your pockets to go through security, you can place your belongings in the sling to keep everything contained in one bin—it's no fun to be the person called back to the line because you walked off without your passport. On the plane, personal items like your phone, e-reader, and Nintendo Switch will be within easy reach during a long flight.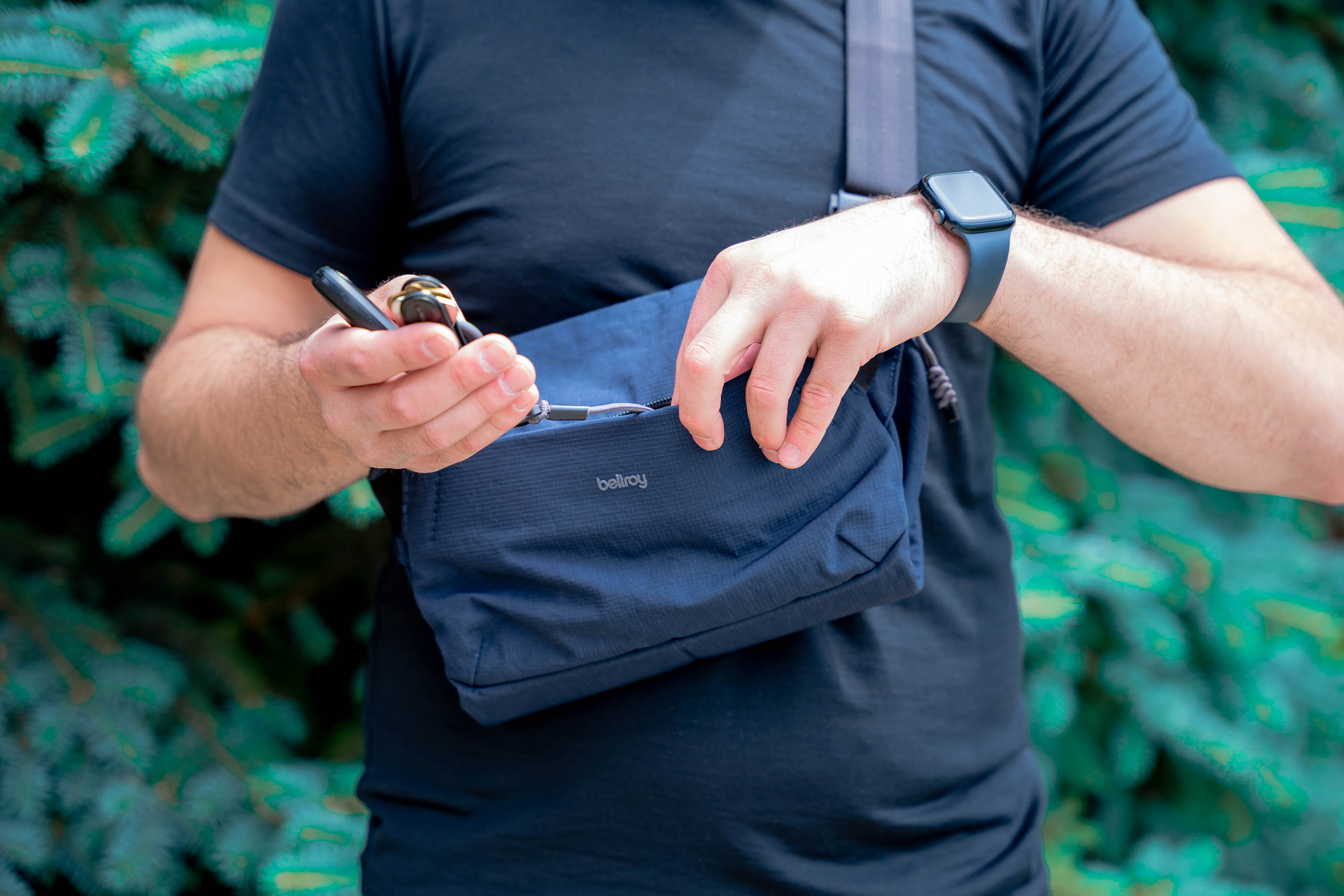 There's a crossbody sling style out there for everyone. We love the Bellroy Venture Sling 6L because of its exceptional organization in a smaller footprint, although it's also available in a 9L version when you need more space for travel necessities. If you're worried about security, the Pacsafe Stylesafe Anti-Theft Sling Pack is your travel necessity, thanks to its slashguard mesh and lockable zippers. And when you're not sure if you'll need a sling or not, grab the Matador On-Grid Packable Hip Pack. It folds down small enough to fit in your palm, making it a travel essential for minimalist packers.
To find the best sling for your situation, check out our travel sling guide.
Packable Jacket
When traveling, the weather is the one thing we want to predict. It's too bad Mother Nature doesn't get more on board with that plan. Since the one consistent thing about the weather is that it's constantly changing, a packable jacket is a travel necessity. It's a great way to ensure you're ready to tackle anything the skies dump on you, depending on the thickness of the extra layer.
Whether heading to the tropics or the arctic, there's a packable jacket to suit your travel necessities. Lightweight jackets like the Outdoor Research Helium Jacket are great travel essentials for staying dry in the rain, and they're easier to slip on over thicker clothing. It's one of the lightest rain jackets we've tested, at 5.93 ounces, and packs down to the size of your fist, so there's no reason to leave this one home.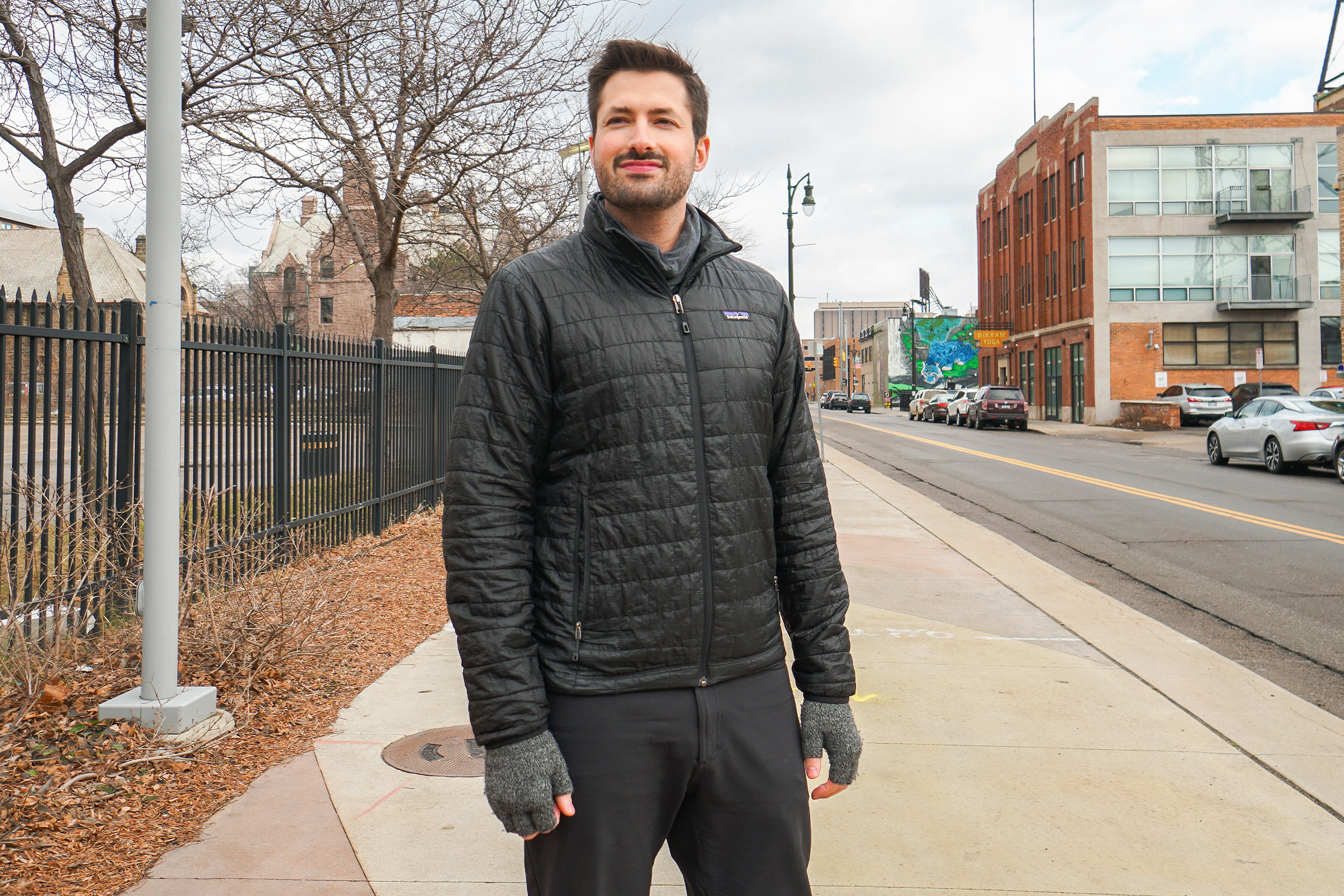 For days when you'll need to stay warmer, a puffer jacket can protect you from the elements. The Patagonia Nano Puff is a packable jacket that always makes our travel essentials list. It's lightweight at 11.89 ounces and packs into its pocket, so you don't have to keep track of an extra stuff sack. For wetter days, The North Face ThermoBall Eco Jacket is a great midweight layer with a synthetic fill that repels moisture—you'll stay warm and dry while wearing it.
Water Bottle
It's easy to get caught up in the thrill of traveling to a new place and forget to drink water en route or during your adventures. That makes a water bottle a true travel essential; it will ensure you never go thirsty, wherever you roam.
Dehydration can exacerbate the effects of jet lag, leaving you feeling dull and tired before you set out for your first day's excursion. It's expensive paying for single-use bottles at the airport, train, and bus station, or at the tiny hole-in-the-wall you've just discovered for takeout. That's what makes water bottles travel necessities we recommend you pack. While there's no guarantee of finding a public drinking fountain, more and more major cities and airports are installing fill stations so you can top off your bottle as you pass by—especially in tourist hot spots.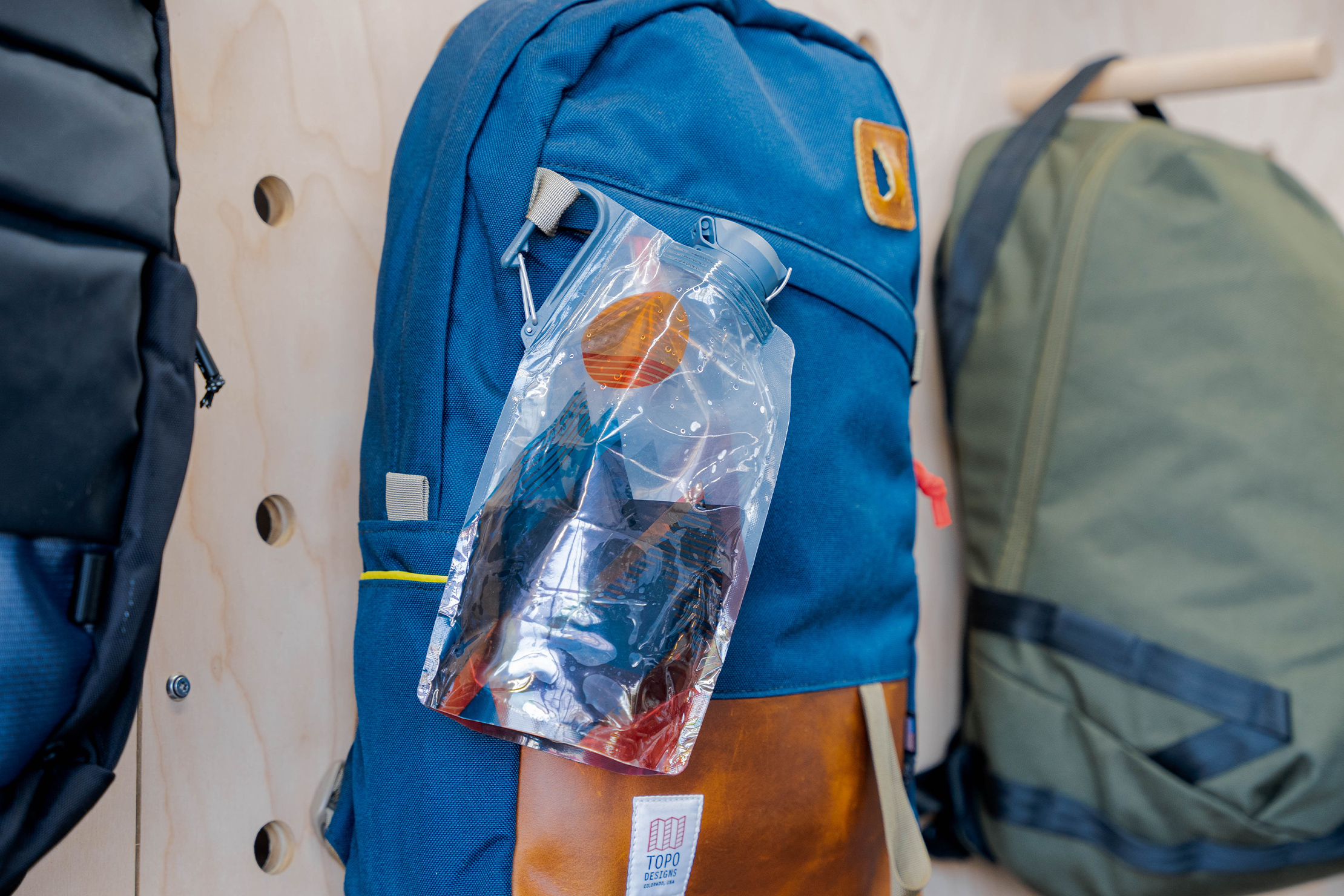 There are plenty of options when it comes to travel water bottles. Some, like the Platypus DuoLock SoftBottle, are collapsible to easily stow in your pack when you're through drinking. We also like its built-in carabiner to clip the full bottle to the outside of your backpack. When you want something with insulation, go for the Purist Collective Mover 18 oz Bottle, which keeps your drink looking good and tasting cool (or warm, depending on what you're pouring inside!). The thin layer of glass coating on the stainless steel bottle prevents your water, coffee, or tea from tasting metallic.
There's a water bottle to suit every travel need and taste, so plan for hydration to stay happy and healthy on the road and abroad.
Pouch
Sometimes your travel pack is a super-organized laptop bag or travel daypack. Sometimes, however, we pack for the weekend in a classic duffle bag with little to no organization. When there aren't pockets, zipper compartments, and sleeves to spare, it's easy to lose small gear inside your pack. That's why pouches are travel necessities for staying organized on the go.
There are plenty to choose from—we should know! (Go ahead and sort our reviews by "organizers and pouches." We'll wait for you to go through the pages of available options.) Finding the right one for you is key to a successful remote work trip and a fun vacation. When your pack has a dark interior, choose a pouch with a bright colorway to help it stand out from the shadows. If you're planning adventurous travels off the beaten path, a durable exterior ensures everything inside will stay safe and sound. Some even come with loops and D-rings to attach to a Pouch Attachment Ladder System (PALS) or attachment loops inside your bag.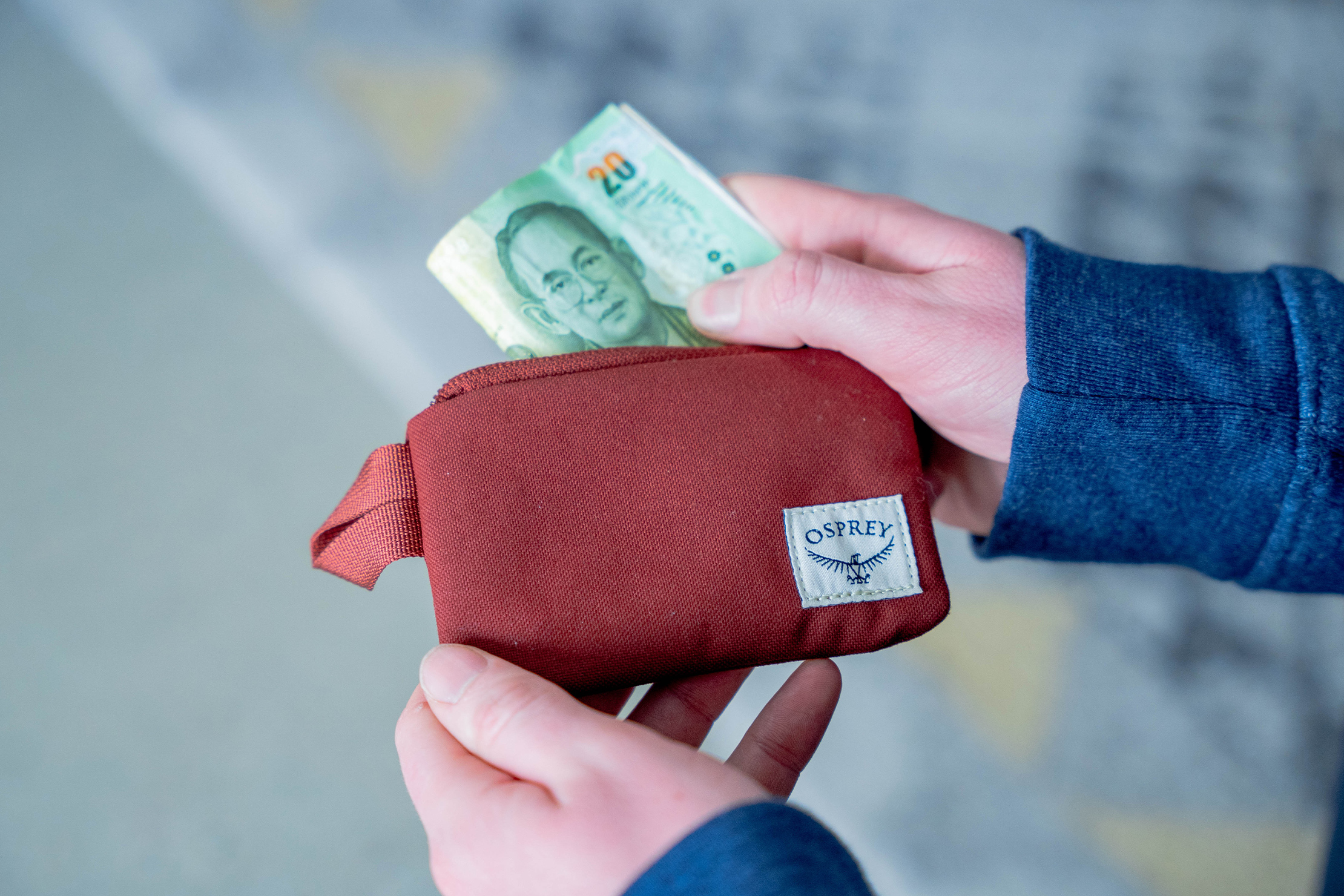 We like the Osprey Arcane Zip Pouch for its simple design and solid construction. The recycled nylon ripstop shell prevents tears, and the top zipper is from YKK, one of the most reliable brands out there. Or go for the line-up of Topo Designs Accessory Bags; with a wide range of colors and three sizes, you can mix and match to suit your needs and complement your pack. No matter which you choose, the bright liner makes it easy to spot even the smallest gear on a dimly lit plane.
Carabiner
Whether hiking a dusty trail through a national park or exploring a new city, the places we like best to explore aren't always the cleanest. That's why carabiners are a great travel essential—they hold onto gear you don't want to set on the ground, no matter if it's your water bottle or your backpack.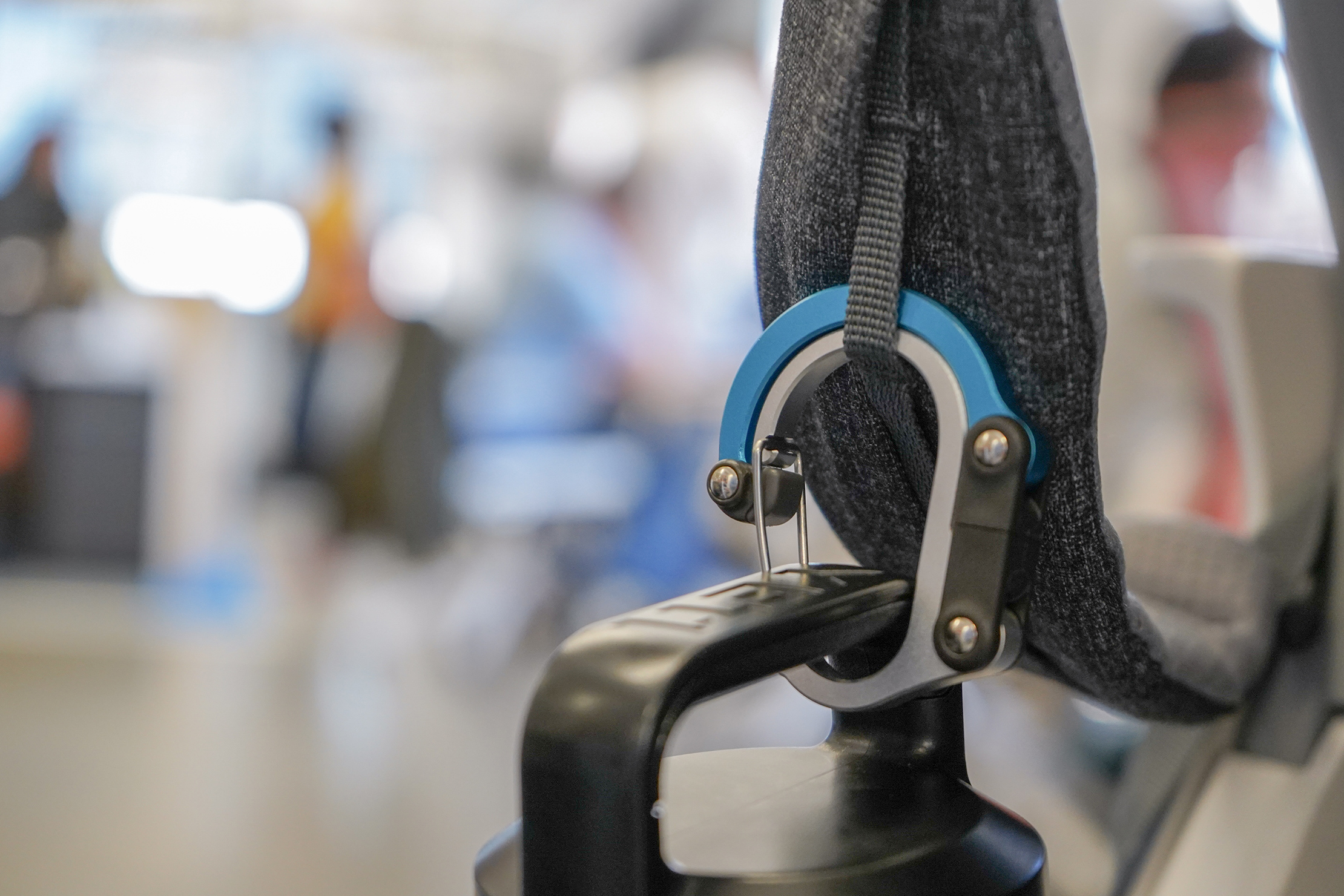 These handy clips top our list of travel necessities due to their versatility. Keep your backpack or tote off the restroom floor while you change after a red-eye flight or before a business meeting. Some carabiners, like the Heroclip Hybrid Carabiner Clip, have a built-in hanging hook to turn any table or ledge into your personal bag check. There's no more need to sling your crossbody bag over the back of your chair where you'll worry about it walking off with help from someone with nefarious intentions—hang it on the table next to you to keep it close at hand.
Carabiners are also great for hooking pouches, water bottles, and hats outside your pack. For added protection, pick up a locking carabiner. Designed for rock climbing, they'll also ensure your favorite water bottle won't pop off your pack.
Carabiners are so small that they won't add a ton of weight, but when you add them to your travel essentials list, you can travel like a scout and always be prepared.
Multitool
A travel essential you may not know you need is a multitool. We don't think about it until a screw comes loose on the kitchen chair in an Airbnb, or we want to crack open a local brew.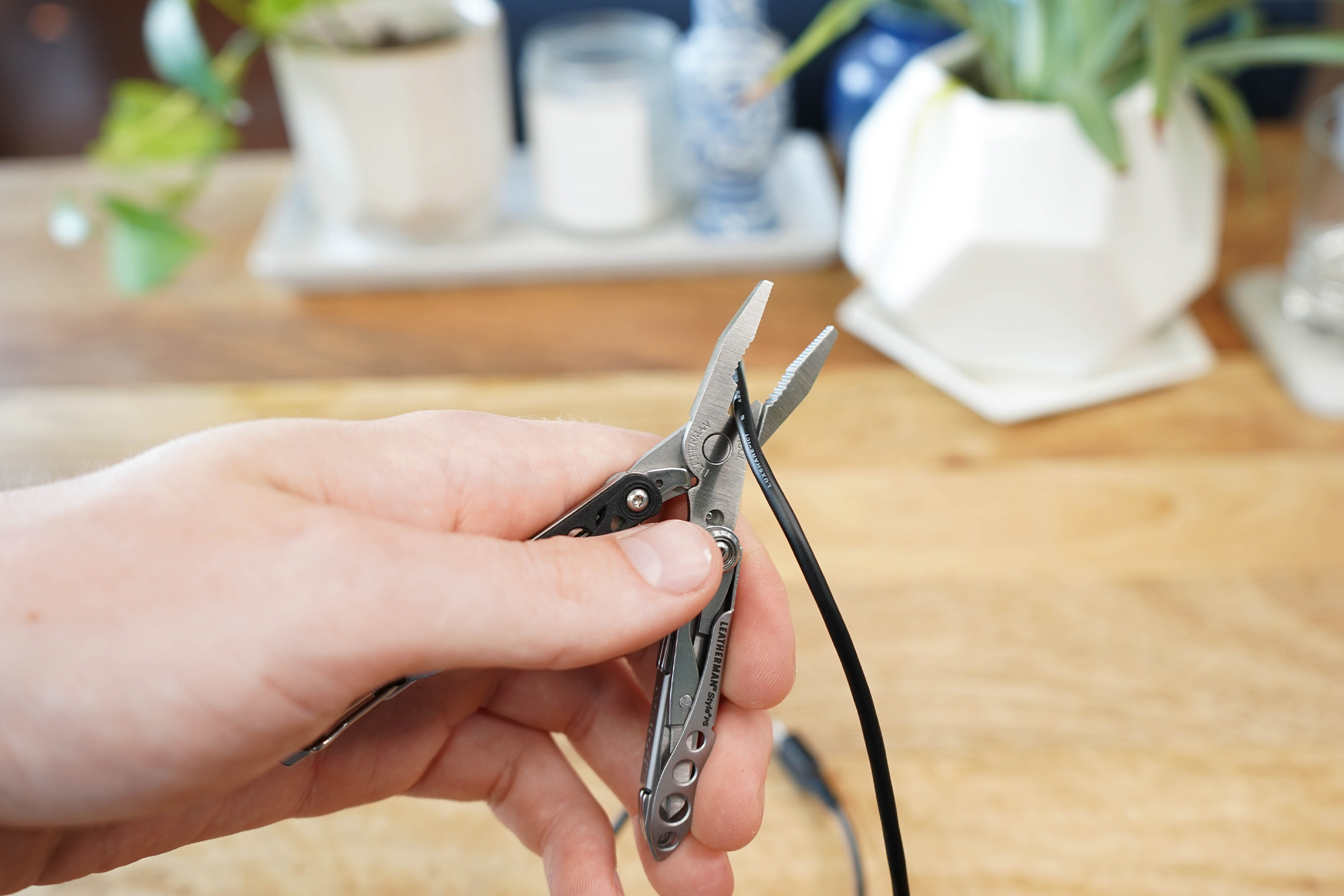 Here at Pack Hacker, we've found them to be surprising travel necessities. Depending on which you choose, it may have a screwdriver to tighten loose hardware on a table leg. You can also use the flathead edge to clean the goop off your airplane's armrest or your shoe—we always seem to pick up something we don't want when traveling up and down city streets. Scissors or a wire cutter are handy for cutting loose threads or taking the tags off your new hat.
Many are small enough to fit on a key ring, so you can make new friends as you put your multitool to use. Just be sure to check the local regulations of the airport and country you're traveling from and to—you may be asked to leave it behind if it's not allowed. Ultimately, whether you can pass with it or not is up to your TSA officer, so be kind and courteous if they inform you that yours isn't allowed.
Snacks
Nothing brings a fun trip to a screeching halt like a hangry travel companion. Fueling your body is just as key to a good travel experience as the gear you bring along. While hopping an early flight is the best way to make the most of your vacation days, airport restaurants may not be open before you leave, and shops and cafes at your destination may still be closed when you land.

Power up with a snack bar on the go to stay satiated before your next meal. Some come with a full meal's worth of protein and carbs, so you can skip lunch and save the money you'd spend on one of the airline's snack boxes, which we never think look very appetizing anyway. If you have a faster metabolism, larger bars packed with nuts and granola fuel your body and brain to avoid the post-travel slump.
We also think nut packs, dried fruit, and snack crackers are great travel essentials. They're lighter alternatives since you never know if your airline will offer a complimentary snack—or if that tiny pack of peanuts will be enough. They're also great to carry throughout your travel day, for when you want to hop from museum to museum without taking a break. You only live once, and while some of us live through our stomachs, others would prefer to skip lunch to do.all.the.things.
Sunglasses and a Hat
What's a more quintessential travel necessity than the sunglasses and hat that will protect your winter-pale skin from the tropical sunshine? Protecting your eyes and face from the sun's bright rays is vital no matter what time of year or where we're heading.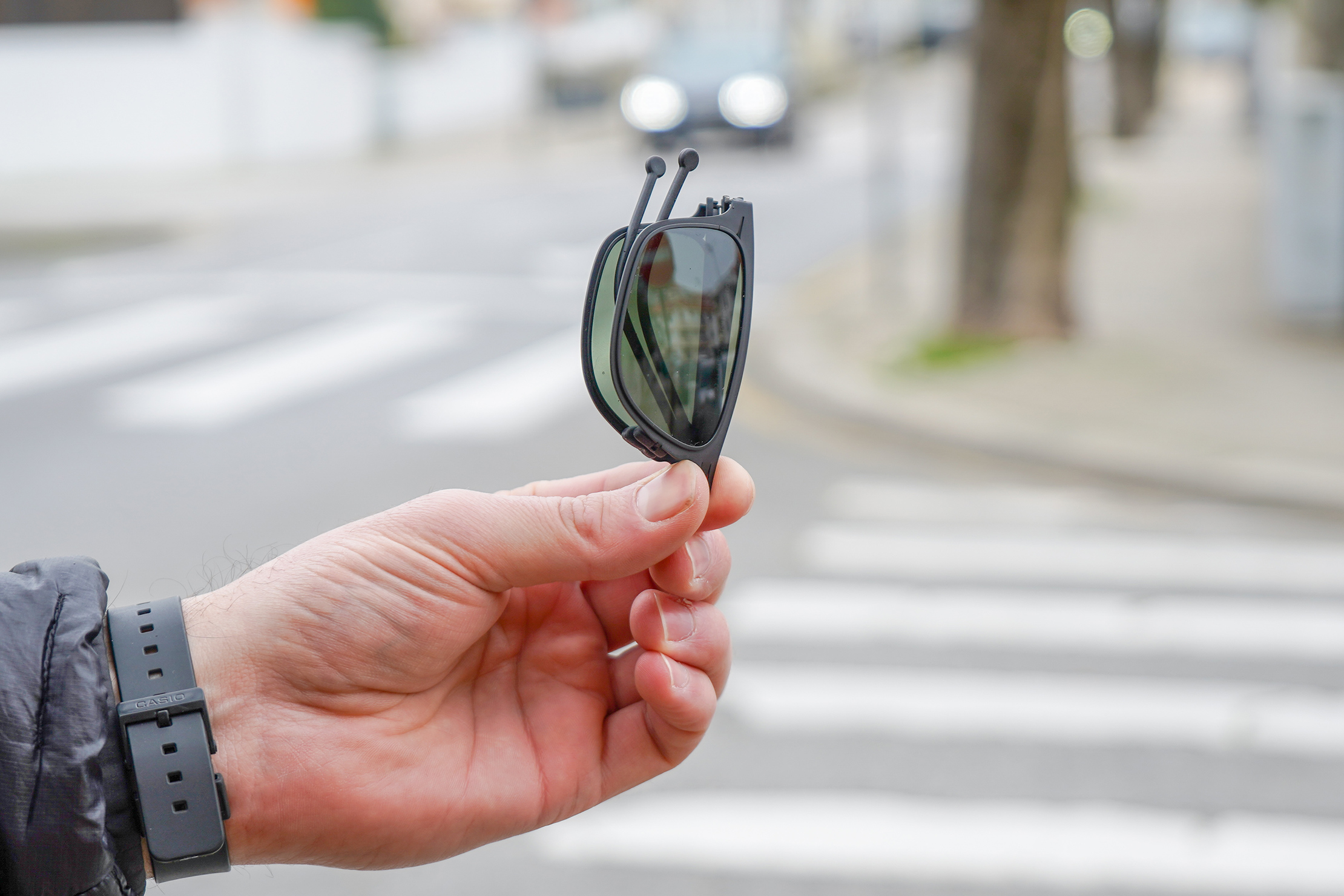 The best travel sunglasses will be flexible and—preferably—foldable to fit in any size bag or pocket without breaking. We like the ROAV Eyewear Franklin Sunglasses for their packability—they're some of the smallest foldable sunglasses we've come across. There's no curve in the lenses, which helps them fold completely flat, although it takes some getting used to the reflection that causes. Or try Foldies Polarized Folding Classics (V2) for a stylish and effective yet budget-friendly option. At least if you leave them in your hotel room, it won't cost you an arm and a leg to replace them!
We also think a hat is a key travel essential. Choose from a foldable option that can collapse down into its brim for the ultimate in packability, or use a KLIPSTA Hat Clip to attach a beach hat to your bag. Whichever way you choose, we're not leaving home without one.
Headphones
Crying babies and fellow travelers' loud conversations are just a few reasons noise-canceling headphones, earbuds, or AirPods make our travel essentials list.
We recommend packing two pairs, if you can, with one having a cord so you can connect to the in-flight entertainment system without needing to ask the flight attendant for disposable ones. Just make sure to pack an adaptable dongle if yours end in a Lightning connector instead of a headphone jack.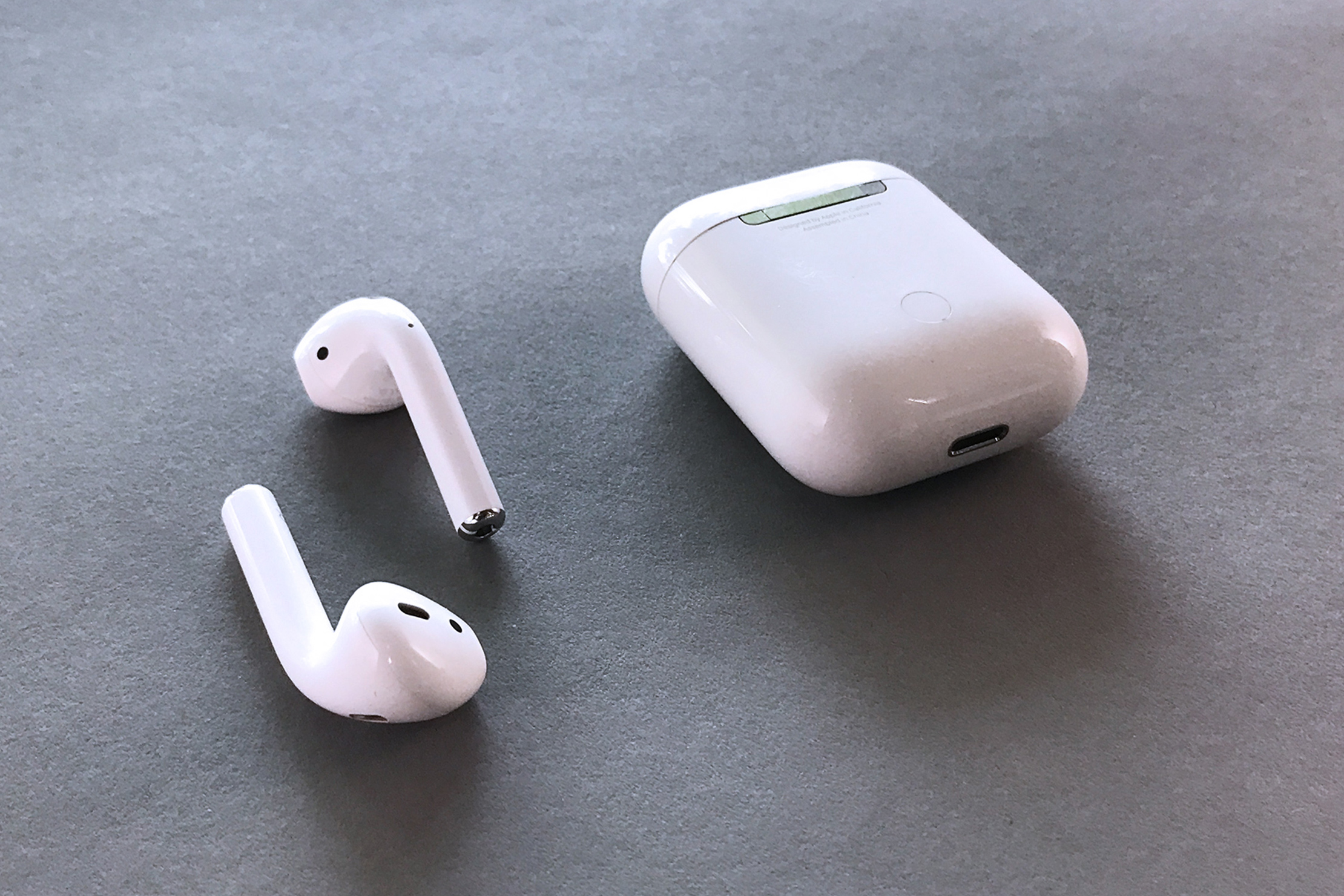 Whether you plug in or tune in, the right music, meditation, or movie will help you tune out the cacophony of sounds in the airplane, train, or automobile. We're partial to Apple AirPods for their great sound and the fact you'll hardly know they're in your ears, but they aren't noise-canceling like some other over-the-ear options. Going with an option that will block all ambient sound will let you fall into the world of an excellent new audiobook or your favorite podcast without distraction. Pick the best option for you, and then tune out the world while you travel to your final destination.
Sleep Mask
While we know it's sometimes hard to adjust to a new bed, sleep can be what's lying between you and a great trip. That said, ambient light from unfamiliar street lamps, the neon LEDs of a hotel room clock, and the blue light from a travel companion's screen can all come together to block us from getting a good night's rest.
That's why we think a buff or a well-fitting sleep mask is a travel essential. The best eye mask will help you fall asleep—and stay there—by blocking the ambient light wreaking havoc on your circadian rhythm. Buffs are great for minimalist travel because they can serve as a scarf, a face mask, or a beanie. These travel necessities are great for when you're traveling to your destination, as well. Slip a Buff USA Wool Buff or a sleep mask on to get a nap on the train between Paris and Amsterdam and to help you fall asleep on your red-eye flight so you can hit the ground running in London. There's so much to see that you don't want to waste time in a tired haze.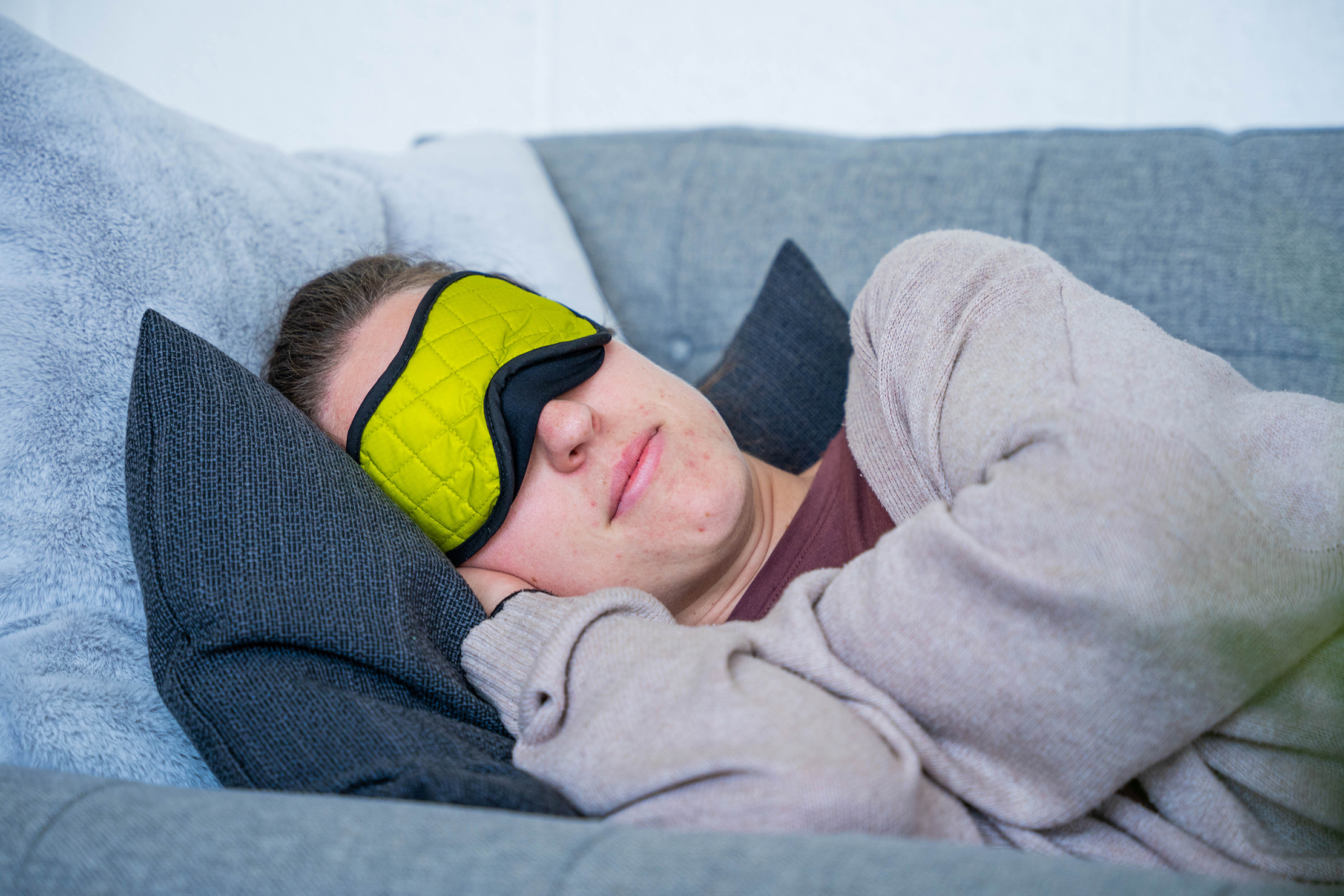 If you have room in your pack for a standalone sleep mask, there are plenty of options to consider. You can opt for a silky fabric to reduce the look of fine lines or go for a cooling mask to reduce the puffiness around your tired eyes. There are also ultralight packable options, although most sleep masks won't weigh down your pack. That means there's always room for one on our travel essentials list.
So there you have it, the travel necessities we never leave behind when we hit the road. Adding these to your travel essentials list will ease your journey to a new destination and get you to the fun quickly when you get there. What's your favorite travel essential? Join the Pack Hacker Pro Community and let us know!