Pacsafe Stylesafe Anti-Theft Sling Pack Review
Pacsafe's Stylesafe Anti-Theft Sling Pack still features the brand's signature security features that we love—it's the aesthetic we're just not into.
Our Verdict
Unlock the Pro Summary
Save time. Get access to brief summaries of our reviews so you can browse and make decisions more efficiently.
Pros
Hidden clip anchors zippers without needing a lock
Underlying slashguard is a reassuring layer of security
Wide opening combined and bright liner add visibility
Cons
Strap thickness hinders adjustment
Minimal organization can be awkward to pack
Crescent shape not the most optimal use of space
Recent Pack Hacker Video
Technical Details
Capacity

2l

Weight (lb)

0.49 lb (0.2 kg)

Denier

750D

Dimensions

5.9 in x 13.4 in x 3.2 in (15 x 34 x 8.1 cm)

Notable Materials

Polyester, Polyethylene

Warranty Information
Buying Options

$49.95
$44.95
Full Review
Get up to 15% off Pacsafe • Join Pack Hacker Pro
Pacsafe is banking on two "S's" with the Stylesafe Anti-Theft Sling Pack: security and style. That explains the name, but style is a very subjective claim to make for a brand that's more known for security-focused travel gear.
We won't argue with anyone who thinks the Stylesafe Sling Pack is a good-looking bag. "To each their own," as we always say. Plus, we're not even necessarily averse to the shiny bling they've got going on with this sling. We are, however, more interested in how well the bag holds up, and in that regard, the Stylesafe Sling Pack does mostly well.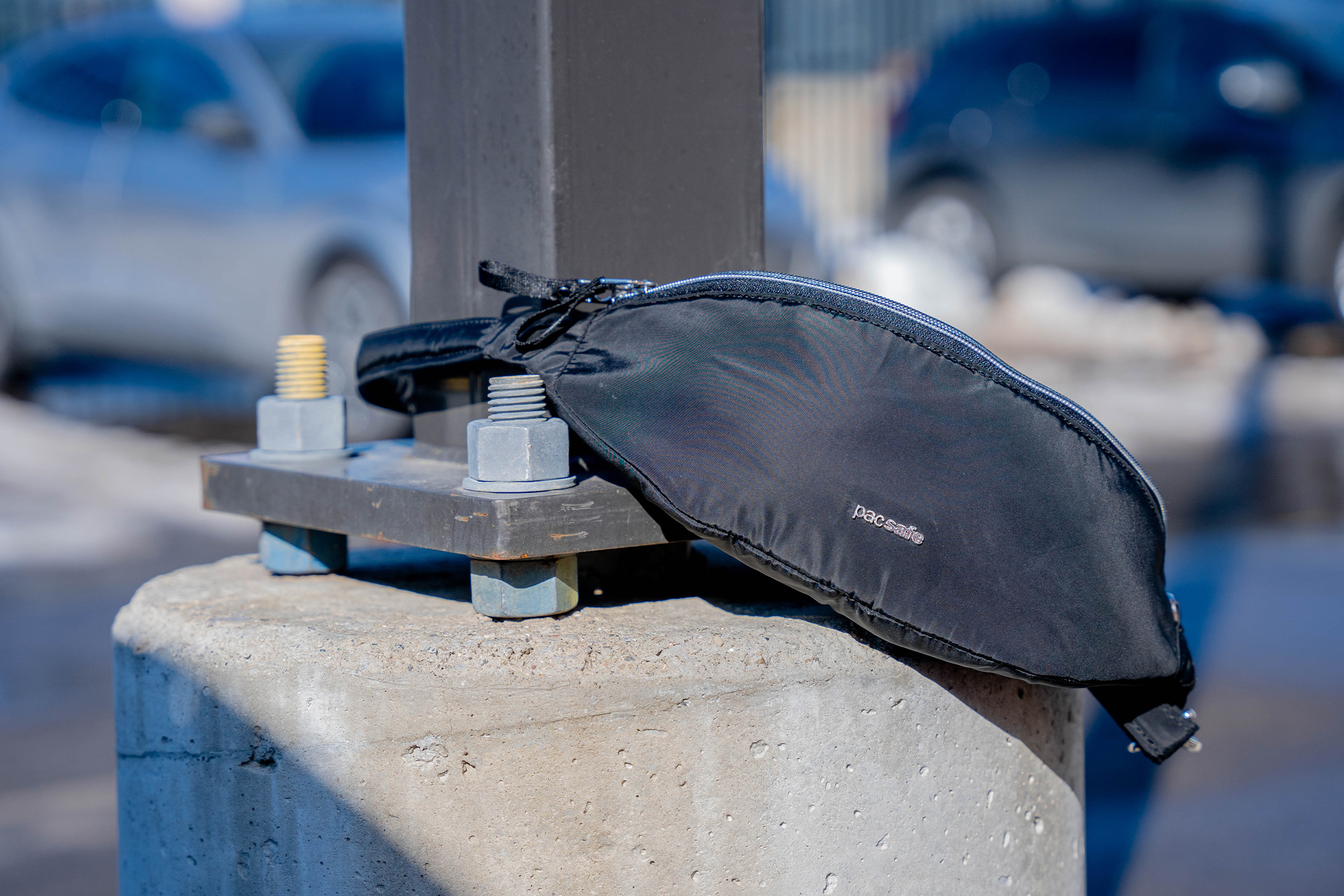 We say "mostly" because the sling has some shortcomings worth noting. You still get the security features Pacsafe sprinkles their gear with, like the eXomesh slashguard, lockable zippers, and RFID-blocking materials. However, the bag's shape and minimal organization feel overall limiting in terms of how well it packs. Combined with the relatively stiff-feeling strap, it's not the easiest sling to slip into.
Materials & Aesthetic
Pacsafe isn't the brand that immediately comes to mind for bags with an emphasis on style. We've known the brand to favor substance over form, excelling in their specialty of making bags with beefed-up security features. Though, that's not to say they make unfashionable bags, either.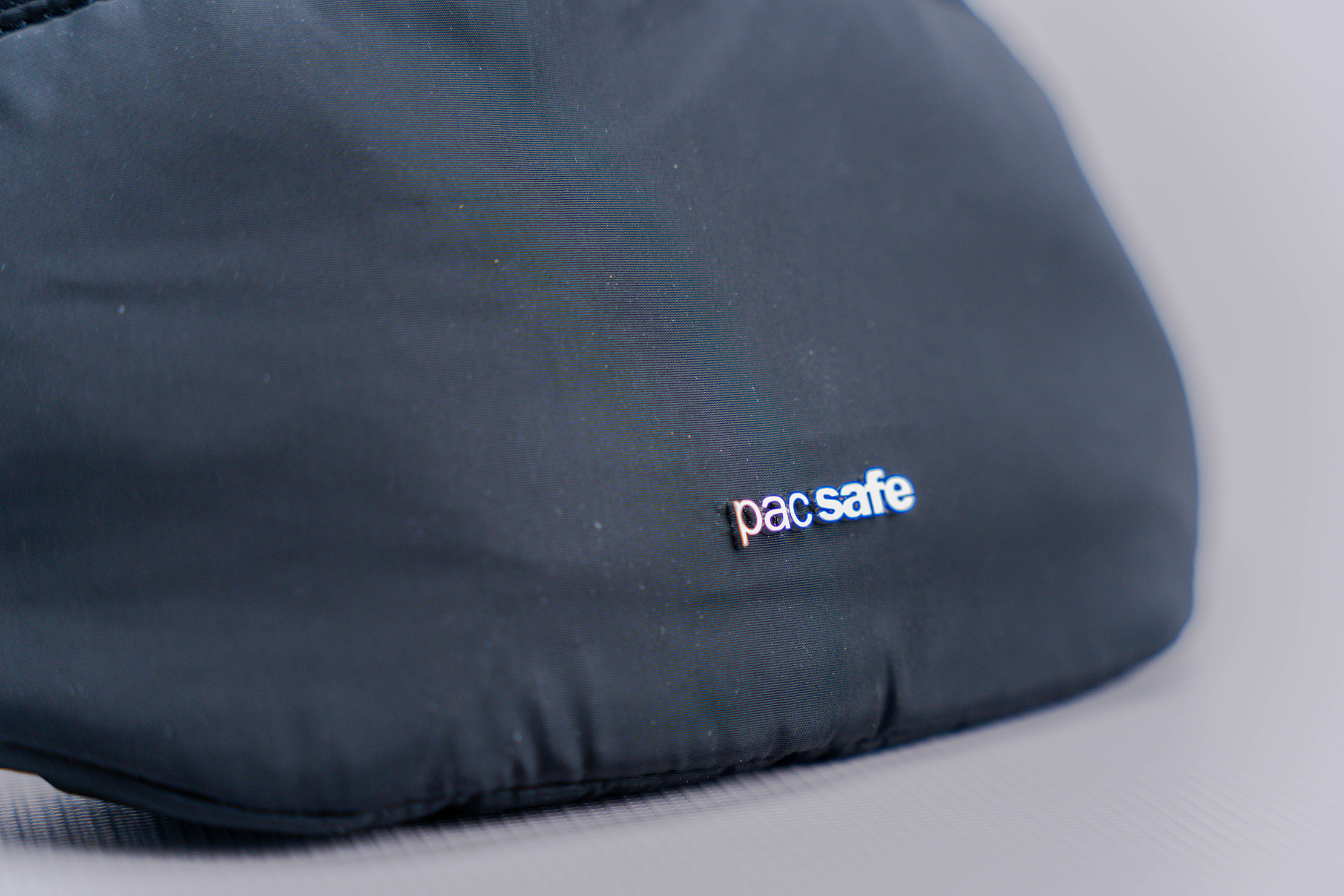 For the Stylesafe Sling Pack, Pacsafe dials up the bling factor but still keeps it within tasteful levels. It's a uniform-colored sling, accented with shiny chromed-out bits, most notably the main compartment's zipper elements and the front logo. The style isn't quite like the pastel-colored bags from Bellroy, nor is its blackness similar to the likes of Aer or NOMATIC. Admittedly, all this shiny bling isn't really our thing; we're more than content with the elegance that comes with the all-black aesthetic.
If you're looking to ditch black completely and go all-in on the bling, there are other colorways available at the time of writing. In our eyes, the next step up is the ever-so-slightly punchier Navy colorway. On the far end of the style spectrum, though, is the Mocha colorway. That one swaps out the chrome finish on the logo and hardware for gold. Not genuine gold, mind you, but it does look pretty fancy.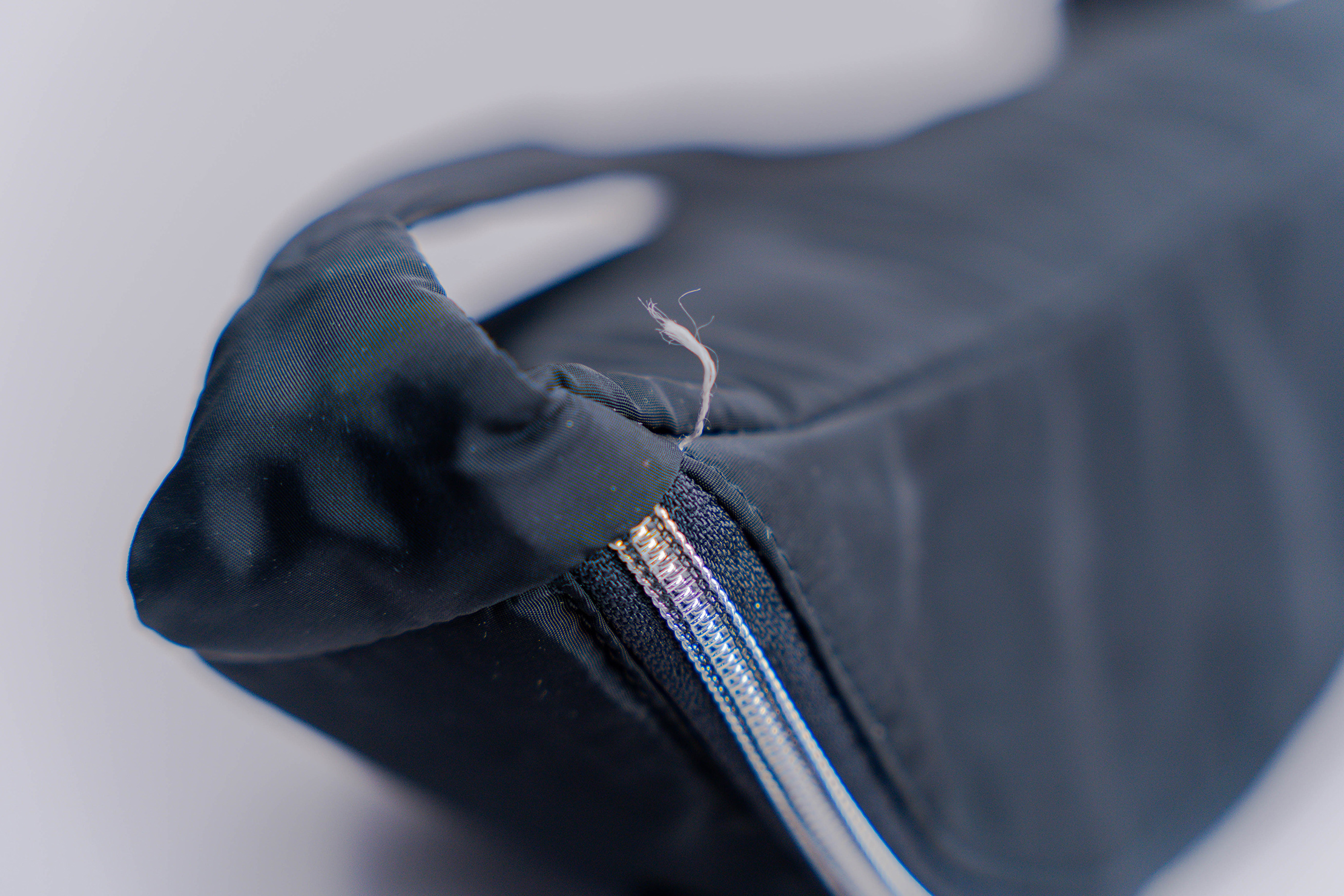 The main material on the outside is a 75-denier polyester fabric, backed by a 50-denier polyester lining on the inside. Now, 75 and 50 denier doesn't sound very robust, nor is polyester strong compared to something like nylon. However, this is a Pacsafe sling, and with that comes the brand's signature eXomesh slashguard, an underlying stainless steel barrier in the fabric. As the name suggests, this protects against would-be thieves trying to cut through the fabric.
That said, a few loose threads have cropped up on our sample. It's a shame, too, since they're on the outside where others are likely to see them. Fortunately, nothing so catastrophic that it's led to the fabric unraveling and exposing the eXomesh slashguard underneath, nor do we think it's heading in that direction anytime soon.
External Components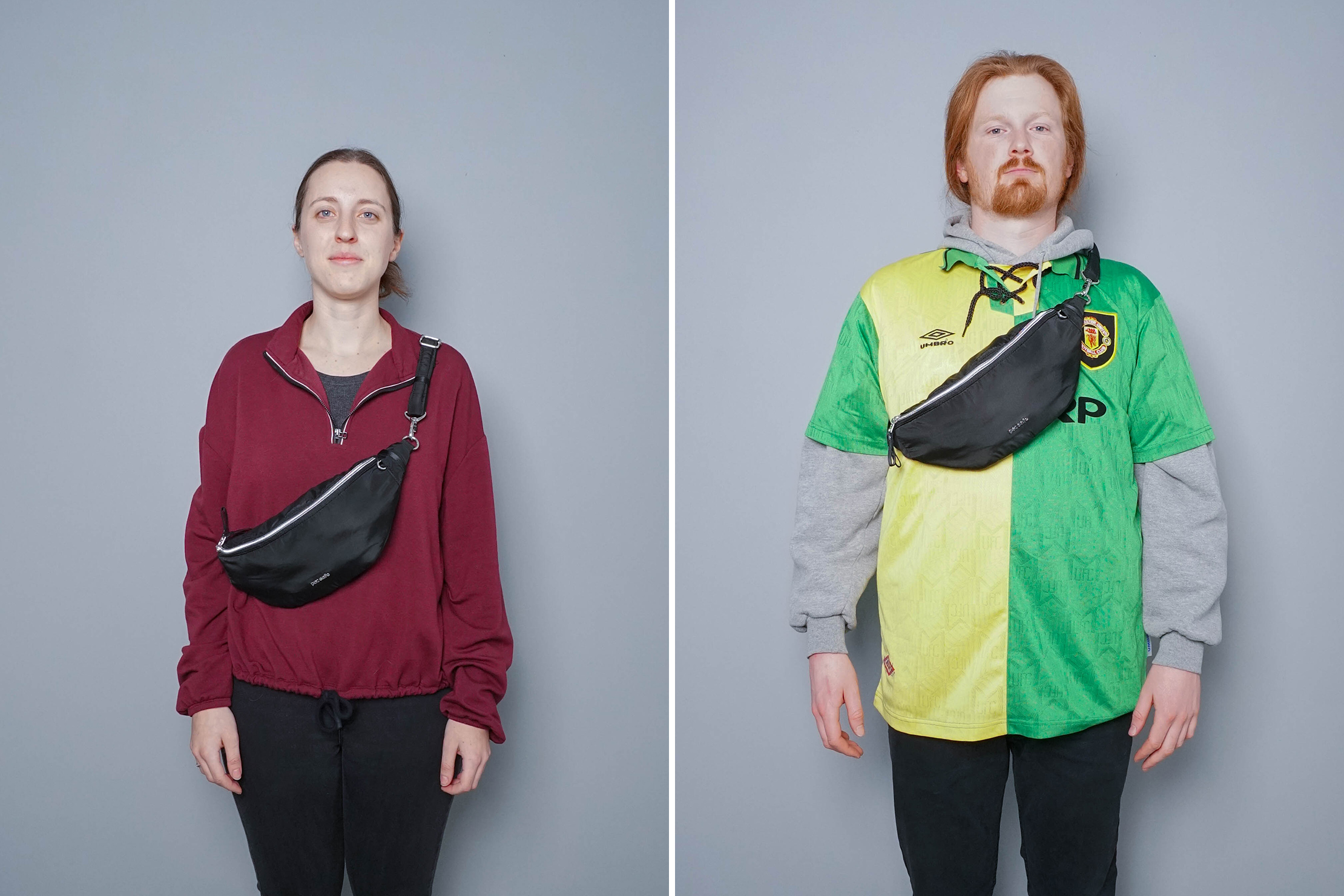 The strap on the Stylesafe Sling Pack looks fairly simple on the surface. Its length is adjustable through a sliding buckle, looped through a D-ring on one end, and a trigger-style snap clip on the other. It's deceptively simple, but again, since this is a Pacsafe sling, there are added layers of protection going on.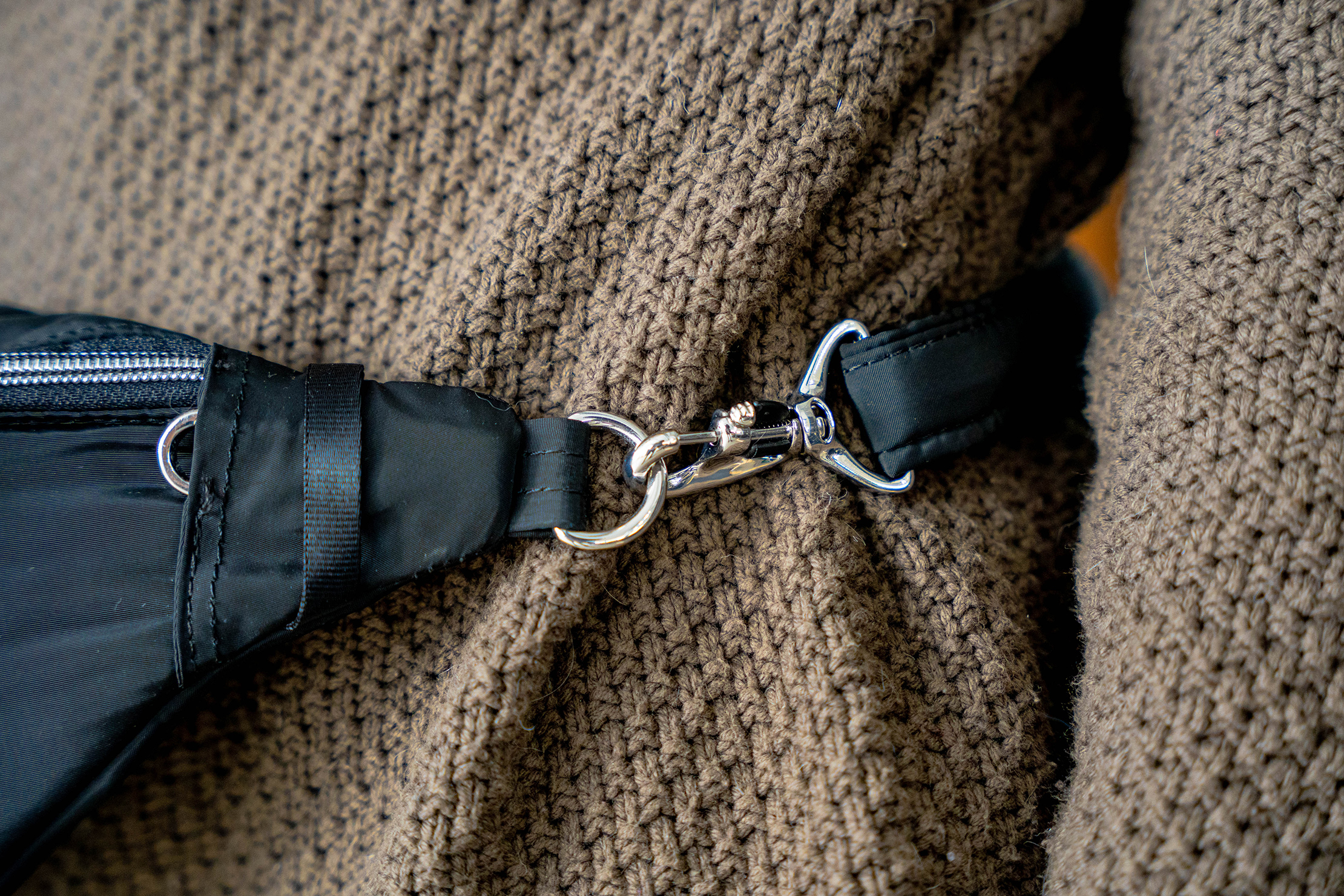 The trigger-style snap clip is the brand's Turn & Lock security hook. A small twist knob along the neck keeps the clip locked. This allows the user to wrap the strap around a solid fixture like a railing to prevent someone from just snatching the sling away. Granted, anyone with sufficient time may be able to figure out how to undo the lock. However, having that extra hurdle in place is a good way to deter grubby thieves.
The strap itself is Pacsafe's Carrysafe strap, also with slashguard embedded inside. It's reinforced to the point that it's a relatively thick strap, and that makes it a bit tough to bend around the D-ring. This is most evident when adjusting the strap's length, slightly made trickier because the strap keeper also shifts towards the D-ring. It's a fussy experience that, thankfully, is a one-time thing.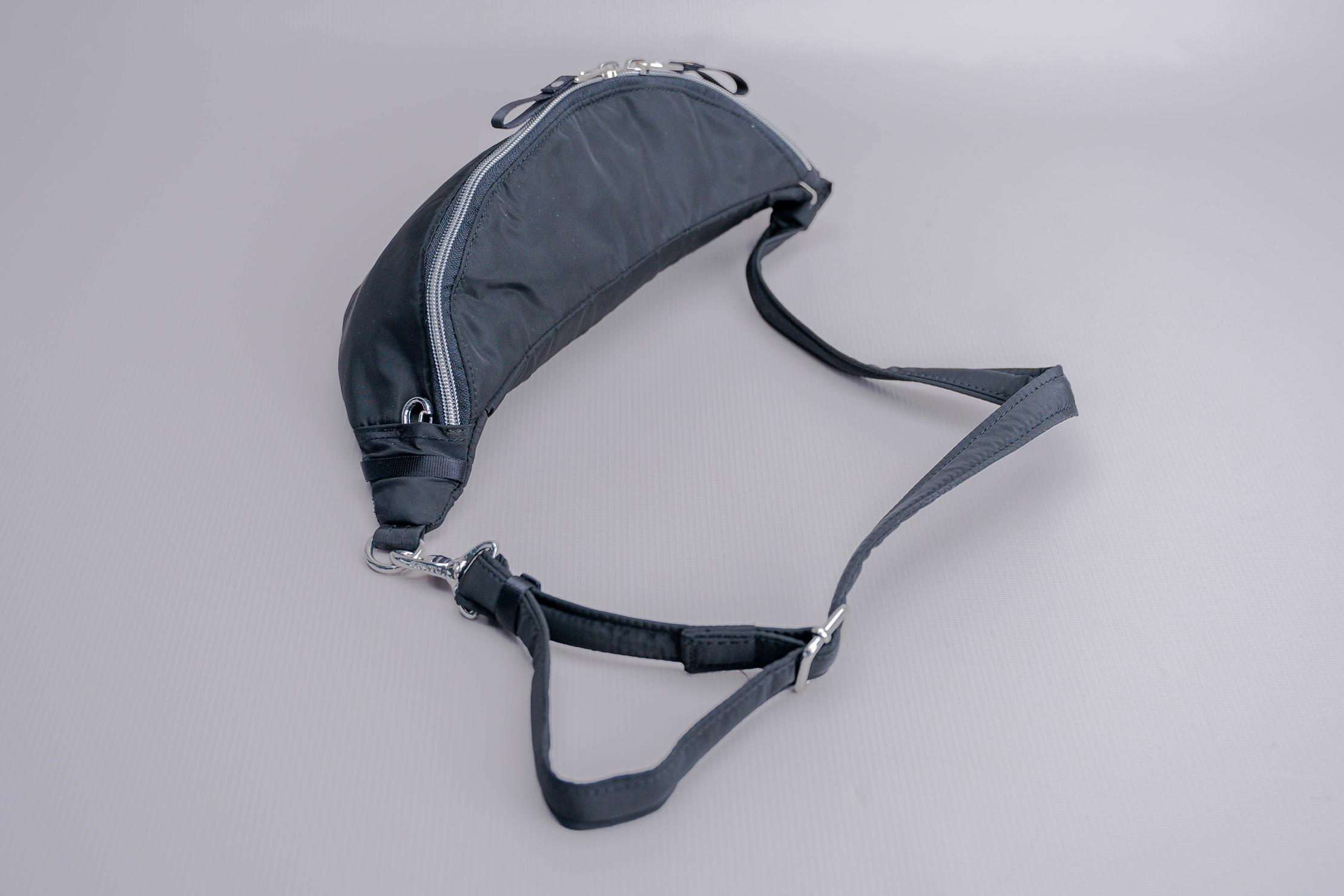 After some shuffling around, we were able to adjust the strap to a comfortable length. We opt for a sling-style carry since the bag is designed primarily as. Alternatively, this sling can also be worn as a waist pack, but switching between the two modes isn't easy enough, so we often stay with sling mode. The Stylesafe Sling Pack performs well in carrying comfort, but with a few caveats.
We find that having the main sling centered in front of us is the optimal way to carry it. However, it tends to slide down because of the bag's weight and its slick material. It's not the end of the world for comfort, but we do wish it stayed put a lot better than it do.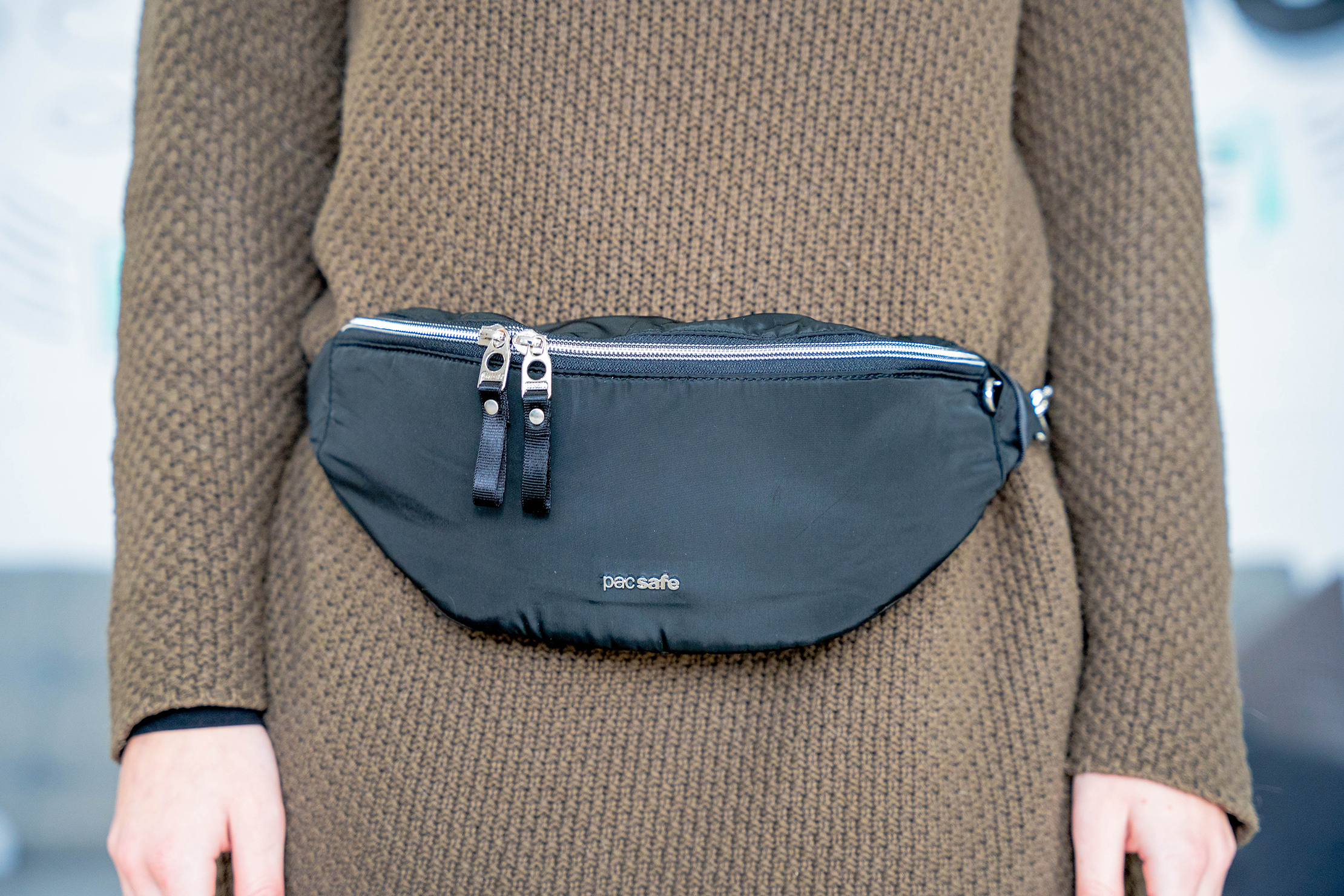 We also found that this sling feels more geared towards left-handed users. Lefties typically have their sling hung on the right shoulder (the main compartment's opening facing the left hand). In this orientation, the relatively bulky Turn & Lock security hook rests beside you where it's out of the way.
Inside The Sling
The security features don't stop with the harness system and the fabric; the main compartment also has a few tricks up its sleeve.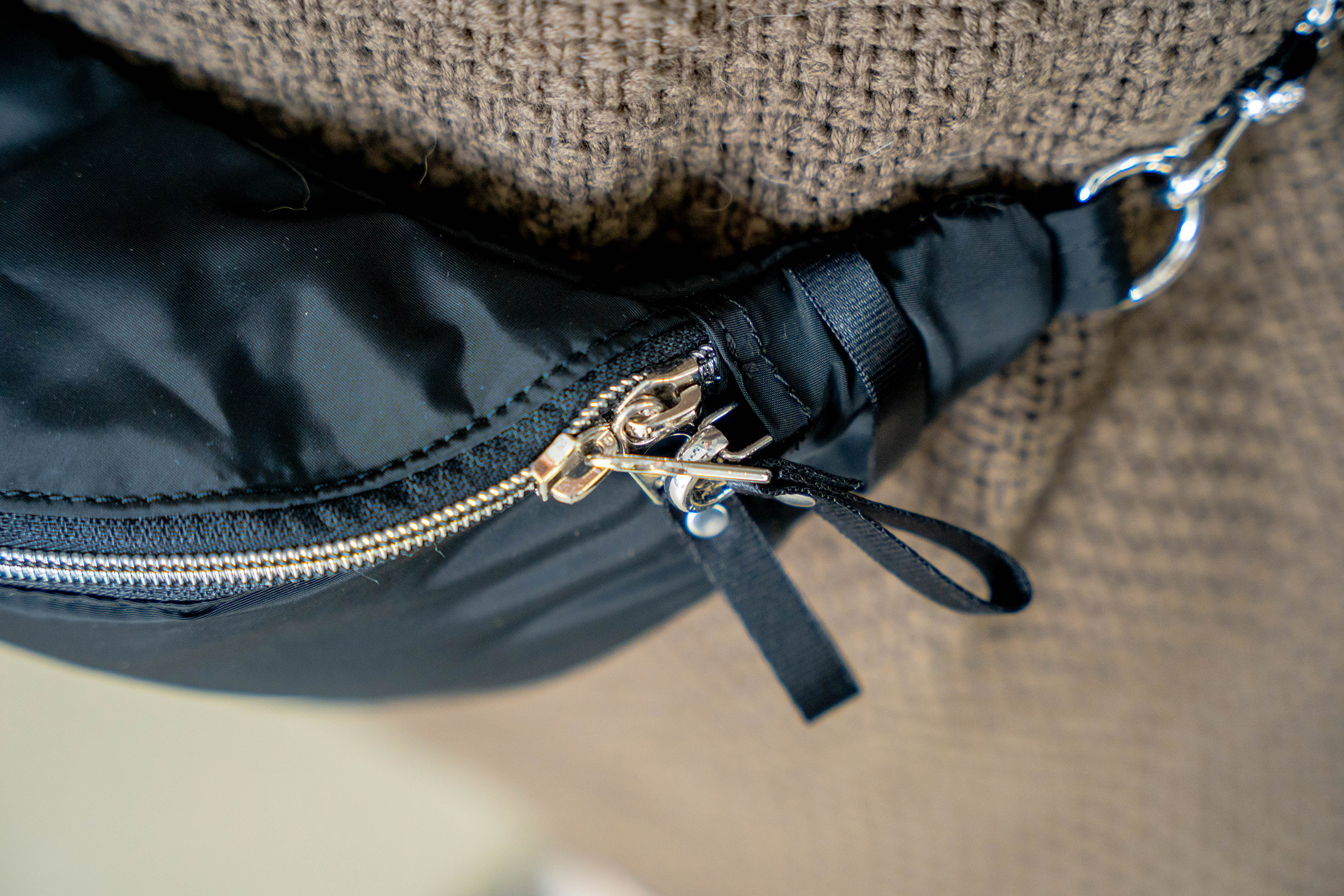 Two unbranded zippers guard the main compartment's opening. They've proven themselves reliable despite the unbranded zips, and we have no complaints. There are no notable jamming issues, nor do they feel particularly resistant when zipping or unzipping. Note that the opening is quite wide, making the feat praiseworthy.
Back to those security features, the zippers have interlocking holes for attaching a travel-sized lock. This is a nice feature for the security-minded traveler, though using a lock slows down accessibility. The good news is that you don't have to fiddle around with a separate lock for additional security because there's a hidden clip at one of the opening's ends.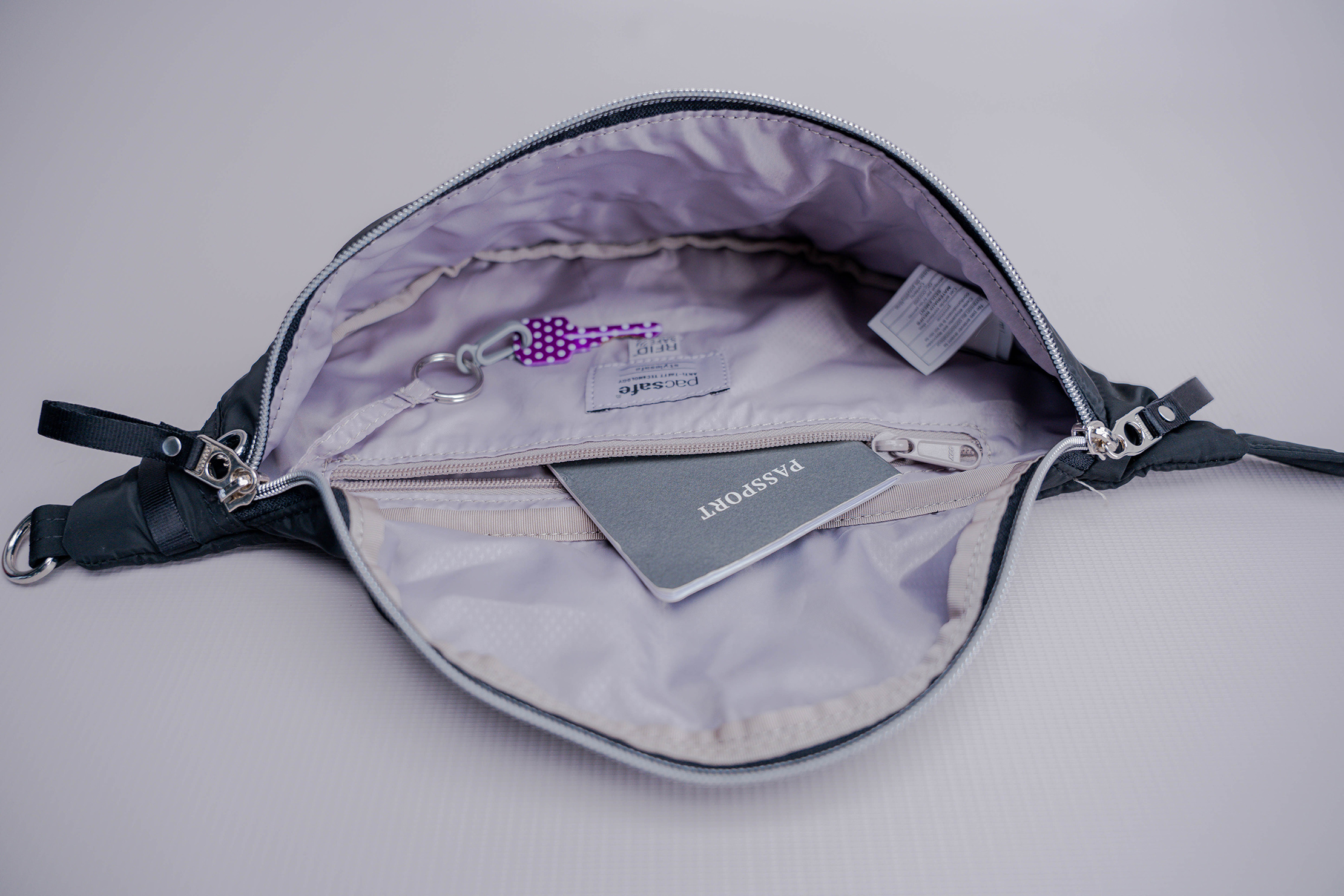 A small gusset hides the clip so it doesn't protrude and ruin the looks despite being at the front. The clip itself is easy to open because the lever isn't buried too deeply in the gusset that we have to fish for it. It's still not something we'd use on a day-to-day basis. For traveling purposes, though, it's a convenient alternative to using a combination lock.
There aren't a lot of built-in pockets inside the main compartment for organizing items. It's more or less a huge dump pocket where bulky items like a wallet and a smartphone fit well. The only means of organizing items inside is a rear zippered pocket, but this is best reserved for your most important items like your passport, plane tickets, credit cards, and other IDs. Having them inside a zippered pocket within the lockable main compartment—that's quite secure by our standards.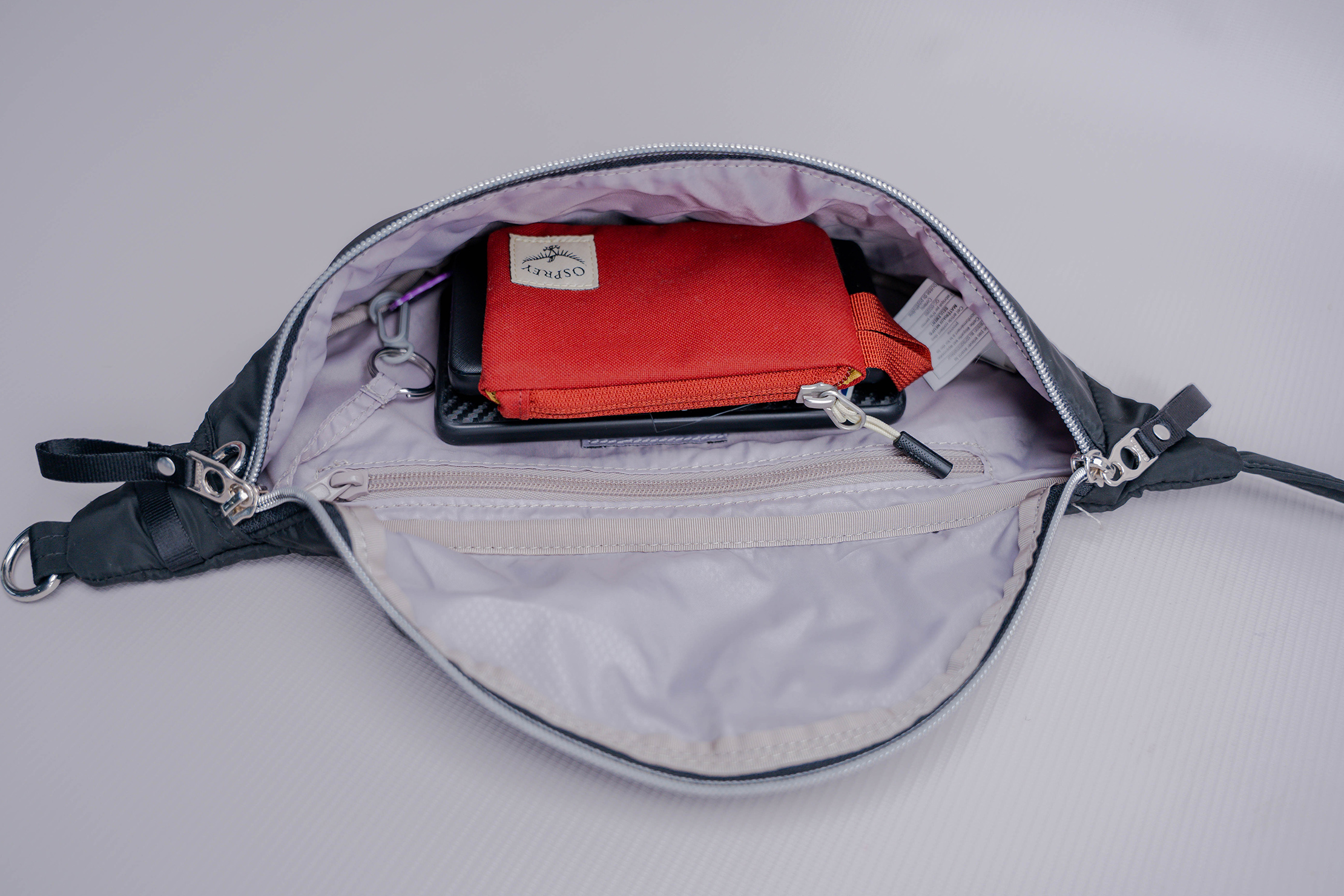 There's also a built-in key leash, which is adequate apart from its rather pale-looking plastic clip. Again, there's really not much in the way of separating items inside the main compartment. Fortunately, the liner fabric is bright, so going through bunched-up items inside is a bit less confusing, even under poor lighting conditions.
Pacsafe hasn't forgotten about RFID blocking for the Stylesafe Sling Pack. This one features their RFIDsafe blocking pockets and materials. For those curious about the nitty-gritty details, the frequency blocking range is quoted as 10MHz and up to 3GHz. Tl;dr, this means card skimmers won't be able just to swoop by and skim your cards while they're inside the sling.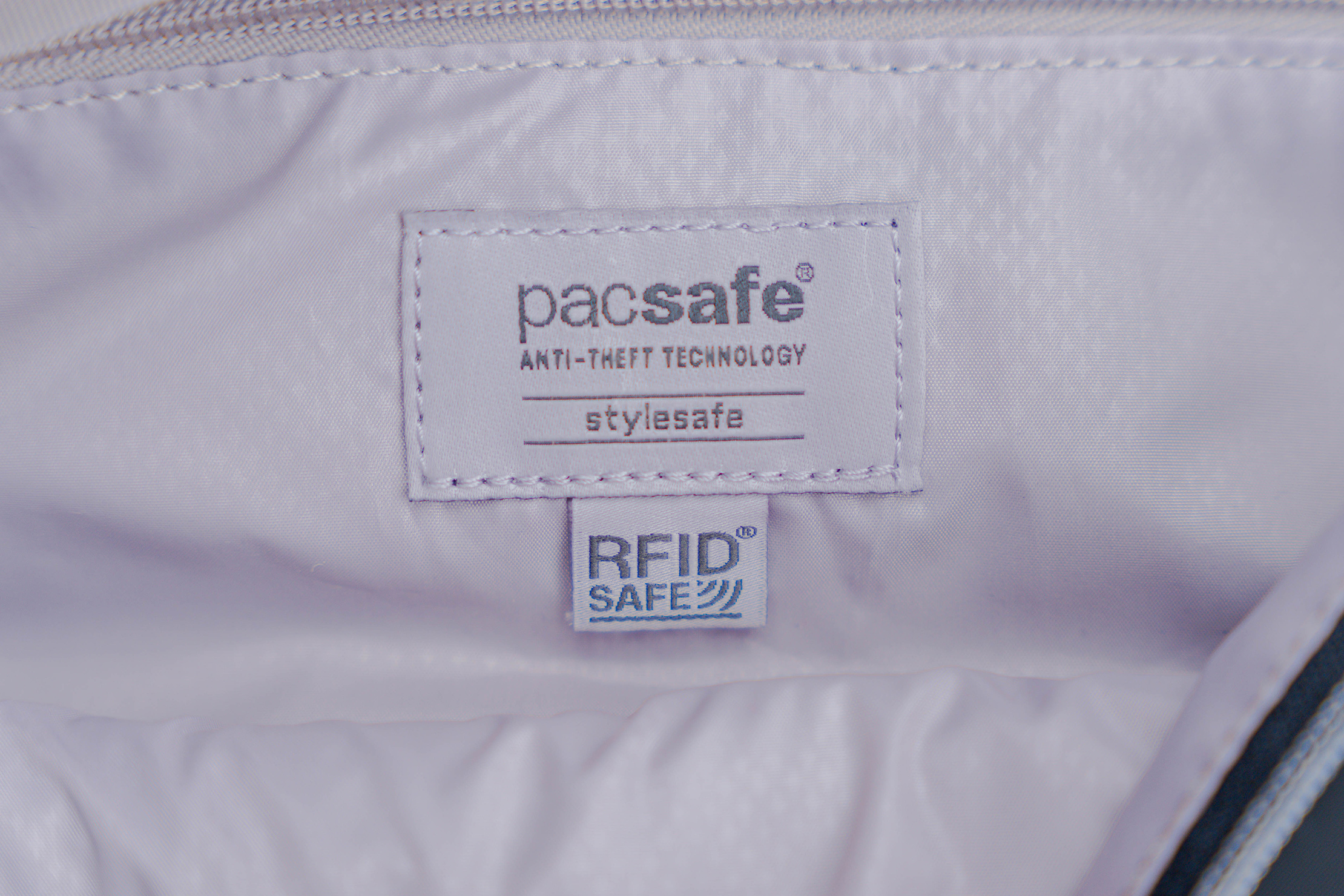 In day-to-day use, we find that the Stylesafe Sling Pack doesn't feel particularly spacious despite its two-liter capacity and wide opening. The crescent shape of the sling means there's some leftover unoccupied space at the sides. Bulky items like our wallet and smartphone rest in the middle. However, once we're wearing the sling crossbody-style, they shift towards the open space at the bottom.
This isn't an issue if said open space is filled with other smaller items. However, we don't always have gear to fill that void. But if you have, say, a smartphone charging adapter, a wireless earphones case, a Zippo, or something in that size range, that should fill the spot well, making the crescent shape more helpful than not.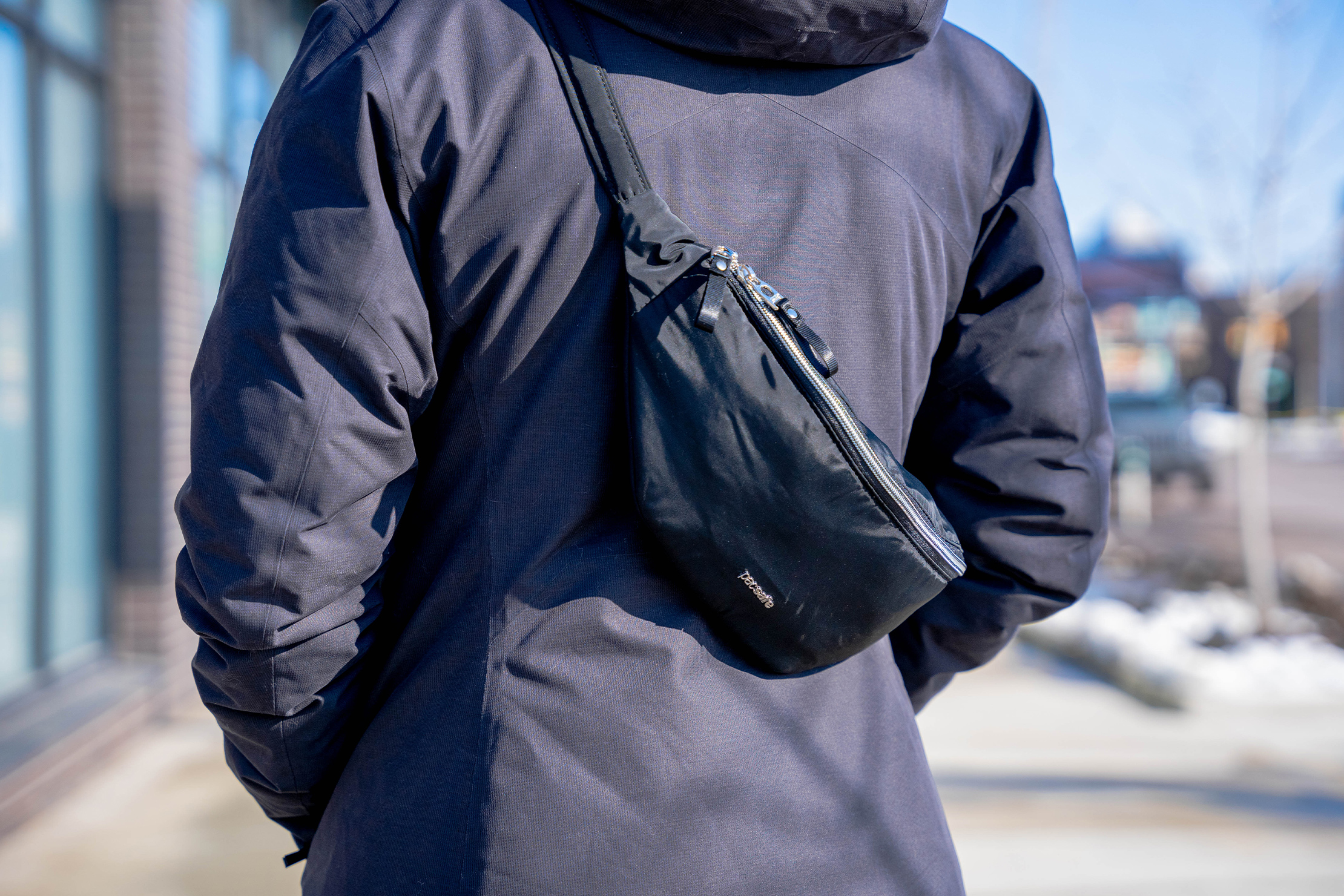 The Stylesafe Sling Pack definitely benefits from a little packing strategy that maximizes its interior shape. Organization inside feels somewhat sparse, not to mention there aren't any secondary pockets. The sling's strength lies in its security features and stylishness. While the former is subjective, the rest of the sling holds up if you're willing to go lax on the organization side of things.
Usage Timeline
Initial Usage
Condition: Excellent
The metal hardware is quite shiny
Shape and profile is pretty sleek and homogenous
There are no discreet foam panels at the back, but it feels soft anyway
2 Weeks of Use
Condition: Excellent
Hard to load out with a ton of gear—both because it's on the smaller side and the shape requires some planning
Feels very secure on, though we wish the hardware weren't so shiny
Naturally sits lower on the body, which is uncomfortable for those who like to wear slings more centered on the body
Access the Pro Community Discussion
Get your questions about the Pacsafe Stylesafe Anti-Theft Sling Pack answered from our team and the Pro Community right here on the page. Plus, join discussions with other members about gear, guides, and more.
Other Bags & Luggage Reviews