Purist Collective Mover 18oz Bottle Review
The glass interior of the Purist Collective Mover 18oz water bottle preserves the taste of the water inside, though the whistling from the lid is hard to ignore.
Our Verdict
Unlock the Pro Summary
Save time. Get access to brief summaries of our reviews so you can browse and make decisions more efficiently.
Pros
Glass interior eliminates metallic taste
Lid handle hides away for a sleek profile
Easy to clean
Cons
Lid sometimes makes a whistling noise as you drink
Cap can be difficult to open
Carry handle and rim are impacted by liquid's temperature
Recent Pack Hacker Video
Technical Details
Capacity

18oz

Weight (lb)

.73 lb (0.3 kg)

Dimensions

8.56 in x 2.9 in (21.7 x 7.4 cm)

Notable Materials

Stainless Steel, Glass

Manufacturing Country

China

Warranty Information
Buying Options

$50.00

$50.00
Full Review
Get up to 20% off Purist Collective • Join Pack Hacker Pro
Have you ever noticed the metallic taste your water sometimes gets if you leave it in a stainless steel water bottle for too long? We sure have, so when we caught wind of how Purist sought to eliminate that issue, we had to check it out ourselves.
The Purist Collective Mover bottle uses a unique technology to ensure that the water inside of their bottles stays fresh, crisp, and just as tasty as when you first filled it up. But what exactly is that technology? Well, get on board, because this train is on its way to Hydration Station, and we're your tour guide.
Materials & Aesthetic
The Mover is made with 304 stainless steel and is double-wall vacuum insulated to maintain the temperature of your water, coffee, and everything in between (except carbonated drinks). We like the black exterior's sleek, matte finish, though if you prefer a more stainless look, there's an option for that too. The neutral colorways complement the modern look of the bottle, and the minimal Purist branding at the base is a nice subtle touch.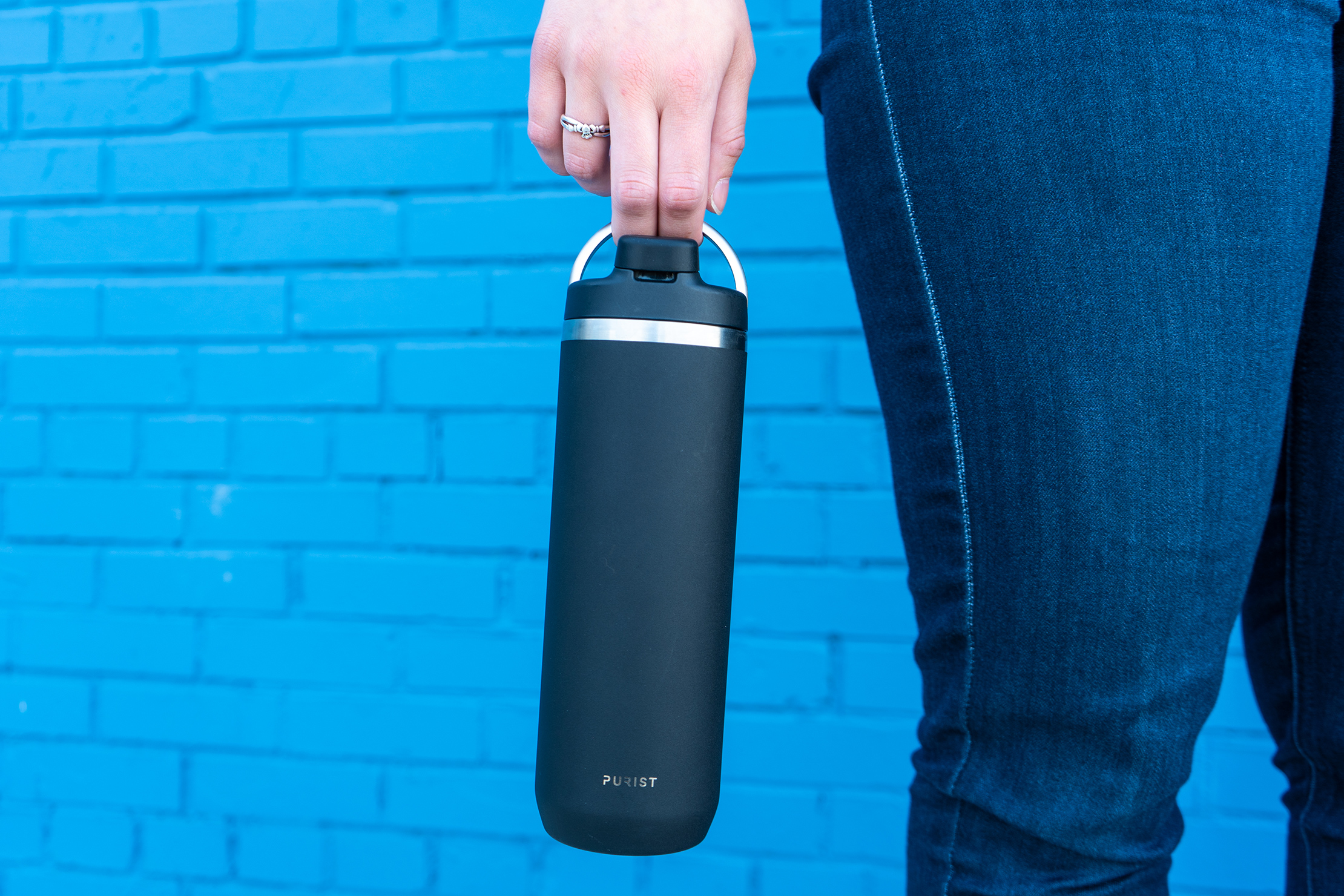 Though this bottle looks familiar on the outside, what sets it apart is on the inside. There's a thin layer of glass that acts as a barrier to preserve the natural flavor of whatever liquid is inside and prevents any lingering smells and tastes when you switch to something new.
When we say that there's a thin layer, we mean thin. Like, 60 nanometers thin. That means that you're able to see the 316 stainless steel that the inside is made of, but the glass layer on top prevents you from tasting it.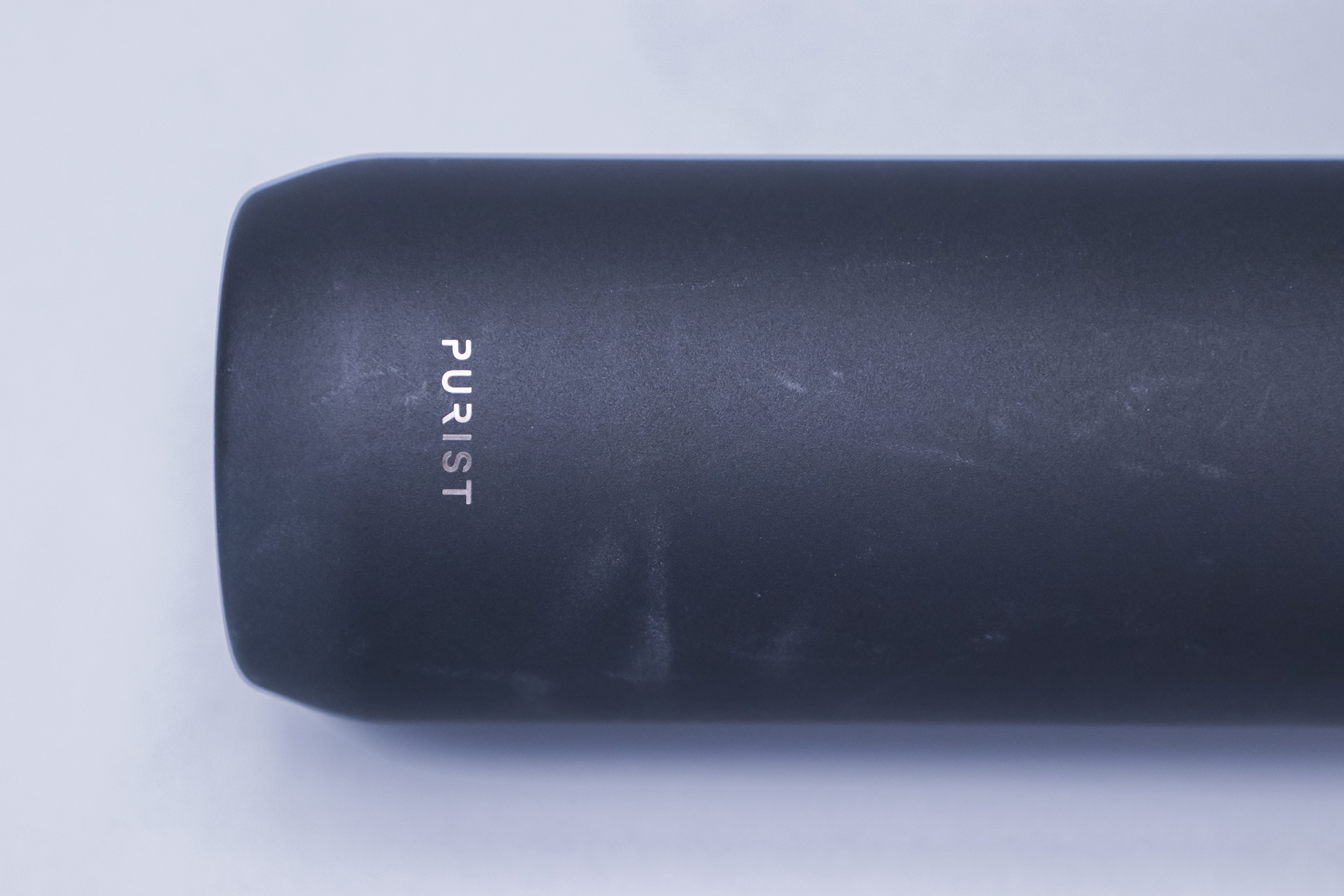 Purist took inspiration from the lotus effect, which refers to the way lotus flowers self-clean by allowing water to run off their leaves and pick up debris along the way. Don't get it twisted; you still have to clean the bottle yourself, but the walls won't pick up on smells and tastes the way other bottles do.
We tested it with the Union top, which has a spout and a carry handle that neatly tucks away. There's also the Element top, which has no spout, and the Scope, which has neither a spout nor a handle. The spout cap on the Union is made from a soft rubber that's stiff and secure to close, but we found that it easily collects dust and pet hair.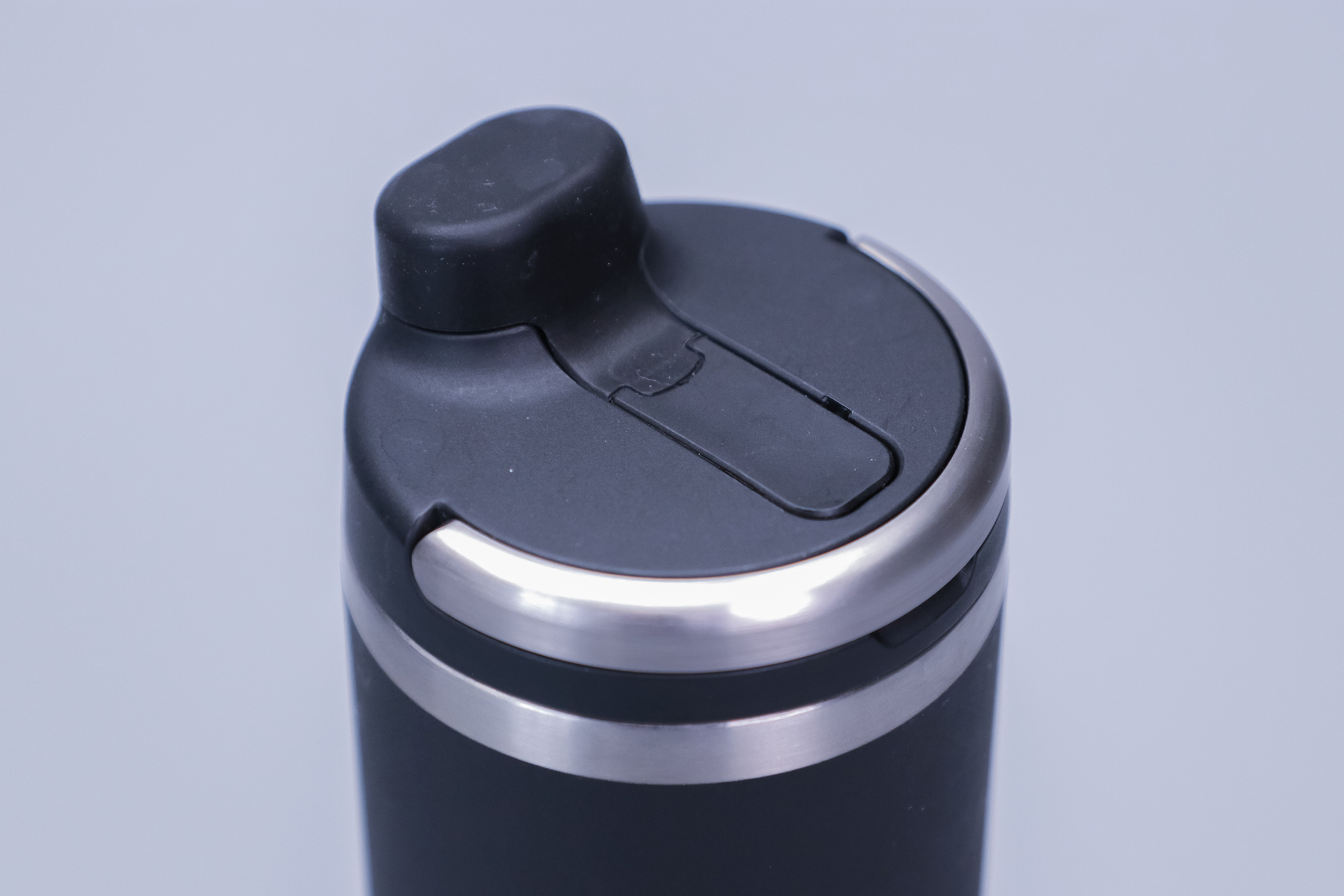 While the unbreakable, odor-resistant glass is excellent in theory, we were interested in finding out whether it made a difference.
Durability & Testing
Upon first use, we didn't notice a huge difference in taste. Water still tasted like water, and we like to think that we're pretty hydrated people, so whatever we were drinking never stayed in there very long before it required a refill.
To say that we were shocked by the taste of water in a stainless steel water bottle when we finished testing the Mover is a bit of an understatement. We had forgotten what it was like to have a bit of a metallic twang to our H2O, and we have to say that we didn't really miss it.

We wanted to test Purist's claim that the Mover keeps things cold up to 24 hours and hot for 12, so we left the bottle in a 75°F (34.7°C) room with 138.5°F (59.2°C) water for a half-day and 31.5°F (-0.28°C) water for a full day.
By the end of the half-day, the hot water had cooled off to a warmer-than-warm 94.4°F (34.7°C). As for the cold water, all of the ice had melted by the end of a full day, but the water temperature only went up to 37.5°F (3.06°C). On another day, we left it in the car in direct sunlight for an hour and a half, and though the bottle itself was a little hot to the touch, the water inside was still cold.
It's important to keep in mind that the Union cap is not insulated, which impacts temperature retention. By our standards, though, it did a pretty solid job without the extra help. It's safe to say you should be okay leaving it behind during a quick stop on your next road trip.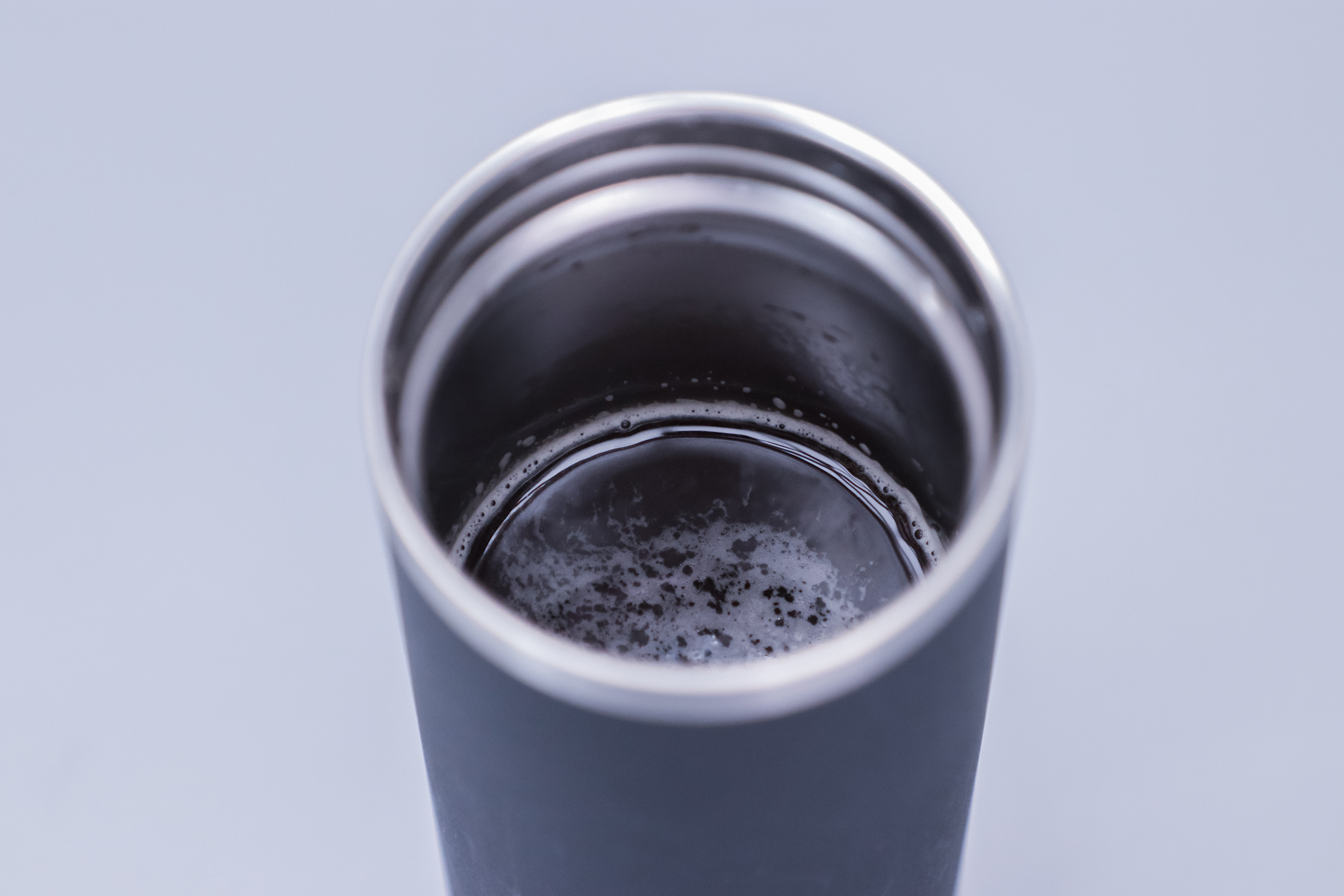 One major setback is that the bottle isn't rated for liquids hotter than 185°F (85°C), which means that you can't pour boiling water straight into the bottle. Because we're curious people by nature, we tested this limit. The bottle started to leak after about 15 minutes of holding boiling water with the lid completely closed, and the metal along the rim and handle got extremely hot to the touch. So when they say don't put in water hotter than 185°F, they mean it.
However, even when we followed the advised temperature ratings, we still noticed the metal along the rim and handle got warm with hot water and cold with ice water. It wasn't uncomfortable to hold, but it took some getting used to.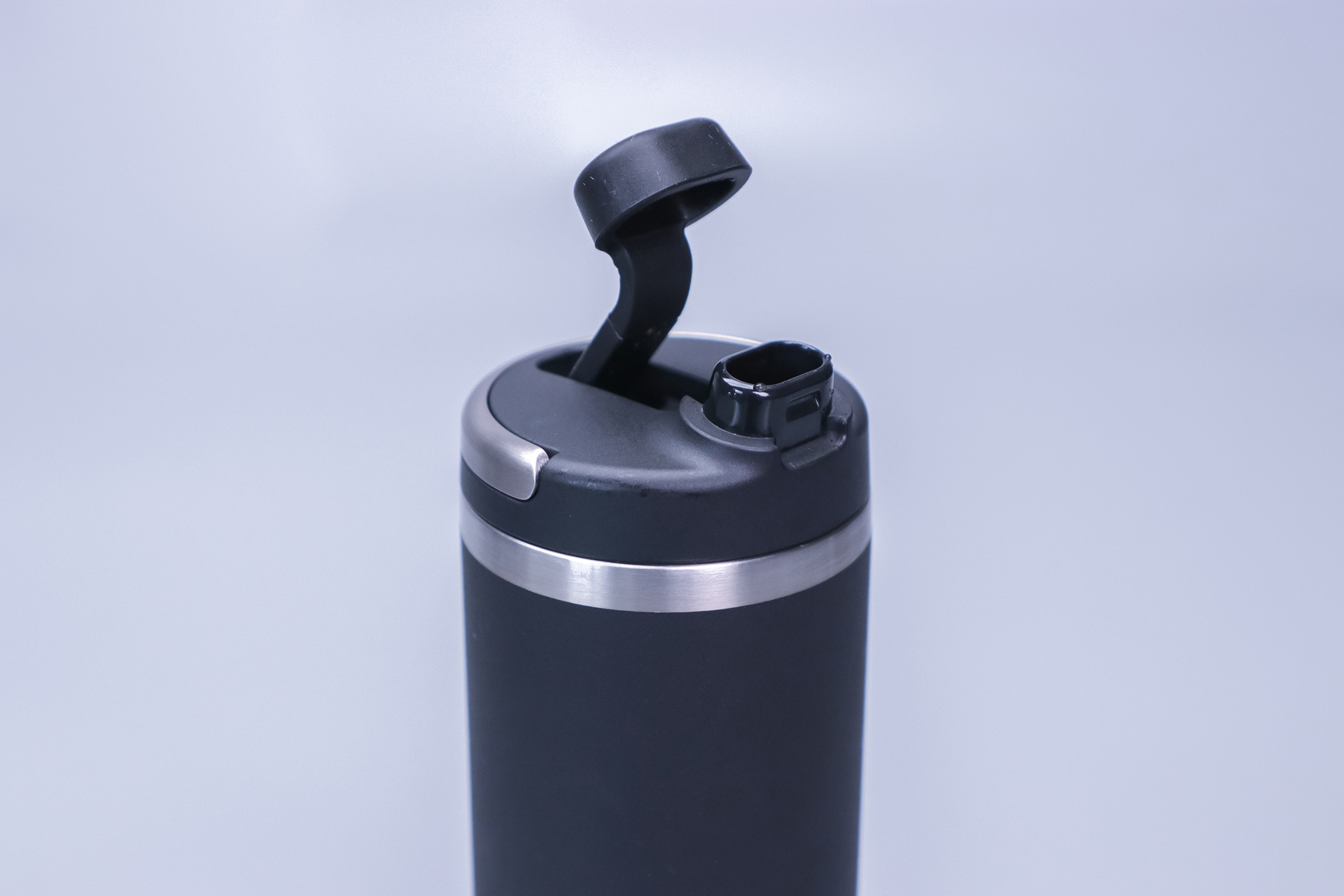 Both the cap and bottle are not dishwasher safe, and Purist warns against using abrasive cleaning tools because they can damage the tiny layer of glass that makes the bottle unique. A soft sponge and some gentle soap does wonders to freshen things up, and the cap is equally easy to clean—just open the lid and use that same soft sponge and soap to get in all the cracks and crevices.
The cap requires a bit of strength to open—we often had to dig our fingers underneath to get enough leverage. It also sometimes makes a loud whistling sound as we drink, which is handy if you're on a trip where you want to practice your bird calls, but not great for laying low at a quiet coffee shop.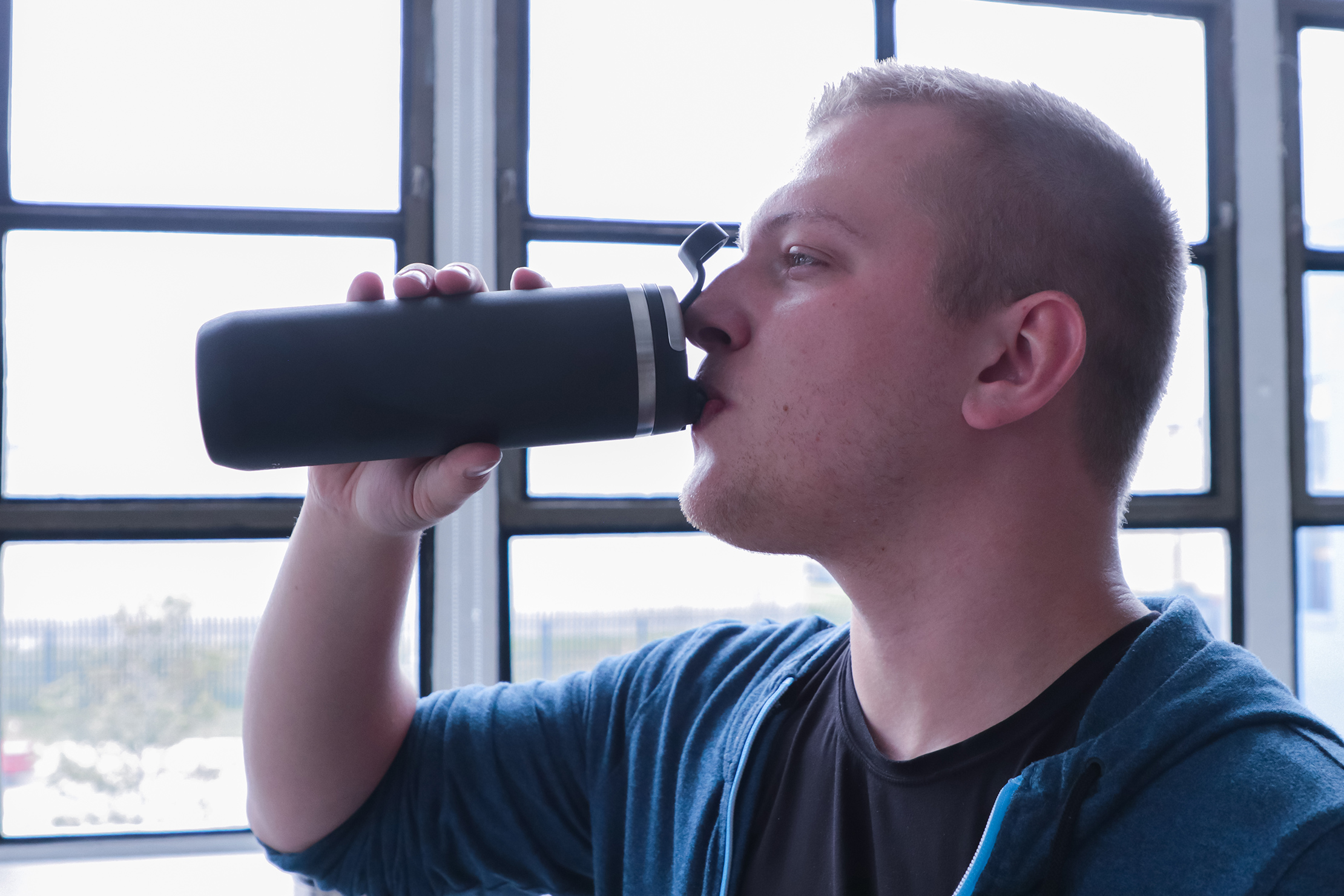 Though it was hard to pin down when and why it happened, we think we figured it out by the end of our two weeks. It was pretty quiet most of the time, but if we really tipped our head back and let the water pour out of the spout naturally, the vacuum release would force air out of the tiny pressure hole in the cap and make the loud whistling sound. This is easy to avoid, though you do need to think before you drink.
As for appearances, the matte exterior only racked up a couple of bumps and bruises throughout our testing, though we were pretty gentle with it in the first place. The inside is still clean, but there's some light staining from some coffee we left in there a little too long.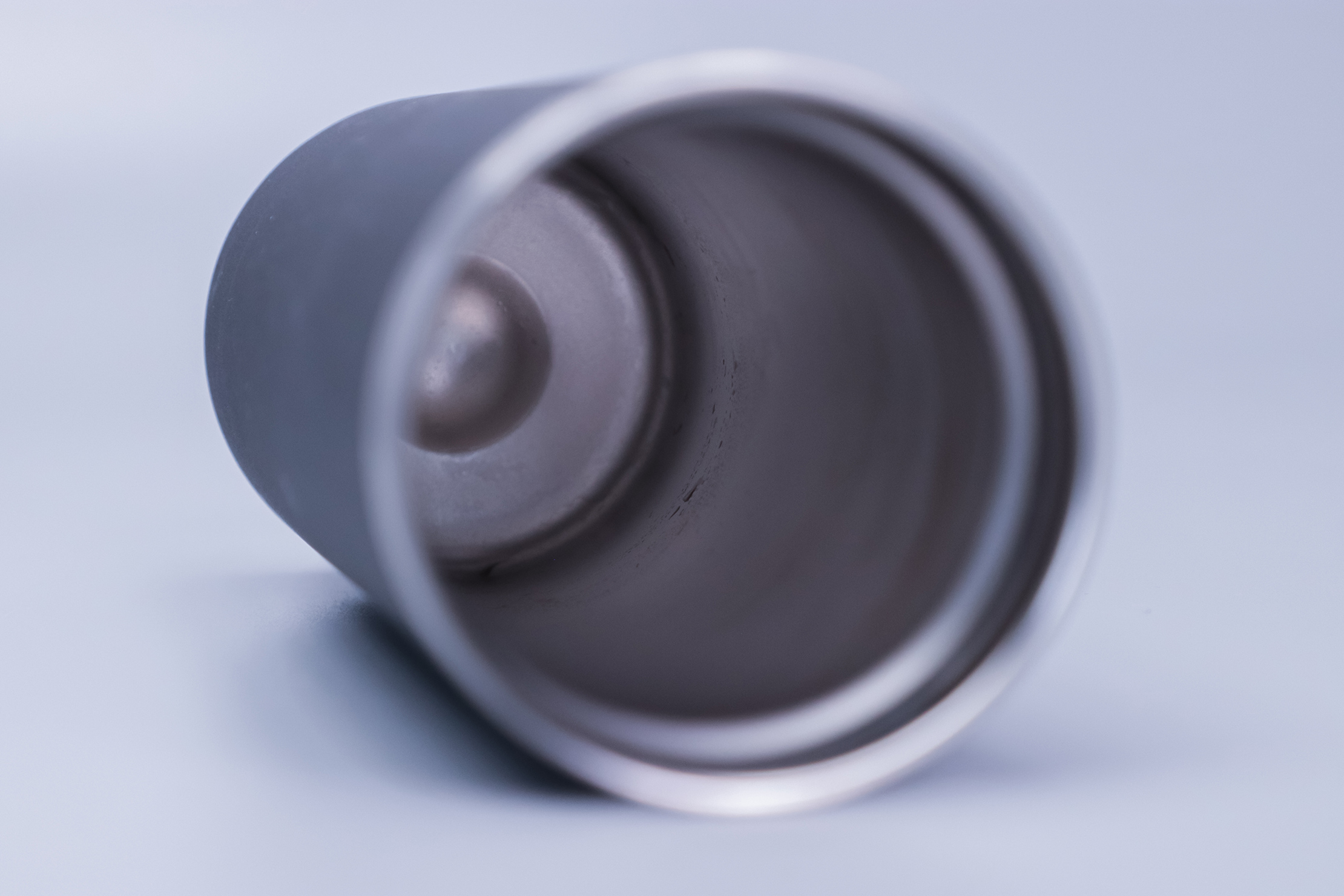 Overall, the Purist Collective Mover 18oz is a sleek daily water bottle that does exactly what it says it's going to do. It combines the taste benefits of a glass water bottle with the insulation properties of stainless steel bottles, giving you the best of both worlds. Though we wish it could handle boiling water, and we think the lid could use some adjusting to eliminate the sensitivity to temperature and the whistling noise, those are small workarounds that don't detract from the benefits of the bottle.
Usage Timeline
Initial Usage
Condition: Excellent
High-quality aesthetic and solid feeling material
Glass interior keeps flavors from getting trapped
Union top makes sure you don't lose your cap
2 Weeks of Use
Condition: Excellent
Holds water temperature well
Cap makes a whistling noise if you really tip your head back to drink
Carry handle is convenient to use and looks nice when folded down
Rubber cap on lid easily attracts dust and lint
Cap can be difficult open
Matte finish has a few blemishes but nothing too noticeable
Access the Pro Community Discussion
Get your questions about the Purist Collective Mover 18oz Bottle answered from our team and the Pro Community right here on the page. Plus, join discussions with other members about gear, guides, and more.
Other Miscellaneous Reviews