Clutch Charger V2 Review
The Clutch Charger V2 is the thinnest power bank we've tested to date and is great for topping off your battery while out on an adventure.
Our Verdict
Unlock the Pro Summary
Save time. Get access to brief summaries of our reviews so you can browse and make decisions more efficiently.
Pros
Tiny form factor makes for easier storage
Includes an attached cable for charging with ease
3,000 mAh battery great for topping off devices
Cons
Can't attach other cables for dynamic use
Shell gives us durability concerns
Requires a separate cable to recharge its battery
Recent Pack Hacker Video
Technical Details
Weight (oz)

2.3 oz (65.2 g)

Dimensions

3.5 in x 2.5 in x 0.125 in (8.9 x 6.4 x 0.3 cm)

Notable Materials

Metal

Manufacturing Country

China

Warranty Information
Full Review
Get up to 20% off Clutch • Join Pack Hacker Pro
The Clutch V2 is marketed as the world's thinnest portable phone charger and power bank, which is enticing, but we can't help but wonder how well it works in real-world situations. Does its tiny form factor and portability come at the cost of power and functionality? Let's find out!
Materials & Aesthetic
The Clutch Charger V2 comes in three colorways at the time of writing—Black, White, and Pink. We got our hands on the black one, which looks very minimalistic apart from the large Clutch logo on one side and their lightning bolt logo on the other. The white colorway looks clean, but we worry about it staying that way as we have noticed a few dings and marks on the black model over the past few weeks. The pink colorway is a nice pop of color for those who want a charger as bold as they are.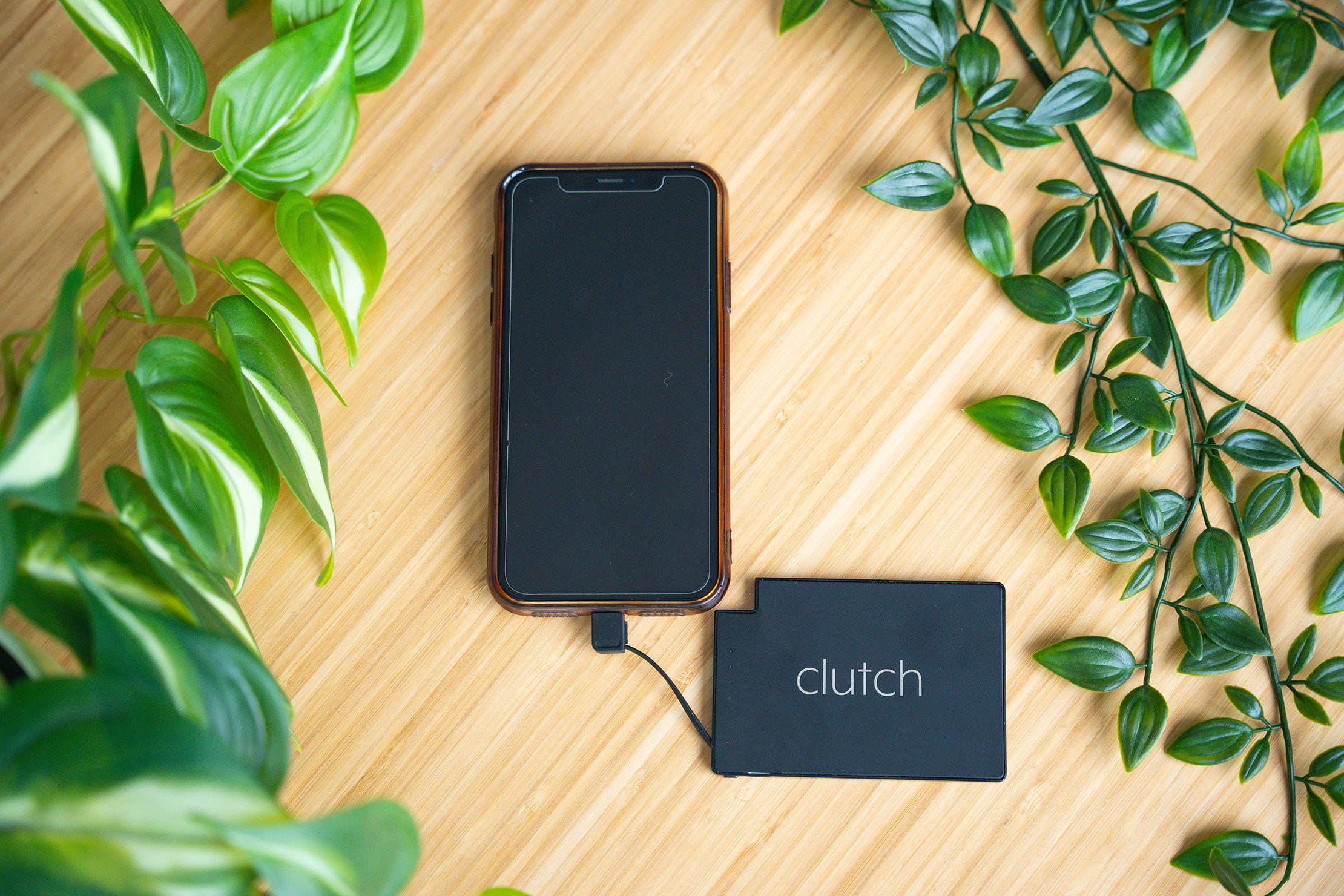 The charger is just 1/8th of an inch thick, which is just over 3mm. Their website lists its weight at 2 oz, but our scale measures it at 2.3 oz, which is roughly 65 grams. Specifics aside, this thing is tiny. It fits into a standard-size billfold wallet like the Bellroy Travel Wallet and easily slides into an interior daypack pocket or a front sling pocket. It feels natural in the back pocket of a pair of jeans, but sitting on it is shockingly uncomfortable.
The charger comes with an attached cable that cannot be removed. We chose the model with a Lightning cable, but there is also a USB-C model. Since it's attached, there's no way to use a different cord for charging, so whichever option you choose will be your charging companion for the life of the power bank. This isn't as big of a deal if you get the USB-C model, as lots of devices use USB-C for charging, but it's a bit more limiting if you choose the Lightning cable.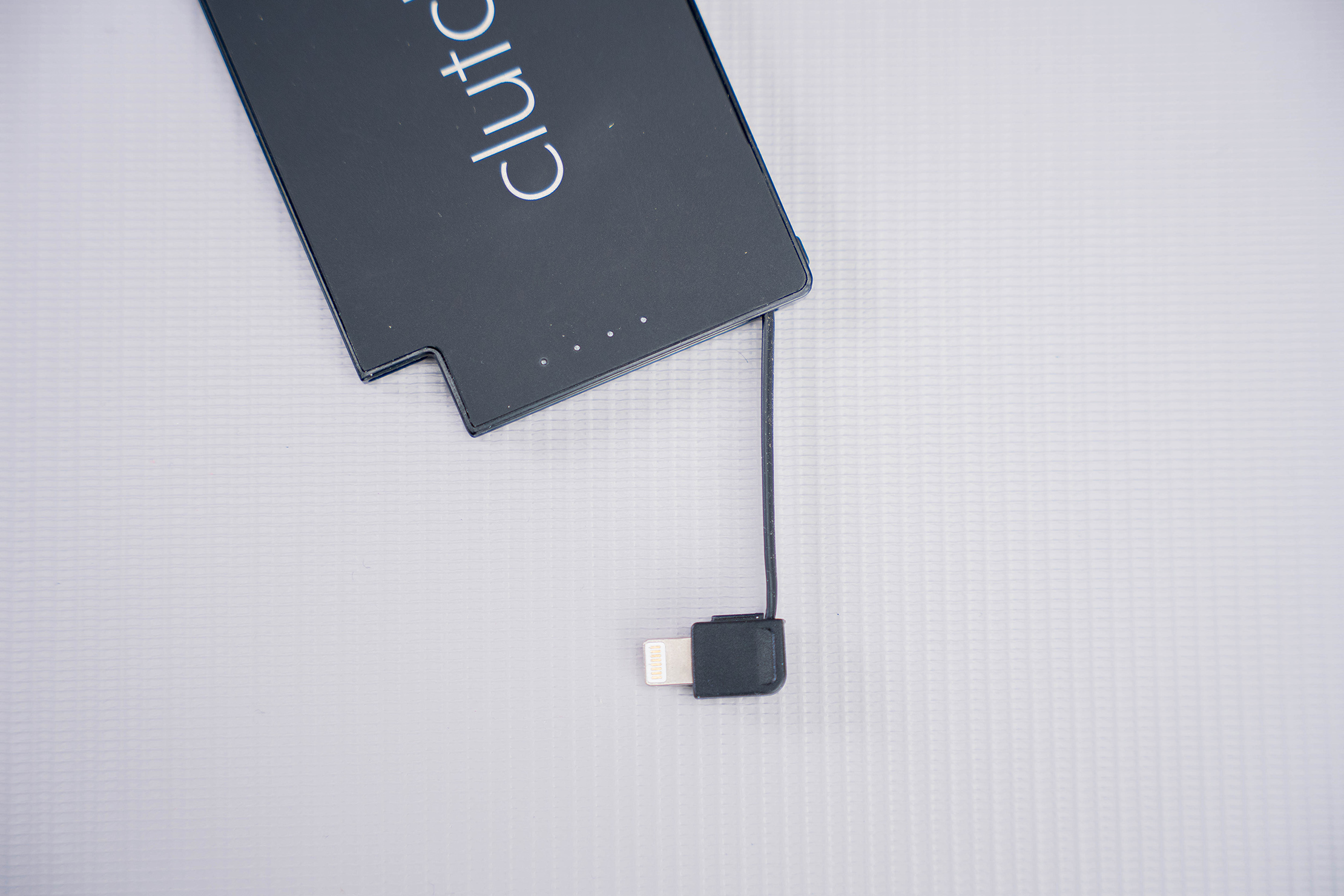 The cable itself is skinny and has a tiny bit of stretch. It's so thin that we constantly feel like it will break, but so far we've had no issues. There aren't any noticeable marks or scuffs on the cord itself, which might be the result of us babying it due to it looking so breakable, but either way, we're happy with how it's performing.
The charger's shell material is listed as metal, but it feels more like a hard plastic. We haven't run into any durability issues, but we may start to worry about the longevity of the charger if we were to take it on a long trip across the world and use it every day. Like many modern smartphones, the ring that runs around the outside of the charger feels like a more durable material than the front and back. This is great for drops, but considering how little protection the battery has elsewhere due to its size and weight, it could be an issue long term. We'll keep you updated in the usage timeline below.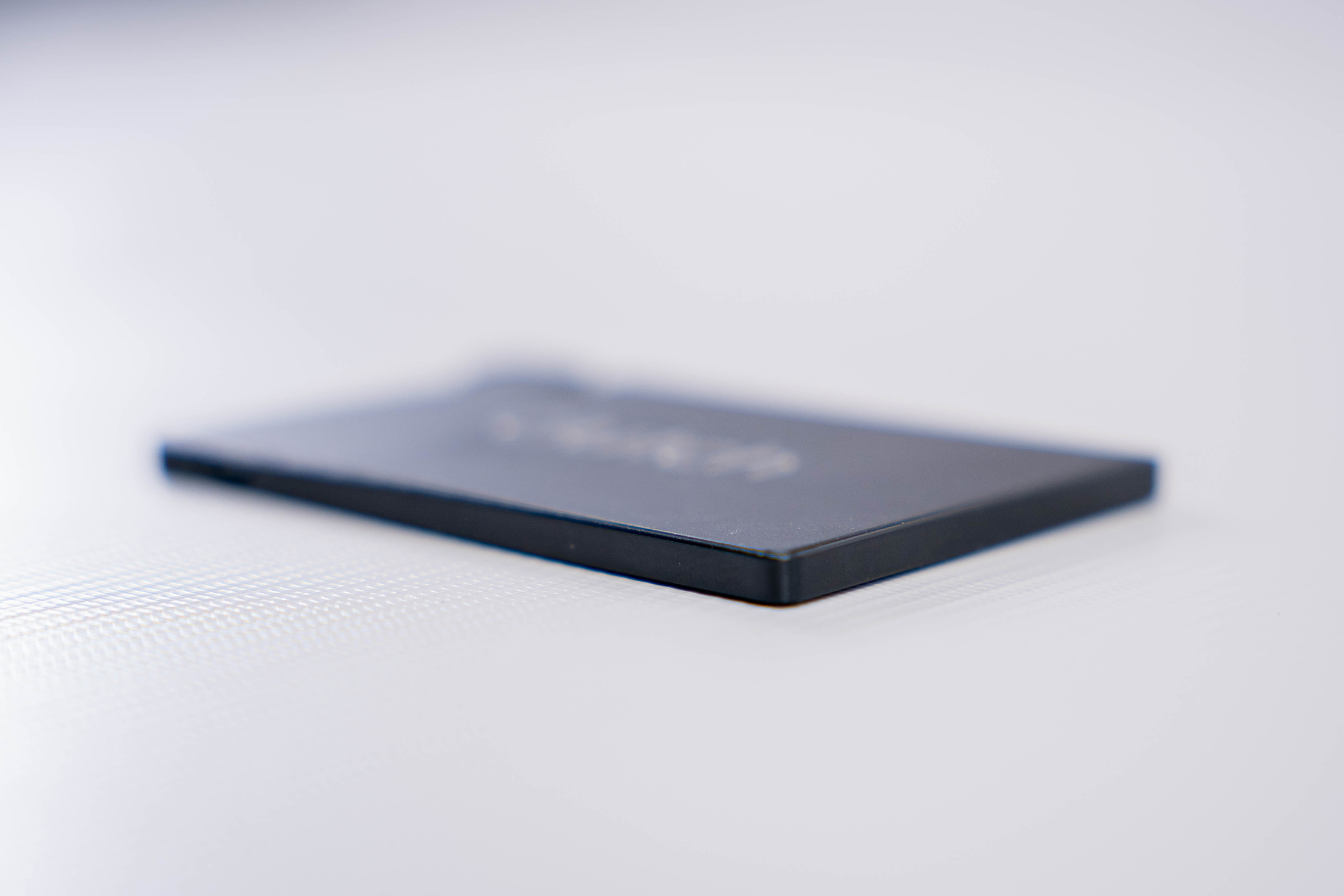 There is a small button next to the micro-USB charging port that turns on indicator lights on the front face of the charger. When clicked, the lights brighten to display how much charge the battery has. No light means dead, one light means roughly 25%, two means 50%, three means 75%, and four means 100%. There is a lot of wiggle room between these figures, but we found it pretty accurate.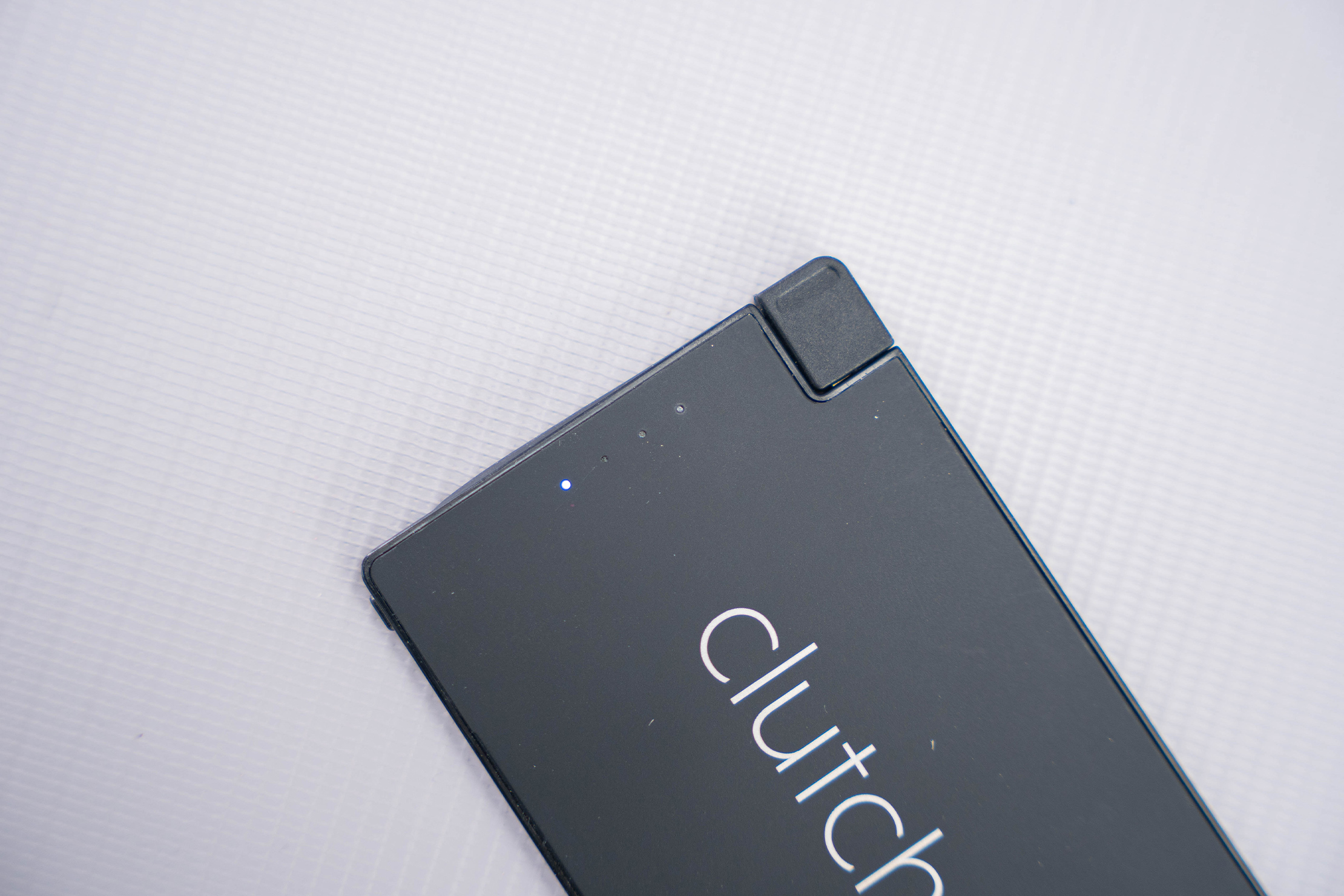 The battery itself is rated at 3,000 milliamp hours, but we get roughly 2,600 milliamp hours out of it. We often use our phone as it's charging, which may account for the discrepancy, but overall the power bank hits pretty close to the mark. Let's take a closer look at how it performs.
Usage & Features
If you skipped ahead to this part, let us summarize what we've gone over so far. The Clutch Charger V2 is exceptionally lightweight, small, and fits just about anywhere. Is that all that practical, though? Let's see.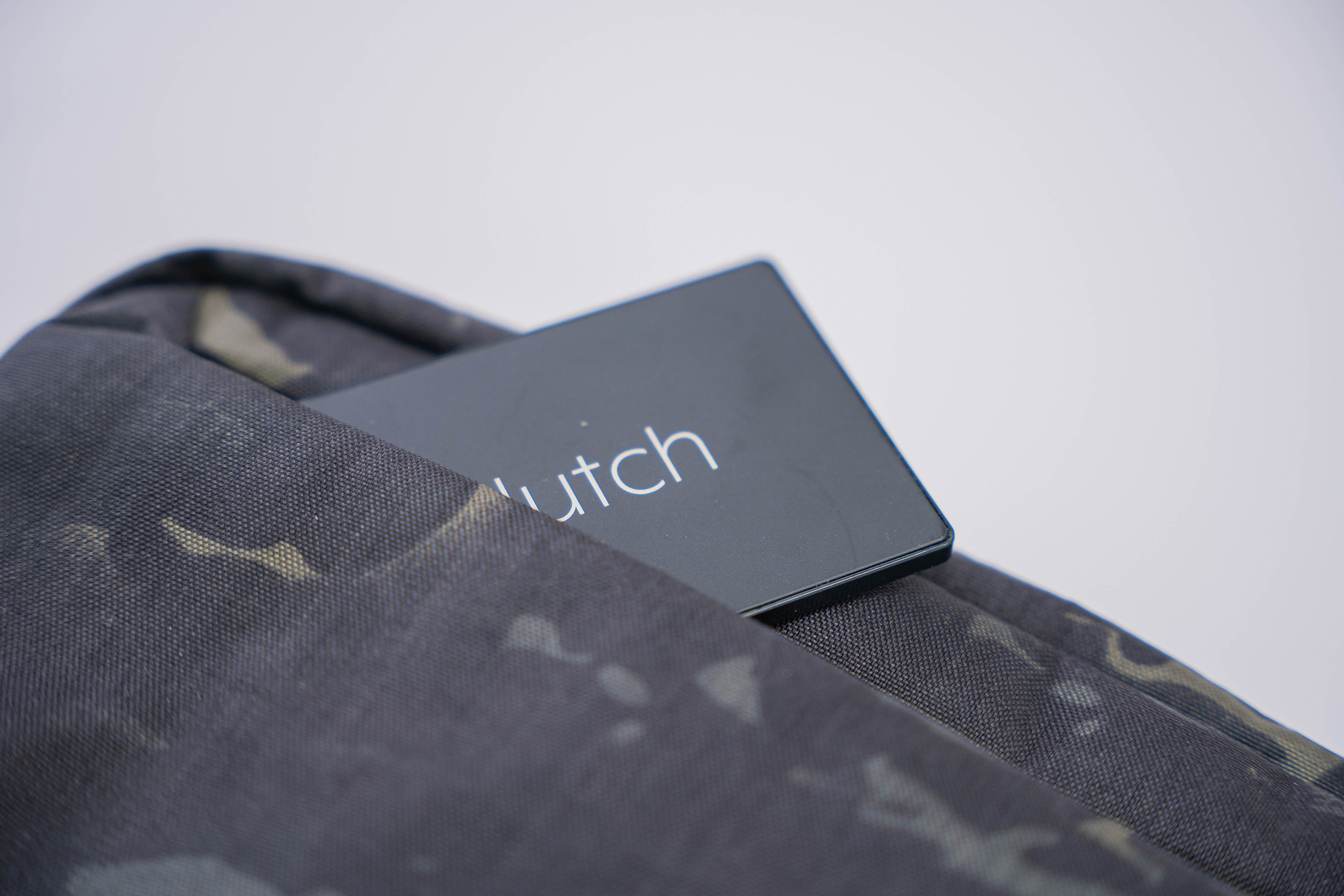 We compiled a little list of what this charger will do for you when fully charged. It's worth noting we have gone with their advertised 3,000 milliamp hours, not the roughly 2,600 we are able to get out of ours.
When fully charged, the Clutch Charger V2 will charge:
A regular iPhone 13 to 92.96% (3,000 mAh / 3,227 mAh)
An iPhone 13 Pro Max to 68.93% (3,000 mAh / 4,352 mAh)
A Samsung Galaxy S21 to 75% (3,000 mAh / 4,000 mAh)
A Samsung Galaxy S21 Plus to 62.5% (3,000 mAh / 4,800 mAh)
A Samsung Galaxy S21 Ultra 5G to 60% (3,000 mAh / 5,000 mAh)
A Nintendo Switch to 69.60% (3,000 mAh / 4310 mAh)
A Nintendo Switch Lite to 84.03% (3,000 mAh / 3570 mAh)
As the numbers above illustrate, the Clutch Charger V2 is great for topping a device off while away from home, not for garnering a full charge. This works well for trips exploring a new city, a short day hike, or on an airplane, but not so great for a digital nomad who needs a steady power source at all times at the risk of missing an important email.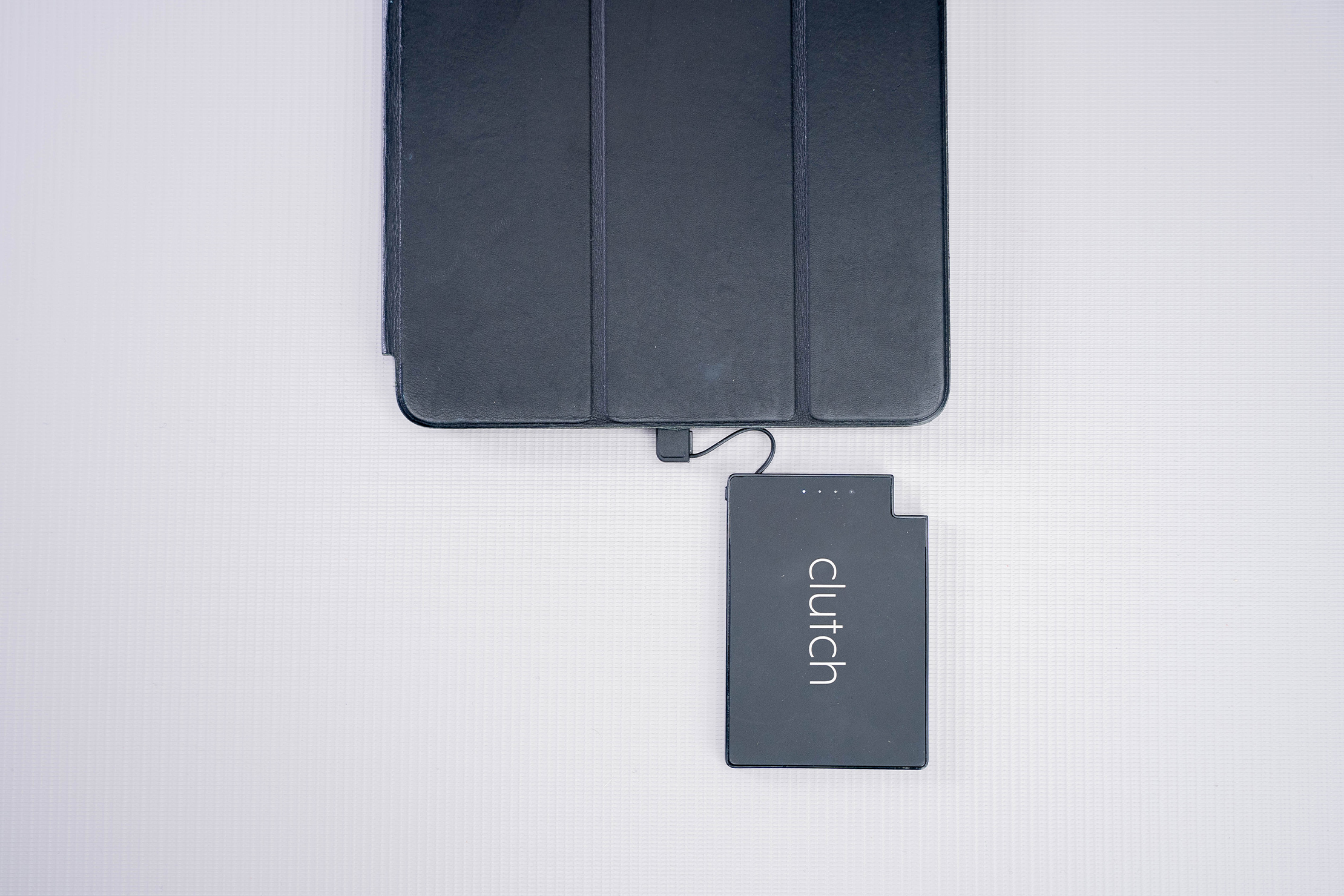 One issue we have with the charger is that it uses an included micro-USB cord to charge. We think one of the best features of the Clutch is that we don't need to bring along any other cords to charge our devices on the go—unless we want to charge the power bank after we drain it. While traveling, we need to bring a phone cable for our hotel or Airbnb, the power bank, and then a micro-USB to charge it. If it were chargeable via the same cord that it came with, we wouldn't need to bring that extra cable with us. Micro-USB cables are widely available across the world, which is nice if you lose the charging cable, but bringing along another cable feels like it defeats the purpose behind this power bank in the first place.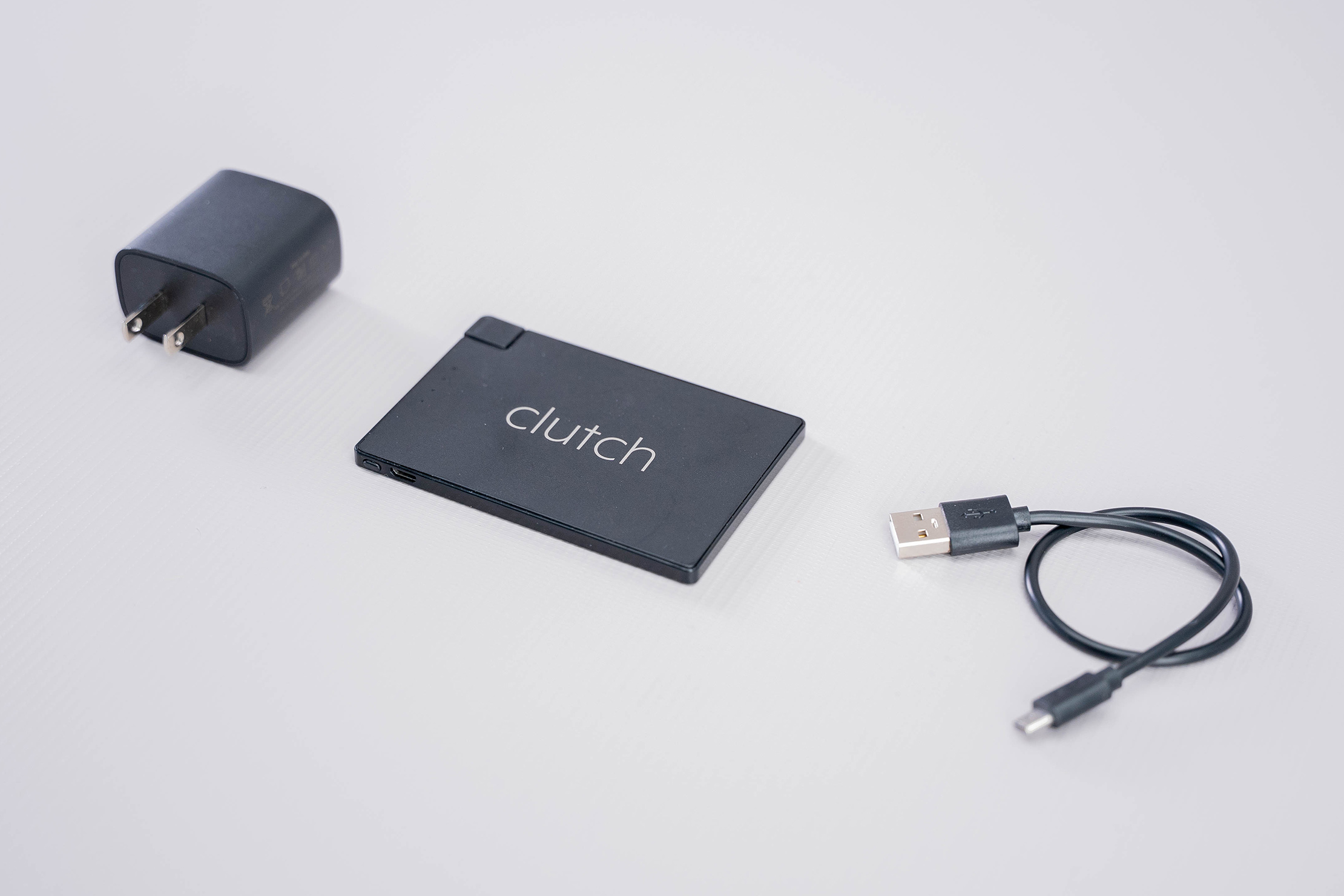 That said, we love the Clutch Charger V2 for basic use on a weekend trip. It's great for topping off our battery while on the move and offers a little peace of mind that we won't be in an unfamiliar place without a charge. The tiny form factor allows us to stow it practically anywhere, and the attached cable means we don't have to worry about bringing a separate charging cord. It can also be helpful on an extended trip, but the low mAh battery may leave frequent phone users in need of a little more juice. If you understand its capabilities before you head out the door, it will be useful in more ways than one!
Usage Timeline
Initial Usage
Condition: Excellent
The edges have a small lip that appears to be purely cosmetic
Very slim and easily pocketable
The Lightning connector is fixed and cannot be disconnected
2 Weeks of Use
Condition: Excellent
A few noticeable marks on the face of the power bank
The lightning cable cord remains intact without any apparent damage or stretching
No noticeable change in charging ability
Access the Pro Community Discussion
Get your questions about the Clutch Charger V2 answered from our team and the Pro Community right here on the page. Plus, join discussions with other members about gear, guides, and more.
Other Productivity & Tech Reviews