Foldies Polarized Folding Classics (V2) Review
The Foldies Polarized Folding Classics (V2) sunglasses save you space when it's time to pack them away without looking foldable.
Our Verdict
Unlock the Pro Summary
Save time. Get access to brief summaries of our reviews so you can browse and make decisions more efficiently.
Pros
Design doesn't look collapsible while the glasses are on
Folding case offers ample protection from scratches and breaks
Polarization, UVA, and UVB protection for better visuals on sunny days
Cons
Plastic lenses don't feel super sturdy
The included microfiber cloth isn't high quality
It isn't the smallest case that we've seen
Recent Pack Hacker Video
Technical Details
Weight (oz)

1.02 oz (28.9 g)

Weight (oz)

2.19 oz (62.1 g)

With case and cleaning cloth

Dimensions

3.15 in x 2.36 in x 1.18 in (8 x 6 x 3 cm)

Case measures 3.35 in (H) x 2.56 in (W) x 1.57 in (D)

Notable Materials

Plastic, Leather, Microfiber

Manufacturing Country

China

Warranty Information
Full Review
A pair of sunglasses is essential while traveling, even if you're heading somewhere notorious for cool weather. From the beach to monumental snow piles reflecting rays of light, keeping your eyes safe should be a high priority. Foldies Polarized Folding Classics fold up to save space, which makes them easier to bring on vacation. We're curious to see how they hold up as a travel partner and whether or not they're the kind of sunglasses that come on every trip or if they're a glovebox hero at most. Let's find out!
The Rundown
The frames of the glasses are made from plastic. It's a dense, rigid plastic, but at the end of the day, they aren't metal. They feel more durable than other budget-friendly glasses we've tested in the past, primarily due to their segmented design. A long thin piece of plastic will be less stable than if it were two semi-long pieces, and that's what's going on here.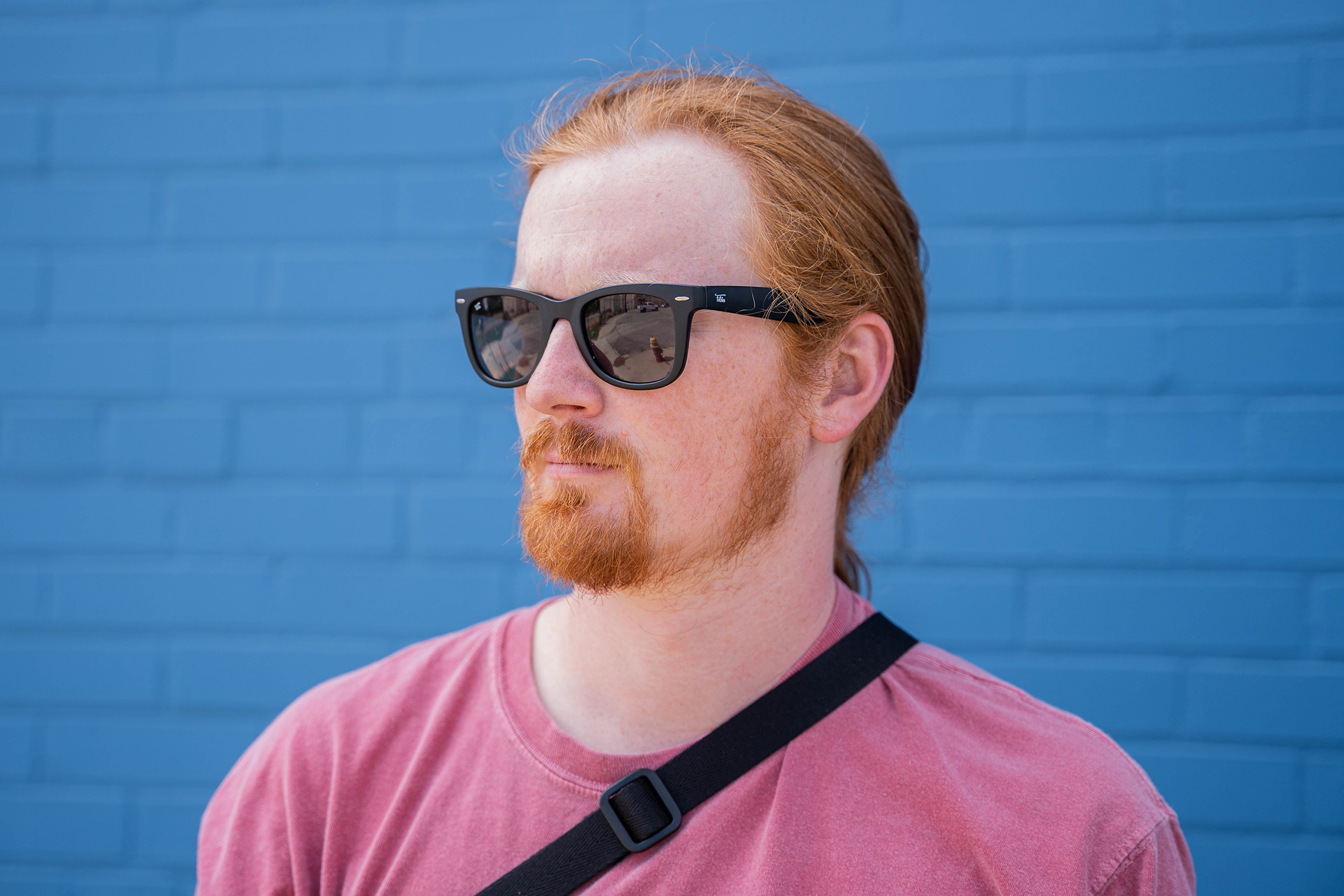 The screws that hold the pieces together are metal, which is a good look as far as we're concerned. Metal is standard, but some budget models will only have plastic. If you're constantly opening and closing the glasses, you want the main component inside to be durable. In this case, metal is a more durable option.
The lenses on the Foldies are plastic, too. It feels quite durable, and they're free from scuffs or scratches. There's a small Foldies logo on the top right of your right eye's field of vision, though it isn't so large that we feel it gets in the way. The lenses are polarized, which is excellent for cutting the glare off water or reflective objects. They also have UVA and UVB protection. However, that's pretty standard on a lot of sunglasses.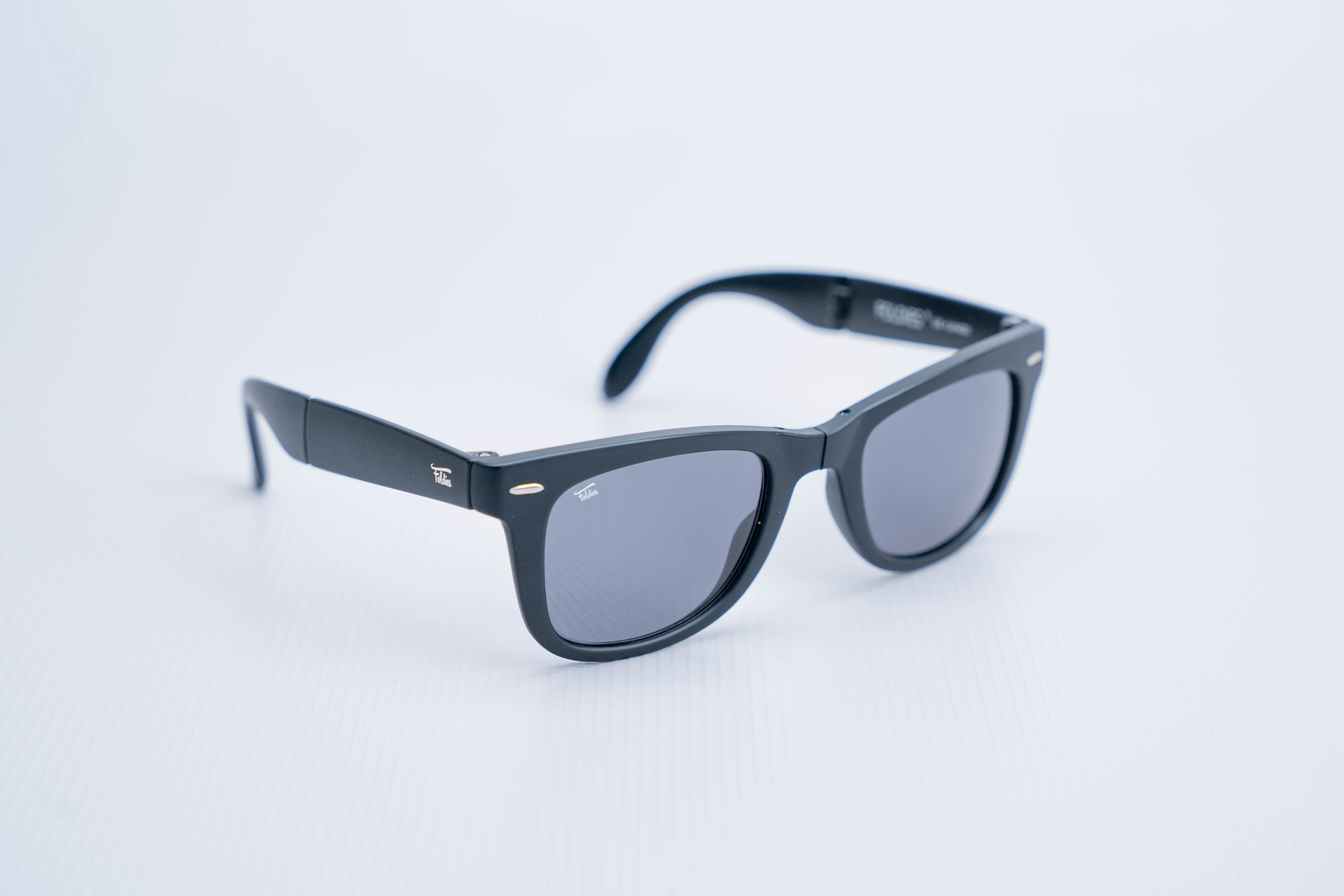 The glasses come with a leather case and a microfiber cleaning cloth, both nice inclusions, though the former is exceptionally important. When they're folded up, the sunglasses don't feel as durable. If you were to sit on them accidentally, you might break them. The leather case is hard-walled and offers a lot of protection, so your glasses are safe from drops, bumps, and sits. Most importantly, the case doesn't add much overall surface area to the package size. A standard hard case takes up a ton of room in comparison—so much so that it can sometimes feel awkward to hold, but the Foldies' are small enough to fit into the palm of your hand.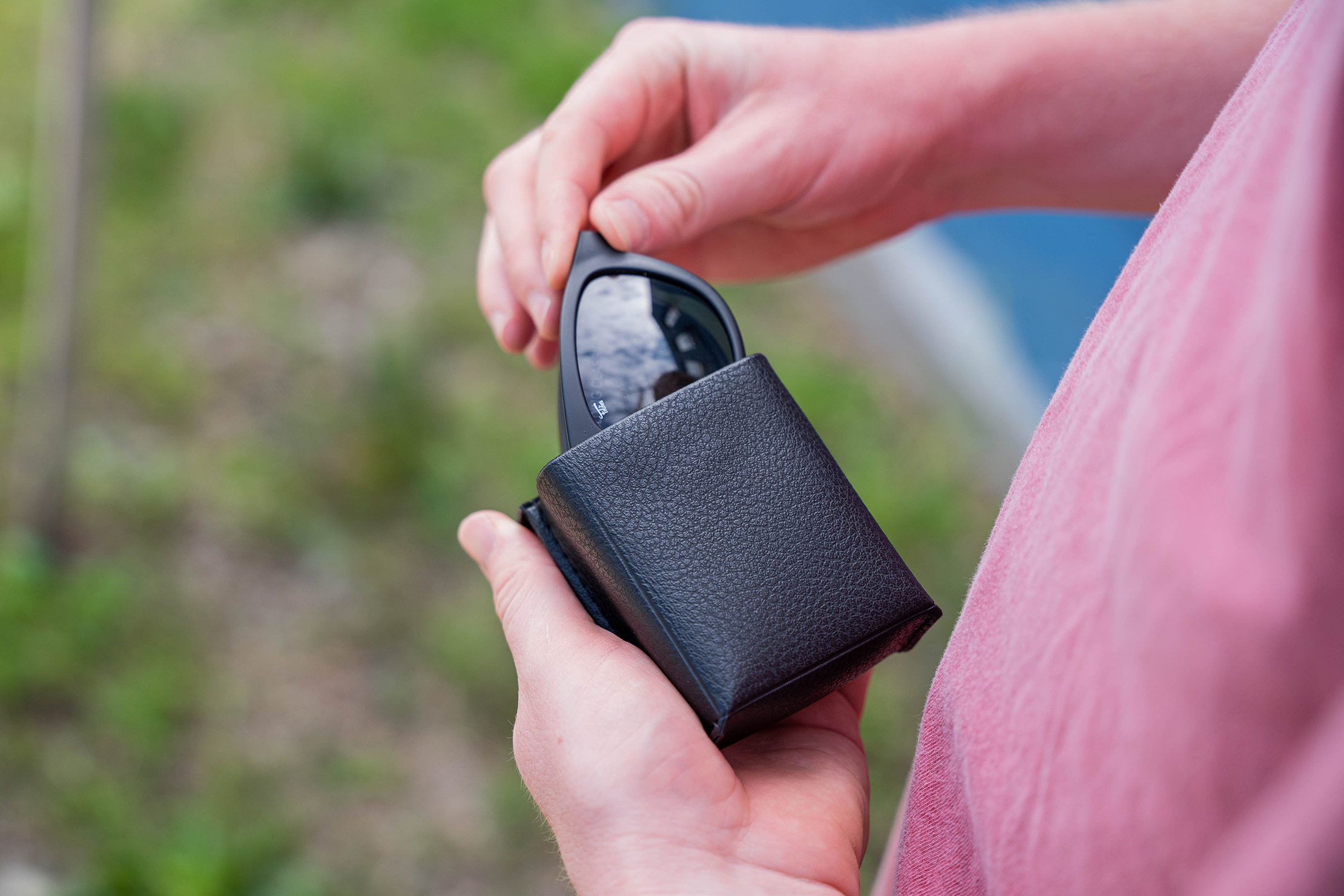 The microfiber cloth isn't the best we've seen, though it does the job well and doesn't scratch the lenses. We leave it inside the case, so we always have it when needed.
If someone placed these glasses on your face while you were sleeping and told you that you weren't allowed to take them off, you wouldn't know that they were foldable. Jokes aside, the hinges are worked into the design so well that they look like sleek design choices more than a way to fold the glasses up, which is excellent.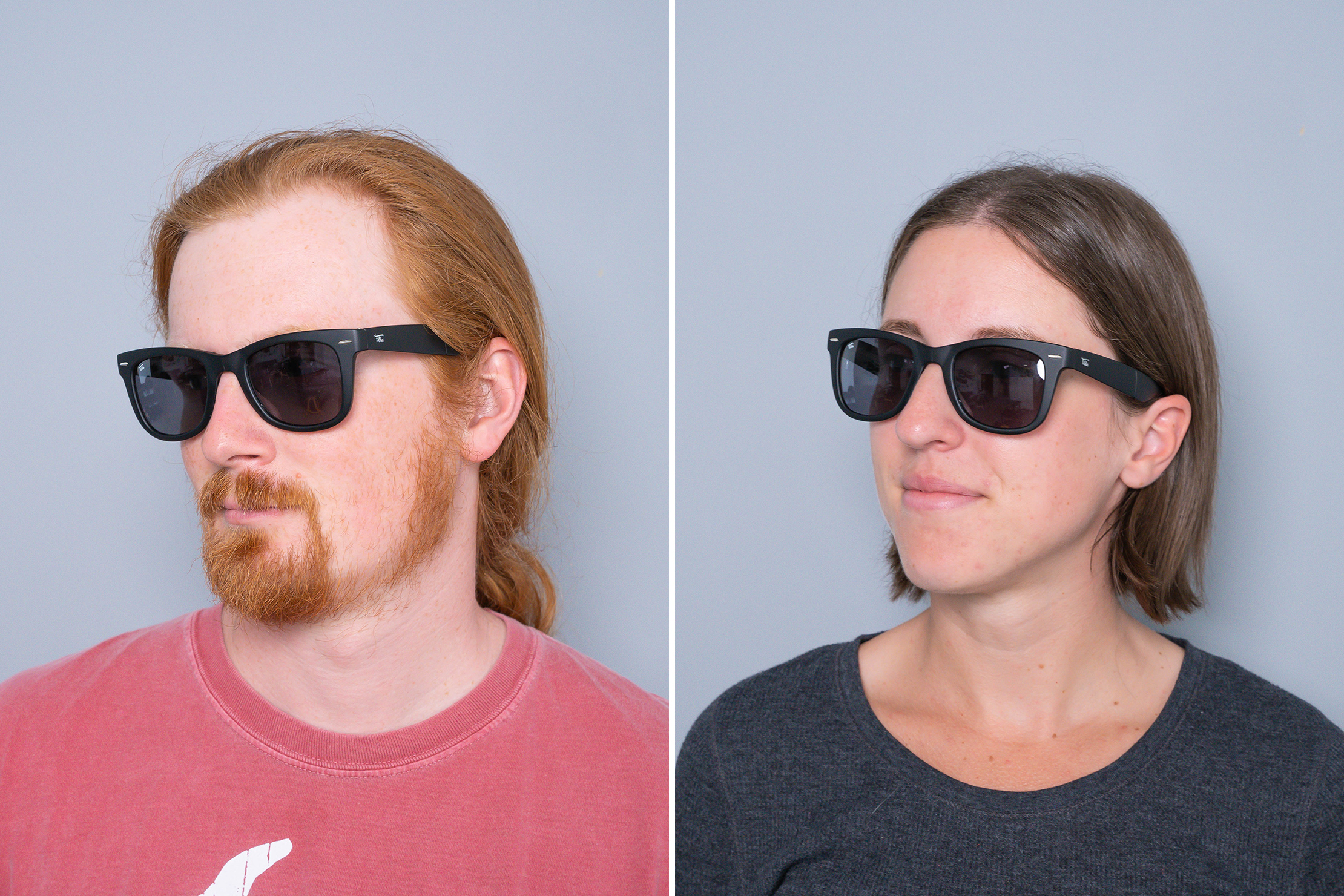 Typically with travel gear, this isn't the case. You can often tell that a packable daypack isn't a regular backpack or that a travel toothbrush isn't the model you use at home. Foldies do an excellent job at looking like a standard set of glasses, and that's one of their biggest perks, we think.
Packability
Another aspect of these sunglasses is that they fit places others can't. They aren't that smaller than a standard set of glasses, but sometimes a little space goes a long way. A typical hard case might not fit into your already packed sling, but the Foldies case is small enough to fit into tight areas. They can fit into your pocket in a pinch, too, while still being protected from the bumps and knocks of travel.
Quick Comparison
When comparing the Foldies to two other sets of sunglasses that could be used for travel, we think it's fair to put them dead in the center between Knockaround Premiums and ROAV Eyewear folding glasses. There are a lot of similarities and differences to consider when looking at this group of glasses.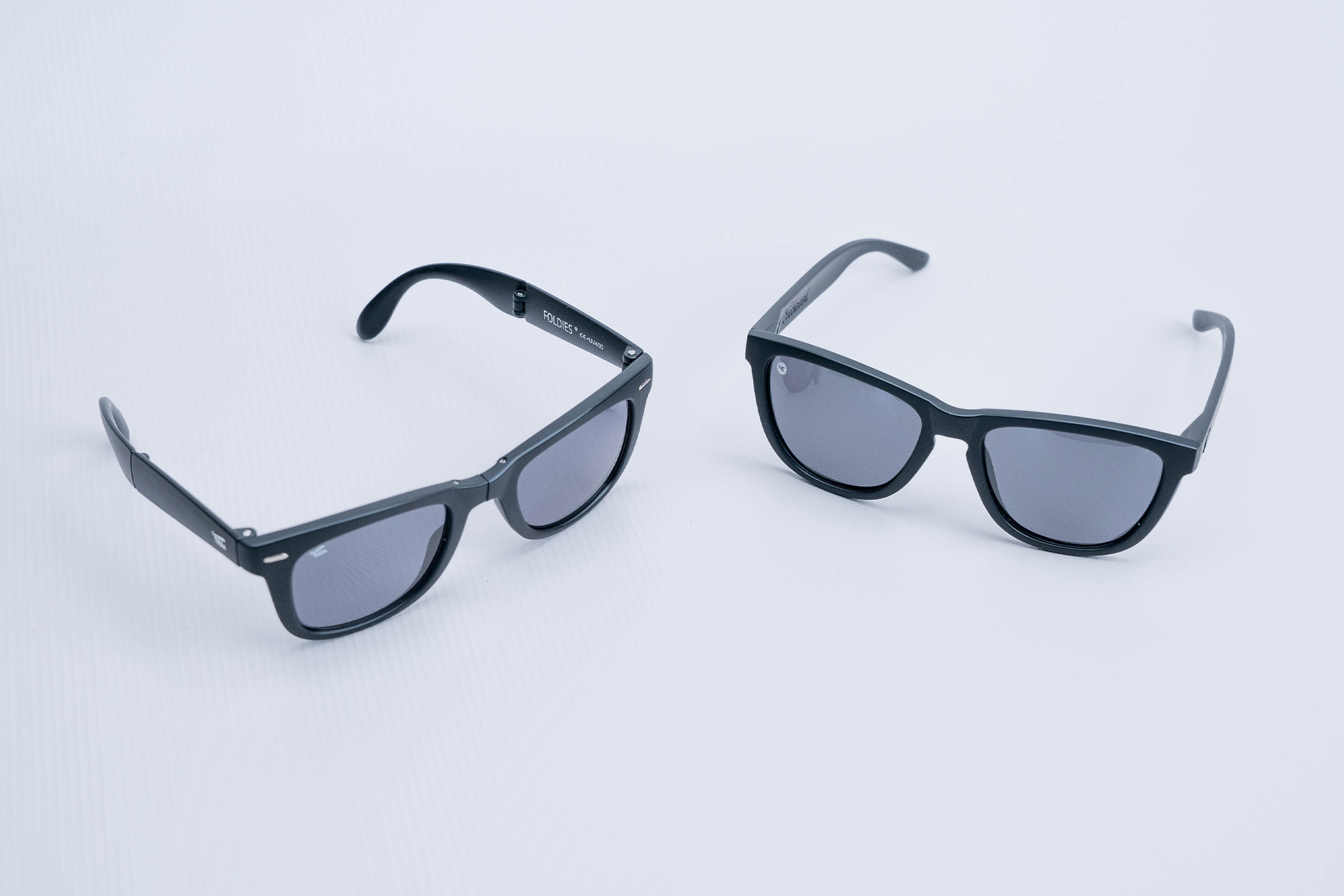 Compared to the Knockarounds, the plastic of the Foldies feels more durable, and the folding design enables you to save space and fit them into bag locations you might not have been able to work out with a larger pair of glasses. The case is more rigid than the Knockarounds', too, so you're better protected should the road get rough. At the time of writing, Foldies are more than double the price, so that's worth considering, too.

On the other end of the spectrum, ROAV Eyewear is much more stylish than the Foldies are. ROAV's design is more sleek, clean-cut, and tailored for an urban look. They also fold smaller and have a silicone case instead of a leather one. Both brands offer great glasses, though similar to our last example, there's a big price difference. A set of ROAV Eyewear Sunglasses will run you more than double what you can pick up a pair of Foldies for, which, as we said before, is worth considering.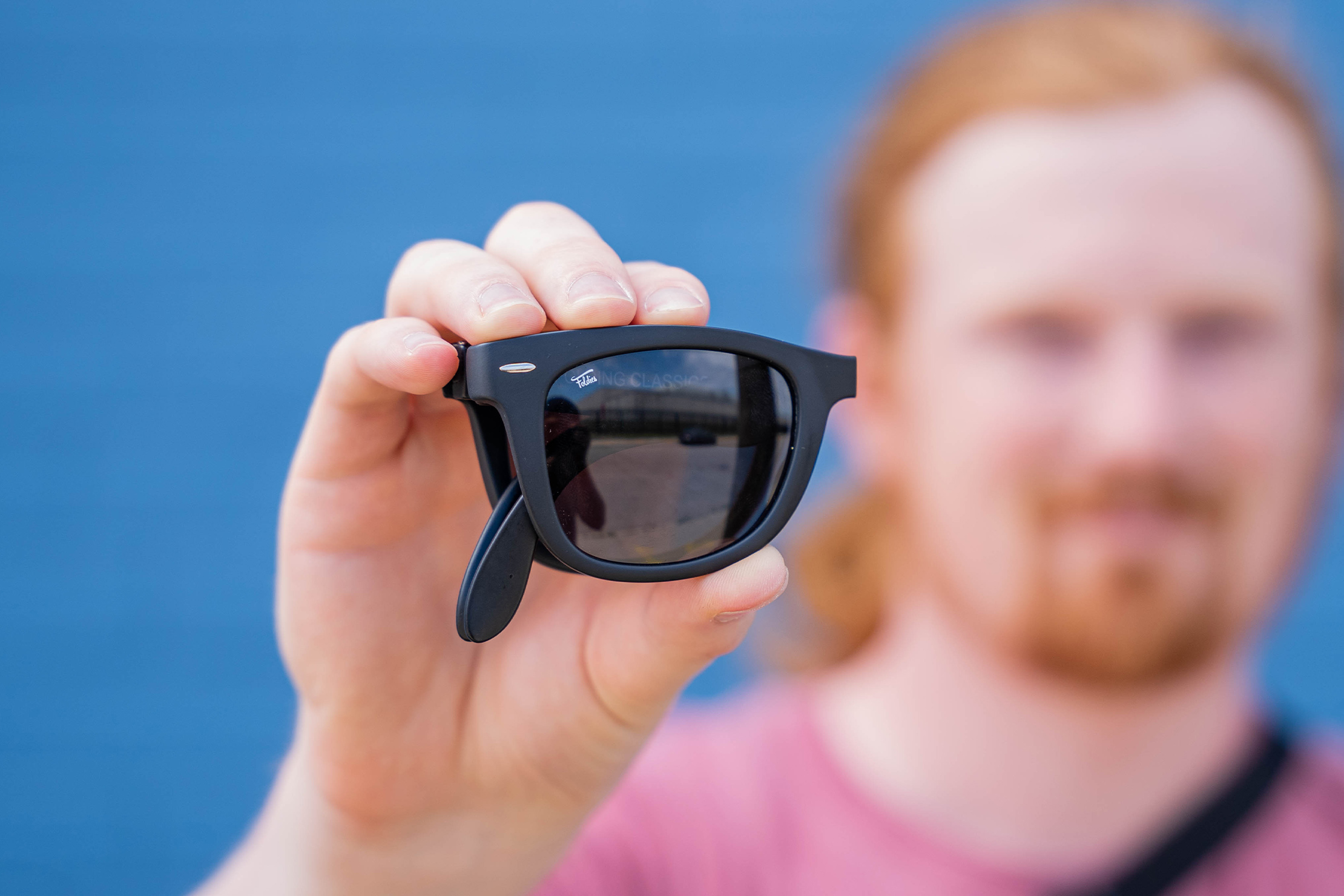 Overall, we dig using the Foldies. They take some getting used to, but after you've gotten the folding mechanism down, they're quick and easy to use. Whether you're looking to save space in your Travel Backpack, everyday sling, or glovebox, these sunglasses have you covered.
Usage Timeline
Initial Usage
Condition: Excellent
The primary material is plastic, but they feel pretty durable
Hinge screws are crafted from metal, so they won't break if overextended
The included case is hard to prevent damage from drops and bumps while stowed away
2 Weeks of Use
Condition: Excellent
Plastic feels more durable than other plastic sunglasses we've tested
Screws are metal, which is solid and smooth in use
The case adds extra protection while on the move
Access the Pro Community Discussion
Get your questions about the Foldies Polarized Folding Classics (V2) answered from our team and the Pro Community right here on the page. Plus, join discussions with other members about gear, guides, and more.
Other Clothing & Accessories Reviews