Getting Started
There's a travel bag out there for everyone, and we're here to help you find it. The process can be a little overwhelming, but narrowing down what needs to fit into your pack is a great place to start. In this post, we're going to be talking about different bag sizes and their uses. By the time we're done, you'll know just what size pack you need (or at least be headed in the right direction).
We'll cover everything from 1L slings that keep your pockets free all the way up to 60L outdoor adventure packs for carrying the whole shebang. Whether you're searching for the perfect pack for daily commutes or are ready to jump off the deep end into backpacking across Asia, we're psyched to help you get started.
Before we get into it, there are a few essential things to consider. When we mention liters, we mean it in terms of volume, not dimensions. Two different 40L travel bags may not fit the same amount of gear. This is highly dependent on the built-in organization, available compartments, and shapes that the pack implements. We notice the most significant differences between different brands, but sometimes even two travel backpacks made by the same company will differ in packability. Ensuring all your gear will fit inside is one of many critical pieces to the intricate puzzle of picking your next travel bag.
Here at Pack Hacker, we have a ton of travel gear reviews, guides, and how-to videos that will help get you started, continue your journey, or find your magnum opus.
Okay—now let's get into the fun stuff.
Pocket Dump Sling (1L)
Starting off on the small end of the spectrum is the 1L sling, or what we like to call the Pocket Dump Sling. It might seem tiny, but we promise, 1L is bigger than you think! It's small enough for you to wear it all day without getting uncomfortable, but it will fit just about anything you usually store in your pockets (hence the name).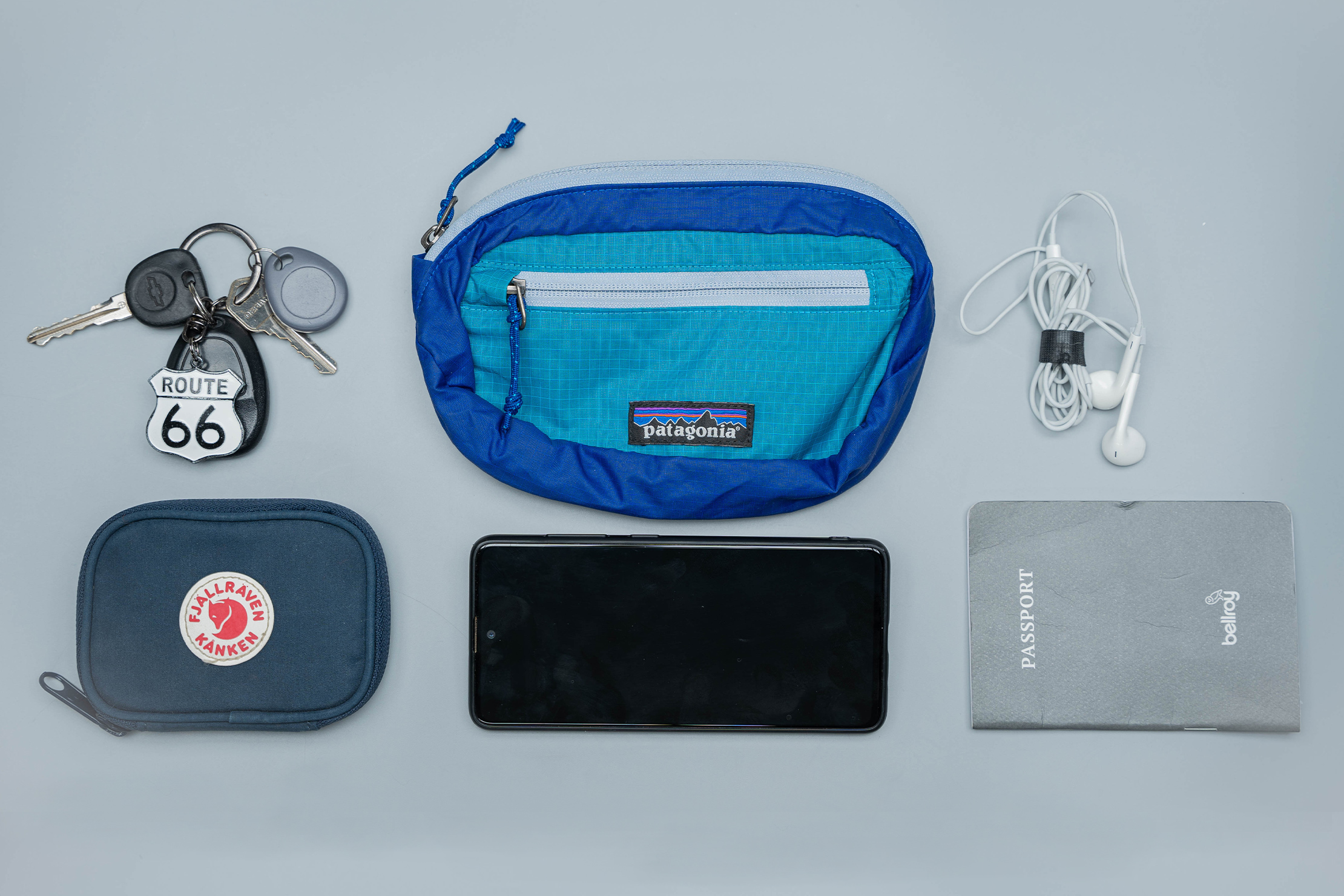 Use it to carry your daily essentials: a cell phone, keys, wallet, headphones, and even a small point-and-shoot camera or snack. We also love using these packs while traveling to store a passport, earbuds, travel wallet, and other travel documents like a boarding pass. Pocket dump slings are great at the airport because instead of removing all the items from your pockets and slowing up the line, everything is already in the sling. Just throw it on the conveyor belt and continue through the checkpoint.
From this category, we recommend the Patagonia Ultralight Black Hole Hip Pack. It's pretty versatile, as you can wear it as a sling or on your waist, and it packs away nicely for compact storage when not in use.
We've also found that a sling of this size is great for walks around a new town, city, or nature area while abroad. You can throw your essentials (and maybe a friend or partner's essentials too, if you're feeling generous), head out on the town, and keep your hands and pockets free the whole time.
Pockets Plus (2.5L)
If you love slings like we do but crave a little more space, try something around the 2.5L size. We call them Pockets Plus because they fit all the items we usually carry in our pockets, plus a few extra goodies.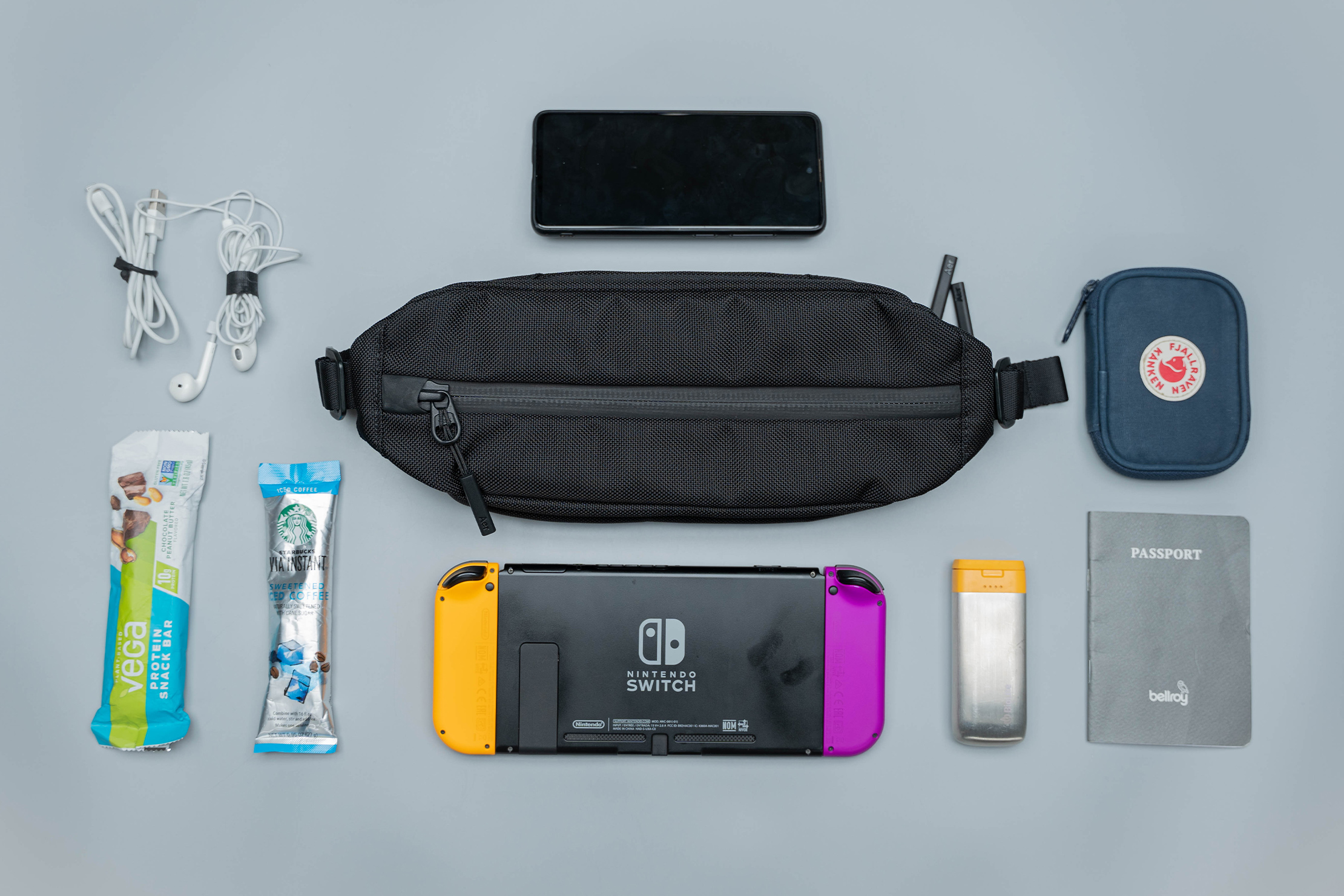 This size is excellent for daily use and while traveling because it offers a little more flexibility in what you can bring along with you. Similar to a Pocket Dump Sling, you can leave your pockets empty when you head through a TSA checkpoint. You will also have additional space to bring entertainment like a Nintendo Switch or a small tablet, a couple of snacks, a battery bank, and a few cables to keep everything charged up while you're on the move. We've even been able to fit a packable rain jacket and set of wet wipes, so long as they have a small enough form factor!
We love the Aer City Sling 2, which comes in right at 2.5L. It's one of the more comfortable carries that we've tested, and it has ample space for stowing your gear. We also love its low-profile design, especially while traveling to ensure that we don't look too touristy. While on the plane, have quick access to entertainment like a Nintendo Switch without digging around below the seat. You can even hook it onto the seat in front of you using a HeroClip for easier access. You'd better stow it during turbulence, though!
Messenger Bag (13L)
If you need to bring along more gear than a basic sling allows, we recommend you grab a messenger bag between 9L and 13L. These packs are great for when you don't necessarily want the weight of a backpack, but your list of essential items is a little larger, like on short hikes or day trips to nearby towns abroad. If you are set on carrying a sling, there's also a travel bag subset that's a cross between a messenger bag and a sling.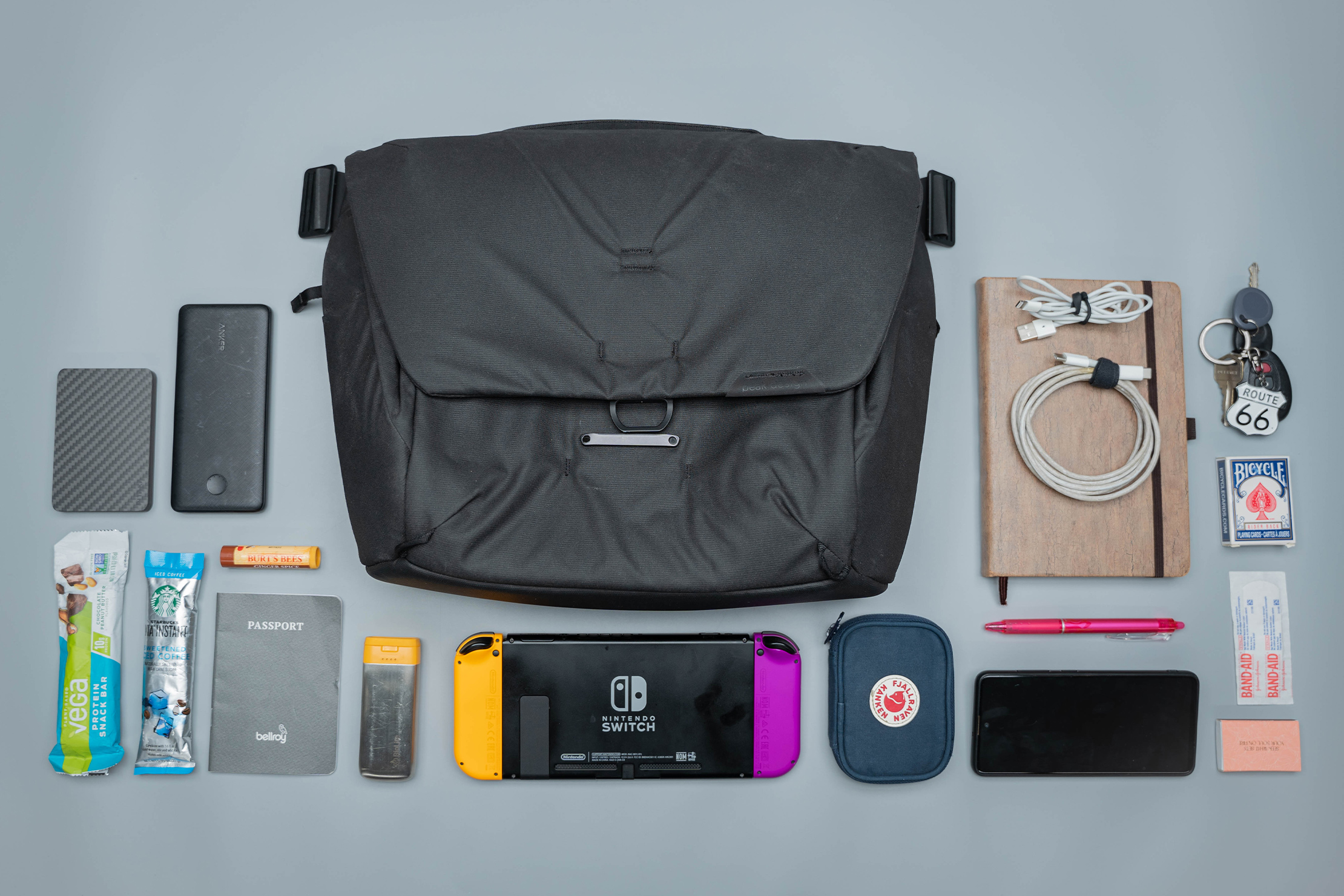 A 13L messenger bag is a good pick for commuters who want something that won't take up much space on trains or buses. It's also a low-profile option if you're exploring a new city and need more space but don't want a full travel backpack. These bags are also great for cycle commuting because they aren't too heavy and allow access to your gear while in transit.
There are many different styles to go with, so it's essential to think about which features are important for your usage needs. A pack with a large main compartment will hold the most gear but lacks the organization that some crave. A pack with more organization may not have as much room for larger items, but each item has a home.
In the 13L range, we like the Peak Design Everyday Messenger pack, as it can fit all of our daily go-to gear inside the large main compartment. It does have some organizational capabilities with the included FlexFold dividers, but in our experience, the dividers aren't the most durable. As we said, it all depends on your specific usage needs.
Daily Bag (15L)
Some people don't like slings and would prefer to wear a backpack while commuting to work or exploring a new city, which is just fine by us. For a travel bag you can wear every day and carry most of your work essentials, we recommend something between 15L and 18L. This should give you enough space to bring all the gear you need, plus a little bit extra.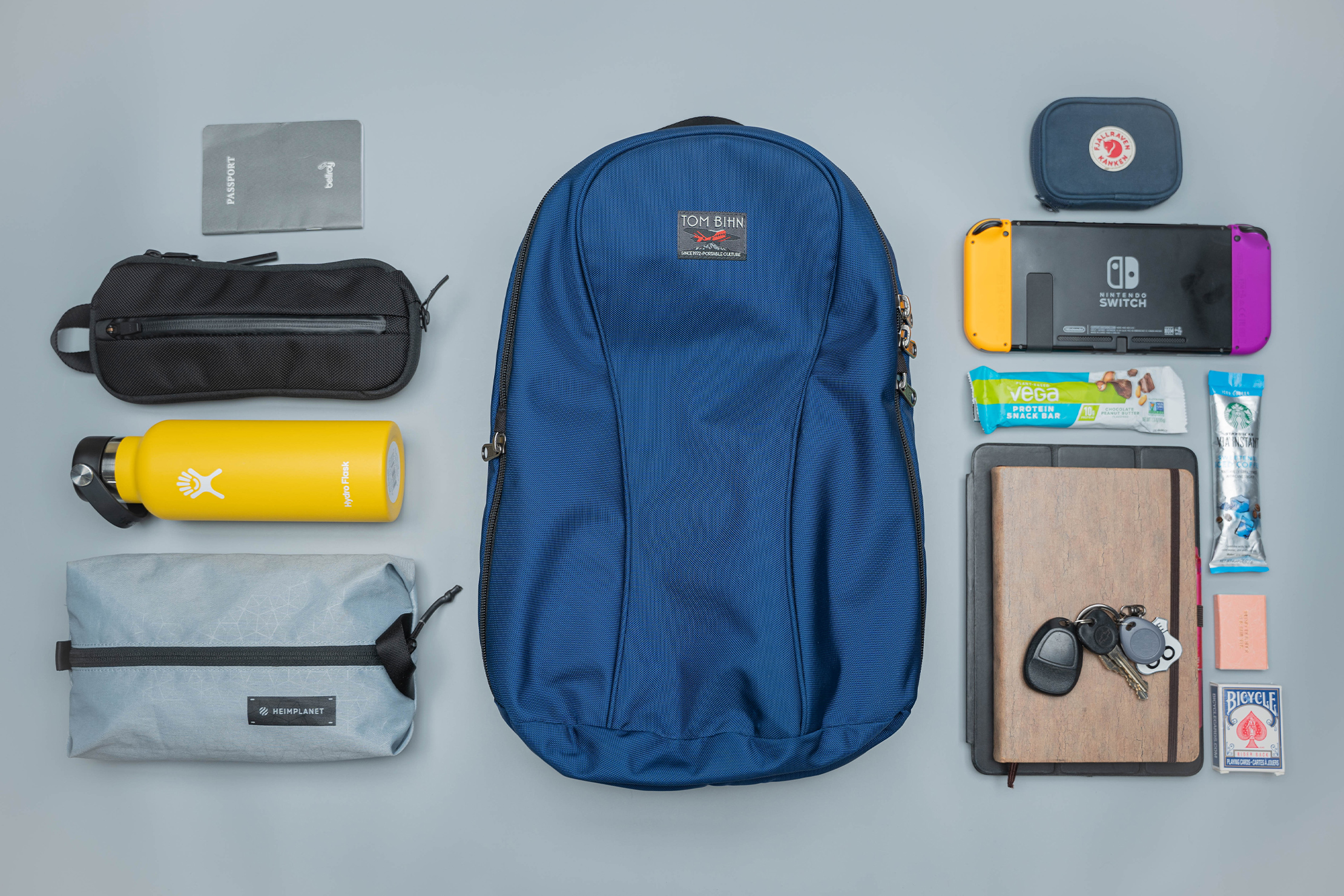 Although just a minor step-up from the 13L messenger, we've found that those two to five liters can make all the difference. Not only can a daily bag carry everything you need for work, but it will also be versatile enough for extracurriculars, too. So much room for activities!
Hit the gym after work, stop at the coffee shop for a drink and to get your side-hustle on, or even head out for a hike somewhere on the way home. The biggest draw of a daily bag over the smaller packs listed above is the ability to do an abundance of different activities without stopping home to drop off and grab more gear.
We recommend the Tom Bihn Luminary 15, Able Carry Thirteen Daybag, and Away Small Zip Backpack in this range. Each of these packs will be able to carry a laptop, water bottle, packable jacket, and even a few extra goodies like a tech pouch, phone, wallet, or change of clothes. They all keep a pretty low profile, so you won't feel like you're lugging around a giant travel bag.
Personal Item Backpack (20L)
Shifting from a daily bag to a personal item bag is another small jump, but we've found that a 20L travel backpack has just enough space for a weekend trip, or longer if you pack smart. We like this size travel bag because it will likely fit under the seat in front of you on a flight, which means no pesky carry-on fees or worrying about your bag getting lost, which is a big plus. They're great for heading straight to the airport from the office, as they can handle your work needs with your travel accessories added in, too.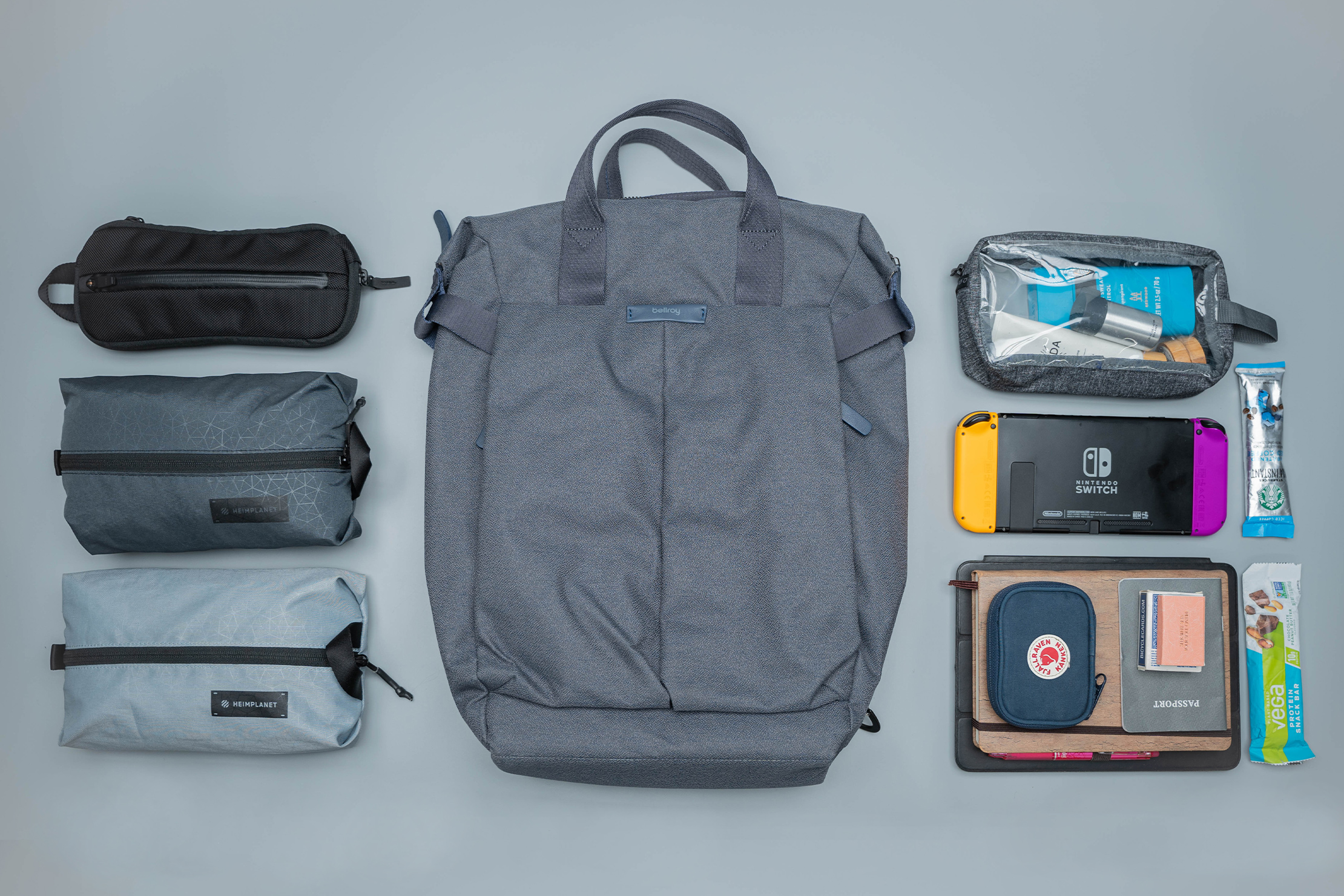 It's important to note that it's ultimately up to your airline to decide whether or not a travel bag is allowed to be used as a personal item, but we've found that most packs around 20L will fit the bill. It's always a good idea to check the specific rules and dimensions of who you'll be flying with before you start packing, though. There isn't much worse than getting to the airport to find out that your personal item has evolved into a carry-on and that you're stuck with the bill.
After you've stowed your laptop and other travel essentials, you should have room for a packing cube or two. This is great for organization and ensuring that you have all the items that you need for the duration of your trip. If you pack minimally and strategically, you can make a personal item backpack work for week-long trips, too!
In this range, we recommend the Bellroy Tokyo Totepack. It has an open main compartment that is great for getting the most out of the volume. Toss in a few packing cubes and a tech pouch, and you're ready to take on the weekend!
Daypack/Travel Backpack Hybrid (30L)
We love the daypack and travel backpack combo because it enables you to pivot between everyday activities and traveling with ease. We like travel bags around 30L for this purpose because anything larger will be a bit too big for daily use, and anything smaller won't have enough gusto for longer trips. Finding that happy medium is vital for a comfortable journey without sacrificing any essential gear along the way.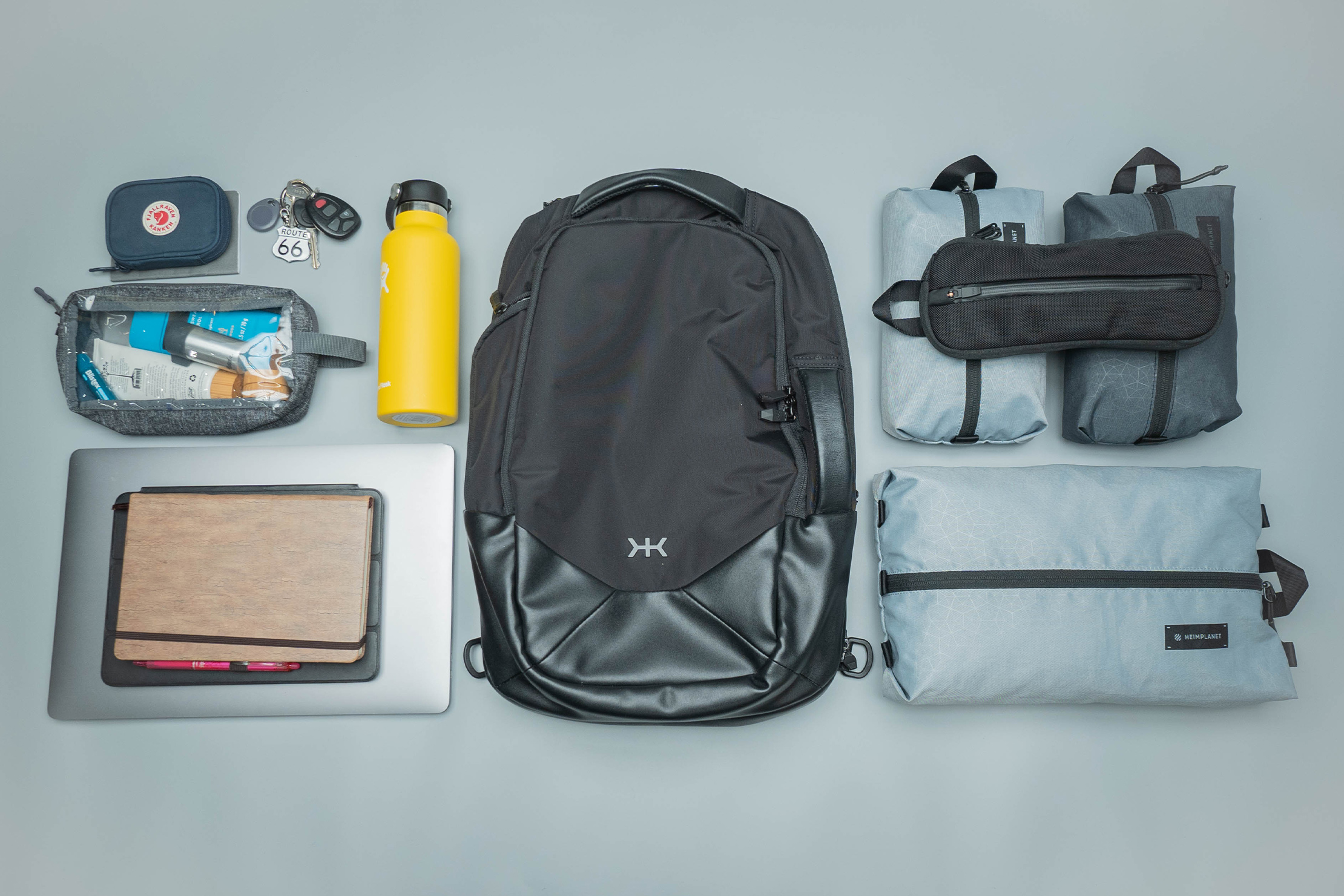 For us, a good daypack and travel backpack combo needs to fit a laptop, tablet, toiletry kit, several small or medium-sized packing cubes, a tech pouch, and other various odds and ends. However, your packing list may vary depending on how you like to travel.
We keep an eye out for ways to compress or expand a hybrid travel bag because this enables it to be more versatile. Compression straps and compression zippers are both great features that will allow you to adjust the size depending on your needs at the time, but not all brands include these options.
When you arrive at your destination, take out packing cubes and other items that don't need to be with you at all times. Then you can compress the pack (if it has that feature), fill it with what you need for the day, and head out into adventure mode. When it's time to head home, load the gear and cubes back up with any souvenirs you picked up along the way and go to the airport. If you've picked up too many presents for your family back home, a travel backpack with attachment points is great because you can clip additional pouches and accessories on the outside of the pack.
The Knack Pack Series 2 is a pack with a lot of features for more efficient travel. Uncompressed, the pack is 35L, a great size for traveling, but it sizes down to a handy 24L for daily usage. It has a ton of internal organization, ensuring that every item will have a home and nothing will get lost on the journey. Both of these features make it a great contender to get you to and from your destination stress-free, which means you will be able to enjoy your trip more.
Travel Backpack (40L to 45L)
We're now on the edge of what can be considered a carry-on bag, and we have to admit, we're loving every minute of it. Most 40L packs are about as large as you'll be able to bring onto the plane, but adding a few more liters is worth it if you can (and want to) check a travel bag.

These packs are the standard size for one-bag travelers who will be away from home for extended periods of time. Suppose you will be spending a few months bouncing around different countries in Europe, a year exploring what Asia has to offer, or country hopping through Central and South America. In that case, this size travel bag has your name all over it!
Now that we've made our way to the larger end of the size spectrum, we tend to look for a few features that add quality of life. We like clamshell packs because they give you the ability to see the entire main compartment at once, rather than digging through to make sure you have everything you need for a day's work or specific adventure. It's almost like a suitcase you can wear on your back, and we find we can be most organized and comfortable this way.
One of our favorites in this category is the Osprey Farpoint. The pack comes in both men's (Farpoint) and women's (Fairview) styling at 40L. Our team has tested this travel bag for over a year in over a dozen different countries worldwide and found that it can hold all of our gear and remain comfortable in almost every situation. No bag is perfect, but a quality travel backpack will quite literally be by your side through it all, so ensuring that you get all the features you need is essential.
Gear Hauler (60L)
Ah, finally. The granddaddy of them all.
Have you ever heard the phrase "everything but the kitchen sink" and thought, well, what if I want to bring the kitchen sink, too? Then you're in the right place. A gear hauler is a great fit for a road trip where the size of your travel bag isn't the biggest concern. This normally comes in the form of a duffel, but there are a couple of colossal travel backpacks out there if that's your preference.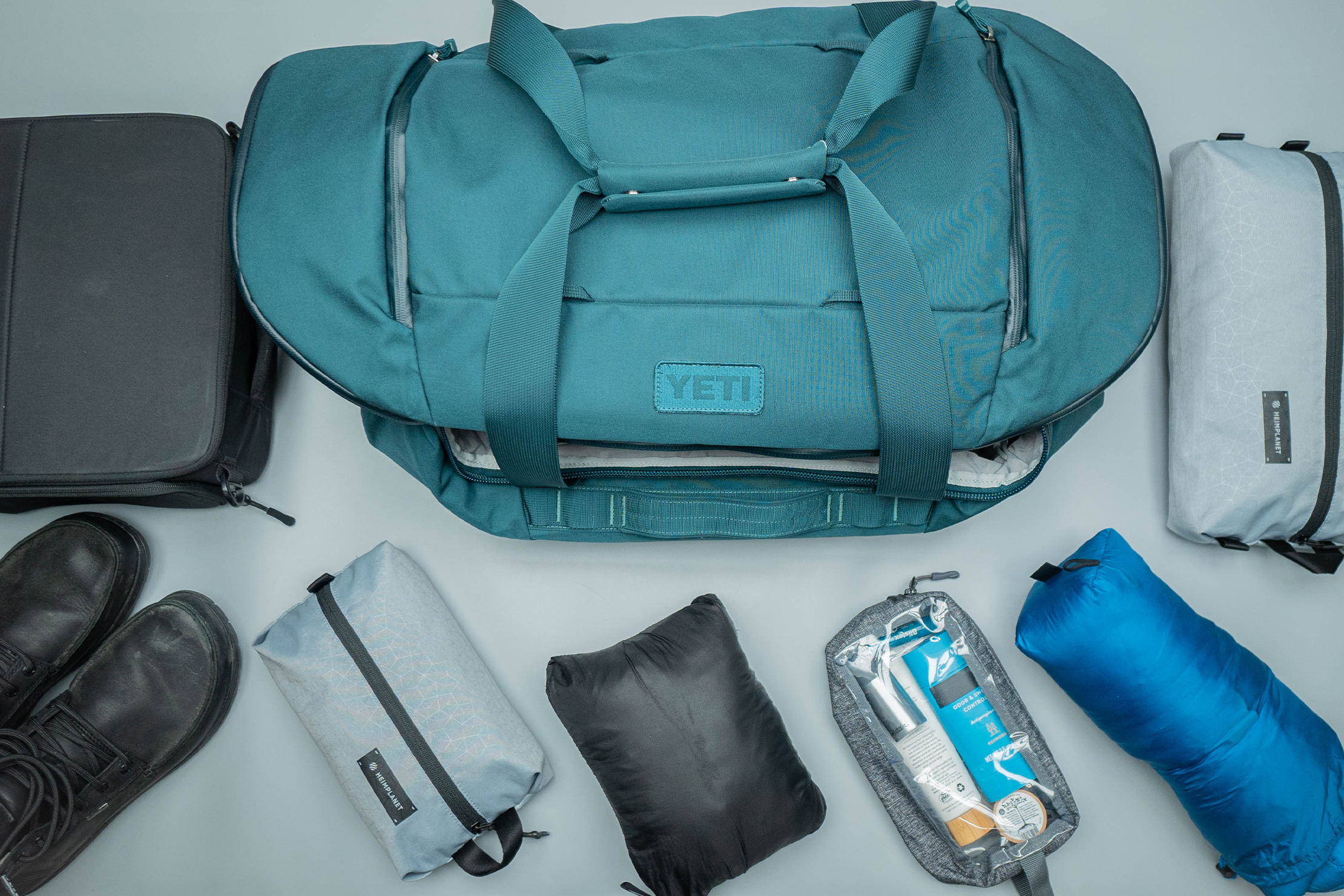 In the 50 to 60 L range, gear haulers are also great for outdoor adventures and hobbies that require a lot of equipment, like camping. Another great use for such a pack is to transport coats, snow pants, boots, and skiing and snowboarding gear in the winter.
We've also run into on-the-move creators who find them useful when packing audio and video equipment alongside their clothes on trips where they won't be able to stop back at home between gigs. The great thing about a huge travel bag is that you don't need to worry about what you're bringing because of the sheer volume these packs offer. Unless you quite literally bring your kitchen sink, odds are, it will fit.
In this range, we like the YETI Crossroads 60L Duffel. It has a monumentally large main compartment that's complete with two stowable dividers, which is great for separating different kinds of gear. You could do clothes in one, camera equipment in another, and food and snacks in the last one for an epic cross country photography road trip. Or you could fill all three sections with the Pokemon cards you've been collecting since you were a kid and stow it on the top shelf of your closet so your partner thinks you finally got rid of them after all these years. The opportunities are endless!
Wrapping Up
As you can probably tell, there are a ton of travel bags out there, and each one thrives in a different setting. Odds are, you'll have a use for almost all of the packs we listed here, but it's about figuring out what works best for you and your specific usage needs. Be sure to check out our gear reviews, guides, and blog for more assistance finding your perfect pack!