Able Carry Thirteen Daybag Review
With nine pockets to organize gear, the Able Carry Thirteen Daybag has a surprising capacity for only being 13L. We had a strange issue with the fabric, though.
Our Verdict
Unlock the Pro Summary
Save time. Get access to brief summaries of our reviews so you can browse and make decisions more efficiently.
Pros
Vertical front pocket is convenient for side access mode
Has nine pockets to organize your gear
Vertical zipper on front pocket is easy to access without taking bag off
Cons
Water bottle sleeve cuts into front pocket
X-Pac material sounds crunchy
Key leash is not quick to access
Recent Pack Hacker Video
Technical Details
Capacity

13l

Weight (lb)

1.3 lb (0.6 kg)

Denier

420D

Dimensions

17 in x 11 in x 6.7 in (43.2 x 27.9 x 17 cm)

Notable Materials

X-Pac, YKK Zippers, Duraflex Hardware, Hypalon®

Manufacturing Country

China

Laptop Compartment Size

13"

Warranty Information
Full Review
Get up to 10% off Able Carry • Join Pack Hacker Pro
If you're looking for an everyday carry backpack with decked-out style, the Able Carry Thirteen Daybag delivers. Its slim profile looks lowkey, but upon further inspection, you'll find it's anything but simple. We swear it's like one of those viral "gets more interesting the longer you look at it" posts on social media. This is primarily due to several secret pockets located on the shoulder straps and in the main compartment. Sorry, the secret's out, but they're easy to miss if you don't know about them upfront. You can thank us later.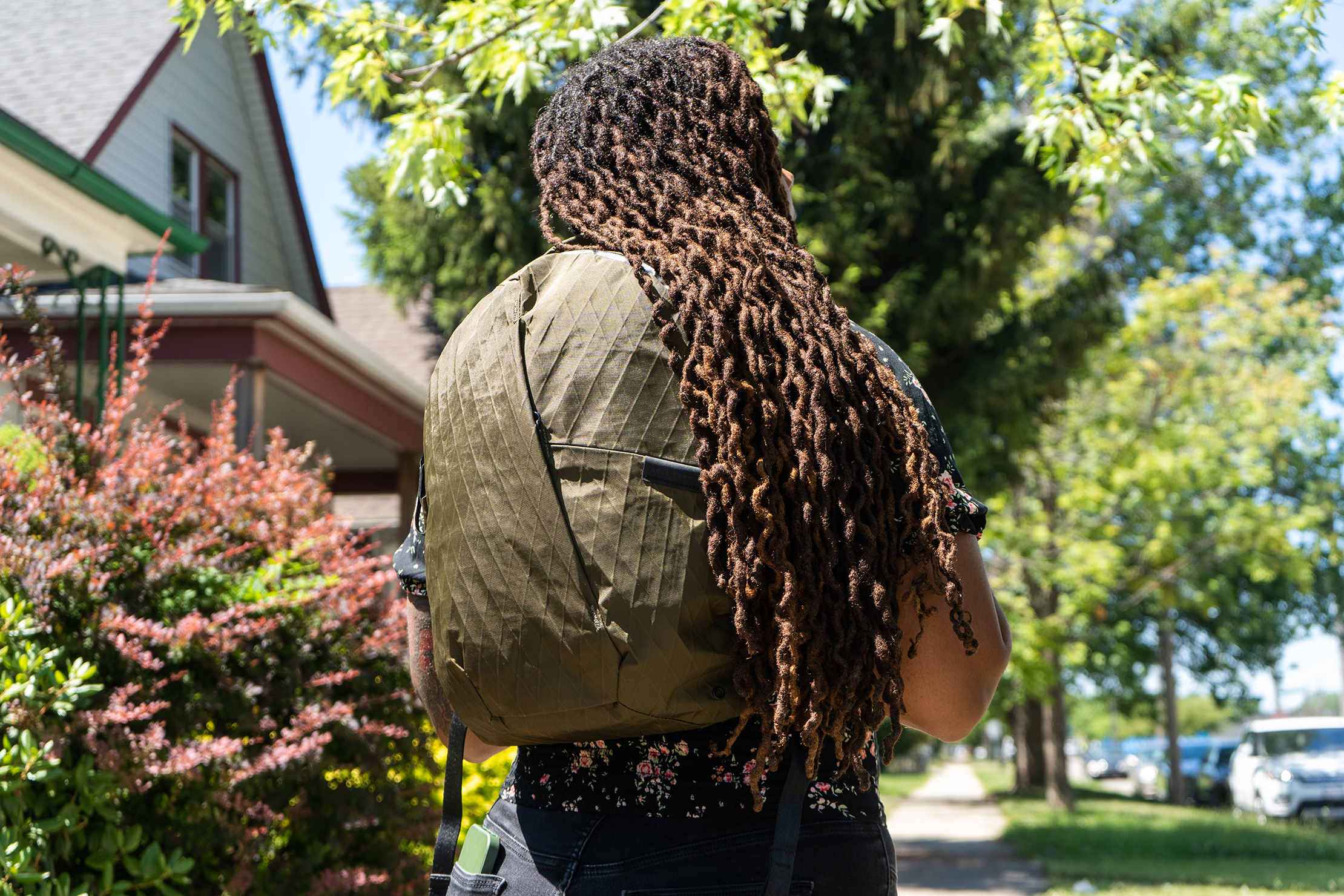 We tested the Able Carry Thirteen Daybag as our daily carry for two weeks. While we loved discovering all the pockets and ways to customize it, we had a strange issue with the fabric getting discolored at the bottom. This is concerning after only two weeks of use, and we can't really trace back to a moment that would have caused this. We're getting ahead of ourselves, but let's talk more about this funky bag's fabric and unique style in the next section.
Materials & Aesthetic
Aesthetically, this pack gives off both lowkey and industrial vibes. That sounds oxymoronic because it is. This hybrid look is thanks to a small profile and 13L capacity combined with technical materials. It's like a pigeon wearing a bulletproof vest—something unexpected but totally cool if you were to see it.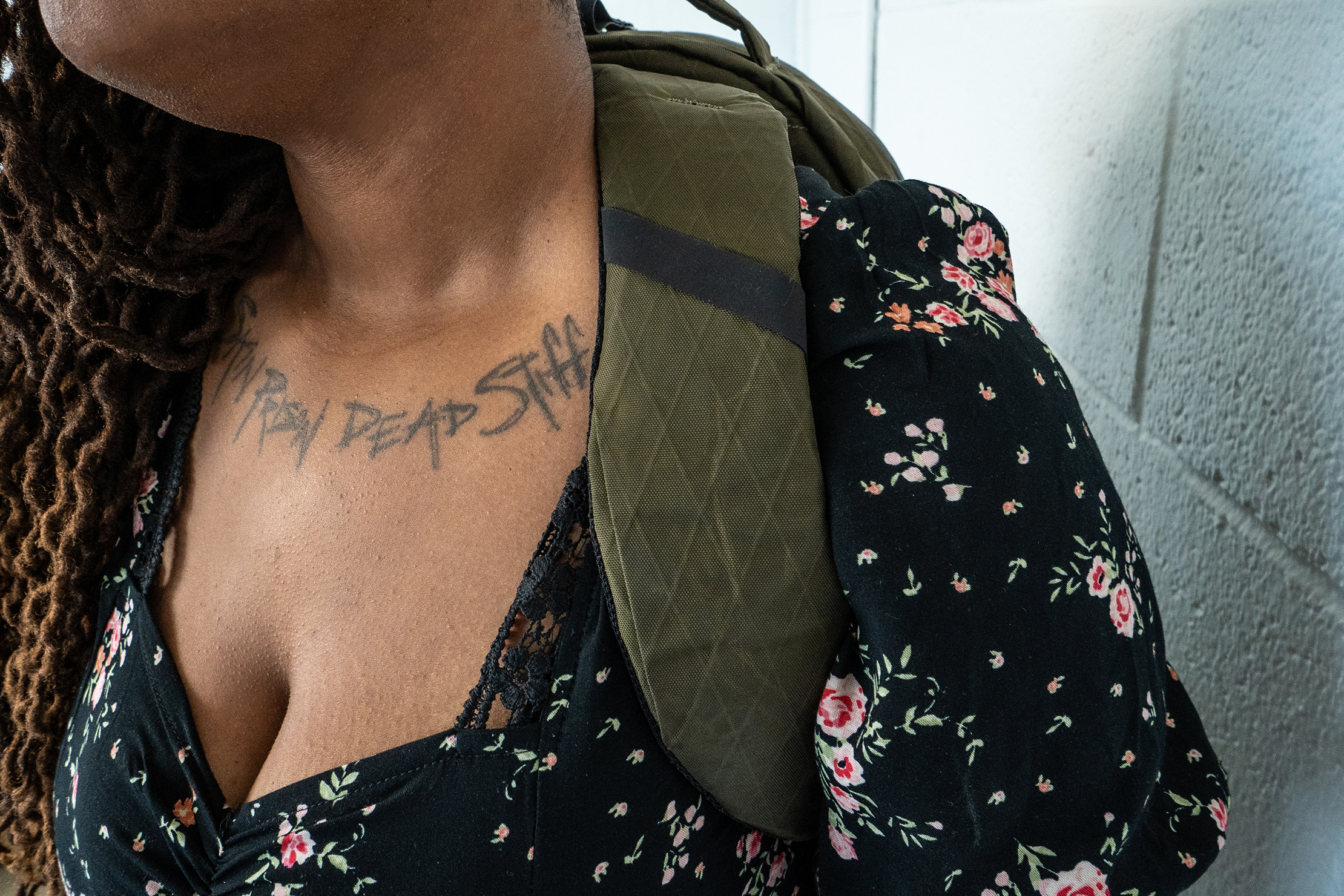 This bag comes in Olive Green, Navy Blue, Deep Black, Port Red, and Multicam White Alpine. All the colorways are made of X-Pac, which sounds like a cyborg fabric that came back in time from the future, but the type of X-Pac varies slightly between them. We got the olive green whose cyborg X-Pac serial number is X42. It's made of a nylon surface with a weatherproof polyester backing. The distinctive X-grid pattern makes it resistant to tears, similar to the diamond pattern you see in Ripstop Nylon. While this material is durable, it has a crunchy sound and feel that's akin to thick paper. It gives the bag some interesting personality, though.
Unfortunately, near the end of our two-week testing period, we noticed some discoloration happening on the bottom of the bag. Some orange-ish blotches appeared almost as if bleach was splashed on it. But we don't use bleach and couldn't recall a time where the bag came in contact with any. The only possible culprit was a kale salad we once packed for lunch that leaked out into the bag. Seems strange that something as innocent as a humble kale salad would cause the fabric to have such a reaction. It indeed remains a mystery, but check out the usage timeline photo at the bottom of this page to see what we mean.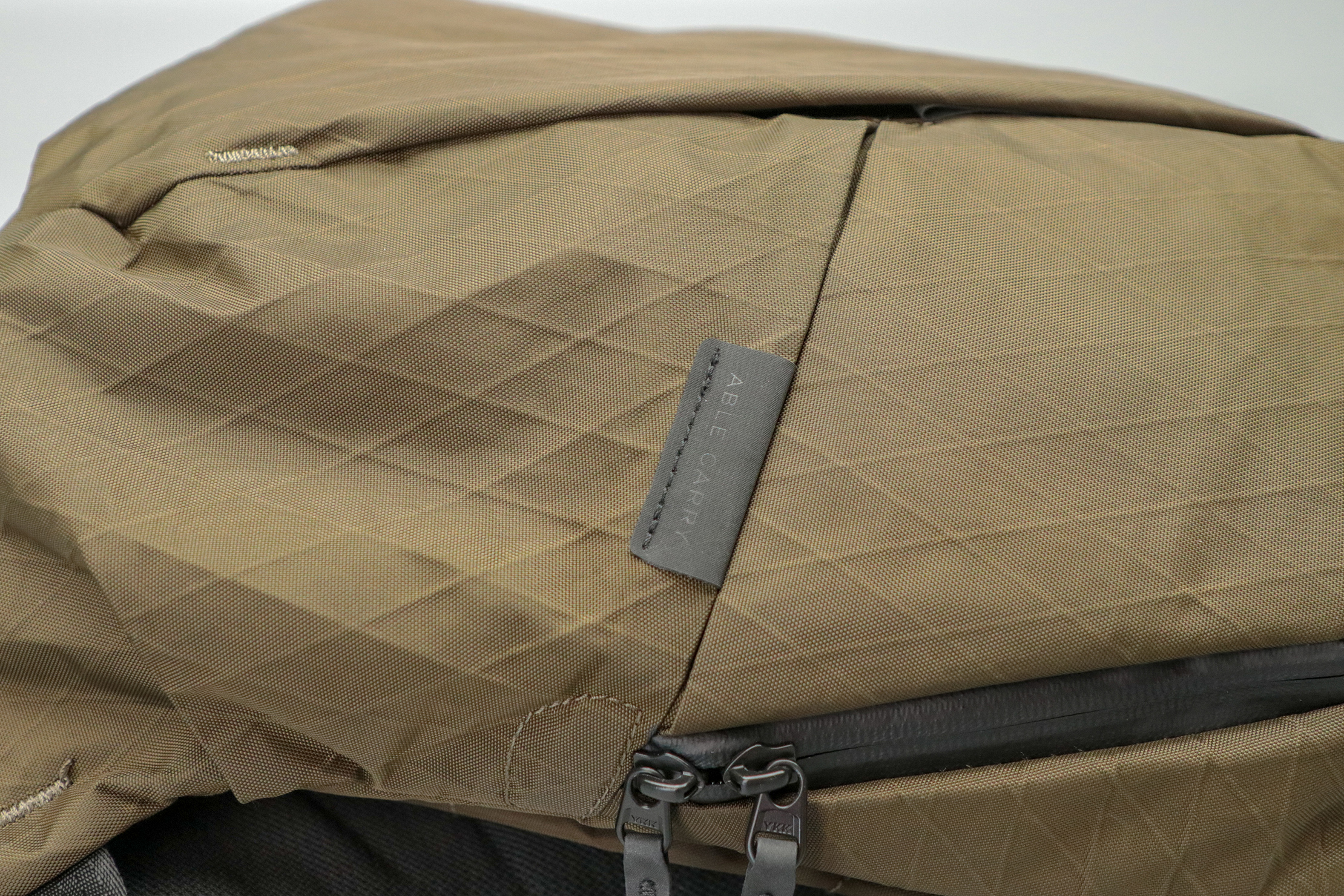 Coming back to the aesthetic, the Thirteen Daybag's industrial vibes of the future don't stop at the X-Pac fabric. You've also got extra-long Hypalon zipper pulls, strap keepers, and logo accents on the front and shoulder straps of the bag. Hypalon is a synthetic rubber that looks like upcycled tires. Nothing screams "industrial" more. You're probably gonna be tired of reading that word by the end of this section. Zippers on the Thirteen Daybag are YKK Aquaguard which add both weather resistance and style.
All of that sounds a bit overkill on paper for a daypack, but the components come together nicely, and we think it looks pretty sick. Even with all the technical fabric and materials, this bag still manages to have a low profile. The classic turtle shell shape and slim silhouette make for a pretty compact bag. This means it's convenient for work commutes and as a daily driver to explore a new city via crowded public transportation. Nothing screams tourist more than smacking someone in the face with a massive brick on your back on a packed subway. The slender, compact size doesn't mean that you'll want for space either. The Thirteen Daypack has nine pockets for you to fill.
External Components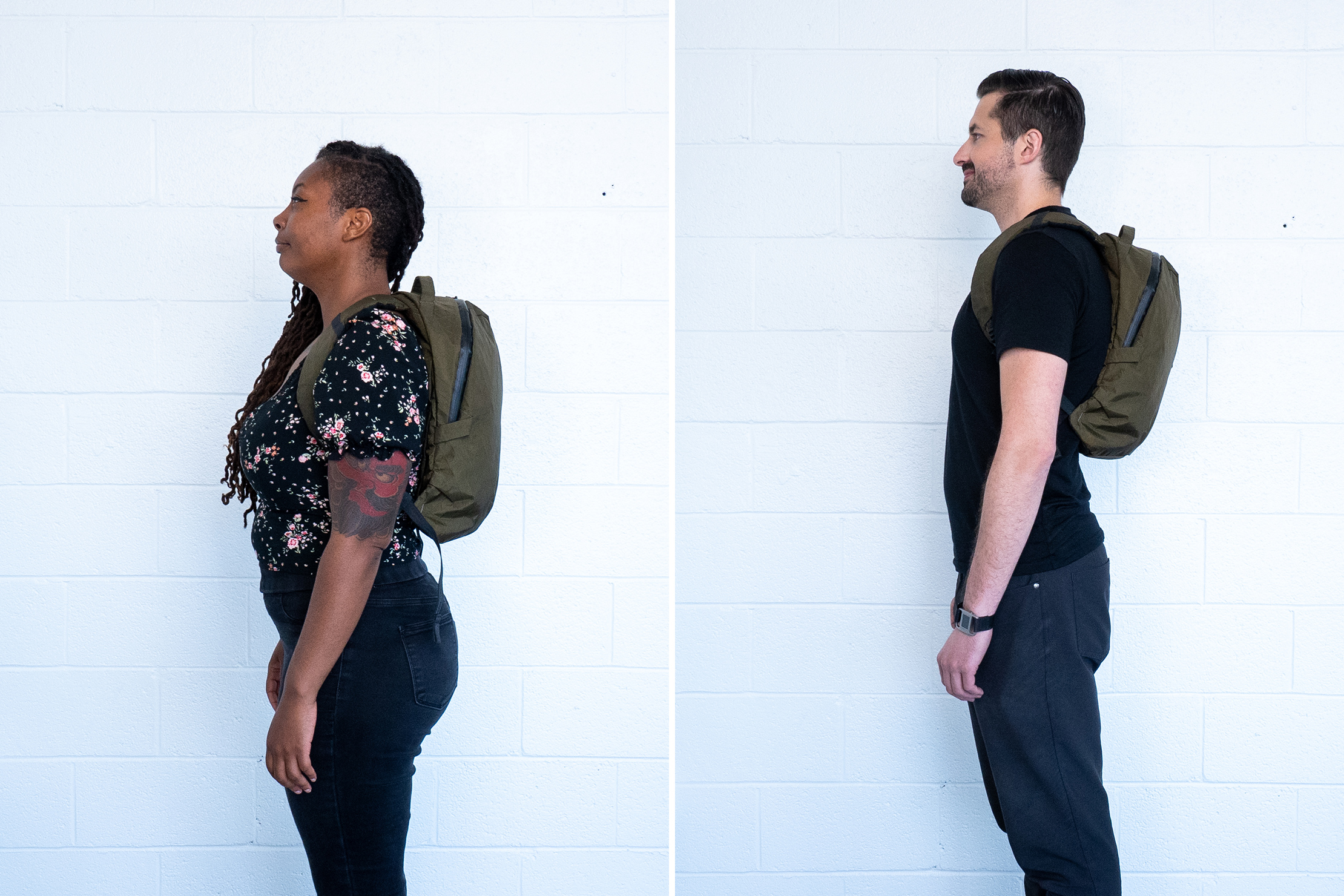 Let's start on the front of the bag. An angled vertical zipper reveals a wide pocket that spans across the pack's entire front. It's big enough to fit one large packing cube if you really wanted to put one here, and we were pleasantly surprised by its capacity. The vertical zipper also makes for easy access, as you can get whatever you need out of here by just slinging the bag off one shoulder instead of taking it all the way off. That's one out of nine pockets.
The second one is right next to it—a water bottle pocket that lays flat to the pack when not in use. The problem arises when you want to use the front pocket and water bottle pocket at the same time. Once you put in a water bottle, it crunches down into the front pocket, meaning you have to put your items off to one side. This wasn't too much of a big deal, but it seems counterintuitive to have a pocket going across the whole front of the bag when it's going to get cut off by your water bottle anyway.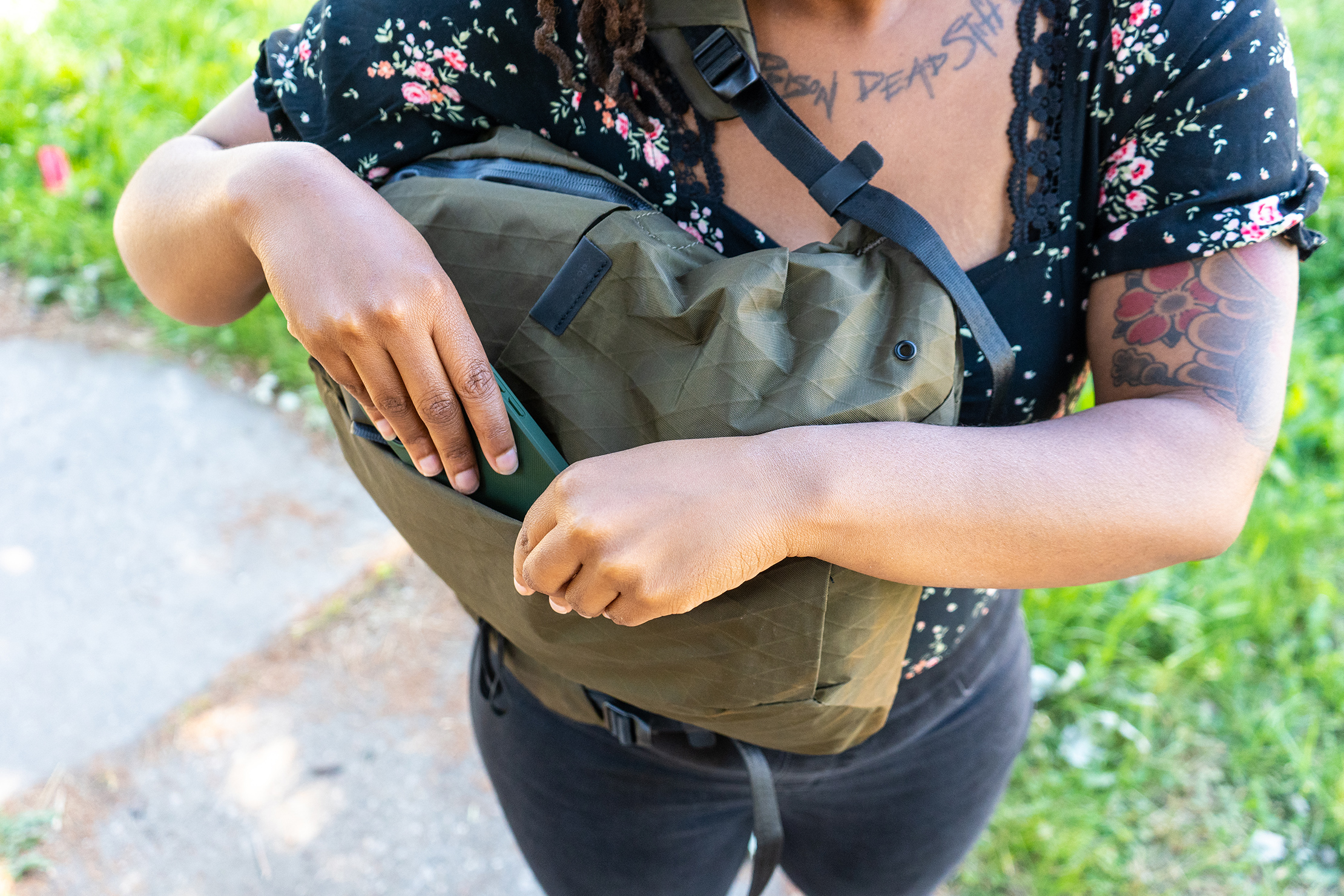 At the bottom is a sneaky little feature that you could easily miss if you didn't know it was there. Aren't you glad you're reading this review? Underneath a tiny flap of fabric is a daisy chain where you can clip on additional pouches or accessories with a carabiner. It's little details like this that make this bag all the more exciting to carry. Even if you don't utilize this feature, it's nice to have the option in case you run out of space on the inside of the bag or want to customize your pack.
Now let's flip this baby over on its back. At first glance, you'd miss the pocket here, but that's the point—it's supposed to be a secret. On the back panel, tucked off to the side, is the first of several "secret pockets." It makes an excellent spot to stick your phone, wallet, and other essential items you don't want getting stolen. Like the front pocket, it also has a vertical zipper for easy access. Just keep in mind that whatever you put in here will be up against your back, so it's better suited for flat items. A lightweight layer of EPA foam on the back panel adds a bit of cushioning but isn't too thick. It's about the right amount we'd expect for daily carry.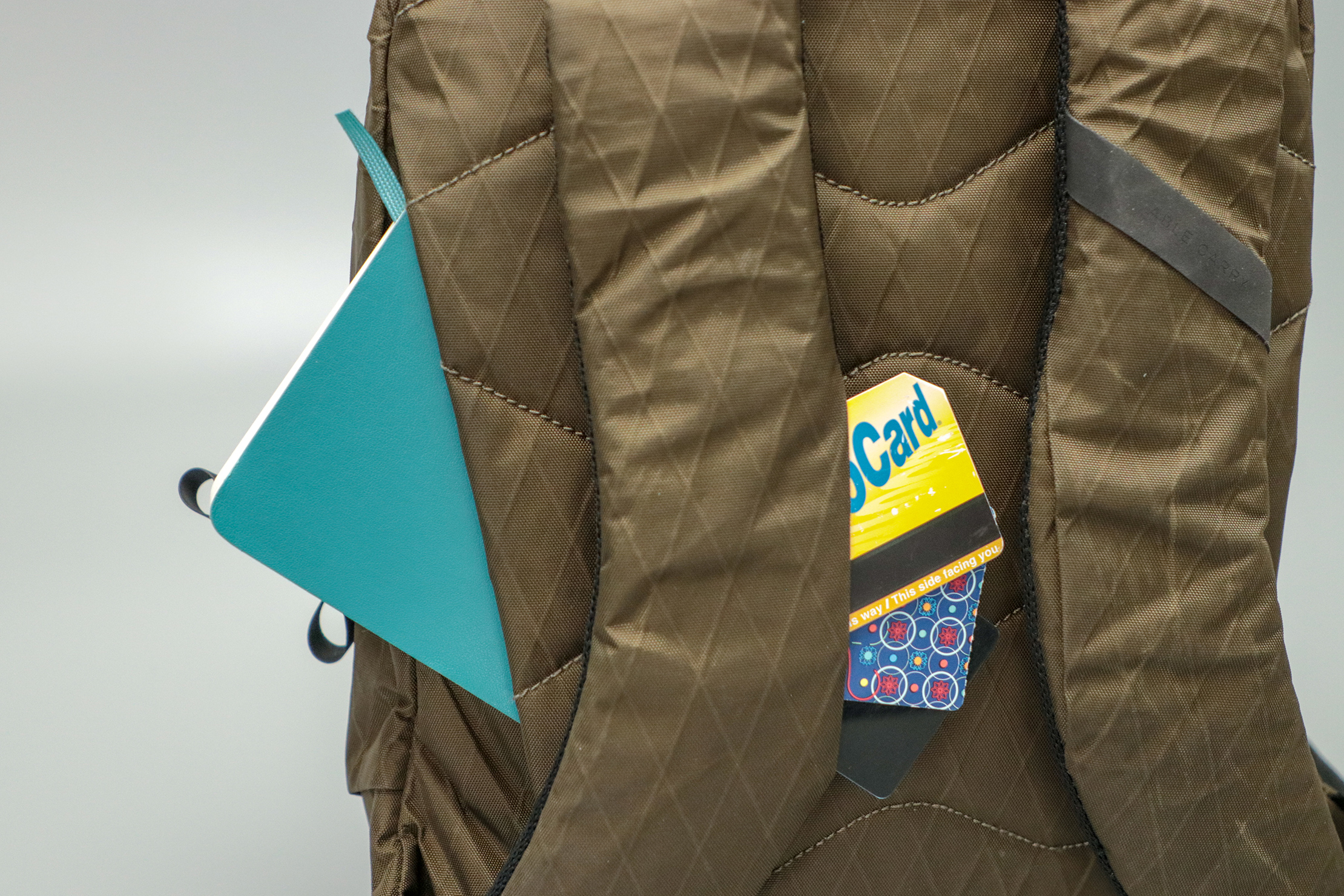 However, the shoulder straps give a boost to your comfort with thicker padding and a curved design. They are meant to contour around your shoulders and chest for more even support. This works well for women and people with broader shoulders 'cause lord knows how straight straps can cut into the chest. Want to know another secret? Each strap also has a tiny slot big enough to slide a credit card or ID into. We dig the added security features and how they make accessing your essentials easy peasy. And of course, the top handle helps you grab the bag out of overhead bins quickly if you're using it as a personal item bag on the plane—either that or off coffee shop floors and trailheads.
Inside The Pack
Remember how we said the Thirteen Daybag has nine pockets? Well, if you've been keeping track, we've talked about four so far. The rest are here in the main compartment. Open the horseshoe zipper, and you'll see a wide mesh pocket. Inside is a key leash, which is cool, but we feel like it'd be better suited in the front pocket. That way, you could get to it quicker without taking the bag off. The pocket itself is still a convenient place for smaller items and tech accessories, and the mesh is smooth although not very stretchy.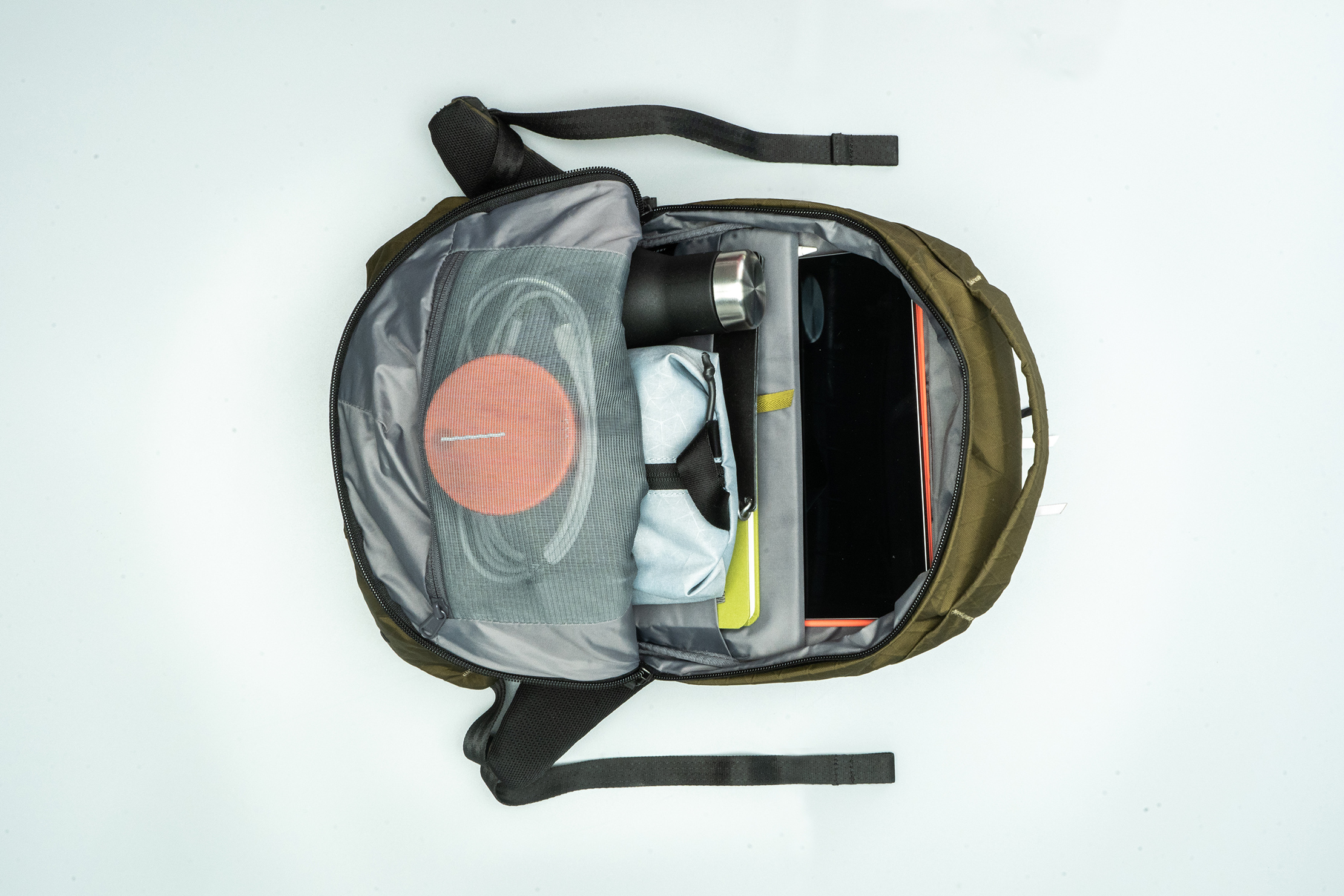 Next up is the laptop compartment and document pocket at the back of the bag. The laptop compartment is lined with a thick felt material that's soft and cushy. It also has a very pronounced, thick false bottom to protect your precious cargo if you drop the bag on the floor. We would probably cry if our laptop got damaged as our work literally depends on it, so false bottoms always get a thumbs up from us. It can fit up to a 13″ device and worked perfectly fine with a 13″ MacBook Air. Things got a bit tight if we put our laptop in an additional sleeve, but you don't really need one, given the padding of the laptop compartment itself. The attached document pocket makes a good spot for notebooks, keyboards, or, you know, important documents.
Just above the laptop compartment is yet another secret pocket. This one is a bit small, and the only thing we could see putting in here is a phone. It could also work as a place to stash your cash, especially if you plan on using this bag as a daily driver when traveling somewhere that's primarily cash-based or some tiny rural town whose local shops haven't updated their cash registers in fifty years. Yes, these places do still exist, and we aren't knocking 'em! You can also put small, fragile souvenirs in here, so they won't get crushed against your other stuff. Emphasis on small as there isn't a ton of space here.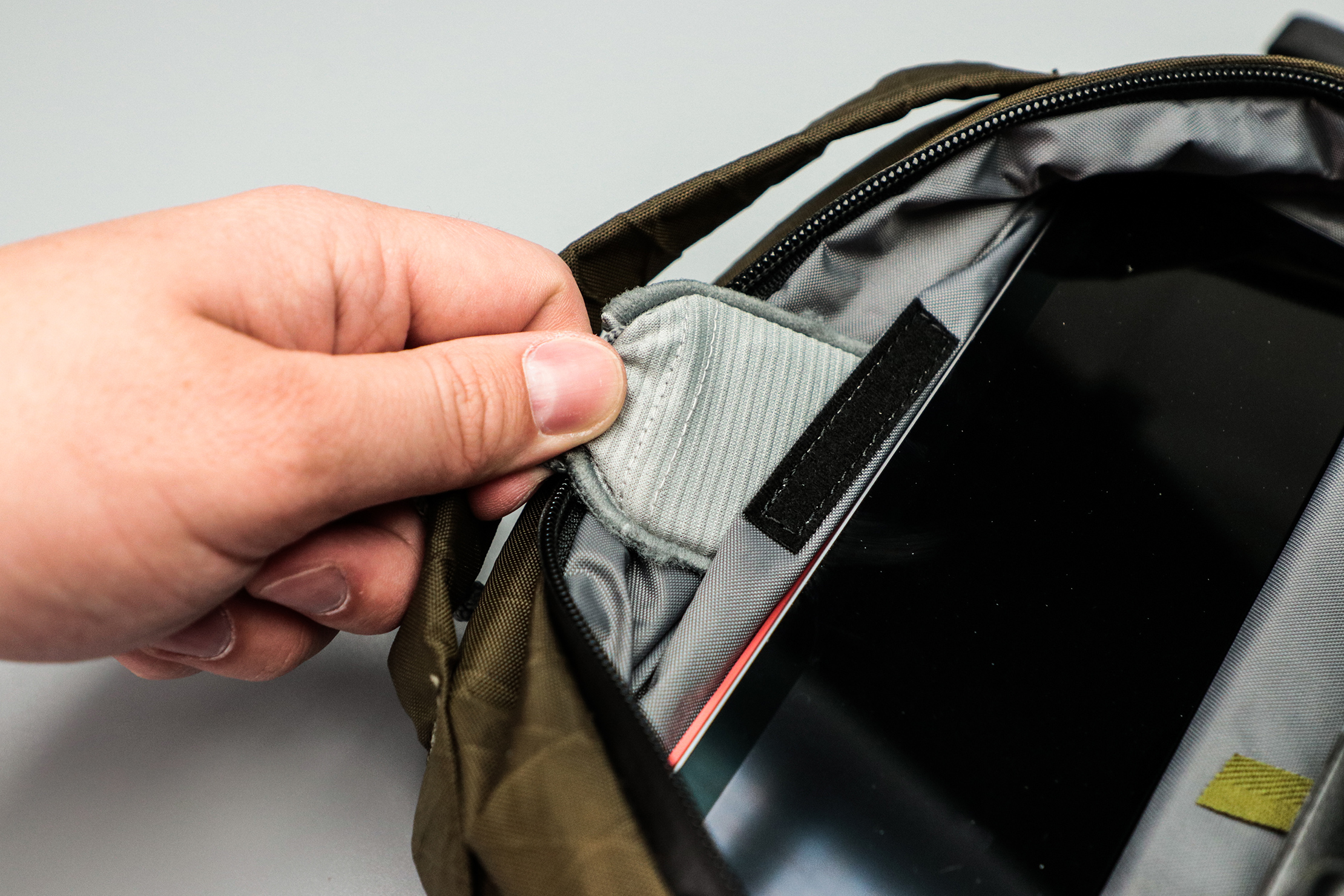 If you're the type who doesn't like the look of a water bottle sticking out one side of your pack, there's also a water bottle pocket in the main compartment. Of course, this means accessing your water bottle when you're ultra thirsty won't be as quick. We ended up using this little sleeve as a place for our Roost Laptop Stand instead. Slender water bottles like the 20oz Bindle Bottle Slim work well here, too, as thicker bottles will obviously take up more space in the bag.
Finally, that's all nine pockets! The rest of the main compartment is spacious enough to fit a change of clothes, emergency underwear, and a toiletry bag for a weekend trip. So no matter where you're headed, the Able Carry Thirteen Daybag has your back—as long as you don't put any kale salad inside.
Usage Timeline
Initial Usage
Condition: Excellent
An external and internal water bottle pocket gives you options where to put your bottle or even carry two at the same time
Not a ton of structure at the front
The quick-access card slot on the shoulder strap feels secure once you have the straps on your shoulders
2 Weeks of Use
Condition: Good
X-Pac material is a bit crunchy
Has a ton of "secret pockets" where you can stash extra items for easy access and convenience
Outer water bottle pocket cuts into space of the front pocket
Low profile is great for EDC and commuting via public transportation
Got a bit of discoloration on the bottom of the bag, not sure how that happened!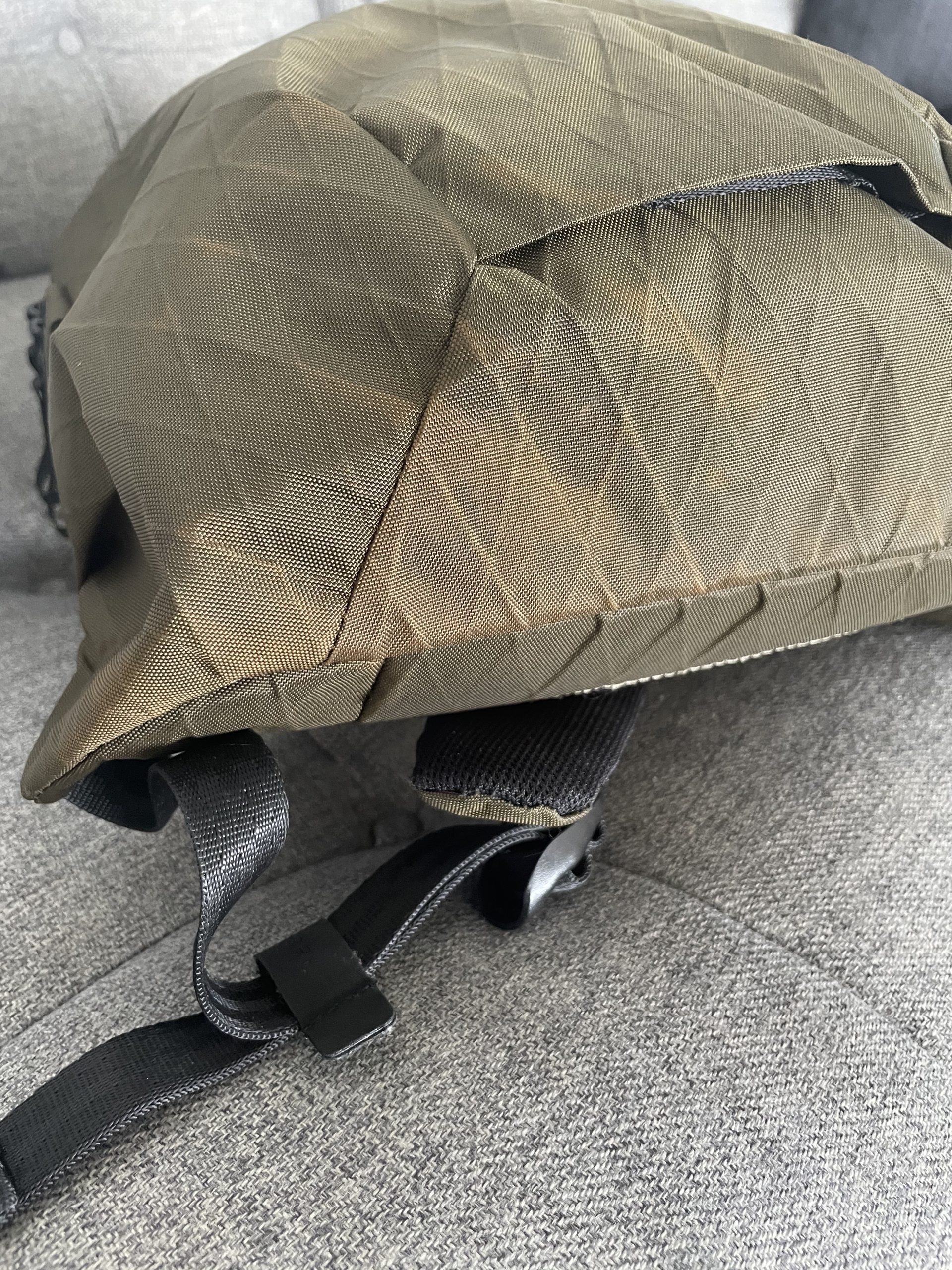 Access the Pro Community Discussion
Get your questions about the Able Carry Thirteen Daybag answered from our team and the Pro Community right here on the page. Plus, join discussions with other members about gear, guides, and more.
Other Bags & Luggage Reviews