Knack Medium Expandable Pack (Series 2) Review
The Knack Medium Expandable Pack Series 2 makes a decent everyday carry bag and can be expanded to 35L, though that does impact carry comfort.
Our Verdict
Unlock the Pro Summary
Save time. Get access to brief summaries of our reviews so you can browse and make decisions more efficiently.
Pros
Versatile for everyday carry and travel when expanded
Discreet water bottle pocket stays close to the bag when in use
Padded handles are comfortable for briefcase carry mode
Cons
Internal organization can be overkill
Harness system can be uncomfortable when bag is expanded
Main compartment is not very spacious for everyday carry if not expanded
Recent Pack Hacker Video
Technical Details
Capacity

35l

Uncompressed | Compressed mode is 24L

Weight (lb)

3.13 lb (1.4 kg)

for Storm Gray | 3.0 lbs for Midnight Black

Denier

600D

for Storm Gray | 420D for Midnight Black

Dimensions

19 in x 12 in x 9 in (48.3 x 30.5 x 22.9 cm)

Compressed depth is 4.5 in

Notable Materials

Polyester, Nylon, PVC, YKK Zippers, Polyurethane, Leather, Duraflex Hardware, EVA Foam

Manufacturing Country

China

Laptop Compartment Size

15"

Warranty Information
Full Review
If you're looking for a daypack for everyday carry that can double as a travel backpack for longer trips, the Knack Medium Expandable Pack Series 2 might be a good option. It's 24L but features an expandable back compartment that can take it up to 35L. It opens clamshell and is great for stuffing full of packing cubes, while the rest of the compartments have a ton of organization suitable for everyday carry. The major problem we have with this is that the harness system is not very comfortable when this pack is expanded. Additionally, the organization feels a bit overkill at times.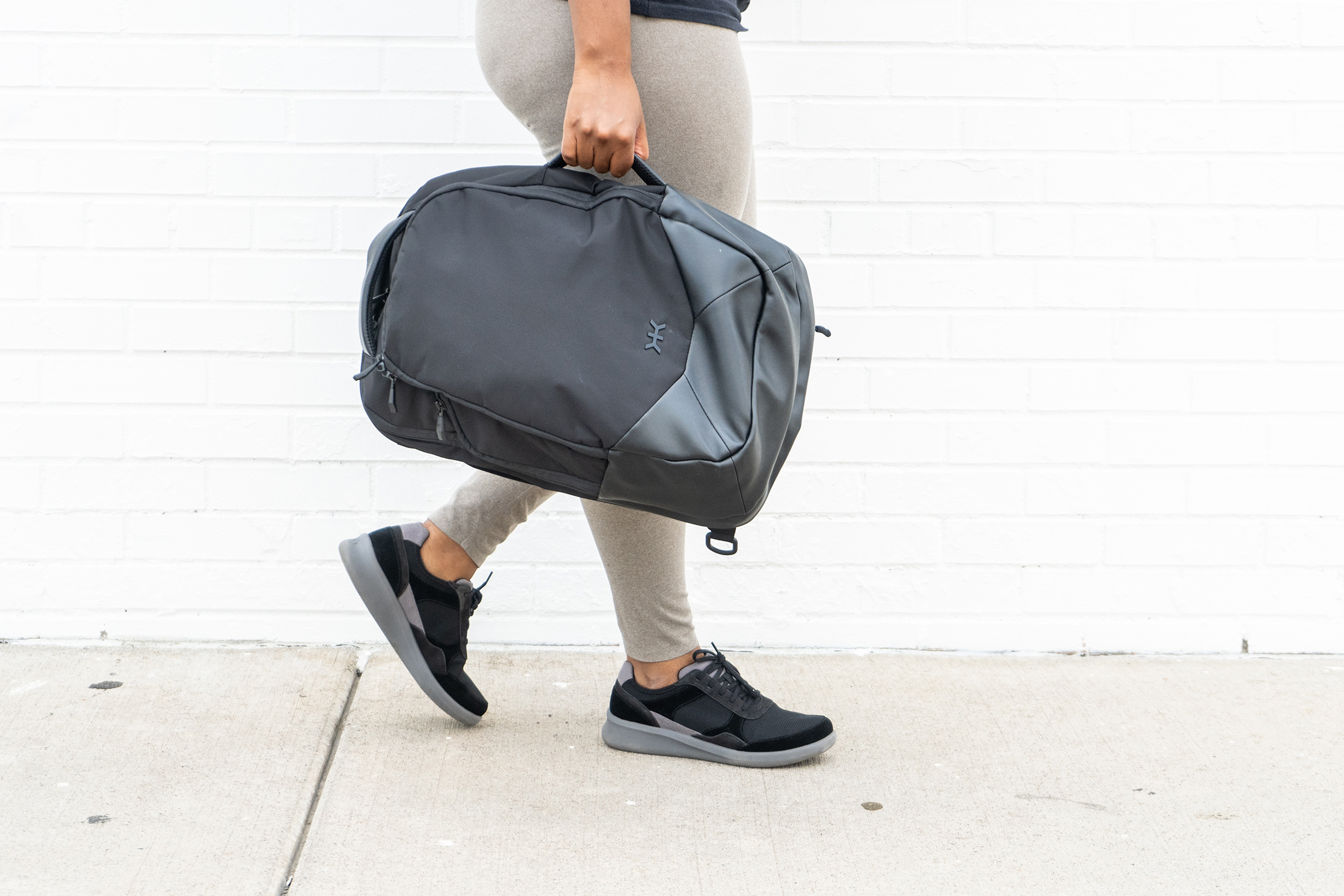 If you're familiar with Knack—or with Pack Hacker reviews—you may be wondering what the difference is between the Series 2 and the previous iteration, the Knack Expandable Knack Pack. We know, that's a mouthful, and unfortunately, the answer to that question isn't any simpler. On their website, Knack says, "while it features our patent-pending expandable travel compartment, that's where the similarity with all previous Knack Packs ends." This is mostly true, but there are definitely more similarities than that. The Series 2 has (almost) the same busy liner as the first iteration and a similar water bottle pocket (a good thing). We also had the same gripe with the harness system when switching to travel mode as the first version. Beyond that, the Series 2 does have completely different organization and materials, so let's get on with it!
Materials & Aesthetic
The outer fabric on the Knack Medium Expandable Pack Series 2 depends on the colorway you choose. At the time of this review, the bag comes in Storm Gray and Midnight Black. We went with the Midnight Black version, so that's what this review will focus on. The main material is a 420 denier high-density nylon. It also has a polyurethane coating for water resistance, which makes the bag smooth to the touch. That smooth feel could also be due to the high-twist yarn the nylon is woven with. Either way, it feels great.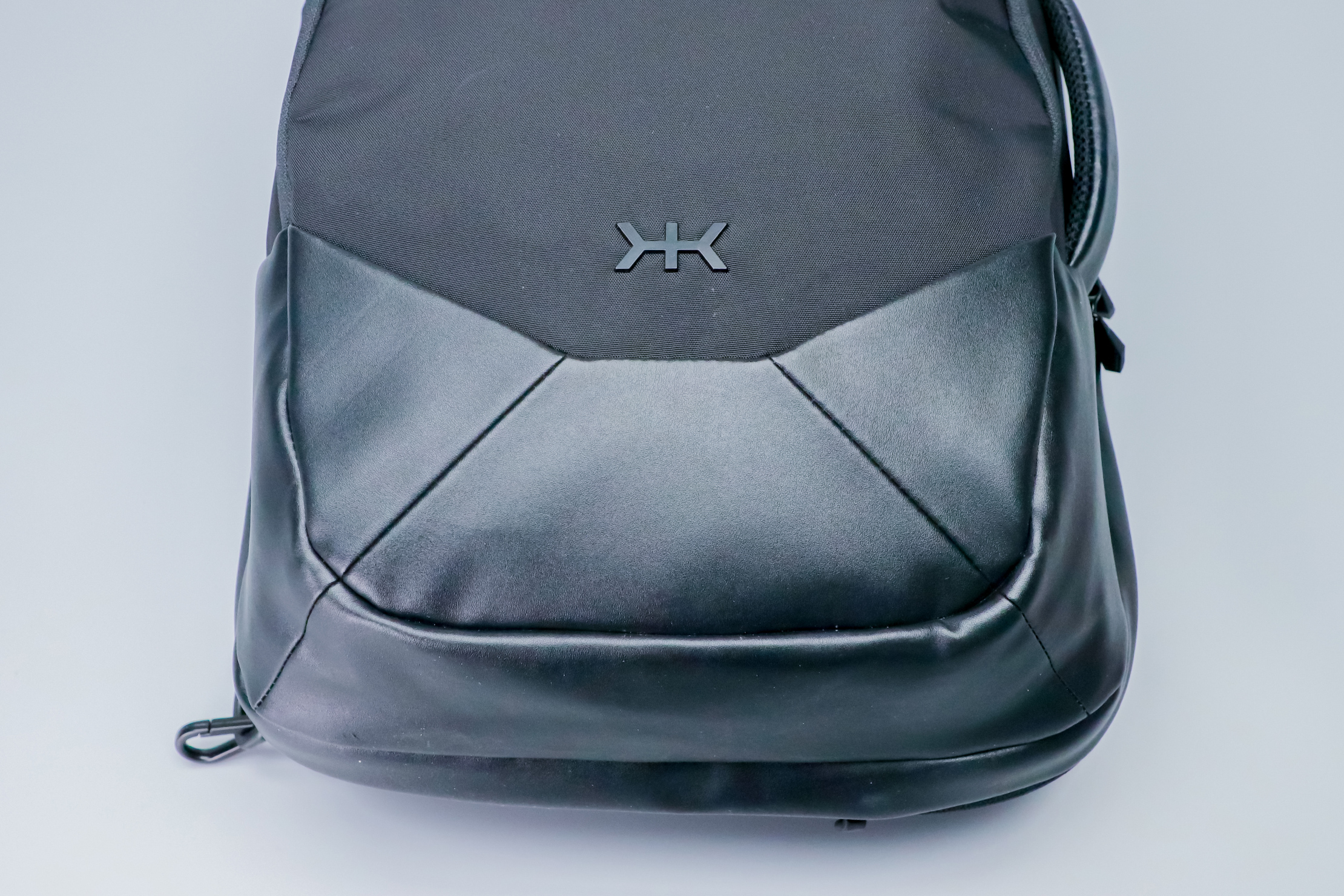 Near the bottom front of the bag is a full-grain Napa Leather trim while the bottom and sides of the bag feature panels of eco-friendly PVC. We're not sure why two different fabrics are used here, and they almost feel the same, so it's hard to tell the difference. We have noticed just a few small nicks on the PVC at the bottom of the bag, however. Other than those tiny blemishes, we don't have any issues with durability to report. This is in contrast to the previous iteration of this bag—the Knack Large Expandable Knack Pack, which developed loose threads on the exterior and interior. That was, however, after a full month of use, so we'll keep a look out to see if anything comes up on the Series 2.
Aesthetically, the bag looks pretty sleek thanks to the combination of leather, PVC and smooth nylon materials. The YKK reverse coil zippers add to this polished look, especially with the custom Knack zipper pulls. They are also lockable, which comes in handy for international trips. These have an interesting hexagonal coffin shape with a few grip lines on the back to make for a seamless zipping experience. These practically glide open, except for on the front pocket, which tends to get sticky when going around the corners. Other than on the zippers, you'll find one swanky Knack logo smack dab on the front center of the bag, and we like that the branding isn't overkill.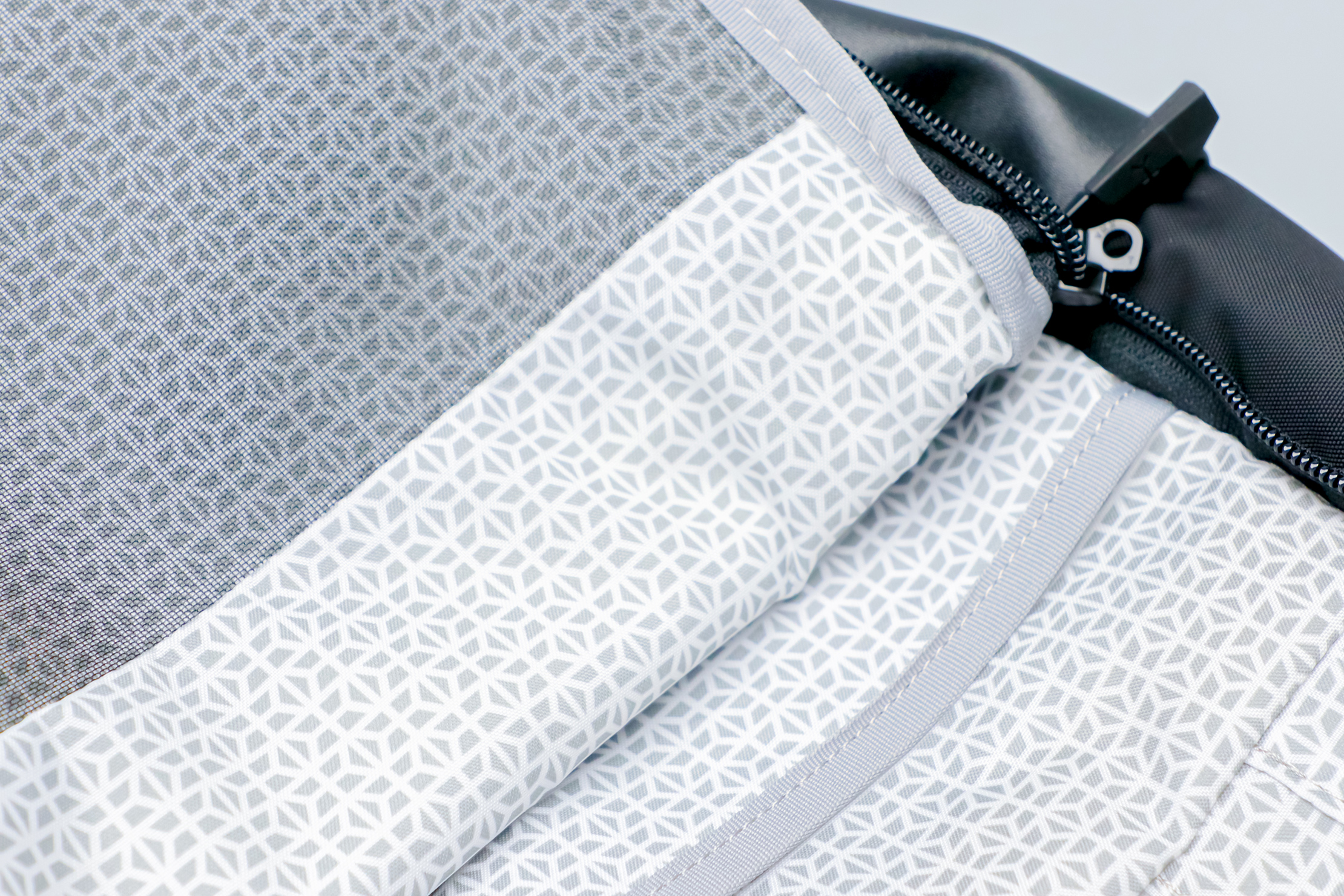 The material on the inside is where things get interesting. Even after using this bag for two weeks, we still haven't decided whether it's interesting in a good or bad way. In stark contrast to the simple aesthetic on the outside of the bag, the interior liner is busy and loud. Granted, it's not as loud as the previous iteration of this bag (which was orange), but it has that same spatial flower pattern that looks like a sacred geometry tattoo.
It's grey and white, giving the inside of the bag great visibility, but it's almost like an assault on your eyes when you open it up. It's made out of a 150 denier polyester logo print with antimicrobial treatment. We're guessing "logo print" is in reference to the trippy pattern we mentioned earlier. As for the antimicrobial treatment, Knack says it inhibits the growth of mold and mildew so the inside of the bag won't get funky when you have dirty clothes packed. We couldn't really tell a difference in smell compared to other bags, but maybe the lack of smell is a sign that it works? We're not sure, but we can be sure about how comfortable (or uncomfortable) the harness system is, so let's talk about that next.
External Components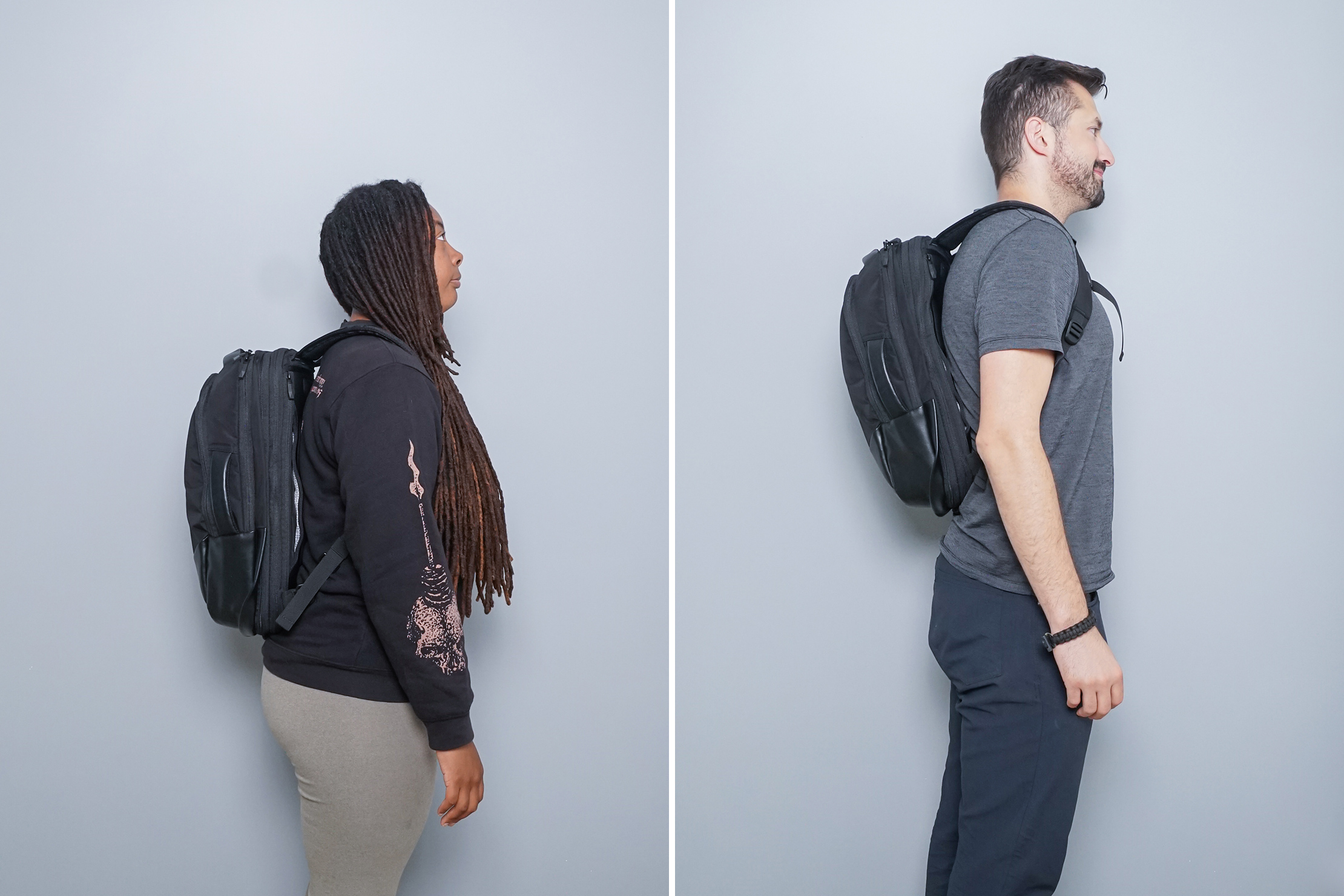 The harness system on this bag has some great and, in our experience, not-so-great features. Let's start by looking at the shoulder straps. These are ergonomically designed to contour around your body and have a thin layer of air mesh on the back plus Napa Leather accents on the front. These do okay in terms of comfort with only a few items for everyday carry, but we found them too thin for a travel backpack. When this pack is expanded to the full 35L and you've got packing cubes full of clothes, your laptop, toiletry bag, and accessories in here, the shoulder straps dig in, and you lose some comfort. We would have liked to see just a bit more padding here to help with that.
What we do like on the shoulder straps is the way the sternum strap is designed. It slides up and down so you can position it however works best for you, and the sturdy Duraflex buckles ensure that it doesn't fall off. We've lost some sternum straps on other bags after they've fallen off in transit, so we're happy to say that isn't an issue here. This sternum strap is not removable, however, so that's something to keep in mind.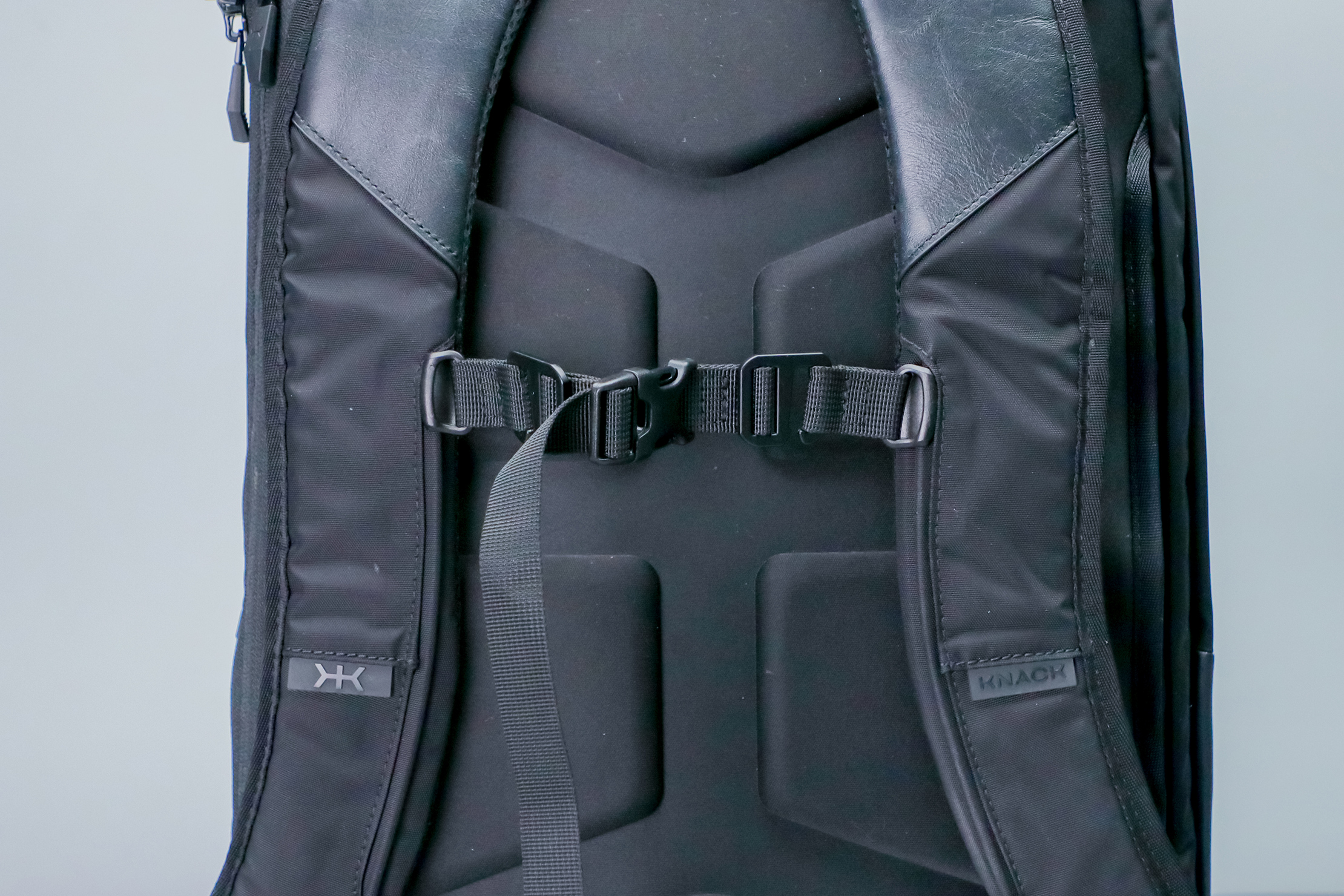 The back panel, on the other hand, is pretty cushy with layers of comfort-cool EVA memory foam. The thick patches give it a kind of turtle shell vibe, but there's much more going on here. First off, there's a luggage pass-through right underneath in case you're traveling two-bag style. Inside, there's a secret pocket for valuables like your wallet and passport. The only downside of this pass-through is that it sort of sticks out, so you can see that wild interior liner. This makes it look like a pocket has been left open when you set it down on the airport or coffee shop floor.
Second, the laptop compartment is behind there. It's pretty standard, except it doesn't have a built-in false bottom to protect your device from hitting up against the hard floor. While the thick padding on the back panel itself offers a bit of a barrier, it's not much. You may want to use an additional laptop sleeve; just note it fits up to a 15" device. Finally, there's a stowaway compartment for the shoulder straps. Just unclip the straps from the bottom of the bag, tuck them in, and boom—you're ready for briefcase carry. If you're gonna go that route, the two grab handles on the top and side of the bag come in handy. They're made of the same Napa Leather featured on the front trim along with a thin layer of mesh. This combo makes for a pretty sturdy handle when carrying the bag in briefcase mode.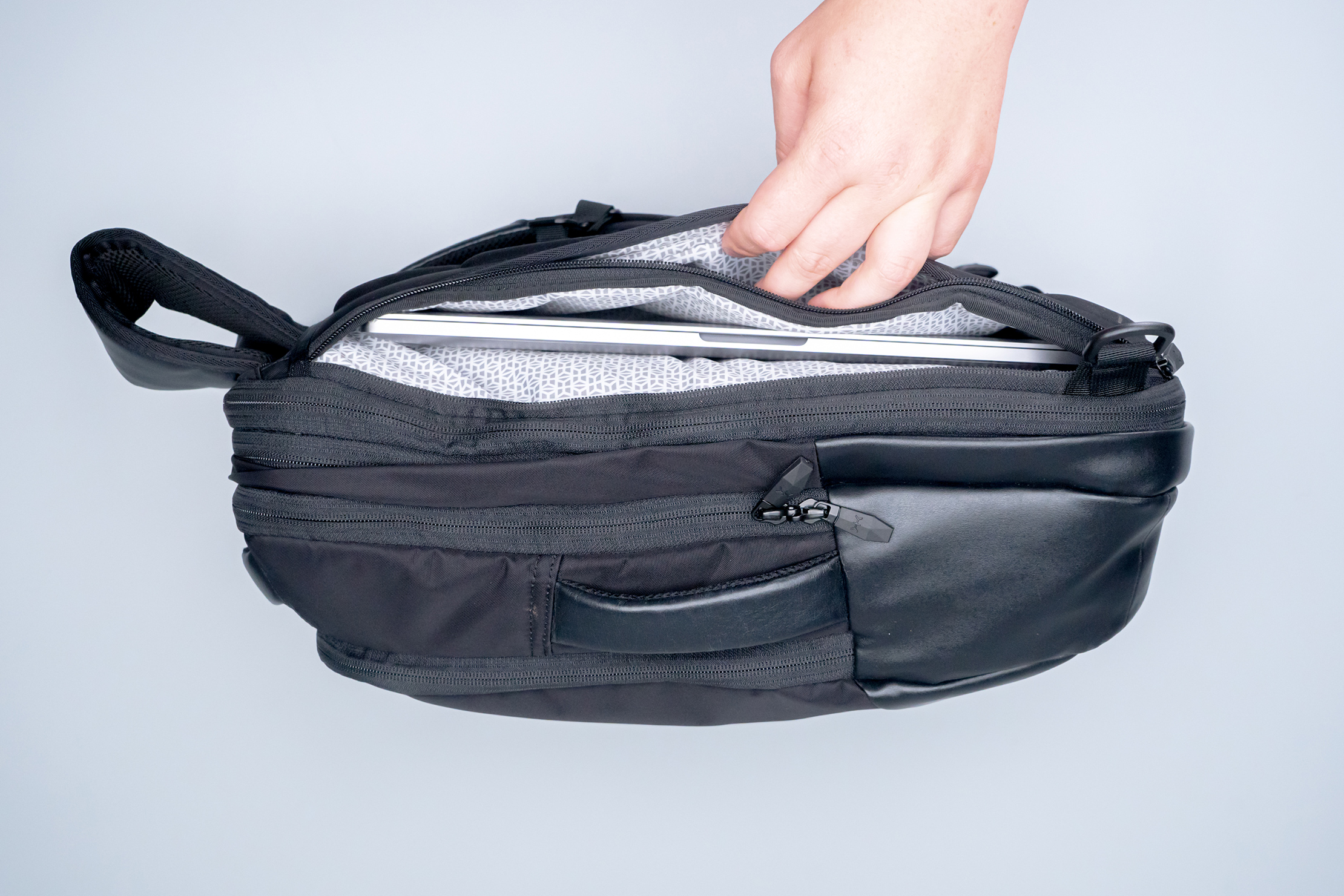 One of our absolute favorite features on this bag is right here on the side: the water bottle pocket. Why do we like it so much? Let us count the ways. Staying hydrated is important whether you're traveling or just bouncing around in your everyday life, so water bottle pockets are absolutely necessary for some of us here at Pack Hacker. The bottle pocket on the Knack Medium Expandable Pack Series 2 is stealthy and stays close to the bag even when filled. It also zips closed, completely hiding it out of view. We used an Avana Ashbury 18oz water bottle with this bag and it fit inside perfectly without sticking out at all. Of course, this comes with the caveat of it eating slightly into the main compartment. Speaking of which, it's time to open this baby up and see what's going on inside.
Inside The Pack
Okay, there's a lot going on inside of this bag. Don't worry we'll take it slow from front to back, starting with the front pocket. This pocket has enough space for pretty much any and every small item you can think of. There are at least six pen slots, four slightly bigger slots, two bigger pockets, a felt-lined sunglass pocket, and zippered mesh pocket. Oh, and a key clip. We think we got 'em all.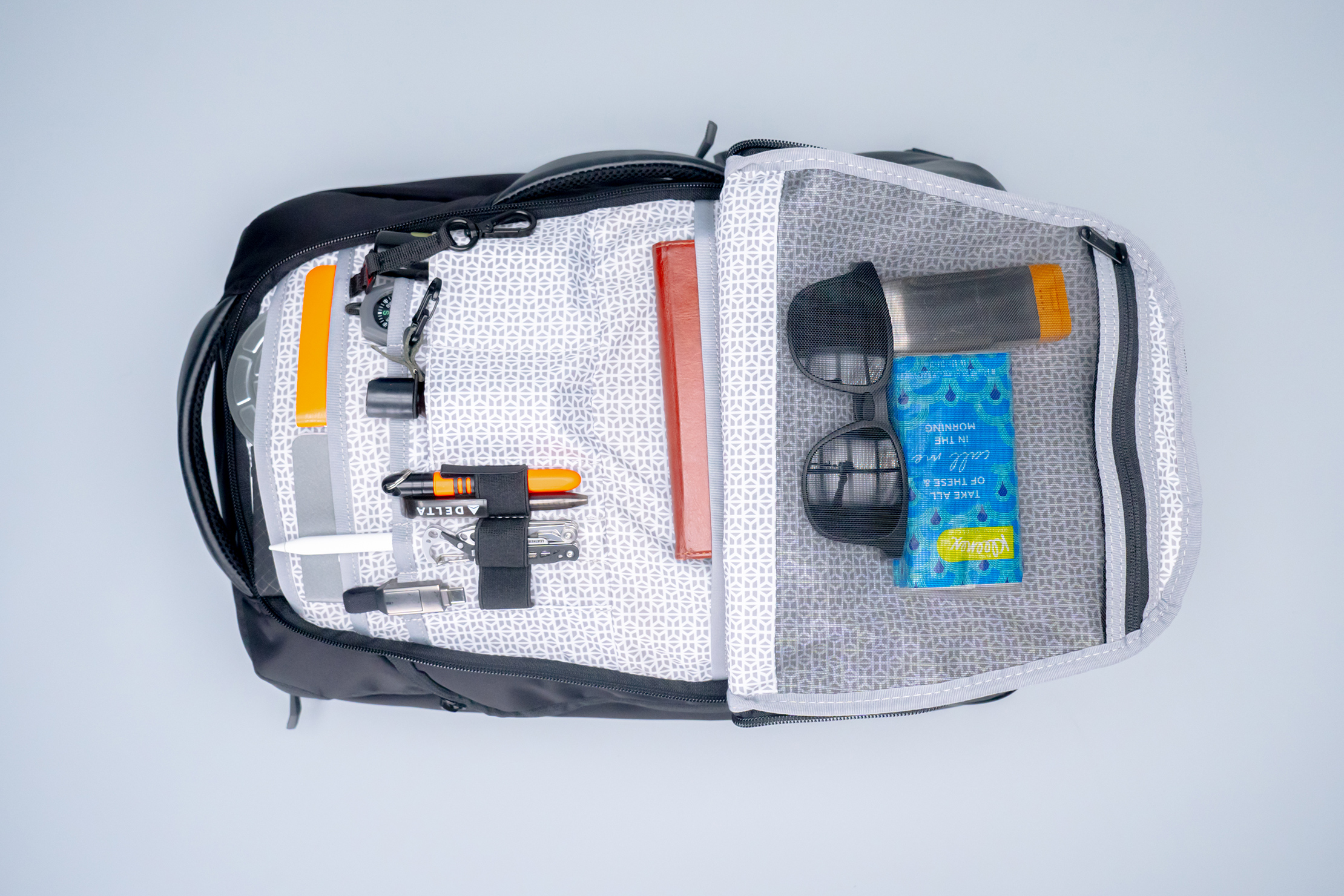 Some of the smaller pockets are so small, however, that we're honestly not sure what you'd even put in them. Maybe a few coins or sticks of gum. We're also not sure what kind of person needs to carry six pens, but hey, do your thing. There are technically seven of them, but one is so close to the zipper that it gets cut off. A pen still fits, but it's a tight squeeze. If you have a ton of small items to carry, the level of organization in the front pocket could be a great thing. We wound up using mostly the zippered mesh pockets for snacks, carrying a few pens, and putting small bits and bobs in the other large pocket near the bottom.
Now here's where things get even more interesting. This bag has two compartments: one that's expandable and one that isn't. So, which one counts as the main compartment? We're not sure, but it depends on whether you're using this bag for EDC or travel. The first compartment (right behind the front pocket) has two large zippered pockets, free space, and an open mesh pocket on the front flap. We ended up using these pockets for our tech accessories since there isn't really a space for them in the laptop compartment. As for the free space, we opted for storing books and notebooks. This is also the compartment that the water bottle cuts into, but it doesn't take up too much space and is a minor inconvenience.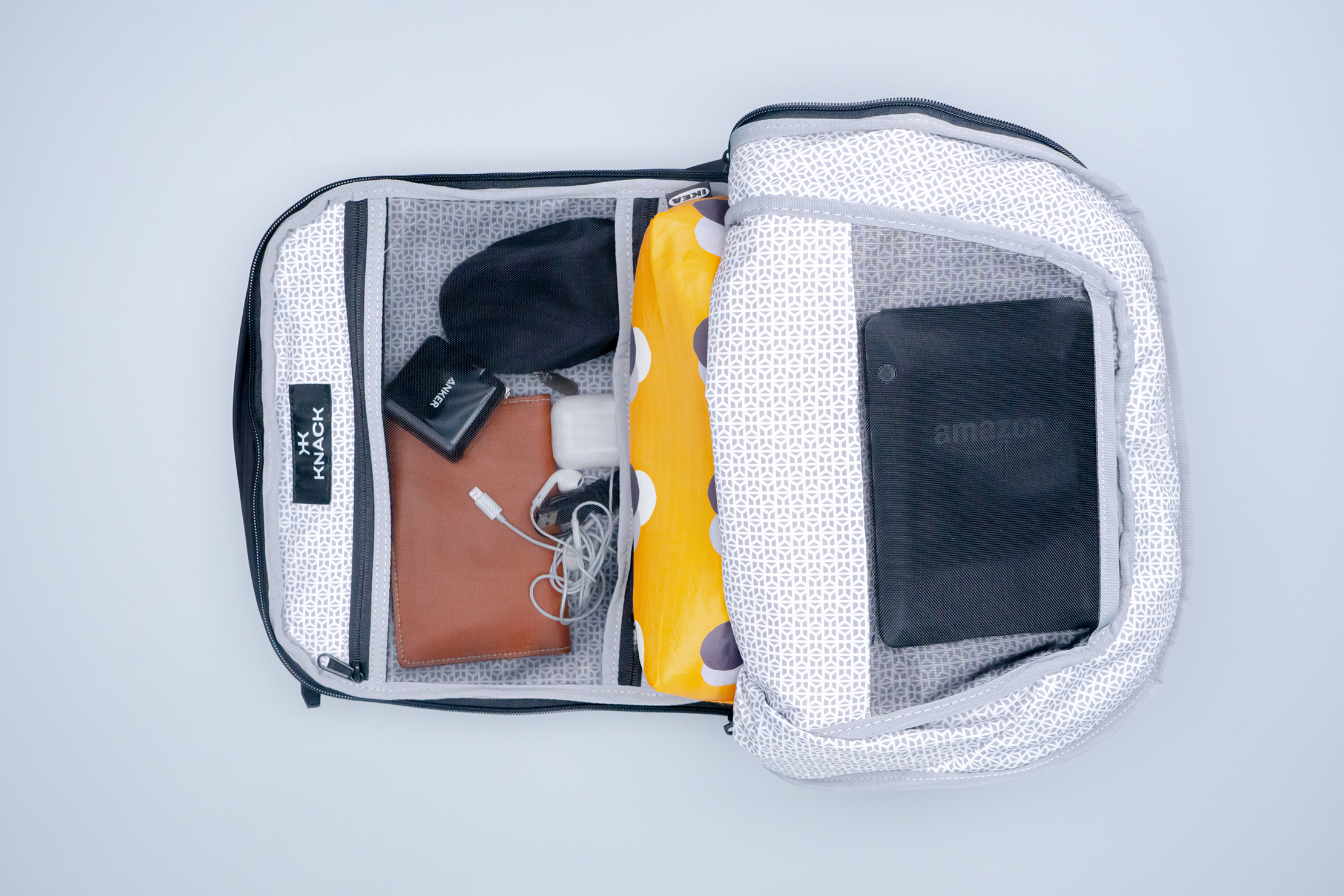 While the first compartment opens up horseshoe, the second compartment has a clamshell opening. This is the one that can expand for travel. There is a mesh pocket on one side that covers the entire back flap while the other has a mesh flap with a compression strap to keep packing cubes and pouches cinched down. You can't really fit too much in here when it's not expanded—maybe a packing cube or two of clothing for a weekend trip. Plus, you don't really need a compression strap for two small packing cubes. The horseshoe opening also makes it slightly inconvenient to access if, for example, you just shove a jacket in here for day to day. We recommend just unzipping the top slightly if you need to grab something quickly.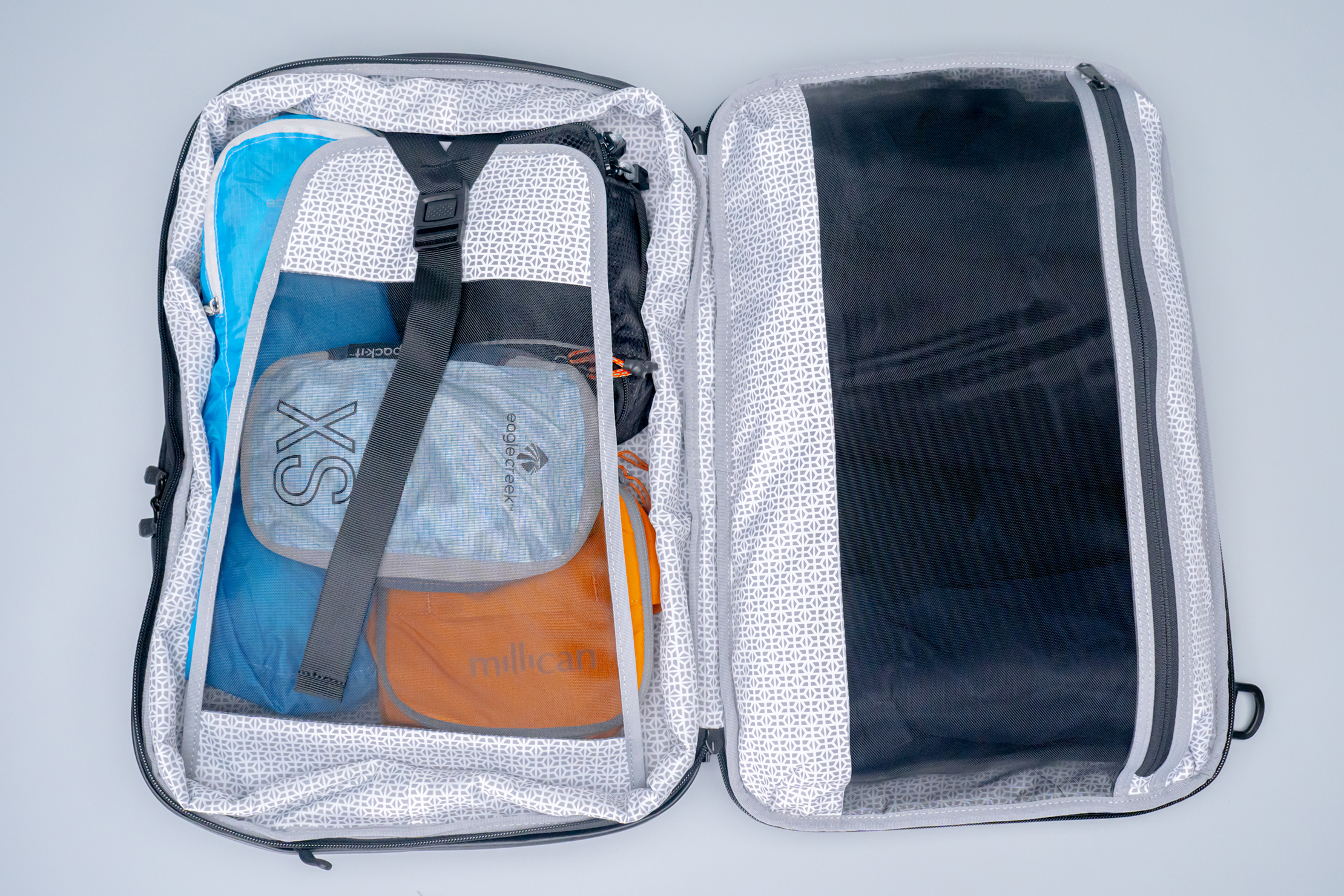 Expanded, however, it's more like a big bucket for packing cubes and pouches, which is what we like to see on travel backpacks. It can fit quite a bit of gear, especially since you can use the compression straps to make more space, but as we mentioned previously, the shoulder straps aren't as supportive of the extra weight as we'd like.
Overall, we found that the Knack Medium Expandable Pack Series 2 works best as an everyday carry backpack, even though some of the internal organization feels a bit overkill. Even though it's expandable and features a clamshell compartment that's easily packable for travel, the shoulder straps get uncomfortable fast with a heavier load.
Usage Timeline
Initial Usage
Condition: Excellent
The busy-looking patterned interior fabric has been carried over from the previous Knack Pack
Mesh pocket inside is very see-through
Can expand or compress down for travel or everyday carry
2 Weeks of Use
Condition: Excellent
The internal organization can be a bit overkill depending on your preference
Harness system is not very comfortable to carry when full
Water bottle stays hidden against the bag when not in use
Access the Pro Community Discussion
Get your questions about the Knack Medium Expandable Pack (Series 2) answered from our team and the Pro Community right here on the page. Plus, join discussions with other members about gear, guides, and more.
Other Bags & Luggage Reviews