Knack Large Expandable Knack Pack Review
The Knack Expandable Knack Pack definitely has some great features, but the uncomfortable carry and low-quality materials have ultimately let us down.
Our Verdict
Unlock the Pro Summary
Save time. Get access to brief summaries of our reviews so you can browse and make decisions more efficiently.
Pros
Great thinking with the front triangle pocket
The entire harness system can be hidden
Well-designed water bottle pocket
Cons
The waist belt doesn't distribute weight very well
Uncomfortable carry in the expanded state
Looks and feels a bit cheap for the price
Recent Pack Hacker Video
Technical Details
Capacity

37l

Compressed mode is 22L.

Denier

1200D

Weight (lb)

3.25 lb (1.5 kg)

Dimensions

21.5 in x 14 in x 9.5 in (54.6 x 35.6 x 24.1 cm)

Compressed depth is 4.5"

Notable Materials

YKK Zippers, Duraflex Hardware, Polyester, Nylon

Manufacturing Country

China

Laptop Compartment Size

17"

Warranty Information
Full Review
The Large Expandable Knack Pack by Knack is a 22 to 37 liter expandable backpack with smart features, a business-focused aesthetic, and a harness system that hides away neatly.
Knack is a relatively new Rhode Island travel gear brand that designs products to make it easier for people to experience the world without getting weighed down by multiple bags. In fact, they've built the company around their "one bag life" mantra, which is something we can certainly get behind. (We really geek out on this stuff.)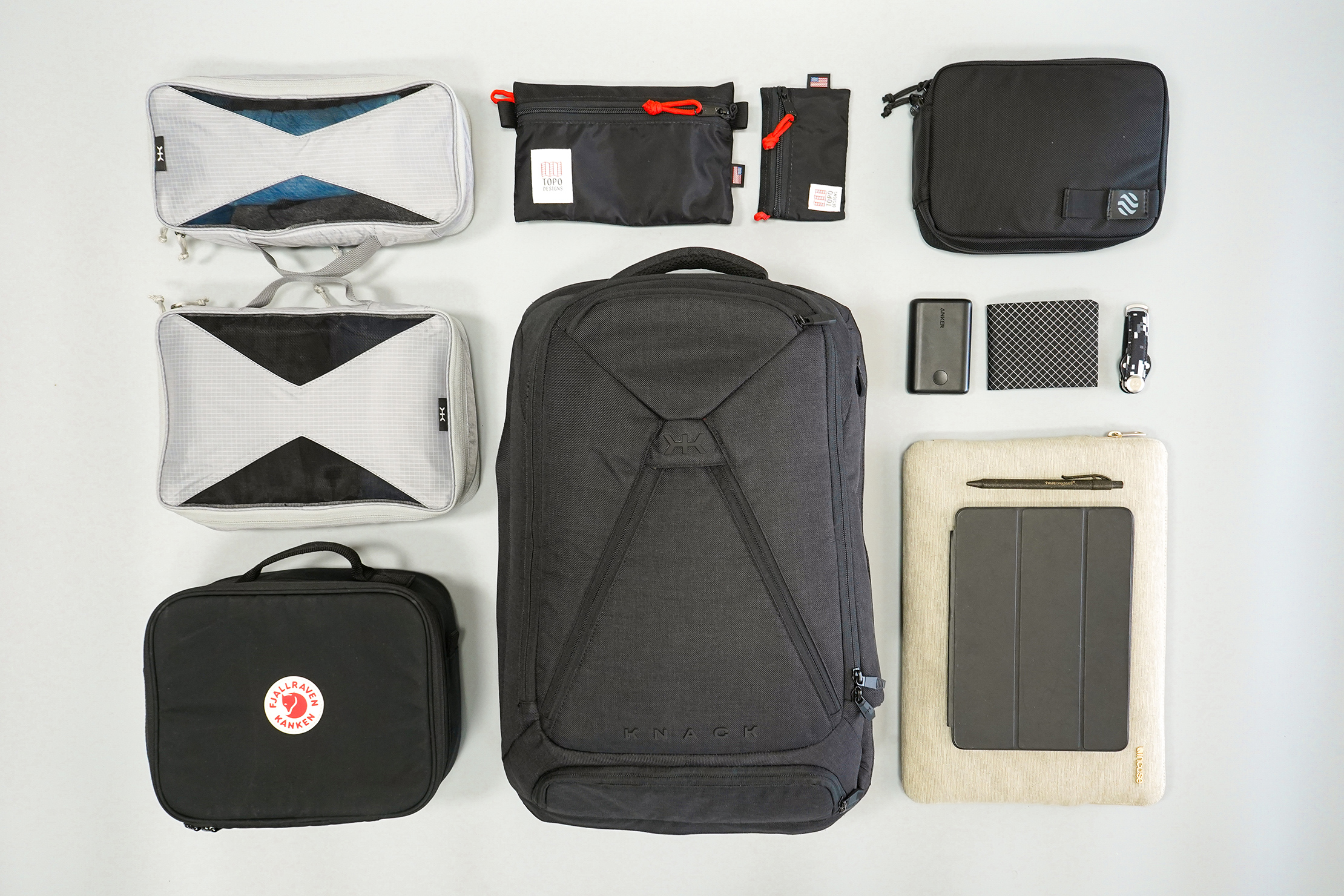 We've been testing both the large and medium versions of this expandable pack, and there are some definite pros and cons to consider. Let's take a look.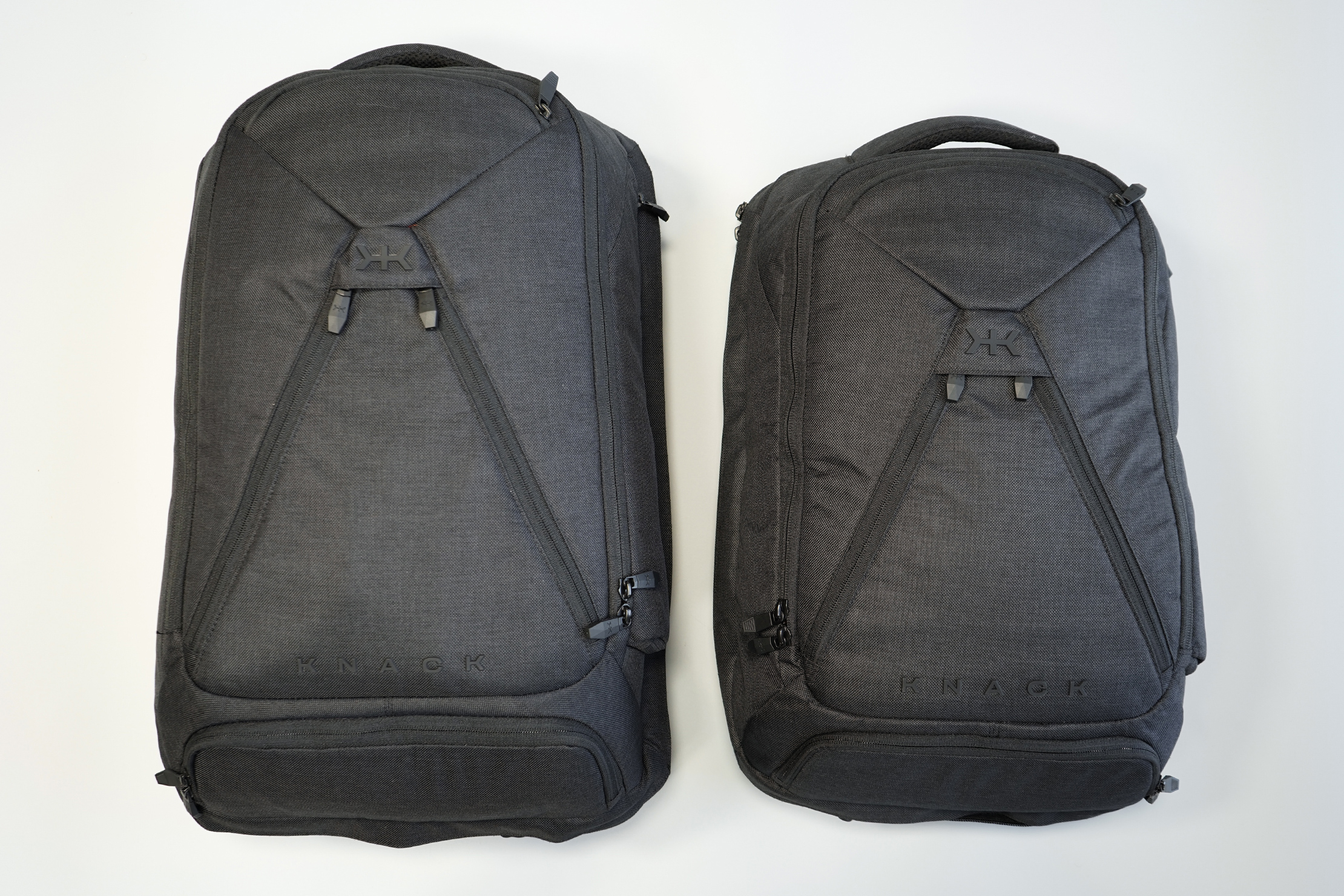 Material & Aesthetic
Something about the look of the Large Expandable Knack Pack just screams "business suit" to us, and we think most people will agree. Not necessarily that it'll go well with one—most backpacks don't, after all—but it definitely gives off that professional, business travel vibe (especially once you see the inside liner, but we'll get to that later).
The large version comes in Savile Gray and Stealth Black, while the medium offers two additional colors with a Loden Green and a Burnt Orange, which is a limited edition colorway at the time of this review. For both the large and medium, we opted to test the black on black. It's a sharper, more streamlined look for a large bag with such a business-focused style, especially when you consider all the zippers that tend to stand out more on the gray version.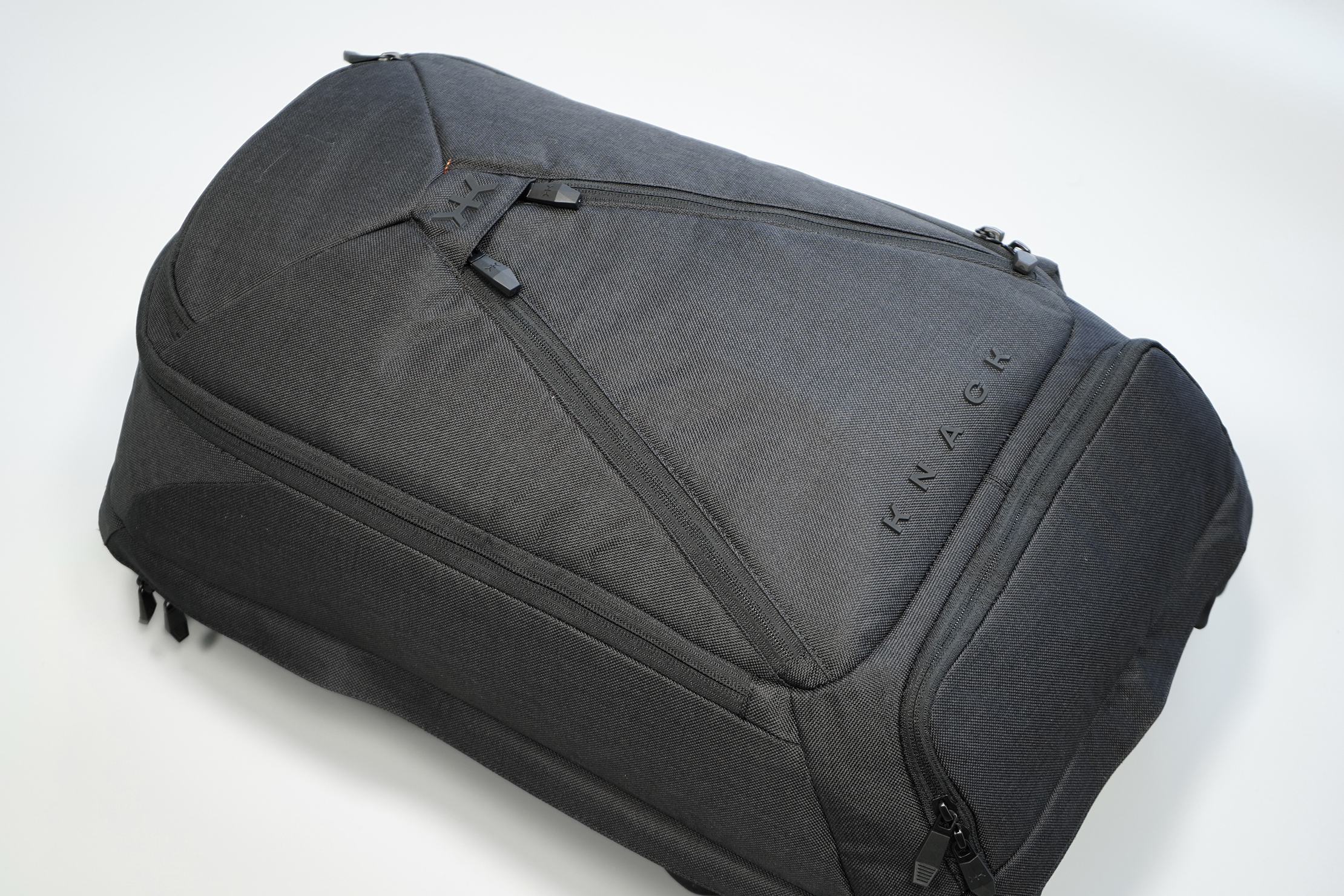 From a branding perspective, you'll find Knack's funky double-K logo—a little reminiscent of the Under Armour logo, if you ask us—on the front of the pack and a KNACK word mark along the bottom.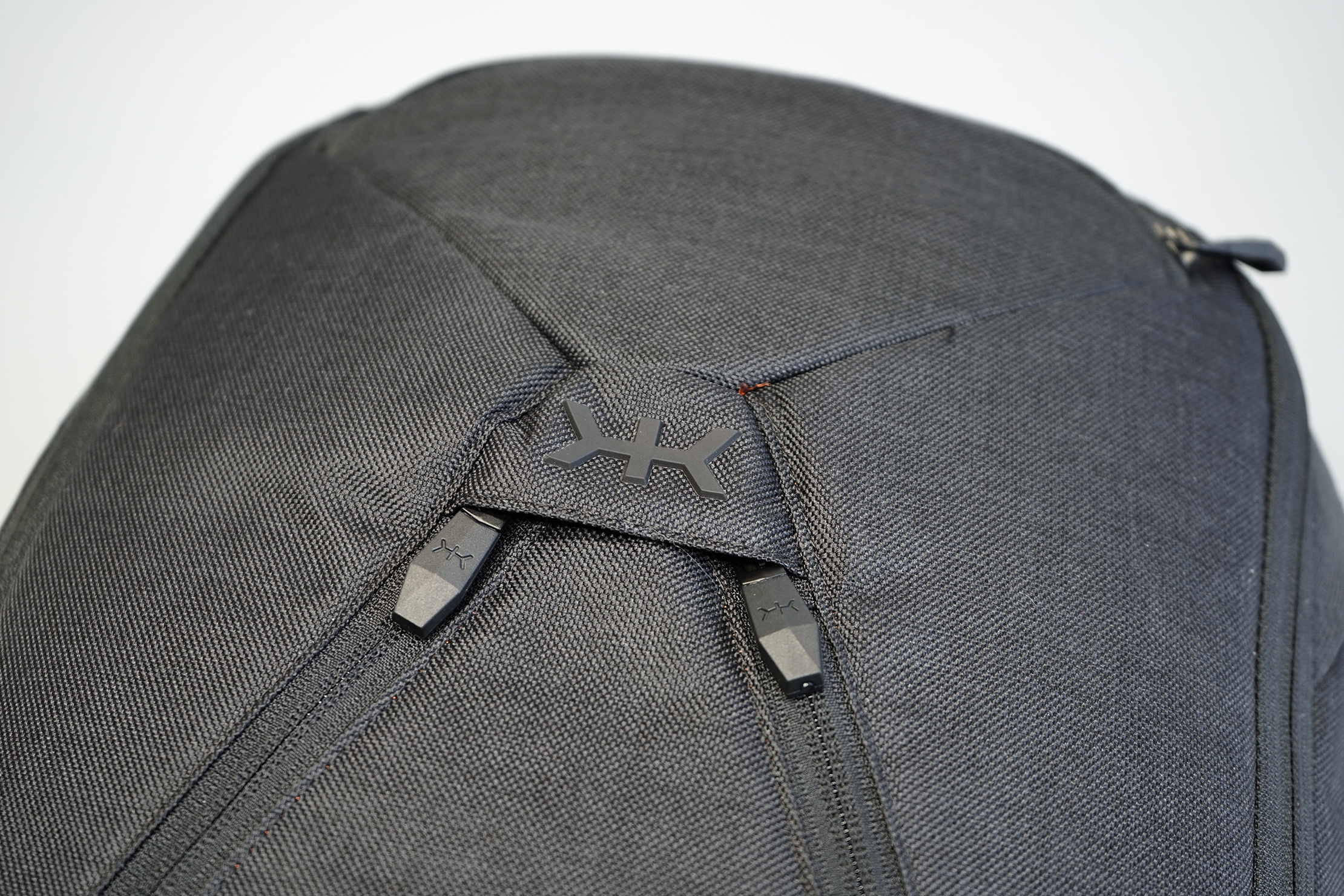 More logos are found on the front shoulder straps, on some of the zipper pulls and in the interior of the pack, too. We're kind of middle of the road on this branding, it's minimal but also not-super-minimal at the same time, if that makes sense. Not a huge deal either way, but some people may not like this.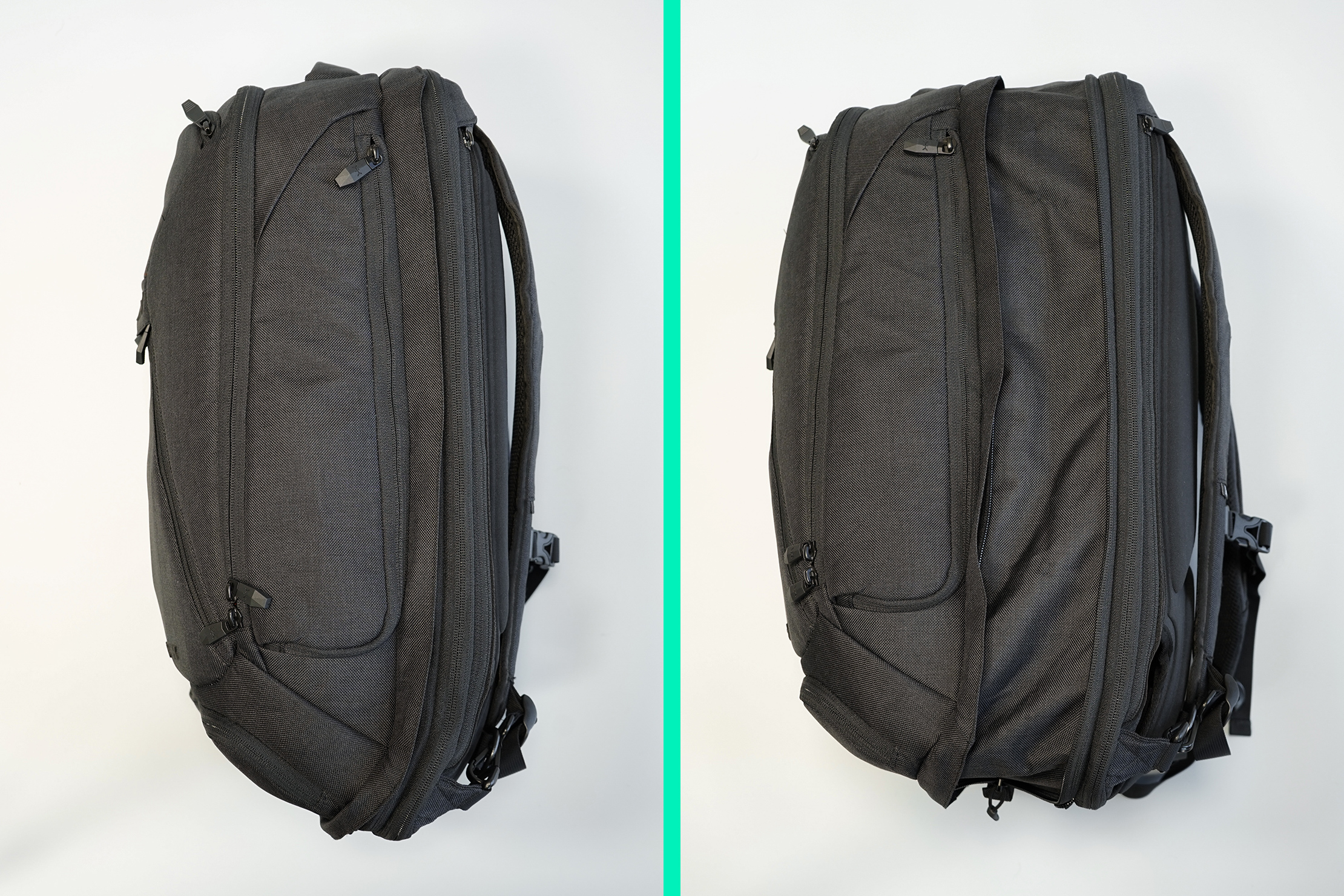 Both the large and medium versions of the Expandable Knack Pack use reverse coil YKK zippers all around, with a #8 for the main clamshell opening. These are solid zippers and that #8 is a pretty good size for the main compartment, although we've definitely seen larger zips on other bags.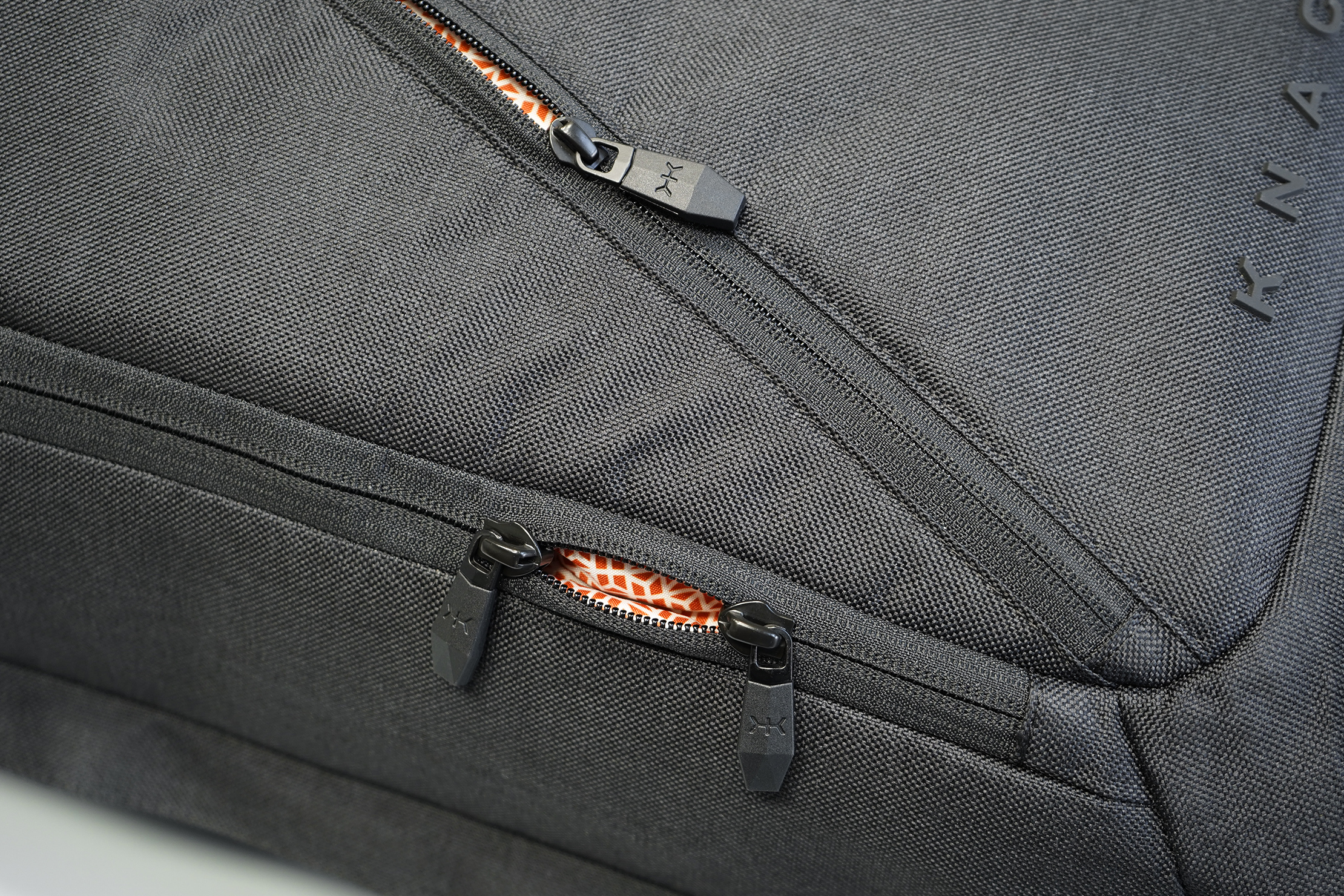 The exterior fabric is a "suiting-inspired, custom-developed, water-resistant 1200 denier two tone polyester body fabric" (their words, not ours) and the inside interior liner, which is white and orange, is a custom, stain-resistant 150D Nylon lining fabric.
What do all those fancy words mean? Honestly, we're not quite sure. We've never heard the words "suiting-inspired" or "body fabric," and "custom-developed" seems like some pretty shameless marketing jargon. However, we can say that two-tone polyester means there are two different colored fabrics that are woven together to create a nice looking color. And as far as durability goes, 1200D polyester is nice and thick, although not quite as robust as something like ballistic nylon.
The verdict here is that this bag uses pretty good—but not great—materials, and with both water-resistant zippers and exterior fabrics, it should be resistant to water but by no means waterproof.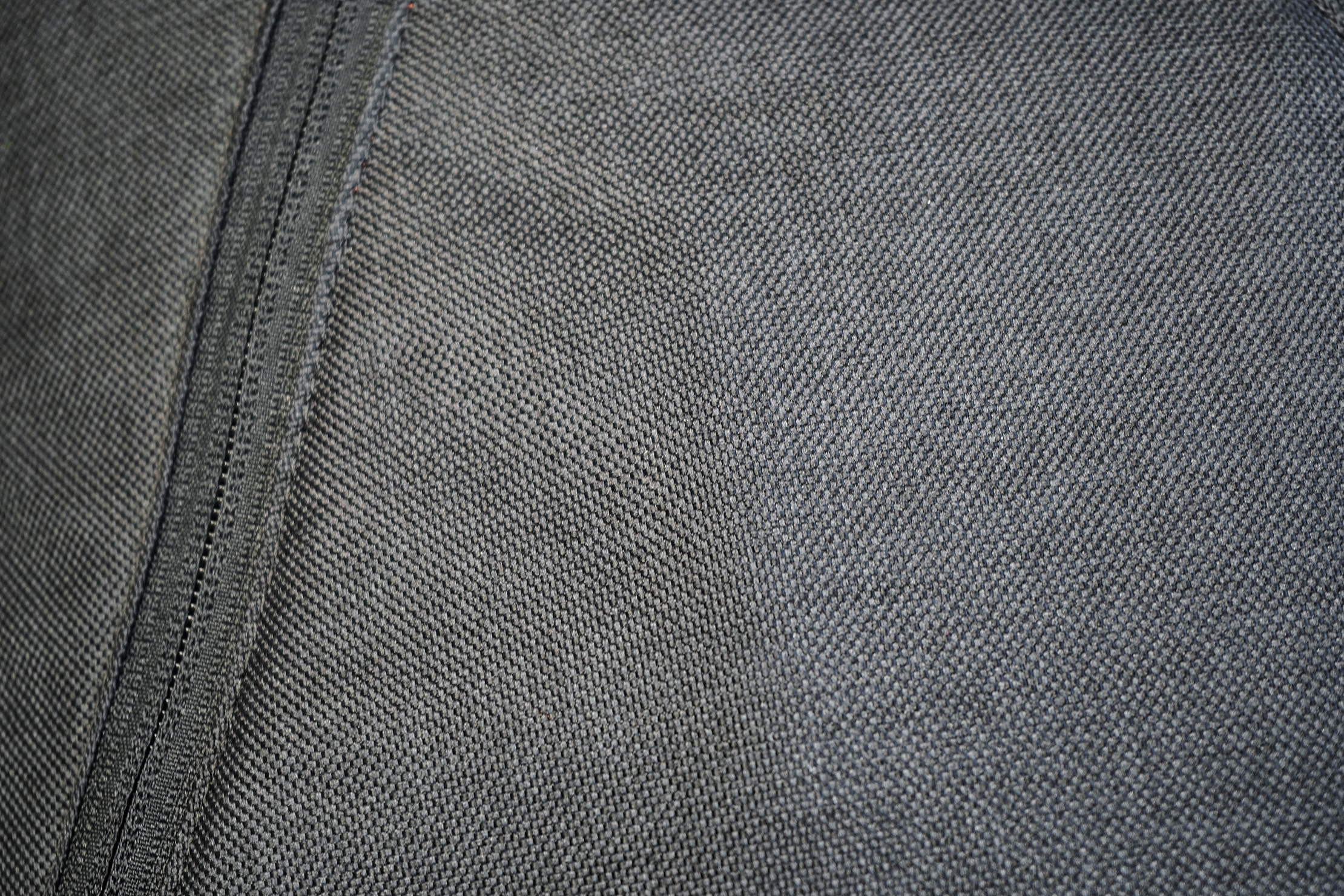 Now, about that vibrant inner lining: Knack says this orange interior can brighten your day, which may or may not be true. For us, the pattern is a little on the busy side, but the real value of this lining is that the orange color makes it easier to find things in your pack since it will contrast with your gear.
That being said, we've definitely seen this done better on other packs. This orange isn't super bright and it doesn't provide as much of a contrast as we'd ideally like. A lot of gear from Topo Designs, for example, uses super bright neon yellow or orange liners that really "turn the lights on" inside the pack. This comes close, but doesn't quite hit the mark.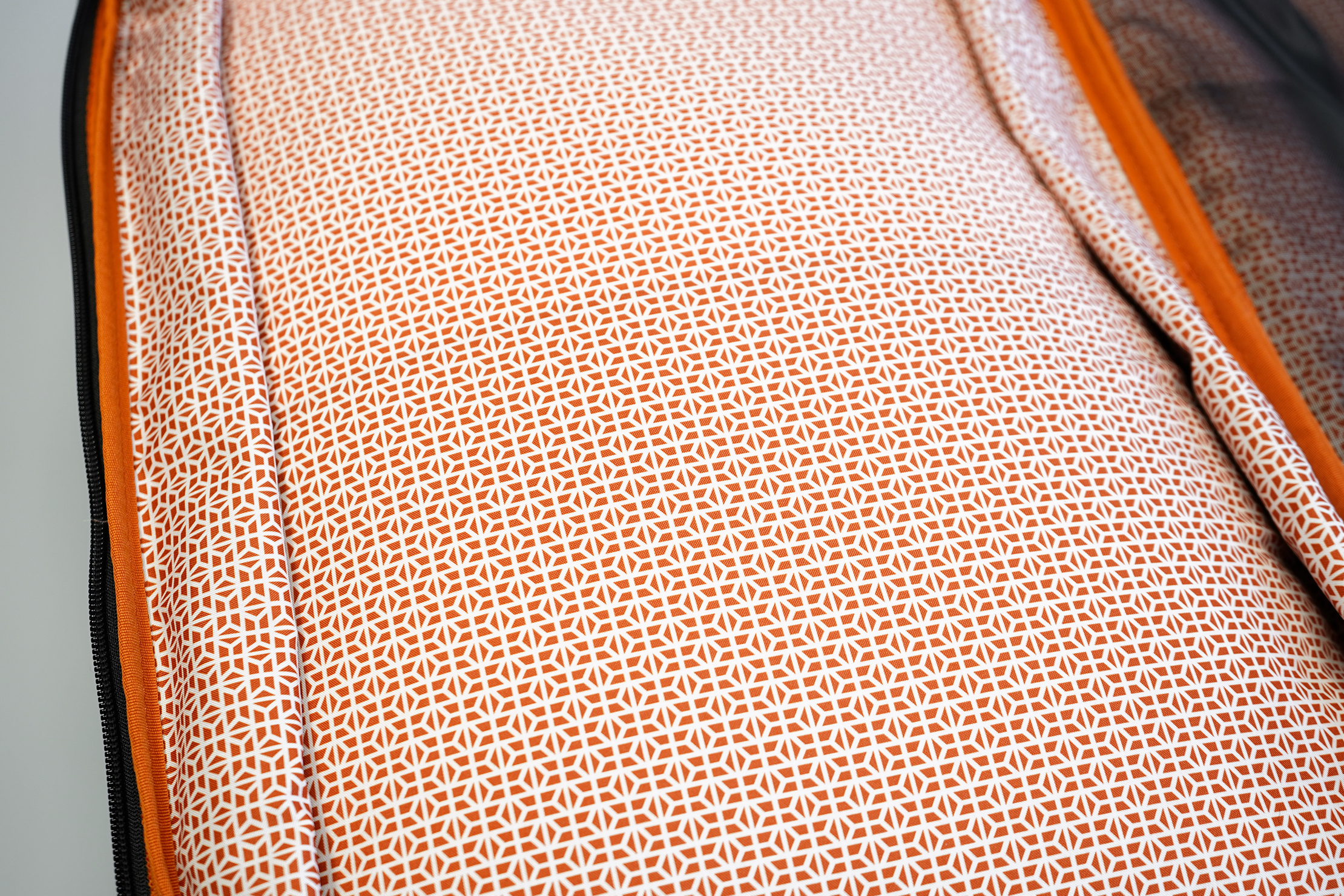 Overall, the Large Expandable Knack Pack loses some points in our mind for its aesthetic. Though it looks and feels better in person than it does from the manufacturer photos, it still looks a bit "cheap" to us. But as we always say, beauty is in the eye of the beholder.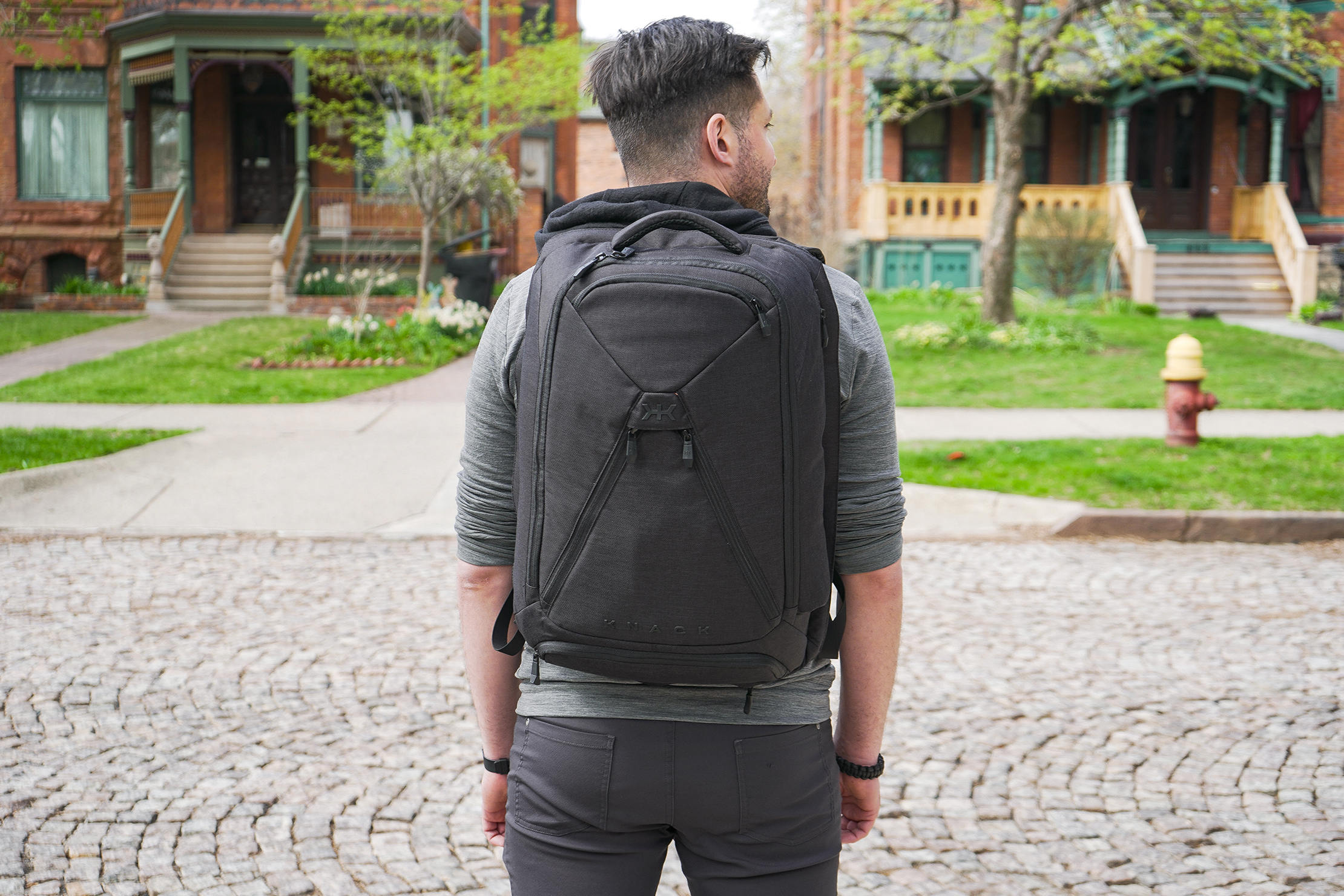 Naturally, we also wanted to hear what our community thought of it, so we polled our Instagram audience. The verdict? About 63 percent of you liked the look. Want to be part of that 63 percent (or the 37 percent) next time? Make sure to follow us on Instagram to take part in future polls.
External Components
The harness system on Knack's Large Expandable Knack Pack includes two decently padded straps with a semi-dense foam. It's not the comfiest or densest foam we've tested, but it gets the job done.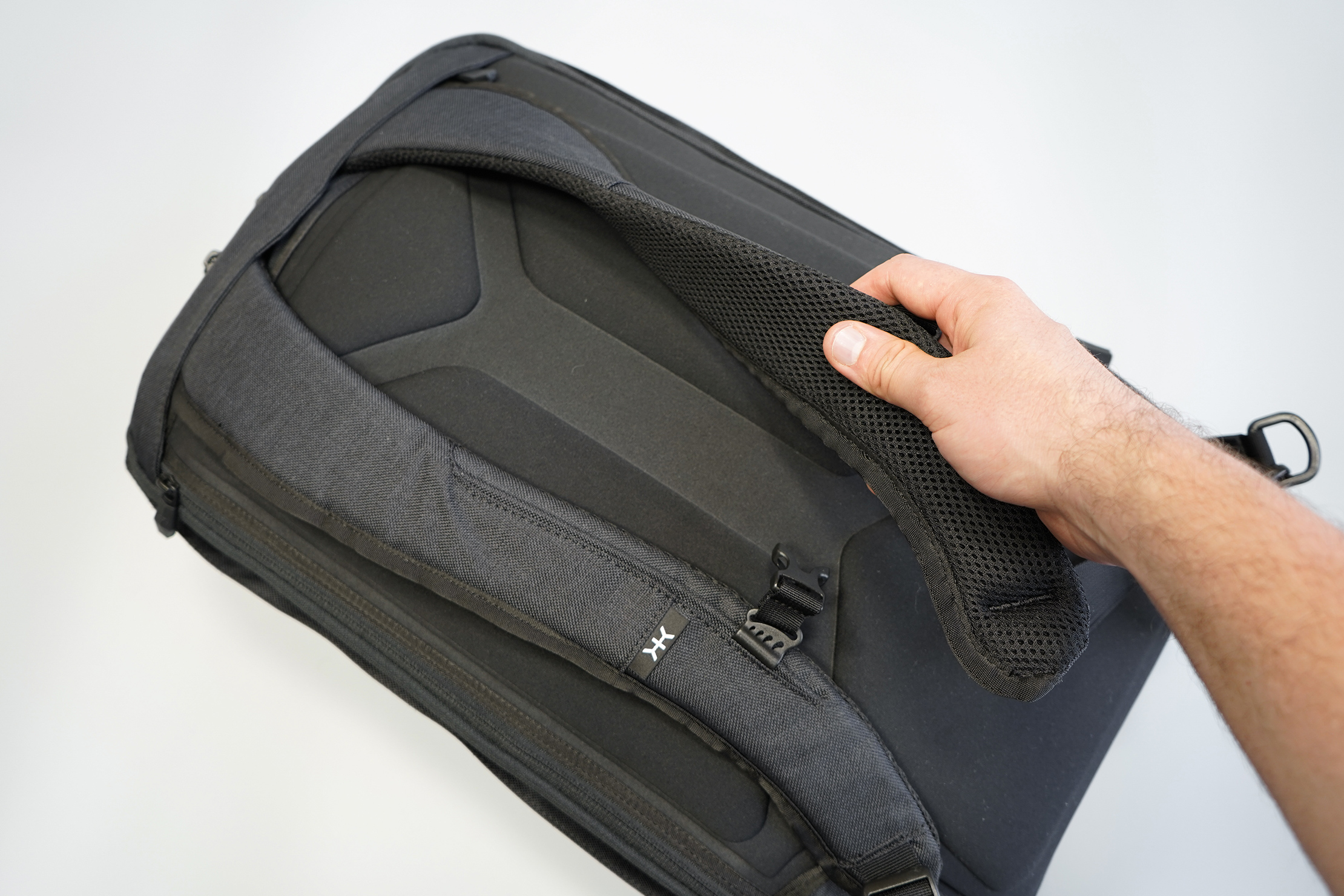 Duraflex plastic strap adjusters are found at the bottom, and a metal attachment buckle is used to attach the straps to the bag and also secure any excess straps you may have. Plastic D rings attach to the metal clip and, although the metal adds a little extra weight, we like how nice and durable this feels in your hand—a definite plus for this pack.

The sternum strap is fastened semi-permanently and can easily adjust up or down to whatever position is most comfortable, which we like. Some sternum straps can only be moved into a few different positions, and that's not the case here.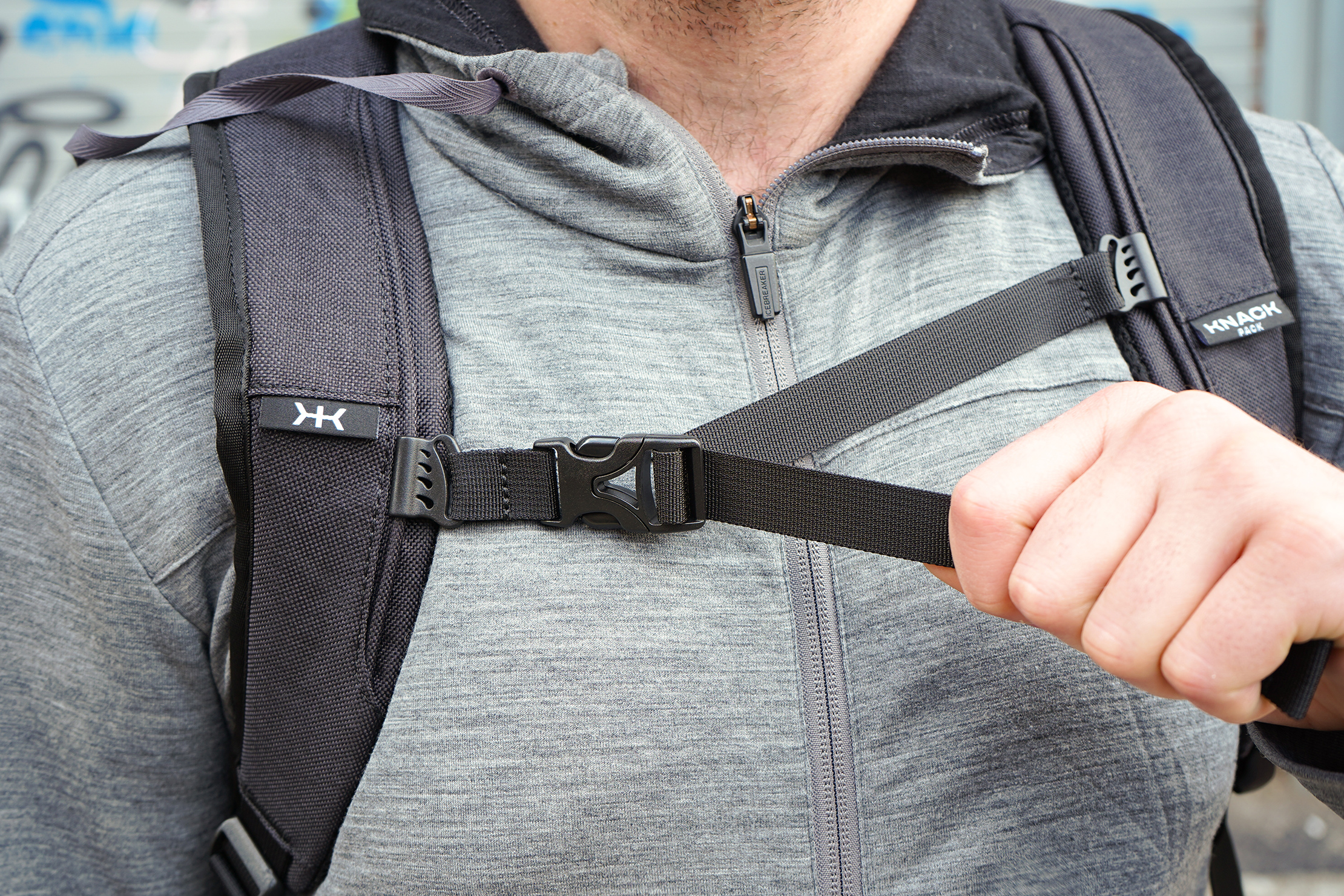 This particular component feels pretty secure; to take it off, you'll need to slide it up to the very top or bottom of its rail and fold the excess fabric over before removing it. In other words, it's not going anywhere (unlike a lot of other "removable" sternum straps we've tested).
A waist belt is also found on the Large Expandable Knack Pack. Although this strap does a great job keeping the pack close to your back, it didn't distribute weight very well. For better weight distribution, we'd recommend looking at something like the Aer Travel Pack 2.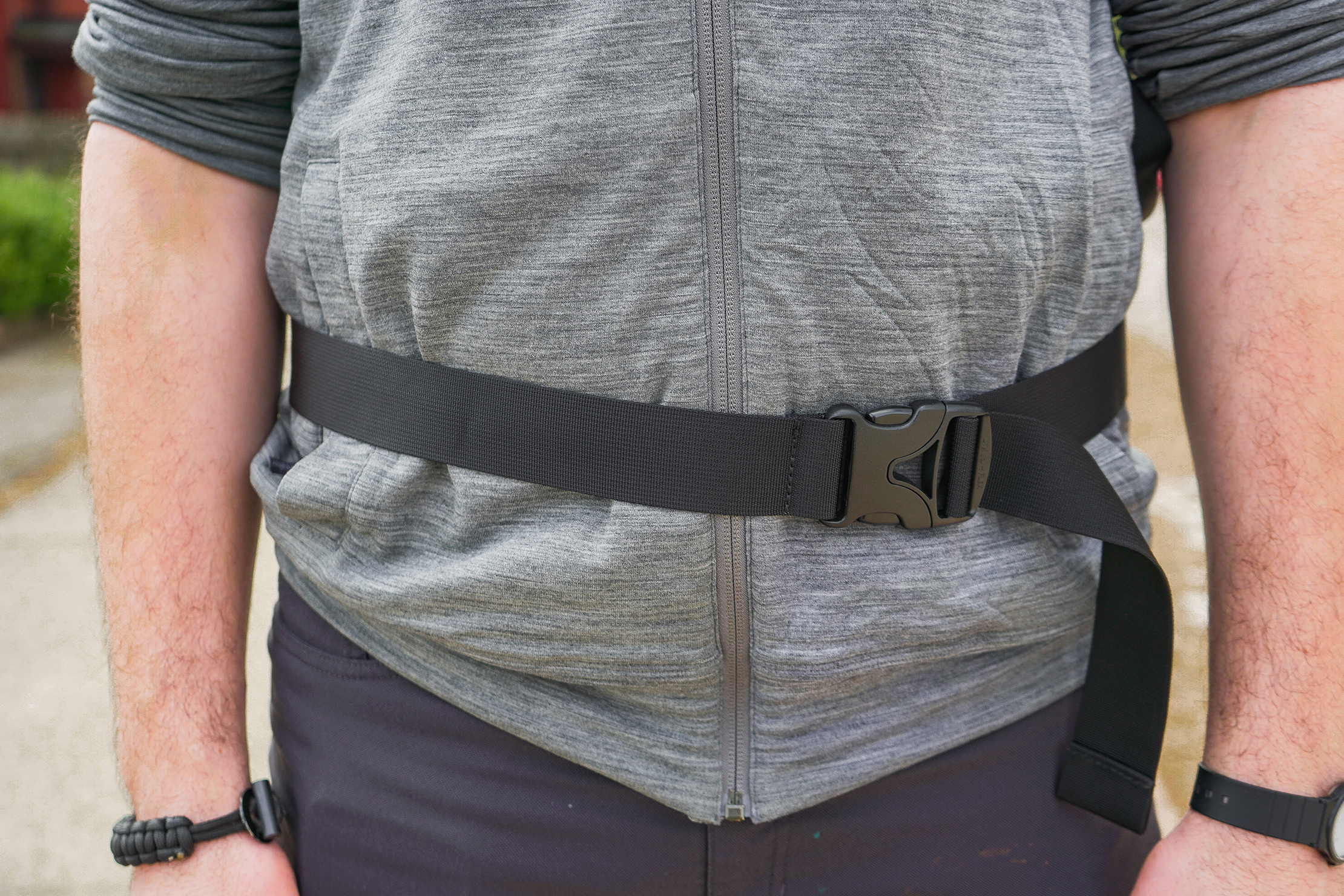 Beyond that, the harness system can be hidden away, which is a feature we appreciate in a bag of this size. You can easily unclip the straps, put them behind the back panel and the zippered compartment, and you've got a nice brick-shaped pack with no excess straps. You can also do the same with the waist belt, which is great.
Moving on to the back panel, Knack has used a nice and comfortable foam here, which feels a bit like a memory foam mattress. Airflow isn't really accounted for, though, despite a design that makes it look like it is. (No one's fooling us on this stuff!) Unfortunately, that foam doesn't help in the back-sweat prevention department either, so you're probably going to get a little…sticky. Yuck.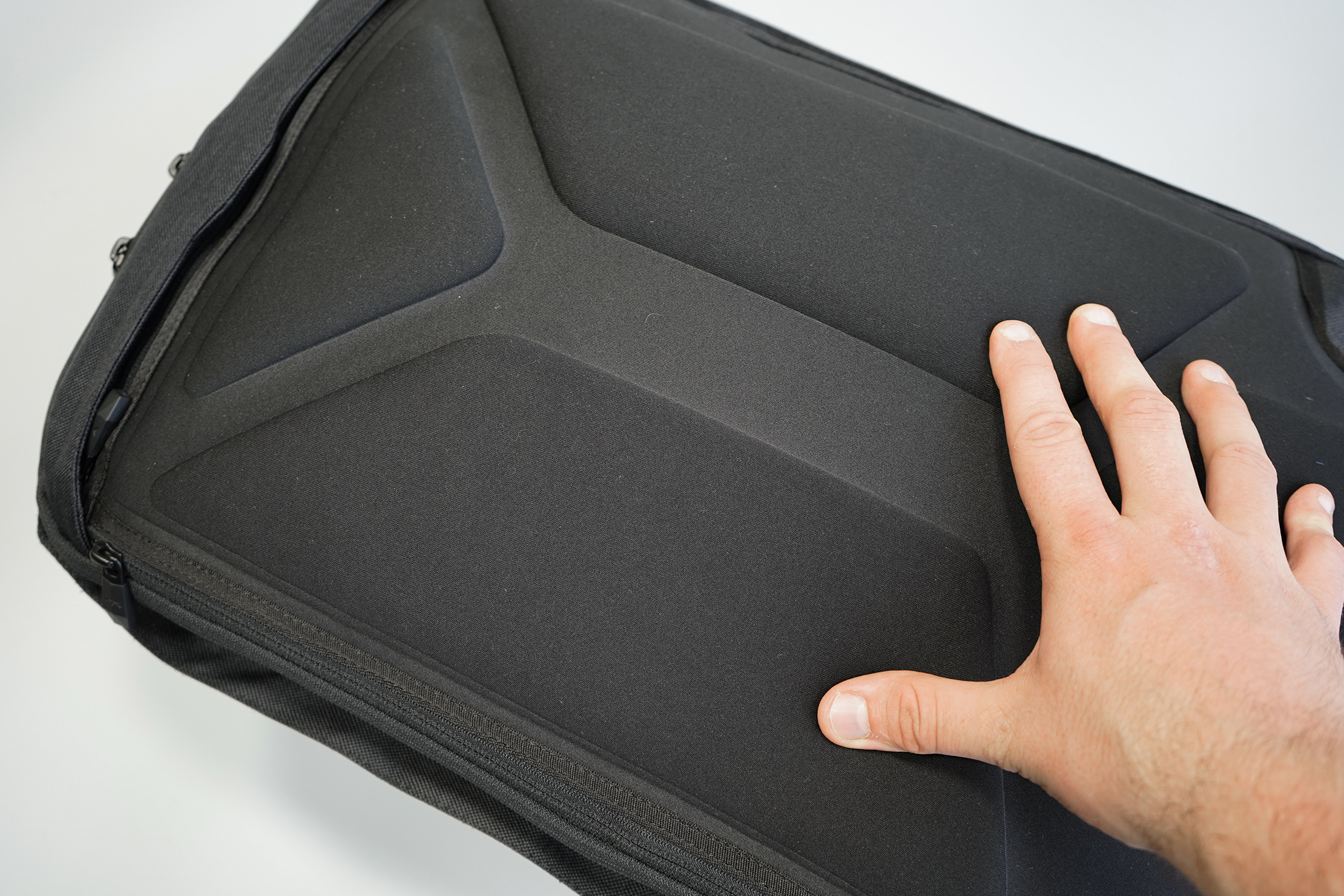 (If you're looking for an expandable pack with a greater emphasis on airflow, consider the Tortuga Setout Divide.)
There is one grab handle on this bag, which is located near the top. (If you're going to have one grab handle on a bag, it better be on the top—let's be real.) This handle sits pretty flat against the bag and has just the right amount of foam, making it easy and comfortable to grab the bag quickly or hang it up. We dig it.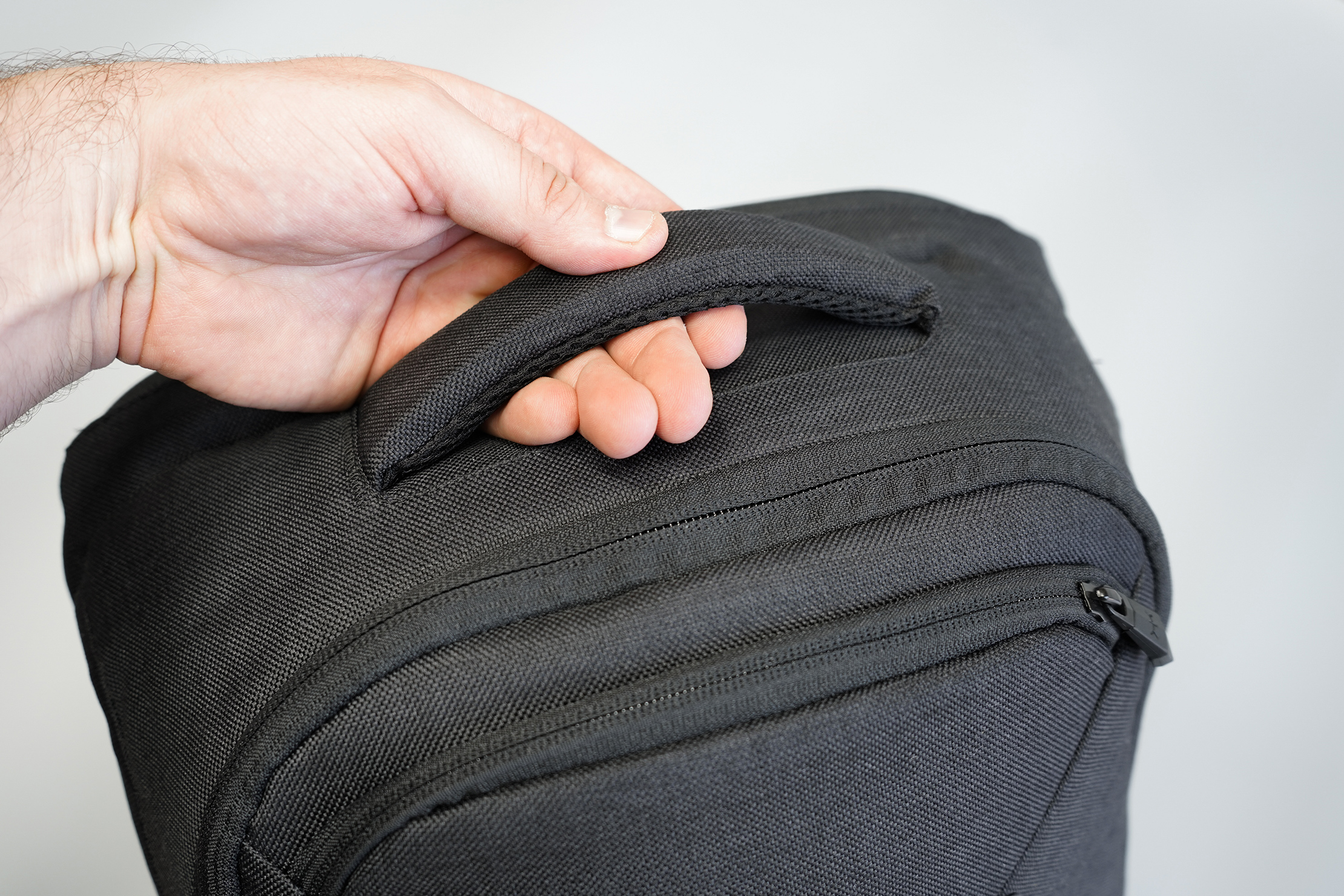 There is also a hidden water bottle pocket on the side, which is one of our personal favorite aspects of this bag. It has a super low-profile even while the pack is full, which you don't see very often.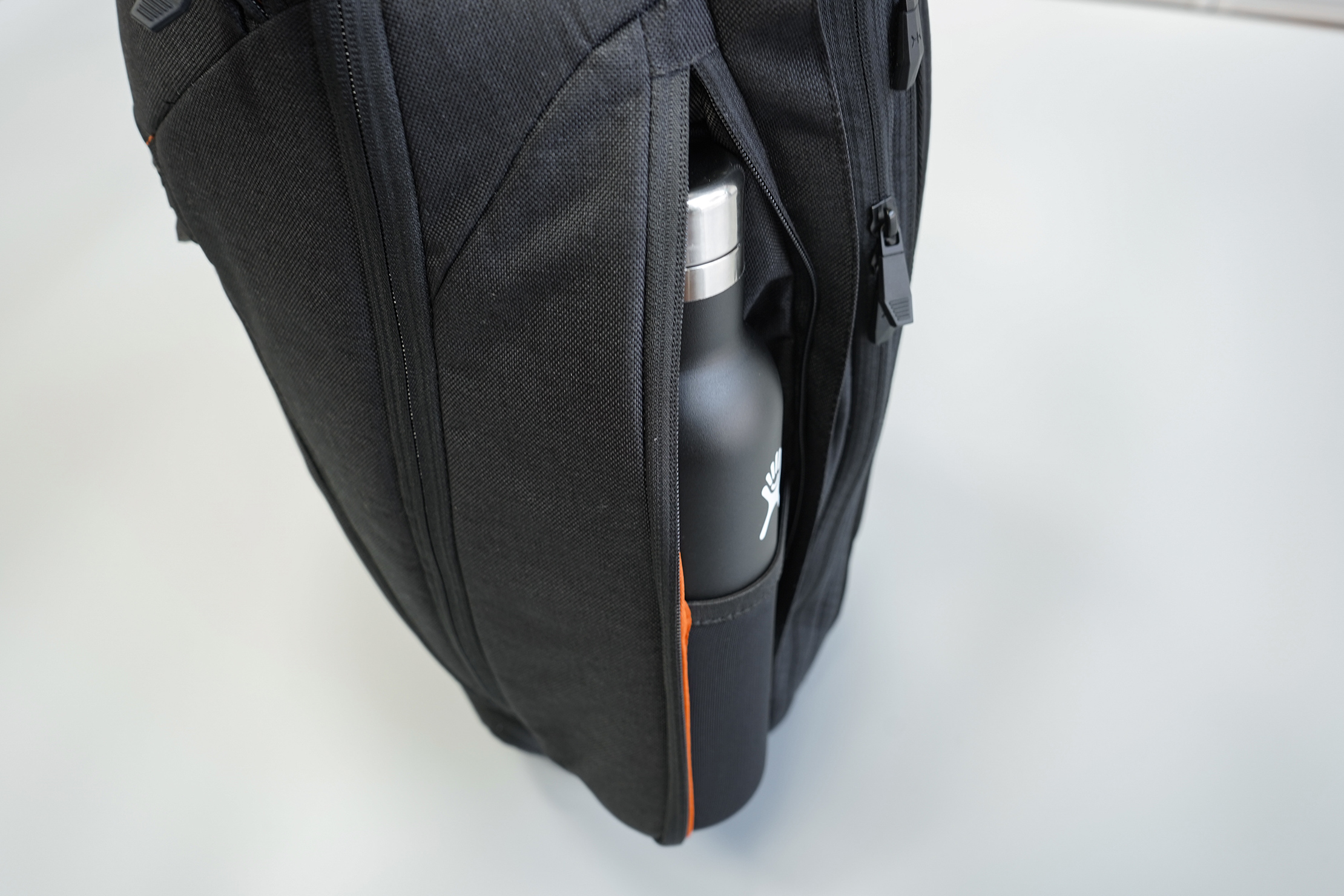 Finally, the expandability of this pack—which adds another 15 liters from its compressed state—is one of its best features. The extra fabric and zipper are hidden under a relatively large flap, which means you wouldn't really know it's expandable unless you've seen it in action, which we love. We prefer this style to the expandable packs that are more open and have exposed zippers, as it helps to avoid some of the confusion when trying to open the main compartment.
While compressed, this pack will easily fit underneath an airplane seat in front of you, which is definitely important for any travelers out there. When uncompressed, you'll likely need to use an overhead bin. Keep in mind that Knack says this bag goes from 4.5 inches in depth to 9.5 inches, but we measured it at around 12 inches when fully loaded—which definitely gives it a more boxy, bulky look and feel at that point.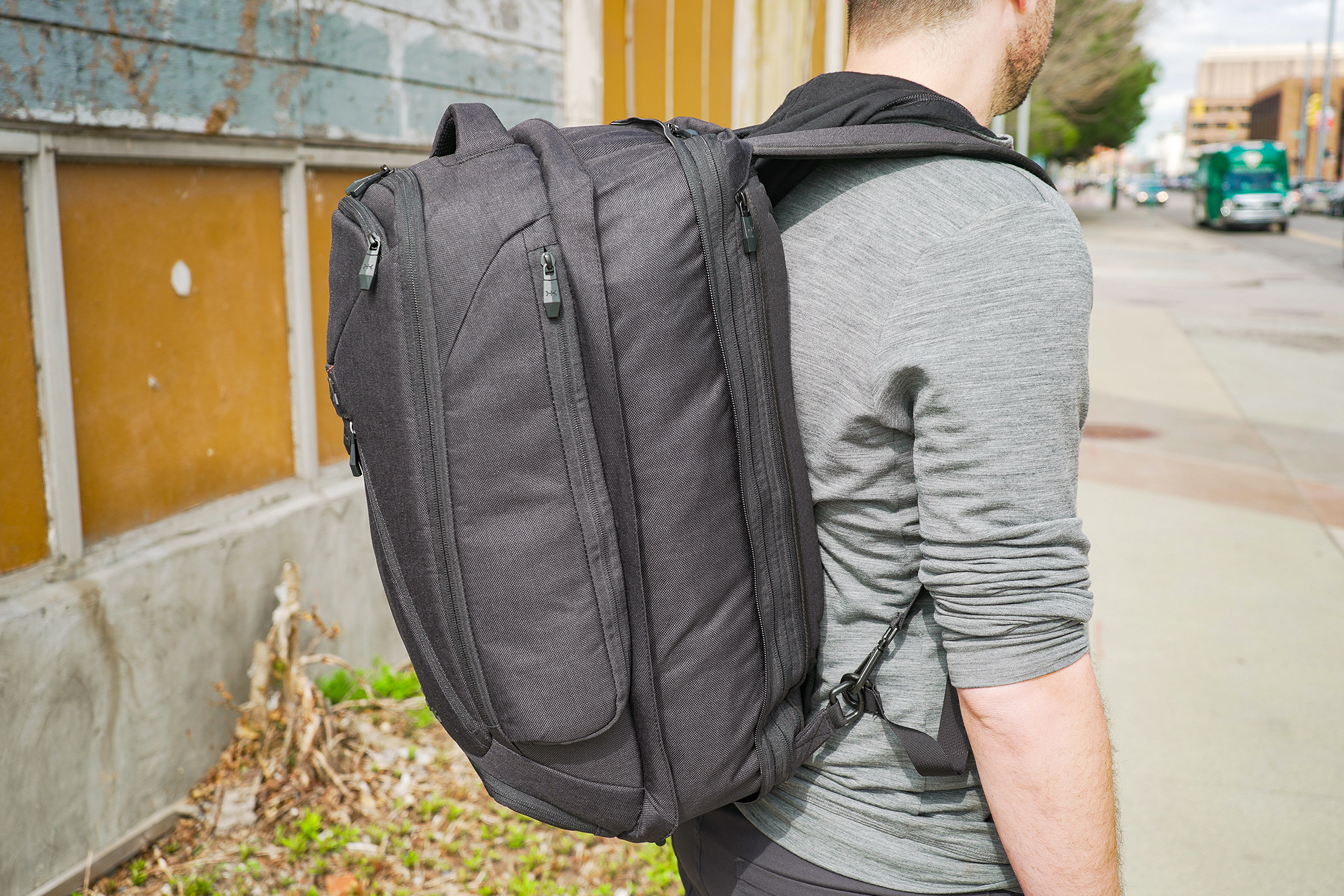 Inside The Pack
One of the first things you'll notice on the Large Expandable Knack Pack by Knack is the triangular pocket on the front. You can grab the tab at the top of this section and pull it down for quick and easy access to a section with some nice elastic webbing, storage for small items like writing utensils, card pockets and other organization areas.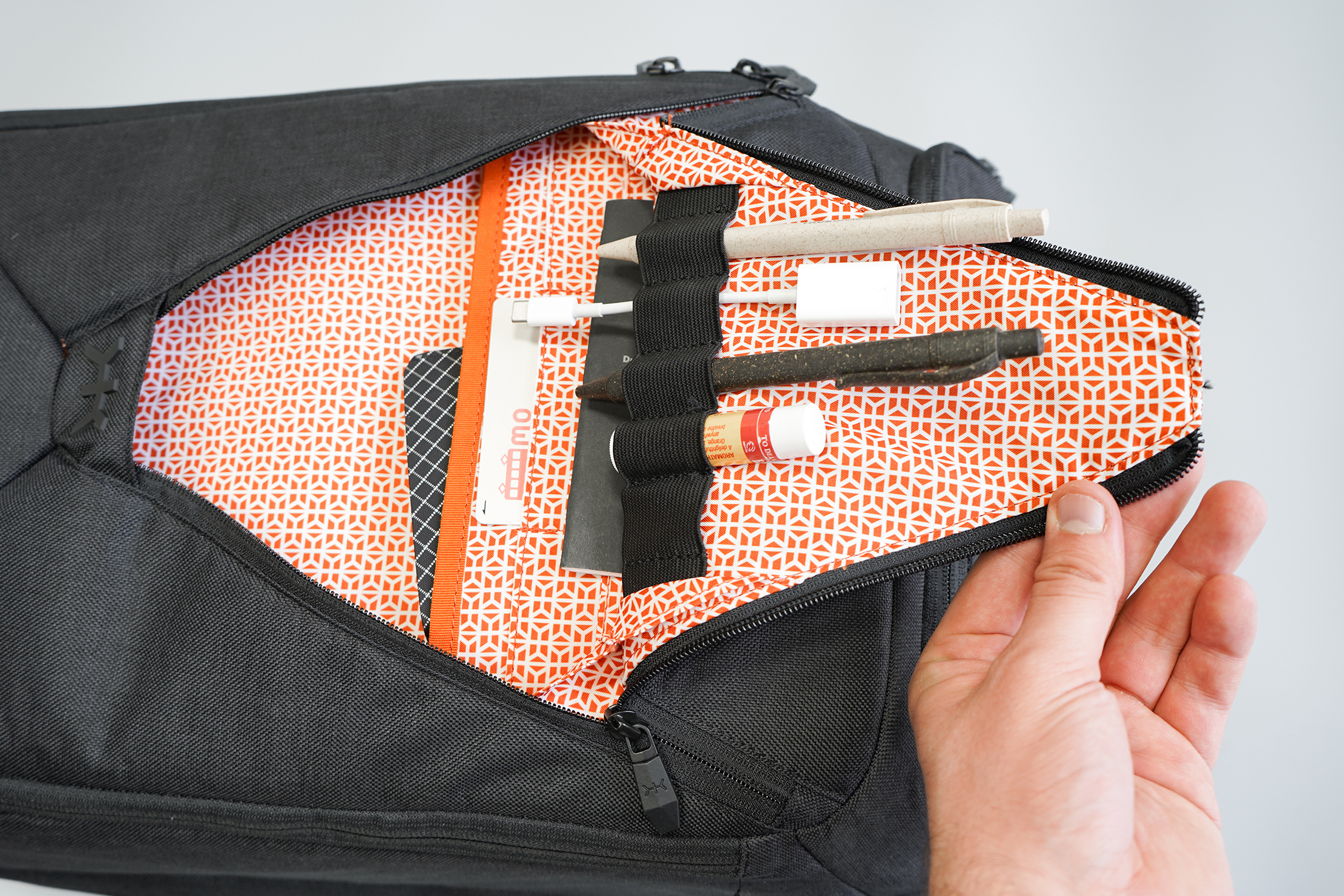 While this pocket does make the Expandable Knack Pack unique, we think the aesthetic doesn't exactly jibe well with the rest of the bag. The triangular shape gives it a sporty look and it just feels like something is missing with the execution of how it all comes together. (Maybe that's just us?)

There is a quick access pocket at the top with a partition down the middle. In that little pocket, you'll find that orange nylon liner on the backside, while the front has a softer material that is ideal for delicate devices or sunglasses.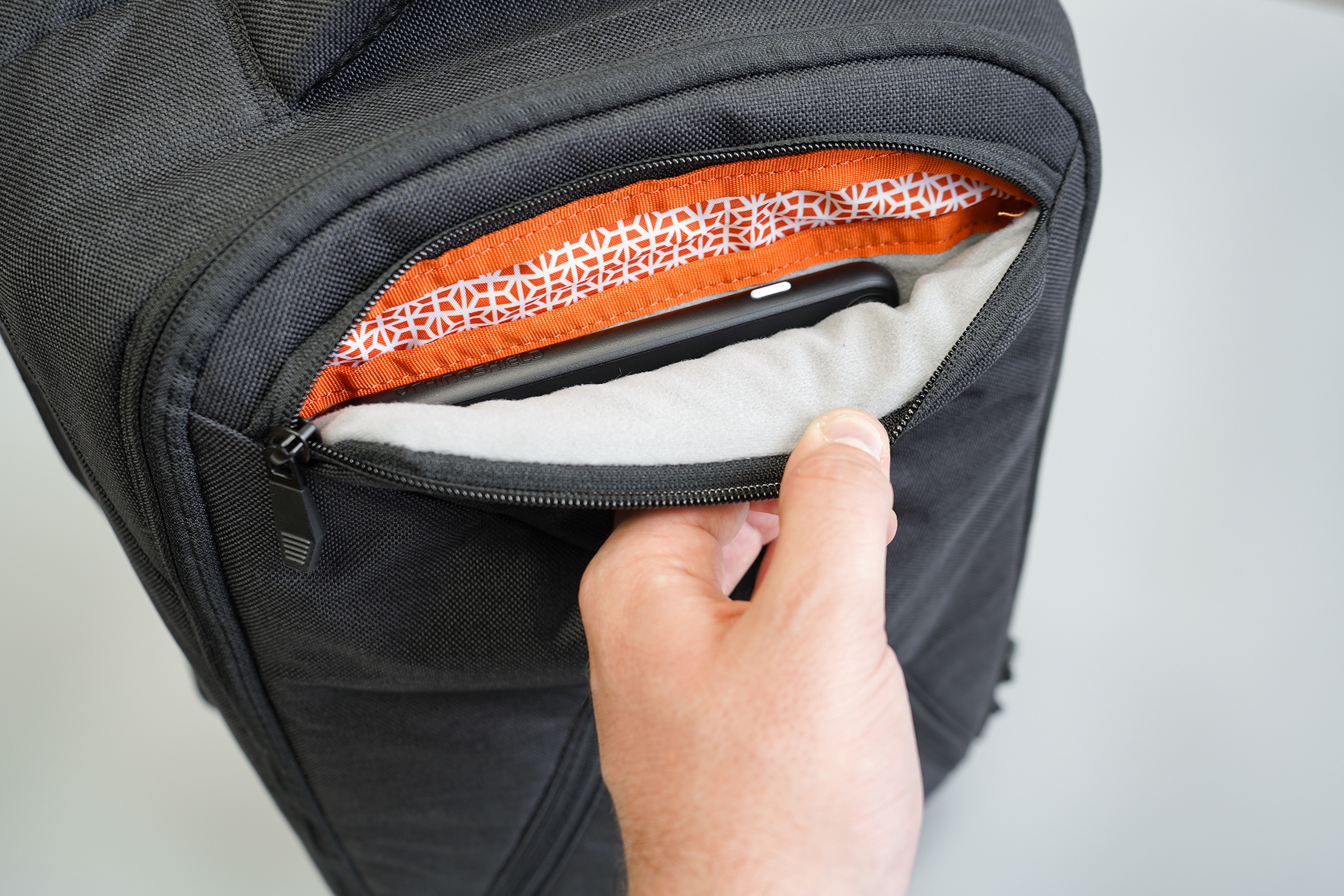 A second pocket at the very bottom of the pack is perfect for a laptop charger—no more cord spaghetti, folks! With the large version of the pack, we'd like to see this section expanded to be able to fit shoes, which is something we've seen on a lot of similar bags. (Version 2, perhaps?)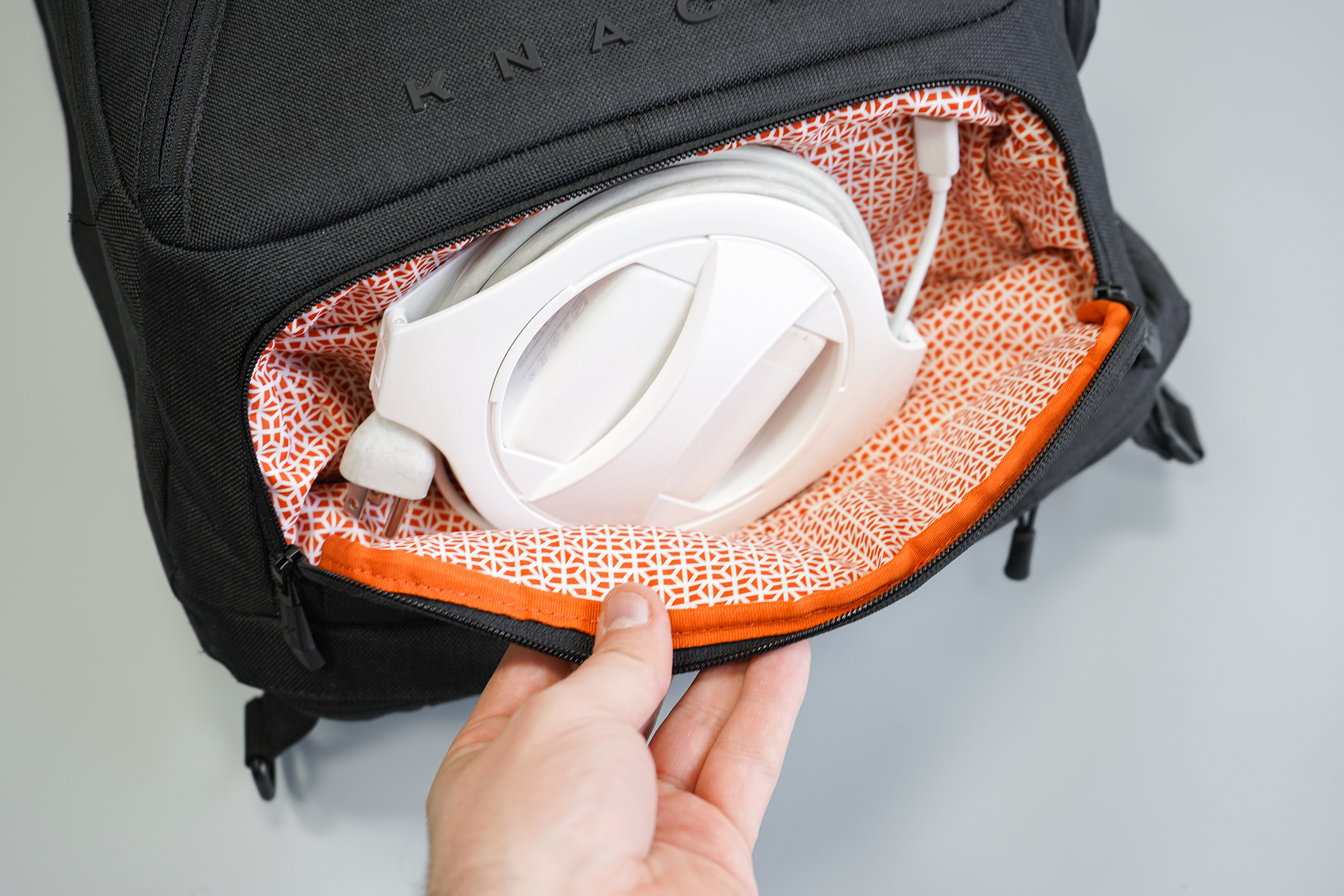 A stealthy, no-frills laptop compartment is found on the back of the bag, which can hold laptops up to 17 inches and features a side access zipper. Our one complaint here is the lack of a false bottom design. Even with the solid padding in this compartment, we wish there was an actual false bottom to prevent damage to your laptop in the not-so-unlikely event you drop the bag.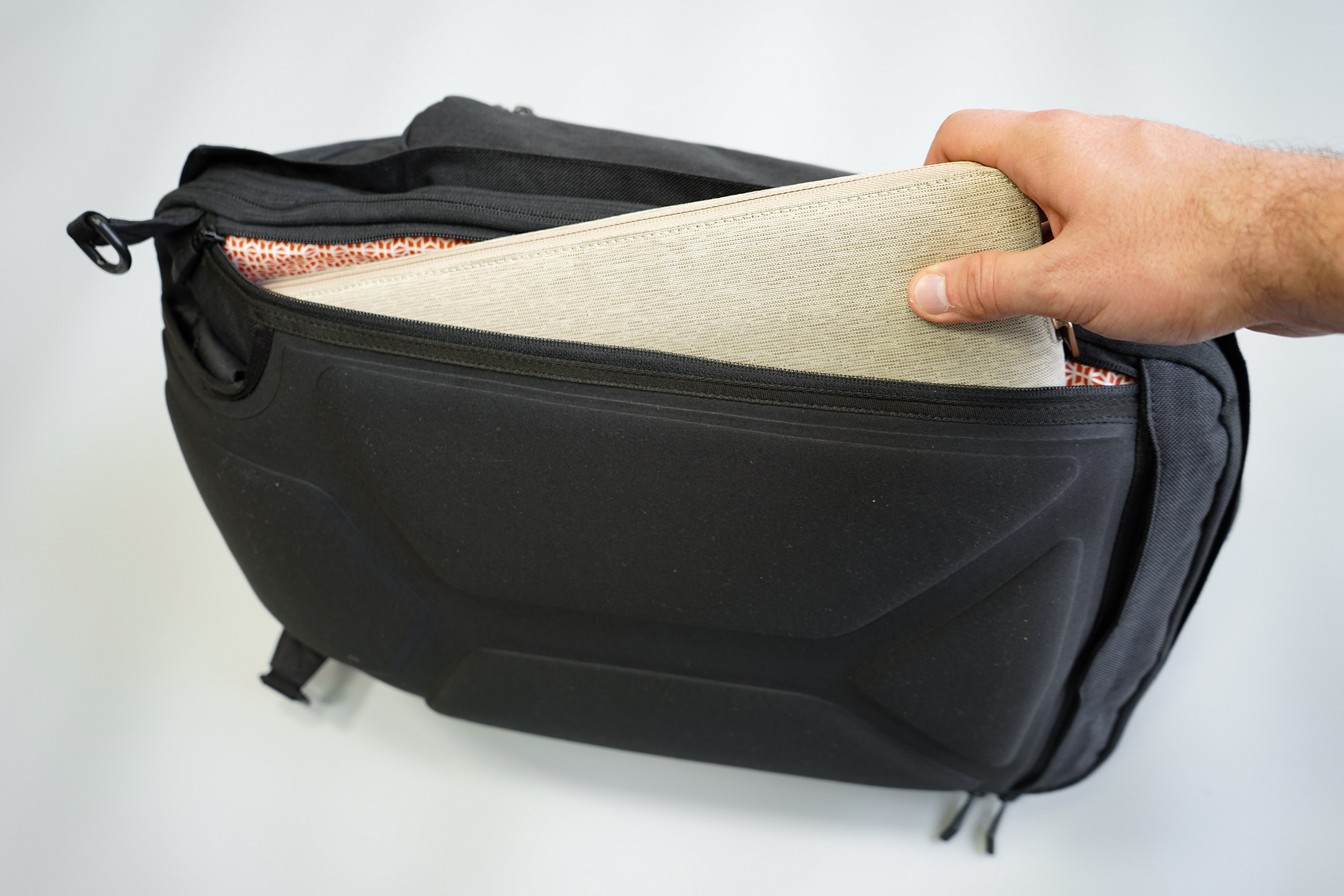 Inside the front flap, you'll have access to about a third or more of the overall capacity of the pack. Nylon webbing folds at the bottom sides keep everything from spilling out, which is always a plus.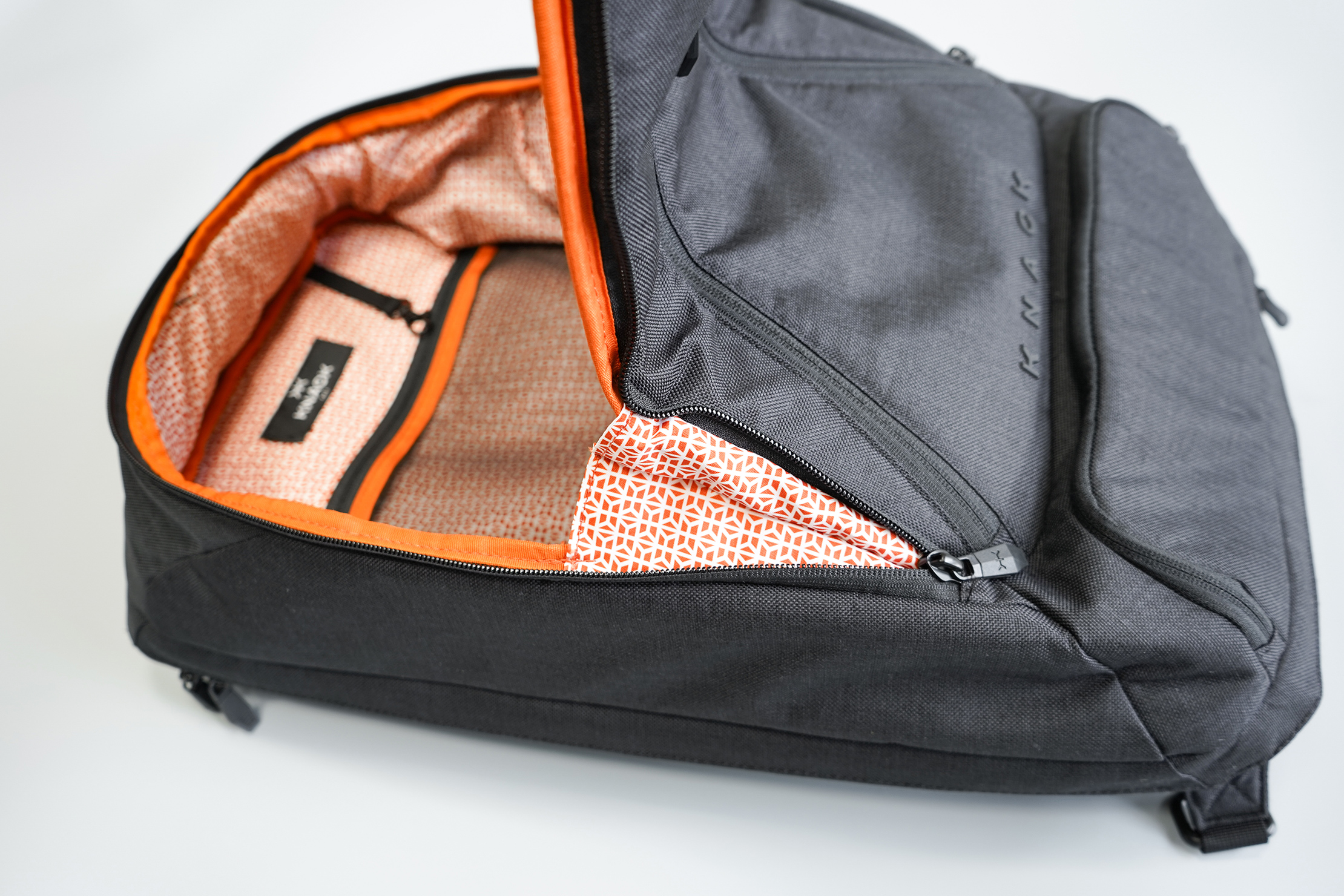 There is some pretty solid organization found inside the front section, including a large main compartment, a mesh pocket on the back and a mesh pocket on the front. Both these pockets feature a nice see-through mesh material, but they aren't 3D like you'll find on some other packs—and as such, there's not a lot of give. These pockets will be best for smaller items and compact tech gear.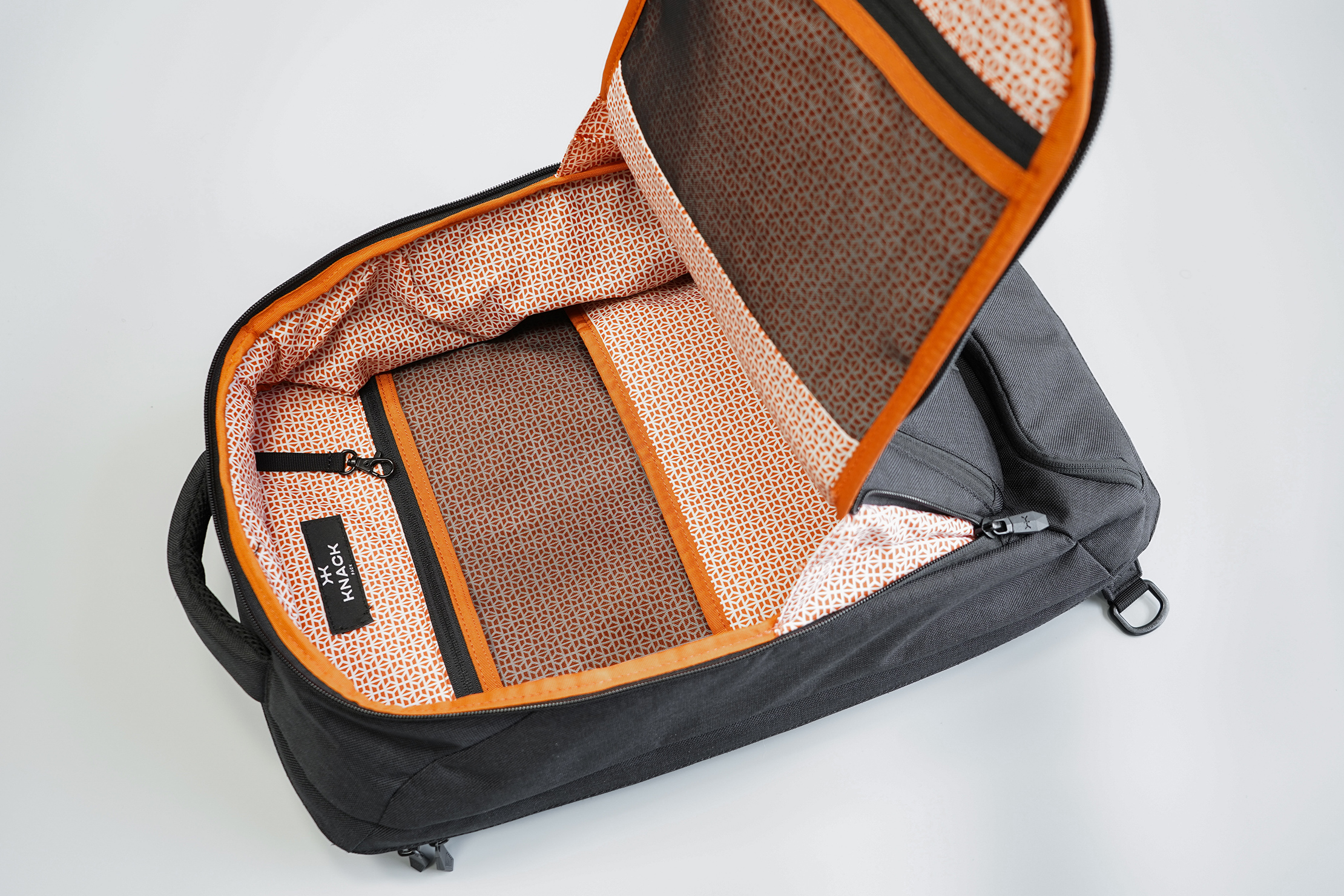 There is another divider pocket that's ideal for tablets, and is lined with the same soft material found in the quick-grab pocket for sunglasses. Similar to the metal buckles that attach the harness system to the bag, we also like the metal key ring found inside the front section of the pack. Knack knocked it out of the park with this material selection, we just wish the rest of the materials followed suit!
Moving on to the main compartment of the Knack Pack, this is where all the compressible space happens. When you let out that extra fabric, you'll find a significant amount of storage space.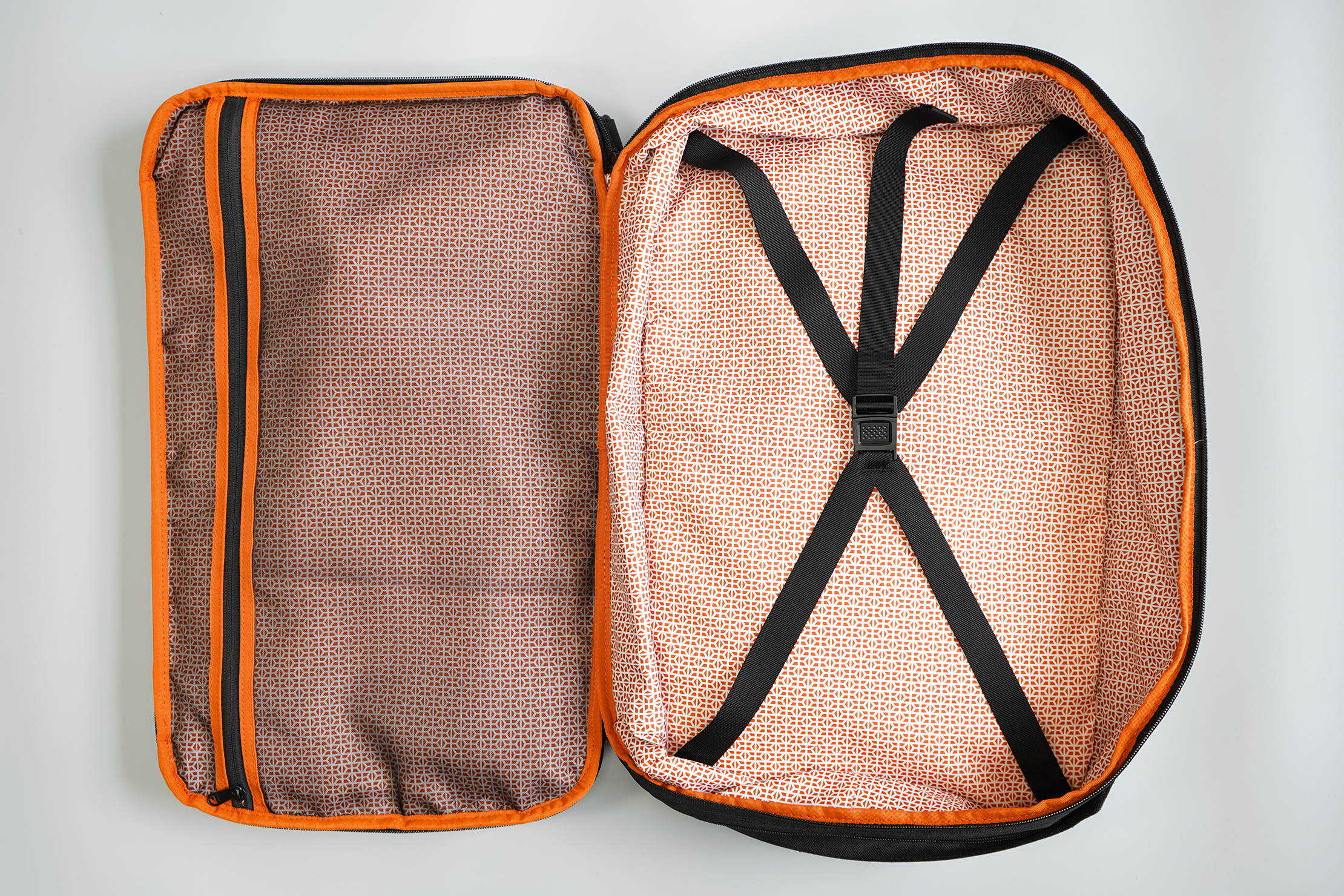 This section opens up clamshell-style, just like a suitcase. There's also a large mesh divider pocket towards the wearer's back. This isn't 3D either—similar to the pockets on the front of the bag—but it's larger and should be suitable for packing socks or underwear.
As always, we recommend using packing cubes in the main compartment. The additional compression strap feature on the inside is a nice touch and will help keep your luggage neat and secure, but packing cubes will really take it to the next level.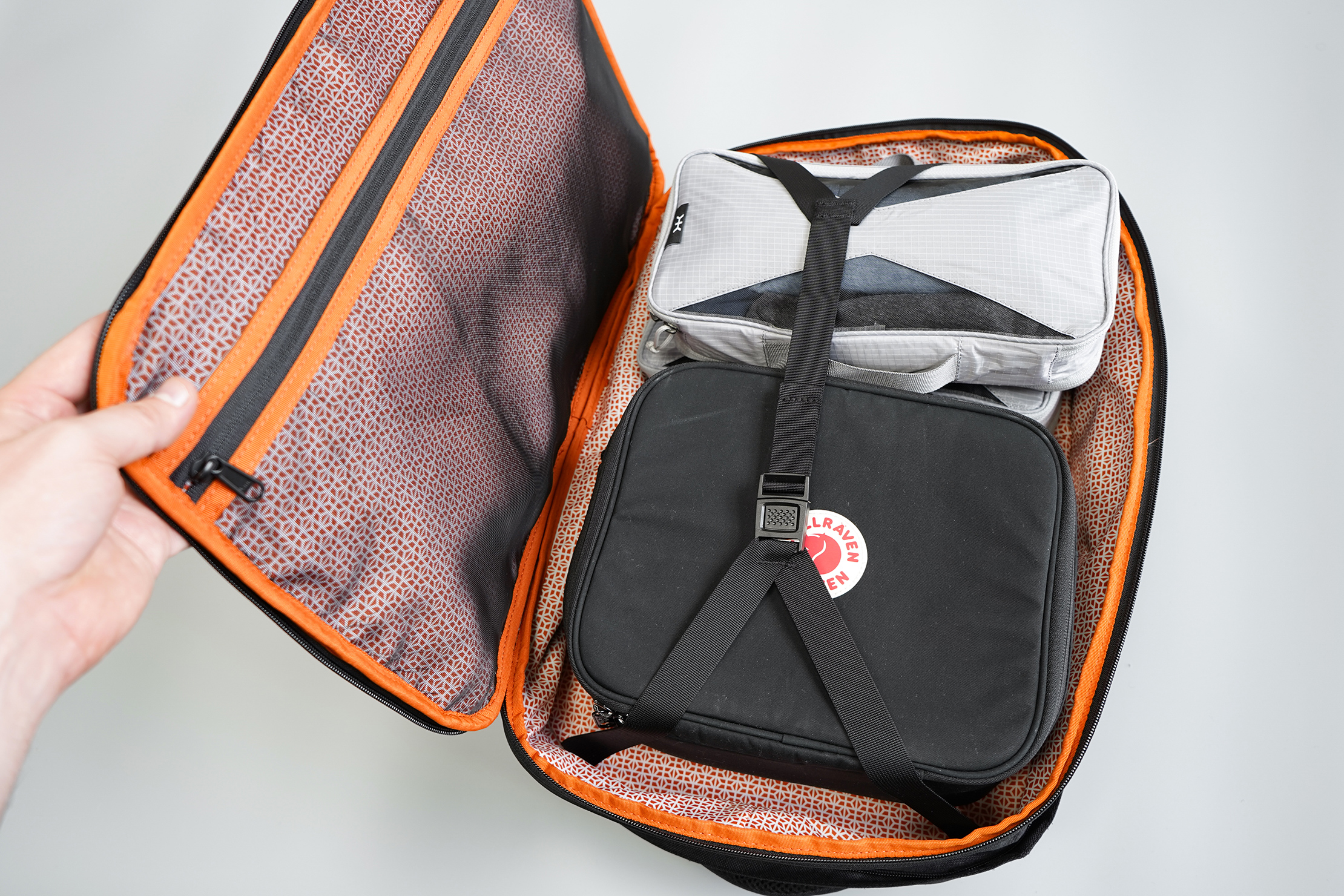 Durability & Testing
At the time of this review, we've been testing the Large Expandable Knack Pack over the course of two weeks with everyday use. It has held up well during those two weeks, with very few durability issues noted. The YKK zippers are holding up really well and so is the 1200D polyester on the exterior.

On the craftsmanship front, we've found a couple loose threads on the exterior of the pack and near the mesh pocket on the interior. This isn't a good sign after such limited use, but only time will tell how that holds up as we continue testing it. We'll keep you posted with the usage timeline below.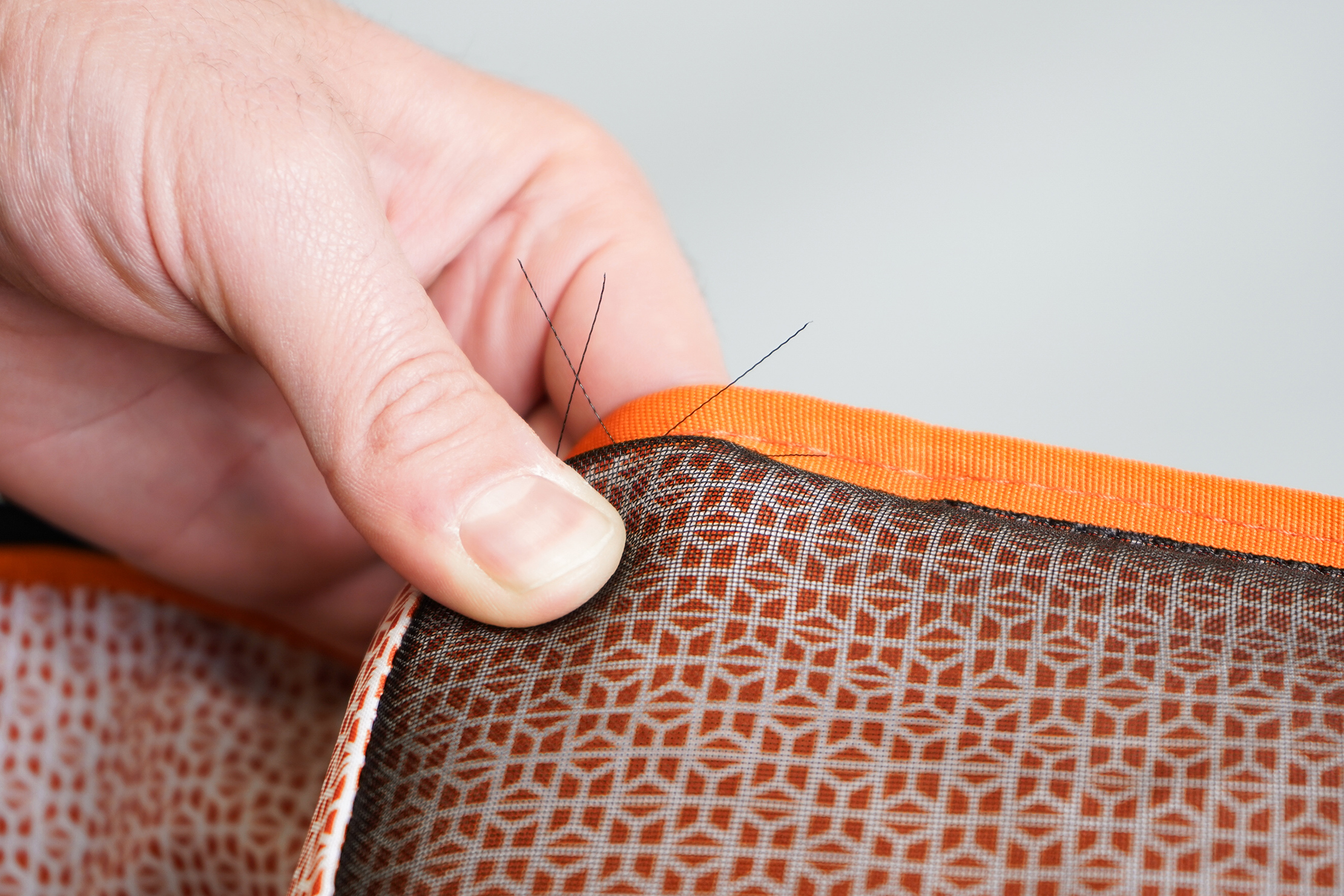 The best way to describe our two weeks out in the real world with this pack would be "average." Unfortunately, nothing stood out as super-special about it. It holds your stuff well, and we appreciate some of the smart details like pocket placement and the metal attachments, but overall the feel and day-to-day usage fell flat compared to a lot of other packs we've tested over the years.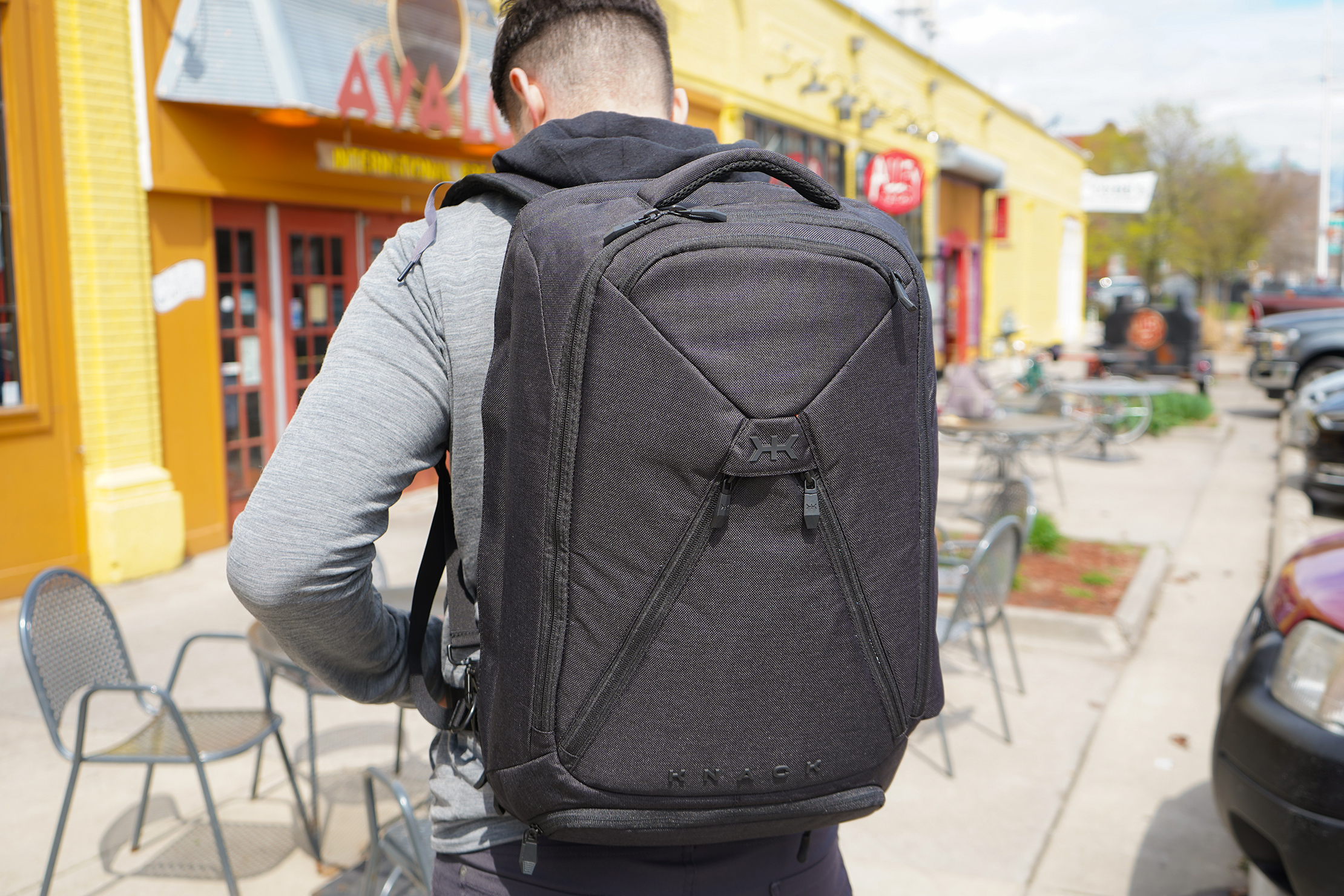 Usage Timeline
Initial Usage
Condition: Excellent
The pack just feels & looks a little on the cheap side right out of the package – but much better in person than online.
We like the design thinking around the triangle pocket and expandability.
The interior pattern is good for high visibility and reminiscent of suit jackets.
2 Weeks of Use
Condition: Excellent
Holding up well. Not the most comfortable carry when full.
1 Month of Use
Condition: Good
A couple loose threads starting to show up, but otherwise in good condition.
Access the Pro Community Discussion
Get your questions about the Knack Large Expandable Knack Pack answered from our team and the Pro Community right here on the page. Plus, join discussions with other members about gear, guides, and more.
Other Bags & Luggage Reviews