Peak Design Everyday Messenger 13L (V2) Review
The Peak Design Everyday Messenger 13L (V2) has clever organization and a cohesive feel. Although we've found its stiffness can be cumbersome at times.
Our Verdict
Unlock the Pro Summary
Save time. Get access to brief summaries of our reviews so you can browse and make decisions more efficiently.
Pros
Digging the quick-release adjuster and MagLatch
Clever, somewhat customizable organization
Very versatile—camera bag, laptop bag, everyday bag
Cons
FlexFold Dividers are already showing wear and tear
There are gaps along the opening when the bag is expanded, which has us worried about items falling out and weather resistance
The rigidity of the bag can feel cumbersome at times
Recent Pack Hacker Video
Technical Details
Capacity

13l

Total size depends on which MagLatch is used

Weight (lb)

2.21 lb (1 kg)

Without dividers

Dimensions

14.2 in x 15.5 in x 7.5 in (36.1 x 39.4 x 19.1 cm)

Using the top MagLatch

Notable Materials

Recycled Nylon, DWR Coating, Polyester, Polyethylene, Polyurethane, YKK Zippers, Aluminum, Leather, Zoom Zippers, Hypalon®

Manufacturing Country

Vietnam

Laptop Compartment Size

13"

Warranty Information
Full Review
Get up to 10% off Peak Design • Join Pack Hacker Pro
Once upon a time, in a year oh-so-long ago (2015), Peak Design launched the Peak Design Everyday Messenger (V1). It was the first bag the company offered, which they advertised as the "Everyday and photo carry workhorse."
Fast-forward a few years and Peak Design has launched a second iteration of this classic bag—the Peak Design Everyday Messenger 13L (V2). Aptly named, right? The folks there claim it's better than ever, having been honed by the feedback of thousands of customers. So, of course, we've had to put it to the test.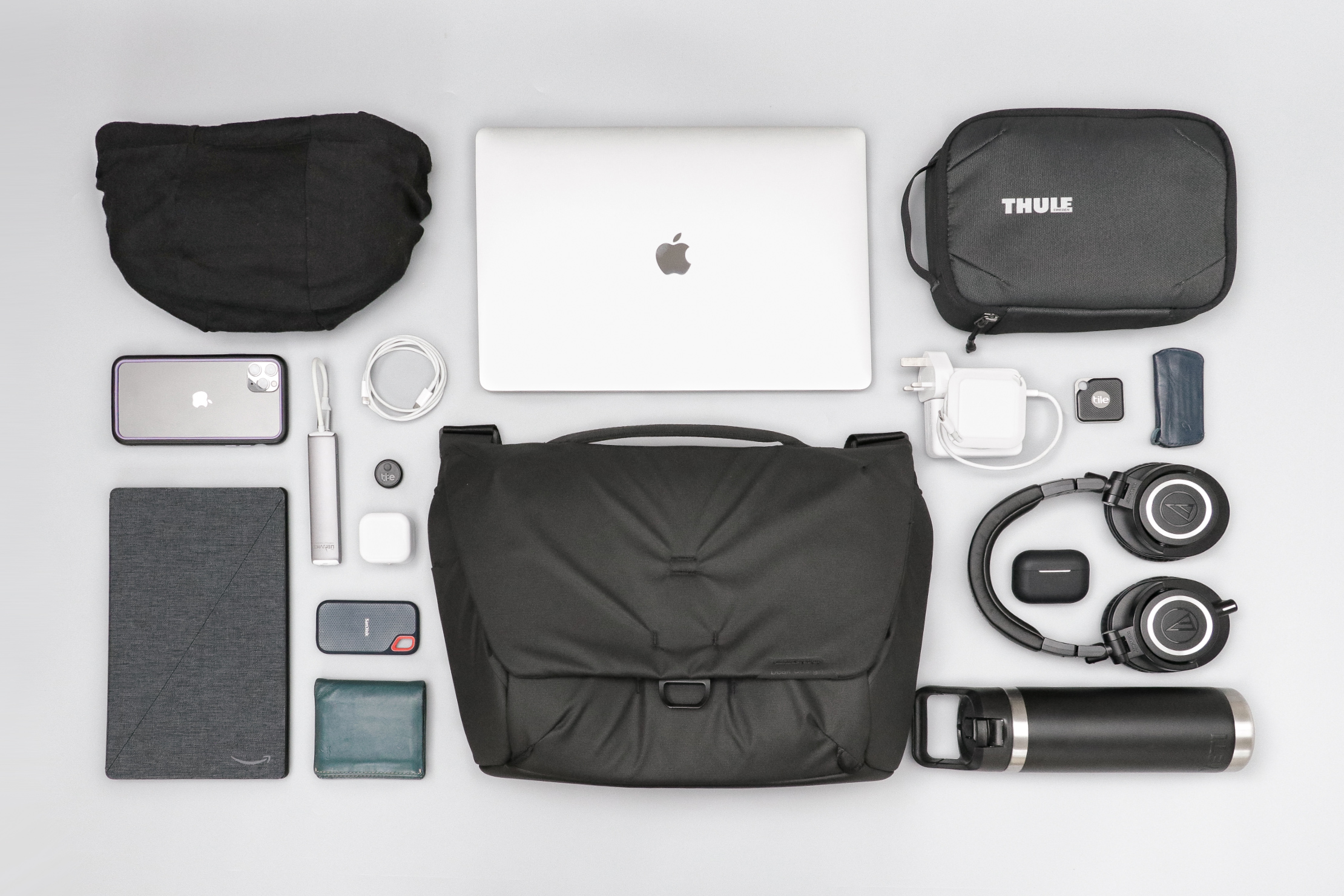 We've been testing the Peak Design Everyday Messenger 13L (V2) for a month in Essex, England. And, as always with a Peak Design review, we have a lot to discuss. So, let's dive in.
Materials & Aesthetic
Overall, the Peak Design Everyday Messenger 13L (V2) has the same look and vibe as the rest of the Peak Design Everyday V2 line. It's clean and minimal—with a slight technical feel to it—and we're fans. However, only 43% of our Instagram audience agrees with us and has given the aesthetic of this bag a thumbs up. That's one of the lowest percentages of any of the bags in the Peak Design Everyday V2 line that we've polled. Perhaps people have a grudge against messengers? Anyway, if you want to participate in future aesthetic polls—give us a follow on Instagram. And if you have a grudge against messengers, please head over there and tell us why.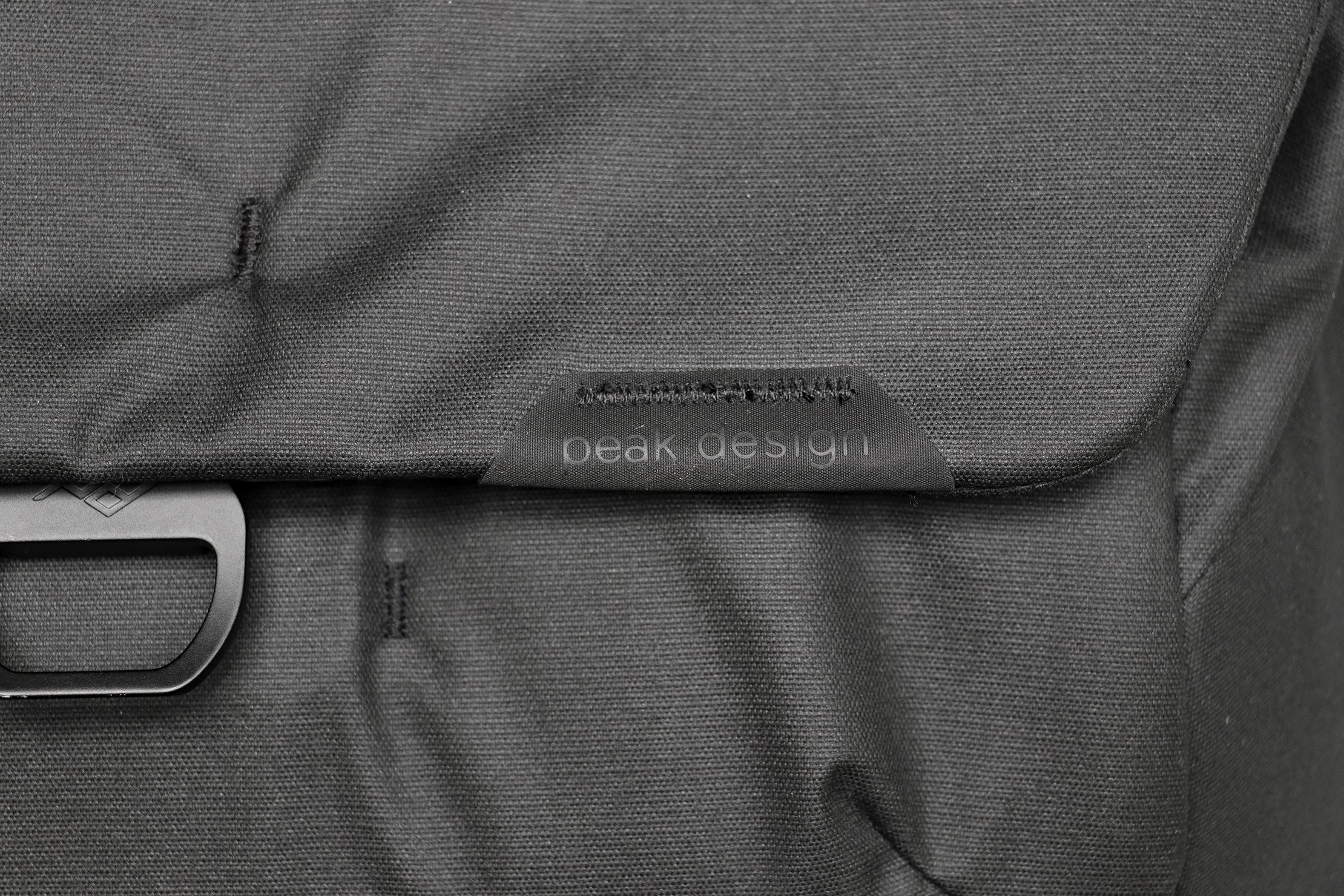 We've been testing the Black colorway of the Peak Design Everyday Messenger 13L, but it's also available in Ash. Besides the obvious difference—one is gray and the other black—the Ash colorway features leather accents. So, if you avoid animal products you'll want to opt for the Black colorway that has Hypalon® accents. It's nice when companies offer a vegan version of its product—so, good job, Peak Design.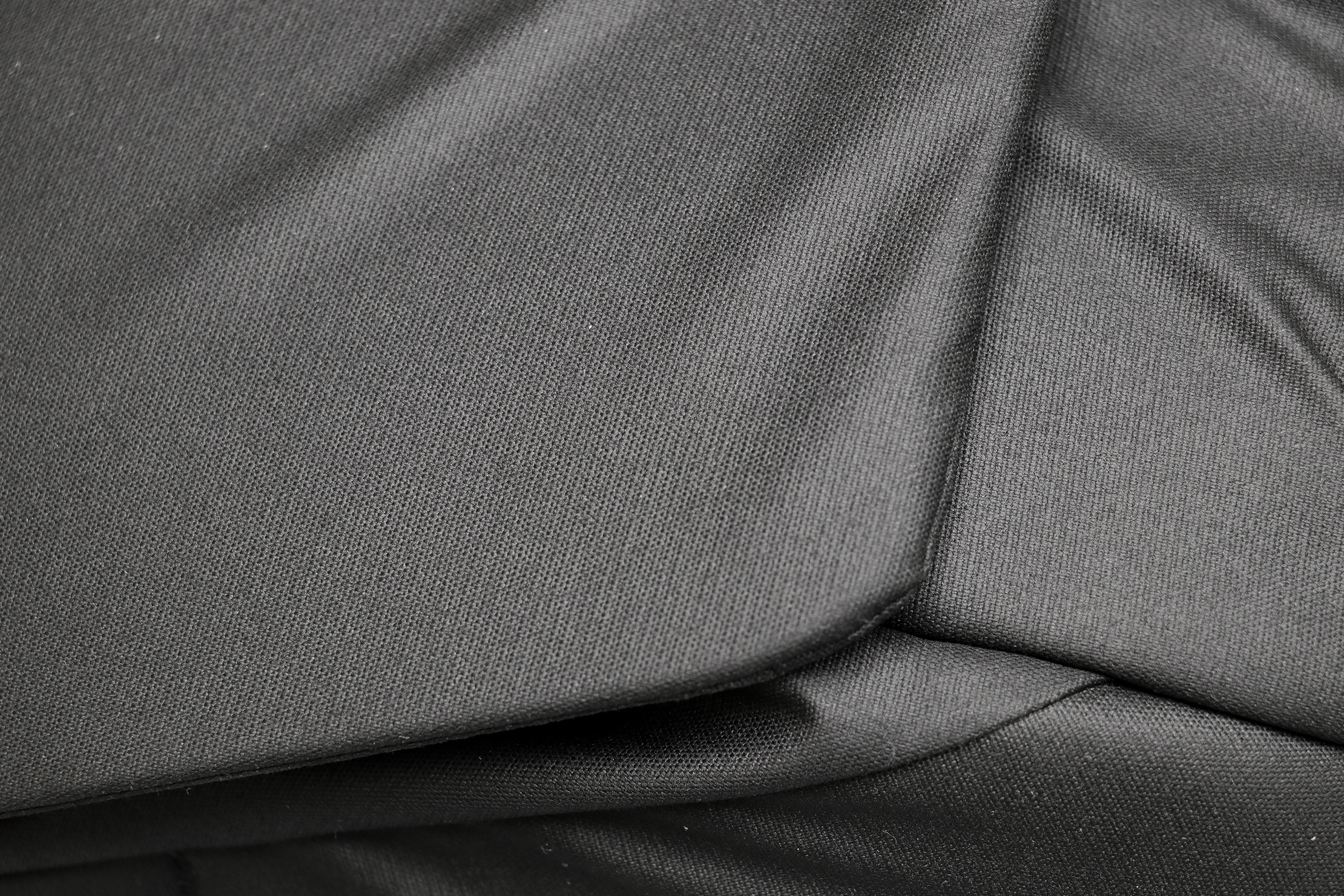 The shell of the Peak Design Everyday Messenger is made from 100% recycled 400D nylon canvas that is DWR impregnated and double PU-coated. The Ash colorway also uses Bluesign® materials. Additionally, the bag features a 900D nylon waterproof bottom liner.
Are you still with us? Because that was a lot of technical lingo. All you really need to know is that the Peak Design Everyday Messenger is durable, soft, sort of rubbery, and weather-resistant (with extra weather-resistance on the bottom of the bag—a nice feature as you won't have to worry too much about setting this thing down on wet ground).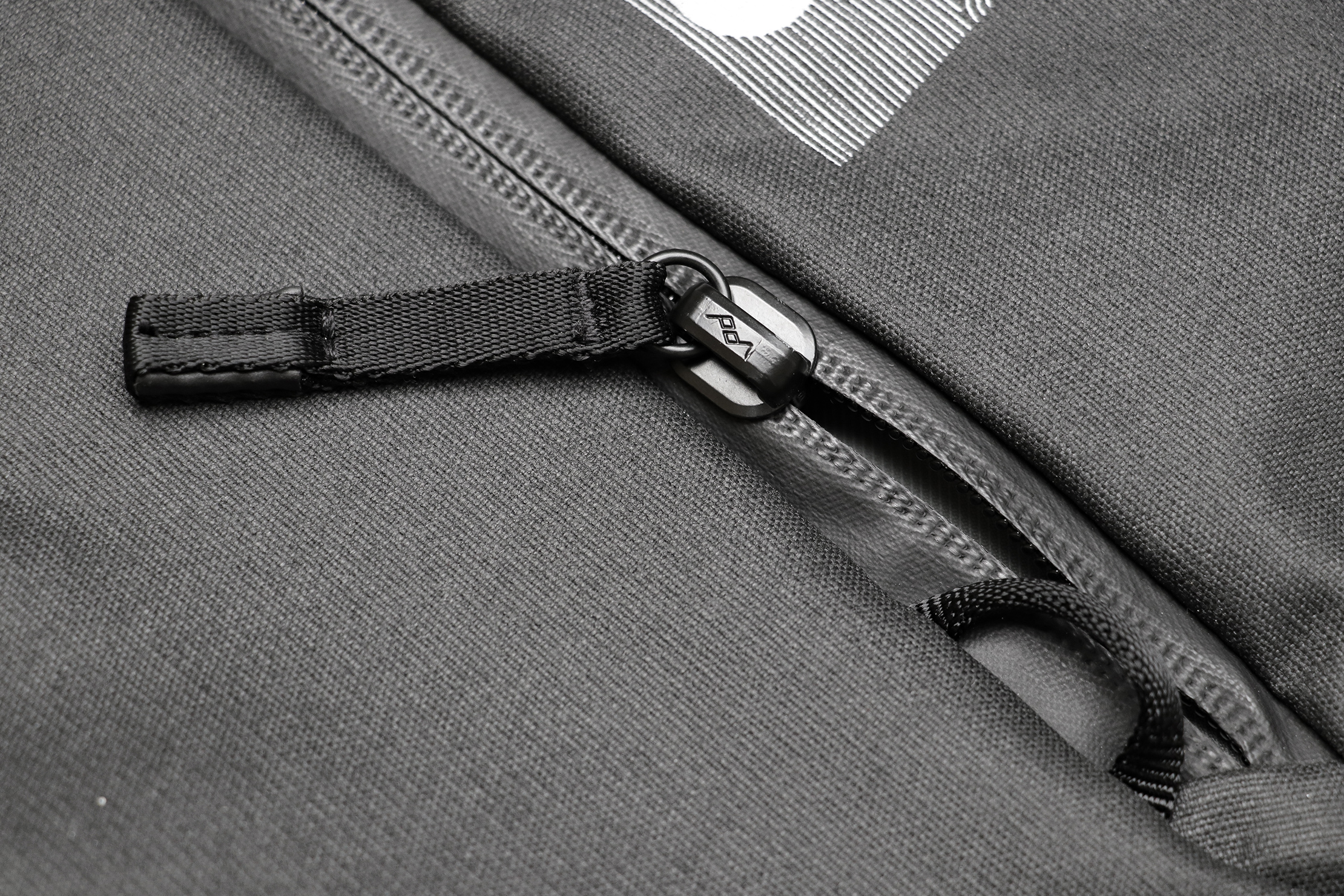 The pack also features UltraZips, which are Peak Design's proprietary zippers made in collaboration with Zoom Zippers. We've been testing gear across the Everyday V2 line for several months now, so we've had a good amount of experience with UltraZips—and we are fans. They're smooth and glide well. Not to mention, they're water-resistant to help protect your gear. We're also happy to report that we haven't experienced any durability issues thus far.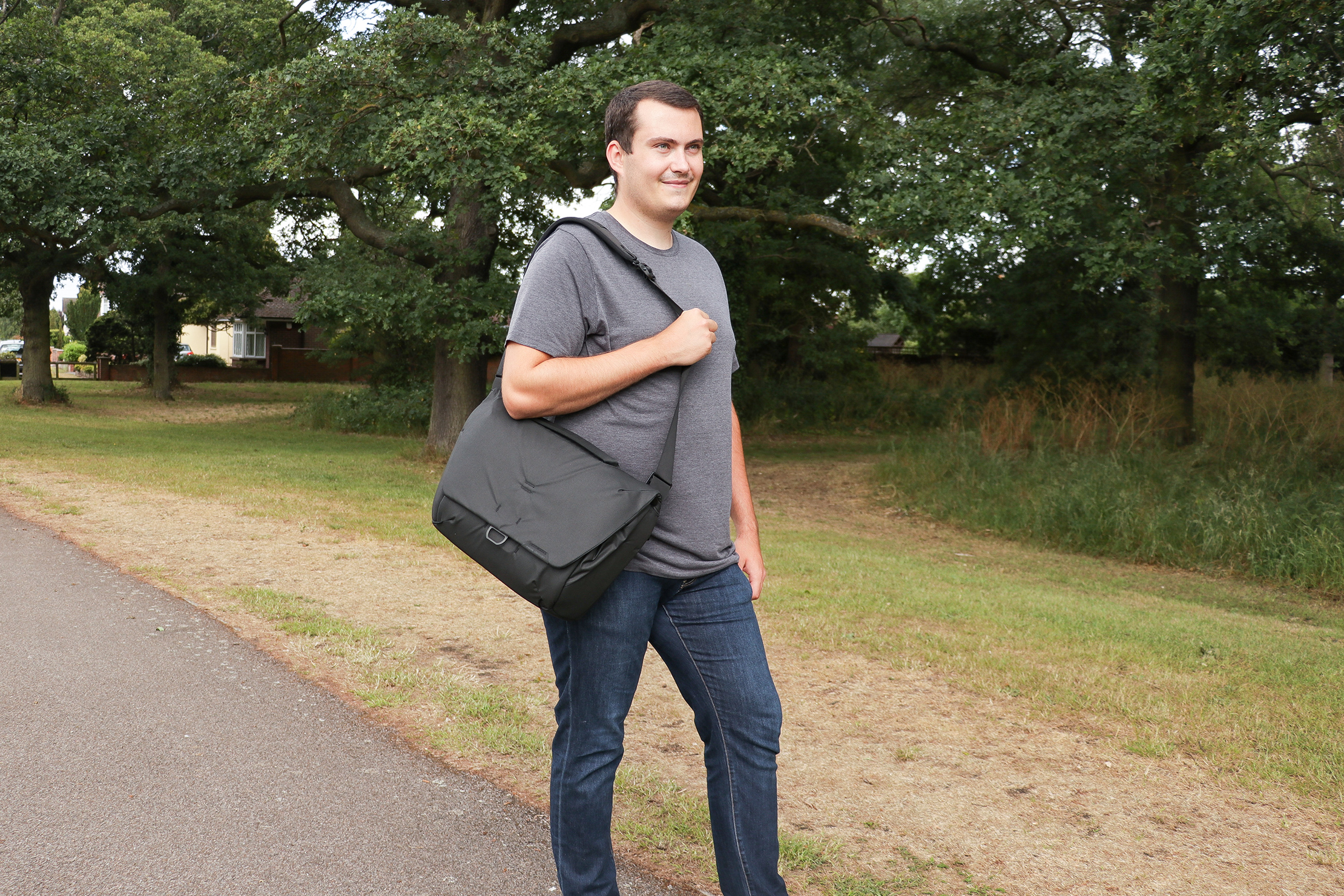 Finishing up this section of the review, we want to mention that the materials used on the Peak Design Everyday Messenger 13L give it a lot of structure. Overall, it's stiff and well-padded. Now, this structure does help protect your fragile gear. But, we've found the rigidity of the bag can be a tad cumbersome at times. Long story short, it feels bulky, especially for a messenger bag. Again, this isn't necessarily a bad thing. If you're using this bag for camera gear, it may, in fact, be a huge pro. But it is something to keep in mind.
External Components
Peak Design bags usually have a lot of clever external components going on—and the Peak Design Everyday Messenger 13L (V2) is no exception. Let's start with the messenger strap, shall we?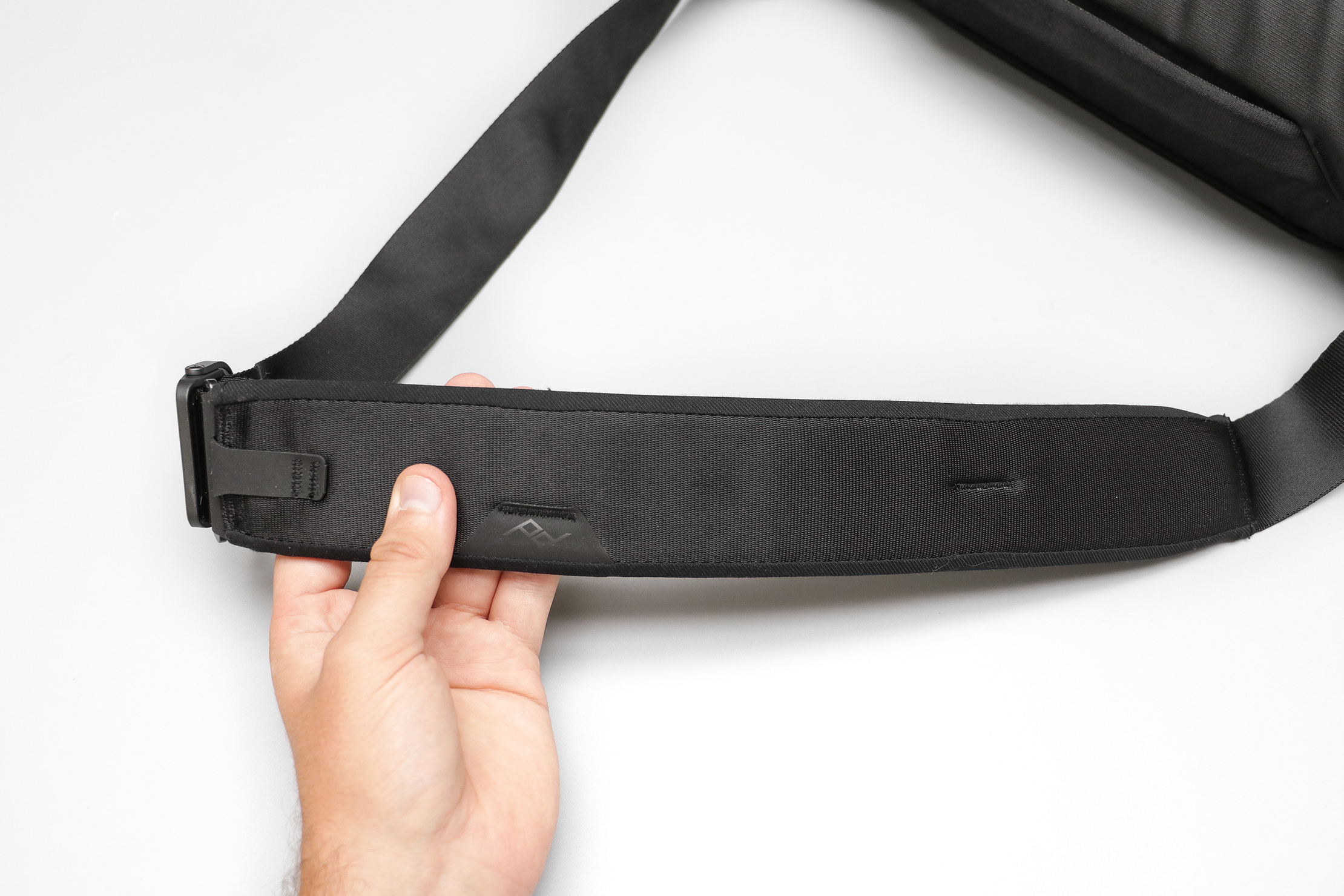 While the padding on the messenger strap isn't thick per se, it's dense. So, it's quite comfortable to carry on one shoulder or crossbody. And the way it's attached to the bag—via articulating rivets—allows it to move with your body, adding even more comfort.
Plus, it's detachable. Which means, yes, you can detach it if you would prefer to carry this thing as a briefcase (more on that in a bit). But this also means that you can change the orientation of the strap, so the quick-release adjuster is on the side that works best for you. (This is kind of a big deal if you're a leftie, as we're sure you already know.)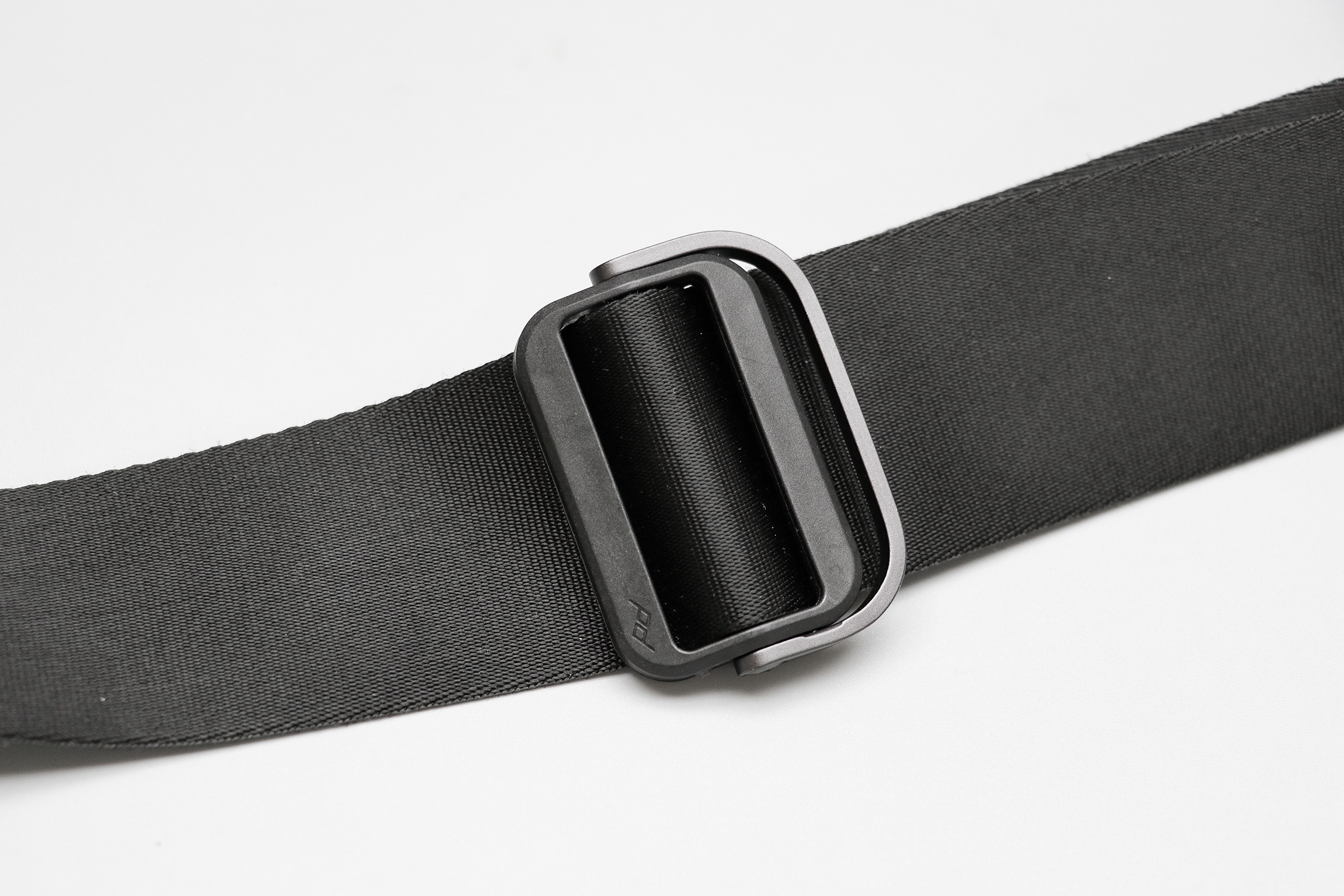 If you're not familiar with Peak Design then you're probably not familiar with Peak Design's signature quick-release adjuster. Before we discuss it, just know that your mind is about to be blown. So, are you ready?
Okay. The quick-release adjuster lets you quickly adjust the strap, either pulling it tight against your body or loosening it for access. (When the strap is loose, you can easily sling the bag forward to your chest and get inside the pockets.) Plus, you can do all of this adjusting with one hand (!) and in a few seconds. Do we need to point out how awesome that is? Because it is awesome. Moreover, the quick-release adjuster securely locks in place, so you don't have to worry about slippage.
You can also adjust the length of the strap via the length adjusters. To be clear, you use these adjusters to get the strap to the right length overall, then use the quick-release adjuster for taking it on and off, cinching it tight, loosening it to sling forward, etc.
Any excess strap from the adjuster can be tucked away into the convenient little pockets for that exact purpose. It creates a great #DangleFreeExperience.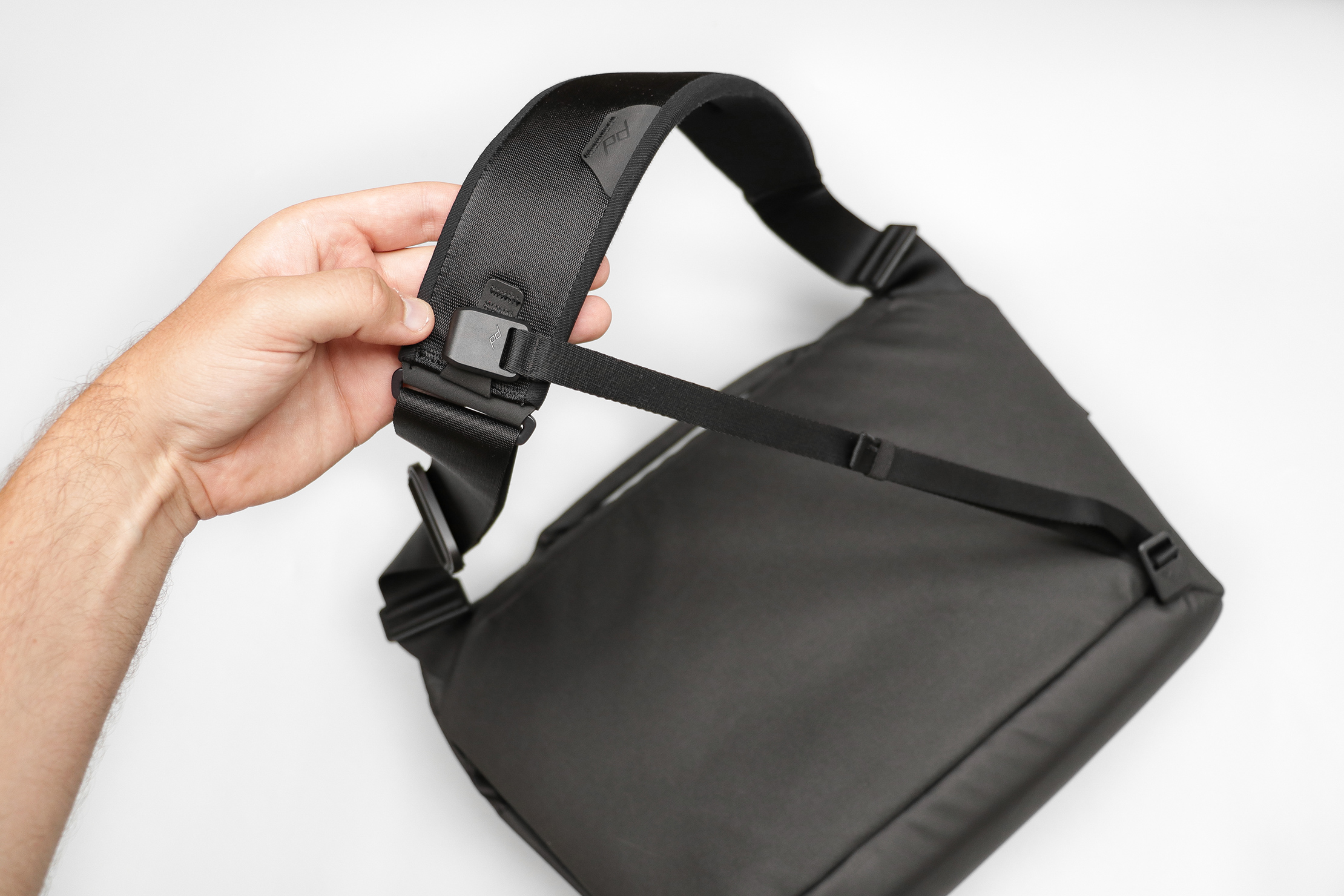 The strap also has a Hypalon attachment point, allowing you to string a lash strap from it to one of the attachment points on the back of the bag. This firmly secures the bag to your body for those times when you need that extra security (say riding a bike).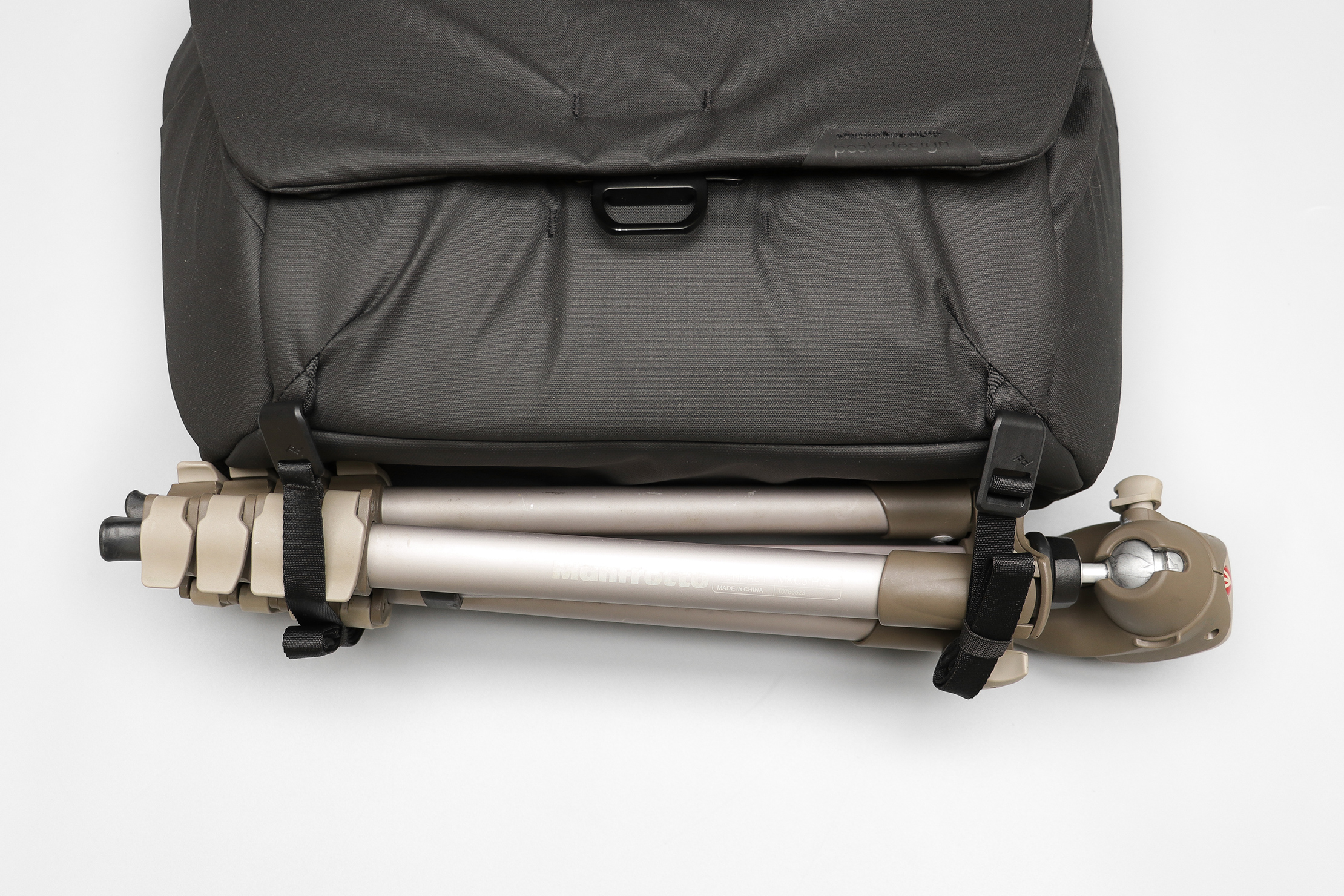 Speaking of lash straps, the Everyday Messenger comes with two. And there are a total of ten attachment points at various points across the bag that you can hook them to. You can hook the lash straps in numerous configurations to suit your needs for external carry. Say across the bottom of the bag or the face of the bag. Either way, they allow you to carry gear externally—think a tripod or packable jacket.
And you can remove them, meaning they won't get in your way if you don't want/need them. You can also use the lash loops to attach a carabiner, light, or other accessories.
You'll also find two capture clip mounting points to attach the Peak Design Capture, an accessory that allows you to carry your camera externally.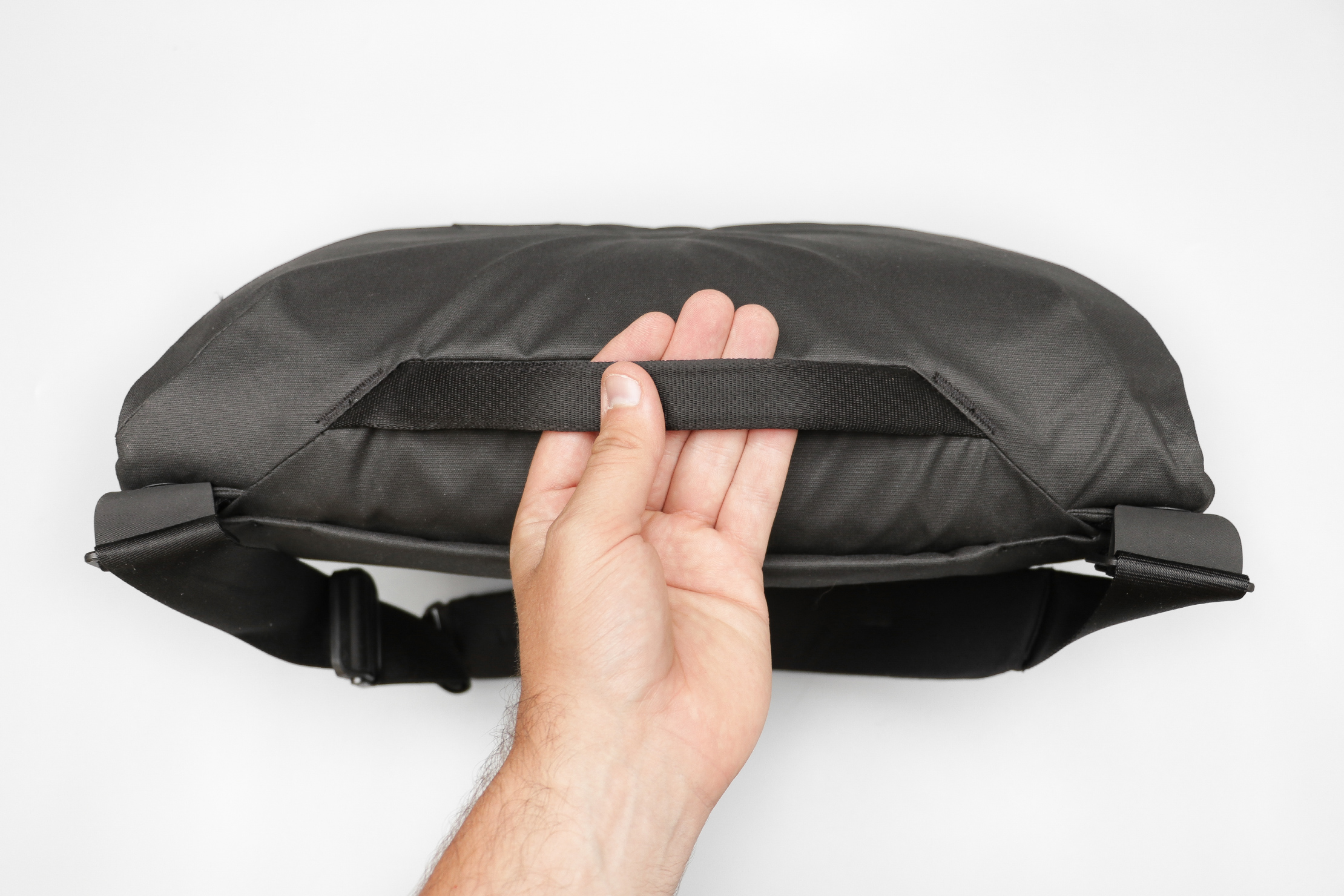 Now, let's discuss that briefcase carry (told you we'd get to it). If that's your thing, you can detach the messenger strap, and hold this messenger bag via the cushy top handle. Boom—briefcase mode. But you can also just use the top handle as a handle to maneuver the bag, hang it up, or do other top handle things (swinging this bag side-to-side in front of you, perhaps?).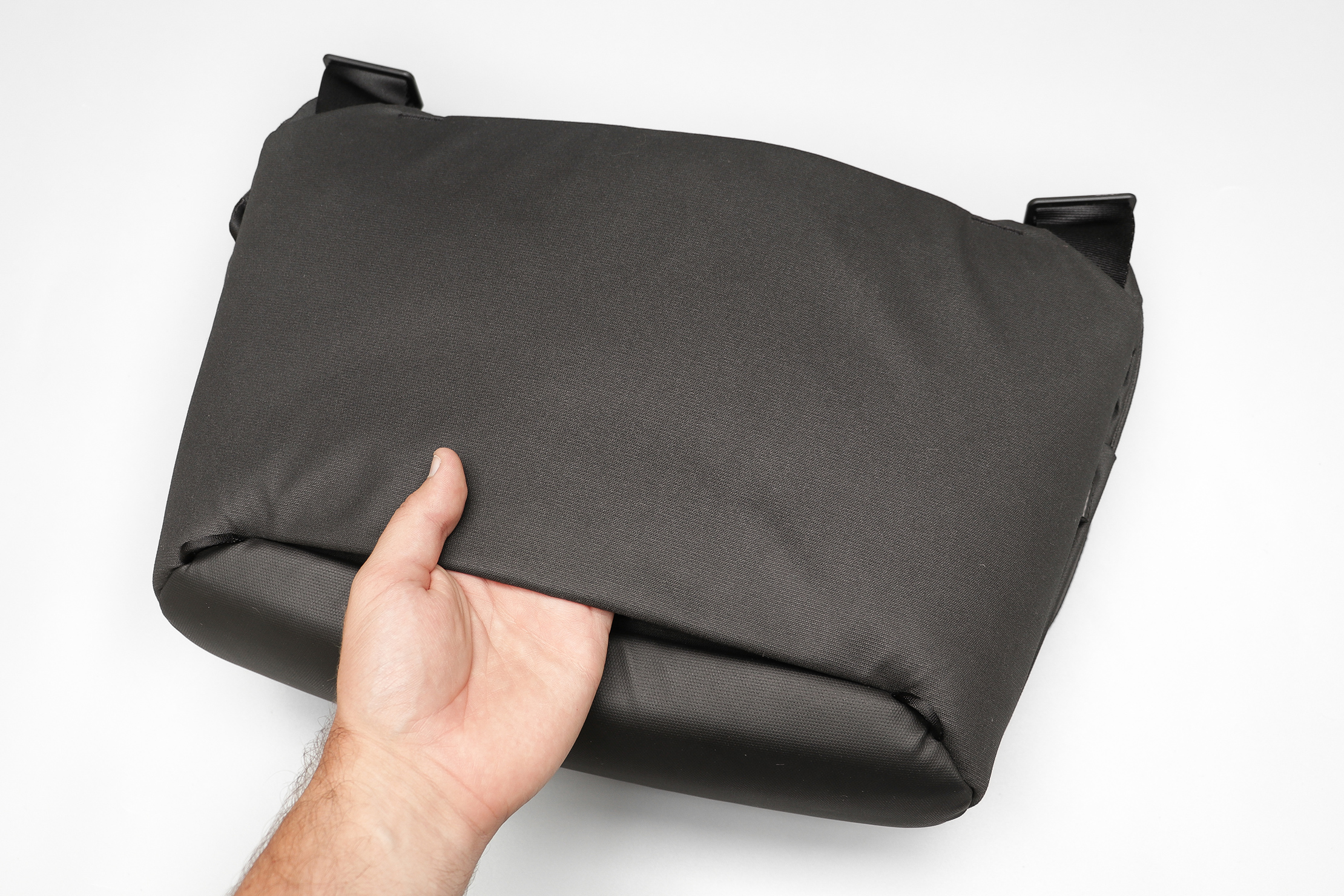 Finally, the bag has a luggage pass-through. You can slide it down the handle of any hard-sided luggage for easy transport through the airport, to your hotel, or any other time you'll have hard-sided luggage with you (lugging around camera gear or a really involved picnic?). Peak Design uses magnets to keep it firmly pressed against the bag when not in use, so it stays out of your way. This is so effective, we've forgotten that the pass-through is there on multiple occasions.
Inside the Bag
Before we open this sucker up, let's discuss the two zippered quick-grab pockets. There's one on the right side and one on the left side of the bag. They're basically identical, quite small and difficult to access (you probably won't be able to fit a full hand inside…unless you have small hands).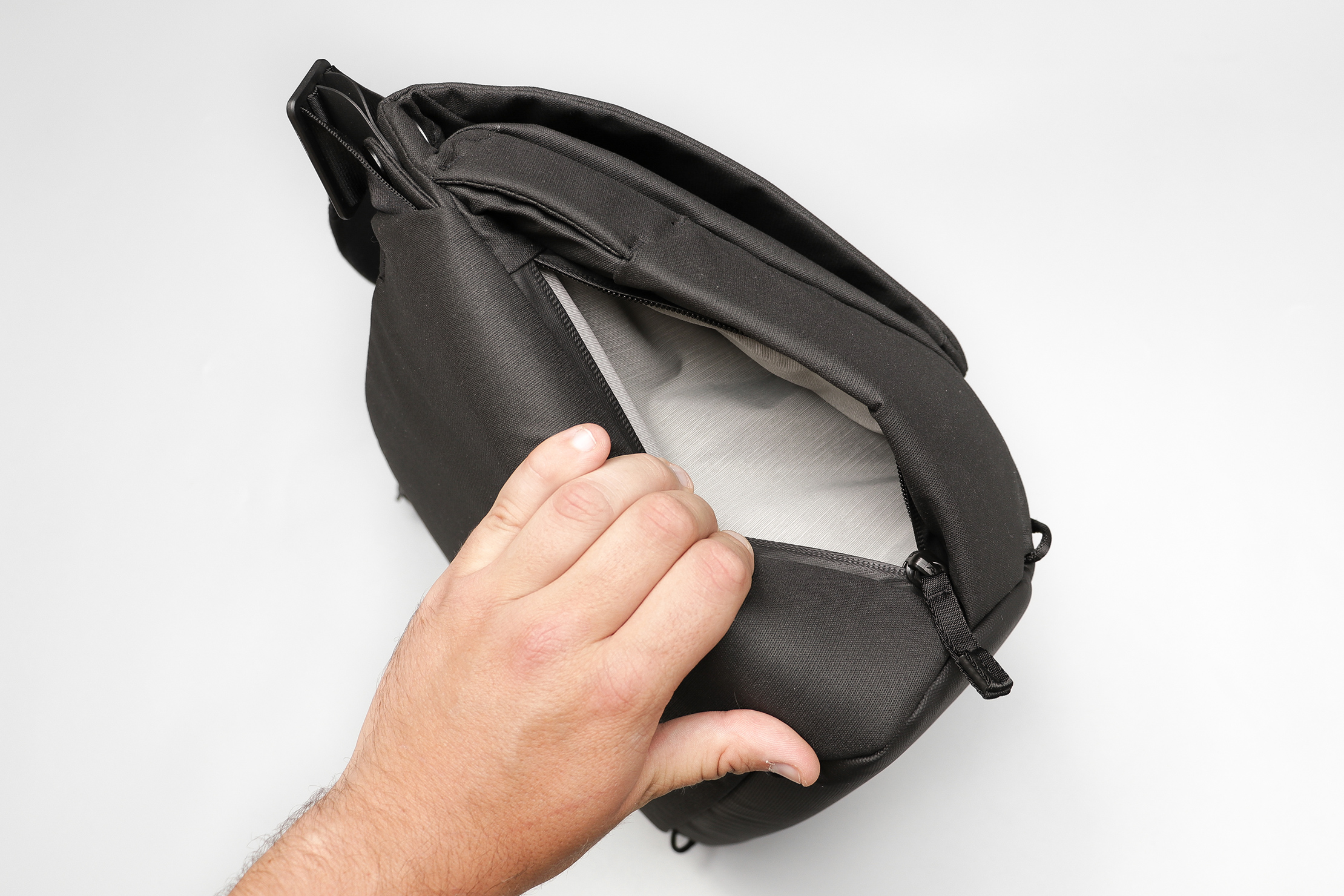 They're a good spot for the items you'll want to be able to access quickly without having to open up the main compartment. So, breath mints, hair ties, the adorable picture of your cat dressed up as a dog that you like to show strangers at bus stops. You know, the usual stuff.

Inside the right pocket, there's a key clip. We like that the tether is super stretchy, which means you may be able to put your key into a lock without having to detach it from the clip first…depending on how far away you are standing from the lock (obviously). That said, it doesn't have the same primo feel as the other components on this bag.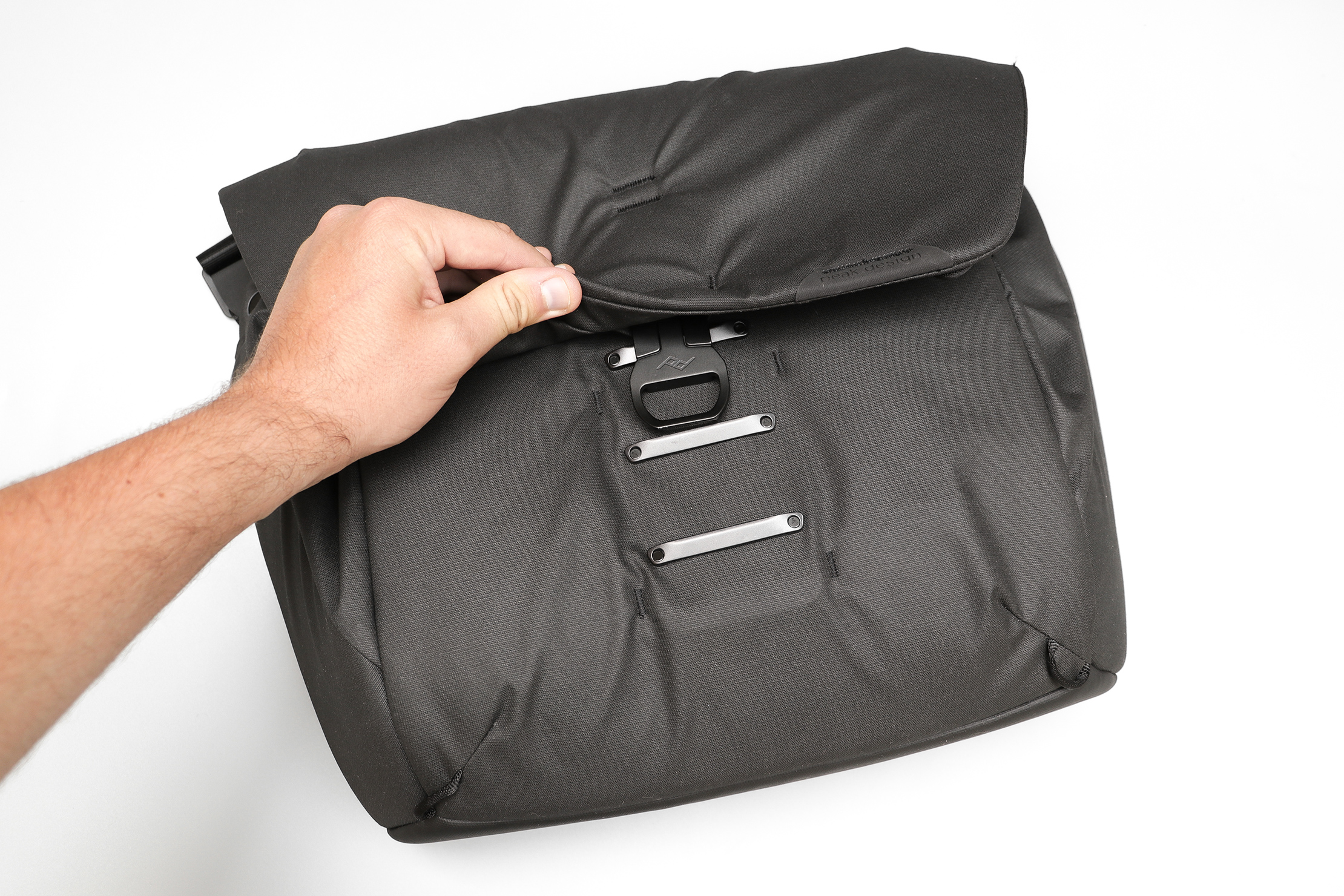 Alright, now it's time to open this sucker up. The main compartment opens with Peak Design's MagLatch system. Essentially, it's a hook that clips into one of four rungs secured by a magnet. So, being both a clip and a magnet, it's doubly secure. Beyond security, the MagLatch is also great because 1) you can work it with one hand, and 2) the four rungs mean it's expandable. If you hook the clip into the bottom rung, the capacity of the main compartment is 13L. If you hook the clip into the top rung, the capacity jumps up to 16L. It's a really handy feature, allowing you to increase the capacity when you need extra space, but keep the bag looking sleek when you don't.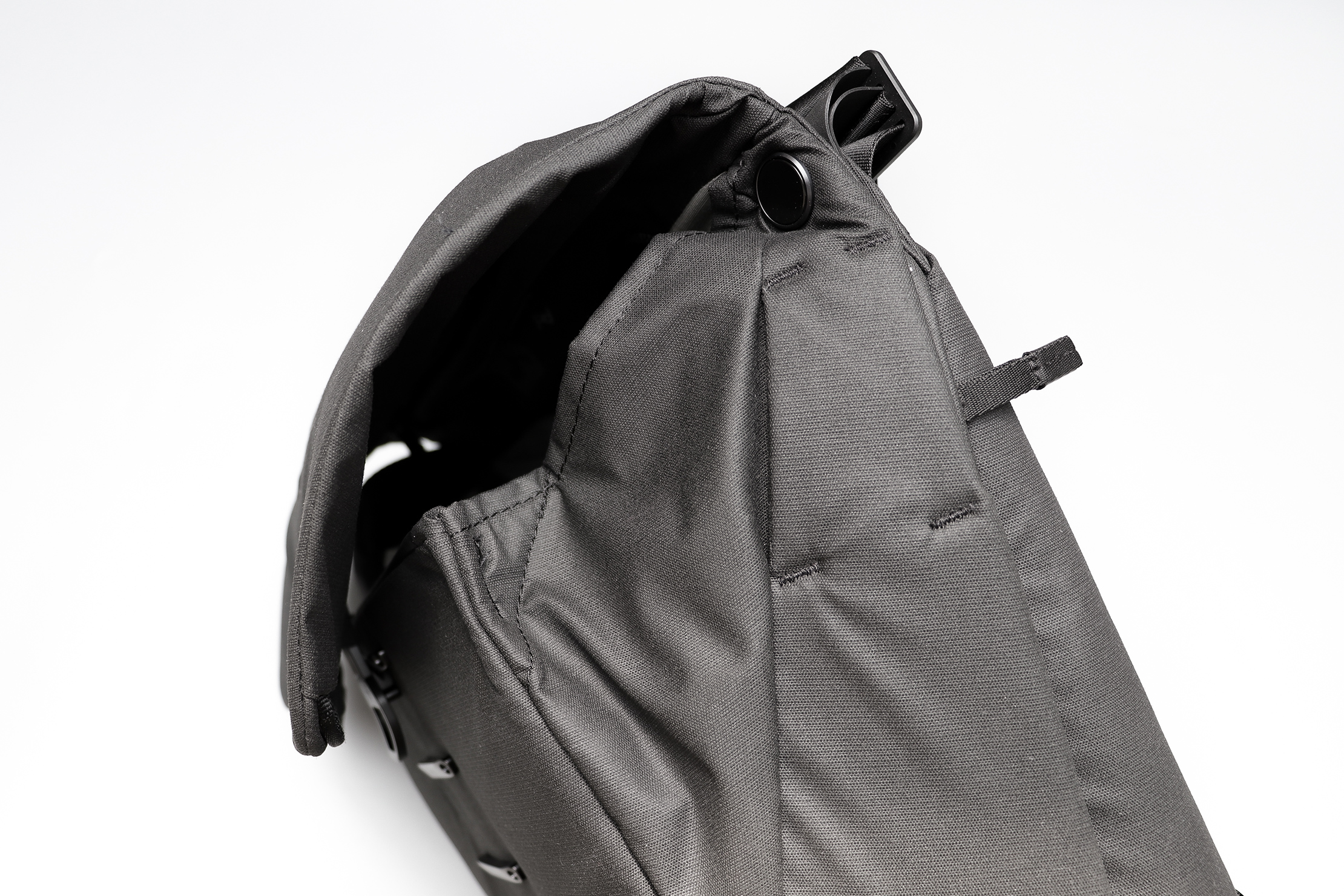 That said, if you hook the clip into the top rung, it doesn't fully close—as in the flap isn't flush to the bag. Meaning, there are gaps. Meaning, it's possible smaller items could slip out and rain could find a way in. This hasn't happened to us during testing, but we suggest you keep that in mind before you go swinging the bag around when it's expanded.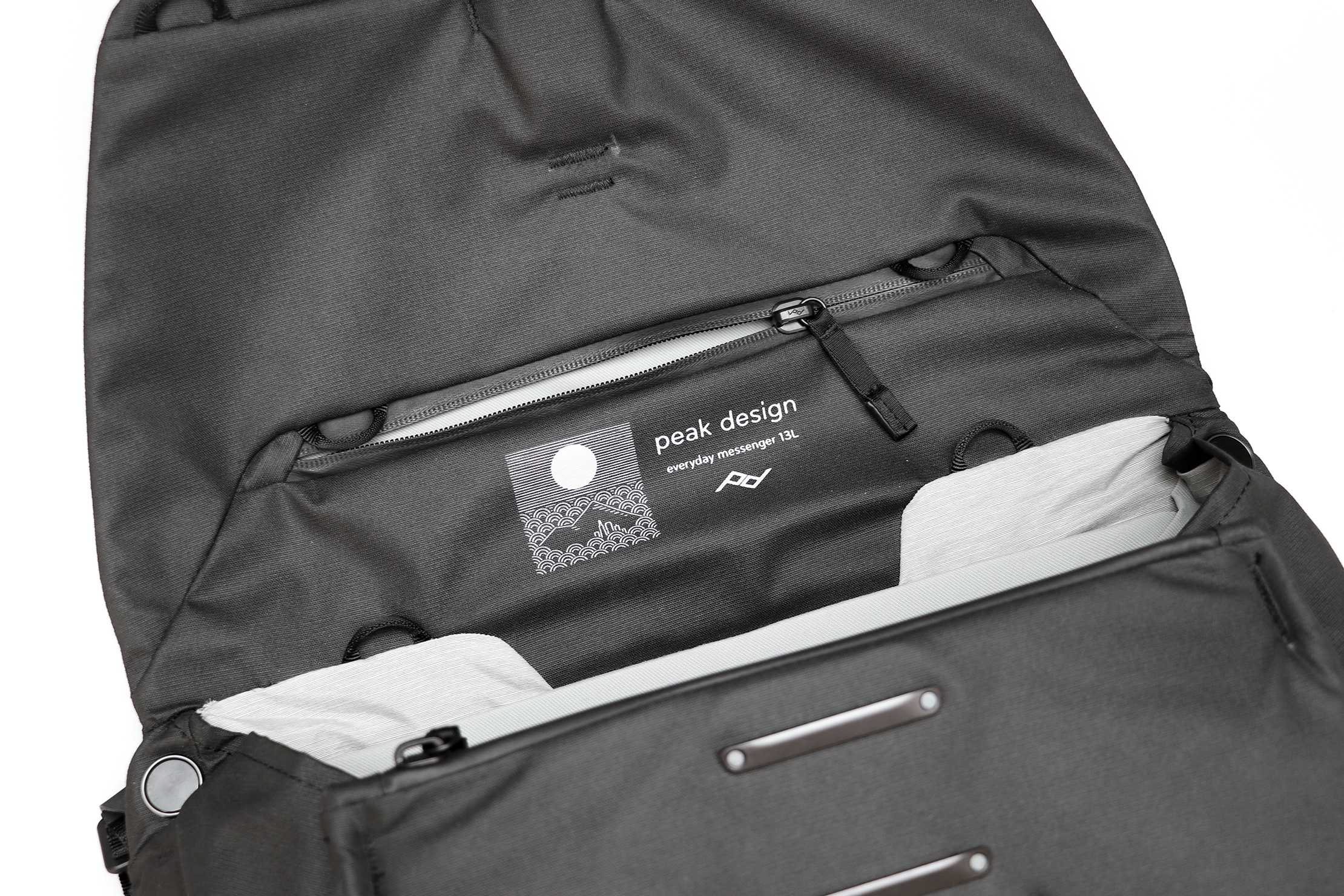 On the interior of the flap, there's a zippered pocket. It's on the longer side, so it's great for pens, styluses, and things of that nature.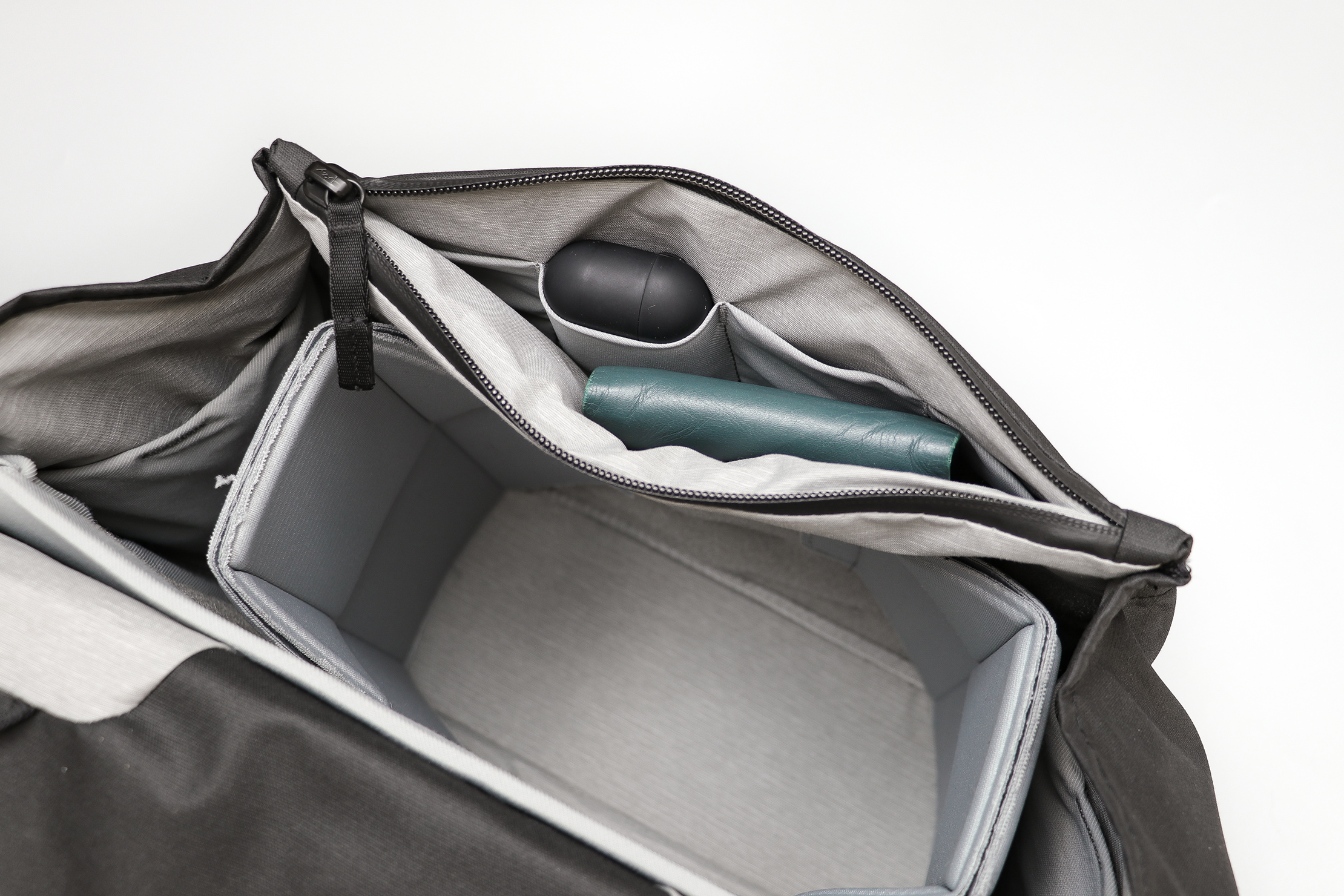 On the opposite side, along the top of the compartment, there's another pocket. Because of where it's situated, it's almost hidden, so it's a good spot for items you want to stay secure (passport, wallet, etc). Inside of it, there are four stretchy divider pockets. They're quite small—designed for SD cards or camera batteries.
Against the back of the main compartment, there is a laptop and a tablet sleeve. Once again, the folks at Peak Design have used magnets to ensure the sleeves stay flat against the bag whenever not in use. And, once again, we like that it stays out of your way. The pockets have a good amount of padding to protect your fragile equipment, although we wish the laptop sleeve had more of a false bottom to protect your laptop from unexpected drops.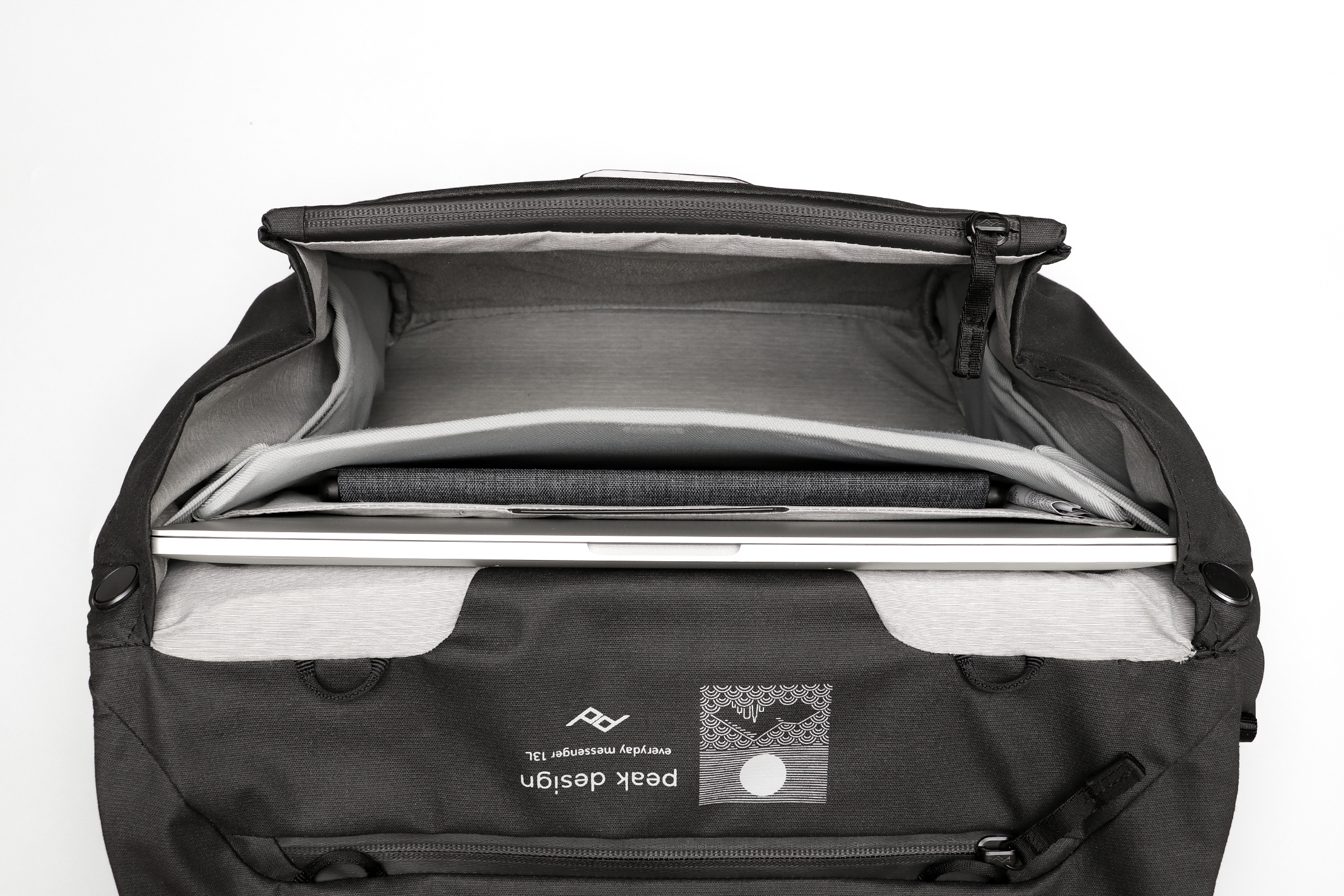 The tablet sleeve has been designed to hold up to a 12.9'' tablet, while the laptop sleeve has been designed to hold up to 13'' laptops. That said, we've found during testing that the laptop sleeve can fit a 15″ Macbook Pro (USB-C Model), but it's a squeeze, and the laptop sticks out above the sleeve a bit, so it's not ideal. And it definitely won't fit the new 16'' MacBook Pro. What we're trying to say is that the Everyday Messenger is probably not the best bag for you if you have a 15'' laptop (and want to use this messenger to carry it around).
We kind of wish the folks at Peak Design had expanded this sleeve, so it could fit up to 15'' laptops (it would only take a tiny amount of expansion), but, hey, we don't design messenger bags. We just review them.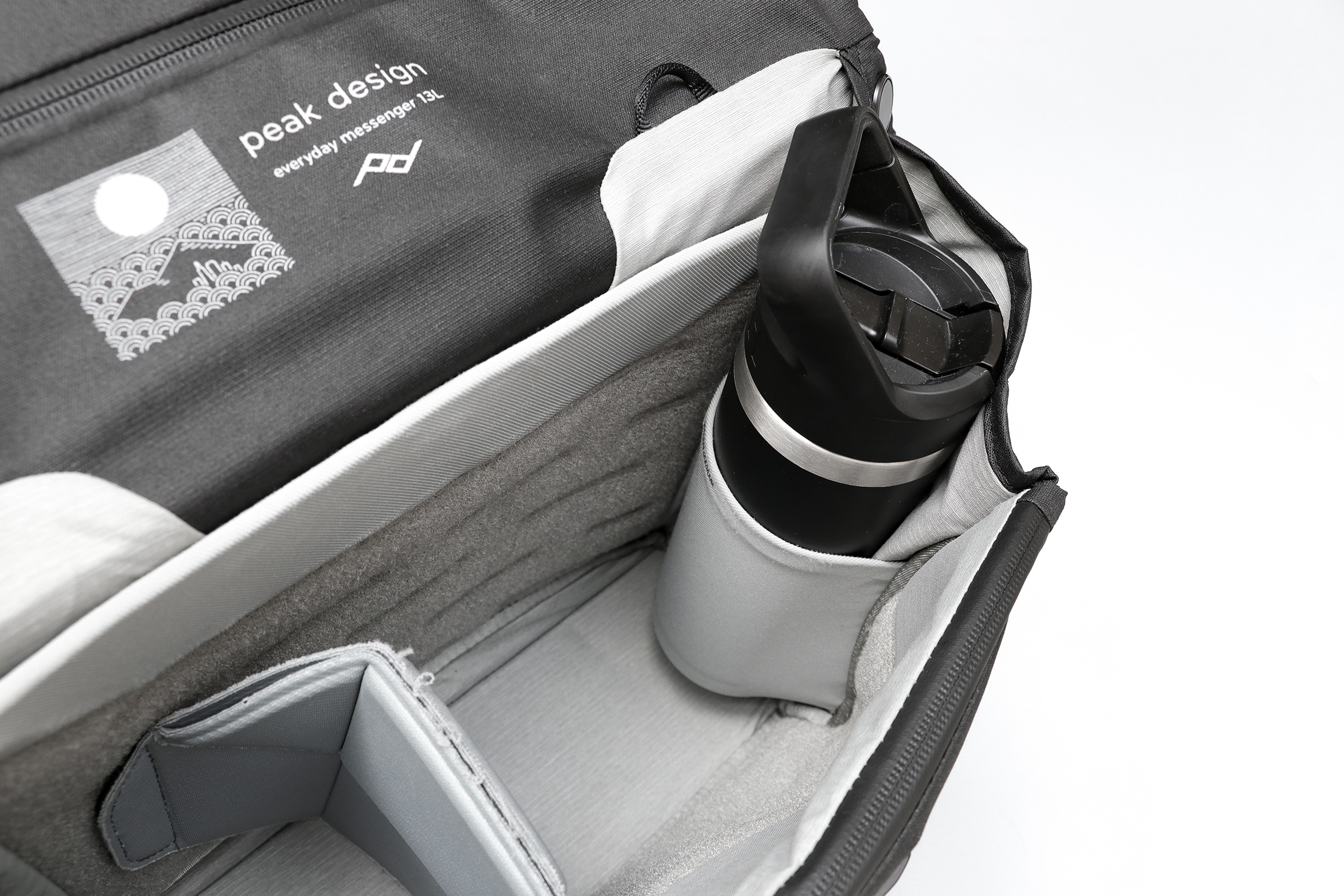 You'll find a stretchy pocket on both sides of the main compartment. They don't close, so they're not ideal for smaller items that could slip out. But they work for small-ish water bottles, laptop chargers, and things of that nature.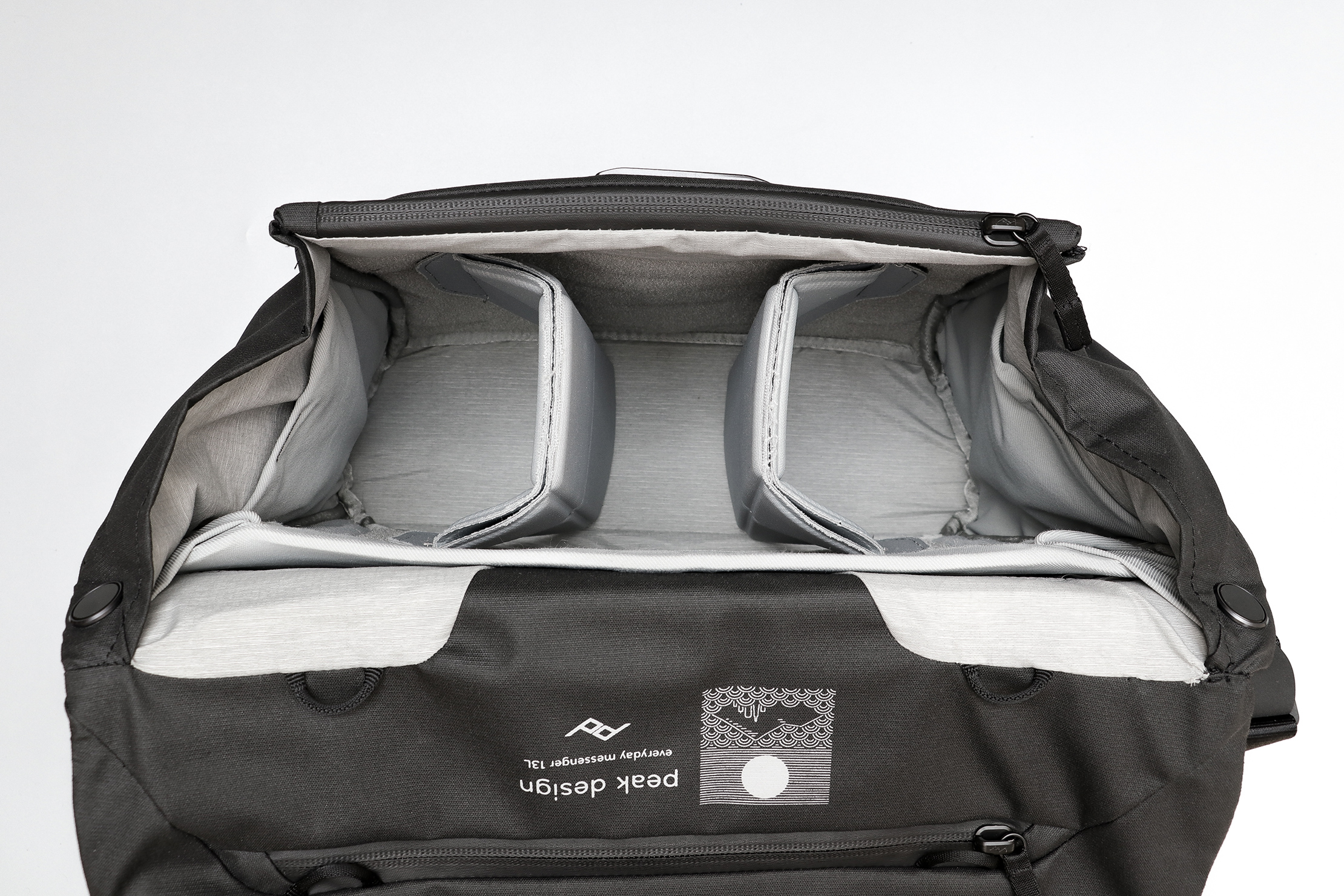 The rest of the main compartment is taken up by the two FlexFold dividers. If you're familiar with Peak Design then we're sure you saw this coming. The FlexFold dividers allow you to customize the bulk of the main compartment. You can fold them into numerous different shapes, creating shelves or dividers. You can also take one or both of them out (or, if you want to be wild, buy a third or fourth FlexFold divider to use). The world is your oyster here. While FlexFold dividers work to organize all kinds of gear, they excel at cradling camera and camera equipment.
Durability & Testing
We've been testing the Peak Design Everyday Messenger 13L (V2) for one month in Essex, England. We've tested loads of Peak Design gear at this point, so our expectations were high for this messenger bag. And, we're happy to report, we haven't been disappointed. As a whole, the Everyday Messenger has a thoughtful design and cohesive feel. While it has performed well as an EDC bag, the bag's structure and interior organization mean it shines at carrying cameras and camera equipment. So, if you're looking for a daily driver that can also hold your camera gear then the Everyday Messenger 13L (V2) is worth considering.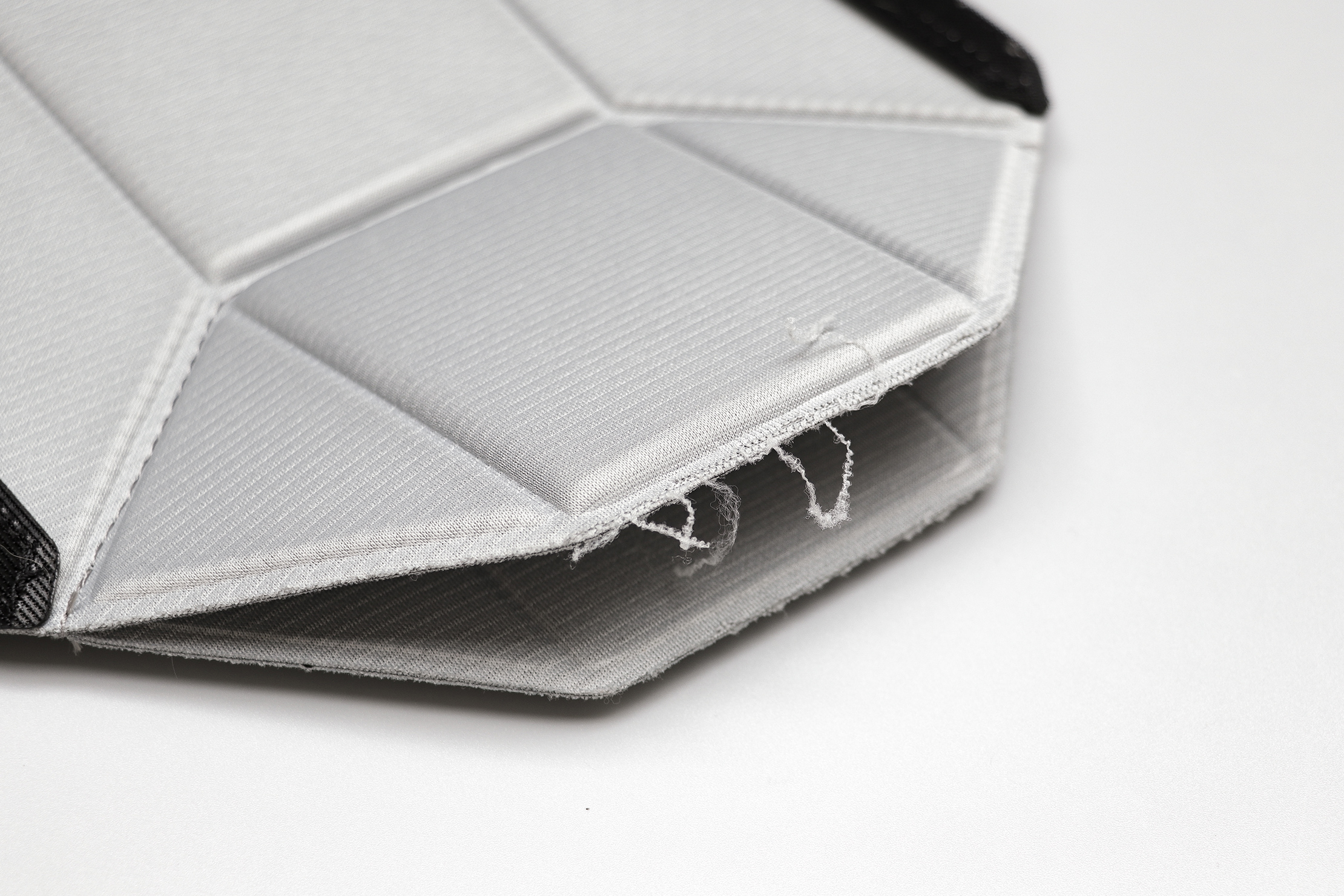 Peak Design is known for top-notch quality and craftsmanship, so we're not surprised that we haven't experienced any wear or tear at this point…with one exception. The FlexFold dividers are starting to show a small amount of wear along the edges (loose threads). While they look okay right now, we expect they'll only get worse. We've had this problem with the FlexFold dividers on other gear from the Peak Design Everyday line—it may seem small, but it's disappointing. For the premium price tag and overall quality of Peak Design gear, we expect better.
Usage Timeline
Initial Usage
Condition: Excellent
MagLatch closure gives this bag a bit of expandability
Great sized bag for a multiple camera set-up, a few larger lenses, or even a smaller drone
We like the quick adjuster on the strap for easy tightening and loosening
2 Weeks of Use
Condition: Excellent
We've found the rigidity of the bag can be a tad cumbersome at times, especially for a messenger
The laptop compartment can fit a 15″ Macbook Pro (USB-C Model) but it's a squeeze and sticks out a bit, we'd recommend sticking with 13″ models like Peak Design suggests
We've found the side zippered pockets can come in really handy for quick-grab items like keys and your wallet
Access the Pro Community Discussion
Get your questions about the Peak Design Everyday Messenger 13L (V2) answered from our team and the Pro Community right here on the page. Plus, join discussions with other members about gear, guides, and more.
Other Bags & Luggage Reviews