Bellroy Tokyo Totepack Review
The Bellroy Tokyo Totepack is stylish with simple organization for everyday carry. While it has elements of both, it feels more like a tote than a backpack.
Our Verdict
Unlock the Pro Summary
Save time. Get access to brief summaries of our reviews so you can browse and make decisions more efficiently.
Pros
Vertical front pockets are easy to access in side carry mode
Internal organization is nice and simple for everyday carry
Shoulder straps hide away easily to transform into a tote
Cons
Handles stick out when carrying it as a backpack
Internal water bottle pockets are inconvenient
Fabric for certain colorways is a bit crunchy
Recent Pack Hacker Video
Technical Details
Capacity

20l

Weight (lb)

1.87 lb (0.8 kg)

Dimensions

16.9 in x 11.8 in x 6.3 in (42.9 x 30 x 16 cm)

Notable Materials

Leather, Nylon, Polyester, YKK Zippers, Metal

Manufacturing Country

Philippines

Laptop Compartment Size

16"

Warranty Information
Full Review
While the Bellroy Tokyo Totepack doesn't remind us of Tokyo's neon lights and non-stop excitement, it does work well as an everyday carry backpack. It also functions as a tote for groceries or a swanky briefcase for business meetings. On second thought, having this multifunctional pack for our work commutes on Tokyo's crowded subway system would be nice. It's stylish, relatively compact when in tote mode, and has space for all your daily essentials.
Aesthetic-wise, it definitely looks more like a tote than a backpack, and the fabric for the Basalt colorway that we chose is a bit crunchy. Beyond taking us comfortably to work every day, we used it a few times to carry groceries at a farmers market. It almost felt a bit too fancy for this use case, but it is a tote bag after all. When we hear "tote," it automatically sparks feel-good images of being that responsible person who uses one for groceries in place of plastic bags. So, there we were with our fancy totepack, shuffling from one farmer stand to the next. At least it felt great to say, "Oh, I don't need a bag, just dump those pears in here, please."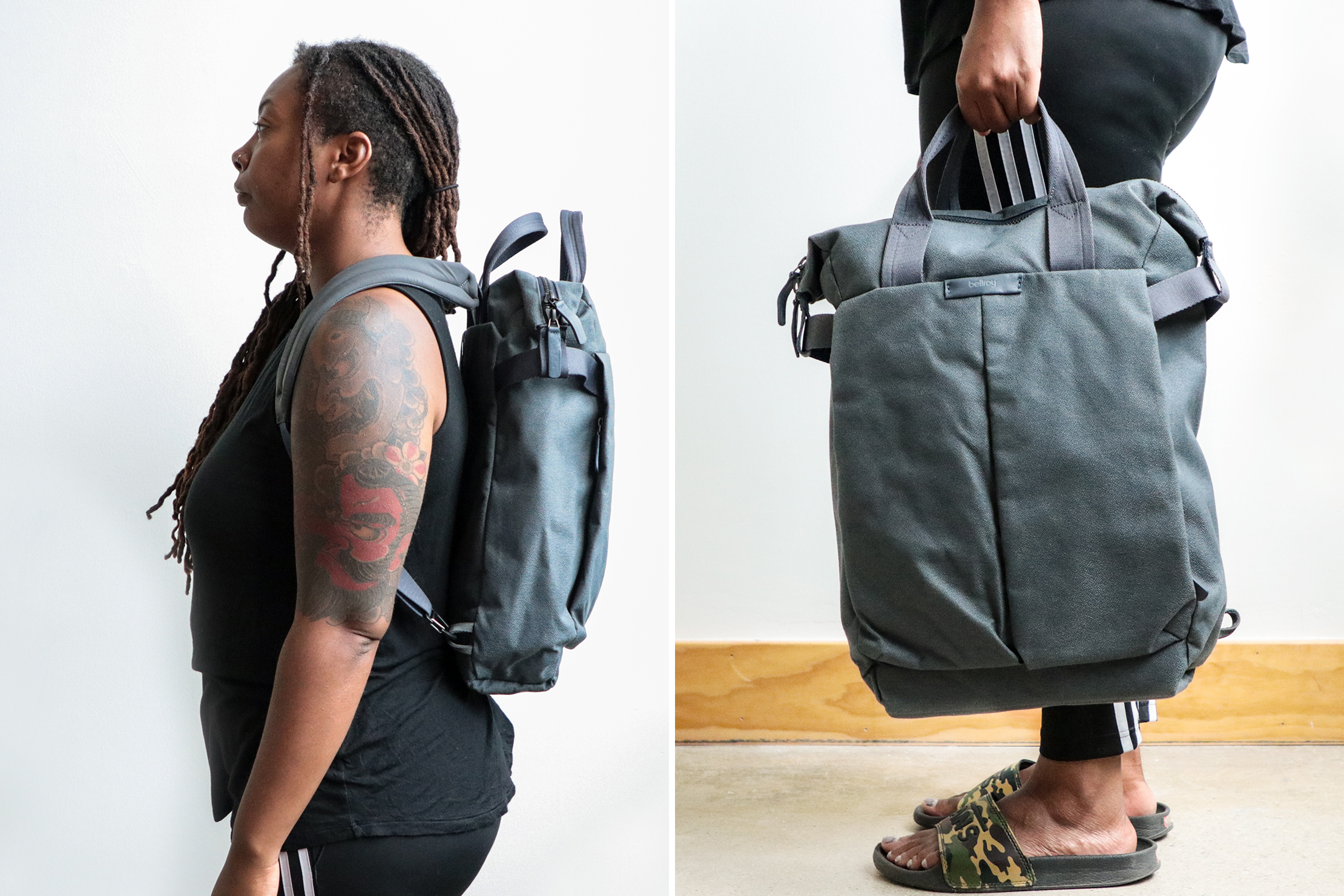 We do wish the water bottle pockets were on the outside of the bag and easier to access, and some strategic packing may be necessary given that it doesn't open up very wide. You may find yourself digging around for items at the bottom of the bag, but your mileage may vary depending on what you're carrying and how you pack it. Let's take a further look into this sexy tote/backpack hybrid, starting with its aesthetic.
Materials & Aesthetic
The Bellroy Tokyo Totepack looks exactly how it sounds—like a tote bag that transforms into a backpack. Thick nylon webbing handles at the top clearly signal that it's a tote even when you're wearing it as a backpack. So, it's actually more like a tote bag posing as a backpack. The transition to a backpack isn't as smooth as we'd like with the straps and side loops sticking out. We'll get into that more in the next section, but let's check out the materials first.
Depending on the color you choose, the material of the bag will vary. We got the Basalt colorway—a smoky greyish-blue—which is made of Bellroy's Looma Weave. Looma Weave is a blend of recycled polyester and recycled plastic bottles. It has kind of a crunchy texture and sounds like a paper grocery bag. The material itself feels sturdy and seems more like something you'd reupholster your couch with than a backpack.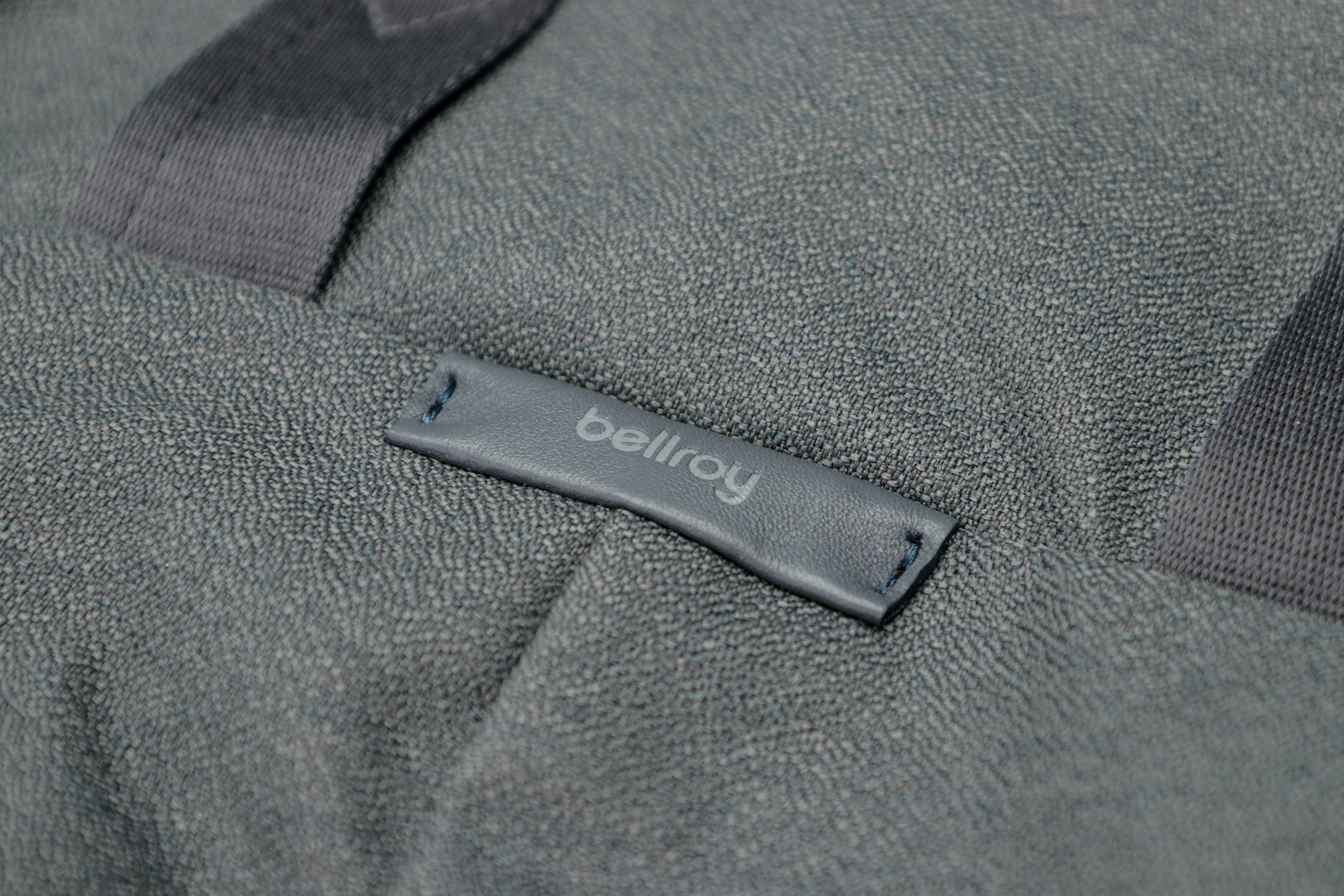 The Basalt colorway has been treated with HeiQ V-Block technology, which is basically an antimicrobial finish. As we're just travelers and not scientists, we can neither confirm nor deny its efficacy. Just so you know, antimicrobial coatings on backpacks don't protect the wearer from viruses, bacteria, and human pathogens. The purpose is to prevent microbes from growing on the fabric. Whether that appeals to you or not is a personal choice, but hey, #themoreyouknow.
As we've come to expect from Bellroy, the Tokyo Totepack features leather accents on the zipper pulls and elsewhere where the logo is stamped on. Branding is minimal but still very Bellroy with a leather brand logo smack dab on the front center. The Bellroy owl makes a subtle appearance on one of the shoulder straps and a snap on the back of the bag. If you're avoiding animal products, you can opt for the Limestone colorway, which doesn't use any leather. The Totepack is also available in Black, Ink Blue, and Forest (green), but all of those colors will have leather accents.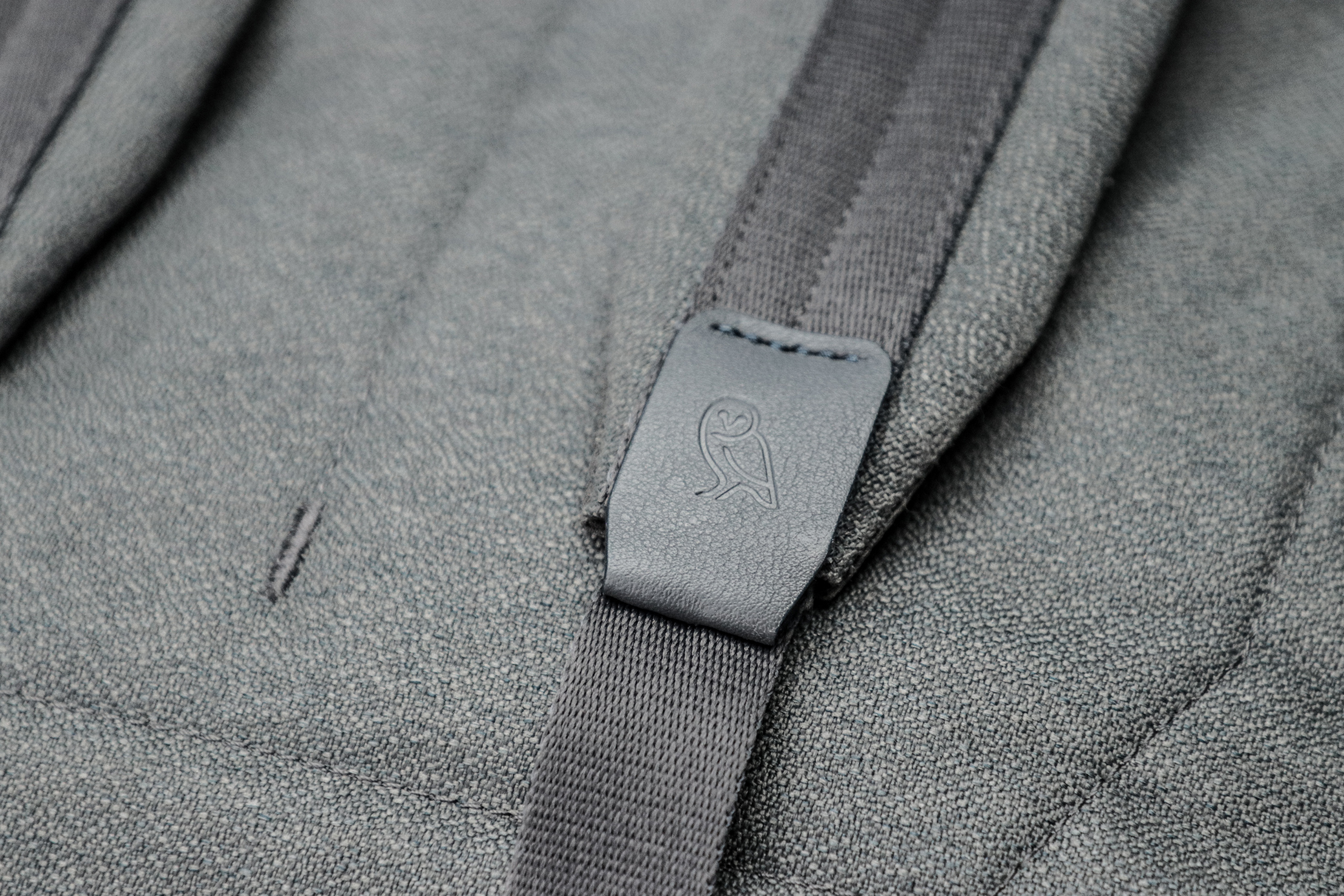 The main zipper is a chunky YKK #8. Even though it's big, it's relatively lightweight and glides open effortlessly. The zippers on the smaller pockets are YKK #5. Expert craftsmanship and quality materials help the Tokyo Totepack blend seamlessly between professional and casual situations. This means you can use it for your daily commute and head right into a business meeting without it looking out of place.
External Components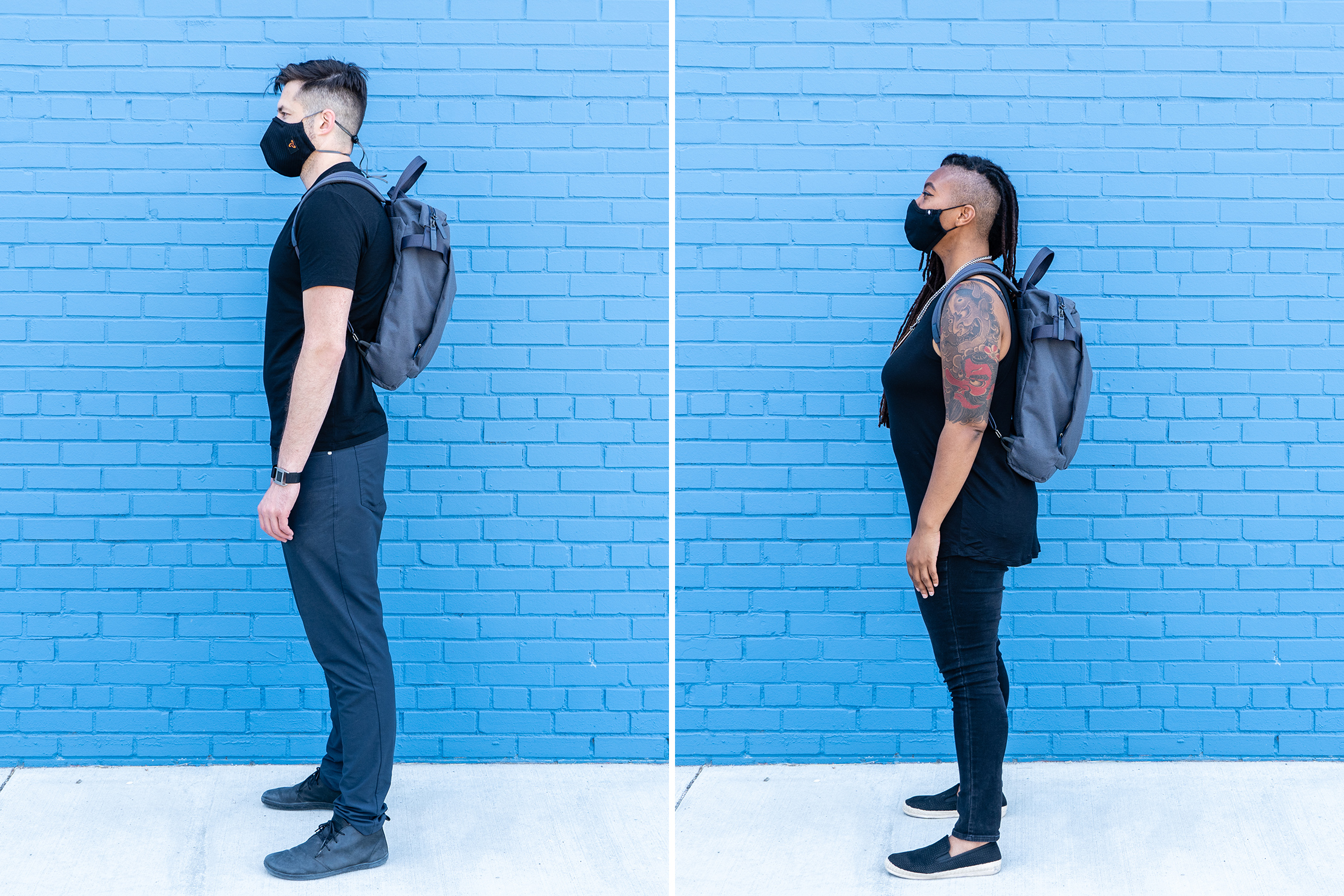 On the front of the bag are two side-by-side vertical pockets. The pocket on the wearer's right (when worn backpack style) features a key leash as well. This came in handy for us, as we like to keep our office key fob and personal keys separate. Since the pockets zip open vertically, you can conveniently access them by swinging the bag around to your front off one shoulder instead of taking it off completely. We had an excellent system going with our office fob attached to the key leash and swinging the bag around halfway so it could reach the sensor and get us in. Taking your pack off and digging around for your keys is an annoyance we were glad to eliminate from our morning commute.
The shoulder straps on the Tokyo Totepack have a nice amount of padding, so it's comfortable to carry even when full. Bellroy nailed it by having just enough padding without it being too much, especially considering the bag is only 20L and shouldn't need a ton. When you're ready to switch from backpack mode to tote mode, the shoulder straps are easily detachable and hidden away. Just unclip them from the bottom, tuck them into the dedicated compartment on the back and snap the little owl button closed. Look ma, no straps!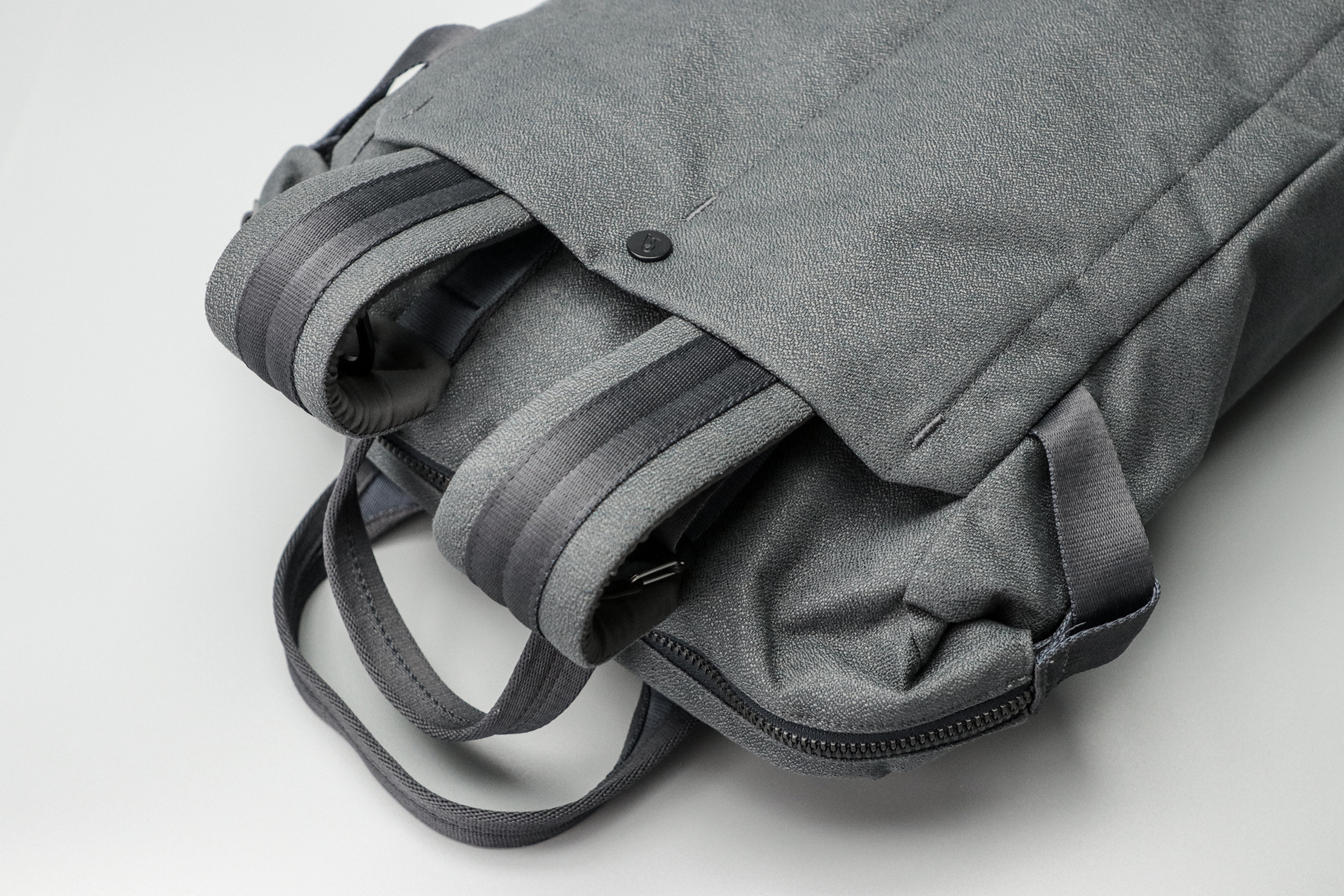 So obviously, the Totepack looks like a tote. As we alluded to above, this is a problem when you're wearing it as a backpack. The sides of the bag have grab handles that you can use for grip support when unzipping the main compartment. This is a convenient and well-thought-out feature, but they stick way out from the bag, especially when it's full. This also means it doesn't really look like a backpack. The nylon handles on top of the bag and the loops you unclip the shoulder straps from stick out in a weird way too. We wish it was possible to hide these so the transition was more seamless.
Aside from having a spot to conceal the shoulder straps when not in use, the back panel itself is nice and comfy. The bottom of the bag is also thick and reinforced to protect from scuffs and tears. So, if you're commuting on a grimy train and have to put your bag down on the harsh floor, it'll be protected.
Inside The Pack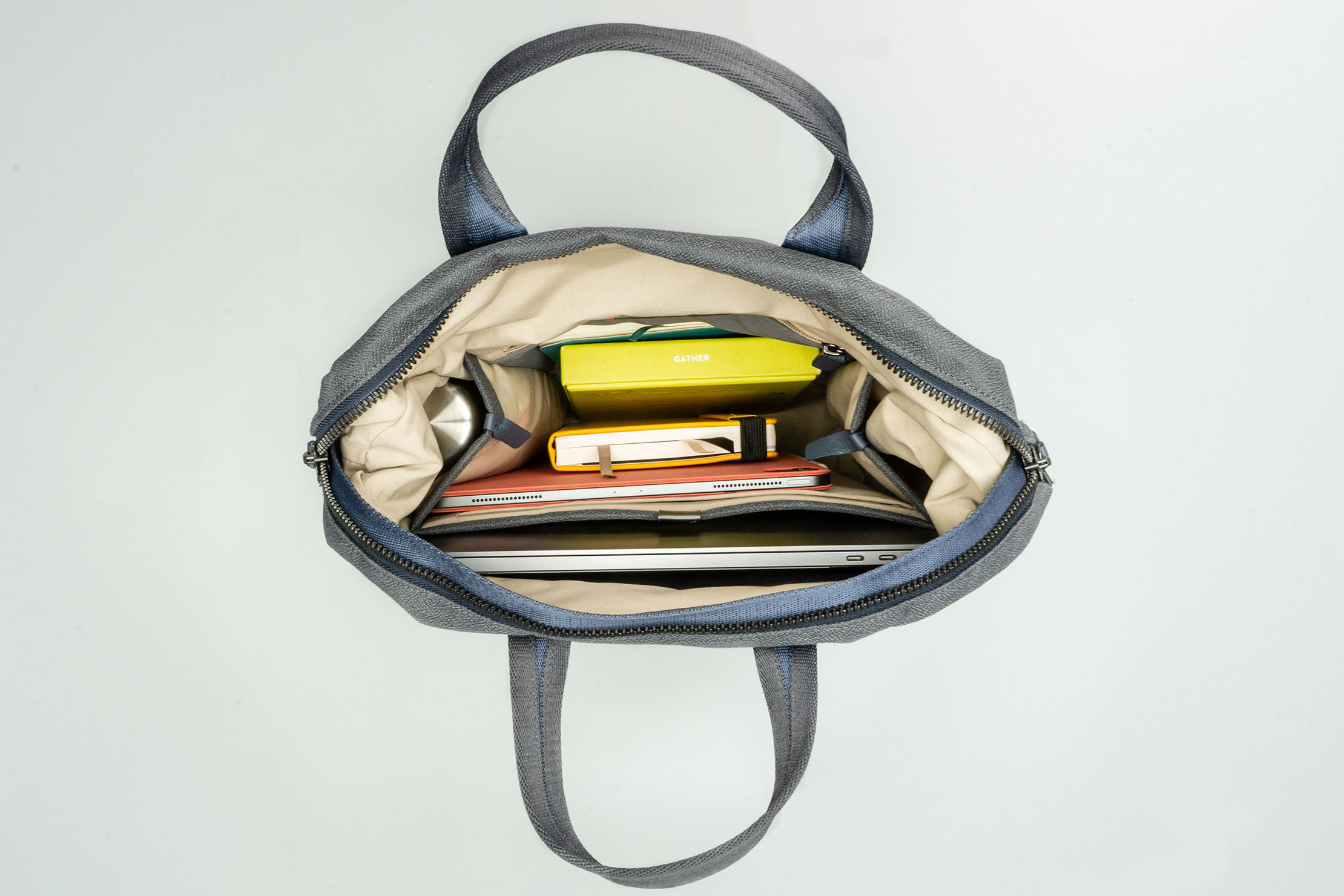 When you're ready to open the Tokyo Totepack up, you'll notice the extra-wide strip of nylon webbing underneath the zipper track. This soft fabric is to protect your laptop from scraping up against the zipper as you slide it into the bag. It's easy to miss, but the functionality is unquestionable. These are the types of thoughtful design features Bellroy incorporates into their products that we really appreciate. You can also roll the top of the bag down, so it's easier to see inside. Since the zipper doesn't open up very far (think less-than-horseshoe), this proves to be quite helpful, especially if you need something that's all the way down at the bottom.
Your laptop will go at the back of the bag in a padded sleeve that can fit up to a 16" device. Its false bottom coupled with the reinforced bottom on the outside of the pack gives us extra peace of mind that our laptops will be safe from harsh drops. On the front of the laptop sleeve is a large pocket that can fit a tablet or notebook. It spans the length of the laptop sleeve, and we were able to fit our magic keyboard and notebook in here with no issues. A little tab at the top gives you something to hold onto when you're pulling your laptop out, too.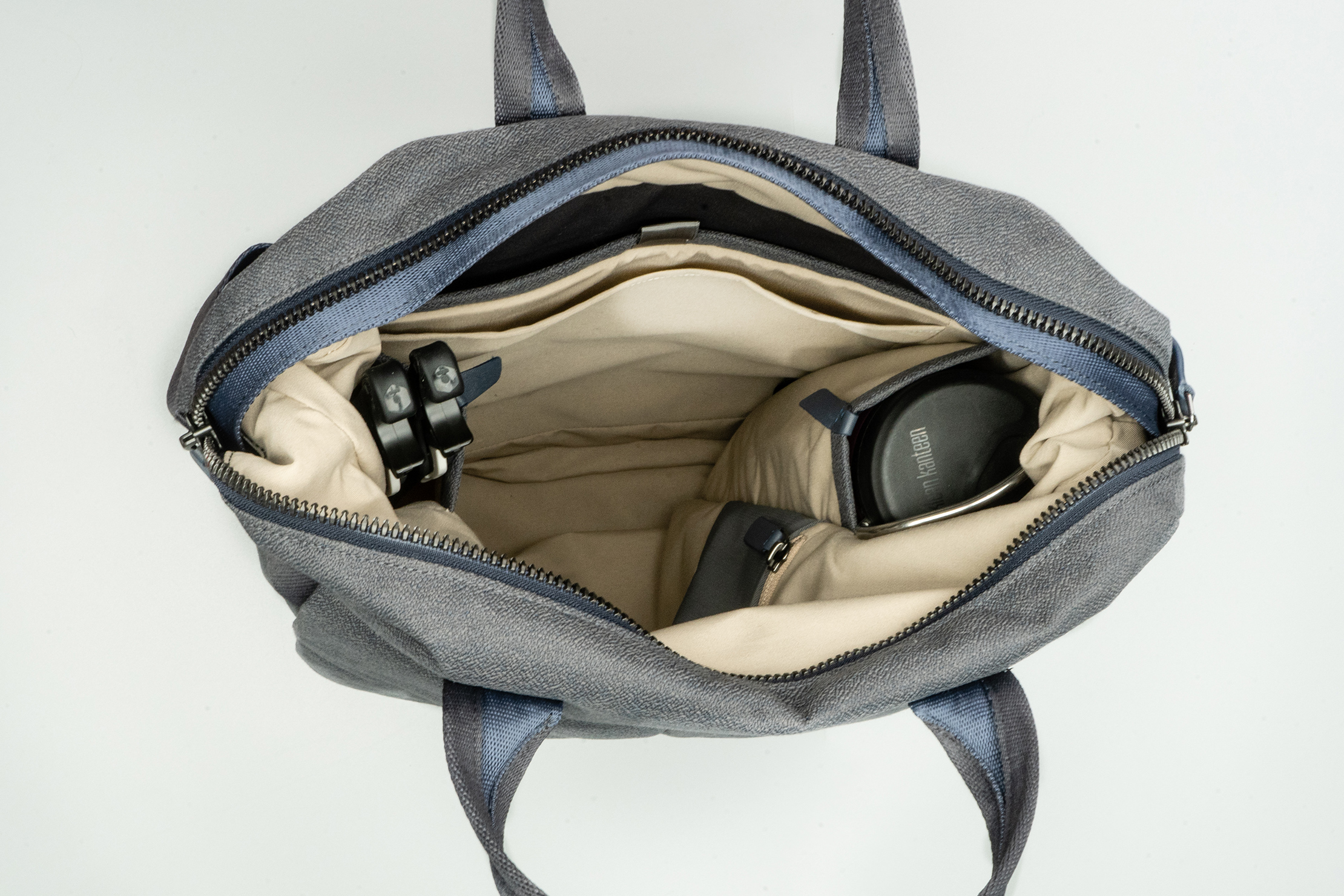 Opposite the laptop sleeve is a fairly large zippered mesh pocket. Every time we get to review a Bellroy product, the anticipation of these mesh pockets excites us. Bellroy uses this soft, stretchy mesh that's unlike most other mesh material we've seen. Too bad you can't actually feel the texture in a photo by just looking at it. Just imagine a luxurious, velvety piece of fabric that glides across your fingertips. This pocket is convenient for keeping all your smaller tech accessories organized. We used it for cables, chargers, earbuds, and a mouse with plenty of space to spare.
At first glance, you'd think the Tokyo Totepack doesn't have any water bottle pockets, which would be tragic. But there are actually two water bottle pockets on the inside. This means they aren't very convenient to access. So, if you get thirsty while walking around downtown, you'll have to take the bag off and open it up. It also means they take up a bit of space inside the bag when in use. The good thing is that they sit relatively flat when you're not using them, so they won't get it in the way. And if you don't need to carry two bottles, you can use the other pocket for other long, thin items. It came in handy for our Roost Laptop Stand.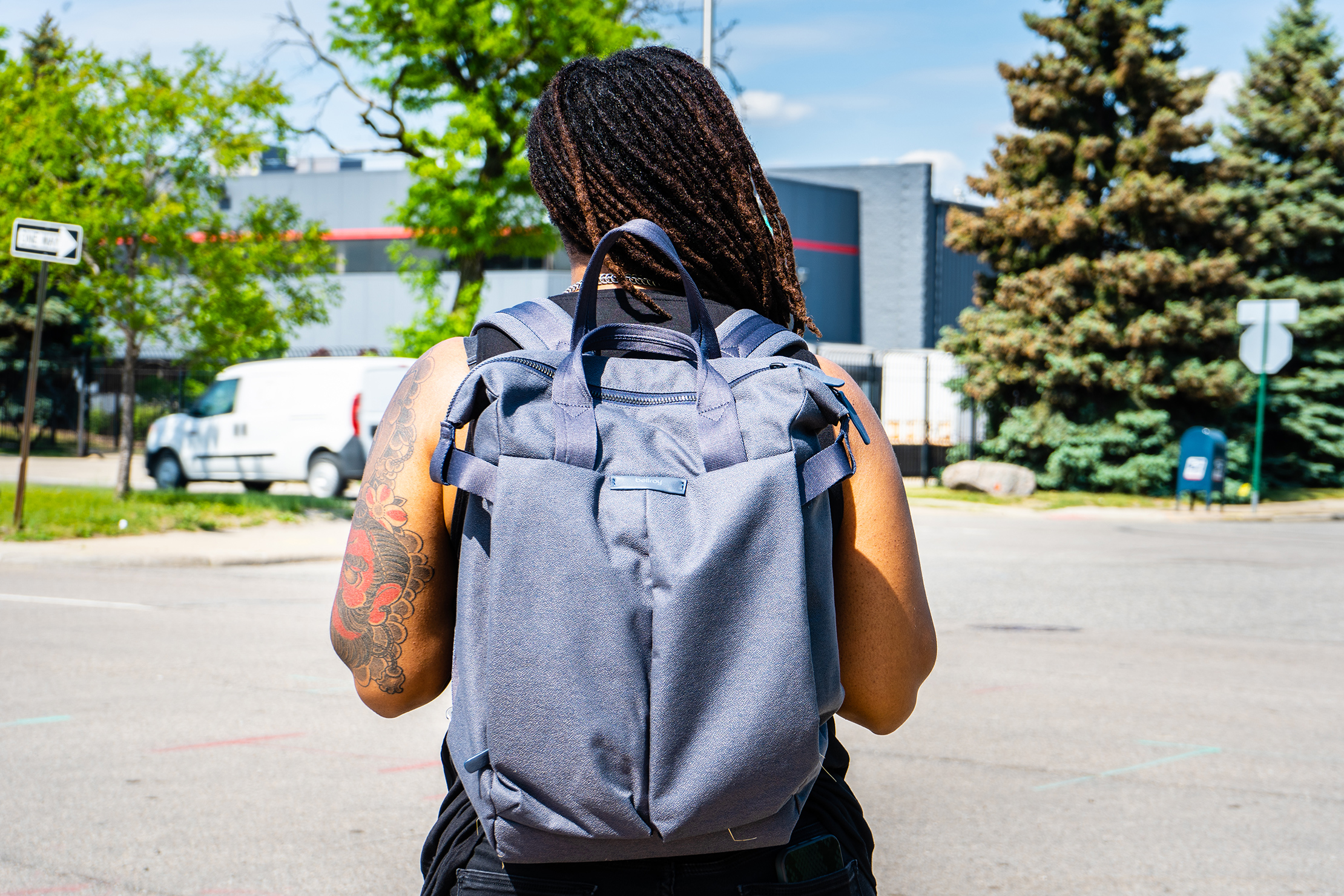 Bellroy says these can be used to hold an extra pair of shoes but this is less functional than it is for water bottles. We tried putting a pair of slip-on shoes in the pocket that was a women's size 8.5, and they barely fit. Two shoes absolutely would not fit in one pocket, so we had to put one shoe in each. A thicker pair like tennis shoes was out of the question, so this probably works best if you want to carry a pair of simple sandals. Plus, a pair of shoes that are anything less than spotless will make the interior liner dirty since it's so light. We're not hating on the liner, though—a brighter contrasting color is great for visibility, just not if you plan on carrying dirty shoes inside your bag.
Overall, we enjoyed using the Bellroy Tokyo Totepack as our everyday carry for the two weeks we tested it. We always expect quality from Bellroy, and this bag didn't disappoint. We just wish it looked more like the kind of backpack that we're used to—with water bottle pockets on the outside.
Usage Timeline
Initial Usage
Condition: Excellent
The handles have decent thickness for a comfortable carry
The shoulder straps hide away fast and cleanly without needing zippers or velcro
Side-opening front pockets are easily accessible when you swing the bag around to your front
2 Weeks of Use
Condition: Excellent
Internal watter bottle pockets are not the easiest to access
Front pockets for side access mode is really convenient
Because the bag is kind of slim, it can be challenging to pack groceries when carrying it tote style
Material sounds kind of like a paper grocery bag
Access the Pro Community Discussion
Get your questions about the Bellroy Tokyo Totepack answered from our team and the Pro Community right here on the page. Plus, join discussions with other members about gear, guides, and more.
Other Bags & Luggage Reviews