TOM BIHN Luminary 15 Review
The Tom Bihn Luminary 15 backpack looks small initially, but it's got some surprising features and capacity. The asymmetrical zippers are throwing us off, though.
Our Verdict
Unlock the Pro Summary
Save time. Get access to brief summaries of our reviews so you can browse and make decisions more efficiently.
Pros
Edgeless shoulder straps make for a comfortable carry
Low profile and sleek design
O-rings throughout bag allow additional customization with pouches
Cons
No strap keepers to prevent straps from flapping around
Outer pockets interrupt main compartment zipper
Narrow zip opening makes it hard to see inside main compartment
Recent Pack Hacker Video
Technical Details
Capacity

15l

Weight (lb)

1.5 lb (0.7 kg)

Denier

525D

Dimensions

16.5 in x 11 in x 7.9 in (41.9 x 27.9 x 20.1 cm)

Notable Materials

Ballistic Nylon, Nylon, Duraflex Hardware, Woojin Hardware, YKK Zippers

Manufacturing Country

United States

Laptop Compartment Size

13"

Warranty Information
Full Review
Tom Bihn backpacks always give us dad vibes. We're talking about the cool dad who gives you his old vinyl records and slips you a shot of bourbon at the fourth of July cookout. The Tom Bihn Luminary 15 embodies this vibe to the fullest. At first glance, it looks like just a regular everyday carry backpack, but you start to notice something new almost every time you use it.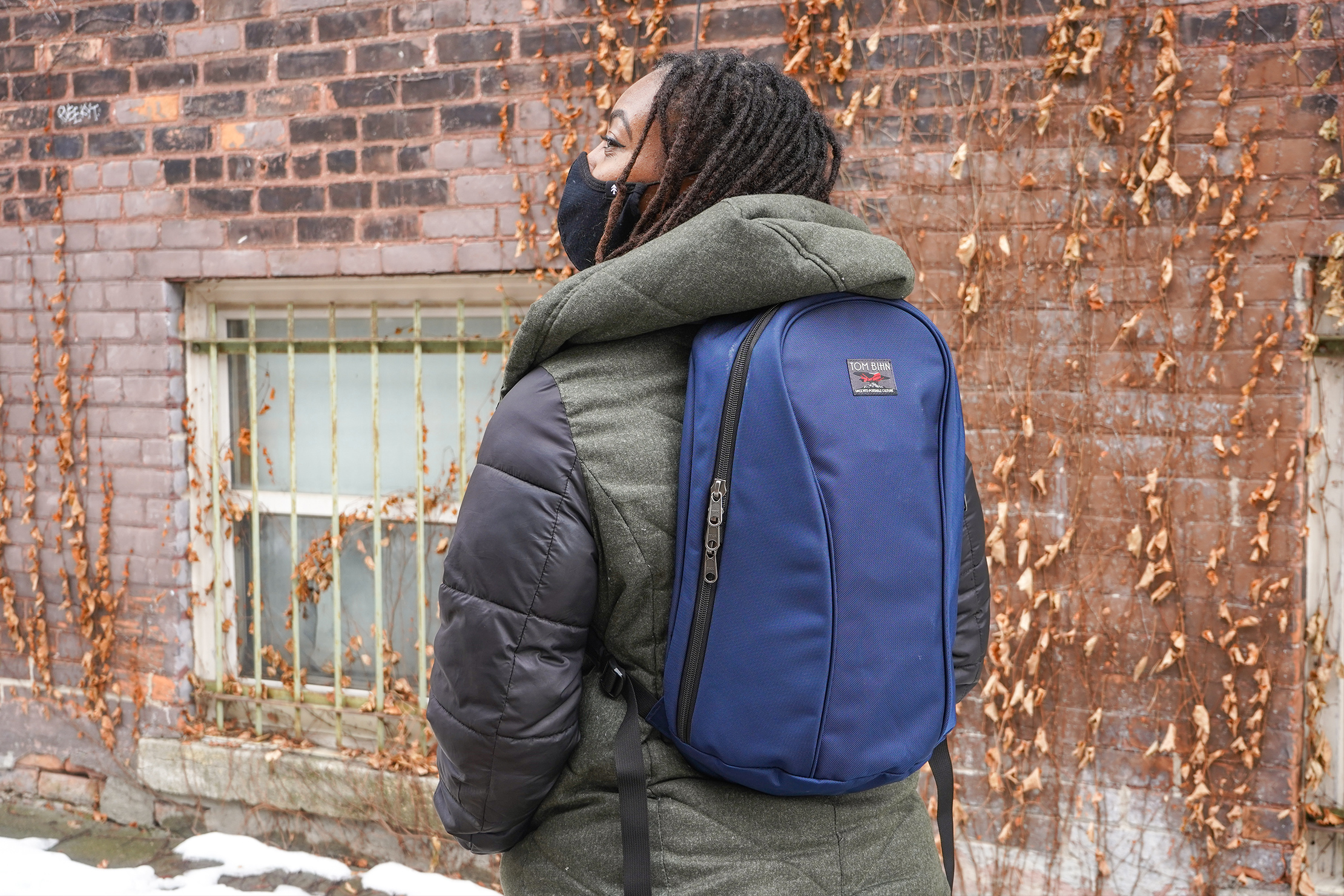 It served us well as an EDC during our two weeks of testing and has some pretty unconventional features for a bag of this size. Between the zip-away water bottle pocket sleeve that serves as a divider for the main compartment and the funky uneven outer pockets, this bag's design is much more than meets the eye.
Although those uneven pockets make the zipping experience for the main compartment a bit strange, we don't mind it much. We do mind the extra-long shoulder straps that kept slapping us in the butt without any strap keepers to keep them under control. We'll discuss all of that in detail in this review.
Materials & Aesthetic
Let's get right into it with the materials. The Luminary is made with a 525D high tenacity ballistic nylon. Ballistic nylon is such an extreme-sounding fabric—like it's unpredictable and could go crazy on you at any moment. Don't worry, it's just really durable, high-quality stuff. This makes the bag sturdy without being too rigid, and it feels nice and smooth to the touch.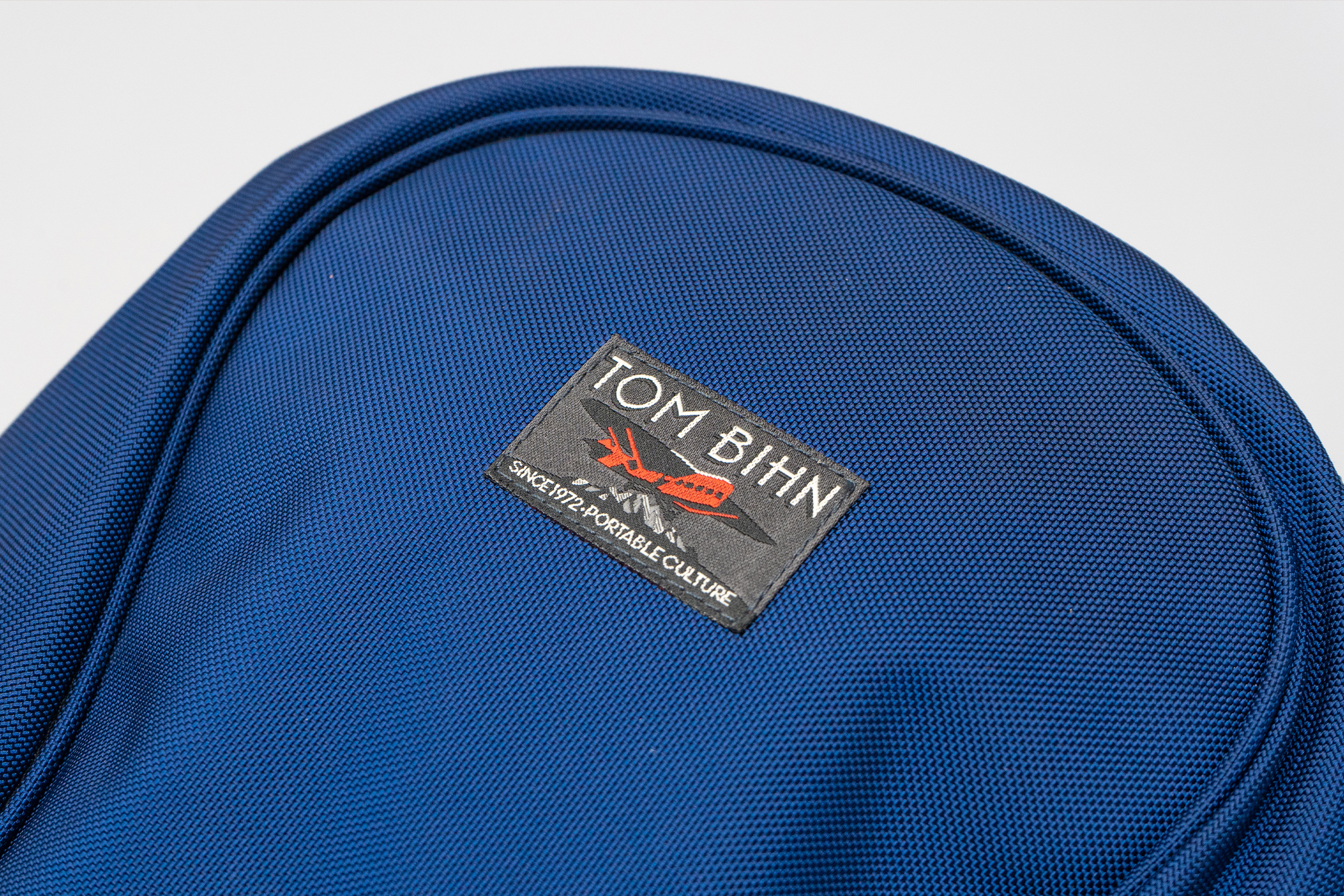 The bag is lined with slightly thinner 210D ballistic nylon. We dig how the liner's color contrasts with the outside because it makes it a little easier to see what's inside. Both fabrics are bluesign certified, meaning they are sustainably manufactured with the lowest possible environmental impact. That's something we can definitely feel good supporting.
The hardware on this thing is all over the place (in a good way). We've got Nexus hardware on the sternum strap and Duraflex and Woojin on the waist strap. Beefy weather-resistant #8 YKK zippers are on here too.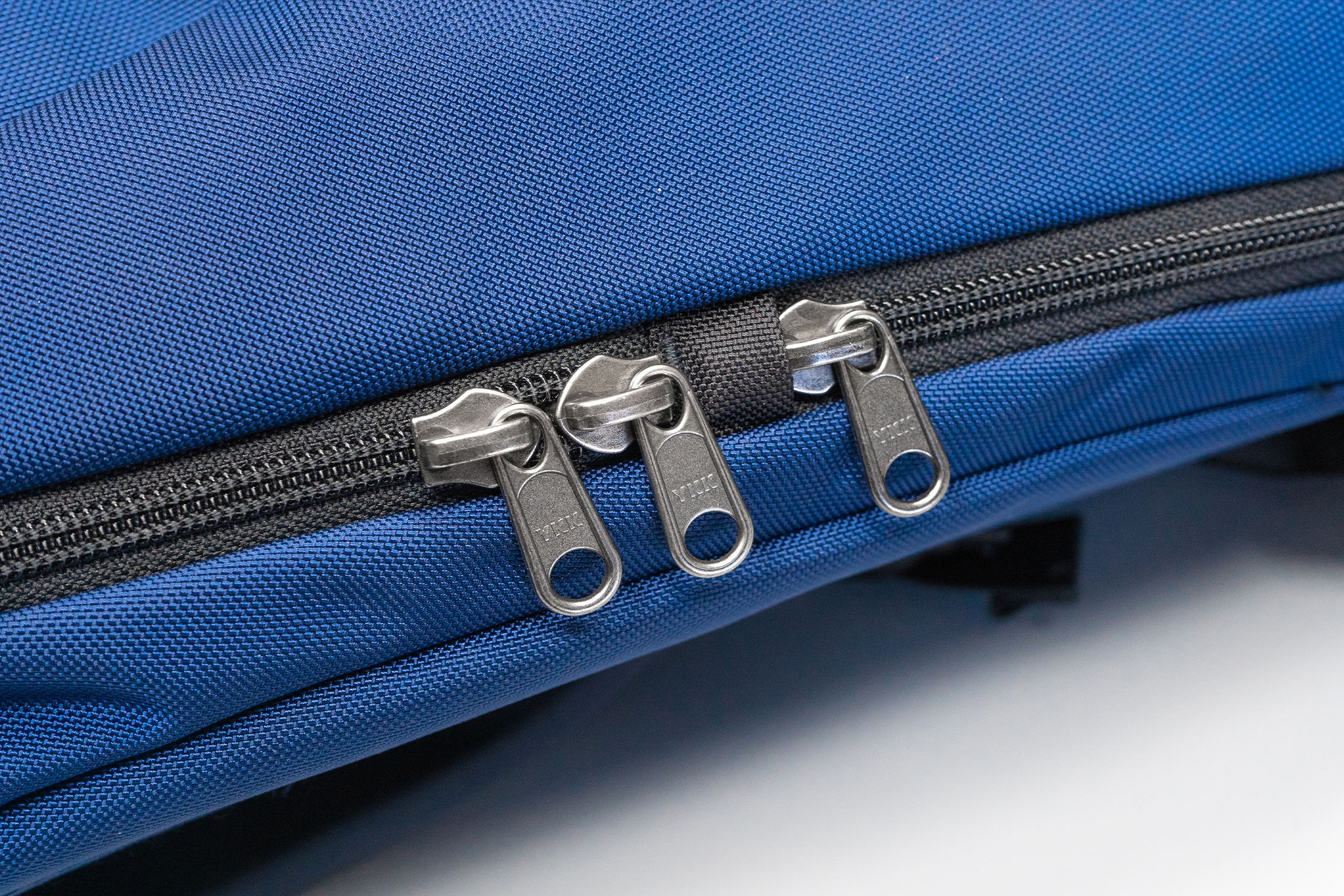 A big loop of cord-like fabric sits on the outside front of the bag. We're not sure what its purpose is, but we think it's to draw your attention to the side pockets. The zippers for the main compartment and side pockets all look like they're just on one zipper track at first. So that ridge of cord is like, "hello! Pockets here!" since it's easy to mistakenly assume there's only the main compartment.
The lowkey and unassuming aesthetic of the Tom Bihn Luminary is precisely why we love it. We're not generally fans of products with a ton of branding plastered all over them either, so we appreciate the simple Tom Bihn patch on the front. This bag is anything but simple, however. It's got so many sneaky features going on once you open it up and start poking around. We've got a lot to cover before we even get inside, though, so sit tight.
External Components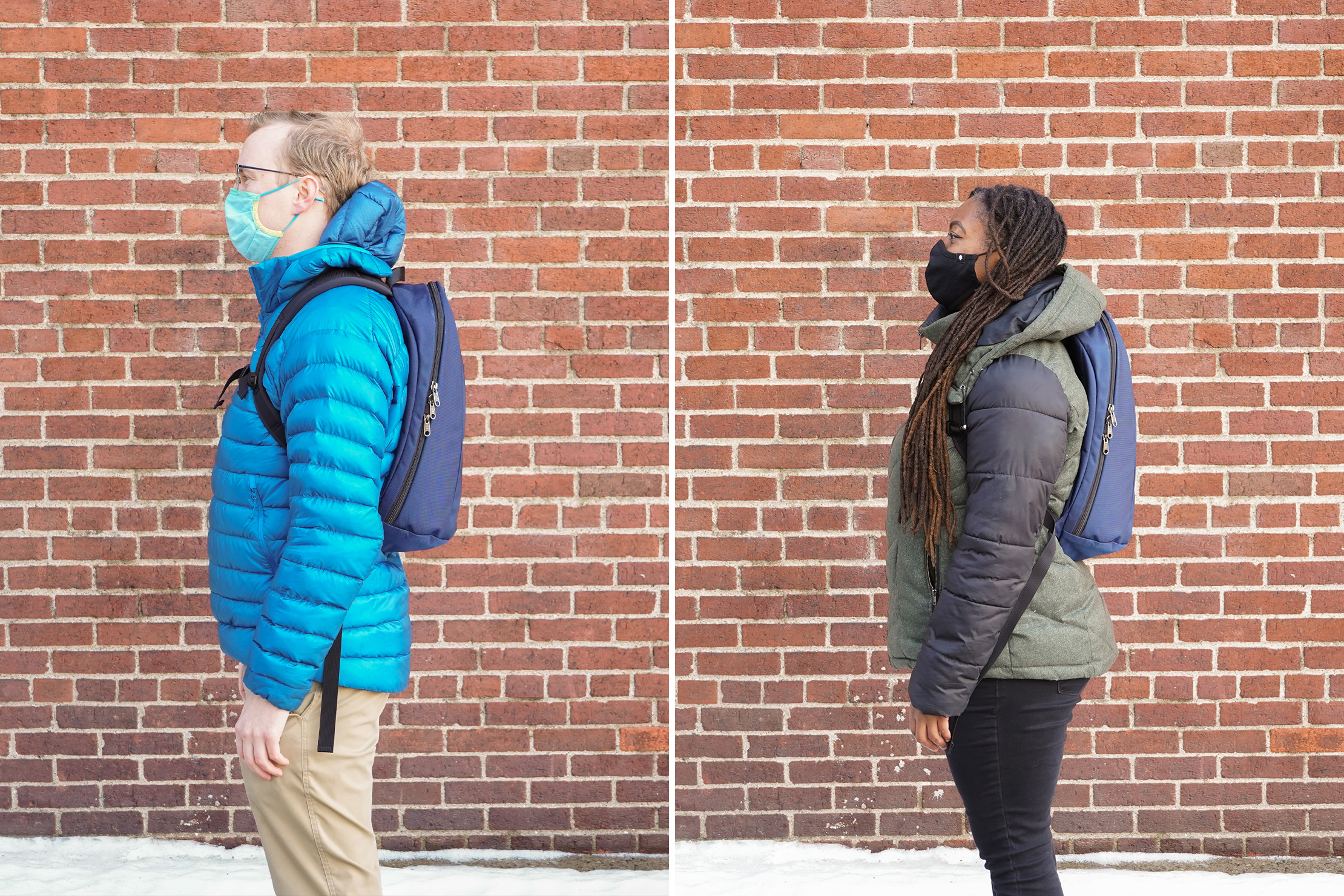 Onto the external components, starting with the harness system. We have mixed emotions about these shoulder straps. We love that they are edgeless because they feel incredibly smooth both to the touch and when worn. We dig the EV50 foam padding, which is not too thick and not too thin—it's a nice happy medium. We start to fall out of love with the Luminary straps when it comes to their length and lack of strap keepers.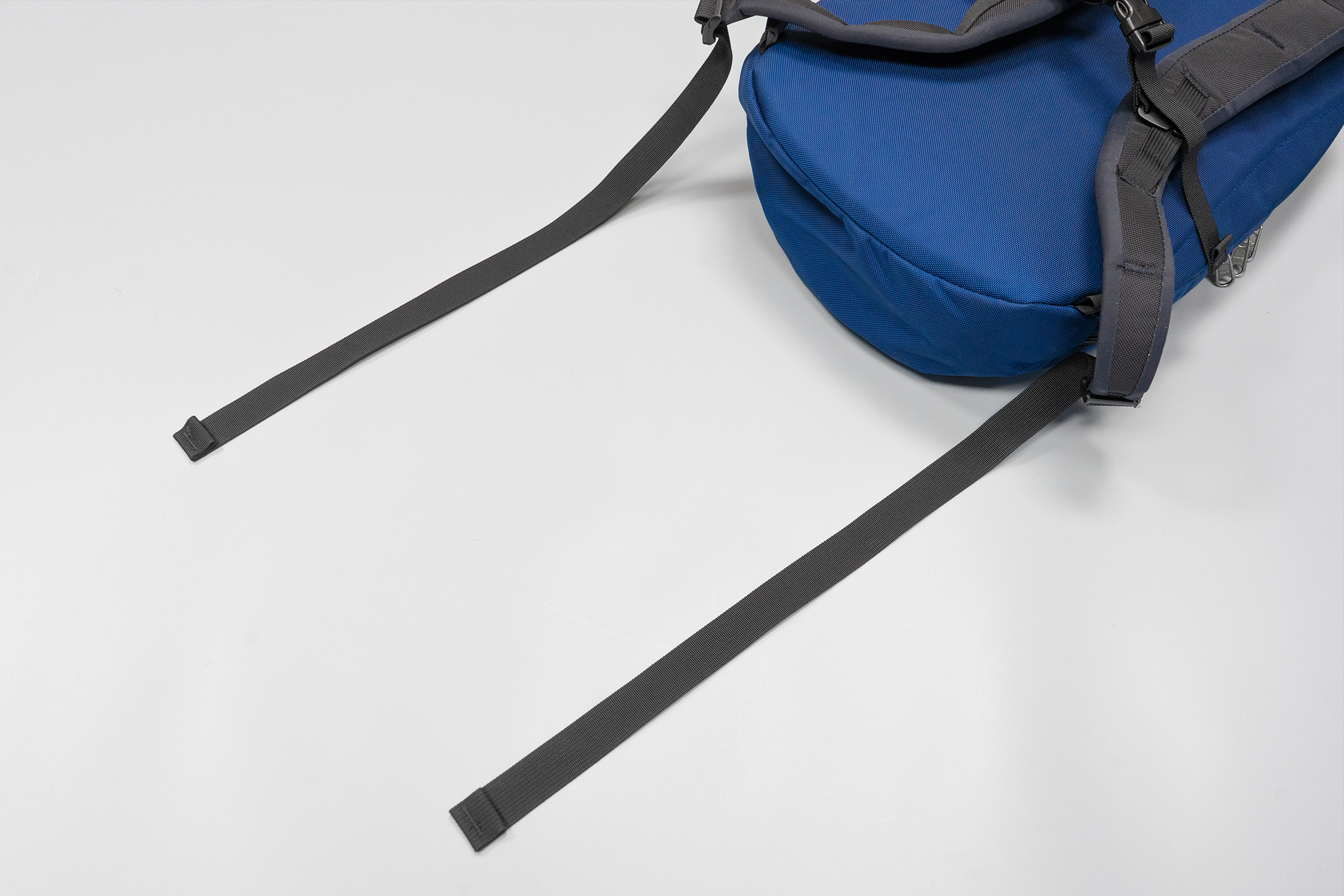 On their website, Tom Bihn explains that they designed these extra long on purpose to better fit taller wearers who may have broader shoulders. Since this is the step up to the smaller Luminary 12, they explain, "we took the L12 and stretched it to be taller and a tad wider. We also lengthened and adjusted the contour of the shoulder straps." This all sounds great in theory, but we just couldn't get down with the shoulder straps slapping us on the butt as they flapped around behind us.
If you are on the taller side or have broader shoulders, maybe you won't get as many shoulder strap butt slaps as we did. This is just a heads up for the folks out there who are 5'5" or shorter. The Luminary 12 is supposed to be a better fit for smaller people, and Tom Bihn does sell strap keepers separately. Why should short folks have to settle for a smaller capacity or pay extra for strap keepers, though?
A sternum strap is probably not necessary on such a small bag, but it is nice to have it there anyway to secure the load. Additionally, we often found the waist strap buckles getting caught underneath the seat or in the car door during our morning commute. This can be easily avoided by simply removing the waist strap, of course, but just so you know. You know?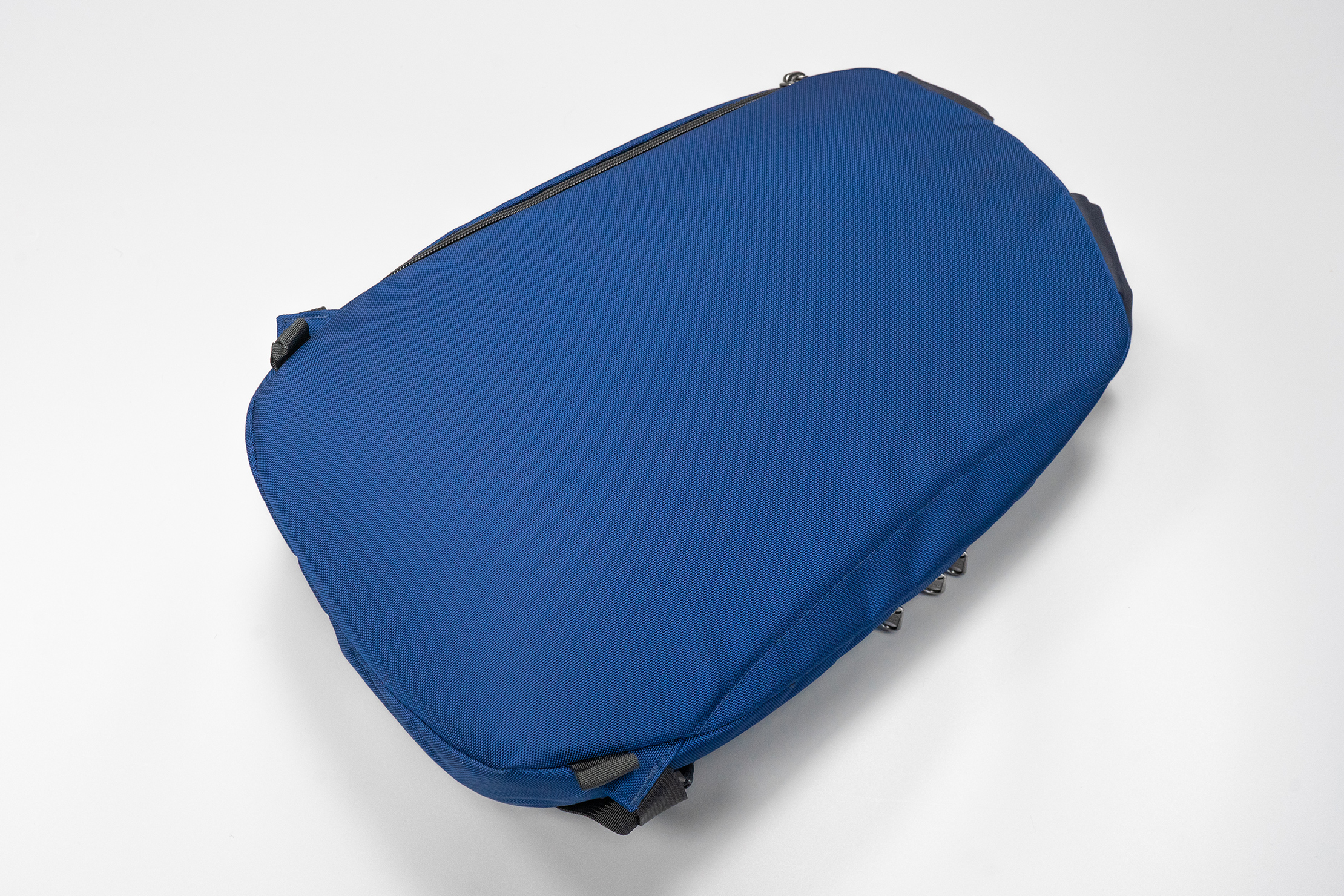 The back panel lacks any mesh for breathability, but we don't think this bag was designed for intense outdoor exploring where you may end up with a swamp back. Still, let's say you've got a quick road trip to New Orleans planned, and you wanted to use this as your daypack while you explore the city on foot in the sweltering summer. In that case, having mesh on the back panel would be helpful. If you're just using this bag to shuffle back and forth to work or between coffee shops every day, the lack of mesh shouldn't be a deal-breaker. It wasn't for us.
Inside The Pack
Okay, here's where it gets exciting. Inside the Luminary is where Tom Bihn works their magic and hits us with some unexpected and intriguing features. First off, o-rings. There are four throughout this bag for you to attach other Tom Bihn pouches and organizers and further customize your carry. You'll find the first two rings in either of the outer side pockets. One pocket comes with a key leash attached, while the other just has a bare ring so you can clip on whatever you want.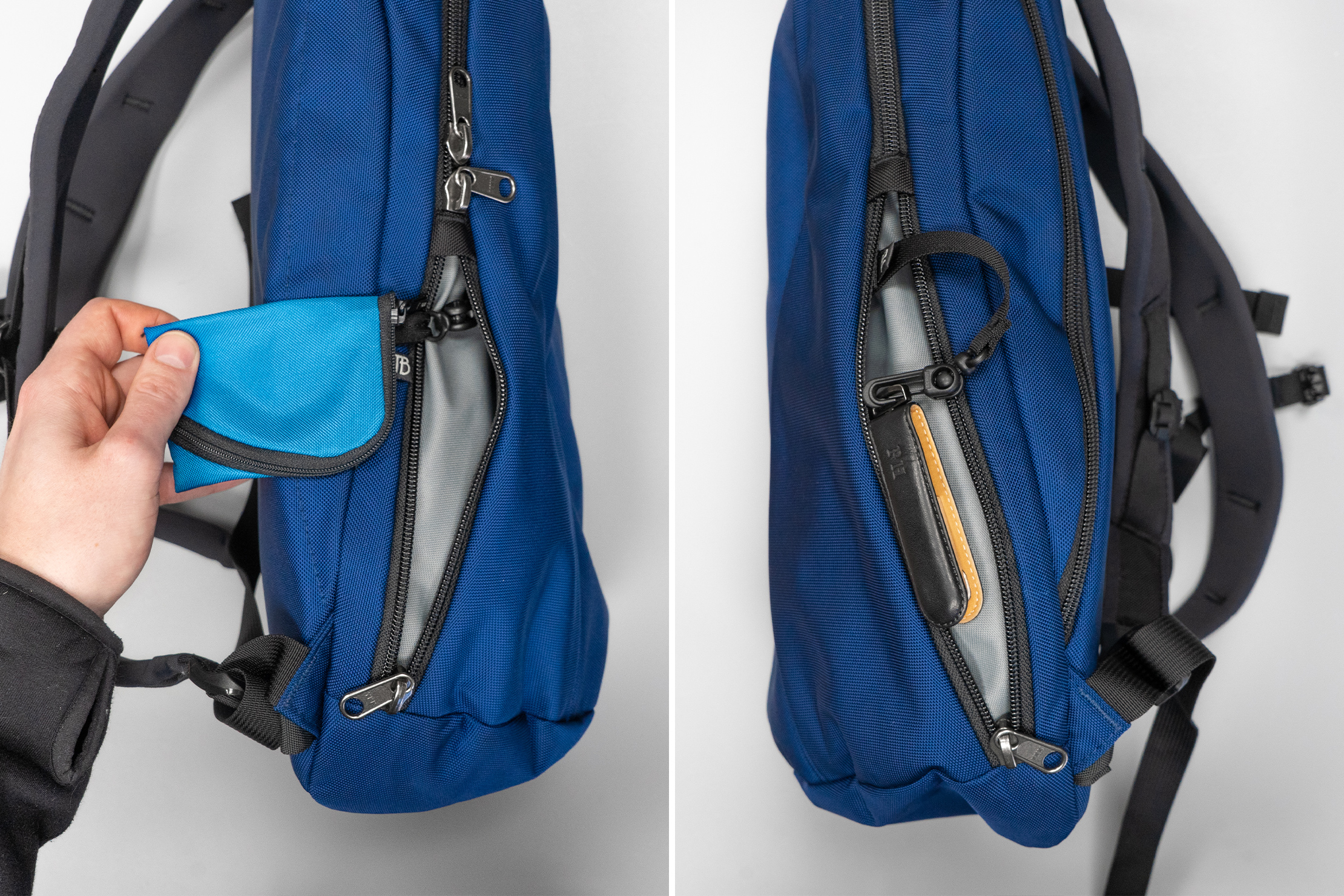 Before we get inside, though, let's take a look at those side pockets from the outside. You may notice that the right side pocket (when the bag is facing you) is taller than the left. That's not a mistake in measurements during the design phase (Tom Bihn doesn't make mistakes), that's actually on purpose. This funky asymmetrical design is supposed to accommodate larger phones, but we're not sure why both pockets couldn't just be the same size.
Since the right pocket zips up higher than the left, it makes for a slightly jarring zip experience when accessing the main compartment. The main zip is horseshoe style, but it's more like half-horseshoe with the uneven pockets interrupting it. We found ourselves instinctively trying to unzip the pack down further and being put off slightly by how high the zipper stops. This creates an oddly-angled flap when you open the bag and a narrow opening, making it harder to see what's inside when you're looking straight down into it.
Now that we are inside, you can see the other two o-rings near the top of the main compartment. But underneath that, smack dab in the middle, is the Luminary's most interesting feature—an internal water bottle sleeve that you can zip away. This is a clever way to organize the main compartment into two sides, with your water bottle acting as a divider.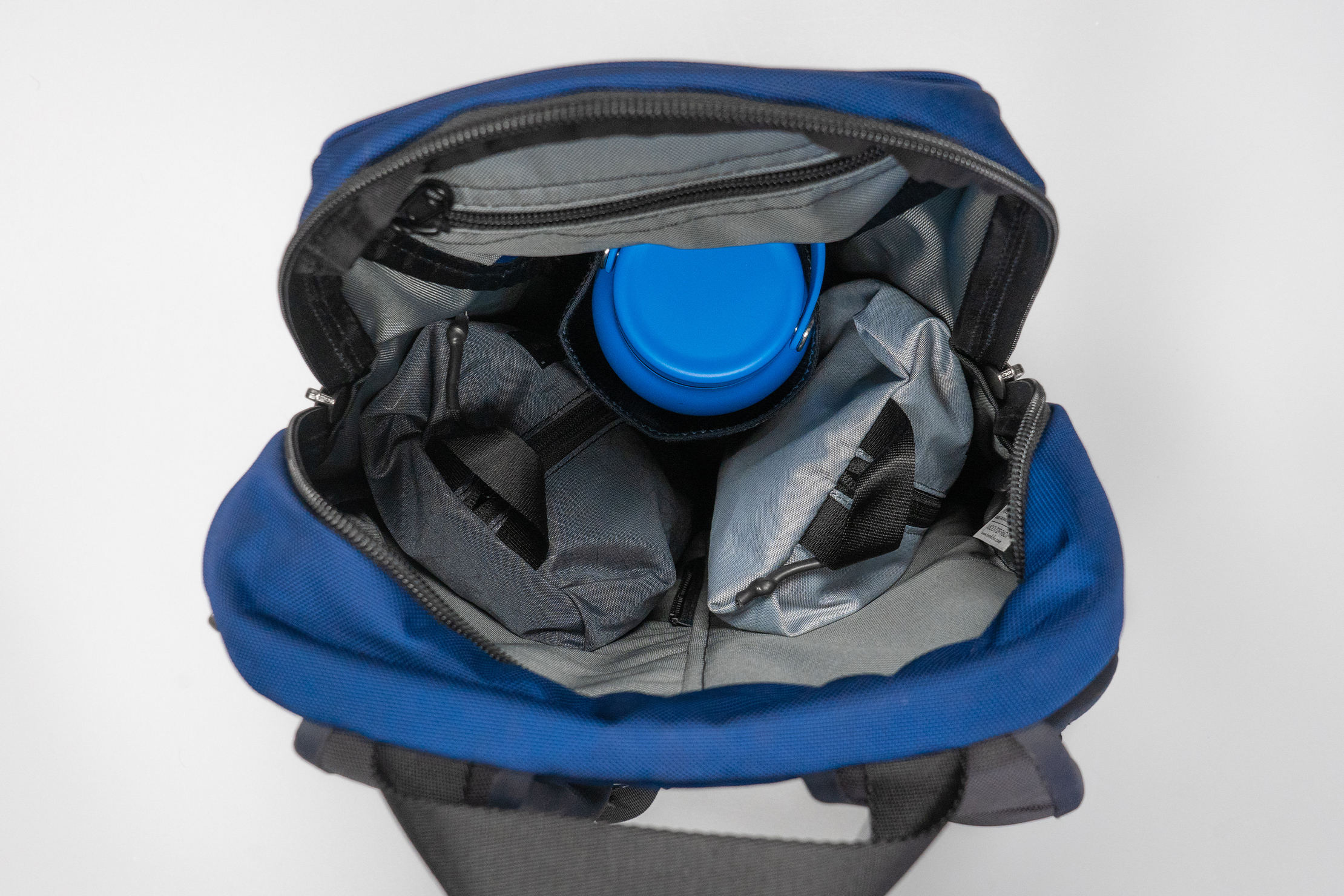 The sleeve is held in place by a zipper connecting it to the front of the compartment. If this bothers you, just unzip it. It won't completely fold away, but this will detach it from one side and allow you to put flat items, like a notebook, behind it. If you're wondering, "but why," maybe you should ask yourself, "why not??" instead. We're assuming that's how the Tom Bihn designers decided on this feature. Water bottle sleeve in the middle of the main compartment that you can disconnect with a zipper? That sounds like a great idea!
Even with that water bottle sitting in the middle of the pack, it fits a decent amount inside for 15L. We carried a large notebook, wallet, phone, hoodie, earbuds, snacks, organizer pouch, keyboard, mouse, laptop, and laptop stand in here without the bag being bulky or heavy. There's also a tiny pocket on the opening flap opposite the main compartment. We found it a nifty space for smaller items like pens and chapstick.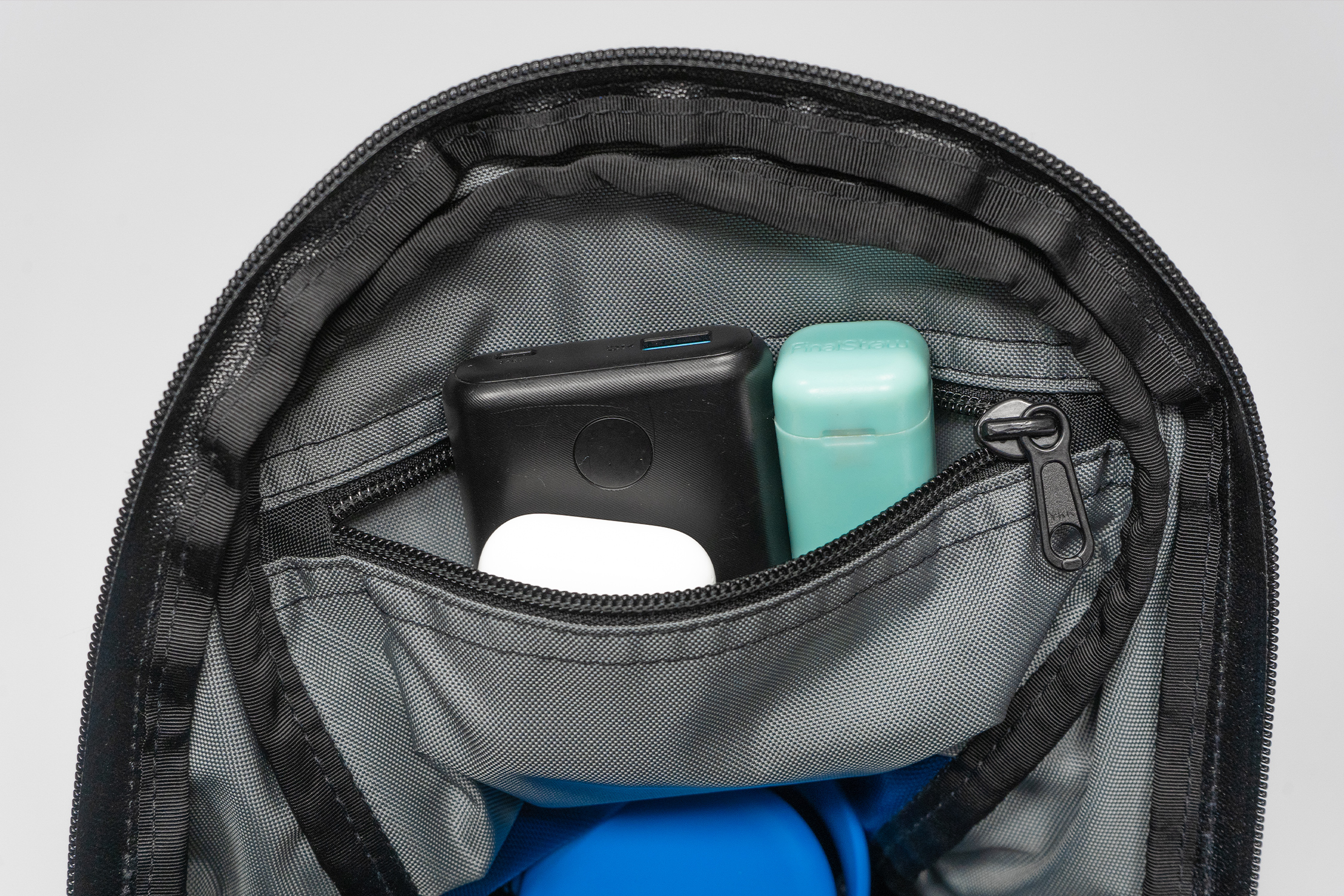 Finally, there's the laptop compartment on the backside of the bag, which fits up to a 13" laptop without a sleeve. Obviously, if your laptop is bigger than 13", this bag may not be practical for your daily use. The good news is that there is a nice amount (1/4" or 6 mm to be exact) of foam padding protecting your laptop and cushioning your back. There's also a false bottom to shield it from drops.
At first, we really didn't think our laptop would fit because the zippered opening looks so small. However, after just a tiny bit of maneuvering, it slid in at an angle, and we were again amazed at this bag's deceptive capacity.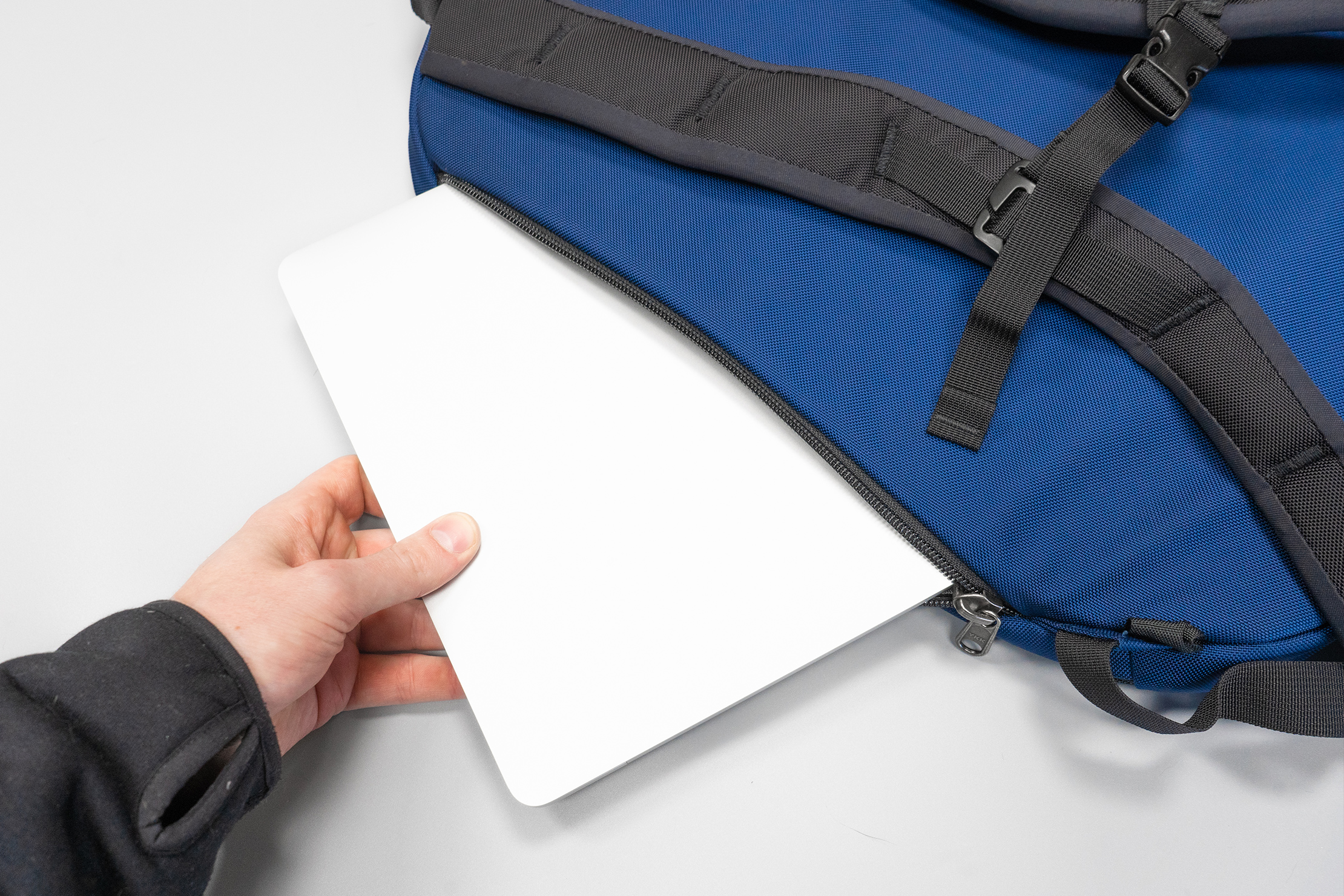 The Luminary 15 is basically like a clown car. You think nothing else could possibly fit in there, but then a red-haired clown pops out and asks if you want a balloon. Just kidding, Pennywise is not hiding in here, but he could if he wanted with the surprising amount of space.
Usage Timeline
Initial Usage
Condition: Excellent
Well-padded harness system makes for a comfortable carry
Looks like one compartment from the outside but is actually a main compartment and two side pockets
We're really digging the sleek and minimalist looking exterior
2 Weeks of Use
Condition: Excellent
No strap keepers, so lots of straps dangling around
Overall very comfortable to carry day to day
Access the Pro Community Discussion
Get your questions about the TOM BIHN Luminary 15 answered from our team and the Pro Community right here on the page. Plus, join discussions with other members about gear, guides, and more.
Other Bags & Luggage Reviews