Platypus DuoLock SoftBottle Review
One of the Platypus DuoLock SoftBottle's two locks feels loose, but everything else from the carabiner clip to the polyethylene body feels durable.
Our Verdict
Unlock the Pro Summary
Save time. Get access to brief summaries of our reviews so you can browse and make decisions more efficiently.
Pros
Rolls up and stows away easily
Dishwasher safe and easy to hand clean
Can be attached to a bag via the built-in clip
Cons
Metal lid lock loosened over time
No built-in way to secure when rolled up
Easy to put lid on backward by mistake
Recent Pack Hacker Video
Technical Details
Capacity

25oz

Weight (oz)

1.5 oz (42.5 g)

Dimensions

16 in x 9.72 in (40.6 x 24.7 cm)

Notable Materials

Nylon, Polyethylene, Polypropylene, Thermoplastic Elastomer (TPE)

Manufacturing Country

United States

Warranty Information
Full Review
Soft bottles are a packable alternative to the more typical rigid insulated bottles or flasks. Once you're done with them, roll them to fit into a small pocket or stow them away flat like sheets of paper. Granted, their material is much thicker than paper, but you get the idea. While their pouch-like appearance reminds us of Capri Suns, these are certainly far from single-use plastic containers.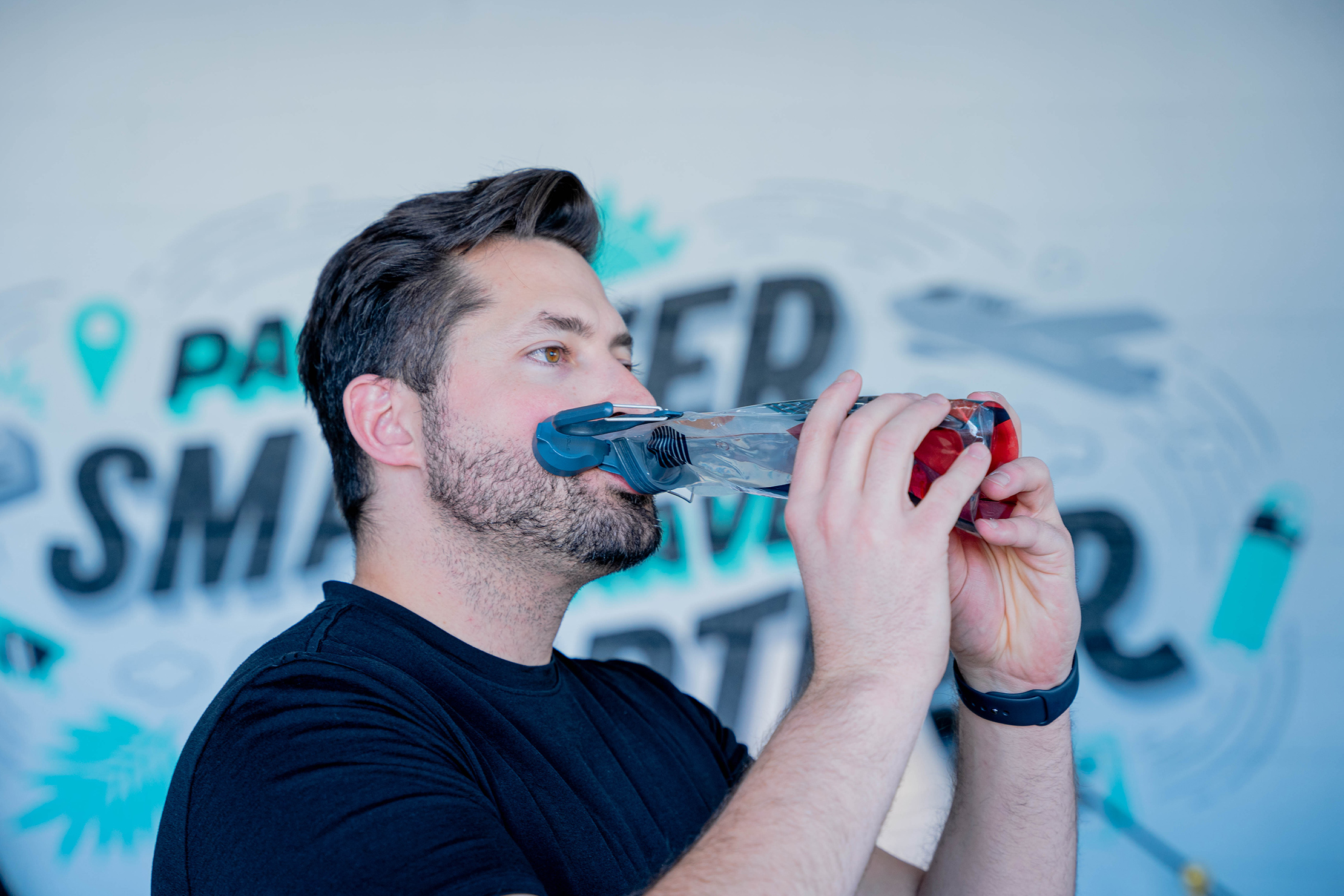 The Platypus DuoLock SoftBottle is one such example of a collapsible bottle. The name is mostly self-explanatory (except the Platypus bit): It's a soft bottle with two built-in locks. It also has a carabiner-style clip for hooking onto a bag's loop that doubles as a handle for pouring. It has its share of flaws, most notably in quality, but it still offers the advantages of a soft bottle in terms of size and packability.
Materials & Aesthetic
The DuoLock SoftBottle comes in a variety of colorways, most of which are nature-themed colorful ones. They're pretty fun to look at, more so if you pick one that matches your bag's color scheme. If you're like us and prefer to have gear in a monochrome, all-black aesthetic, any of the available colorways will go well along with it. Check out the mountain pattern we picked for this review.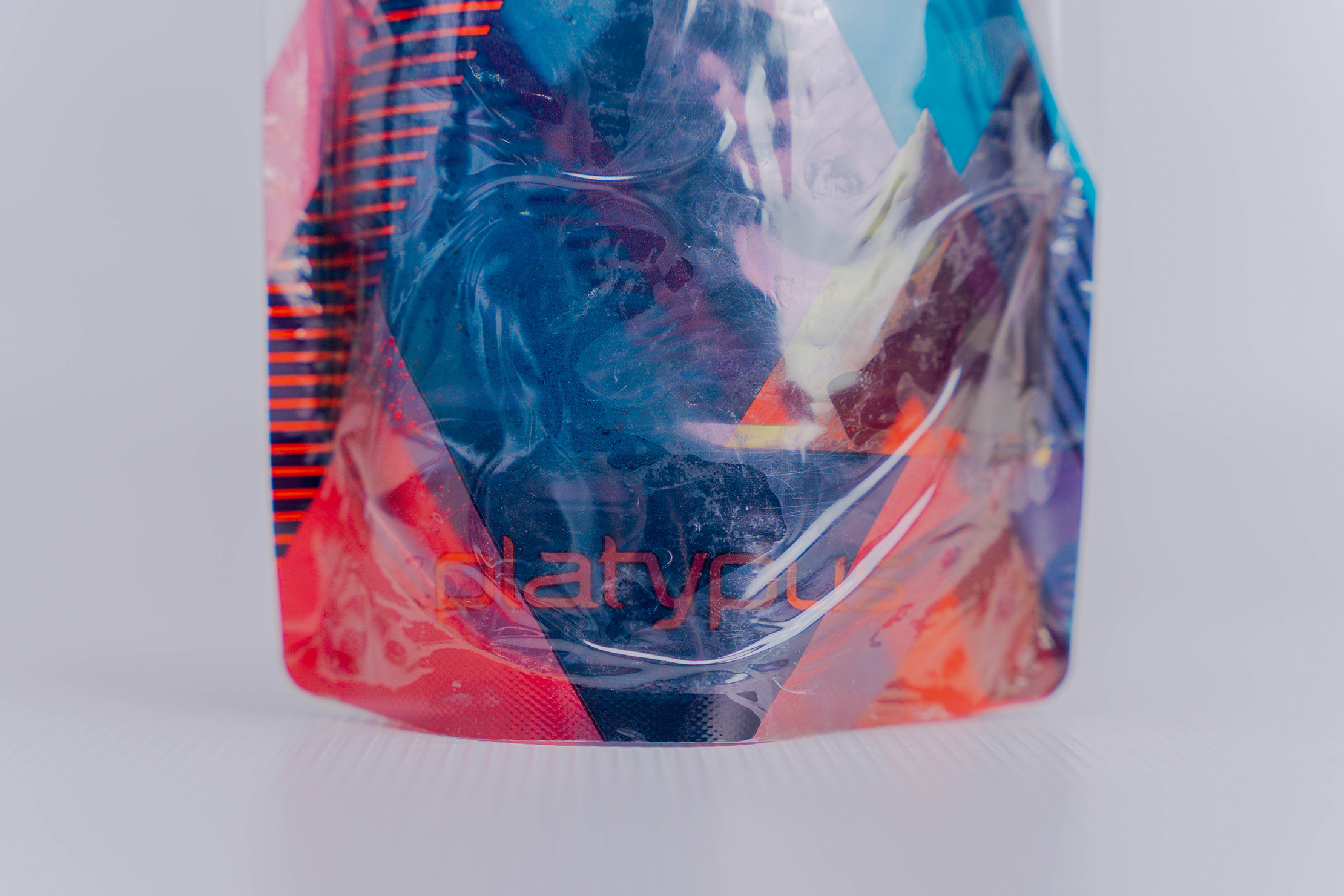 Ours is a Red Peaks 0.75-liter model. Other colorways available at the time of writing include Blue Skyline, Orange Skyline, and Blue Peaks. The one-liter and two-liter models also have their own exclusive colorways and some shared ones with the 0.75-liter. Whichever one you pick, the designs are translucent, which means you can see the liquid inside rather clearly.
Color schemes and patterns aside, our overall impression of the DuoLock SoftBottle stems from its baggy structure. That's not to say it's a bad one; in this case, the bagginess and flexible structure are the product's main selling points. The resulting creases and wrinkles don't make for the cleanest-looking bottle ever, but that's the tradeoff you get with a soft bottle.
The twist is that it's not necessarily a fragile bottle despite being soft and flexible. The main materials are nylon, polyethylene, and thermoplastic elastomer (there are also some metal bits on the carabiner and lid lock). These materials feel relatively durable and secure. There are no signs of leaks or imminent bursting even when we squeeze it with as much grip as we can muster.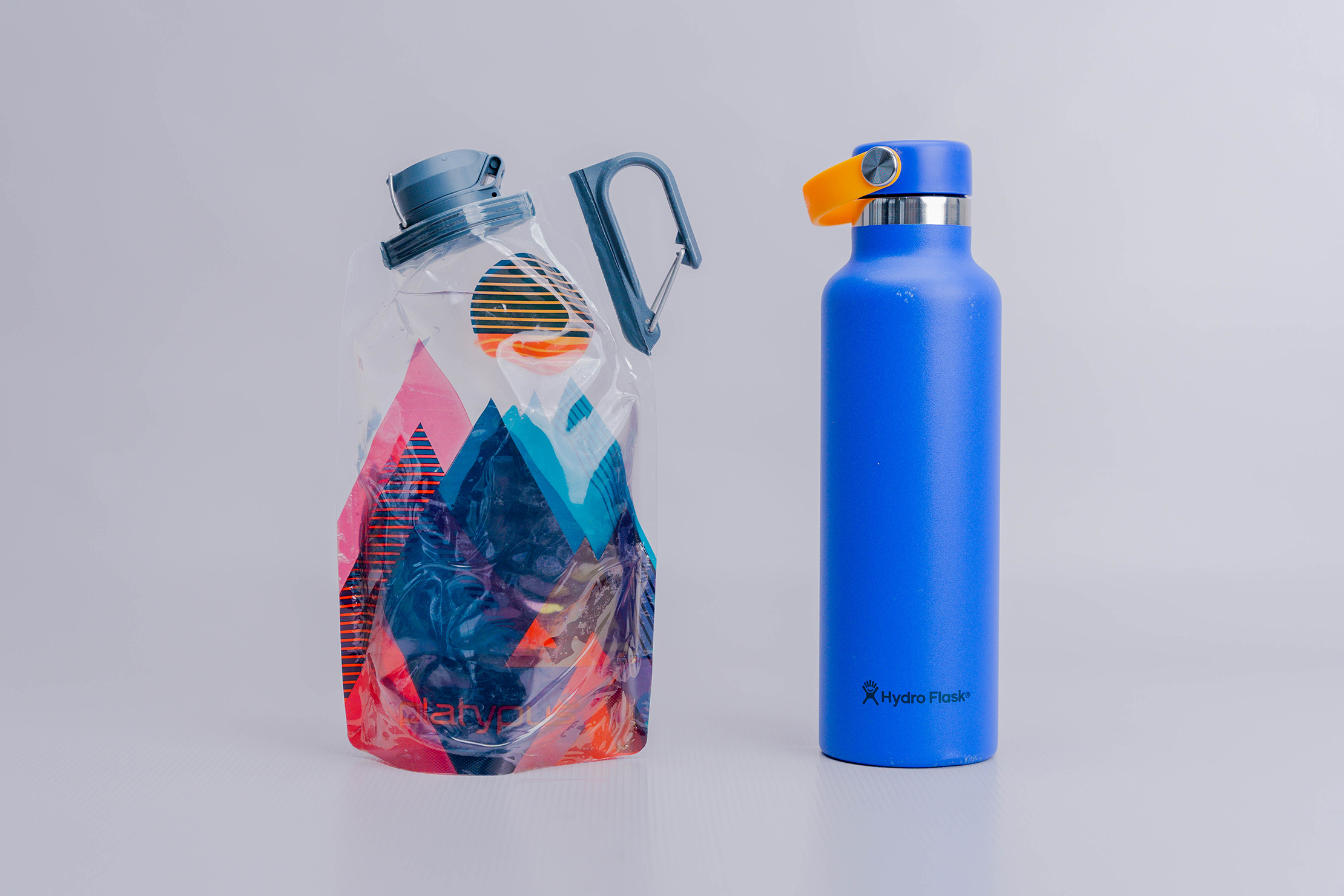 We do want to mention that we've seen user reviews on Platypus' website claiming that they've had durability issues, specifically leaks. We think this may be due to quality control issues, as ours is functioning without issue after a month of daily use. Fortunately, the bottle does come with a limited lifetime warranty, though the process is lengthy.
Usage & Features
At the top of the DuoLock SoftBottle is a built-in carabiner-style clip. This is a feature we've seen on another soft bottle, namely the Vapur Eclipse, which is one of our favorite travel water bottles. Both perform the similar function of attaching the bottle to a bag's loop or other anchoring points. This is particularly useful when, say, you're outdoors, and there's no flat surface place it on; simply hook it onto a side loop, so it stays propped up.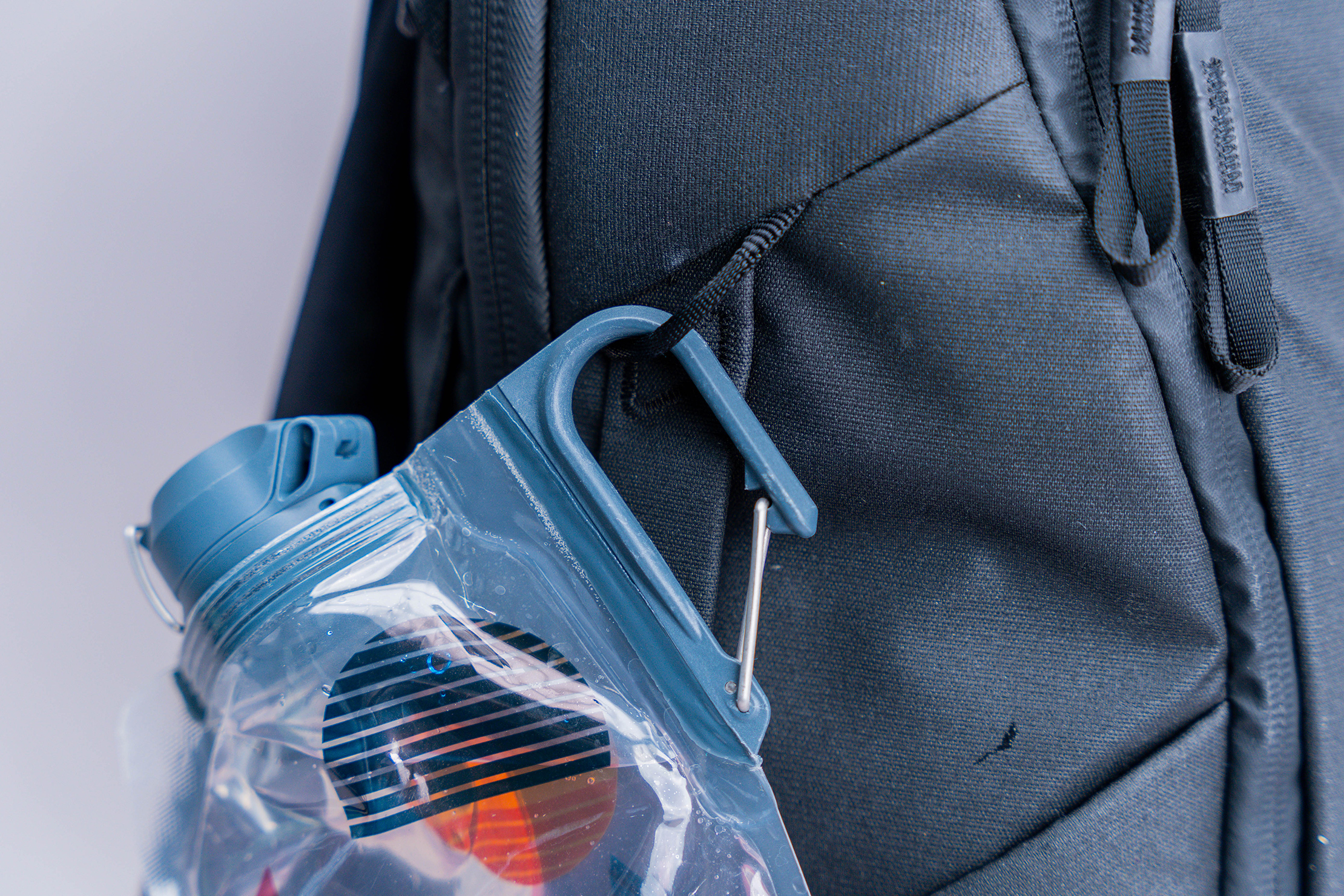 The difference between the DuoLock SoftBottle and Eclipse is in their secondary function. The Eclipse also uses its carabiner to hold down the entire bottle when it's rolled up, while the DuoLock SoftBottle uses its clip as a handle for pouring. This means it has a harder time Staying rolled up unless it's squeezed into a tightly-packed bag. On the other hand, the carabiner on the DuoLock SoftBottle feels a lot more robust and solid than the Eclipse's.
Moving on to the bottle's opening, the spout's main assembly screws into the neck of the bottle with a half-turn. It's easy enough to do, but also so easy that it's actually possible to put it on the wrong way. You want the small, protruding lip of the spout to face the corresponding metal tab rather than the other way around. It's a minor flaw—definitely an "oopsie" moment we keep to ourselves whenever it happens.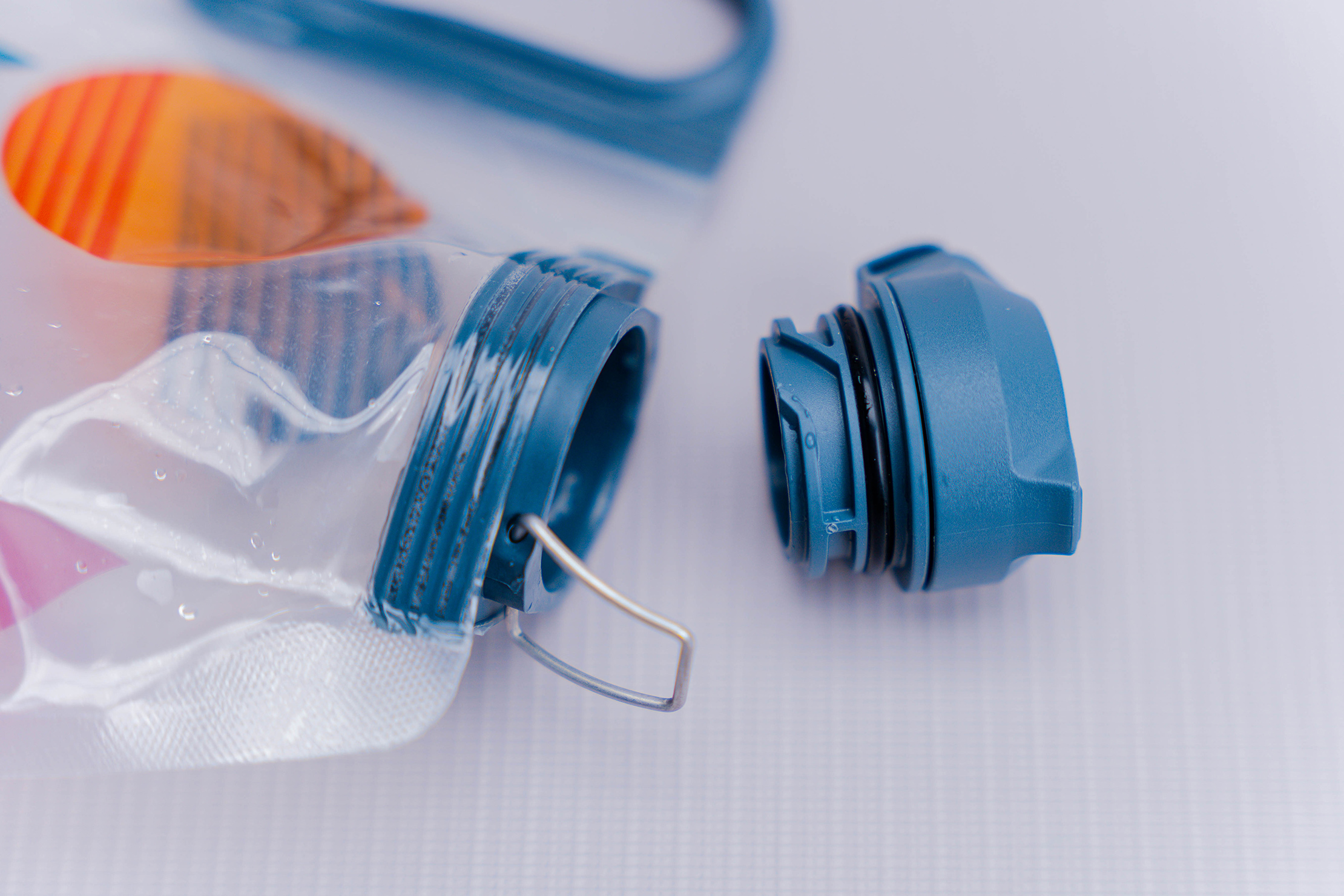 The spout secures two ways (hence the "DuoLock" moniker): a flip-top cap and a metal tab. The cap simply clicks into place when you press it down, and it works just fine; it's the metal tab that falls short of our expectations. Over the course of testing, the metal has gone loose to the point where it no longer catches on the lip of the spout like it's supposed to. The good news is that the flip-top cap is secure enough on its own to keep fluids inside.
As we mentioned earlier, the DuoLock SoftBottle can be rolled up and stowed away when it's empty. It's rolled starting from the bottom and up to the top edge. However, there's no built-in way to make it stay rolled up. You have to either use a rubber band or squeeze it into a pocket to prevent it from unraveling. Once rolled up, it's small enough to fit inside a sling or travel daypack.
The DuoLock SoftBottle is relatively easy to clean, thanks to a fairly wide opening through its neck. It's wide enough to fit a sizeable water bottle brush and give the inside a good scrubbing, which you'll want to do, given its see-through design. In fact, you can even squeeze the bottle from the outside to really rub it against the brush. This is one advantage a soft bottle has over a rigid one. Of course, you can skip the manual scrubbing altogether and toss it into the dishwasher since it's also dishwasher-safe.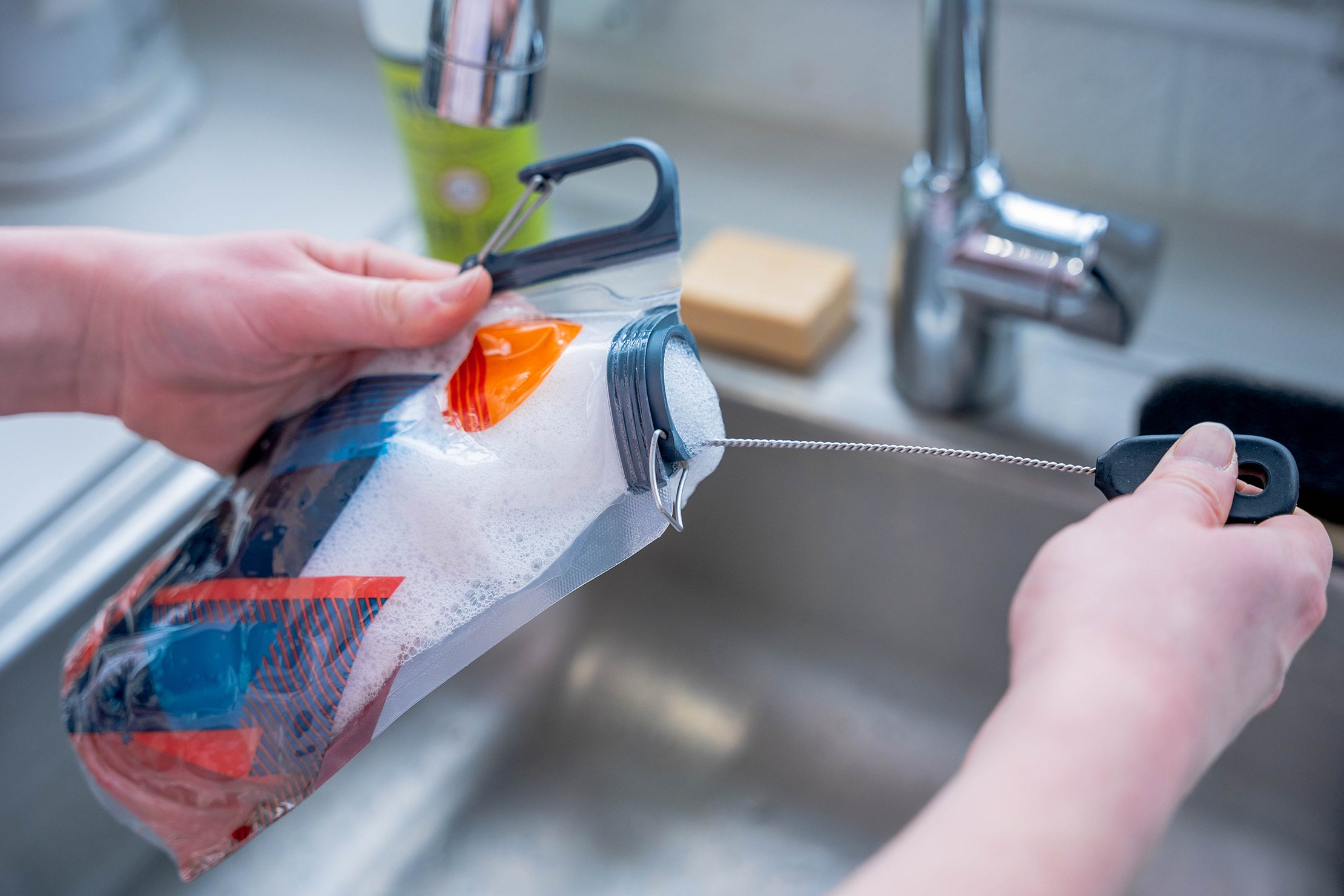 In general, we dig the functionality of a soft bottle. It doesn't have the bulkiness of something like an insulated bottle. Once you're finished with your drink, you can store it where it won't take up too much space. On the other hand, thermal performance can't compare to an insulated bottle. It's a use-then-stow kind of style that works well if you're prioritizing packing space and reducing bulk.
Usage Timeline
Initial Usage
Condition: Excellent
Built-in gatekeeper-style clip
Locking flip-top cap
Can be flattened and rolled when empty
2 Weeks of Use
Condition: Excellent
The cap can be screwed on backward, which we figured out while testing
Carabiner clip that doubles as a handle is a nice touch, though the bag is too flimsy to drink using the handle only
1 Month of Use
Condition: Good
Metal hinge can come unlocked unprompted and has a hard time staying down
Access the Pro Community Discussion
Get your questions about the Platypus DuoLock SoftBottle answered from our team and the Pro Community right here on the page. Plus, join discussions with other members about gear, guides, and more.
Other Miscellaneous Reviews