Bellroy Venture Sling 6L Review
The Bellroy Venture Sling 6L offers an exceptional amount of organization in a smaller, more manageable footprint than its 9-liter sibling.
Our Verdict
Unlock the Pro Summary
Save time. Get access to brief summaries of our reviews so you can browse and make decisions more efficiently.
Pros
Polished materials and build quality
Excellent organization
Subtly integrated self-compression straps
Cons
Tall gear in liner pockets may interfere with zippers
Small gap between side gussets and zippered opening
Tricky to access small items when packed out
Recent Pack Hacker Video
Technical Details
100 %
Carry-on Compliance
Capacity

6l

Weight (oz)

12.2 oz (345.9 g)

Dimensions

11.6 in x 6.69 in x 3.46 in (29.5 x 17 x 8.8 cm)

Notable Materials

YKK Zippers, Duraflex Hardware, Nylon

Manufacturing Country

Philippines

Warranty Information
Full Review
Bellroy's Venture Sling 9L has, among many others, two things going for it: a spacious main compartment, tons of organization, and a clever self-compression system. Packaged in the typical Bellroy aesthetic, it's an everyday sling that doesn't leave you yearning for extra space or organization. And yet, what if you're looking for something smaller? A Venture Sling that carries the 9L's niceties, but is even easier to carry. Enter the Venture Sling 6L.

No, you won't have to worry about the Venture Sling 6L being a slight downgrade of the 9L. Sure, the space isn't on the same level, but you still get the same features we listed above. In fact, we'd go as far as to say that this 6-liter version is the better option, as the smaller size makes it easier to carry and more manageable. If it's a smaller Venture Sling you want, it's a smaller Venture Sling we're covering here in this review.
Materials & Aesthetic
The 6L version is basically a slightly shrunken down version of its 9-liter sibling. The styling is business as usual for Bellroy. The fabric arguably carries the looks, with no other external fixtures that stand out and distract from the minimalist aesthetic. At most, you get a Bellroy logo front and center of the sling, and the paracord zipper pulls. However, even those are tastefully understated through carefully complementing colors (depending on the colorway). In the case of our sample, it's gray on dark blue.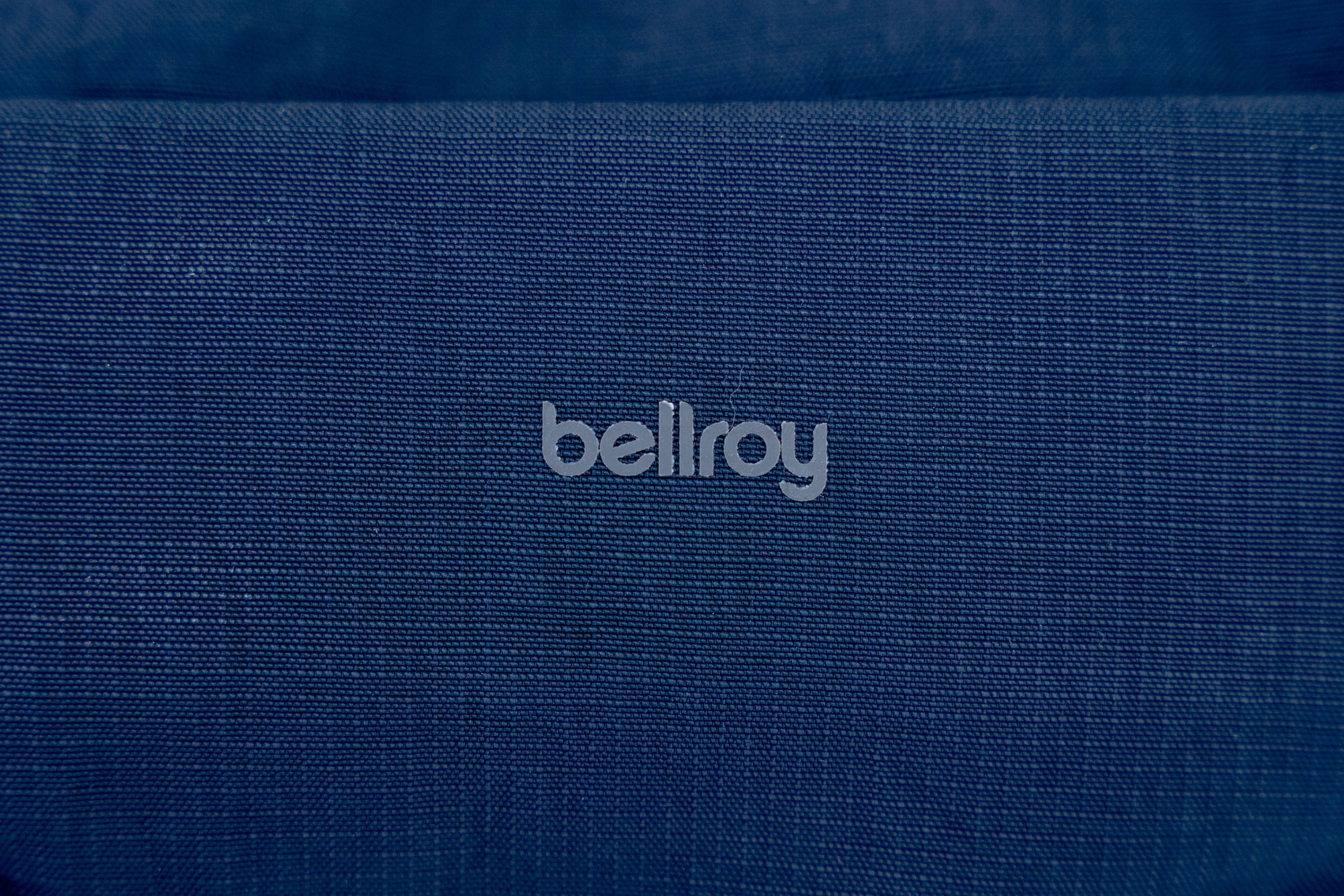 To be more specific, this is the Nightsky colorway, and we think it's a good compromise between eye-catching and stealthy. It's made out of Baida Nylon that has a matte-looking finish, though upon closer inspection you'll notice the ripstop texture as well. Other colorways are available at the time of writing, such as Black, Midnight, Basalt, Ranger Green, Bronze, and Coyote. All these options (including Nightsky) are leather-free, though the fabrics used may differ between colorways.
The Venture Sling's zippers are YKK, with beefy #8's for the main compartment. Those come equipped with knotted paracord pulls, which are easy to grip, and have heat-shrink material at the ends to avoid fraying. Meanwhile, the front pocket makes do with a flatter zipper pull so that it can fit comfortably within the fabric lip. Something we've noticed is that the AquaGuard-style openings have a sort of shiny coating, which we don't see with the 9-liter version. This doesn't affect water resistance, though it may be relevant for aesthetic reasons.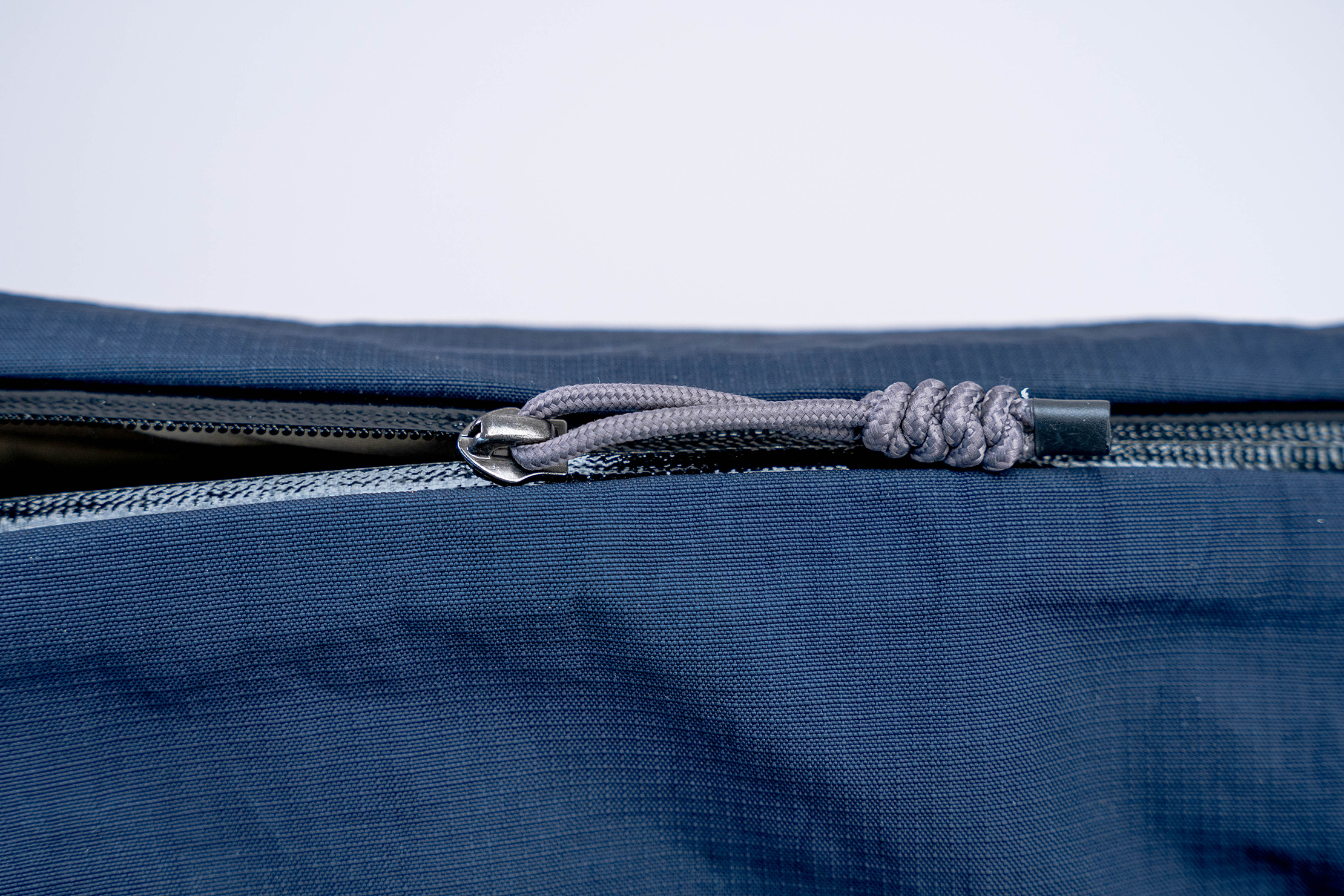 The hardware also feels top-notch, with a mix of plastic and aluminum used for the buckles and adjusters (we'll get into those later). You'll notice that the outside is notably lacking in extra features like loops, clips, and secondary straps. This is in line with Bellroy's generally minimalist-yet-stylish exterior designs, though at the cost of extra functionality.
External Components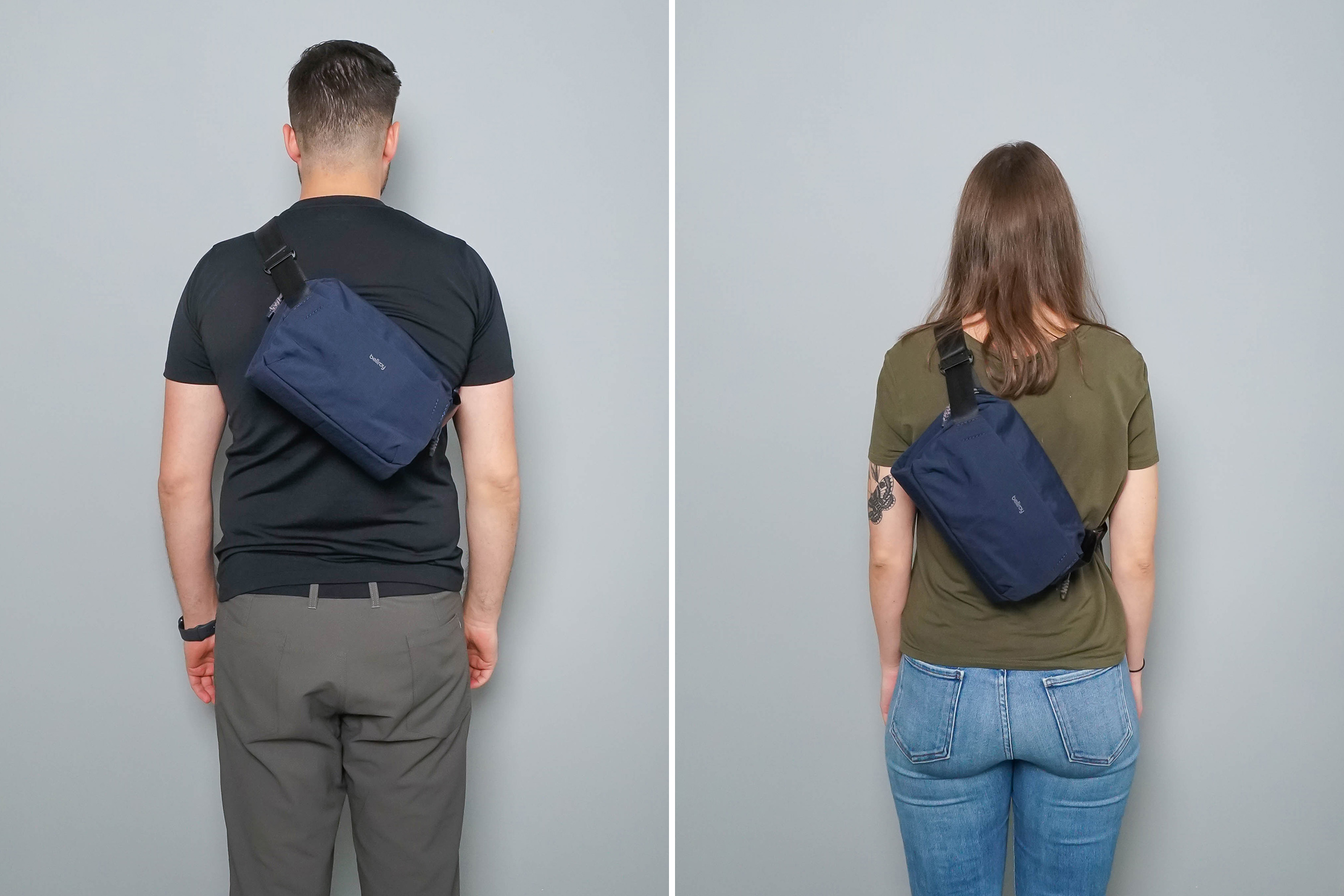 The main strap is made out of a soft, seatbelt-like material that's comfortable to wear and wide enough that it doesn't dig in harshly. Adjustments can be made on both sides in line with the ambidextrous theme of the design. The hardware appears to be plastic at first since it's all black, but the adjusters are actually aluminum, as mentioned earlier.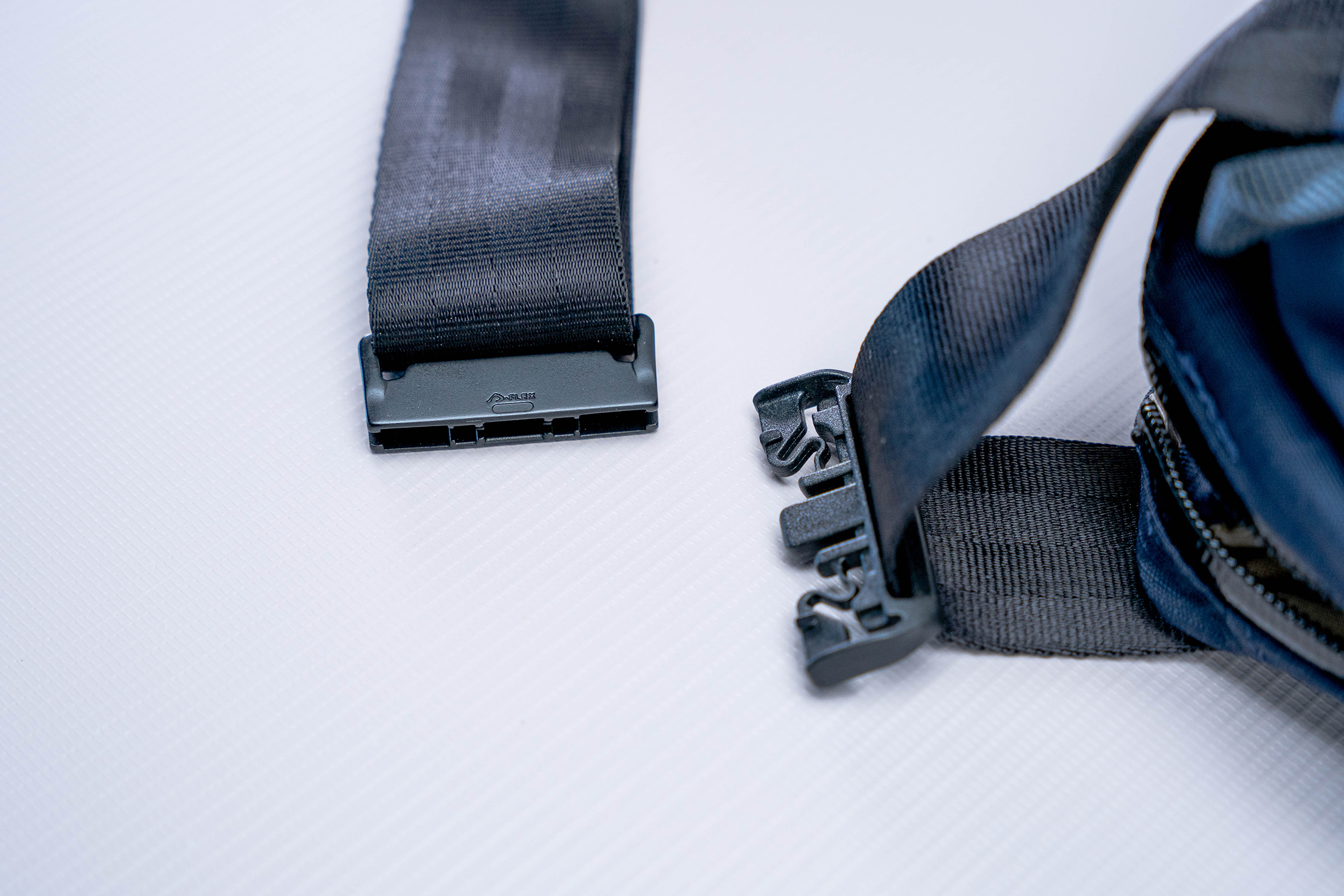 There's also a quick-release buckle along the strap as a convenient means of taking off the Venture Sling. We're not ones to use these kinds of buckles since it's easier for us to take the sling off over our heads. However, quick-release buckles like this can come in handy in cases where the strap is pinned down by, say, a backpack. It's worth noting that the buckle itself is quite narrow and low profile—a nice little touch by Bellroy to keep the sling feeling unique and well-thought-out.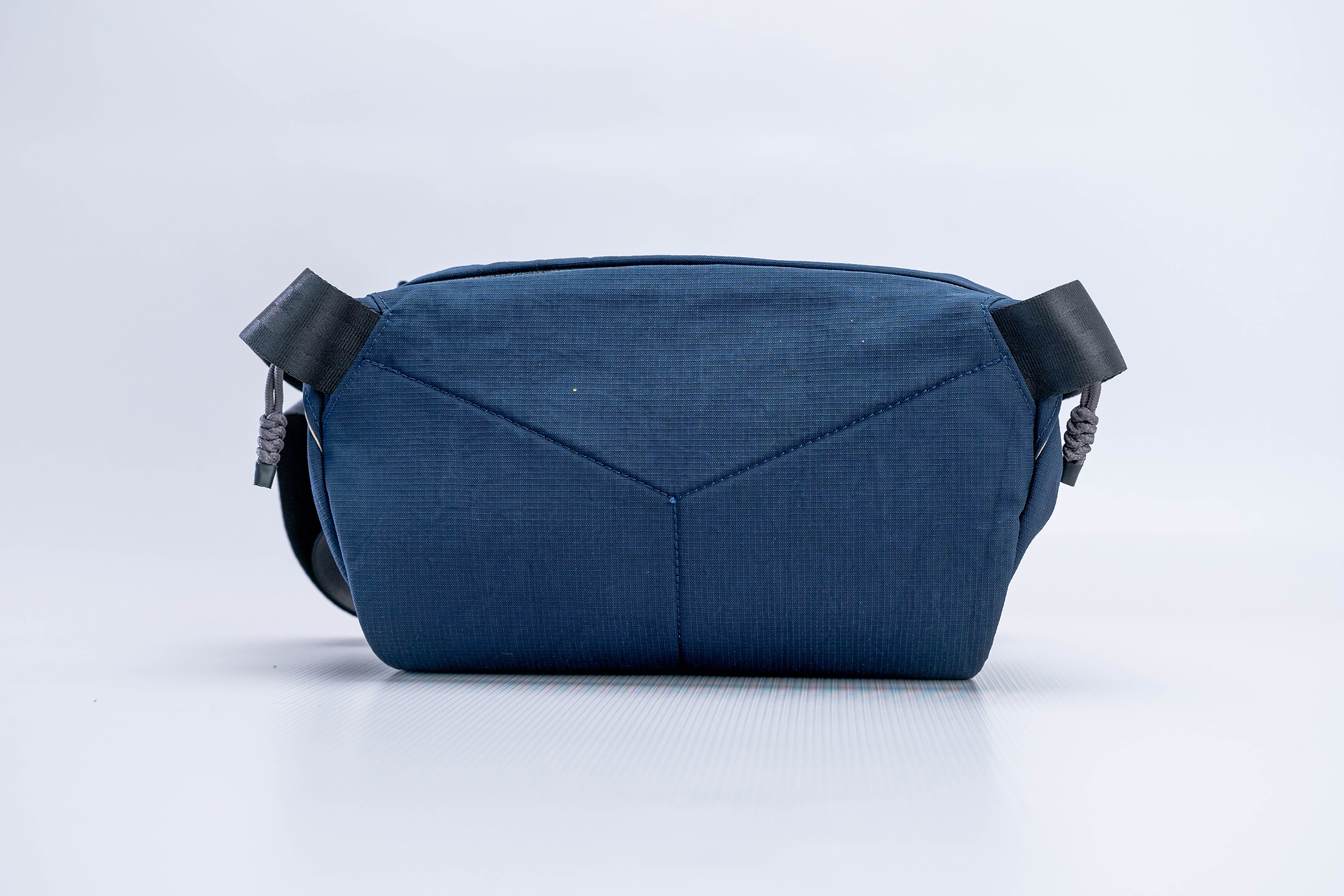 Notably missing from the Venture Sling is a meshed back panel. That means breathability does suffer, though we really don't find many issues with it. At 6 liters, this Venture Sling doesn't have a ton of coverage, so it doesn't feel too hot to wear. Your mileage may vary, but in our experience, if it's too hot, you'll sweat regardless of whether the back panel is covered in mesh or not.
The Venture Sling doesn't have many extras on the outside, but that doesn't mean it's ill-equipped. Bellroy has cleverly integrated its own compression system that allows the sling to compress once there's tension on the strap.
The way it works is that the main strap is anchored to straps on the sides. Once you put the sling on (and there's tension), the side straps stretch out and pull the Venture Sling's front and back closer together. In practice, the effect looks minimal, but it does positively affect the sling's fit and comfort by keeping it low-profile. We've also seen this design in Bellroy's other slings, such as the 9-liter version of the Venture Sling and even their Sling Mini, so we're glad to see it implemented here as well.
Inside The Sling
The front pocket has a simple organizational layout, with side-by-side stretchy mesh pockets inside. We've generally liked Bellroy's mesh pockets for their stretchiness; they're not too loose, unlike some we've seen on other slings. The available space can feel a bit tight, especially once you have the main compartment packed out. Smaller gear in front of the mesh pocket can get crowded and obscured if those are filled out.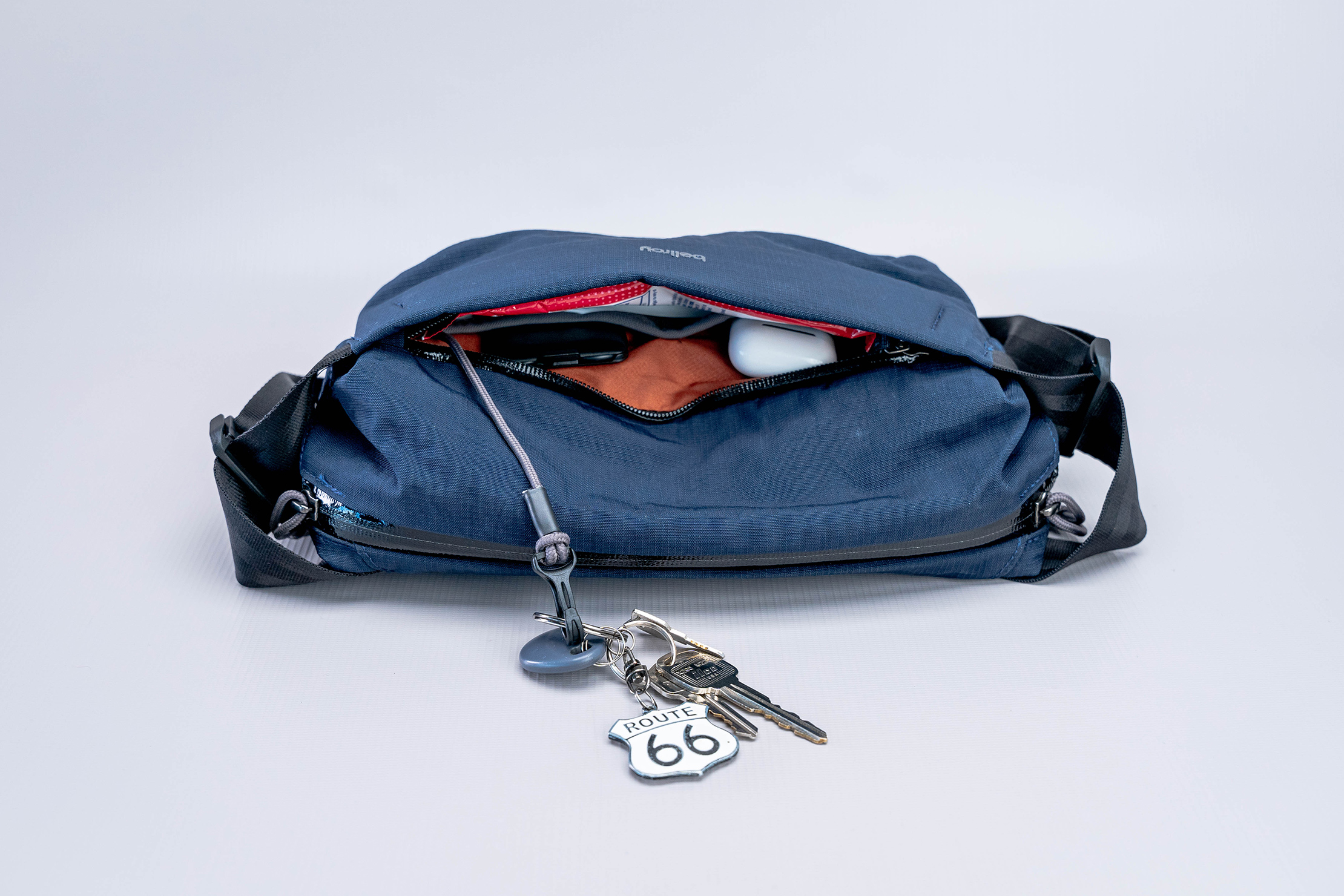 All things considered, we're not too nitpicky about the space. Perhaps a more pressing gripe is that the key strap is mounted only on the right (left if you're wearing the sling), so your keys could end up on the far side if you're wearing the strap on your right shoulder crossbody-style. Still, it's a fairly minor gripe in the grand scheme of things.
The key strap itself is a long paracord that's knotted to a plastic clip—both solid improvements over Bellroy's previous key straps. Some of their gear uses ribbon-like straps combined with flimsy-feeling clips, both of which we're not very stoked on using. A little bit of extra length would be the final thing on our wish list for this key strap, but it's capable enough as it is.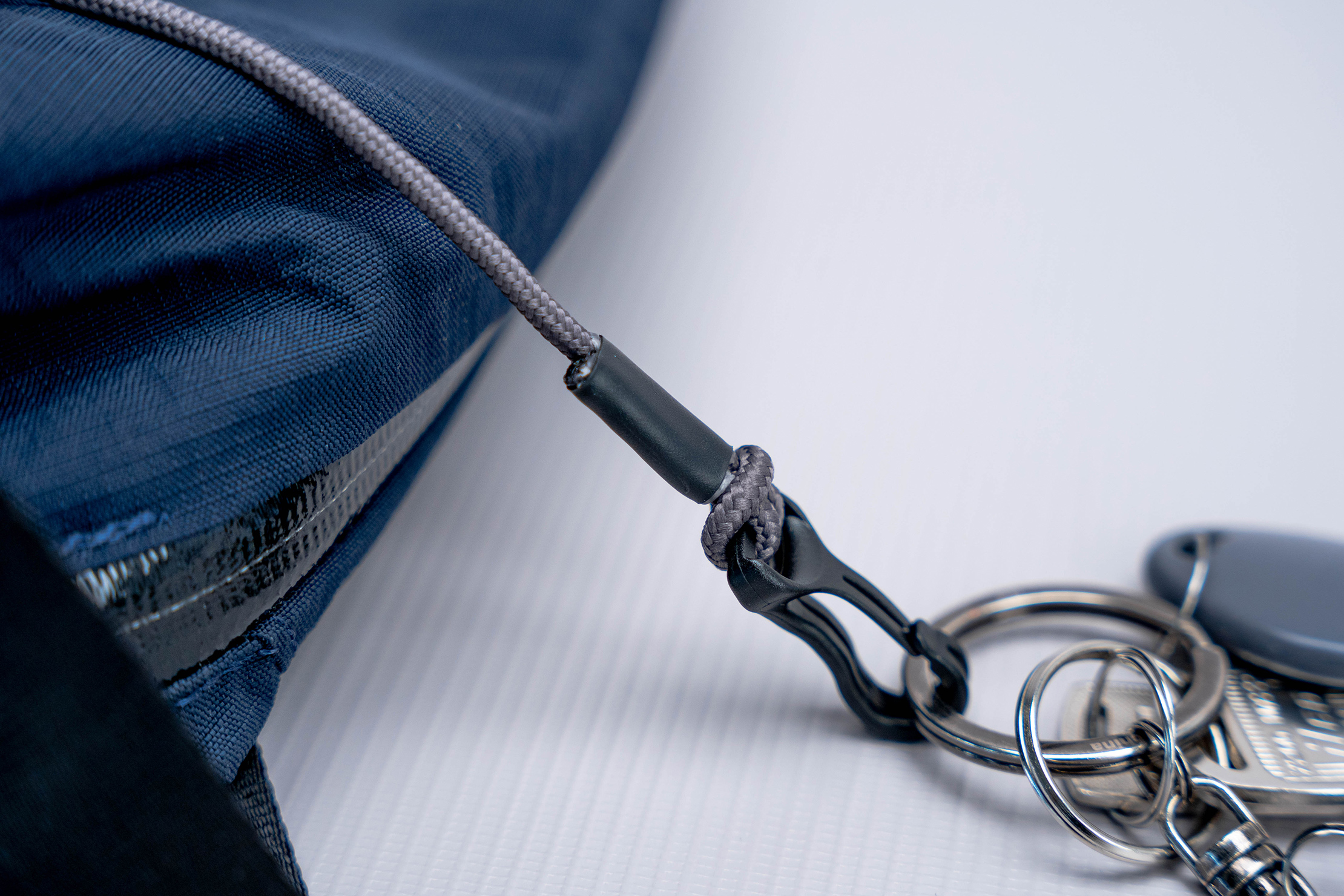 The main compartment opens up from either side using reverse-opening zippers. Instead of the usual where two zippers have the opening in between them, these zippers have the opening on their respective sides. This makes for an ambidextrous design since this effectively grants access to the main compartment, regardless of which side is closer to you.
The sides have gussets, so it can open up wide and grant you great accessibility to the organization inside. We note in the 9L version and in Bellroy's Lite Sling's respective reviews that there's a gap in those gussets where it meets the edge of the zippered opening. That's still the case with the Venture Sling 6L, though the gap here is the smallest among the three. So keep in mind that while it does have an AquaGuard-style zipper, water can still find its way in under the right circumstances.
The interior layout is mostly carried over from the 6L. You get stretchy mesh pockets on both sides, though these are smaller ones. These pockets go all the way down the interior, so it can be tricky to access small accessories if the sling's packed out.

Towards the back are two liner pockets, a pen pocket on the far side, and a zippered pocket. Liner pockets are good for dumping extra accessories, though be warned that they don't have any elastic or stretch to keep gear in when things get jostle-y; for that, you'll want to use the zippered pocket behind them.
As for the pen pocket, we tried inserting a full-length pen, and it fits. However, it butts up against the main compartment's opening. Something shorter like a travel-sized pen or stubby pencil will fit better. In general, though, tall gear in the liner pockets may interfere with parts of the sling, so keep that in mind.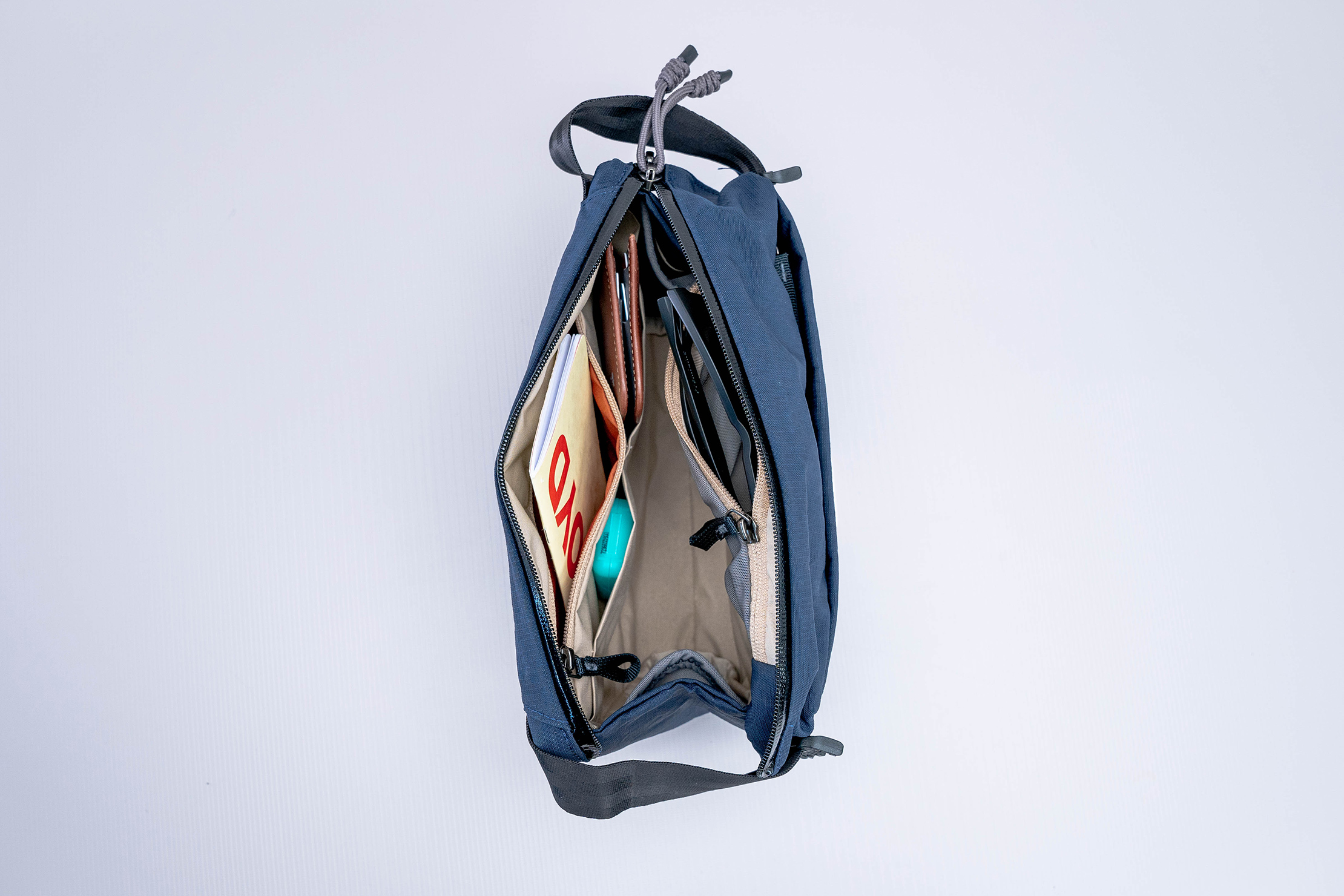 Lastly, there's a dedicated sunglasses pocket on the front. It's raised and out of the "crush zone," as Bellroy puts it, and it's lined with soft material. On one side is soft padding, while the other is a stretchy mesh that allows the pocket to bow out. Oh, and if you peek just below, you can read a print of Bellroy's mission—bonus reading material in case you get bored.
Needless to say, the Venture Sling 6L isn't short on organization potential. However, compared to its bigger 9-liter sibling, is it lacking in space?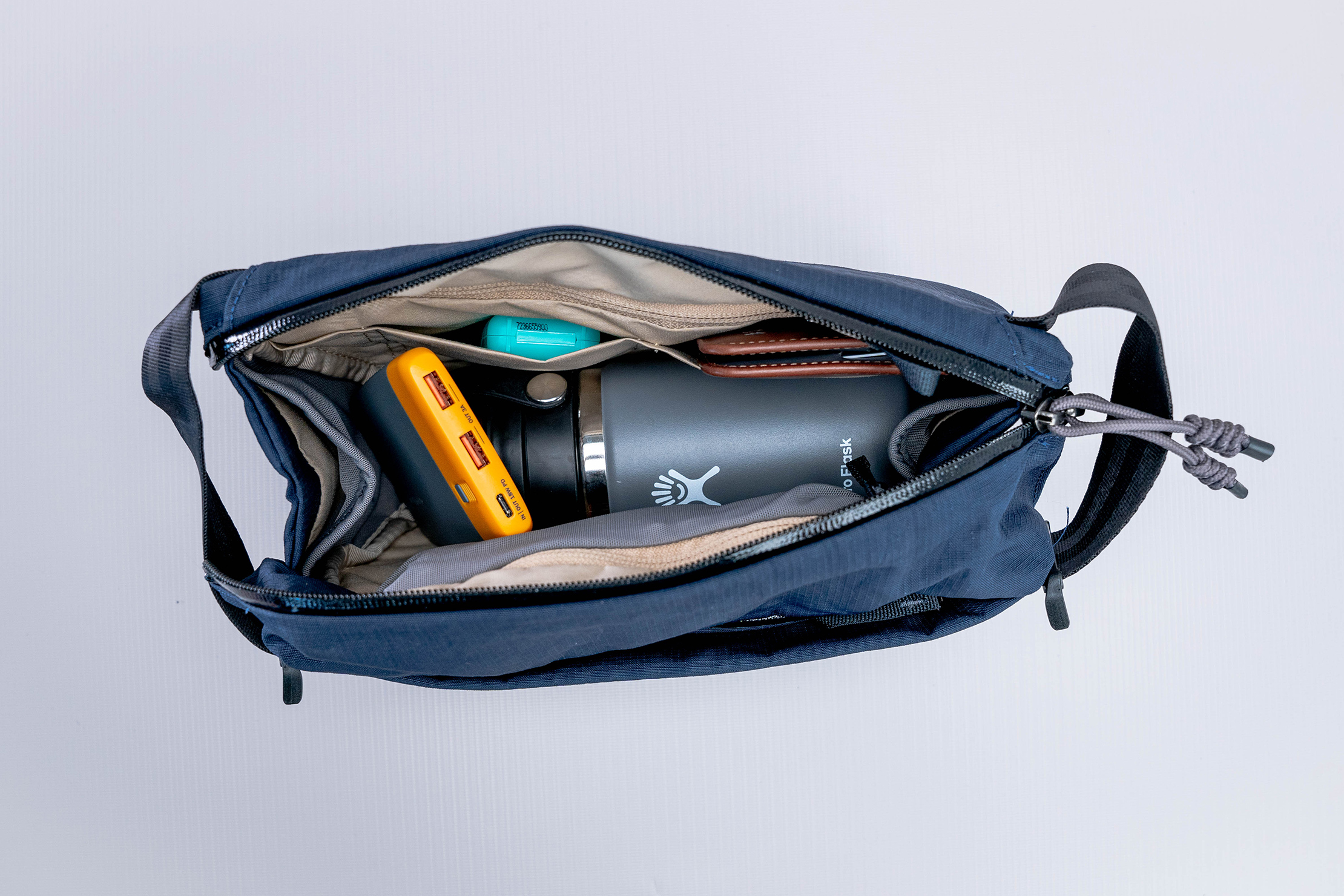 The short answer is no, not really. Of course, you won't be able to fit as much gear as you would on the 9-liter version, but the spirit of the design is still here. We can fit a 12-ounce Hydro Flask sideways with a ton of room to spare for bulky gear, such as a pair of gloves, a buff, and even an apple. That's all on top of the smaller gear that's already inside the pockets and compartments.
When we think of everyday gear we want inside a sling, the Venture 6L has little issue fitting those. Bonus points: Bellroy's using tan-colored liner here, which does wonders for interior visibility (may vary depending on the colorway).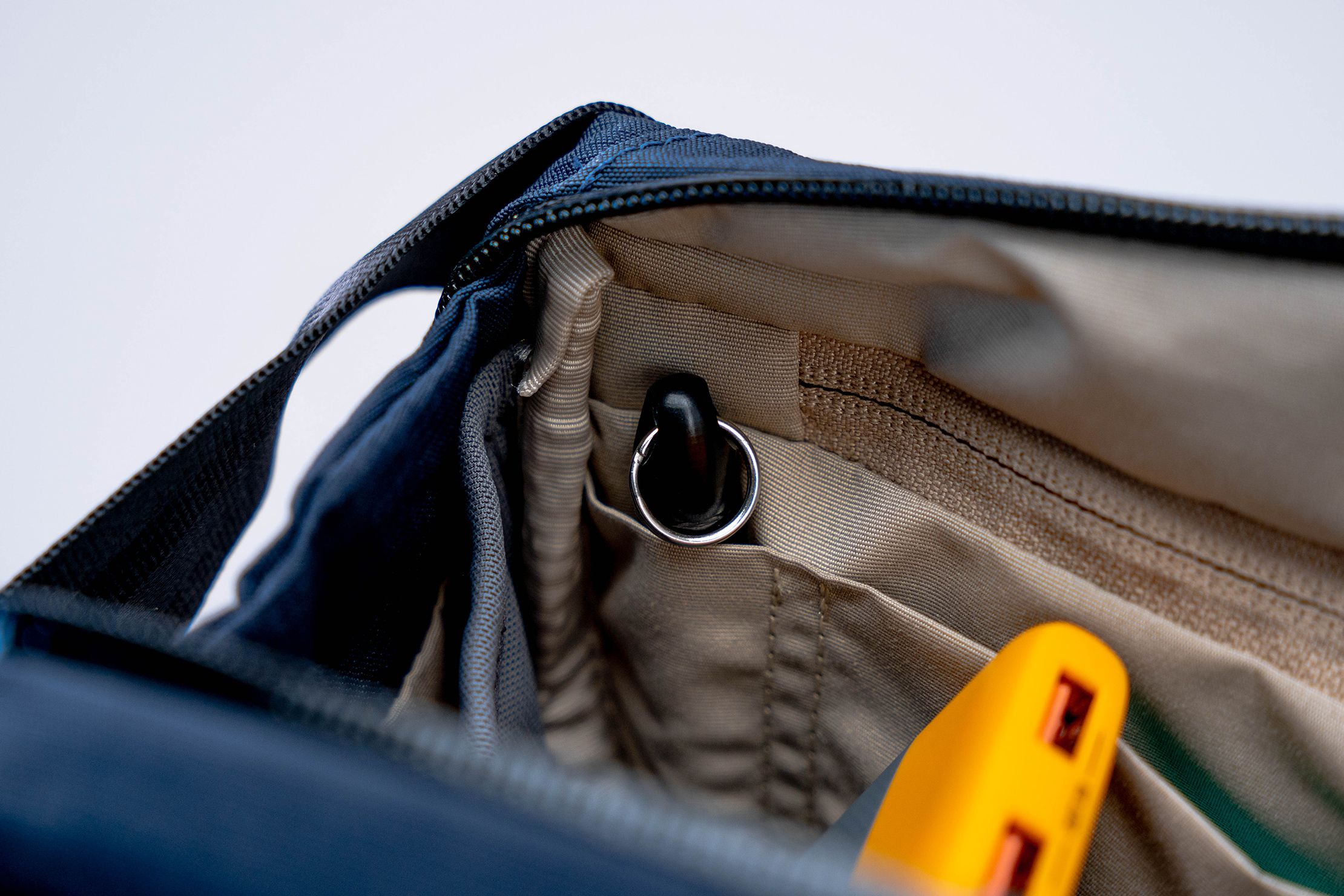 The Venture Sling 6L is really the answer to the question of "is the Venture Sling 9L too big for me?" You still get the outstanding amount of organization, the self-compression feature, and relative spaciousness. To us, though, the Venture Sling in this 6-liter iteration is our preferred size out of the available ones so far.
Usage Timeline
Initial Usage
Condition: Excellent
Digging the Nightsky colorway
Always a fan of the grabbable paracord knot zipper pulls
Curious to see how this works compared to the 9L version
2 Weeks of Use
Condition: Excellent
We're digging this size more than the Bellroy Venture Sling 9L, but of course, it'll depend on what you'd like to carry
Materials feel great in the hand
Organization is outstanding
Ambidextrous access doesn't leave lefties in the dust like most slings do
Ordinary-sized pen isn't great in the pen pocket—better to get something smaller or travel-sized
Access the Pro Community Discussion
Get your questions about the Bellroy Venture Sling 6L answered from our team and the Pro Community right here on the page. Plus, join discussions with other members about gear, guides, and more.
Other Bags & Luggage Reviews