Bellroy Lite Sling Review
The Bellroy Lite Sling is extremely light and has a self-compressing main compartment that can fit a surprising amount of gear for only being 7L.
Our Verdict
Unlock the Pro Summary
Save time. Get access to brief summaries of our reviews so you can browse and make decisions more efficiently.
Pros
Self-compressing design
AquaGuard zippers keep the elements at bay
Main compartment is quite large
Cons
Side gussets leave a small hole for water to get in or gear to fall out
Front compartment pockets oddly sized for common items
Front zipper pull can be hard to find
Recent Pack Hacker Video
Technical Details
Capacity

7l

Weight (oz)

7.76 oz (220 g)

Dimensions

5.9 in x 12.2 in x 4.33 in (15 x 31 x 11 cm)

Notable Materials

Recycled Polyester, YKK Zippers, Woojin Hardware, Ripstop

Manufacturing Country

Philippines

Warranty Information
Full Review
At first glance, the Bellroy Lite Daypack bears a striking resemblance to the Bellroy Venture Sling. As we will explain, it features a similar design but has a smaller liter capacity and is much lighter. Bellroy has made a name for itself using quality materials but went a lot lighter (or lite-er) with this cross-body sling. Can the ultralight materials hold up to Bellroy's reputation for durability backed up by offerings like the Venture Sling? Let's find out!
Materials & Aesthetic
Like the daypack and the rest of the Lite Collection, the Bellroy Lite Sling features a textured diamond ripstop polyester with a waterproof coating. It will keep things dry for a short period in light rain, but if the weather takes a turn for the worse, it's best to stow it out of the elements at the risk of your gear getting wet.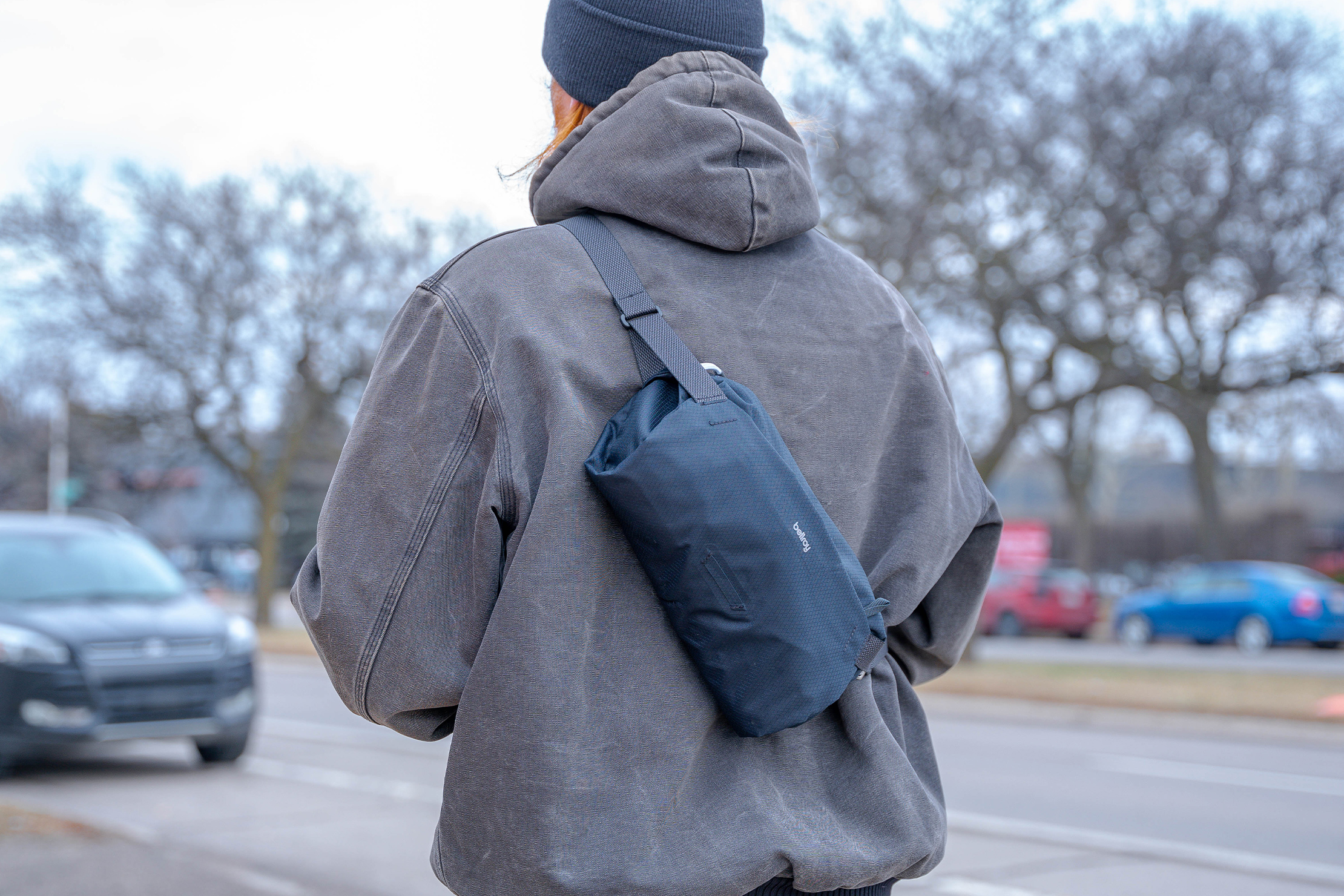 Bellroy keeps things simple with the entire Lite Collection as far as colorways go. At the time of writing, it comes in Chalk and Shadow, which are black and off-white for all intents and purposes. Chalk is punchy but not too in your face, and Shadow is sleek yet matte. We love the look of our Shadow pack, but if you fancy something a little more saturated, you're out of luck.
The polyester is made from 100% recycled PET plastic bottles, which gives the fabric a slight crunch when compressed, though we don't find it annoying. The material is just as durable as other diamond ripstop textiles we've tested in the past but is much more lightweight.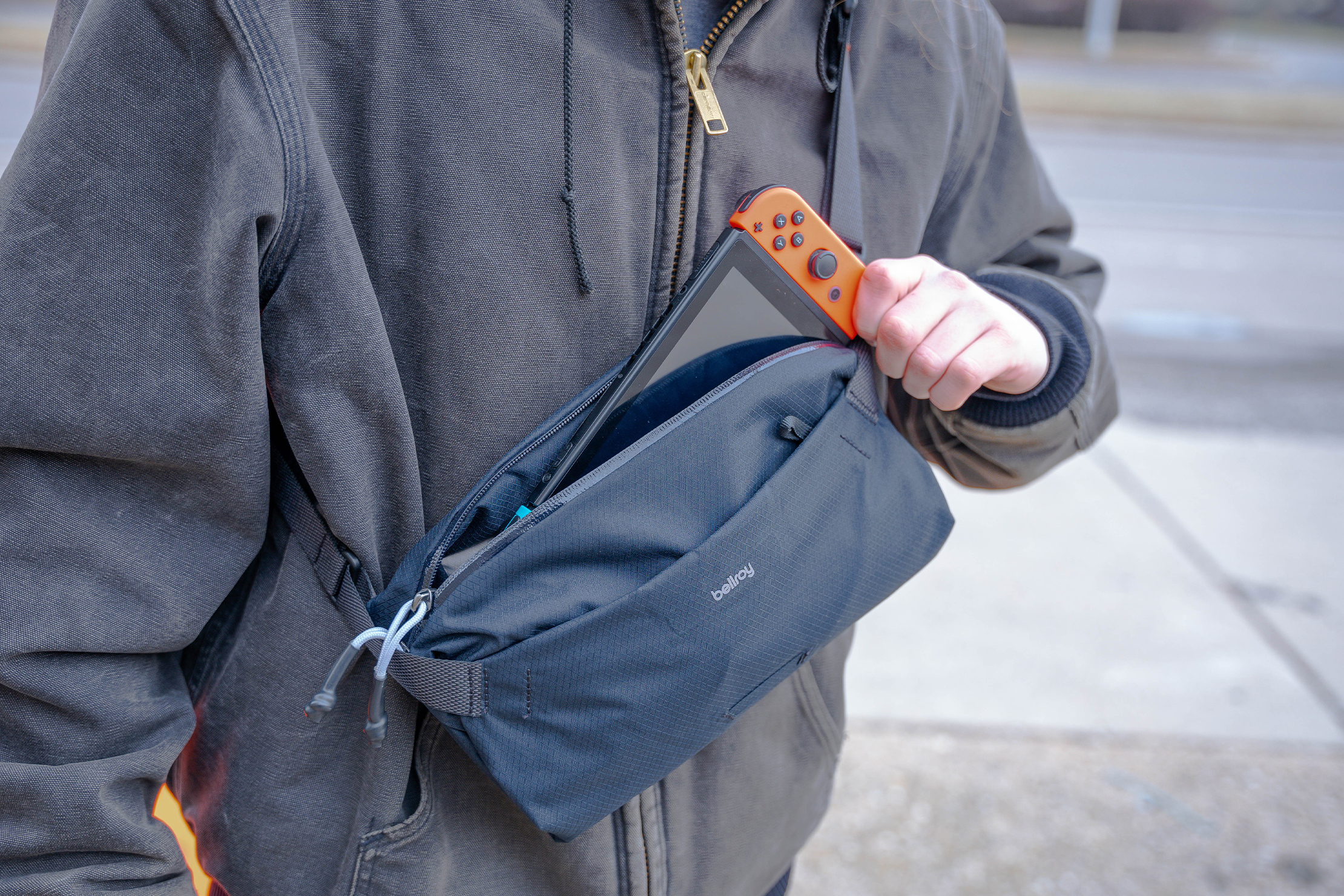 The material is so lightweight that we can fold it or roll it up to stow it in a daypack or even a large coat pocket. This makes the pack extremely portable, which is excellent for traveling. Throw it in your carry-on or packed bag, unroll it when you arrive, and use it as your daily carry to explore your destination.
The pack has three zippers: two on the exterior and one on the interior. The main compartment zipper is a YKK #8 AquaGuard that sits flush with the top of the pack. It has two zipper heads facing opposite directions, which is nice for accessing just half the pack at a time. The AquaGuard slows opening and closing down a bit due to the extra material on the zipper track, but the added protection they offer is worth the tradeoff.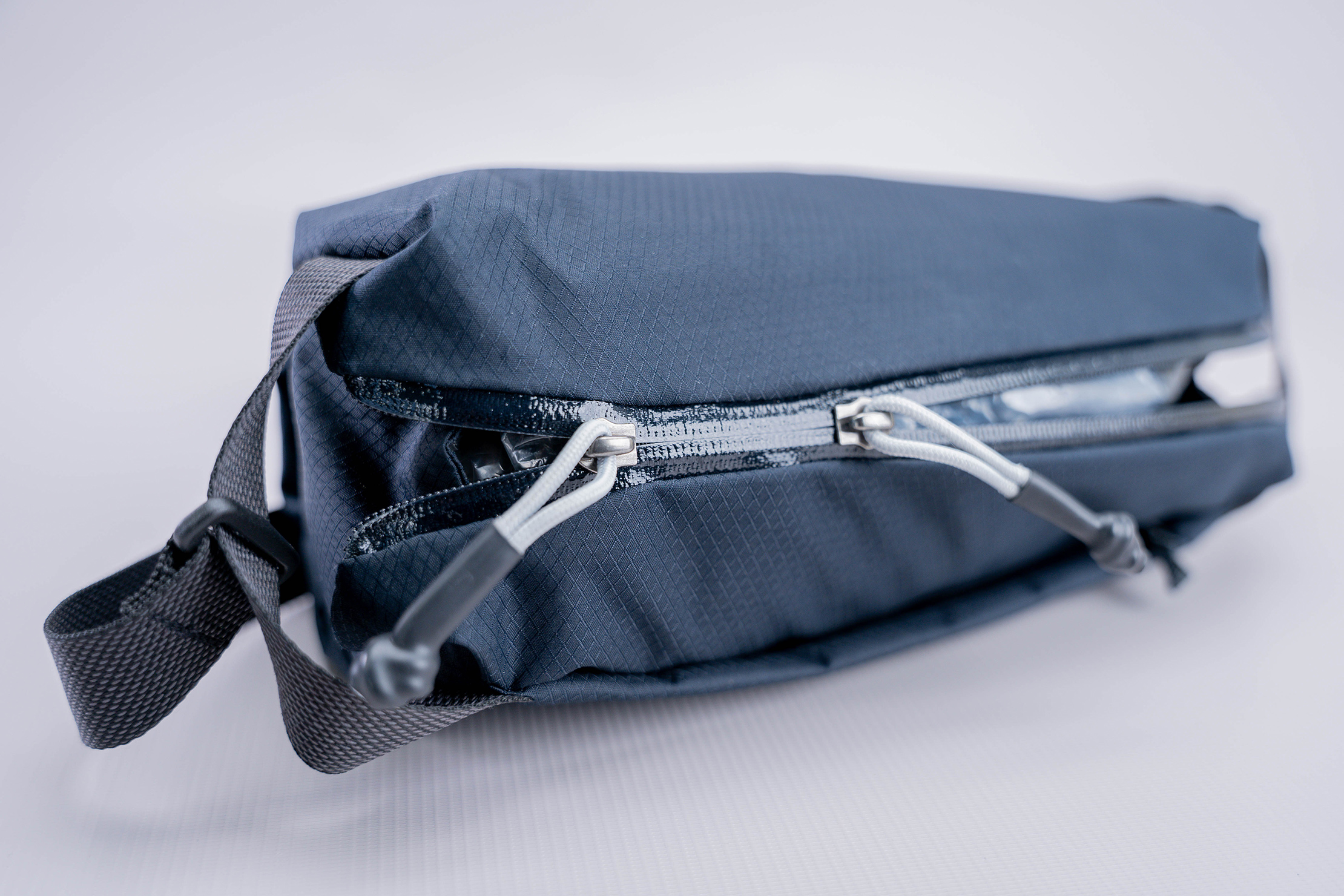 The main compartment zipper pulls are a white paracord-like material with heat-shrink plastic on the end. The plastic is dark like the rest of the pack, but the cord is white, which is a nice splash of contrast. It's the only non-dark color on the exterior of the pack.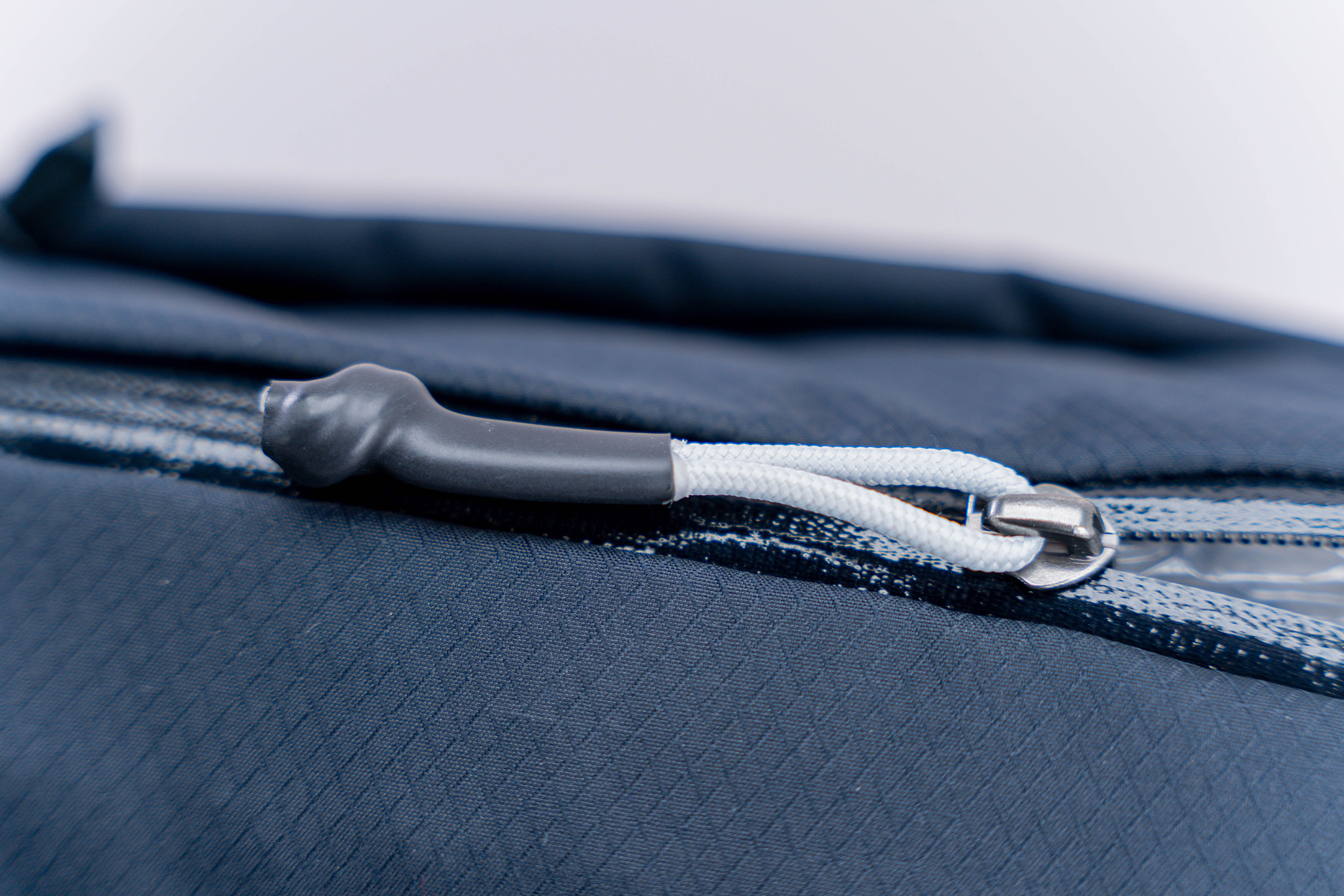 The front compartment has a YKK #5 AquaGuard zipper that is recessed into the pack, similar to the Bellroy Venture Sling 9L. This makes for a nice look when you see the pack straight on, but when it rains, we notice water pools in the crevice created by the zipper. The AquaGuard zipper keeps liquids at bay, but if left for an extended period, we fear that water will eventually make its way into the sling.
The zipper pull on the front compartment is much smaller than the one on the main compartment. When the zipper pull is sitting vertical, it sticks out from the crevice by under an inch, and you can't see it at all when it's laying flat, which can make finding it difficult. This is especially true in poor lighting conditions, as it blends in with the pack color pretty well. Because of this, we're less inclined to store frequently used gear in this pocket and instead reserve it for things we only need every so often.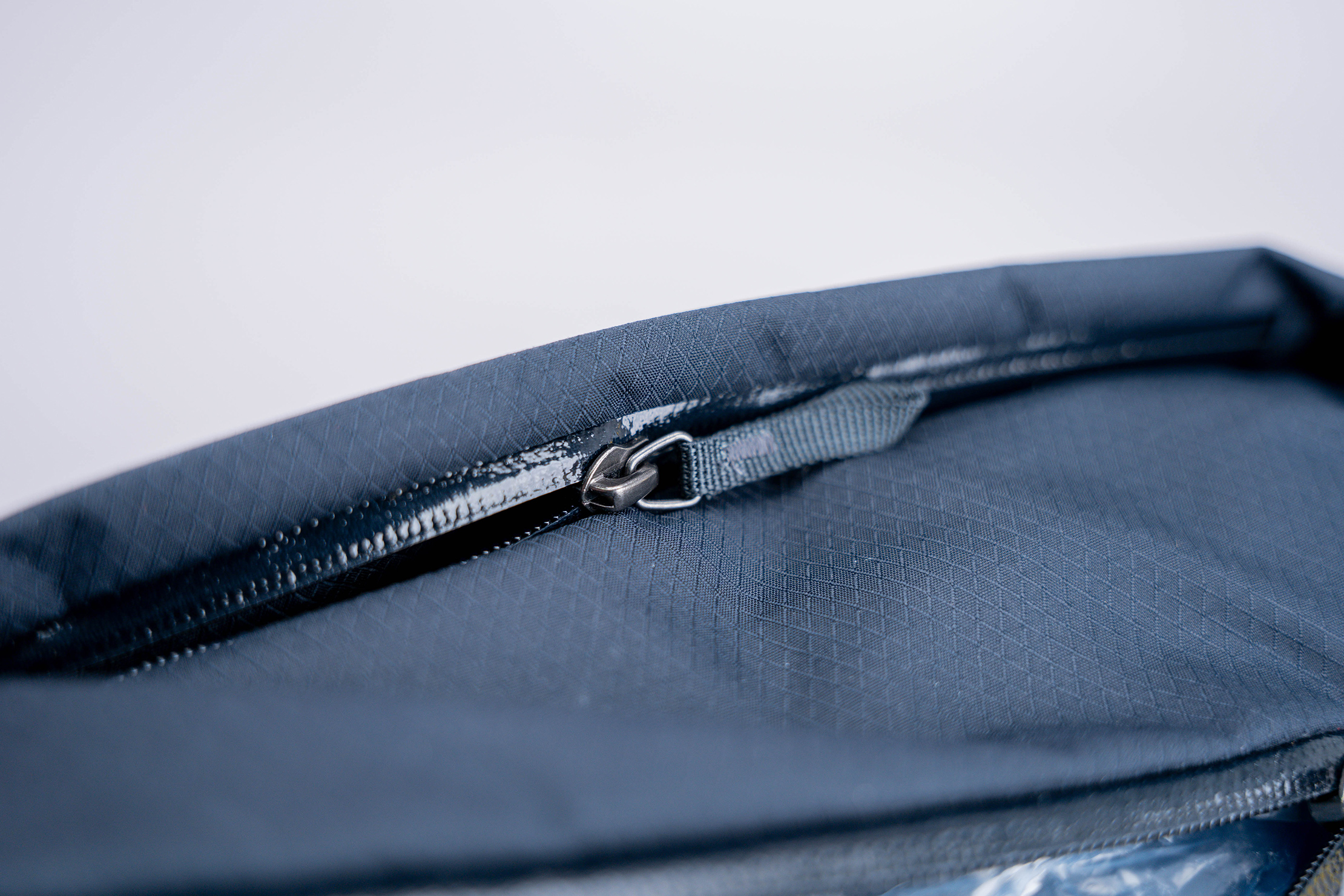 A hard plastic magnetic clasp secures the strap. It's straightforward to buckle and unbuckle but stays put when you aren't manipulating it. While wearing the sling on your back, you have easy access to unbuckle the strap. It's a little more difficult to get to while on your front, so we often just lift it over our head to remove it. It's easy to slide it from your front to your back to access the clasp, but we find it's quicker to slip it over our heads. Neither way is particularly hard, though.
The only exterior logo is in the front center of the pack. It's dark grey easily visible, but not in a way that takes away from the minimalism the colorway offers. It's crafted from hard plastic and is raised from the polyester, which feels a little odd, but how often do you really run your fingers over a logo, anyway?
External Components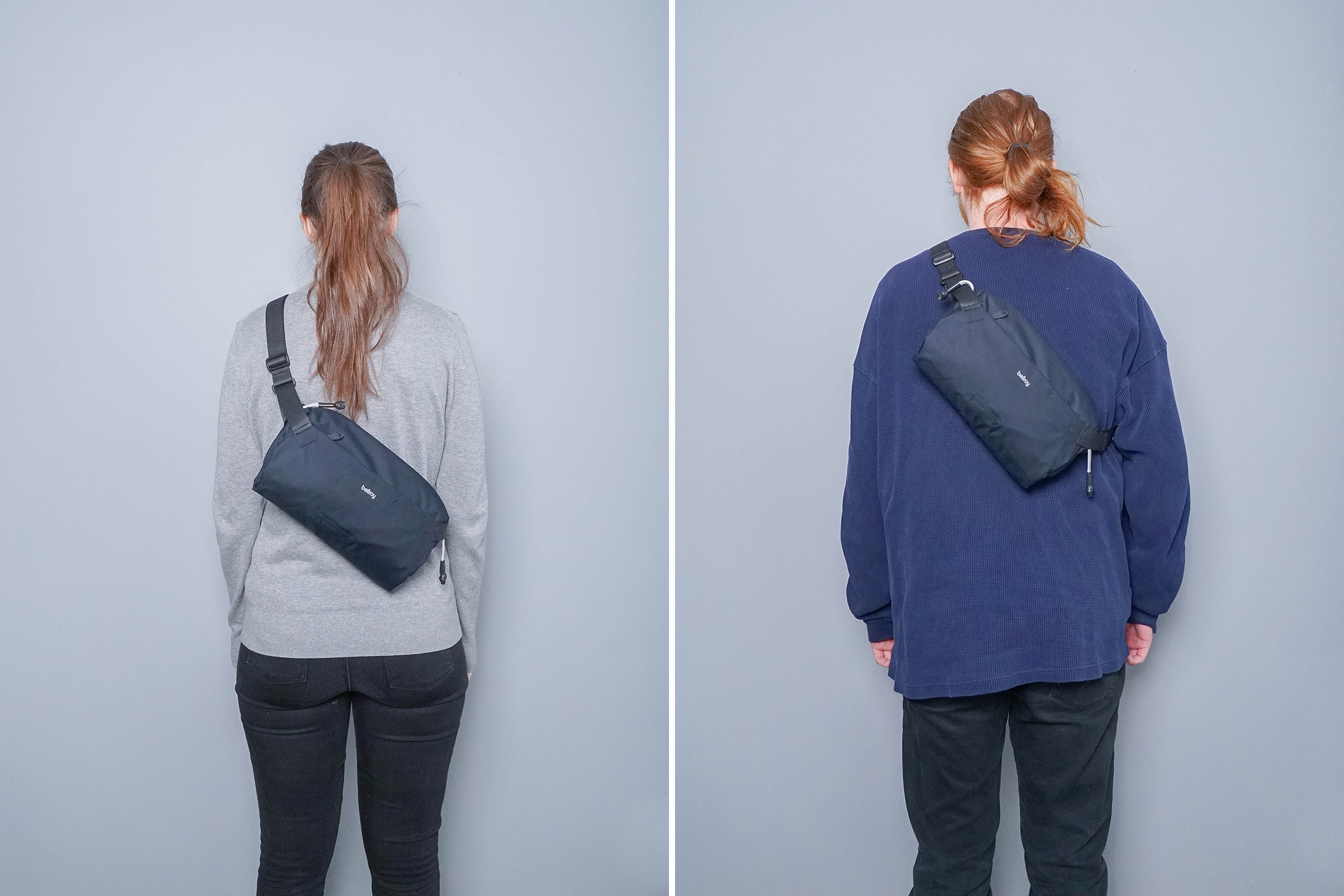 The strap is made from nylon that's soft to the touch. It's 3 centimeters (1.18 inches) wide, which is on the shorter side of things, but we don't find it uncomfortable. The strap measures roughly 131 centimeters (51.6 inches) when extended, which still fits while wearing a larger jacket in cooler temperatures.
The strap is a continuous loop, so there's no loose adjustment material to wrestle down. The strap connects to a piece of nylon attached to the sling with an elongated O-ring. This allows it to move from side to side without losing its adjustment. It also enables you to move more freely, as it can shift as you move around or lift your arms up and down.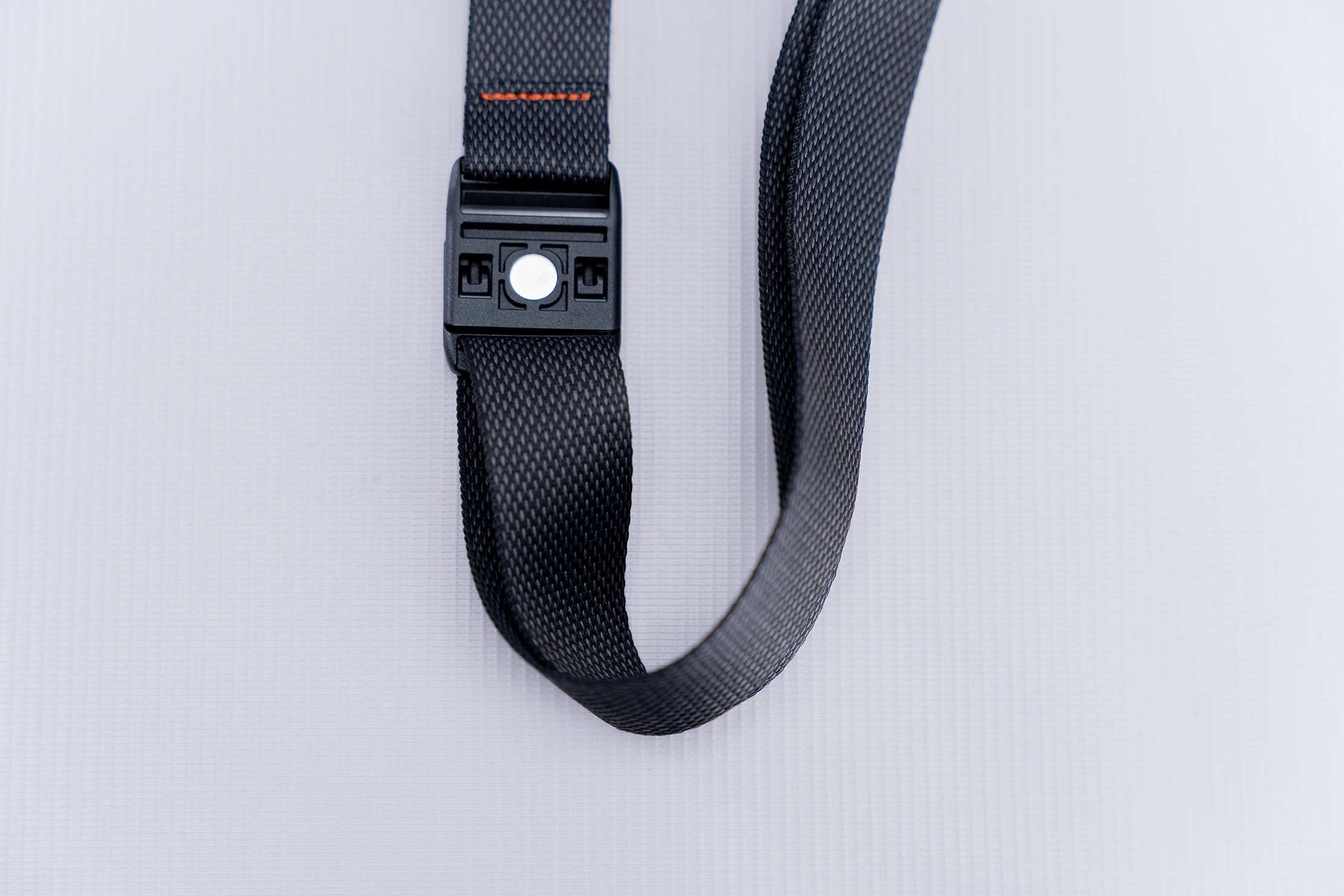 The backside of the sling has a little bit of padding to it, which adds comfort while it rests against your body. It feels like a thin layer of foam, but it's soft to wear, especially with just a t-shirt on beneath it.
The front face of the sling has a bike-light loop, which we think is a great safety feature. You can decide to wear it on your front or back depending on what lights you already have on your bike. We also find this is helpful while traveling, especially while viewing the stars on the beach at night. Just put the bike light on a low setting and set the sling down, and when it's time to leave, you will easily be able to find where you've set it down.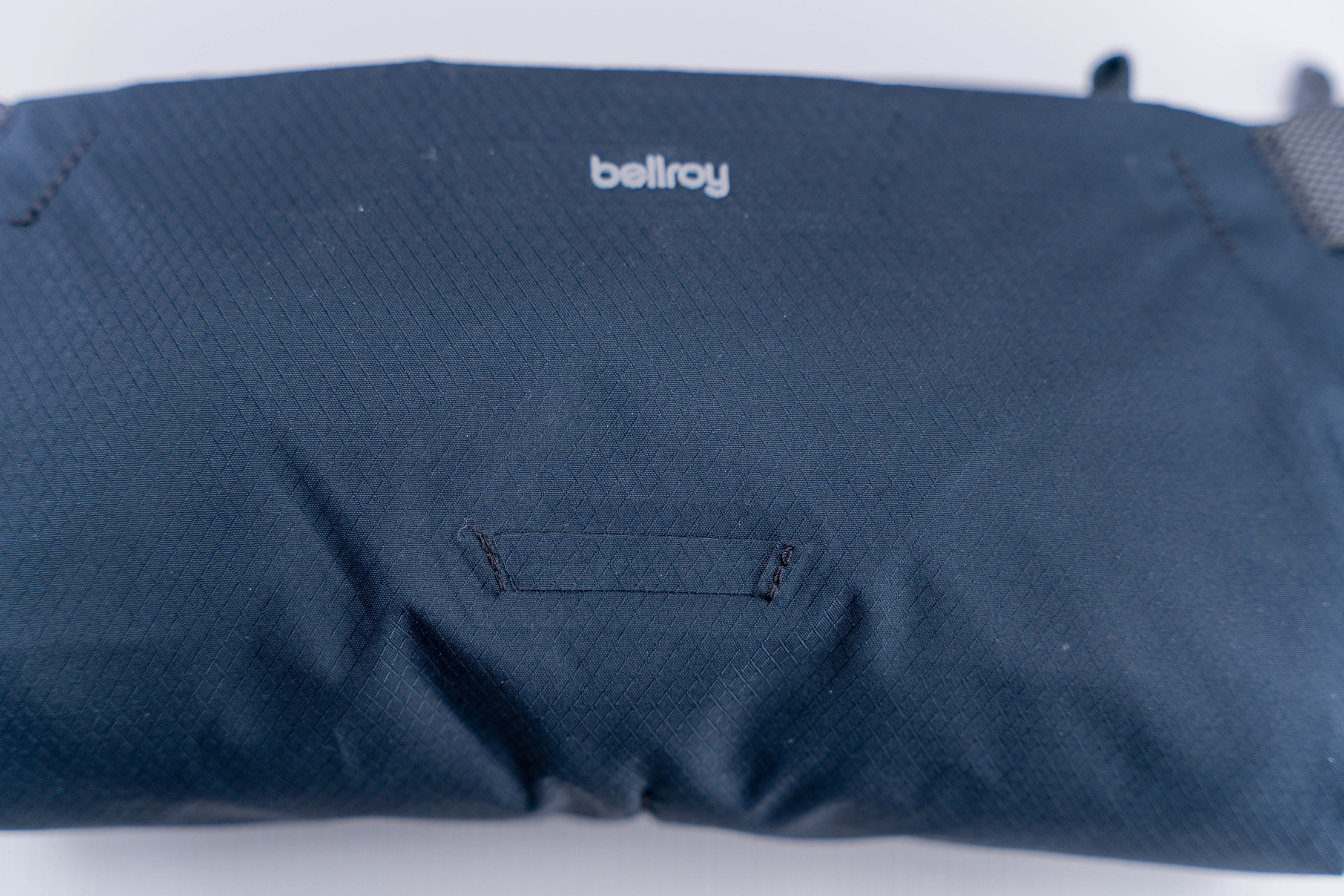 Both sides have a gusset that allows the main compartment to extend and compress, leaving a small opening on each side. It's covered pretty well when the zipper is closed, but water might find its way into the pack during heavy or extended rainfall. As we pointed out in our Venture Sling review, you also risk smaller items like a lighter falling out if the pack is tossed around.
Inside The Sling
The main compartment is pretty large at 7L, but it feels even larger due to the gusseted sides we mentioned earlier. We're blown away by how much we can fit inside and how well it carries when full. When it's empty, the gusset folds inwards so the pack can compress. When stuffed, it folds outwards so you have more space for gear.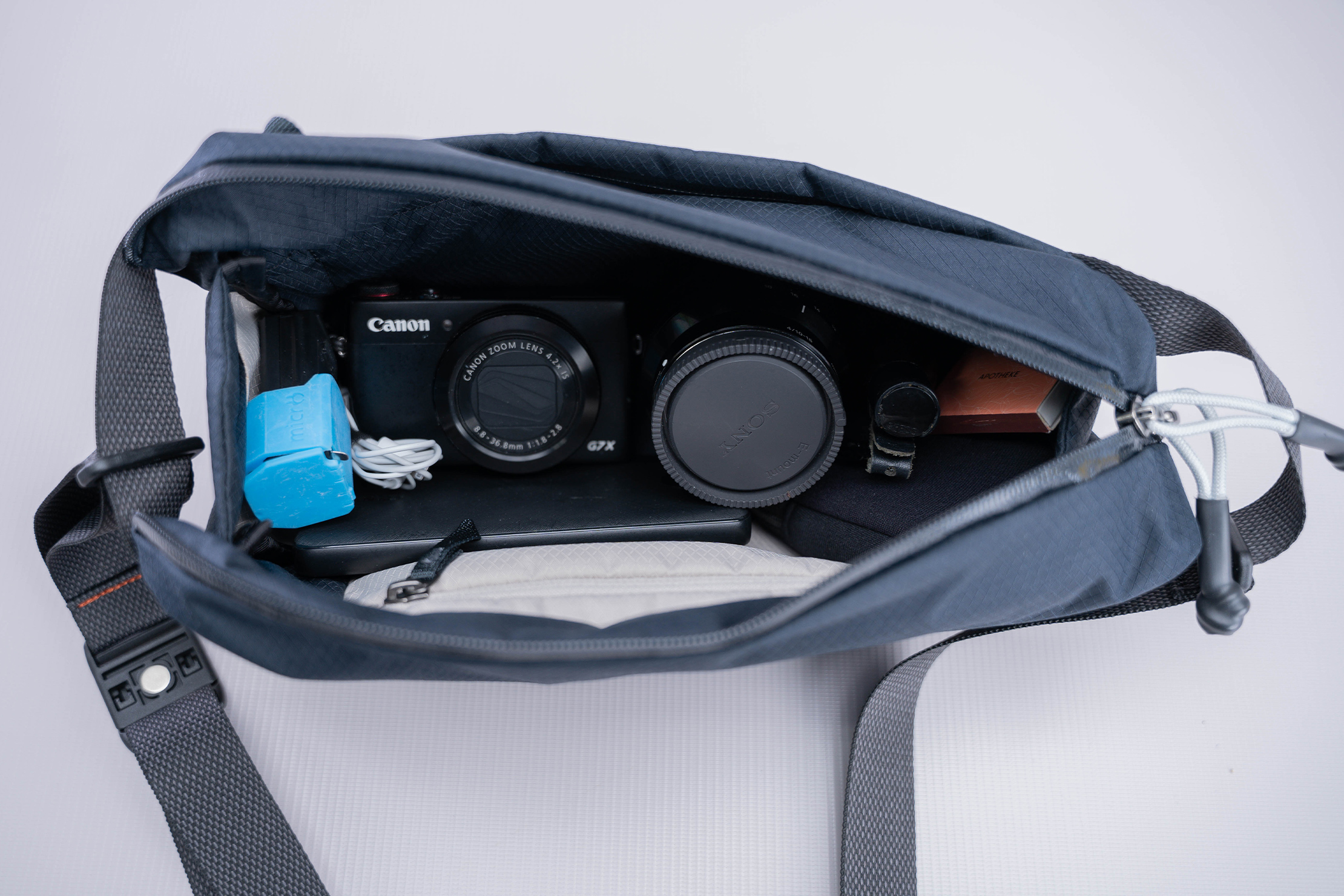 We can fit a Nintendo Switch with a case, our phone, wallet, a point and shoot camera, a set of corded headphones, a winter headband, a phone charger, and a small power bank (like the Goal Zero Flip 12 Power Bank) with a bit of room to spare. We don't feel this is enough to use as a daily driver for commuting because it lacks space for a laptop or water bottle, but it's more than enough for snacks and entertainment on a train ride to a new city or a flight across the pond.
Unlike the Venture Sling, the Lite model doesn't have water bottle holders built-in. We're able to lay a water bottle flat across the bottom, but even small bottles take up a lot of space in an ample-sized main compartment.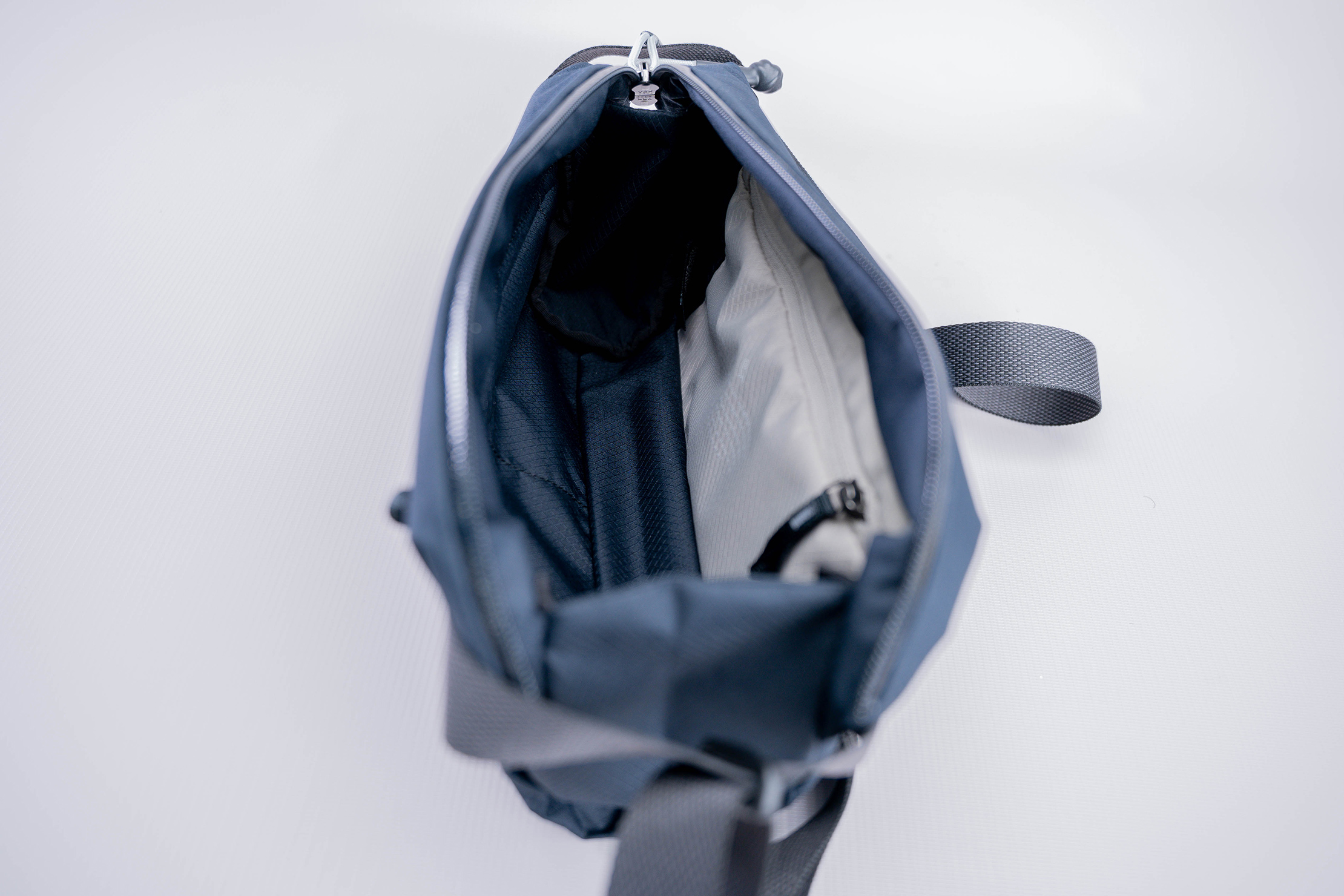 When the interior is packed and the side gussets are extended, the chances of water getting in or a small item falling out increases, as the hole is easier to access. We haven't had this happen, but it's a significant enough gap that it stays on our minds while we're using the sling.
Inside the main compartment is a small zippered sunglasses compartment. It has a YKK #5 zipper with the same zipper pull as the front compartment. It's easier to see here as the sunglasses compartment is grey, contrasting with it nicely. The front of the pocket bears a paragraph about Bellroy's mission, which can be inspiring on bland days.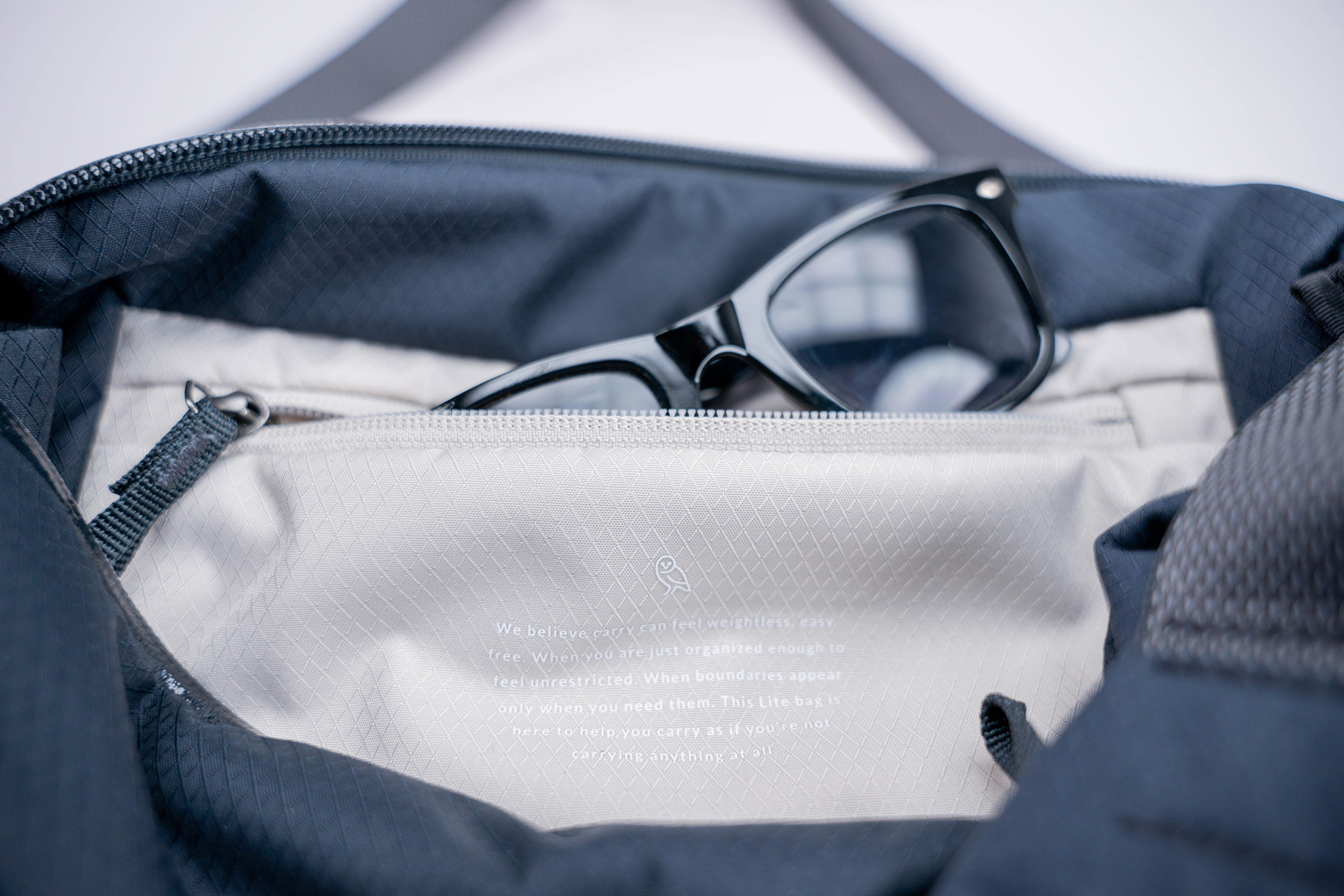 We find ourselves using the pocket for our phone and other flat objects more than for sunglasses, as whatever we put inside rests directly on our body while the sling is in use. If you place a case for glasses in the pocket, you can feel it.; It isn't uncomfortable, but it's more comfortable placing it in the main compartment. This also makes finding essential gear easier, as the large main compartment can be difficult to navigate when packed full.
On the right side of the main compartment is a small liner pocket that's easy to miss. It rests right in the corner and is a good place for a pair of headphones or another small item you want to be able to find easily.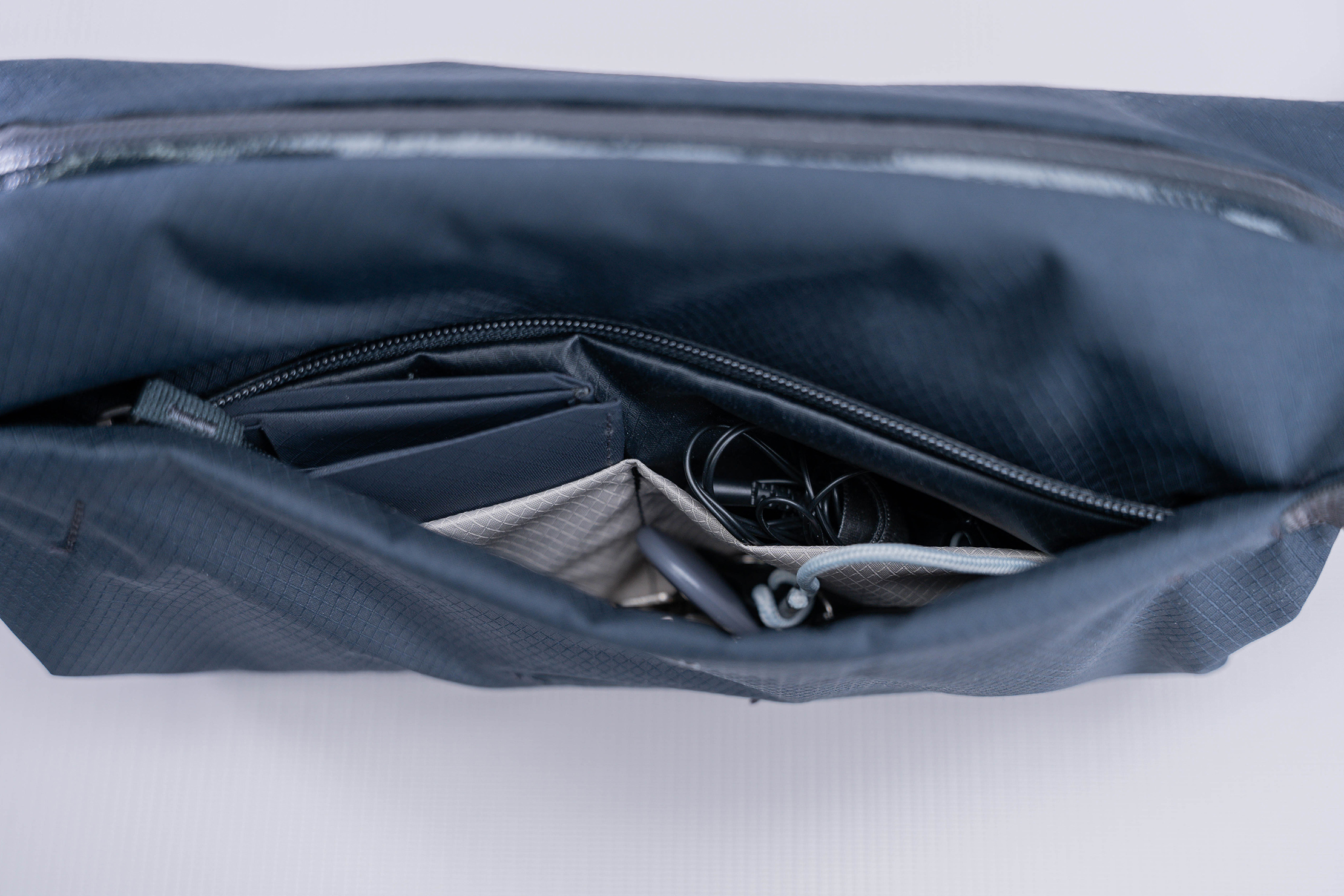 Moving to the front compartment, we find a key clip and two liner pockets, which we find a bit odd—they're not large enough for a phone or a wallet, not long enough for a pen or pencil, and too short for taller items. It's the perfect size for a standard pack of gum, but even some protein bars won't fit inside. The JOBY GripTight ONE Micro Stand fits nicely but leaves a lot of room around it that feels wasteful.
If you are on an extended trip to a new city, the pockets are a good fit for a transit card or hotel key. We don't like to bulk up our wallet if we can help it, especially while traveling, so leaving temporary keys here is great for quick access but out of the way when trying to pay at a cafe or coffee shop.
The key clip is long and easy to find but does blend in with the grey interior material. We don't have any issues finding our keys, though, which is nice.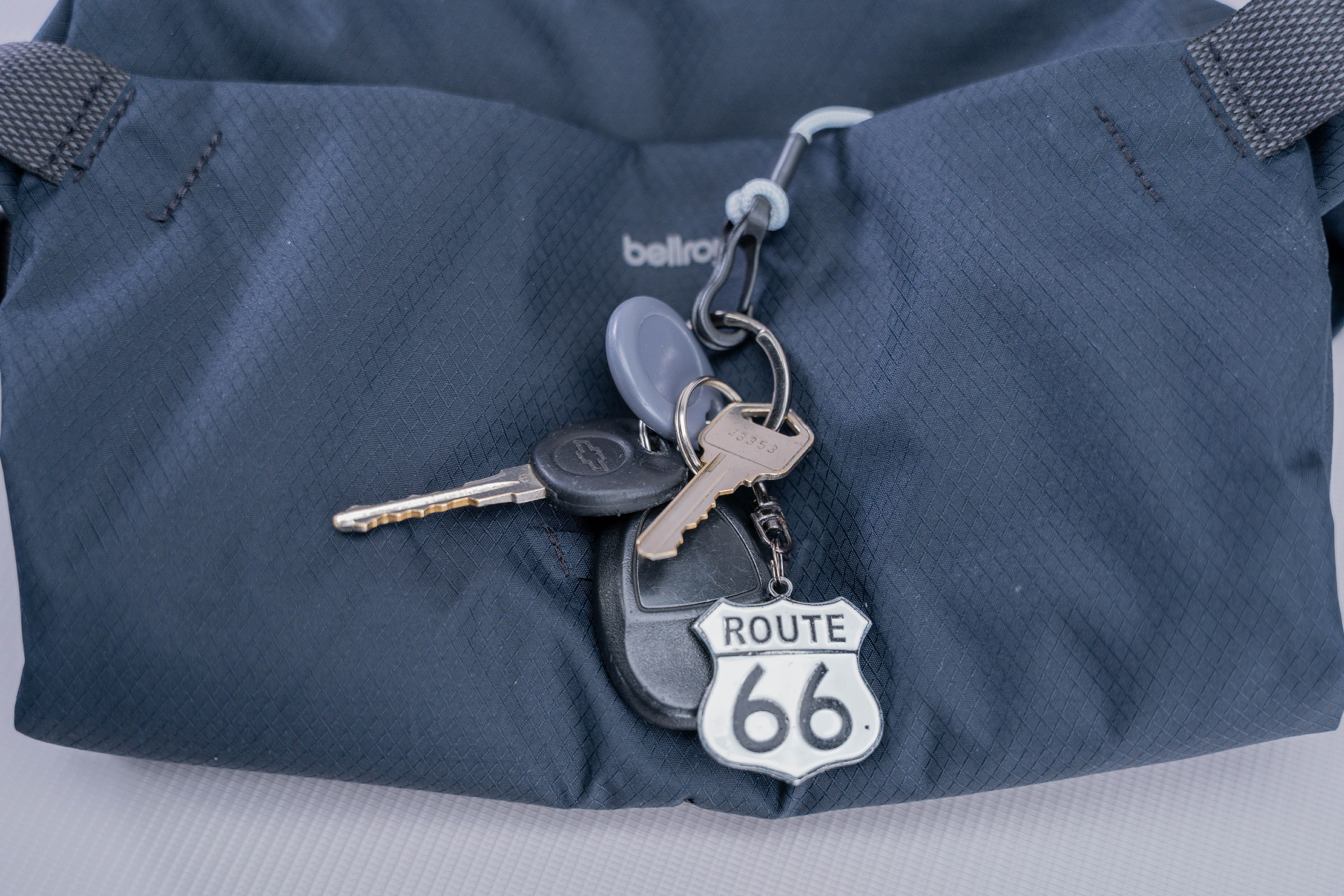 The front pocket is a convenient place for items that you want to separate from the hustle and bustle of the main compartment. A phone doesn't feel terribly out of place here, but there isn't a pocket to store it in, so your keys might end up on top of it.
Overall, we really enjoy using the Bellroy Lite Sling. It's a comfortable carry and can fit everything we need for an all-day adventure around the city. It isn't as large as the Venture Sling, but it weighs 45% less (7.76 oz compared to 14.1 oz). It also folds or rolls up quickly, which is excellent for portability. 7L might not seem like a lot, but we feel it exceeds the pockets plus category most slings fall into, making it a great weekender travel companion.
Usage Timeline
Initial Usage
Condition: Excellent
Looks similar to their Venture Sling and regular Sling
Ripstop fabric feels lighter than what's on the standard Sling
Also comes with a bike light loop at the front
2 Weeks of Use
Condition: Excellent
Polyester remains clean and without marks
Front pocket zipper pull can be difficult to access
The magnetic strap buckle is comfortable and easy to clasp
1 Month of Use
Condition: Excellent
Still in great shape, no changes to report
Access the Pro Community Discussion
Get your questions about the Bellroy Lite Sling answered from our team and the Pro Community right here on the page. Plus, join discussions with other members about gear, guides, and more.
Other Bags & Luggage Reviews