JOBY GripTight ONE Micro Stand Review
The JOBY GripTight ONE Micro Stand is super low profile and fits into a pocket, making it perfect for watching videos on the go and snapping unique photos.
Our Verdict
Unlock the Pro Summary
Save time. Get access to brief summaries of our reviews so you can browse and make decisions more efficiently.
Pros
Can be used as a phone tripod, phone stand, or mini camera tripod
Extremely lightweight and fits in your pocket
A perfect companion for night-mode, time-lapses, and group photos
Cons
Can tumble over in light wind
The connecting screw is easy to damage
Heavier items can fall over if not set up properly
Recent Pack Hacker Video
Technical Details
Weight (oz)

1.59 oz (45.1 g)

Dimensions

3.35 in x 1.33 in x 0.71 in (8.5 x 3.4 x 1.8 cm)

Notable Materials

ABS Plastic, Nylon, Silicone, Stainless Steel, Steel, Thermoplastic Elastomer (TPE), Zinc Alloy, Aluminum

Manufacturing Country

China

Warranty Information
Full Review
We've all been caught trying to lean our phone against a ledge, park bench, or even a traffic cone to try and find a comfortable viewing position for a YouTube video or to snag a group shot of the family on vacation. With ever-improving smartphone technology, more and more people are relying on their iPhone for, well…just about everything.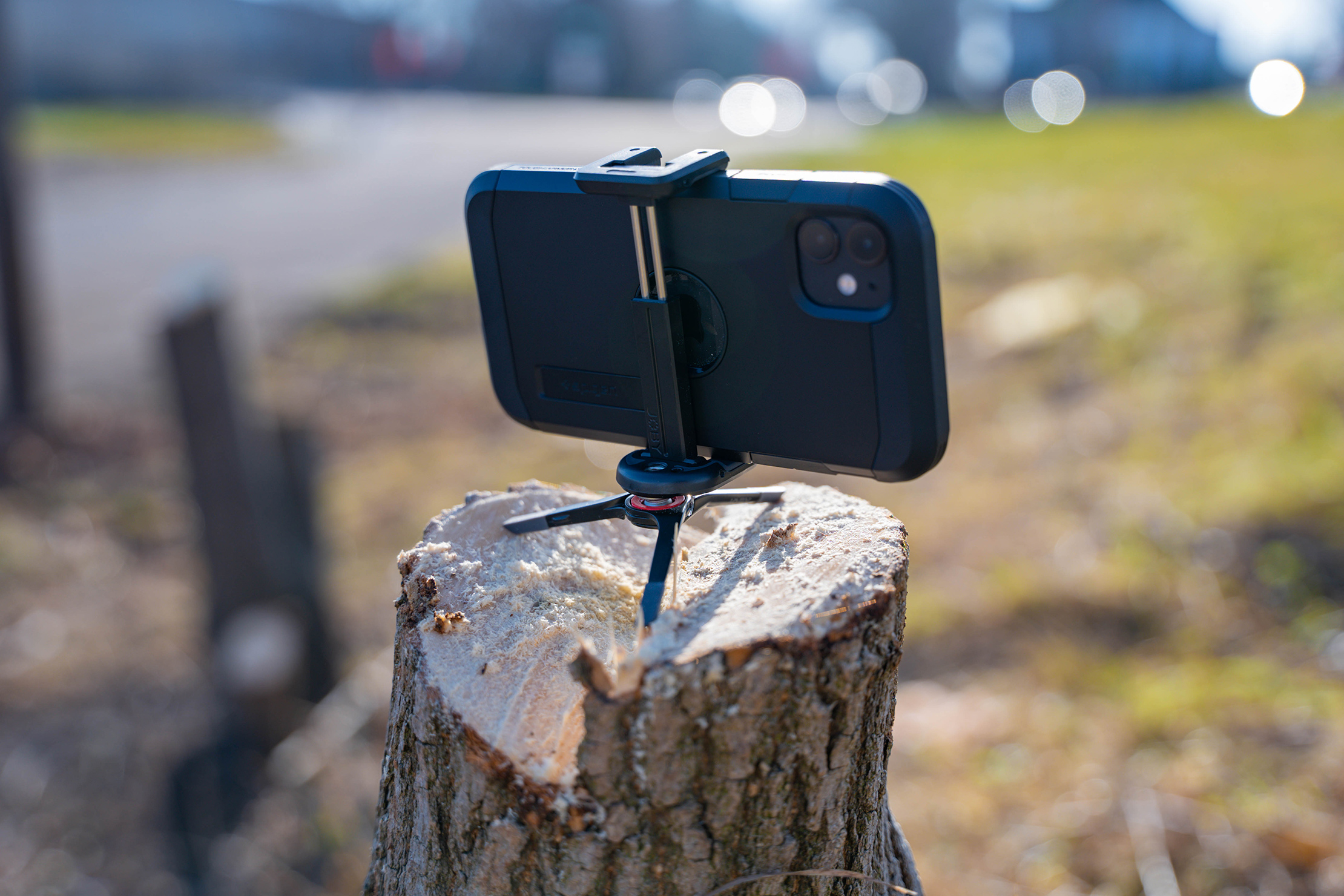 The JOBY GripTight ONE Micro Stand is an attempt at a catch-all for viewing entertainment and snapping selfies, all the while collapsing down small enough to fit in your pocket. We can't help but wonder, how can something so small claim to do so much? Let's find out how it stands up.
Materials & Aesthetic
The micro stand comes in two parts: a tripod base and an upper phone holder. The lower portion has a quarter-inch male tripod thread, and the upper has a quarter-inch female tripod thread.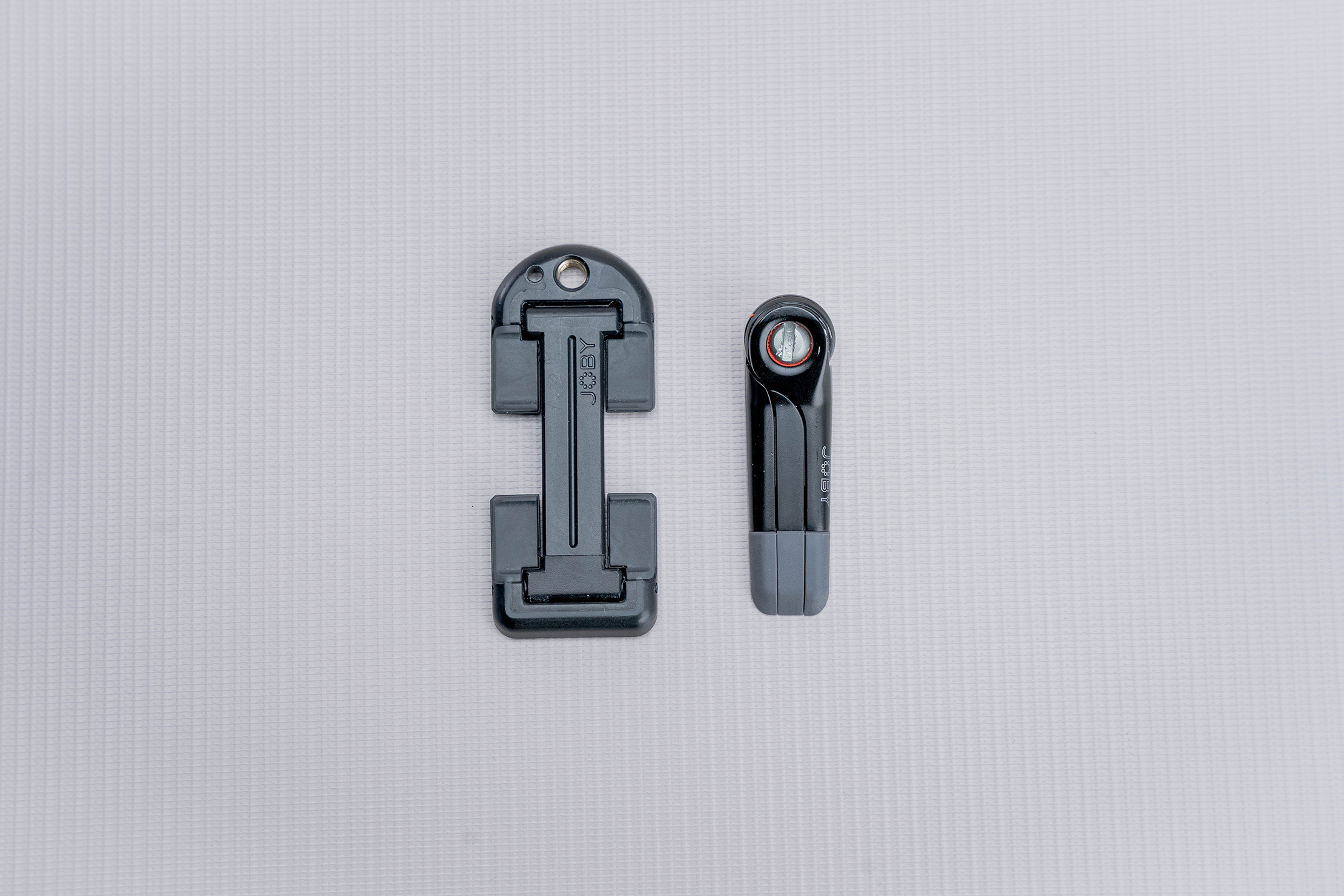 The stand's base (or tripod portion) is crafted from aluminum, making it very light. The feet are wrapped with silicone. The aluminum is sturdy but gets scratched up pretty easily. The silicone feet are durable and help the stand not slide around on the various surfaces you might place it onto.
The upper phone holder is plastic, but the grip portion is also covered with silicone. This enables the holder to grab onto phones firmly without slipping on sleek surfaces like an uncased phone. The spring that holds the mechanism together is tight and hasn't shown any signs of loosening.
To connect the two pieces, screw the lower male tripod mount into the upper female tripod mount. The screw appears to be made of aluminum and gets damaged quickly if not treated properly. We often find ourselves without a screwdriver when we want to connect or separate the upper and lower portions, which leads us to try various methods of tightening and untightening the screw.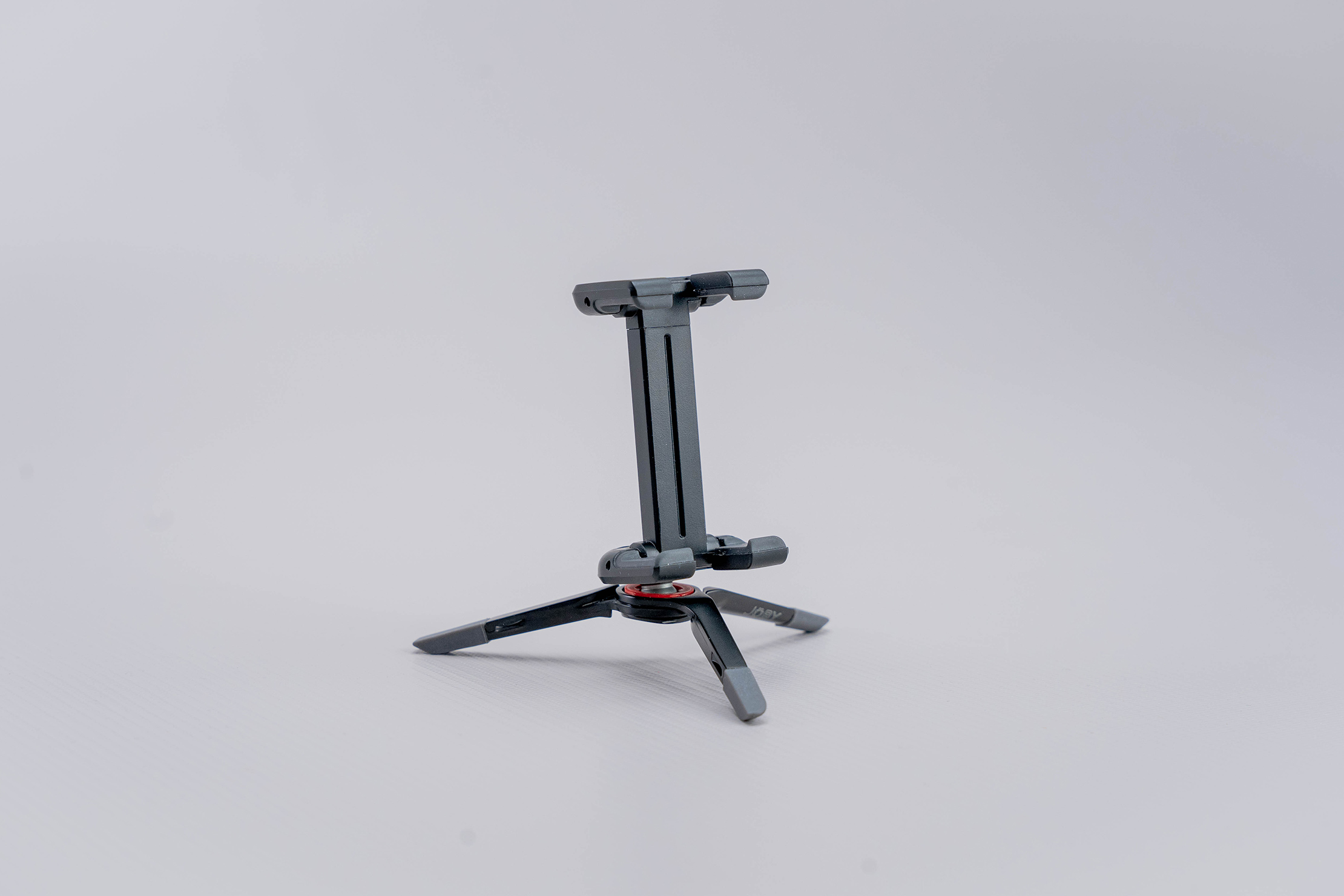 We can accomplish this with the blunt end of a pocket knife and a metal fork, but both may cause damage to the screw. We're in the habit of keeping a portable tool like the Gerber Gear Shard nearby for things like this, but that isn't always an option. The standstill operates just fine with a chewed-up screw, but this may be the Achilles heel of the stand over time. Without a working screw, the pieces will still work independently but won't connect.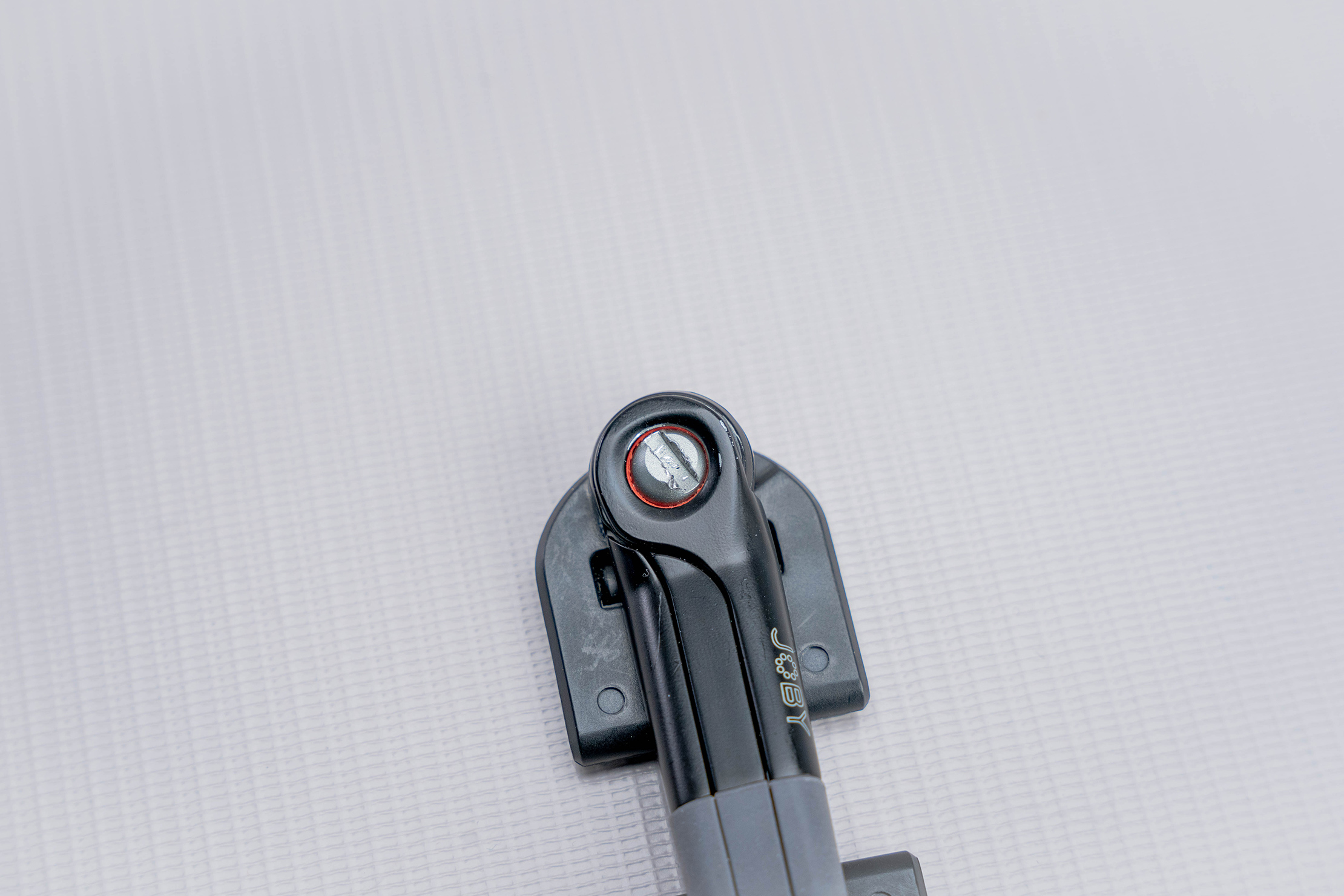 At the time of writing, the stand comes in just two colorways. The black stand feels minimalist and features gray branding that doesn't stick out, and the white stand is sleek and has silver feet with similar branding.
When folded, the stand fits into the money pocket on a pair of jeans, making it easy to take, and use, just about anywhere. The tiny form factor is perfect for sliding into an interior pocket of a daypack or the front pocket of a sling.
Usage & Features
The stand can be used in three different ways—each of the two parts individually and put together as one.
First, let's talk about the mini tripod base. The standard quarter-inch male tripod thread allows you to attach just about anything you would typically use on a standard tripod. Most camera gear is too heavy for the light frame and will tumble over, but most smaller items fit fine. We can mount point and shoot cameras, plastic film cameras, and an Instax Mini camera on the stand.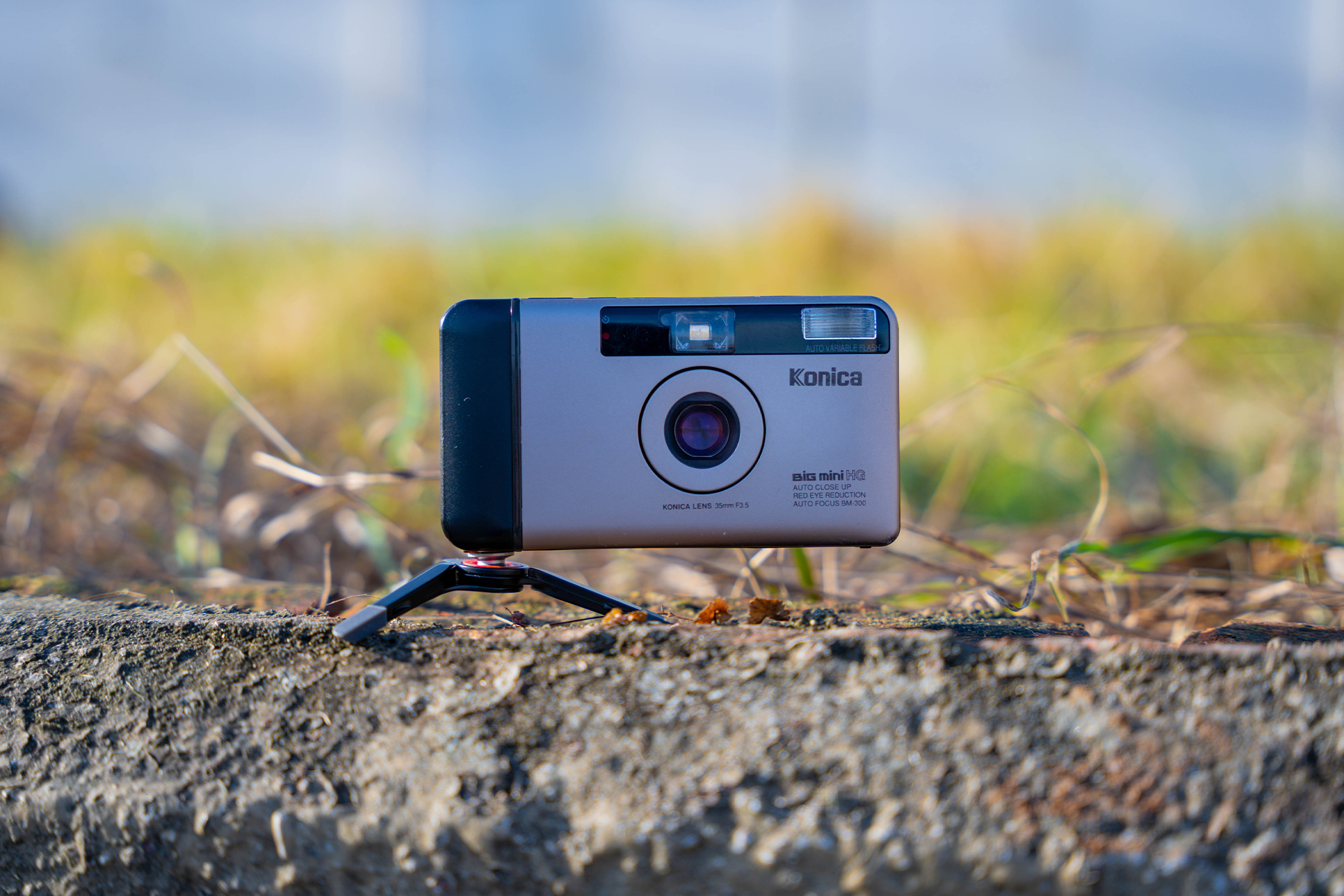 Some smaller items with a lot of top weight will send the tripod toppling over, but we're able to combat this by aligning the mounted item parallel with one of the legs of the stand. This places the weight onto that leg of the tripod, not the area between legs, allowing it to stand up freely.
The next use is as a phone holder. This grip is compatible with any quarter-inch tripod mount when not connected to the base. This means that you can attach it anywhere you'd typically mount your camera to give your cellphone a sturdy base for taking videos, selfies, and zoom meetings with a group of people.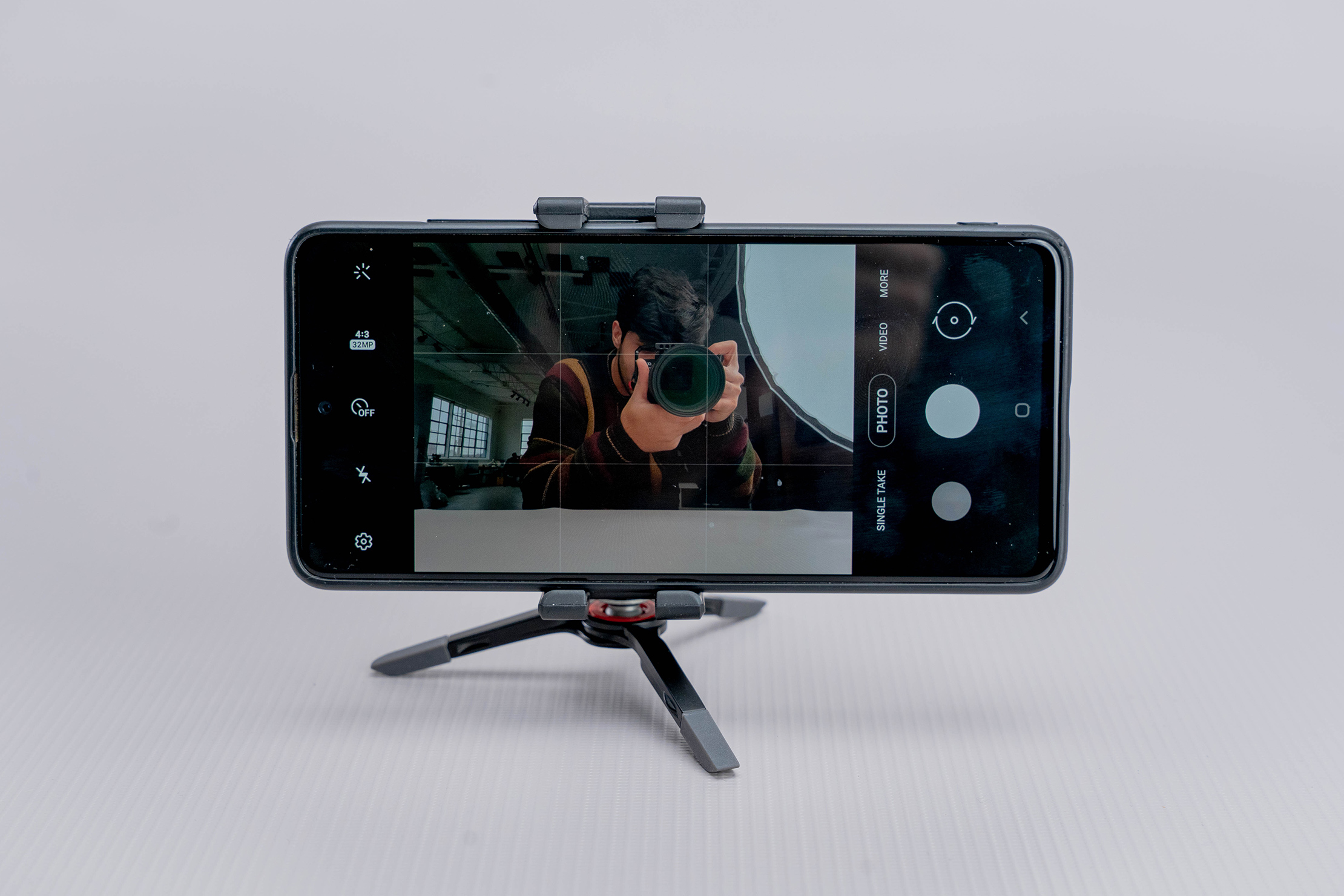 The phone holder is able to fit every phone we've here in the office, from the iPhone 6S Plus to the iPhone 13 Pro Max. Some phone accessories, like wallet cases and PopSockets, extend the back of your phone and make it hard for the grip to secure. You can combat this by shifting where you place the grip or taking the case off, but moving the center of gravity can cause the same issues that heavier cameras have on the stand, and your phone may end up toppling over.
The grip is perfect for recording a video of yourself at an elevated height, taking a group photo with lots of people in it, or for setting up a live feed of an event like a wedding or kids sports match for people from across the world to view. In a post-pandemic world, we also love using the grip to take selfies while traveling without needing to ask anyone else to touch our phone.
Finally, let's talk about how the stand works when we put the pieces together. The stand barely lifts the phone off the ground, but the screw has a ball head so that you can angle it to meet your needs. This is perfect for watching videos on a plane or in the airport, attending a meeting from any corner of the world (or any corner of a tiny Airbnb), and reading articles at a cafe handsfree while enjoying the local cuisine.
The stand also functions as a tripod, enabling you to take your smartphone photography to the next level. We all remember when camera phones came out, and the photos were about as clear as a set of Ikea furniture directions, but today we're blessed to have options when it comes to snapping pictures with our phones.
The tripod is great for phones with night mode, as it enables you to keep your phone incredibly still while the shutter is open for crisp, in-focus images. We also love using the stand for time lapse videos, especially out a hotel or train car window. If there's a window between your phone and your subject, be sure there isn't a light source behind your phone. This will add glare to the window and won't look so lovely in your time lapse.
A tip that we quickly adopted was to use the timer to snap photos because our phone shakes a little when we press the button to take the picture, causing our images to be blurry. Setting a timer allows the camera to settle before taking the photo, leading to better images.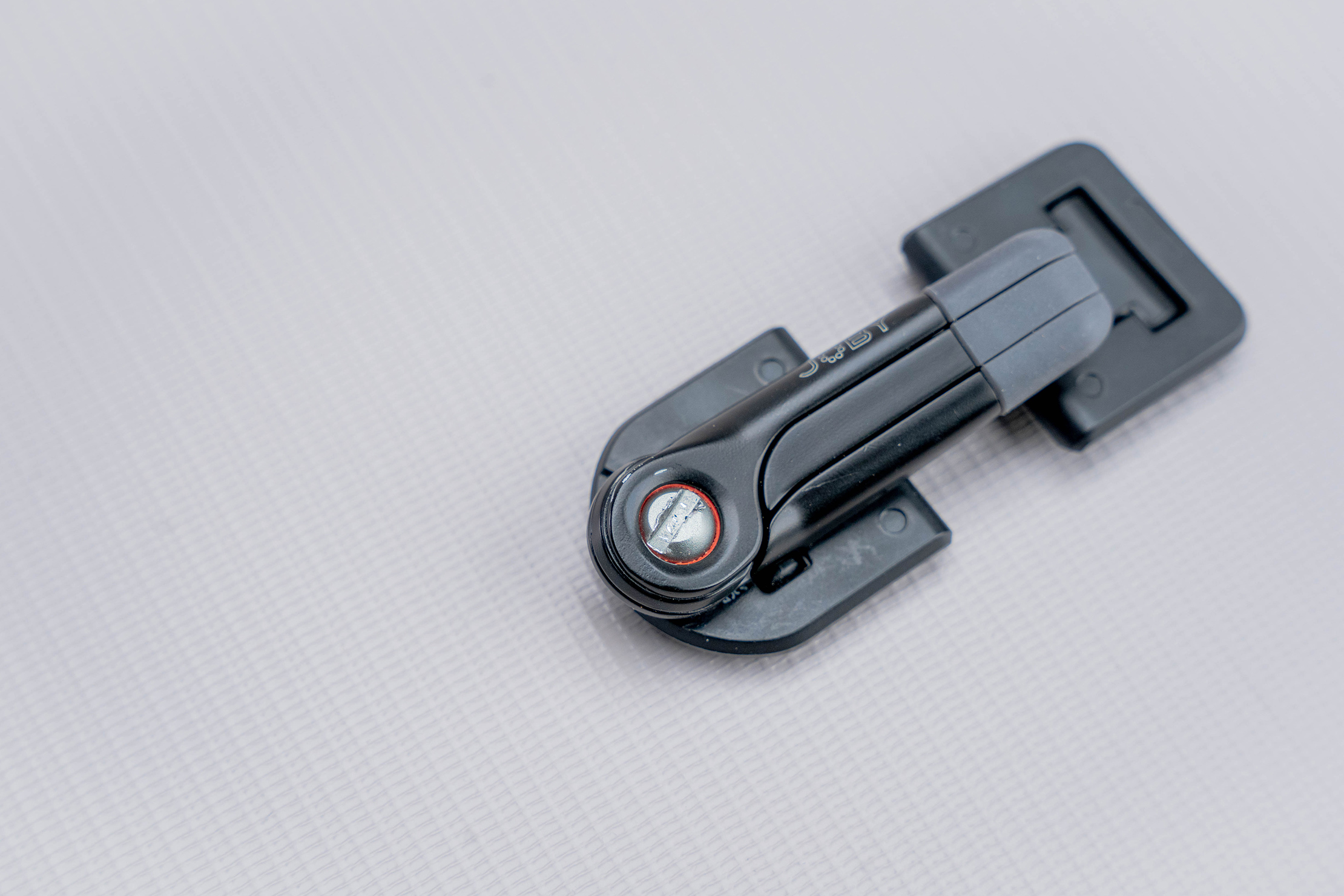 One issue we notice when using the phone stand is that if there is wind, it'll catch the surface area of your phone and knock it over. This can be catastrophic for your screen depending on where you set your phone, so be careful when placing it on tall ledges or wobbly surfaces.
The stand is a great travel accessory for photographers who opt not to take their laptop on a trip. Using the stand as a phone tripod enables you to post stellar photos from your smartphone while traveling, but saves the heavy editing for when you get home. Let's be honest, who doesn't want better Instagram story content?
Overall, the JOBY GripTight ONE Micro Stand is an excellent piece of gear for anyone who loves watching videos on the go or wants to continue improving their smartphone photography skills. Best of all, it'll fit just about anywhere.
Usage Timeline
Initial Usage
Condition: Excellent
Tripod-style base is rubberized to prevent slipping
Relatively shallow; its base is raised less than an inch from the surface
Quite compact for a tripod
2 Weeks of Use
Condition: Excellent
Thread screw shows sign of wear but still works
Spring on grip has stayed tight and secure
A few scratches on the aluminum stand, but nothing major
Access the Pro Community Discussion
Get your questions about the JOBY GripTight ONE Micro Stand answered from our team and the Pro Community right here on the page. Plus, join discussions with other members about gear, guides, and more.
Other Productivity & Tech Reviews