Goal Zero Flip 12 Power Bank Review
The Goal Zero Flip 12 Power Bank fits into your pocket for topping up devices on the go but narrowly misses the mark in terms of charging capabilities.
Our Verdict
Unlock the Pro Summary
Save time. Get access to brief summaries of our reviews so you can browse and make decisions more efficiently.
Pros
Fits into your pocket
Capable charging capacity
Durable materials
Cons
Logo is a little boisterous
Only USB-A compatible
Thicker than some power banks
Recent Pack Hacker Video
Technical Details
Weight (oz)

2.55 oz (72.3 g)

Dimensions

3.7 in x 0.83 in x 0.83 in (9.4 x 2.1 x 2.1 cm)

Manufacturing Country

China

Warranty Information
Full Review
We've found that the perfect portable charger finds a happy balance between portability and chargeability. Odds are, if it's super small, you won't get that much juice out of it, and vice versa. The Goal Zero Flip 12 Power Bank is a slim-profile charging option that slides into your pocket with room to spare and boasts a full device chargeHave we finally found the white whale of chargers, or will our battery be left hovering around 80%? Let's find out!
Materials & Aesthetic
Starting off with the exterior materials, most of the outer casing is made from metal. When you tap it with your fingernail, it feels durable and sleek. Both ends are a hard plastic that doesn't feel quite as robust as the metal but is capable enough for our liking.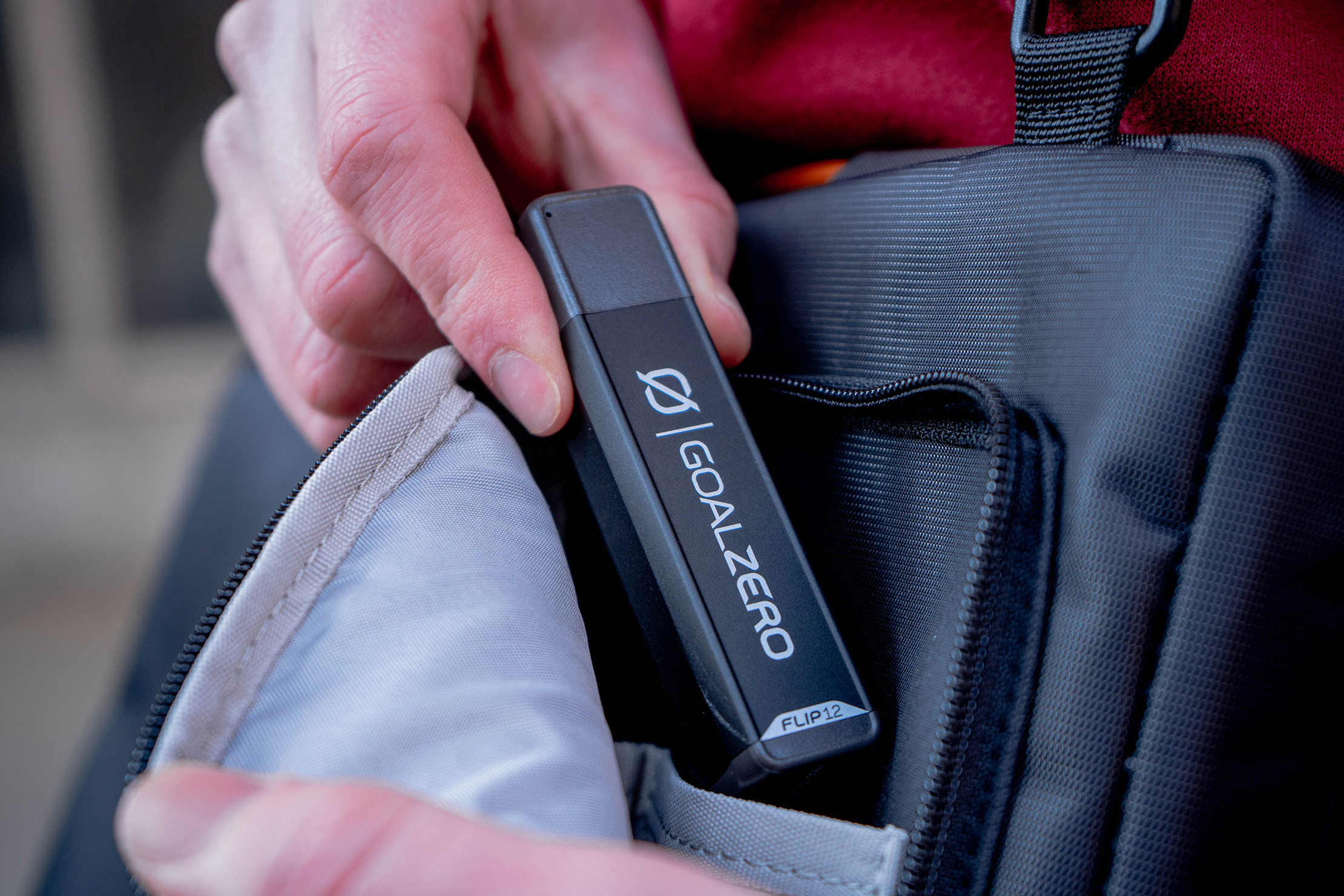 At the time of writing, the bank comes in Slate Blue, Black, and GZ Green. The black and blue options feel very industrial, but in a way that feels powerful. The GZ Green is a nice splash of color and pops a lot more than the other two.
The plastic ends are the same matte grey color no matter which color you choose. This contrasts nicely with the green and blue options and blends in nicely if you choose black as we did. The logo on the front face is white no matter the colorway, which pops a little too much for our minimalist taste buds.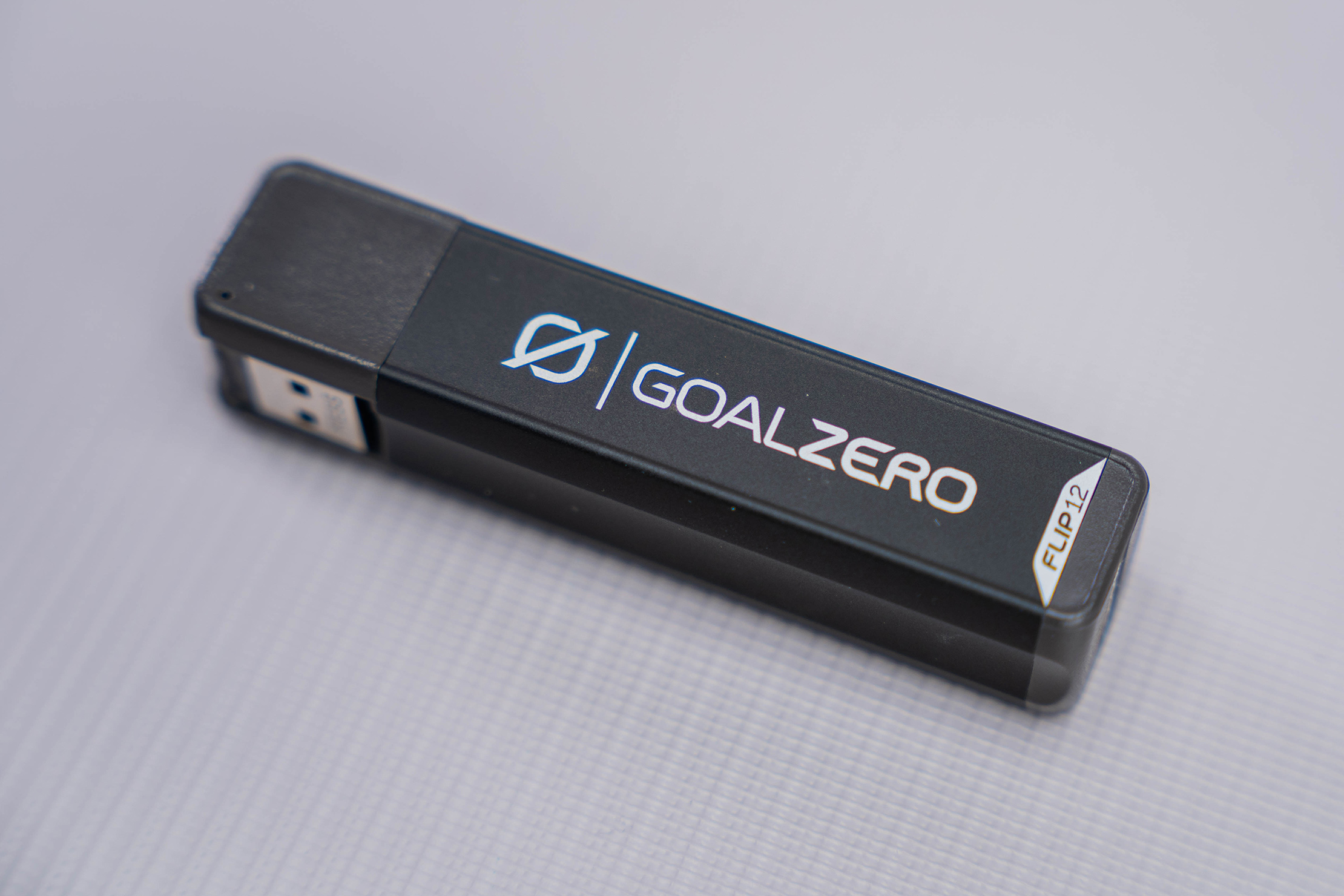 The power bank is a rectangular prism, measuring roughly 9 cm (3.54 in) x 2 cm (.97 in) x 2 cm (.97 in), and comes in at 2.55 oz (72 grams). It's shaped similarly to two old-school packs of gum stacked on top of each other and is pretty light in your hand. Compared to the Clutch Charger V2, it's 0.35 oz (9.9 grams) heavier but has 350 mAh more battery life—we'll cover that in a bit.
There's an attached USB-A plug that swings out from its resting place to charge the power bank. This makes it super easy to recharge but isn't ideal if you've phased out USB-A charging blocks for USB-C models. Although this design isn't innovative, it's handy not to have to bring along another cable to charge it, which was one of our biggest issues with the Clutch Charger we mentioned earlier. The Flip 12 reminds us of the original iPod Shuffle design from 2005. It's simple, and it does what it's meant to do. Why try to improve perfection?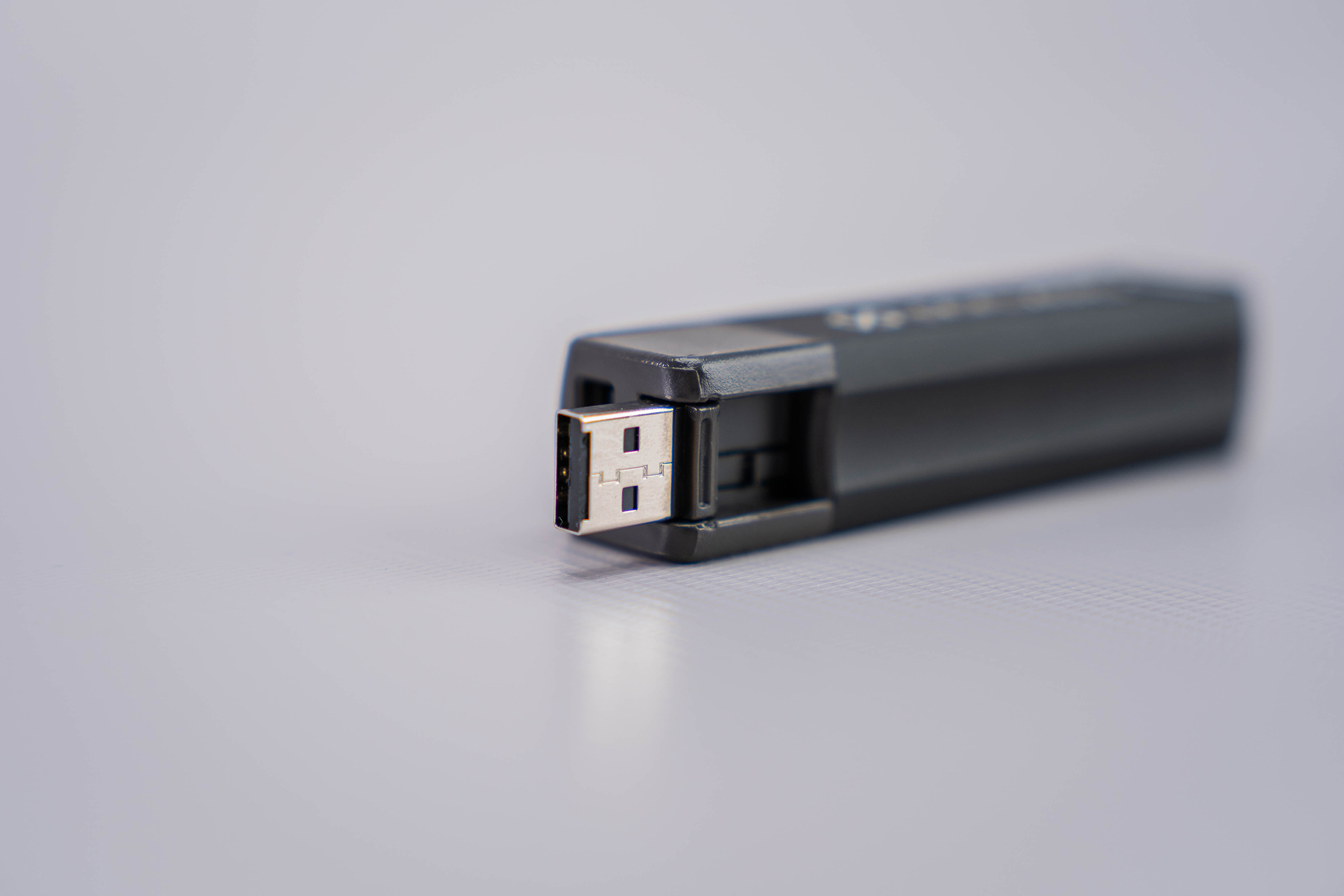 When the plug is folded in, you can compress it to see how much power the bank has left. There are four indicator lights on the opposite face of the charger, each representing 25% power. They stay on for around 30 seconds, which is a little odd, but makes sure you absolutely know how much battery you've got.
Located just beyond the male USB-A plug is a female USB-A port. This is the only charging option available, so USB-C adopters may need to upgrade (or downgrade, if you take that stance) their cable to use the power bank. When a cable is plugged in, it extends straight off the top of the bank, which makes using your phone while charging with the power bank in your pocket a breeze. The cord doesn't have to bend to make its way out of your pocket, so the cable won't be damaged. This is also true for placing it inside a liner pocket in your daypack or sling. Keeping your cable in good condition is essential for keeping your devices charged up, especially while traveling.
Usage & Features
We've gone over how small the Flip 12 is, what it looks like, how it operates, and how it allows us to feel like we're back in middle school listening to Helicopter by Bloc Party on our original iPod Shuffle. But how well does this thing actually charge our gear? Let's find out.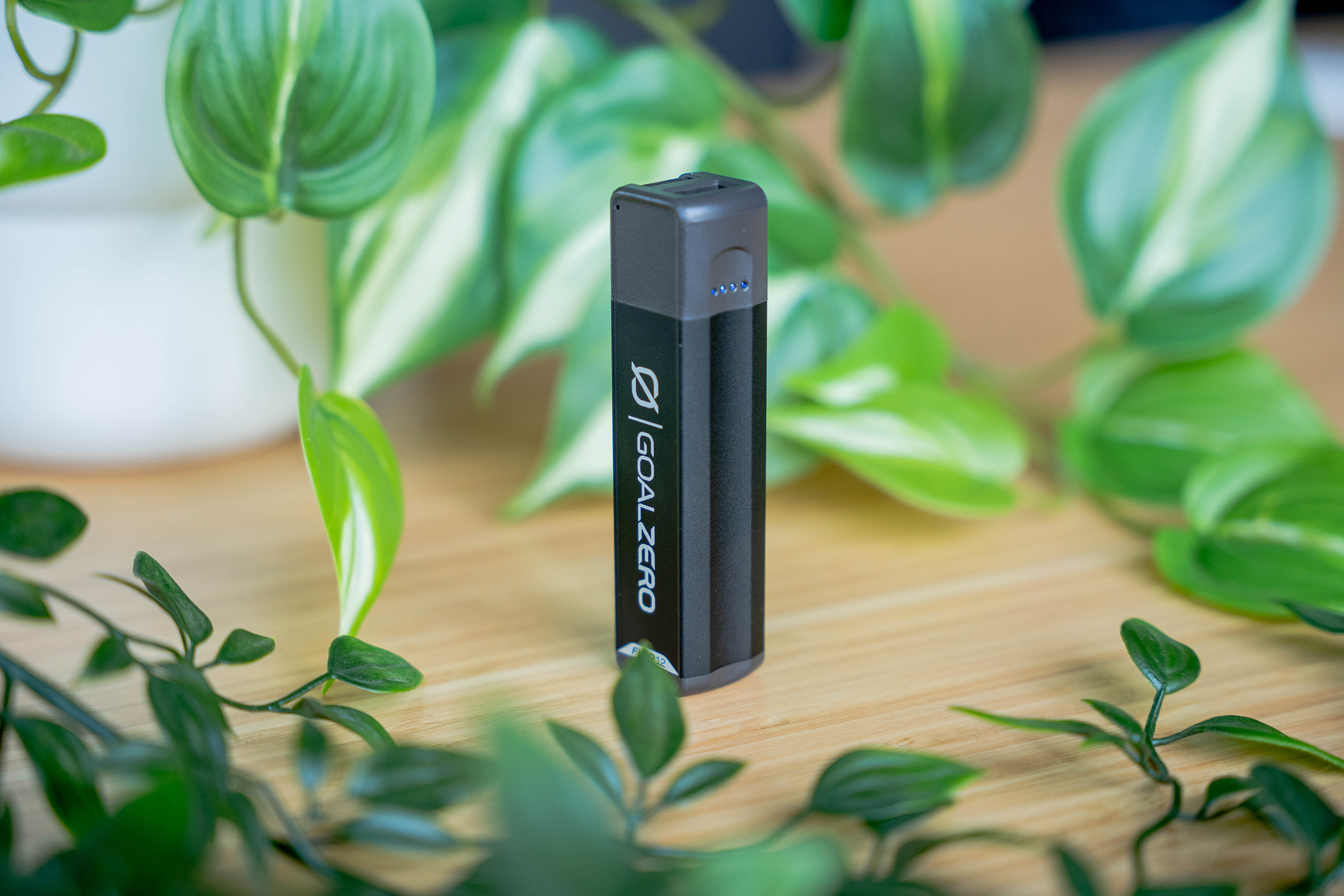 Like we did for the Clutch Charger V2, we've compiled a list of what this charger will do for you when it's fully charged. It's worth noting that if you use a device while it's in use, it will use the battery as you are charging it, so you won't get these exact numbers. To the calculators!
When fully charged, the Goal Zero Flip 12 Power Bank will charge:
A regular iPhone 13 to 103.8% (3,350 mAh / 3,227 mAh)
An iPhone 13 Pro Max to 76.98% (3,350 mAh / 4,352 mAh)
A Samsung Galaxy S21 to 83.75% (3,350 mAh / 4,000 mAh)
A Samsung Galaxy S21 Plus to 69.79% (3,350 mAh / 4,800 mAh)
A Samsung Galaxy S21 Ultra 5G to 67% (3,350 mAh / 5,000 mAh)
A Nintendo Switch to 77.73% (3,350 mAh / 4,310 mAh)
A Nintendo Switch Lite to 93.84% (3,350 mAh / 3,570 mAh)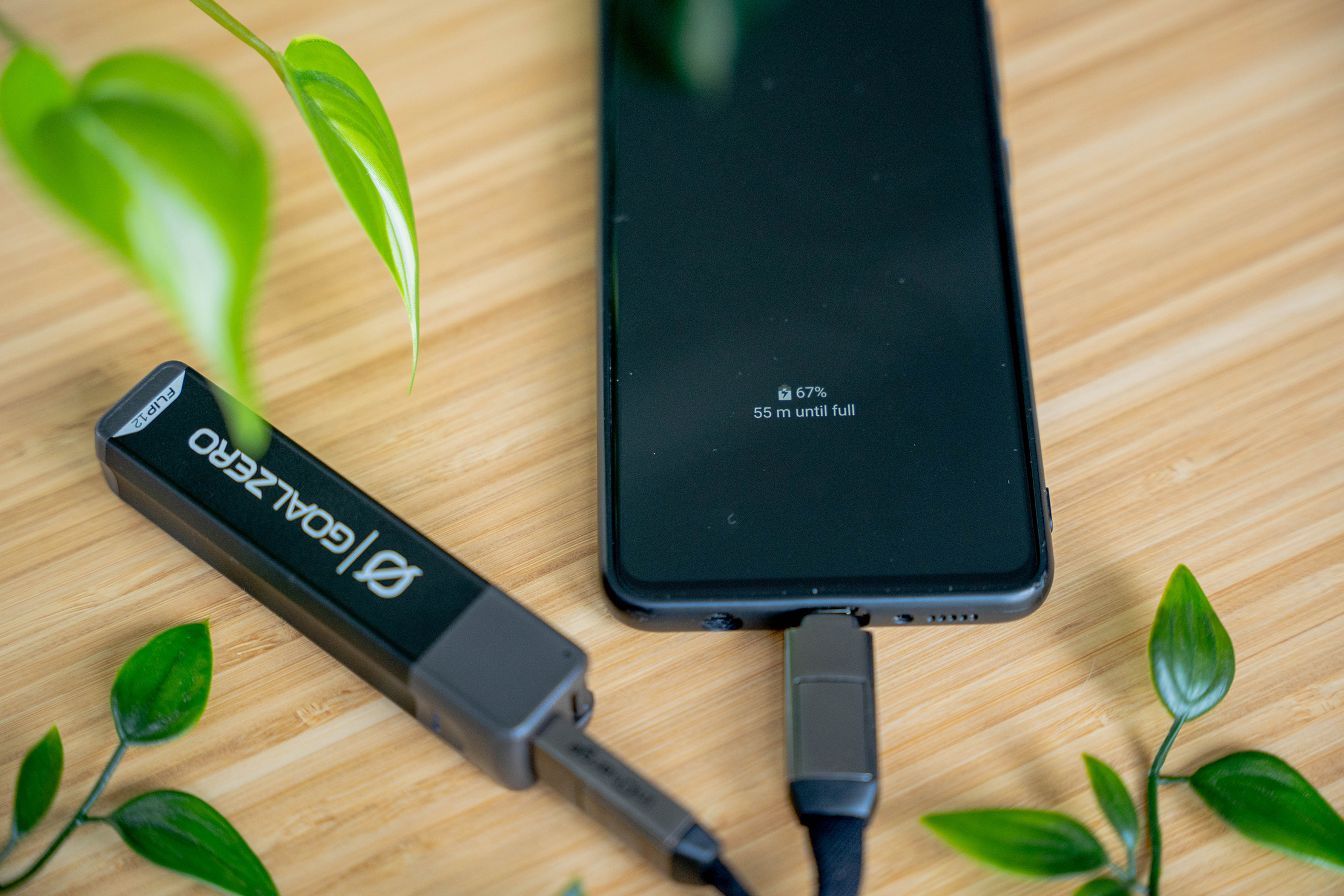 The data on this charger looks pretty good if you have a standard-issue iPhone considering its small size, but if you have a phone with a larger battery like a Pro Max iPhone or a Samsung Galaxy, you aren't going to get a full charge. For users of those phones, this will be more of a battery topper while you're out exploring a new city, walking between the coffee shop and your hotel or Airbnb, or at the airport when your partner is hogging all of the plugs at the gate.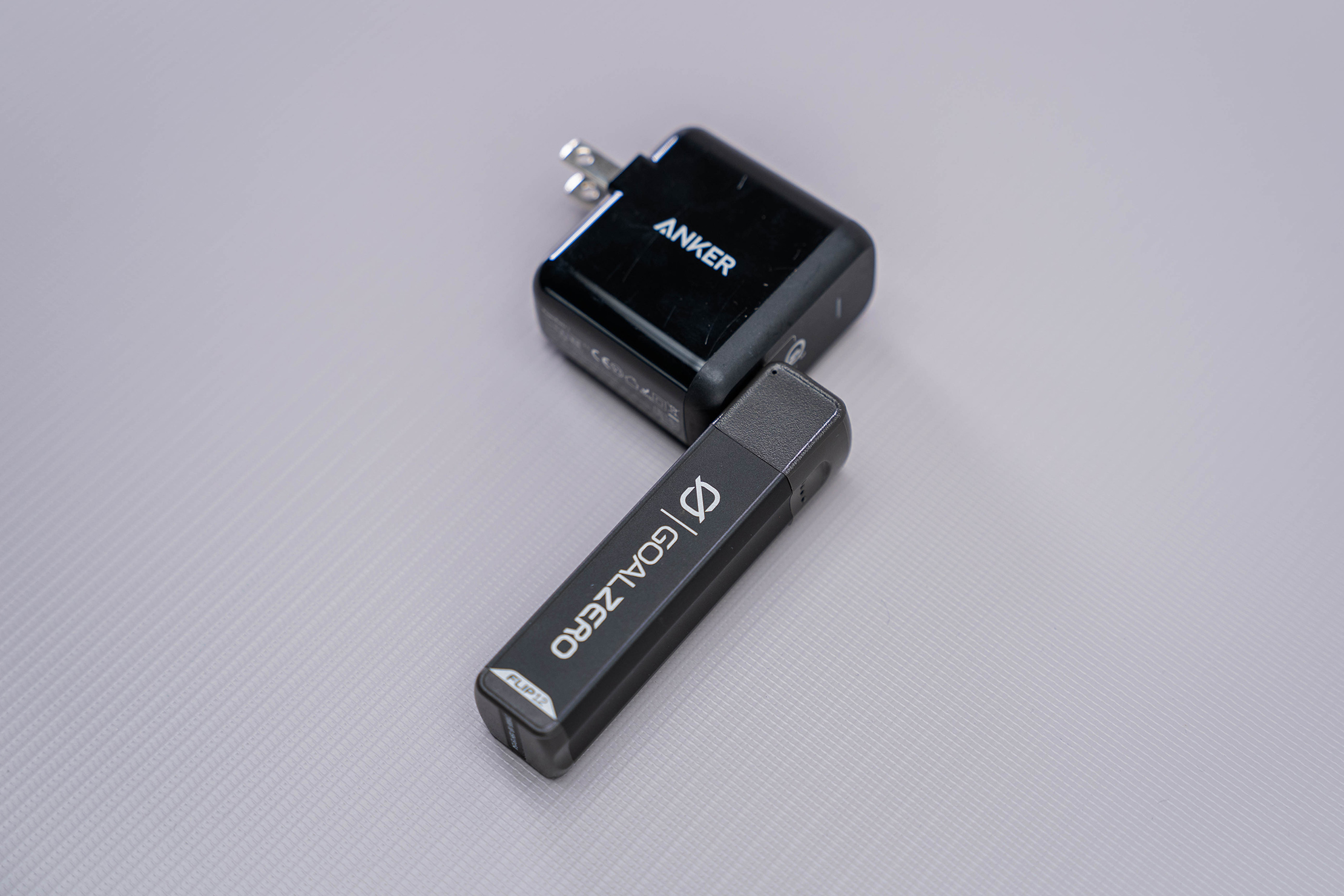 While this charger may not be the white whale of portability and chargeability we hoped it could be, it does fit nicely into a travel kit for those looking to cut down on cords. Many power banks charge using a micro-USB, which is becoming more and more out of date by the second. With those portable chargers, you need to bring a cable to charge your phone, a brick to charge your phone at the hotel or Airbnb, the power bank, and the charger to charge it. With the Goal Zero Flip 12, you can eliminate the second charger because it has a built-in charging port. Just make sure the brick you use to charge your phone on the wall is a USB-A so it can also charge the power bank, and you're all set.

Overall, the Flip 12 is great for those with a standard model phone, as it will be able to charge up to full power. For phones with larger batteries, the Flip 12 will still top off your battery while you're out and about but unfortunately doesn't quite hit the nail on the head as far as capability is concerned.
Usage Timeline
Initial Usage
Condition: Excellent
About the size of a large Snickers bar
3,350 mAh battery outputs at a rather slow 5 watts
Built-in USB-A plug flips out for charging the power bank itself
2 Weeks of Use
Condition: Excellent
USB-A charger rotates easily
Metal gets scuffed up but cleans off easily
All charging indicator lights still working
Access the Pro Community Discussion
Get your questions about the Goal Zero Flip 12 Power Bank answered from our team and the Pro Community right here on the page. Plus, join discussions with other members about gear, guides, and more.
Other Productivity & Tech Reviews