Bellroy Flip Case Review
The Bellroy Flip Case is a sleek-looking hardshell wallet, but the design makes sliding cards and bills in and out tricky.
Our Verdict
Unlock the Pro Summary
Save time. Get access to brief summaries of our reviews so you can browse and make decisions more efficiently.
Pros
Rigid structure prevents cards from bending
Slim size
Leather adds a premium feel to the plastic construction
Cons
Taking cards out can be tricky
Inserting folded bills takes some effort
Little to no flex for squeezing extra cards or bills in
Recent Pack Hacker Video
Technical Details
Dimensions

2.76 in x 4.13 in x 0.39 in (7 x 10.5 x 1 cm)

Notable Materials

Leather, Polymer

Warranty Information
Buying Options

$89.00
Full Review
Trying out new forms of your everyday go-to food can range from something very curious to somewhat intimidating. It's like when a New Yorker tries out a Chicago deep-dish pizza for the first time or when you find a menu item at a McDonald's in Tokyo that isn't available back home. Twists of this nature make exploring a lot more interesting, and it's something we're all for here at Pack Hacker.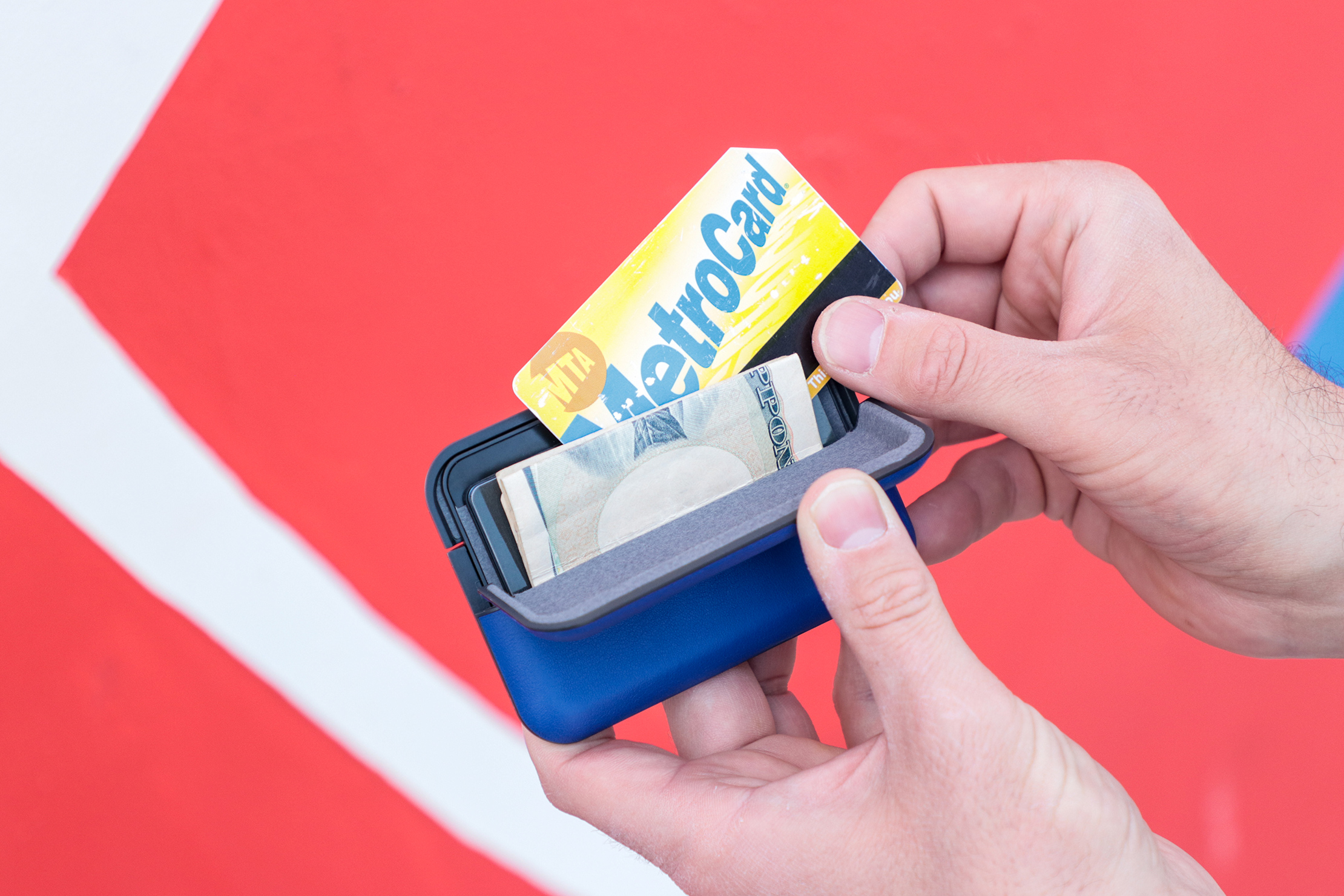 In the world of wallets, hardshell cases have their own characteristics that make them appealing. A good example of this is Bellroy's Flip Case. It has its own ups and downs compared to more typical wallets that are "soft" and made mostly out of woven fabrics. As more often is the case with Bellroy products, the styling on this wallet is on point, but what are the pitfalls to look out for?
Materials & Aesthetic
Sleek and solid is the name of the game for hardshell cases—there's just something about solid-feeling gear that's reassuring once you get your hands on it. For the Flip Case, there's good structure despite what the all-leather look might suggest. It's thanks to the plastic shell lying underneath—it's not as rigid or tough as, say, metal, but it definitely gets the job done. The stiff, tough hardshell ensures that your credit cards aren't the toughest part of your wallet.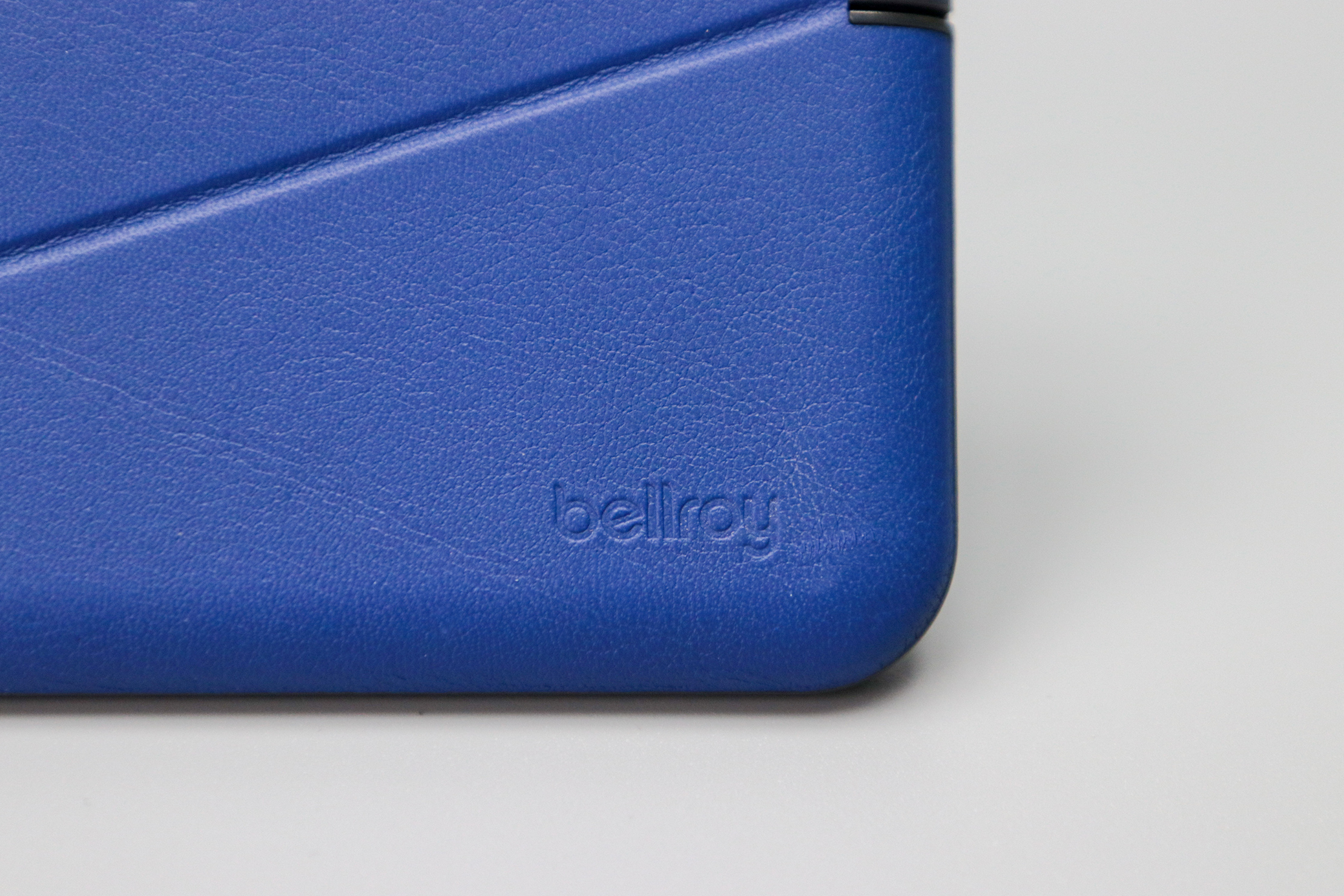 A hard case doesn't have the benefit of being soft like nylon, polyester, or leather-based wallets that can bend and flex. That said, the materials Bellroy used here exhibit minimal flex, and they didn't snap or break apart during testing. Durability-wise, the Flip Case gets a solid pass from us, and the materials do achieve the signature Bellroy aesthetic as well.
The Flip Case's overall style is undeniably Bellroy all throughout. Leather material on the outside adds a coat of class to match most other leather wallets. They've debossed a small Bellroy logo at the front, and there's an owl like on the Apex Slim Sleeve—it's a tiny one next to some text inside the rear compartment, but it's there alright. The corners and edges are rounded to give it a smoother look while also making it less harsh to handle. But there are two features that catch the eye the most: The slanted cut and the blue color.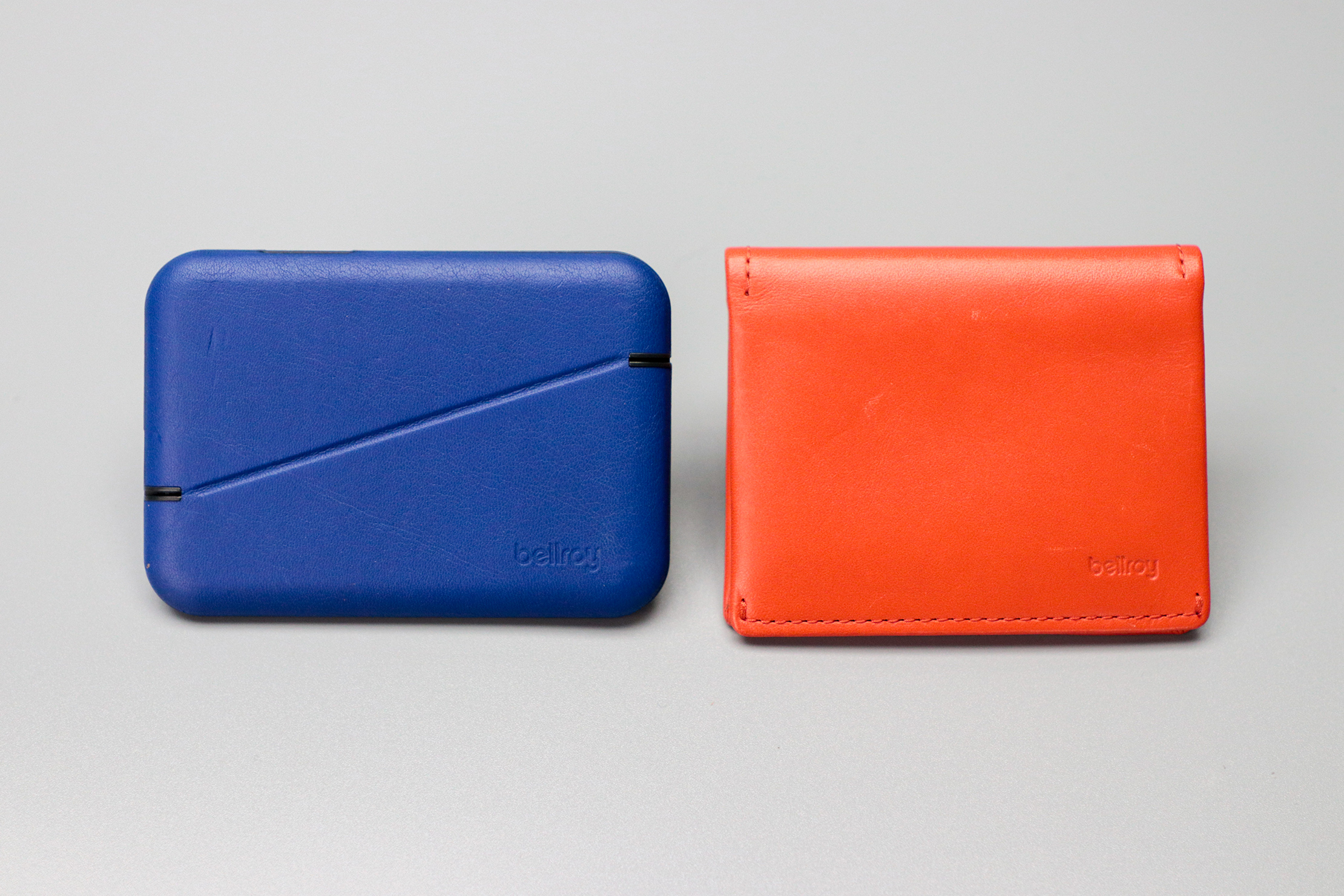 It's called Cobalt, and it's striking to look at. Bellroy usually does a good job of offering their gear in a number of eye-catching colors, with the Flip Case being no exception. At the time of writing, there's also the stealthy-looking Black and Basalt (gray) colorways if you want something more discreet, and Racing Green and Toffee if you want colors that pop.
So far, then, The Flip Case is all very Bellroy-like. That is to say, there's a good mix of quality materials that all came together to form something pleasing to look at. It's also relatively slim and small, which will save some ounces and space inside a sling. But going back to the lines running across the Flip Case, the design's practicality and functionality are equally interesting.
Usage
Apart from the plastic and leather, one other noteworthy material on the Flip Case are the magnets that work like magic—scientific explanations notwithstanding. They're used to hold the front and rear compartments' "trapdoors" closed, and they do a good job of it too. Vigorously shaking the case doesn't open either compartment, nor do they pop open in our pockets. Keeping your cards and money secure is job numero uno for any wallet, and the good news is all of ours were accounted for by the end of the testing period.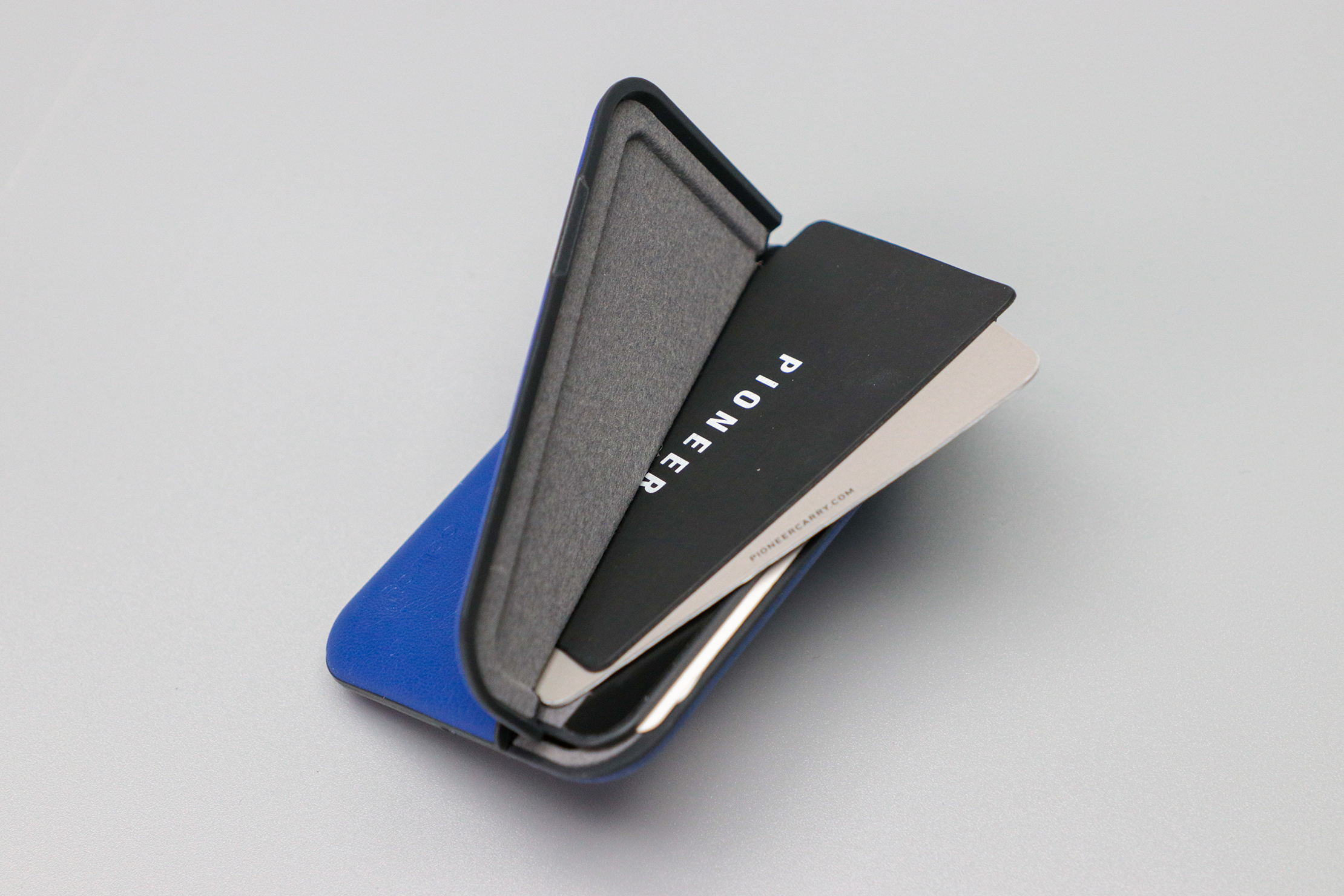 At the front compartment is the "quick-access priority card section"—that's Bellroy's way of saying that this is where your most often used cards will go. For us, that's our transit card and personal credit card. In order to get either compartment open, there's a small indentation along the top side where you can pry them open.
The slanted opening on the front compartment looks more like an aesthetic choice at first. In practice, however, we do see how it helps. Having the door asymmetrical like this keeps your cards minimally exposed—it's much safer since it only shows enough for you to tell which card you need and to pull it out. It's a very tiny detail, but we see where Bellroy is going with it.
On the flip side, the rear compartment gets a more usual-looking crosswise opening. Instead of being a "quick-access priority card section," it's designed more for capacity. It even gets a divider inside to keep cards and bills separate. That way, sliding a card doesn't drag bills out and vice versa.
Whereas it's more or less a two-card compartment at the front, here, you can fit six cards—or four plus some bills. That's a total of eight cards—or six cards plus some bills—in this wallet. Mind you, this quote on how many cards and bills can fit inside the Flip Case is Bellroy's own, but we've verified this on our end as well. That said, your mileage may vary depending on how thick your cards and bills are.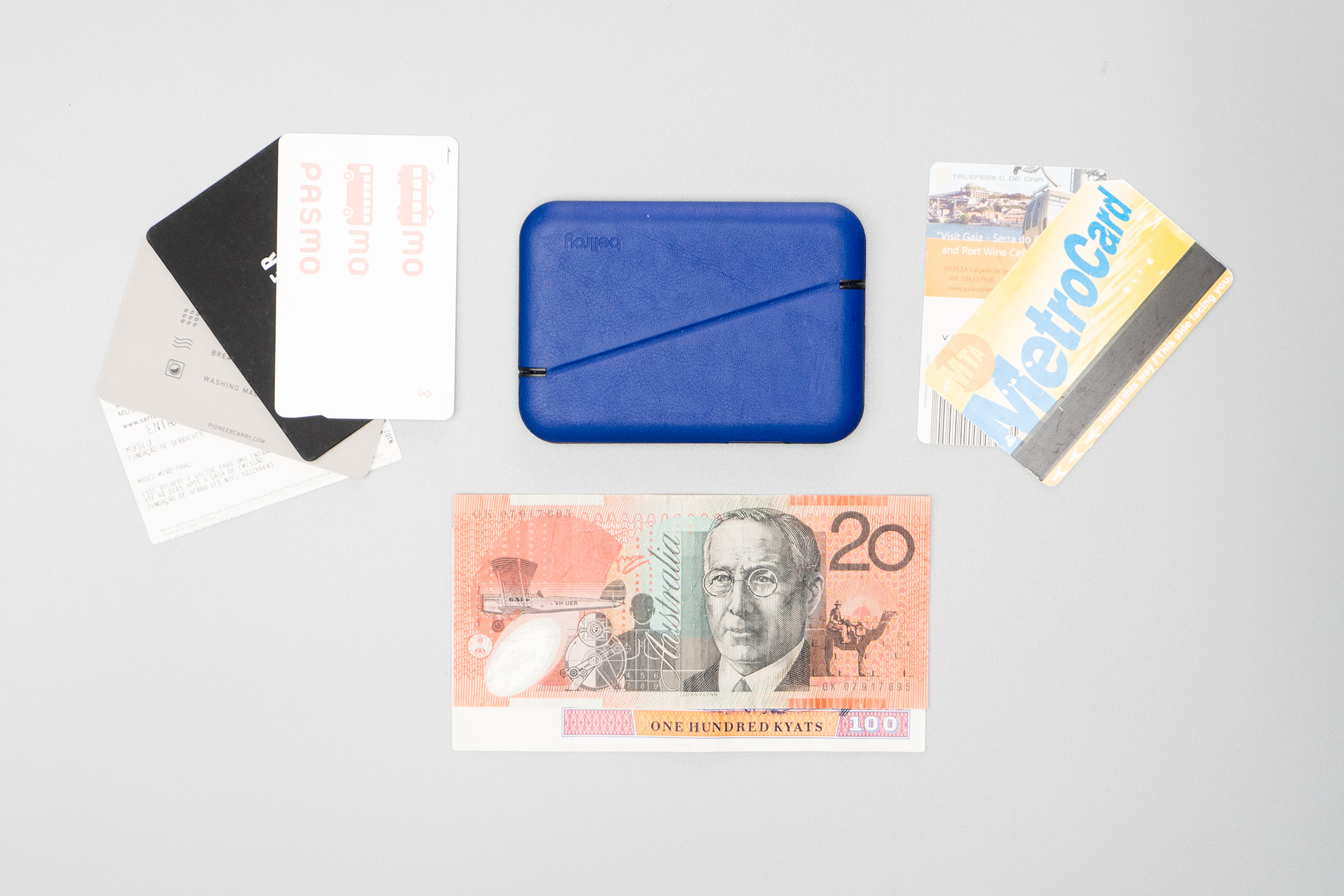 Both compartments are lined with soft fabric that makes sliding cards and bills out smooth—mostly. There was some difficulty getting cards out of the rear compartment. We can break down the cause of the difficulty into two things: the Flip Case's outer ridge and the rigid nature of a hardshell case.
We'll start with the outer ridge. It's the portion on the middle divider that runs along the edge, albeit not a very noticeable one. It has a bit of a lip that causes cards in the rearmost position to snag when you slide them out. Of the two causes, this was a relatively minor culprit, all things considered.
Next is the very solid nature of the Flip Case itself. In most "soft" wallets made of leather and fabric, you can easily pry and stretch the pockets to fit cards and bills—that's not the case here. Trying to insert a bill into the rear compartment, for example, takes more effort since you can't just squeeze and bow the sides to create some space. Sliding cards in between other cards or shimmying them out takes some technique and practice to get used to as well. Overall, we found access to be slow.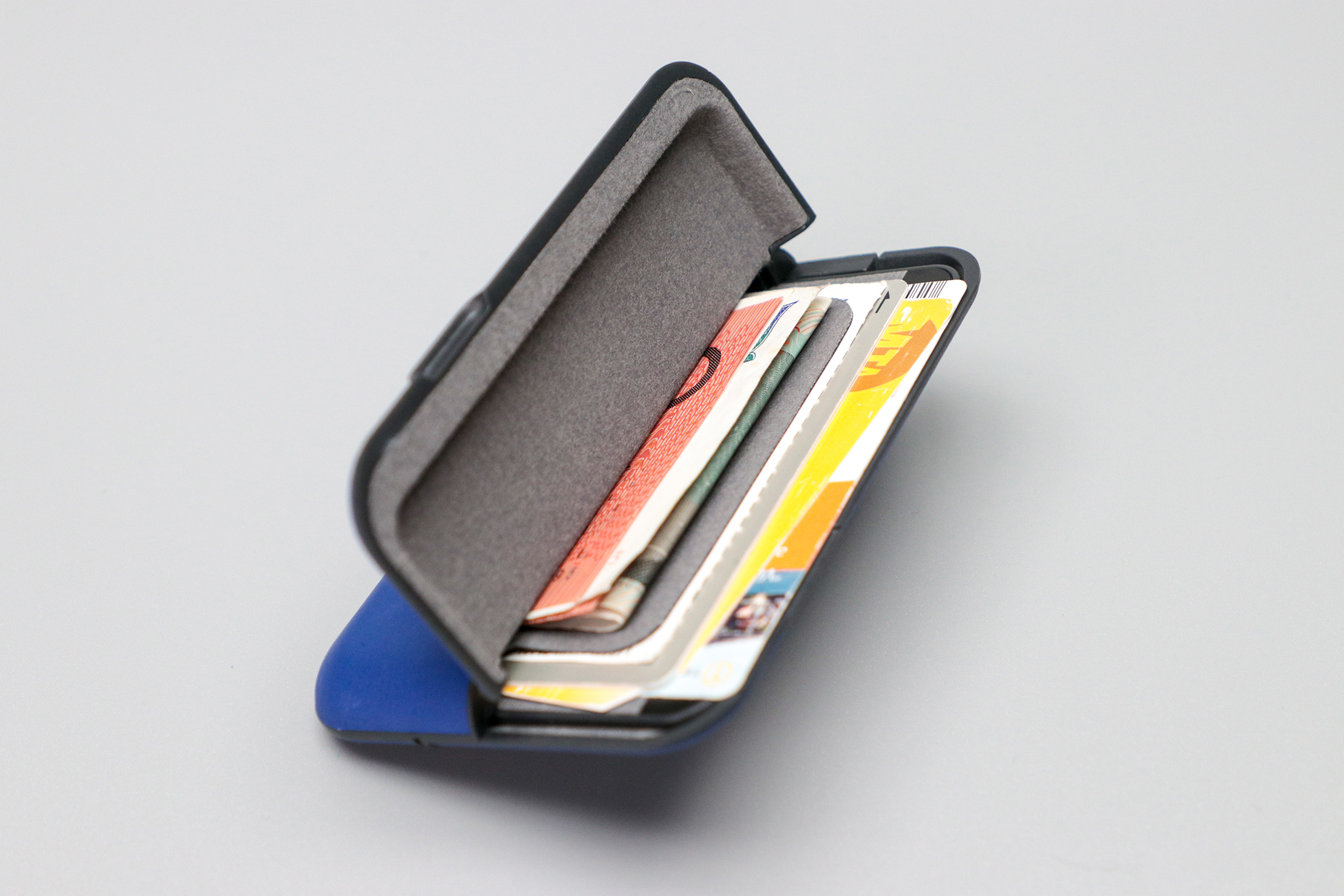 The Flip Case demonstrates the trade-off of going with a wallet that uses a rigid structure. It's well-made with a stand-out design, as per the usual from Bellroy. On the other hand, accessibility takes a hit by the structure and rigid design. It's not a complete deal-breaker, just something to keep in mind for those seriously considering a hardshell wallet.
Usage Timeline
Initial Usage
Condition: Excellent
Has a solid outer shell design
Openings are magnetically attached
Has RFID protection
2 Weeks of Use
Condition: Excellent
Love the look and overall design concept, though cards can be hard to get in and out due to no flexibility in the case
Space for bills is limited
Can be hard to fish out cards in the middle of the stack
Dig the way the hinges function and that it's double-sided
Access the Pro Community Discussion
Get your questions about the Bellroy Flip Case answered from our team and the Pro Community right here on the page. Plus, join discussions with other members about gear, guides, and more.
Other Organizers & Pouches Reviews