Whether you shower twice daily or have joined the no-poo movement, everyone needs travel size bottles for any trip longer than a day or two. However, there are a few designs to choose from and even more brands to dive into afterward. Don't worry; we're here to help!
We've seen a few materials most often—namely silicone and plastic. Some silicone models are food safe, which is a bonus if you want to use them for snacks. We've also seen metal and nylon models; however, those are few and far between. Every material was chosen for a reason, and we'll dive into those as we go over each item.
Before you decide which travel containers suit you, you need to decide a few things. First, what are you going to stow inside the containers? Some liquids do better with flimsier materials, and some are too watery for specific caps. Then, where are you going to put them? Some offerings come with a toiletry bag, but you might need to find a Dopp kit to house others.
Briefly, let's chat about airline security rules with liquids. You can take one quart-sized bag of liquids, aerosols, gels, creams, and pastes in the bag you bring on the plane. Each liquid is limited to a travel-sized container, which is 3.4 ounces or 100 milliliters.
Once you've determined what you'll put inside your new travel size bottles and where you'll stow them, you're ready to rock! Let's dive in.
1. humangear GoToob+
Best for: Full-time Travelers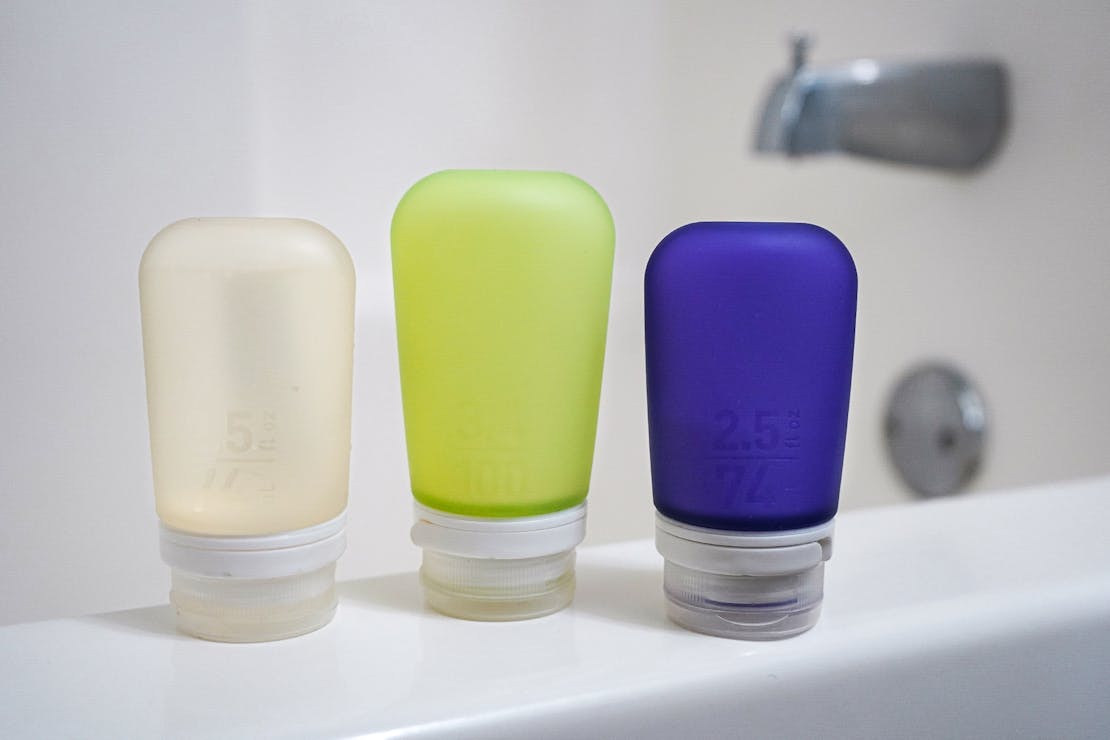 Why We Like It: They're food-safe and have a dynamic locking system.
What You Should Know: The caps can break if handled roughly.
Here at Pack Hacker, we've had GoToob containers on the mind for years. Starting with the original model and moving our way up to the GoToob+ a while back, we've had our fair share of experience with these travel size bottles. With a range of sizes available, these are the perfect size for getting you through airport security and short to moderate-length trips.
They're crafted from food-grade silicone, utilize a LoopLock™ system to ensure your toiletries don't leak, and include a labeling system so you can figure out what's inside quickly. The caps are somewhat fragile, but if you aren't rough with them, they'll last a long time.
Whether you're stowing shampoo, conditioner, body wash, or your mom's homemade mayonnaise, these travel containers will do the job. After all, do they even have mayonnaise in Antarctica?!
See Full Review & Buying Options
So there you have it! Some travel size bottles that will keep you clean on your next trip, whether you're washing up at the Ritz Carlton or in the river. Regardless of the trip, one of these travel containers will work for you!