Whether you shower twice daily or have joined the no-poo movement, everyone needs travel size bottles for any trip longer than a day or two. However, there are a few designs to choose from and even more brands to dive into afterward. Don't worry; we're here to help!
We've seen a few materials most often—namely silicone and plastic. Some silicone models are food safe, which is a bonus if you want to use them for snacks. We've also seen metal and nylon models; however, those are few and far between. Every material was chosen for a reason, and we'll dive into those as we go over each item.
Before you decide which travel containers suit you, you need to decide a few things. First, what are you going to stow inside the containers? Some liquids do better with flimsier materials, and some are too watery for specific caps. Then, where are you going to put them? Some offerings come with a toiletry bag, but you might need to find a Dopp kit to house others.
Briefly, let's chat about airline security rules with liquids. You can take one quart-sized bag of liquids, aerosols, gels, creams, and pastes in the bag you bring on the plane. Each liquid is limited to a travel-sized container, which is 3.4 ounces or 100 milliliters.
Once you've determined what you'll put inside your new travel size bottles and where you'll stow them, you're ready to rock! Let's dive in.
1. humangear GoToob+
Best for: Full-time Travelers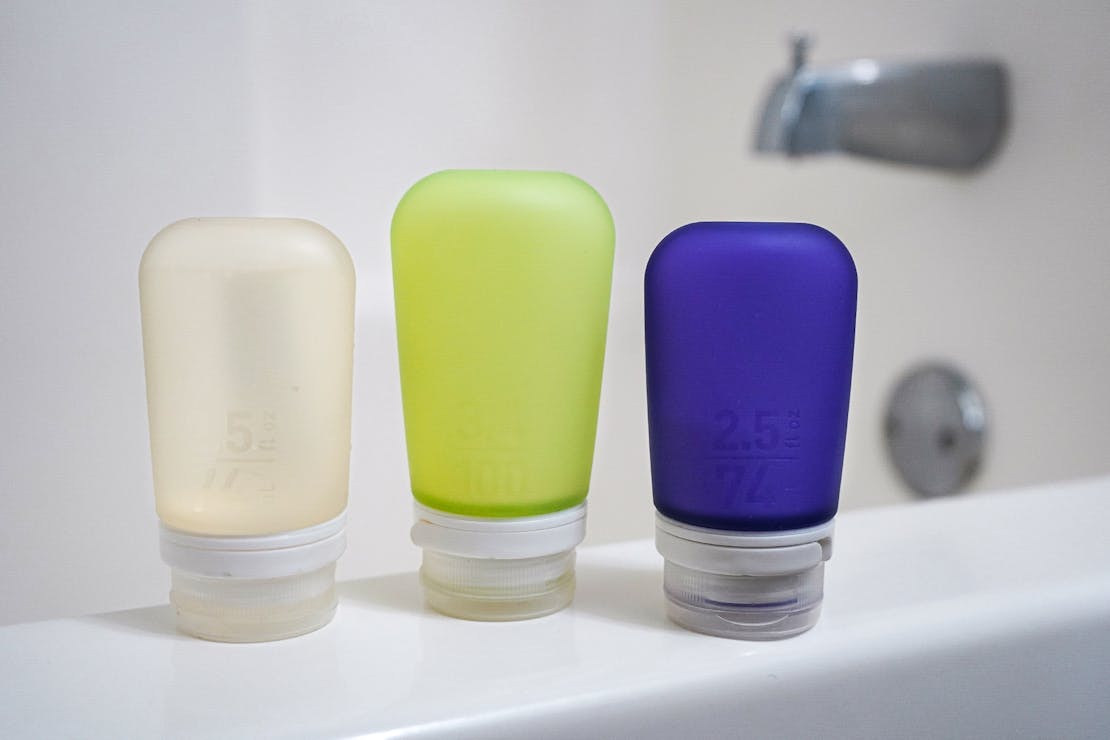 Why We Like It: They're food-safe and have a dynamic locking system.
What You Should Know: The caps can break if handled roughly.

Here at Pack Hacker, we've had GoToob containers on the mind for years. Starting with the original model and moving our way up to the GoToob+ a while back, we've had our fair share of experience with these travel size bottles. With a range of sizes available, these are the perfect size for getting you through airport security and short to moderate-length trips.

They're crafted from food-grade silicone, utilize a LoopLock™ system to ensure your toiletries don't leak, and include a labeling system so you can figure out what's inside quickly. The caps are somewhat fragile, but if you aren't rough with them, they'll last a long time.

Whether you're stowing shampoo, conditioner, body wash, or your mom's homemade mayonnaise, these travel containers will do the job. After all, do they even have mayonnaise in Antarctica?!
See Full Review & Buying Options
2. Gravel Soft 3oz Liquid Bottles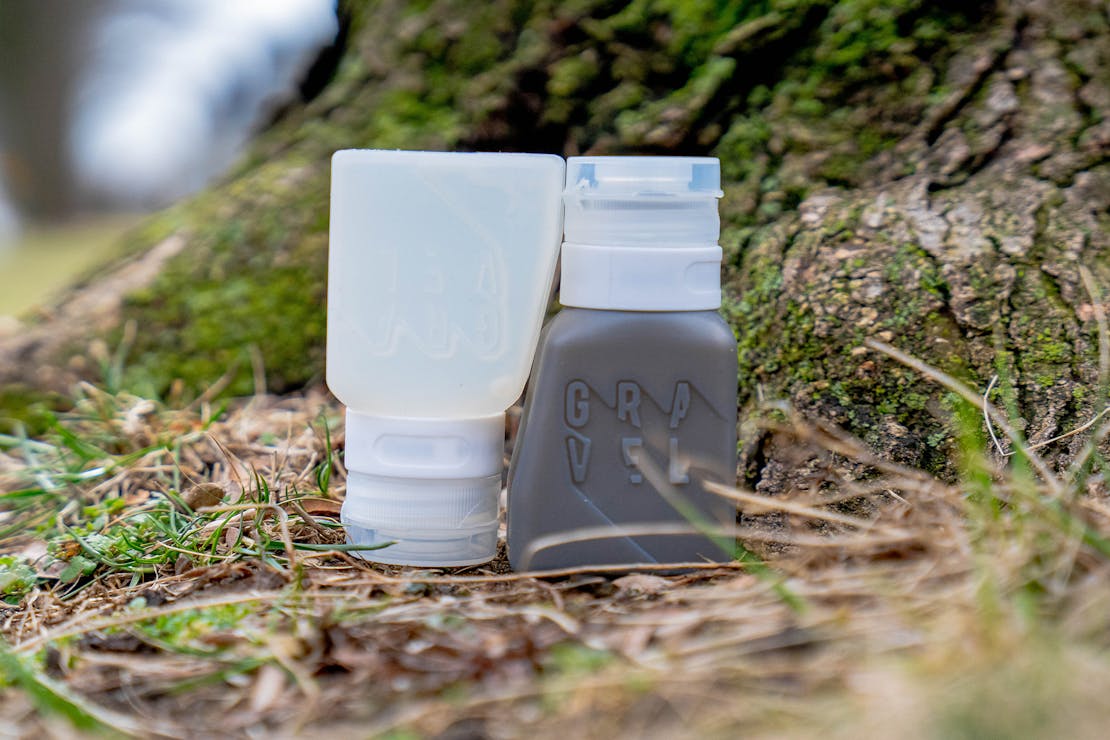 Why We Like It: They slot together nicely like a puzzle.
What You Should Know: The interior can be hard to clean.

If you like everything to slot together perfectly inside your pack, from your travel size bottles to your packing cubes, look no further than the Gravel Soft 3oz Liquid Bottles. They're designed to fit together like a puzzle to make packing more manageable, and you can stack groupings of two like legos. The harsh angles inside can be challenging to clean, but that's par for the course as far as travel containers are concerned.

These travel size containers are crafted from silicone, and the lids are made of hard plastic. There are two colorways to choose from; however, they're Speckled Clear and Speckled Grey, which aren't that unique. The lid is two pieces—the washer and the cap, which creates a tight fit, so your toiletries don't leak and squeeze out evenly.

These work well if you need an even number of travel containers for liquids. However, they don't come in singles at the time of posting, so you may have an extra if you only need three bottles. You might as well load up on Aioli while you're in France with the extra one!
See Full Review & Buying Options
3. Eagle Creek Silicone Bottle Set
Best for: Relaxed Travelers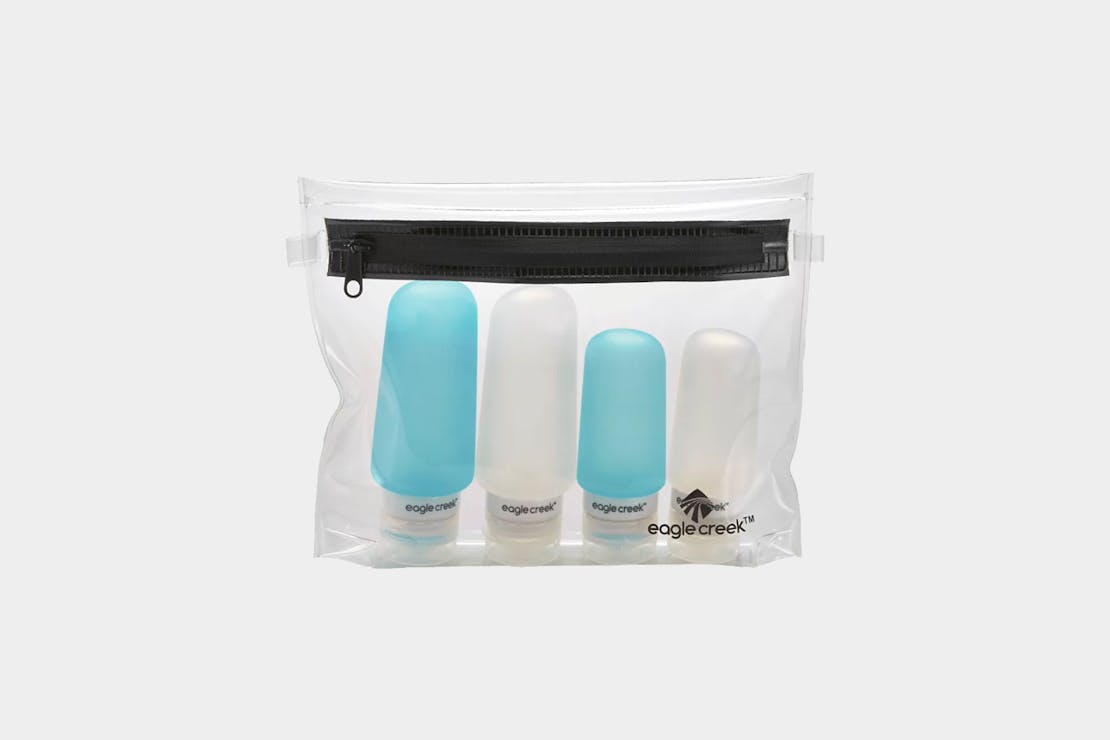 Why We Like It: Two sizes come in each pack.
What You Should Know: The 3-1-1 bag lacks durability and is superfluous if you already own one.

We know what you might be thinking. Isn't Eagle Creek a backpack company? Yes! However, they make other travel goodies, like their Eagle Creek Silicone Bottle Set. This includes everything you might need for a trip, so it's a great shout if you've never purchased Travel size bottles before. You might look elsewhere if you've already got a 3-1-1 bag for travel security.

Each set has two larger (3-ounce) and two smaller (2-ounce) bottles, so you can load the goop you need more of into the larger ones. They're crafted from silicone and have an anti-spill gasket to ensure your toiletries don't leak all over one another. In addition to the bottles, you get a clear 3-1-1 bag. It's a simple offering crafted from thermoplastic polyurethane (TPU), but it's an upgrade if you use a plastic bag. It has a gusset on the bottom so the bottles can stand up inside.

These travel size bottles get the job done and are an excellent option for those using them for the first time.
See Details & Buying Options
4. Matador FlatPak Toiletry Bottle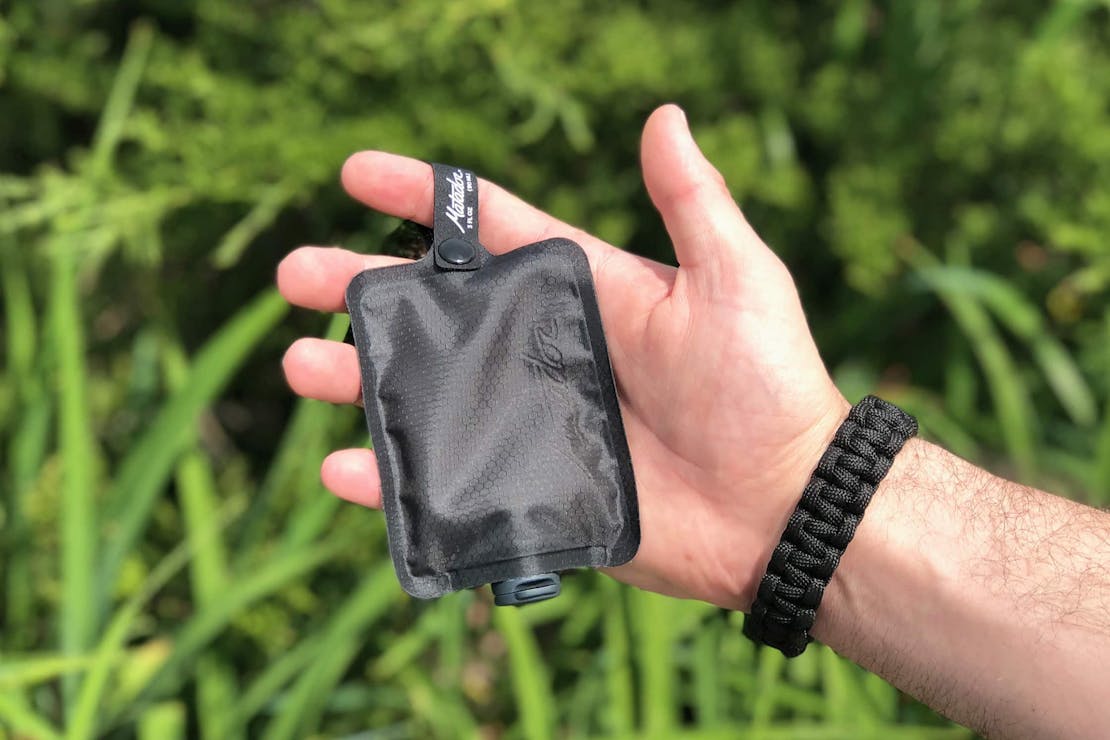 Why We Like It: Gets smaller as you use it, which saves space.
What You Should Know: Small holes can develop near the cap.

When some folks pack for a trip, keeping their pack size and weight down is one of the most important things. If you fit into that category, the Matador FlatPak Toiletry Bottle is one of the best travel containers on the market. It doesn't feel as strong as the silicone options on this list, but the CORDURA® Nylon construction isn't anything to scoff at.

A traditional set of travel size bottles is the same size when it's empty as when it's full. The FlatPak Toiletry Bottle gets smaller and lighter as you use it, so your toiletry bag will be lighter and easier to pack as the trip goes on. The flexible form makes packing more straightforward than its bulky silicone competitors, even when fully loaded.

If you're going on a rugged backpacking journey, you might opt for something heavier, as one of the containers we tested developed small holes near the cap with enough wear and tear. However, if you are staying in a hotel or Airbnb and take care when grabbing and replacing it before and after using it, this is one of the best travel containers for toiletries out there!
See Full Review & Buying Options
5. Cadence The Capsule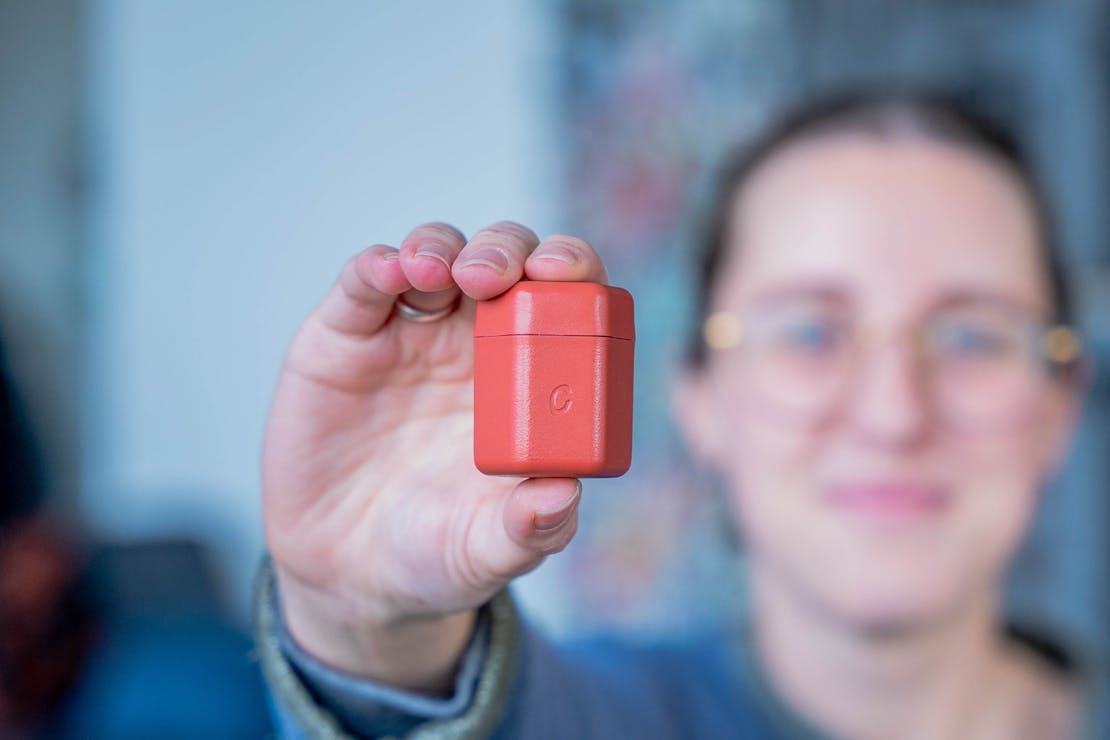 Why We Like It: Magnets are satisfying to use and keep toiletries together.
What You Should Know: A tad heavy and not good for storing large quantities.

Magnets. That's it. Magnets!

Confused? We were, too, when we first got our hands on The Capsule from Cadence. These little travel containers are made of metal and plastic and have magnets inside, so they stick together to form a honeycomb design inside your toiletry container. They aren't large enough to stow a week's worth of shampoo (even if you use it ultra sparingly), but they're ideal for makeup and short trips that don't require as much goop.

Another highlight of this design over a classic set of silicone travel size bottles is that they're easy to clean. There's no bottleneck—just rinse it out. No more special cleaning brushes or trying to reach your finger far enough to get to every corner!

The magnets work well in transit—everything sticks together and is easily located in one place. However, if you're trying to separate your gear once you arrive, the magnets make that challenging. They clack back together if they're within a short distance of each other. This isn't an issue on large counters, but if real estate is scarce, they'll probably be in formation.

This might be one of the more out-there travel bottles for toiletries, but it will work wonders in certain situations!
See Full Review & Buying Options
6. GLOBEGEAR Travel Bottles Kit (GG1)
Best for: Frugal Travelers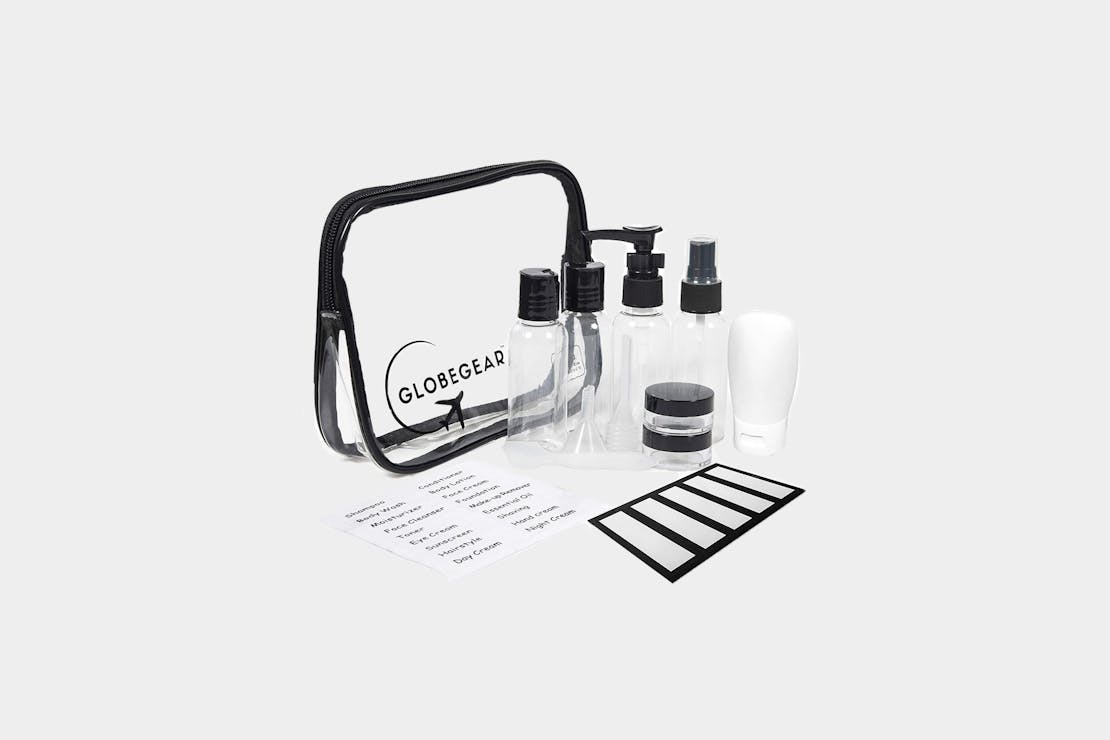 Why We Like It: Budget-friendly and has a variety of bottle designs.
What You Should Know: You may not have a use for every bottle design.

If you're looking for a budget set of travel size bottles, look no further than the GLOBEGEAR Travel Bottles. Coming in at under $20, you get a lot of bang for your buck with this set. In addition to a 3-1-1 bag to get you through airport security, there are a few toiletry tools to work with here.

First, there's a pump-top container. This one works well for the products you want to conserve because you can limit yourself to a single pump, and it even comes with a clip to prevent it from getting pumped on accident in transit. Next, there's a spray bottle, which works for perfumes and other liquids. Then there are two standard plastic bottles for shampoos and other shower gels. We're not done yet—there's another silicone bottle and two small containers.

On top of everything listed, it comes with tools to help you fill every bottle, so loading isn't an issue. We dig how many options there are, but you might not need everything listed, which is wasteful if you don't use it. However, these travel size containers are an excellent shout for someone who likes to bring a little bit of everything!
See Details & Buying Options
7. Nalgene Medium Travel Bottle Kit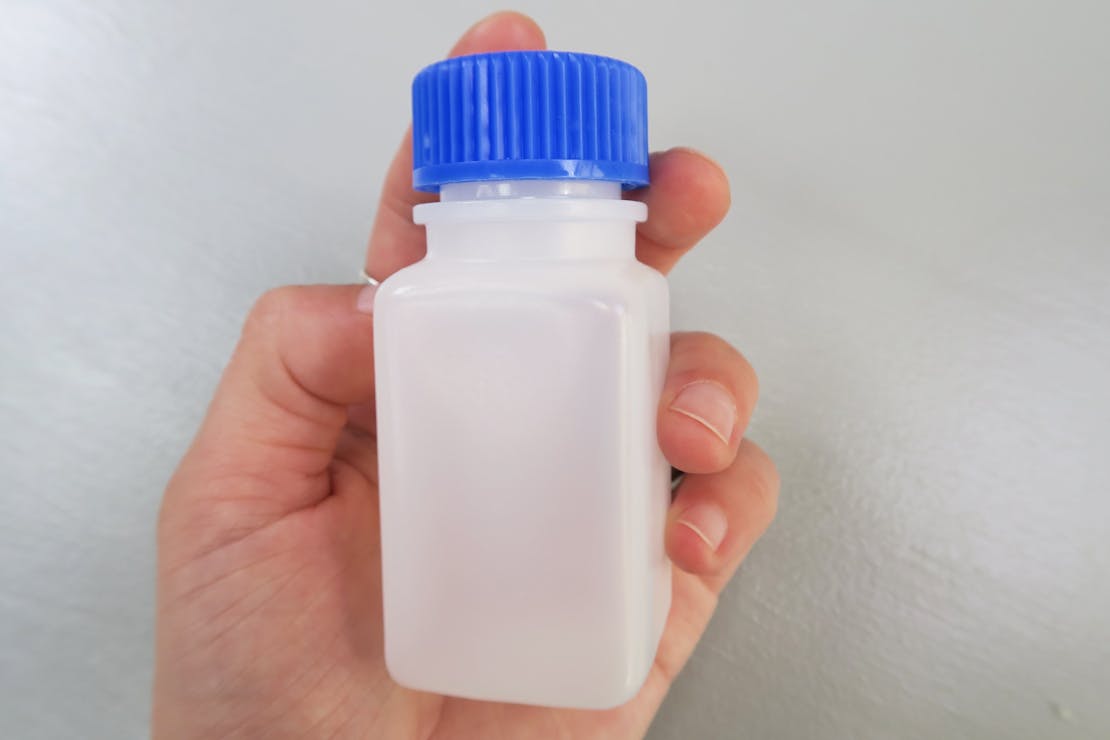 Why We Like It: Durable, tough plastic construction.
What You Should Know: The largest sizes are too big for airplane security.

If silicone isn't your thing, but you like the form factor presented by other travel bottles for toiletries, the Nalgene Medium Travel Bottle Kit may be a worthy addition to your travel backpack. They're crafted from HDPE plastic, which is durable, hard plastic similar to a water bottle. The tops screw on, which is more secure than attaching a cap to silicone. However, writing on them is difficult, so you might mix up what is what.

There are several sizes and colors in the set, which we dig. Some of the larger offerings are too big for air travel, so those will have to stay at home. However, those that are TSA-friendly make for a rugged travel companion. Plus, they're budget-friendly.

The material can get a little slippery in the shower, but they're small enough to hold onto with just one hand. If you want a set of travel shampoo bottles that won't break the bank and isn't silicone, these are the travel containers for you!
See Full Review & Buying Options
8. AinDen Travel Bottles Set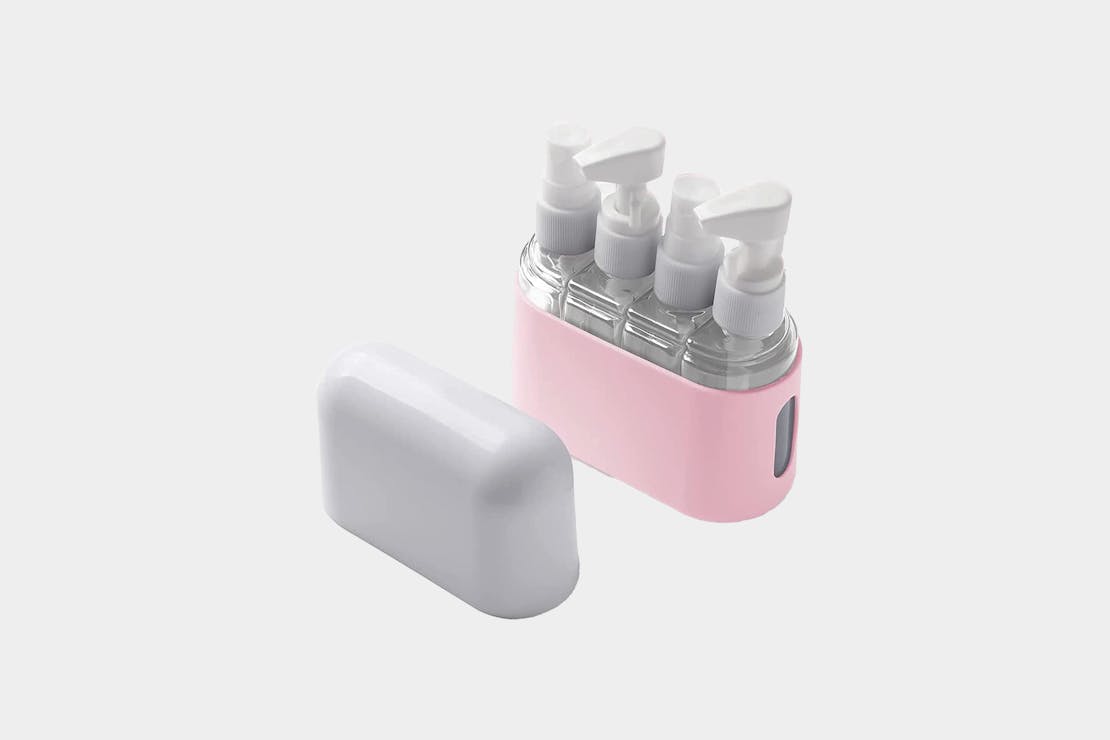 Why We Like It: Comes in one unified package of bottles.
What You Should Know: You can't add more bottles to the set-up.

There aren't a ton of designs for travel size bottles out there. However, there are a few companies that do things differently. AinDen's Travel Size Toiletries Travel Bottles are self-contained in a hard plastic shell, so you have everything you need in one container. However, they pop out of their case when it's time to use something. This combination makes it easier to get from point A to point B without a spill but doesn't hinder usage.

The materials aren't the most durable, but if you treat the container with care, there shouldn't be any issues with spills or cracks. Plus, the plastic is easy to stow somewhere safe in your pack or toiletry bag.

Because of the configuration, you can't add more bottles to your set-up. You might want to look elsewhere if you need more than four travel containers for liquids. However, AinDen's design is unique and worth considering if you want a compact set of four travel size bottles.
See Details & Buying Options
9. humangear GoTubb
Best for: Sustainable Travelers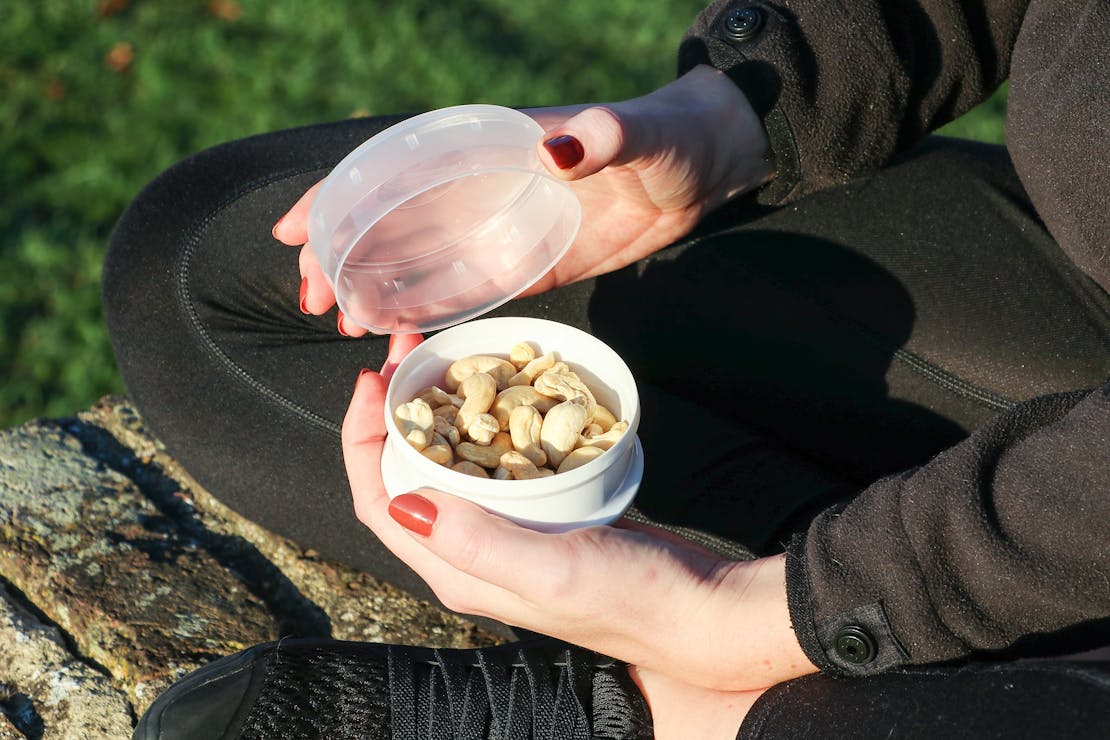 Why We Like It: You can stow everything from medication to macaroni and cheese inside.
What You Should Know: Thin hard plastic breaks easier than silicone.

The GoTubb from humangear, the same company that brought you the GoToob+, can be used for everything from thick lotions to snacks for the plane. The design resembles a contact case, but the materials are durable enough to last years. There are three sizes to choose from at the time of posting—small, medium, and large—and five color combinations. Whether you want to organize your medication, bring along a liquid too dense for a standard set of travel sized bottles, or want a way to bring delicate snacks on the plane, the humangear GoTubb has you covered.

The tubs are BPA-free, PC-free, and Phthalate-free. Plus, they're FDA food safe, so you can also eat out of them. The top screws on and is easy to remove when you're ready to access whatever you've got stowed inside.

The hard plastic exterior is easier to break than silicone, especially if heavy gear is loaded inside your daypack. However, we haven't had any issues with these travel containers breaking. Even if you aren't sure what you'll stow inside, the GoTubb almost always comes in handy once on a trip!
See Full Review & Buying Options
10. Matador Refillable Toothpaste Tubes
Why We Like It: No more wasteful toothpaste minis.
What You Should Know: Not much use outside of toothpaste.

There are a ton of travel size bottles and travel containers out there, but we haven't found nearly as many that work for toothpaste. Matador's reputation for filling the gaps of available travel products continues, enabling you to refill your toothpaste without as much environmental impact.

The Matador Refillable Toothpaste Tubes are designed with toothpaste in mind, so it works as well as one of the mini ones you get at the dentist's office. However, when it's empty, you refill it from the larger toothpaste container you have at home instead of buying another mini for your next trip. This keeps excess plastic out of landfills and is cheaper because mini toothpaste containers cost more per ounce. Think about what you can do with all of that toothpaste money!

Whereas most of Matador's gear can be used for numerous things, there isn't much use for their Toothpaste Tubes outside of dental hygiene. However, you use it twice daily, so we think it's worth splurging on.
See Full Review & Buying Options
11. D-LOTUS Perfume Atomizer
Best for: Professional Travelers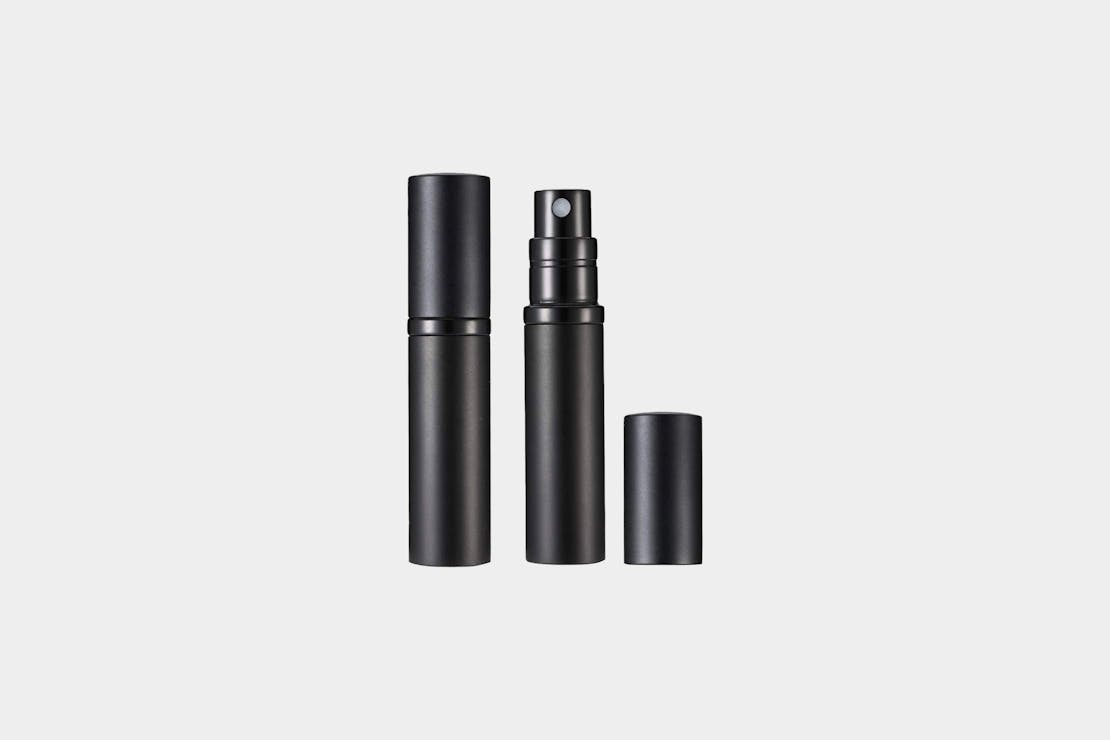 Why We Like It: Makes it easy to bring fragrances across the globe.
What You Should Know: Cap may leak over time.

Finding a set of travel size bottles for your shampoo, conditioner, and other goops isn't very difficult. However, finding something that will work for your perfume or cologne is another story. Most bottles you have at home are too large to take on a plane, but the D-LOTUS Refillable Perfume Atomizer is TSA-sized and enables you to smell good all trip long.

Bringing some cologne or perfume shouldn't be a fuss, whether going to a fancy event or struggling with body odors when you can't shower as regularly. With the D-LOTUS Atomizer, you can use the exact product you use at home, so there are no issues with skin irritation from using a new travel-sized fragrance. The interior container is easy to fill and dump, making packing easy.

Some users report issues with leaking after a few months of use; however, like any other travel container, if you ensure it doesn't get bumped or knocked too much in transit, you should be all set.
See Details & Buying Options
So there you have it! Some travel size bottles that will keep you clean on your next trip, whether you're washing up at the Ritz Carlton or in the river. Regardless of the trip, one of these travel containers will work for you!