Nalgene Medium Travel Bottle Kit Review
Taking care of yourself on the road can be a challenge. The Nalgene Medium Travel Kit enables you to bring your favorite toiletry products along, without the worry of shampoo-soaked luggage.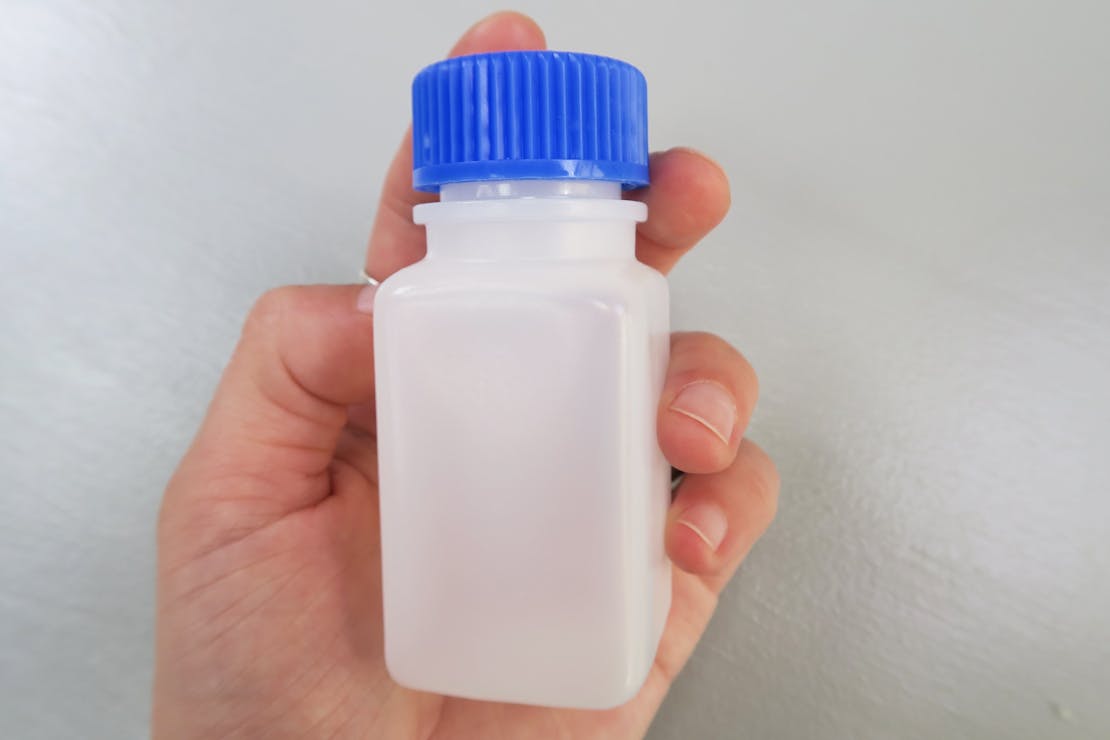 Our Verdict
Unlock the Pro Summary
Save time. Get access to brief summaries of our reviews so you can browse and make decisions more efficiently.
Pros
Several sizes and colors in the set.
Variety of shapes makes it easier to remember what is what.
Kit includes jars for non liquid items.
Cons
Limited ability to label the bottles.
Minimal styling, no alternative colors available.
The larger bottles are too large for TSA compliance, at 4 oz each.
Recent Pack Hacker Video
Technical Details
Notable Materials

HDPE Plastic

Manufacturing Country

United States
Full Review
Regardless of the sort of traveling you prefer; you'll likely want to bring some sort of liquid product. We all know the rules, one quart sized bag of items limited to 3.4 ounces each. Well, there goes your favorite tub of conditioner or body wash.
Purchasing a second set of all your favorite toiletries can be a hassle, wastes plastic, and for certain products it isn't even an option. If you're in a hotel, they often have mediocre basics for free, but if you're camping, hitting up an Airbnb or otherwise, you likely won't have any toiletries provided. Instead of skimping on your self-care, you can grab a set of reusable travel bottles from Nalgene, with their Medium Travel Kit.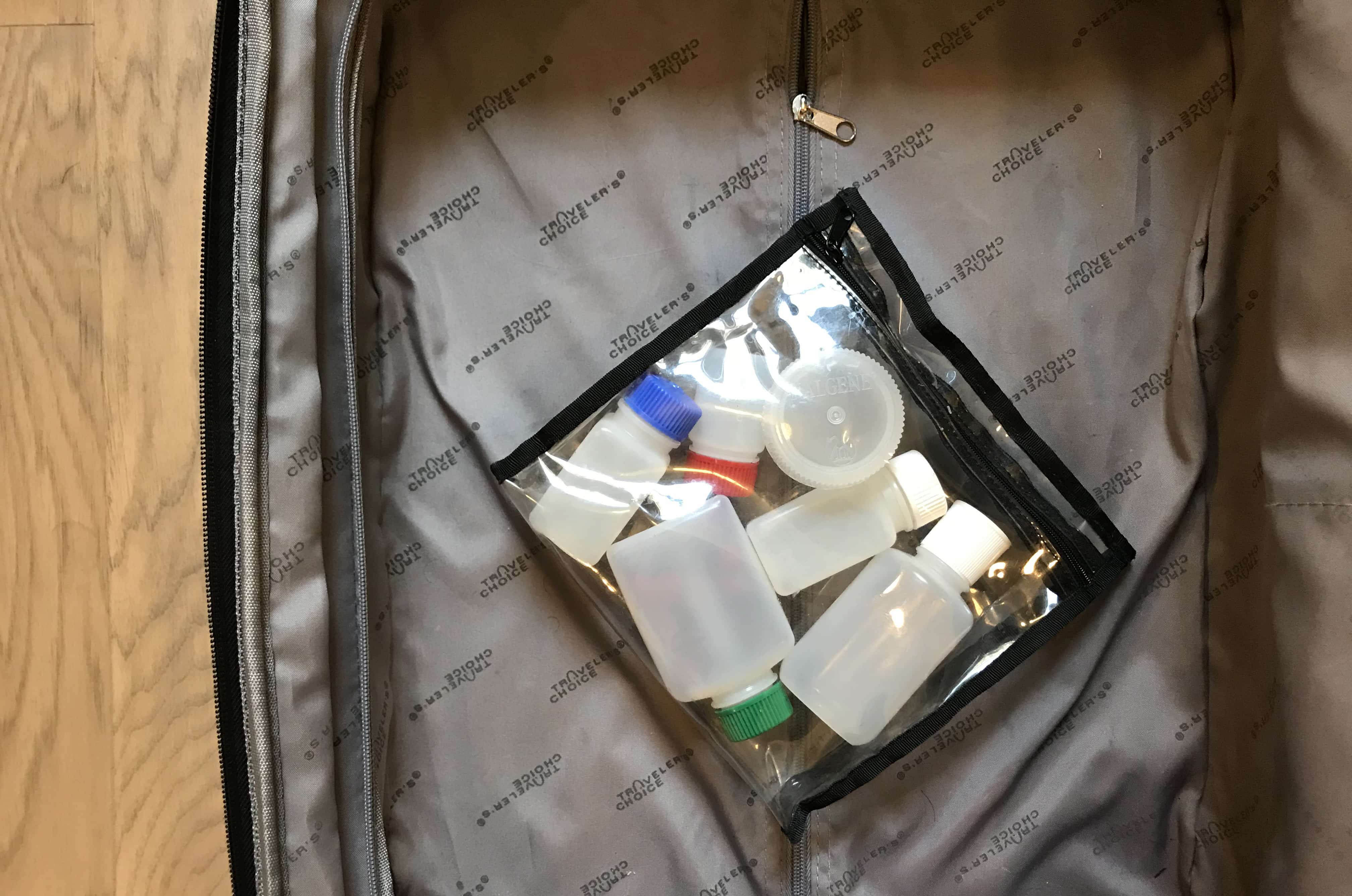 When the Travel Kit arrived, we were stoked to see how many individual bottles were included. The medium set gives you six bottles (with both screw cap and dispensing cap options) and two storage jars for a total of eight items. The bottles come in a variety of sizes, from one to four ounces each. And while the variety of shapes and lid colors help to distinguish what is in each bottle, we would have loved for a few more styling options here. The lids are all basic colors, along with clear bottles.
You'll get two styles of bottles that come in pairs, which would work well if you're packing things in sets, like shampoo and conditioner, or face wash and moisturizer.
The bottles are made of a semi-clear plastic which has just enough give to flex in your suitcase or allow you to squeeze the bottle for dispensing. The plastic is also thick enough that when dropped, kicked or compressed, they don't break. Nalgene goes as far as to guarantee the bottles as "leakproof." We dropped them, kicked them, stepped on them, and determined that these things just might be indestructible! If the apocalypse comes, it's going to be cockroaches and Nalgene bottles which live to see another day.
Nalgene's travel bottles are made of an HDPE plastic, or high-density polyethylene. Happily, HDPE is recyclable, so in addition to saving plastic by not buying mini versions of all your products, you can always recycle these if/when you're on to the next set. (FYI: This type of plastic classifies into #2 for recycling sorting. Might want to check before dropping it into any old recycling bin.) While HDPE is commonly used to create plastic bottles, it is also a major plastic type for corrosion-resistant piping, geomembranes, and plastic lumber. AKA, it's tough stuff.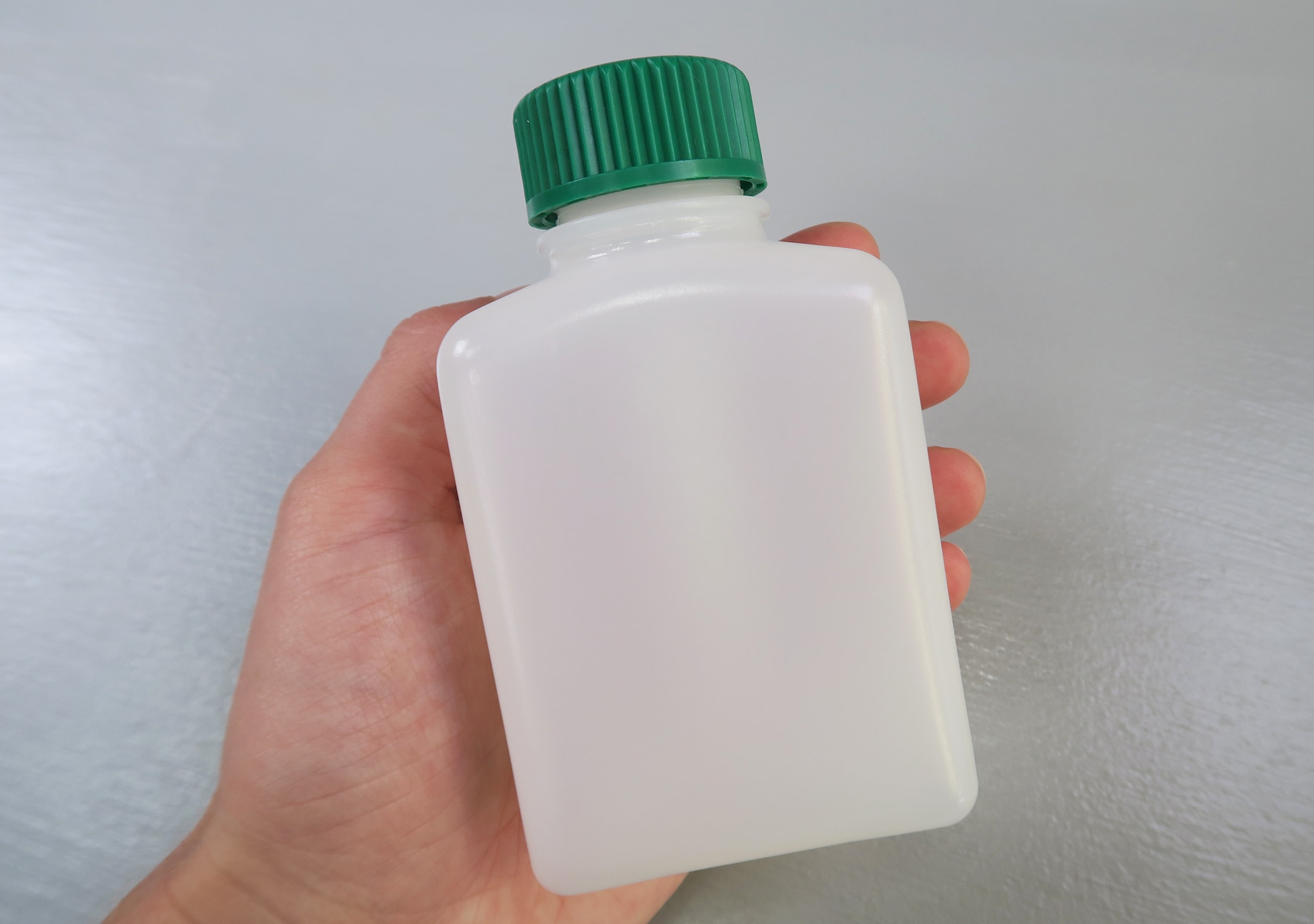 While some travel tubes or bottles have been flagged for reacting with certain types of chemicals or products, HPDE bottles are good to go. This all makes sense, because corrosion resistant piping can't have a reputation of breaking down when the wrong fluid hits it. Again, think apocalypse people! If you're the last person on earth, your Nalgene will still protect your shampoo for years to come.
One important note: Nalgene doesn't recommend storing liquids in the storage jars. While we have stored gels in there and had no problems, we can confirm that liquids are a no-go. After some excessive testing and tossing around, they did leak a bit when storing liquids.
We're happy to say that swapping out products with these little guys is an absolute breeze. All the bottles and jars sit upright, for simple filling—a feature that we loved on the GOTOOB+ containers—and no funnels or gadgets are needed. No magic tricks here, people.
Hand washing is equally simple, as all the styles in this set have an opening wide enough for the average finger. With some hot water you can easily get in there and rub around to your little finger's content, getting rid of whatever lotions, soaps, or oils you might have had. As an added bonus, when you're back home—and unpacking your life—these little things can be dropped in a dishwasher for deep cleaning.
One challenge we encountered was trying to remember which bottles contained which product. If you're cleaning out your bottles after every trip, that's one thing. We found that if we used the same set trip after trip, some of the lesser used products just looked like white cream and we had to open all the bottles to smell or touch, in order to identify the item in each bottle.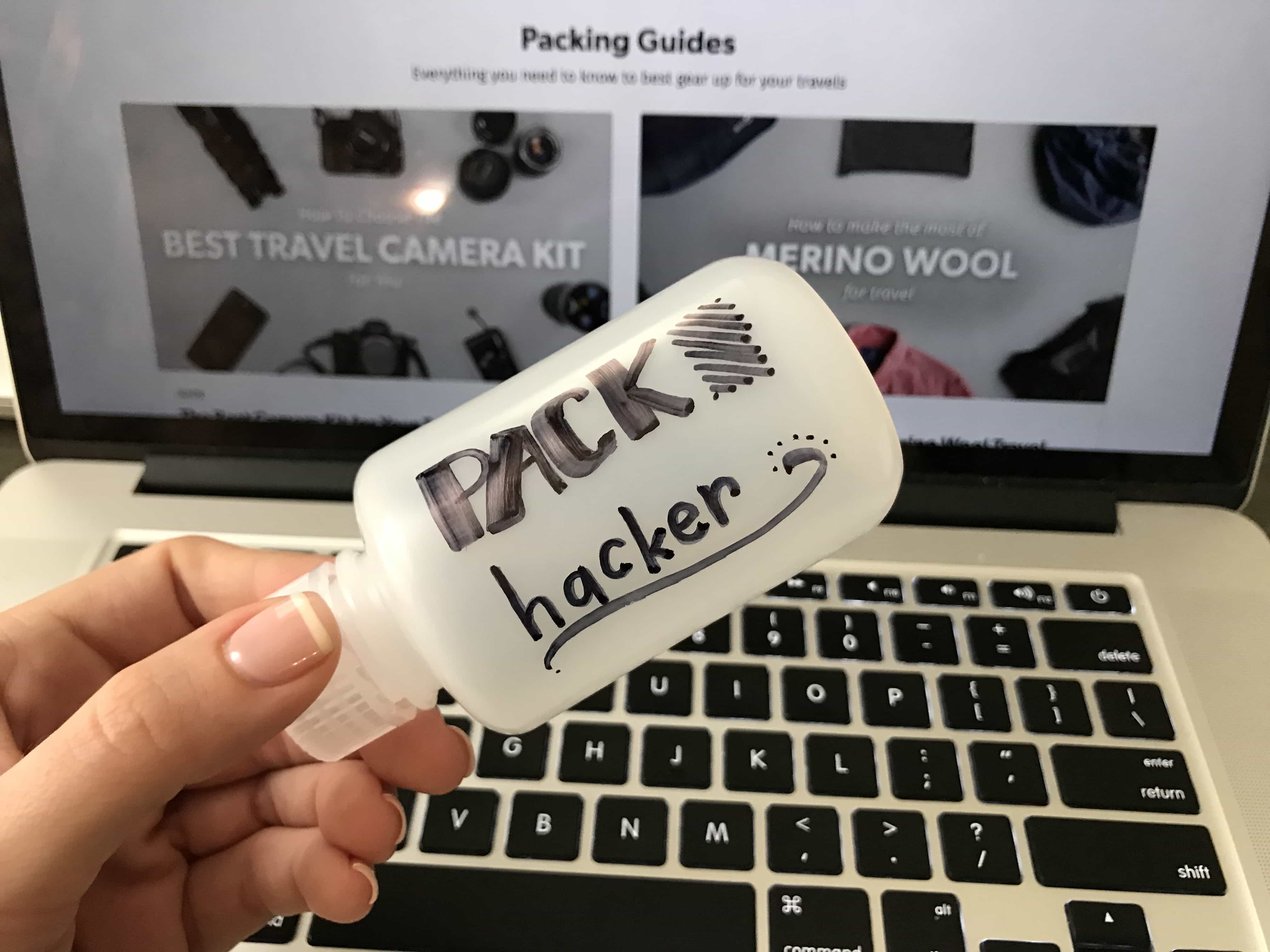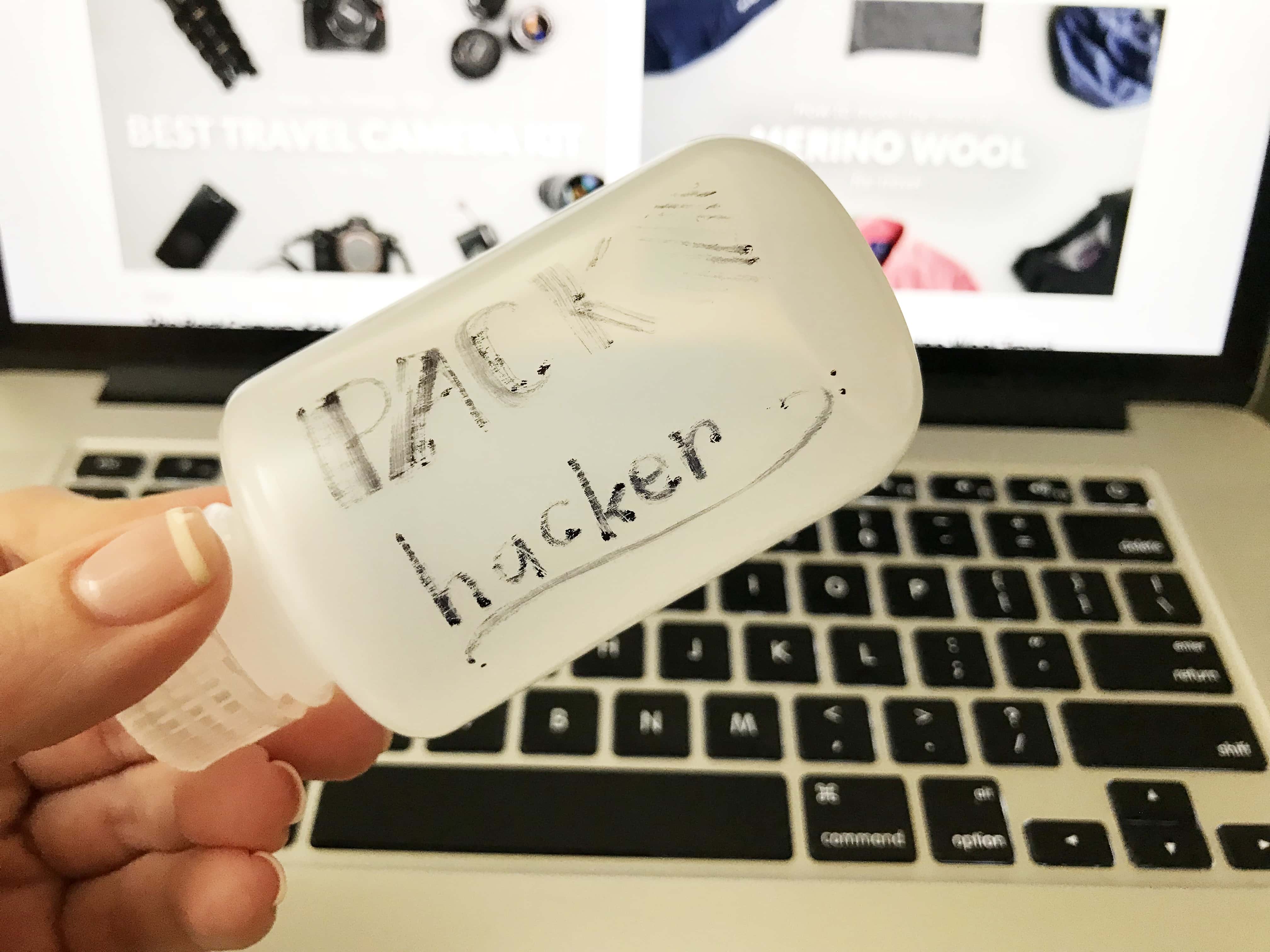 It would be great if there was an interchangeable label system—ideally waterproof for anything that would come into a shower with you! We have used a Sharpie to label these, but it's not the best solution. Within seconds of scrubbing with a soapy sponge, the Sharpie came right off. Outside of that, it did stay on pretty well in a dry environment and even with some slight wetness. Use at your own risk!
Usage Timeline
Initial Usage
Condition: Excellent
1 Month of Use
Condition: Excellent
2 Months of Use
Condition: Good
All is well–just make sure you wash them out thoroughly.
3 Months of Use
Condition: Good
Still holding up—no leaks or breaks, but some visible wear around bottle caps.
Access the Pro Community Discussion
Get your questions about the Nalgene Medium Travel Bottle Kit answered from our team and the Pro Community right here on the page. Plus, join discussions with other members about gear, guides, and more.
Other Organizers & Pouches Reviews