Cadence The Capsule Review
The Cadence Capsules may not hold a week's worth of shampoo, but they make up for it with magnets, a packable shape, and solid build quality.
Our Verdict
Unlock the Pro Summary
Save time. Get access to brief summaries of our reviews so you can browse and make decisions more efficiently.
Pros
Stick together with magnets for easy storage
Rounded floor is easy to clean
Can swap magnetic labels between capsules
Cons
Doesn't hold much for their size and weight
Only come in one size
Capsules clump together even when you don't want them to
Recent Pack Hacker Video
Technical Details
Capacity

.56oz

Weight (oz)

1.5 oz (42.5 g)

Dimensions

1.75 in x 1.5 in x 1.5 in (4.4 x 3.8 x 3.8 cm)

Notable Materials

Plastic, Metal

Manufacturing Country

Thailand

Warranty Information
Full Review
Rolling the dice and relying on what toiletries a hotel provides is quite the gamble. Between you and us, we rarely encounter excellent ones, and even then, they still fall short of what we have at home. As such, we always carry our own set of toiletries. It's easy, saves on single-use plastic, and is much more personalized. The only question for anyone who wants to do the same is what kind of containers do you use?

Cadence's Capsules are pretty unique, and not just in terms of aesthetic design. These don't hold much volume, so we're ruling them out for trips longer than a weekend. But what these capsules lack in volume, they make up for in other features like magnetic labels, the ability to stick together, and a rounded floor that's easy to clean.
Materials & Aesthetic
These capsules look distinct and unique as far as travel bottles come and go, far from the typical transparent travel-sized bottles we usually see. Not to take anything away from those, but these stand out thanks to their pastel colors and stout hexagonal shape. We wouldn't mind having these on display in front of our own vanity table, nor a swanky hotel's.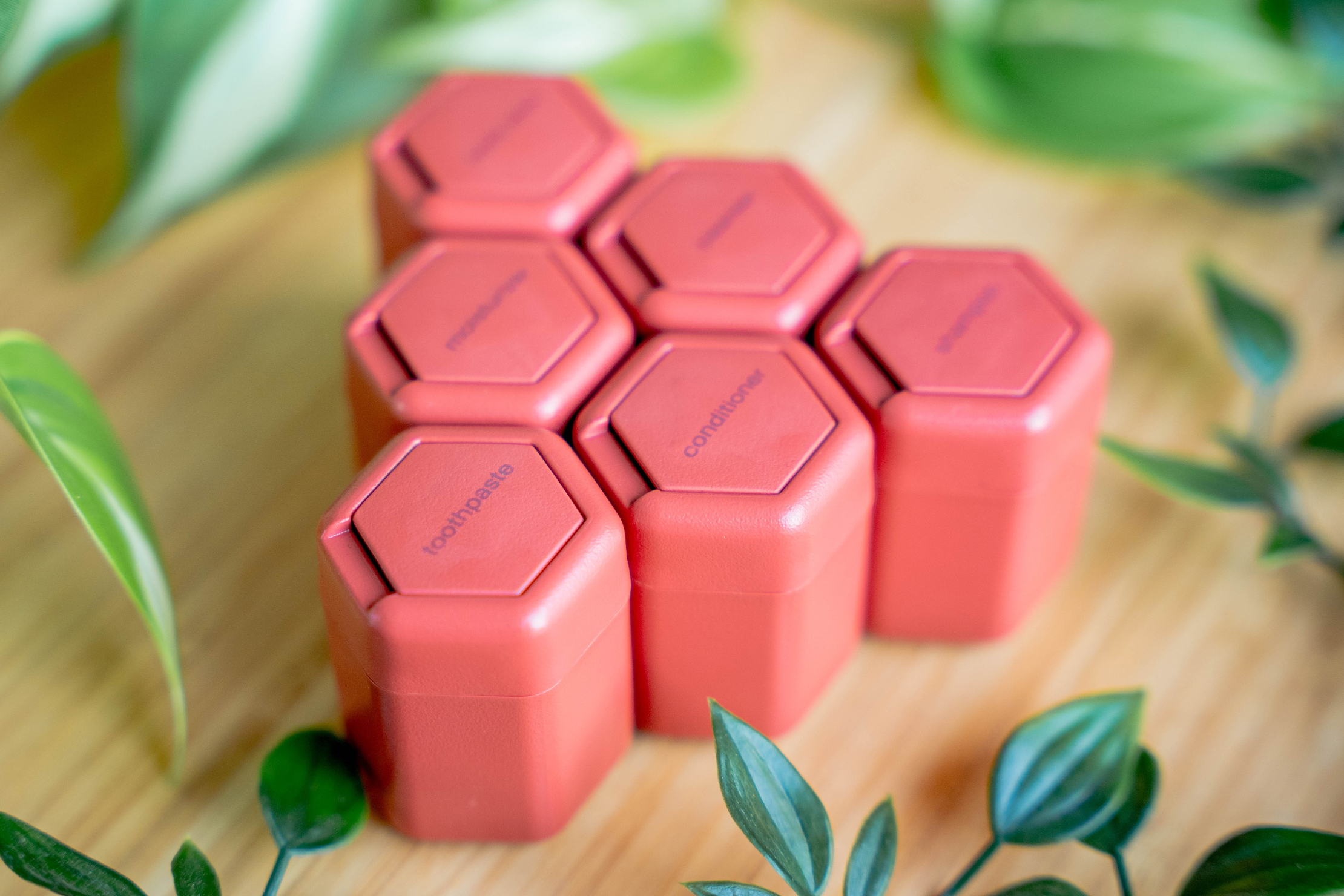 These capsules even come with a touch of personality, courtesy of their magnetic labels. You can choose from a number of predefined labels, including the usual toner, makeup remover, shampoo, conditioner, etc., and even some minimalist symbols like a heart, pills, sun, and a rainbow. Alternatively, there's also the option to create your own label, though at an additional cost.
Since each capsule can come in a different color, swapping the magnetic labels between different colored capsules is a fun little way to make them stand out even more. At the time of writing, the available color options are charcoal (black), petal (pink), lavender (purple), sand (white), terracotta (burgundy red), pacific (light blue), and eucalyptus (green).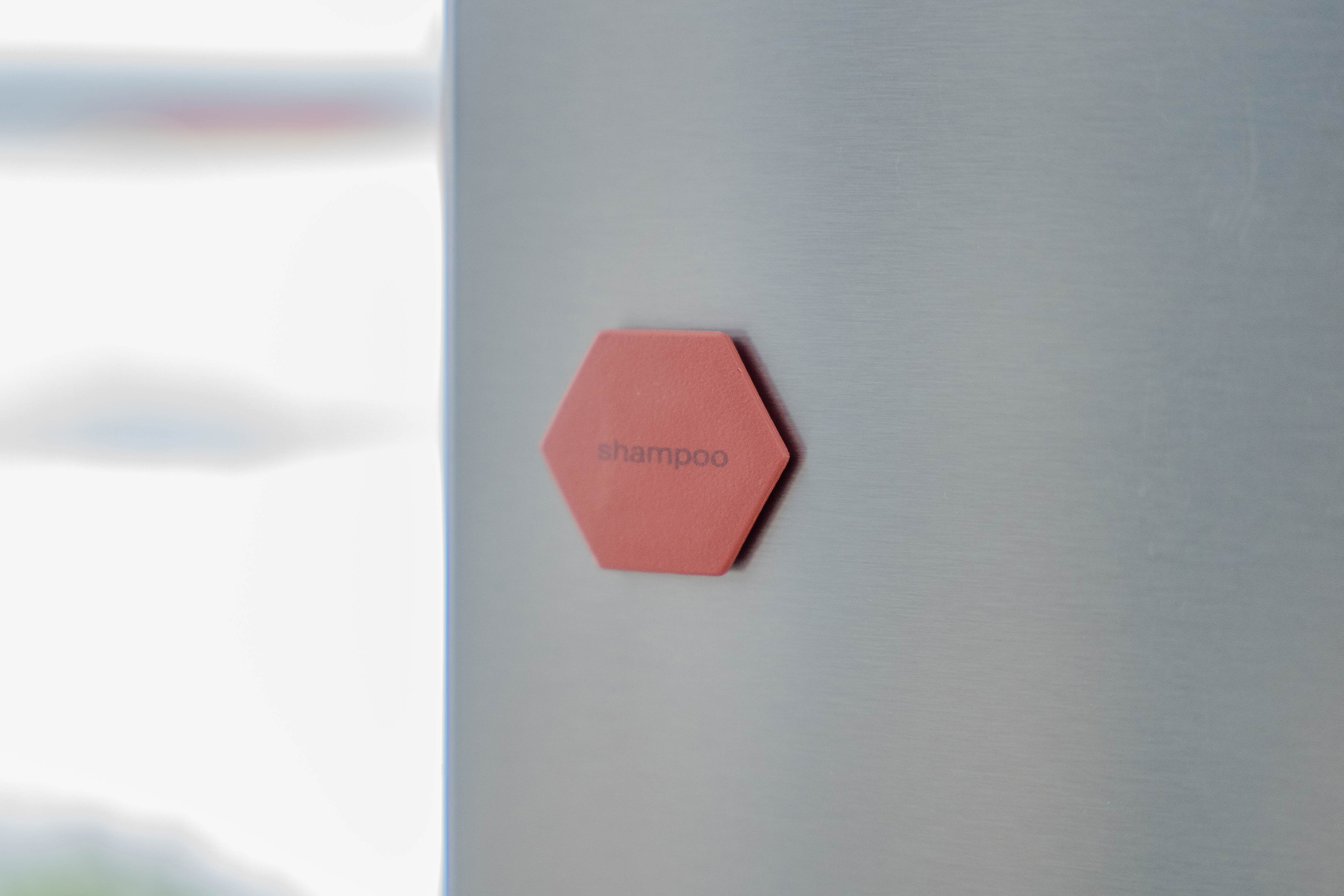 In terms of build quality, these capsules feel solid, not at all flimsy. More often than not, basic travel bottles feel like EZ-squeeze bottles for the sake of convenience and volume. That has its own obvious advantages. However, these solid-feeling capsules are a welcome change for those who've gone through the trauma of leaky bottles. Plus, here's the cherry on top: it's made from recycled plastic, so it's kind to polar bears as well.
Usage & Features
For this review, we're sampling the terracotta colorway. Admittedly, we're not taking advantage of a multi-colored, easy-to-distinguish approach here, but that's just how we roll. We dig the uniform look of all six capsules being the same color. The typeface of the labels is a bit small, but these are relatively small capsules, so that's partly expected. Fortunately, we typically do our freshening up in front of a well-lit mirror.
Apart from the labels, the capsules' sides are also magnetic. This allows individual capsules to stick together, which makes organizing them much easier. We arrange our six capsules in a honeycomb pattern, but they're easy enough to rearrange depending on where or what bag we're putting them in. On the other hand, all these magnets attract other metal accessories in close proximity to them, which may not be ideal if you carry a lot of safety pins.
The caps are simple and straightforward to undo; they simply unscrew. We do appreciate the flat sides of the capsules since this makes unscrewing with slippery hands basically a non-issue—trying to unscrew the cap from a cylindrical bottle is embarrassingly tricky when you're all lathered up. Since the top of the caps is magnetic, they stick to the side of the capsules as well—great when there's limited counter space or if you're worried about caps falling down the hotel shower drain. It also ensures that you don't mix up your shampoo and conditioner labels if you uncap both at the same time.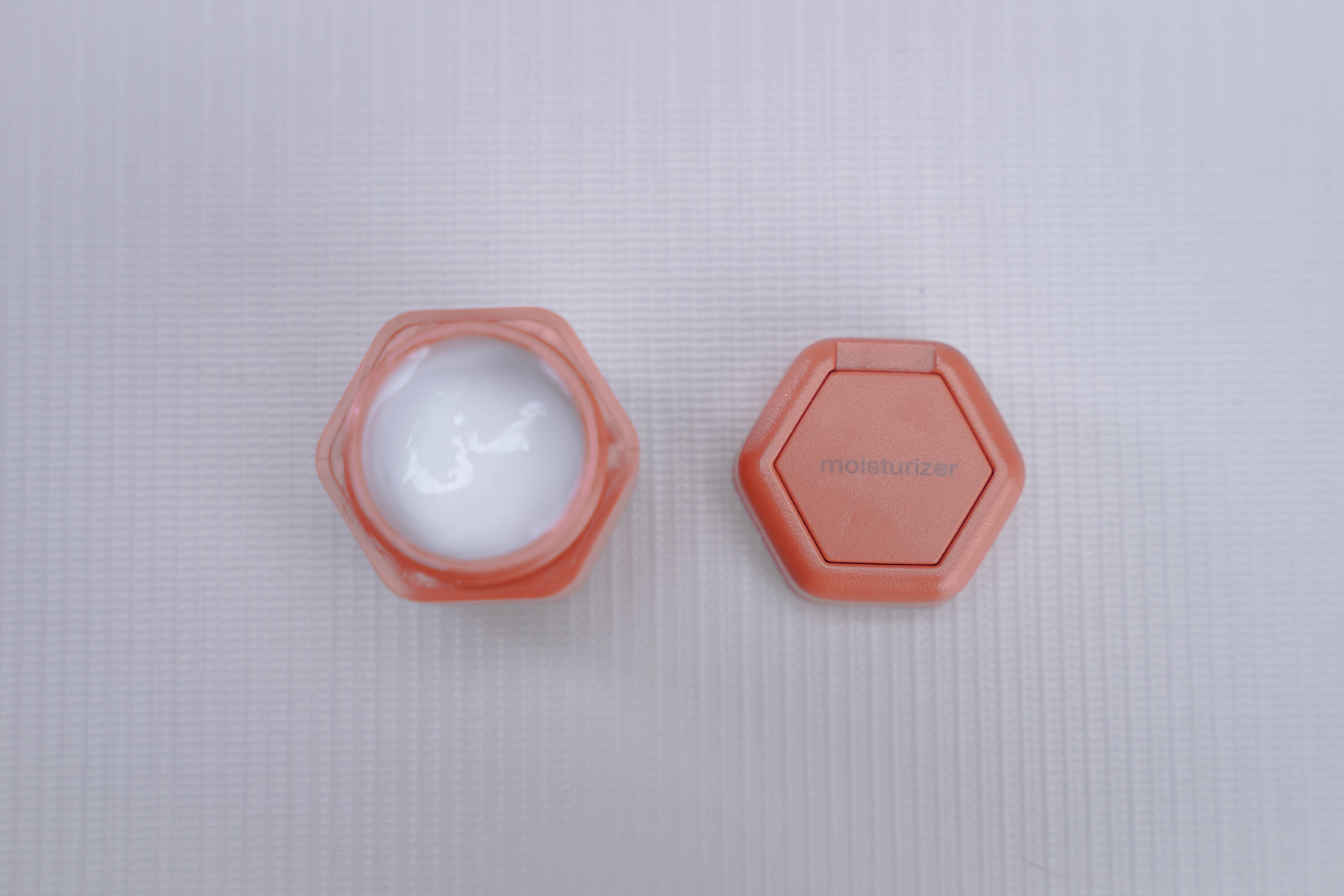 The biggest weakness of the capsules is their relatively small volume. Each capsule can hold 0.56 ounces, and they only come in one size. Cadence lists how much you can get out of this volume. By their estimate, you can get 2-4 uses of shampoo/conditioner/body wash, seven uses of hand sanitizer, or seven vitamins. Of course, your mileage may vary, though we did get approximately that much out of ours. Still, the volume is minuscule compared to bottles like the humangear GoToob+; those trade rigidity for capacity.
The one-size-only approach can also make it tricky to balance toiletry usage. For example, we use more shampoo than conditioner per shower. Since the Capsules carry the same amount of each, we run out of shampoo much sooner than conditioner. For the small amount each capsule carries, their weight is also something to take note of. They're quite hefty, and they weigh down our toiletry bag more so than thinner travel bottles—all that thick plastic and magnets do come with a price.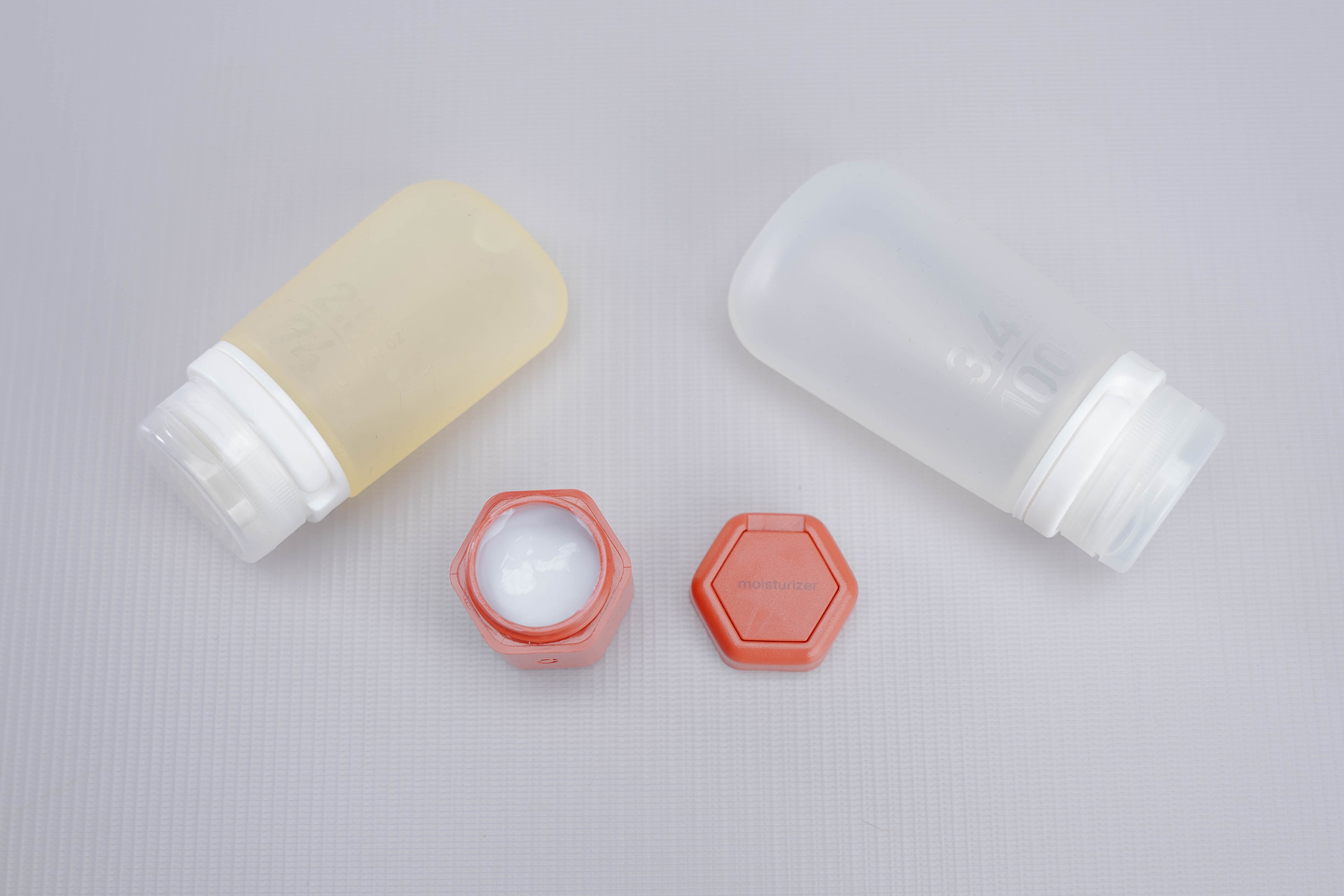 Dipping into a capsule is easy, even when you're scraping the literal bottom of them. The floor is rounded, so you don't have to fuss around with your fingernail trying to dig into corners. This makes them easier to clean than slender, flat-bottomed travel bottles. Pouring fluids out is no problem as well since the caps' threading is external. The only minor issue is that fluids can still drip into those seams, causing them to leak out when screwing the cap back in. That said, the capsules are leak-proof and watertight, so once the cap's firmly in place, nothing's getting in or out. If things do get drippy, the smooth plastic is easy to wipe clean anyway, so there's no real issue there.
Long trips aren't the capsules' specialty. The relatively small amount each capsule holds makes them more geared towards short overnight or weekend-long stays. For those short trips, though, these are quite convenient to use thanks to their magnetic features and thoughtful design. It doesn't hurt that they're nice to look at, too.
Usage Timeline
Initial Usage
Condition: Excellent
The containers snap together well
Volume doesn't feel maximized with the honeycomb exterior. But it doesn't feel lacking either.
The included label also mounts magnetically
2 Weeks of Use
Condition: Excellent
Individual capsules feel great in hand and are durable
Lid is easy to open even when hands are wet
Lid threading can collect liquid and seep out when screwed back on
Easy (and fun) to arrange multiple capsules in a shape
1 Month of Use
Condition: Excellent
Capsules still in great shape even after a drop or two
Easy to clean if any liquids seep out
Access the Pro Community Discussion
Get your questions about the Cadence The Capsule answered from our team and the Pro Community right here on the page. Plus, join discussions with other members about gear, guides, and more.
Other Organizers & Pouches Reviews