TUMI Alpha 3 Electronic Cord Pouch Review
The TUMI Alpha 3 Electronic Cord Pouch's bare interior and soft structure make it easy to pack, though these also put a damper on its price point.
Our Verdict
Unlock the Pro Summary
Save time. Get access to brief summaries of our reviews so you can browse and make decisions more efficiently.
Pros
Shape adapts well to gear you pack
Bulky accessories fit with no dividers to get in way
Zipper pull breaks away if zipper jams to prevent damage
Cons
Floppy structure when empty
Small dark-colored gear blends with the dark interior
Pricey for the functionality you get
Recent Pack Hacker Video
Technical Details
Weight (oz)

1.6 oz (45.4 g)

Dimensions

2 in x 9.5 in x 0.75 in (5.1 x 24.1 x 1.9 cm)

Notable Materials

Ballistic Nylon, YKK Zippers

Manufacturing Country

Vietnam

Warranty Information
Full Review
Travel gear getting smaller and smaller is a trend with technology that we certainly dig over here at Pack Hacker. The more space we can use efficiently, the better, right? However, there are some accessories you just can't downsize for the sake of saving a few ounces of space. Take, for example, charging or data cables. Sure, you have ones like Rolling Square's inCharge Mini, X or 6, but these don't really cut it if you need length—hence, why tech pouches are still part of our packing lists and not tech keychains.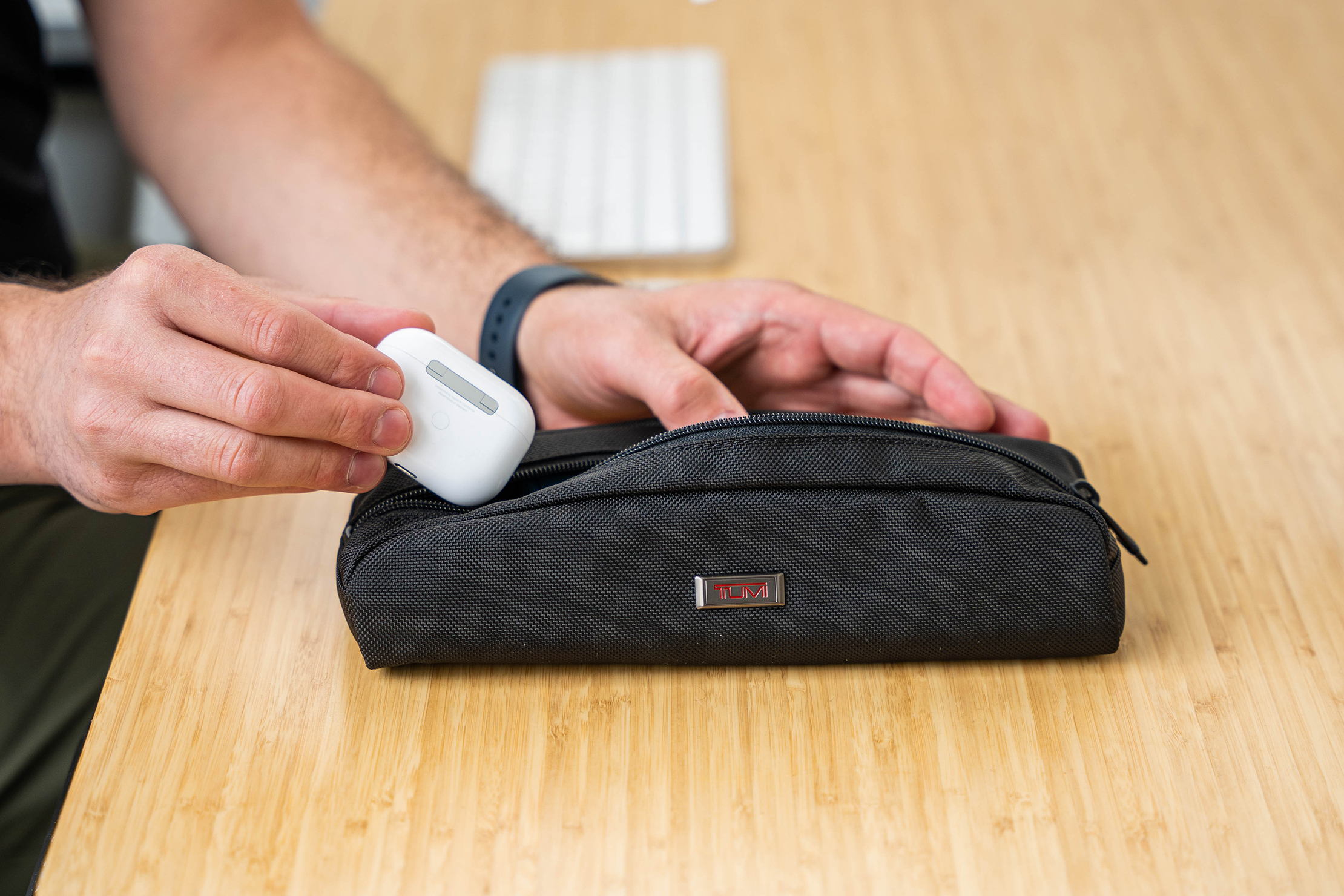 In this review, we're going to be taking a look at TUMI's Alpha 3 Electronic Cord Pouch. This kit is made from durable FXT Ballistic nylon and has an interesting zipper feature called the Omega Closure System—sounds complicated, we know. What's not complicated, however, is the pouch's rather simplistic organization, or lack thereof—something that makes us wonder if the Alpha 3 Electronic Cord Pouch is too pricey for the functionality it delivers.
Materials & Aesthetic
Let's start with the aesthetics. What can we say? It's an all-black pouch, with the most distinctive feature being the plastic logo badge. The shape is reminiscent of those simple pencil cases we used to have back when we were in school. Those were tough and lasted us a long time, and the Alpha 3 Electronic Cord Pouch probably will too.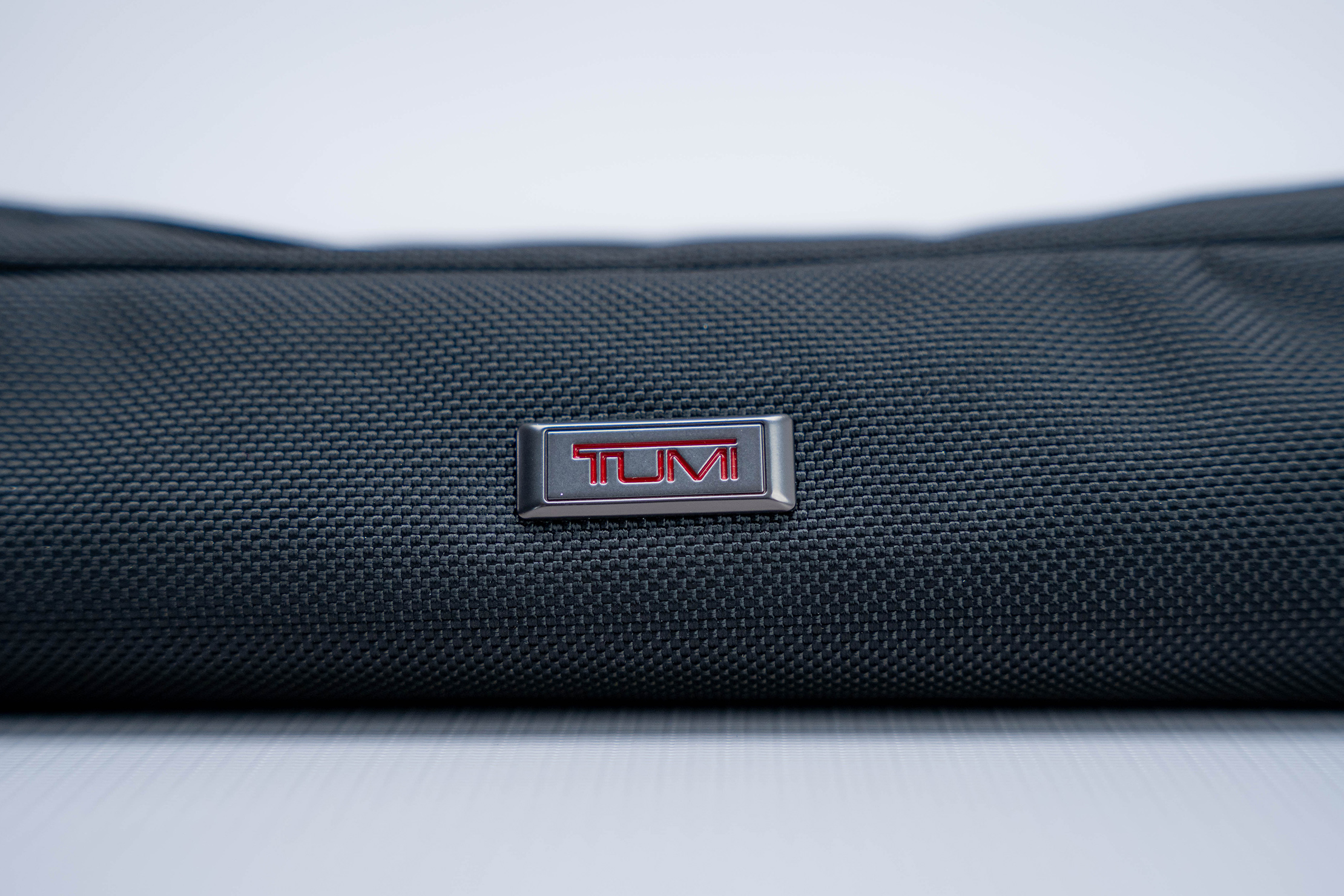 The fabric is, as you may have surmised from the texture already, ballistic nylon—FXT Ballistic nylon, to be exact. The weave appears to be finer than 1680-denier ballistic nylon, but not by much. In day-to-day use, we found the fabric to be just as durable as the 1680D one.
A key feature of the Alpha 3 Electronic Cord Pouch is the Omega Closure System. The idea is that the zipper pull breaks away if the zipper gets caught on something. We're not entirely sure how this would pan out in a real-world scenario. However, we think this just means there's an intentional weak link between the zipper pull and the zipper itself that would sever and prevent it from being forced down a jam. By the way, the zipper is from the ever-reputable YKK brand, and it operates quite smoothly.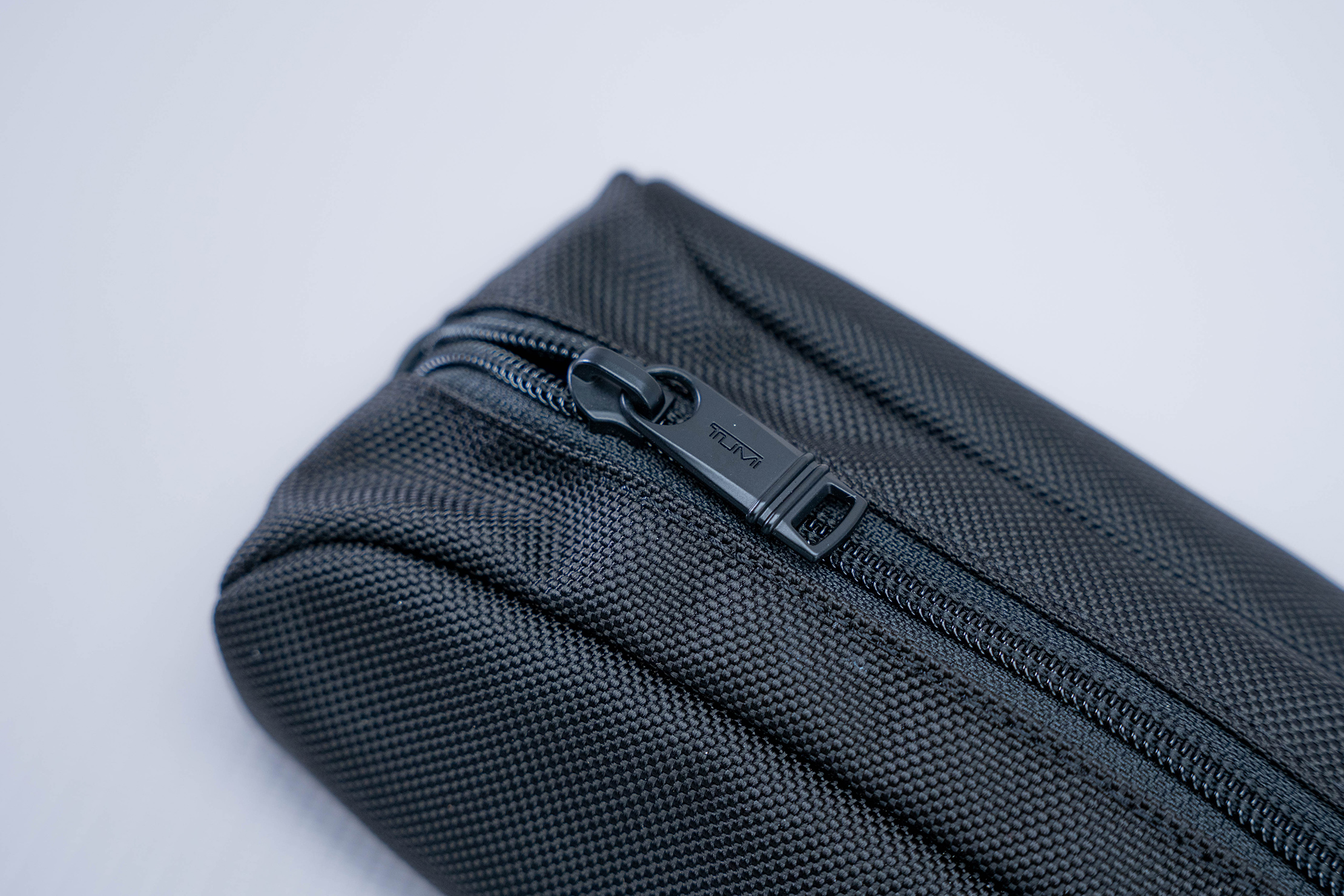 Overall, the build quality is comparable to a lot of the high-quality tech pouches we've reviewed from the likes of Aer and NOMATIC, who use similar fabrics and hardware. The pencil case shape may look a bit mundane, but it's a well-suited shape to fit in a bag's internal drop pockets, especially those designed for water bottles.
Usage & Features
The exterior is devoid of any real features (apart from the ones we've already mentioned in the previous section). There are no secondary pockets at the front or at the back. There are also no loops that can be used to hang the pouch to a carabiner. With that in mind, we'll skip ahead to the inside of the main compartment.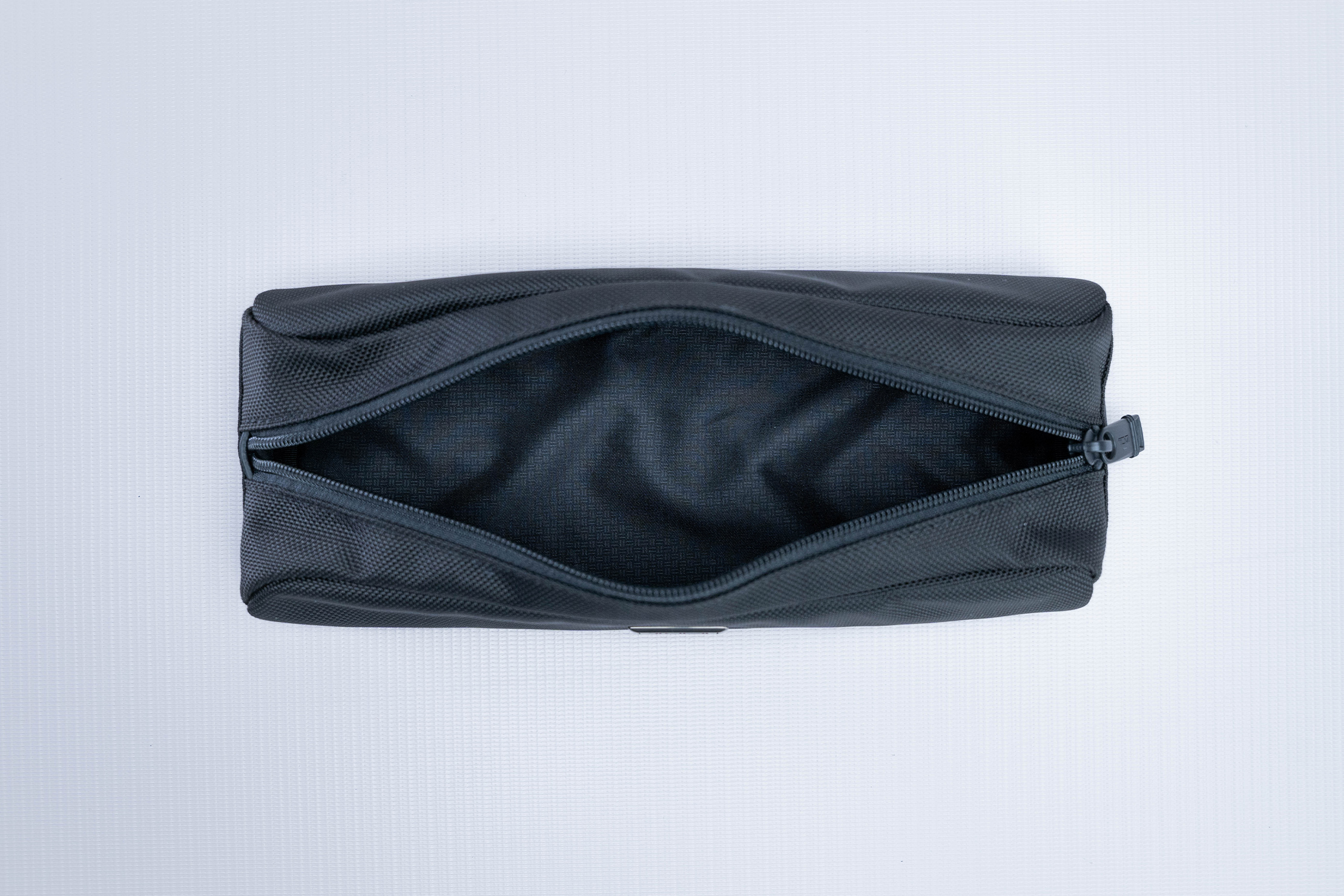 The main compartment opens up edge-to-edge along the top of the pouch. The zippers don't go down the sides, unlike on other tech pouches. This means it doesn't quite have the open-ness of a horseshoe-style or clamshell-style opening—the kinds the Peak Design Tech Pouch and Bellroy Tech Kit use, respectively. Then again, the Alpha 3 Electronic Cord Pouch's length helps make the most out of its opening.
Inside, there's no organization. Yep, it's a bare interior with no liner or mesh pockets. The all-black fabric may lead you to believe that there's a lack of liner as well. Fortunately, there is a separate lower denier liner, though it is still black, with a subtle grid pattern we've seen on other TUMI gear.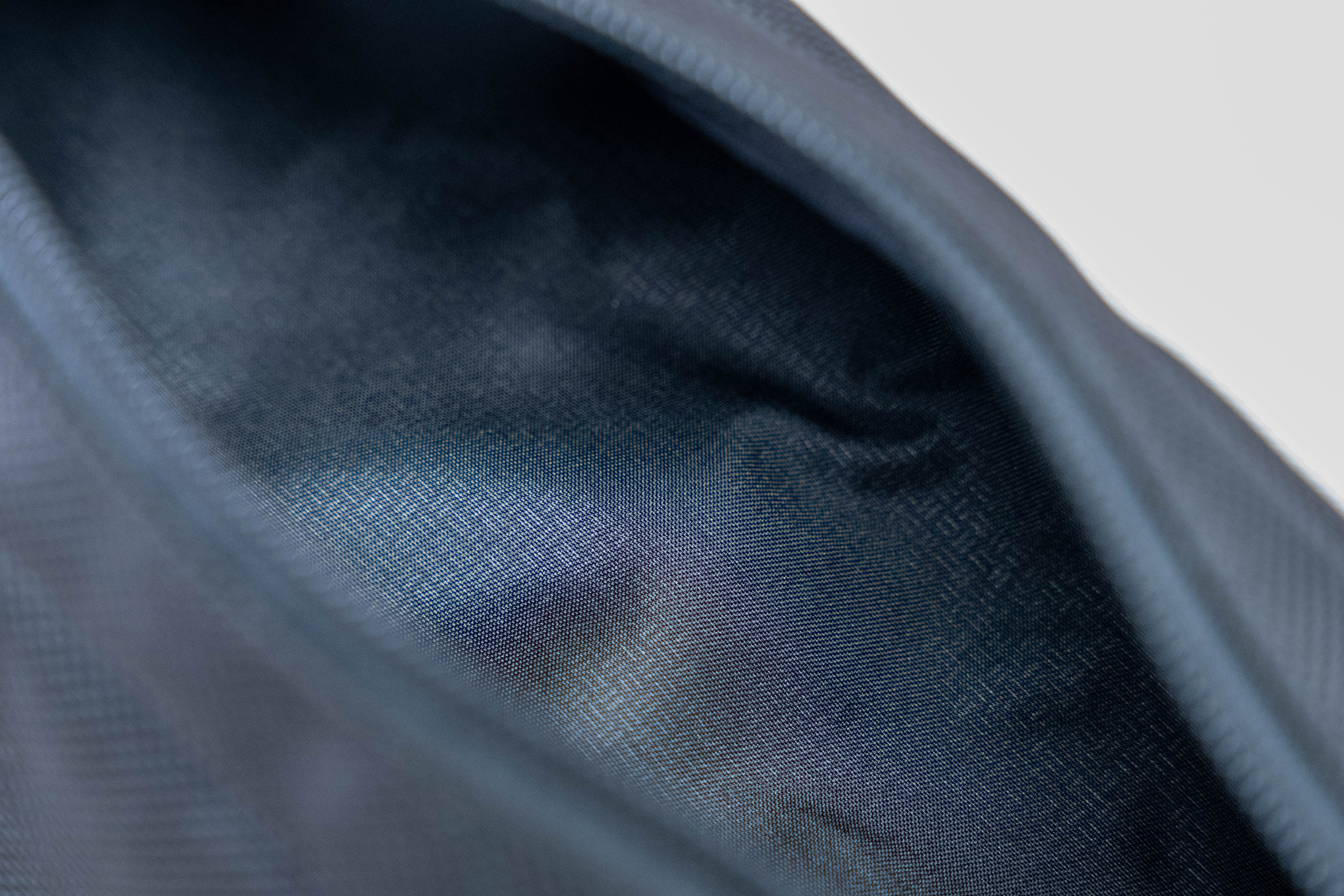 Now, if you've ever perused listings of tech accessories, you've probably noticed that they're almost all predominantly black. As you can imagine, they tend to blend with dark interiors, such as the one here. Finding these small black accessories can be tricky, especially if they're buried in corners or under other gear.
Packing the Alpha 3 Electronic Cord Pouch does take some technique, the reason being the bare interior that lets you pack how you want. You can freestyle it for sure. However, the way we do it is to put the bulky items first, such as our power bank, 6-foot data cable, and charging adapters. This is followed by smaller accessories like thumb drives and dongles. The tl;dr is big gear first, small gear last.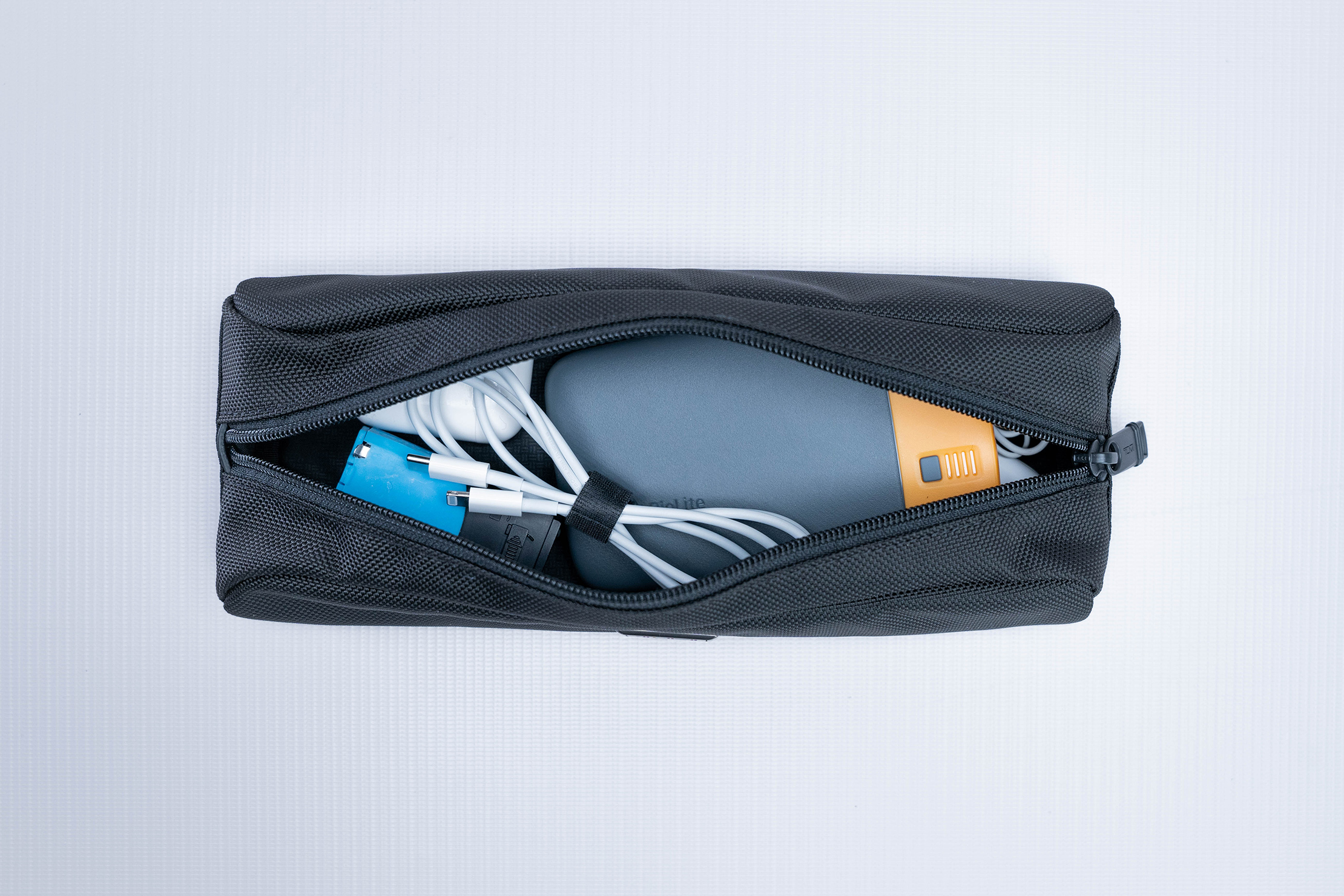 The Alpha 3 Electronic Cord Pouch feels a lot more structured once it's packed. The rather floppy structure is well-suited to take on the shape of the gear inside. This can be a pro or a con depending on how you look at it. On the one hand, the lack of independent structured means it doesn't provide much protection to the gear inside. On the other hand, this means it's easier to stuff, as the pouch's soft fabric is more compliant.
In a vacuum, the Alpha 3 Electronic Cord Pouch does have its place. We've seen other pouches with no organization and soft structure, such as Topo Designs' Accessory Bags and Trakke's Pencil Case, but those come with bright liners, which we really prefer to have.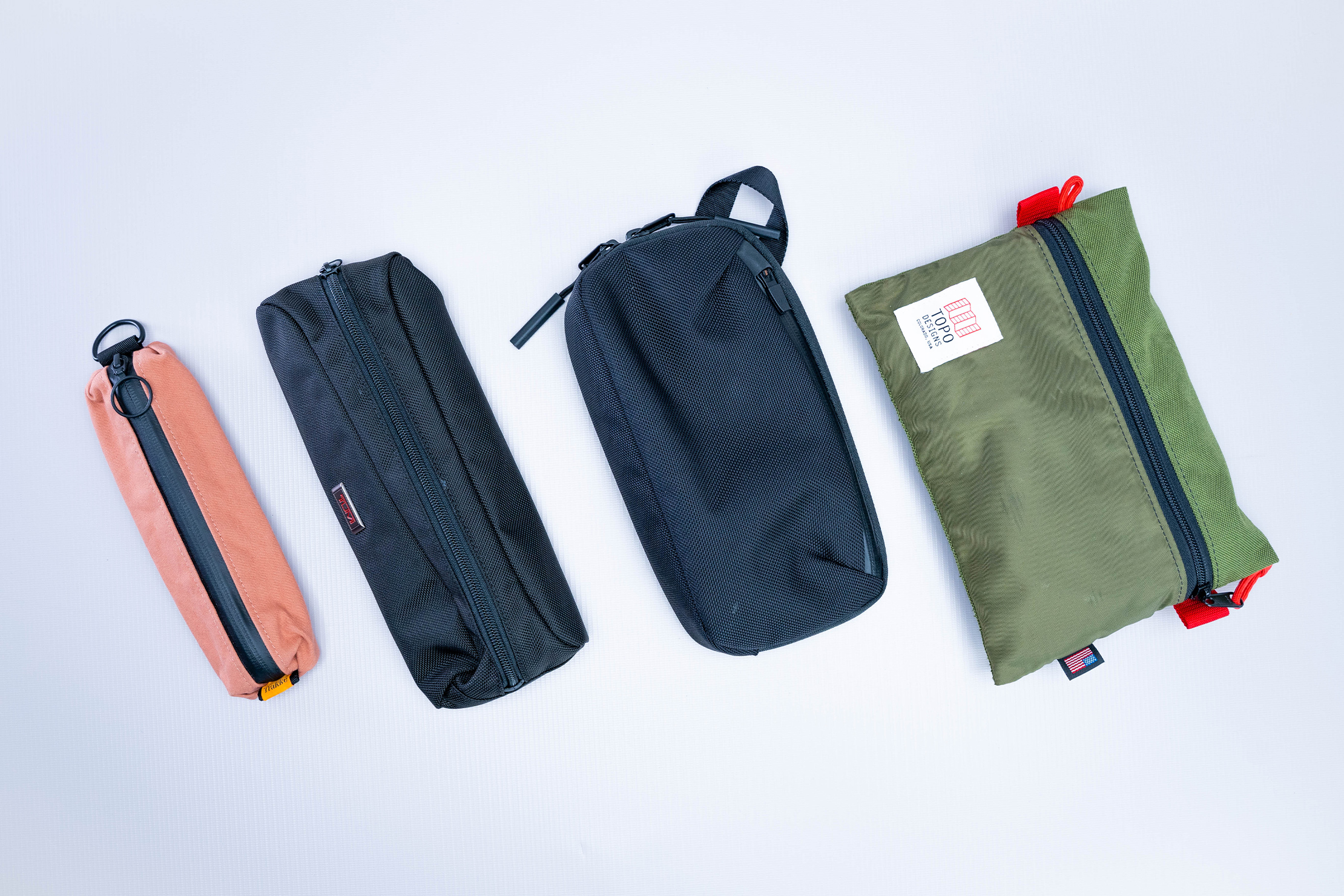 Then there are those pouches on opposite sides of the price spectrum. Aer's Slim Pouch features secondary pockets inside and outside at a similar price. For cheaper options, we've found similar pouches at dollar stores. They won't have the same build quality as TUMI's offering, but they'll have similarly soft structures that are easy to pack.
The Alpha 3 Electronic Cord Pouch is tricky to recommend in light of the compelling alternatives we just mentioned. It's not without its strengths, though you will need to ponder just a little bit harder to figure out if it's the best match for you.
Usage Timeline
Initial Usage
Condition: Excellent
Nice shape & size for cords and tech
Structure is floppy unless filled
Not convinced this pouch lives up to the price yet—not a ton of bells & whistles, amazing materials and no organization inside
The Omega Closure System seems like an interesting concept—the zipper pull is supposed to break away if it becomes caught
2 Weeks of Use
Condition: Excellent
Pouch is a nice shape and size that adapts to what's inside
It's been hard to find small, dark gear on black liner, but small, light-colored gear has been easy
Seems overly priced for what it is—it has the Tumi logo, but there are better pouches out there for a lower price
Access the Pro Community Discussion
Get your questions about the TUMI Alpha 3 Electronic Cord Pouch answered from our team and the Pro Community right here on the page. Plus, join discussions with other members about gear, guides, and more.
Other Organizers & Pouches Reviews