Bellroy Transit Backpack Review
The Bellroy Transit Backpack is a 28L travel-focused backpack with smart organization, ample main compartment space, and a comfortable carry.
Our Verdict
Unlock the Pro Summary
Save time. Get access to brief summaries of our reviews so you can browse and make decisions more efficiently.
Pros
Quality materials and construction that feel excellent in the hand
Optimized layout and organization
Comfortable carry with no need for a hip belt or load lifters
Cons
Curved back panel does not work well for all body types
Quick-grab pocket is a little on the small side
Not huge fans of the horizontal organization inside the front zippered pocket
Recent Pack Hacker Video
Technical Details
Capacity

28l

Weight (lb)

2.425 lb (1.1 kg)

Dimensions

21.26 in x 15.3543 in x 7.08667 in (54 x 39 x 18 cm)

Notable Materials

YKK Zippers, Polyester, Nylon, Leather

Manufacturing Country

Philippines

Laptop Compartment Size

15"

Warranty Information
Full Review
If you agree that smart is the best way to travel, you'll want to give the Bellroy Transit Backpack a serious look. It's a comfortable and stylish 28L pack full of well-thought-out organization—while still offering ample space in the main compartment.
If you've been around the gear scene for a while, you've probably heard of Bellroy. Its an Australian brand known for fashionable and dependable carry-on goods. And this new Transit Backpack is built to "flex between big commutes, adventure trips, and business travel."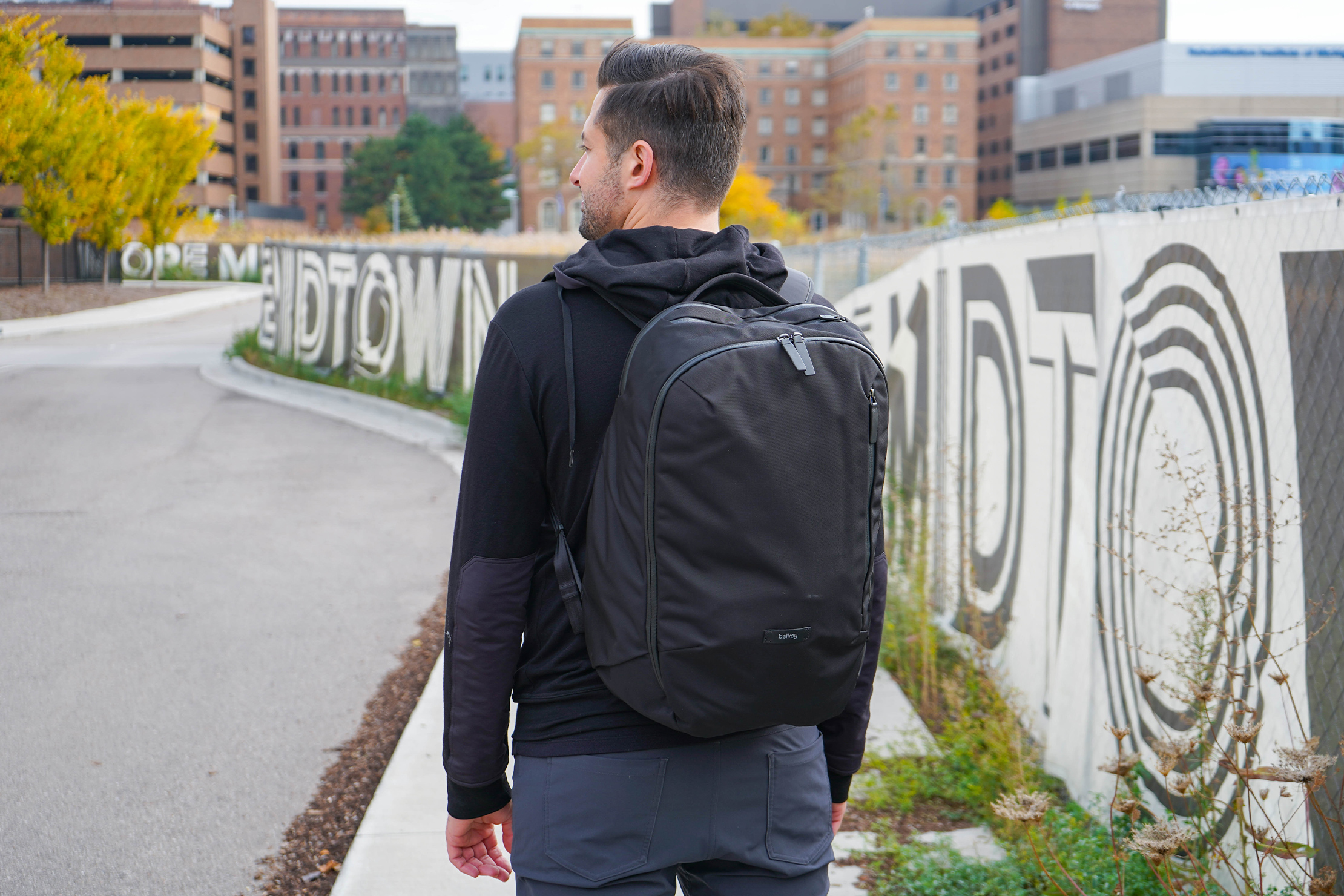 At the time of this review, our team has been testing the Bellroy Transit Backpack for two weeks in the Motor City. We've received a lot of specific questions about this bag from our Quick Hits video. If you're looking for in-depth answers to those questions, check out our video review.
So, let's dive right in.
Materials & Aesthetic
This is where the Bellroy Transit Backpack really shines (which is no surprise). Bellroy typically does a great job selecting materials and pulling them together in a thoughtful way. And this pack is a prime example of that.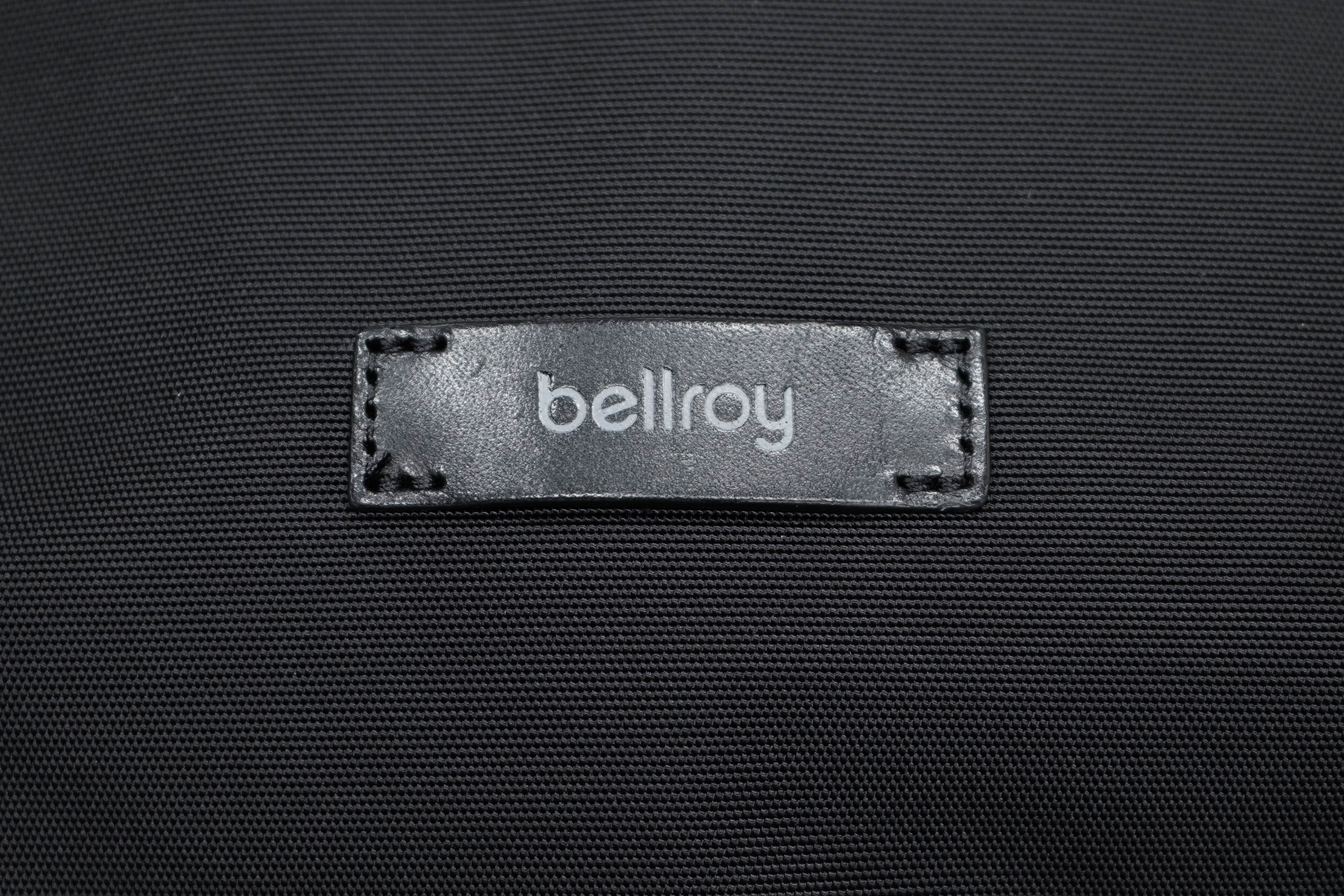 From a branding perspective, the Bellroy Transit Backpack keeps it pretty simple. A Bellroy wordmark is found on a leather tab at the front bottom of the bag, and the signature Bellroy owl can be seen on the left shoulder strap.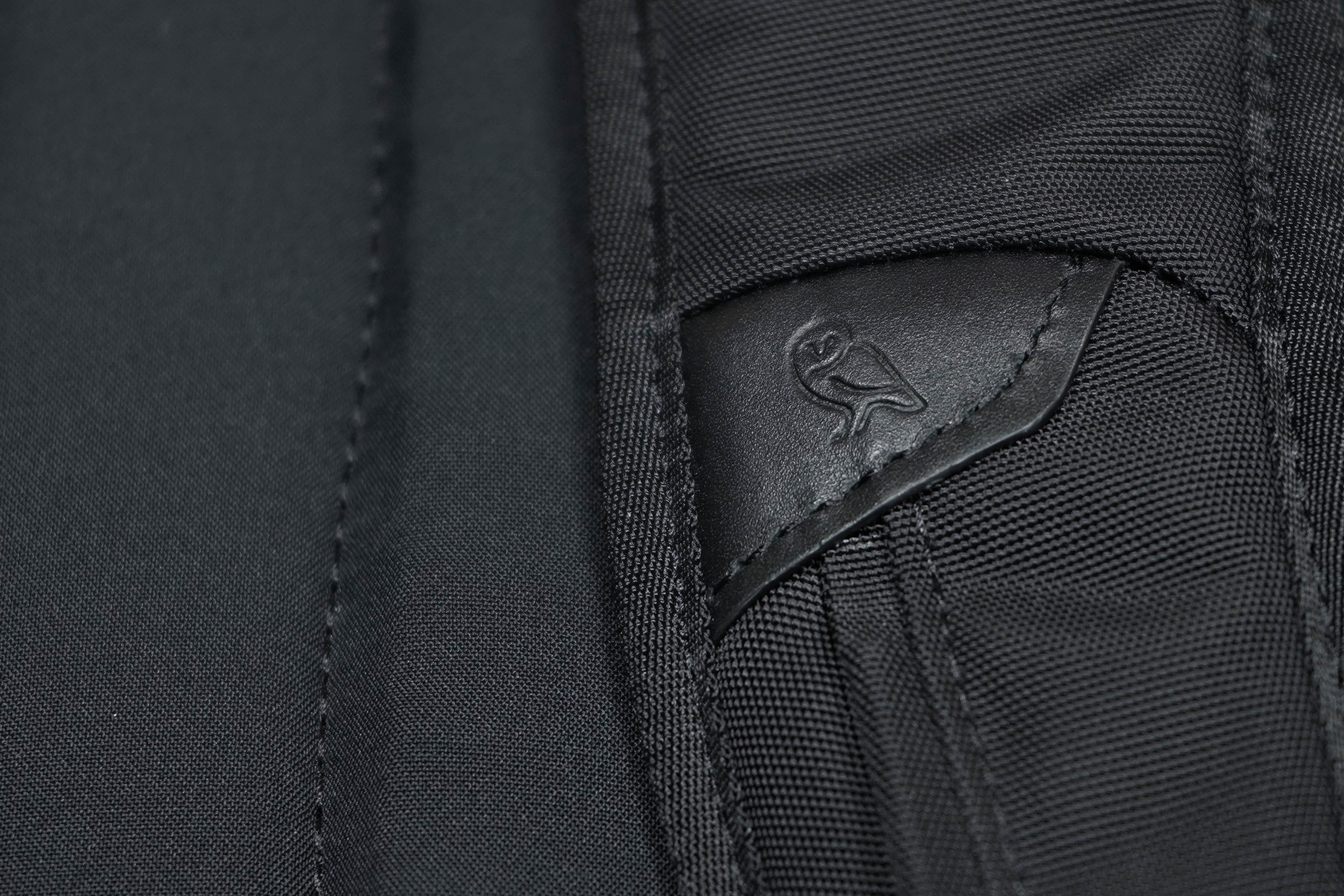 The Bellroy Transit Backpack comes in three colorways, each made with different materials. The black version—which we've been testing—is nylon and feels great to the touch.
The Ink Blue comes in a recycled Venture Weave polyester—the same material as the Bellroy Sling that we reviewed a couple of weeks ago. This version also has a nice feel, but the black wins out for being a bit softer to the touch. The Charcoal bag is made with recycled soft-woven polyester. We're always happy to see brands embracing more recycled or sustainable materials in their product lines.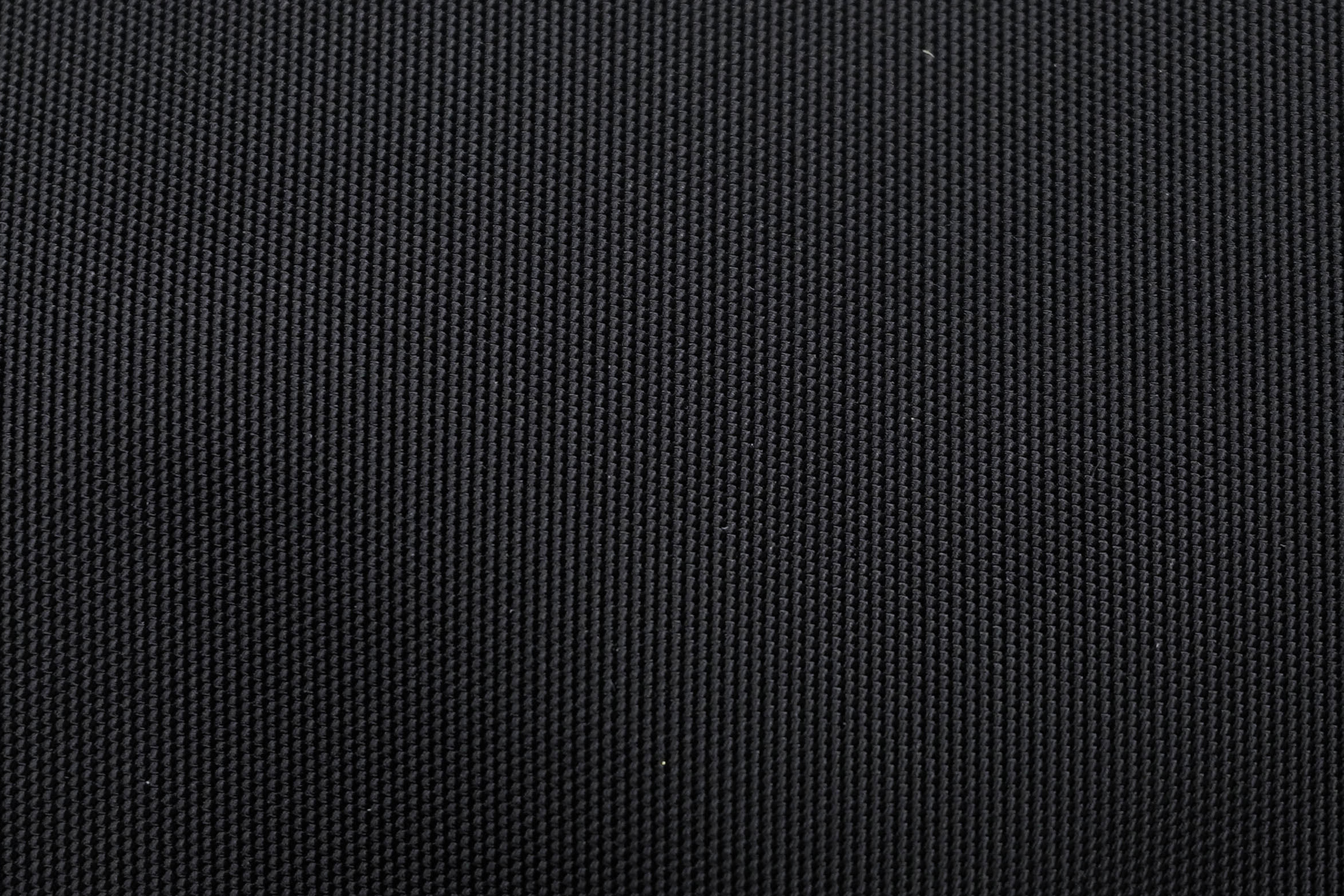 A lot of us here at Pack Hacker HQ really dig the look of this bag. We also polled our Instagram followers and 86% of you agreed. This doesn't happen often, so that says a lot about the overall aesthetic of this backpack.
Other key materials of the Bellroy Transit Backpack include YKK AquaGuard zippers for additional weather protection, magnetic buckles on the sternum strap (very satisfying to use, by the way), and some very professional-feeling leather zipper pulls.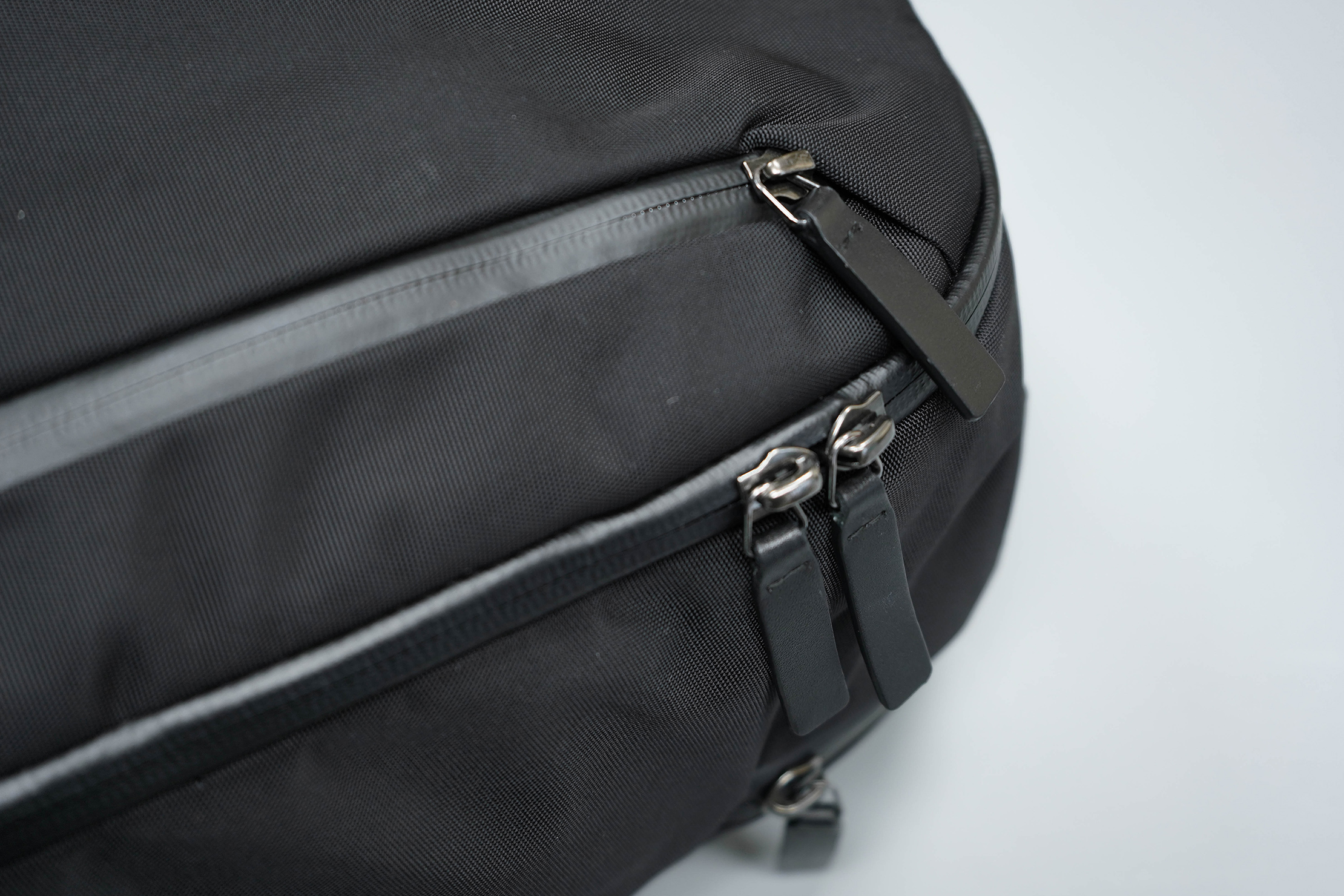 The keychain uses ITW plastic hardware (more on that soon), and premium-feeling metal and aluminum hardware in select areas such as the adjustable shoulder straps.
External Components
Okay, let's start with the harness system. The Bellroy Transit Backpack has dense shoulder straps that are very comfortable to wear—even with the bag fully loaded.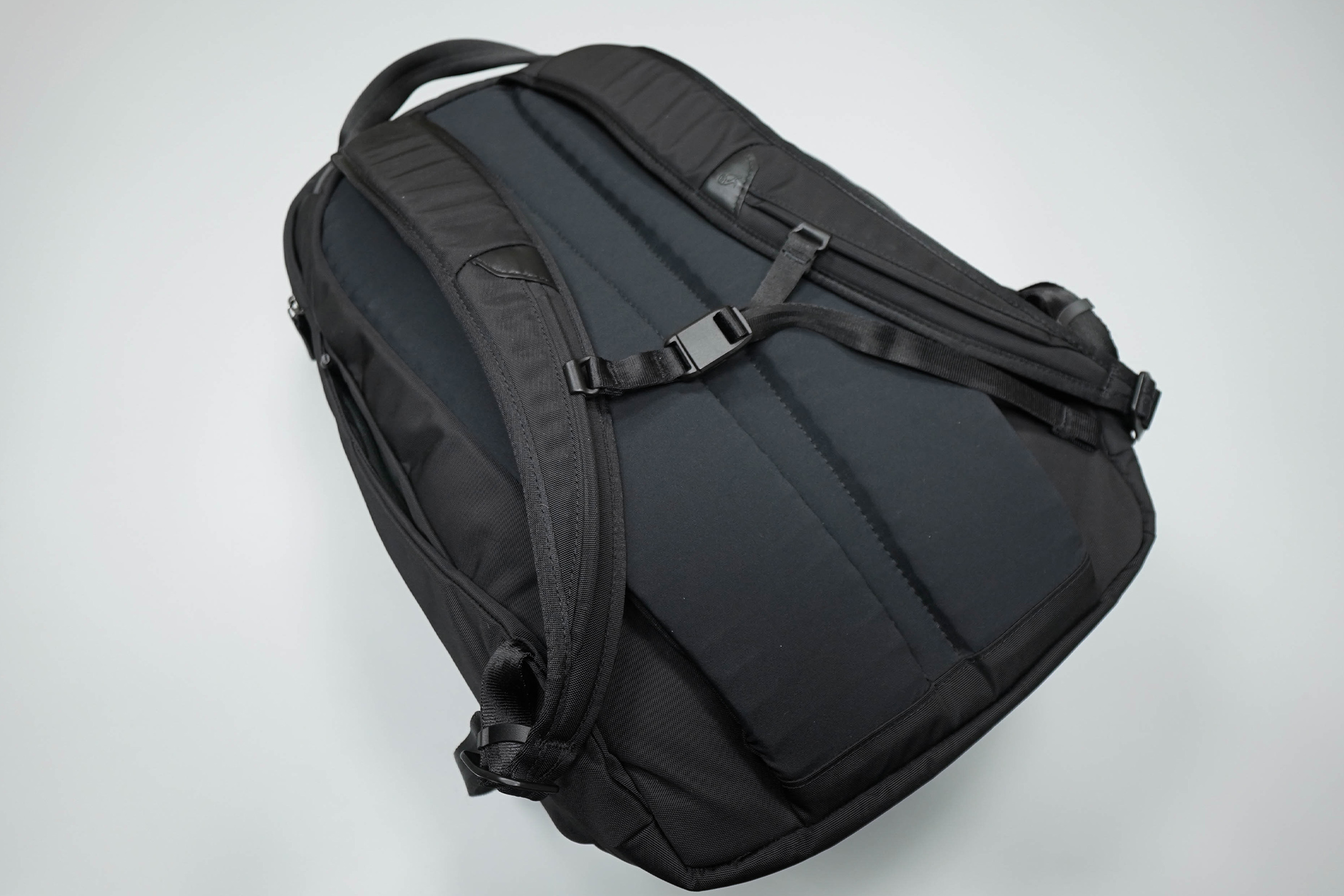 At 28L, you don't really need the option for a hip belt or load lifters. That said, if you fill this pack with something heavy, like camera gear, you're certainly going to feel it—which, of course, is the case for any bag.
One thing we've noticed while testing the Transit Backpack is that under a heavy load, you may start to feel the edges of the straps on your shoulders and chest—an issue that Tom Bihn, for example, solved on its Synik 30 by using an edgeless shoulder strap design. It may not be a deal-breaker, but it's definitely something to keep in mind.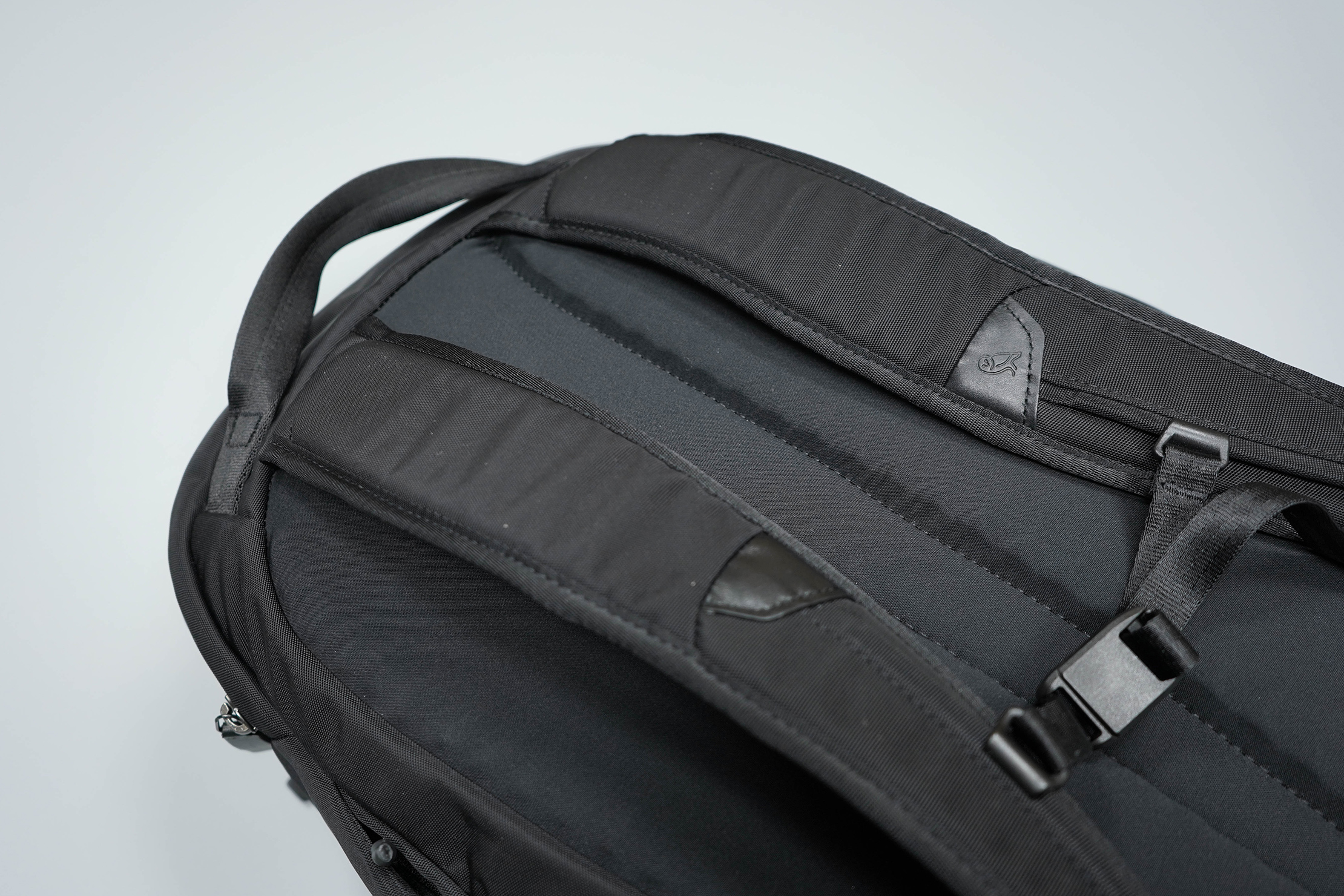 The Bellroy Transit Backpack features a very adjustable sternum strap on a rail-like design. It's also easy to remove. While most bags hide the end of the rail a bit more (making it difficult to slide the sternum strap off) Bellroy leaves enough space for easy removal. It's the little things, ya know?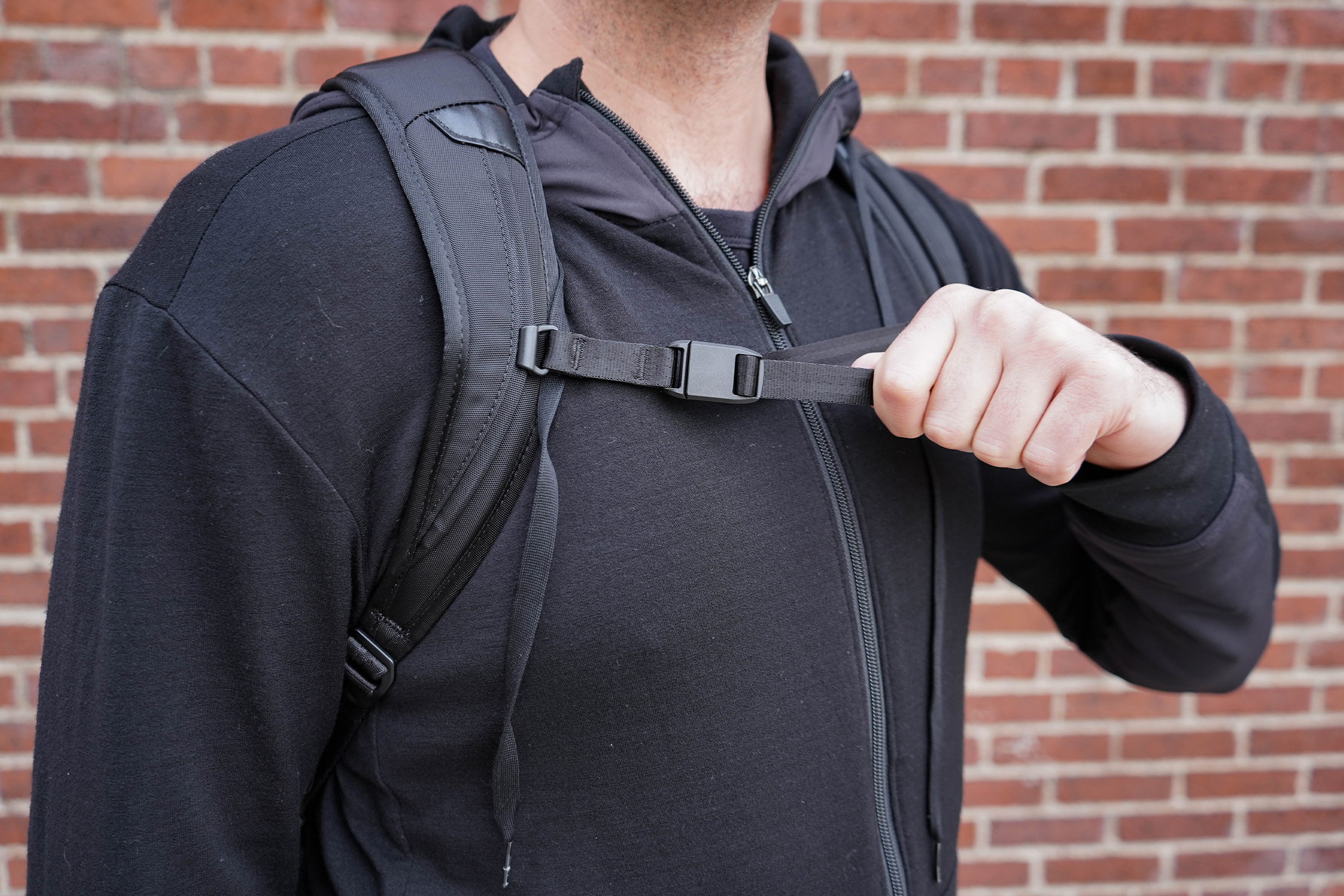 Behind all of this, the bag's back panel is padded, has two rows of foam ridges (which are covered in mesh), and a channel for airflow. The back panel does feel slightly technical, but it still looks nice and streamlined. And while it's tough to completely avoid that dreaded swamp back—especially when trekking through Malaysia—this back panel should help.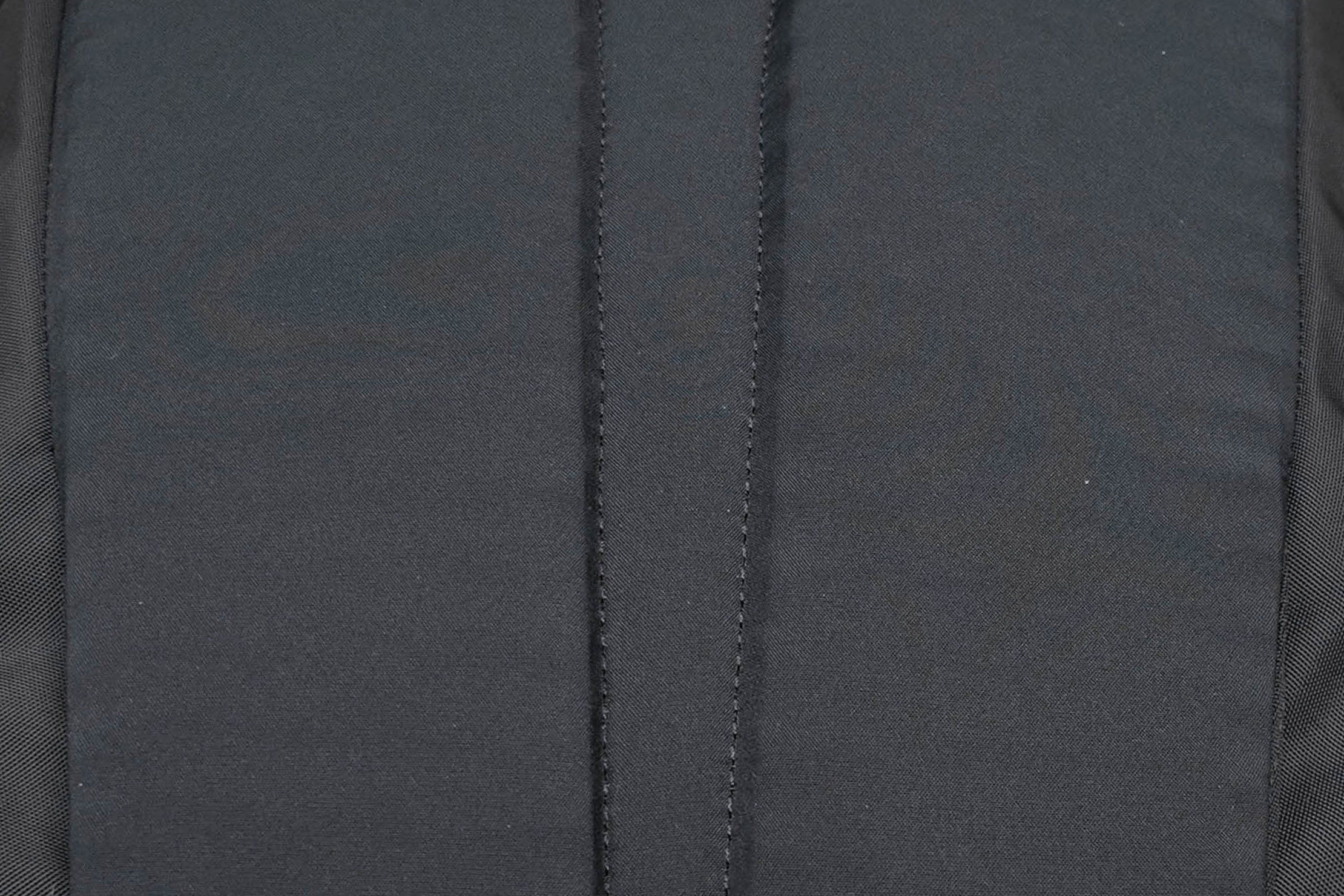 It's also worth noting that the Bellroy Transit Backpack has a natural curve to it. Some of the team have been really digging this feature in testing, while others have found it to poke into the bottom of their back. Depending on your body type and carry preferences, your mileage may vary.
At the end of the shoulder straps, you'll find smooth aluminum strap adjusters, which glide easily. We also dig the soft seatbelt-like material at the bottom of the straps.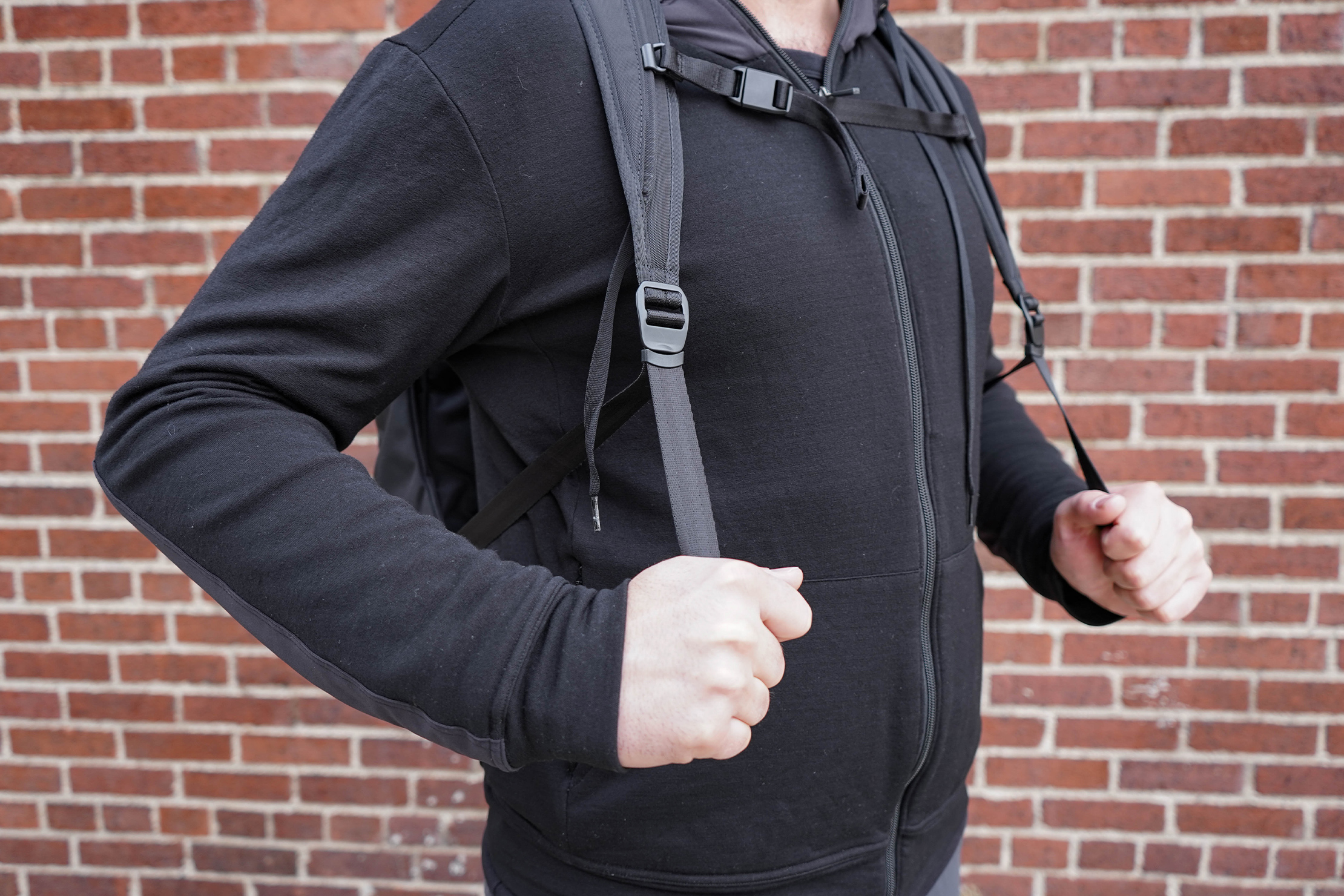 Lastly, (for the harness system, anyway) we have some plastic strap keepers on the straps that will help you manage excess strap and give you that oh-so-satisfying dangle free experience.

The top handle, made from the same material as the bottom of the shoulder straps, features a small amount of padding to create a very comfortable grab.
Beyond that, there's not much more going on with the exterior of this bag—and we'd say that's a good thing. It looks slick and it's nice and streamlined.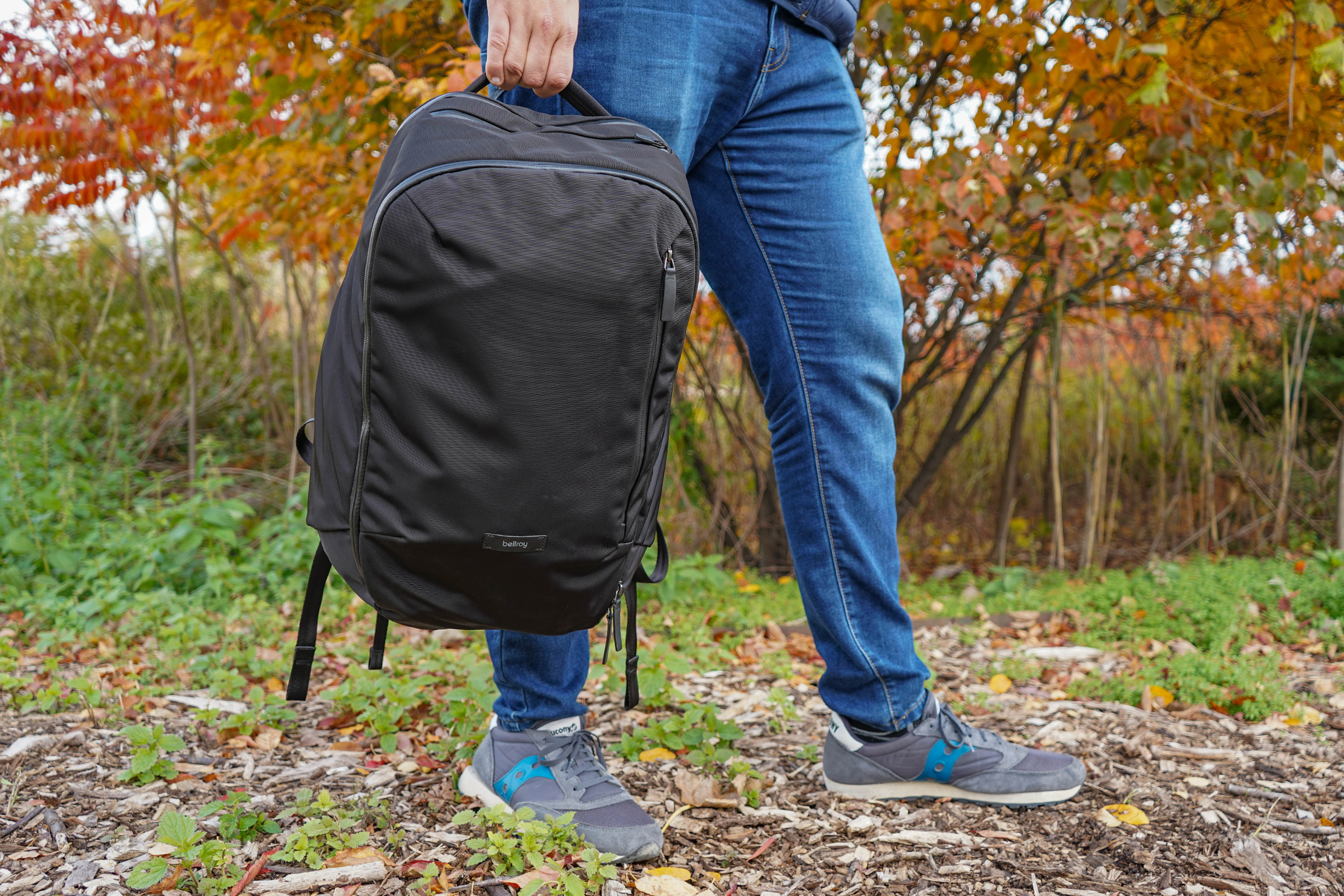 Inside the Pack
As we mentioned at the beginning of this review, the Bellroy Transit Backpack has a lot to offer in terms of pockets and organization. So grab a coffee, tea, or your beverage of choice and settle in. Here we go.
The quick-grab pocket on the top of the bag has a lay-flat YKK zipper, which stays low-profile and out of the way—a nice touch, Bellroy. Although we like this drop-pocket, it's not very deep. It has a decent width, though, so it's probably best for flatter items like your wallet, phone, headphones, lip balm…etc.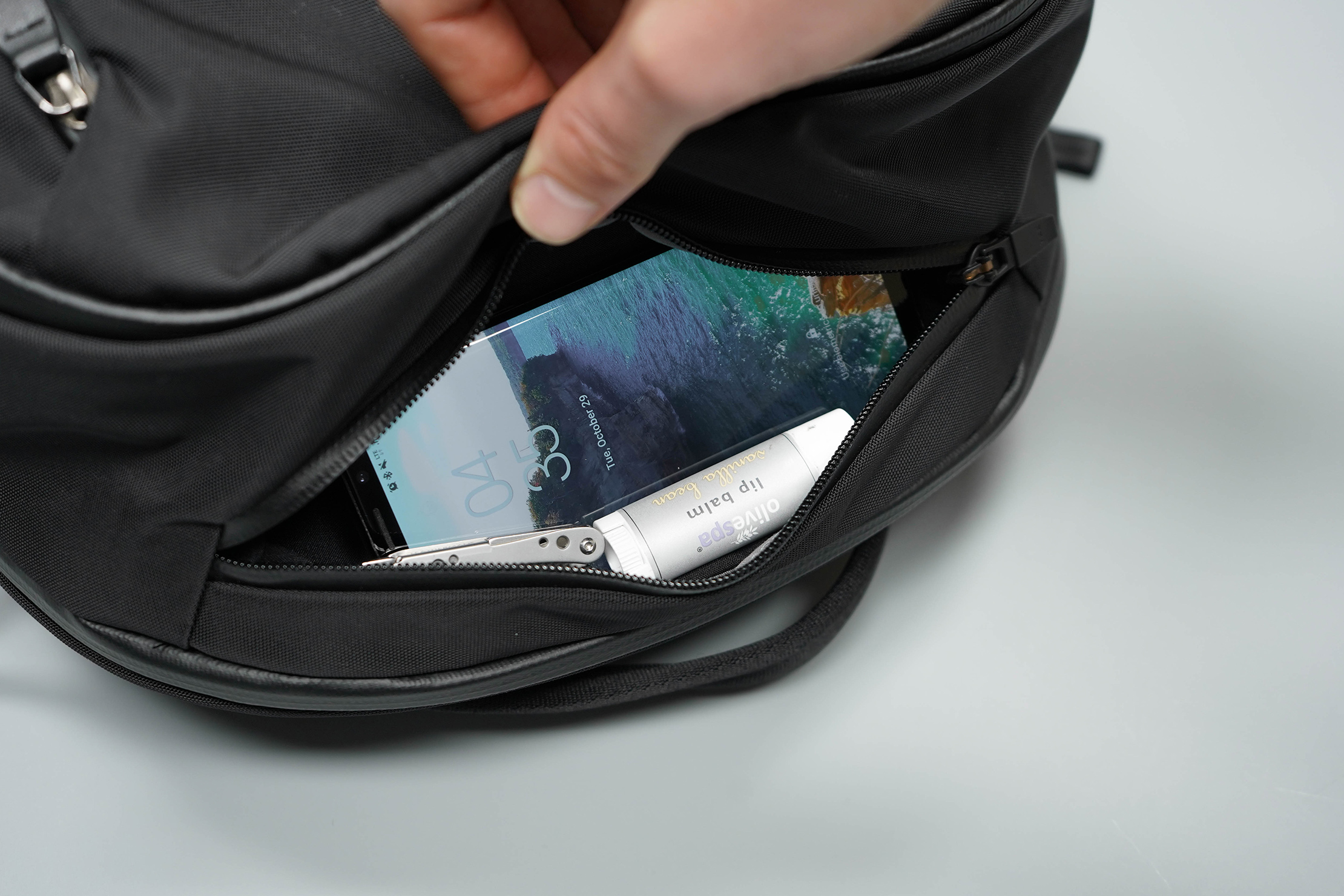 The pocket does have a stretchy mesh material to help you fit more items in there, but ultimately it's still a pretty quick-grab pocket. On the upside, it doesn't cut into the main compartment of this bag too much.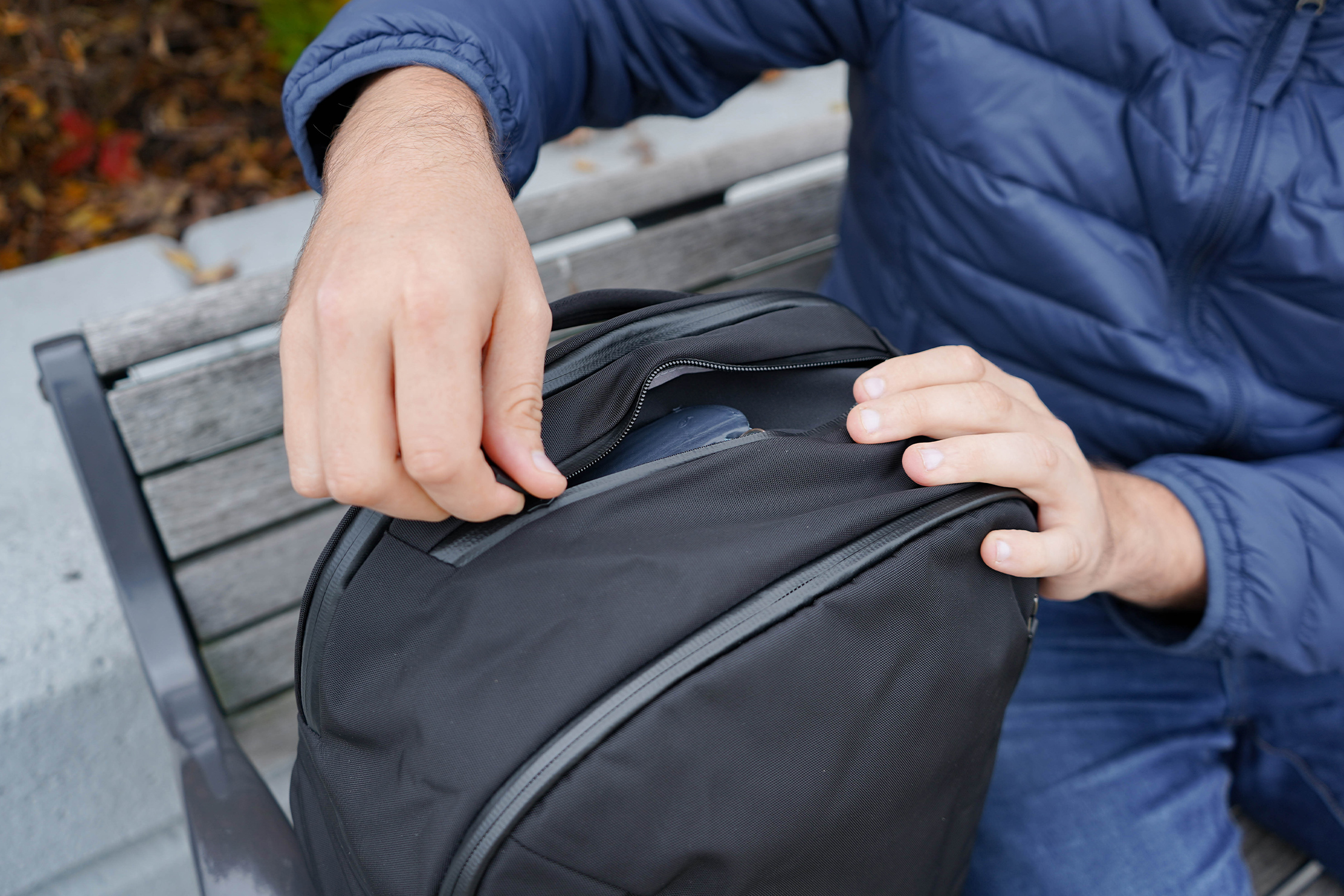 The vertical pocket on the front of the Bellroy Transit Backpack opens up with a leather tab and AquaGuard YKK zipper. This pocket is a great size pocket to stuff larger items—your jacket, for example. Inside this pocket, there's a horizontal organization pocket that fits smaller notebooks and two sleeves for pens, pencils, or styluses (styli?).
We like the size of the horizontal pocket, but—generally speaking—we've found that when pockets are turned sideways in vertical bags like this, things can get jostled around and become disorganized inside of the bag. Especially when there are no zippers of stretchy mesh. Just something to keep in mind if you're big on keeping your bag neat and tidy.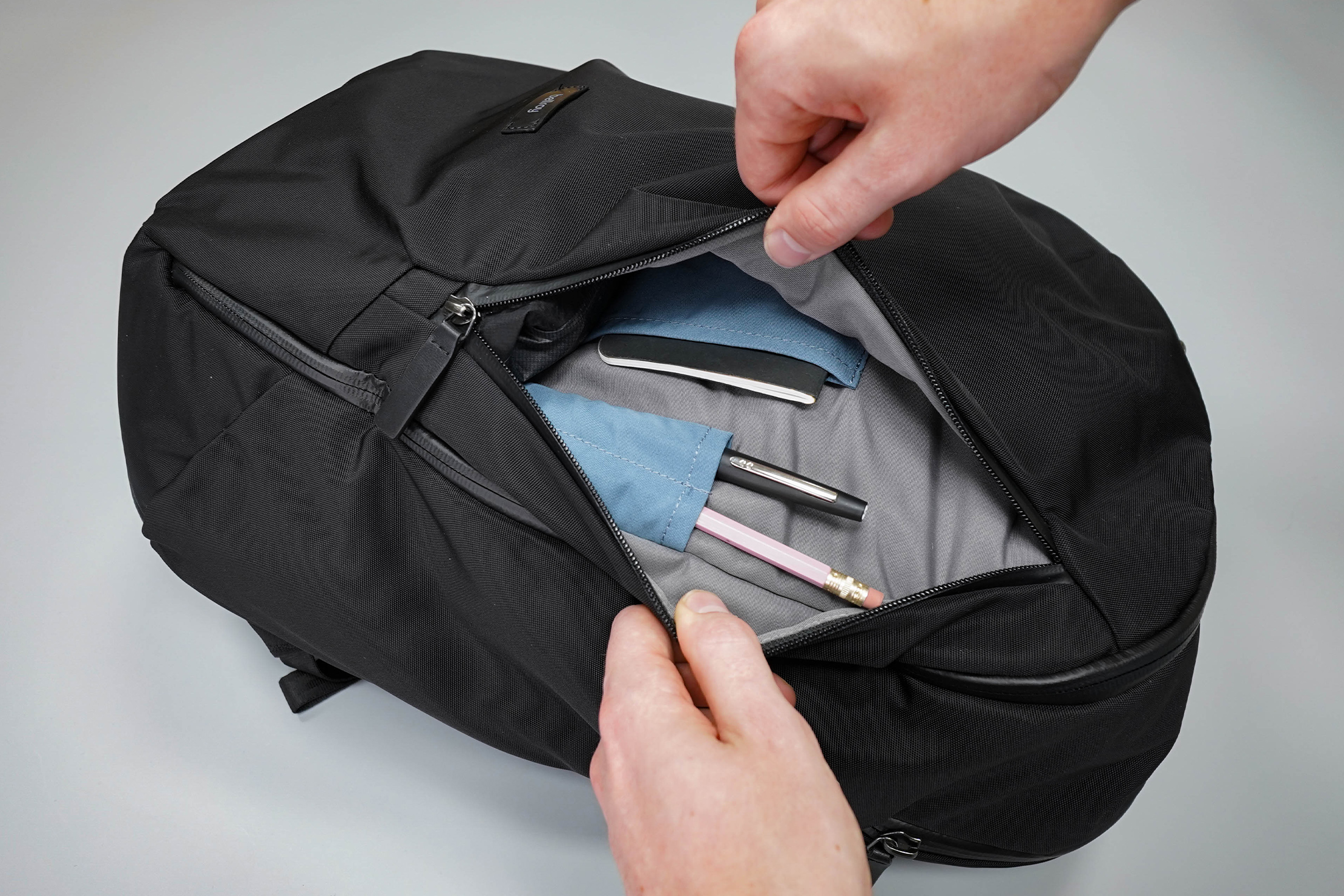 You'll also find an ITW plastic keychain at the top. While this keychain definitely does its job it, unfortunately, does not match the premium look and feel of the rest of the bag.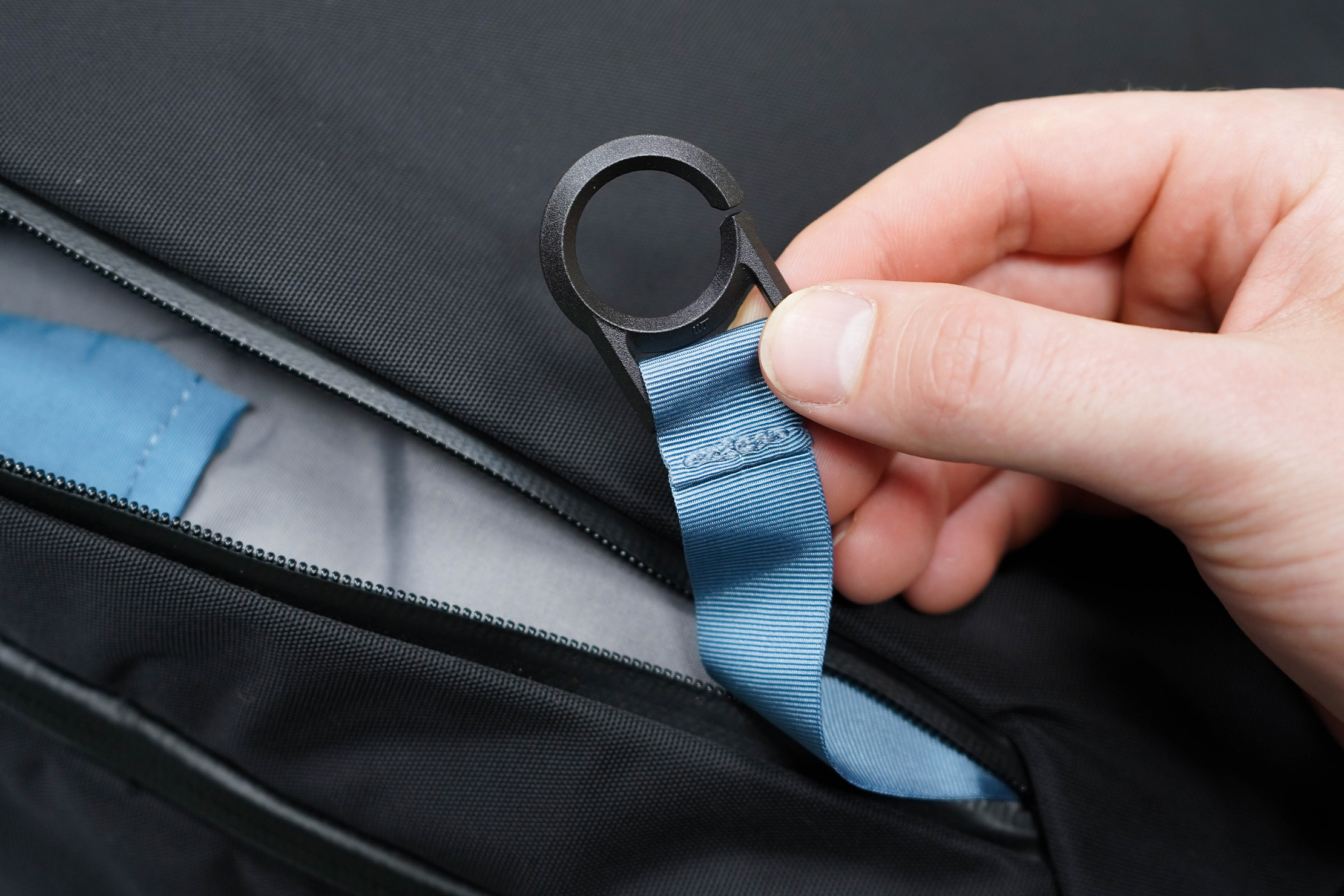 Next up, the water bottle pockets. There's one concealed on each side of the Bellroy Transit Backpack and they open with a small heat-shrank paracord loop zipper pull, which is hidden and out of the way (hence, concealed).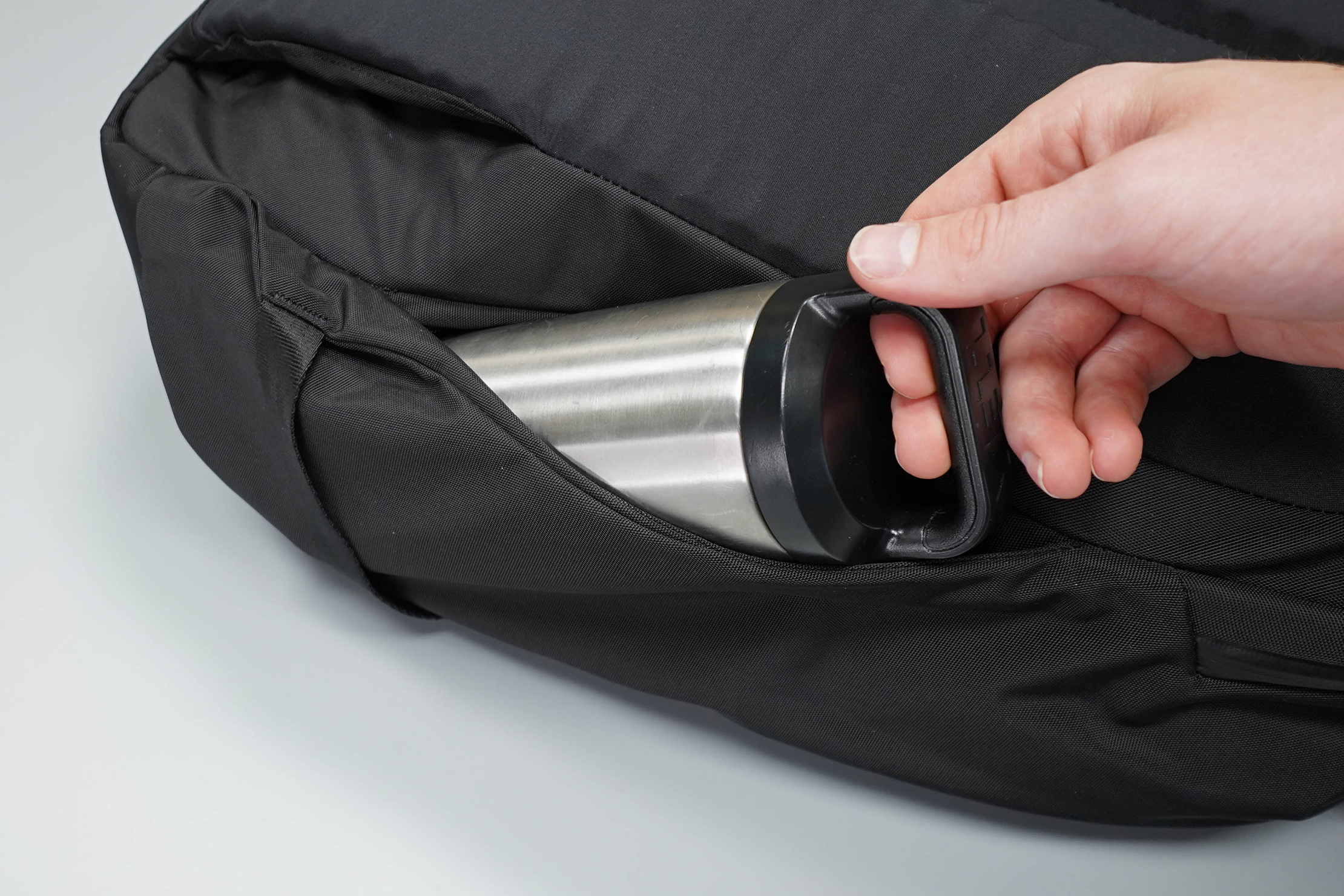 These water bottle pockets open up to reveal a decent-sized compartment. They may not fit the largest of bottles, so if you're someone who likes to stay extra hydrated, keep that in mind.
Now, these pockets are one of the things we received some questions about, so check out the video review for some more specific information.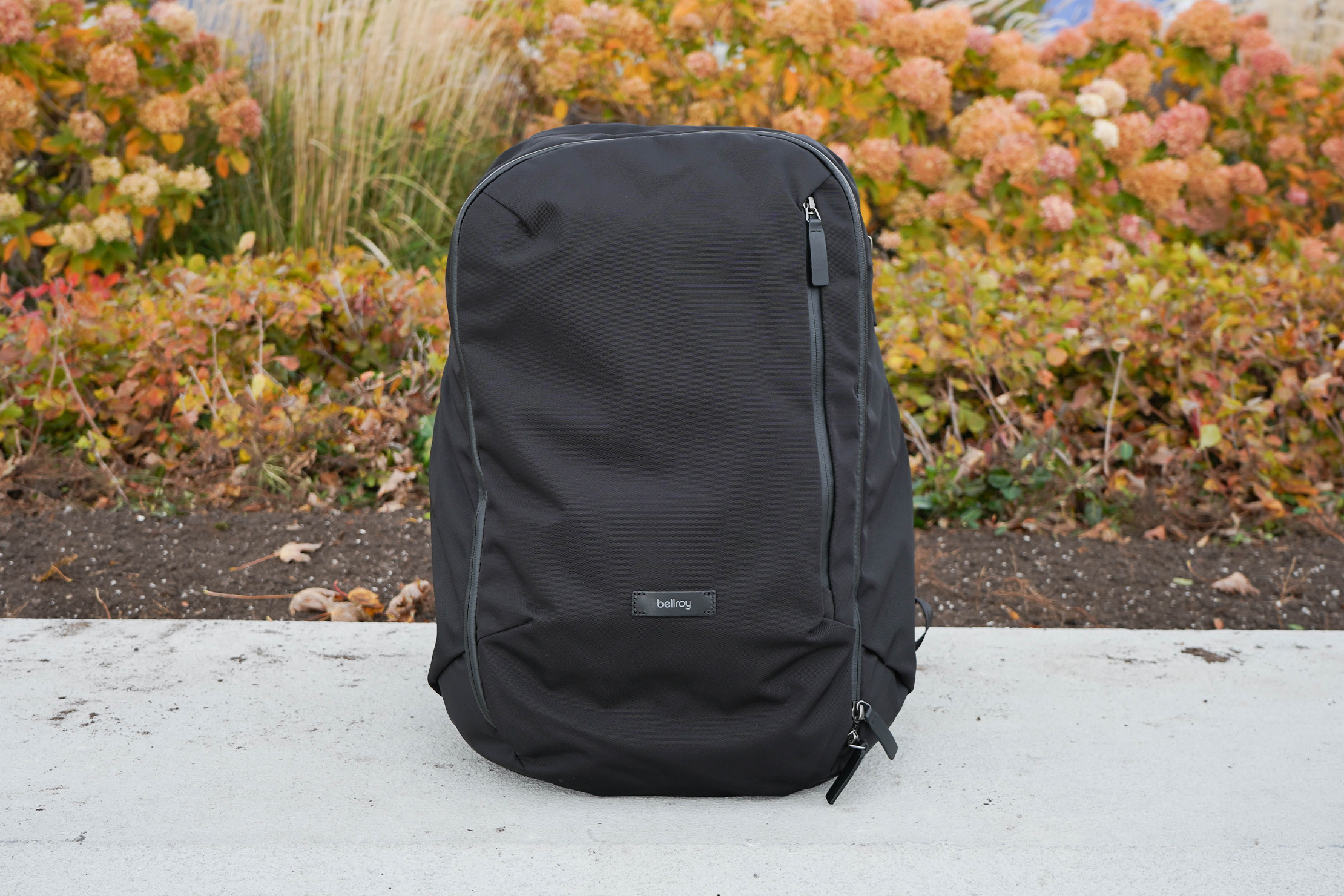 The Bellroy Transit Backpack can stand on its own if you have it packed in a very specific way (i.e., having something heavy at the bottom like a fully-packed camera cube to give it shape). Otherwise, it will probably flop over. If a bag that stands on its own is important to you, there are definitely some options out there that can do this better.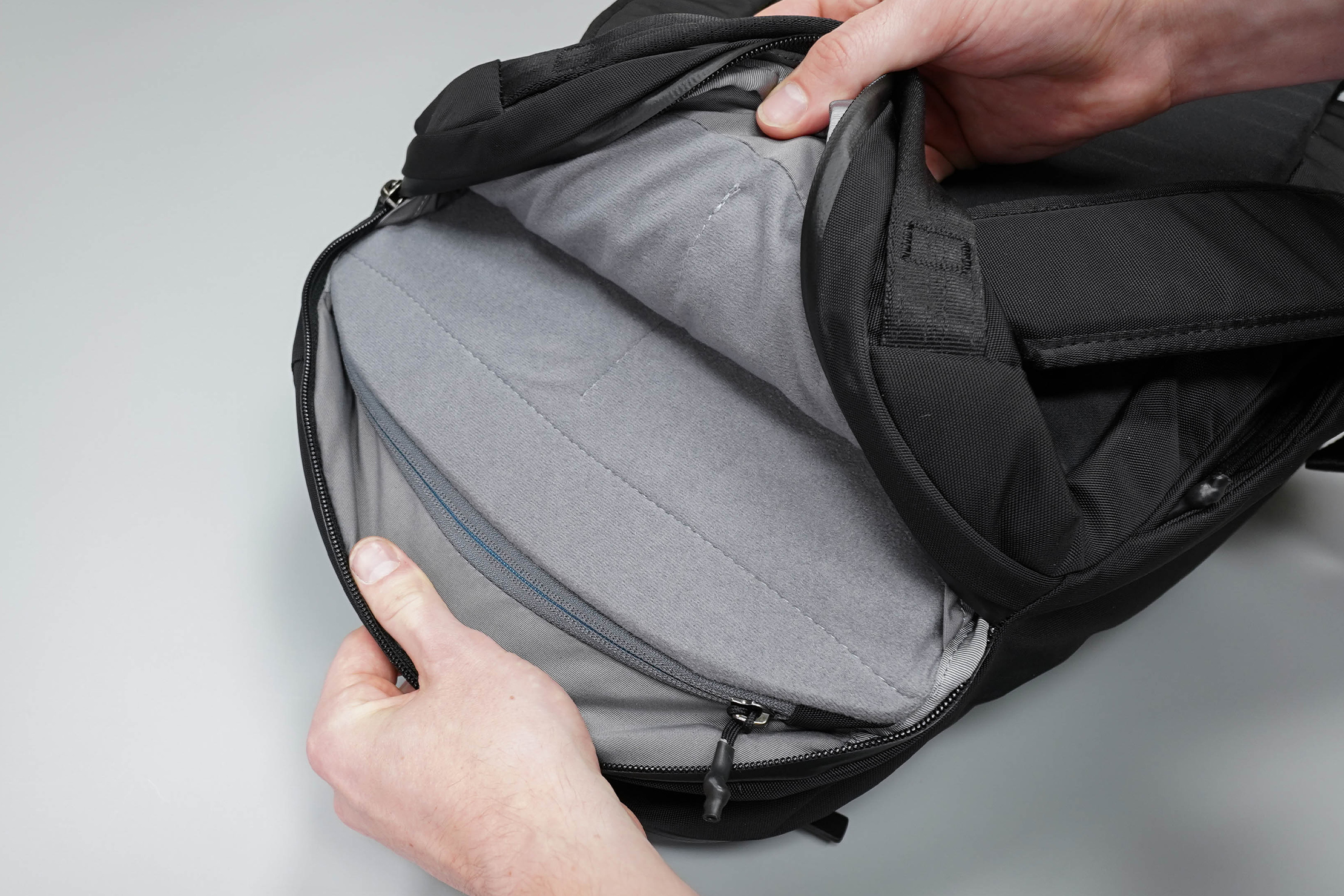 Potentially our favorite feature inside this pack is the laptop compartment. It opens up with a weather-resistant YKK AquaGuard zipper, has soft material on the interior, and it features a false bottom to protect your laptop from unexpected drops. Basically, it checks all the boxes for what we look for in a laptop compartment.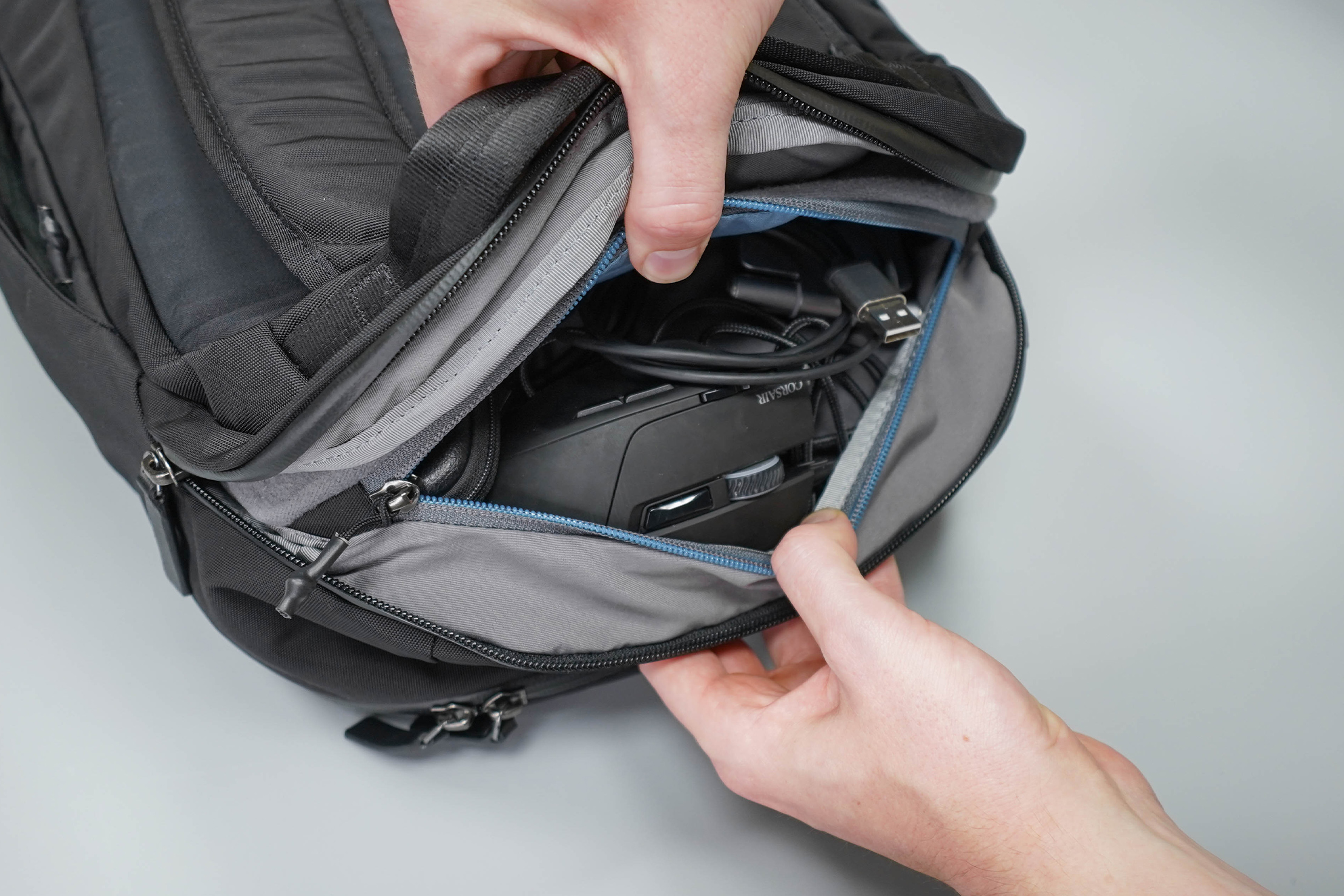 Two pieces of fabric on the side of this section prevent the horseshoe zipper from opening up too much. At the top of the laptop compartment, there's a zippered pocket that's a great size for storing tech accessories like cords, chargers, and the like. It also has a bit of padding and structure to keep everything safe.
We like that this pocket is very easily accessible. However, keep in mind that it can cut into the main compartment of the bag—so try not to overstuff it too much.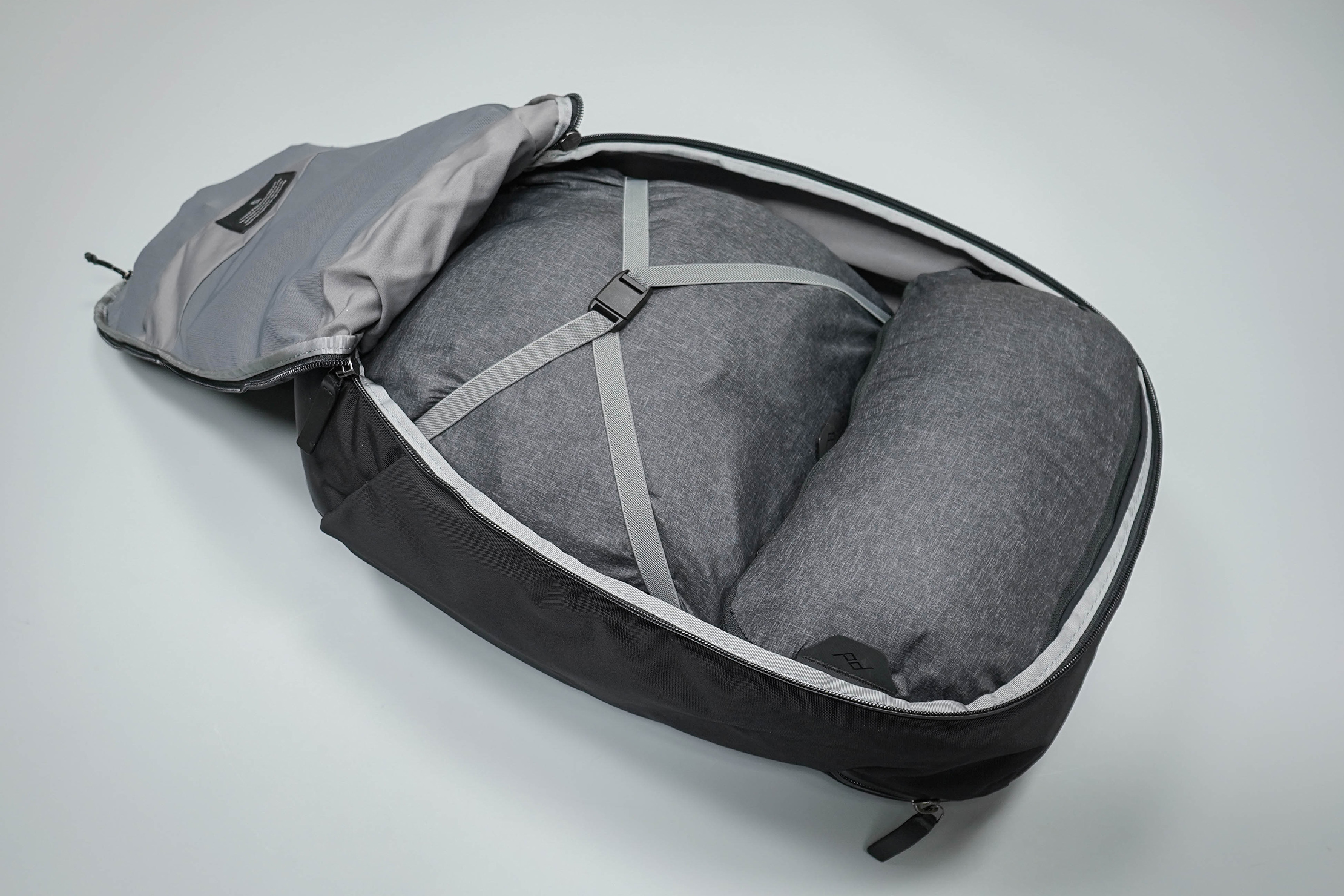 Speaking of the main compartment, it's pretty roomy on the Bellroy Transit Backpack. You can easily fit one medium-sized Peak Design packing cube along with one small Peak Design packing cube, (you ask we test it).
Other packing cubes with more rigid edges may not fit quite as nicely since the Transit Backpack does have slightly rounded corners—your mileage may vary so find what works best for you (and check out our packing cubes guide if you're not sure where to start!).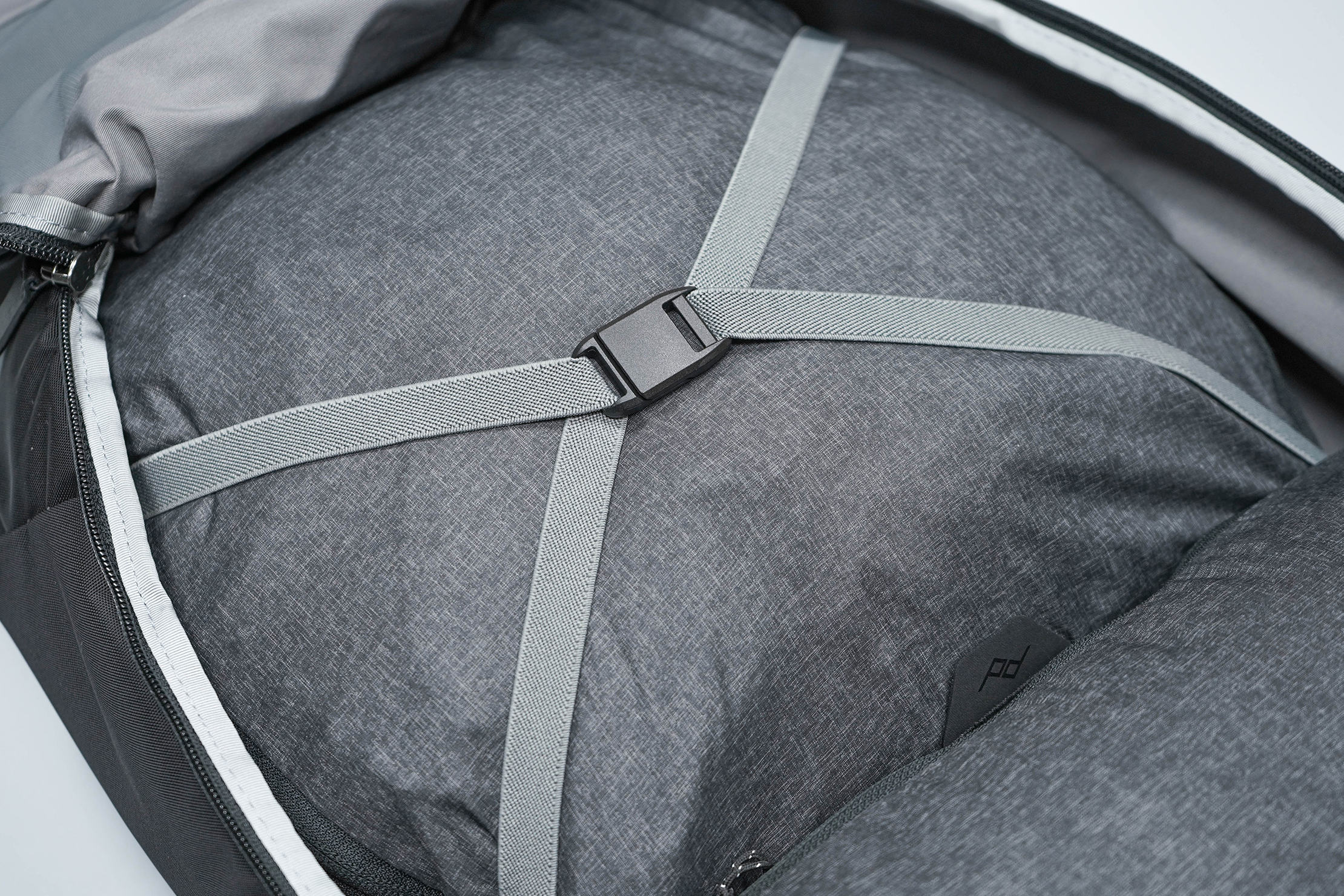 On the back of the main compartment, you'll find an elastic compression strap to keep your clothes or cubes in place. We're interested to see how long this stretch lasts, so we'll make sure to keep you posted in the Usage Timeline below.

The front flap of the main compartment has a smaller, zippered, stretchy mesh pocket (there's something about that Bellroy mesh ya just gotta love–it's super stretchy and great to the touch). There's also a larger zippered mesh compartment that covers the entirety of this flap—ideal for storing things like socks, underwear, and other small items.
Plus, we've found that one layer of packing cubes will still give you easy access to the rest of the pockets on the bag.
Durability & Testing
At the time of this review, the Pack Hacker team has been testing the Bellroy Transit Backpack around Detroit, Michigan for two weeks.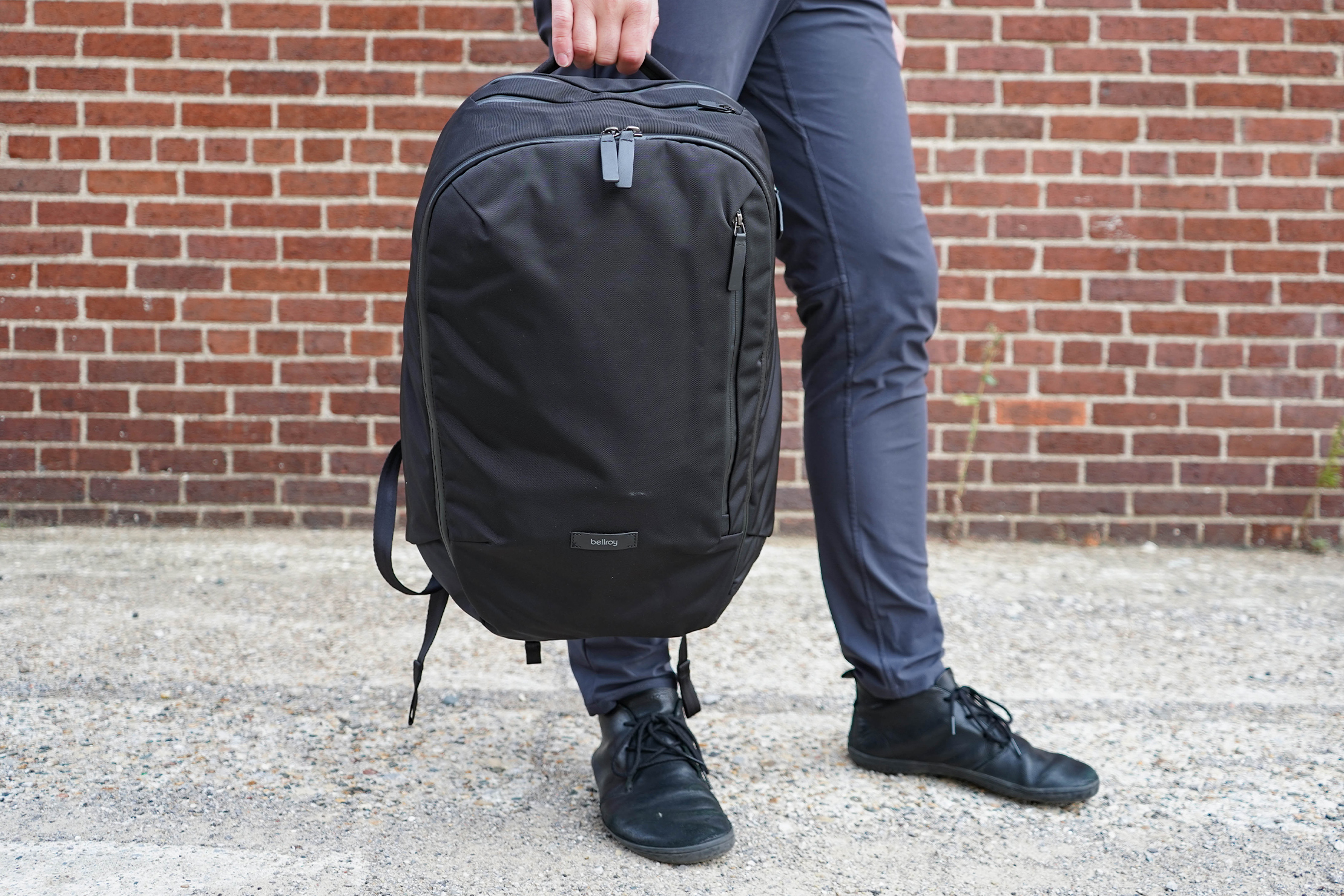 The curve of the bag wasn't ideal for some. They found it a little bit uncomfortable—mostly because of the bottom digging into their lower back. Others, however, found this backpack to be very comfortable.
The whole team agrees that the overall organization of the Transit Backpack shows that some thoughtful design when into this thing. We especially enjoyed having that other horseshoe pocket of the laptop compartment as a place for storing tech gear. There's smart organization without having pockets that cut into the main capacity too much. Instead, everything is pretty streamlined which allows you to take advantage of the full 28L—a great feature for one-bag travel.
Usage Timeline
Initial Usage
Condition: Excellent
Feels really great in the hand with Bellroy's signature quality
Digging the organization and features so far
Comfortable to carry, although it takes a bit of getting used to if you have a longer torso—the bag is a tad "short"
2 Weeks of Use
Condition: Excellent
Organization pockets have been really handy—and you can still access them with the bag full of packing cubes
We're digging the tech pocket, but it can cut into the main capacity of the bag
Access the Pro Community Discussion
Get your questions about the Bellroy Transit Backpack answered from our team and the Pro Community right here on the page. Plus, join discussions with other members about gear, guides, and more.
Other Bags & Luggage Reviews