RAVPower 61W PD 3.0 GaN Wall Charger Review
The RAVPower 61W PD 3.0 GaN Wall Charger is lightweight with a small form factor, making it a portable alternative to bulky MacBook chargers.
Our Verdict
Unlock the Pro Summary
Save time. Get access to brief summaries of our reviews so you can browse and make decisions more efficiently.
Pros
Lightweight
Nearly a quarter of the size of a MacBook power adapter
Quality charger from a trusted brand
Cons
Slow to charge a 15'' MacBook Pro
The power adapter gets hot
USB-C cable doesn't have much range
Recent Pack Hacker Video
Technical Details
Weight (oz)

3.7 oz (104.9 g)

Dimensions

1.9 in x 1.9 in x 1.2 in (4.8 x 4.8 x 3 cm)

Manufacturing Country

China
Full Review
Once upon a time, traveling with a MacBook charger was a necessary evil. While sleek in the way Apple products tend to be, the charger is bulky, heavy, and difficult to pack—oftentimes ending up in a jumbled pile in the bottom of backpacks everywhere. Not ideal for the longevity of the charger or your happiness.
But it's 2019, people. And we don't have to put up with these less-than-ideal circumstances anymore.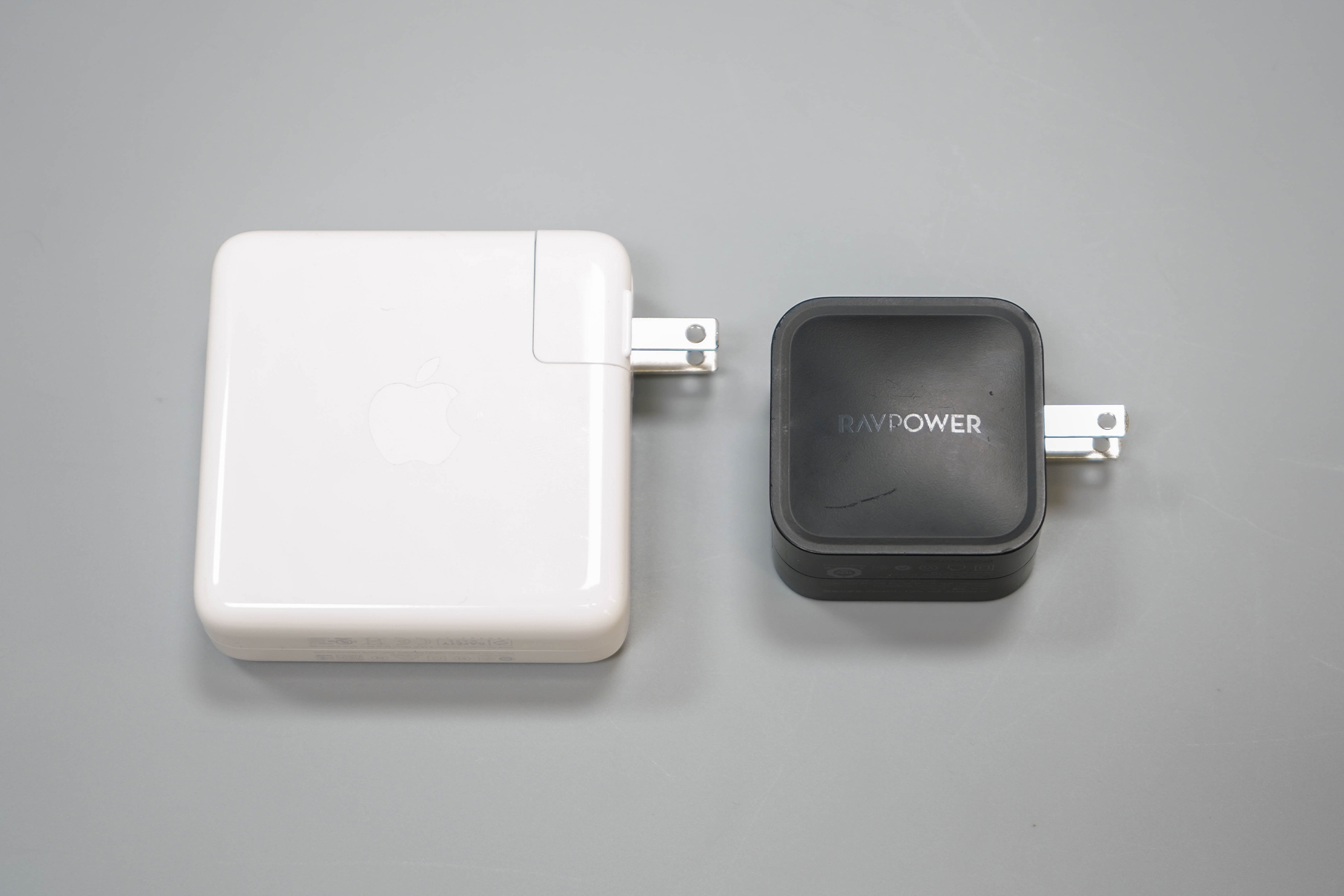 Enter the RAVPower 61W PD 3.0 GaN Wall Charger.
This charger, which works for MacBooks, iPhones, Nintendo Switches, iPads, and more, has a slim profile and low weight—a significant contrast to traditional MacBook chargers. You can pick it up in a white—a colorway that screams "Apple"—or an equally sophisticated black.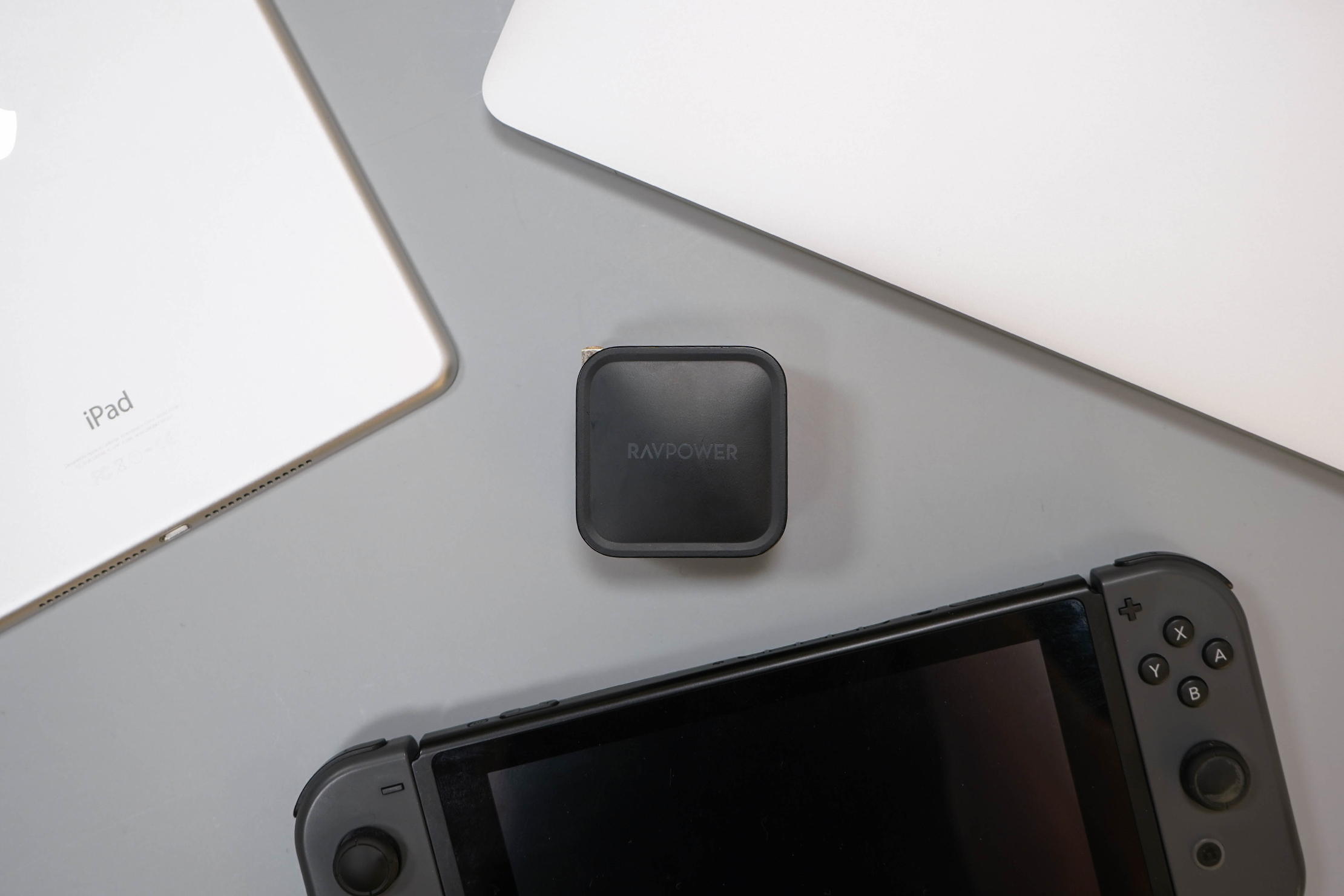 We've been testing the RAVPower 61W PD 3.0 GaN Wall Charger for two months with a 15'' MacBook Pro and have a lot of good things to say. But before we dive into our review, we want to point out that we're not a tech blog. We're not qualified to discuss the nitty-gritty of how this charger—and chargers in general—work. Instead, we'll be focused on how it is to use this charger. With that out of the way, let's get into it.
Features & Usage
As the name suggests, this is a 61 watt charger. To put that in perspective, the MacBook Air models from 2018 or later and the MacBook models from 2015 or later use 29W or 30W power adapters respectively. The 13-inch MacBook Pro models introduced in 2016 or later use a 61W power adapter, while the 15-inch MacBook Pro models introduced in 2016 or later use an 87W power adapter.
Of course, they all use a USB-C charging cable.
Note—if you're using an older MacBook, you'll need a MagSafe charging cable, which is not compatible with the charger we're reviewing today.
If you're astute, you may have noticed that we've been testing the 61W adapter with a computer that's meant to work with an 87W power adapter. What can we say, we're rebels.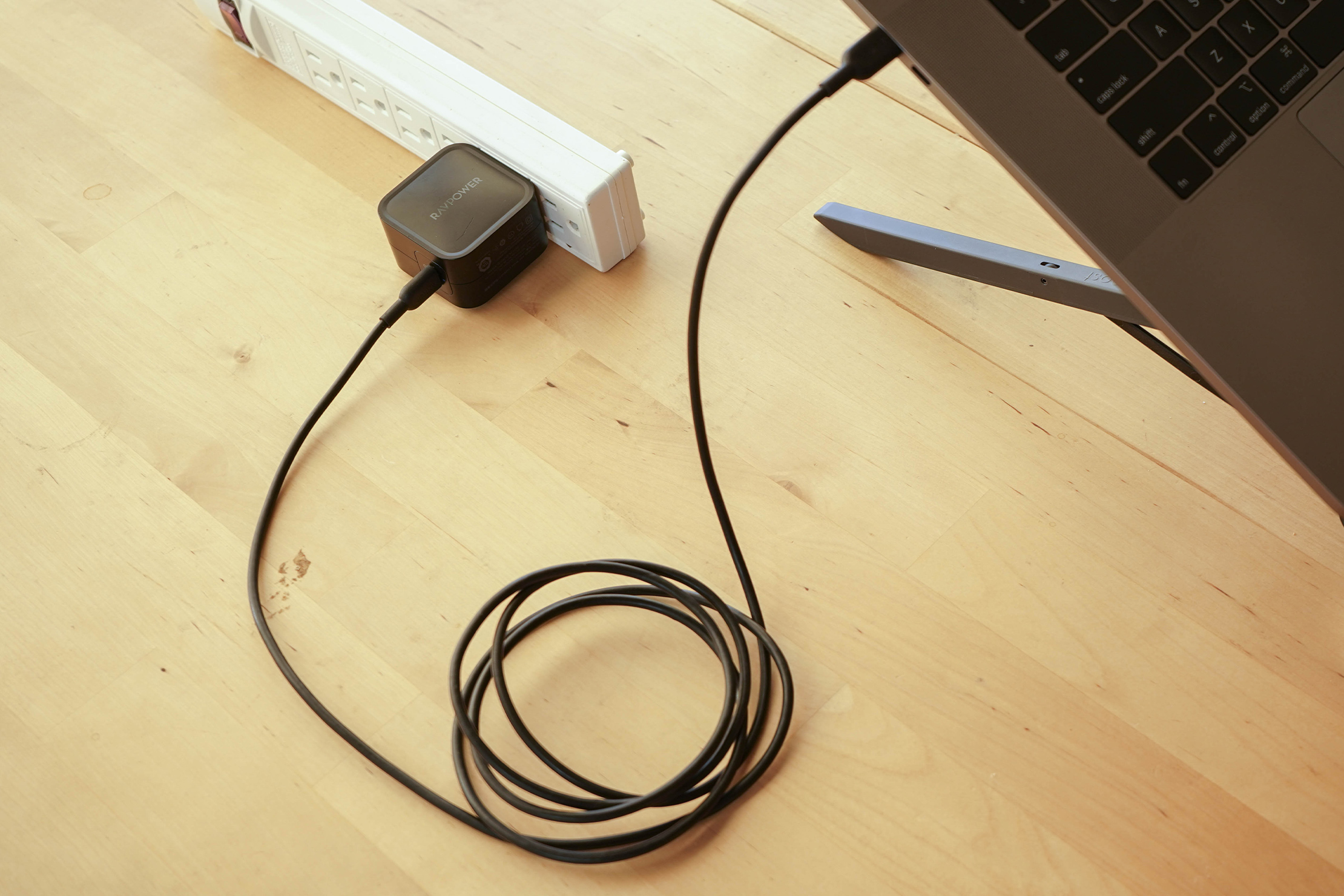 But we don't necessarily recommend doing this. While it shouldn't damage anything—although again we're not tech experts—it does take more time to charge your computer. We've found juicing up our 15'' MacBook Pro with this charger takes longer than when we juice it with the appropriate charger from Apple. Also, if you're doing anything wild on your computer, it'll tap into the battery life.
This shouldn't be an issue for you if you have a MacBook, MacBook Air, or a 13'' MacBook Pro.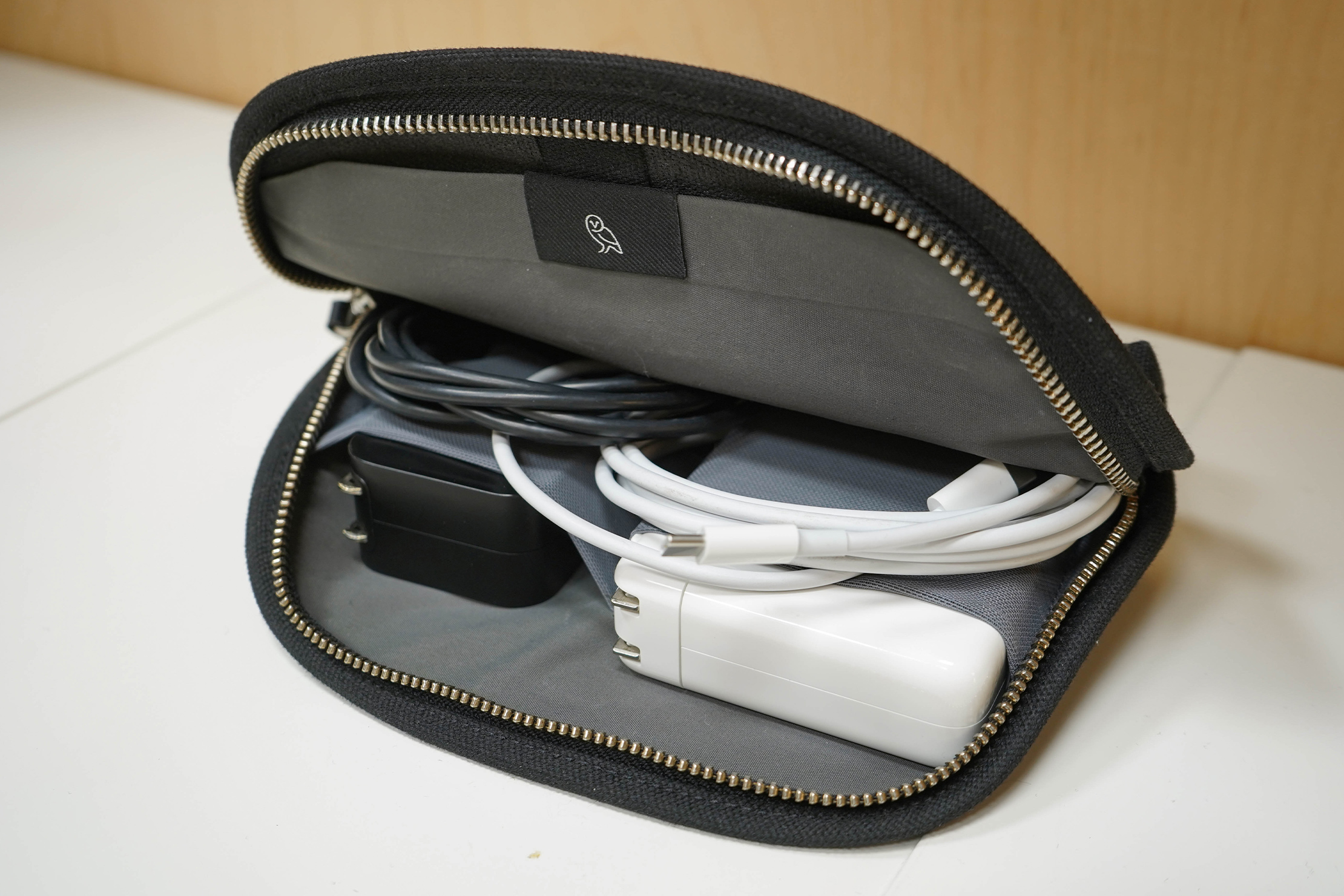 But we don't mind the slowness. Why? Because the size and weight of this thing is a game-changer. It's significantly lighter and approximately a quarter of the size of a MacBook Power Adapter. That's amazing! Here at Pack Hacker, we're always on the hunt for the smallest items—seeing if we can save space by packing tiny nail clippers or compact sunglasses. So finding a charger that's nearly a quarter of the charger we usually pack is huge.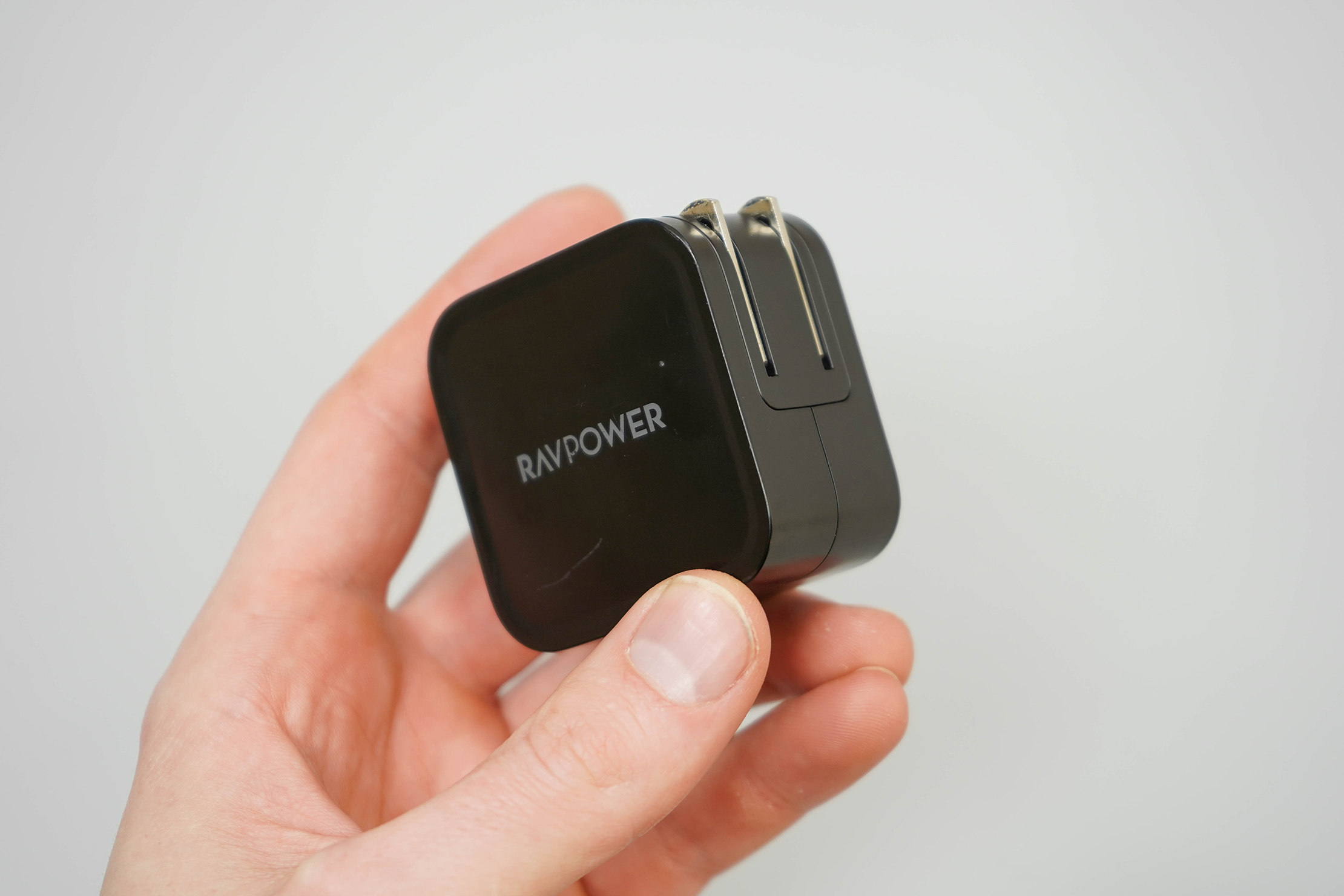 This charger also has foldable prongs—similar to the MacBook charger design—which makes it easy to pack and less likely to damage your other stuff. We're also digging the LED light that lets you know when you've accurately connected it to a socket or device.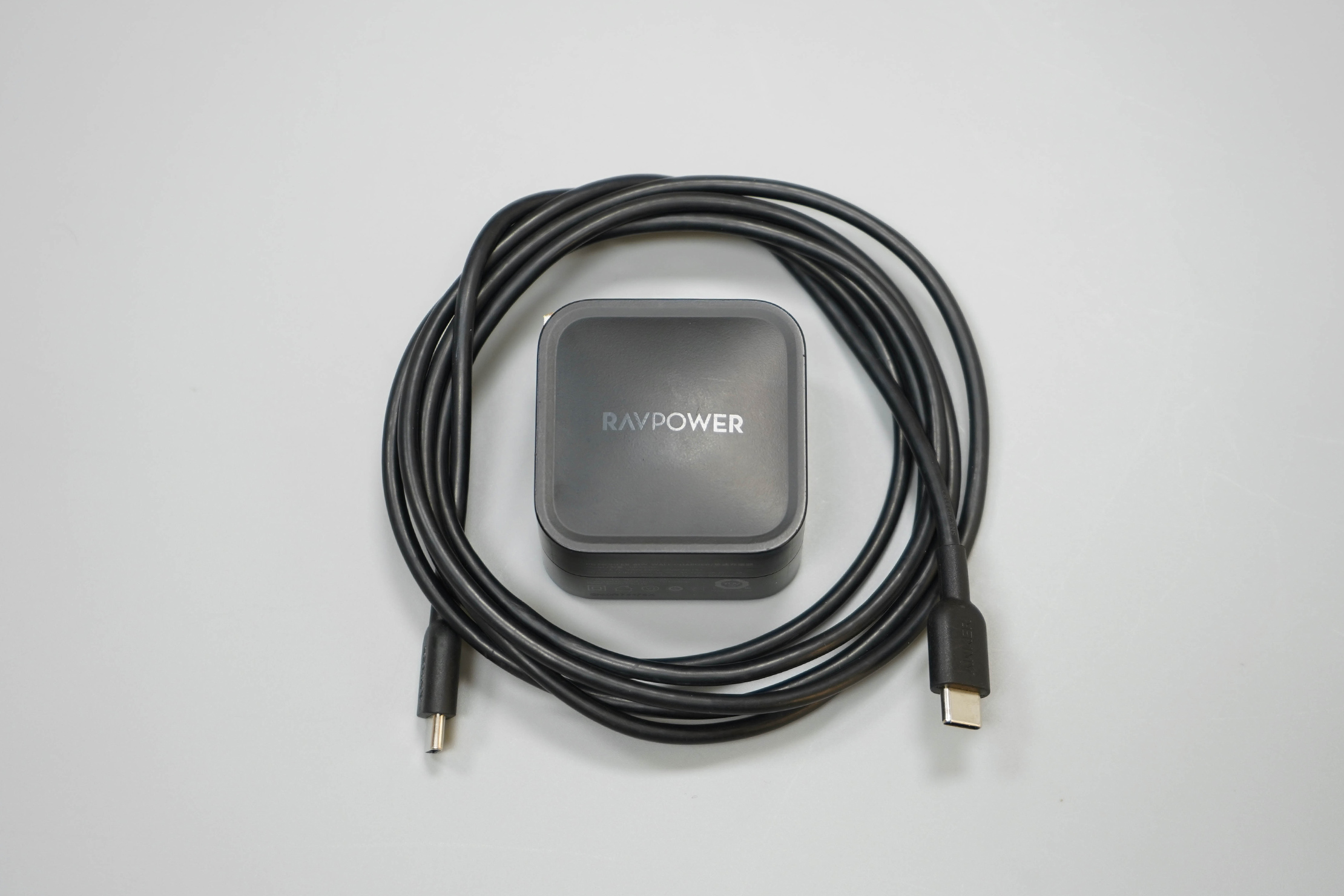 Now, the RAVPower 61W Wall Charger doesn't come with a USB-C charging cable, so you'll need to pick one up. We've opted for an Anker Powerline cable, but the longest we could find at the time of this review is not long at all—which is a bit of a bummer.
To be more specific, our USB-C cable is slightly shorter than the stock MacBook one. The major difference in length is that, while you have the option to add an extension to the other side of the MacBook adapter, you don't have that option when using the RAVPower charger.
It's frustrating to set up at a coffee shop only to be out of range of an outlet.
That said, there are some solutions. You could hunt for a longer USB-C cable, but keep in mind that not all cables are created equal—so make sure you look into its quality. You could also carry a small extension cord with you or travel with candy and try to bribe the people sitting close to the outlets to give up their seats. You just have to be creative.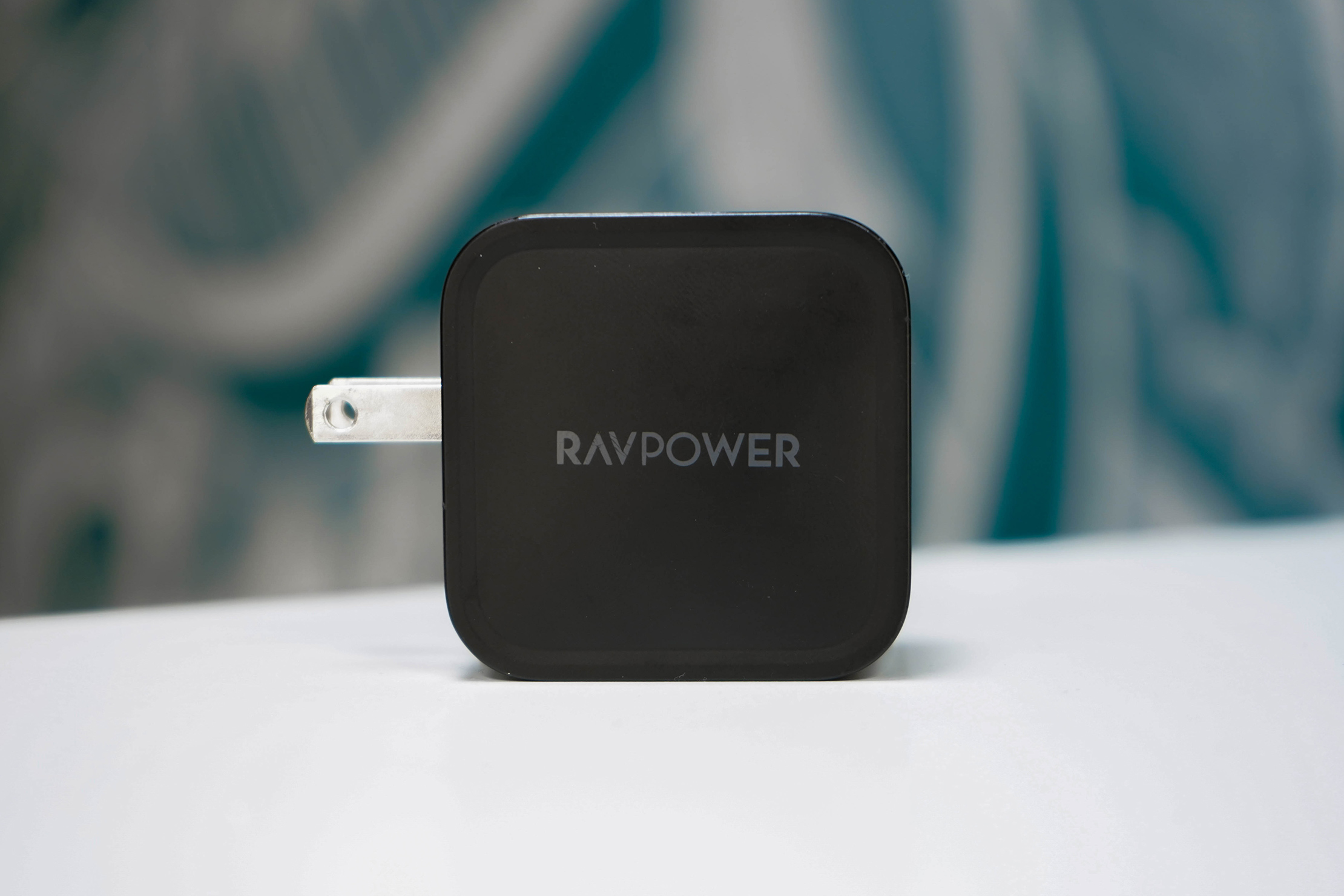 One last quirk—if you could call it that—we've noticed during testing is that this adapter heats up. Not to a concerning level, but it gets noticeably hot.
Durability & Testing
As we've already mentioned, we've been testing the RAVPower 61W Wall Charger for approximately two months. Despite the slightly slower performance, we've been loving it. We can't explain enough how helpful it is not to have to travel with a full-on MacBook Power Adapter.
The quality is also top-notch. RAVPower is a trusted brand and we have no major durability issues to report yet. We have noticed a few scratches on the brick, but nothing terrible.
Usage Timeline
Initial Usage
Condition: Excellent
Thanks to community member Matthew R. for the pro tip on this one!
Less than half of the size of a standard MacBook charger
Works with Macbooks, iPhones, Nintendo Switches, and more
Will be interested to see if it can actually charge twice as fast as a regular charger
2 Weeks of Use
Condition: Excellent
It's a bit slower charging our 15'' MacBook Pro compared to the charger from Apple. But not so slow that it's a deal-breaker.
1 Month of Use
Condition: Excellent
We've been noticing that it gets pretty hot while charging. Not ideal.
2 Months of Use
Condition: Excellent
There are a few small scratches along the body of the power brick, but nothing bad.
Access the Pro Community Discussion
Get your questions about the RAVPower 61W PD 3.0 GaN Wall Charger answered from our team and the Pro Community right here on the page. Plus, join discussions with other members about gear, guides, and more.
Other Productivity & Tech Reviews