We like toting our computer in a protective laptop bag for obvious reasons: it's safe from scratches, spills, and drops as we head from home to a coworking space or a trip. What about when your travel backpack has a cavernous space that dwarfs your 13-inch laptop? Or you're leaving for the beach with your travel tote bag and still need to work a few hours in the sun? That's when the best laptop sleeves come in clutch—it's a way to protect your device from cracked screens, scratched cases, and other bumps that can crop up in everyday use or when you travel.
There are plenty of things to consider when selecting the best laptop sleeve. From material to size to how it closes and what devices it can hold, you have many options when looking at computer sleeves. Are you looking for a MacBook sleeve or a laptop protective case for your Dell? Does it need to be rugged and shockproof or minimalistic and flexible to make it the best laptop sleeve for you? Do you want it to keep your computer safe even when you upend it or slide a laptop in and out with ease?
In the post below, we'll answer all your questions and more, so grab your favorite computer and scroll on!
1. ALPAKA Slim Laptop Sleeve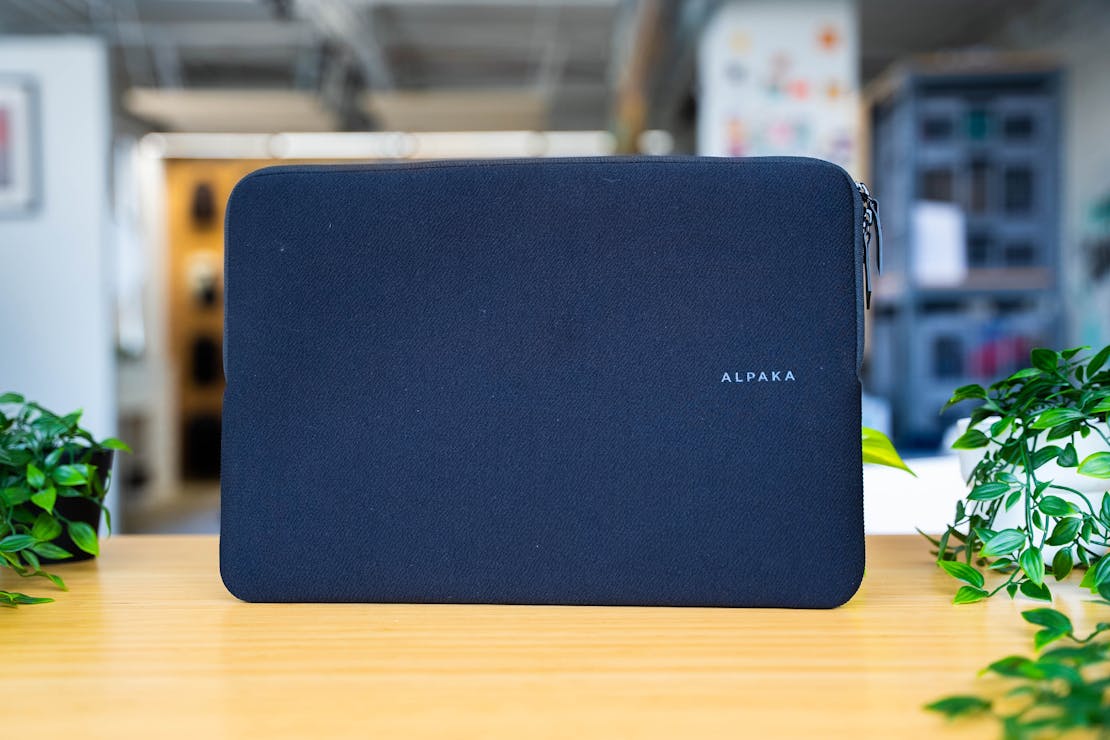 Why We Like It: It's made with lightweight recycled polyester fabric generated from discarded and recycled PET bottles.
What You Should Know: It's not the snuggest fitting sleeve, since there's a bit of space around the edges.

If you're an Earth-friendly, sustainable traveler or aspire to be, the recycled materials on the ALPAKA Slim Laptop Sleeve may make it the best laptop sleeve for you. The lightweight, textured fabric cradles your 16-inch laptop like a microfleece-lined glove, and it comes in a 14-inch model if you have a smaller device. It opens horseshoe-style across the top and halfway down the sides, giving you easy access to your device. And when you slide it into this protective laptop case, you'll be sure it won't slide out if it tips over accidentally while unzipped thanks to the protective corners holding your computer in place, and the water-resistant fabric saves it from accidental spills at the coffee shop, too.

While digital nomads and minimalist travelers looking to fly under the radar will want to pick from the Black or Grey colorways, some of the best laptop sleeves give colorway options, so we like that Yellow and Teal are also available. You'll have an easy time spotting this case at the bottom of your duffle bag or desk drawer if you opt for Yellow, that's for sure.
See Full Review & Buying Options
2. Aer Tech Folio 16″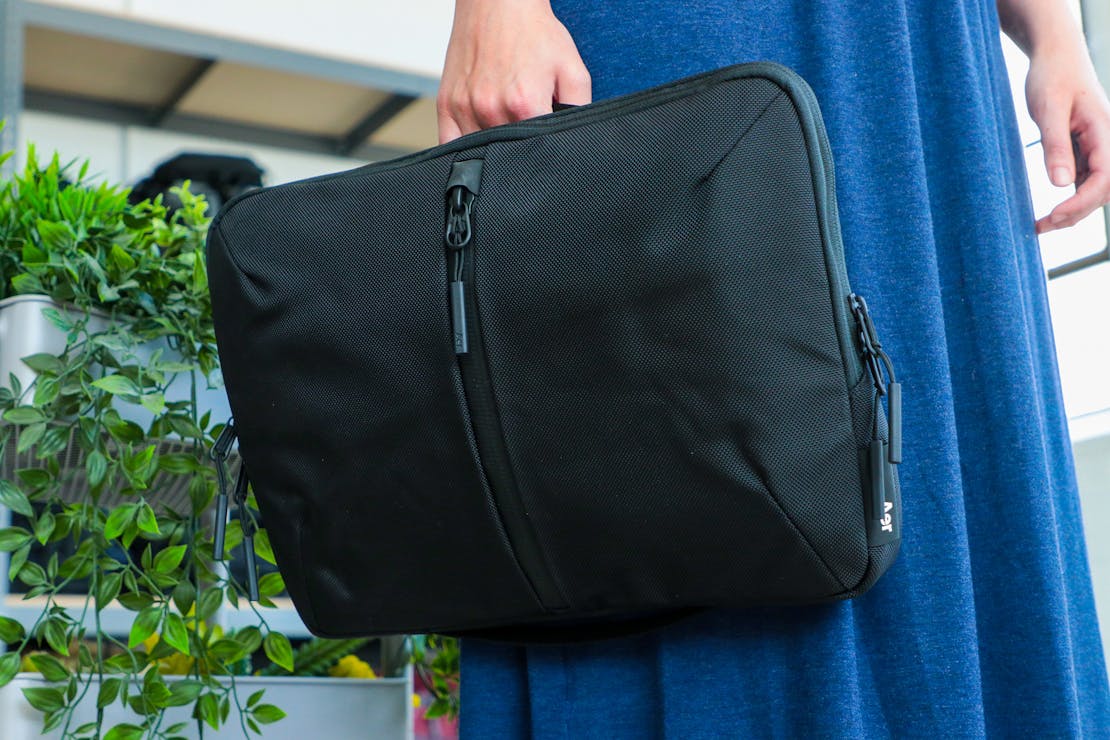 Why We Like It: It includes several different types of pockets to carry additional accessories.
What You Should Know: We wish you could attach a shoulder strap since it's already on the bulky side.

If your bag lacks extra organization, you may look to your computer sleeve to pick up the slack. If you dig Aer like we do, you'll think the Tech Folio is the best laptop sleeve because it fits a 16-inch MacBook Pro, plus the necessary accessories you need to work remotely while traveling. Slide everyday gear like wireless earphones, a pack of wet wipes, slim eyeglasses cases, or small field notebooks in the front pocket for easy access, although space gets tight when you use the additional organization inside.

The internal organization is like an admin panel built into the laptop case. There's a sleeve where you can slide file folders or a Bluetooth keyboard, slip pockets for travel tech accessories like a mouse, wall charger, cords and a stylus, plus a zip pocket to lock down tiny gear like flash drives or SD cards. Unzip the second compartment to reveal the laptop protective case lined with soft microfiber fabric. While packing every pocket can make the laptop sleeve a bit bulky, the carry handle on the back is comfortable if you need to carry your computer somewhere without a separate bag.
See Full Review & Buying Options
3. NOMATIC Tech Case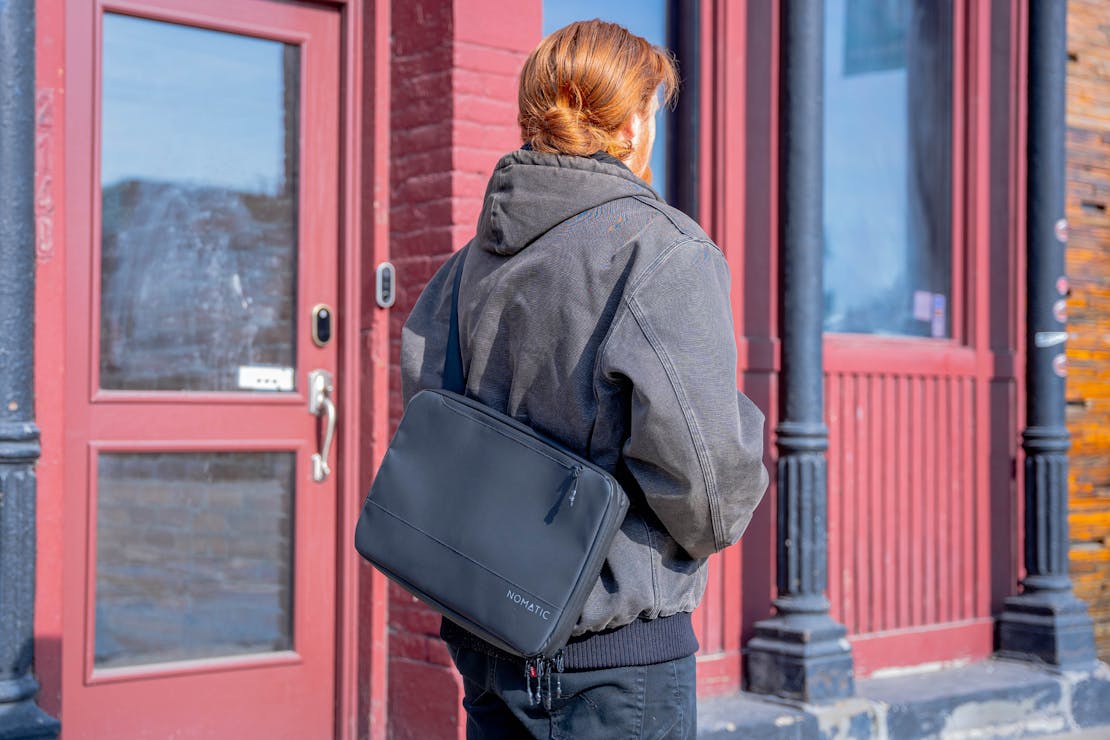 Why We Like It: You can carry multiple laptops at one time.
What You Should Know: The shoulder strap gets uncomfortable quite quickly.

Opting for the NOMATIC Tech Case is like choosing a minimalist messenger bag for your gear. If you cut down your packing list to leave the laptop bag at home, this protective laptop case lets you carry everything you need. Then you can work at the park or cafe while abroad. The ability to wear it as a crossbody bag makes it one of the best laptop sleeves for hands-free travel, so we can overlook the lack of padding on the strap.

There are plenty of pockets, from one on the front that can hold a book or a tablet to mesh liner pockets for headphones, wall chargers, dongles, and a mouse in the secondary compartment. Pen holders are included, too, in case you need to take notes. Inside the computer sleeve is a liner pocket to hold your 15-inch MacBook Pro or to separate one laptop from a second. With the space in both compartments, you could carry up to three computers, although it would get uncomfortable rather quickly. Still, if you're looking for a way to carry tech outside of a large laptop bag or travel daypack, this may be the best laptop sleeve for you since there's even a luggage pass-through to slide it over the handle of your suitcase as you make your way through the airport.
See Full Review & Buying Options
4. WaterField Designs Dash Sleeve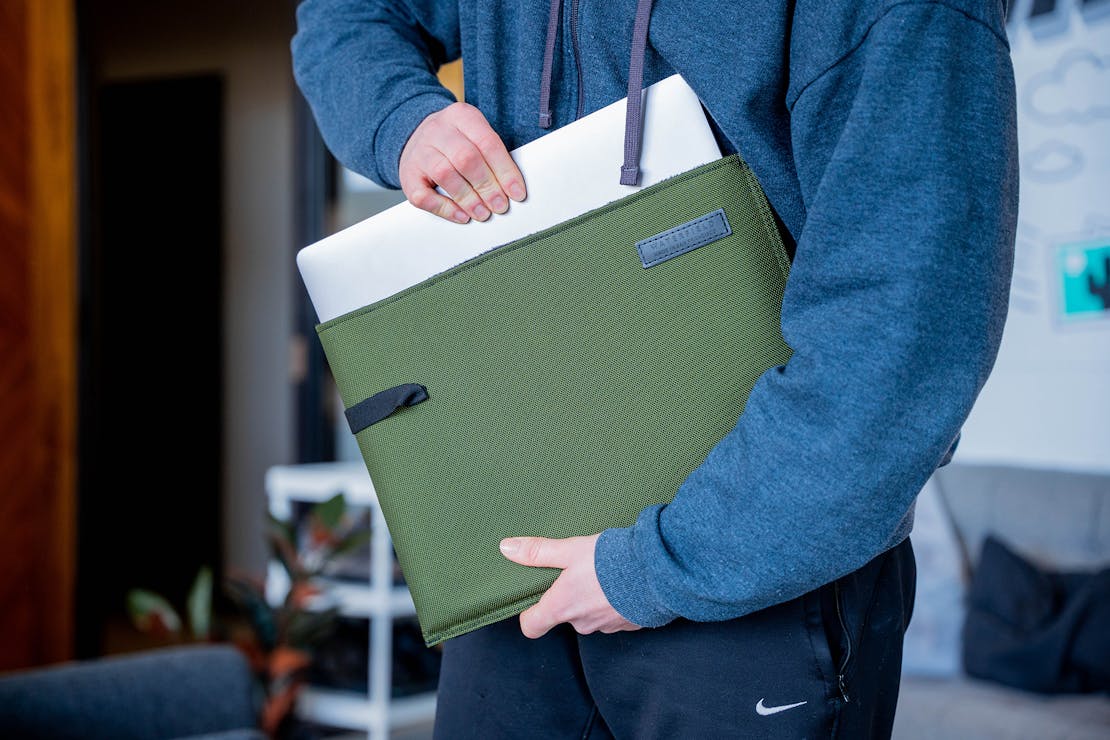 Why We Like It: The low-profile, professional design lets you bring a little personality to the boardroom without being over the top.
What You Should Know: Getting large devices in and out can be difficult.

If you've seen WaterField Designs products before, you may be familiar with the Forza Italian Textile material they use for many products. If you're a fan, this will be the best laptop sleeve for you since you can get it in Green, Red, or Blue, allowing you to show off a bit of personality with the understated tones. If you want something even more durable, you can opt for the Black colorway, which comes in ballistic nylon.

Whatever color you choose, there's an exterior pocket with a self-locking YKK zipper. That means you can slide in a battery bank and snake out its cord to top off your phone if the battery runs low as you use it as a mobile hotspot. The interior of the laptop sleeve cuddles your computer with fuzzy fabric, though there's only a small piece of elastic to keep it in place, so be sure to keep it upright while you're traveling. It does a good job of locking your laptop into place, provided you buy the best laptop sleeve for your size computer, so you may be in the market for a new laptop sleeve when you upgrade your device. While it doesn't have storage for many extra accessories, it pairs well with a backpack or sling.
See Full Review & Buying Options
5. Matador Laptop Base Layer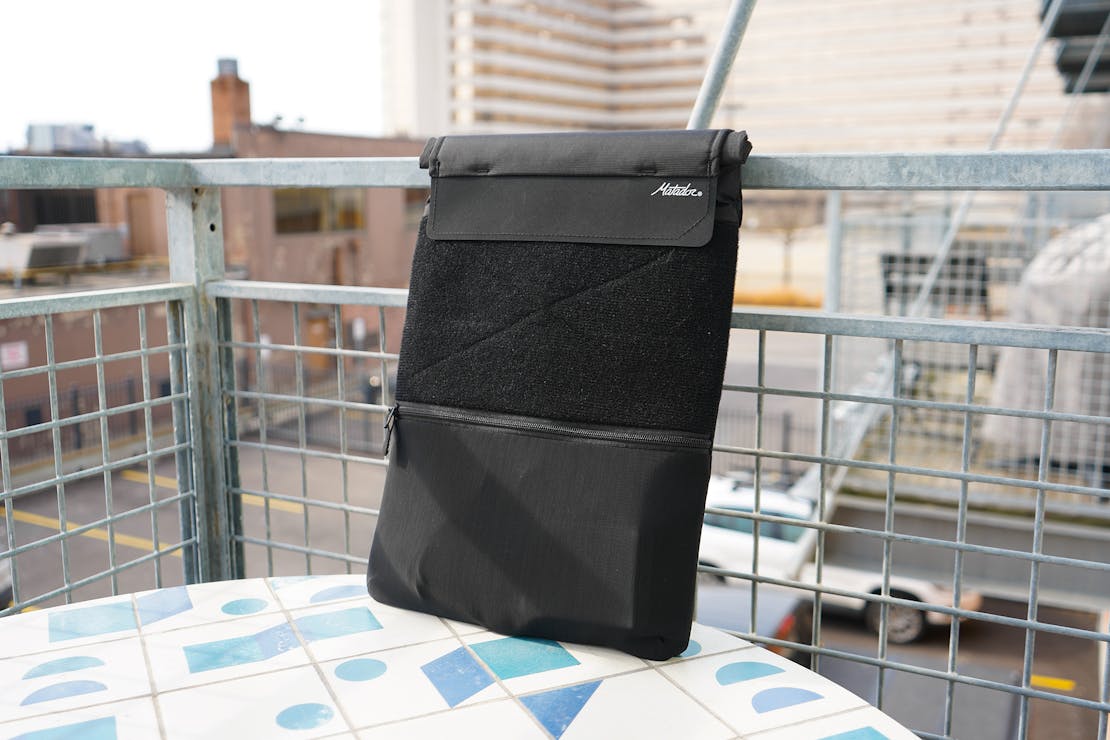 Why We Like It: It's one of the most low-profile laptop sleeves we've tested yet.
What You Should Know: While the sleeve is weather-resistant, the exterior mesh pocket is not.

You pack base layers in your capsule wardrobe, right? Well, why should your tech setup be any different? Even if you have a dedicated laptop sleeve in your travel backpack or the back of your personal item bag, bring the Matador Laptop Base Layer for added laptop protection. It has a roll top seal for weather protection and to keep moisture at bay if you're waiting for the bus in the rain. Along with providing flexibility to stash taller gear inside, the hook-and-loop fastener flap works well to seal the opening. It makes accessibility a little slower, but if you're traveling around Asia in the rainy season, we think you'll appreciate the addition. There's a reason why we thought this was the best laptop sleeve for our Digital Nomad Packing List.

If you have to check your bag unexpectedly, the Matador Laptop Base Layer is the best laptop sleeve to have up your, well, sleeve. You can load it up with your computer and place some accessories in the exterior mesh pocket to work or stream a show on the plane. It has its own carry handle, so you don't have to worry about slipping your grip. The weather-resistant 420D nylon combines with a 50D ripstop drybag liner to protect your computer from spills when the plane hits turbulence before you finish your complimentary drink.
See Full Review & Buying Options
6. Incase Classic Universal Sleeve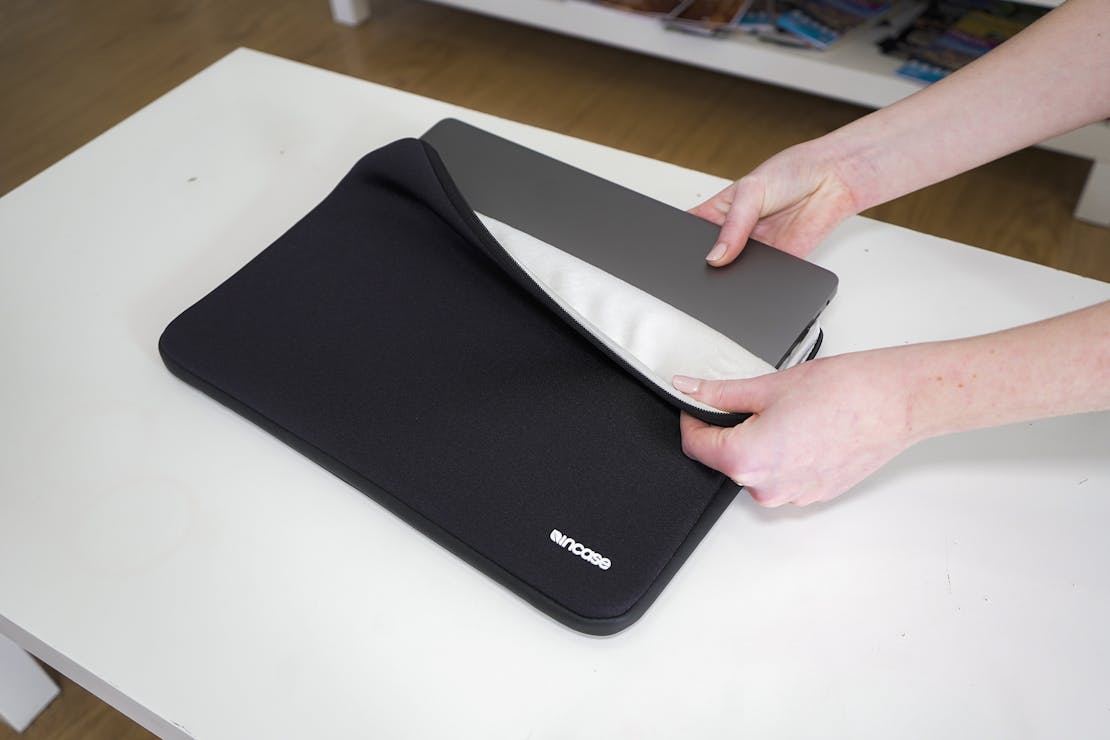 Why We Like It:It's a no-frills option that's great if the bag you're traveling with lacks protection for a computer.
What You Should Know: It's not the most durable, although the padding offers decent protection.

When you want to slip your computer into a simple laptop case that gets the job done without added bells and whistles, the Incase Classic Universal Sleeve may be the best laptop sleeve for the job. The Lycra fabric holds your 15- or 16-inch laptop like your favorite stretchy pants, with just enough protection to slide it into a packable bag without worrying about it taking up all the space. It comes in different sizes for different devices, too. Inside, the lining is super soft fleece, so your computer comes out as pristine as the day you unboxed it.

Since it's slim, it's the best laptop sleeve to fit in most laptop compartments, and the slippery fabric slides easily out of nearly any spot. While the light padding offers good protection, there's no additional protection from moisture or drops. Of course, you don't plan to play hot potato with your laptop, right?
See Details & Buying Options
7. tomtoc Versatile A42 for 16″ MacBook Pro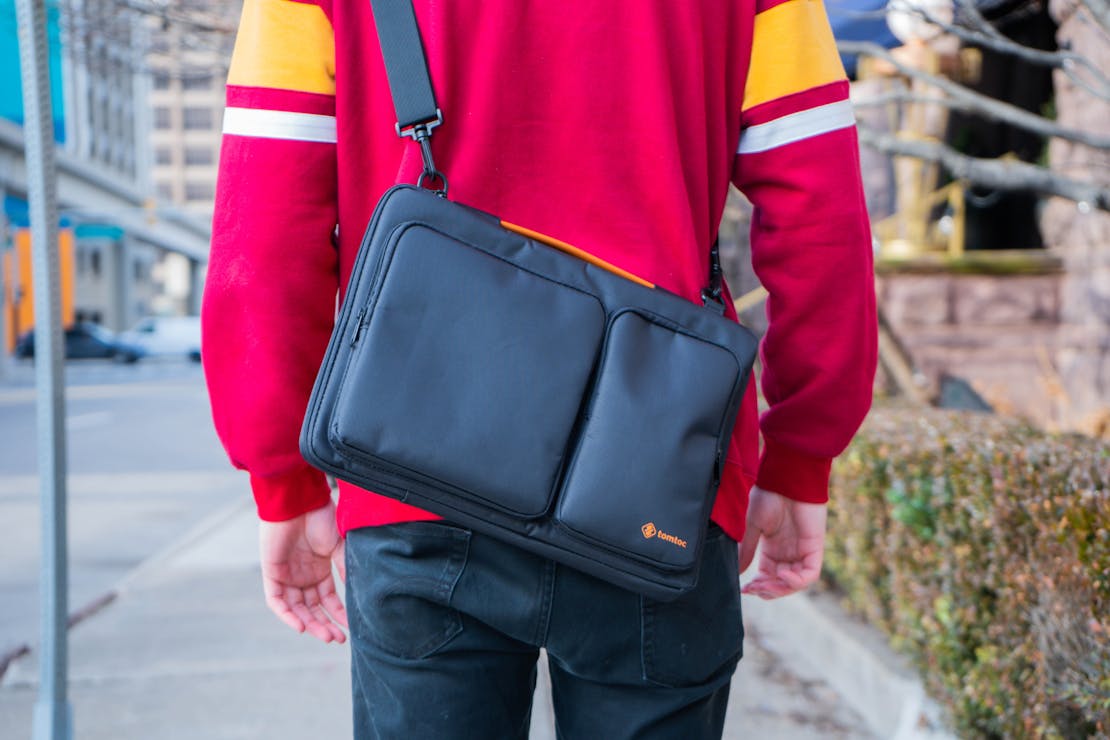 Why We Like It: The case includes a removable shoulder strap to carry hands-free without another bag.
What You Should Know: The stiff materials make it hard to fit extra accessories inside.

If you love curling up with those extra-fuzzy fleece blankets in cold weather, you'll love petting the lining of the tomtoc Versatile A42 laptop case. It's nylon-based like the rest of the sleeve, yet something about it prevents shocks when you reach inside.

If you want to reduce what you're bringing on board, this is the best laptop sleeve so you can put your carry on in the overhead bin. Along with a MacBook Pro case, the tomtoc has additional pockets on the exterior to hold your tech accessories, whether you want to slide them into the slip pockets contained in the exterior compartments or toss them inside. Then you can work or stream without extra bulk at your feet.

You can carry it all via a leather-like handle or the removable shoulder strap. It's pretty comfortable to carry since it even includes a moveable piece of padding on the strap to keep it from digging into your shoulder. Unlike most sleeves, your device slides in the left side, not the top, which may or may not suit your fancy, yet the durable YKK zippers keep everything securely closed throughout your travels.
See Full Review & Buying Options
8. Topo Designs Laptop Sleeve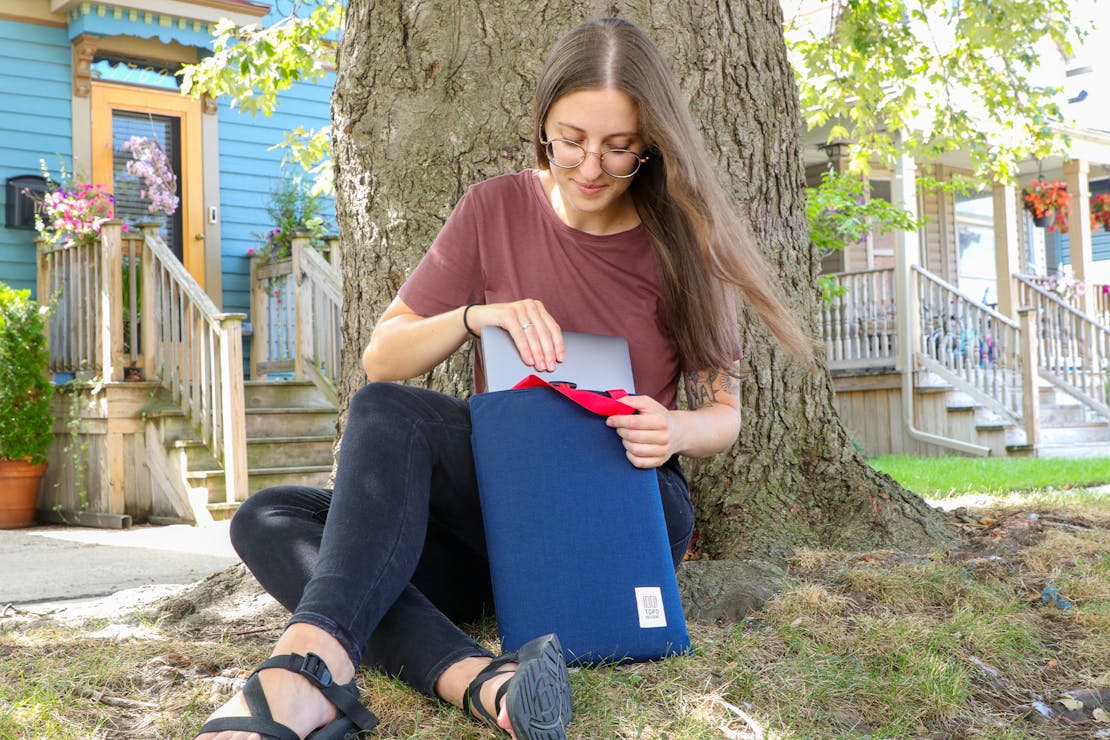 Why We Like It: The tote-style handle makes this easy to carry on its own.
What You Should Know: It's on the bulkier side for smaller bags.

If you want a MacBook case that's easy to pull out of your bag, reach for the Topo Designs Laptop Sleeve. The laptop protective case has tote-bag-like handles that are easy to pull out of a bag, a bin, or from under the airplane seat in front of you. It's the best laptop sleeve to carry by hand on a short walk to the library or cafe, since you can slide your phone and other slim accessories into the large exterior pocket. The top closes with a toggle and a loop, so your computer won't accidentally slide out if the bag is upended. Still, it's only attached in the middle, so you'll want to put it in another bag if you need to walk in the rain.

While this laptop sleeve is designed for a 13-inch device, you can squeeze a 16-inch one if you must. Either way, you'll have some extra room at the top as the sleeve is 14.5 inches tall, so it's not as easy to squeeze into smaller daypacks or tighter places, although it's quite slim otherwise.
See Full Review & Buying Options
9. nedrelow magic sleeve 13″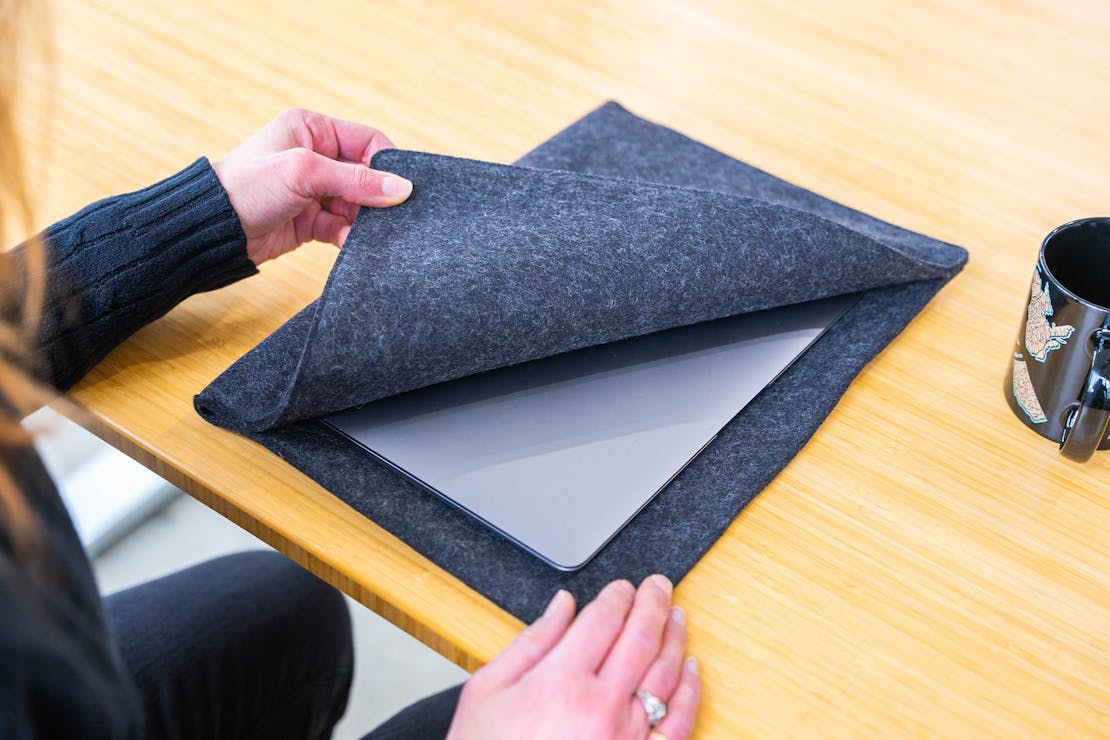 Why We Like It: Wrap up your entire workstation in one package at the end of the day.
What You Should Know: You cannot leave accessories attached along the edges when you close it, or the magnets won't have a strong enough seal to hold your device.

If your daily routine includes traveling to a coworking space or restaurant to work, claim your desk with the nedrelow magic sleeve. The magic is in the magnets surrounding the edge of the sleeve, which lies completely flat to be a desk pad while you work. You can use them to attach accessories that prevent your cords from tangling, hold a pen, or contain other small accessories like your AirPods. Then, when you're ready to wrap up the day and head home, pile everything up on top of your laptop and fold the magic sleeve in half. It protects your device on the journey home and holds everything you need for work in one place, so it's one of the best laptop sleeves for remote workers.

The Merino wool feels uber luxurious and stops shedding with continuous use, though it may irritate sensitive skin. You can get one to fit nearly any sized laptop or tablet, and if you still long for lambswool but don't need an entire desk pad, nedrelow sells slim laptop sleeves where you can slip in your size device without folding it first.
See Full Review & Buying Options
10. Bellroy Laptop Sleeve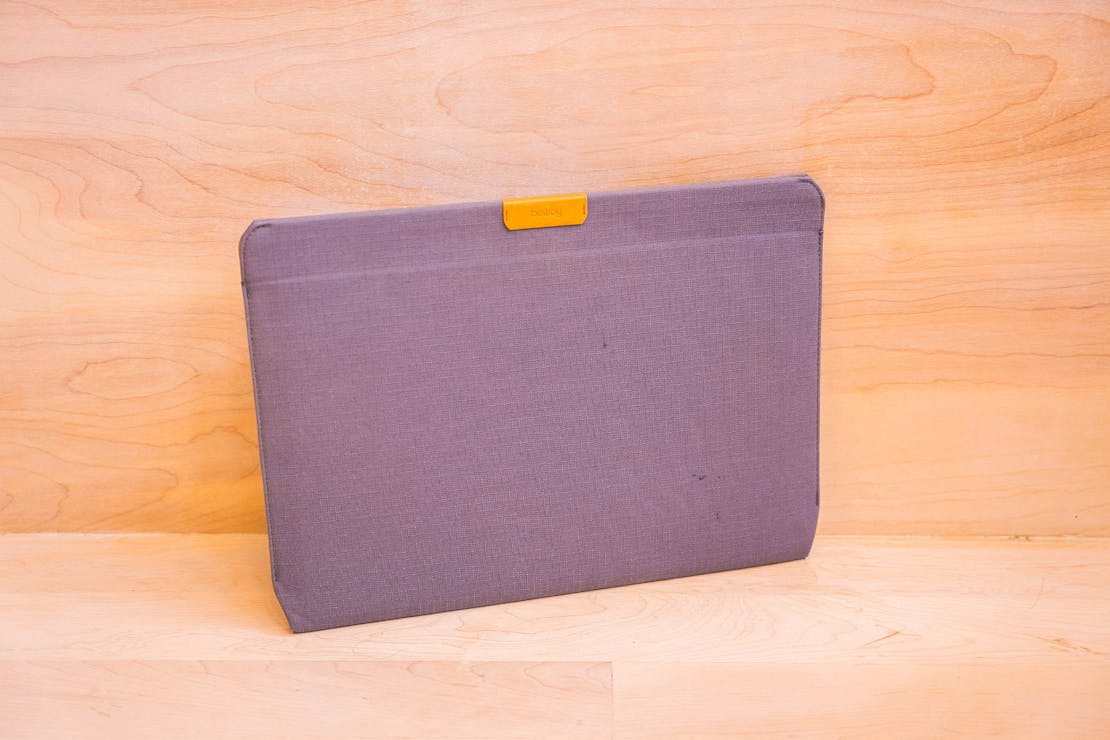 Why We Like It: It's nice to take your device out with just one hand, thanks to the magnetic closure.
What You Should Know: The magnets add bulk to the sleeve, so it may not fit in pockets designed for a 15-inch laptop.

If you're looking for a durable way to protect your device, snap it into the Bellroy Laptop Sleeve. The exterior ripstop polyester fabric resists rips and tears, and a firm foam padding reinforces the sleeve to protect your laptop from the detritus floating around your bag. When you need to pull it out, the magnetic closure is easy to open with one hand and closes with a satisfying snap. You can get this computer sleeve for 14-inch or 16-inch devices, though the case is larger than the device due to the magnetic strip along the edge, so it may not fit in the laptop compartment of your travel daypack.

And, of course, being Bellroy, the leather accent and aesthetic design bring a sleek and professional look to the laptop case, so it may be the best laptop sleeve to pull out in your next business meeting or conference.
See Details & Buying Options
11. JETech Laptop Sleeve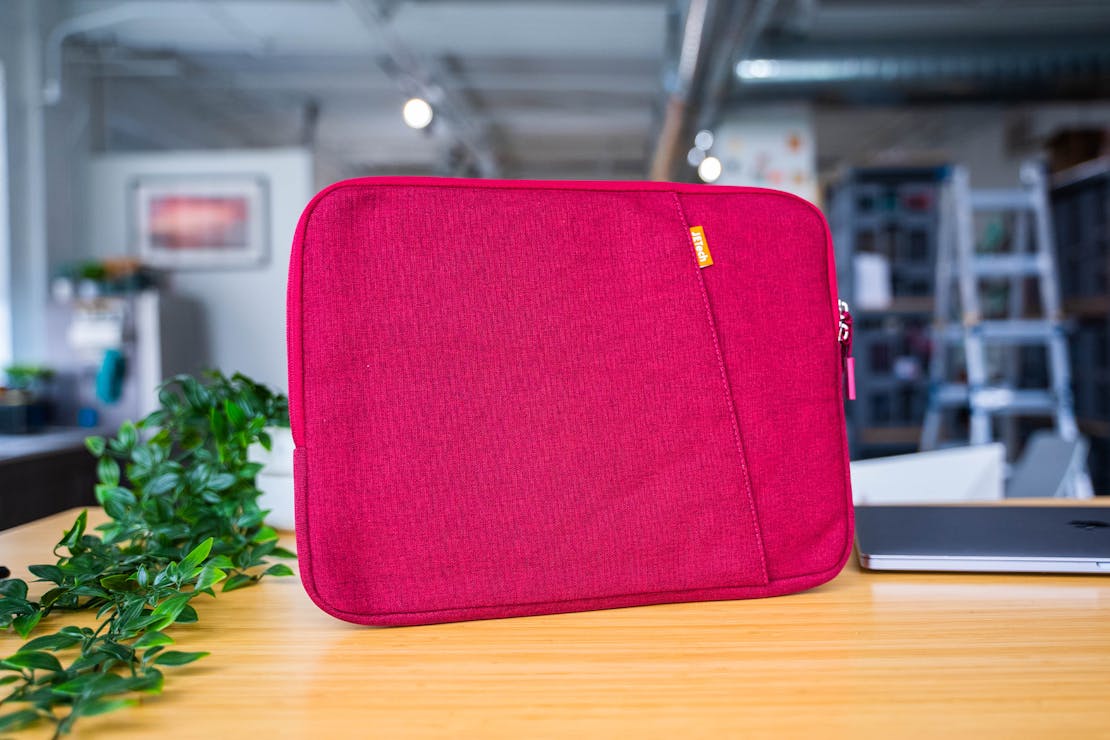 Why We Like It: It comes in a wide range of colors to suit every taste and style.
What You Should Know: Although the brand says it's waterproof, it can't be submerged and only protects against splashes and light rain.

If you want to combine shock protection with personality, the JETech Laptop Sleeve is one of the best laptop sleeves you can get. You can snag it in colors like Dragon Fruit, Cobalt Blue, or Light Grey to match nearly any style or backpack, and the rugged polyester material will protect your computer from dirt and spills from your drink—provided you zip it up first, of course. An external zip pocket is a great place to store your cords, wall charger, and mouse, though it then bulges out, so it might be too large to slide into the sleeve of your travel tote. That means you can leave your everyday laptop bag at home and carry just what you need for online scrolling or streaming on vacation.

Inside, the geometric foam padding saves your laptop from getting crushed by books or binders in your bag, and super soft fleece edging the rim of the laptop sleeve provides added protection along the vulnerable side of your screen. Corded zipper pulls are easy to grasp, even when you're wearing gloves, and it comes in sizes to fit 13- and 15-inch devices.
See Details & Buying Options
12. DOMISO Shockproof Waterproof Laptop Sleeve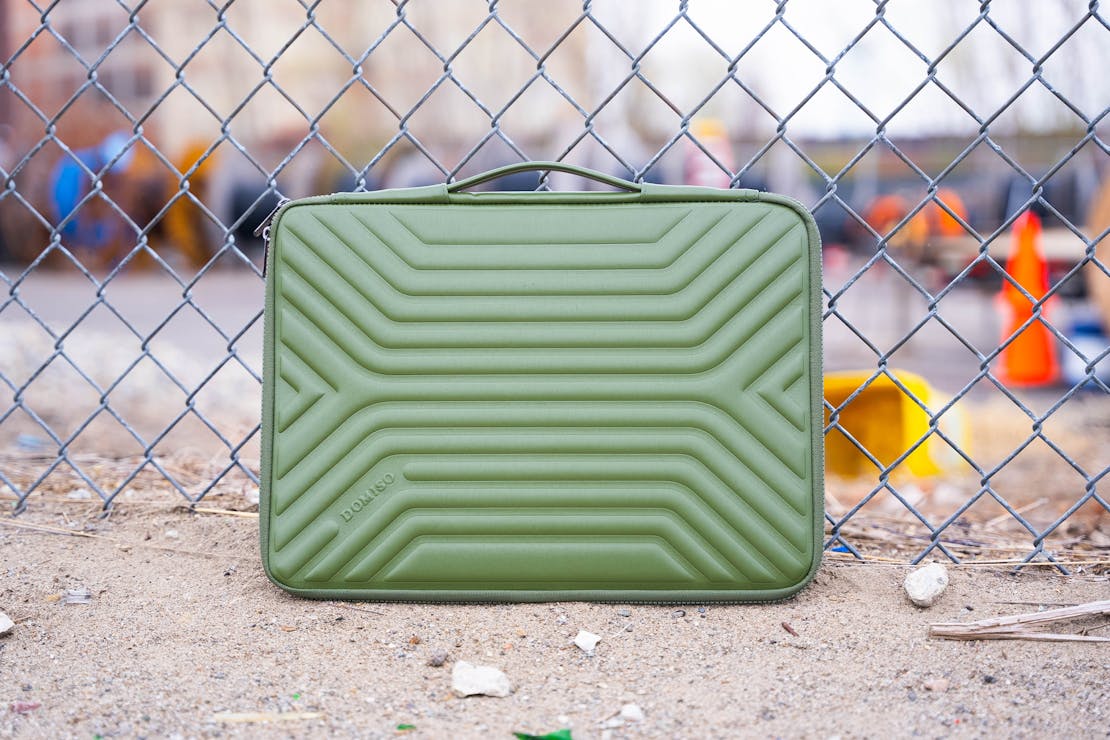 Why We Like It: You can carry your laptop and some extra gear in an EVA hard shell case that protects against drops.
What You Should Know: This case weighs more than a pound, so it's one of the heavier ones on this list.

Whether you're a study-abroad student, sharing a room in a hostel dorm, or sleeping in a yurt on a safari trip, you may be looking for the best laptop sleeve to protect your device from drops, spills, and dirt throughout your adventures. When you lock it into the DOMISO Shockproof Waterproof Laptop Sleeve, you can rest assured that your laptop will still look as it did when you slid it inside, even if you ride on the back of a tuk-tuk on the way to your hotel, thanks to the shockproof EVA coated with PU on the exterior.

Inside, buckle your computer in with a seat-belt-like strap that connects with a hook-and-loop fastener after sliding it into the mesh webbing that holds it in place. A zippered mesh pocket to store tech accessories, pouches, or notebooks is on the opposite side. Just remember that anything you put inside will rest against the top of your computer, so don't store items that could scratch it here, like your keys.

The laptop protective case unzips clamshell-style but is held upright by elastic straps, so you can work while your computer is still in the case. It's one of the best laptop sleeves if you're camping or out on a road trip, as it's not always as easy to take it easy on your device when you're on the road. The 15.6-inch size holds computers from Apple, Dell, Acer, HP, or Lenovo, and you can also get the same protection for smaller and larger devices by selecting one of the other sizes.
See Details & Buying Options
13. Dell Essential Sleeve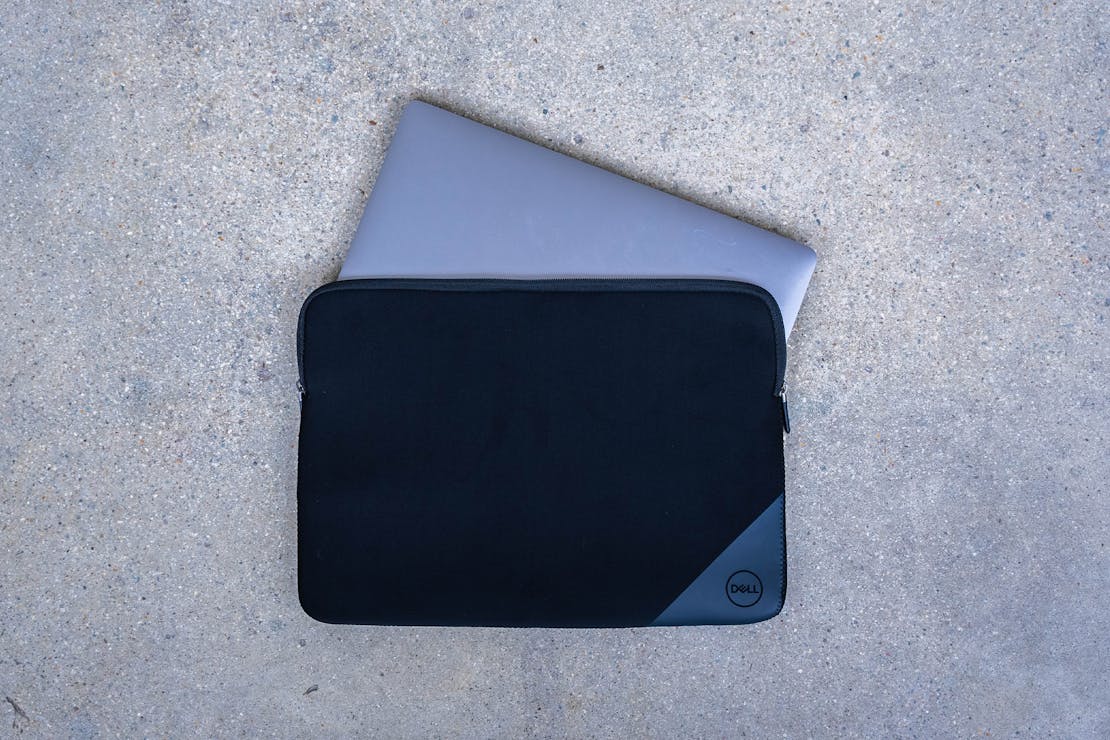 Why We Like It: It's water-resistant and form-fitting to protect a 15-inch Dell laptop.
What You Should Know: There are no extra handles or pockets for additional organization or carry options.

We know there's life beyond Apple, so PC users will rejoice with Dell Essential Sleeve 15. It's designed to fit 15-inch Dell laptops like a glove, and the neoprene sleeve, with a soft Nylex interior liner, protects your device from bumps, scratches, and spills. The form-fitting laptop case can easily slide into just about any luggage, messenger bag, or travel backpack, making it the best laptop sleeve for Dell users. The design is subtle and professional, so you won't stand out from the crowd at your next conference or board meeting, though you're out of luck if you prefer a colorway other than black.

There aren't too many bells and whistles with this laptop sleeve, but sometimes simple is the best way to get the job done. You can also fit smaller devices from other brands inside, though you'll have to upgrade if you opt for a larger screen later on.
See Details & Buying Options
So there you go, the best laptop sleeves for every user, whether you're an adventurous traveler, digital nomad, or heading out to visit family across town. Be sure to check out the full reviews on a laptop protective case like these and other travel gear on our website, so we can help you pack smarter the next time you need to get away!