NOMATIC Tech Case Review
The NOMATIC Tech Case can store a ton of gear and more than one laptop, but the strap gets uncomfortable quickly.
Our Verdict
Unlock the Pro Summary
Save time. Get access to brief summaries of our reviews so you can browse and make decisions more efficiently.
Pros
Water-resistant exterior
Mesh pockets are stretchy and secure
Can fit more than one laptop inside
Cons
Strap is uncomfortable
Zipper track ends prematurely, making access difficult
Carry handles are awkward to use
Recent Pack Hacker Video
Technical Details
Weight (lb)

1.2 lb (0.5 kg)

Dimensions

11 in x 15 in x 2 in (27.9 x 38.1 x 5.1 cm)

Notable Materials

Nylon

Manufacturing Country

Vietnam

Laptop Compartment Size

15"

Warranty Information
Buying Options
$99.99
$79.99
Full Review
Get up to 20% off NOMATIC • Join Pack Hacker Pro
On first look, the NOMATIC Tech Case is larger than other laptop cases but remains minimalist and can be carried a few different ways. Sometimes, when a pack has multiple unique features, it can feel as though not all of them were thought through. Will the NOMATIC excel in handling gear, keep things simple, and provide a comfortable carry? Or will we be left wanting more? Let's find out!
Materials & Aesthetic
Starting with the exterior, NOMATIC lists it as being crafted from durable/water-resistant materials, but it doesn't specify exactly what those are. It feels like a TPU coating, which adds a nice matte finish. When it gets wet, water slides off the exterior and doesn't soak in, which is great for protecting your tech if you're caught in the rain.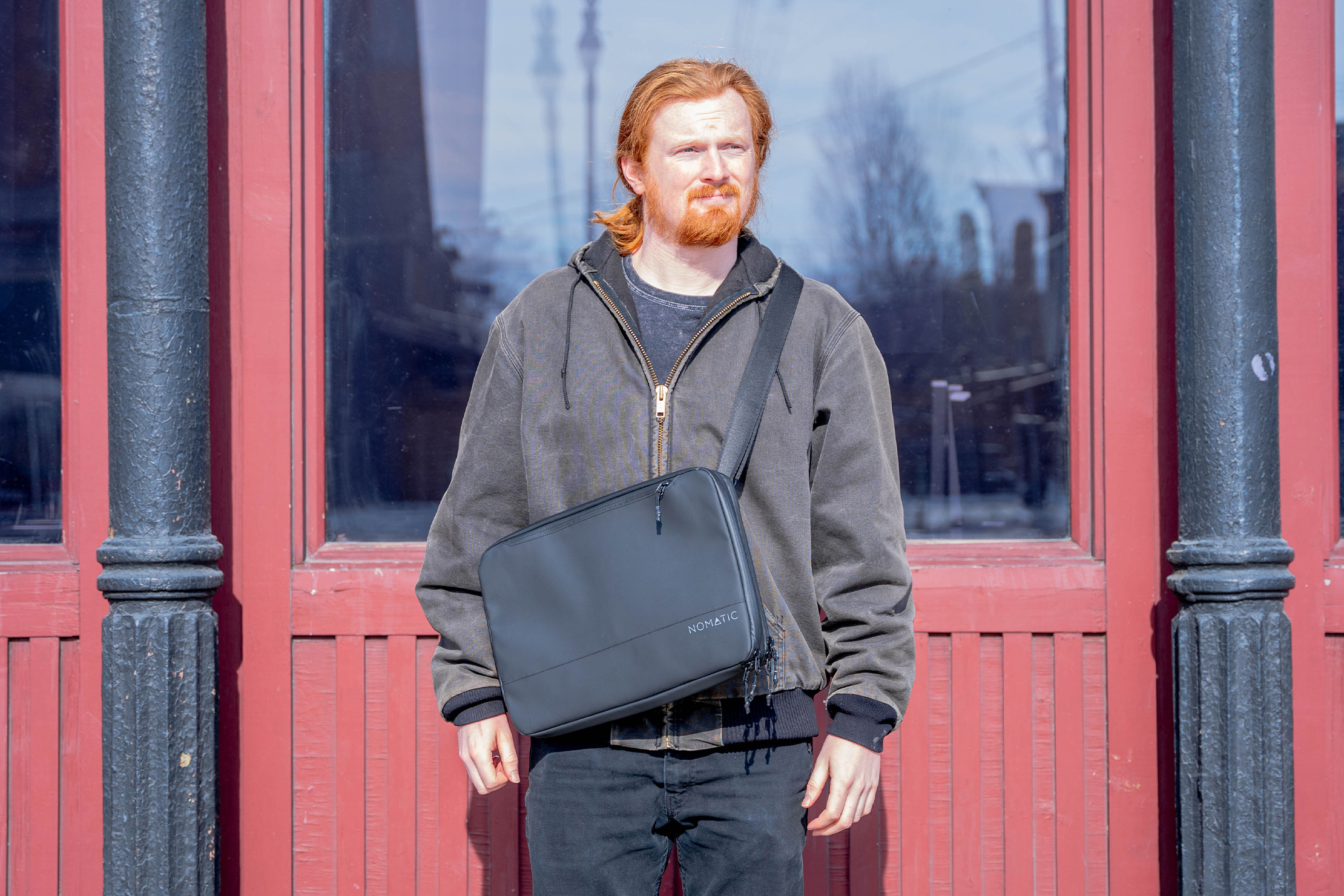 The NOMATIC logo is subtly placed in gray text on the bottom right corner. It doesn't take away from the matte exterior and looks professional, but the mountain in the logo ensures you aren't ever too far away from an adventurous mentality. At the time of writing, the only colorway option is black. It's a little bulky, but as we will cover later on, you're able to stow a ton of gear inside.
The zippers aren't a brand that we recognize but are smooth. The zipper pulls are long and dangly. They start with a metal piece connected to the head, and then there's a nylon-like cord connected to that. The end of the pull has heat-shrink plastic on the tip, which is a nice addition. The plastic is a little slippery if it gets wet, but we can grab onto the cord or metal tab to better hold it in those situations.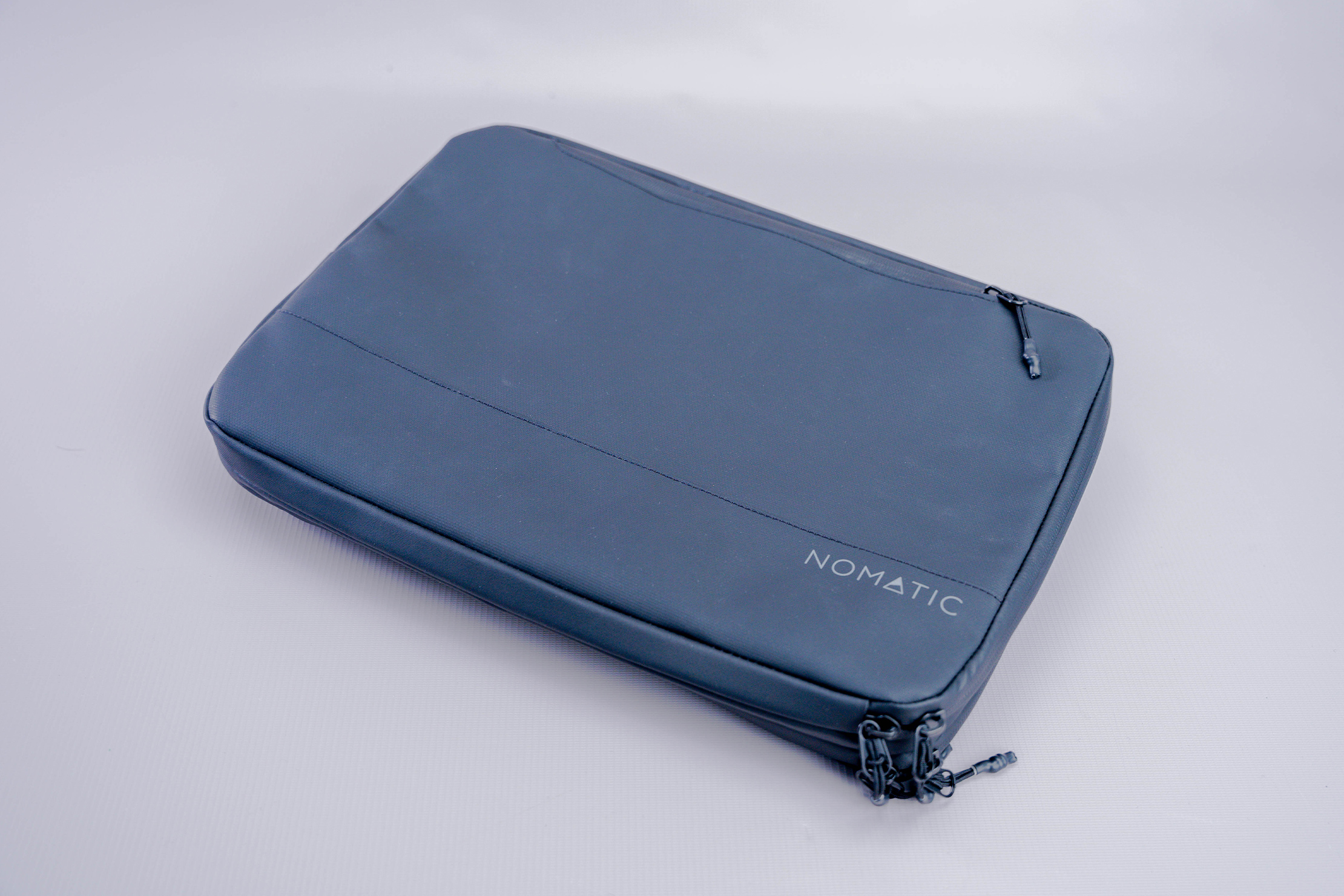 The zipper head is the kind that doesn't close on one end so there's a small gap between where the loop closes to attach the zipper pull. The zipper pull hasn't come off in our testing, but it doesn't feel as durable as others we have seen. The zipper track appears to have a poly-coated cover, similar to what we expect from YKK AquaGuard zippers. It keeps water out well and matches the matte finish of the case.
There's a luggage pass-through on the backside of the pack that enables it to slide easily onto rolling bags. It feels like it's made of a durable nylon, although it is a little loose for our liking. The addition makes heading to the airport easier and trips where rolling luggage is a little simpler. It's hard to pull rolling luggage behind you, have a backpack on, and maintain a shoulder bag like the Tech Case on your side at the same time. By sliding it onto your rolling luggage, your trip through the airport is that much easier.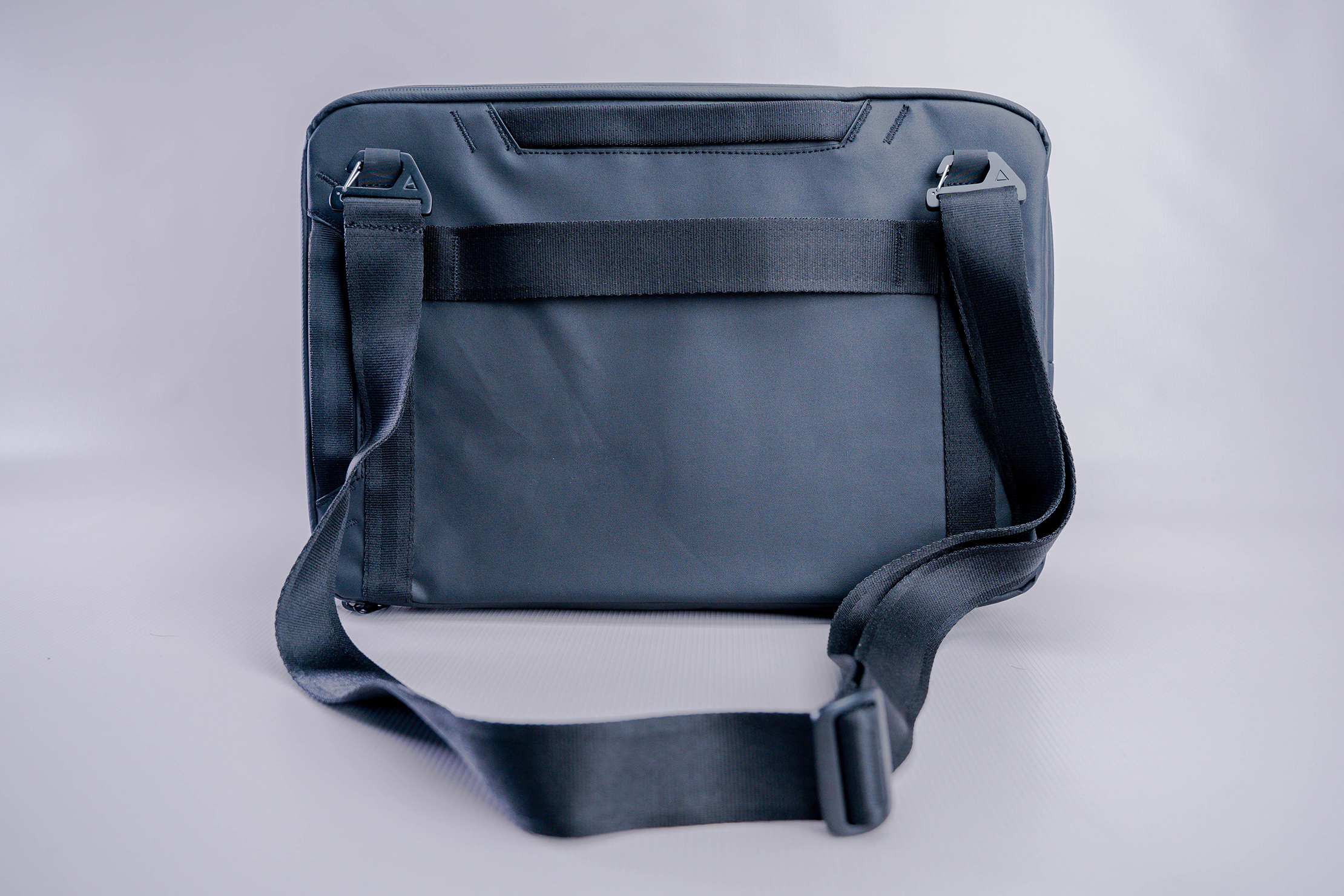 Just above and to the left side of the luggage pass-through are two straps that are made from the same nylon-like material. The material is folded, so it's wider than the luggage pass-through. They're flat with the back of the case, which makes them awkward in use. When you grab onto them, it feels like you're pulling on the back of the case, not holding onto a strap. They work fine, but it's a little awkward in practice.
The strap is made from the same material as the luggage pass-through. It's durable but not very comfortable. There isn't any padding, which we aren't a huge fan of. Cases like the tomtoc Versatile A42 have a sliding piece of padding with aeration, which adds comfort. There isn't anything like that here, which is a bummer. When you have the case stuffed to the brim, it's uncomfortable after 5-10 minutes, and when lightly to moderately full it takes about 20 minutes. This works for short trips to the cafe or across the airport but it isn't ideal for longer trips.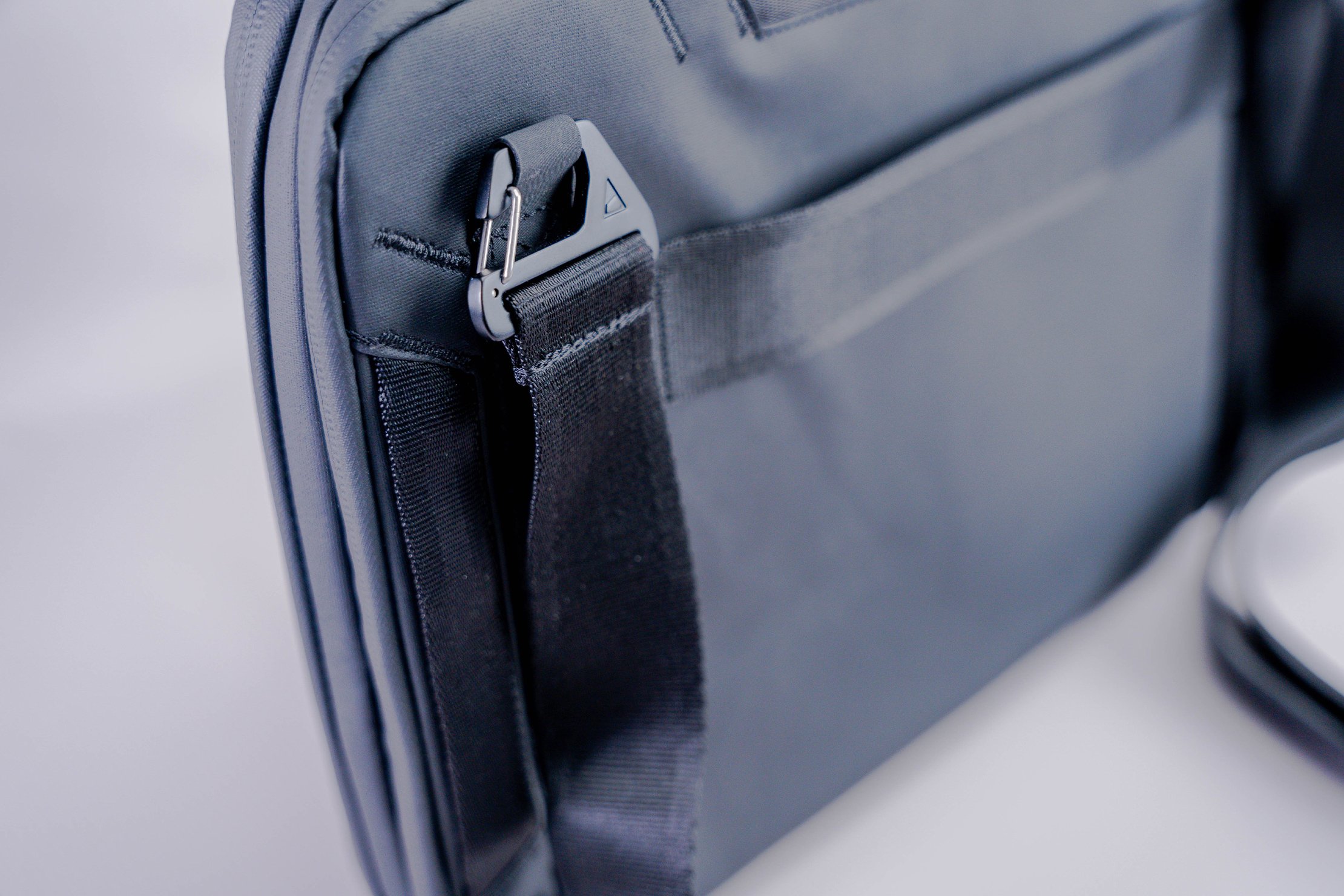 You can wear the case on your shoulder or across your body, both of which are great options. The shoulder option is better for quick trips, but we find that wearing it across your body is more comfortable. The pressure the strap exerts is more evenly distributed, and it's easier to shift where the case sits. It's harder to take it off than just throwing it on your shoulder, but the added comfort is a nice tradeoff.

The shoulder strap is removable, which we like when stowing the pack inside a daypack, travel backpack, or luggage. If you leave the strap on, it can easily get tangled around other items in your pack. When you remove the case, whatever is entangled in the strap will come out with it, unexpectedly. It attaches to the case with two clips that feel like aluminum. They're a little hard to disconnect, but they're sturdy and easy to attach.
Usage & Features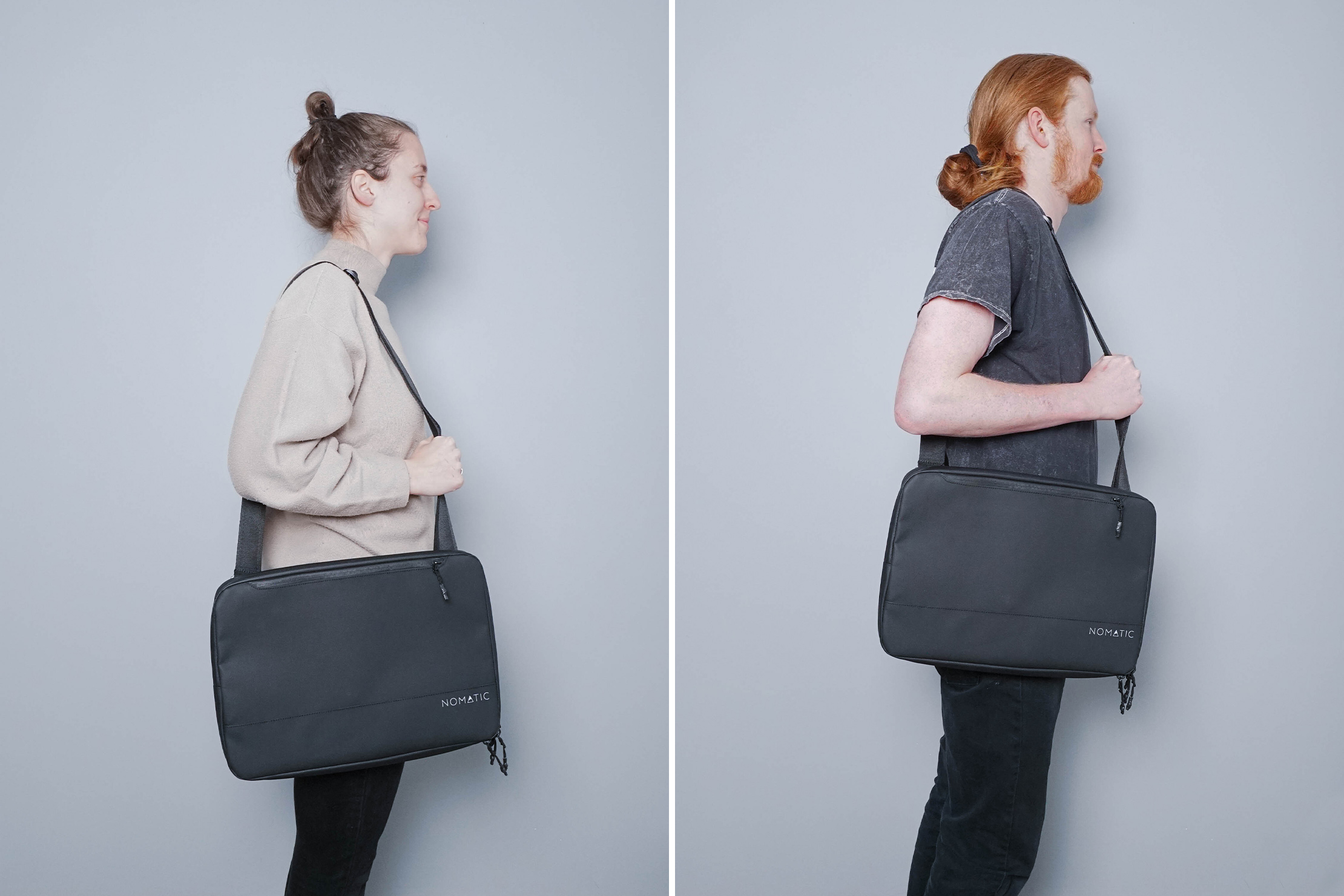 Heading inside this pack, we'll start with the flat front pocket. It has a pretty wide access point and is a good fit for an iPad, Kindle, or book. If the main compartments of the case are full, this pocket loses space as they share an interior wall. With the main compartment and the flat pocket full, items can bulge out of the pack's material, which doesn't look flattering. It doesn't look terrible, but it does take away from the subtleties this case employs.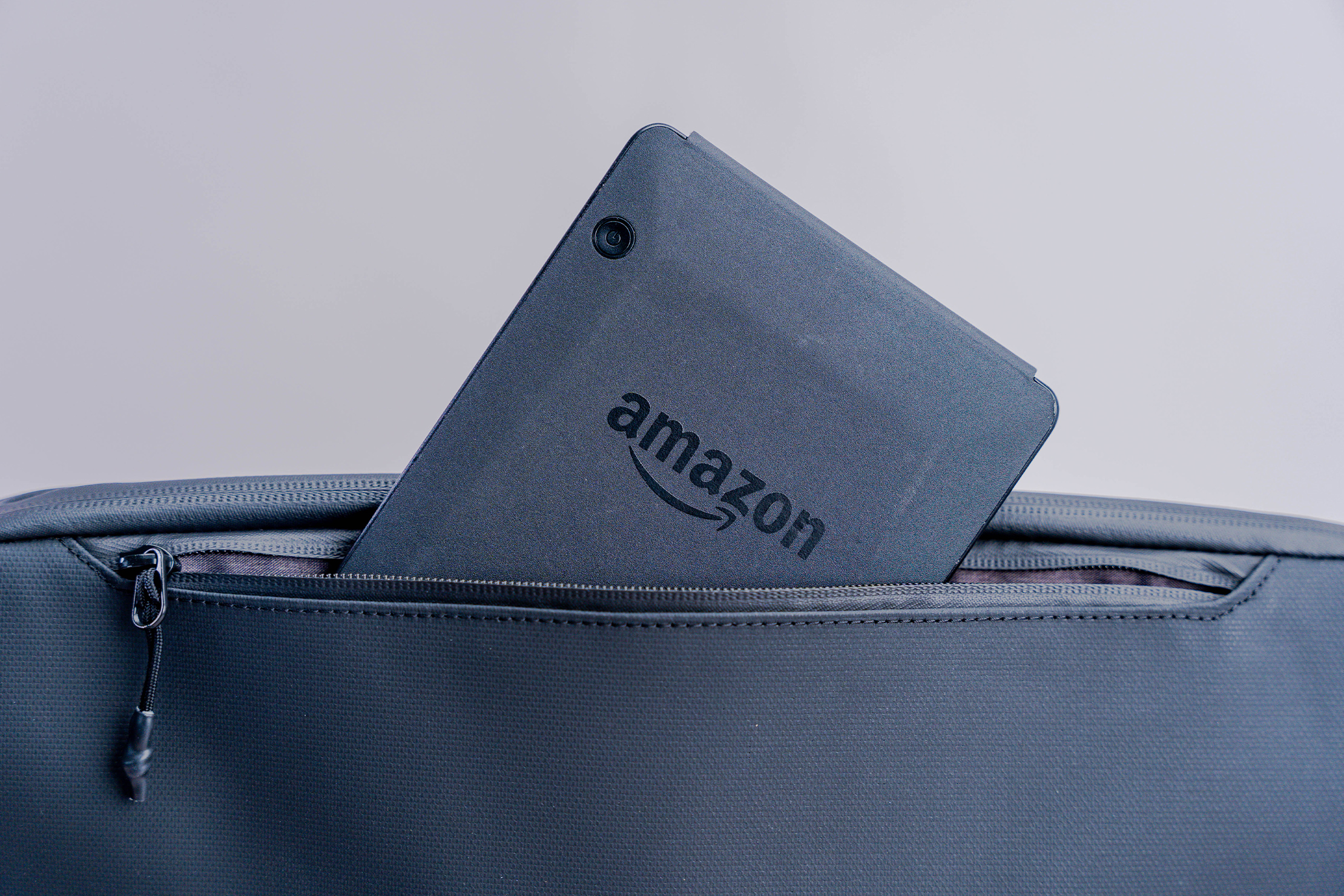 Moving onto the two larger compartments, the first has three mesh pockets and two pen pockets. The mesh is extremely limber and snaps back quickly. The two smaller pockets are perfectly sized for cables, cords, a mouse, and other small items. The large pocket is more suited for a small tablet, larger dongles, a book, or medium-sized items. The two pen holders are small and barely fit a Pilot G2 pen. One on each side feels a little awkward, but they work fine unless you have larger pens.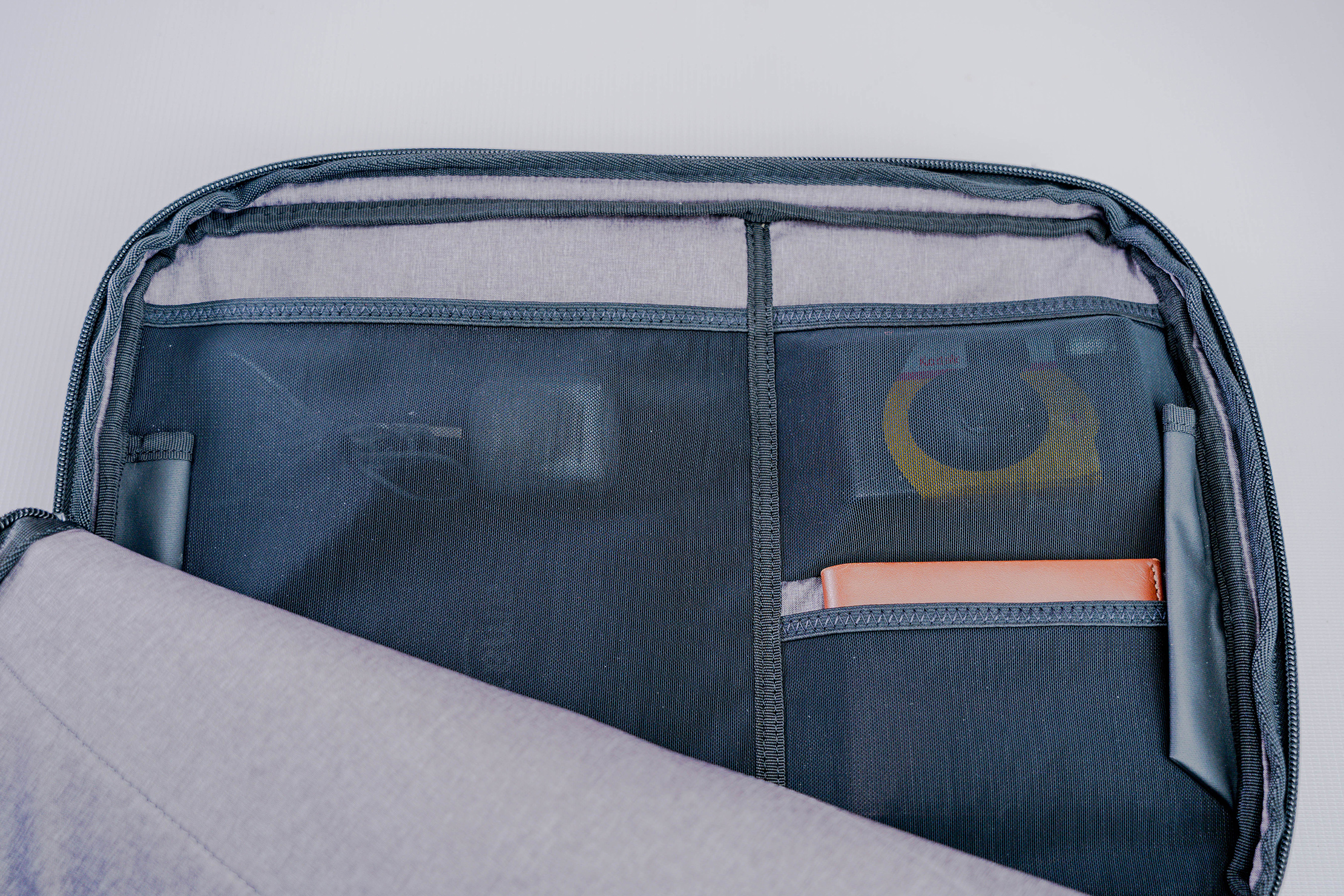 A Mac Keyboard doesn't fit into the larger mesh pocket, so if you want to bring it, you have to leave it loose in the compartment. It doesn't have much room to move around, but it can side up and down a bit. The area is better used for large flat items that can't shift around so much, like a notebook.
The second of the two compartments is where your laptop goes. It doesn't have much organization compared to the other compartment, just one single liner sleeve to keep your laptop in place. It can fit up to a 15-inch laptop, but we could fit a 16-inch MacBook Pro with no room to spare whatsoever. We don't see a huge difference between whether the laptop is placed inside the liner sleeve or not—it stays put either way—but a smaller device might need the extra supervision.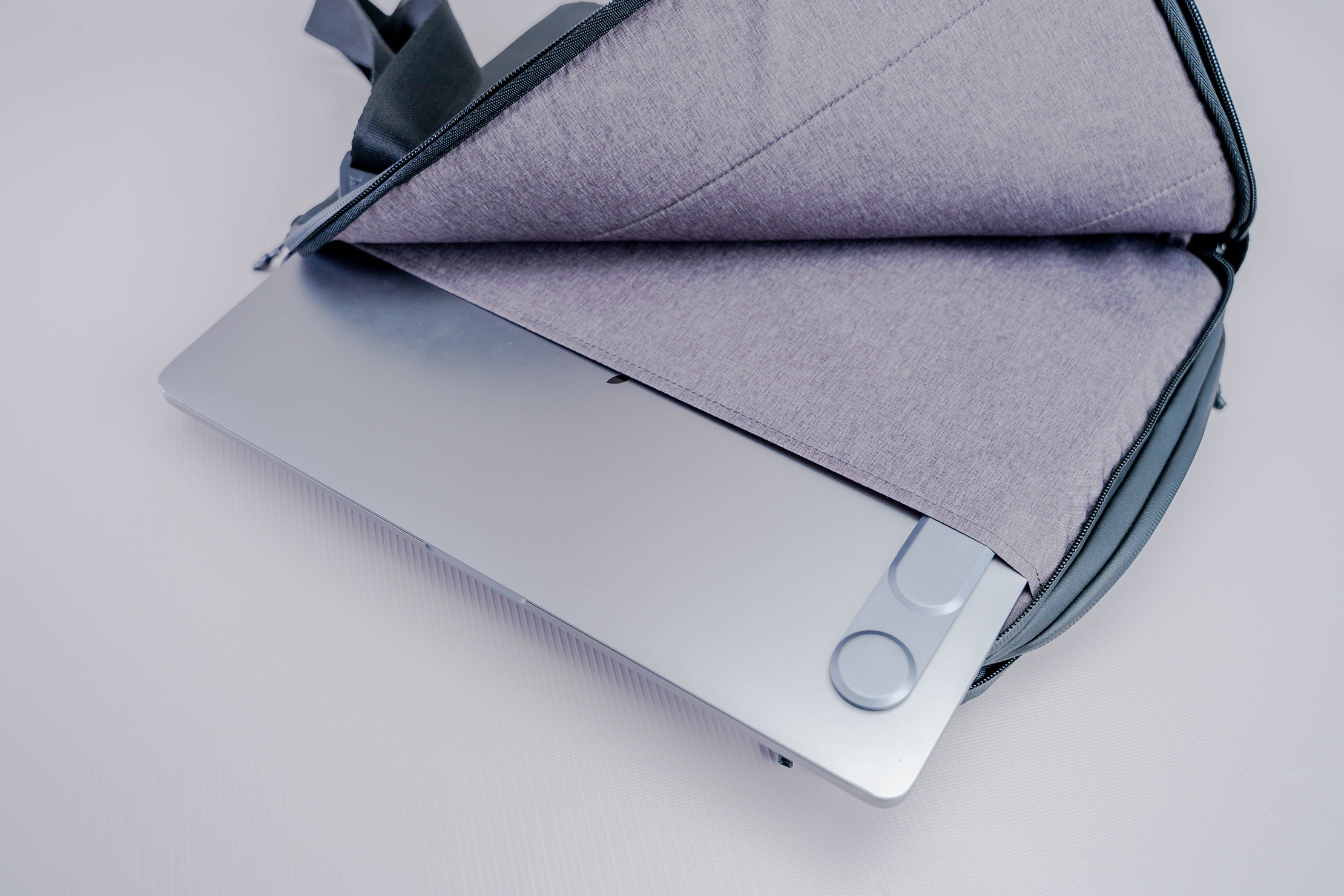 The padding between the interior and exterior of the pack isn't thick but is dense. It feels more than adequate for most uses, but rugged adventures might call for something with more padding. The corners are particularly susceptible, as there isn't any additional padding here. We look for extra structure with padding or additional materials on the corners because they often pick up knocks and bumps in transit. The exterior material is durable and offers some protection, but it feels a little lacking.
In the name of science and exploration, we decided to see how many laptops we could fit inside this case. We weren't very surprised that we could fit two laptops, one in each compartment, but we were a bit shocked when we were able to fit three. They aren't all huge laptops—a 13", 15", and a 16" MacBook—but we're still impressed.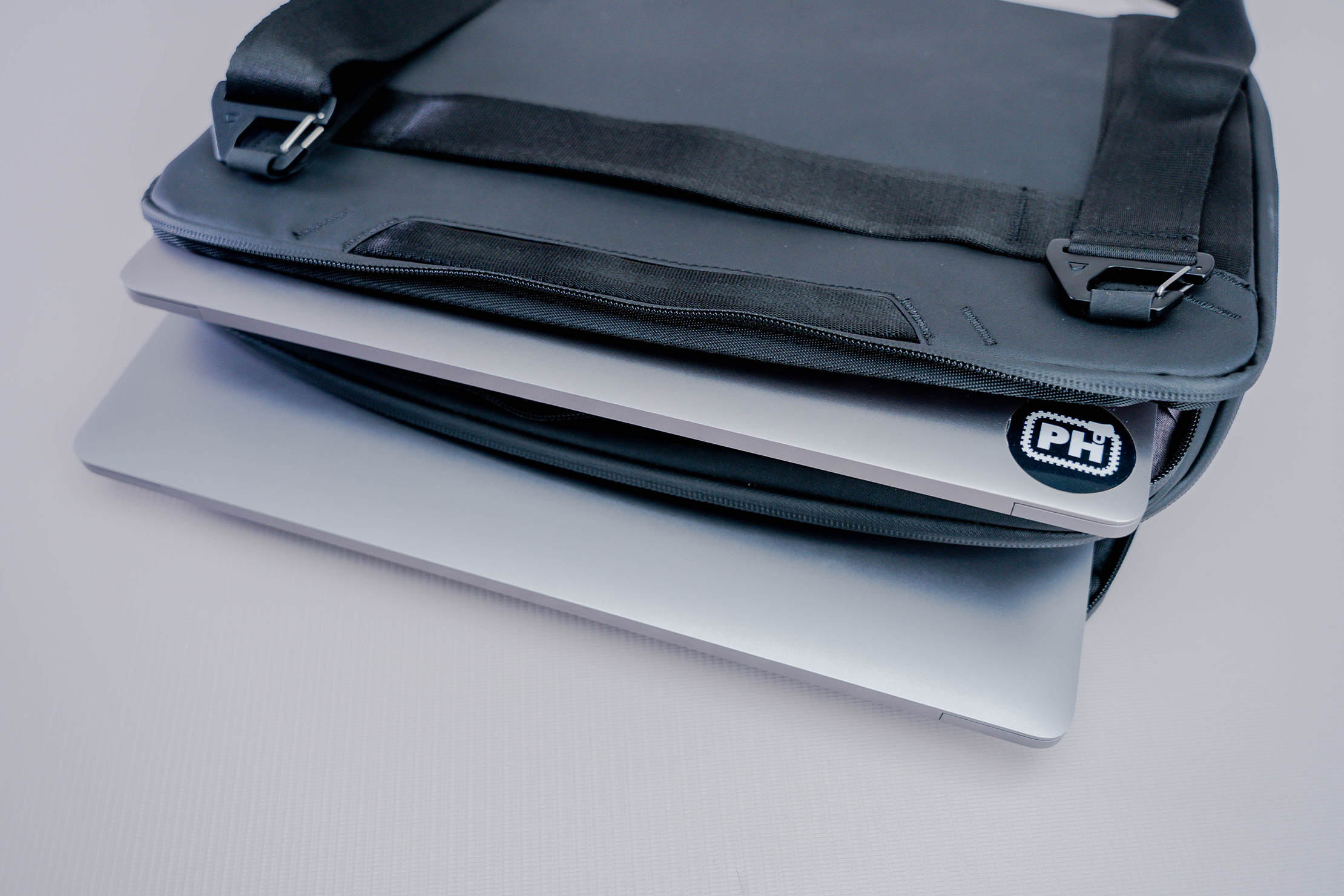 Three laptops aren't realistic for travel as it puts two laptops back to back, but fitting two laptops is a nice perk for traveling with a partner, friend, or family member. This is especially true if you have similar laptops, as you can store shared cables in the internal storage options and then have one compartment for each laptop. The Tech Case can be one person's personal item, and the other person can bring a sling with entertainment and snacks.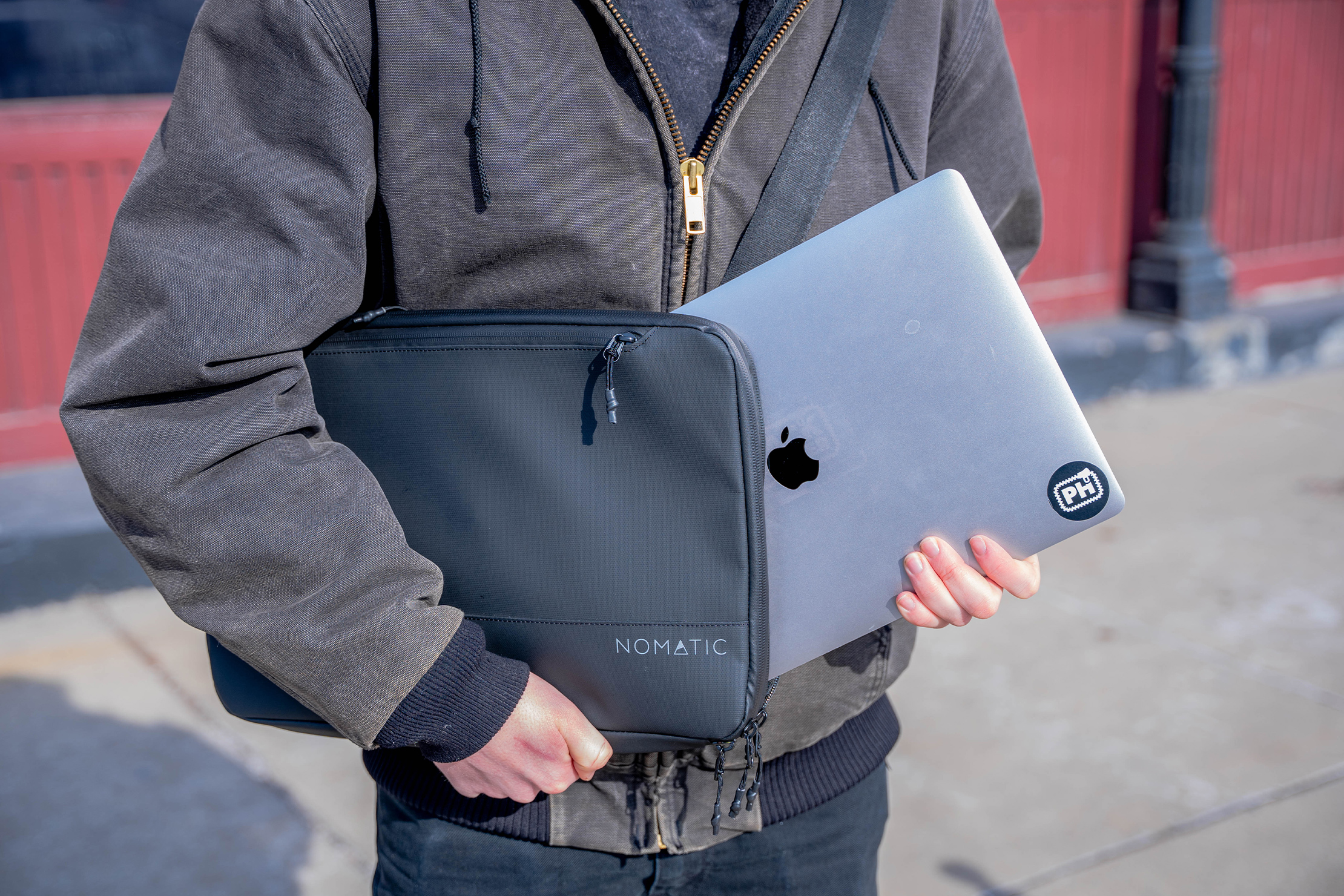 Overall, the NOMATIC Tech Case is a great choice for trips to the coffee shop, use as a personal item on flights, or for those who want to share the case with another person. It doesn't have the most padding, but this isn't an issue for general use. The strap also lacks padding, so longer trips are a bit uncomfortable, but the ability to wear it as a cross-body bag makes it a little more pleasant.
Usage Timeline
Initial Usage
Condition: Excellent
Main fabric feels slick and very weather-resistant
A shoulder strap does come included
The top handle is only on one side
2 Weeks of Use
Condition: Excellent
No signs of wear and tear anywhere
Clips on the shoulder strap are secure
Zippers remain smooth
Access the Pro Community Discussion
Get your questions about the NOMATIC Tech Case answered from our team and the Pro Community right here on the page. Plus, join discussions with other members about gear, guides, and more.
Other Organizers & Pouches Reviews