tomtoc Versatile A42 for 16″ MacBook Pro Review
The tomtoc Versatile A42 looks and feels professional, but the stiff materials may leave you looking for more space to house bulkier gear.
tomtoc has released a Gen. 3 with minor updates, including recycled fabrics, additional corner protection, an upgraded handle and strap, and a new back pocket for documents or notebooks.
Our Verdict
Unlock the Pro Summary
Save time. Get access to brief summaries of our reviews so you can browse and make decisions more efficiently.
Pros
Looks professional and clean
Interior lining is soft and shock-resistant
Can be worn on shoulder or across body
Cons
A number of loose threads
Strap can be uncomfortable
Can't fit a ton of accessories
Recent Pack Hacker Video
Technical Details
Weight (lb)

1.25 lb (0.6 kg)

Dimensions

10.7 in x 15 in x 1.26 in (27.2 x 38.1 x 3.2 cm)

Notable Materials

YKK Zippers, Nylon

Manufacturing Country

China

Laptop Compartment Size

16"

Warranty Information
Buying Options

$39.99
$41.99
Full Review
Get up to 20% off tomtoc • Join Pack Hacker Pro
The ​​tomtoc Versatile A42 for 16″ MacBook Pro is a handy travel accessory for those who need quick access to their laptop. It enables you to keep all your tech handy on a flight, at the coffee shop, or elsewhere without having to lug around a backpack.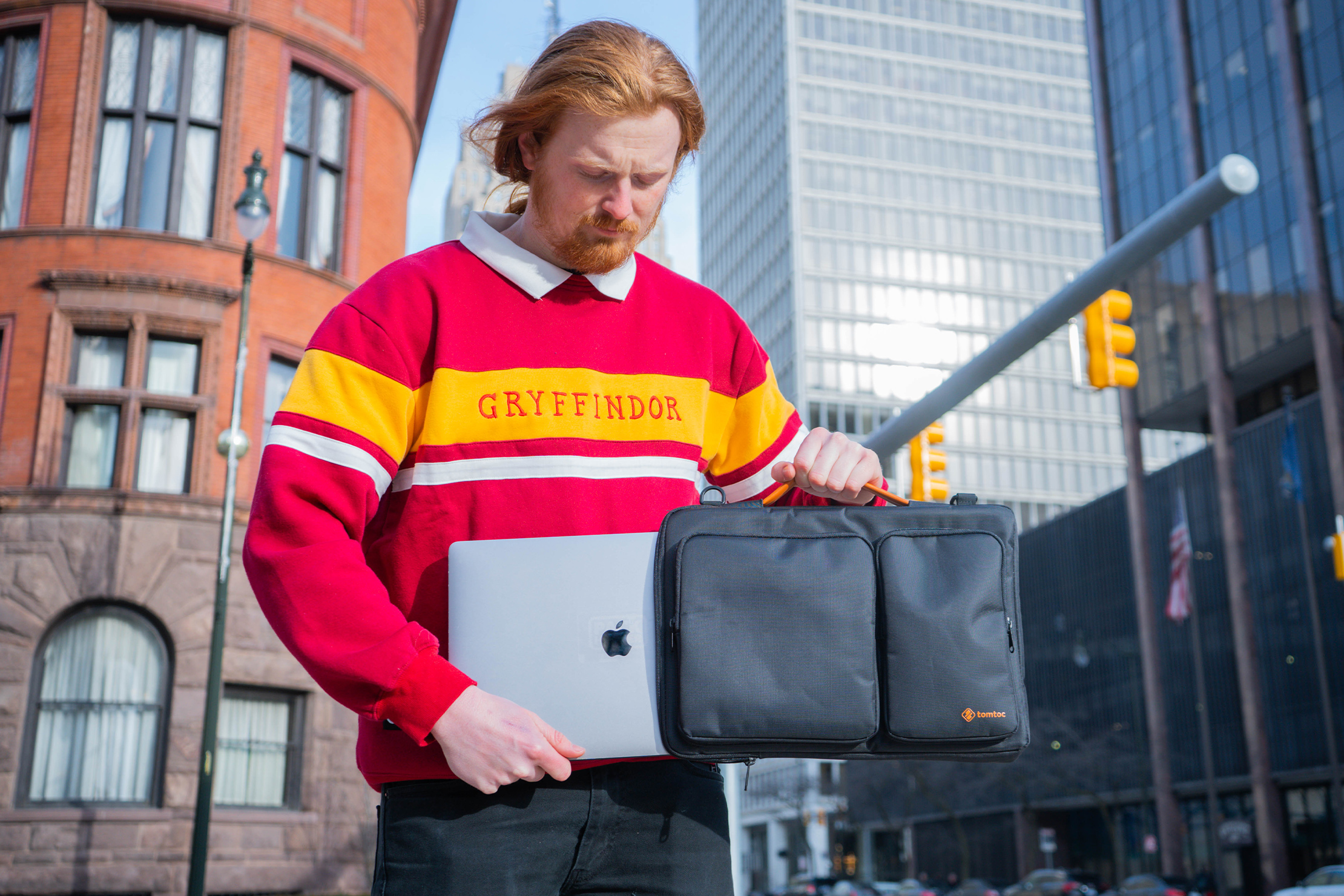 At first glance, the case looks very professional and enticing at its low price point. Typically we've found that if something looks too good to be true, it probably is. There are always exceptions to the rule, but will the tomtoc Versatile A42 be one of them? Let's dive in.
Materials & Aesthetic
Starting things off with the exterior, we've got a nylon shell with a nice texture. It's slick yet soft at the same time and has some shine to it. The grain of the fabric doesn't attract much dirt or dust, but if it does, we're able to clean it off pretty quickly with just a wet rag.
After two weeks of use, we've noticed a few loose threads, which is far from ideal. They don't appear to be detrimental to the bag's construction, but it isn't a great look. They're easy to snip off with a pair of scissors, but we wouldn't expect to be doing that after two weeks.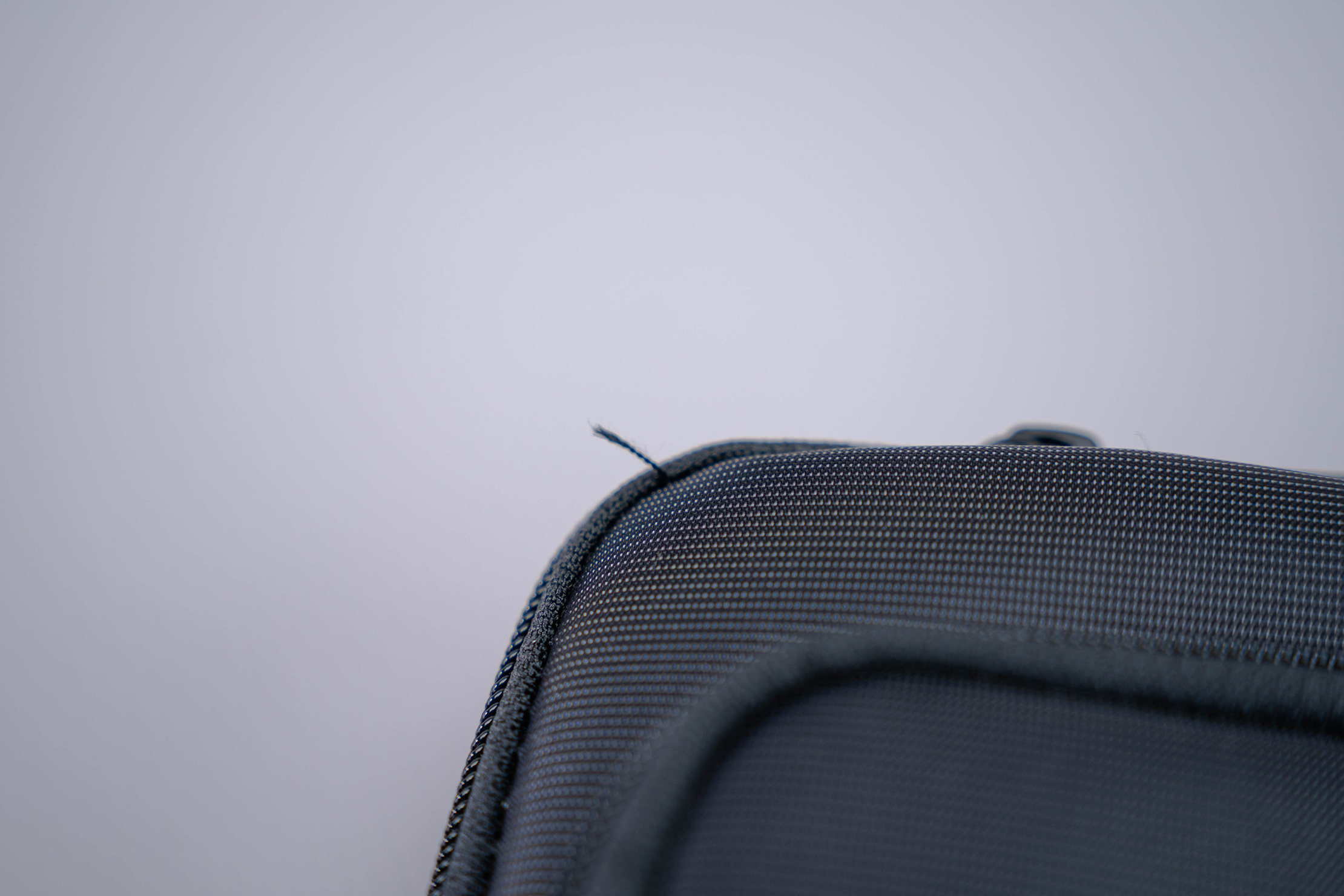 At the time of writing the sleeve comes in a few different colorways, but the only two listed on their site are Gray and Dark Blue. We're able to find a few more listed elsewhere online, including the black model we have on hand here in Detroit.
The tomtoc logo in the bottom right-hand corner is a vibrant orange on the black model. This adds a nice contrast to the otherwise basic nylon exterior but is very in-your-face. The Dark Blue model has an off-white logo, and the Gray's is black, both of which are a bit more subdued than the Black colorway.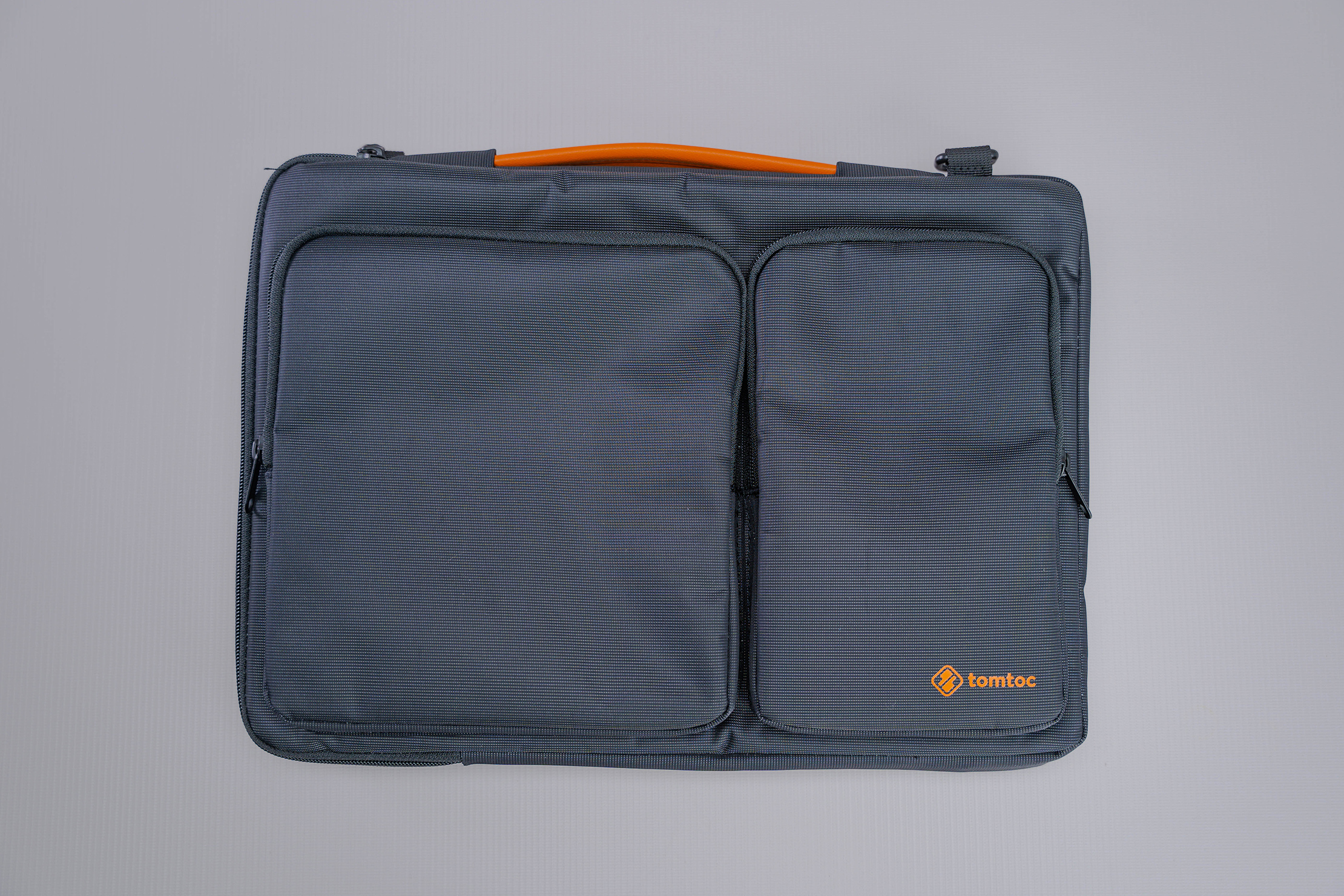 All three colorways have the same orange handle on the top of the case. Similar to the logo on the black colorway, it adds some contrast but is very in-your-face. Not a big deal if you like a pop of color, but something to keep in mind. The material is fake leather, which is soft to the touch. It pulls away from the bag's edge when you grasp it, which is a nice feature so that your hand doesn't rub up against the nylon on the exterior.
The carry strap is made from nylon as well, but it feels a little rough. It's durable, which is important, but it can be a little uncomfortable if it rubs against your bare skin. It adjusts easily and doesn't come undone in use.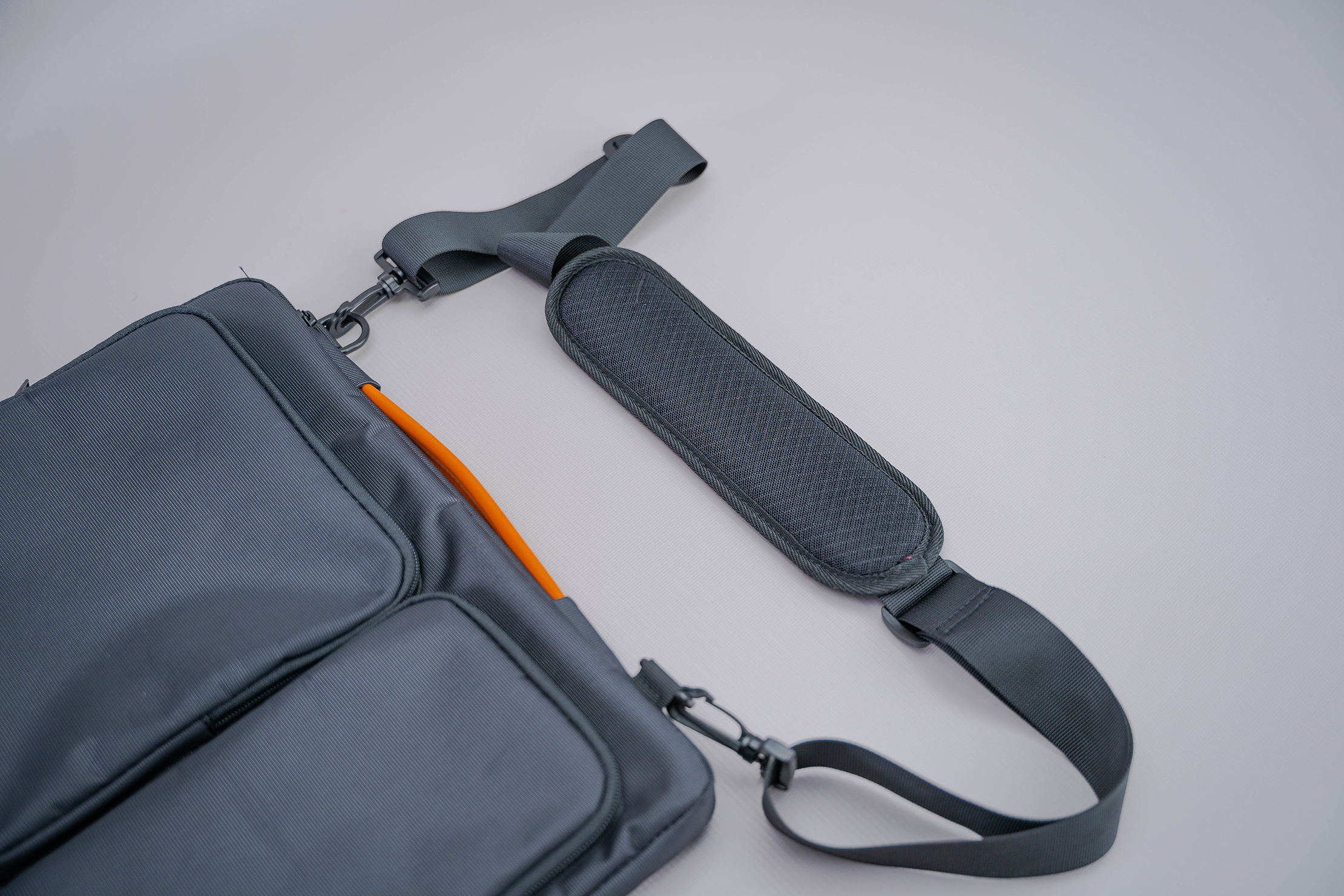 There's a sliding piece of mesh padding to go where it directly touches your body to combat this. It has aeration, too, which is perfect for hot days. We have noticed a few loose threads here as well. Again, they don't appear to be integral to the pack's structure, but we aren't a fan of that.
If you're sick of the loose threads or want to use the sleeve in your backpack, the strap is removable. The plastic hardware is durable, feels well made, and is easy to clip and unclip, which is a plus.
All of the zippers on the Versatile A42 are YKK #5 models. They're extremely smooth, but locating the zipper pulls can be a little tricky. They're black metal, which blends in well with the black nylon exterior. This is especially true when the front two pockets are open because the zipper and pull are in between the two pockets, which is a murky area. The pockets are extremely close in proximity, so if there are two zipper pulls there, it's hard to know which you've got hold of. Once you find them, they're easy to use, but they can get lost easily. This may not be as much of an issue with a lighter colorway like Grey.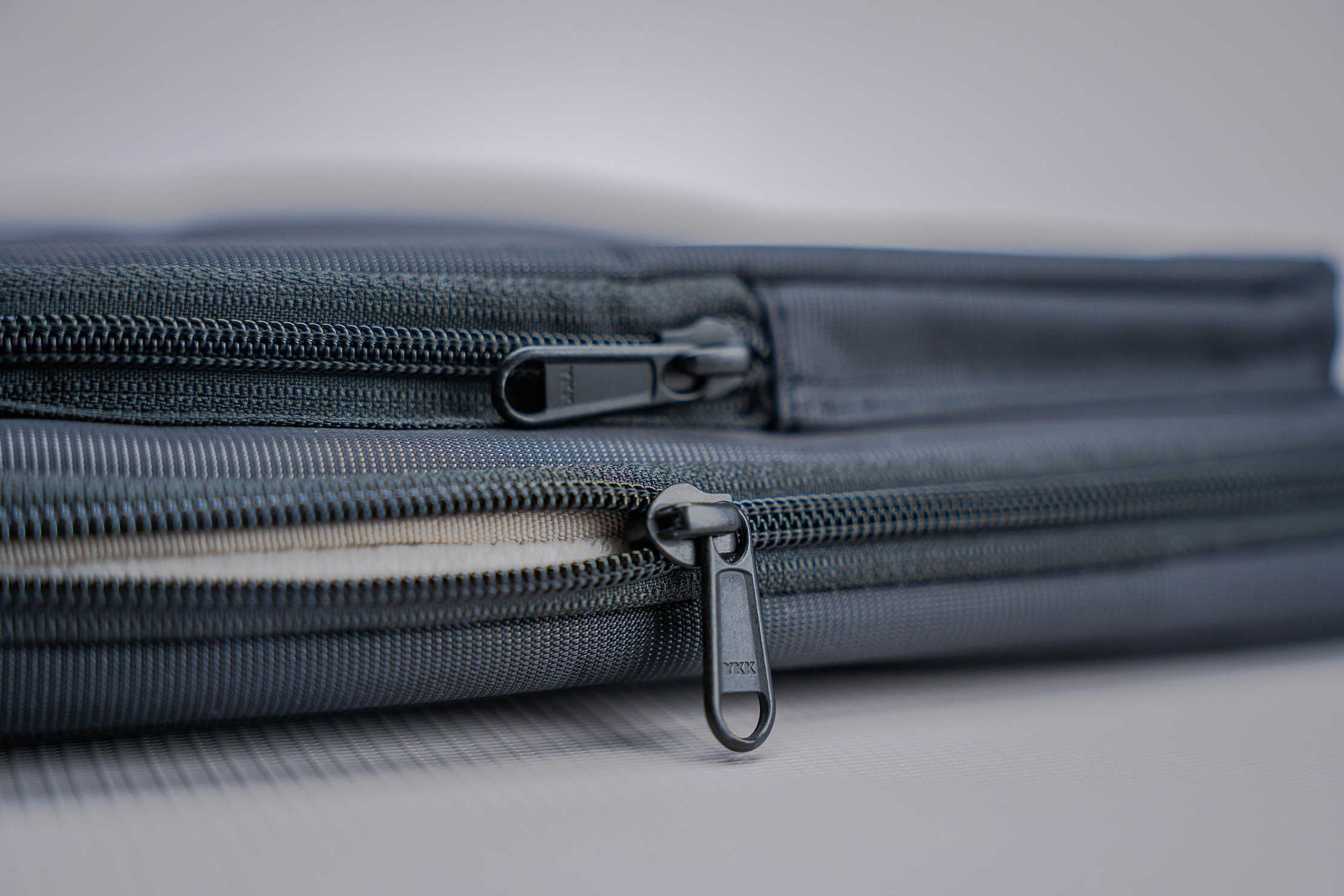 The front right pocket is a little smaller than the left, and inside is a liner pocket and two pen holsters. The pen holsters fit standard-sized pens but might be a tight squeeze for a stylus. The liner pocket fits credit card-sized items, but that's really about it.
Although there isn't a pocket for it, we find ourselves stowing our phone here most of the time. There isn't enough room for it to jostle about very much, and we like to use the larger front pocket for…well, larger items.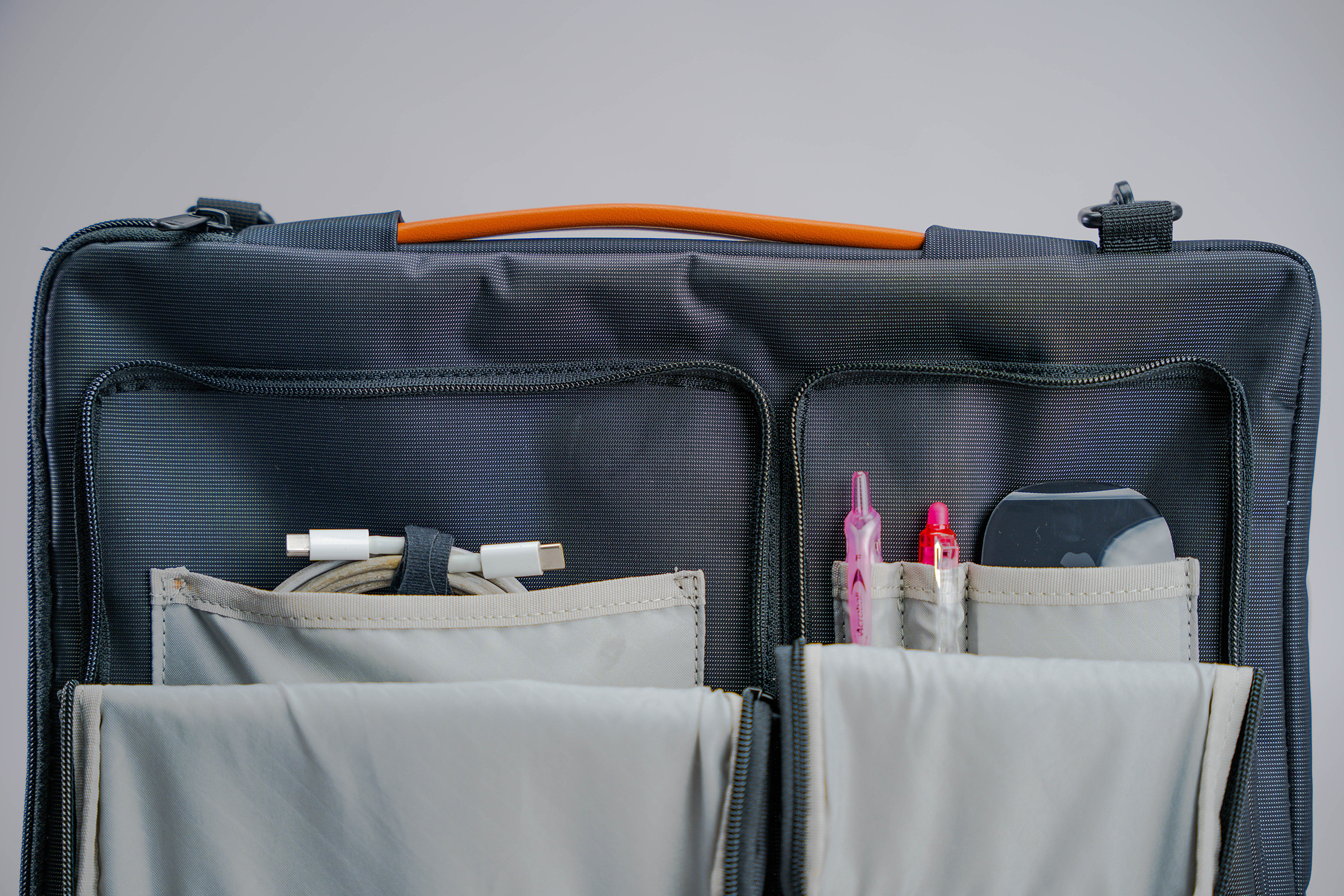 What are these huge items we stow in the other pocket, you might ask? Well, if you must know, our daily usage here is typically a laptop charger and a Bluetooth mouse. Larger chargers take up most of the space, but more compact cables are well suited for the small pocket located on the interior wall of the compartment. There isn't any organization other than that pocket, but there isn't much room for things to float around, so things stay where you initially place them for the most part.
Both front pockets have a thin piece of padding between the interior and exterior, which adds a little bit of protection for the items you stow inside.
The main compartment is lined with a soft material that we can best describe as similar to that of a fuzzy blanket you would get as a holiday gift from an elderly relative. It really is that soft, and it's white, which is great for visibility if you stow anything but your laptop inside it.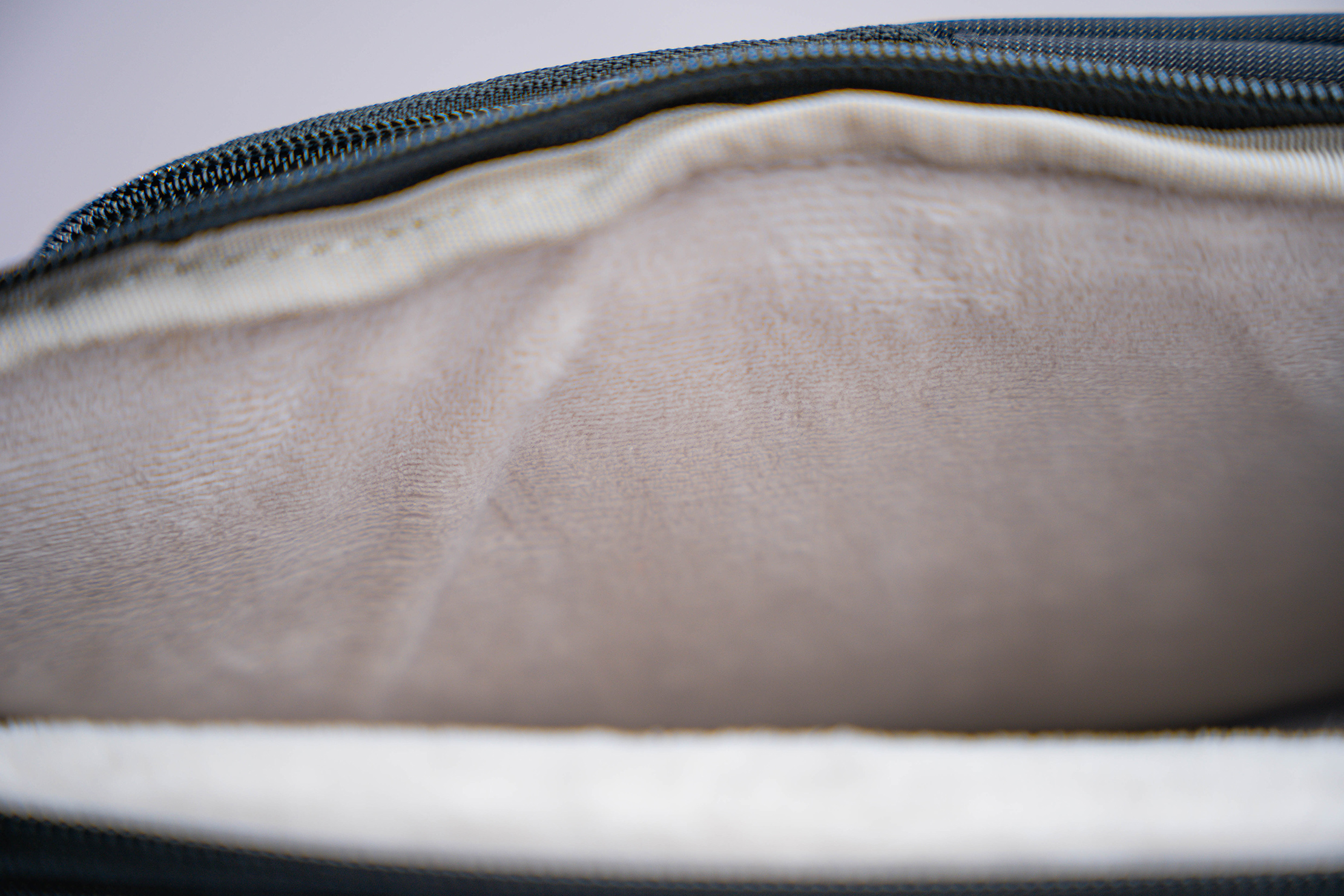 We aren't sure what it's made of exactly, but it does seem to stop shocks. Some laptop sleeves seem to give you a little zap every time you take your computer out, but this material prevents it.
In addition to our laptop, we also stow paperwork and our Bluetooth keyboard here as they won't fit in the front pockets. Sometimes you want the freedom of a separate keyboard and mouse, and being able to bring both along in the Versatile A42 is wonderful.
The corners are reinforced with what tomtoc calls "Corner Armor," but we really don't notice much difference between the fabric on the edges and the fabric on the corners. It does come together closely, which adds more rigidity, but we aren't sure how much extra protection it gives you. We feel our tech is safe inside while bouncing around in our pack and in transit, but we aren't sure it would protect a laptop from a drop anything higher than waist level.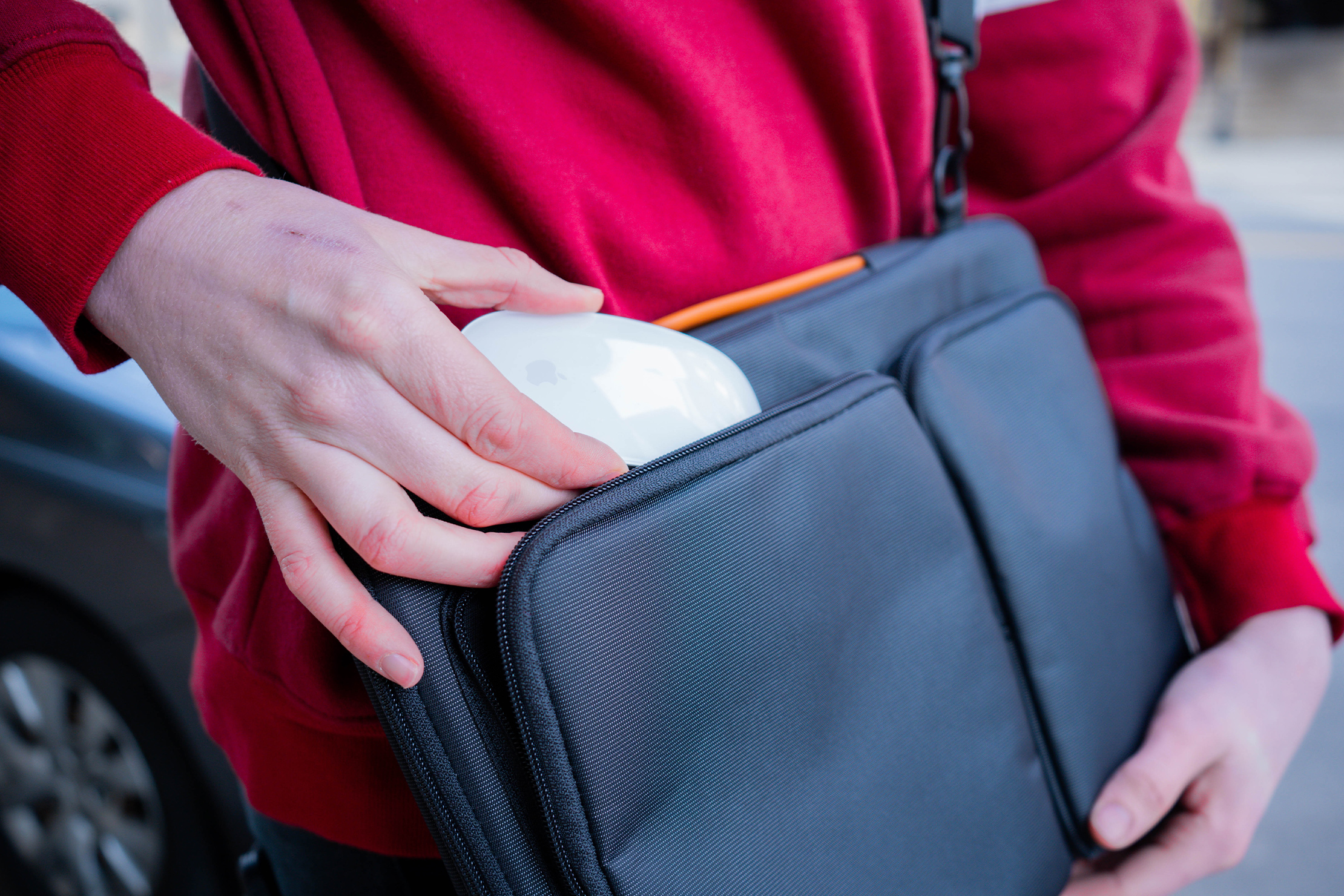 The main compartment has padding between the interior and exterior materials like the front pocket does, but here it's a little thicker and firmer, too. We feel the padding is ample enough to protect our laptop in almost all situations, either while carrying it by itself or within reason while it's in your pack—just not including anything water-related.
Usage & Features
Everything we've covered so far has been interesting and all, but will your laptop fit in it?
Short answer: probably.
Long answer: If you have a laptop that's 16 inches or smaller, it should fit. A case could affect how well it goes in, but our 15-inch MacBook Pro fit with room to spare.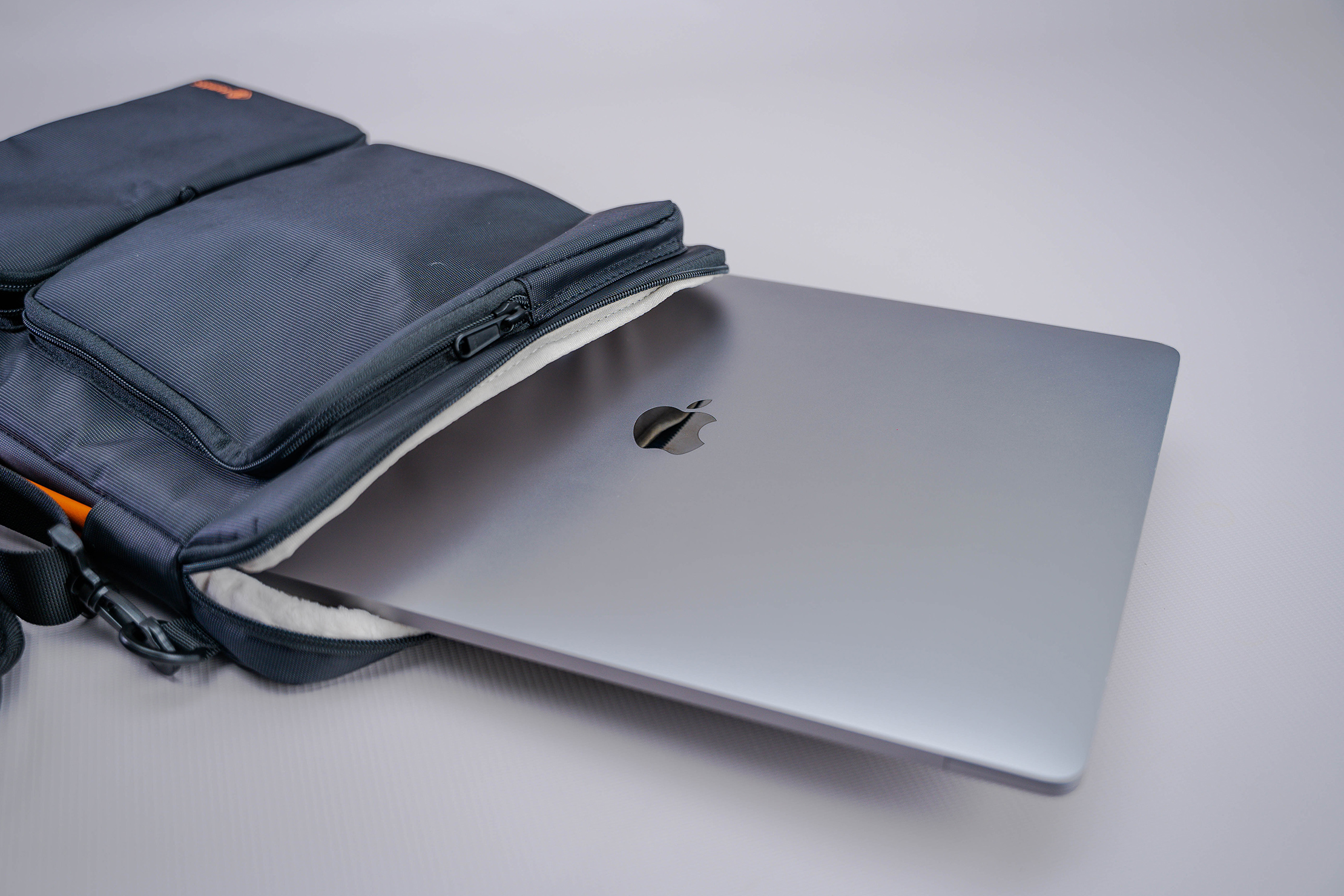 According to the tomtoc site, 16-inch MacBook Pro 2019-2021 models, a 15-inch MacBook Pro Retina A1398, a Dell XPS 15 inch, and a 15 inch Surface Book 2 or 3 will all fit in the Versatile A42. As we stated in our short answer, most standard-sized laptops will probably fit, but measuring your laptop against the measurements for one of those listed above isn't a bad idea if you're worried.
On the topic of what the pack can fit, it's important to note that the exterior shell of the pack is very rigid. This is great for protecting your laptop, but it isn't great for stuffing extra goodies inside the sleeve. This is especially true for the front pockets. Bulky items won't fit very well, as the pockets are flat and the rigid material keeps it from stretching.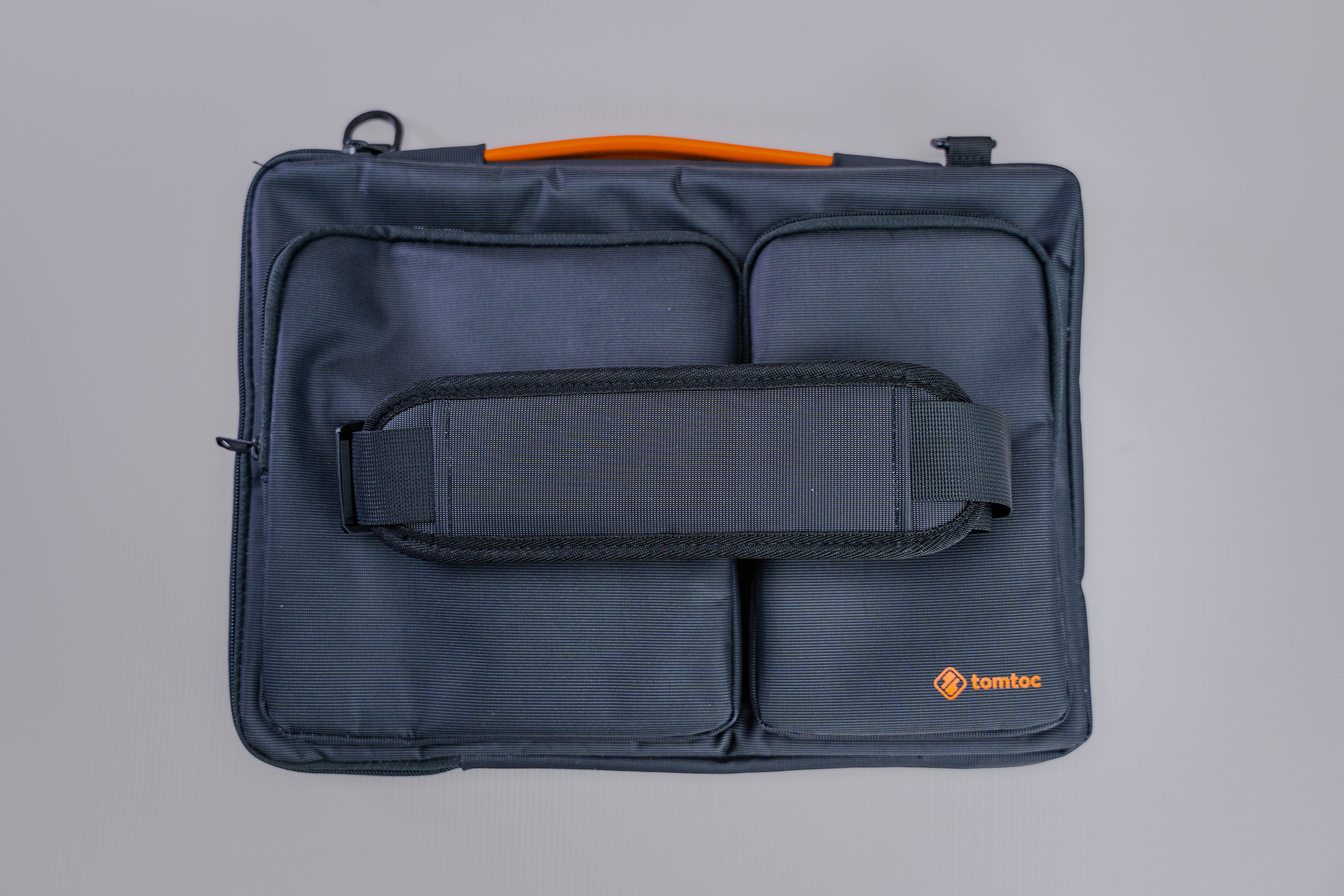 Although this may be a bummer for someone who likes to travel with all the comforts of their desk at home, it does give the case a professional look. You can't overstuff it, so it always looks sleek and flat. We've noticed a few instances where a laptop charger pokes out a little awkwardly, but after a quick rearranging, everything is squared up again.
Now that we've covered filling the sleeve up, let's talk about how it travels. The strap is comfortable for the most part, but after carrying it for a while, the nylon parts that aren't covered by the padding can dig into your body a bit.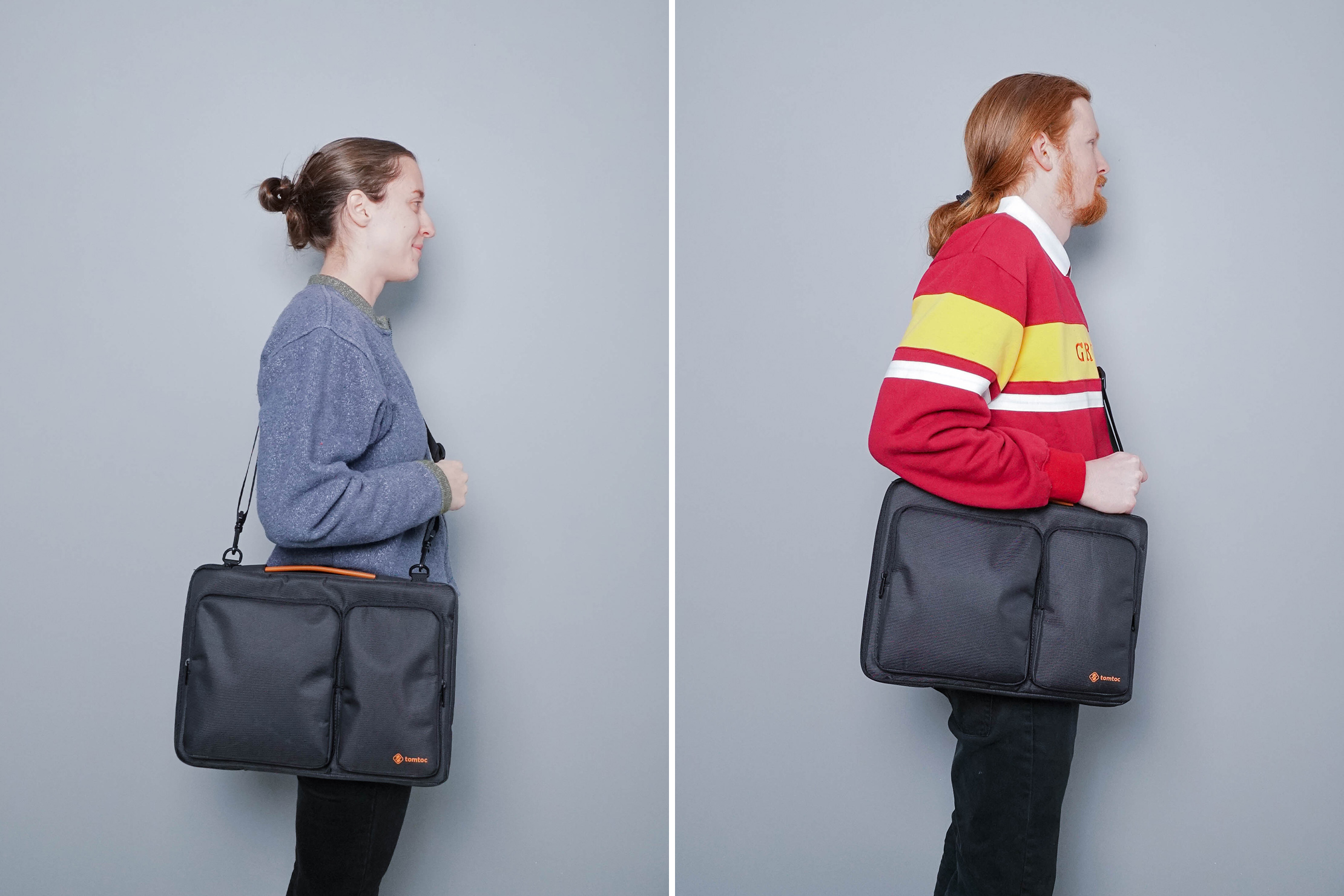 We find ourselves shifting how we carry it quite often to get around this. It can be worn as a shoulder bag or as a cross-body bag, both of which are easy to adjust and feel natural. While wearing it as a cross-body bag it can sit a little awkwardly on your hip, especially when you're walking fast. Either style is great for short strips, but you may feel the need to switch it up for anything longer.
If you remove the strap, the case still carries pretty well. The handle is comfortable even when in use for extended periods. It stows nicely into most larger daypacks, but it will struggle to fit into smaller packs like the Bellroy Lite Daypack.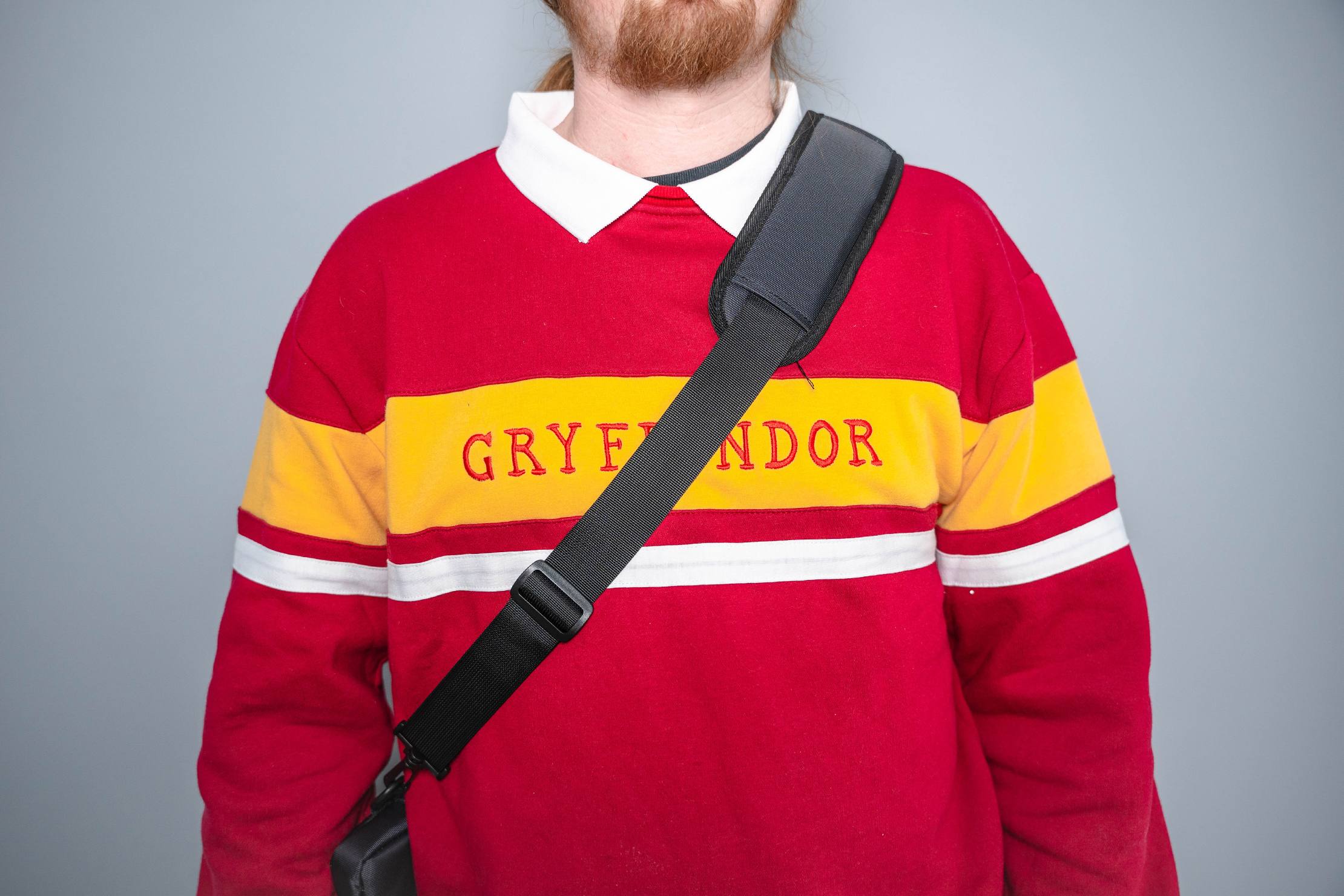 The loose threads are cause for concern, as they started to appear after only two weeks. If you were to use this on a trip where you took it with you every day to work in a coffee shop or cafe, things might start to unravel (literally) quite quickly. We don't baby gear in testing, but we don't overdo it either, so we feel that is important to bring up again.
Overall, the tomtoc Versatile A42 for 16″ MacBook Pro is a case that looks professional but is available at a relatively low price point. It can be a little awkward and uncomfortable to carry, but it handles shorter trips just fine. The materials feel durable, but the loose threads leave us concerned about the build quality.
Usage Timeline
Initial Usage
Condition: Excellent
Main compartment opens from the side
Interior liner is very soft and fluffy
Good structure overall, especially at the corners
2 Weeks of Use
Condition: Good
Some loose threads on the body and strap padding
Material stays clean and deters dirt
White interior material has remained soft to the touch
Access the Pro Community Discussion
Get your questions about the tomtoc Versatile A42 for 16″ MacBook Pro answered from our team and the Pro Community right here on the page. Plus, join discussions with other members about gear, guides, and more.
Other Bags & Luggage Reviews