nedrelow magic sleeve 13″ Review
With dual uses as a desk pad and a laptop sleeve, the nedrelow magic sleeve may be right for remote workers, though it's bulkier than other sleeves and sheds.
Our Verdict
Unlock the Pro Summary
Save time. Get access to brief summaries of our reviews so you can browse and make decisions more efficiently.
Pros
Provides a barrier between your device and desk
Holds laptop and accessories together in bags lacking organization
Magnetic closure satisfying to use
Cons
Sheds on your gear at first
Very bulky compared to other sleeves
Can irritate sensitive skin
Recent Pack Hacker Video
Technical Details
Weight (oz)

14.95 oz (423.8 g)

Dimensions

14.75 in x 20.75 in (37.5 x 52.7 cm)

Notable Materials

Merino Wool

Manufacturing Country

United States

Laptop Compartment Size

13"

Warranty Information
Full Review
If you think we know about every travel accessory out there, thanks! But while we try to stay on top of new gear, sometimes our Pros beat us to it. One of our Pack Hacker Pro Members recommended the nedrelow magic sleeve as a minimal, beautiful, and useful way to protect your device, and we're happy we finally got our hands on one.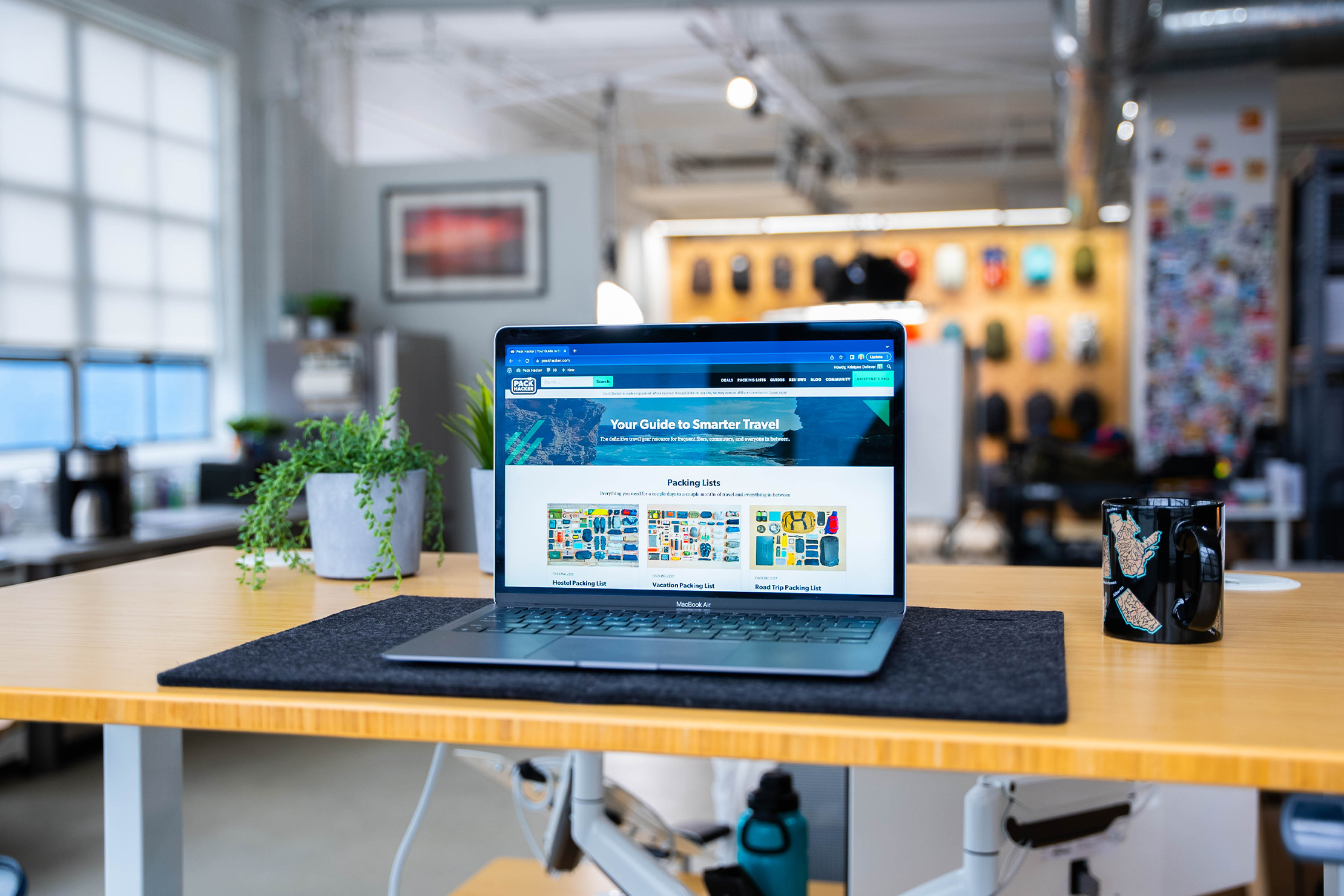 What's so magical about it? Magnets, of course, hidden around the edge of the Merino wool pad that help create a two-in-one desk pad and protective sleeve. It's the creation of a California artist, Scott Nedrelow, who first made a case for his iPad that resembled a book and then expanded into sleeves for tablets and computers. Nedrelow is a small company creating products with high-quality materials for users looking for unique alternatives to regular laptop sleeves. Are you intrigued? We were, too, so let's take a look!
The Rundown
The nedrelow magic sleeve is a protective sleeve for your device and a desk pad. To use it, fold up your tech gear—laptop or tablet, pen, earbuds, and cord—into the Merino wool felt pad. Then you can take it to a local cafe, coffee shop, or park to work or stream without worrying about crumbs left behind by the previous user. Of course, you'll still want to wipe up sticky messes since you'll either have to clean your computer or the wool pad, whichever you prefer.
The magic sleeve can be cleaned with a lint roller to grab any excess dust, a vacuum with a soft brush, water with mild detergent, or chemical spot removers for really egregious stains. However, we have to mention that it also sheds on your clothing and electronics. The company says that only happens when new and will stop over time, yet it's still happening after two weeks and when you already have a dog and a cat shedding, getting your computer covered in sheep's wool may be an added annoyance. Bear with us while we pop out and vacuum the MacBook Air used to write this review …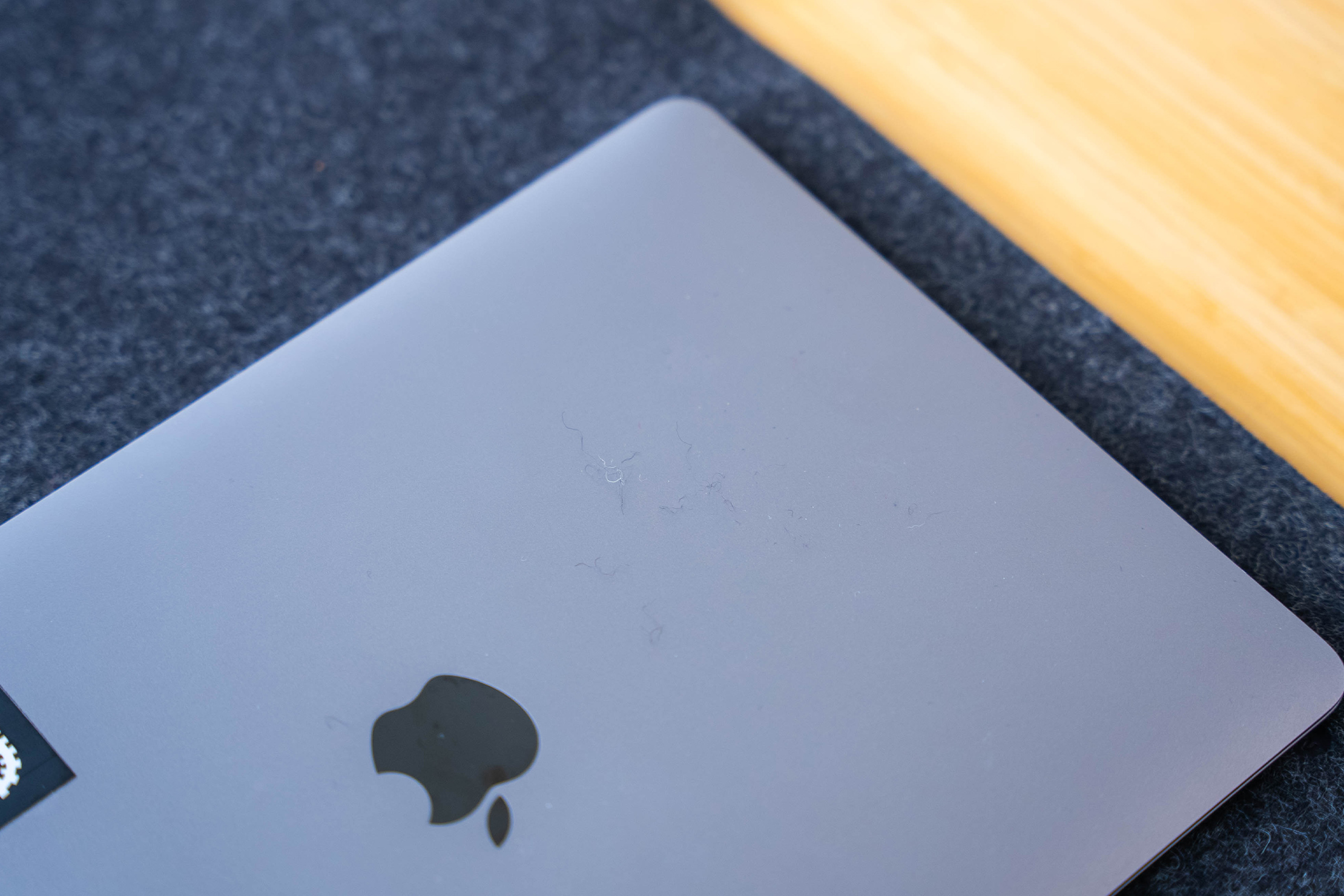 OK, back now. Thanks for your patience!
Furry jokes aside, a Pack Hacker viewer assures us the shedding goes away with continuous use, and we find that setting your laptop on the magic sleeve has benefits. If you're typing on a colder surface, like a glass-topped table or a chilly metal cafe table, the pad keeps your forearms warmer in winter. However, if Merino wool clothing irritates your skin, it may also irritate the parts of your wrists and arms resting on it, especially after several hours. Of course, you're probably not reading this if wool is not your thing, in which case, we want to mention that the pad also lends an aesthetically pleasing look to your mobile setup.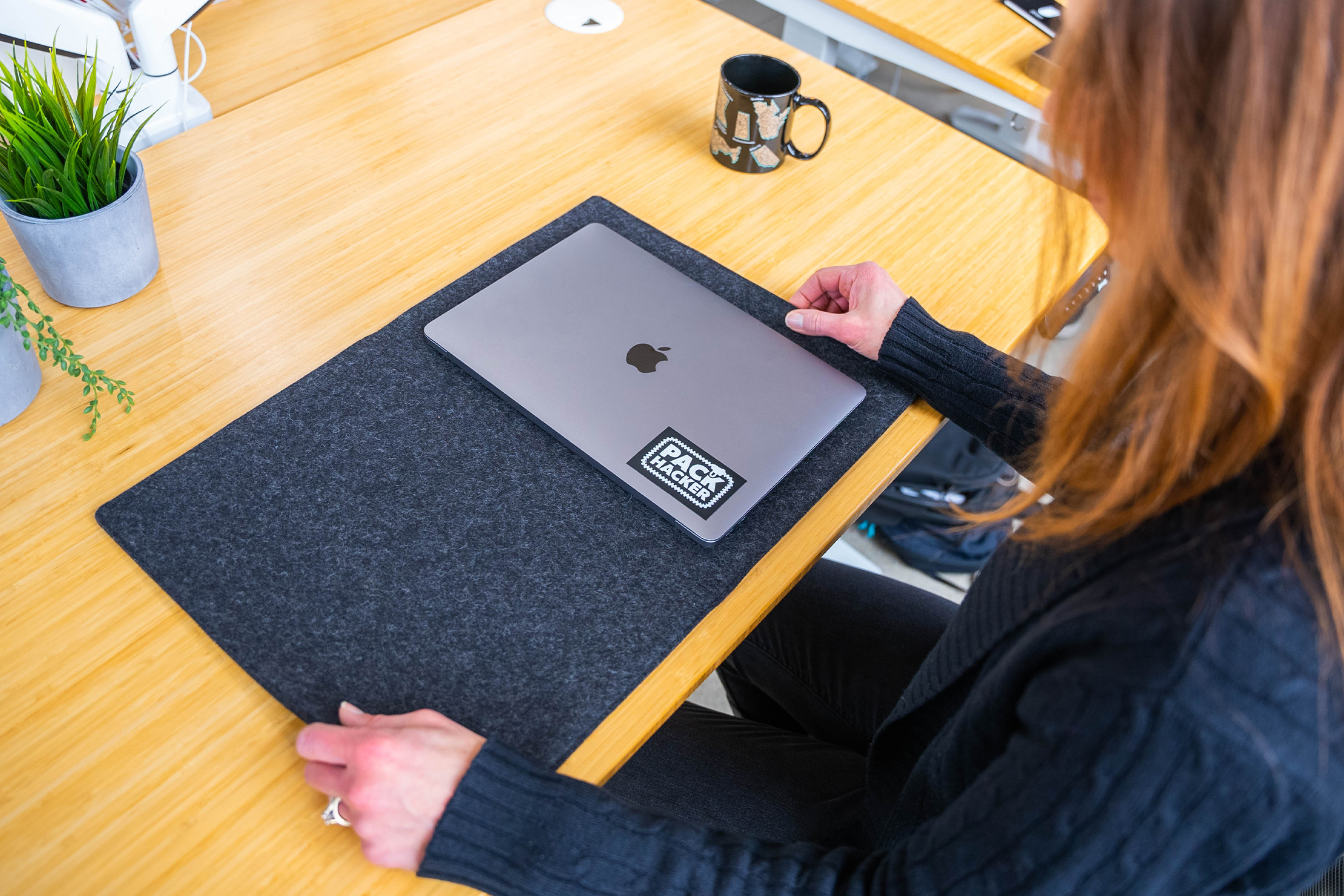 OK, so you came, you worked, and now it's time to leave. The beauty of the magic sleeve is that you just close your computer and turn it to the side, then fold one half of the sleeve over the other. The dozens of small strong magnets lining the edge click together as fast as soldiers snapping to attention, cradling your computer in the middle.
But Pack Hacker, aren't magnets bad for my device? Not so, says nedrelow. The company says magnets in the sleeve will not hurt computers and tablets and that most devices contain magnets inside. Since we're still typing this review on a laptop that's ridden in the magic sleeve for a few weeks, they must be right!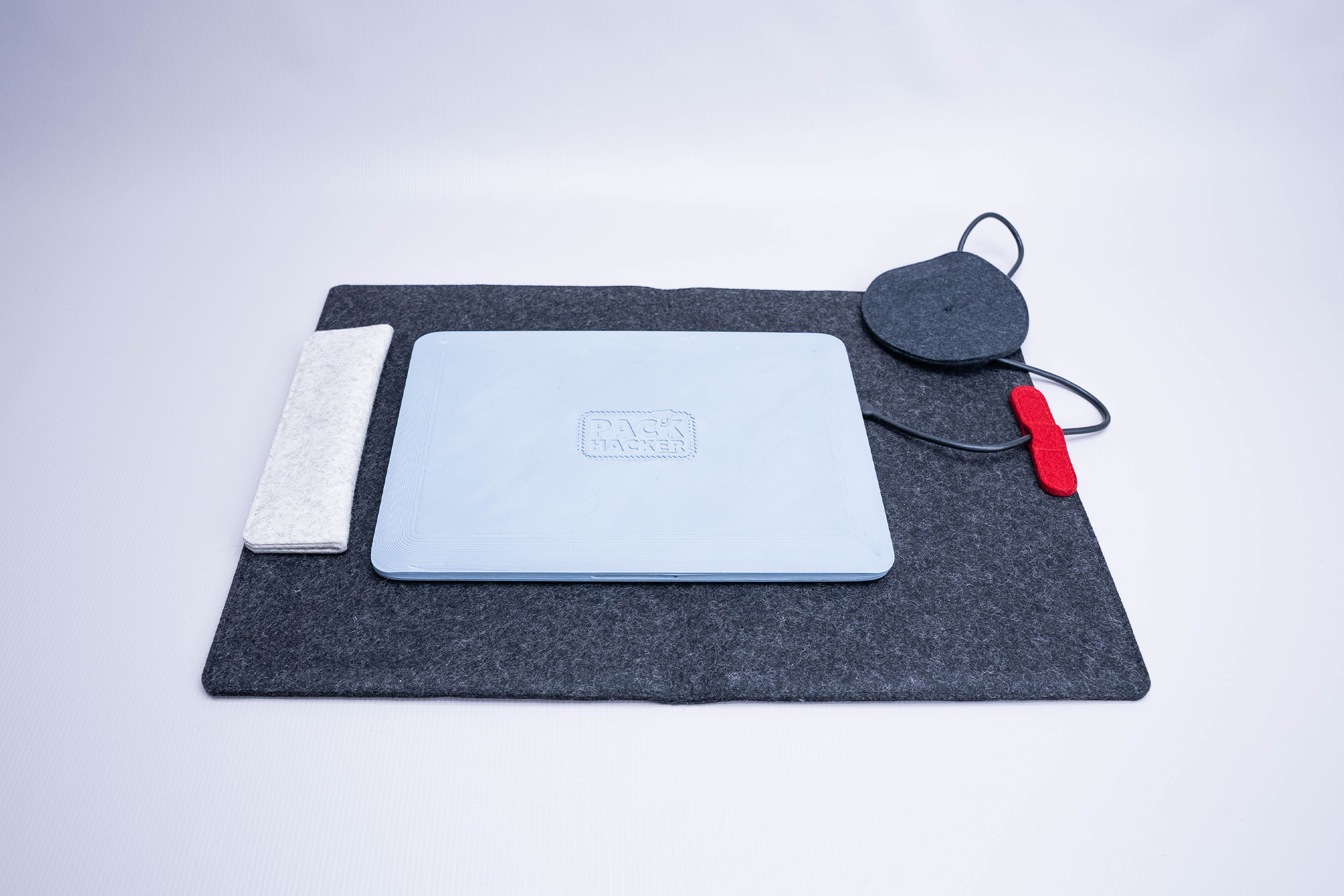 Along with holding your laptop, the sleeves serve another purpose when working with the magic sleeve. They lock some additional accessories into place available from nedrelow, specifically a pencil sleeve, a cable keeper and winder, a case for your AirPods or credit cards, and more. These wool accessories also have hidden magnets that allow you to stick them around the edge of the sleeve, where they stay put while you work, keeping you organized and your workspace streamlined. If you have a magnetic stylus, like an Apple Pencil, it will stay on the edge instead of rolling off the table when you're not using it.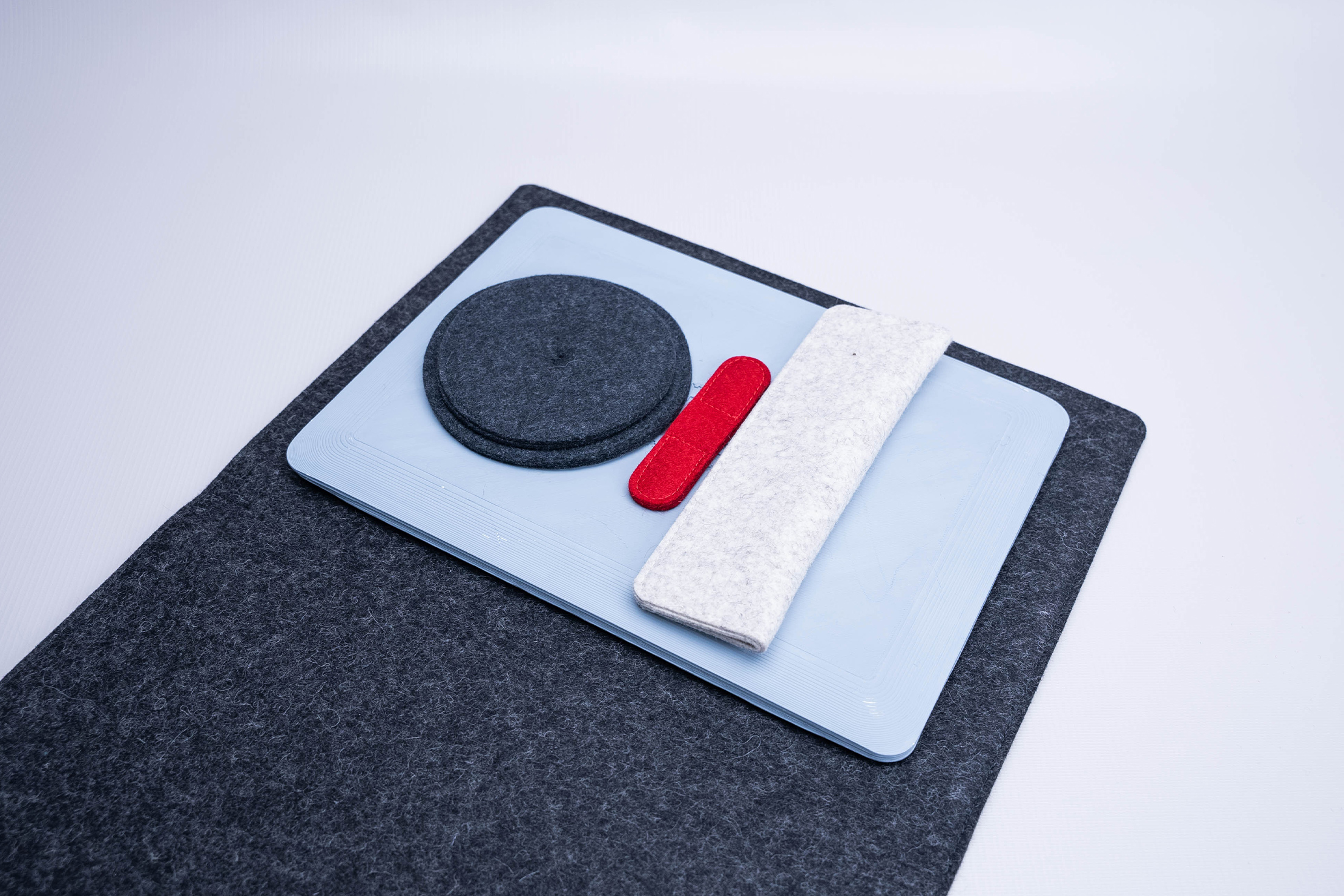 However, you must pull everything off the edge before shutting the sleeve, or you won't have the proper seal to hold your devices safely (Ask us how we know. Don't worry, everything's OK!). Instead, you can stack them on top of your device and close the sleeve over the top. This makes an already bulky sleeve even bulkier, though, so bear that in mind.
It's that bulkiness that gives us pause when recommending this for travel. If you check out the weight and dimensions listed above, you'll see this is no minimalist sleeve. It adds nearly a pound to your carry and makes your 13-inch laptop take up almost 15 inches of height and more than 10 inches of width. So you'll have to do the math and see if it fits in your favorite travel daypack or laptop bag.
Packability
The nedrelow magic sleeve closes over your device, plus a few accessories, so it's not exactly slim. Indeed, we have a hard time squeezing it into narrow backpacks, and it doesn't fit in any laptop sleeves. Of course, you want it to protect your laptop or tablet, so that's not really a deal-breaker.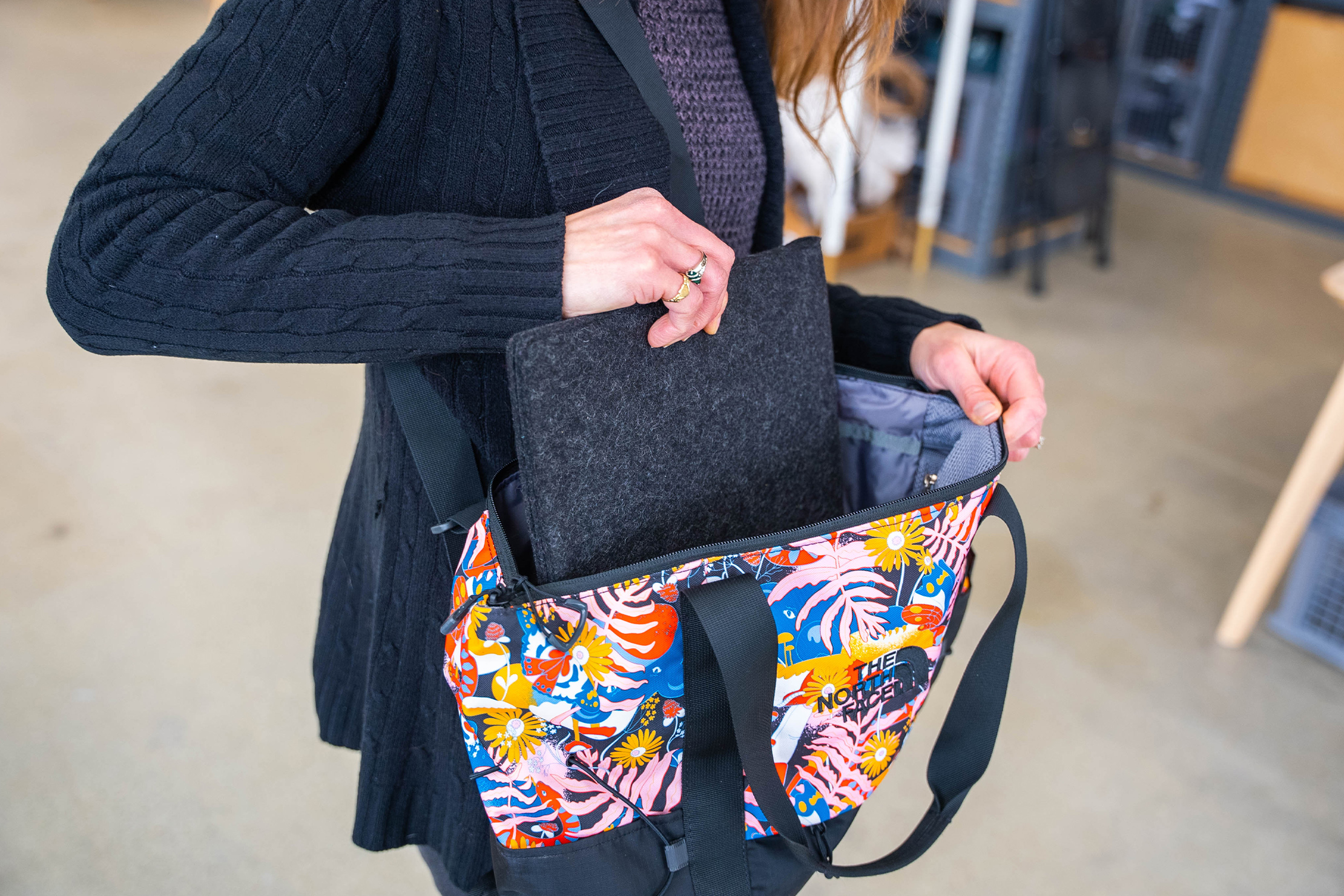 That said, this could be a nice option if you want to bring your work to the coffee shop or coworking space and use a tote or a messenger bag lacking a padded laptop sleeve. It's easy to slide the nedrelow magic sleeve inside something wider as you would a file folder. Then you wouldn't have to worry about the lack of padding or protection for your device.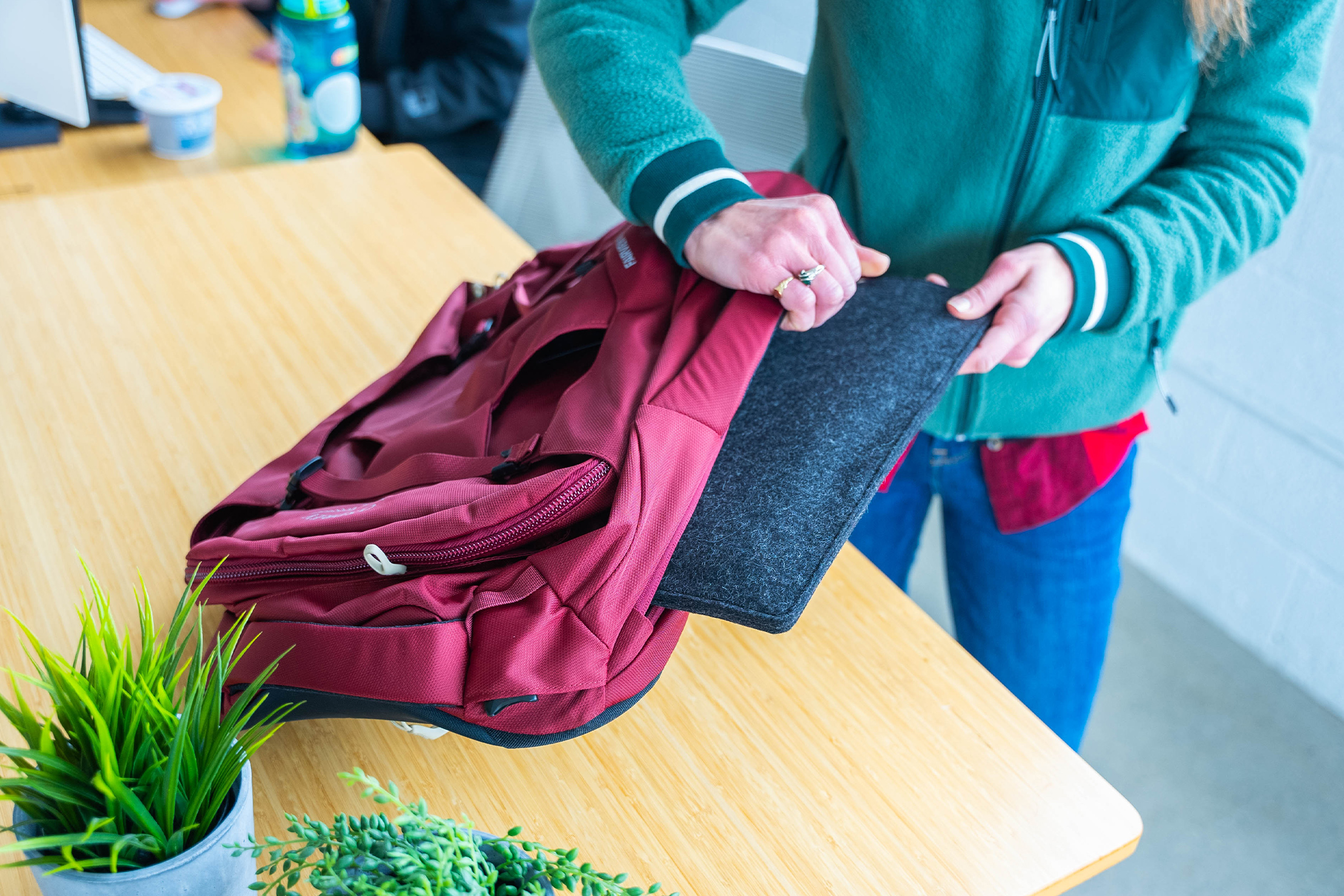 Its rectangular shape also means it could slide nicely into the rear laptop compartment of a large travel backpack, like the Cotopaxi Allpa 35L Travel Pack or Osprey Fairview 40, which have large open spaces for your device. Or pack it without a device inside into the bottom of a slimmer pack and stack your packing cubes on top, stashing your device in the personal item bag you stow under your airplane seat. Then you will have a nice padded place to get your work done, wherever you live the digital nomad life.
Quick Comparison
To see how the nedrelow magic sleeve stacks up to the competition, we've pulled out a few other laptop cases we've already tested: the Incase Compact Sleeve with BIONIC and the Bellroy Laptop Sleeve.
Right off the bat, the biggest difference is that the nedrelow magic sleeve is a desk pad and a sleeve for your device, so it opens to lie completely flat on your desk. On the other hand, the Incase and the Bellroy stay folded up at all times and act as slip pockets for your computer.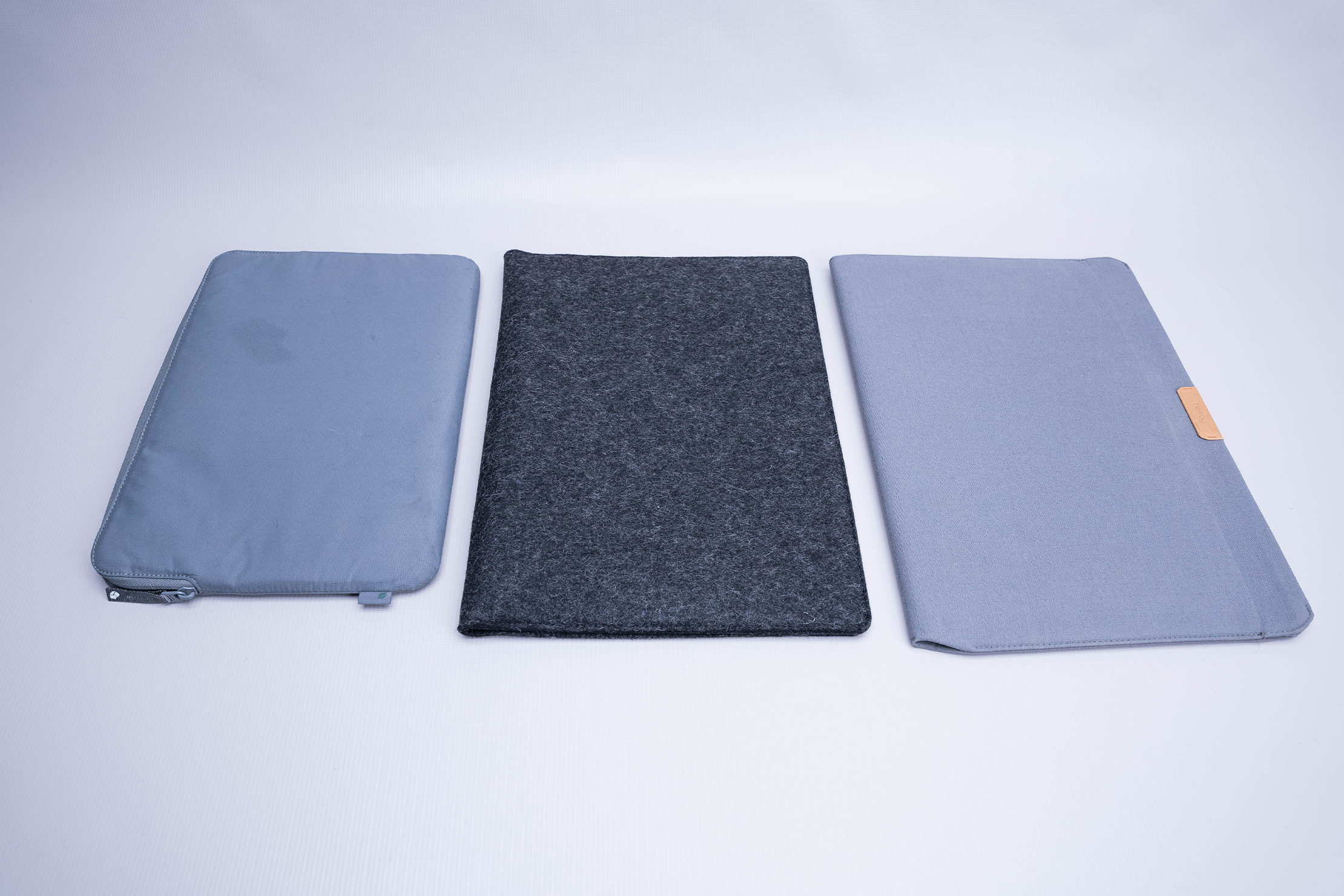 Like the magic sleeve, the Bellroy has a magnetic closure at the top. Also like the magic sleeve, those magnets add width, which we called out as an issue in our initial thoughts video. However, it doesn't add height to your device, so you may be able to slide it in smaller spaces than the magic sleeve. Additionally, the Bellroy Laptop Sleeve's main material is recycled PET bottles, not Merino wool, so it has a smoother finish and is water-resistant. While the lanolin in sheep's wool adds water resistance, it doesn't have the same texture as woven fabric.
If you really need to slim down, the Incase Compact Sleeve with BIONIC may be the way to go. It has a much smaller profile and zips closed, so you don't need extra room around the edges for magnets. However, the recycled polyester attracts lint and pet hair, and you may end up in the same boat as the fuzzy magic sleeve, just in reverse.
Is the nedrelow magic sleeve right for you? That depends mainly on what you want in a laptop sleeve. Do you head out several days a week to work in a shared space where you'd like to create your own productivity island? Do you carry a larger tote or messenger bag? If so, this may be the magical solution to your needs. However, if you frequently work in a space with a separate keyboard and mouse, plus a laptop stand, you may not take advantage of all the benefits of the sleeve. And if you carry a slim backpack, you may feel like you're back in high school, hauling your device in your hands like a book or binder with the rest of your gear in your pack.
Usage Timeline
Initial Usage
Condition: Excellent
Merino wool feels a bit scratchy on your wrists
Magnets are super strong
Excited to put this interesting concept to the test
2 Weeks of Use
Condition: Excellent
You must ensure nothing is around the edge when you close it, or a device can slip out
Nice to use on cold surfaces like glass
Hard to slide in slimmer packs
Access the Pro Community Discussion
Get your questions about the nedrelow magic sleeve 13″ answered from our team and the Pro Community right here on the page. Plus, join discussions with other members about gear, guides, and more.
Other Organizers & Pouches Reviews