Incase Compact Sleeve with BIONIC Review
The Incase Compact Sleeve with BIONIC is as environmentally friendly as it is slim. Though it takes up minimal space in your bag, it attracts a lot of dust.
Our Verdict
Unlock the Pro Summary
Save time. Get access to brief summaries of our reviews so you can browse and make decisions more efficiently.
Pros
Slim profile takes up minimal space
Long zipper pulls make unzipping a breeze
Dense padding keeps laptop protected
Cons
Material attracts lots of pet hair and dust
Front pocket sticks out when filled with a charger
Unbranded zippers can be a cause for durability concerns
Recent Pack Hacker Video
Technical Details
Dimensions

9.25 in x 13 in x .75 in (23.5 x 33 x 1.9 cm)

13" version

Notable Materials

Recycled Polyester, Ripstop Polyester, Unbranded Zippers

Manufacturing Country

Vietnam

Laptop Compartment Size

13"

There is also a 16" option.

Warranty Information
Full Review
When you're working remotely, your laptop is literally your life. Shuffling your precious cargo between coffee shop floors or even from home to the office is serious business. While many backpacks have false bottoms and padded laptop compartments, it isn't always guaranteed. Sometimes an additional sleeve is necessary. So, if you're in the market for a new laptop sleeve and lean more towards Earth-friendly products, try the Incase Compact Sleeve with BIONIC. It's lightweight and thin, so it won't take up much space in your backpack. Plus, it has a front pocket for your laptop charger, so you won't panic when you're running out of juice and can't find it.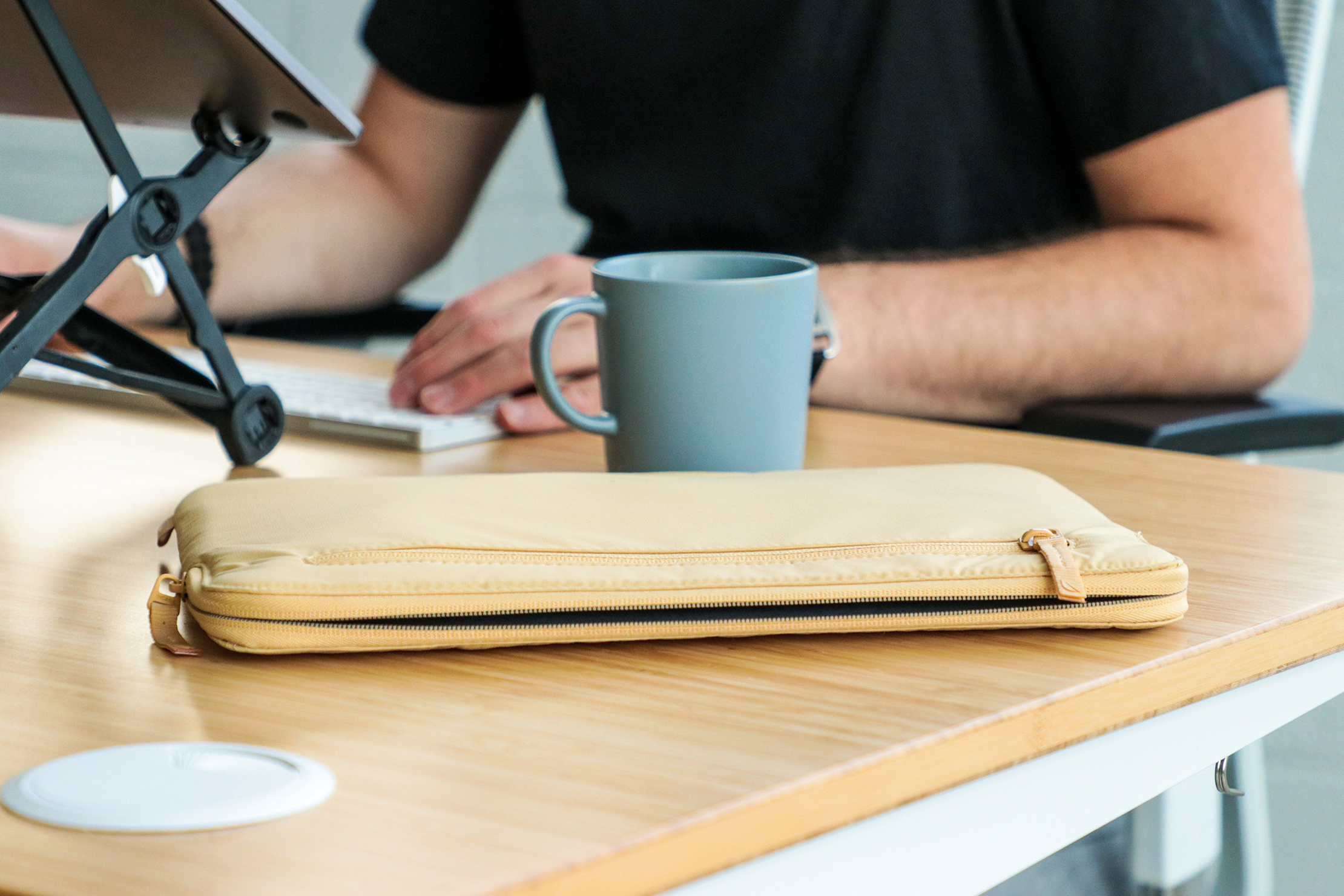 This laptop sleeve does come with a few minor cons, though. The material tends to attract a lot of pet hair and lint—more than other laptop sleeves that we've tried. And while the front pocket seems like a convenient place for your charger, it's a bit tight and sticks out just enough to disrupt the sleeve's slim profile. It comes in two sizes, 13″ and 16″. We tested the 13″ version with a 13″ MacBook Air for two weeks, and we've got a few thoughts.
Materials & Aesthetic
Okay, real talk—what exactly is BIONIC? Let's break it down. BIONIC yarn is spun from plastic recovered from marine and coastal environments. Apparently, this yarn is highly durable and has "abrasion-resistant ripstop qualities to protect your device." Each sleeve is made from the equivalent of seven plastic water bottles, and the sustainability is a win in our book. This sleeve isn't the only product Incase makes with BIONIC material. There's also the Commuter Backpack with BIONIC, Hipsack with BIONIC, and the Accessory Organizer with—you guessed it—BIONIC.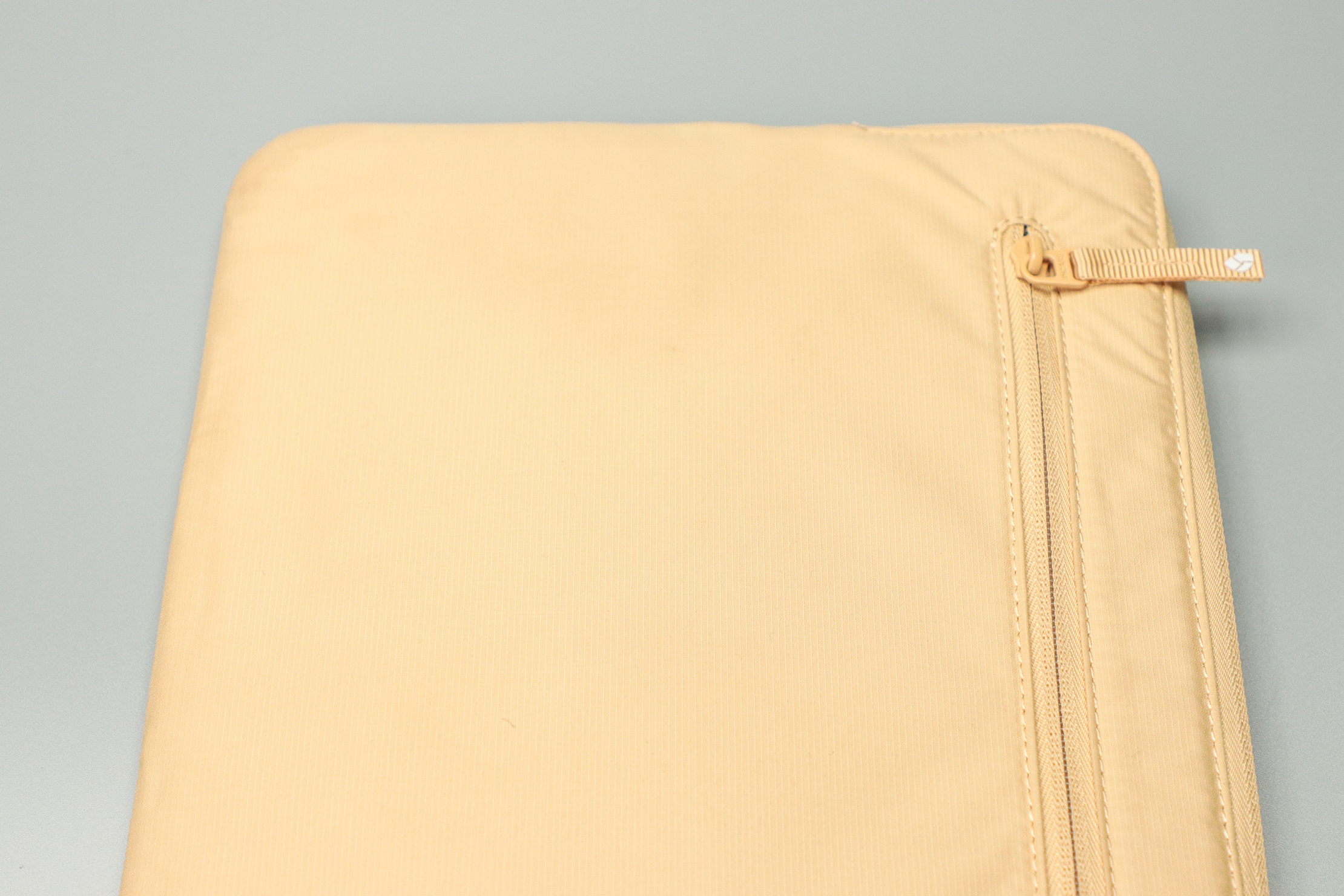 The material itself is relatively soft to the touch, but it has a kind of crunchy, paper-like sound. We also found that it can be slightly slippery, so you'll want to be careful when grabbing it out of your bag with your laptop inside. Small square grids on the fabric add some character while also helping to keep small rips and tears from getting larger.
At the time of this review, the Incase Compact Sleeve with BIONIC is available in four colors. We love this part of product reviews because we get to talk about the fun colorway names brands come up with. We've got Baltic Sea (navy blue), Sand, Ocean Green, and Steel Gray for this laptop sleeve. We decided on the Sand color—it blends right in at the beach. Just kidding, but it is a lovely muted yellow-beige.
We are generally not a fan of unbranded zippers as they can spell disaster. We've tested enough gear to know how much of a bummer it is when a zipper breaks on your trip. Needless to say, we were a bit weary knowing this Incase sleeve uses unbranded zippers. Fortunately, they held up and didn't give us any issues at all. We'll keep an eye out for the durability of these. Long zipper pulls make it a cinch to open, too.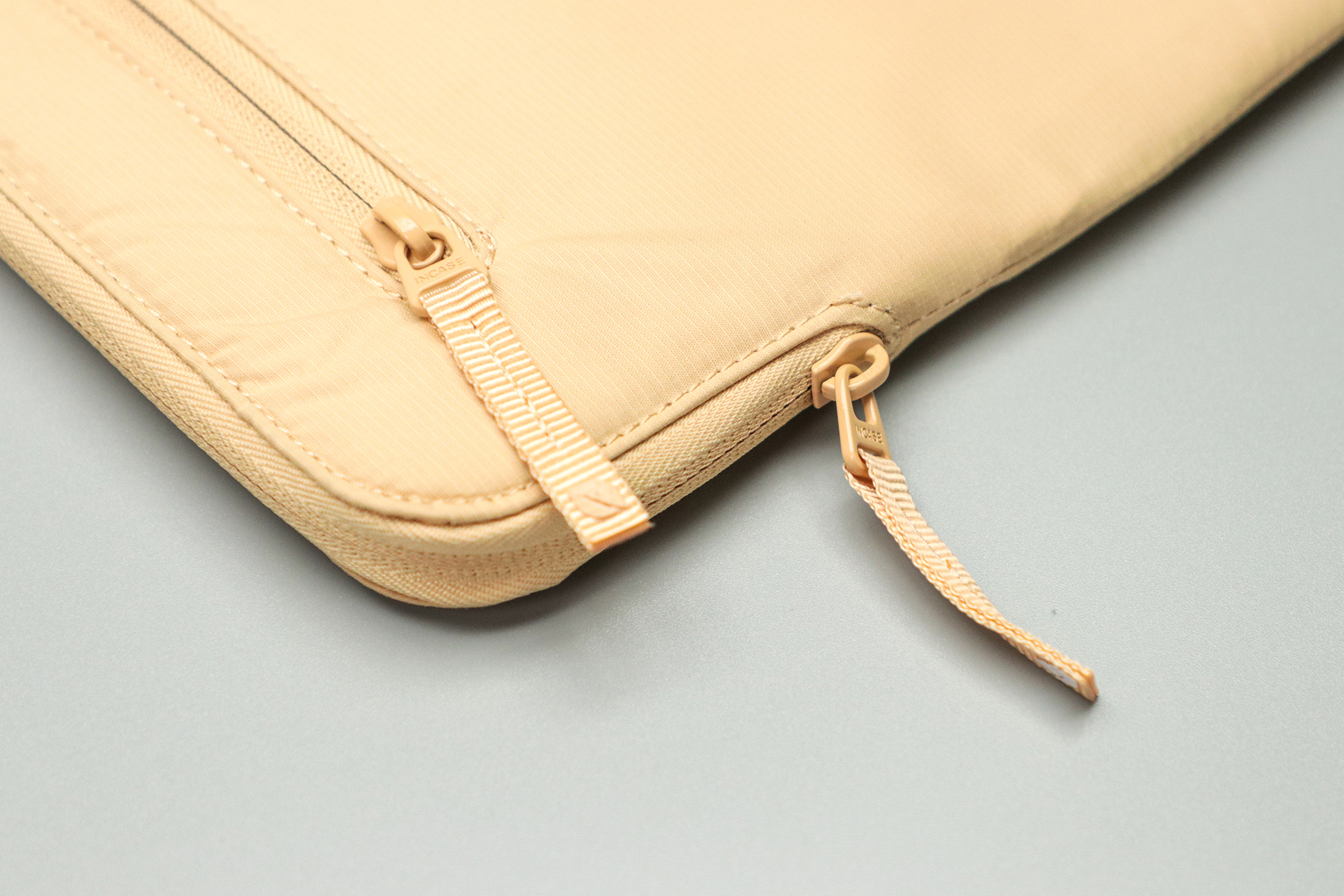 We dig the refined look of this laptop sleeve, which includes minimal branding and clean lines. Other than Incase logos on the zipper pulls and a small tab on the side, there's no other branding to be found. We tend to think logos slapped all over a product look a bit tacky. This is closer to the minimalist style that we typically go for.
Features & Usage
What makes this sleeve great for travel is its thin, compact profile. They don't call it the Incase Compact Sleeve with BIONIC for nothing! In their quest to protect your laptop, some other sleeves we've tried end up just adding extra bulk to your bag. We don't want that, especially when we're traveling one-bag style, and space is at a premium. Even if you just want something for everyday carry in a small daypack, this sleeve will likely be able to squeeze in there. It has a good amount of padding to keep your laptop cushioned, and we're pretty impressed with how the sleeve manages to stay slim despite it.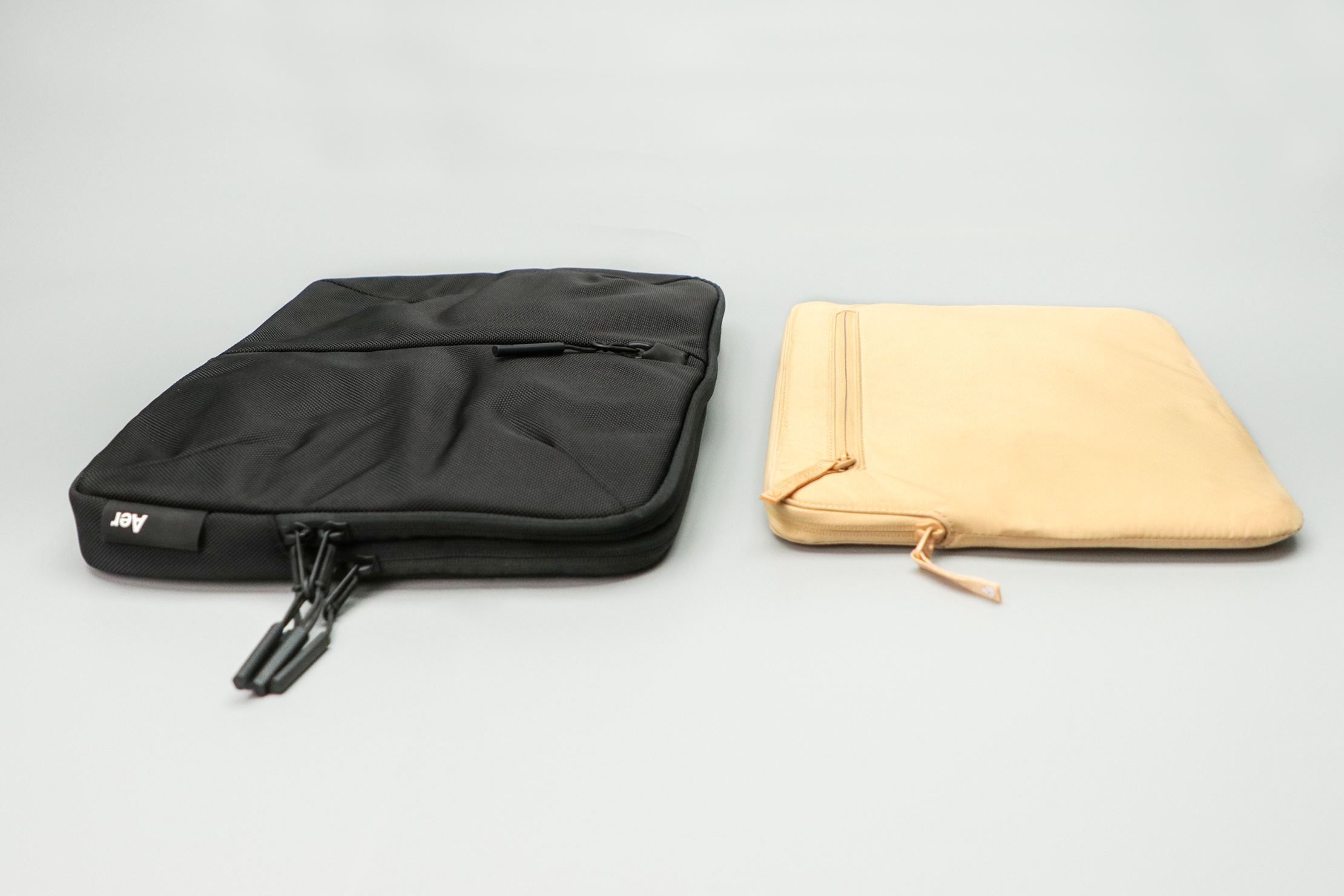 A zippered pocket on the front is supposed to fit a laptop charger and cord. Sounds good in theory, but we found this just adds extra bulk. The pocket is pretty tight against the sleeve, and a standard MacBook charger sticks out in an obvious way. It takes away from the minimalist feel and slim profile when you have a brick sticking out the front like it's begging to be set free. You're better off just putting your charger in either a tech pouch or another pocket inside your bag that has more space. It just looks better, and that bulge can be an obstruction when you're trying to grab the sleeve out of a narrow space in your bag. You could also opt for a smaller charger, but anything that's not flat tends to protrude out and look unflattering. We ended up using this pocket mainly for a Field Notes Notebook, which is thin and lays flat.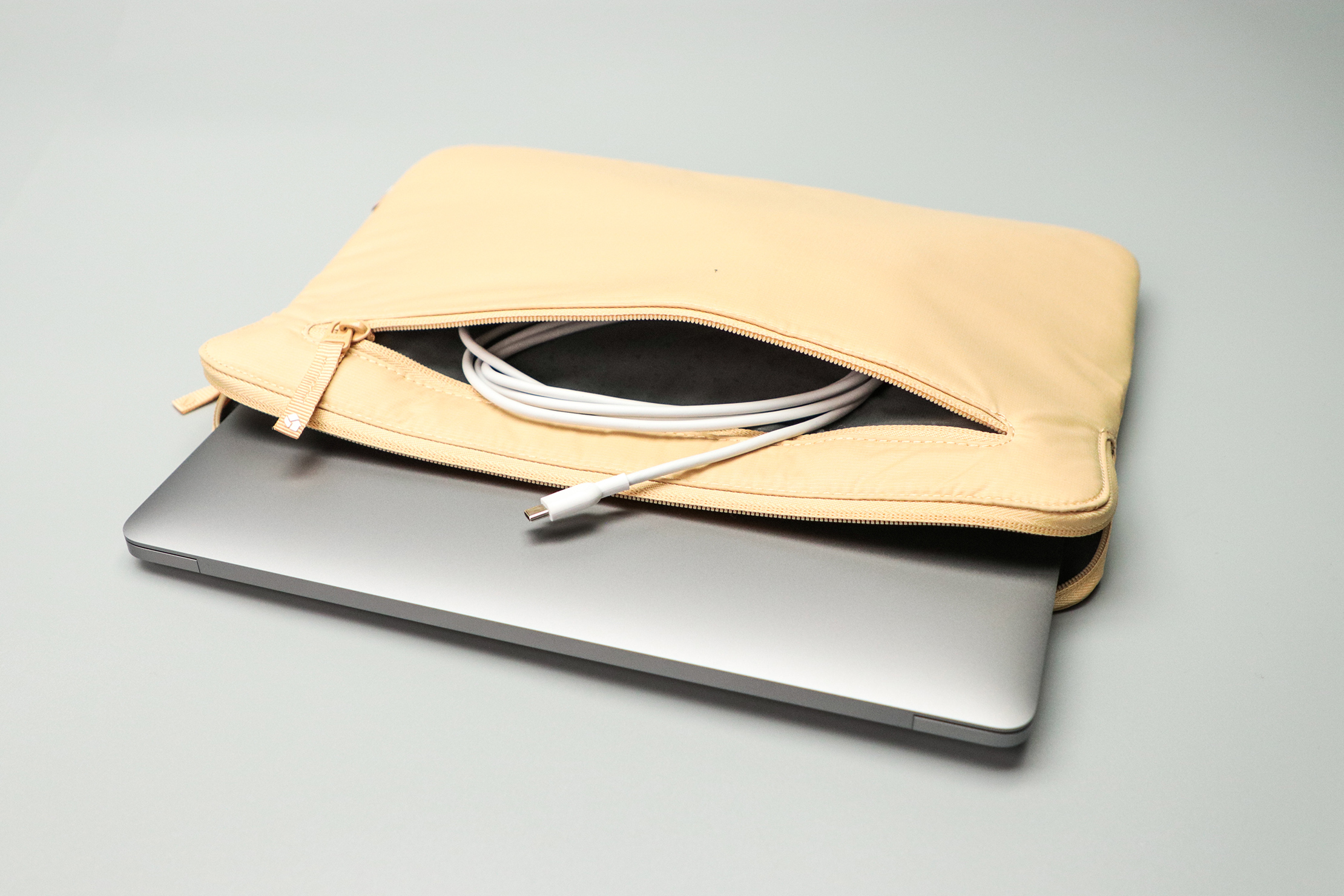 While we like the muted colors and environmentally friendly fabric, we did notice that it attracts lint, dirt, and pet hair easily. At first, we thought it was just the sand colorway because it's so light, but we've read reviews of different colors with the same complaint. For us, the sand version ended up looking a bit dusty by the end of the two weeks. If you've got a furry friend at home, definitely keep the lint roller nearby.
Usage Timeline
Initial Usage
Condition: Excellent
Material is made from 7 recycled bottles per case
Provides great protection for your laptop
Small zippered front pocket is a great spot to store extra cords and chargers
2 Weeks of Use
Condition: Excellent
The zippers have easy-to-grab pulls on them which help them zip and unzip smoothly and easily
We've been testing with a 13″ MacBook Pro and it fits just right—it's not too big and not too small
We can set our laptop on top of this sleeve when we're using it and it works as a nice cushion
1 Month of Use
Condition: Excellent
This laptop sleeve has done a great job of keeping our tech protected and has held up pretty well during testing. The only real note we have is that this sleeve's material is more prone to picking up fluff than others we've tested, so it can look dirty after a while.
Access the Pro Community Discussion
Get your questions about the Incase Compact Sleeve with BIONIC answered from our team and the Pro Community right here on the page. Plus, join discussions with other members about gear, guides, and more.
Other Organizers & Pouches Reviews