KAVU Switch Slinger Review
Carry your bag on either shoulder with the KAVU Switch Slinger Bag, which has well-thought-out pockets, although the zippers are showing wear and tear.
Our Verdict
Unlock the Pro Summary
Save time. Get access to brief summaries of our reviews so you can browse and make decisions more efficiently.
Pros
Elastic keeper contains extra strap
Can carry it over either shoulder
Padded back panel comfortable
Cons
Color is rubbing off zippers
Fabric attracts pet hair
Strap can dig in shoulder after a while
Recent Pack Hacker Video
Technical Details
Capacity

7l

Weight (lb)

0.5 lb (0.2 kg)

Dimensions

16 in x 8.5 in x 3.5 in (40.6 x 21.6 x 8.9 cm)

Notable Materials

Cotton, Canvas, Polyester, Woojin Hardware

Manufacturing Country

China

Laptop Compartment Size

13"

We're able to fit a 13" MacBook Air, though your mileage may vary

Warranty Information
Full Review
Get up to 50% off KAVU • Join Pack Hacker Pro
While we like the KAVU Rope Sling for its outdoorsy aesthetic, we wish it had the option to switch between shoulders. Ask, and ye shall receive, am I right? Enter the KAVU Switch Slinger Bag. It has a similar vibe thanks to the single rope strap, though with an additional ambidextrous ability to switch sides. That's great news whether you're a lefty or need a break from carrying it on one shoulder.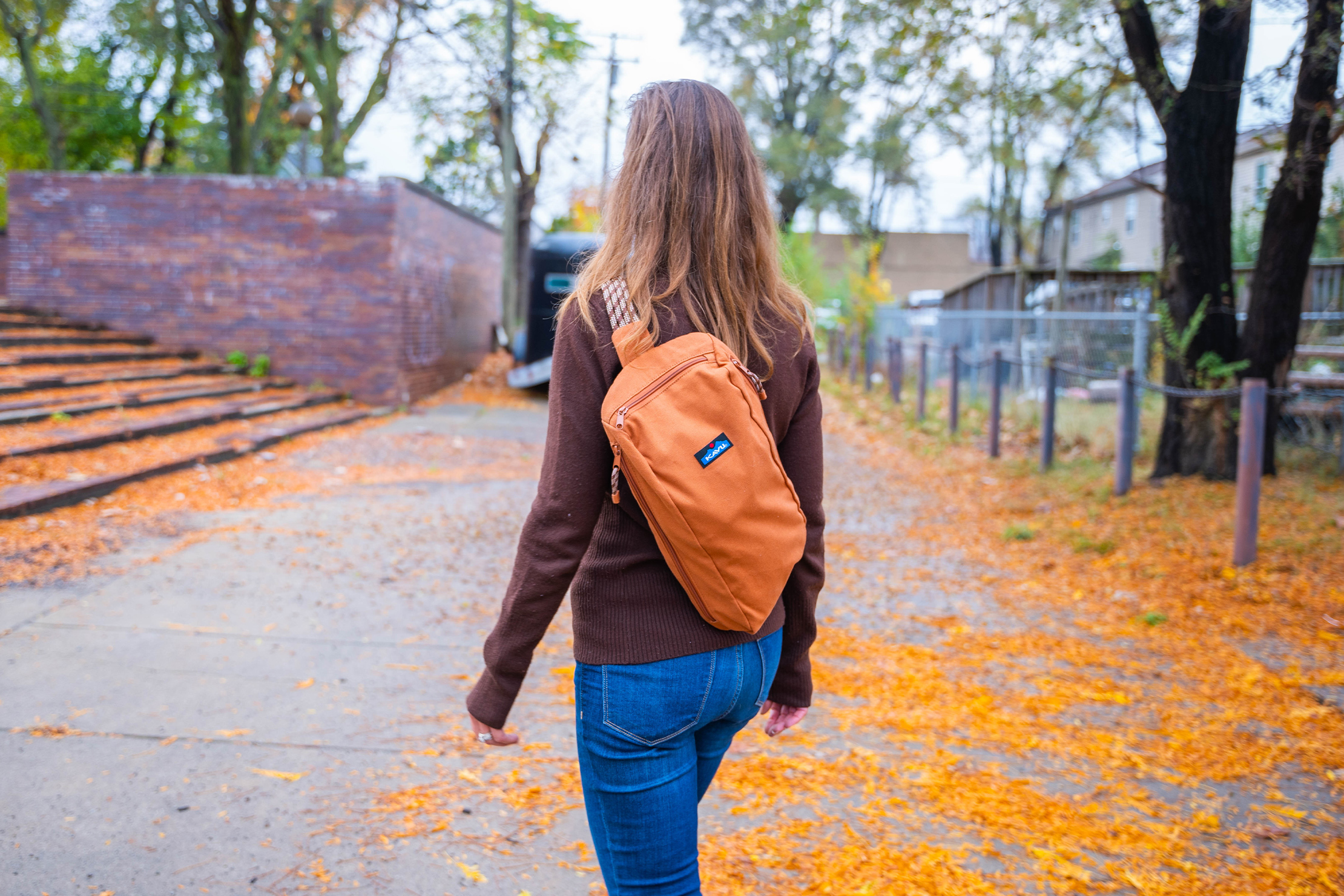 KAVU switched up the pocket style for the Switch Slinger, too. Let's dive in to see how it all comes together.
External Components
Let's begin with the materials because the 12-ounce cotton canvas fabric gives this bag much of its adventurous look and feel, though it is a magnet for pet hair. It's pleasantly rugged looking, especially in the Sierra colorway we're testing, which looks like the Burnt Sienna crayon from the 64-pack of Crayolas we had growing up. If you picture the crayon you'd pick to color a western desert mountain range at sunset, then you're on the right track. If you're looking for something different, the other solid color option available as of this writing is black, or there are three prints: Jumble Dash, Remote Landscape, and Grandpa's Sweater.
Jumble Dash is a fun geometric design with pink, teal, Sierra, and a darker brown. Remote Landscape has mountains and trees running horizontally across it as if they took the base image from the KAVU logo and ran with it. Grandpa's Sweater seems inspired by those patterned sweaters that were all the rage in the early '90s—you know, when your grandpa's style hit its stride. On a sweater, it may be a bit much. It's a better vibe on a 7L sling.

Whichever color is right for you, there's a 2-inch KAVU patch centered in the top half of the sling that has the brand's mountainous logo calling out the adventurous nature of the pack. There's also a mountain logo on the Woojin Hardware buckle, and that's it for branding.
The unbranded zippers have cords threaded through the ends of the metal pulls that match the rope on the strap. While they function well, after only two weeks, we're already noticing some of the Sierra color rubbing off the zipper where it meets the metal pull. The fabric is also slightly frayed at the tops of each vertical zipper, likely because there is one horizontal line of stitching, and it's not holding the canvas together.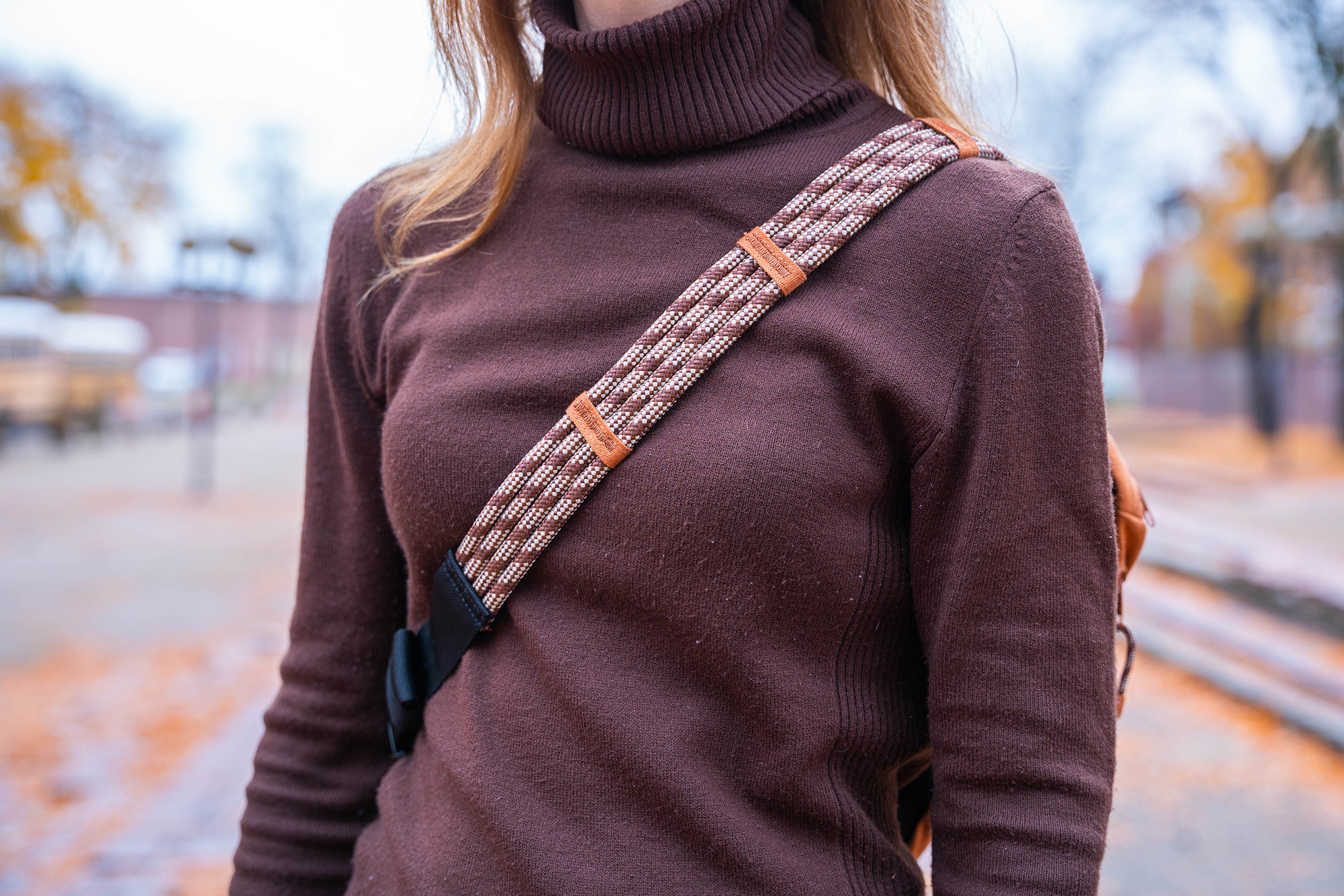 Since this is the cousin of the KAVU Rope Sling, the strap features KAVU's signature design of four climbing rope bound together with fabric strips in three places. The ropes lead into black webbing that can be made shorter or longer, depending on your needs, and include an elastic strap keeper to contain the extra. While we had issues with the KAVU Rope Sling's keeper slipping off, that hasn't been an issue with the Switch Slinger—we'll keep you posted in the Usage Timeline if this bag develops that problem.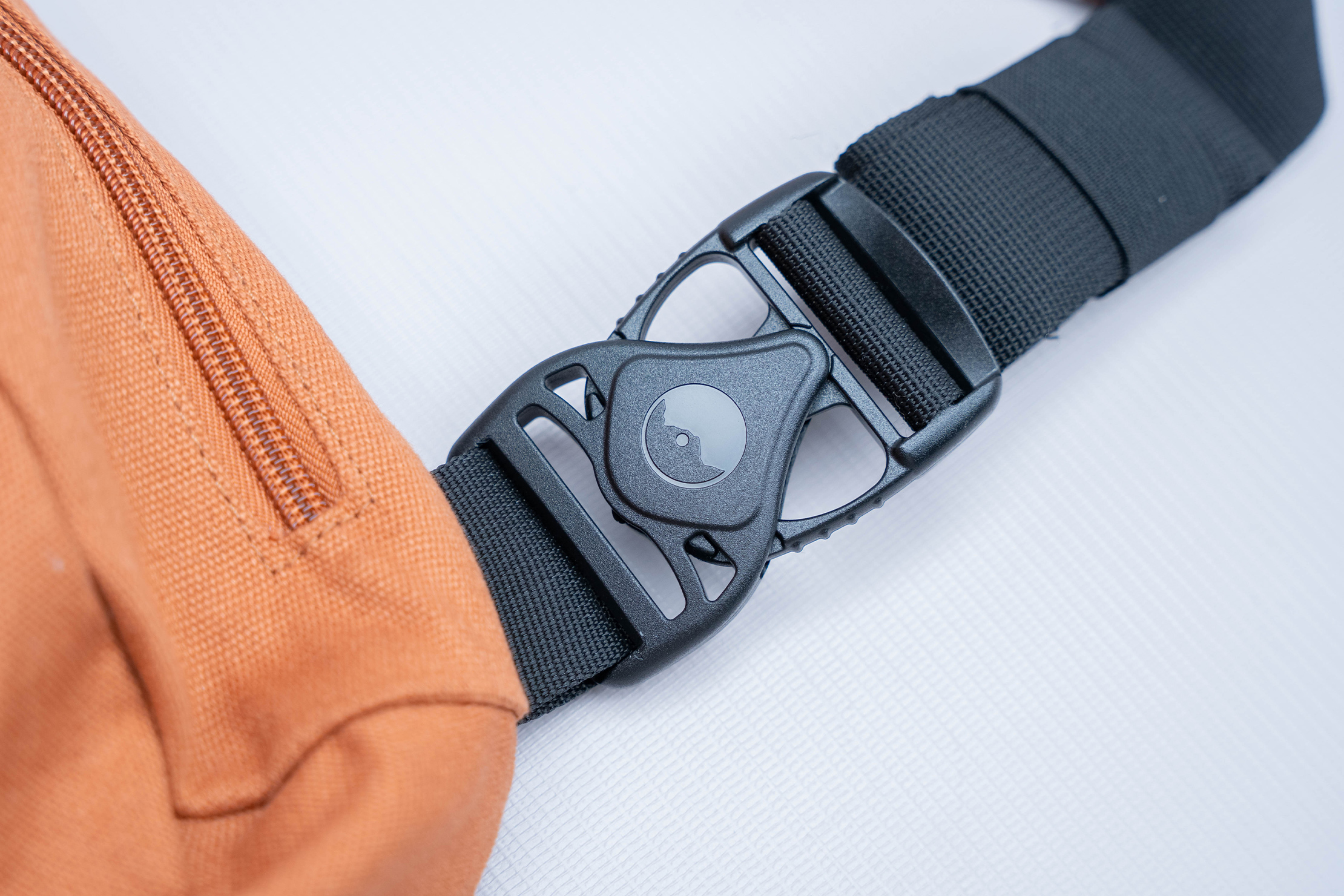 The other issue KAVU solved with the Switch Slinger is right in the name: you can switch which side the sling is slung, giving your shoulder a break or just making it more comfortable for more people. The chunky Woojiin Hardware buckle at the end of the strap clicks into place on either the right or left side of the bag's bottom. What's nice is that there are two hidden pockets in the same corners, so whichever side is not in use can slide in, giving the bag a clean look without extra buckles hanging around. It's a seamless process you can do on the go, and thanks to the cushiony padding on the back panel, you don't feel the other buckle poking you in the back when it's not in use.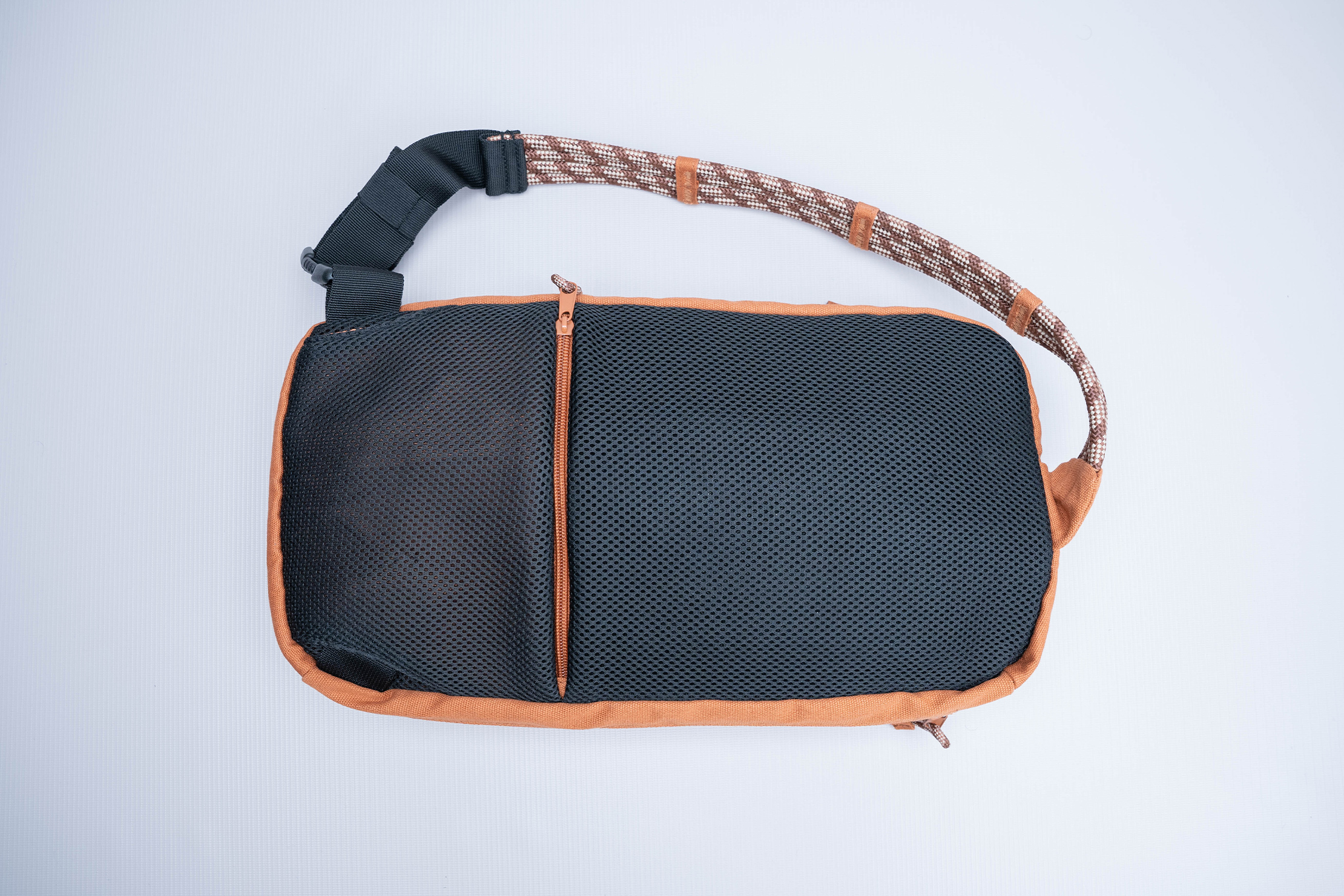 Speaking of the back panel, we think it's pretty substantial for a sling. Frankly, we'd like to see this same airy mesh cushioning on more daypacks! On the sling, it helps blunt the feeling of nearly anything you pop in the sling from rubbing against your back. It also provides padding if you carry more delicate gear in the bag—more on that later.
A zipper bisects the padding into two large sections horizontally two-thirds down the sling. Though your mileage may vary, we've yet to have an issue with that rubbing or otherwise annoying us. There's a good reason for that zipper, though: it's for a useful pocket we'll cover in a later section.
Fit Notes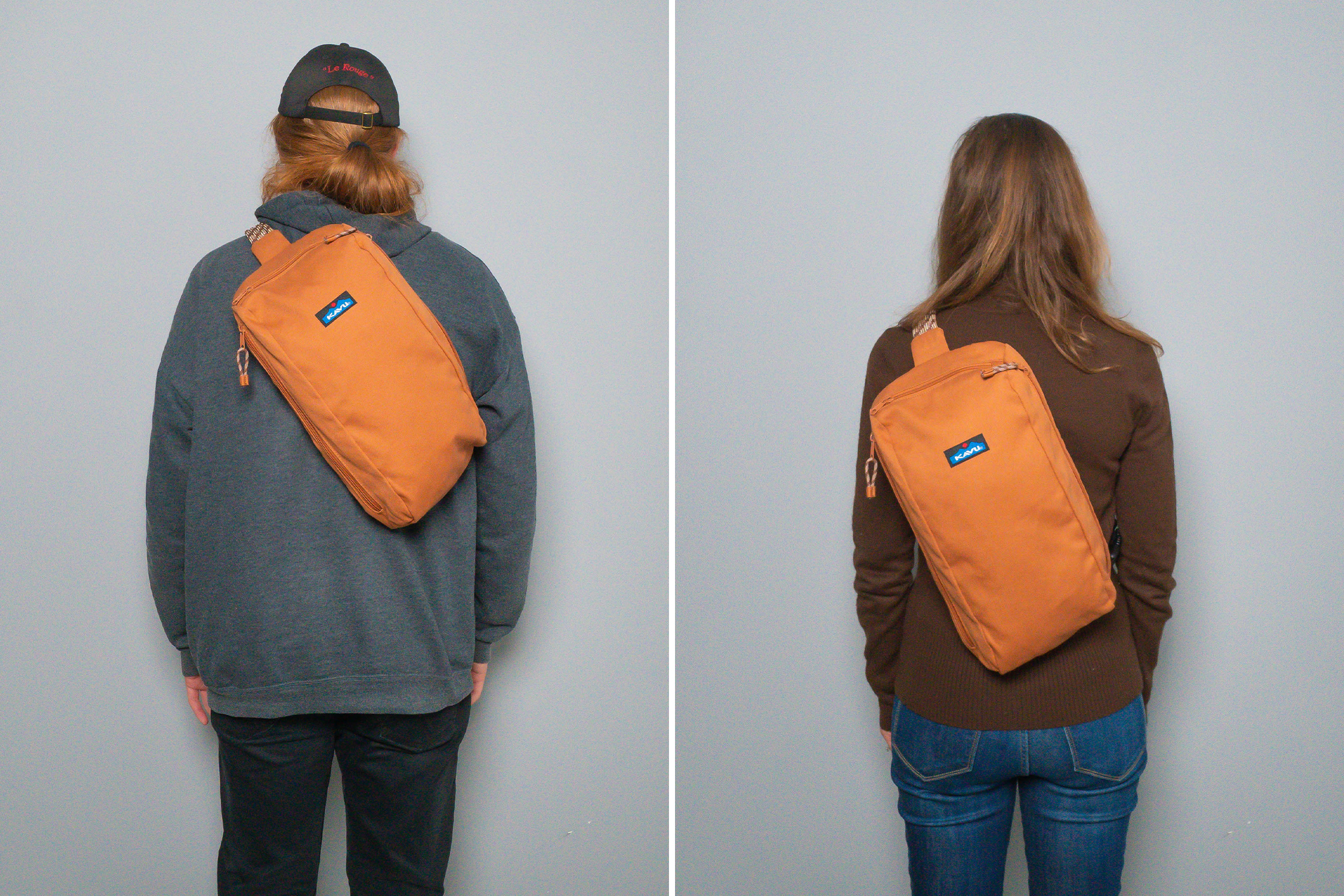 As we keep saying, this is a very casual bag. It will be great for walks, short hikes, theme parks, and strolling around a new town. If you opt for the black, you may be able to slide it in slightly more polished places, though the rope strap still lends it a mountain-climber vibe. That's ok, though—not every bag has to go everywhere (otherwise, there'd be just one bag for everyone, and we'd be out of business!).
This is a pretty comfortable sling when you properly dial in the fit and find the side that works best for you. Since it is so easy to switch the carry from one side to the other if it becomes uncomfortable (say, when you're carrying everyone's water and snacks and no one has partaken in refreshments just yet), it's simple to move it to the other side. While we carry the KAVU Switch Slinger Bag on the back most of the time, you can switch it to the front if you prefer keeping your gear close to your heart. The size and shape of it remind us of a BABYBJÖRN carrier, though, so unless you're expecting and want to practice, you may want to keep rocking it in the rear.
Inside The Sling
There are four pockets for your gear on the ​​KAVU Switch Slinger Bag.

A 6-inch zipper at the top reveals an 8-inch deep quick-grab pocket. The Sierra colorway includes a polyester liner in the same color, and the other colors and patterns have matching or coordinating liners. It's a great spot to pop your phone, sunglasses, and maybe a snack bar since it's a smaller space to contain your gear.

It's not the only space for tiny travel accessories, however. Flip the bag around to open the 8-inch horizontal zipper we mentioned earlier. It opens to a 6-inch deep pocket where it's great to tuck a wallet, passport, and cash. While it's not exactly hidden, it is more secure than the other pockets since its opening is against your body as you wear the sling. It's just as easy to access as the top pocket. Unless you're a contortionist, you probably can't get into the top pocket while the bag is across your back. Flipping it around to your front, or taking it off, is the best way to get at either of these spaces.
There are two more places to access the remaining space on the KAVU Switch Slinger Bag. Foot-long zippers run vertically on either side of the bag, opening to the "main compartment," as it were. It's divided into two spaces, with the right-side zipper opening to an area that encompasses the front of the bag and the left-side zipper opening to the same size space along the back panel.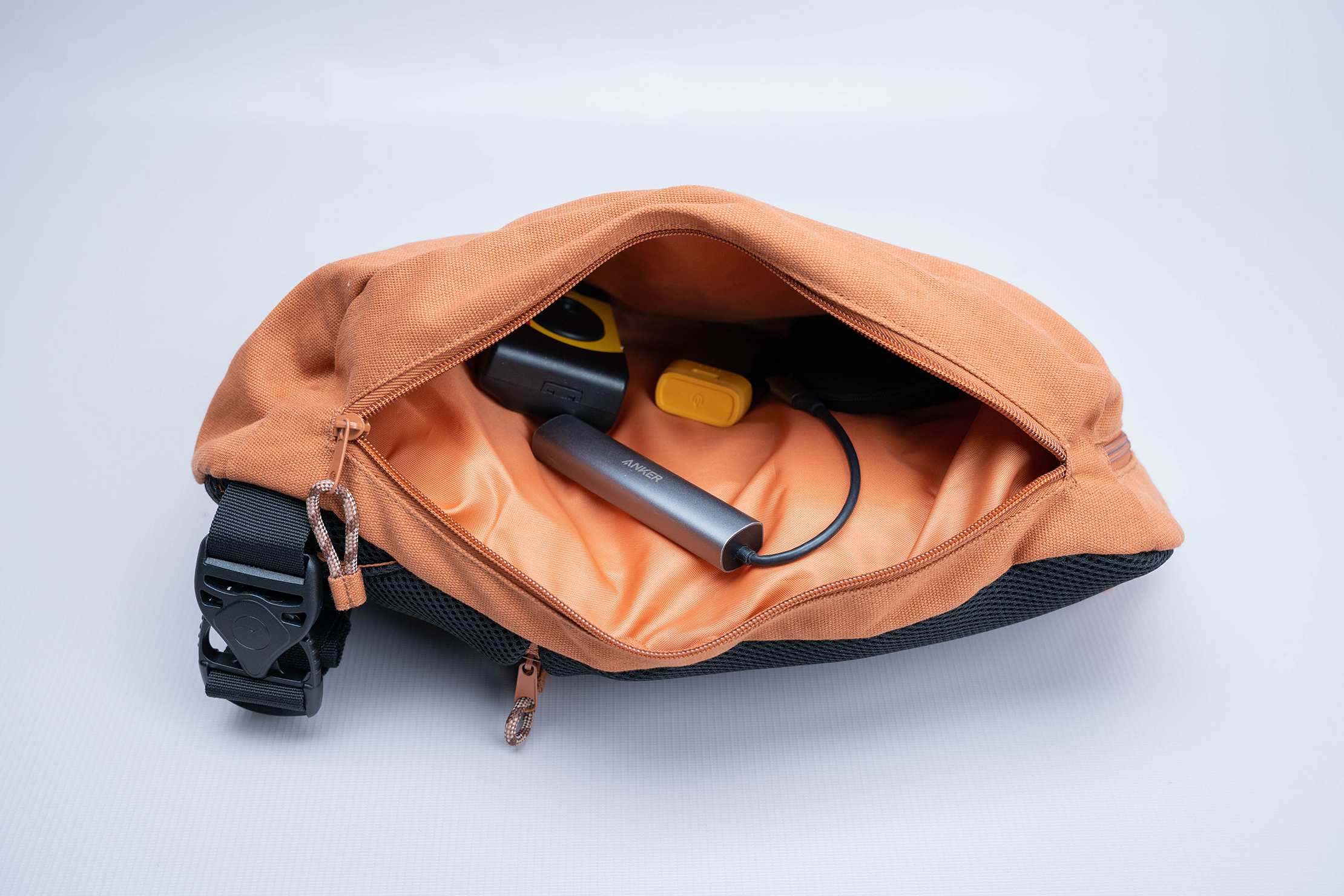 There's no organization in either section, though that's not too surprising with a sling. They're great places to toss travel jackets, snacks, a book or a tablet, and even a small laptop. Yes, we fit a 13-inch laptop in the rear compartment, and thanks to the substantial back panel padding, we feel pretty comfortable with its security. Of course, there's no dedicated sleeve or false bottom—this isn't a laptop bag—so take care if you're doing this. It works in a pinch, though.
There's no dedicated bottle pocket, though you can easily designate one of the main sections for hydration and fit in nearly any size travel water bottle—as long as it's shorter than about 16 inches. The back panel padding softens the shape of the bottle against your back, especially if you put it in the front compartment and pack softer gear, like an extra layer, along the back panel instead.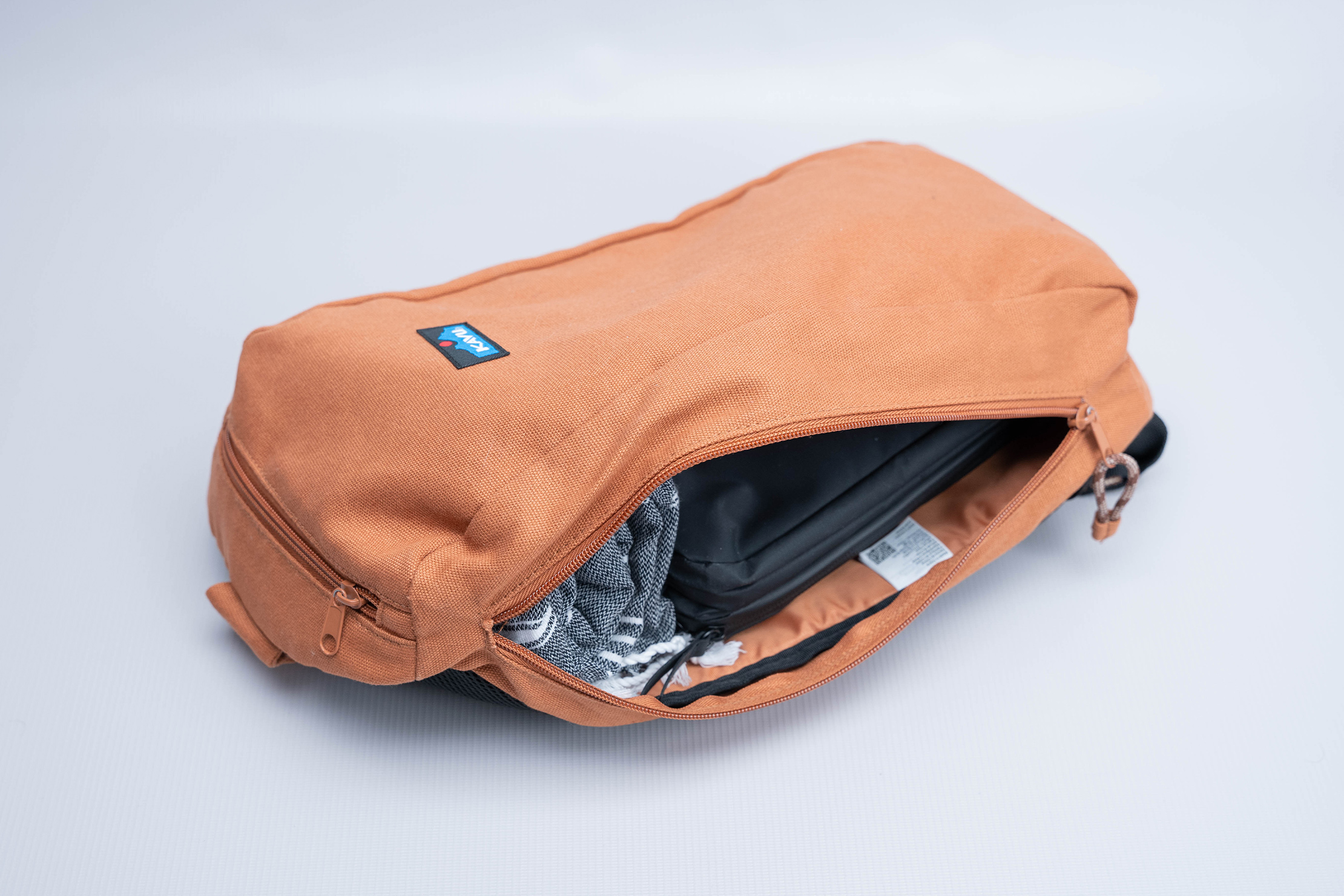 What's nice about the KAVU Switch Slinger Bag is that the pockets are separate, so the top grab pocket isn't dangling down into the main compartments and blocking your access. Of course, there is only so much room in a 7L bag, so at a certain point, packing one section interferes with another, yet it isn't something that bothers us every day. Overloading it will also affect how comfortable it is to carry, so you'll want to use the KAVU Switch Slinger Bag for what it's meant for: the travel essentials we don't leave home without.
Usage Timeline
Initial Usage
Condition: Excellent
Nice soft back panel padding
Sierra colorway has a cool earthy vibe
Strap can switch from left to right
2 Weeks of Use
Condition: Good
Loose stitching at the top of left zipper concerns us for the durability of the bag

KAVU Switch Slinger Bag: The stitching is coming loose at the end of one zipper after two weeks.

Love that the extra buckle hides away
Great size for everyday essentials
Access the Pro Community Discussion
Get your questions about the KAVU Switch Slinger answered from our team and the Pro Community right here on the page. Plus, join discussions with other members about gear, guides, and more.
Other Bags & Luggage Reviews