Budget Packing List
Our Budget Packing List is full of the best inexpensive travel gear we could find. Everything you need to travel the world, without those hefty pricetags.
The Best Value Gear For One-Bag Travel
Welcome to the Budget Packing List or, as you could call it, the Value Packing List. If you're familiar with us here at Pack Hacker then you know we care about the quality of products and don't usually recommend buying cheap gear. In the end, the cheapest option is likely to fall apart within a few months—maybe even weeks—and you'll have to shell out more of your hard-earned money for a replacement. (Not to mention, we always appreciate ethical companies that are doing their best by people and planet.)
You know the saying, "buy nice or buy twice?" In this case, it's more like buy niceish or buy twice. Because most of us don't have an extra 3,000 bucks lying around for gear, and traveling shouldn't only be for the wealthy.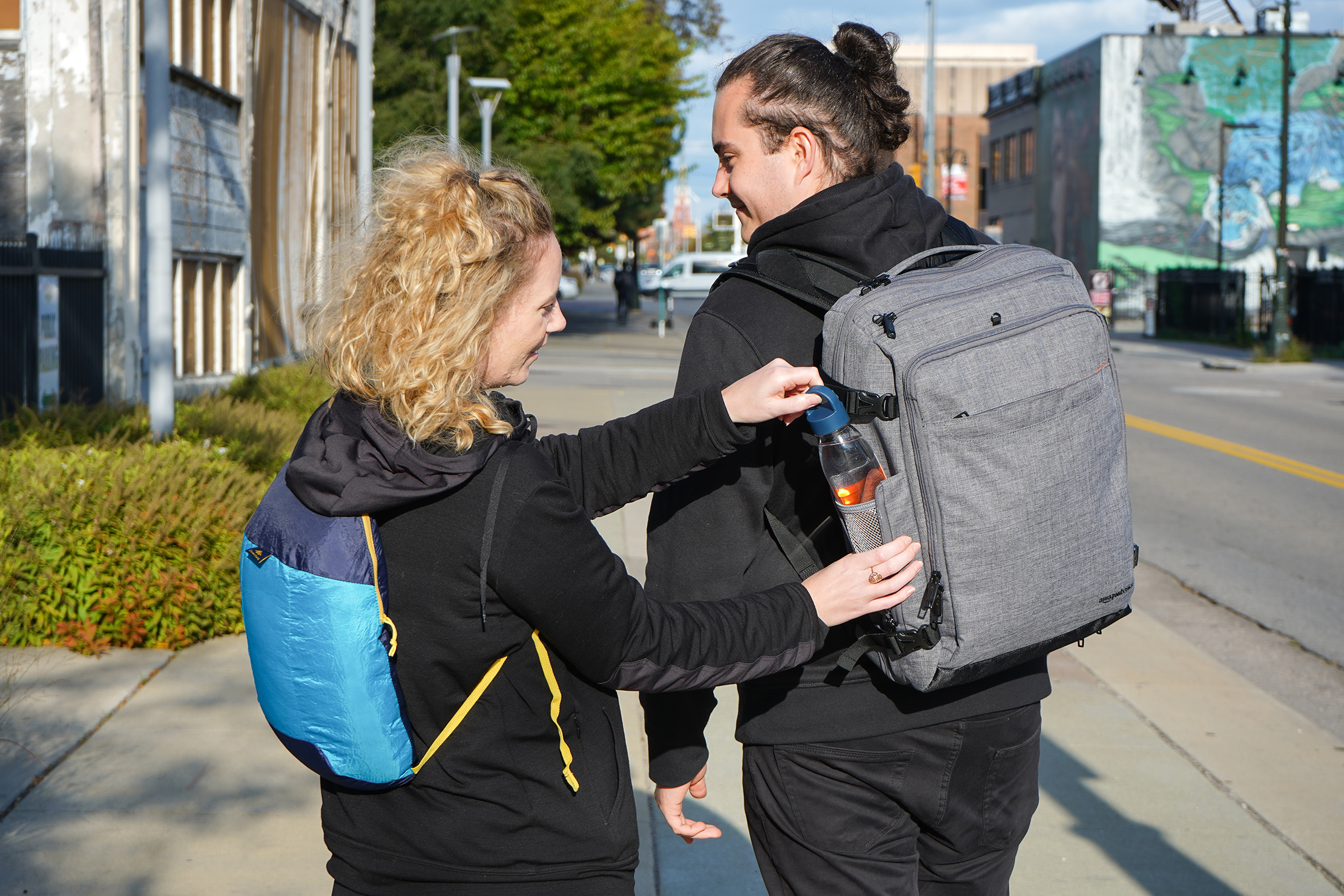 The items on this list are as durable and sleek as possible while keeping costs in mind. Not the cheapest of the cheap, but nothing wildly expensive either. Plus, we split some sections into men's- and women's-focused lists—plenty of items are unisex, so there's overlap too. Either way, it's everything you need to travel the world.
We've tried and tested every single item on this list across different countries and continents. Some for a few years. And we're confident we've found the best of the budget gear. But if nothing on this list gets you going, don't worry. We have more packing lists, guides, and reviews that'll help you find what works best for you.
Now, to be clear, the following items aren't exactly innovative. They probably won't be durable enough to pass along to your grandchildren either—although we've been pleasantly surprised with a few of them.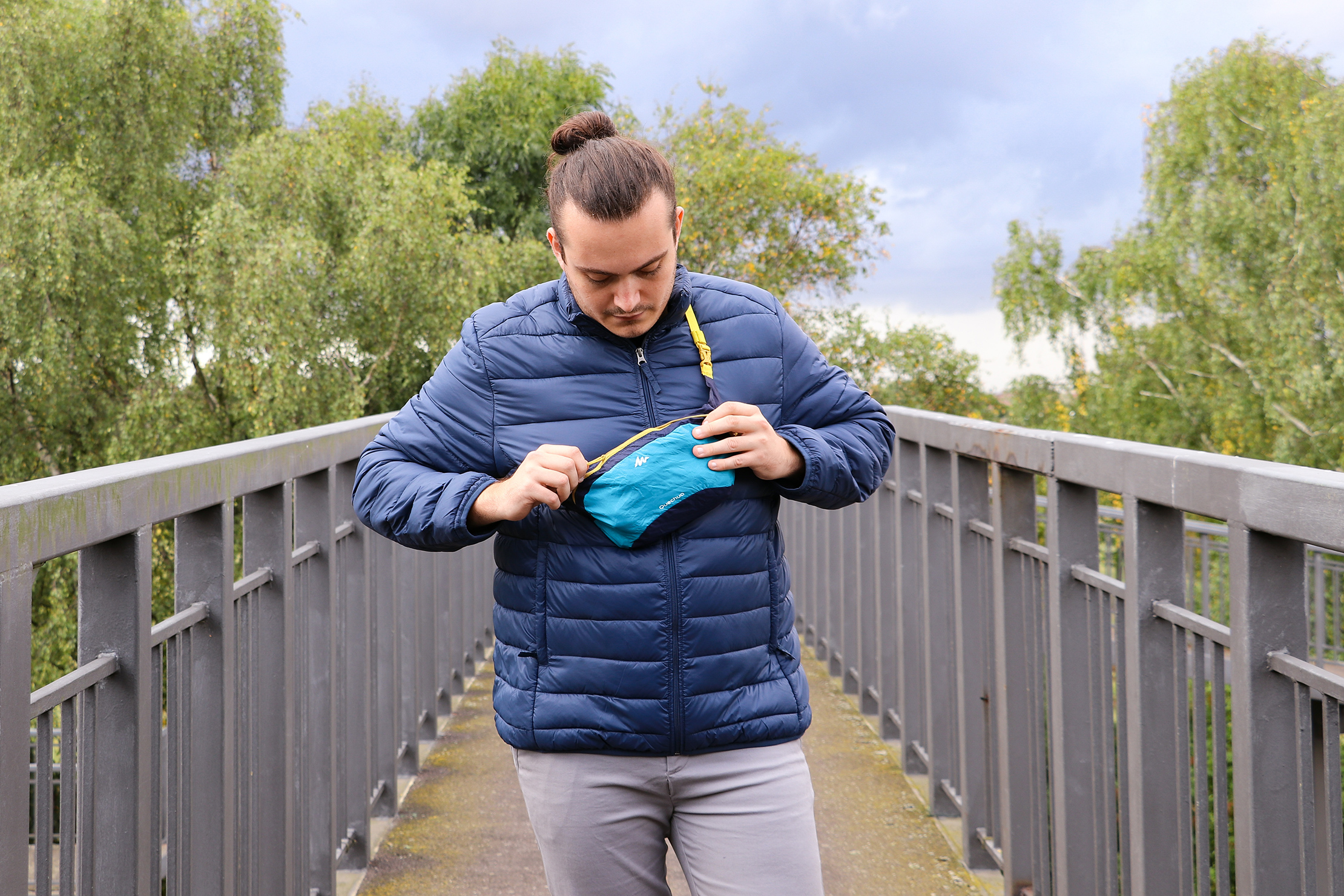 If you can afford it, we suggest mixing and matching budget gear with a few investment pieces. That way, you won't have to worry about all of your gear breaking on you at once—in a foreign country no less—and you can slowly build a collection of durable gear you'll be able to travel with for years to come.
And remember: saving money doesn't necessarily mean buying budget brands. You can find name-brand gear for reduced prices at thrift stores (both online and in-person) or "deals-focused" travel sites—like Mountain Steals or REI Outlet (to name a couple).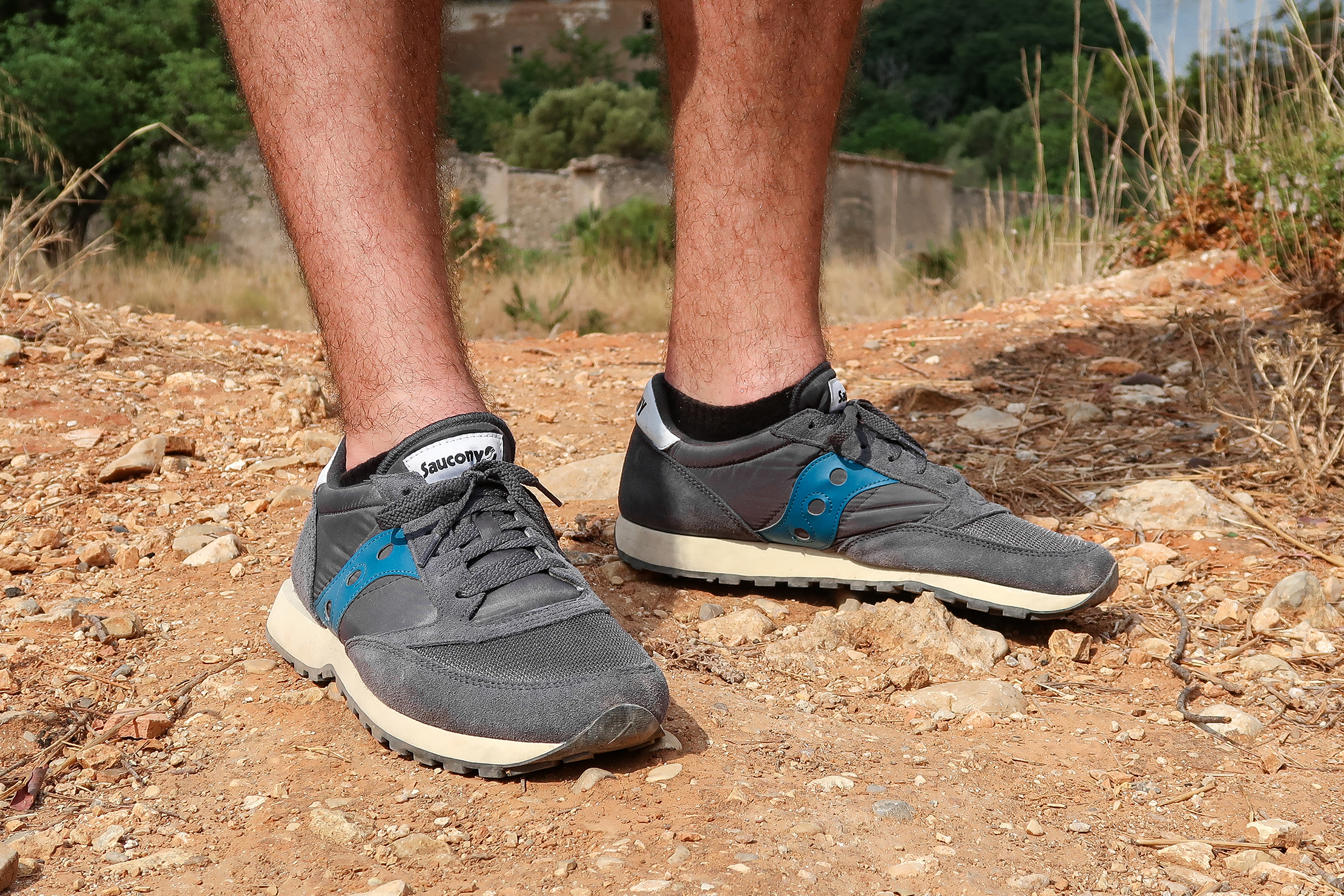 Keep an eye out for discounts. If you don't mind clearance colorways or products that are so-last-season, you can save big.
Lastly, don't forget what you already have. It's not exactly budget-friendly to buy one of the shirts we've recommended if you already have a solid collection of shirts at home.
So, without further ado, let's get packing.
Budget Packing List Video
Standalone Bags & Organizers
If there's anything worth investing in it's a backpack. While traveling, your backpack is your home, and you know what they say—there's nothing sadder than when the zippers break on your home (that is a saying, right?). We've put these bags and organizers to the test and, so far, they've held up surprisingly well.
Because we're opting for the one-bag travel method, all of the items on this list will fit into the main travel backpack. We've included a day pack and sling bag for day trips and flights.
This travel backpack delivers incredible bang for your buck. There's plenty of organization, a sleek orange interior lining (so you can see what's going inside), and it's built to last with YKK zippers and Duraflex buckles. If you're on a budget and looking for value, this is the bag to buy.
Even though this backpack is one of the cheapest on the market, it still has a lot to offer. At 10L, it's a great size for days out. Plus, it comes in multiple colors and packs away super small—and let's not forget, this thing looks pretty smart too!
If you're looking for a waist pack that packs incredibly small, then look no further. This waist pack—which can also be worn sling-style—is a great companion to one bag travel. Plus, it has just the right amount of internal organization.
Clothing & Accessories
Obviously, the cheapest option is to wear what you already own (you do own clothing, don't you?). But if you have some room in your budget, we recommend grabbing versatile clothing that'll keep up with all of your adventures—whether you're ascending a mountain peak or touring the back streets of a city. One-bag travel doesn't leave a lot of space for packing clothes that'll only work in specific situations, after all.
The used clothing market is a hopping one, so this is also a good place to check out thrift stores. Sales too!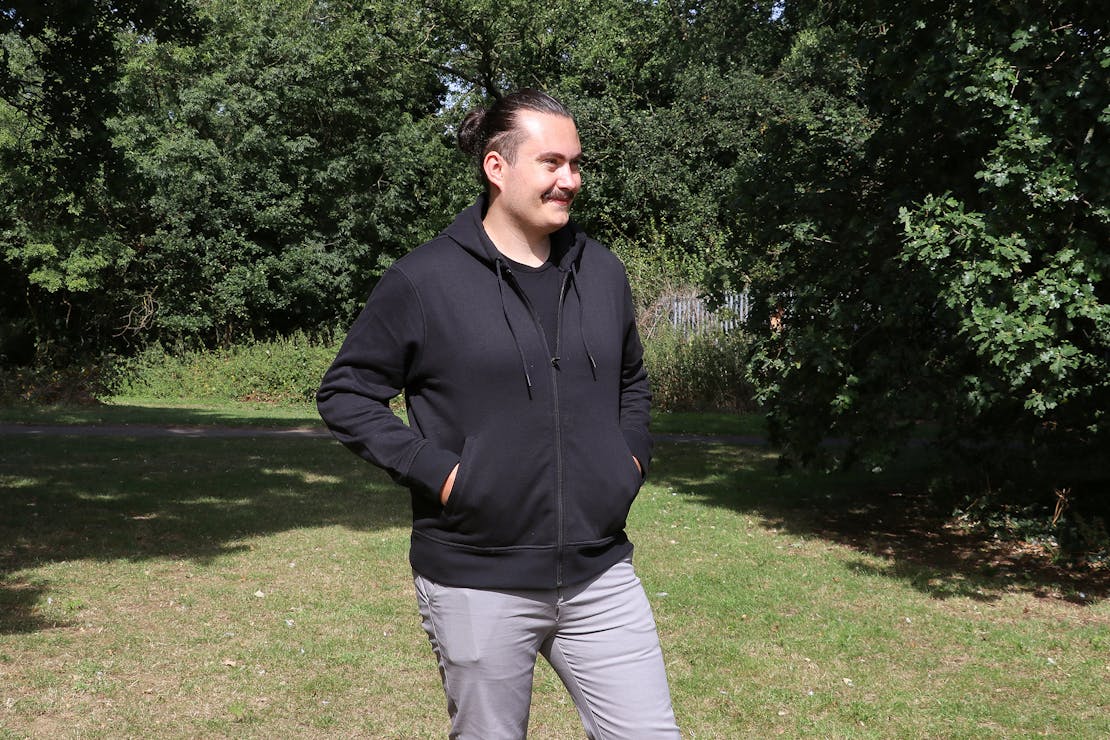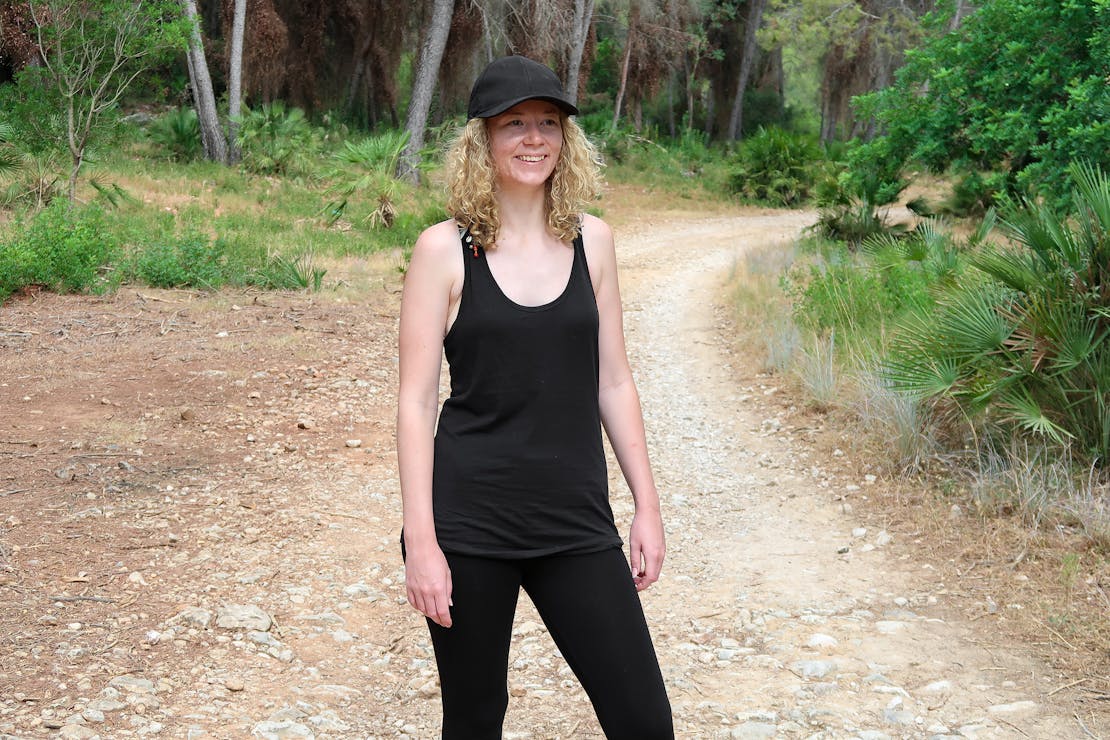 Are these the coolest boxer briefs you can buy? No. But the CoolZone mesh fly does keep everything light and airy. The legs can feel a little tight at times, but this means they never ride up—which is a tradeoff we're more than happy to make.
These things are your simple, everyday chinos. There's not a lot of flex or stretch so they're not great for the more adventurous, but that's okay for us urban dwellers. The slim fit is stylish without being too restrictive—plus, they're available in a few different colors too.
Need shorts to wear on the beach? Need some shorts to wear around the city? Welcome the Dry Stretch Easy Shorts from Uniqlo. These things are stretchy and comfortable no matter how long you wear them—and they dry so quickly you can wear them for a swim too.
We like that the grip buckle on this belt allows it to be worn by people of various waist sizes. And we love the hidden security pocket. This pocket isn't big enough for passports or cards, and it is tricky to access when you're wearing the belt, but it's perfect for stashing a bit of cash for when you may need it.
Despite the budget price tag, this multi-pack of underwear is much more comfortable than we expected. They do a good job keeping you cool, they're easy to wash, and there's no annoying tag inside. Great value and travel-friendly? That's what we like to hear!
While this may not be the most attractive looking bra around, it's super soft, extremely comfortable, and versatile. You can even switch up the straps to get a style that works for you. So whether you're wearing your tee or your tank top, this bra has got you covered.
These pants will hug your curves while giving you enough freedom to be comfortable whatever you're doing. For those long travel days, train rides, long haul flights, or just sitting in a co-working space for 12 hours (it's not just us right?) these pants will be an ideal travel companion.
Although these shorts will wrinkle in your pack, we're willing to put up with this for their lightweight design and minimal style. Wear these high-waisted shorts with your tee, tank top, or even over your swimsuit. Plus, to make up for those wrinkles, they dry quickly and will take up minimal space and weight in your pack.
These budget leggings combine comfort and style for those travel days where you just want to be cozy, but still look good (we've all been there). Although these leggings aren't as thick as some alternatives, they'll be able to take you from a mountaintop in Nepal to the nightclubs of Berlin—depending on how you wear them. Sounds like a win-win to us!
Despite taking up more space in your pack, this dress ticks so many boxes—it's soft, comfortable with good coverage, and a great length. Dress it up or down for any occasion. Plus, no need to wear a bra...bonus!
This tank top is ideal for when things get warmer, or to use as an extra layer when the temperature drops. Although this top doesn't seem like "anything special" it's versatile, simple, and will work well as your everyday go-to (and who doesn't want that?).
Simple, stylish, and sexy…yep, we said it! Who knew a budget swimsuit could make you feel so good? The backless design and waist panel gives you that Instagram-ready fit, yet still offers enough coverage and support for the beach or even a water-park.
In all honesty, we really weren't expecting much from a t-shirt of this price. Fortunately, we were pleasantly surprised. The fit is comfortable in all the right places and it's lightweight and soft against your skin. Plus, it's available in a ton of different colors.
This versatile headband is great value for money. Curious? Well, it's so much more than just a headband. Use this in your hair, when you're in the gym, as a neck scarf, or even an eye mask.
The adjustable strap on this cap makes it a great option for both men and women. And the minimal, sleek design allows you to wear this hat as a fashion statement, to get some shade, or even to hide a bad hair day. You decide!
Despite this jacket not being wrinkle-free—and let's be honest, it's not the best looking raincoat on the market—it does a great job at keeping you dry while taking up minimal space in your pack. We've found this can even be worn over your hoodie or jacket. And when it's not in use, it packs away into its own pocket.
Wear this hoodie as a top layer for those fall evening strolls or as a mid-layer underneath your puffer jacket when the temperature drops. Being simple, discreet, and incredibly cozy, this hoodie is ideal for days out or days under the duvet.
These classic sunglasses are going to keep you looking stylish while protecting your eyes at the same time. Despite being a budget option, these sunglasses have a category three UV filter and come with a soft carrying pouch.
These gloves don't have any bells and whistles that you'll want to shout about, but we do think you'll be telling all of your friends what a great deal they are. If you're looking for soft and comfortable gloves with a snug fit and discreet design (without breaking the bank), then these could be the ones for you.
This simple, lightweight, and packable puffer jacket is great for keeping you warm in those colder climates without taking up too much weight in your pack. With a great warmth-to-weight ratio, YKK zippers, and even zippered pockets, this jacket ticks a lot of boxes.
These quick-drying budget socks have a cushioned sole and mesh ventilation which offers comfort and support in all the right places. All of those features come together to make a solid pair of socks that should hold up throughout your travels.
While we know there are cheaper options on the market, what you wear on your feet is important and we want to make sure you can get from A to B without any issues or complications. These sneakers are comfortable to wear all day long and come in a ton of different colorways—plus we're digging the vintage look of these things too.
These flip flops are an ideal solution for one bag travel. Not only will they take up minimum space in your pack, but they're also versatile. The minimal, all-black design means that you can wear these sandals in most environments—so whether you're heading out in the sunshine, off to the beach, or even risking the hostel showers, these will do the job well.
If you're looking for new packing cubes but don't want to blow the budget, the AmazonBasics may be just what you're looking for. Available in a range of sizes—so that you can find what works for you—these packing cubes have impressed us and stood the test of time (two years of testing to be exact). Now that's value!
Productivity & Tech
Budget and technology go together like, well, like peanut butter and mayonnaise. That's to say, they don't (no offense if you're a peanut butter and mayonnaise sandwich aficionado). But in this technology-driven world, there's no getting around it. You're going to need some tech.
Luckily, you probably already have some (what are you reading this on?). And you can always pick up refurbished items from the manufacturer or scour places like eBay and Craigslist. In this section of the list, we're not going overboard on the tech. We're only recommending items that you need, or, at the very least, are too convenient to pass up.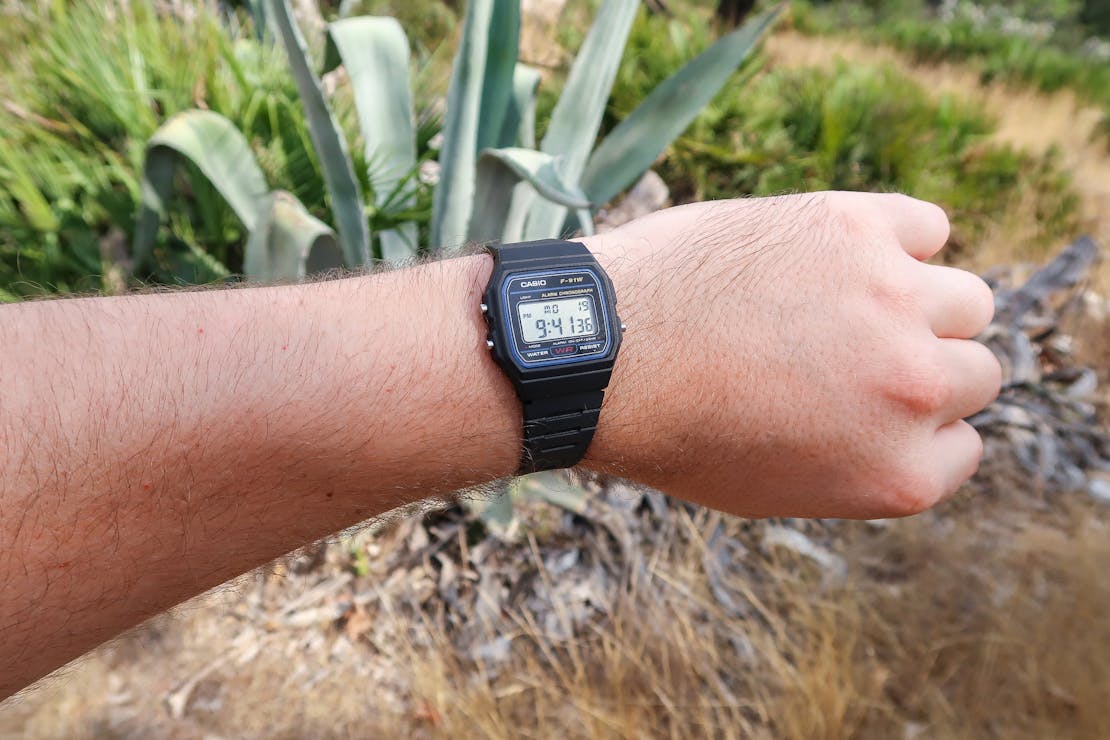 Cheaper phones are available, but this isn't just any phone, this is a smartphone. This means maps, camera, music, Facebook, Instagram, etc. All for an incredibly reasonable price-point too. Better yet, Nokia is the first brand that should come to mind when you think "durable phone," so this one shouldn't let you down.
These certainly aren't going to satisfy the audiophiles out there, but they're easy to use and you can listen to music with them. For around ten bucks, that's really all we can ask for.
It's always a good idea to have a few pouches on hand to organize gear inside your bag. These KNALLBAGE Accessory Bags from IKEA come as a set of three—making their budget price even more impressive—and their felt material is protective and nice to interact with too.
If you're on a tight budget you can potentially forego a tablet and just use your phone, but being able to lose yourself in a film (or book) on a 7" screen while you're on a bumpy 8-hour bus ride could just be priceless. For its price, this is by far one of the most versatile and reliable tablets available on the market—and we've put ours to the test for over three years across 20+ countries.
A power bank is something most people can live without, but it's a real game-changer when you get your hands on one. This compact power bank could save you if your phone is running out of battery and you can't find anywhere to charge it. Throw this thing in your sling and you'll never fear the dreaded battery warning on your phone (or tablet) again.
Why charge one item when you can charge four!? That's right, this USB Wall Charger from Syncwire has four ports for simultaneous charging of all your gadgets. Better yet, it comes with a U.K., European, and U.S. plug adapter—so you can use this thing almost anywhere in the world.
A Casio Digital Watch is a timeless classic—whether you're in an arcade in the 80s or up a mountain in Nepal in the modern-day, this thing is looking slick on your wrist. It's lightweight, water-resistant, and available for a surprisingly low cost.
Have you ever tried to hold your phone or tablet for the length of a movie…it's not fun. The Nite Ize QuikStand is the size of a credit card, meaning you can keep it in your wallet, and allows you to stand up your phone just about anywhere in the world (as long as you have a flat surface of course).
Toiletries & Personal Care
The good news is you don't have to shell out much money for toiletries. And it's an expense you can't get away from even if you're not traveling (we would hope, anyway). While having a Dopp kit and electric toothbrush is a plus, you can get away with a Ziploc bag and one of those free toothbrushes hotels pass out (just don't tell your dentist). Not ideal, but they'll get the job done.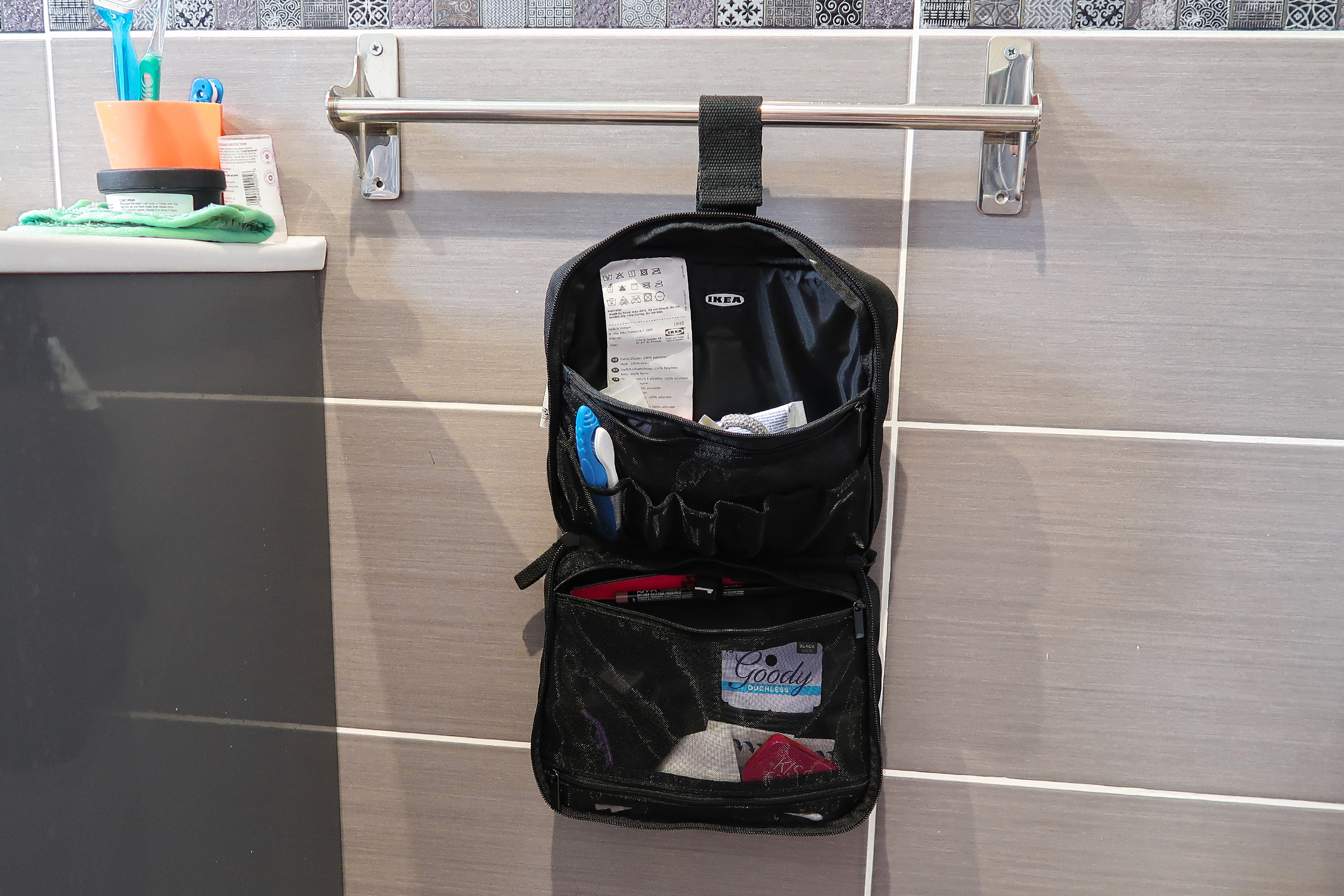 Even if you've already got a razor, these Sensor 3 disposables from Gillette may still be cheaper to pick up than those fancy replacement heads. We'd recommend keeping it Gillette (a well-respected brand) over anything too budget—let's not forget these are razors that you'll be using on your face after-all.
Not everyone travels with a comb, but the Muji Folding Travel Comb is a great budget-buy if you do. The plastic is surprisingly tough, and the teeth are protected when you fold this thing up—which also saves space in your toiletry bag.
This razor is not only a great value for the money, but it's also super smooth and easy to use. Plus, you can buy them as a multi-pack—so chip in with your travel buddies or stock up for yourself, you decide!
This menstrual cup will give you peace of mind when you're on the road. It's always there for you to rely on and at less than half the price of some alternatives, it will save you money now and while traveling. If you've not used a menstrual cup before, it may take some getting used to, but we've been impressed with what it has to offer and that it doesn't use any harmful rubber or plastics.
Whether you're having a bad hair day, it's too hot, or you just need your hair out of your face, these hairbands will do the trick. Even when tested with thick curly hair, these bands did a great job with minimal tangling and damage.
Despite being super minimal, this hairbrush does a solid job of getting through those tangles or styling your luscious locks. Plus, this brush is pretty lightweight and folds in half—so you'll be saving space and weight inside your pack.
Not your average deodorant! This stuff is natural and it lasts forever—which means you won't be spending more money on deodorant when you're on the road. It's gentle on your skin (no chemicals or anything nasty) and it won't ruin your clothing. It's also a literal rock, and while the full size is kind of heavy (because it's a literal rock), the travel size is a quarter of the weight and just as effective.
Although this toothbrush isn't going to clean your teeth as well as that electric toothbrush your dentist recommends, it still gets the job done. And, after your teeth are squeaky clean, you can fold it in half to save space in your Dopp kit.
This set may not be your most exciting purchase, but they'll come in handy for multiple use cases. Nails, stray hairs, splinters, threading a needle, or even cutting loose threads or opening packages (the list really does go on). This sharp-looking clipper and tweezer set will keep you looking sleek on the road while also giving you a helping hand should you need it.
From the get-go, this travel set is a great value for the money as there's so much going on here. With all of the different containers, you can mix and match your toiletries to find what works for you. And although these bottles are more time consuming to fill up, the slim design lets you save space in your toiletry bag.
If you're searching for a travel towel that's quick-drying, soft, packs up small, and doesn't bring every single grain of sand home from the beach, then look no further. This microfiber towel is great at all of the above, and it includes a handy elasticated band that holds the towel together when it's rolled up.
Since it's an official TSA rule that you need to put your liquid toiletries in a quart-sized clear plastic bag, it's always handy to have one of these around—and they may be more multifunctional that you think. Extra toiletries? Ziploc Bag. Packing cube broke? Ziploc Bag. Need an extra organizer? Ziploc Bag. Lost all of your clothing? Ziplo…Okay, maybe we went too far, but these are pretty darn useful!
This may not be the most lightweight toiletry bag around, but it is big enough to fit everything you need to travel continuously around the world. With lots of handy organization—including various compartments, zippered mesh pockets, and even a Velcro strap that can be converted into a handle—this bag can become a great travel companion.
Miscellaneous
And then there's everything else. Some of these items will end up saving you money in the long run. If you're caught in a rainstorm and end up ruining your backpack—not to mention the tech inside of it—buying replacements will cost you a lot more than a rain cover.
Other items fall into the nice-to-have category. Sure, they're optional. But you may be kicking yourself if you don't splurge on those $5 earplugs when you end up sitting next to a screaming toddler for your 10-hour transatlantic flight. Don't say we didn't warn you.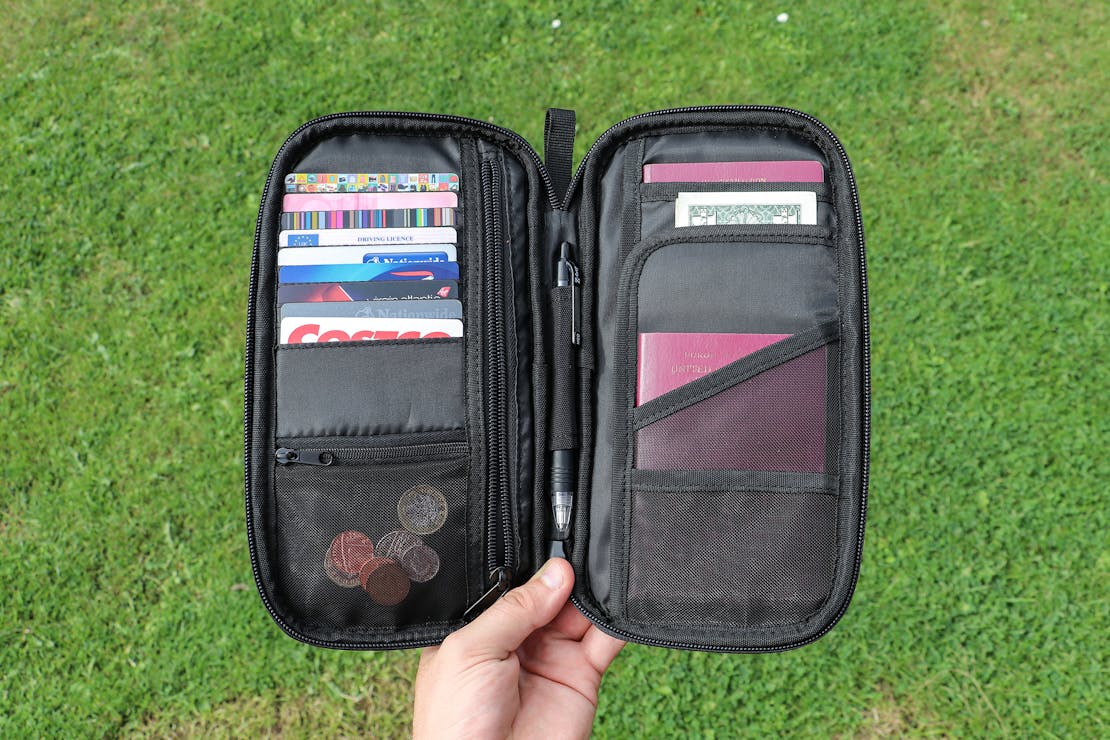 While the travel backpack we've been testing is a great bag, for its budget price, you don't get an awful lot of weather-resistance. You'll be fine in a light shower, but for anything more this rain cover from Unigear will do the trick—it even has two buckles so you can secure the cover in place.
This no-frills water bottle is a great buy for the super low price. It's sturdy enough to endure drops and the looped attachment point at the top is a nice touch. Plus, it's from IKEA (we're sure you've heard of them).
Some people struggle to get earplugs to stay in, other people can't sleep on a plane without them. One thing we're all agreed on is that, for the price, you can't go wrong with these earplugs from Muji. The case is not to be forgotten either, it will save your earplugs from getting damaged, lost, or extra gross.
A sewing set can save you some cold hard cash. Seriously. If you rip a piece of clothing, or the stitching starts to come away, some quick sewing can save you from having to replace the item. This Portable Sewing Set from Muji is super compact and available at a great price too.
You don't need one of these things, but they can come in pretty useful for the price. You can use this s-shape hook to attach items to the outside of your bag (think water bottle, wet towel, etc…) or to hang your bag up instead of resting it on the floor.
These durable and lightweight locks are super easy to use and they're not going to cause too much damage to your wallet either. Despite being a budget option, these locks have stood the test of time—and being TSA approved, you'll have no worries when you're passing through security.
A super-budget-buy from AmazonBasics here. This Passport Wallet is large enough to hold multiple cards, some spare coins, a pen, your boarding pass, some extra cash, and of course your passport too. It's not the most beautiful looking wallet, but it does the job.
Ready. Set. Pack.
So there you have it, folks. Our tried and true budget items that will help you travel the world—even if you're not rolling in cash. Remember, travel doesn't have to be for the rich. Get creative, scour the used gear market, and try to balance budget with value.
Now you're ready to spread your wings and venture into the great unknown (or, you know, southeast Asia or wherever).