Quechua Ultra-Compact Packable Backpack Review
The Quechua Ultra-Compact Packable Backpack is one of the most budget-friendly compressible backpacks out there—and it's hardier than it looks.
Our Verdict
Unlock the Pro Summary
Save time. Get access to brief summaries of our reviews so you can browse and make decisions more efficiently.
Pros
Budget-friendly
Available in multiple colorways
Packs up super small
Cons
Not made of the highest-quality materials
Small interior capacity
Straps are flimsy
Recent Pack Hacker Video
Technical Details
Capacity

10l

Weight (oz)

1.7 oz (48.2 g)

Dimensions

13 in x 8 in x 4 in (33 x 20.3 x 10.2 cm)

4" x 2" x 2" when compressed

Notable Materials

Polyester

Manufacturing Country

China

Warranty Information
Full Review
Today, we're going to take a look at the Quechua Ultra-Compact Packable Backpack, which as the name suggests, is a budget-friendly compressible backpack. And when we say budget-friendly, we mean budget friendly.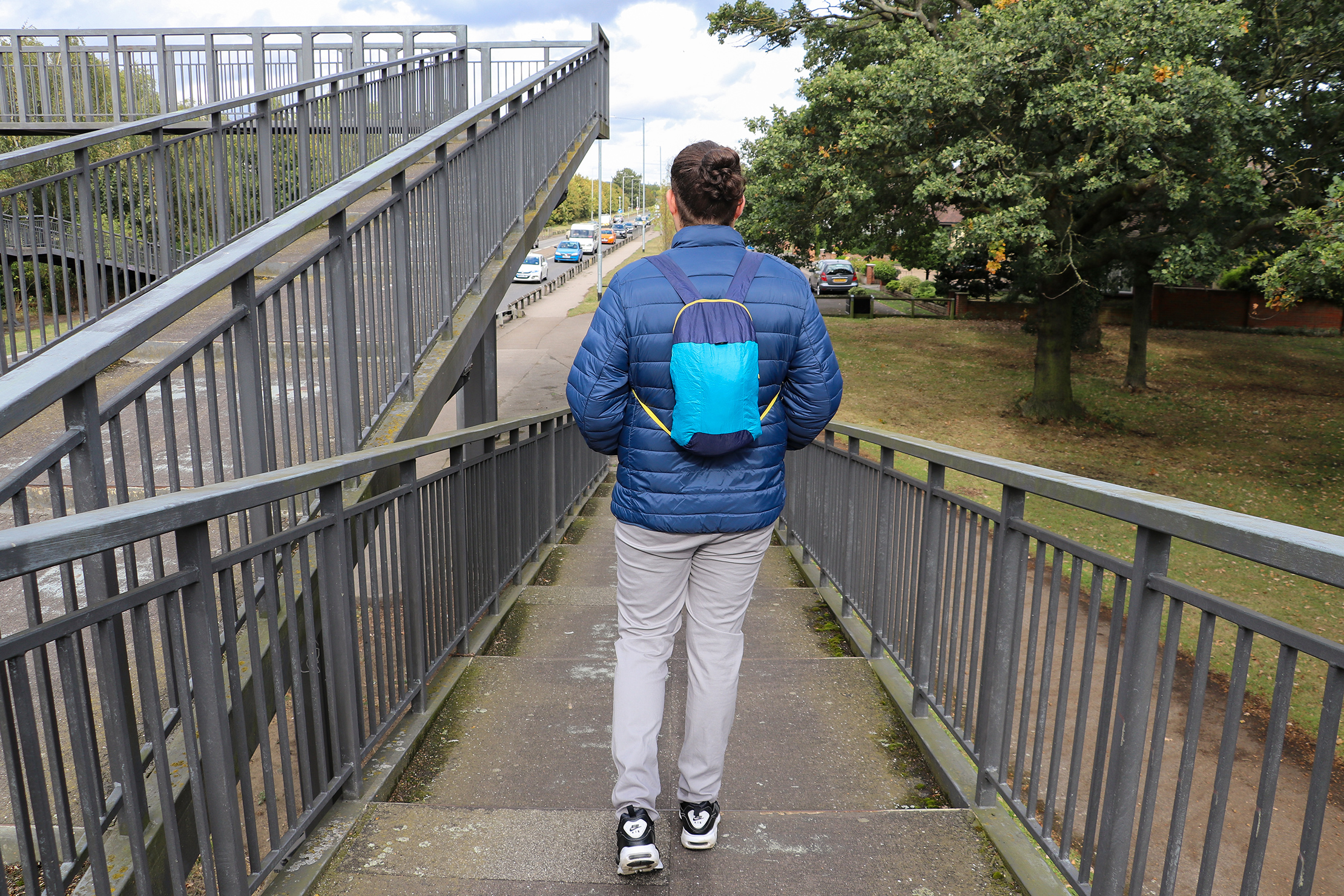 This thing will cost you less than a cup of coffee, less than a pineapple, less than a travel-sized bottle of sunscreen, less than…well, you get the idea. It's cheap!
We know what you're thinking—for that price this thing is bound to have some major flaws. Which is true, although it's more durable than it looks.
We've been testing the Quechua Packable Backpack for two years, most of which was spent traveling through Asia and, more recently, Europe. And it's still going strong.
So let's get into the full review.
Materials & Aesthetic
While only 21% of our Instagram audience likes the look of this backpack, we're not that offended by its aesthetic. We actually think it looks alright. It's available in six colorways at the time of this review and we've been testing both the blue and purple (or Royal Rain if you want to get technical).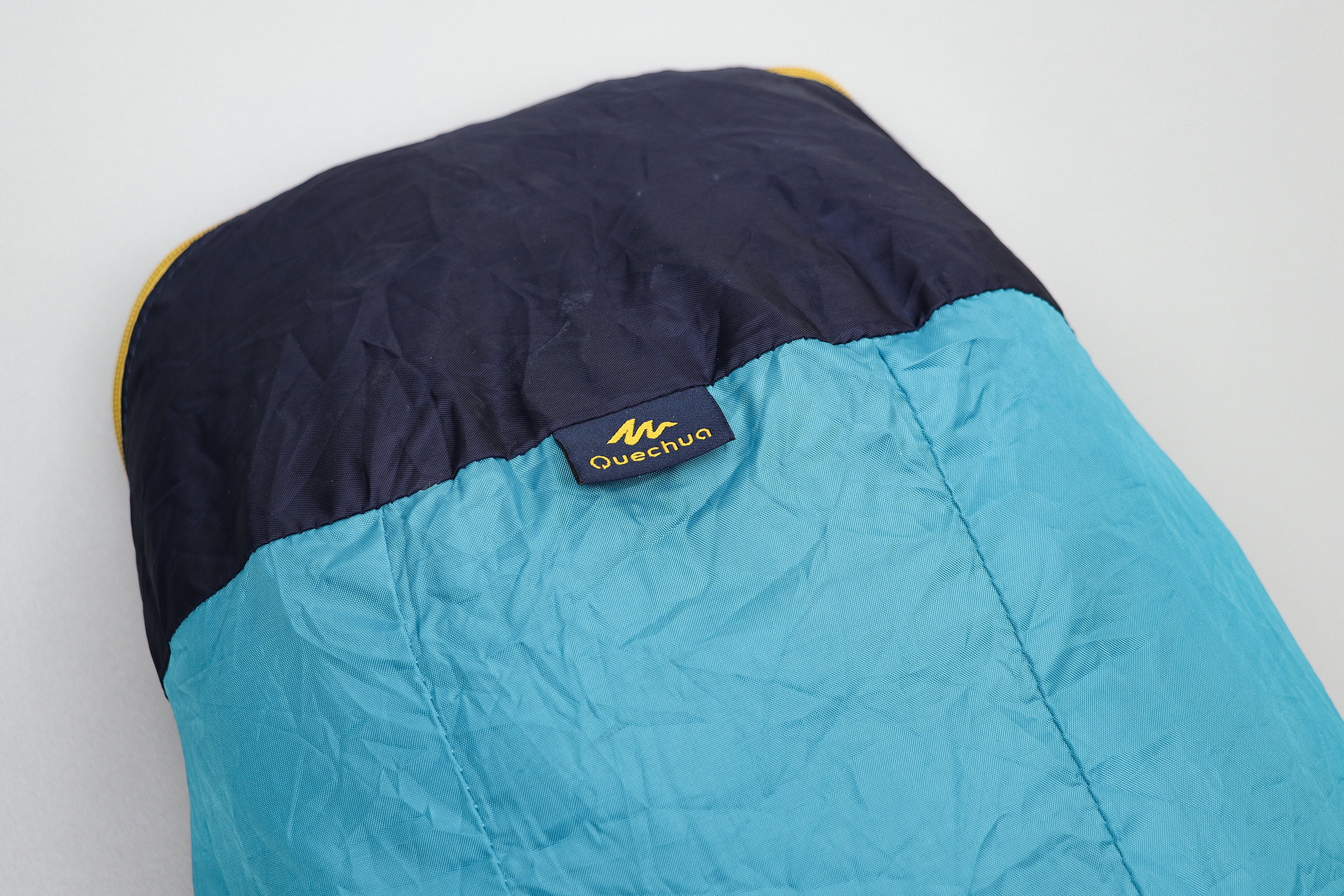 It looks like a packable backpack and by that we mean, it's crinkly. As crinkly as crinkle fries. The Quechua logo can be found front and center on the exterior of the pack, although it's pretty small and discreet.
It's made from thin polyester, which isn't surprising as polyester is a cheap, synthetic fabric. It's not going to disintegrate in your hands by any means, but you should be careful with what you carry inside of this pack. If you're carrying around your collection of pointy sticks and one of them pokes a hole in the fabric, the tear will expand until the backpack is rendered useless.
The zippers are from SBS, so they're not the most durable zippers on the market. But they should do alright as long as you're not an aggressive zipper (zipperer?).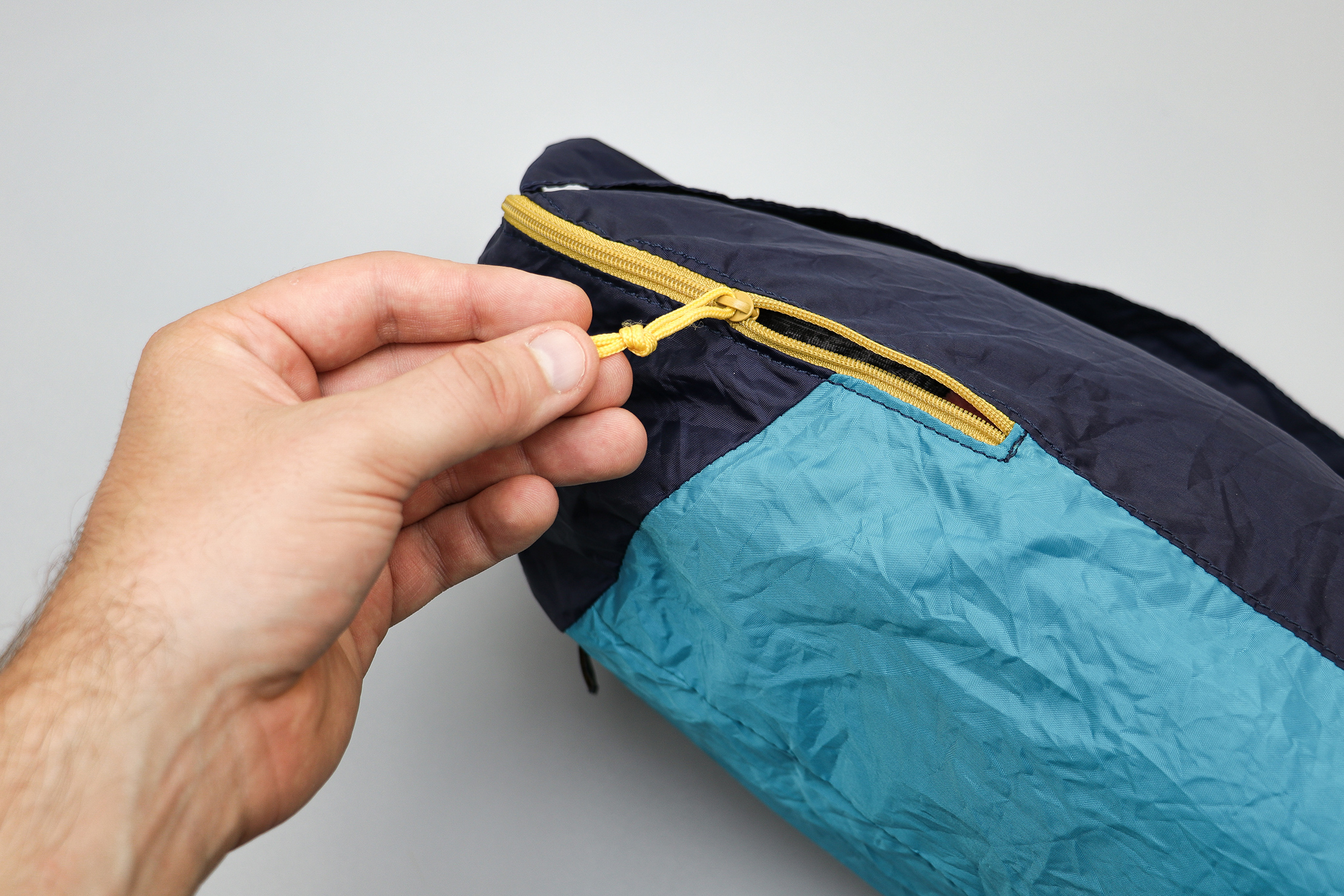 External Components
There's not much going on here. Packable backpacks aren't known for their ingenious harness systems, and seeing how this is a budget packable backpack it's even more minimalistic.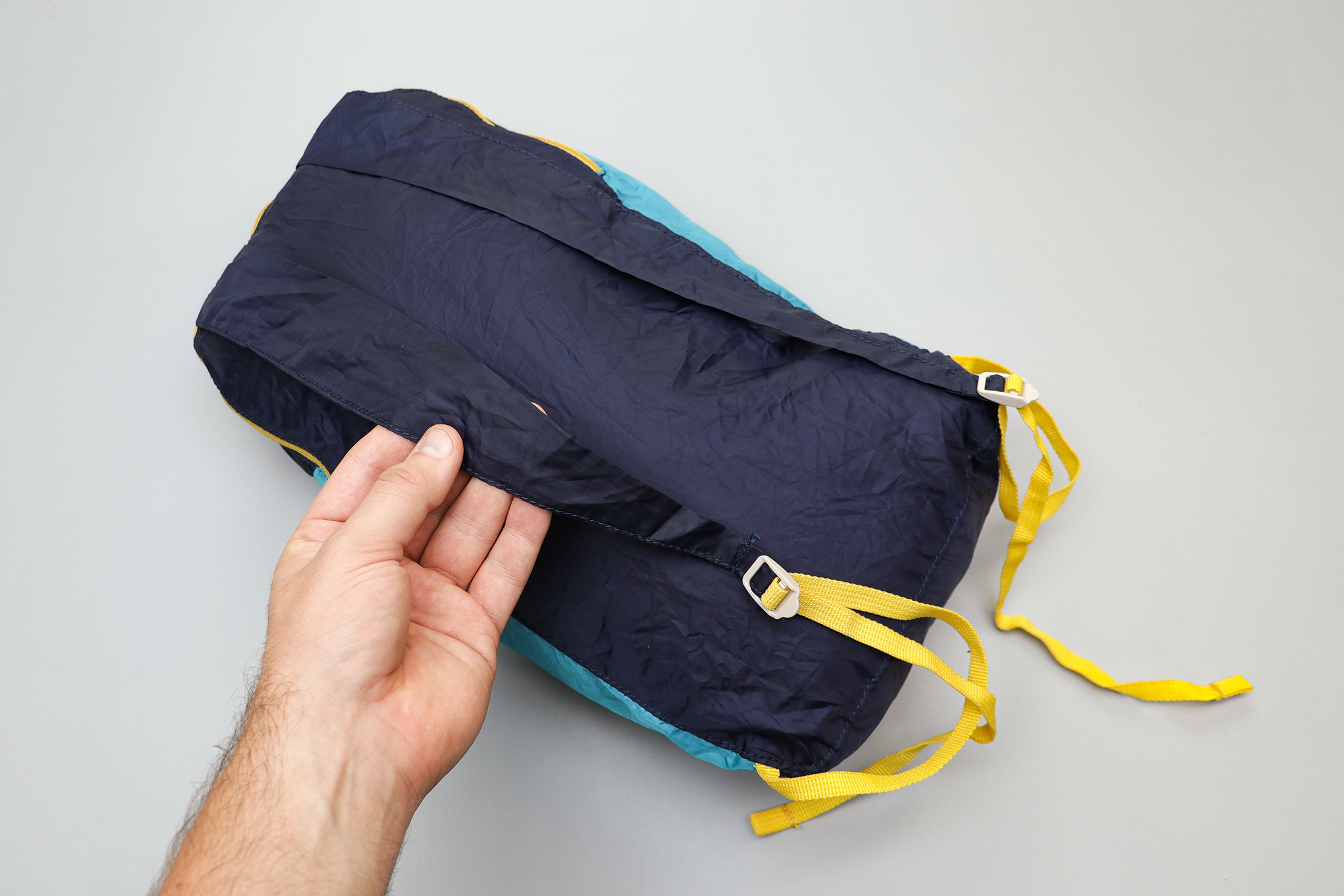 All that to say—it has straps. Though, they can barely be considered straps. They're more slices of polyester fabric. But you probably won't be keeping anything heavy in here—and as long as that's the case these straps work just fine.
One great thing about these straps is that they work on almost any body type. They're as comfortable for a six-foot-something man and a five-foot-something woman.
Inside the Pack
There's not much going on internally either. When you unzip the horseshoe style opening, you'll find the stuff sack for the backpack and…that's it. The interior is one large bucket to put whatever you want inside. Well, probably not whatever you want. As we said earlier, you should be careful with what you carry inside of this thing.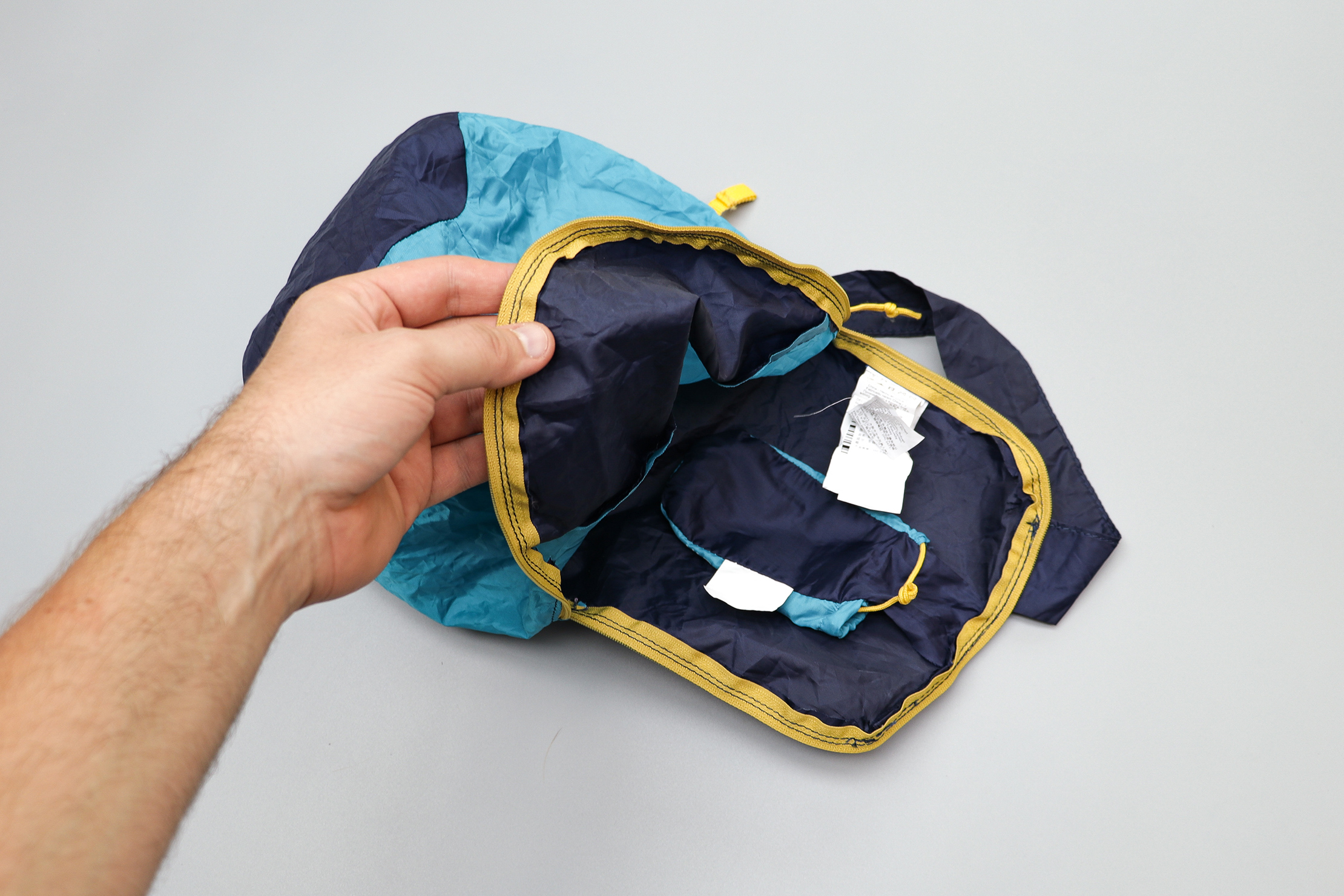 It has zero protection or structure—so we wouldn't suggest carrying any fragile tech here. Laptops probably wouldn't fit, anyway.
You also don't want to carry anything that'll damage the polyester, so put down those blocks of gritty sandpaper, scrapbooking scissors, or box of lit matches.
Durability & Testing
As we mentioned at the beginning of this review, we've been testing the Quechua Ultra-Compact Packable Backpack for two years now in India, Malaysia, Thailand, and all over Europe. We've enjoyed having it with us.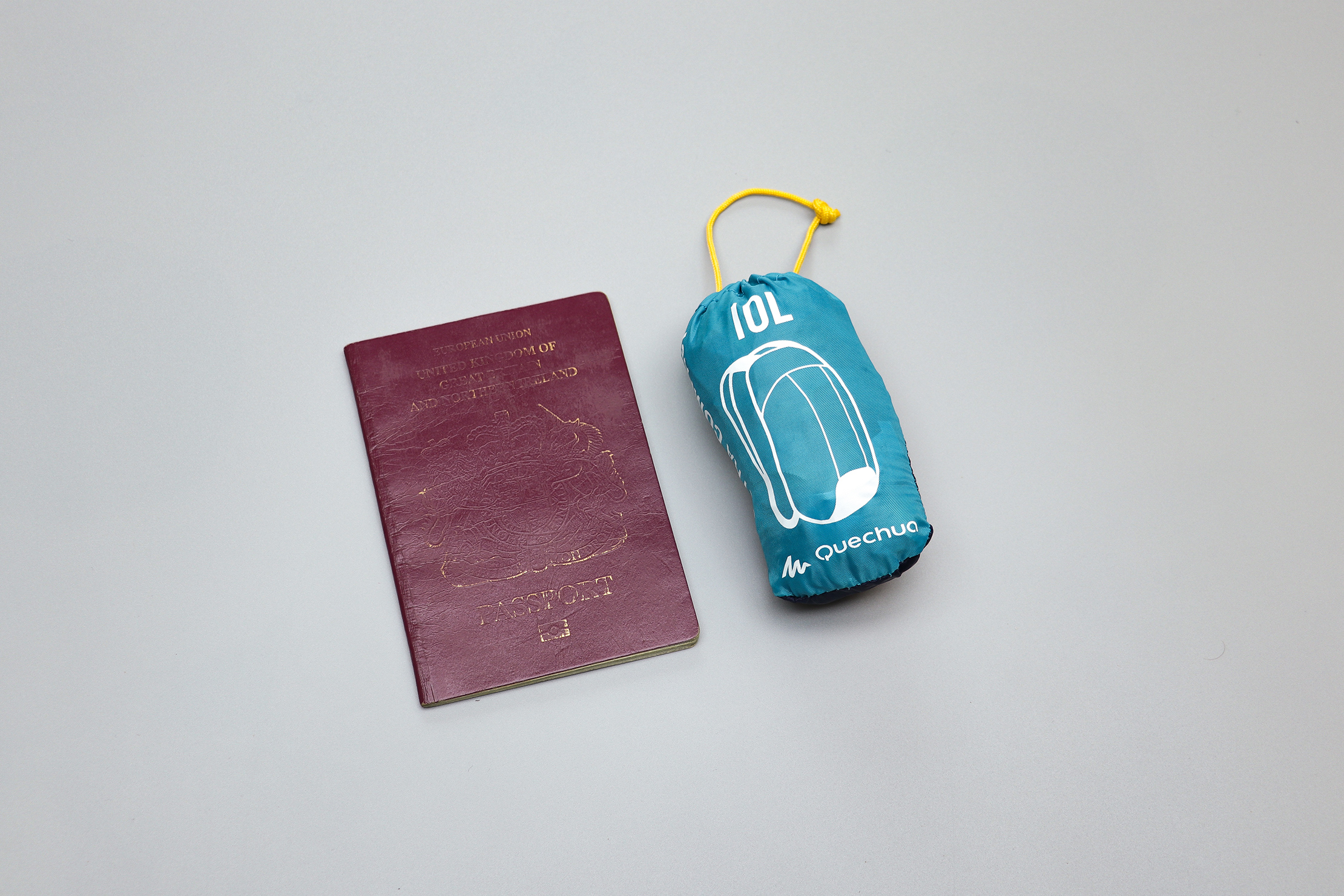 This backpack packs down extremely small—about the size of a tennis ball—and clocks in at 1.7oz. You can toss it in basically any pocket of any travel backpack and hardly notice it's there. It's a great pack to whip out for day trips when you'll want to carry only a few items like your raincoat and your wallet. We should note it's on the smaller end of backpacks and won't hold a mountain of stuff.
If you're looking for a backpack to haul your computer to coffee shops, or for something that'll be extremely reliable as you traverse the globe, this isn't the pack for you.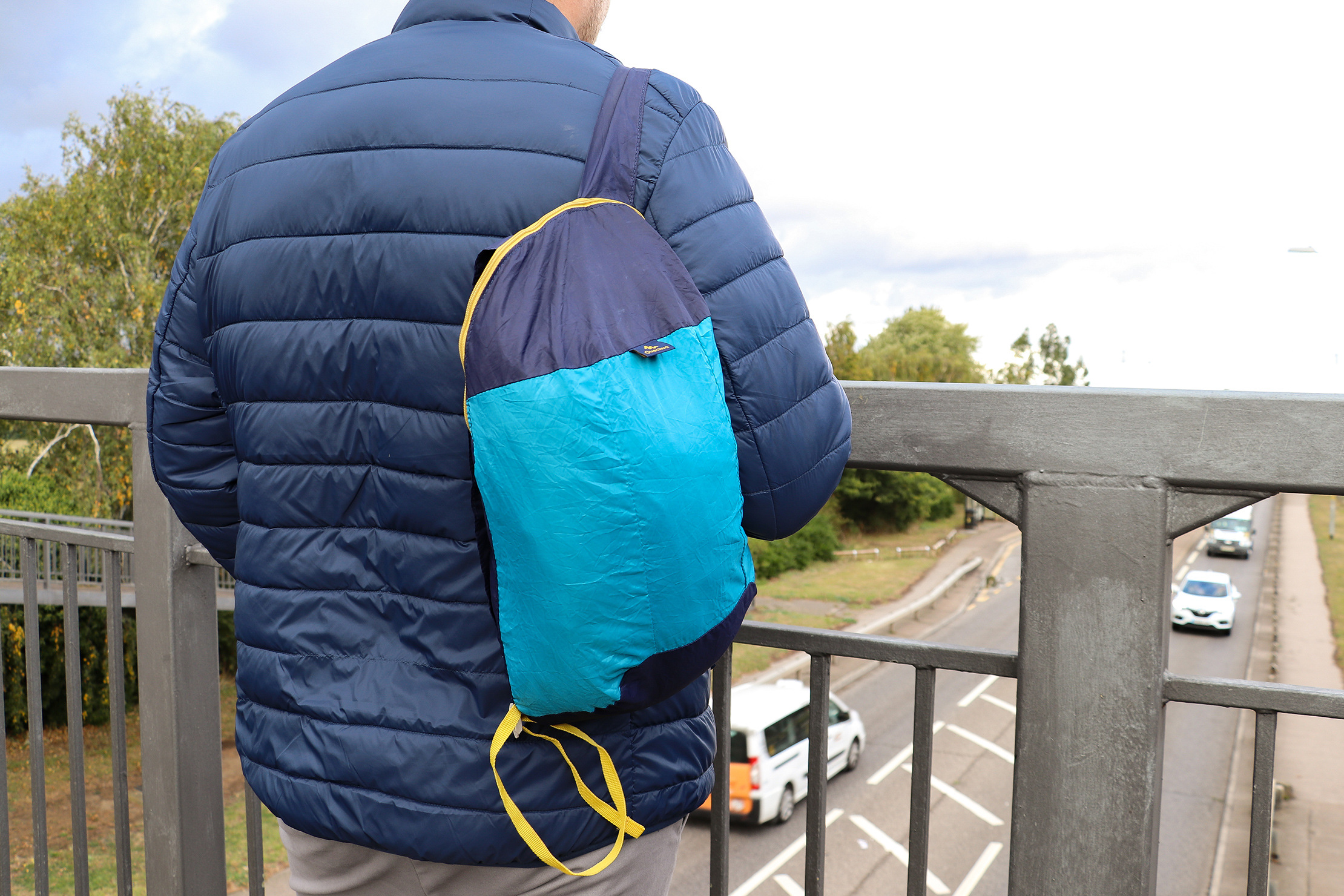 That said, we've had no durability issues. We've spotted a few loose threads, but after two years of travel, that's not bad. Not bad at all.
Usage Timeline
Initial Usage
Condition: Excellent
Packs up incredibly small for a 10L backpack
Nice choice of colors
One of the cheapest packable daypacks on the market
1 Month of Use
Condition: Excellent
Such a great deal for a handy packable backpack. Not holding our breath about how long it'll last, though.
2 Months of Use
Condition: Excellent
Everything still looks good.
3 Months of Use
Condition: Excellent
If we ever overpack it, the straps get uncomfortable. It's really only good for quick day trips.
6 Months of Use
Condition: Good
Spotted some loose threads along the stitching, but it's very minimal.
9 Months of Use
Condition: Good
No real wear or tear to report.
1 Year of Use
Condition: Good
A few more loose threads.
1.5 Years of Use
Condition: Good
We're surprised at how long this thing has lasted us! And it's still going strong.
2 Years of Use
Condition: Good
No complaints. We can't believe we picked this thing up for only a couple of bucks.
Access the Pro Community Discussion
Get your questions about the Quechua Ultra-Compact Packable Backpack answered from our team and the Pro Community right here on the page. Plus, join discussions with other members about gear, guides, and more.
Other Bags & Luggage Reviews