Nite Ize QuikStand Mobile Device Stand Review
The Nite Ize QuikStand is a super handy travel accessory—propping up your phone or tablet for those long bus, plane, and train rides. And it fits in your wallet.
Our Verdict
Unlock the Pro Summary
Save time. Get access to brief summaries of our reviews so you can browse and make decisions more efficiently.
Pros
Folds down to roughly the size of a credit card
Props up most tablets, smartphones, and e-readers
Still holding up after years of testing
Cons
It's best used on a flat surface
We'd like to be able to adjust the angle more
Recent Pack Hacker Video
Technical Details
Weight (oz)

0.4 oz (11.3 g)

Dimensions

3.4 in x 2 in x 0.2 in (8.6 x 5.1 x 0.5 cm)

Notable Materials

Polypropylene, Aluminum

Warranty Information
Buying Options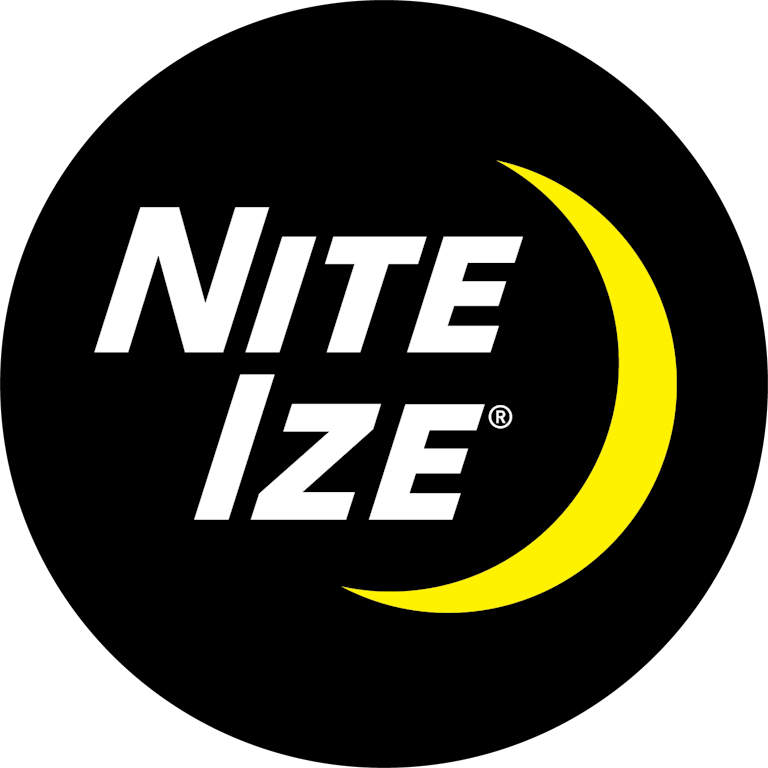 $9.99
$10.93
Full Review
Get up to 20% off Nite Ize • Join Pack Hacker Pro
Traveling isn't always as glamorous as Instagram would have us to believe. There are a lot of moments shuffling between destinations, killing time at airports, and flying or busing for 9+ hours. Which is where smartphones, tablets, and e-readers come in handy.
But holding your phone for the entire duration of a movie takes some Popeye strength most of us mere mortals don't possess. Enter the Nite Ize QuikStand. This nifty gadget is a mobile device stand that works for smaller tablets and e-readers as well.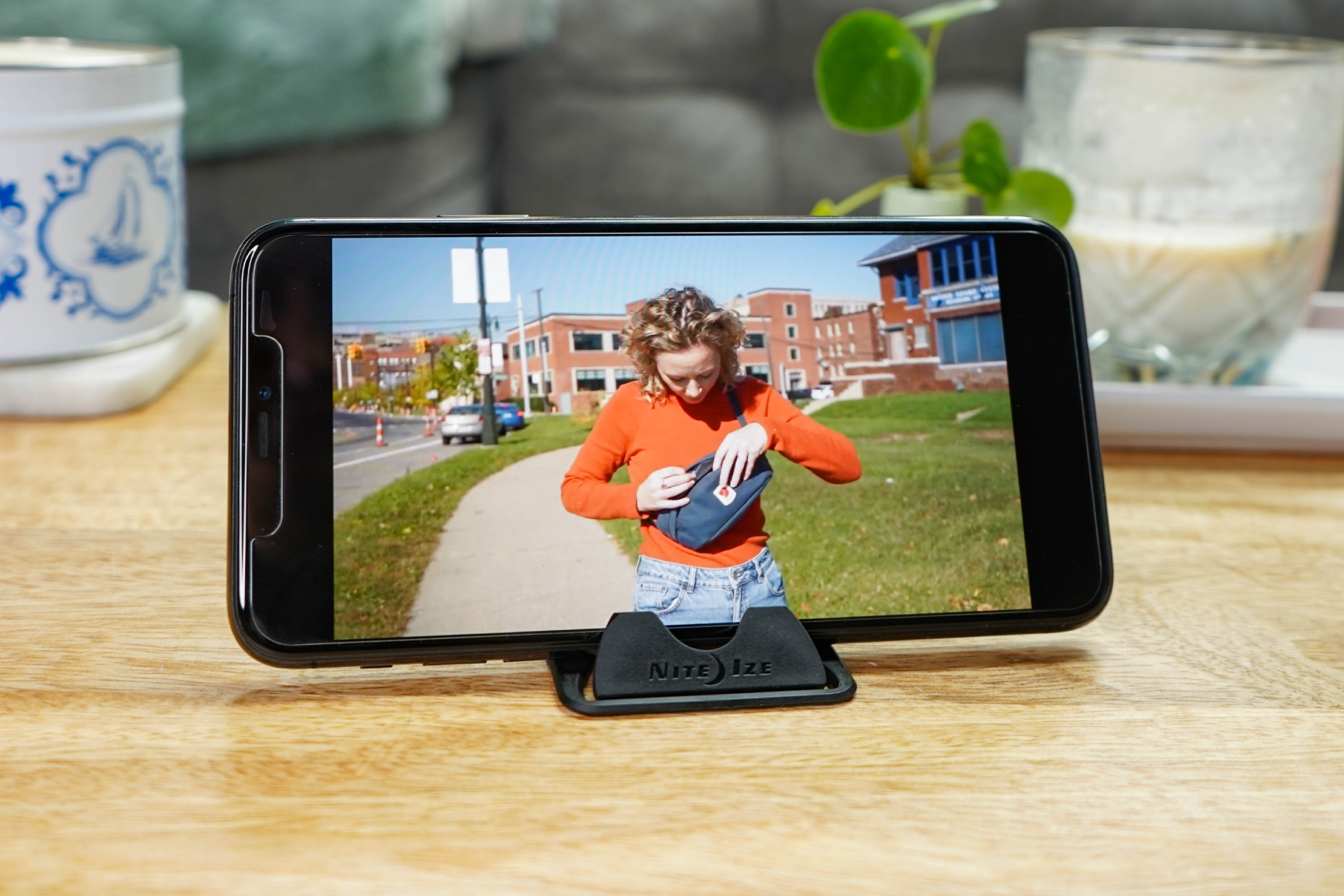 We've been traveling with it for more than two years, taking it with us to three continents, and it's one of our favorite travel accessories. And we've featured it on our Budget Packing List for a reason—it's not going to set you back much financially.
So let's take a closer look.
Features & Usage
When you first get your hands on this little guy, it feels flimsy. But that flimsiness is just that—a feeling. In reality, this little guy is super durable (we'll talk about this more in a bit). It's made of high-quality brushed aluminum and polypropelene, which makes this stand lightweight and thin, but still strong.
It's super simple to use. Flip up the slotted aluminum piece and tuck it into the base of the stand. You can adjust the height, which impacts the angle your device will be held, to whatever works best for you. We wish you could adjust the angle a little bit more, but that's a small nitpick.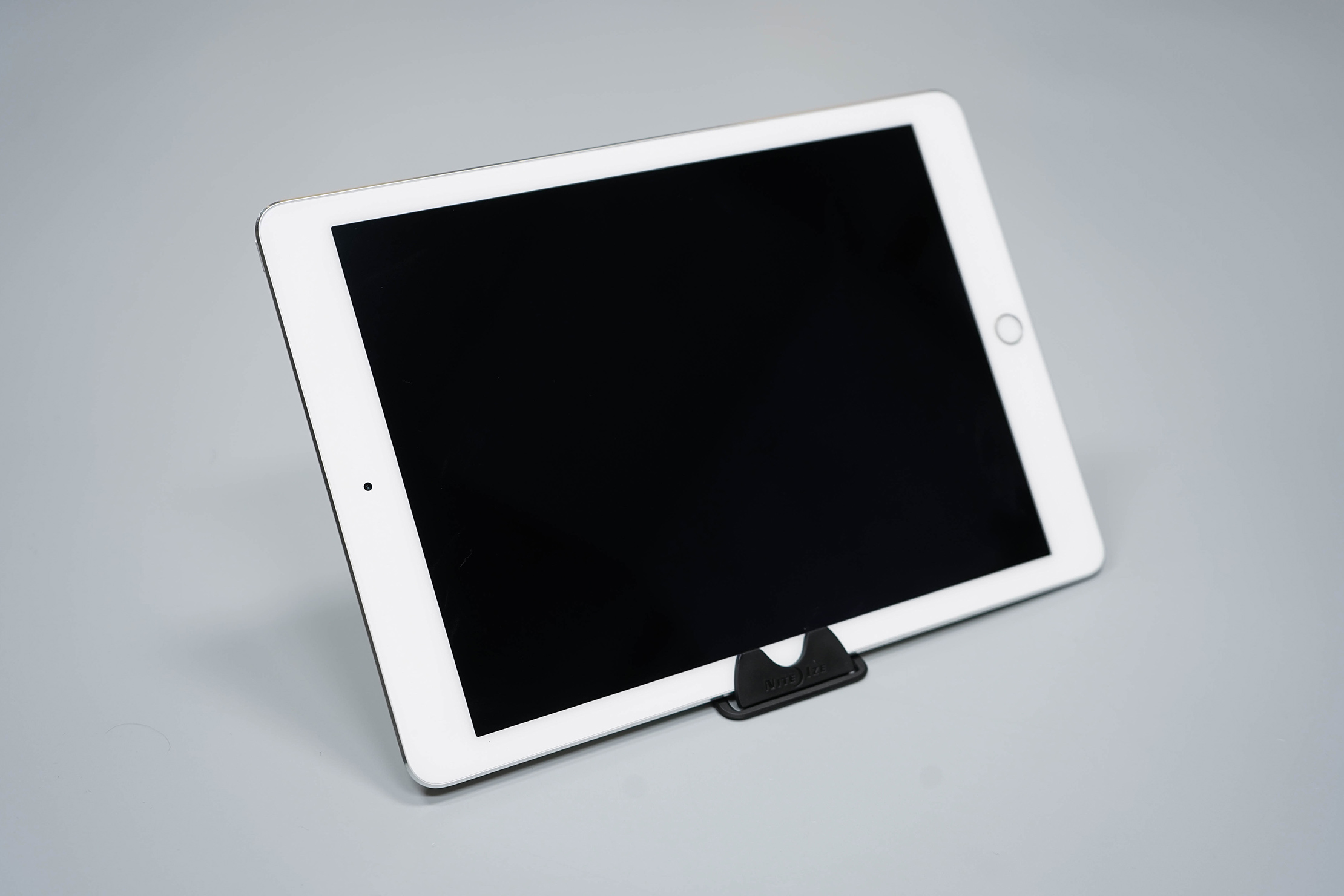 Nite Ize says it fits tablets up to 7" with or without a case. We've tested it with an iPhone 11 Pro Max, an Amazon Fire 7 Tablet, a regular iPad, and older iPhone models. It's worked really well for all of them. And it'll hold your device both vertically and horizontally, which is a huge plus. Great for watching movies, scrolling through social media, reading, or whatever it is you do on your phone.
You do need to find a flat surface to successfully use this thing. Most of the time, that's not too difficult to find, but occasionally it can be a pain.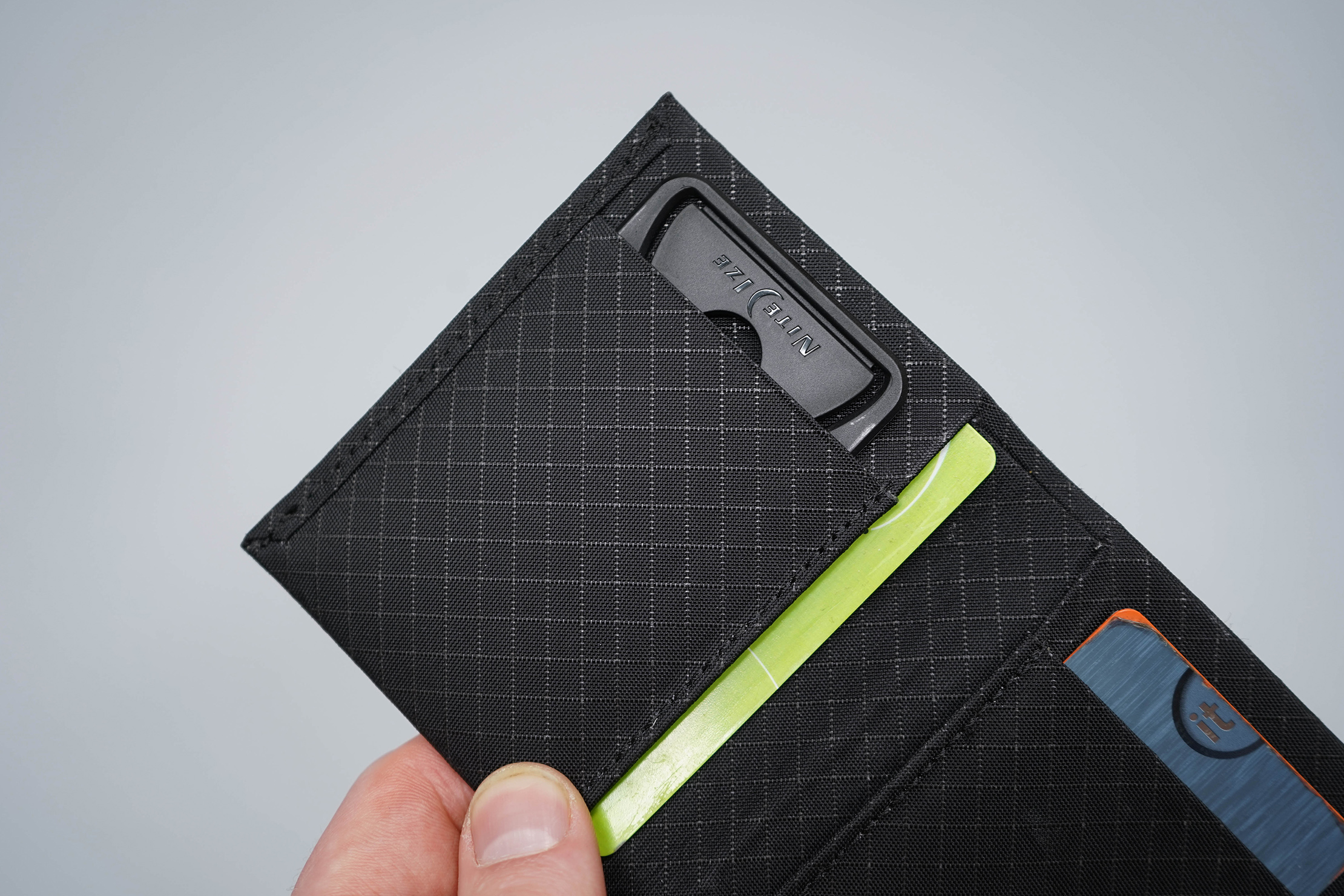 One of the greatest things about this stand is how compact it is when closed. It's approximately the size of a credit card, meaning it'll easily fit into most wallets. It's a little bit bulkier than an average credit card, but it's done just fine in every wallet we've tested it with so far—without stretching out any pockets.
The fact that it fits inside most wallets is such a feature for travel. You don't have to worry that you've left it in your checked bag or at your Airbnb. Just stick it in a card slot and you'll always have it on hand—ready when you need it, tucked away when you don't.
Durability & Testing
As we mentioned earlier, we've been impressed by how well this stand has been holding up. We've been testing it for two years and counting—taking it on trips to Nepal, Myanmar, Cambodia, all over America, and the U.K.,—and it has no signs of wear and tear. Since we picked this thing up for less than $10, that value is exceptional.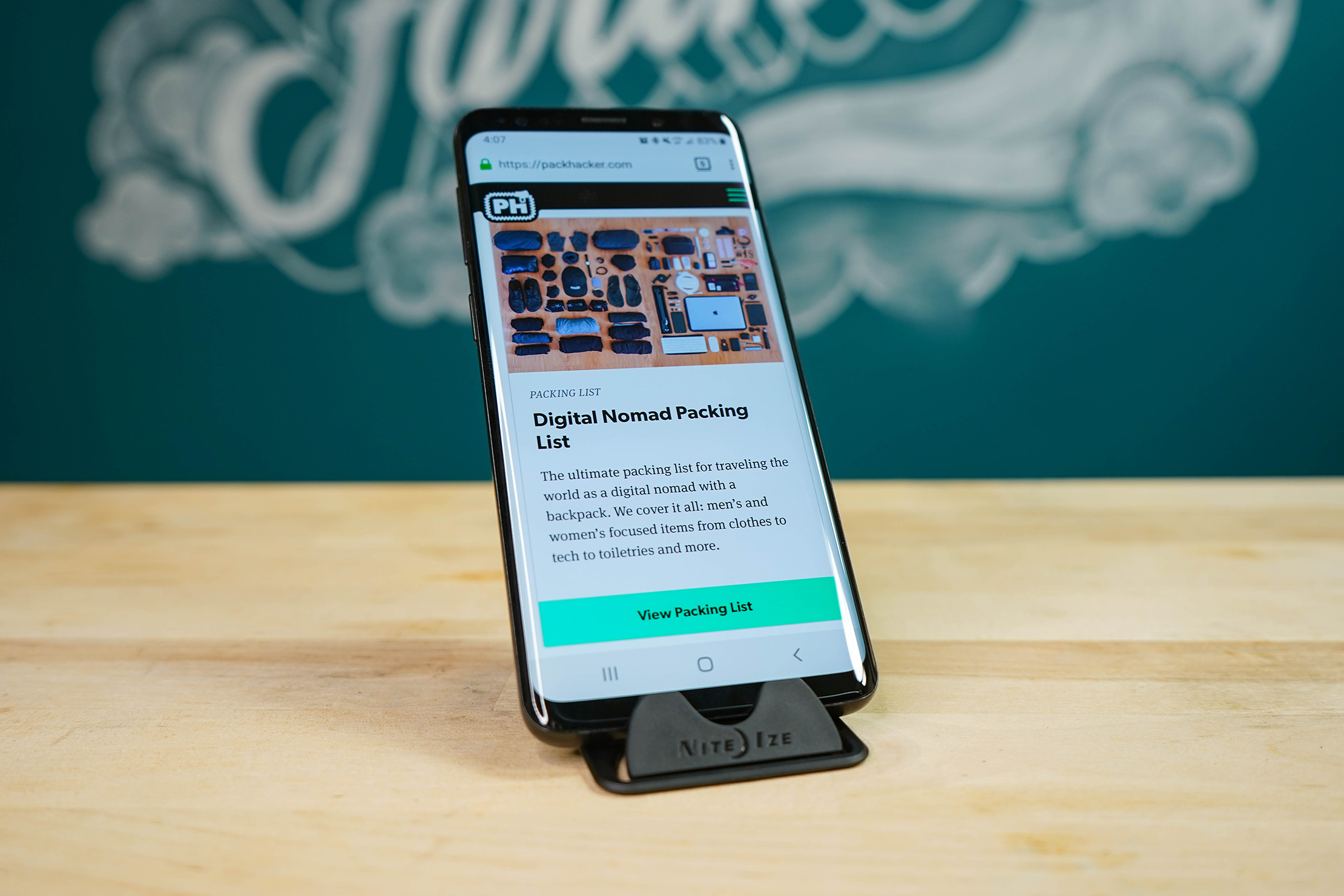 Beyond durability, the Nite Ize QuikStand has become one of our favorite travel accessories. If your travels ever involve long rides on planes, buses, trains, etc. then you'll love this little guy. Trust us.
Usage Timeline
Initial Usage
Condition: Excellent
It's the same size as a credit card, so it will fit into your wallet
You can use it with a phone and smaller sized tablets too
1 Month of Use
Condition: Excellent
It feels flimsy, but we've had no issues so far.
2 Months of Use
Condition: Excellent
This thing is getting frequent use! It's great for long trips and we're loving how easily it slides into a card slot.
3 Months of Use
Condition: Excellent
Nothing new to report! Still loving it.
6 Months of Use
Condition: Excellent
Despite that flimsy feel, we've had no durability issues in six months! A great sign.
9 Months of Use
Condition: Excellent
We accidentally left the stand at home for a recent trip and were really bummed not to have it. We didn't realize how much we've come to rely on it.
1 Year of Use
Condition: Excellent
This stand is one of our favorite travel accessories. So helpful!
1.5 Years of Use
Condition: Excellent
Not a single sign of wear or tear. Crazy for that price.
2 Years of Use
Condition: Excellent
Access the Pro Community Discussion
Get your questions about the Nite Ize QuikStand Mobile Device Stand answered from our team and the Pro Community right here on the page. Plus, join discussions with other members about gear, guides, and more.
Other Productivity & Tech Reviews