Amazon Essentials Lightweight Water-Resistant Packable Puffer Jacket Review
The Amazon Essentials Lightweight Water-Resistant Packable Puffer Jacket packs well, keeps you warm, and looks good—plus it's budget-friendly!
Our Verdict
Unlock the Pro Summary
Save time. Get access to brief summaries of our reviews so you can browse and make decisions more efficiently.
Pros
Budget-friendly
Available in a variety of styles and colorways
Lightweight and compressible
Cons
Amazon is vague regarding the source of the down filling (although synthetic options are available)
Compression pouch detaches and may be easy to lose
Doesn't compress as small as other jackets out there
Recent Pack Hacker Video
Technical Details
Notable Materials

Nylon, Polyester, YKK Zippers

Manufacturing Country

Myanmar
Full Review
Almost everything you need to know about the Amazon Essentials Lightweight Water-Resistant Packable Puffer Jacket is in its behemoth of a name. This jacket is from the global giant Amazon's budget-friendly "Essentials" line, is lightweight, water-resistant, packable, puffy, and a jacket.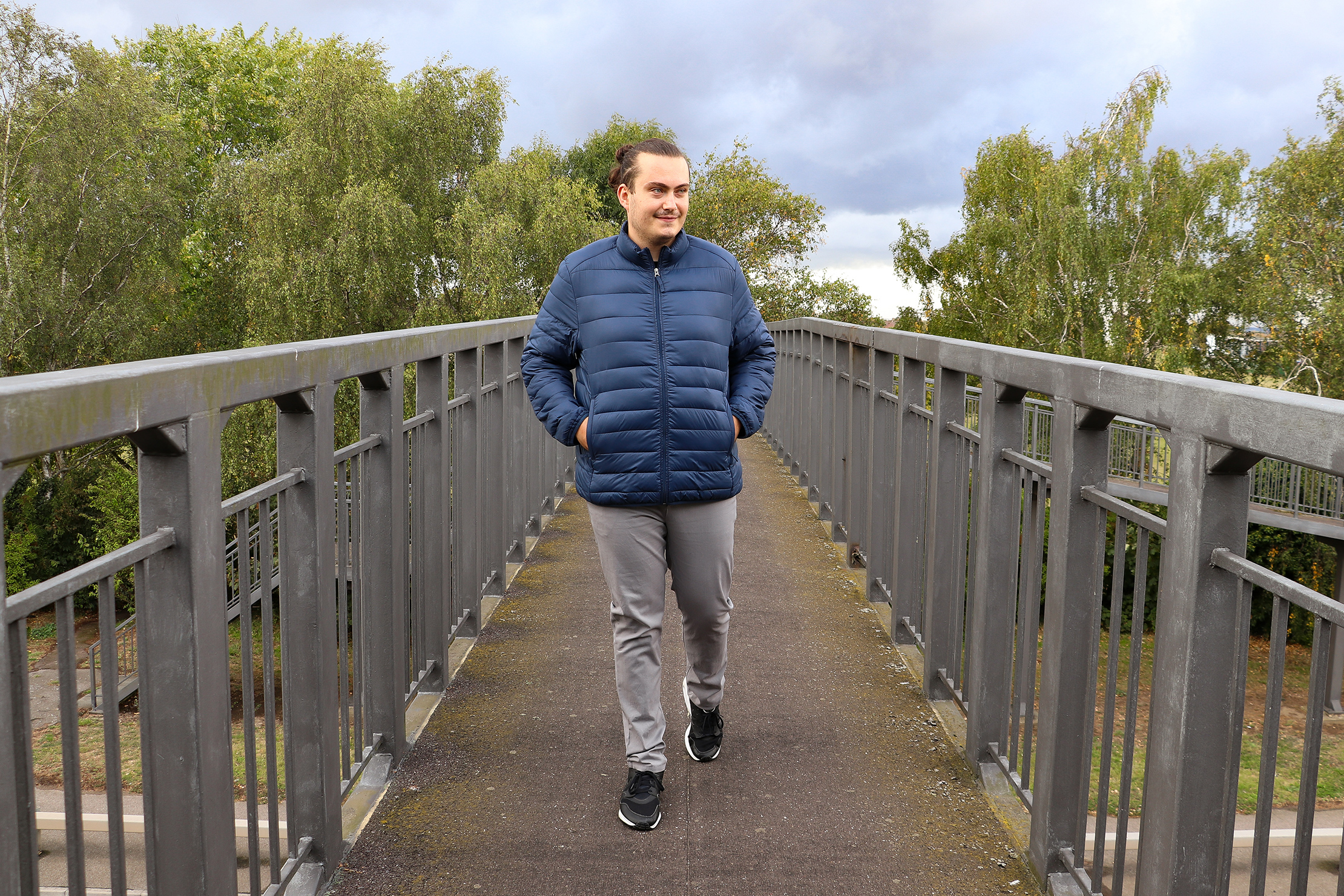 Puffer jackets are an essential item for any travel that involves cold weather, but several packable puffers cost a pretty penny (say that ten times fast). Needless to say, we've been excited to get our hands on this budget-friendly option. Particularly considering we've had some good luck with Amazon Essentials clothing in the past.
So how has it held up during our month of testing? Read on.
Materials & Aesthetic
There's nothing special about the aesthetic of the Amazon Essentials Puffer Jacket. And we mean that in the best way possible. It's neutral and looks good in almost any situation (well, you may get a few odd looks in the heart of summer). It's available in a ton of different colorways including the usual Pack Hacker black, although we opted for navy this time around.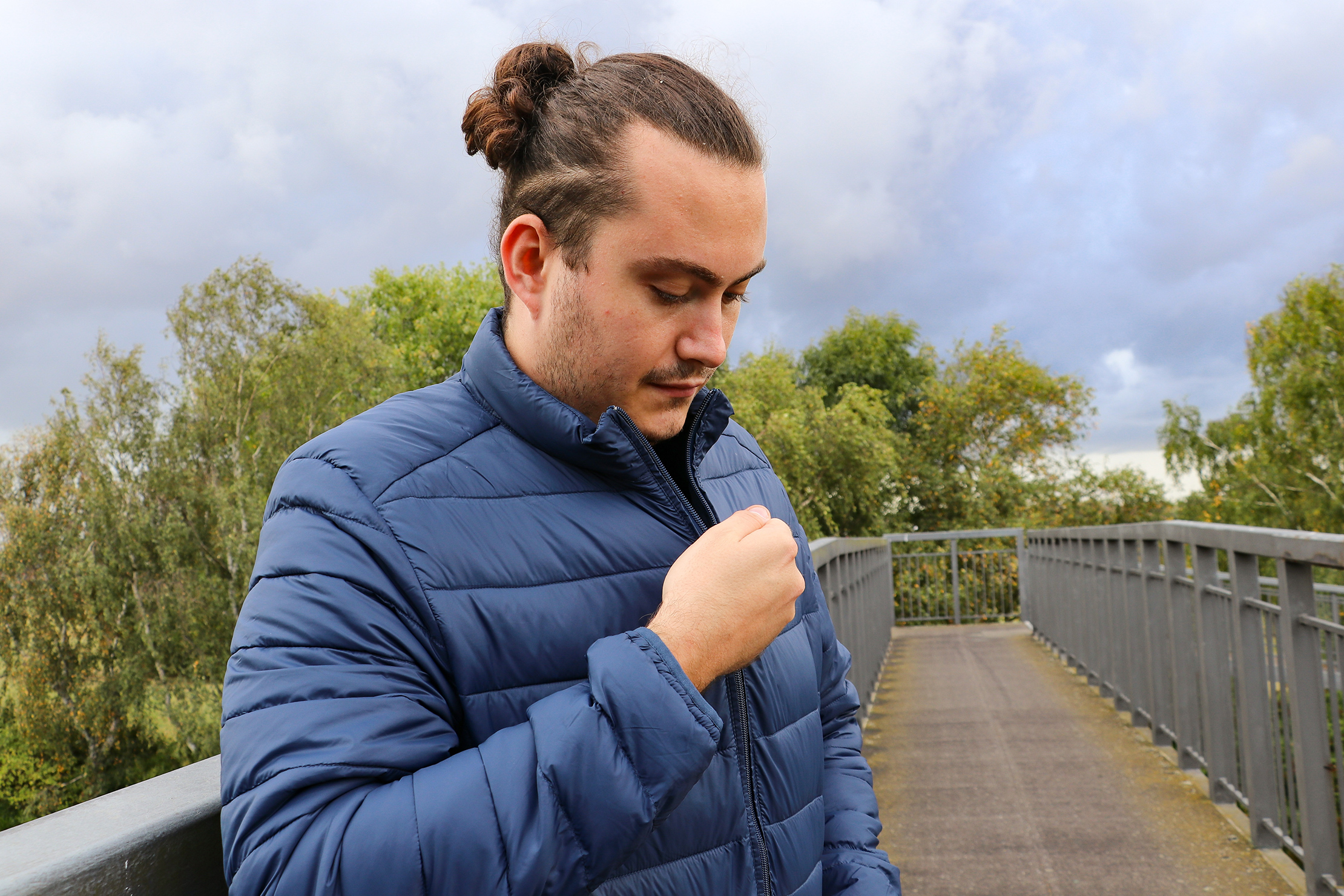 It fits well too. It's fitted, yet loose enough to wear over a sweatshirt if need be. There aren't any obvious logos or branding on the exterior either, which we always appreciate.
At the time of this review, there are four different versions of this jacket available. You can buy it with a hood or without a hood, and filled with synthetic down or duck down—we've opted for the hoodless synthetic version. The same styles are also available in a women's fit.
We're not down experts here so we're not going to get into the nitty-gritty about the material, particularly on the discussion of ethics. There's a lot of information out there regarding the ethics of down, the various certifications, and what they mean. We want to point out that Amazon doesn't note any ethical certifications for the down it uses. The company merely states that its jacket is filled with "90% Duck Down, 10% Feather."
We're happy that there is a synthetic version with a polyester fill available for those of you who would prefer to avoid animal products.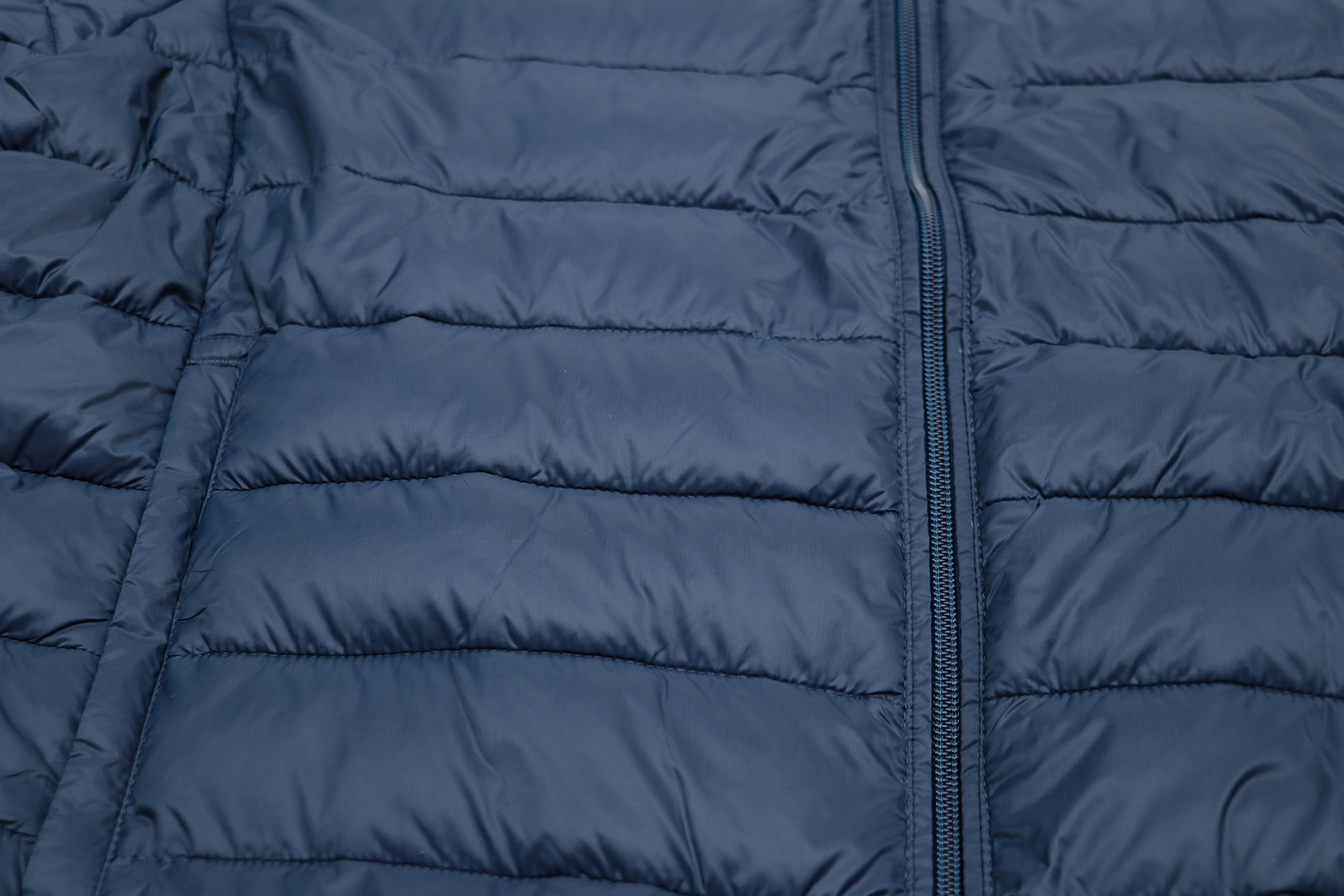 Either way, the shell is made from 100% nylon. Nylon is a solid choice here as it's durable and lightweight. We assume that there's some sort of coating to make this jacket water-resistant, although the folks at Amazon aren't forthcoming on what that coating is.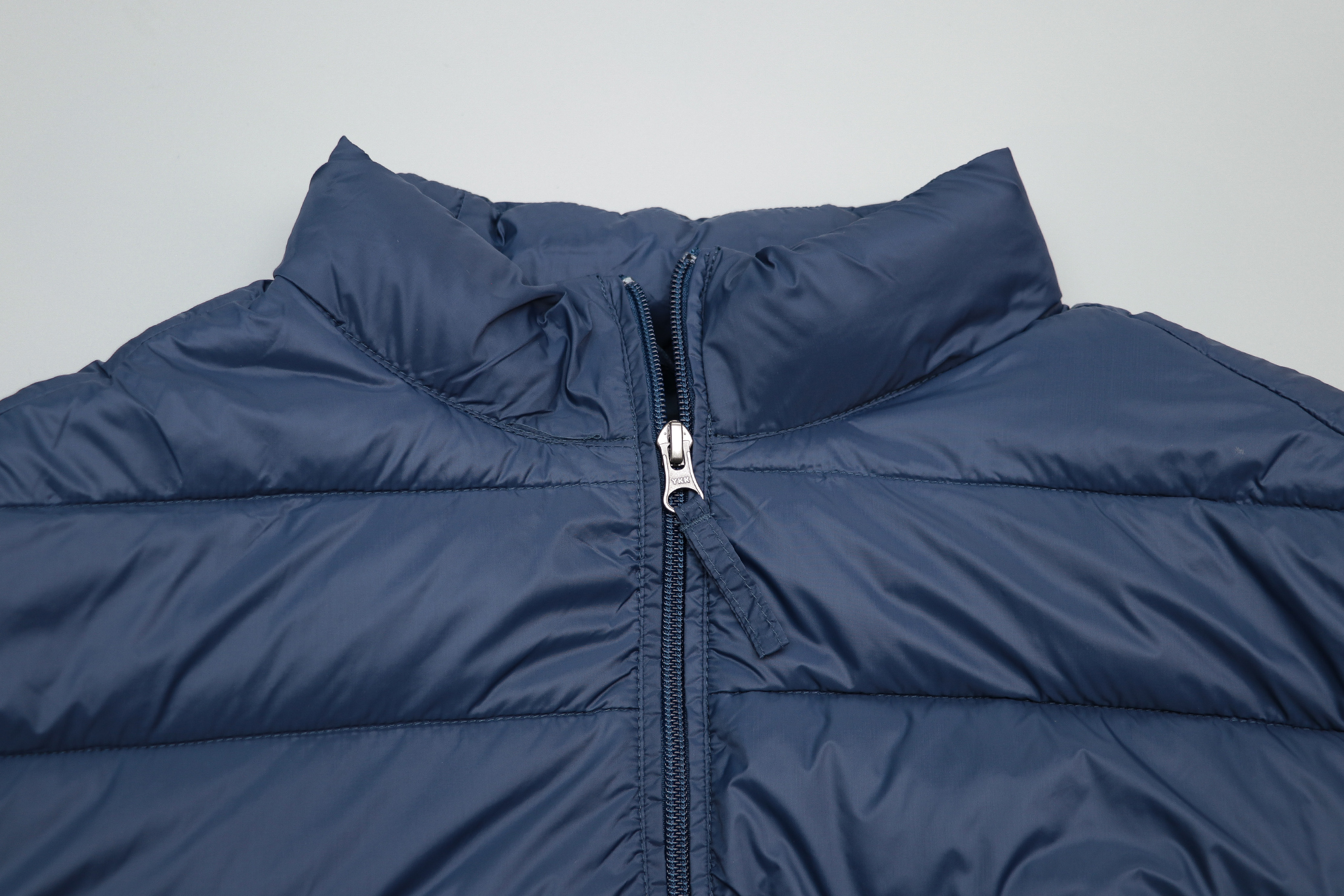 The three zippers on this jacket are from the Japanese manufacturer, YKK. YKK is known for its quality zippers, so these guys will likely keep up with you and your adventures.
Features & Benefits
Since this is a winter jacket, arguably the most important feature is its ability to keep you warm. So does it get the job done? Yes, yes it does. It's not going to do much for you on the top of Mount Everest, but it works well for chilly days. Plus, it's a solid mid-layer. Toss on a sweatshirt or thermal layer beneath it, or add a raincoat over top of it on those extra cold days.
It's warmth to weight ratio is exceptional. This jacket hardly weighs anything, which makes it both comfortable to wear and great to pack. Every ounce counts when it comes to one-bag travel.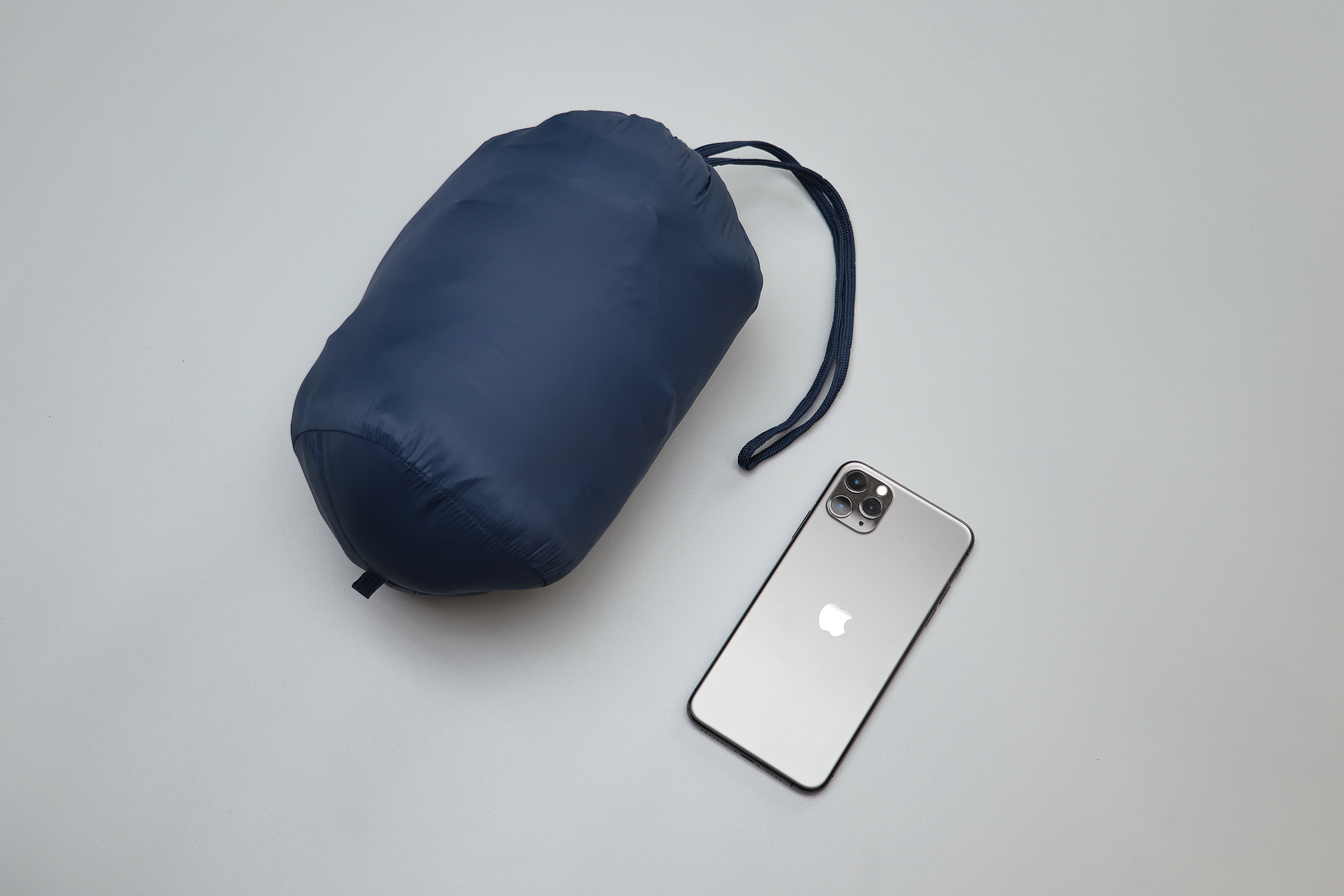 And it also comes with a pouch which you can use to compress it. It's a huge benefit for travel as this jacket won't take up much space in your bag. Now, it doesn't get as small as others on the market. But it costs significantly less than those options—what you get for the price is pretty amazing.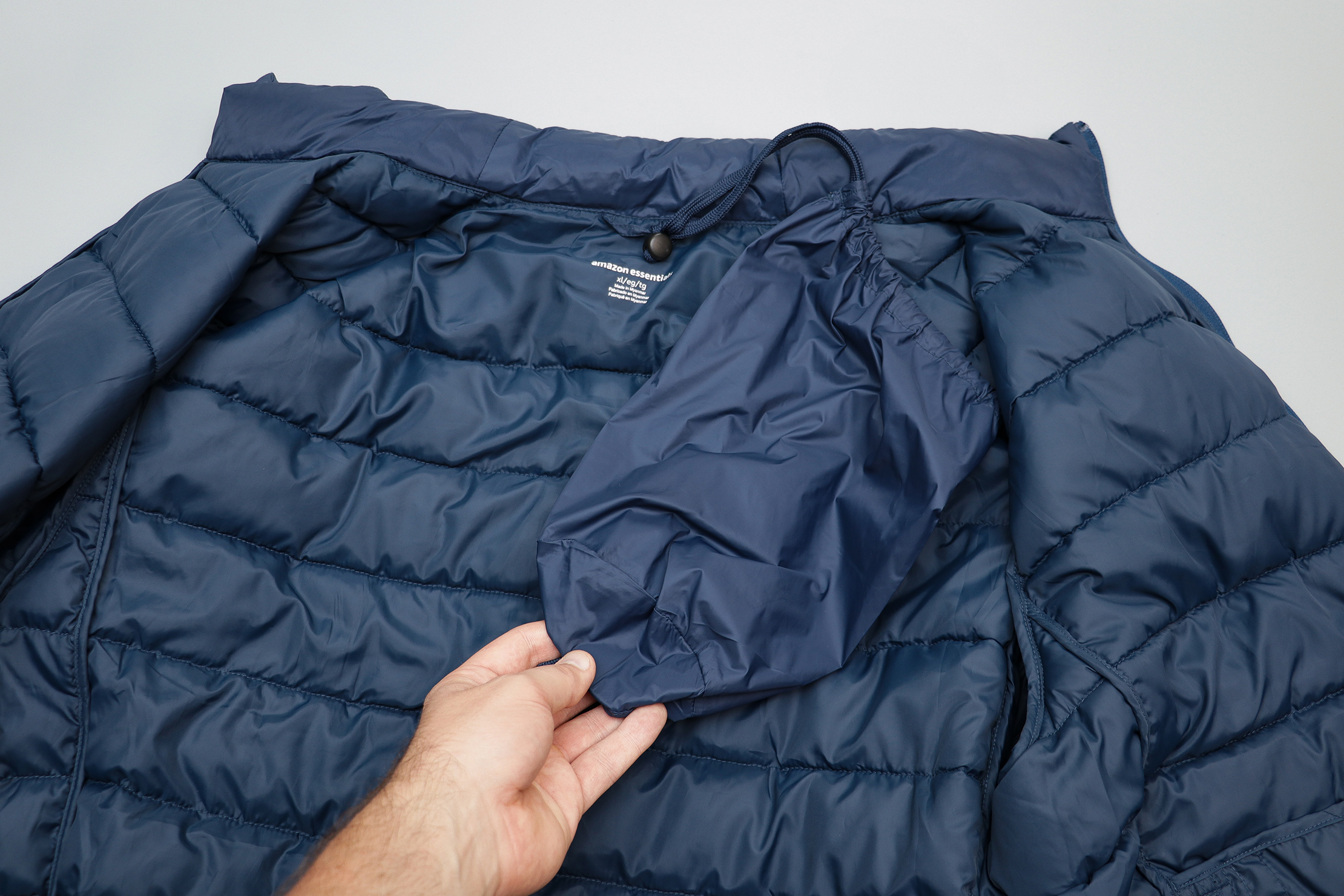 When not in use, the pouch can either be looped to the interior of the jacket, stuffed in one of the pockets, or tossed aside elsewhere…if you like to live on the edge. We prefer jackets that pack into their own pockets since there's a risk here of losing this pouch. But, again, you can't beat this price.
Another great feature of this jacket is its water-resistance. Cold weather often means snow. Snow is wet. Ergo, it's nice to have a cold-weather jacket that'll protect you from water. A rainstorm will likely be too much for this jacket to handle, but as we mentioned earlier you can always toss a raincoat over it. It should hold in light rain, snow, sleet, or any combination of precipitation winter throws at you.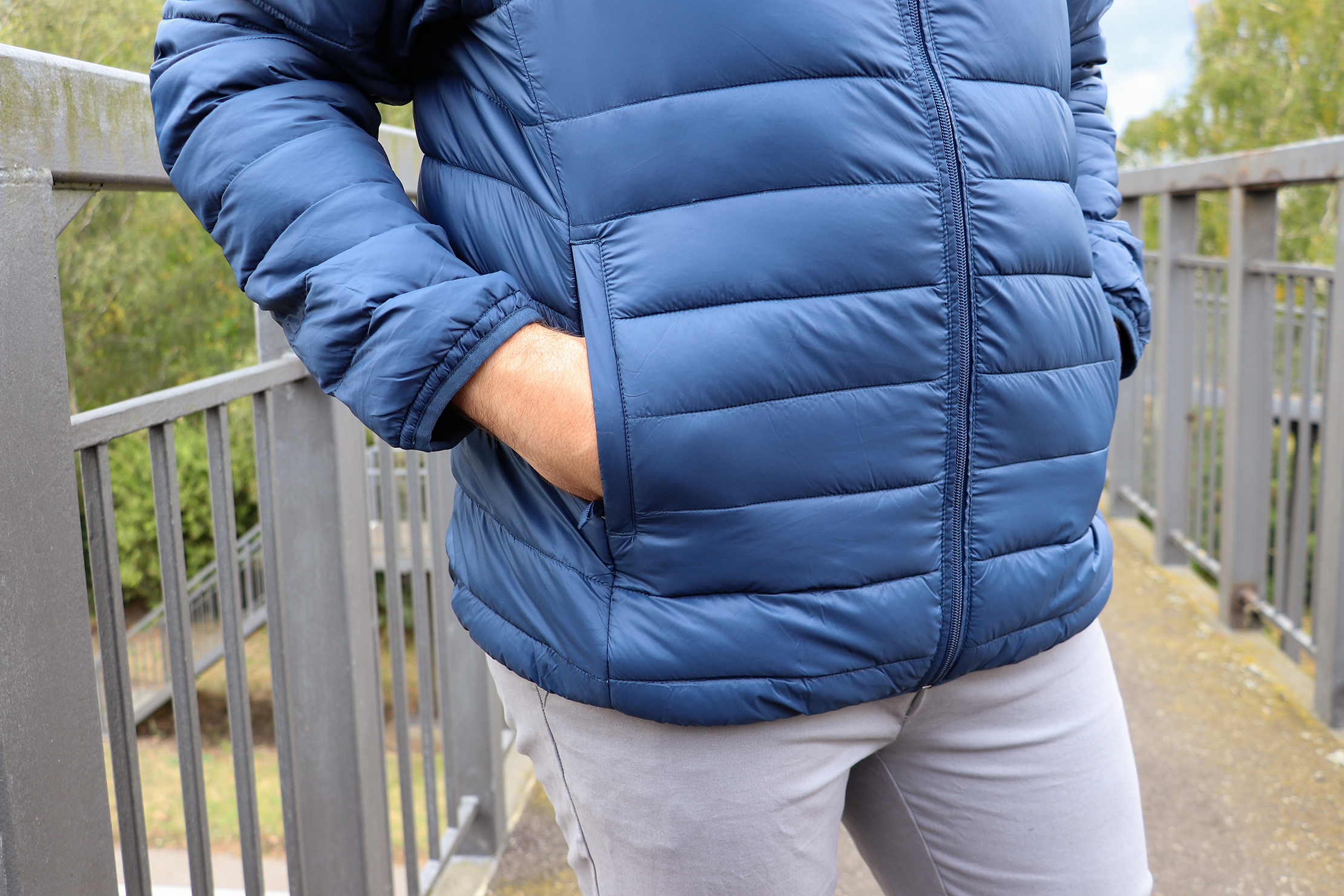 Lastly, we're fans of the four pockets on this jacket, particularly the exterior ones. They're zippered, helping you keep your stuff secure and protected from the elements. Plus, they're roomy enough for large items like your phone, wallet, or your hands when you need to warm them up.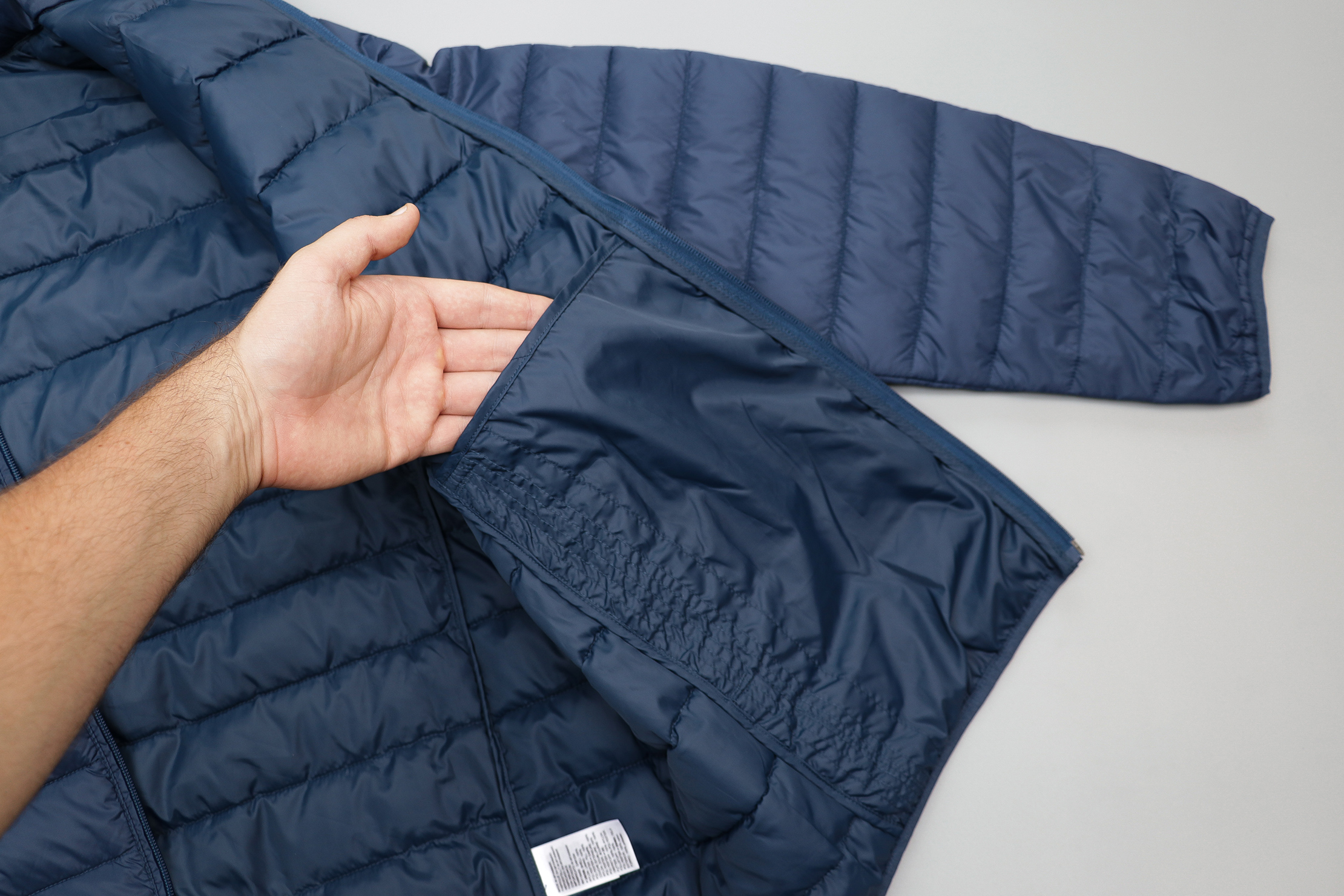 The interior pockets are almost too roomy—you'll have to go digging for any smaller items you toss in them. But they fit passports, boarding documents, or cold-weather gear well, which is a huge plus. They're not zippered, but we don't think they need to be.
Durability & Testing
We've been testing the Amazon Essentials Lightweight Water-Resistant Packable Puffer Jacket for about a month now around the U.K. and the U.S. We've been pleasantly surprised with how it's been holding up. For a jacket that costs less than fifty bucks, we expected some durability issues. But so far, so good.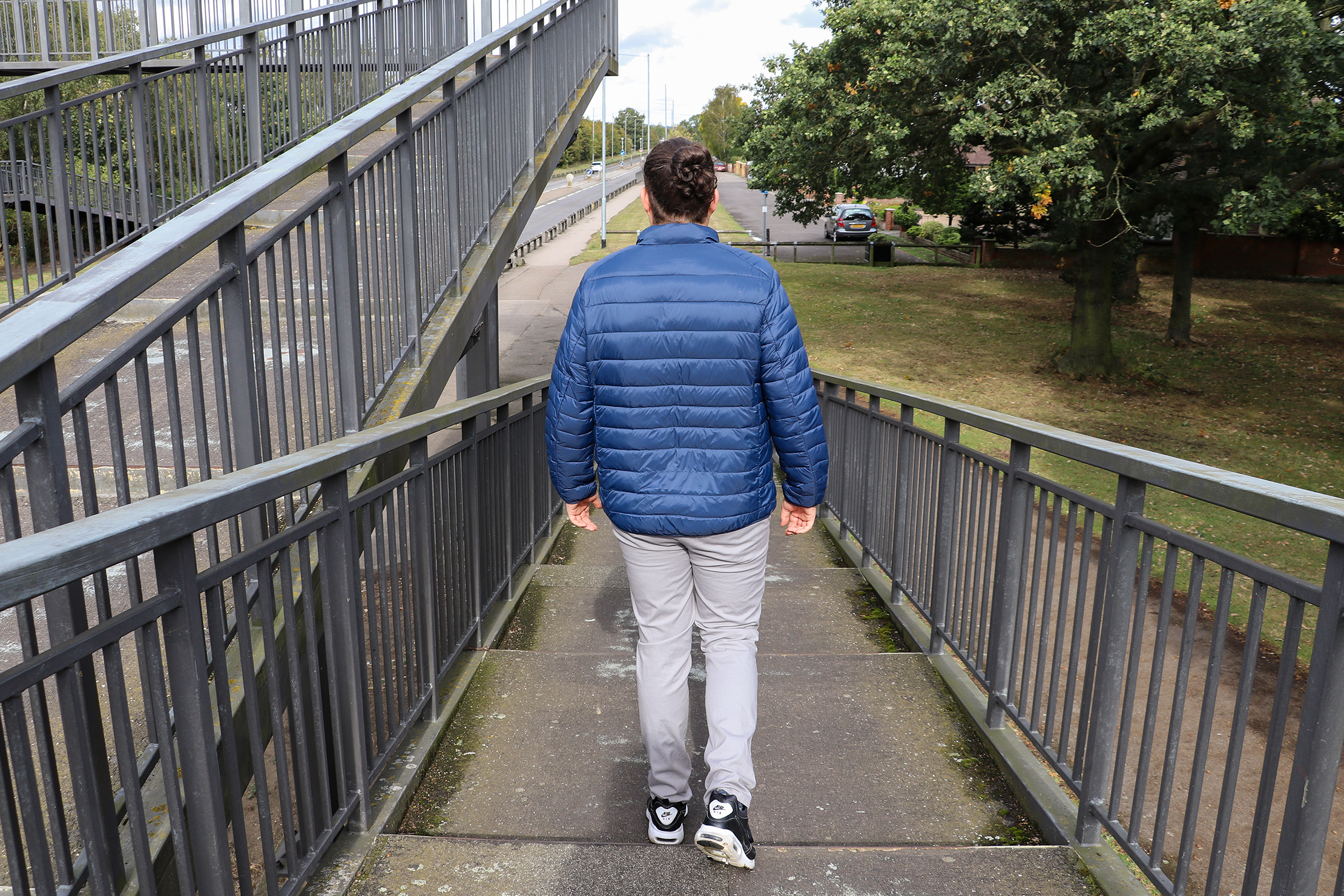 Overall, it's a solid jacket for chilly days. It packs well, keeps you warm and dry, and looks good. What else could you need?
Usage Timeline
Initial Usage
Condition: Excellent
Fantastic warmth-to-weight ratio
The packable pouch can be attached, but it can also be lost
Zippered pockets are useful and all of the zippers are YKK
1 Month of Use
Condition: Excellent
Still looks as good as new!
Access the Pro Community Discussion
Get your questions about the Amazon Essentials Lightweight Water-Resistant Packable Puffer Jacket answered from our team and the Pro Community right here on the page. Plus, join discussions with other members about gear, guides, and more.
Other Clothing & Accessories Reviews