IKEA FORFINA Toiletry Bag Review
The IKEA FORFINA Toiletry Bag has nothing fancy going on, but its internal organization and ability to hang make it a great option for anyone on a budget.
Our Verdict
Unlock the Pro Summary
Save time. Get access to brief summaries of our reviews so you can browse and make decisions more efficiently.
Pros
Great internal organization
Budget-friendly
Hangs up
Cons
Concerns about long term durability
No water-resistance
On the heavier end of toiletry bags
Recent Pack Hacker Video
Technical Details
Weight (oz)

7 oz (198.4 g)

Dimensions

6.7 in x 9 in x 2.7 in (17 x 22.9 x 6.9 cm)

Notable Materials

Polyester, Nylon

Manufacturing Country

Vietnam
Full Review
Chances are you've heard of the Swedish-born multinational company, IKEA. We'd even venture to guess you own—or know somebody who owns—at least one piece of furniture from them.
But you may not know IKEA sells more than flat-pack coffee tables that cause tears and test relationships. The company has an entire range of travel accessories, including packing cubes, accessory bags, and travel bottles.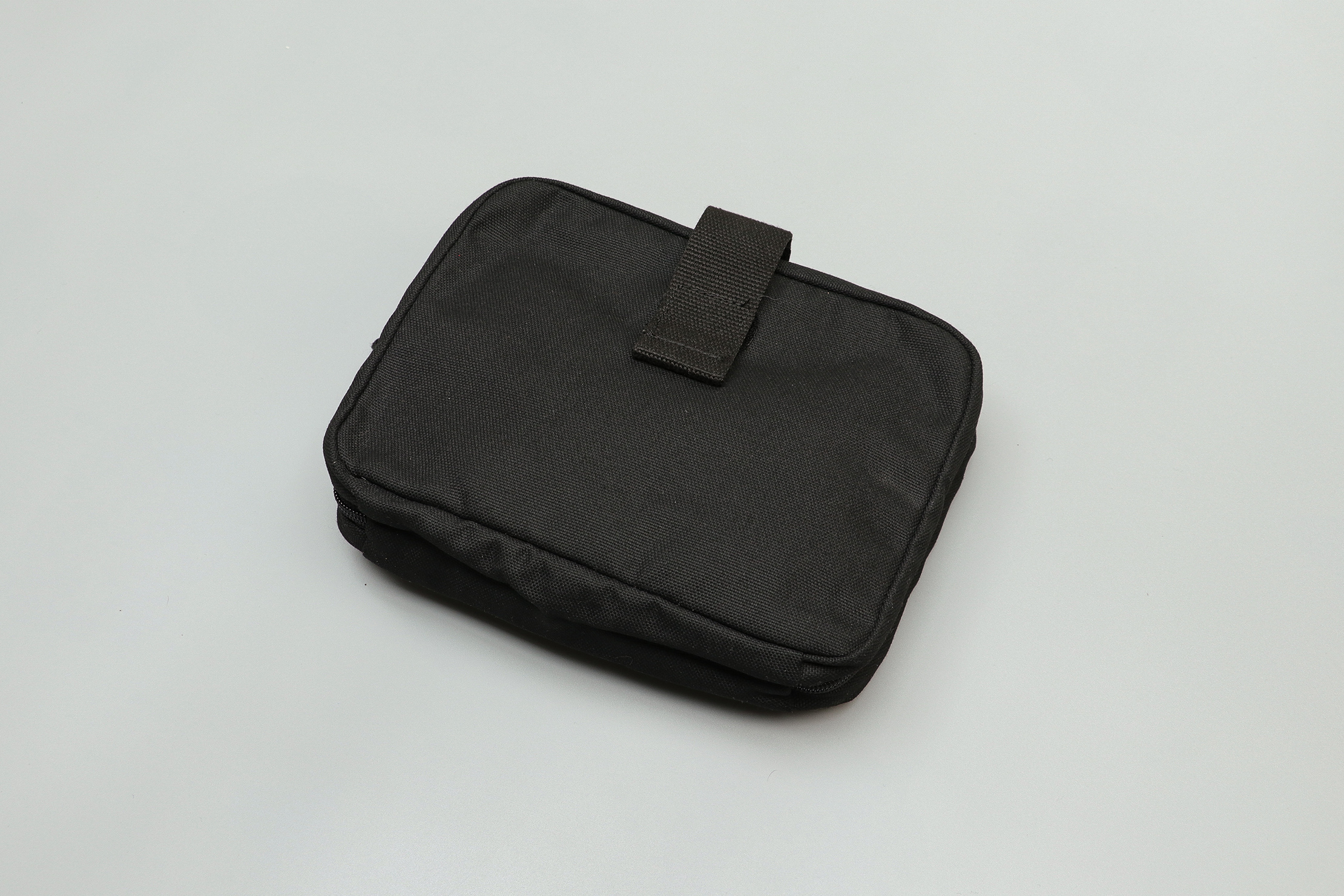 And, of course, the FORFINA Toiletry Bag.
Before we get into the review, let's be clear: FORFINA travel accessories are definitely not the fanciest on the market. But—from our experience—they're solid products at super reasonable prices. The FORFINA Toiletry Bag probably won't be the most treasured thing you own, but it'll get the job done.
So let's check it out.
Materials & Aesthetic
The IKEA FORFINA Toiletry Bag costs less than 10 bucks, so yes, it's not a sleek, sophisticated bag that'll look at home at the Four Seasons. That said, we're digging its simplicity and the classy black colorway. Without any external branding, this bag doesn't look as budget as it is.
When you first get your hands on it, you'll see an excessive amount of tags. And we don't use the word excessive lightly. Luckily, you can easily cut these tags out.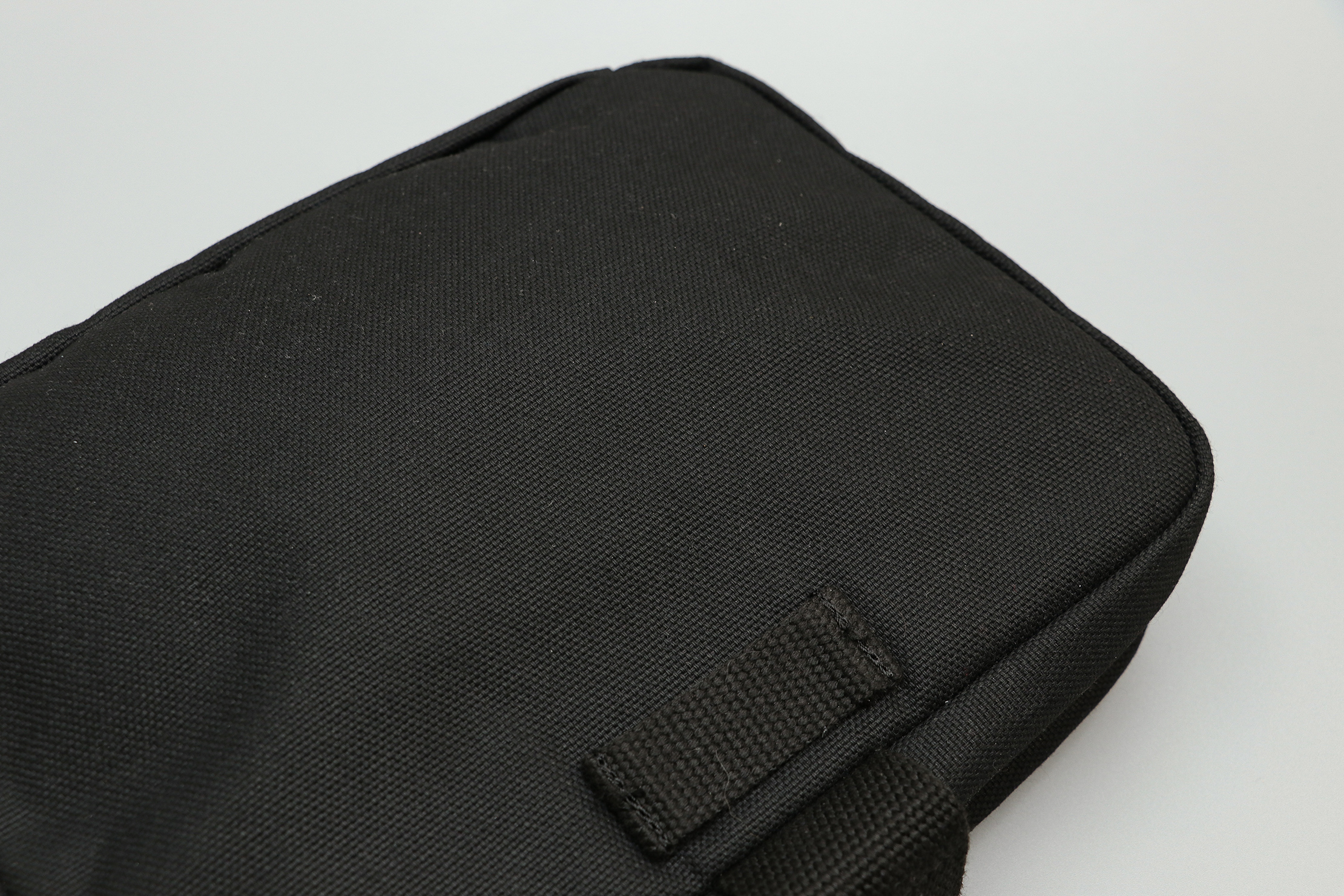 The body of the bag is made from polyester. It doesn't exactly feel luxurious, but as long as you don't use it the same way you'd use a Dopp kit built to military specs, you should be alright.
Polyester is slightly heavier than other synthetic fabrics out there, so this bag is one of the heavier toiletry bags we've tested. Of course, it's still a toiletry bag so it's not going to weigh down your pack. But if you're traveling the world out of one backpack, and are trying to cut every ounce possible, you may want to check out a different bag.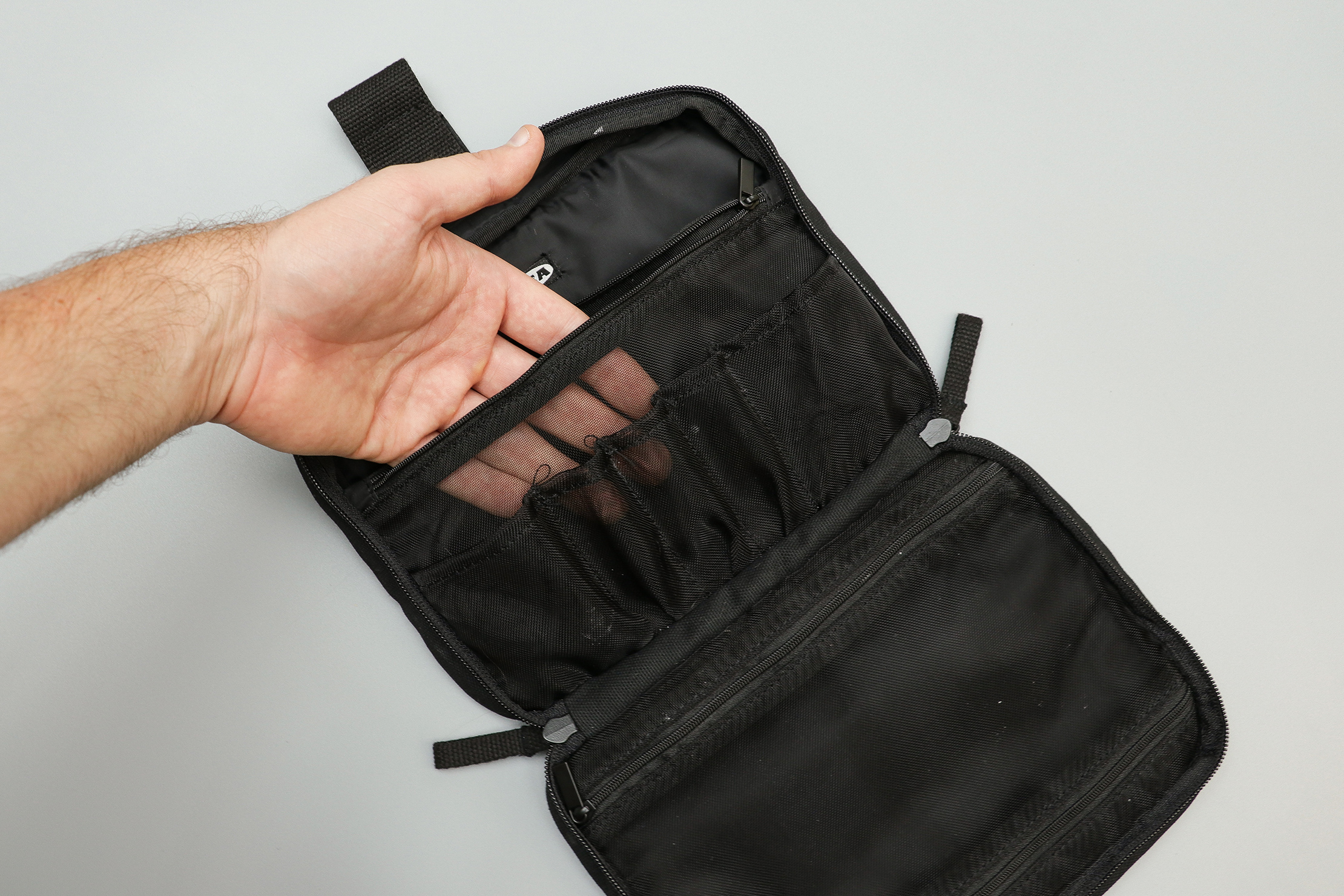 The mesh pockets are made out of nylon. We haven't had any major problems with them yet, but let's just say they feel the opposite of silky.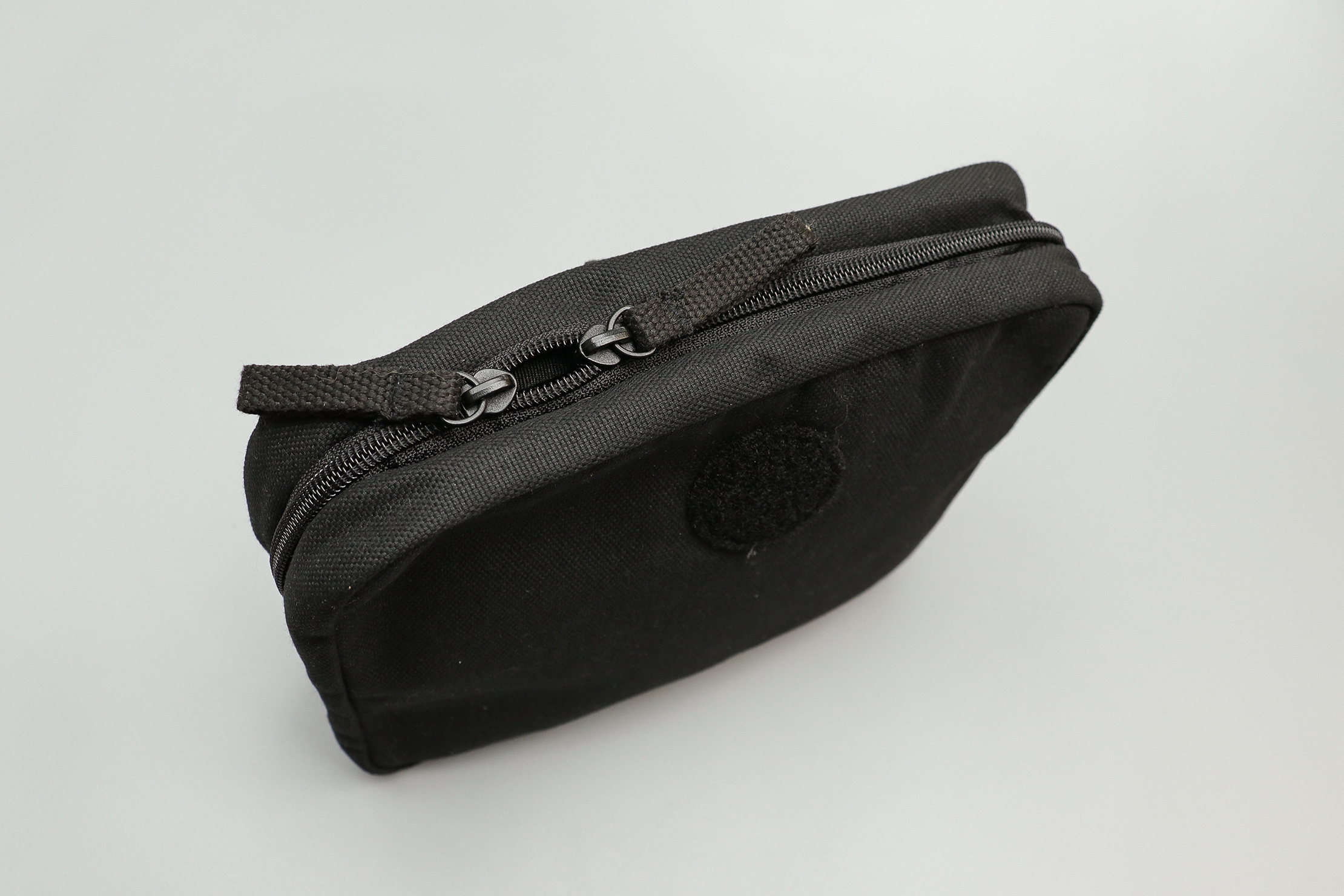 The zippers are unbranded. We're always suspicious of unbranded zippers—especially since we've had problems with IKEA zippers in the past—so we're keeping an eye on this one. Luckily, it's a toiletry bag, so the zippers likely won't see as much wear and tear as they would on an accessory bag or backpack.
Inside the Bag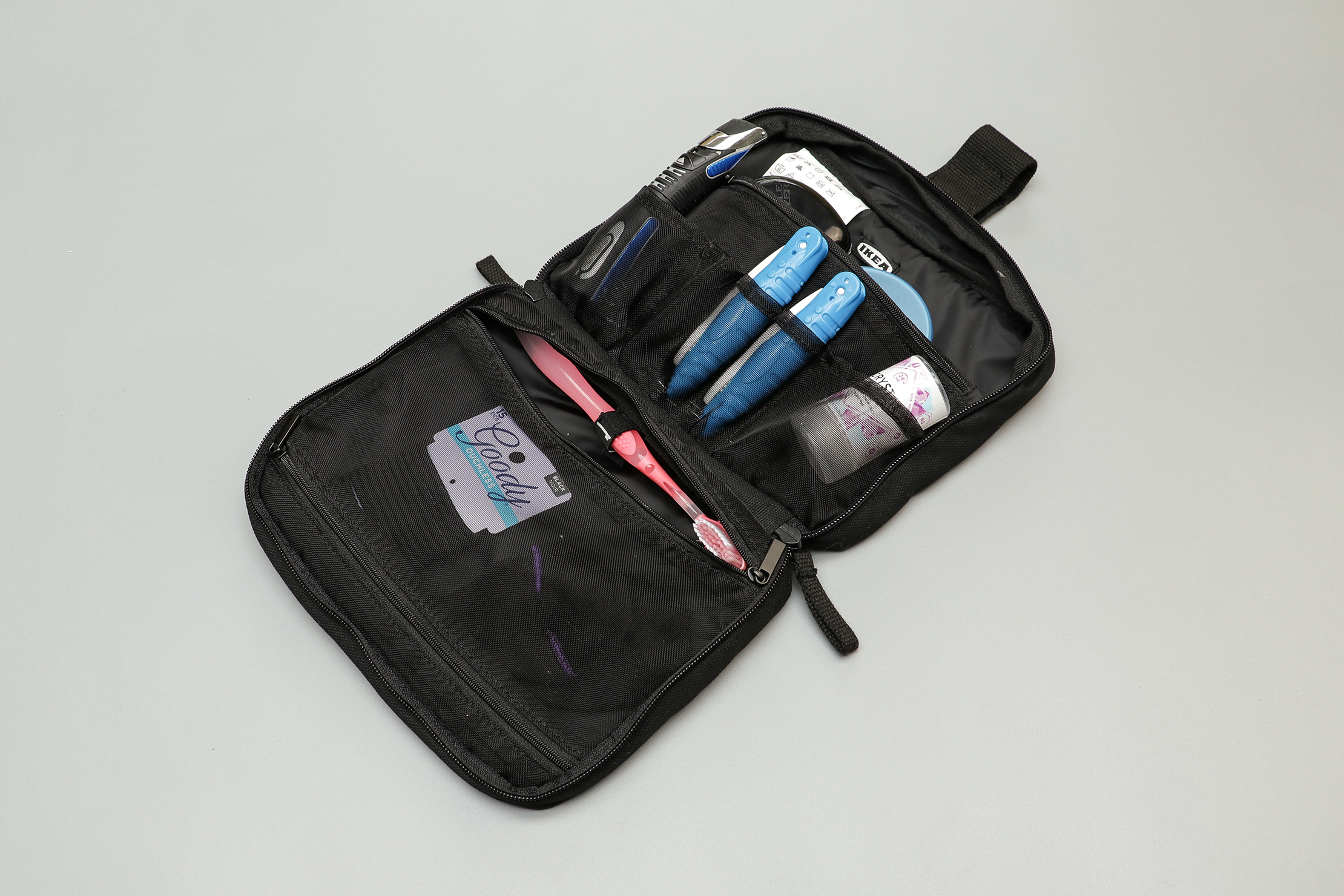 The IKEA FORFINA Toiletry Bag unzips in a full clamshell-style, which helps you see what you've got inside and is the ideal layout for hanging (more on this later). You'll find plenty of organization inside.
We'll start on the left-hand side, which could also be considered the bottom of the bag. The clever folks over at IKEA designed this pocket to open from either side, which is awesome. These two zippered access points allow you to get into the pocket no matter which way you've got the bag oriented. We think this is a thought-out feature that's been great to have during testing.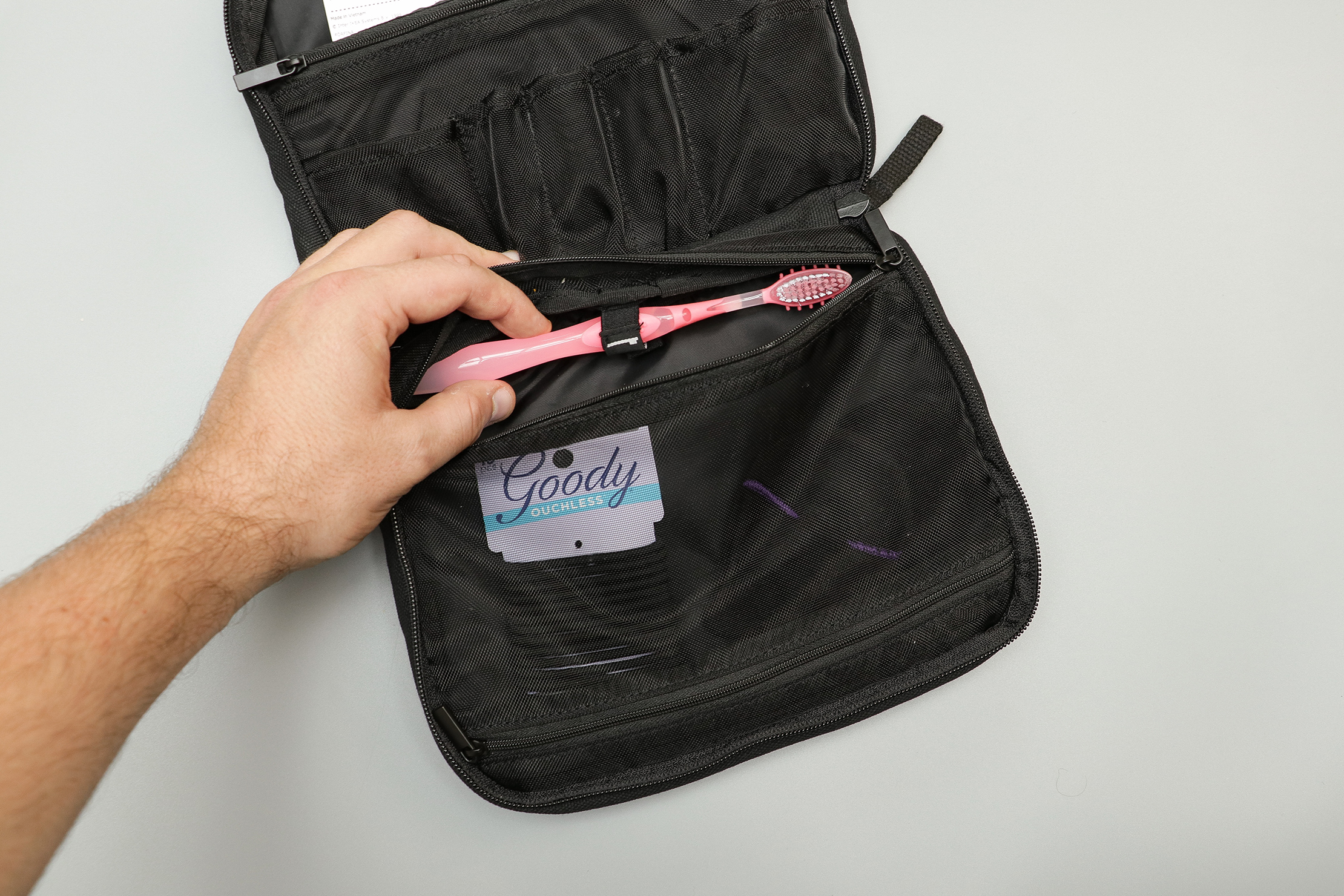 Inside this pocket, you have a small elastic to slide whatever items may fit there and an elastic to hold your toothbrush. You can tell it's for your toothbrush because the artists at IKEA included a little toothbrush drawing for your convenience. But, if you want to be a true Rebel Without a Cause™, you can use this spot for other things too—a razor perhaps.
In the pocket itself, you can put whatever bulky items you have—deodorant, some makeup, etc.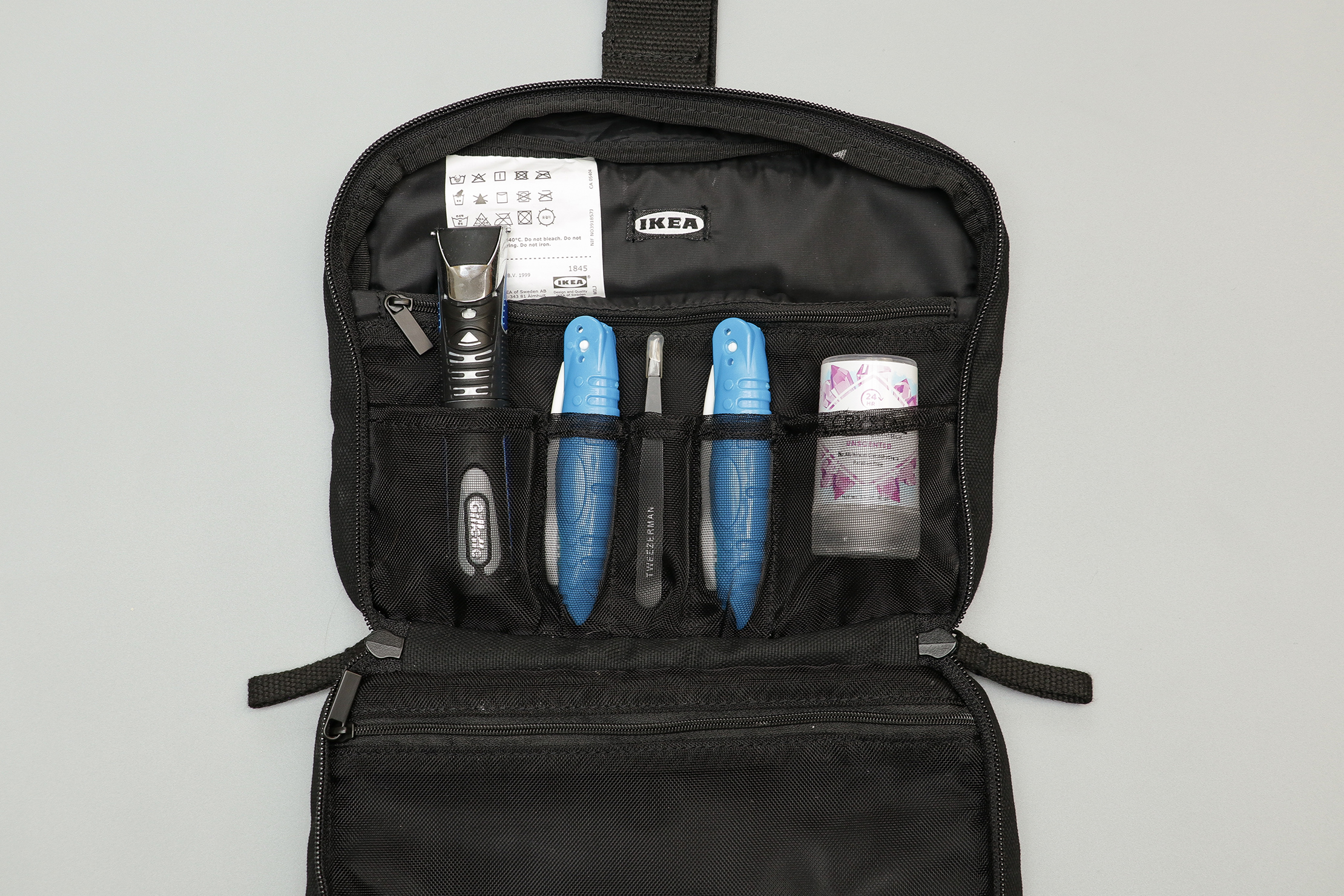 On the right side, or top of the bag, you'll find a bunch of mesh sleeves of multiple sizes—two large and three small, thinner ones. And they lay flat so when not in-use, they don't get in your way.
Behind these mesh sleeves is a zippered mesh pocket that's the perfect spot for smaller items you don't want to get lost. Think nail clippers, tweezers, etc.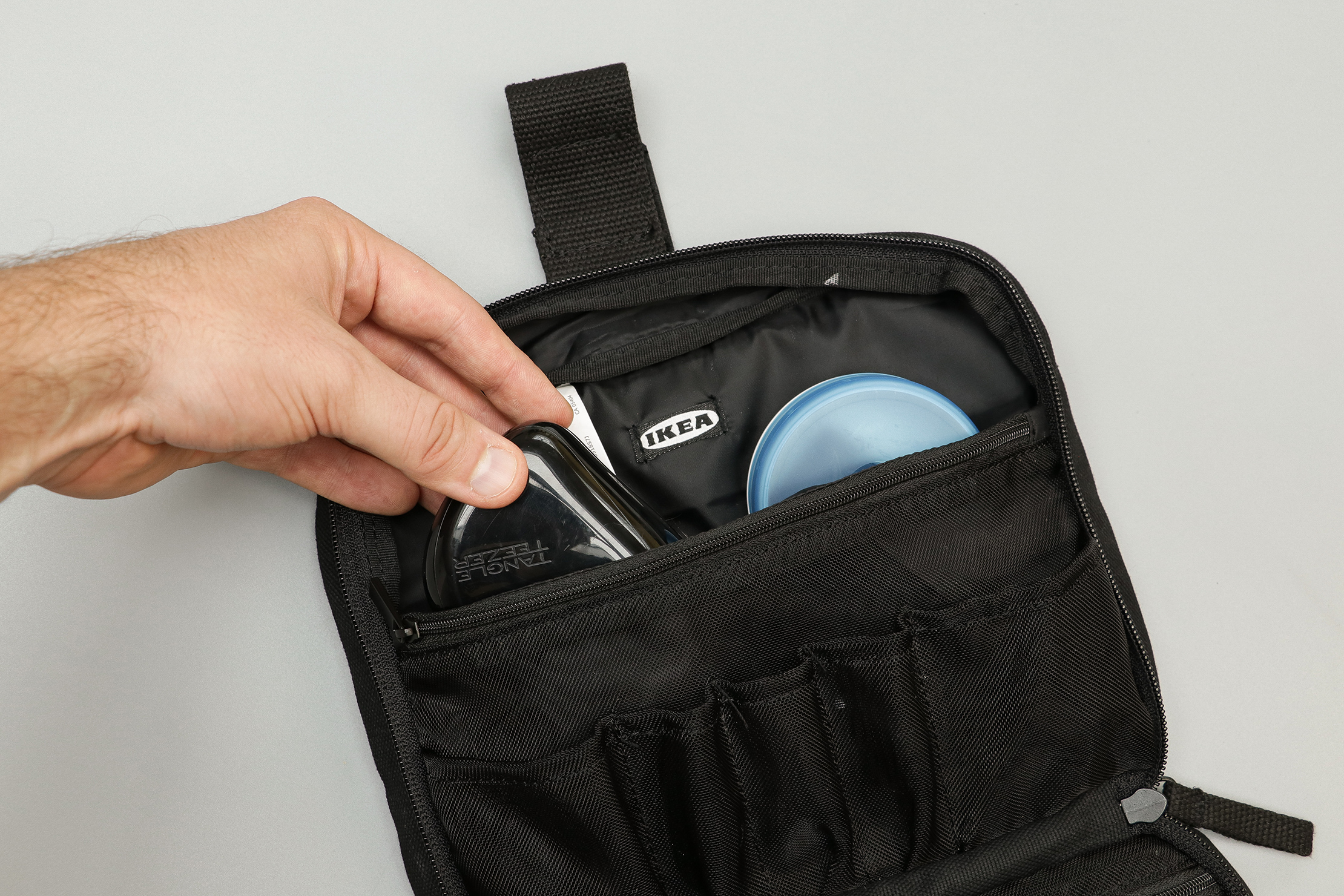 Finally, there's the top pocket that's ideal for your largest items. Perhaps soap or lotion in some GoToob+ bottles.
We love the versatility of all of these pockets. This bag will work for a ton of different people and a ton of different use-cases. Makeup-loving road tripper? Definitely. Minimalist globetrotter? You bet. Someone who hates travel and wants to organize their toiletries at home? Of course.
Features & Usage
One of the best things about this bag is that it's been designed to hang. This comes in handy when showering at hostels, National Parks, gyms, college dorms—wherever you have to lug your toiletries into the shower area with you.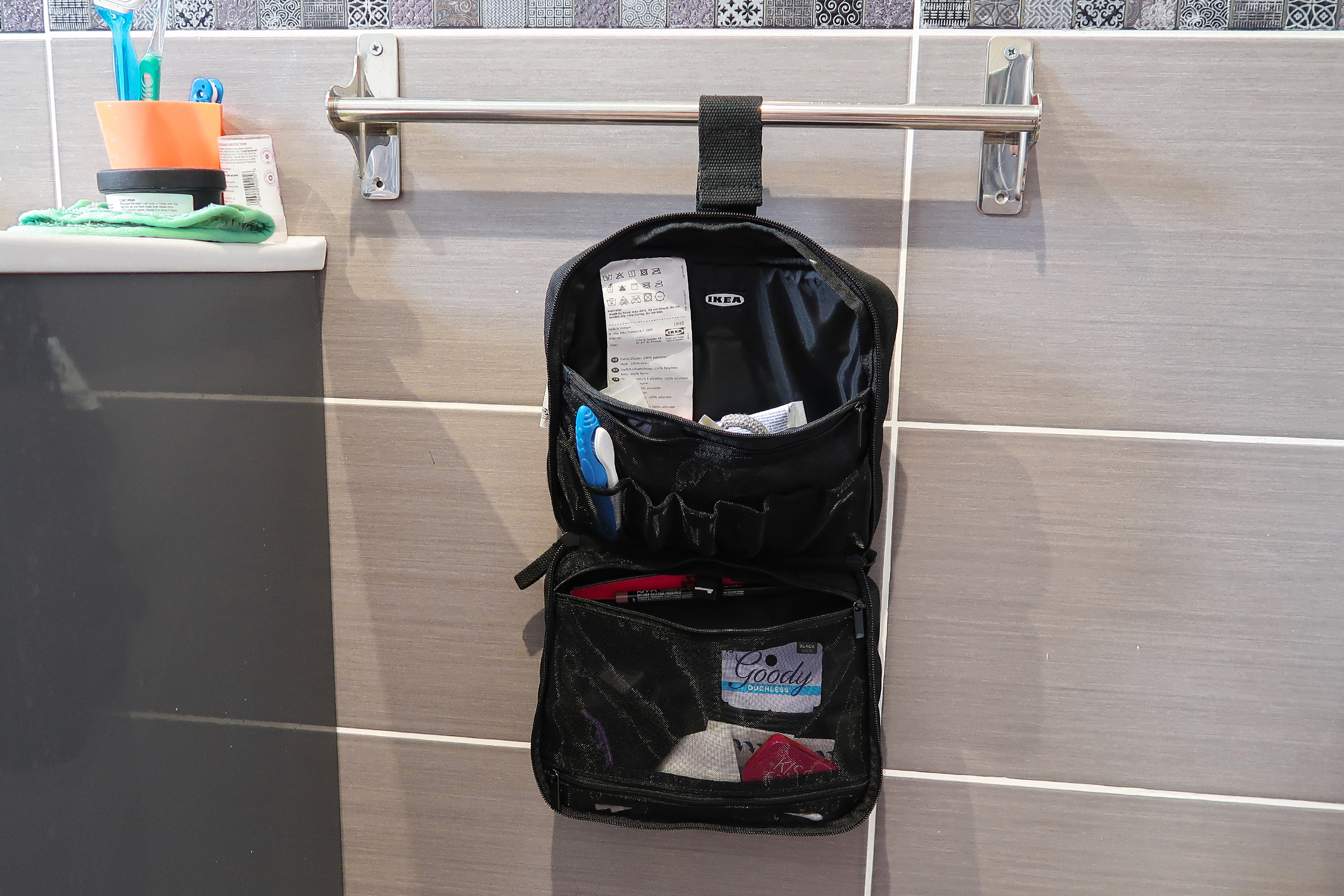 You can hang it up in multiple ways. The first way is by looping the velcro back on itself—this works great for poles or bars. The second way is with a small loop that works well for hooks.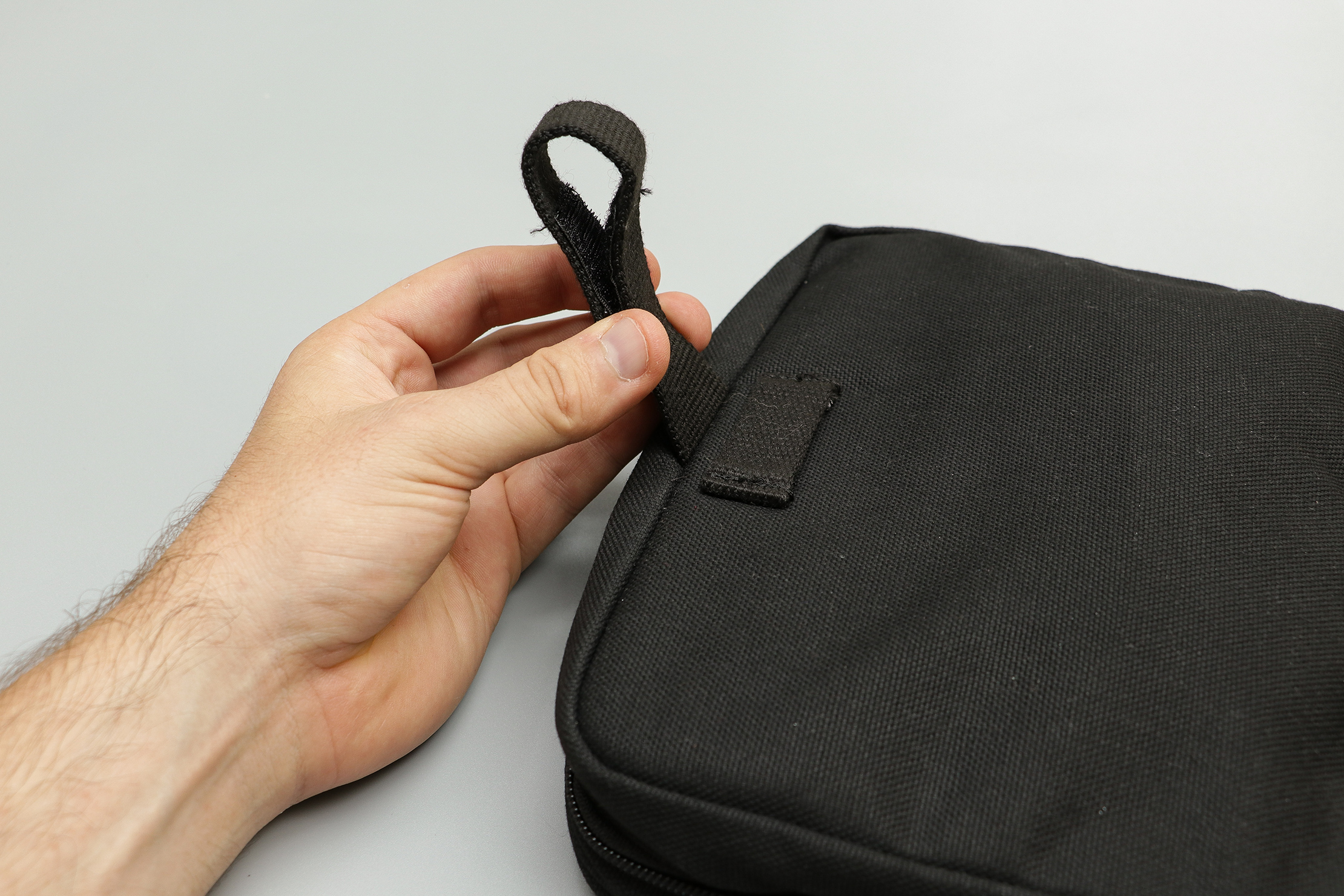 Now, one feature that is distinctly missing from this bag is any water-resistance. While we don't expect toiletry bags to be waterproof, it can be a bummer when the bag doesn't shake off water, because toiletry bags can often get wet—whether from bottle spills or rouge showers heads. And it's nice when they don't take forever to dry.
Durability & Testing
We've been testing the IKEA FORFINA Toiletry Bag for three weeks around the U.K., Spain, and the U.S. We haven't had any issues with durability, expect a few loose threads around the mesh pockets—nothing concerning yet.
Overall, it's a solid toiletry bag. Sure, it's not luxurious, but it does what it's supposed to do and at a reasonable price point to boot.
Usage Timeline
Initial Usage
Condition: Excellent
The velcro at the top can be used to form a handle so you can hang it up
It's fairly heavy for a toiletry bag but there is plenty of organization inside
1 Month of Use
Condition: Good
Some loose threads along the mesh pockets, but nothing too concerning yet.
Access the Pro Community Discussion
Get your questions about the IKEA FORFINA Toiletry Bag answered from our team and the Pro Community right here on the page. Plus, join discussions with other members about gear, guides, and more.
Other Organizers & Pouches Reviews