IKEA FORFINA Packing Cubes Review
While the IKEA FORFINA Packing Cubes aren't exactly made to last—particularly the unbranded zippers—they're a solid option for anyone on a budget.
Our Verdict
Unlock the Pro Summary
Save time. Get access to brief summaries of our reviews so you can browse and make decisions more efficiently.
Pros
Some of the most—if not the most—budget-friendly packing cubes on the market
Sleek, minimal aesthetic
Great range of sizes
Cons
Concerns about long term durability
Only available in one colorway
No special features
Recent Pack Hacker Video
Technical Details
Weight (oz)

4 oz (113.4 g)

Notable Materials

Polyester
Full Review
The IKEA FORFINA Packing Cubes are the best budget packing cubes on the market…at least that's what we've been told. Seriously, we've received a lot of messages telling us we have to check them out.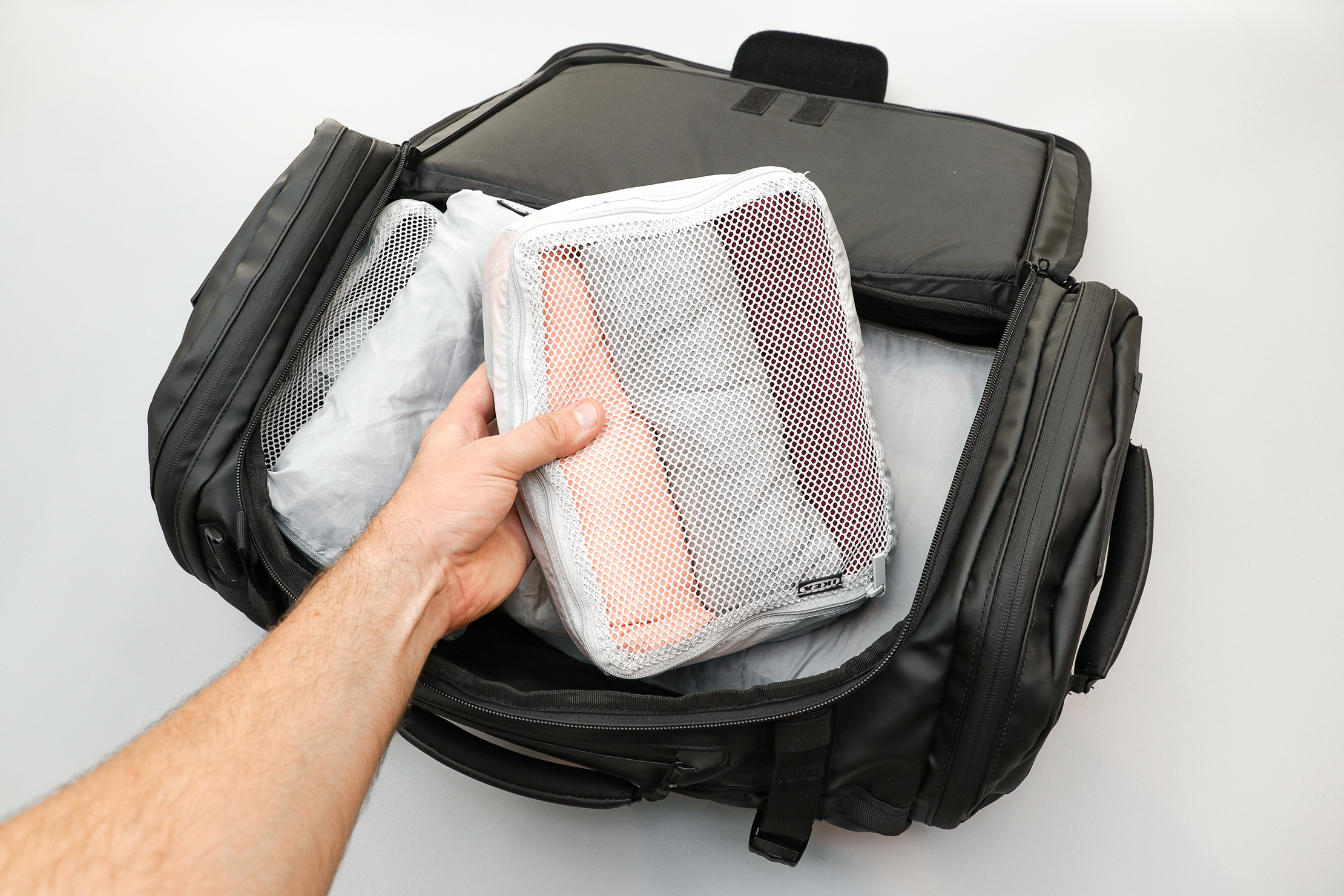 So we went in to testing with high expectations.
Did the IKEA FORFINA Packing Cubes meet those expectations? Both yes and no. We've already had a problem with the zipper on one of them—which doesn't bode well—but the pack of six will cost you less than 10 bucks (!). That's less than two semi-fancy coffee drinks at an airport cafe. And for that price, we've been impressed.
So, let's get into the details.
Materials & Aesthetic
You get what you pay for. Cliche, but true in this case. The materials aren't anything fancy. The exterior is made from 100% polyester, which is a synthetic fabric you're probably familiar with (check the labels on your clothing and you'll certainly come across it). It's lightweight, but not the most durable fabric in the world. If it ever snags and tears, those rips will keep growing until the cube becomes unusable.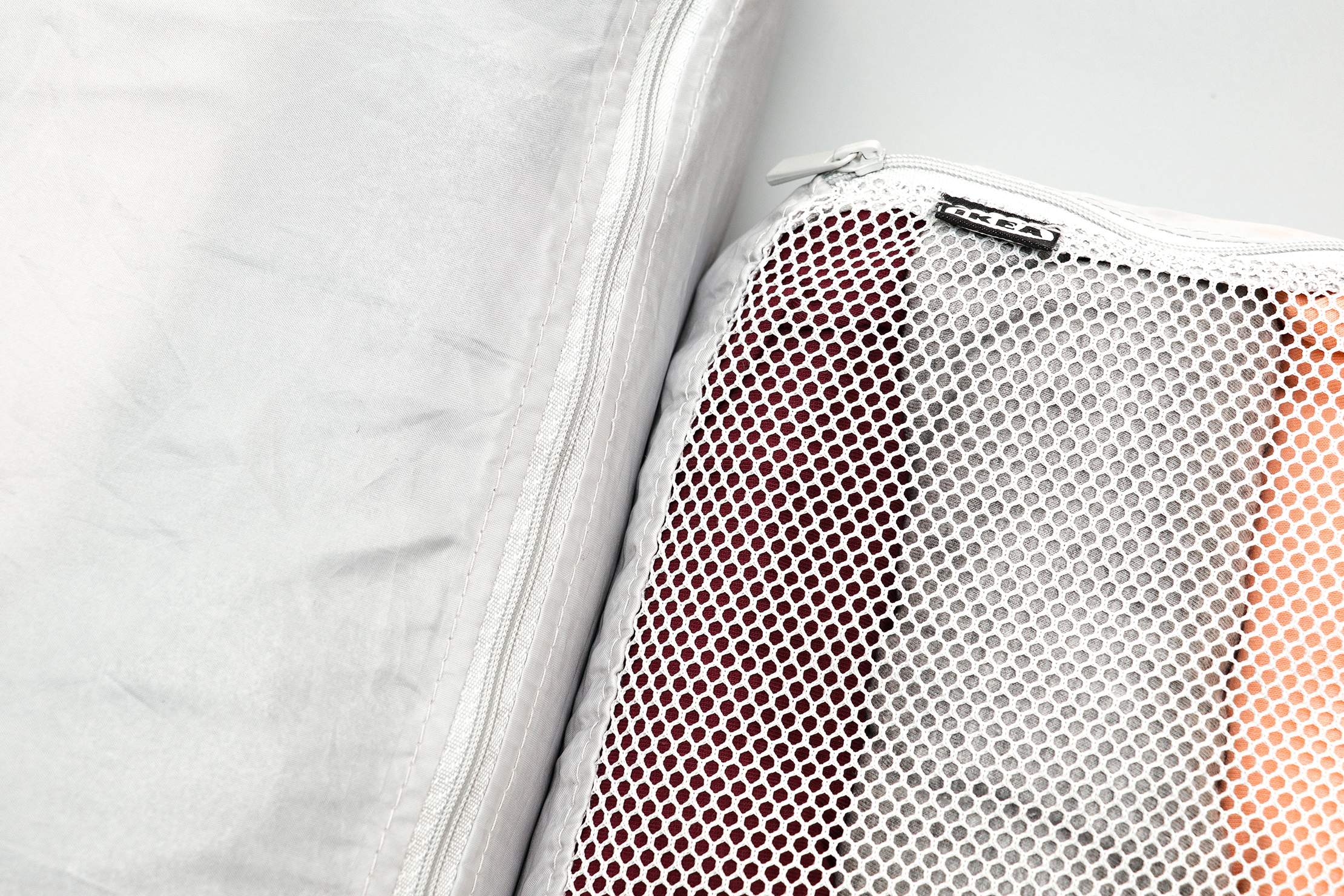 In the set of six, three have mesh tops while the other three don't. It's a nice variety and the mesh allows you to see what you've packed inside each cube. That said, it's easier to snag mesh. So be careful.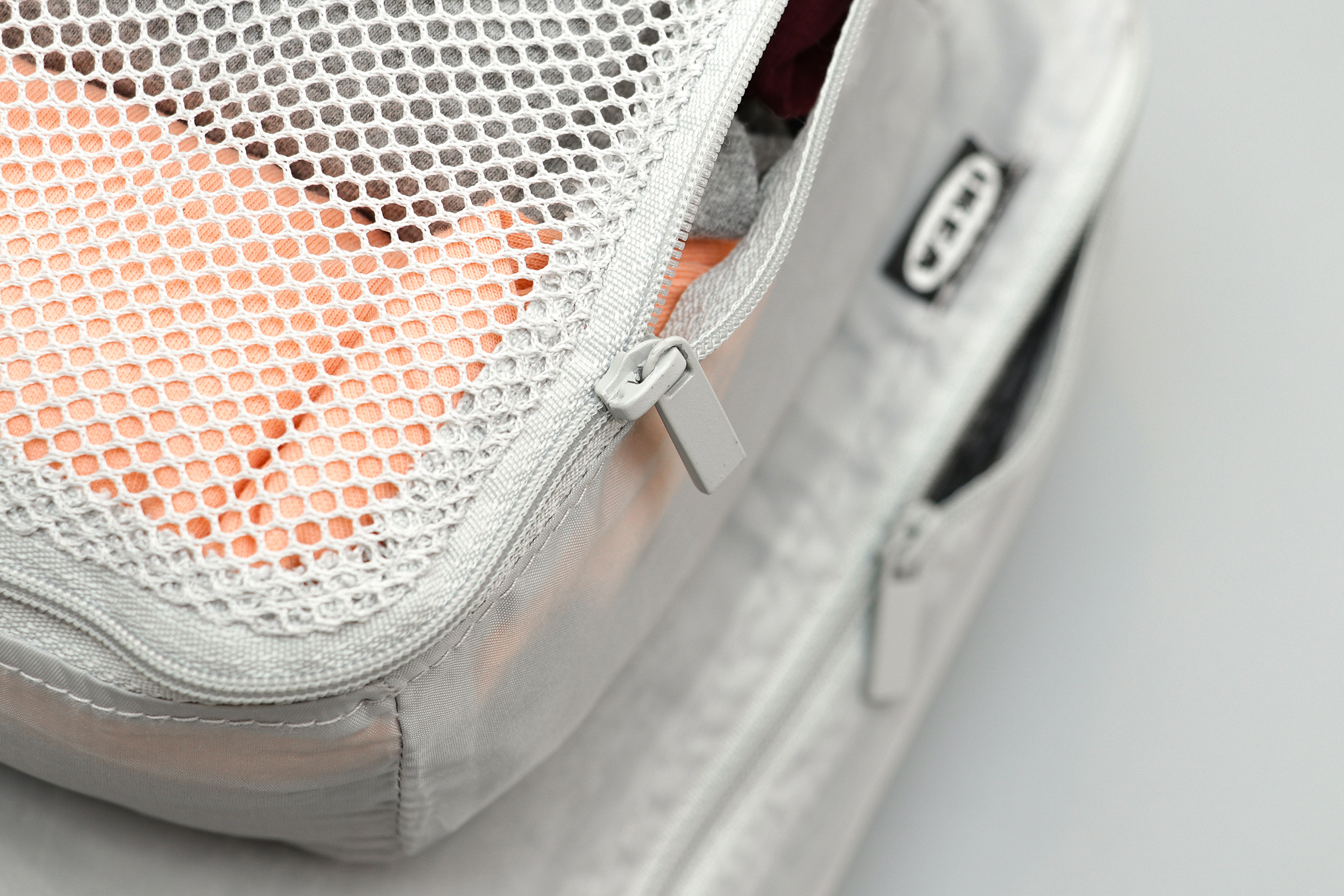 The zippers are unbranded (perhaps made from IKEA themselves). We're always wary of unbranded zippers and for good reason. We've already had an incident with the zipper on the largest packing cube—the coil started to separate, coming apart even while we've had the cube zipped up.
We were able to temporarily fix it by zipping and unzipping the cube a few times. But during the photoshoot for this review, the zipper broke again. We've since fixed it a second time, but we suspect this is not the end of the broken zipper saga.
When you're in a rush packing—or as we like to call it, packing—these zippers are not trustworthy at all.
But again—these cubes cost less than 10 bucks.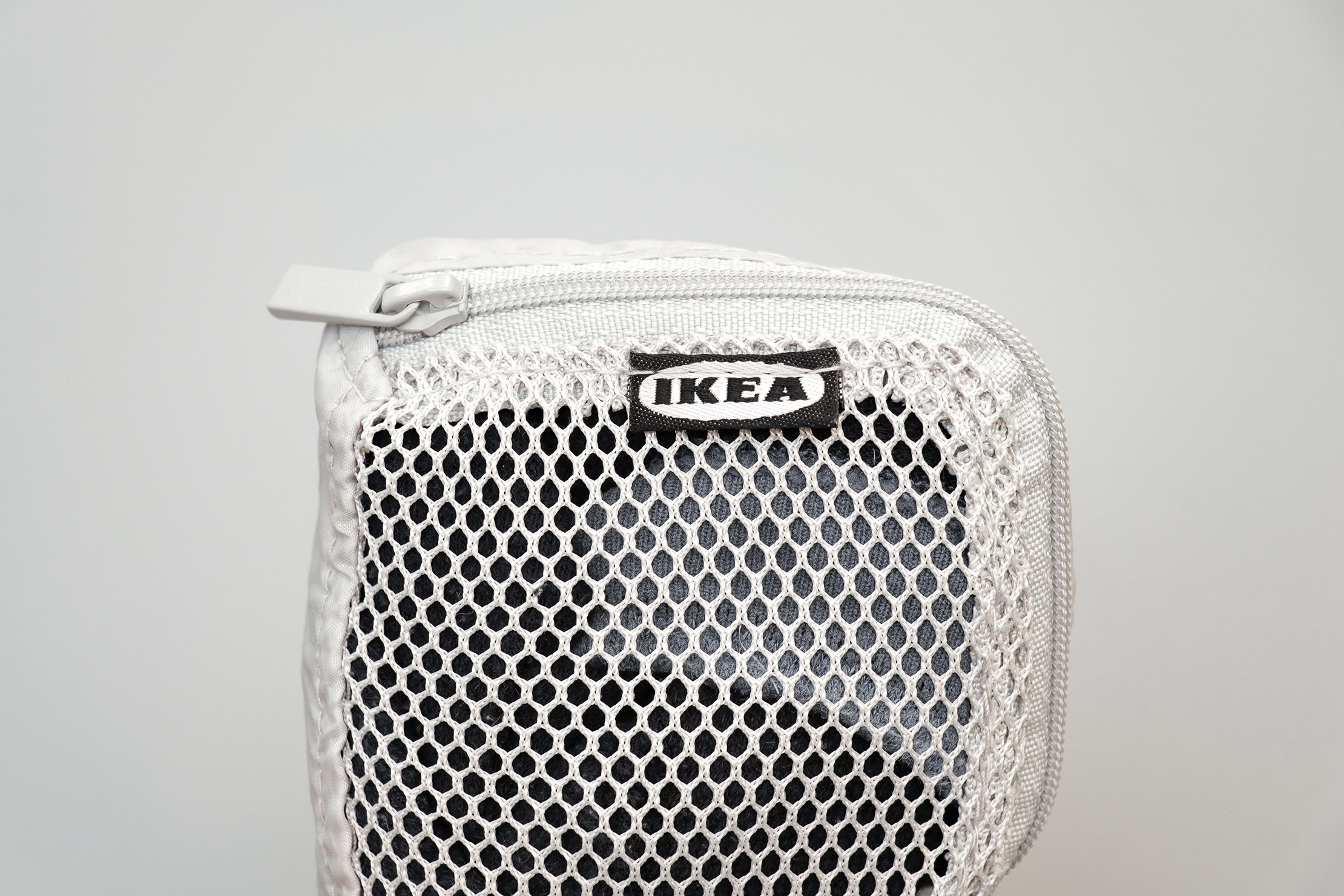 We have no complaints as far as the look of these go. They're simple with minimal branding in the form of a small, black IKEA tag on the corner of each cube. At the time of this review, they're only available in a light gray colorway.
We'd love IKEA to sell these cubes in multiple colorways in the future (bonus points if you could mix colorways within a single set), though we don't dislike this colorway by any means. Combined with the black tag, these cubes look surprisingly sleek.
Features & Usage
There aren't any real "features" on these things—you won't find any weather-resistance or compression straps or anything else fancy. That said, they're solid at doing the job they were built to do (organizing your stuff).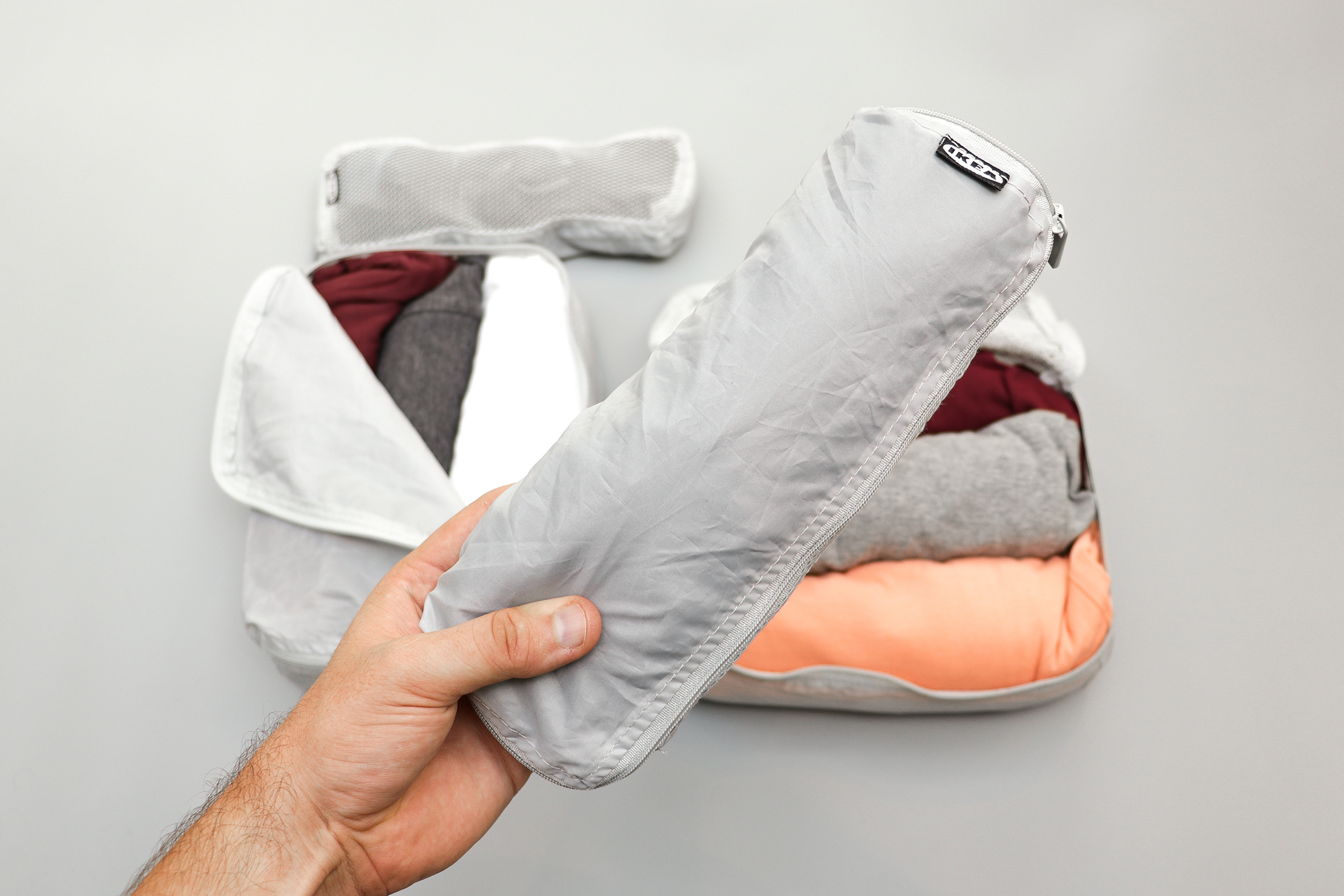 The six packing cubes within the set are three different sizes, which we think is great, allowing you to organize a variety of gear. And the folks at IKEA did a nice job picking the sizes. They're big enough to actually fit gear, but not too big where they become worthless. You can pack socks, undergarments, and loungewear in the smaller ones, and your shirts and pants in the larger one.
And, depending on the size of your bag, you can use all six of them or mix and match for the space you've got.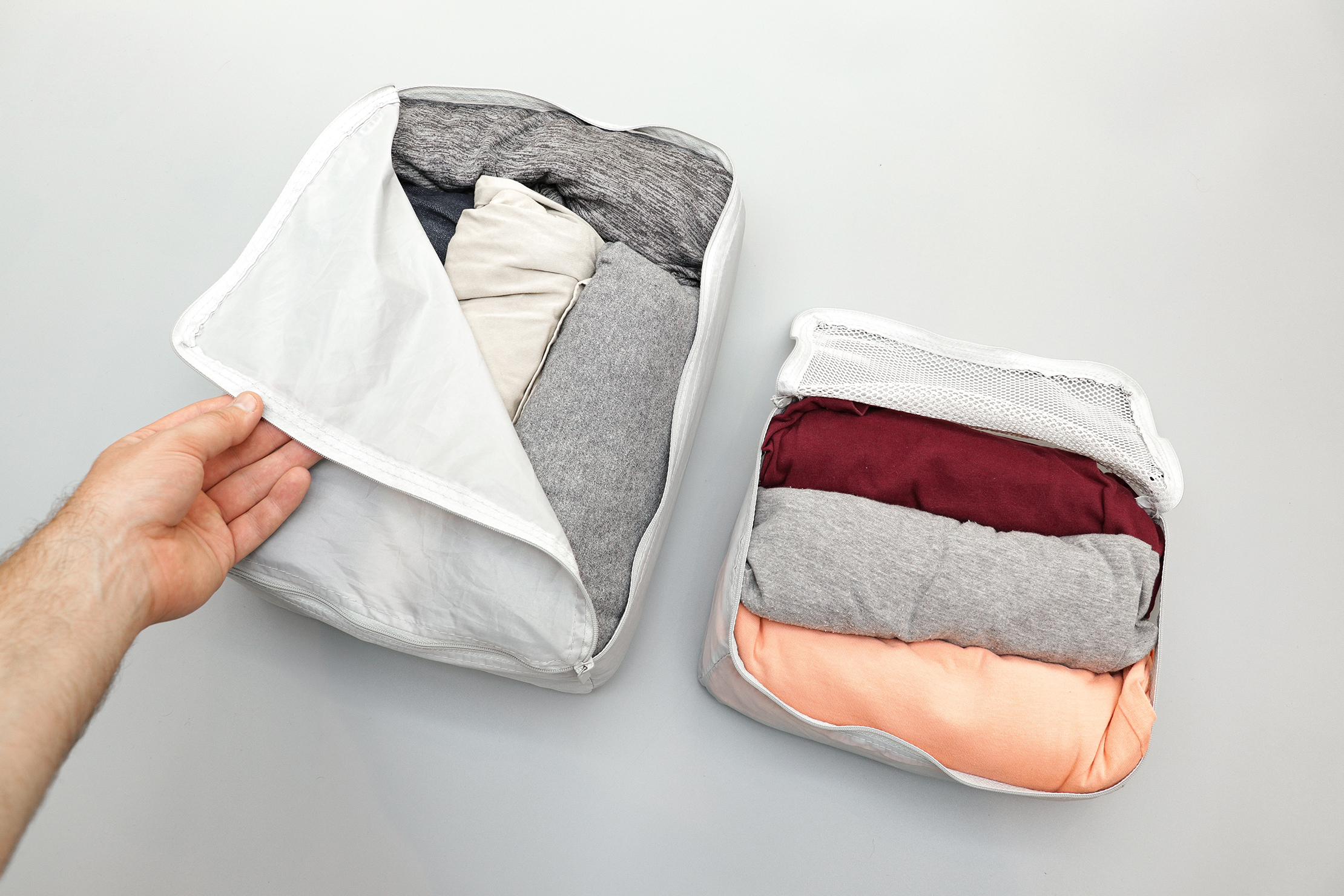 With a decent amount of dimension, they're easy to pack. Simply roll up your clothing (or use your preferred folding technique) and stick them in there.
There aren't any handles, which isn't that big of a deal since we don't often take advantage of handles on other packing cubes. That said, the lack of handles make it harder to both grab one of these cubes out of your backpack and to carry it on its own (not sure why you'd want to carry it on its own, but that's beside the point).
Durability & Testing
We've been testing the IKEA FORFINA Packing Cubes for nearly two months in the U.S., U.K., and Spain. As we've said, they're not the most durable packing cubes out there. If you're really using them—jumping from country to country, stuffing them to the max—they'll likely break on you. If not a zipper malfunction, then a rip in the polyester or mesh.
That said, they're solid in the usefulness department. The variety of sizes and each cube's dimension make for a smooth packing experience. So if you're looking for budget packing cubes to pick up for your next vacation, the IKEA FORFINA Packing Cubes are a good option.
Usage Timeline
Initial Usage
Condition: Excellent
Some of the cheapest packing cubes around, and from a reputable company too.
They do feel a little flimsy, and the zips are pretty small, but they should hold up.
1 Month of Use
Condition: Fine
After stuffing this thing full, we've had an issue with the zipper on the largest size. The coil has started to separate.
2 Months of Use
Condition: Mediocre
We've fixed the zipper, it broke again, and we've fixed it again… Pretty disappointing, even considering the price
Access the Pro Community Discussion
Get your questions about the IKEA FORFINA Packing Cubes answered from our team and the Pro Community right here on the page. Plus, join discussions with other members about gear, guides, and more.
Other Organizers & Pouches Reviews