Quechua Ultra-Compact Travel Waist Pack Review
Exceptionally budget-friendly, the Quechua Ultra-Compact Travel Waist Pack is also lightweight and packable—though it's not built of the hardiest materials.
Our Verdict
Unlock the Pro Summary
Save time. Get access to brief summaries of our reviews so you can browse and make decisions more efficiently.
Pros
Packs up super small
Budget-friendly
Wears comfortably as both a sling bag and waist pack
Cons
No internal organization
Thin polyester fabric isn't super durable (though we haven't had any problems yet)
Difficult to grab your stuff if it's full
Recent Pack Hacker Video
Technical Details
100 %
Carry-on Compliance
Capacity

2l

Weight (oz)

1.4 oz (39.7 g)

Dimensions

5 in x 9 in x 3 in (12.7 x 22.9 x 7.6 cm)

3" x 4" x 2" when compressed

Notable Materials

Polyester

Manufacturing Country

China

Warranty Information
Full Review
You may be wondering if you can trust the Quechua Ultra-Compact Travel Waist Pack. With a price that's cheaper than paying for parking in any city (well, almost any city), it's hard not to be suspicious.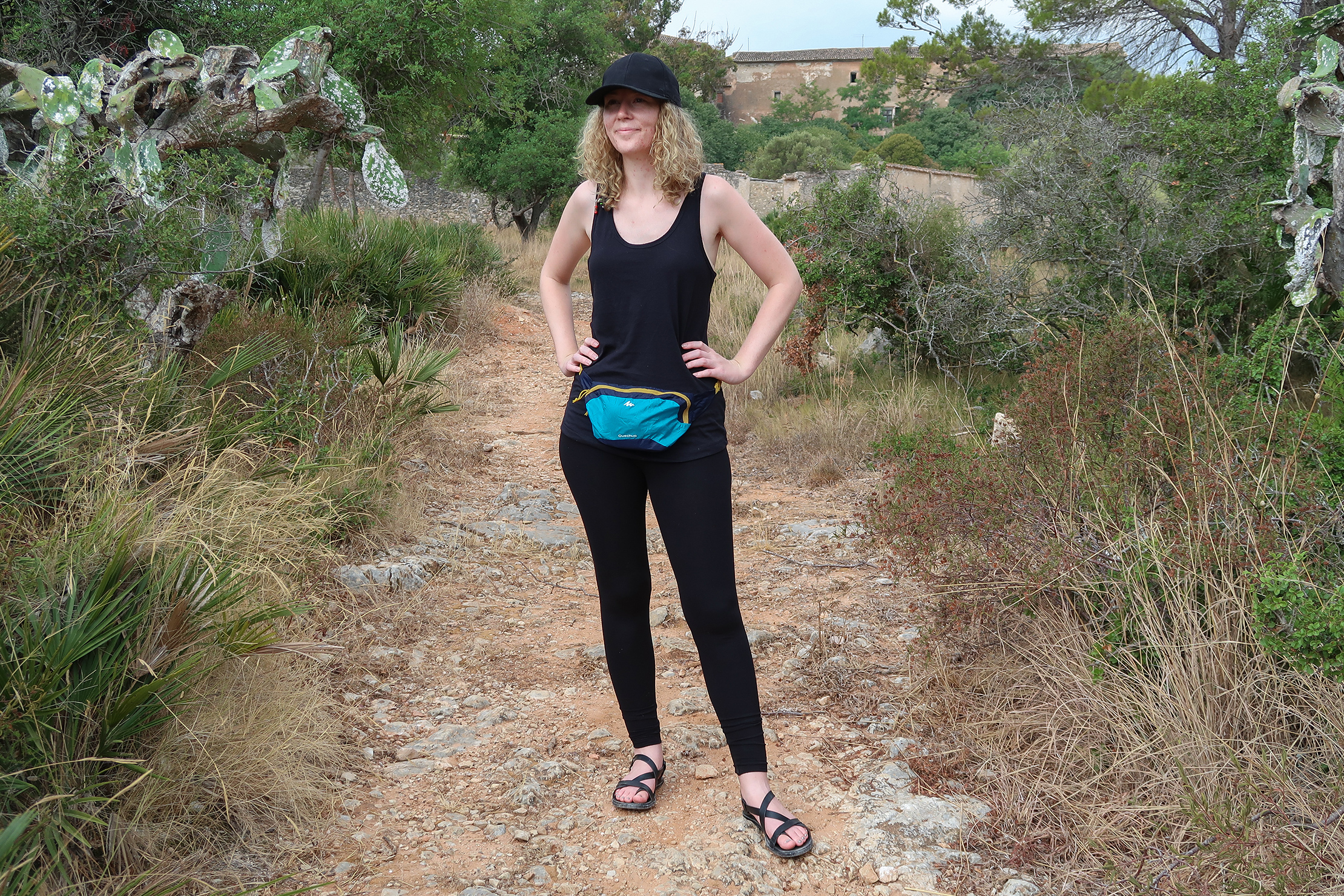 Don't worry, we've got your back. We've been testing the Quechua Waist Pack for a month around the U.K. and Spain. We've been digging its packability—this thing compresses smaller than a fist, a juggling ball, one of those mega jawbreakers that were popular back in the day…you get the idea. And it hardly weighs anything to boot—meaning you can throw it in your one-bag travel backpack and forget it until you need it.
But how has it fared overall? Read on to find out.
Materials & Aesthetic
We asked our Instagram audience to weigh in on the look of this packable waist pack. And much like the Quechua Ultra-Compact Packable Backpack, over 70% of you all gave it a thumbs down, which seems a little harsh to us.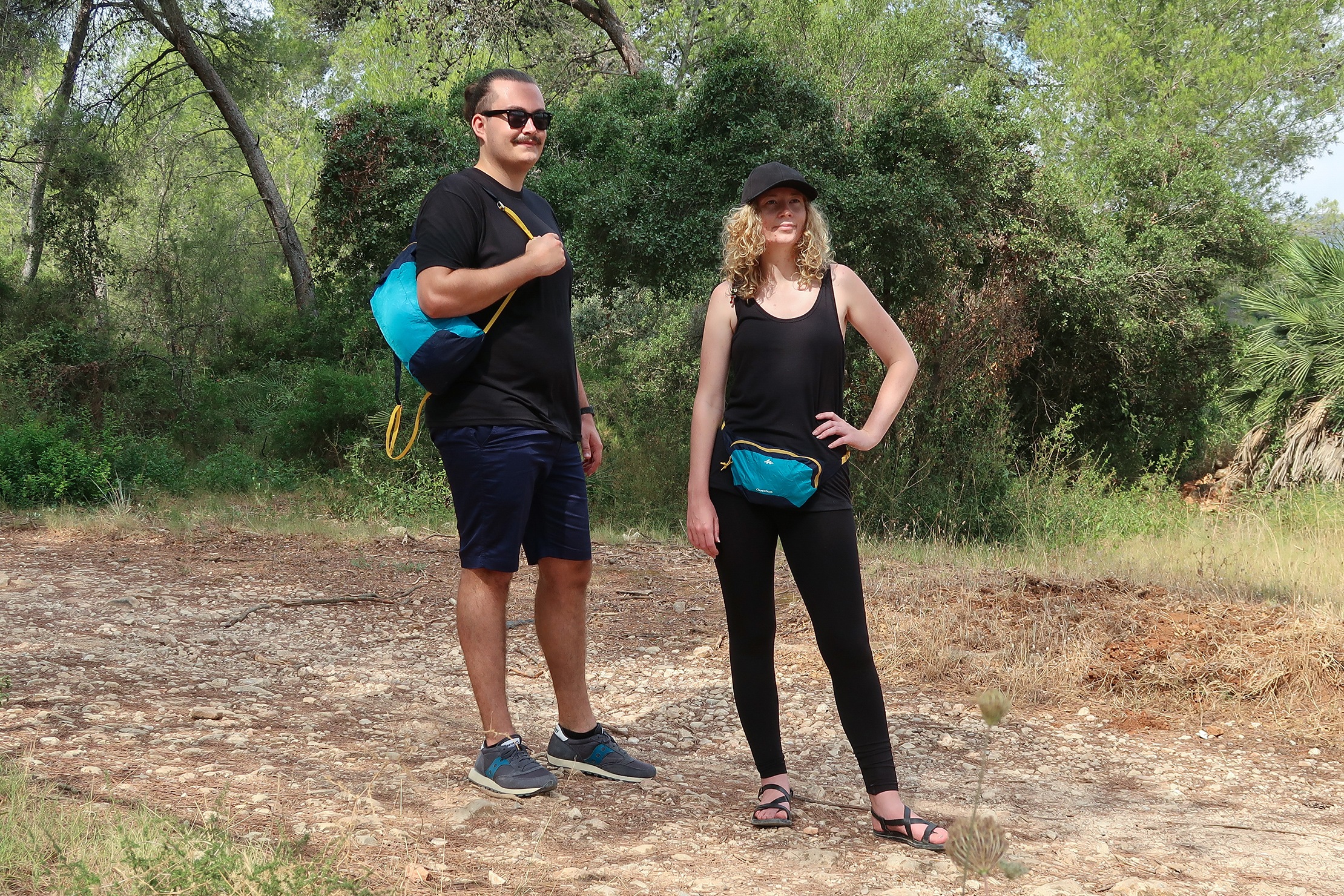 While this waist pack isn't going to be raved about in Vogue anytime soon, we think it looks alright. At the time of this review, it's available in three colorways: Granite, Royal Rain (purple), and Teal Blue, which is what we've been testing. Sure, the blue and yellow color isn't exactly subdued, but you're already rocking a packable waist pack so subdued isn't much of an option.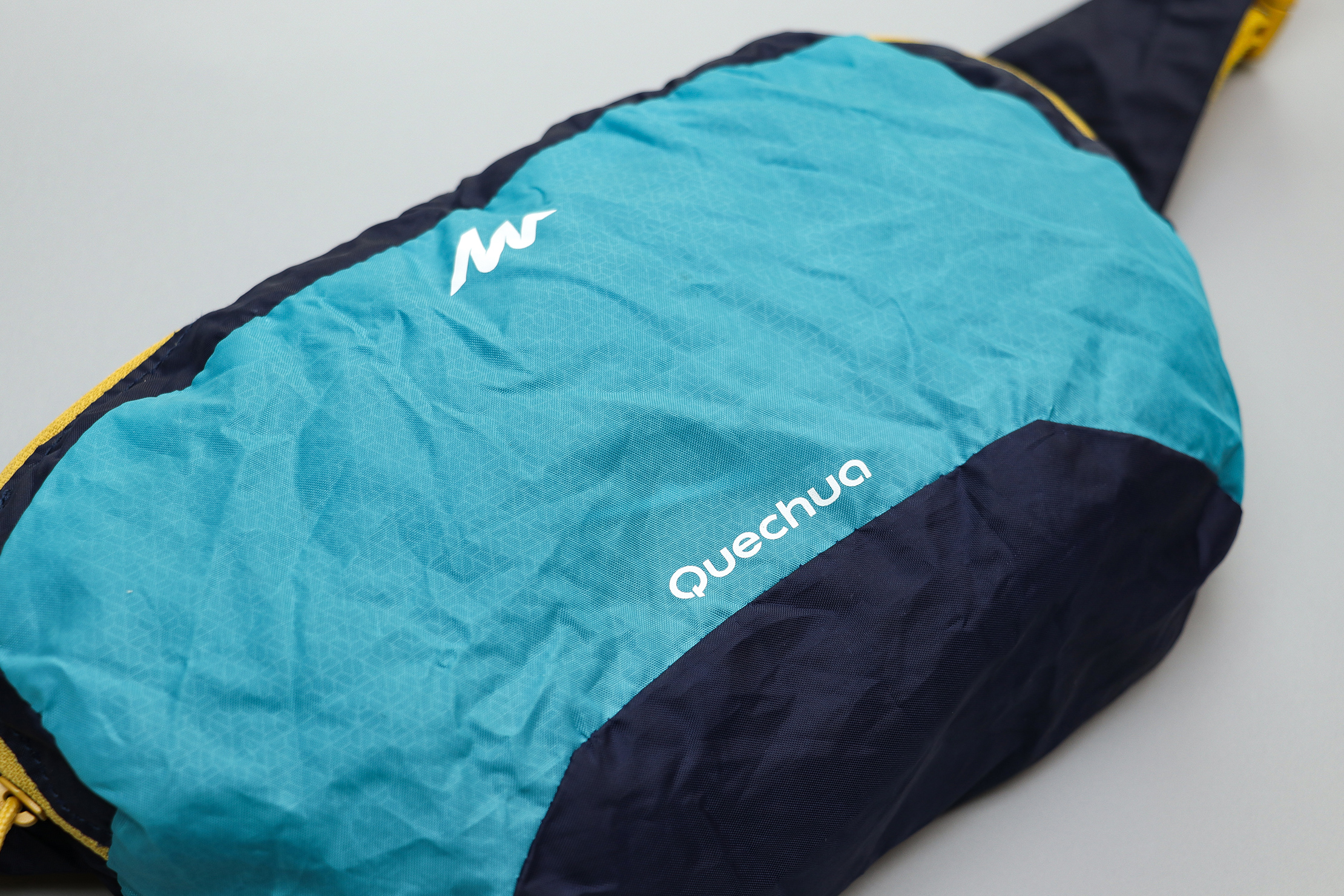 Anyway, let's discuss materials. This thing is made of a thin polyester, which isn't surprising considering the price. Polyester won't fare as well as ripstop nylon or waxed canvas, but it's a lot cheaper. Even if you spot a hole in the fabric after six months of use, it's not like this waist pack set you back a ton of money. You've still won the cost-to-usage ratio.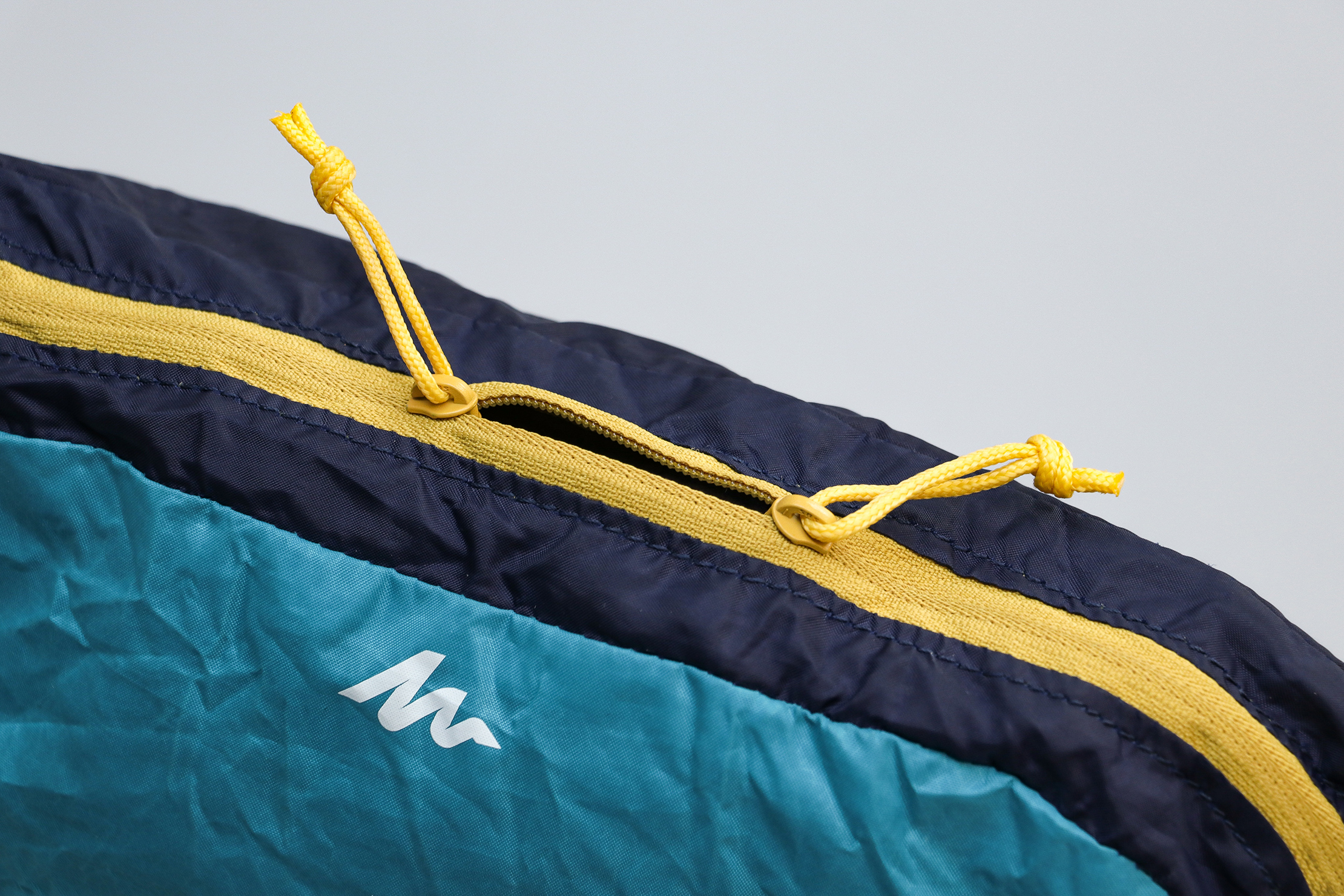 And the hardware is surprisingly competent. The zippers are from SBS, which should be fine for the use-case. And the buckle is from Duraflex, which is a brand we trust.
External Components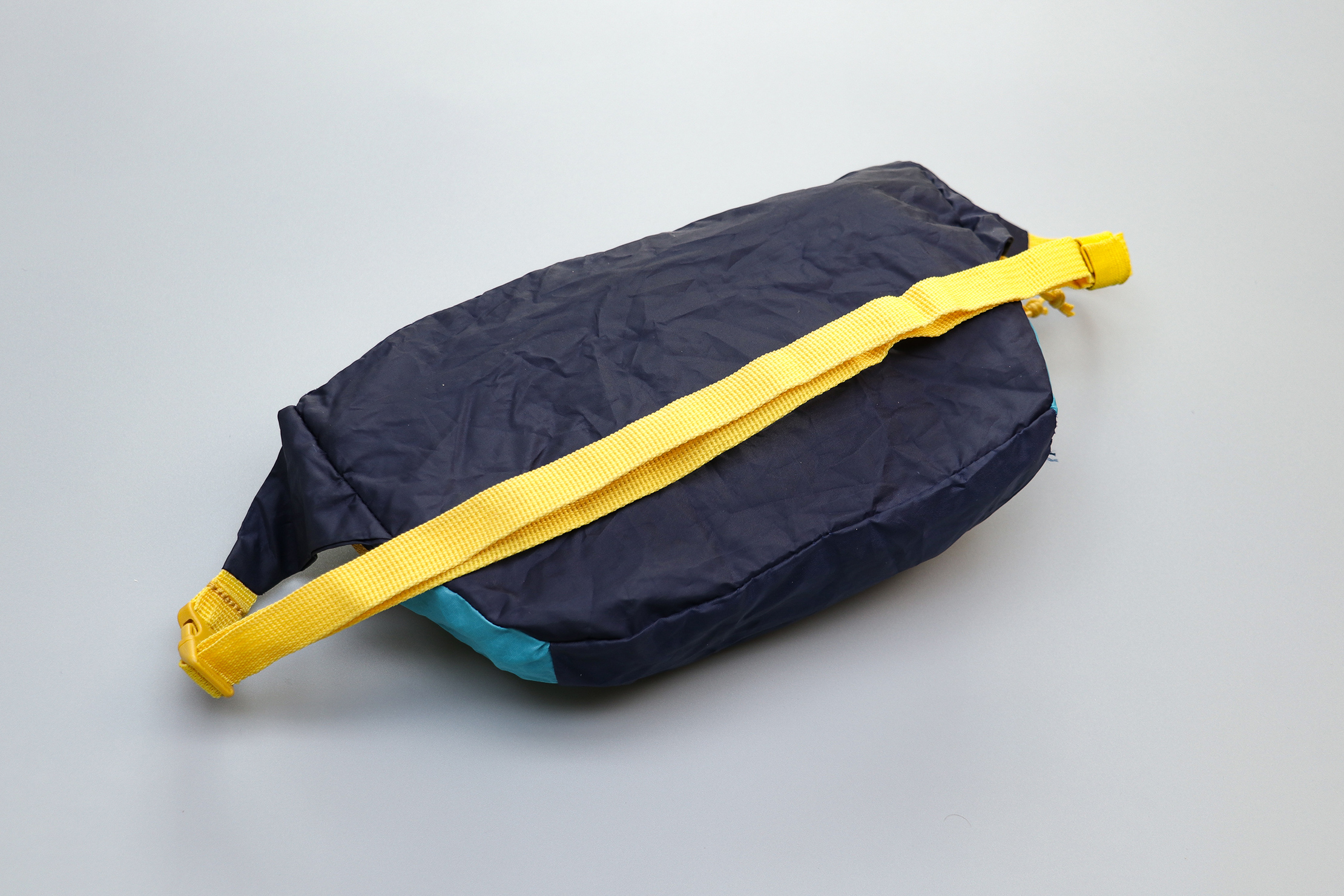 As you might expect for a packable waist pack, there's not much going on externally. Basically, there's the strap.
We're digging its bright yellow color as well as the included strap keeper that ensures everything looks tidy.
The strap also allows you to wear this thing in multiple ways. You can sling it around your hips in the classic waist pack style or wear it as a sling bag (across your chest or back). We've rocked both styles. It also works well on a variety of body types.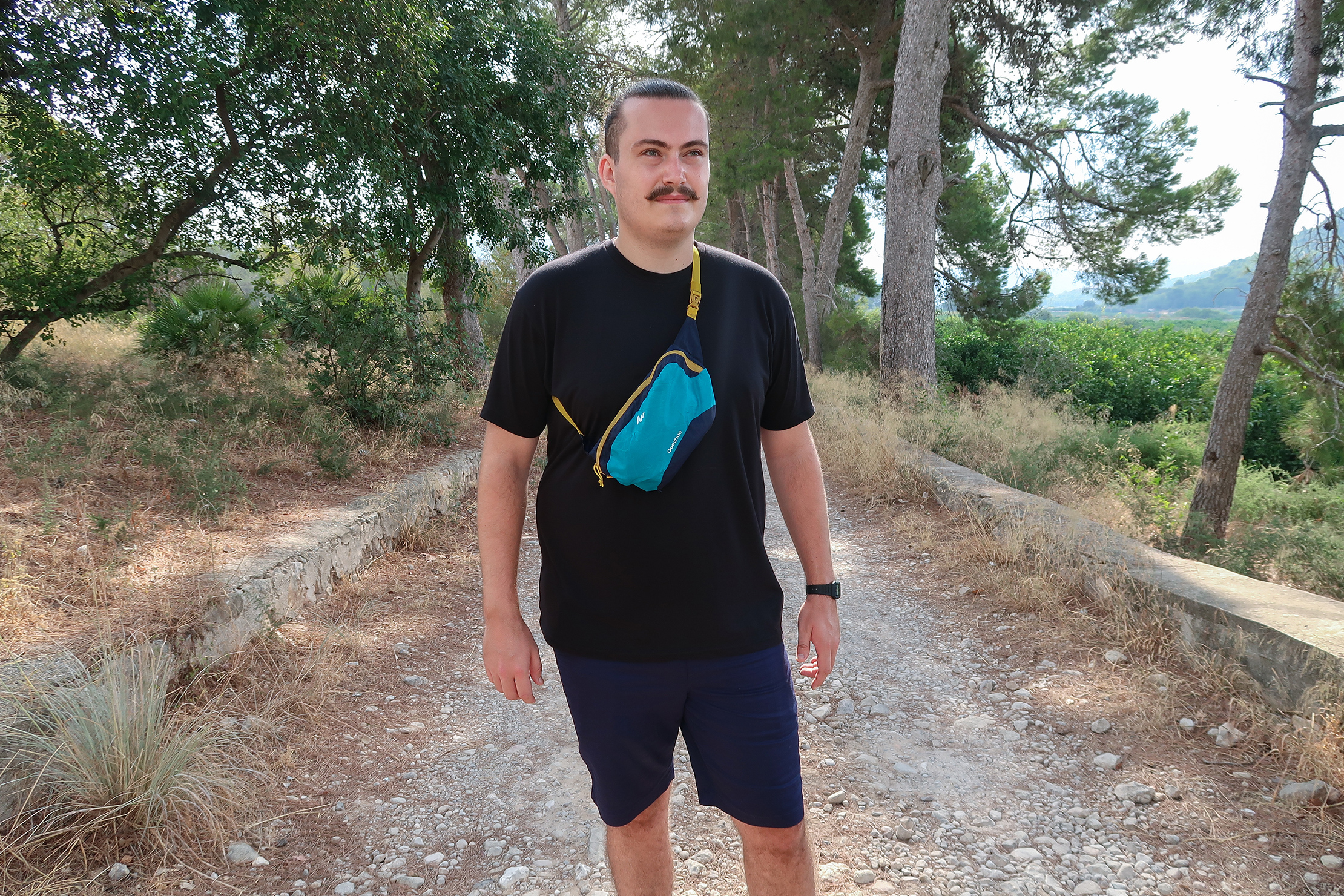 Inside the Waist Pack
The interior of this waist pack has a bit more going on than its exterior, but not by much.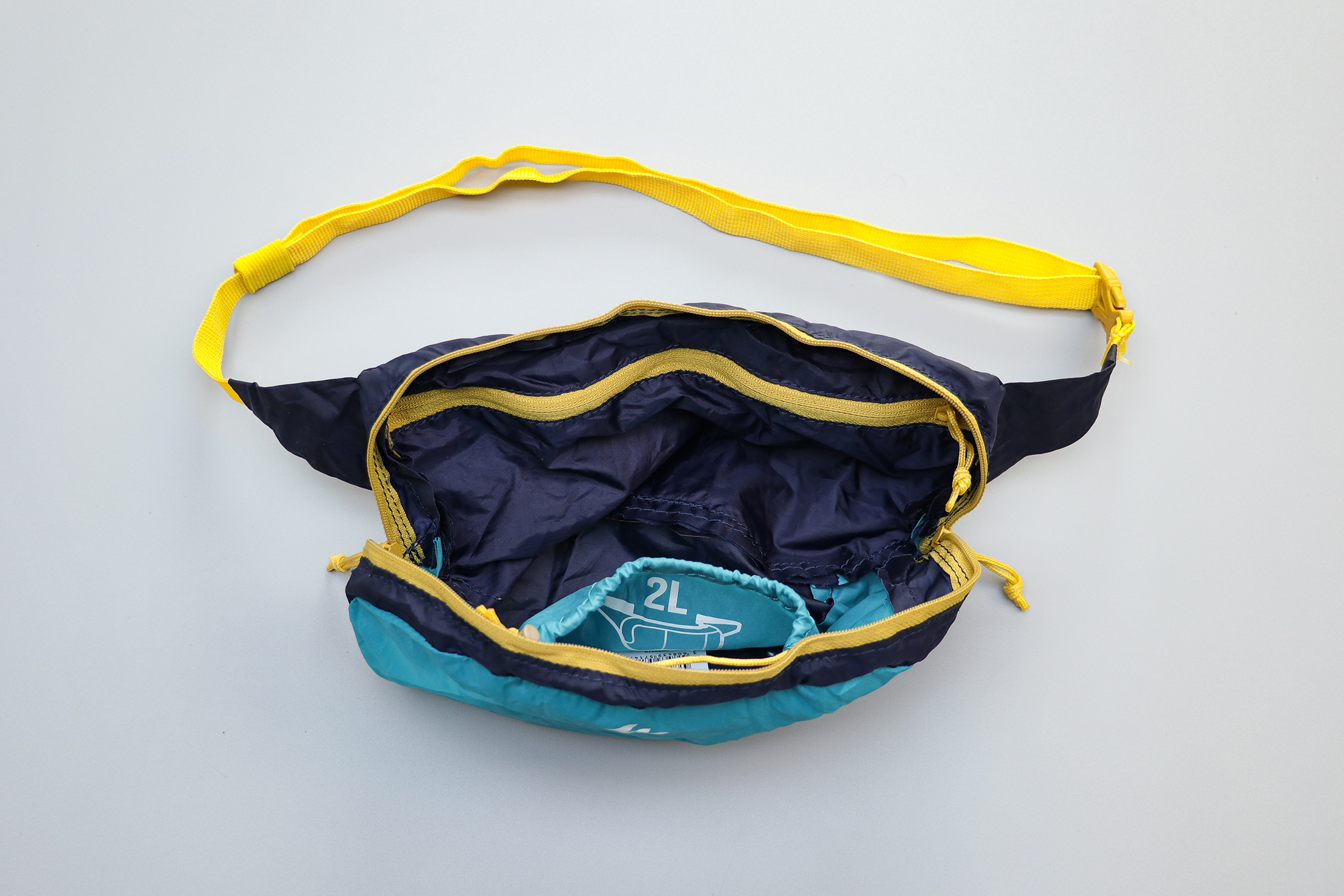 On one side, you'll see the pouch this waist pack packs into, which you can also use as a pocket. We've tossed some headphones and change here.
On the other side, you'll find a zippered pocket. This is a great spot for whatever other little things you have that you don't want to have to go digging for—earplugs, mints, your collection of mini horse figurines, whatever.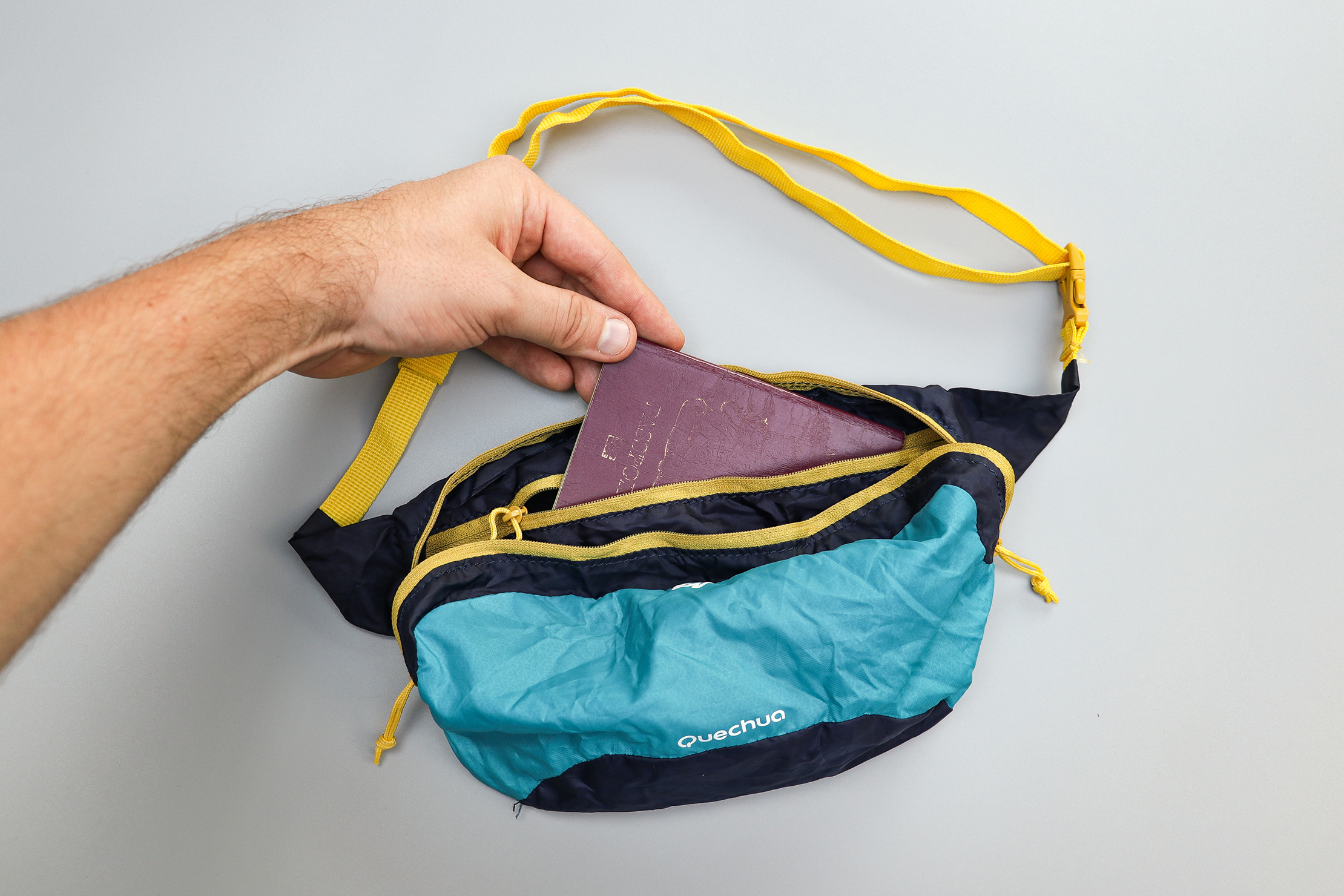 The rest is just a bucket of empty space. We've kept our sunglasses, phone, and wallet here. At 2L, this waist pack holds a decent amount of stuff, but nothing crazy. We've found that the more you stuff the pack, the harder it will be to access said stuff. So be careful not to go overboard.
Overall, this waist pack is a convenient place to carry the essentials, especially on the days you're rocking skinny jeans. But if you're wanting a place to carry everything you'll need for a long day trip or hike, you may want to consider a different sling bag or packable backpack.
Durability & Testing
As we mentioned at the beginning of this review, we've been testing the Quechua Ultra-Compact Travel Waist Pack for a month around the U.K. and Spain. We love that it packs up small, weighs almost nothing, and costs less than two airport lattes.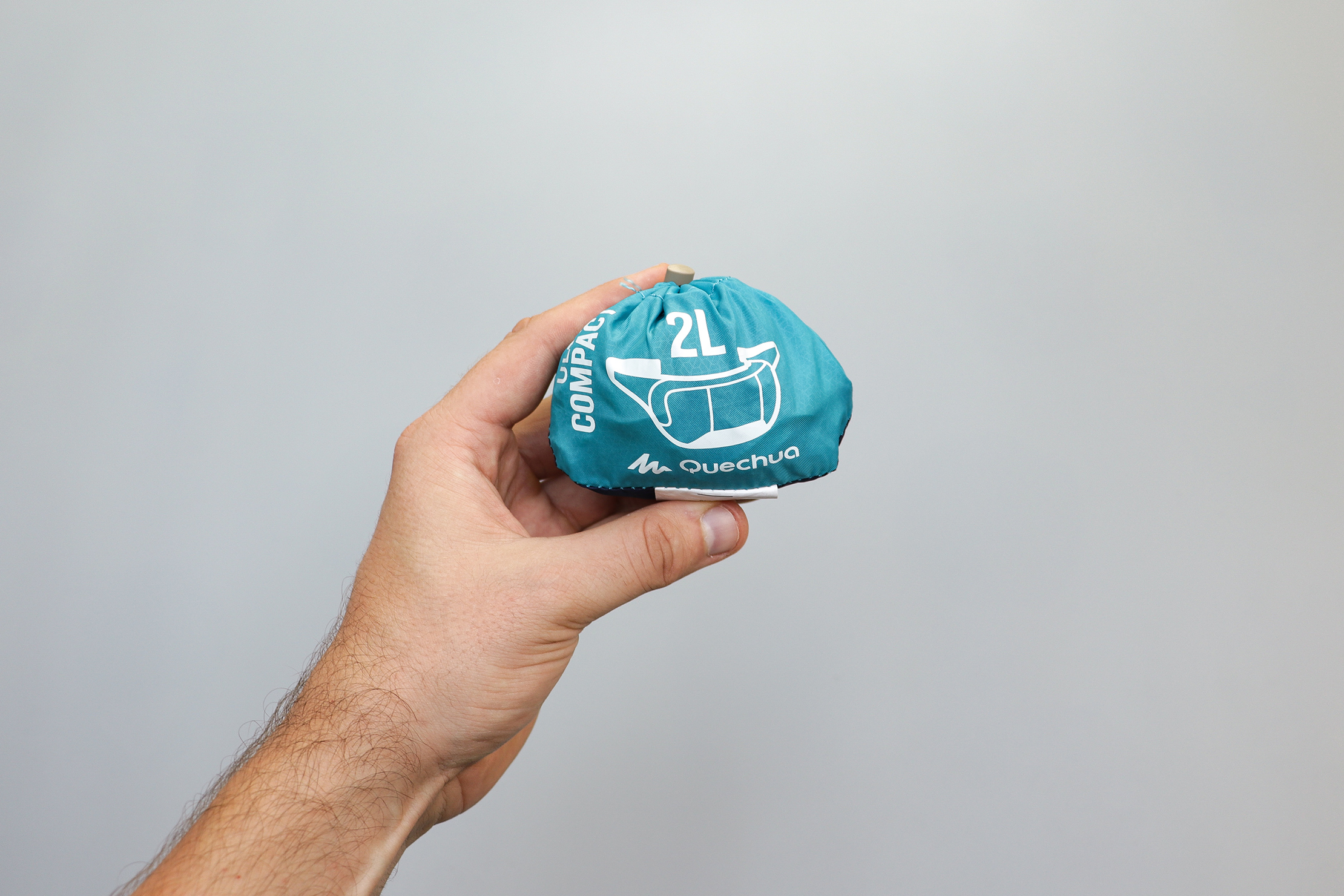 If that weren't enough, we're also happy to report that we haven't had any durability issues thus far. No pilling or ripping and no issues with the zipper. We take that as a good sign.
Usage Timeline
Initial Usage
Condition: Excellent
Packs up incredibly small
Can be worn as a waist pack and a sling
Just-right organization with three interior compartments
Great size for travel and it's a solid pack for the price
2 Weeks of Use
Condition: Excellent
This thing packs up seriously small—which is great for one-bag travel.
1 Month of Use
Condition: Excellent
Everything still looks great!
Access the Pro Community Discussion
Get your questions about the Quechua Ultra-Compact Travel Waist Pack answered from our team and the Pro Community right here on the page. Plus, join discussions with other members about gear, guides, and more.
Other Bags & Luggage Reviews