tomtoc Navigator-A82 Travel Laptop Backpack 40L Review
What the tomtoc Navigator-A82 lacks in aesthetics, it makes up for in comfort, usability, and space to hold what you need on a trip, all at a bargain price.
Our Verdict
Unlock the Pro Summary
Save time. Get access to brief summaries of our reviews so you can browse and make decisions more efficiently.
Pros
Well-padded back panel extremely comfortable
Easy access to main compartment from laptop area
Holds quite a lot of gear, even for a 40-liter bag
Cons
Zipper pulls can interfere with closing some compartments
Looks saggy when not fully packed
Many loose threads around the bag
Recent Pack Hacker Video
Technical Details
Capacity

40l

Weight (lb)

2.9 lb (1.3 kg)

Dimensions

20.5 in x 13 in x 8.66 in (52.1 x 33 x 22 cm)

Notable Materials

rPET (recycled polyethylene terephthalate), Polyester, YKK Zippers

Manufacturing Country

China

Laptop Compartment Size

17"

Warranty Information
Buying Options

$80.99
$80.99
Full Review
Get up to 20% off tomtoc • Join Pack Hacker Pro
When you're looking for a new travel backpack, the options are seemingly endless, as are the features and the price. It's easy to get carried away and spend $300, $400, or even $800 on a travel pack, but what if you're a casual traveler or just beginning your one bag carry on journey? Don't get us wrong, that $800 backpack is really great, but you might not want to make such a sizable investment if you don't travel full-time.

Enter tomtoc. The brand is well-known for its affordability, yet it aims to protect your digital gear in an innovative and tech-savvy way. So what happens when you have those aspirations while creating a large carry on travel backpack that works for business or family travel? Let's find out!
External Components
A lot is happening around the exterior of this 40L laptop bag, beginning with the 100% post-consumer polyester made from PET plastic bottles. It has an interesting texture that seems quite thick and durable and has no issues when stuffed in a car trunk, the overhead bin of an airplane, or your hotel room closet. Indeed, the material looks pretty much like it did when we started using it a few weeks ago, even after daily commutes and a family trip to Florida.
There's a bit of sunscreen on the back, a slight scuff on the front only visible when you look closely, and several loose threads scattered around the bag, but that's it. It remains to be seen if the threads will continue to unravel or just be annoying, but it's probably one of the most obvious nods to the inexpensive nature of this bag.

There's a rubbery logo near the top left corner of the front of the bag and a small "tomtoc original" label sewn to the edge of the back panel, and that's about it for branding. The brand placement seems slightly odd only because of the bag's structure. It's easily visible when the bag is stuffed full for a trip, yet when you empty it and cinch down the compression straps, the top folds over and obscures it slightly. You can straighten the front panel out to mitigate this, but perhaps tomtoc has enough self-confidence that it doesn't feel the need to shout its name to the crowd.
Speaking of which, four compression straps on the bag connect with unbranded buckles. They contain the bulk of the pack after you've unpacked or when you're taking a shorter trip, and we also thread the top ones through the handle of a water bottle to hold it in place when we have to lay the Navigator-A82 down. There aren't any strap keepers here, and the adjusters can work themselves loose after a while, but, for the most part, they get the job done.

There are two carry handles on the tomtoc Navigator-A82, as well. The top one is extremely cushy and has breathable mesh on the underside. However, carrying the bag this way for too long is hard if you're on the shorter side. So we were happy to see a carry handle on the left side of the bag, as well, until we tried to carry the fully packed bag by this handle through the airport. It, unfortunately, lacks any padding and is a simple webbing strap. While that makes it lay flat and out of your way if you don't need it, we would have appreciated a little padding.
If you're packing for a longer trip and using the Travel Laptop Backpack with rolling luggage, there's a pass-through strap on the back panel for the handle to slide through. It's vertically oriented, so you'll have to turn the bag on its side to do this; however, since it's such a tall bag, that makes a lot of sense so you don't have the top of the bag rubbing your hand as you walk through the airport.

While the buckles are unbranded, the zippers are not; they're YKK and work well. We say that because the only hiccup we encounter has nothing to do with the zippers or their tracks but with the pulls. Cords woven through the metal pulls end at 1-inch plastic knobs with the tomtoc name debossed on them. That's great for grabbing the zippers, especially as they're all hidden under fabric welts to keep moisture at bay. However, the zipper cord and pull for the top quick-grab pocket frequently falls into the track of the laptop compartment, preventing you from smoothly zipping that area. The zippers are right next to each other at the top of the bag, so there's really no way to avoid this happening, and it's something to keep in mind as you close up the bag.

After you get it situated and swing it on, you'll notice this backpack's very comfortable harness system. There are four panels of mesh-covered, cushioned padding to blunt the feeling of what you've packed inside. It forms nicely to your back, especially if you leave your laptop behind, but it still cushions the blow of your device when you bring one. The luggage pass-through creates a vertical air channel, and the padding has another horizontal break to promote airflow. We have to say, we didn't end up with a sweaty back, even in high Florida humidity. Things may heat up if you carry it for hours, but this isn't a hiking backpack, so you're less likely to need to do so. Going from the car to the airport to the Uber to the hotel and your room isn't long enough to be a problem.

The shoulder straps are also well padded, and while the cushion extends to where they connect to the bag, we haven't had issues with them pulling at the traps. They seem to have enough flexibility of movement to accommodate differently-sized users. On the left strap is an attachment point where we hook hand sanitizer to keep it nearby while traveling, and there is also a sternum strap to help carry the load. It slides on a piece of webbing on each shoulder strap for granular adjustment and stays where you place it. There are elastic keepers on this and the shoulder straps to contain the excess.
Fit Notes

So, we have to say the flexibility we mentioned above can lead to a saggy look, especially when you're carrying less gear. However, while the lack of a frame sheet may be off-putting to some users, others may find the flexible yet cushioned rear panel forms nicely to the back. If you want more rigidity, slide in your laptop. It adds structure otherwise lacking in the back panel.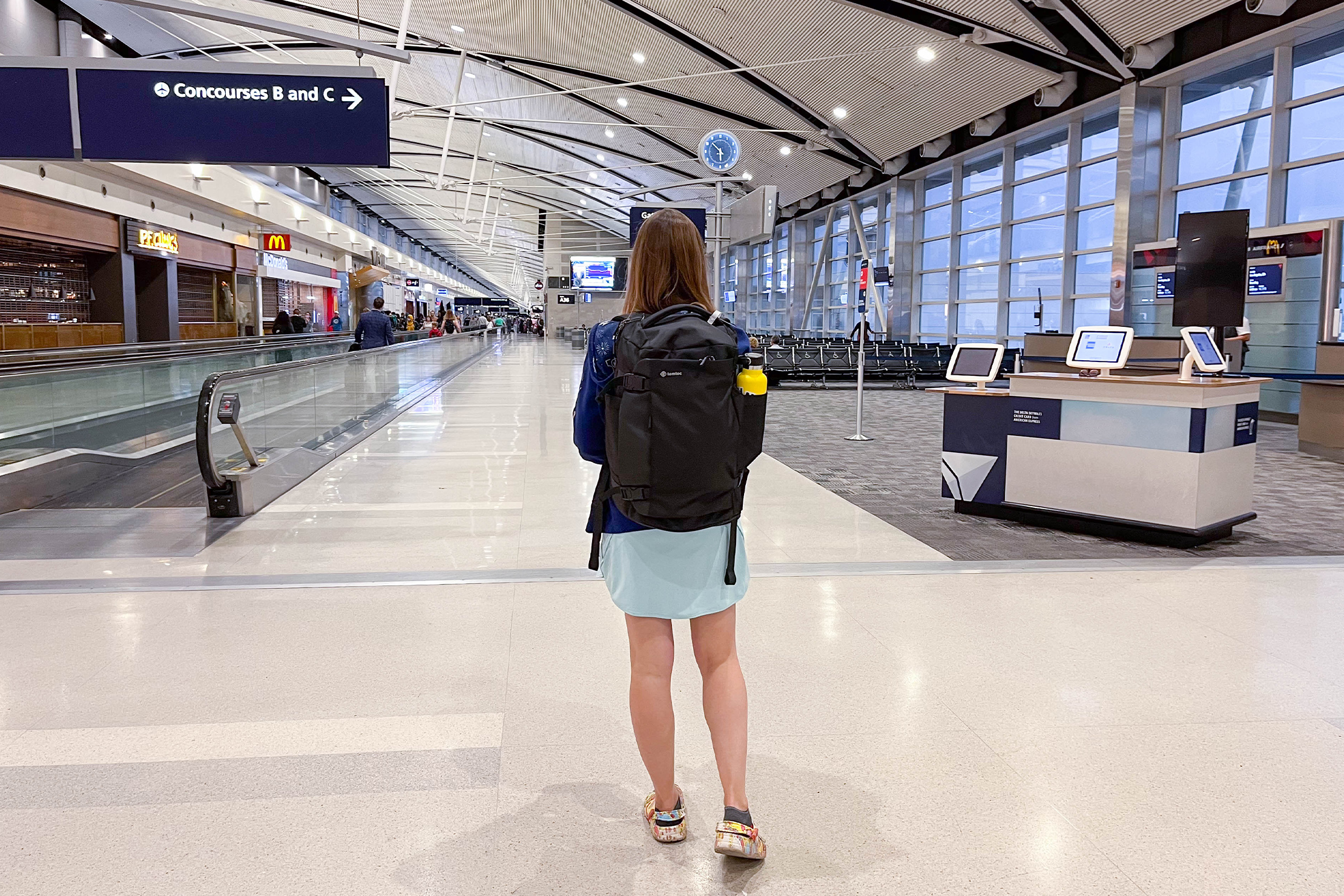 Almost all of that sagginess disappears when you pack it for a trip. The tomtoc branding shows clearly, and the bag stands tall and proud like a soldier waiting for orders. It does not have the extreme boxiness of some travel backpacks and is, instead, a little rounder while not being so curvy that it is hard to pack. Your mileage will vary as to how you feel about this, but some of our testers appreciate the fact that it doesn't look like you're carrying a suitcase on your back.
Inside The Pack
There are a lot of places to fill outside of the main compartment, so buckle up and get ready for the ride.

We'll start at the top with that quick-access pocket we alluded to earlier. Aside from the zipper sometimes getting caught in another track, this is a good place for your phone, wallet, and keys, especially when the bag is full. While a stuffed main compartment slightly impacts how much room is in this pocket, heavier gear in the top pocket weighs the top down when it's empty, leading to sagginess.

Instead, we find it easier—and more aesthetically pleasing—to toss quick grab gear in the larger pocket along the front panel with the bag compressed. You still have plenty of room for a phone, wallet, keys, and more, yet it doesn't drag down the top of the bag. Plus, it's just as easy to access through the vertical zipper on the left side. If you are heading out on a trip, it's just another place to put gear you want to access throughout the journey, so fill it with snacks, masks, or even a paperback book.

There are travel water bottle pockets on each side of the bag, so you can carry water and coffee, or bottles for yourself and a friend, or a bottle and umbrella. Whatever you choose, you'll find the pockets are pretty wide and include elastic at the top to go around thicker gear. If you sip from something thinner, like a Hydro Flask Standard Mouth Bottle, and it includes a handle (again like the Hydro Flask), you can feed the top compression strap through the handle to hold it in place so it doesn't slide out at security or anywhere else you may lie the bag down.
On the back of the bag, a double-sided zipper runs around the top three sides and even turns the corner to the bottom. That's because the laptop compartment is designed for you to send the bag through with your computer still inside the backpack—if your TSA officer allows it. It will lie flat on the conveyor belt and should allow the X-ray machine to do its job. Of course, if security tells you to take your devices out of the bag, just do it. Taking the time to educate them on your bag's design is not worth the effort and is unlikely to affect your experience.

Inside, you'll find a large padded sleeve that holds up to a 17-inch laptop and includes a nice false bottom to protect your computer if your bag falls off the hook in the restroom (not that that happened to us…). In front of it is another padded sleeve for a tablet or, frankly, a second, smaller laptop—a 13-inch MacBook Air fits nicely. There is a large webbing strap that attaches via a long strip of hook-and-loop fastener to hold your devices in place. We like the adjustability it gives you to tighten it further over different size devices.
On the opposite side is a large zipper mesh pocket. It's located near the bottom of the compartment, though, so it's not as easy to access if you only open this area partway. Still, if you don't have a separate tech pouch, it's a good place for your cords, chargers, and other accessories.

You'll find a large red tab at the top of this side (adjacent to the main compartment, in case you got lost). It's surrounded by two zippers with red corded pulls. Pull the tab to unzip and reveal rear access to the main compartment. Since it uncovers that entire section, it can make it easier to pack if you don't like doing so through the front. It's also a convenient way to pull out your 3-1-1 bag in the TSA line or shove in a sweatshirt if you get too hot without undoing the compression straps since they don't block the laptop compartment.
You can also access the main compartment through the front of the bag. Unbuckle the compression straps on the left side to access the zipper, which runs between the back of the quick-access pocket in a backward C along the left side to just below the bottom compression strap on the right side of the bag.

When you open it this way, it looks a bit like a duffle bag or a suitcase, with a large space ready to fill. Along the bottom, you'll find a stiff piece of (we're guessing) plastic coated in the same tomtoc-printed liner fabric as the rest of the bag's interior. You can push it to the right, toward the bottom of the bag, if it was upright, and it stiffens up that side to provide structure while you pack. We think that's a unique solution to the problem of saggy, hard-to-pack sides. Instead, when you push it into place, this main compartment becomes quite easy to fill, especially if you put packing cubes, toiletry bags, and pouches to good use.
There aren't any internal straps or pockets in this area to hold your clothing in place or stash small gear, so we really recommend using cubes and other methods of organization to keep your tees, shorts, and shoes from sliding around willy-nilly as you walk. The large size Herschel Supply Co. Travel Organizer fits nicely on the bottom of this bag, leaving room for the small and medium cubes toward the top.

While some may say this bag doesn't look as big as other 40-liter bags, the flexible material allows you to pack quite a bit inside. We easily fit everything we needed for a 5-day trip inside with some room to spare to bring home souvenirs. Proper packing techniques are key; you can't just stuff everything inside and hope for the best, but if you're here at Pack Hacker, we trust you know how to pack. And if you don't, check out our blog and guides. We can help you with that!
Usage Timeline
Initial Usage
Condition: Excellent
Doesn't seem extremely large for a 40L bag
Interested to see how this packs
Has a loose thread, yet doesn't seem to be unraveling
2 Weeks of Use
Condition: Excellent
Comfortable to carry when fully packed
Would like more padding on side handle
More loose threads, but no issues with rips or tears
Access the Pro Community Discussion
Get your questions about the tomtoc Navigator-A82 Travel Laptop Backpack 40L answered from our team and the Pro Community right here on the page. Plus, join discussions with other members about gear, guides, and more.
Other Bags & Luggage Reviews