Veilance Nomin Pack (V2) Review
The costly Veilance Nomin Pack features top of the line technical fabric & considered construction, but the simplistic organization & key clip leave us wanting more.
Our Verdict
Unlock the Pro Summary
Save time. Get access to brief summaries of our reviews so you can browse and make decisions more efficiently.
Pros
Top of the line, water-resistant, technical fabric
Simple and surprisingly-comfortable harness system
Complex, solid construction with a clean, smart look
Cons
Shoulder straps can be difficult to adjust with the bag on
No false bottom for added laptop protection (even with cleverly designed tech compartment)
Expensive (around 800 bucks at the time of this review)
Technical Details
89 %
Carry-On Compliance (Beta)
Weight (oz)

33 oz (935.5 gm)

Dimensions

19 in x 12 in x 5 in (48.3 x 30.5 x 12.7 cm)

Notable Materials

Nylon, Urethane, YKK Zippers, ITW Hardware

Manufacturing Country

Canada

Warranty Information
Full Review
If you're unfamiliar, the brand Veilance is essentially a subset of Arc'teryx, a brand we've tested many products from in the past. Their focus is taking the technical fabrics that Arc'teryx uses on their more rugged outdoor gear and applying them to work in everyday urban environments with a techwear kick.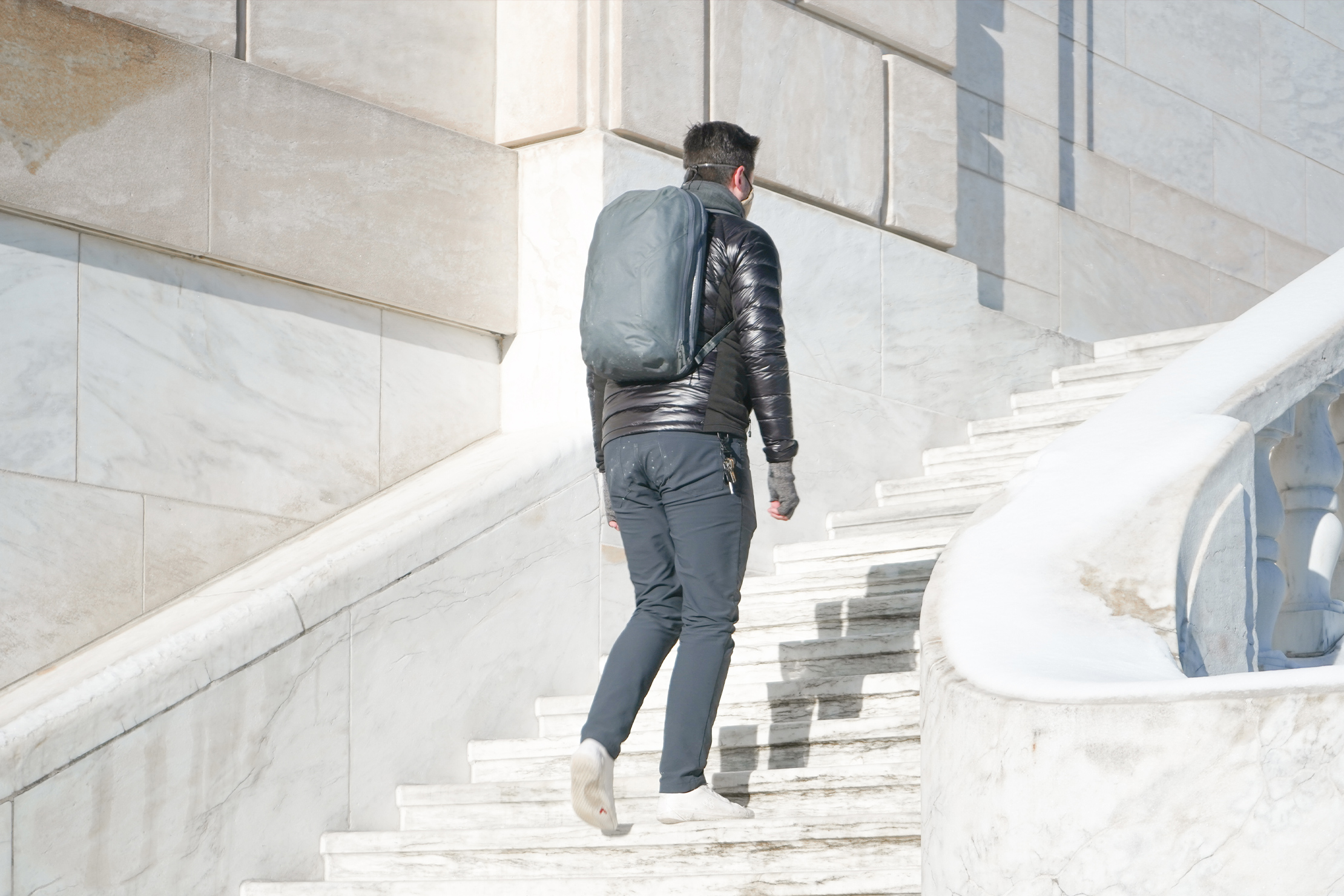 The Nomin Pack (V2), pronounced "nomeen," is just one culmination of that goal. It features a highly-technical fabric and a streamlined design that protects your everyday gear while providing a unique look. There is a previous version of this bag, but we'll focus on the V2 in this review.
So, is the Nomin worth all the hype and dollars? Let's get into it!
Materials & Aesthetic
As we do with all the bags we test, we took to Instagram to see what our audience had to say about the Nomin's aesthetic. With our poll reporting a 78% approval rating, it's safe to say that the majority are fans of this daypack's hyper-clean, technical vibe. Although, it does kind of look like a big silver raisin (which, incidentally, would make an excellent name for an elderly superhero).
We've been testing the Ash colorway these last two weeks and are digging its subtlety. We've noticed that this bag can pick up scuffs, dirt, and marks over time, but they've been simple to wipe off so far. If you're looking for something even more low-profile, you can pick it up in Black at the time of this review—which is arguably even more subdued.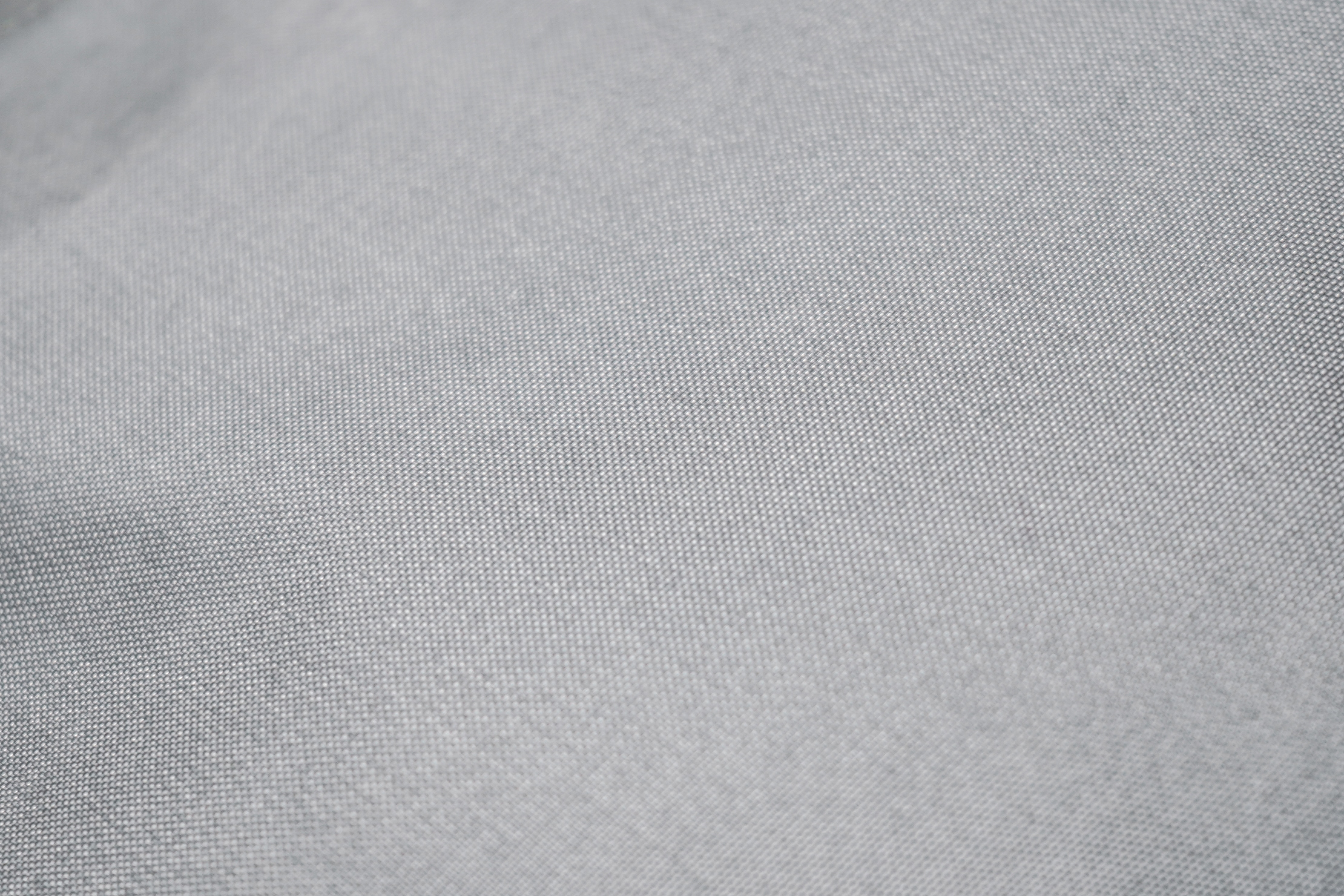 Branding-wise, the designers over at Veilance opted to leave the bag's front clear of any logos or wordmarks. This decision makes sense in context with the bag itself—any big, bright, or bulky branding would only detract from the clean, polished look that this bag pulls off so well.
The Nomin Pack features a 100% AC2 plain weave nylon face with a urethane laminate. It's a very technical fabric that not only offers excellent durability but great water-resistance as well. It's not the same kind of ripstop nylon you may have seen on V1 of this bag or other Arc'teryx packs like the Granville 16 Zip Backpack. Even without the ripstop, though—the fabric packs a durable punch.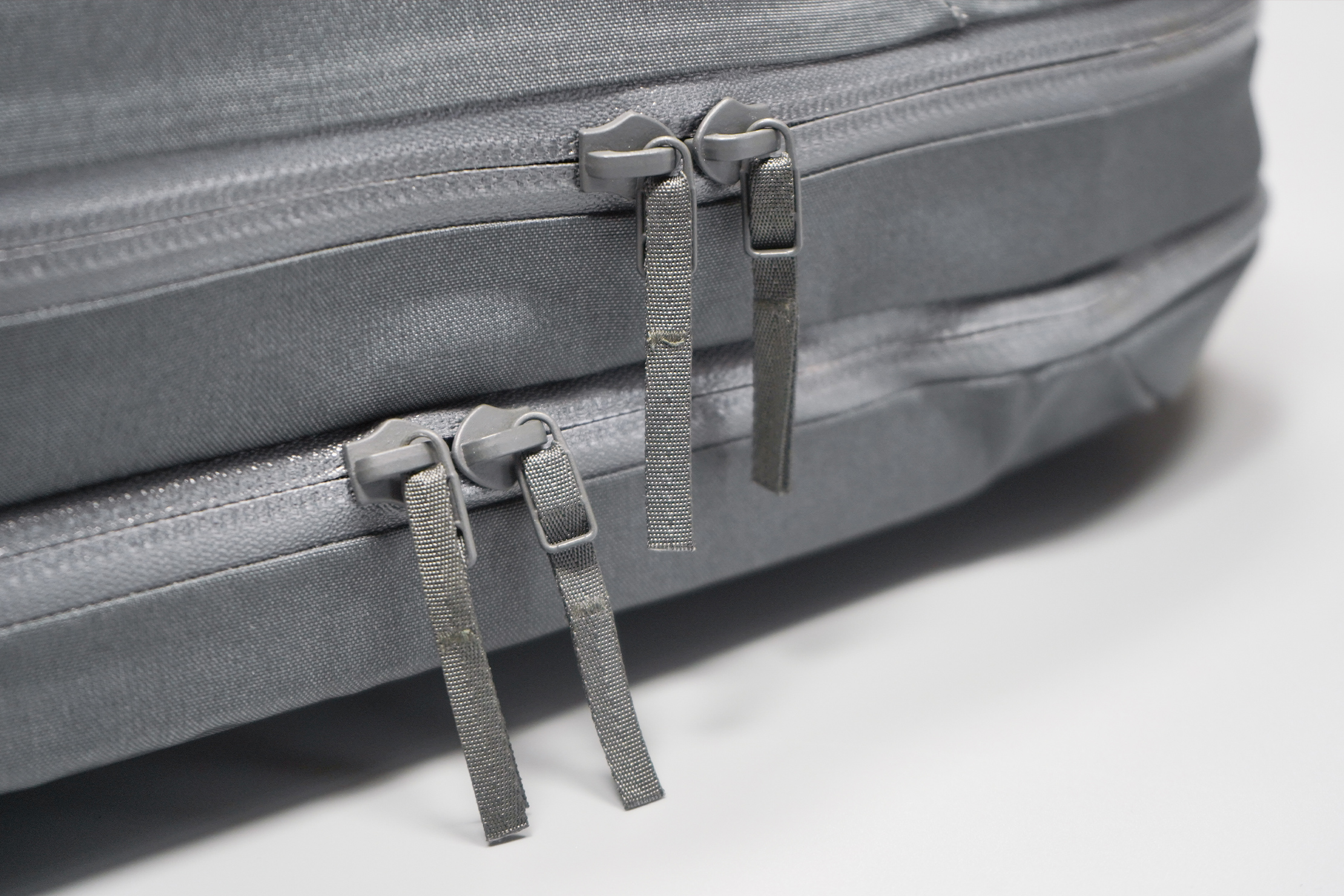 AquaGuard YKK zippers were a natural, logical choice for this bag, as they add that extra level of water-resistance to keep all unwanted moisture away from your gear. Keep in mind, though, that this bag still isn't submergible—you won't want to take it on any deep-sea dives or anything like that. Even though this bag's exterior fabric is waterproof, and the seams are taped to keep water out, moisture can always find a way through zippers—especially when water pressure from submerging is involved.
If you're curious where the hardware comes from, you have ITW to thank. The adjusters on this pack have been working just fine, albeit they've been a little difficult to adjust when we have the bag on, which we'll explain in the next section.
External Components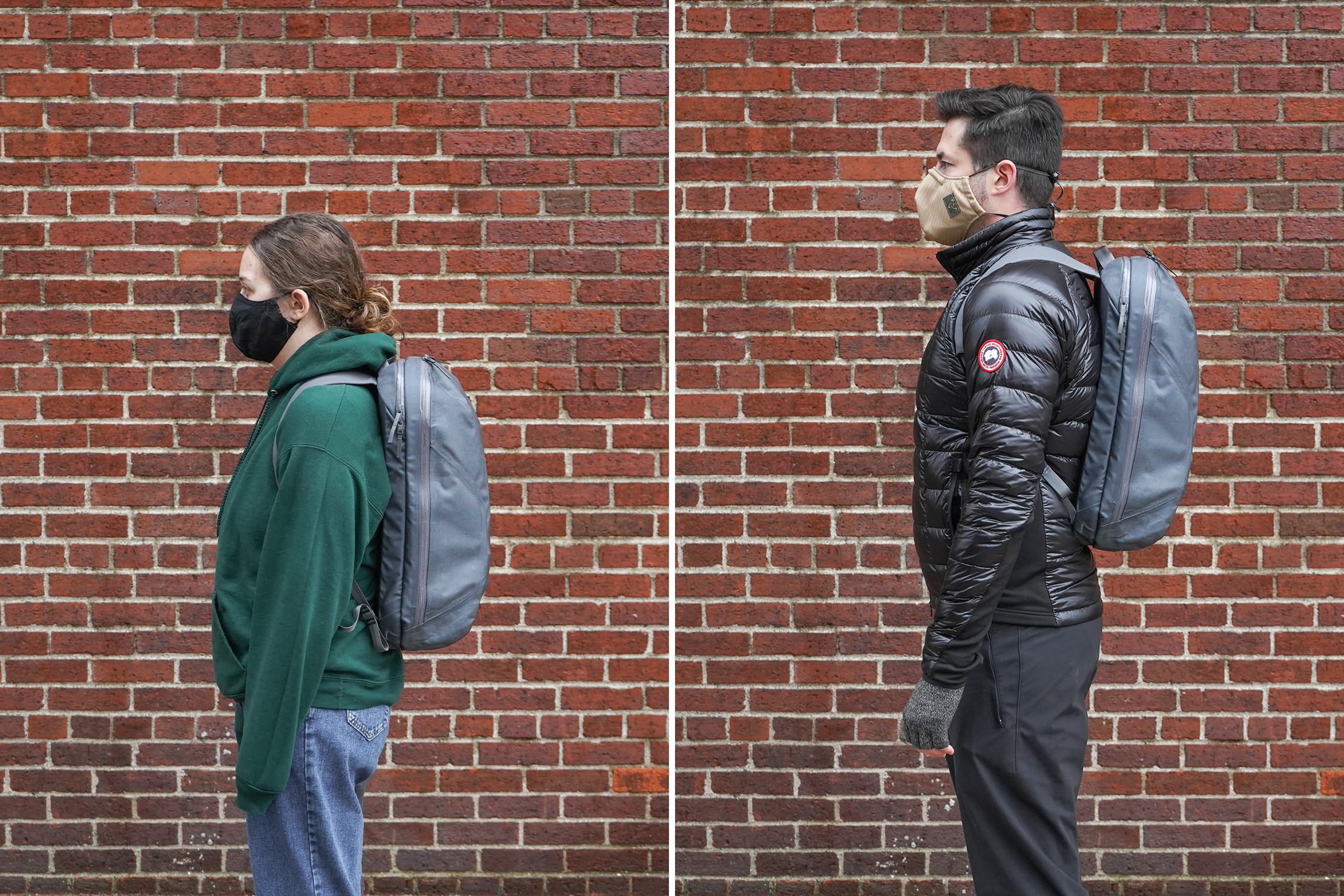 This pack's shoulder straps are characteristically thin, which was a concern when we first started our testing—we weren't sure they would be very comfortable. However, after two weeks of carrying this thing around, we've found them to be surprisingly supportive. They may be thin, but they feature some light but dense cushy padding and are designed similarly to the brand's climbing harnesses. With the brand's expertise in this area, it makes sense that they'd know how to create an adequately supportive system for a bag of this size.
We're also digging how clean these straps look. A neoprene-feeling sleeve hides the plastic adjusters, so they're not in the way and don't detract from the straps as a whole. That said, we've found that this can make adjusting the straps a little more complicated when you have the bag on versus when it's off, which is something to note if you like to change the length of your backpack straps frequently (though most folks will set it and forget it).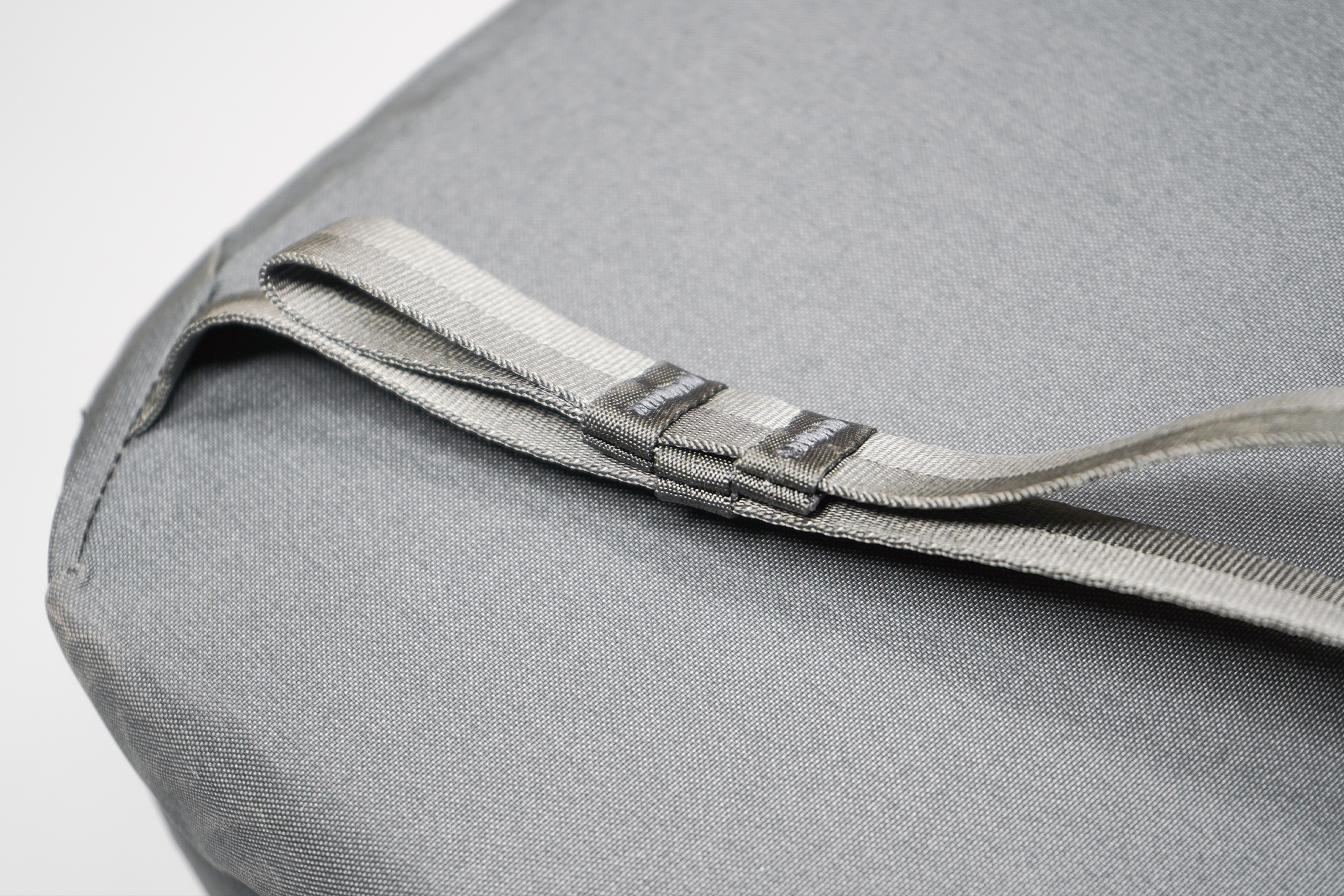 We also want to point out the strap keepers, which do a great job of managing excess strap when adjusted to larger frames. However, when fit to our smaller team members, we were always left with a dangly loop at our sides. Now, you do have the option to grab some Velcro ties and strap these down, so they're not in the way, but that defeats the purpose of the included keeper system that's been so meticulously designed. This hasn't been a deal-breaker for us, but it's something to consider if you're a smaller human planning to dish out nearly a grand to buy this pack.
There's no sternum strap on this bag and no place to attach one on the shoulder straps. We haven't been missing it much as we haven't felt it necessary for the haul we're usually carrying. But, if you like having that extra level of stability, you might be longing for it—it all depends on your preferences.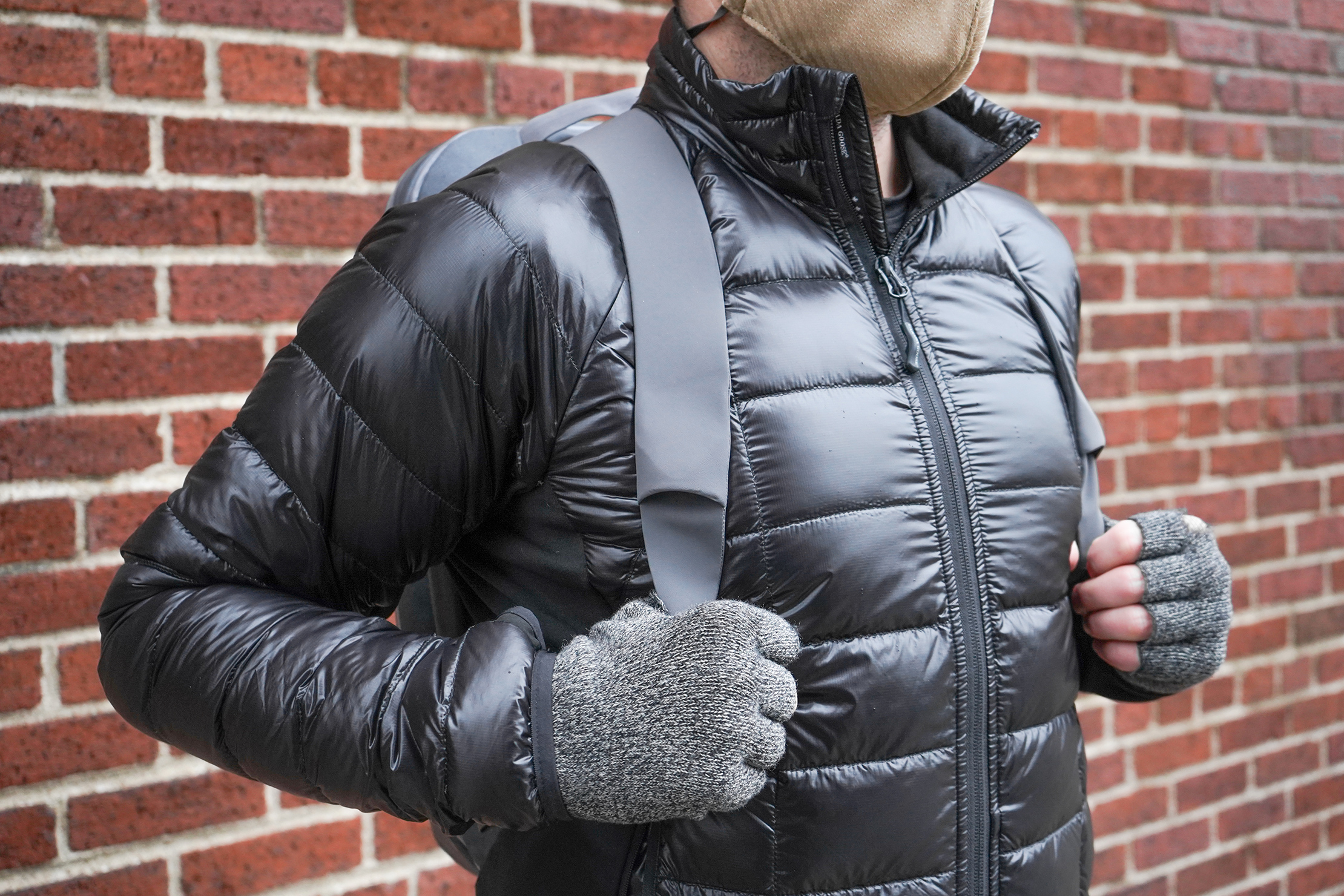 As for the back panel, there's a pretty rigid frame sheet inside that helps give the bag the necessary structure to feel comfortable against the back and plays double-duty with laptop protection (more on that later). Our only note is that there's no real mesh lining or built-in air channels to help with breathability. We haven't found this to be a massive issue as some back sweat is inevitable when you're out in the heat or have the bag on for an extended period, no matter what kind of bag you're carrying. Of course, as with most things, your mileage may vary.
Besides the shoulder straps and back panel, the only other component of this bag's harness system is its top handle. It's made with some folded-over seat belt-like material that's soft and smooth in hand. It's been comfortable and convenient enough for moving the bag around quickly when we're heading out or need to grab something.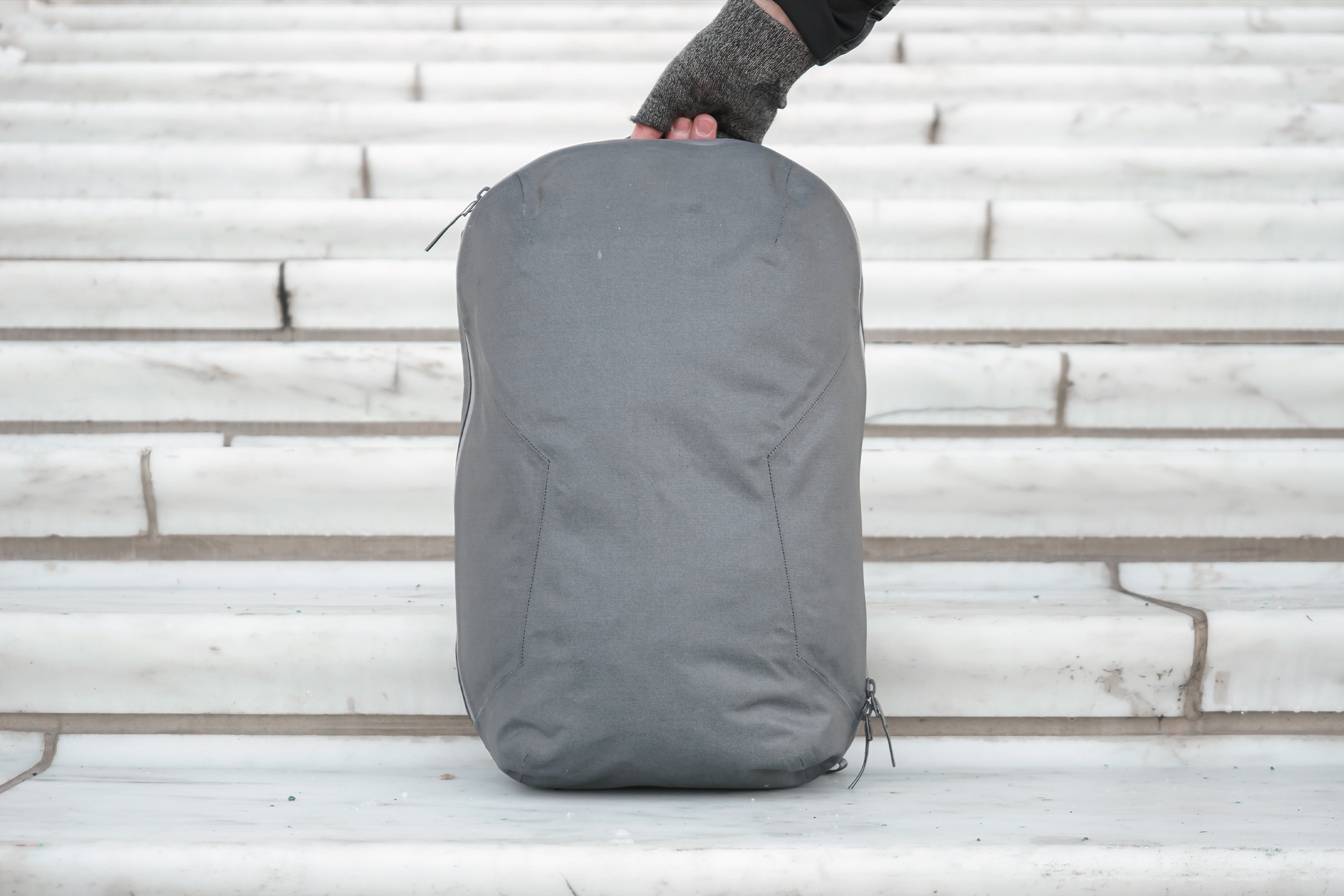 We usually like to clip a carabiner or hat to our packs, so they're easy to grab and not taking up space inside, but we don't really have the option to do that with this pack. It doesn't feature any external attachment points that make this kind of storage possible. You can try clipping accessories to the handle, but because it sits so far back on the top of the bag, anything you do keep there is likely to bob against the back of your head and neck. We're not too bummed as these attachment points would likely detract from the bag's overall look, but it's still something to note.
Inside The Pack
As far as the outside of the pack goes, that's pretty much it. Now, it's time to cover the inside. This bag consists of the main compartment and a laptop compartment, both of which we'll cover below—starting with the former.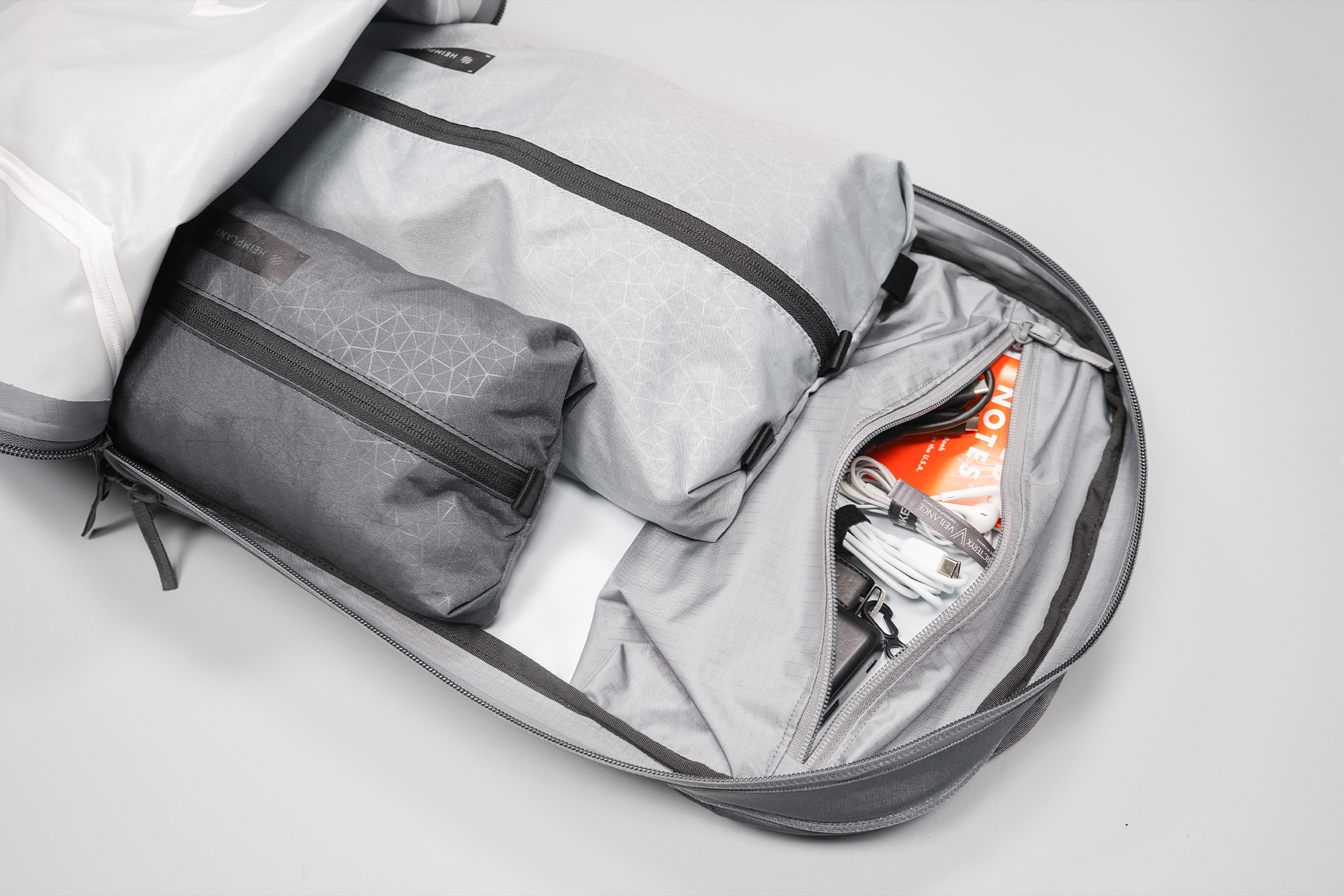 The main compartment is secured with an almost fully-clamshell opening. This, paired with the compartment's bright white interior, makes for super easy access and visibility of everything you're keeping inside—a super important aspect of an everyday bag like this one.
In terms of organization, there's not much to write home about here. What you do have is a zippered pouch toward the top where you can keep smaller items, so they're not free-floating around in the compartment. You'll also find the dedicated key leash inside that you can clip your keys to for easy access inside of this pocket—though they can still scratch up anything fragile sharing space.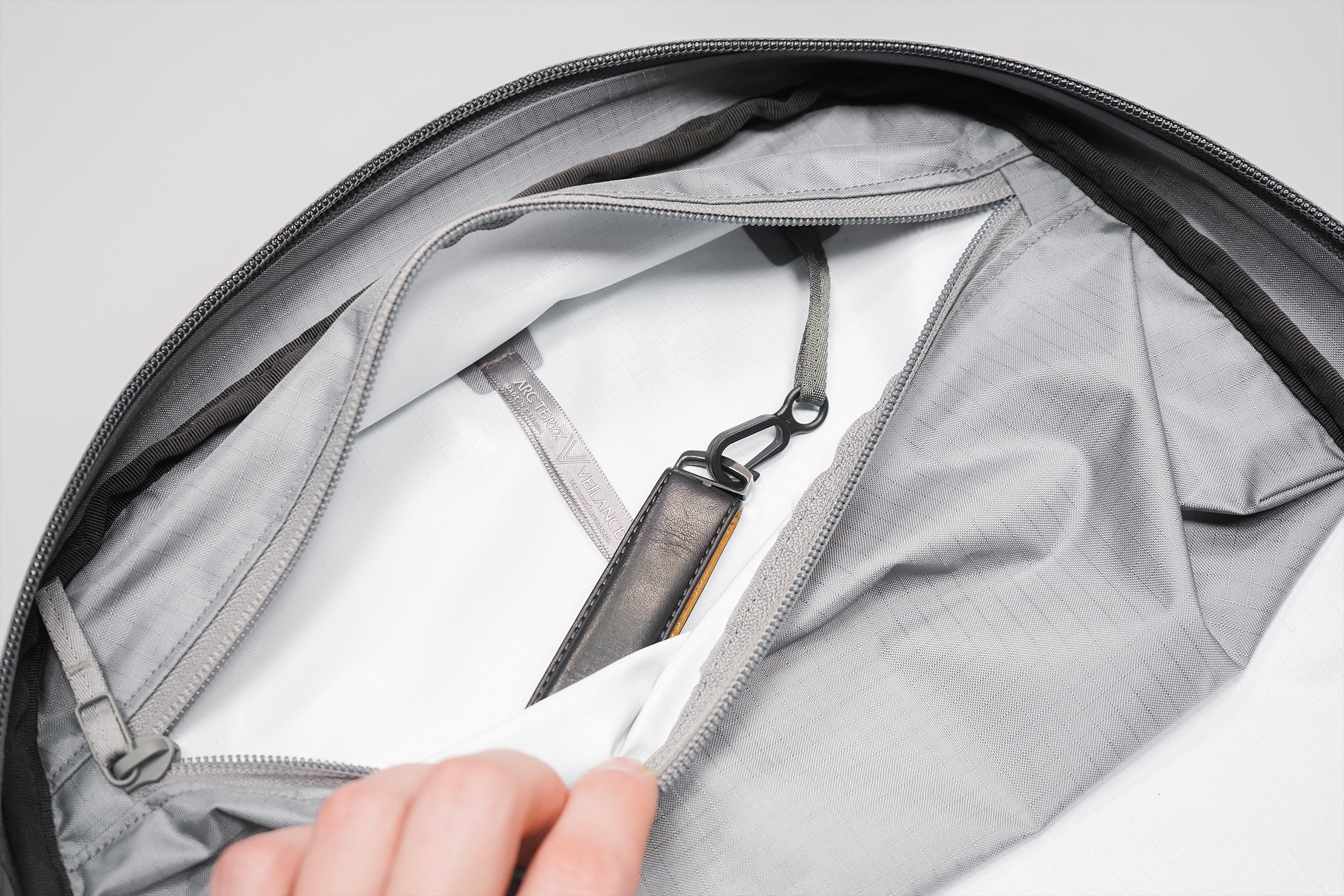 We want to hone in on this key leash a little more before we cover the next compartment. It's very standard—the clip is plastic and one that we've seen on many other (cheaper) bags. It gets the job done well enough, but we were expecting something a little more durable and innovative for a bag this expensive—or, at the very least, a leg up from the baseline. This may not be a concern for you, but it's something we felt the need to say.
The remaining space is just that—open space. You can throw in your gear like your lunchbox, water bottle, packable jacket, and the like. That, or you can create your own segmentation with pouches and packing cubes so that everything inside is better organized and more comfortable to get ahold of when you need it. Just be aware that packing anything too pointy in here will stick out on the outside of the bag, which won't be a great look—it'll make this thing look overpacked, even if it's not. A little strategy goes a long way in the main compartment.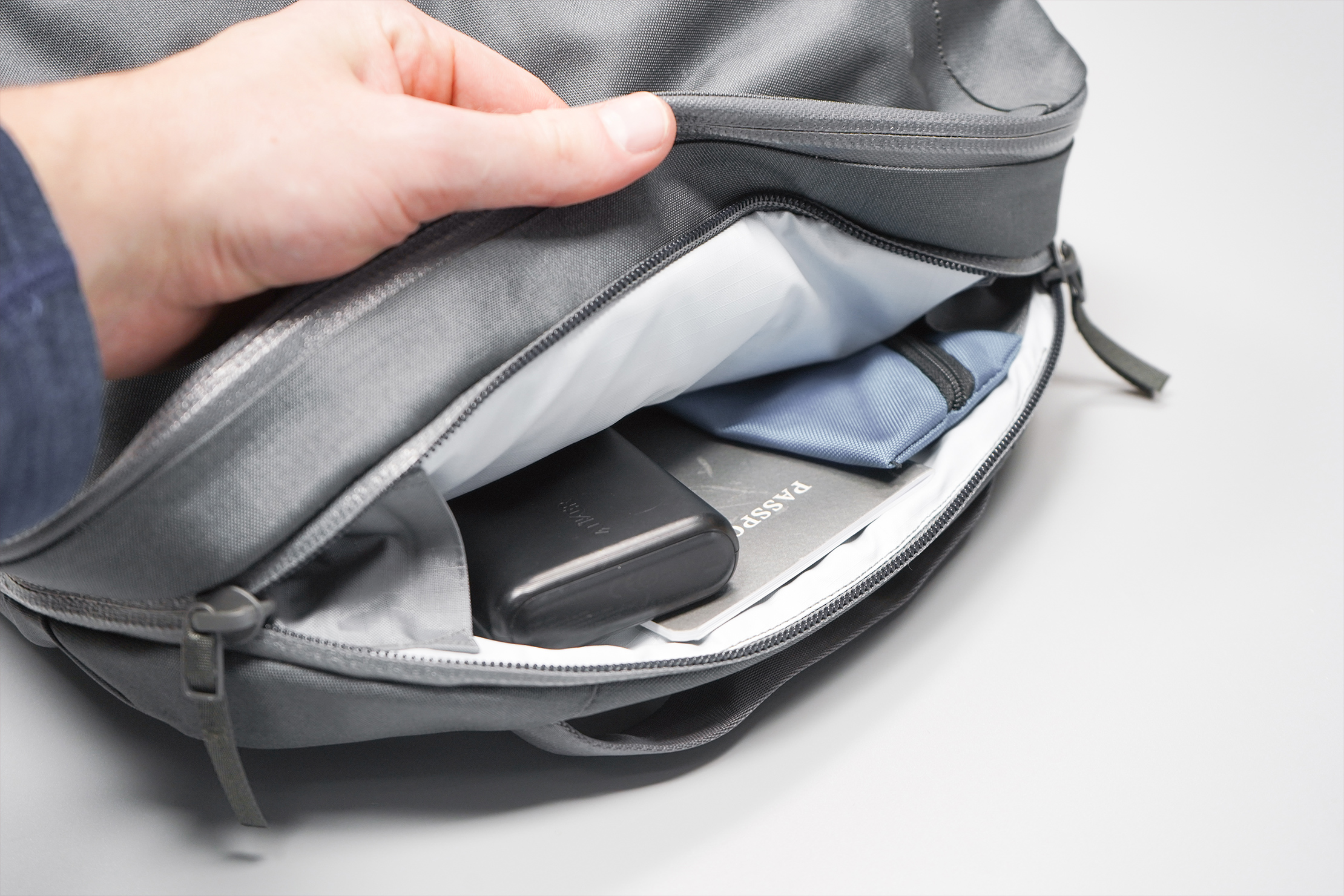 Lastly, there's the laptop compartment on the side and a quick access pocket at the top closed off with a single zipper coil and 2 zipper sliders. We've found these compartments to function best if the zipper sliders are both kept in the upper corner of the bag and used independently of one another.
Zipping down the side opens the laptop compartment, and zipping across the top reveals the quick access pocket. We've found this to be the best way to access both of these pockets since we've had gear slip out of each when they're both open, depending on the orientation of the bag (the top pocket is especially vulnerable to spillage when the bag is on its side for laptop access).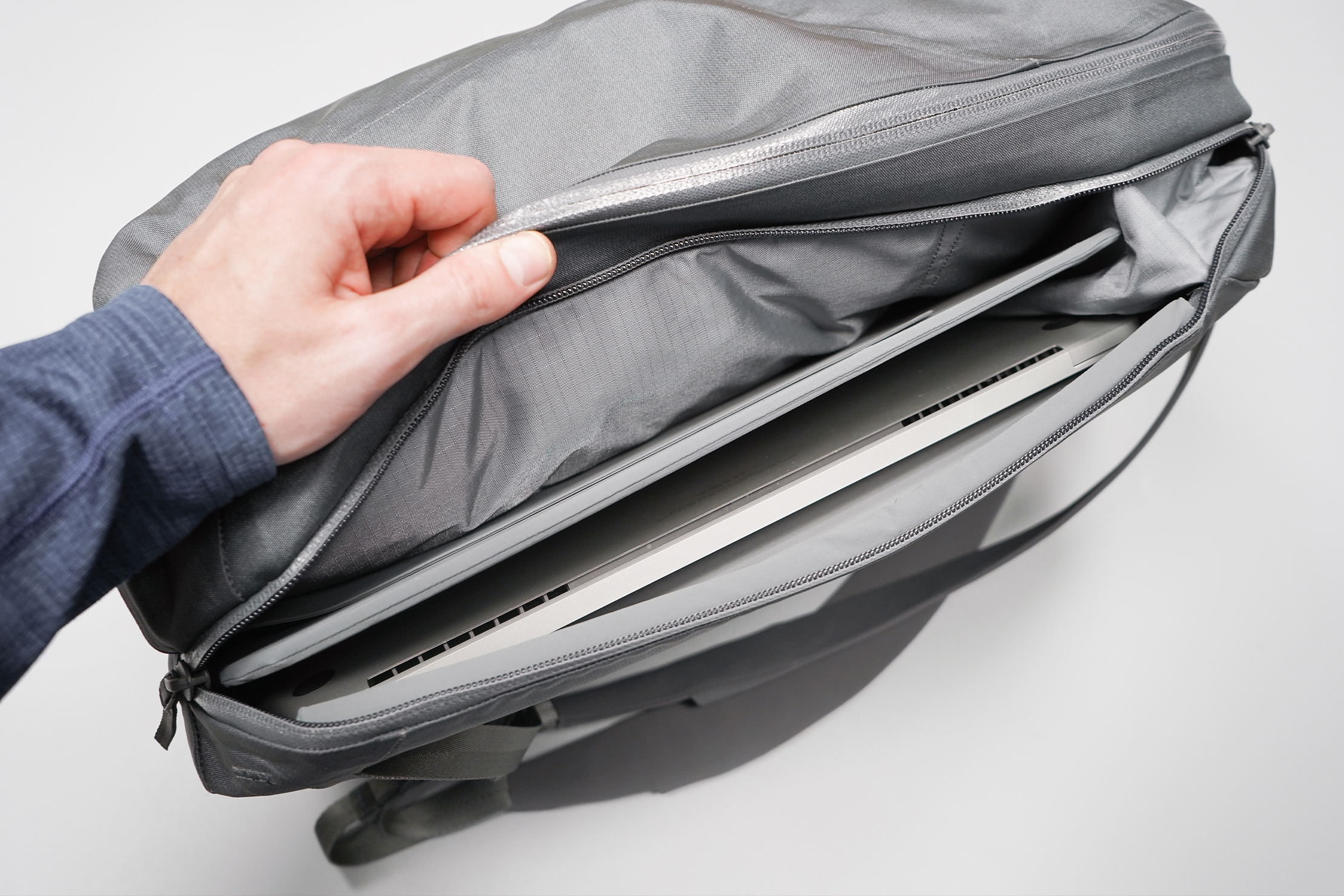 The way the quick access compartment is set up is actually rather unique. Toward the top is a segmented and generous quick access pocket that's easy to get in and out of, making it ideal for all your more quick-grab items (wallet, phone, chapstick, etc.).
Although simple, the quick access pocket is set up quite nicely for quick-grab items like a wallet, phone, chapstick, etc. There are pieces of ripstop fabric on the corners that can help shield and protect your gear while keeping the pocket shapely. It also makes this pocket feel bigger than meets the eye once inside, and we can always appreciate the feeling of opening up a magically-spacious pocket (kinda like a TARDIS, but on the top of your bag).
Moving onto the actual laptop compartment, there's a divider with magnets at the top that connect the top fabric to create a padded box for your laptop or tablet. This is an ingenious and exciting feature as it takes advantage of the back panel's stiffness to create a nice protected area for your tech.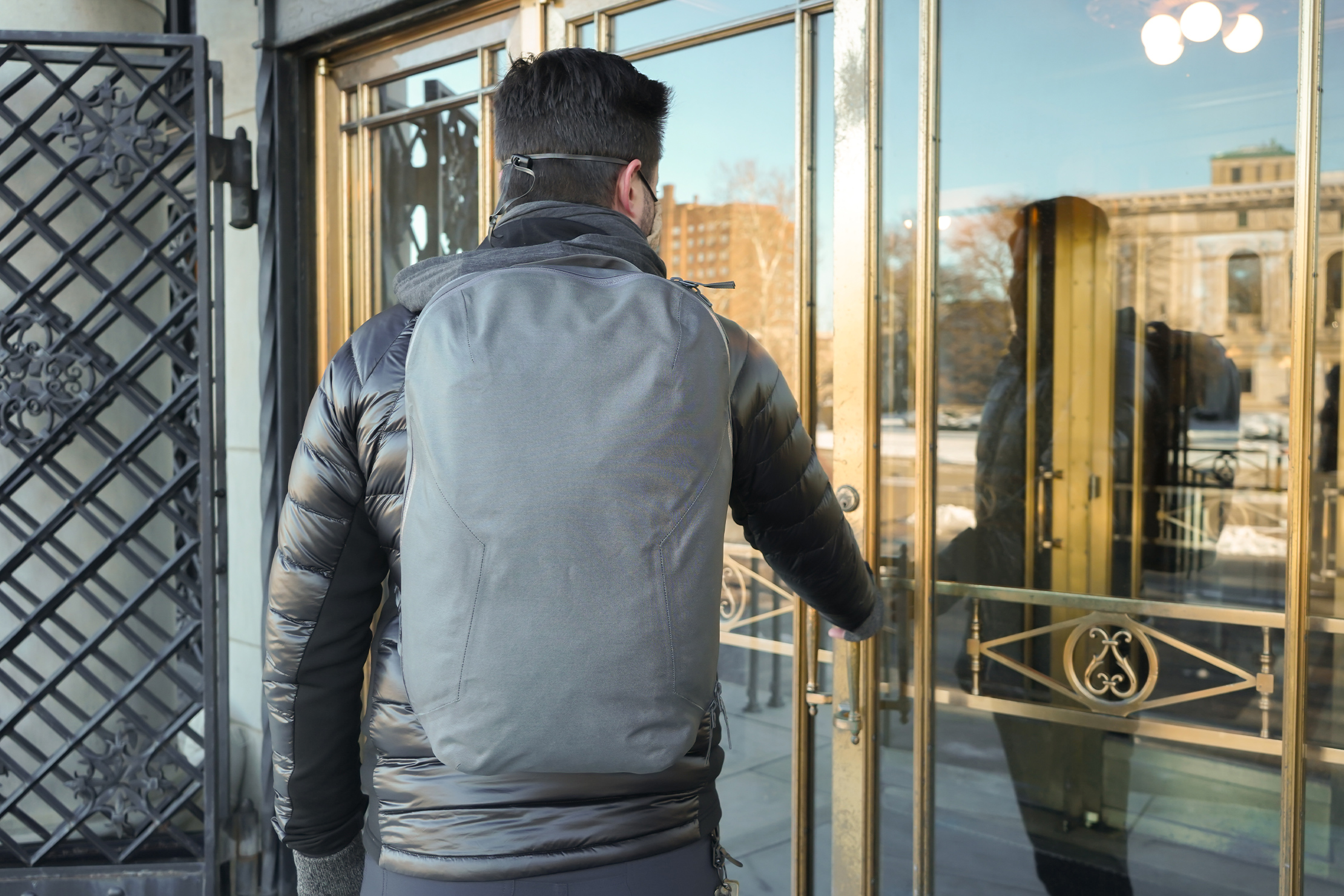 However, there's no false bottom in this compartment to suspend the laptop and help protect it from dropping the bag. The structured box and dense padding will help with this somewhat, but you might feel more comfortable keeping your laptop or tablet in a protective sleeve for this reason. The leftover space in front of this divider can also be packed with documents, folders, notebooks, and any other slimmer items you'd like to place inside.
Usage Timeline
Initial Usage
Condition: Excellent
Lightweight and minimalist style with organization to match
Extremely water-resistant
Very clean urban-focused bag—even the strap adjusters are hidden
2 Weeks of Use
Condition: Excellent
The thin straps have been more comfortable than expected in use
We've enjoyed the simple organization this bag provides while using pouches to segment gear
There's something not sitting right with us about seeing a standard key clip used in such an expensive bag
Although the zipper for the laptop compartment and pocket are on one track, it's better to use each zipper slider to open up one or the other—if opening all the way, items can fall out of the top pocket while accessing the laptop sleeve
Access the Pro Community Discussion
Get your questions about the Veilance Nomin Pack (V2) answered from our team and the Pro Community right here on the page. Plus, join discussions with other members about gear, guides, and more.
Other Bags & Luggage Reviews