SCOTTeVEST Pack Windbreaker Review
The SCOTTeVEST Pack Windbreaker has some ingenious pocket designs and room for more gear than you could imagine but feels tailored to outdated devices.
Our Verdict
Unlock the Pro Summary
Save time. Get access to brief summaries of our reviews so you can browse and make decisions more efficiently.
Pros
With 19 pockets to store all your daily essentials
Stowaway and adjustable hood to protect from the elements
Packs down to fit inside your daypack or travel backpack
Cons
Isn't very water resistant for outdoor adventures in rainy climates
Headphone pocket and cable pass-throughs seem outdated
Cuffs aren't adjustable to cinch down in bad weather
Recent Pack Hacker Video
Technical Details
Weight (lb)

1.3 lb (0.6 kg)

Size Large

Notable Materials

Polyester, YKK Zippers

Manufacturing Country

China

Laptop Compartment Size

13"

Fits a 12.9" tablet in sizes Medium to XXXL | 11" tablet in sizes XS-Small

Warranty Information
Full Review
We've reviewed several jackets here at Pack Hacker, but the SCOTTeVEST Pack Windbreaker is unique. In total, it has 19 pockets, which is more than a lot of backpacks have.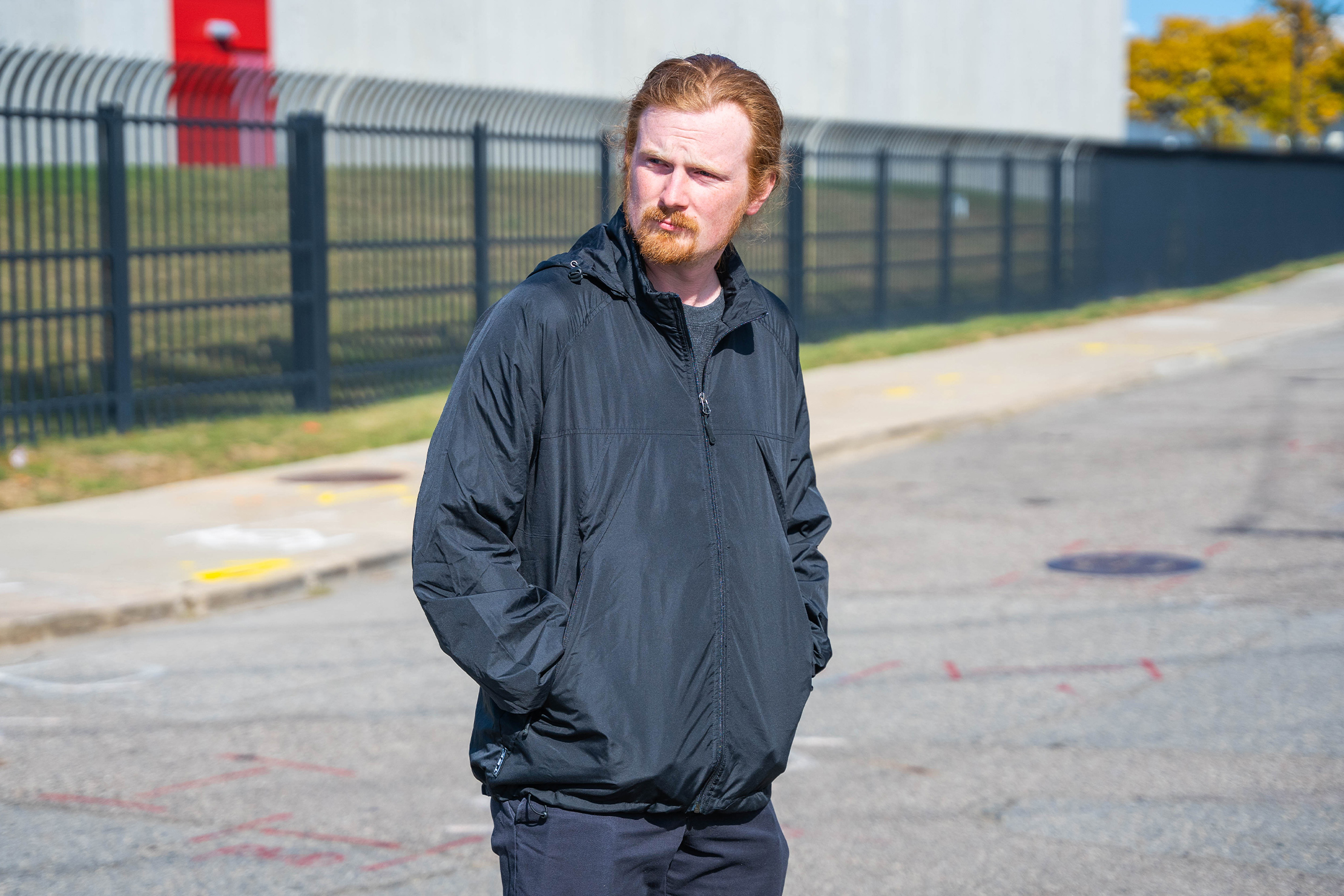 DISCLAIMER: We will say pockets…like a lot in this review. As a reward for making it until the end, you'll get a free fun fact that has to do with the number 19, which is the number of pockets this thing has. Oops, that's three just in the intro. Let's dive in!
The Rundown
The primary material used on the Pack Windbreaker is polyester. It's pretty lightweight but doesn't feel durable. A few loose threads were poking around from day one, but nothing that was too noticeable without looking closely. A few of them have become longer, but no (apparent) new ones have sprouted.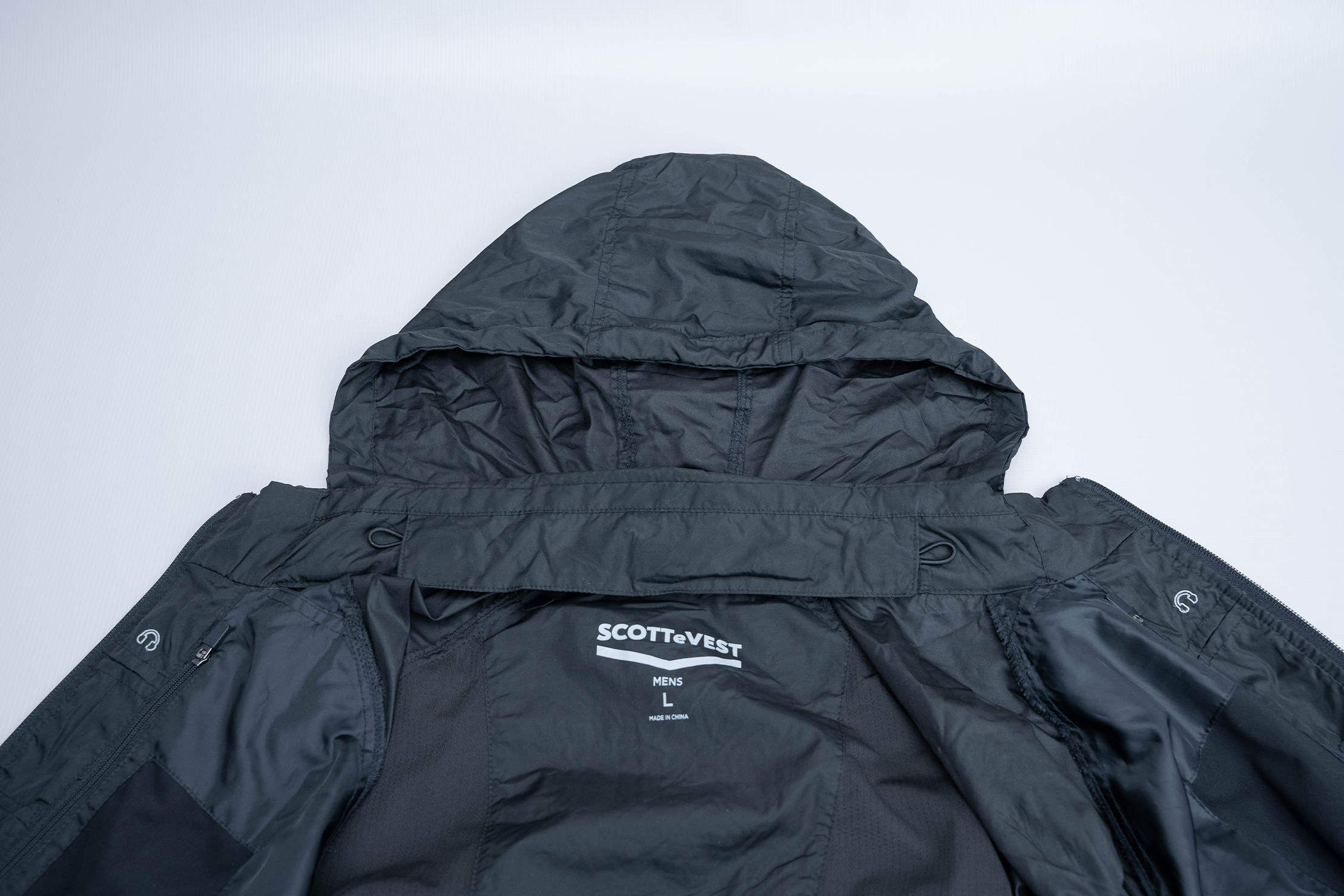 The material is quite water resistant, but the seams and zippers aren't. While out walking in light rain, the jacket will keep you dry. However, over an extended timeframe in light rain or for a shorter trip in heavy rain, water will start to seep through the seams and zippers. This is more of a windbreaker than a rain jacket, after all, and it does the job so long as things don't get too precipitation-y.
Before diving into the 19 pockets, we'll cover some of the basics. The cuffs of the jacket are elastic, but they aren't adjustable. This seems like a miss, given everything else you can do with this model. This will bother you if you tend to like fidgeting with your jacket as the weather changes. When it gets windy, it's nice to be able to batten down the hatches, and when it warms up, and the sun returns, letting air move more freely can keep you from getting too hot. Because of the design choices here, that isn't possible. The elastic shows no signs of wearing out, which is a plus.
There's a hood that collapses down into the collar to hide away. The flap is secured with three hook and loop fasteners to keep it under wraps, and it's fairly easy to pop out should you need it. There aren't any hook and loop fasteners on the back of the hood, so there's nothing for the fastener on the collar to attach to, so it could snag your undershirt if it's made from the right materials and it bunches up.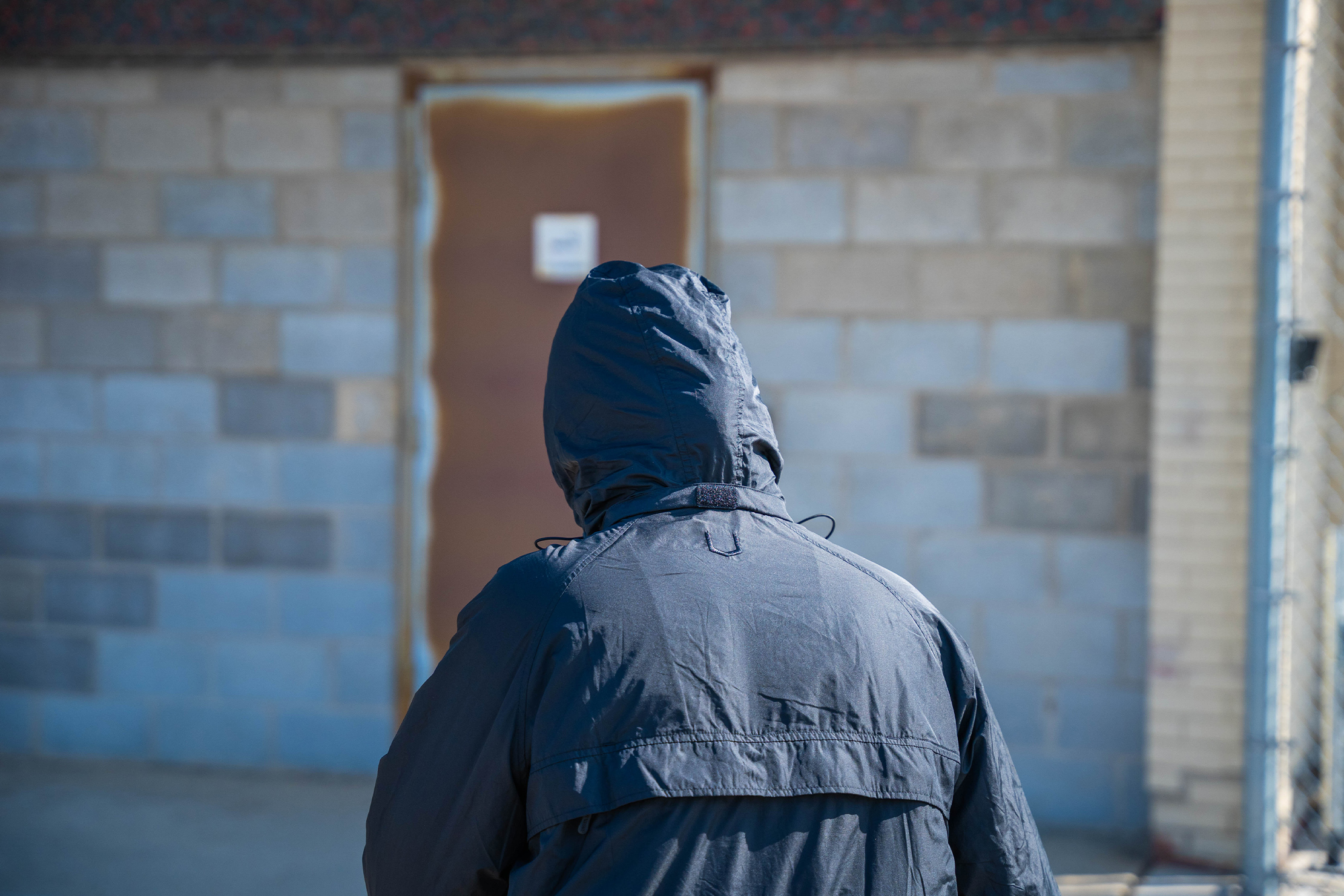 The hood is very basic, but it has adjustors on either side. This means you can cinch it down in poor weather and open it up when it warms up again. Including these adjustors is fantastic but adds more questions about why there aren't any on the cuffs.
All of the zippers are from YKK and operate simply and smoothly. The main zipper to close the jacket can be hard to unzip with one hand if you have it closed all the way up at the top, but it's easy to get it after a few tries or with the help of your other hand.
All three exterior zippered pockets have a tab covering them, which adds water resistance from above. If it really starts raining and it's windy, water may be able to find its way underneath the fabric to access the zippers and get inside. It also makes it so anyone looking at you doesn't necessarily know you've got 19 pockets on you at all times.
We've been waiting to say this for some time now…STOP! It's pocket time.
There are two hand pockets, both of which are extremely large. You can fit a ton of gear inside without using any of their internal organization. Using either one of these pockets, you can stash a GoPro, mini tripod, extra GoPro batteries, a microphone, and a wallet with room to spare. Neither pocket has a "roof," meaning that you can stick your hand up the jacket to a small slit in the top near the hood. You can run headphones or a cable though here, which feels outdated with the advent of Bluetooth, but may still be a quality feature for some.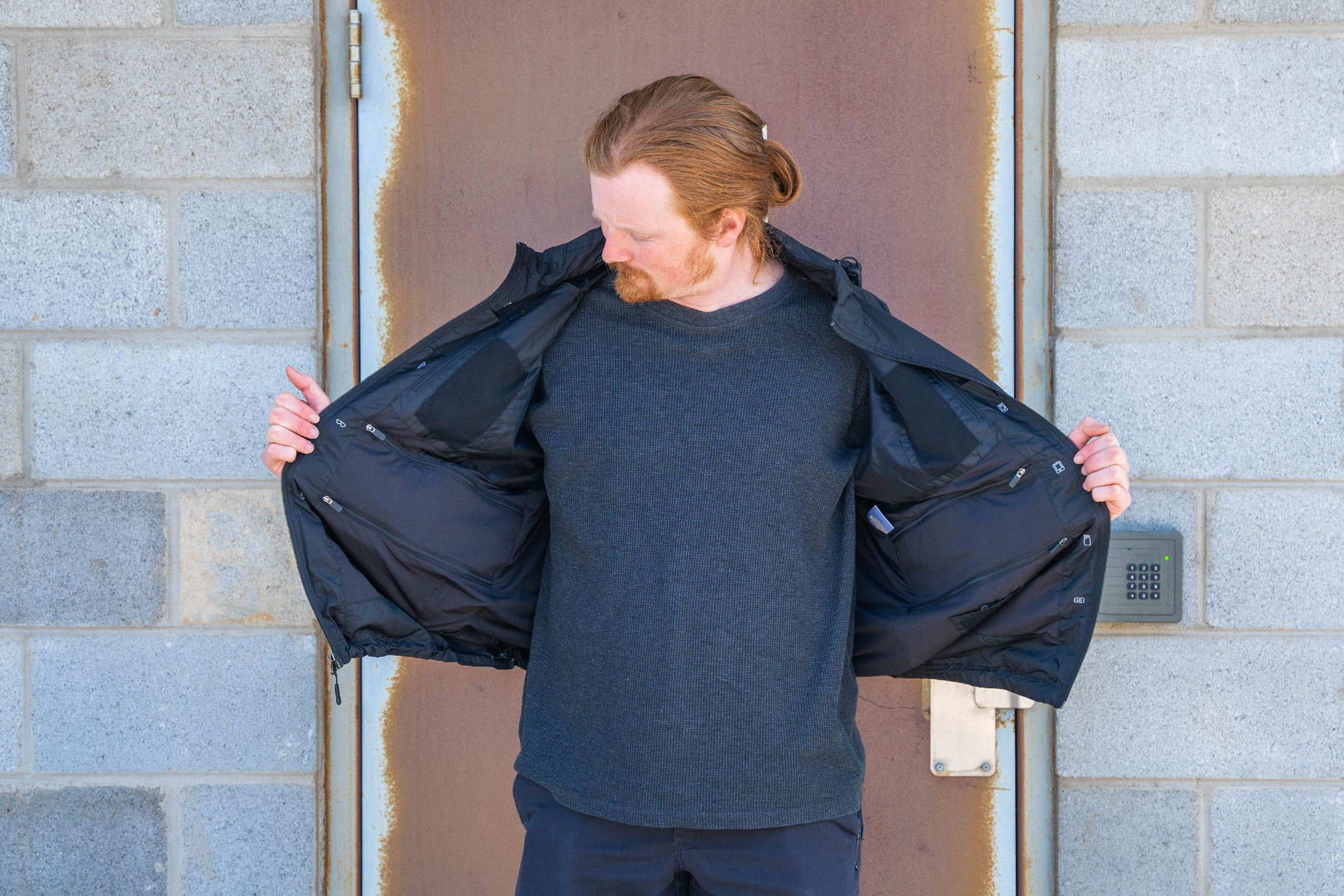 The other pocket has a large piece of elastic inside that you can slip your water bottle into to stay put. It's best suited for a reusable bottle between 12 and 19 ounces, but depending on the bottle size, it may be too large to fit or too skinny and slide out. A 32 oz Nalgene Water Bottle won't fit inside, which wasn't a surprise but had to be tried. There's a key leash inside here as well that's crafted from a similar material as an old-school wired telephone. If you don't remember telephones, the wire spirals and extends when you pull on it. The cable is losing its snap-back strength but still goes back into place eventually. Last, a tiny pocket with a hook and loop fastener is inside. It's meant for coin money, but it's also the perfect spot for an Apple AirTag.
The left pocket has a lot less going on. There's just one hook and loop fastened pocket like on the right side, but it's a bit larger. The rest of the space is open real estate for you to work with or keep your hands in.
Moving inside the jacket is when the fun starts—and it's just about that time. 3…2…1…Fun!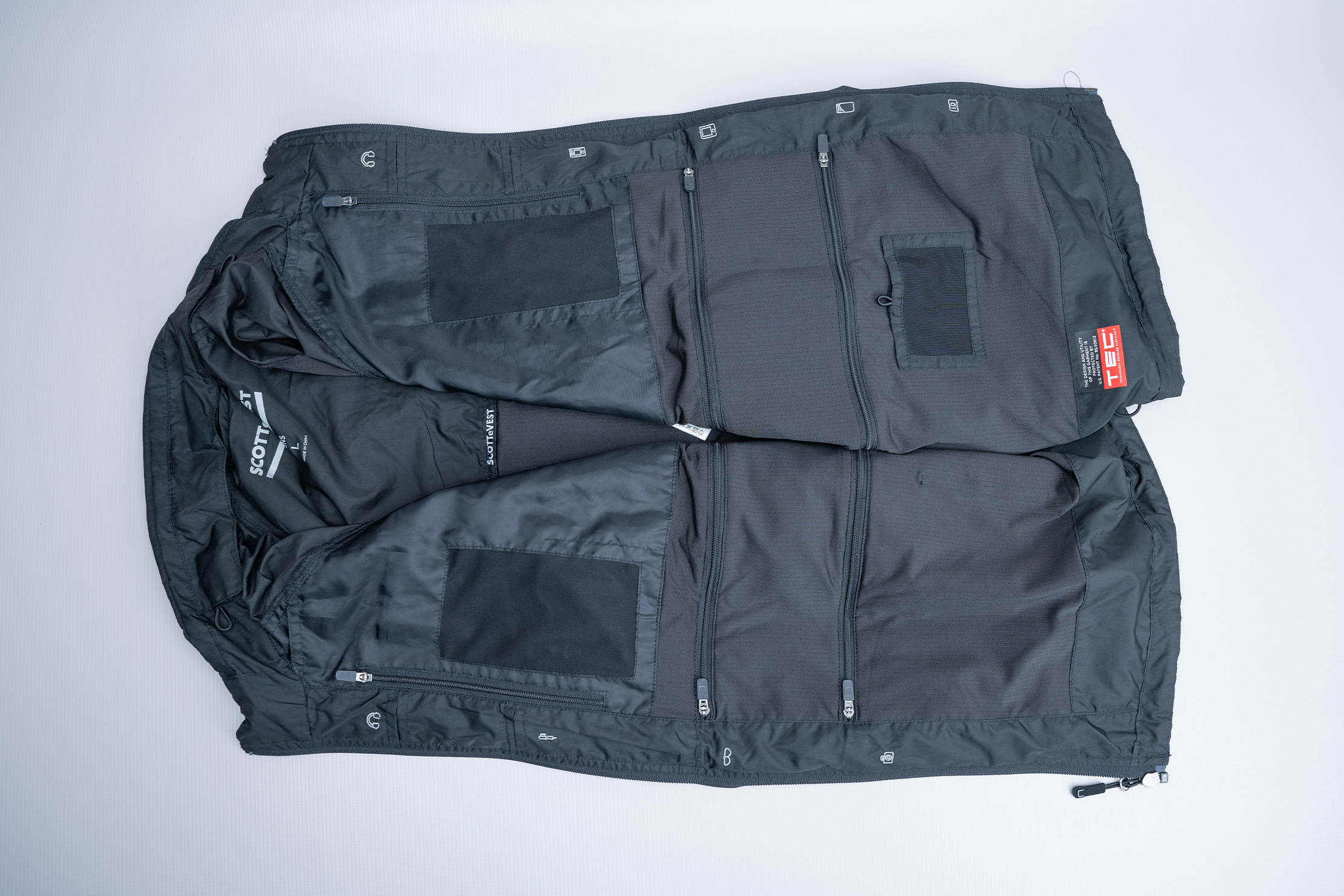 Starting with the left inside flap (from the perspective of wearing the jacket), there's quite a bit going on. The top right has a small headphone pocket without a closure on the top. Realistically this is just a pen pocket that they want you to put your headphones in, and it isn't large enough to fit an AirPod case, so it feels a little outdated. If you were to put loose BlueTooth headphones inside here, it would be hard to fish them out afterward. Just below that is a pen slider, which is identical to the headphone pocket above it.
Moving inward, the next pocket to cover is for your cell phone. It's crafted from semi-clear touch fabric, which is semi-seethrough mesh, so you can peek inside and still use the touch screen on your phone. It's a neat feature, but in reality, it's somewhat hard to use, especially if you have range of motion issues, and it looks a bit awkward. If you have a tempered glass screen protector on your phone, you might not be able to manipulate your phone at all. A phone without a screen protector works fine—but with tempered glass and a layer of clear touch fabric is too much to still work. If you push extremely hard, you can get it to do things, but it isn't realistic to do that with each touch. Again, this is only for those with a tempered glass screen protector.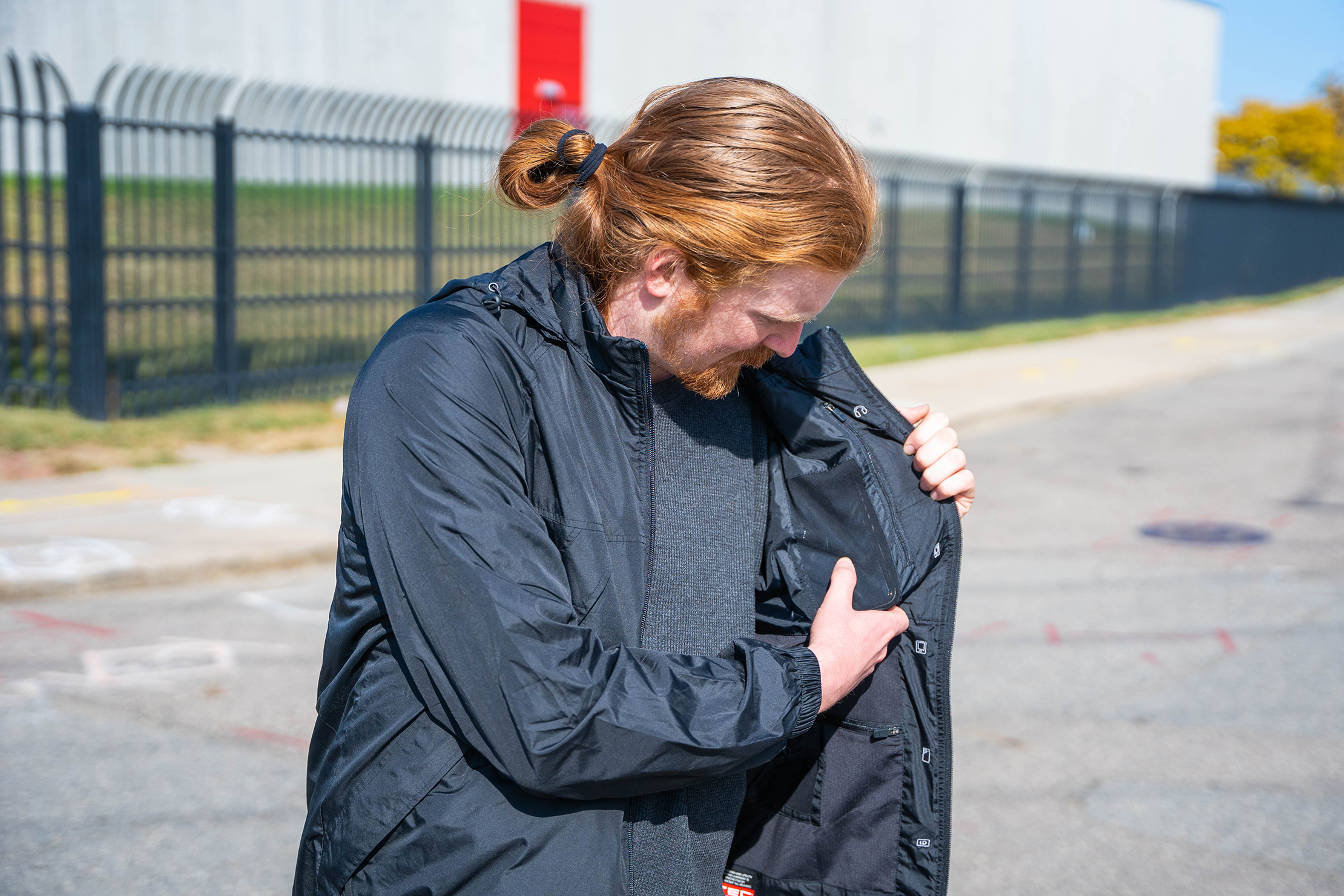 Below is a large device pocket for a tablet or similarly sized gear. We fit an iPad Air in here, which is crazy when you think about it, but it does impact comfort. In a pinch, it works, but it isn't something you'd want to do long-term. There isn't any protection, so a case is a must-have in this situation. Even without a protective case, you can see the outline of the device from the outside while you're wearing it. Certain angles hide it better than others, but it's somewhat evident that it's there.
Moving even further down, there's another large zippered pocket. It isn't as big as the tablet one above it, but this is a good spot for a paperback book or notebook. If you have a tablet in the jacket, too, it can be hard to fit something large in here because they're on top of one another.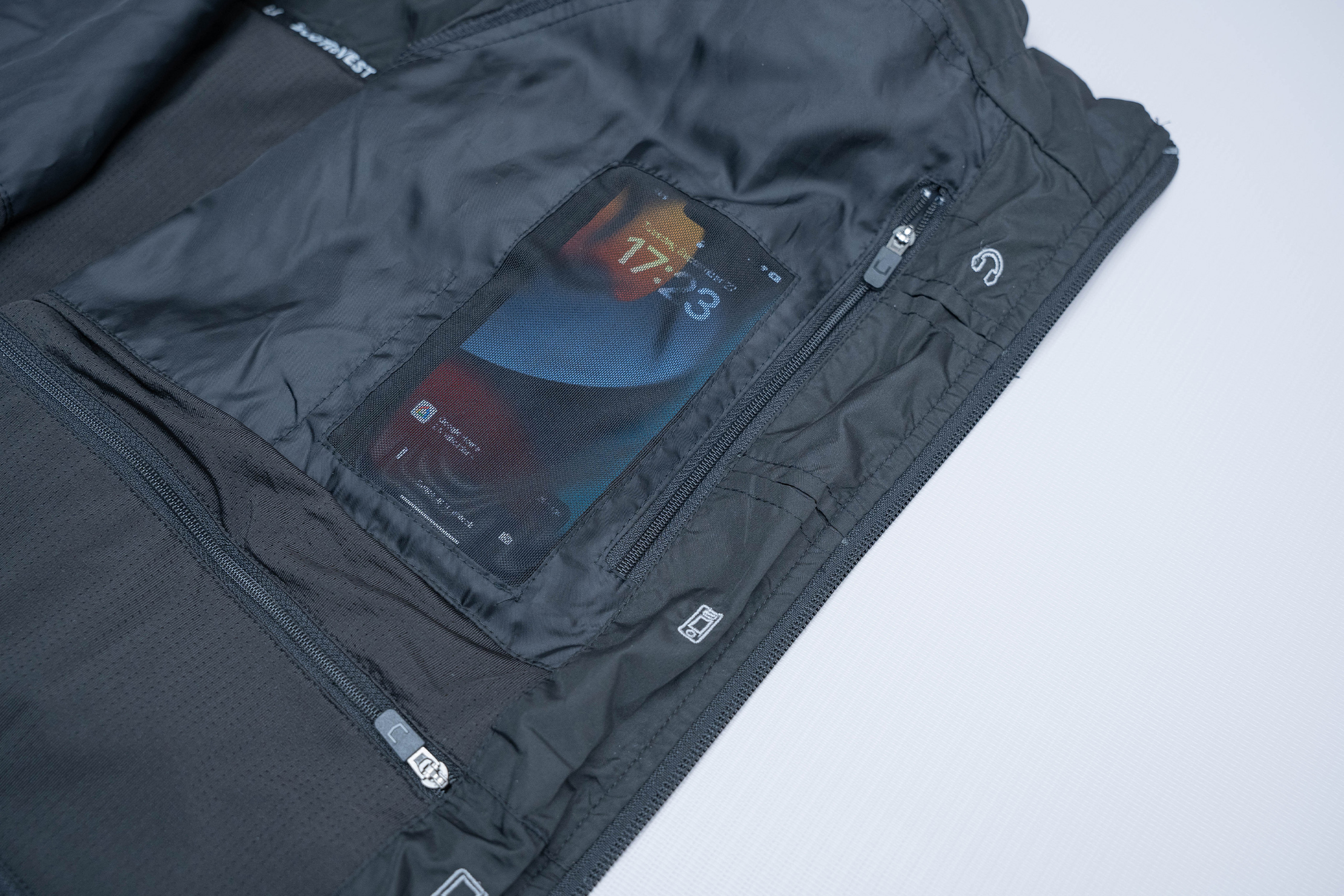 On top of that, there's a small semi-seethrough mesh pocket for an ID card or your credit card. You can see anything you put inside, which is a little odd. If it's your credit card, you don't want anyone to see it, and if it's your ID, you probably won't try to show it through your coat jacket. It's a nice inclusion but just a little off.
The right inside flap shares a ton of the same organization as the left side. It has the same phone pocket, spot for your headphones, and pen slider.
Below the phone pocket is a zippered compartment for your sunglasses. There's a built-in microfiber cloth attached to a piece of elastic so you can clean your glasses and other devices. The fabric isn't the nicest, but it gets the job done. There isn't any protection for your glasses here, but there is enough room to stow your glasses case, so you can bring that if you're worried about them breaking on a trip. It wouldn't be much fun to go on your dream vacation and not be able to see anything because your glasses broke!
Moving further down once more, there's a camera pocket. SCOTTeVEST describes it as a "Digital Camera & MyMemory™". It's not evident what makes this an excellent spot for storing memory cards, but let's get into it. The main area is broken up into two parts. There's a large section for your camera and a smaller unit for your…memories…divided up with a hook and loop fastener. The closure doesn't go down to the bottom, so smaller items can swim between them.
You can fit a Fuji X-T3 Mirrorless Camera with a 15mm-45mm lens on the camera side, but it barely fits. The 15-45 is a small lens, so anything larger would probably undo the hook and loop fastener and let your memories get all over the place. All jokes aside, it's shocking you can fit a camera inside a jacket. It's a bit awkward to carry because your lens is pointing outward, but it's a useful feature to have in a pinch.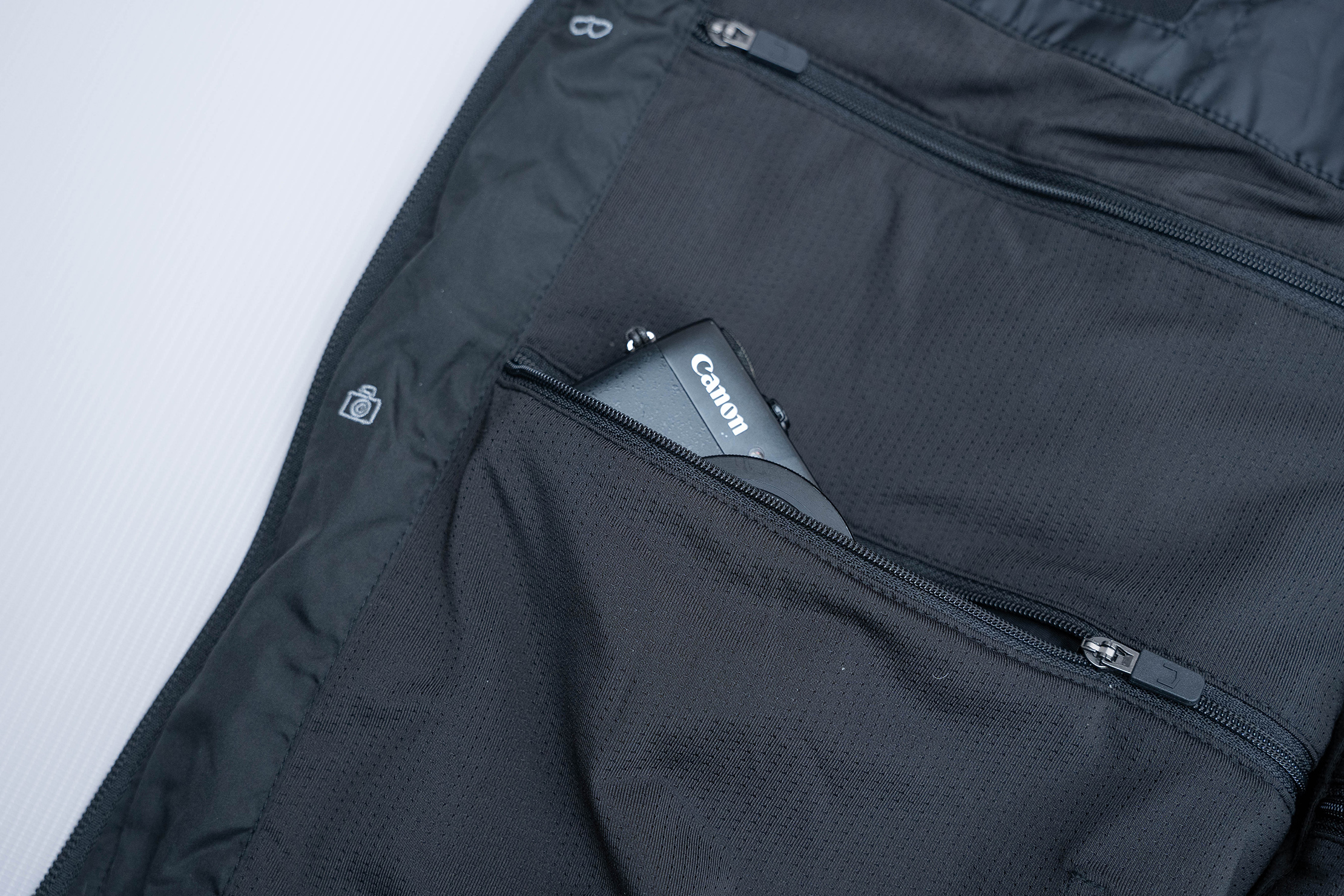 There's a small slider pocket with a hook and loop fastener on the larger side of the compartment that's the perfect spot for an SD card. Well, it fits perfectly, but there isn't any protection here. Again, it's nice to have the space for this, but it's hard to justify using it because memory cards aren't that durable, and there isn't enough extra protection to warrant placing a card there.
Packability
There's a large zippered pocket on the back side of the jacket's exterior. You can use this as a regular spot for gear while you're wearing it, but its primary purpose is as a stuff sack.
Once packed away, the jacket's footprint is a lot smaller, though it isn't nearly as compact as other packable models we've tested. That said, it's a lot easier to store the rectangular stuffed version inside your daypack or travel backpack compared to the unpacked version. It's too large to fit into a smaller 3-5 liter sling, which is a bummer.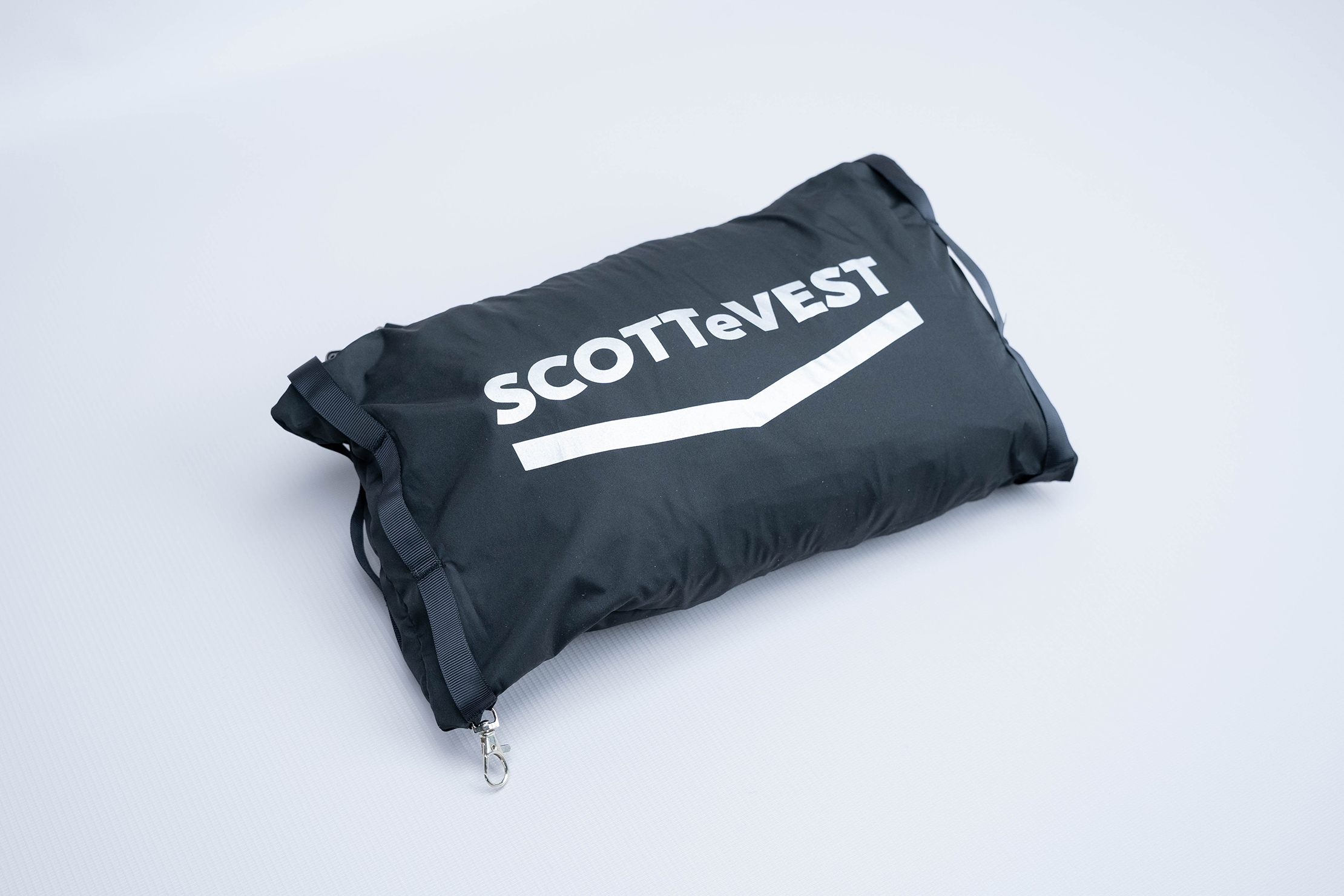 It has a lot of cushion and is perfectly rectangle shaped, so it works well as a make-shift travel pillow when you're trying to save space.
There are loops on either side to attach things onto the jacket or to fix it into something, and one corner has a metal clip. It isn't the largest, but it works in most cases. If you are serious about connecting it onto to things, grab a carabiner like the Nite Ize S-Biner.
One last thing to note about packing the SCOTTeVEST away is that the logo is pretty large on the interior of the pocket, which isn't a great look. If minimalistic styling is your goal, this isn't the one for you.
Fit Notes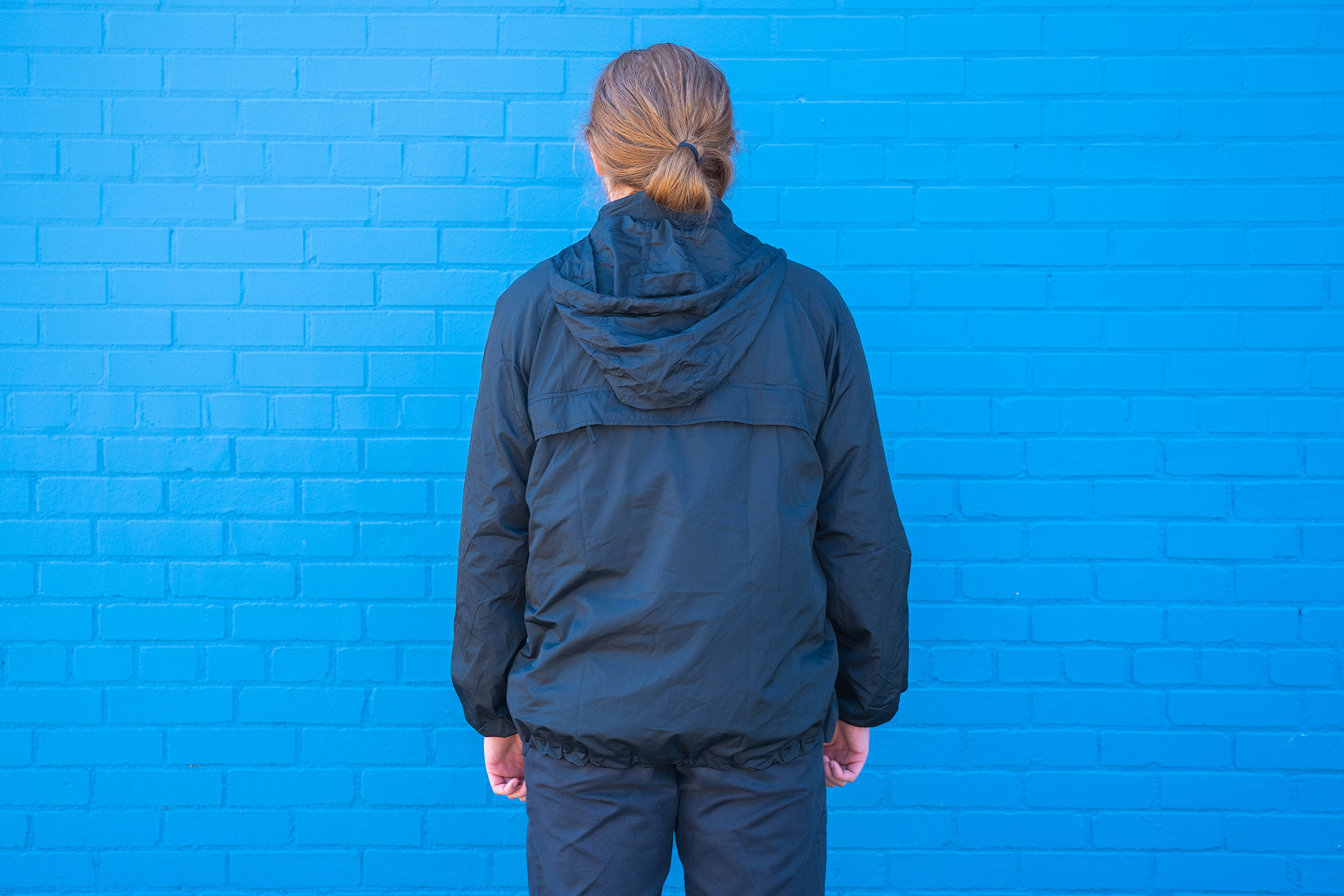 As far as wearing the SCOTTeVEST Pack Windbreaker as a standard jacket, we're quite happy with its comfort. There aren't a ton of bells and whistles concerning fit, but it does the job it's supposed to do.
In most weather situations, it keeps you dry. It does a great job blocking the wind (within reason) to keep you warm, but we worry about how well it will layer in temperatures around 40°F (4.45°C). While walking around at 50°F (10°C) it handles well, but as soon as the temperature climbs above 60°F (15.56°C), it can get a bit hot.
Things get a little complicated when wearing the jacket with gear stowed away. There isn't a huge issue for smaller items like sunglasses, a phone, a wallet, etc. But it feels like you're wearing a teeter-totter in jacket form with more oversized items. Putting a camera inside the right-side pocket weighs you down so that you feel like there needs to be something on the other side to even things out. It feels similar to when you have a Tablet on the left side with nothing on the right.
It isn't uncomfortable in these situations; it just feels off balance. It's comparable to wearing a super lightweight daypack like the Osprey Daylite without much in it, but in one of the water bottle pockets, you stuff a 32 oz Nalgene for a hike. It isn't uncomfortable—it just feels awkward and lopsided.
Quick Comparison
The SCOTTeVEST Pack Windbreaker is unique compared to most of the travel jackets we've tested. We often see iterations trying to cut weight—which usually means only a few pockets and not many add-ons in a small package. The Pack Windbreaker attempts to hold as much gear as possible to negate the need for extras like a sling or a small daypack. They're two different ideas—both with the common goal of helping you get from point A to point B.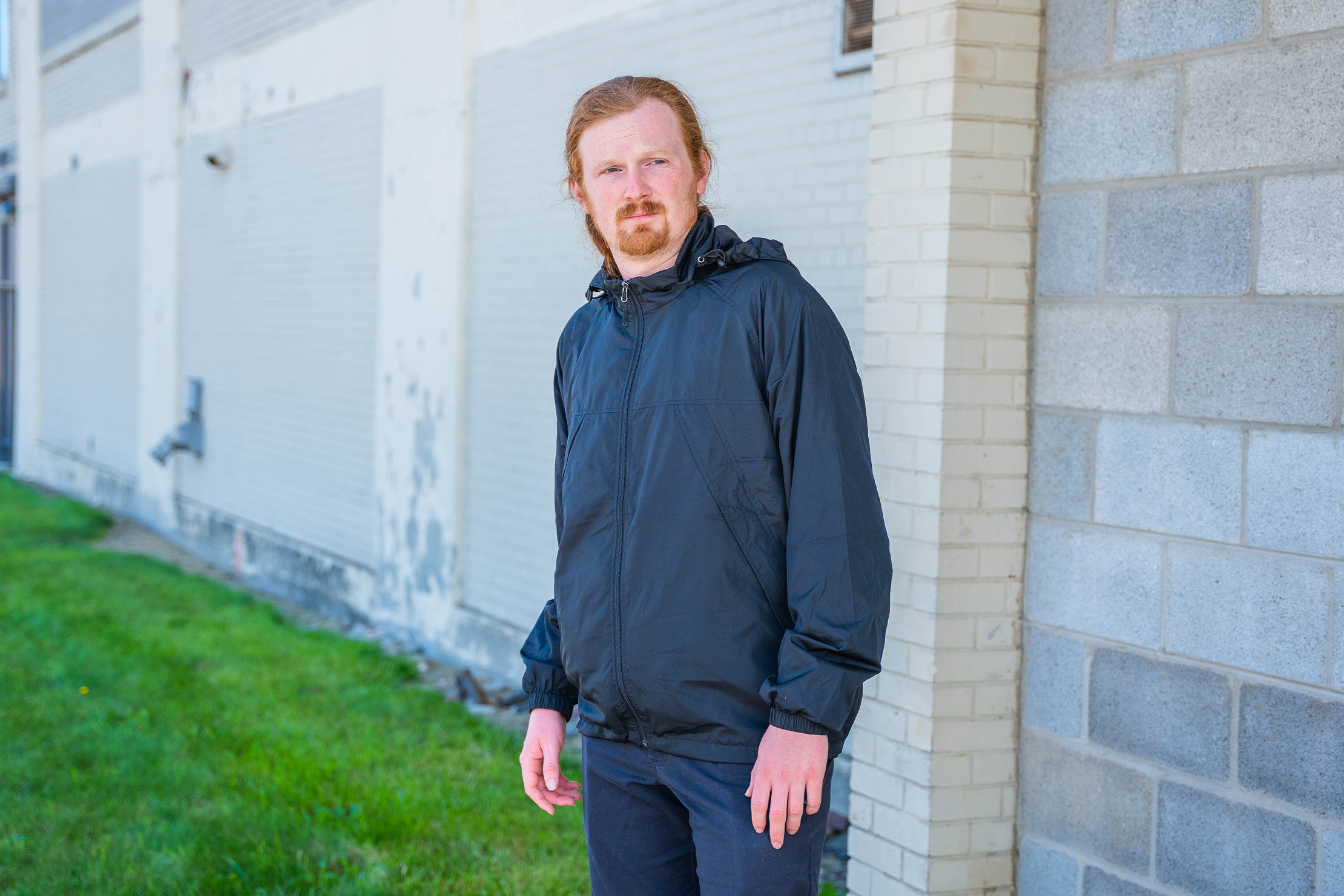 At the time of writing, the Patagonia Storm10 is one of our top-rated jackets. At its root, it's a travel jacket, but the differences between it and the Pack Windbreaker couldn't be more apparent.
There are three pockets on this thing—two for your hands and one on your chest that doubles as a stuff sack. The zippers use water-resistant AquaGuard zippers, which add to the jacket's fantastic water resistance. The wrist cuffs are adjustable, which is something missing from the SCOTTeVest. When packed down, you can hold it in your hand with ease. It won't work as a pillow or fit a tablet, but it will fit inside your sling for safekeeping.
On the other hand, the Pack Windbreaker can fit everything plus the kitchen sink. If you packed everything you could into this jacket, you would need a large sling or a small daypack to fit the same amount of gear while out trekking with the Storm10. What the Pack Windbreaker has in pockets, it lacks in overall water resistance. It does a good job in moderate rain, but anything more than that will start to get your layers beneath it wet.
These are two very different jackets, and it seems they're tailored to different people. If you don't like or can't carry a sling but still want to have all your not-so-essentials with you at all times, the SCOTTeVest can do that for you. If water resistance is your number one priority and you don't carry much along the way (or don't mind throwing it in a sling), the Storm10 is an excellent option.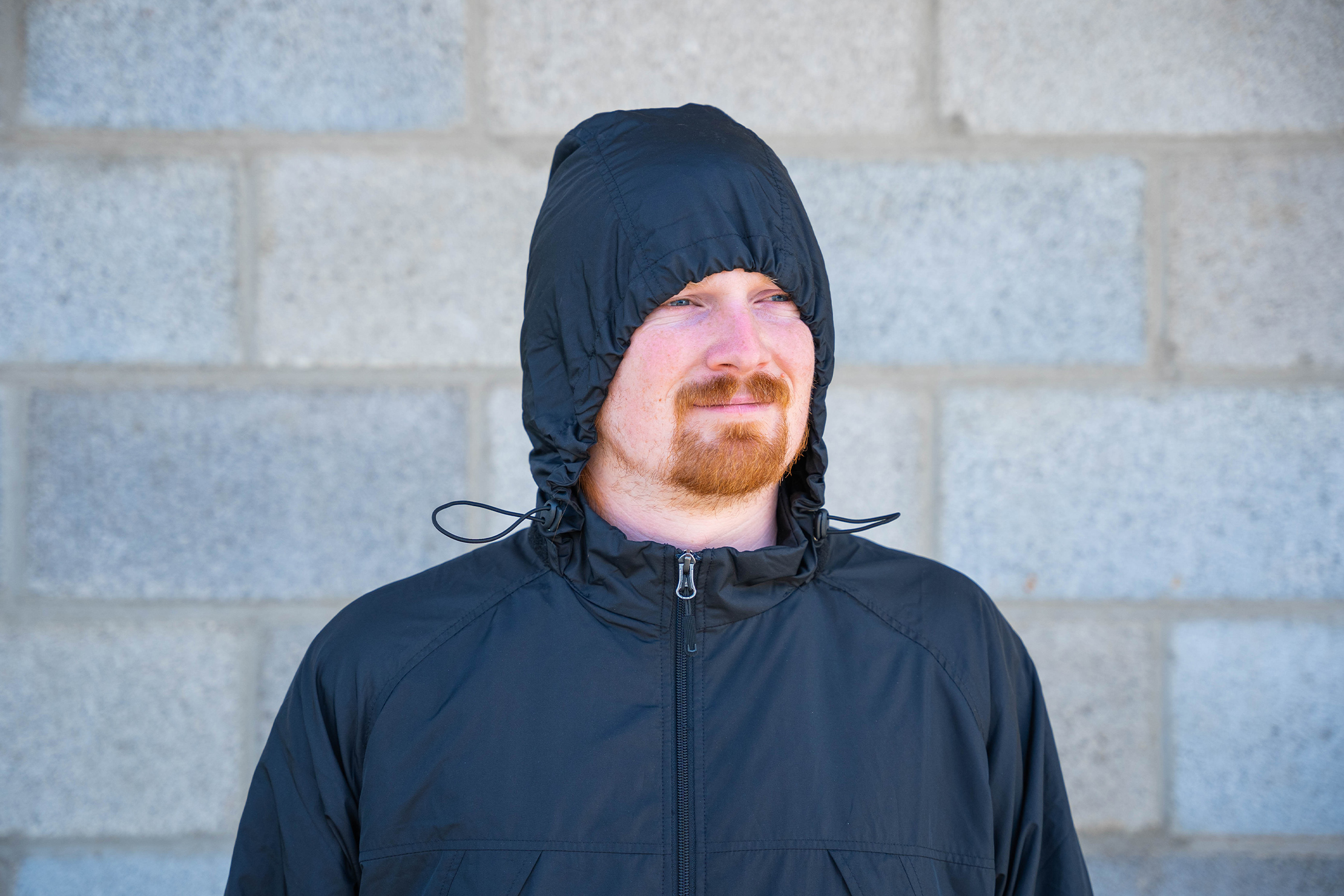 This comparison points towards something we value above most things here at Pack Hacker—understanding what you need before you buy it. Decide what your jacket needs to do for you, then decide which jacket fits the bill. If these two aren't right, check out our post that will help you find the best travel jacket for one bag travel.
Ah, at last, your reward. A fun fact. The 19th Major Arcana card in a traditional tarot deck is the Sun. The classic depiction on the card is a baby riding a white horse with sunflowers behind it and the sun beaming from above. It's associated with success, joy, enlightenment, and marriage.
Usage Timeline
Initial Usage
Condition: Excellent
There's a pocket for almost everything imaginable, from your camera to your iPad
We're a fan of their usage of YKK zippers as they appear to be an integral part of the jacket
There's a lot of attention to detail—for example, there's a built-in microfiber cleaning cloth inside the sunglasses pocket
2 Weeks of Use
Condition: Excellent
There are a few loose threads; they don't look new, but they're there
The zipper can be hard to unzip with just one hand
Overall, the jacket is pretty comfortable, but heavy gear can make it awkward to wear
Access the Pro Community Discussion
Get your questions about the SCOTTeVEST Pack Windbreaker answered from our team and the Pro Community right here on the page. Plus, join discussions with other members about gear, guides, and more.
Other Clothing & Accessories Reviews