Nite Ize S-Biner SlideLock Review
The S-Biner SlideLock is a locking version of Nite Ize's popular S-Biner, making it a dynamic travel companion with endless uses while away from home.
Our Verdict
Unlock the Pro Summary
Save time. Get access to brief summaries of our reviews so you can browse and make decisions more efficiently.
Pros
Extremely lightweight for its capacity
Three sizes for different shaped gear
Locking mechanism is easy to use
Cons
Aluminum chips fairly easily
Smallest can be hard to manipulate
Not as strong as the steel option
Recent Pack Hacker Video
Technical Details
Weight (oz)

0.1 oz (2.8 g)

Size #2 | 0.3 oz - Size #3 | 0.7 oz - Size #4

Dimensions

0.9 in x 2 in x 0.4 in (2.3 x 5.1 x 1 cm)

Size #2 | 1.2 in x 2.7 in x 0.4 in - Size #3 | 1.7 in x 3.6 in x 0.6 in - Size #4

Notable Materials

Aluminum, Stainless Steel

Warranty Information
Full Review
Get up to 20% off Nite Ize • Join Pack Hacker Pro
We've been a big fan of the S-Biners from Nite Ize for quite some time. They're more dynamic than a standard carabiner, at least as far as travel is concerned, and we rarely go on a trip without at least one. We've used the stainless steel non-locking models in the past, and we're curious to see how the aluminum model holds up against it. Is losing the weight worth it, or will we wish that we had stuck with the more durable option? Let's find out!
Materials & Aesthetic
Kicking things off with the design, the S-Biner is, as the name describes, shaped like an S. If you flip it over, it looks like a curved Z-shape, but you get the picture.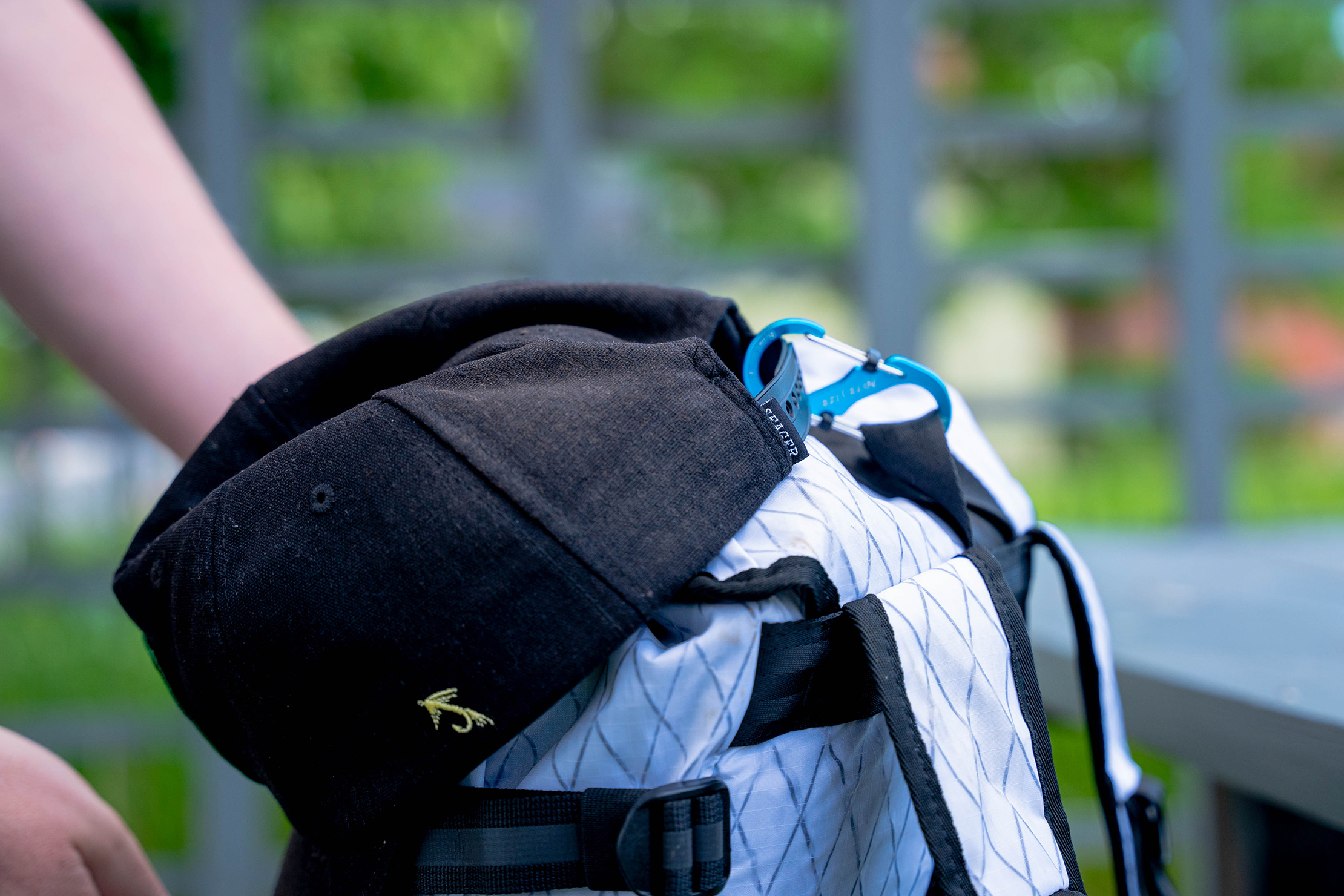 Because of the S-shaped design, there are two clip areas. The middle of the clip runs diagonally through the center, making it two compartments instead of just one like you usually see This means that you can clip one half of it to an item, like a hat or water bottle, and the other half to something like a daypack, sling, or even a fence without as much fuss as a standard carabiner.
The two-tiered design enables you to attach things on either end without worrying about what you have on the other side falling off, as is a common issue with a standard carabiner. We dig the flat design Nite Ize employs here, as it gives the S-Biner a more tactical look.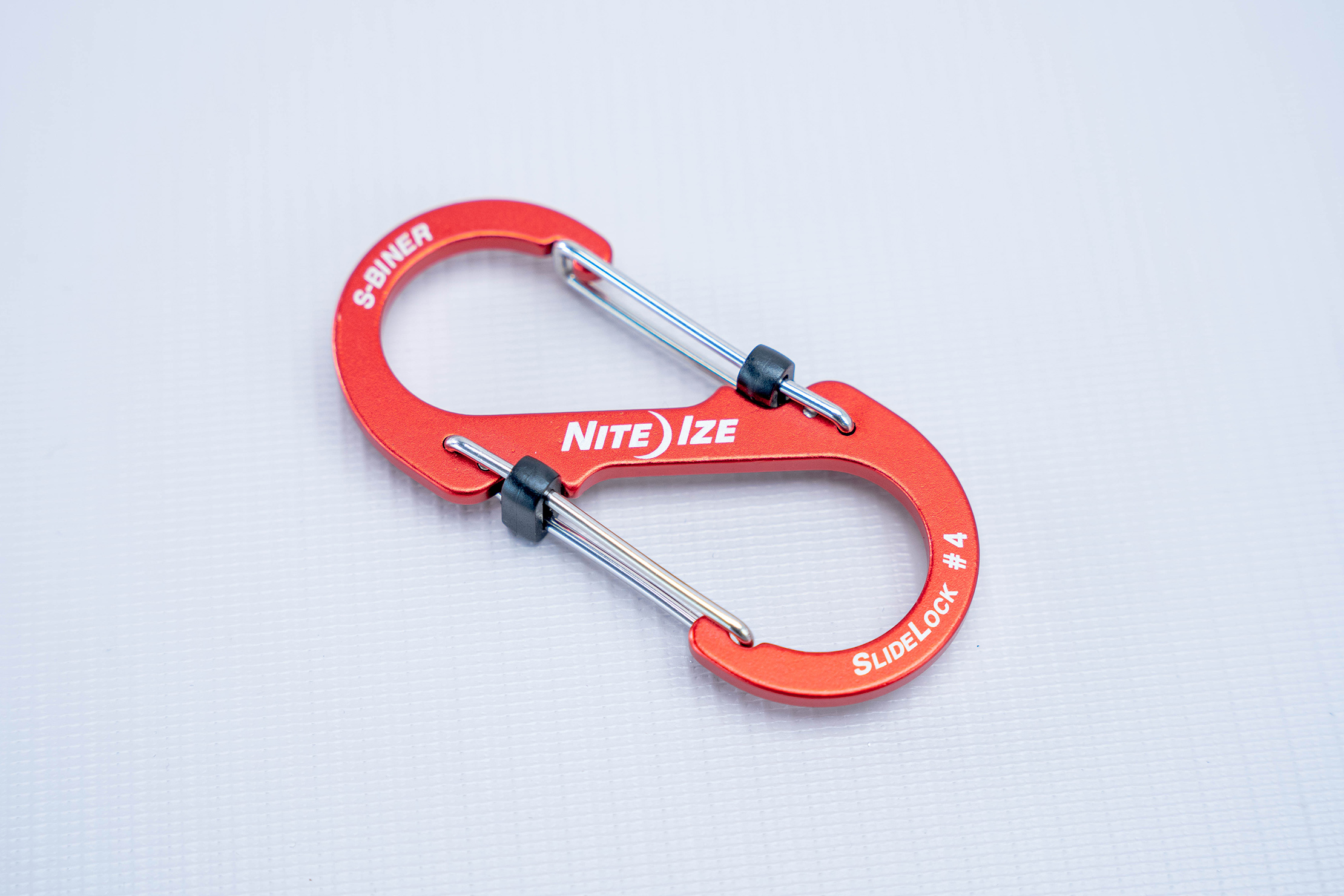 Thanks to a little piece of hard plastic that slides up and down the clip, both sides are locking. It glides into a little nook on the side closest to the diagonal portion of the S and snaps into place nicely. When locked, the clip is very tight. You might be able to weave a piece of fishing line through, but we can't think of anything else that would fit through the microscopically small gap between the clip's closure.
The hard plastic piece that locks the carabiner can't slide off either, as it has a small interior lip to prevent it from overcoming the metal clip. If you were to yank on it hard or take pliers to it, you might be able to get it off, but we've had no issues with it coming off during practical use.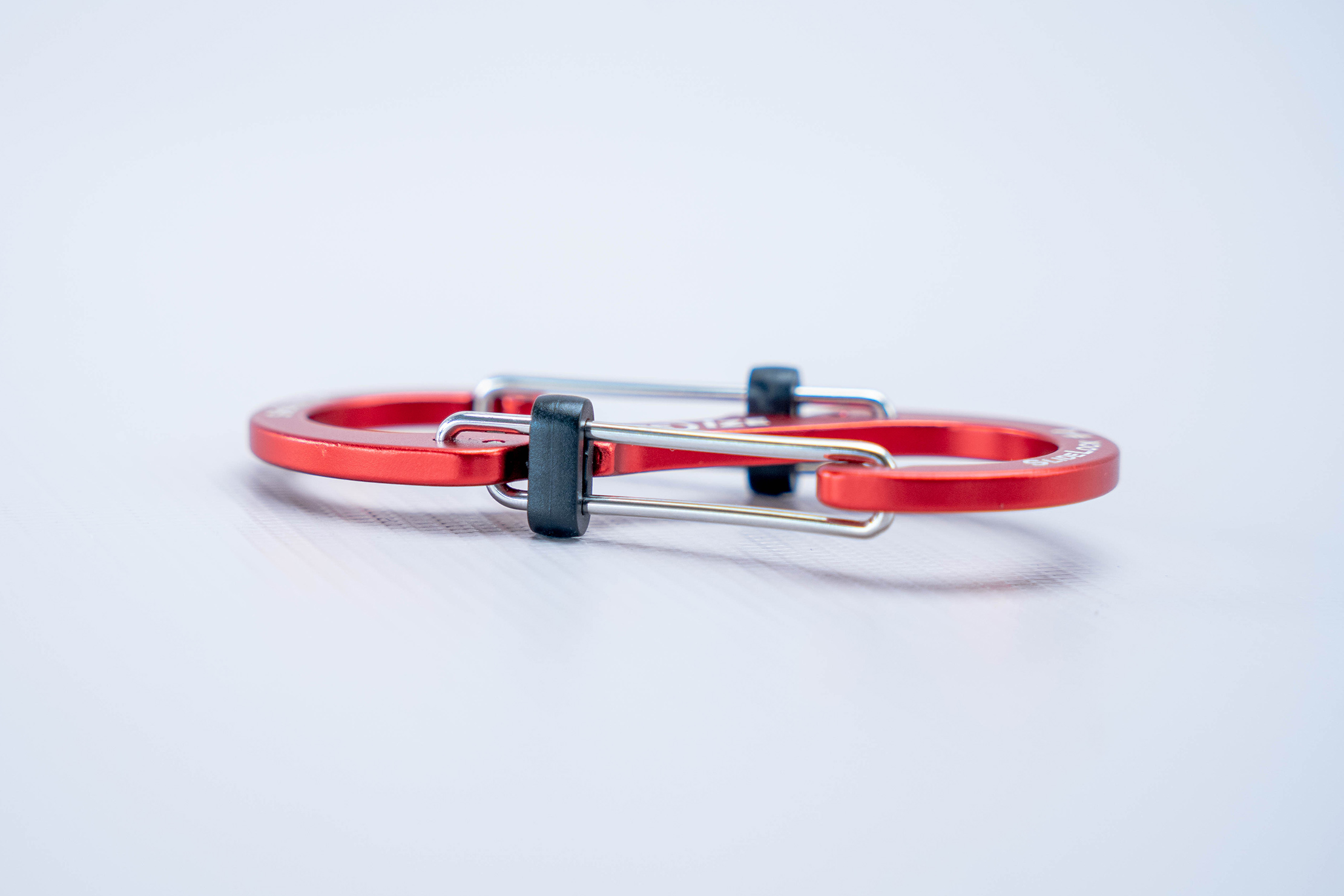 We have several different S-Biners from Nite Ize on hand, but this is the first aluminum model we're testing. The material is super lightweight and doesn't have any heft to it when it's in your palm. We have noticed the paint chipping and a few marks in the aluminum after a month of use, but none bad enough to stop us from using it.
The other models we have on hand are crafted from stainless steel, and while they may be more robust, aluminum is roughly one-third the weight of steel, so there's a significant difference in weight. It might not seem like a huge difference for such a small item, but as anyone who has used our packing tool knows, every ounce counts!
Everything we have experienced with stainless steel S-Biners in the past translates well to the locking iteration—including strength and slightly higher weight.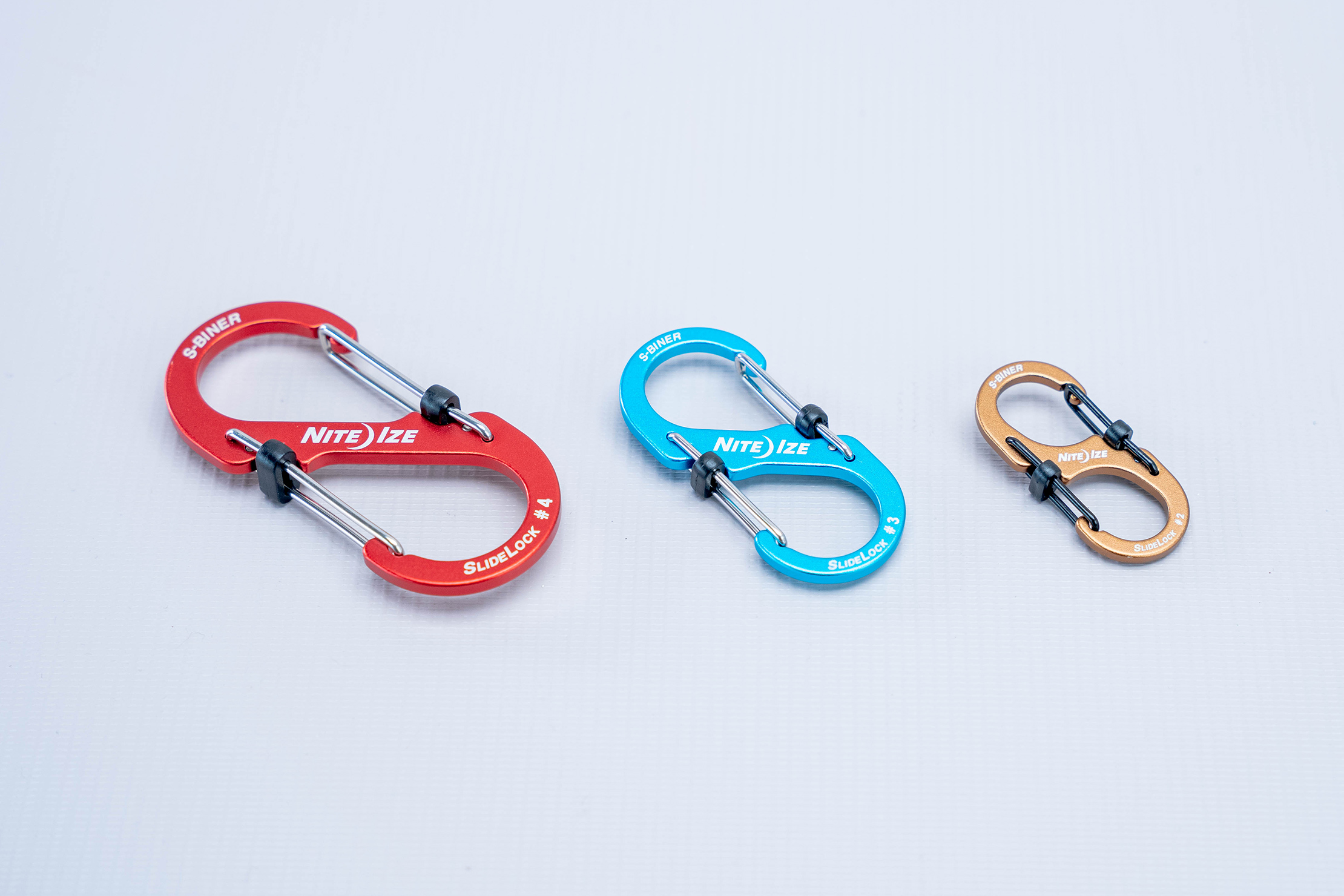 At the time of writing, there are three different sizes for the aluminum model. The #2 measures 0.9" by 2″ by 0.4" (23mm x 50mm x 10mm), coming in at 0.2 oz. This is the only clip that can't be purchased by itself—it currently only comes in the assorted pack, which we will talk about in a moment. The #2 is also the only S-Biner with black metal clips, as the rest are silver. To our knowledge, this clip only comes in Coyote, which is an earthy brown color that is sleek but has an outdoorsy feel to it.
The #3 measures 1.2″ by 2.7″ by 0.4" (31mm x 68mm x 11mm) and weighs 0.4 oz. At the time of writing, this clip is available in Coyote, Olive (a deep green), Orange, and Red colorways. You can purchase the #3 S-Biner separately or as a part of the assorted pack.
The #4 measures 1.7″ by 3.6″ by 0.6" (42mm x 91mm x 14mm), and we clock it in at 0.7 oz. At the moment, the clip is available in Blue, Coyote, Olive, Orange, and Red colorways. Like the #3 S-Biner, you can get this one by itself or in the assorted pack.
The stainless steel model offers roughly the same sizes as the aluminum iteration, but has a few different colorways, too.
The assorted pack we have on hand comes with #2 Coyote, #3 Blue, and #4 Red S-Biners. That is what Nite Ize has on their site at the time of writing, too, but we imagine it may be subject to change. We may have to get another set if it does—who doesn't love having color options?


All three S-Biners weigh 1.3 oz, which feels comfortable enough to hold in your hand. Plus, you can attach them all into an S-Biner conga-line, which is fun.
Usage & Features
The sky is the limit with S-Biners as far as usage goes. Let's go over a few options:
The #2 model is the perfect size to keep clipped to your key ring while traveling so you can attach your keys to something inside your pack. This also enables you to always have it on hand should you need it while exploring a new city.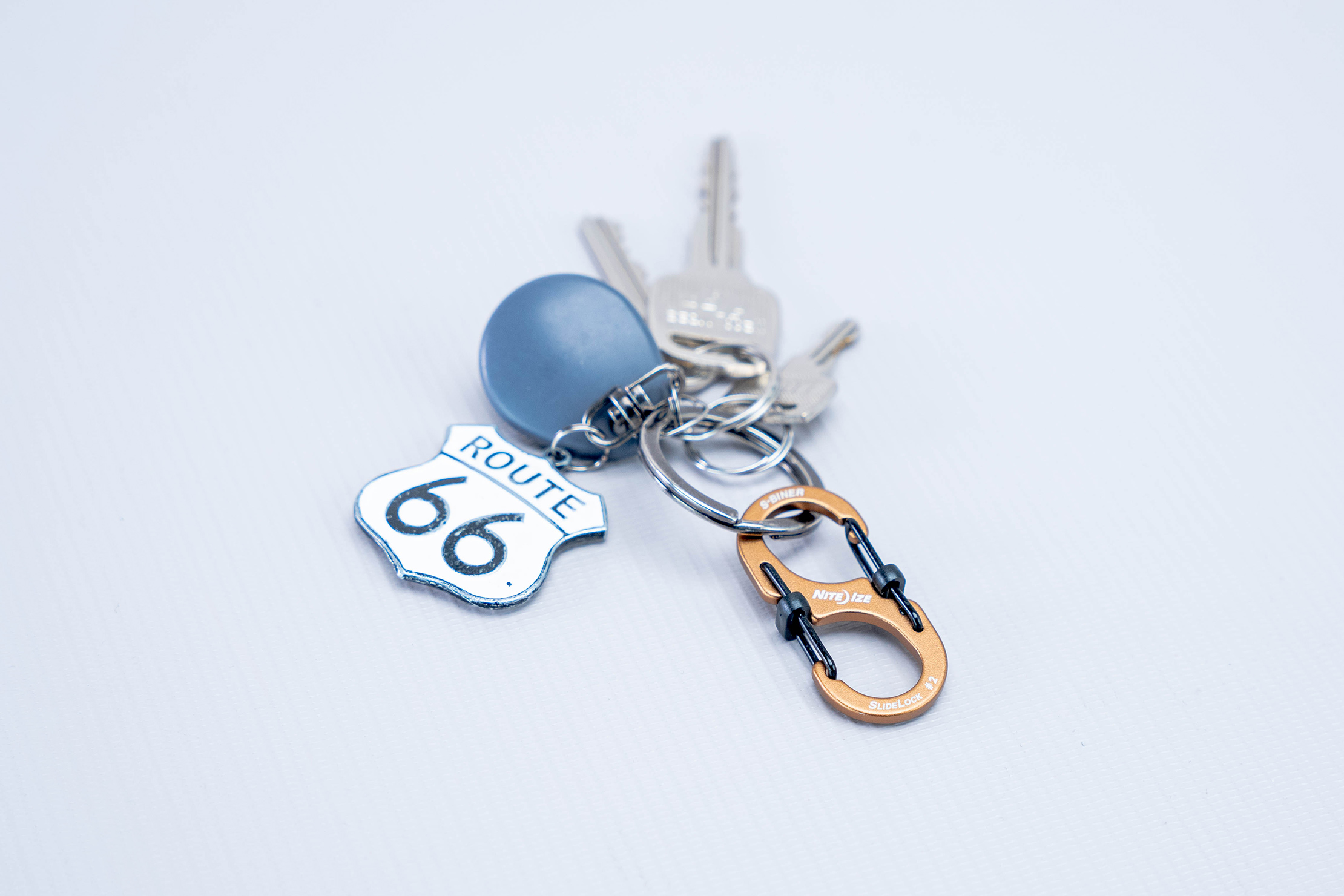 We're able to attach the two larger sizes to a hat without issue, though we find that the #3 is the perfect size for us. If your ballcap gets wet and you don't want it to get wrinkled inside your pack or if the sun is suddenly covered by clouds, you can fix it to an attachment loop outside your daypack or sling.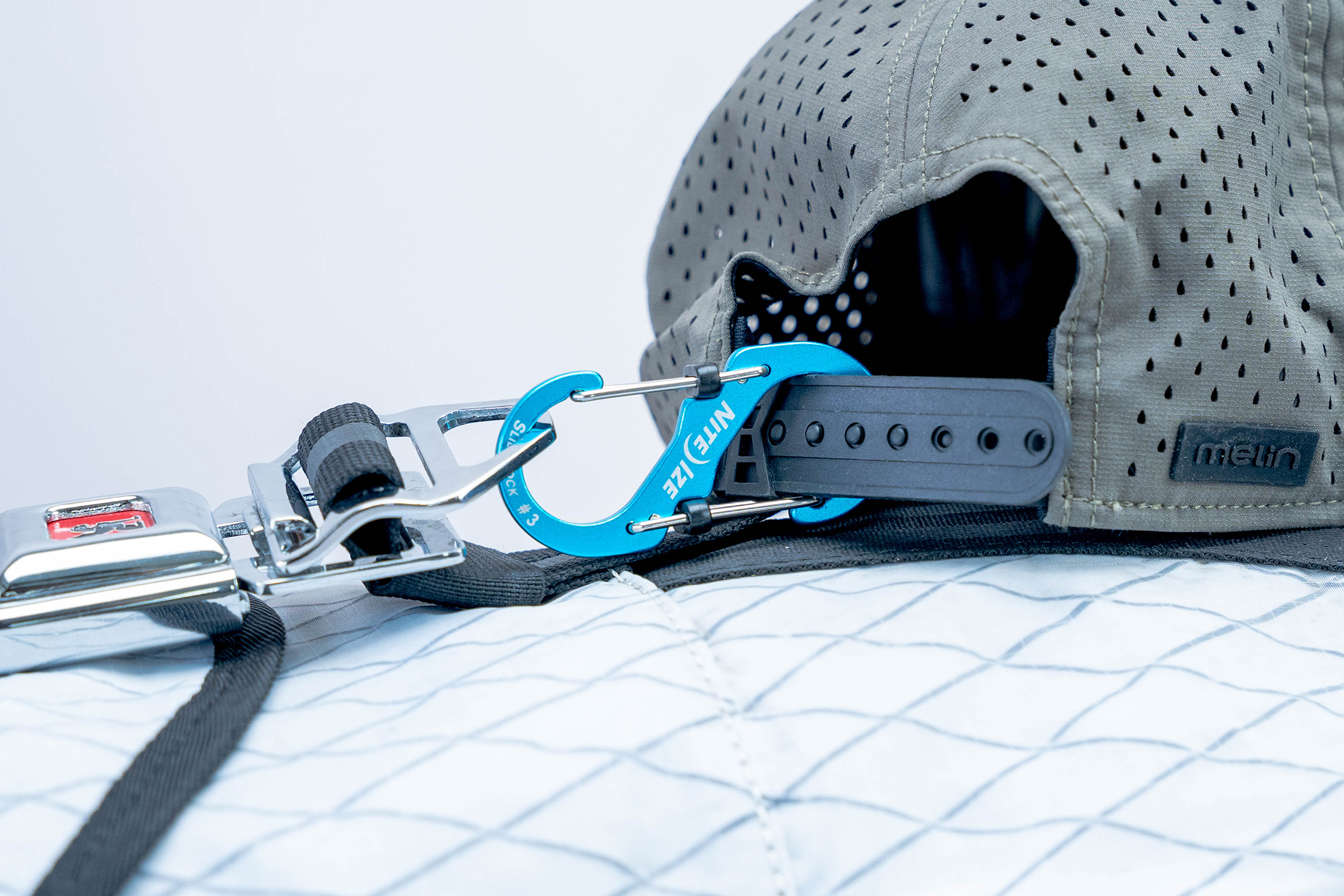 The S-Biner makes hanging things more accessible in general. There isn't always a good place to hang your backpack up at a hotel or Airbnb. However, if you have an S-Biner handy, you can attach it to just about anything. Use the top handle, attachment loop, or bunched together shoulder straps to hook the S-Biner to your backpack, then find an eye or loop in a piece of furniture, a banister, or even a fence. If you used the largest S-Biner to hook up your pack, but the arm won't fit through the loop you're trying to fix it to, add a smaller S-Biner onto it as an adapter for little hooks.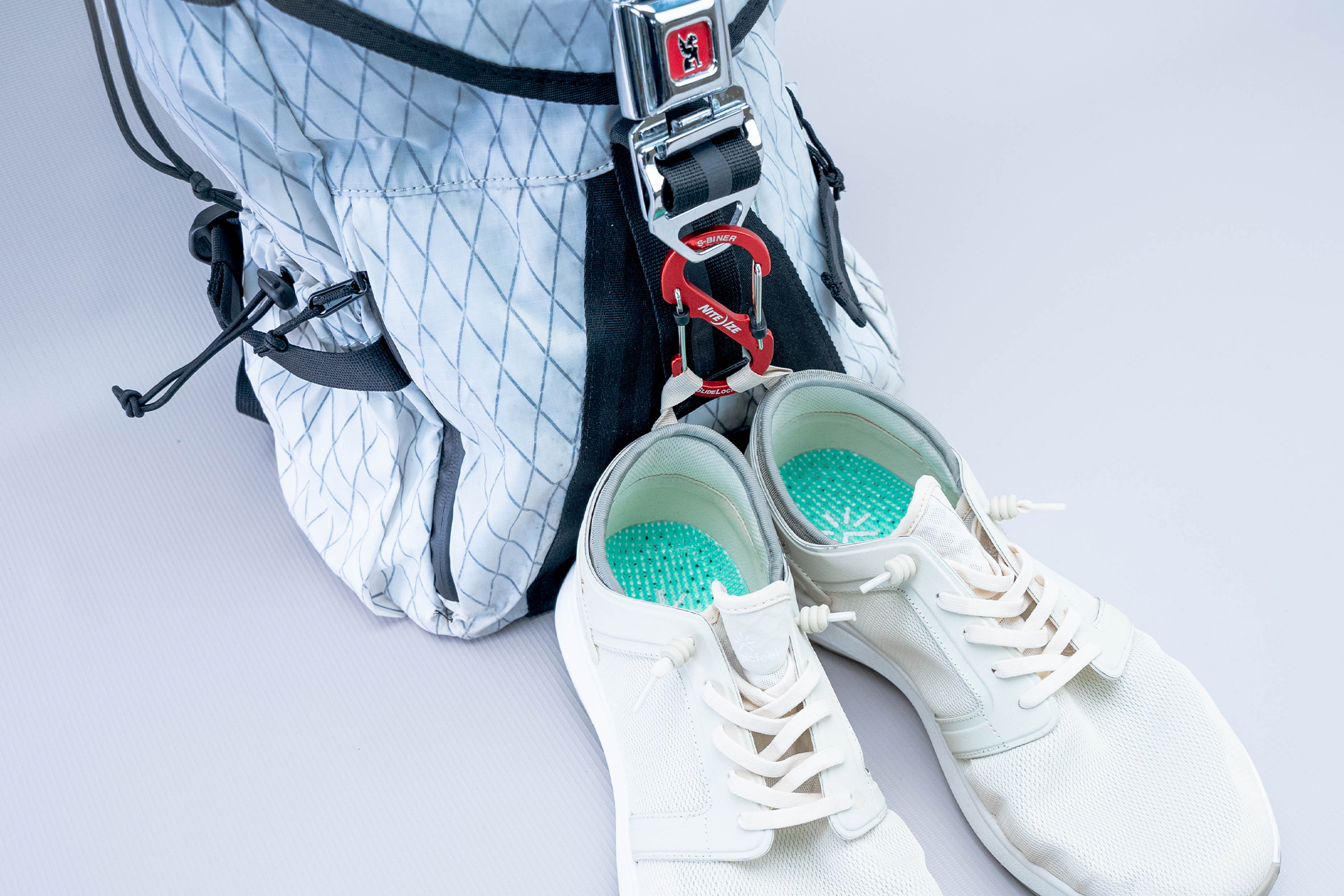 Even though these clips are incredibly lightweight, they're strong enough to carry your soggy shoes on the outside of your pack, saving the rest of your gear from getting wet and muddy.
Or, if you like to keep a multitool handy, loop it onto an S-Biner and fix it to your belt loop.
Another dynamic use is for carrying water bottles when your pack doesn't have a dedicated pocket. You can use it similarly to a pair of shoes on the exterior of your pack, or attach it inside, ensuring that your water doesn't tip over because the clip is holding it upwards. Even if your bag has water bottle pockets, using an S-Biner is a great way to bring more hydration. Or, if the pocket space is taken up by other gear like a tripod, you can still bring water.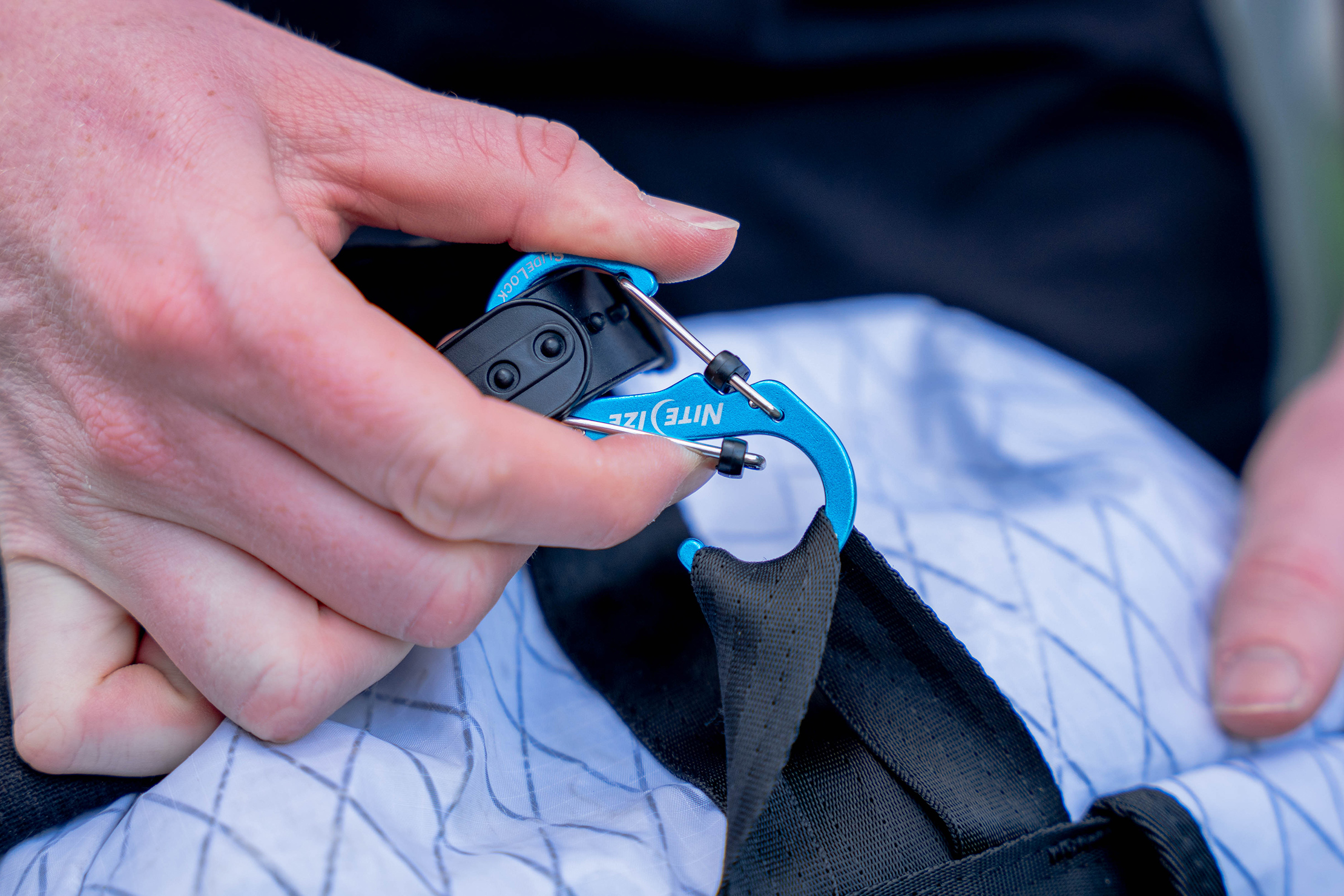 Overall, the Nite Ize S-Biner SlideLock makes things easier on the road. It's one of those items you won't miss until you don't have it, and given how small and light they are, we can't see any reason not to bring them along.
Usage Timeline
Initial Usage
Condition: Excellent
Three different sizes seem useful for different sized gear
S-design makes them easy to operate
They have little pieces of rubber to stay locked
2 Weeks of Use
Condition: Excellent
The paint has a few chips and nicks but is overall in good condition
No issues with clips loosening
Locks still pop in and out of position easily
Access the Pro Community Discussion
Get your questions about the Nite Ize S-Biner SlideLock answered from our team and the Pro Community right here on the page. Plus, join discussions with other members about gear, guides, and more.
Other Miscellaneous Reviews