Deuter UP Sydney Review
The Deuter UP Sydney is a low-profile bag with a lot in the way of organization—although its top access flap doesn't feel very secure.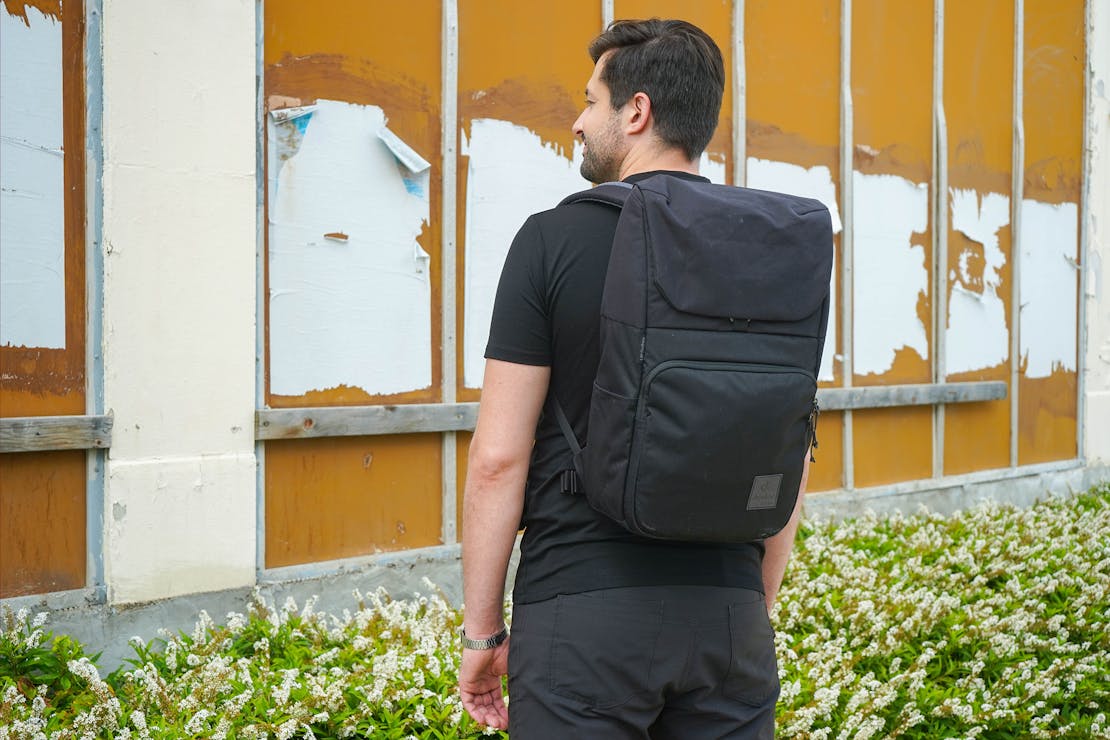 Our Verdict
Unlock the Pro Summary
Save time. Get access to brief summaries of our reviews so you can browse and make decisions more efficiently.
Pros
Comfortable harness system
Great level of organization
False bottom in laptop compartment
Cons
Main compartment opening doesn't feel secure
Material is very prone to picking up fluff
No elastic keepers on the shoulder straps (can get dangly)
Technical Details
88 %
Carry-On Compliance (Beta)
Capacity

22l

Weight (lb)

1.94 lb (0.9 kg)

Denier

500D

Dimensions

19.685 in x 11.81 in x 6.3 in (50 x 30 x 16 cm)

Notable Materials

Recycled Polyester, DWR Coating, Ripstop Polyester, YKK Zippers, Nifco Hardware

Manufacturing Country

Vietnam

Laptop Compartment Size

15"

Warranty Information
Full Review
Finding the right daypack for your needs can be daunting. But if you're looking for something with a comfortable harness system, a slim profile, and enough compartmentalization for your gear, then the Deuter UP Sydney is a solid contender.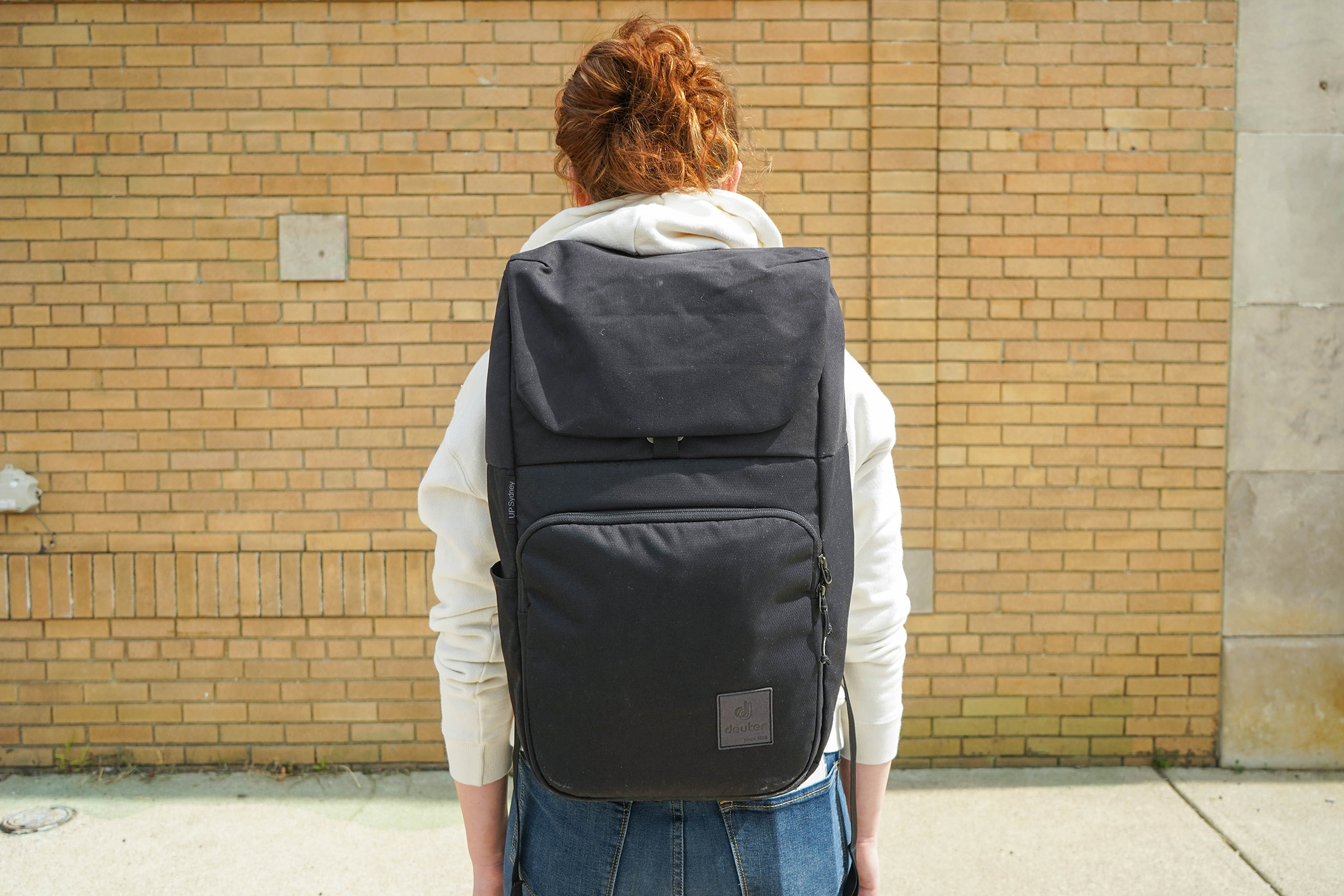 This pack has the space and organization you need for your everyday items, while still remaining low-profile. And like other Deuter bags, it has a lot of padding and mesh to keep you comfortable while on the go.
After two weeks of testing, we're ready to get into the review—so let's dive in!
Fit Notes


Tom—Height: 6 ft 2 in, Torso: 19.25 in
Waist strap is too high—it runs across the stomach rather than the hips so isn't as helpful with weight distribution (still helps keep bag close to the body)
Back panel is structured while still feeling comfortable
Padding and mesh on shoulder straps are comfy and breathable


Riley—Height: 5 ft 4 in, Torso: 16.5 in
Looks a little tall when cinched to where it's comfortable
Waist strap is especially high, so isn't very helpful with weight distribution but still helps keep the bag close to the body
Fits closely to the back so it feels secure
Materials & Aesthetic
This pack is longer than it is wide, which helps it keep a pretty slim profile—even when it's fully packed out. We appreciate when our EDC bags blend in with the crowd and don't look like a giant brick on our backs.
We've been testing the classic Black colorway these last two weeks and we're digging its subdued aesthetic. But if you're looking for something that stands out, or just something with more color, the Deuter UP Sydney is available in several different colorways at the time of this review—so you should be able to find one that fits your vibe.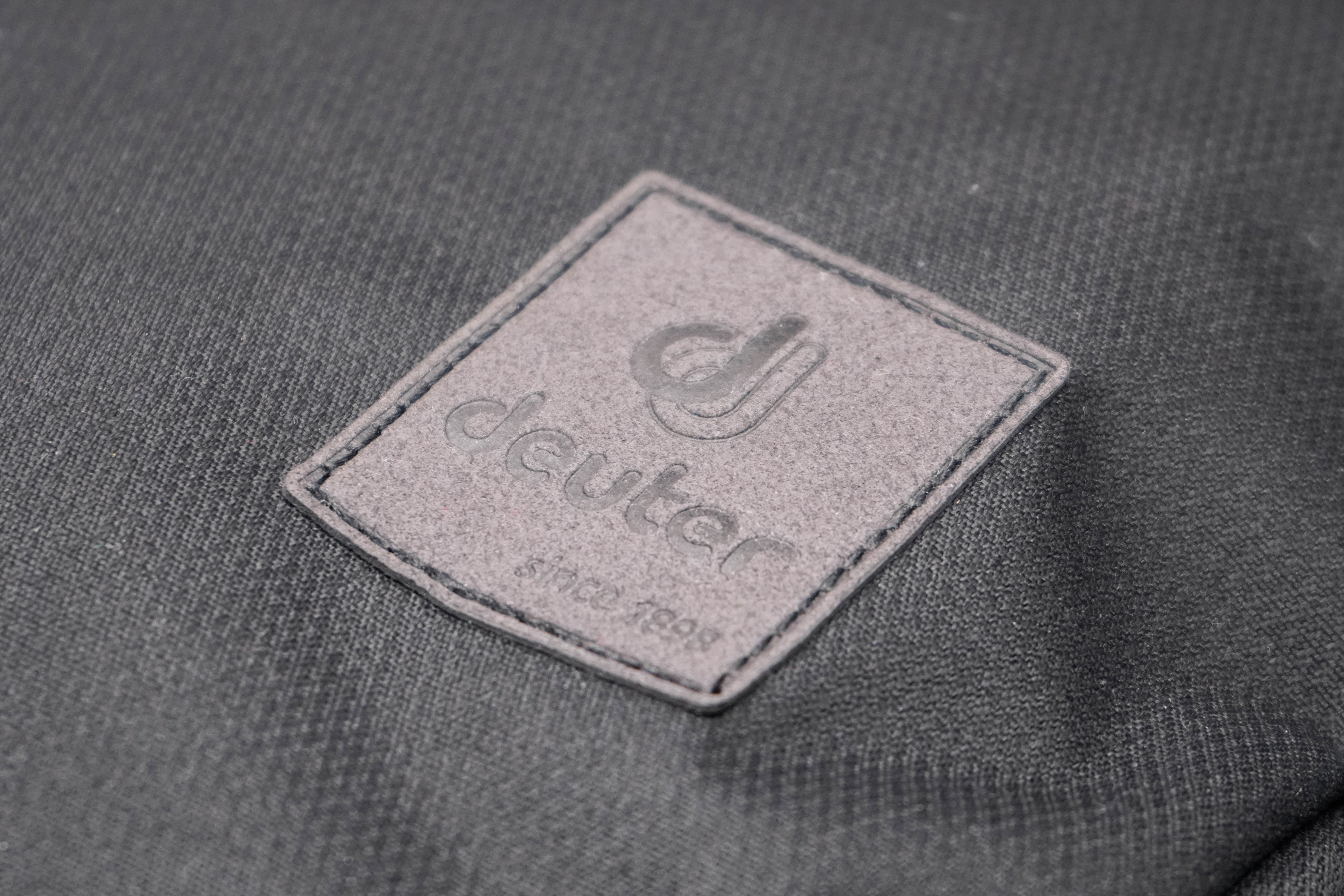 You'll see the Deuter logo in a few places throughout this pack—on a super soft tag on the front, stamped at the top of the back panel, and stitched into one of the shoulder straps. It's not the most minimal branding we've ever seen, but most of the logos are a darker shade of grey and still relatively blend in with the surrounding material. So no real complaints there.

Speaking of material, this pack is built with 500D polyester made from recycled PET bottles with a DWR coating and a bluesign® approved production process. What does all that mean? It means that this bag is durable, water-resistant, and sustainable—so it's up to the task of protecting your gear and created with the environment in mind.
It's soft in the hand and feels almost like suede, which is nice. But we've also found that this material picks up fluff and debris more so than other slicker fabrics you'll find on other bags, which can leave it looking a little dirty after a couple of wears. (Feel free to check out our step by step gear cleaning tips for getting and keeping bags clean.)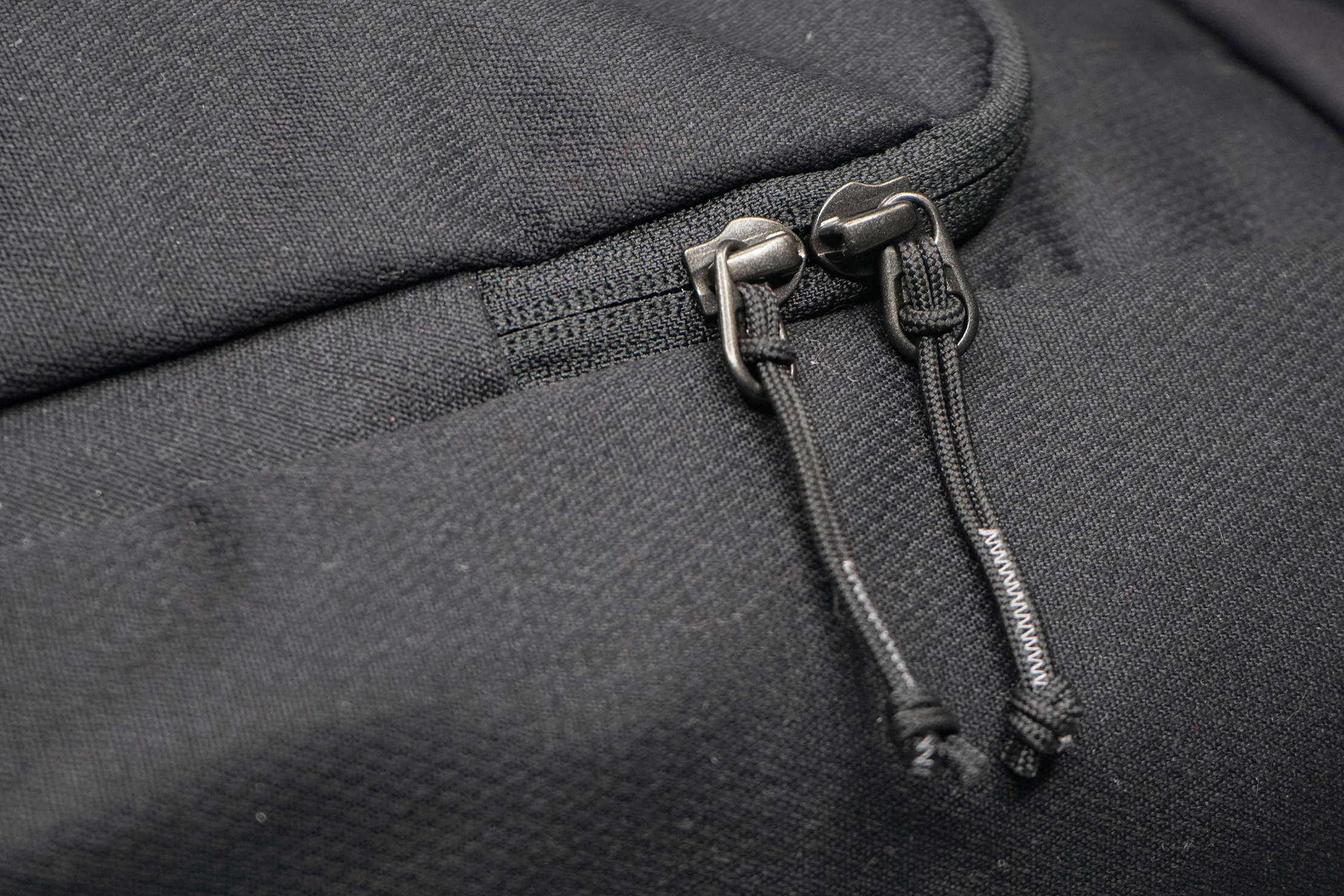 The zippers on here are from the trusted brand YKK and have some easy-to-grab pulls. We have tons of experience testing YKK zippers on other bags—as expected, everything is working smoothly.
You'll find some Nifco hardware on this pack as well. All the buckles have stayed secure during testing which is good, but we haven't been loving the magnets that secure the main compartment—which we'll get into later in the review.
External Components
Overall, we've found this bag's harness system to be well built and comfortable, especially for a pack of this size. As always, we have some nitpicks we want to note too.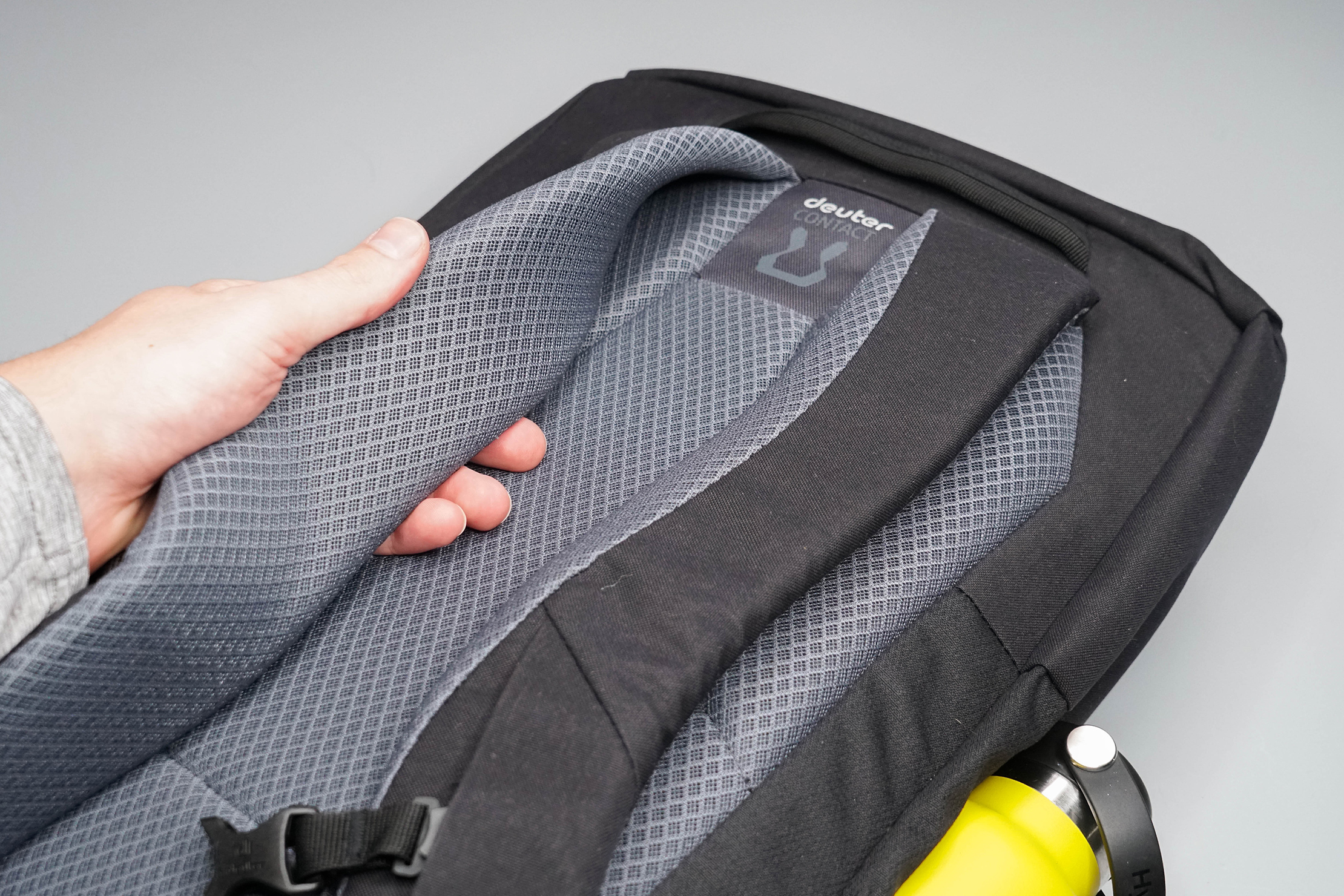 The shoulder straps are densely padded with plenty of mesh for added breathability to keep us comfortable when we've got it on. However, there aren't any strap keepers here. So if you have to really cinch the bag up and are left with a lot of extra straps, you're going to have to deal with some dangling.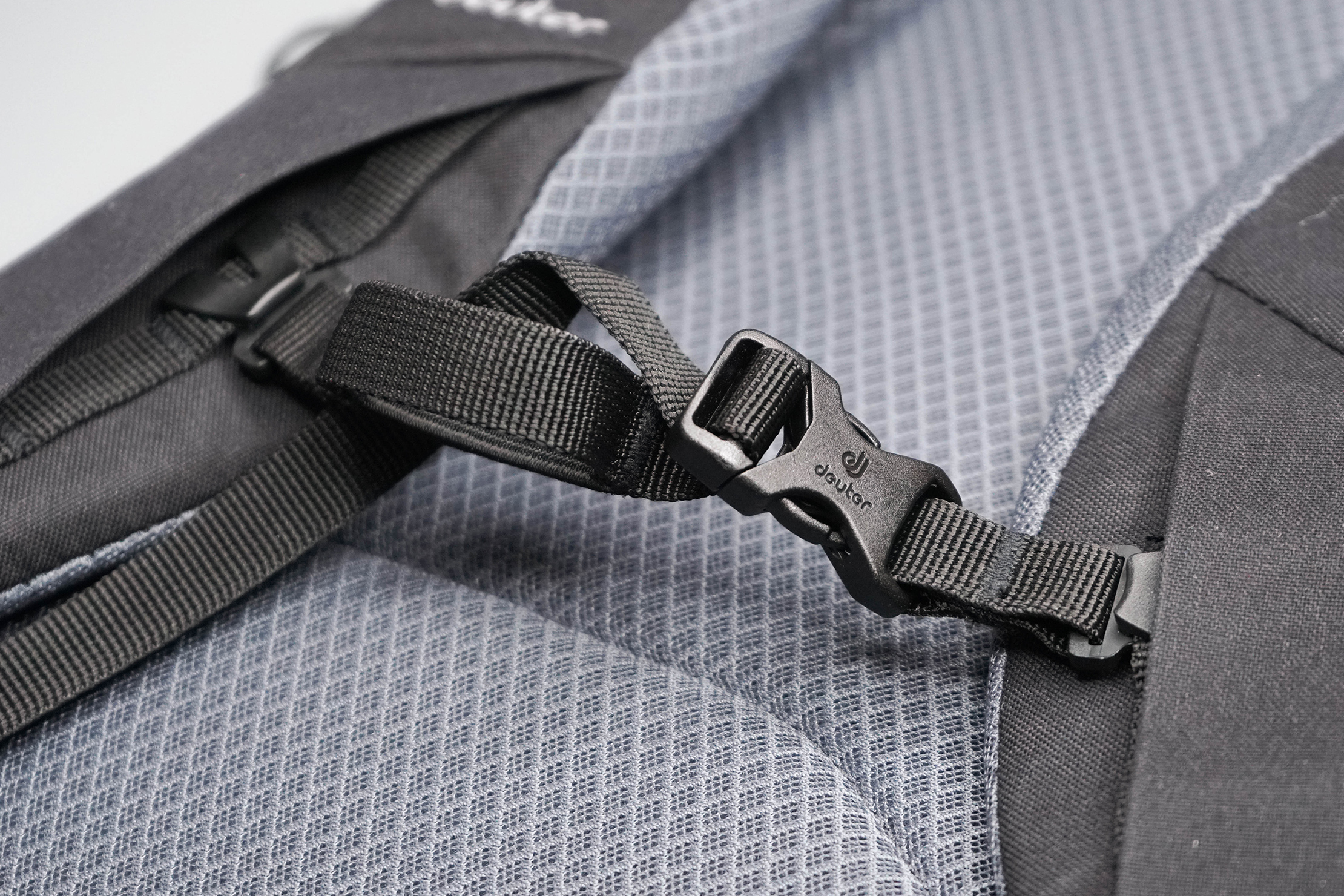 Next, we have the sternum strap, which clips to and adjusts via a daisy chain on each shoulder strap. This attachment feels secure, so we're not worried about it disengaging and us losing it in the process. This strap is elasticated allowing it to move with you and making it easy to adjust across the chest. Plus, it manages excess strap well so it's not flopping against us while we're walking around.
There's also a fabric welt on each of the shoulder straps to hide the sternum strap's clips, which give this bag a clean look that we appreciate. And if the sternum strap is not a necessity for you, you can remove it altogether (and have clean-looking straps).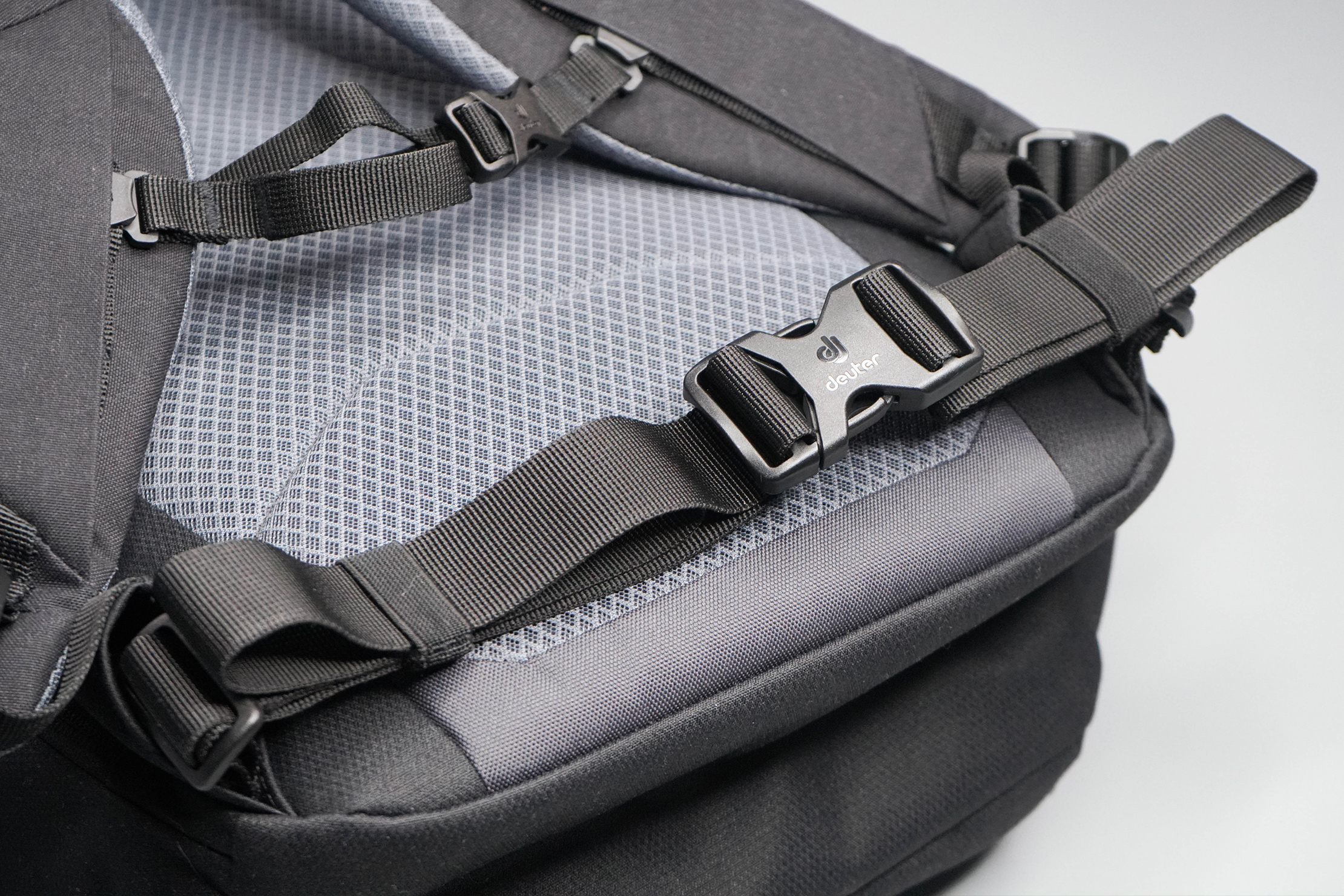 And further down, you have a waist strap. For us, this belt sits a little higher up than we'd like—it runs across the stomach rather than the hips. It's also not padded. It's essentially just a nylon strap, so rather than help with weight distribution, it mostly just helps keep the bag closer to our body.
We didn't get a ton of use out of this thing for these reasons, but your mileage may vary. And we do appreciate that there are the elastic keepers, so whether we're wearing it or not, this strap is relatively #DangleFree. Plus, there are some fabric wings where the belt attaches to the bag that help hide the clips and further promote a clean look.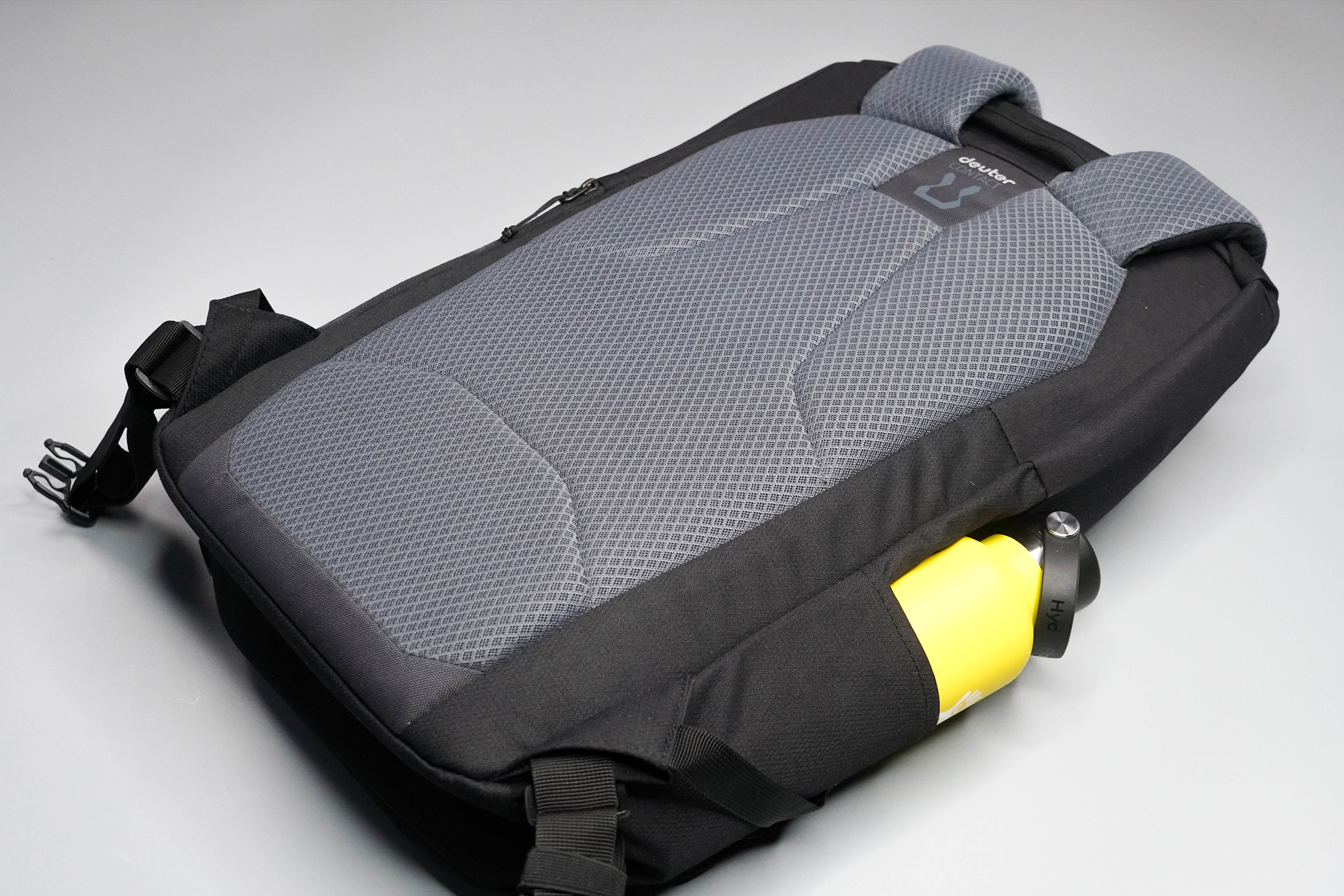 The back panel of this pack is densely padded and lined with breathable mesh to keep us well ventilated—which is always appreciated. It also has a stiff frame sheet to keep the bag structured, so it doesn't get floppy or bend away from our backs.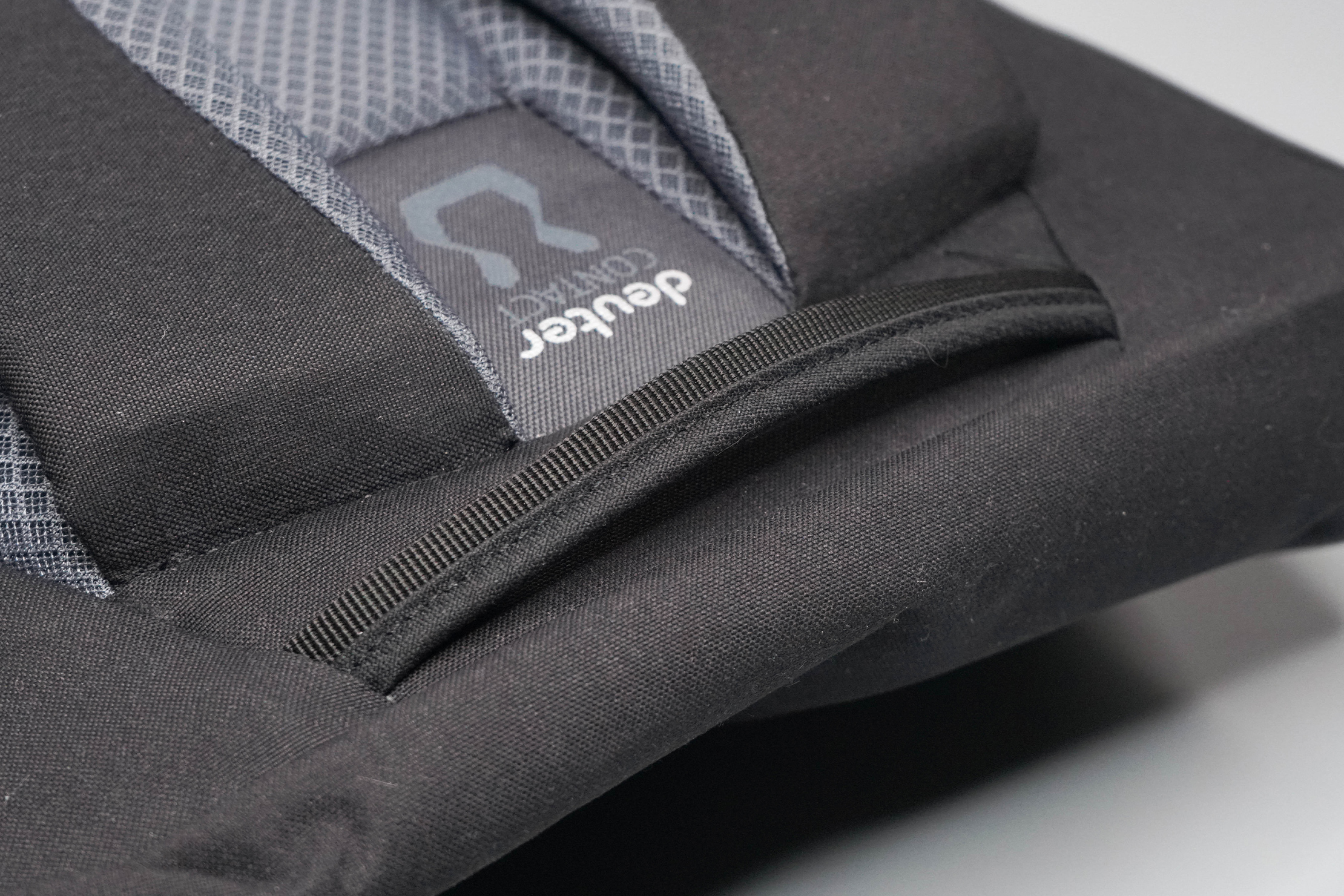 You do have a small handle on the back of the bag at the top. It's pretty thin, so it's not the most comfortable handle we've ever used, but it works well enough for grabbing the bag. Something else to note—because of its position, it may take some maneuvering to hang it up. If you're using a hook, it can slip under easily enough. Anything larger and you'll need to do some bending.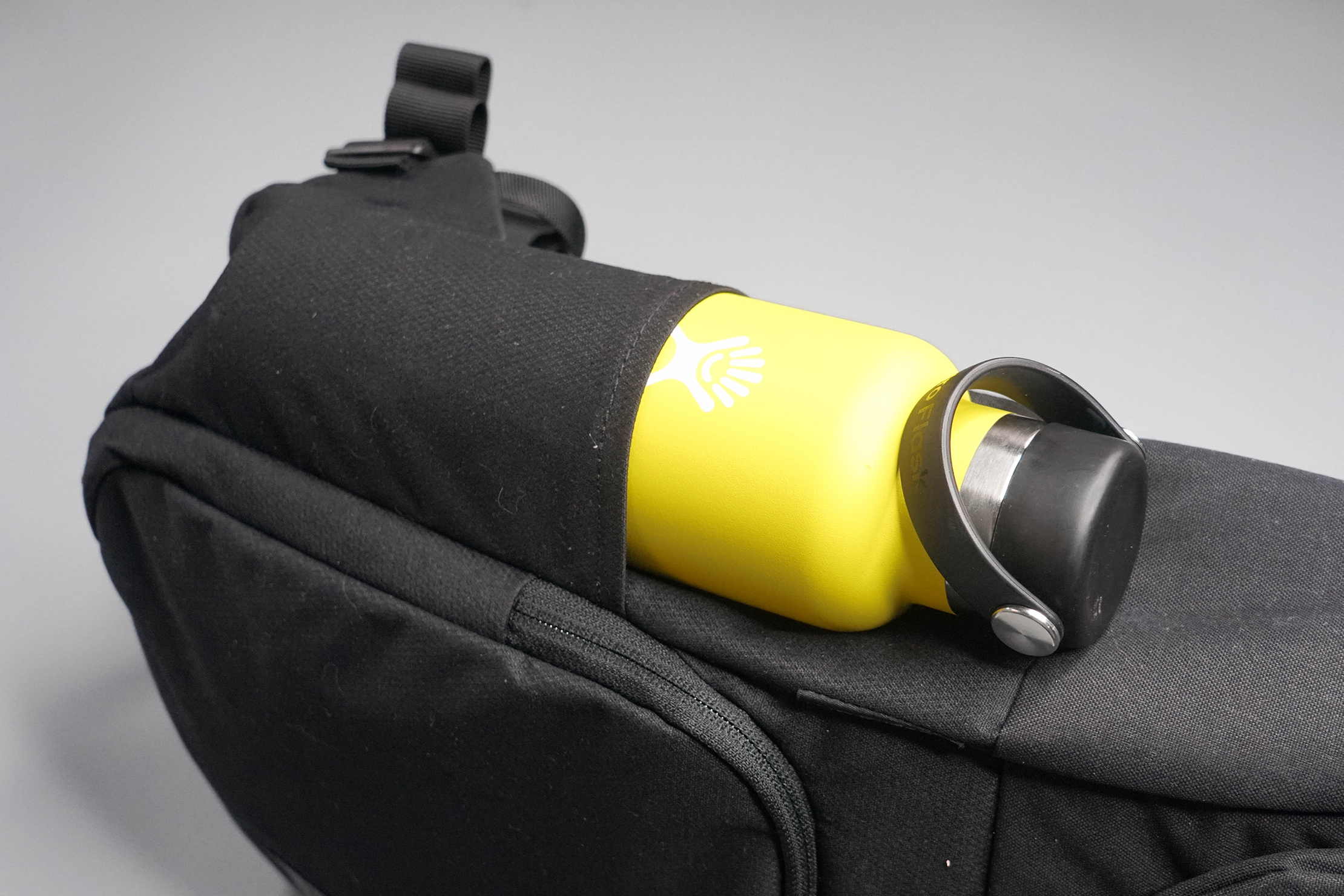 If a water bottle is an essential item in your everyday carry, you'll be happy to know that this bag does have an external water bottle pocket. There's no elastic at the top or any kind of gusseted, stretchy fabric that allows it to flex, so what you see is what you get in terms of space—meaning larger bottle won't work well in here. We've been able to fit the Stanley Go Bottle with Ceramivac 16oz inside, but it takes up the entire pocket. And even with a smaller bottle like this one, the bag has to contour around it and take some space away from the interior.
Inside The Pack


Let's talk pockets. You have a zippered, quick-grab pocket on one side of the bag where you can store a large smartphone (and anything smaller). It's also against the wearer's back, so it's nice and secure (and harder to reach for wandering hands in a crowd).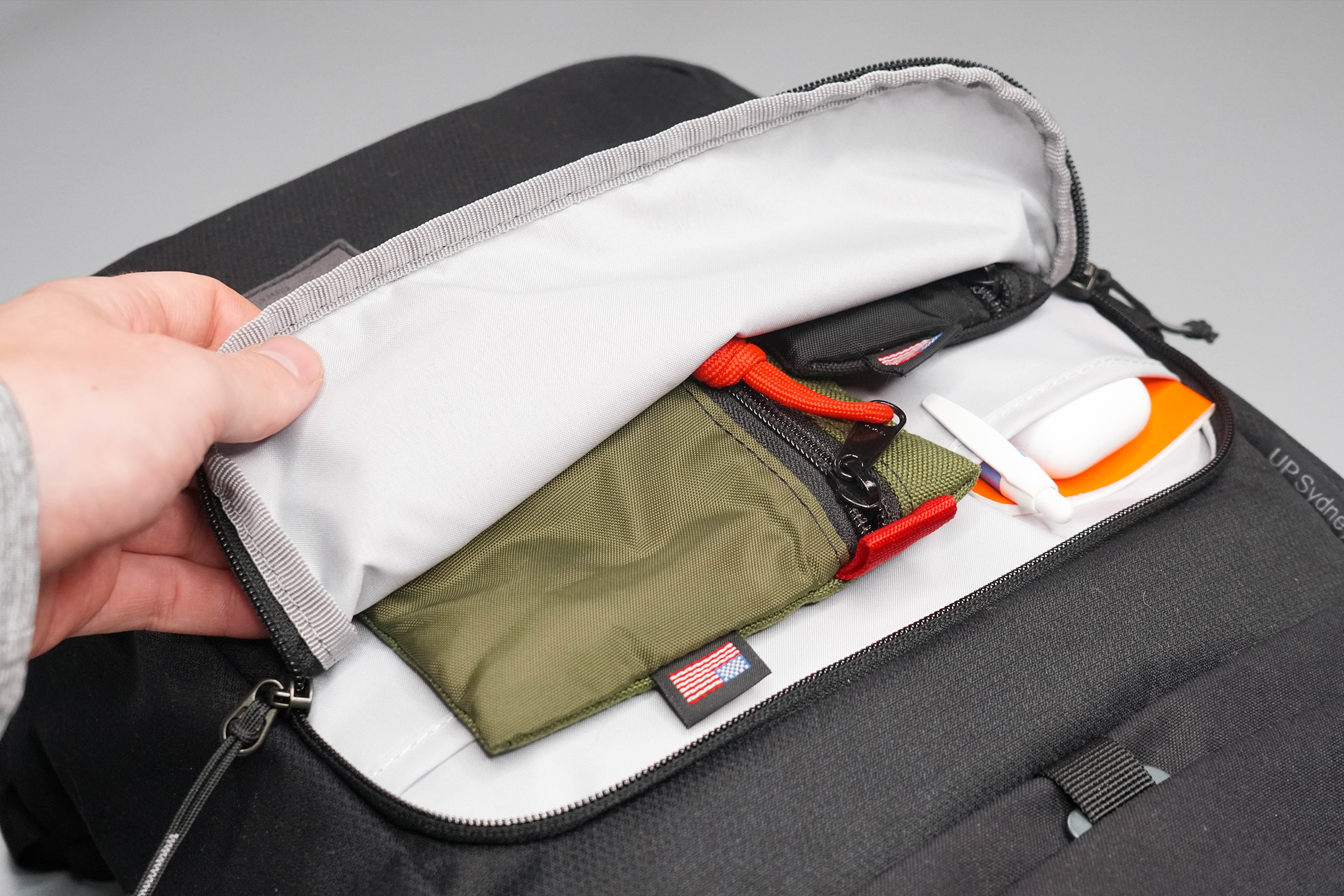 As for the front compartment, we've been using it to store some of our smaller tech items. There are two segmented pockets inside that sit against the back wall—one larger, one smaller.
In the large pocket, we've been keeping things like cables, a handy spork, and an extra pair of headphones (inside a Tom Bihn Color Zipper Ghost Whale Organizer Pouch). And then a USB-C dongle and a pen in the smaller pocket.
You also have a little bit of open space for other smaller and/or flatter items if you have them. It's still a pretty thin pocket, so you don't want to put anything too bulky in here. But we like that this compartment is zippered, so all of our tech gear stays secure.

But we can't say the same for the main compartment. Its flap is secured by two magnets as well as a G-hook that are super easy to open, especially when the G-hook isn't secured. And even when it is, you still have some gaps in the opening where smaller items can slip out.
This may not be as big of an issue for you if you're just heading to and from the office, the coffee shop, or the coworking space as the bag isn't getting quite as jostled around. But with traveling, for example, you might have the bag in an overhead bin or underneath your seat on a flight and experience some turbulence where it gets shifted around quite a bit.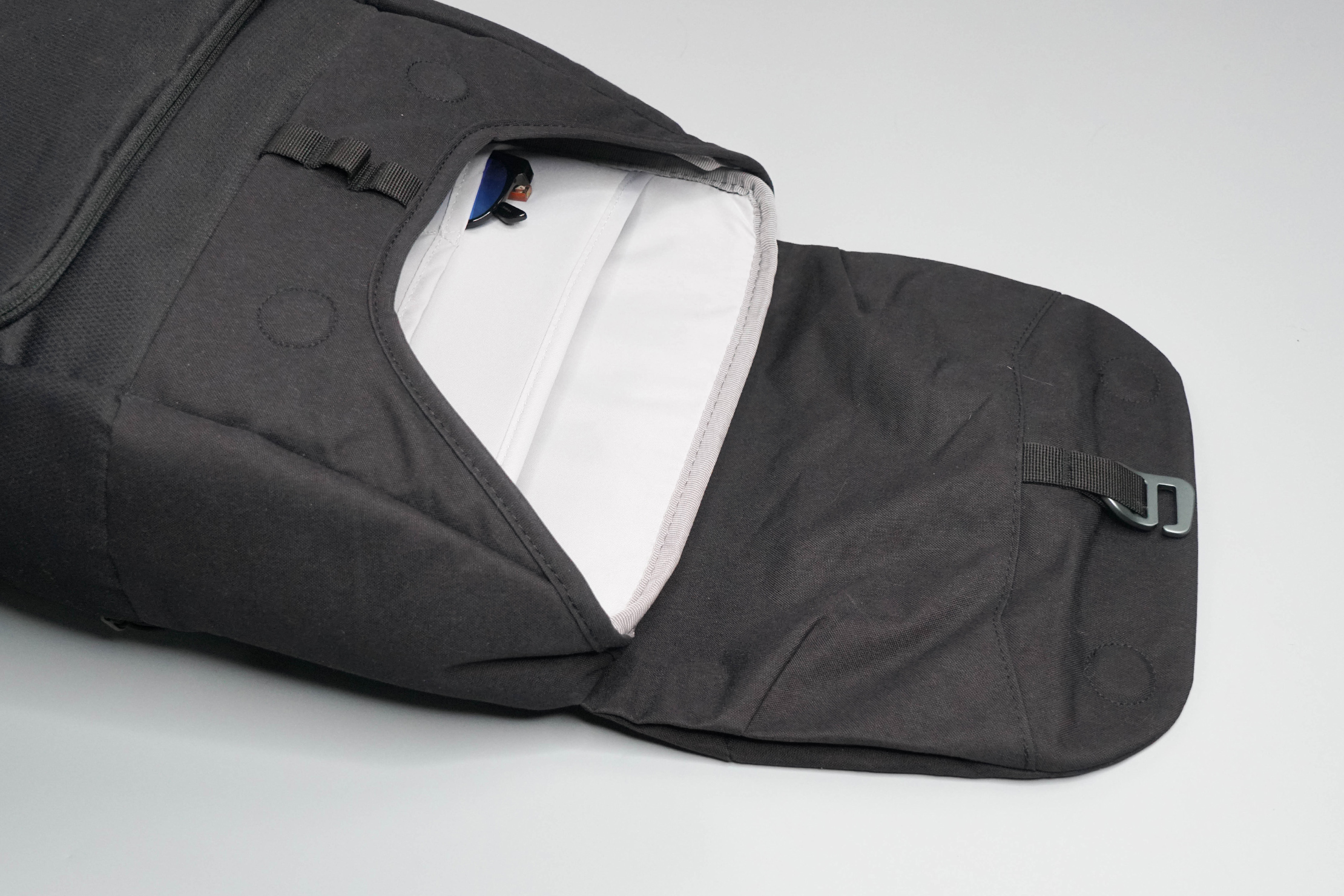 We prefer the way that Mystery Ranch handles this integration on the Rip Ruck 24, as in addition to the magnetic flap, there are zippers along both sides that allow us to fully secure the bag. On the UP Sydney, this opening isn't nearly as secure (or water-resistant)—meaning our gear isn't either.
We have liked using one of the extra attachment loops to hook a Nite Ize S-Biner to and keep it handy for external storage (like to clip a hat) since we haven't felt the need to connect the G-hook all the way on the bottom loop.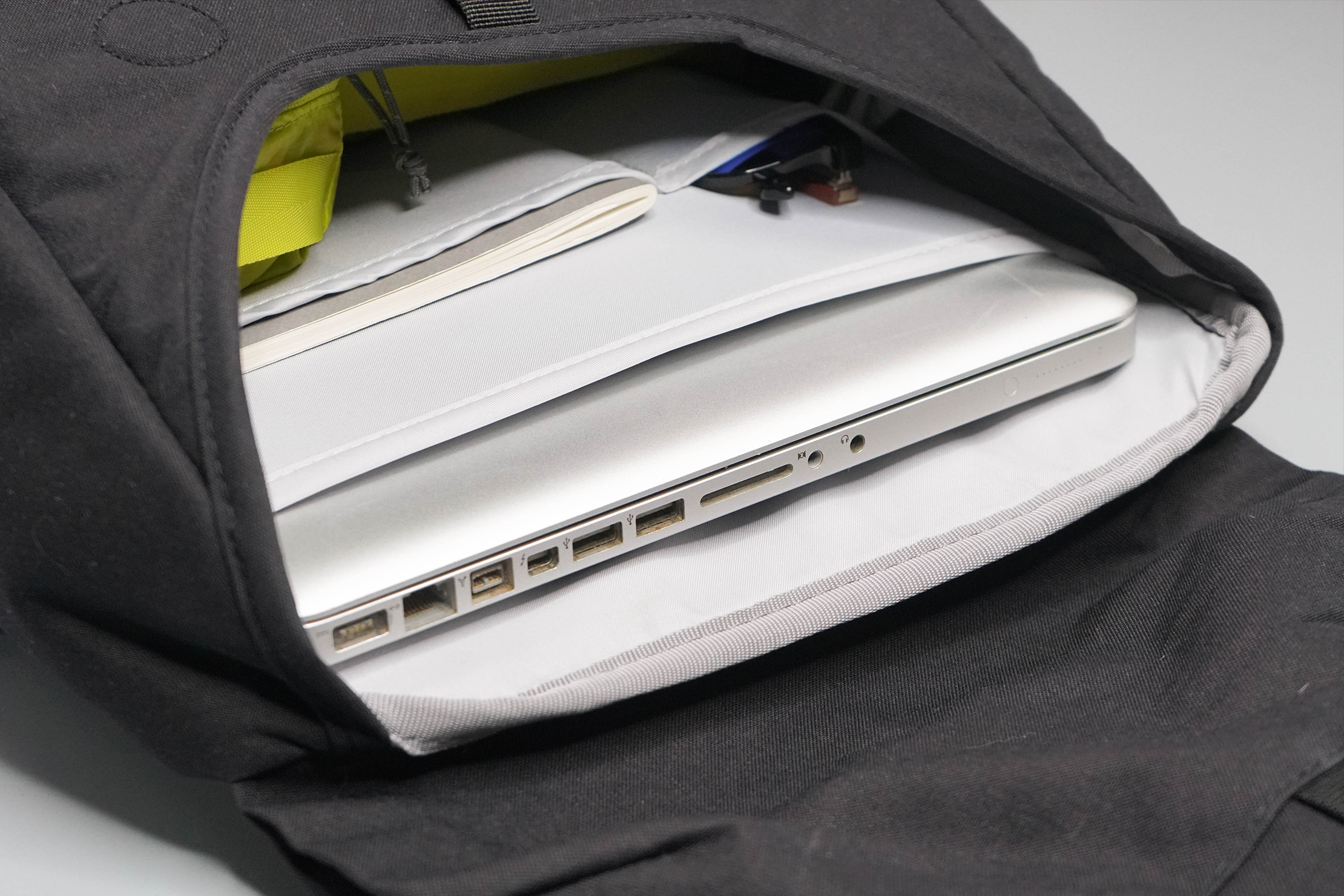 Now, let's take a look at the inside of this compartment. At 22L, this pack has plenty of room for your everyday gear—and the main compartment has plenty of compartmentalization to keep said gear organized.
Against the back wall, you have a laptop sleeve that fits up to a 15" device. It's got some decent padding, along with a false bottom, to protect your tech when it gets shuffled around and for when you set the bag down. We dig it.

And in front of this laptop sleeve are two liner pockets similar to what you see in the front compartment, just on a bigger scale. The larger pocket can accommodate a tablet, if you carry one, and is suspended so your tech is protected. We've just been keeping the Moleskine Classic Large Soft Cover Dot Grid Notebook in here, which works well. This pocket also has some extra fabric on one side so you can pack it out quite a bit with whichever you choose.
The smaller pocket doesn't have this extra fabric, so slimmer things like a glasses case—which is holding a pair of Felix Gray Nash Glasses for us—fit nicely (albeit tightly).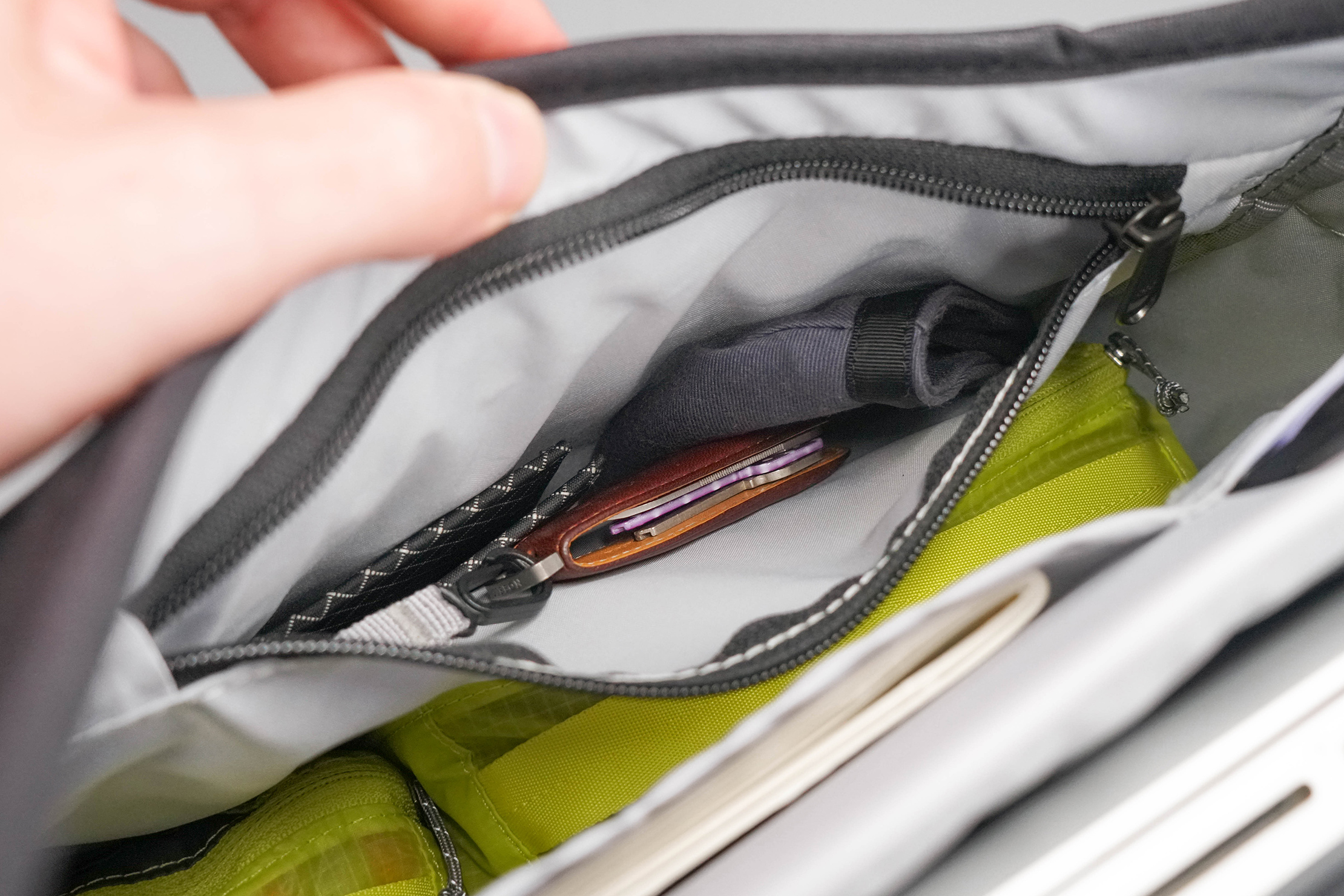 On the opposite wall of the bag is a small, zippered pouch where we've been storing our more valuable gear, like the Dango D01 Dapper Wallet. We feel more comfortable keeping our more valuable items inside here because it's zippered—so even though there are some gaps in the opening of this compartment, our stuff is nice and secure inside this pocket. There's also a key clip in this pocket. It's plastic, so not as durable as a metal clip, but it works well enough.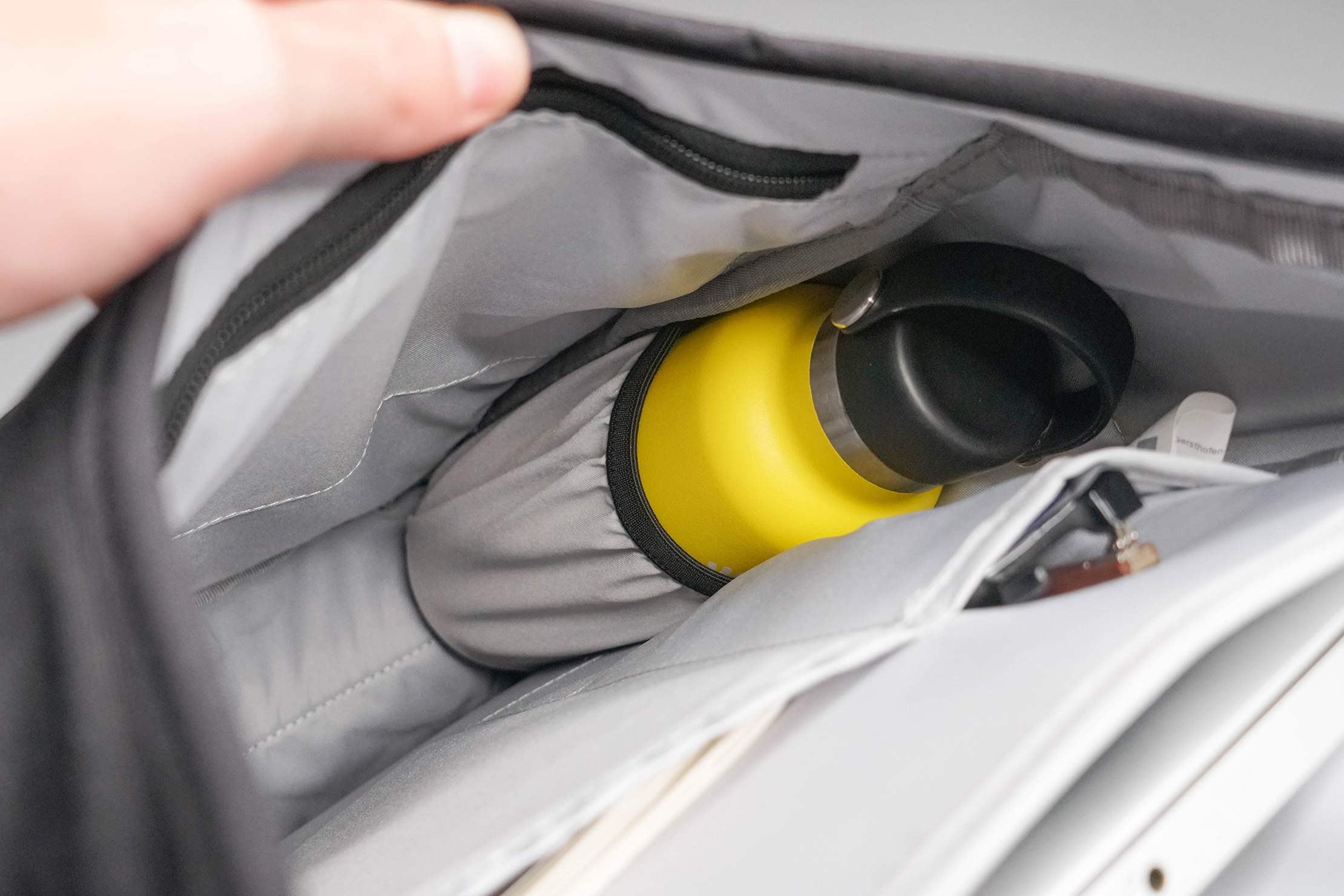 If the external water bottle pocket isn't enough, you have a second inside the main compartment. It's much more flexible than the exterior pocket, so it can accommodate a larger bottle if you carry one. However, the issue with space still applies—if you keep your bottle in here, it's going to borrow space from the external pocket, meaning you can't double up.
You may be able to stash something slim like a narrow umbrella or the JOBY GorillaPod in the external pocket if you do keep a larger bottle inside, but not much else. So if you're not comfortable keeping it in the main compartment with your tech, opt for a smaller bottle and stash it on the outside. If you have a larger bottle and aren't too worried about having in the same place as your laptop or tablet, then slip it in this pocket—it all depends on your needs and preferences.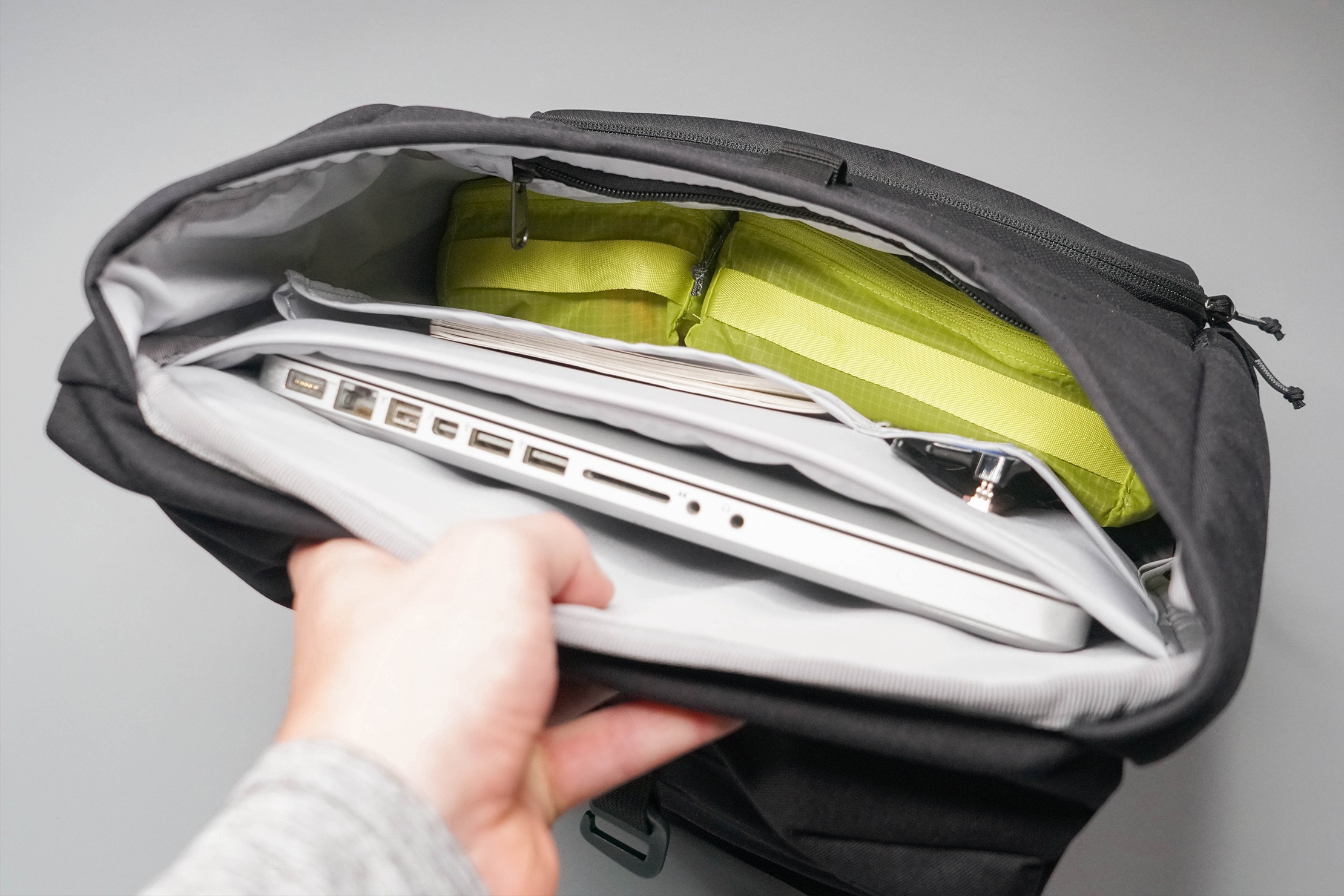 There's also some free space in here for you to fit things like a compressible jacket, lunchbox, and the like. Or you can pack it out with some pouches or packing cubes. The liner material in here is on the lighter side, so we do have some added visibility of our gear. However, in general, you don't have the same kind of visibility and unrestricted access in a top-loader bag like this one compared to something that opens fully clamshell. Because of this, we've found it beneficial to pack in pouches or packing cubes so everything is easy to grab when reaching in—we don't have to fumble around for anything.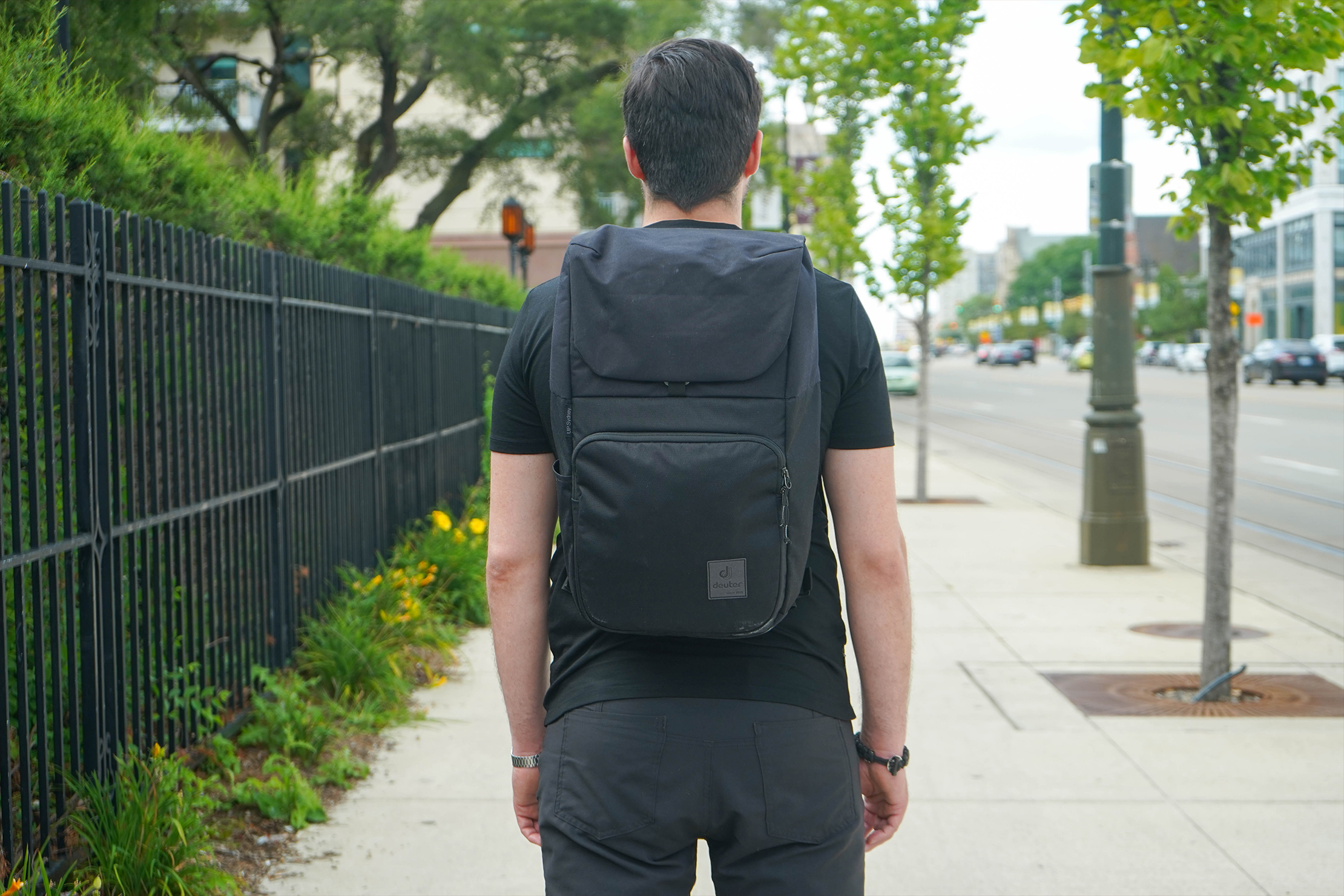 Durability-wise, everything is holding up nicely—besides the fuzz, we have no complaints.
Usage Timeline
Initial Usage
Condition: Excellent
Top of the bag closes with magnets and a G-hook (no zipper)
Edgeless strap design, dense padding on the shoulder strap and back panel, and ventilating mesh all come together to form a comfortable carry
A good amount of organization for all your EDC and tech items
2 Weeks of Use
Condition: Excellent
Fabric is soft to the touch—almost like suede—but it picks up fluff a bit more than other materials
Water bottle pocket on the outside is tight with no elastic
The top loading flap doesn't fasten very tight with the G-hook and magnets
Carry is comfortable and harness system is robust for a bag of its size
Enjoying the overall design layout inside of the bag
Waist strap rides a little high
Access the Pro Community Discussion
Get your questions about the Deuter UP Sydney answered from our team and the Pro Community right here on the page. Plus, join discussions with other members about gear, guides, and more.
Other Bags & Luggage Reviews