Dango D01 Dapper Wallet Review
The Dango D01 Dapper Wallet may not offer the quickest access to your cards, but we still appreciate its durable and thoughtful construction.
Our Verdict
Unlock the Pro Summary
Save time. Get access to brief summaries of our reviews so you can browse and make decisions more efficiently.
Pros
Sleek & minimal
Durable materials
Holds up to 12 cards
Cons
Cards are slow to access
Cash can inhibit access to the cards in the back sleeve
Aluminum piece can slide around some
Recent Pack Hacker Video
Technical Details
Weight (oz)

2.5 oz (70.9 g)

Dimensions

2.625 in x 4.375 in x .375 in (6.7 x 11.1 x 1 cm)

Notable Materials

Aluminum, Leather, Silicone, Stainless Steel

Manufacturing Country

United States
Full Review
When it comes to wallets, we typically prefer something minimal, with a durable construction, and enough room for our cards and cash—and the Dango D01 Dapper Wallet checks off all of these boxes.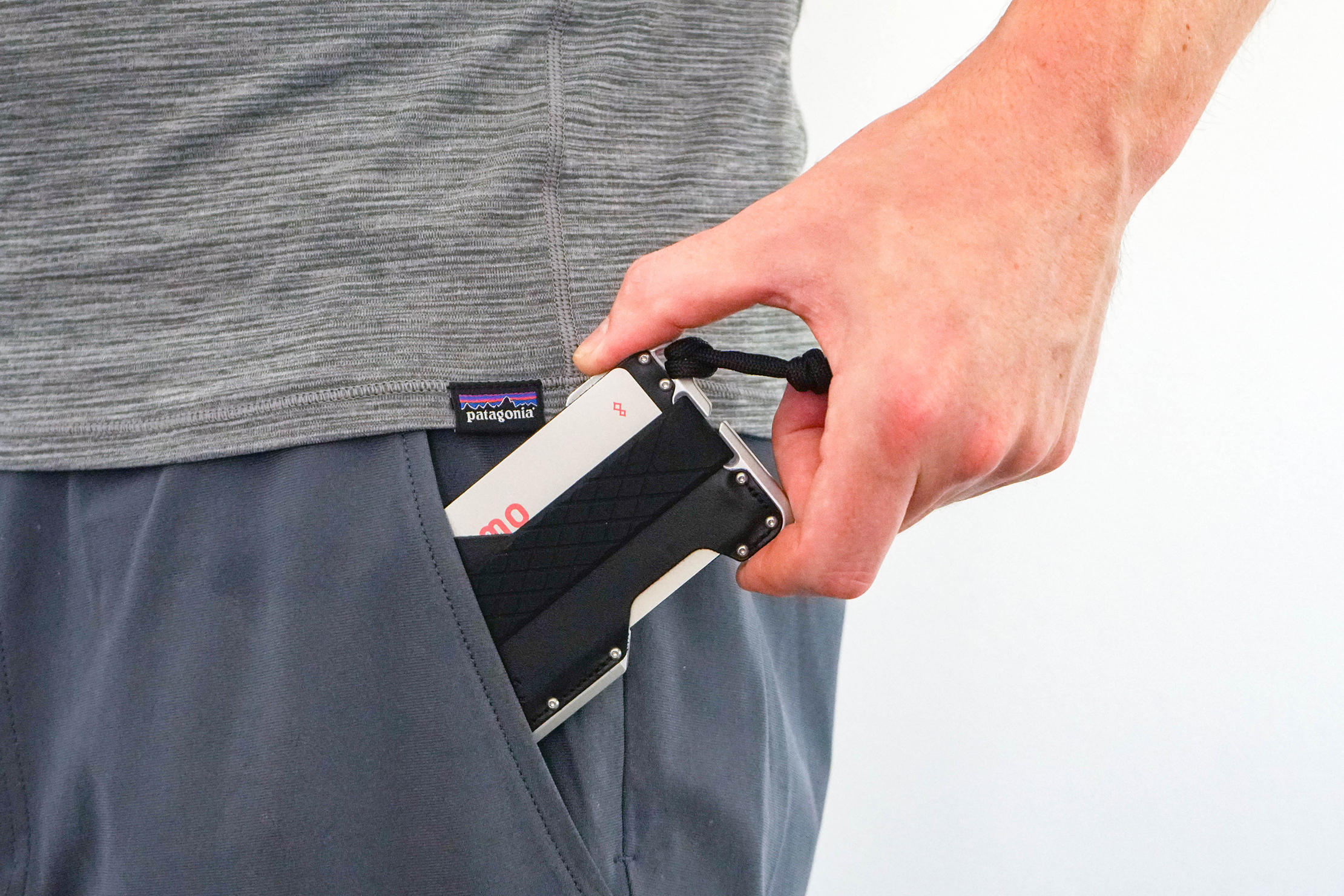 This wallet is well-built, thoughtfully designed, and keeps a small footprint. It's one of many in Dango's D-Series, though we'll be focusing specifically on the D01 in this review.
What else do we have to say after a month of testing? Read on to find out!
Materials & Aesthetic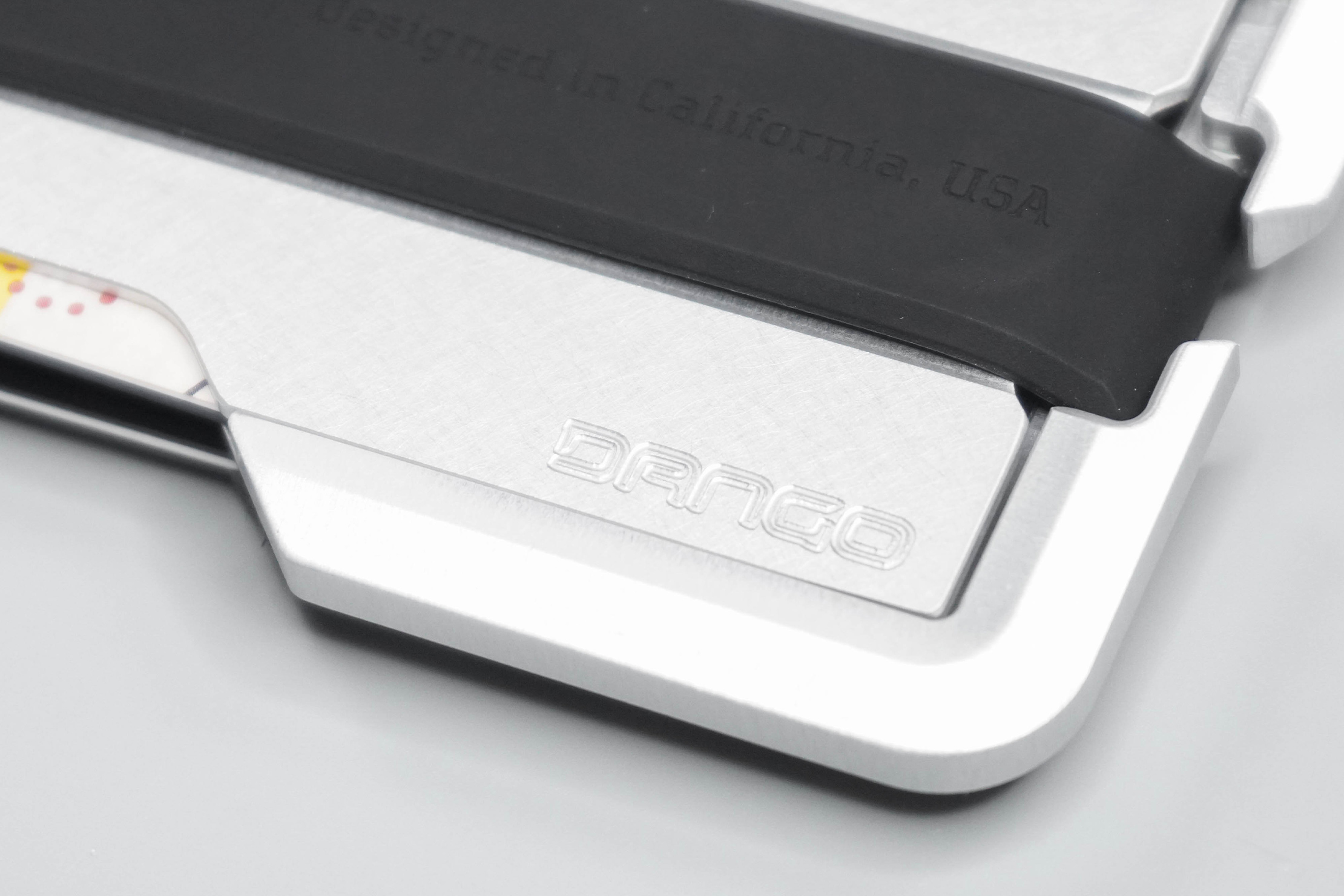 The "dapper" in Dango D01 Dapper Wallet is fitting. It has a high-class look and feel to it that we're comfortable showcasing in professional and casual environments alike.
We've been testing the Jet Black/Satin Silver colorway this last month, and we're digging its minimalist aesthetic. If you're looking for something brighter or more heritage, this wallet is also available in four other colorways that you can check out at the time of this review.
Dango kept branding to a minimum with this wallet, which we appreciate. Their logo is debossed in both the leather on the front and the silicone band on the back. They work well as subtle, sophisticated, and cohesive accents.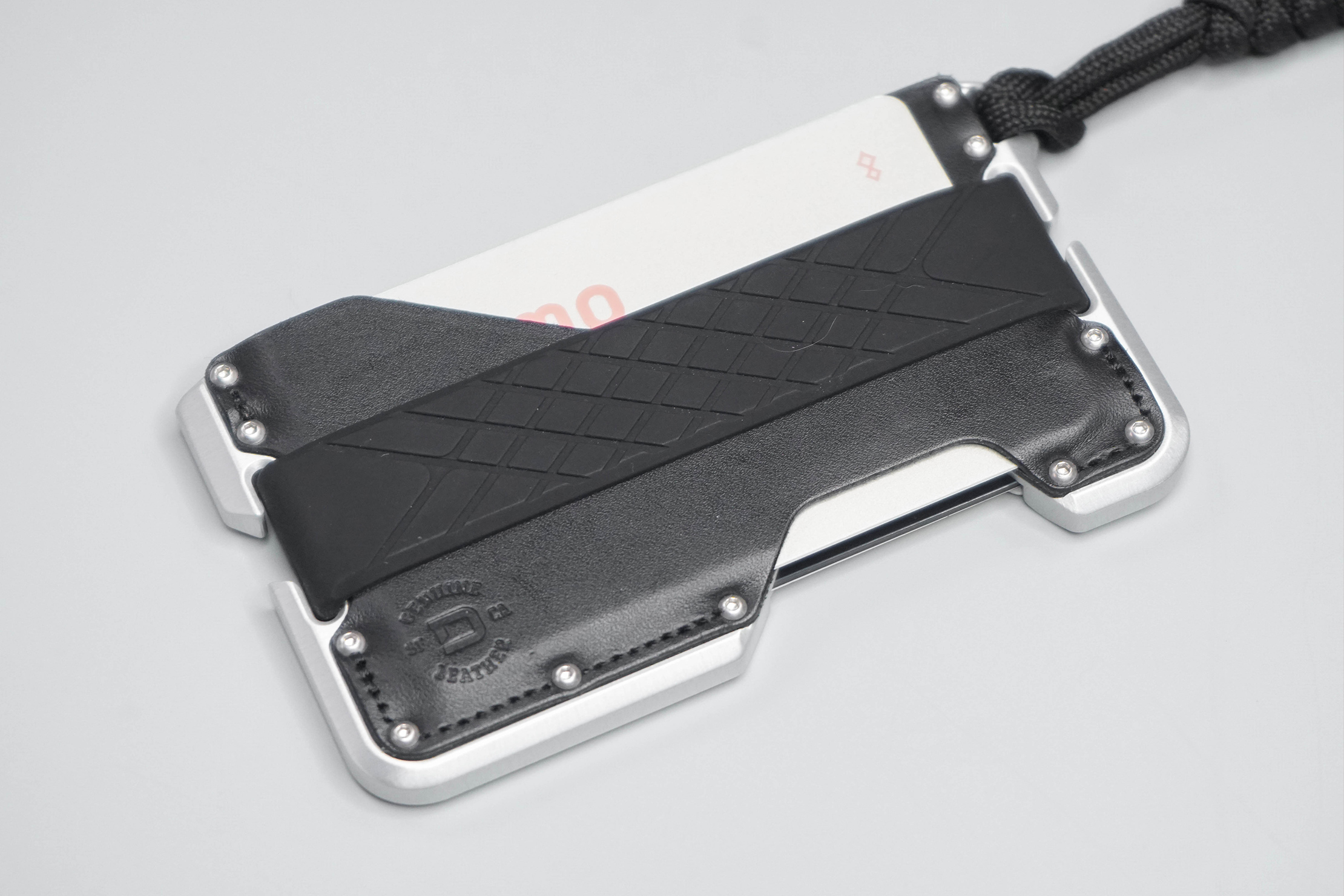 Now, let's talk about the materials. The D01 Dapper Wallet has an aluminum frame held together by stainless steel screws to keep it nice and sturdy. There's also some top grain leather across the front and back, which is one of the best leathers out there. Now, this wallet will weigh down your pockets more than others, but it's still lightweight considering the materials used.
There's also a thick silicone strap on the back of this thing that feels nice and robust in hand. We've been using this strap to keep our cash handy, and it's kept it secure so far. This band is also easily replaceable if it ever gets damaged or breaks, which isn't an option on traditional leather wallets.
That said, you may prefer some of the things that a traditional wallet offers, like a full cash sleeve or a spot for coins. The D01 Dapper Wallet has neither of these, which isn't an issue if you're mostly carrying cards—it just depends on your preferences and use case.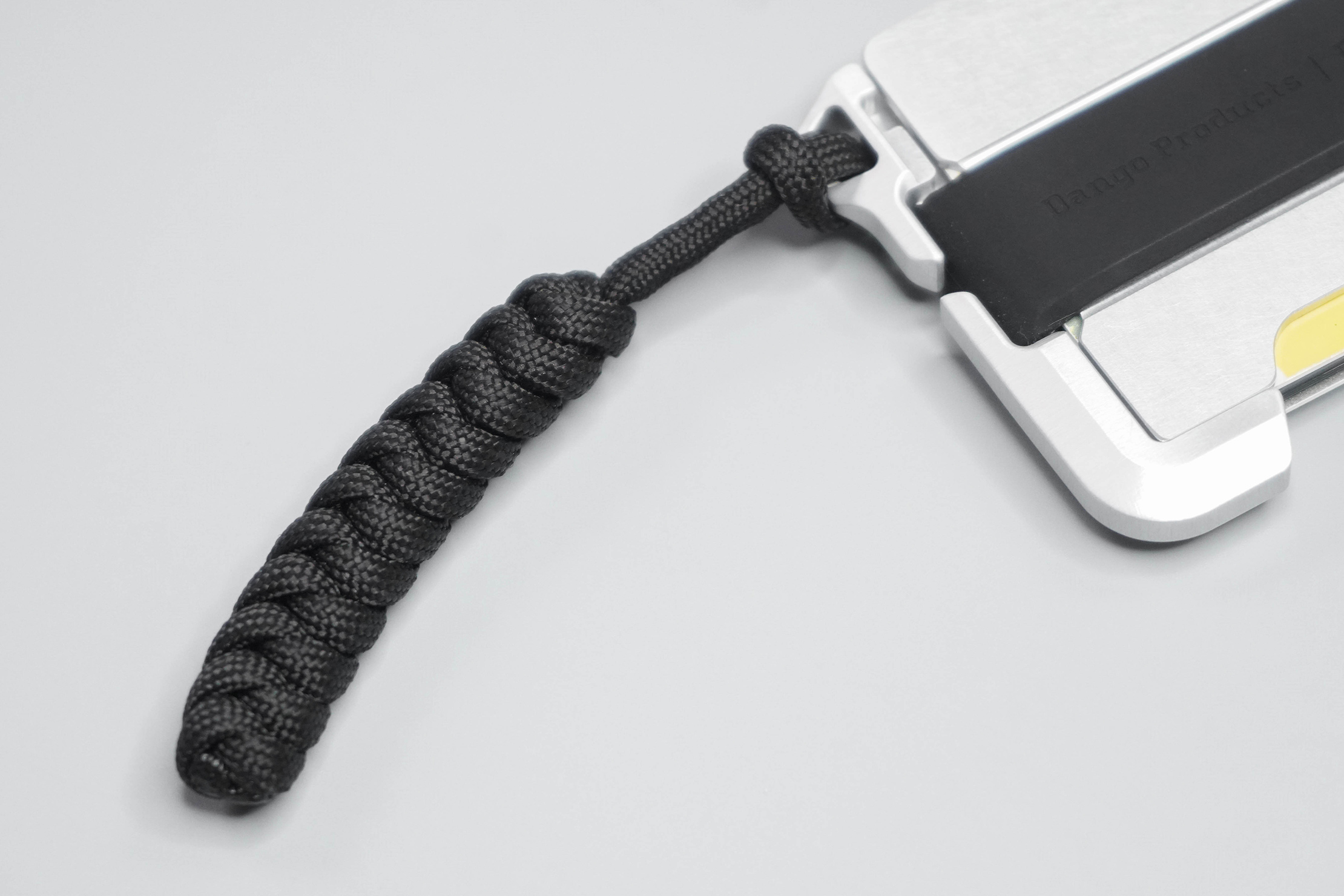 This wallet has a couple of other neat features, too. On one corner you have a paracord handle that we've found super convenient for grabbing this thing out of our pockets. Paracord is also handy to have around in an emergency, if you ever need to make a splint, for example. (That said, while we've watched Scrubs in its entirety many times over, we're not doctors. So take that with a grain of salt.)

You'll also notice a bottle opener on one end that comes in handy when you need to open one up. We haven't had to use it during testing, but we appreciate the thought that has gone into this wallet's design. There are other accessories, also, that you can add to this wallet depending on your use case—like multi-tools and tethers, among other things.
Inside the Wallet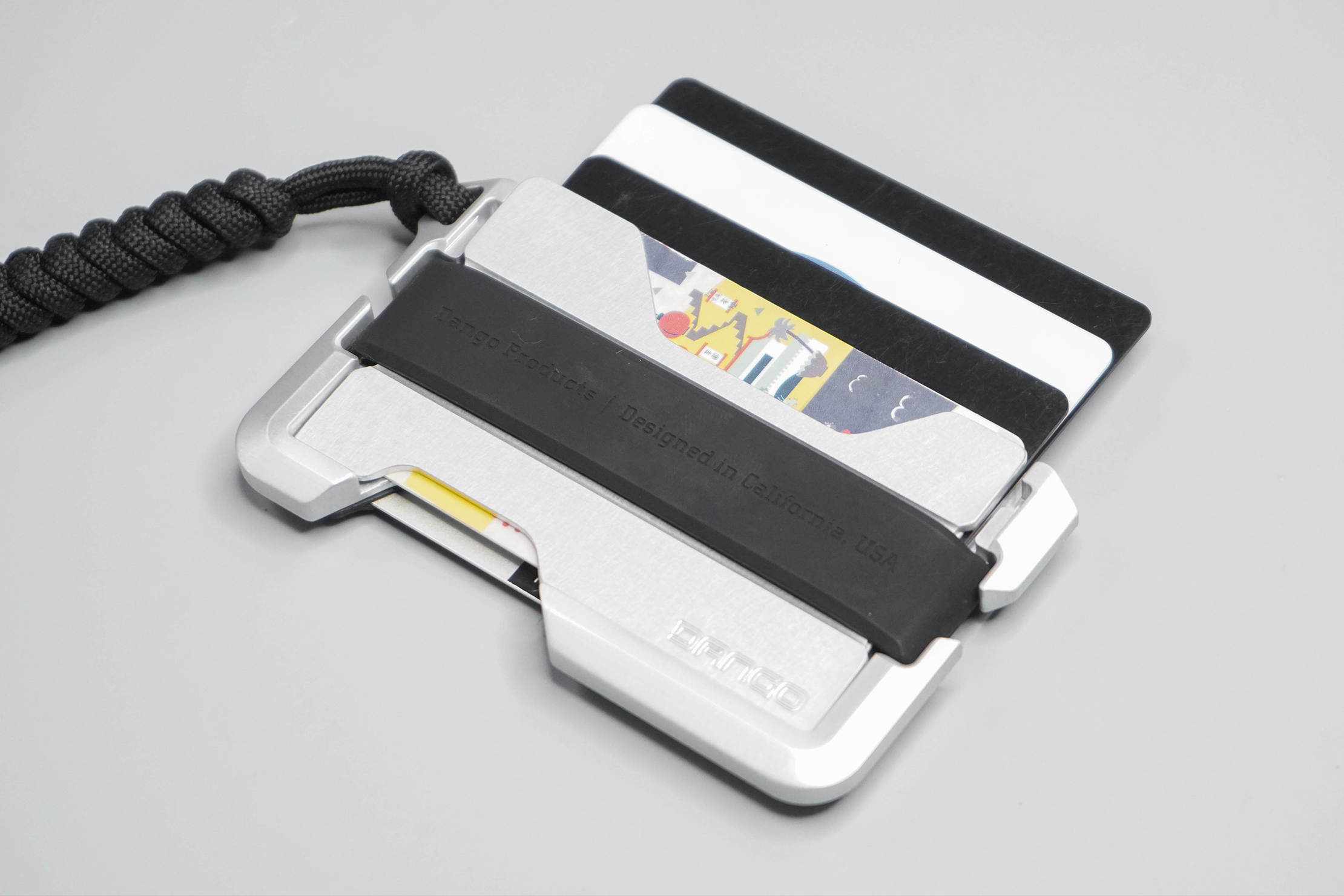 This wallet can hold up to 12 cards at a time, and you have two spots where you can store them. The first is on the front of the wallet, where there's a detachable metal plate with a tab that works as a kind of pocket you can lift to slip your cards into. When you need to get a card out, you can push them up from the bottom, or lift the tab and get them out that way. The plate slides around some when we are trying to get cards in and out, especially when this wallet's on the emptier side.
Another thing we want to note is that the cards you keep in this spot are slow to access. Lifting the tab requires two hands to maneuver, and there's no easy way to fan out the cards to find the one you need—which makes for an uncomfortable experience at the cash register when we have to pull every single one of our cards out just to get to the right one. Plus, when we're sliding cards back in, they tend to get stuck.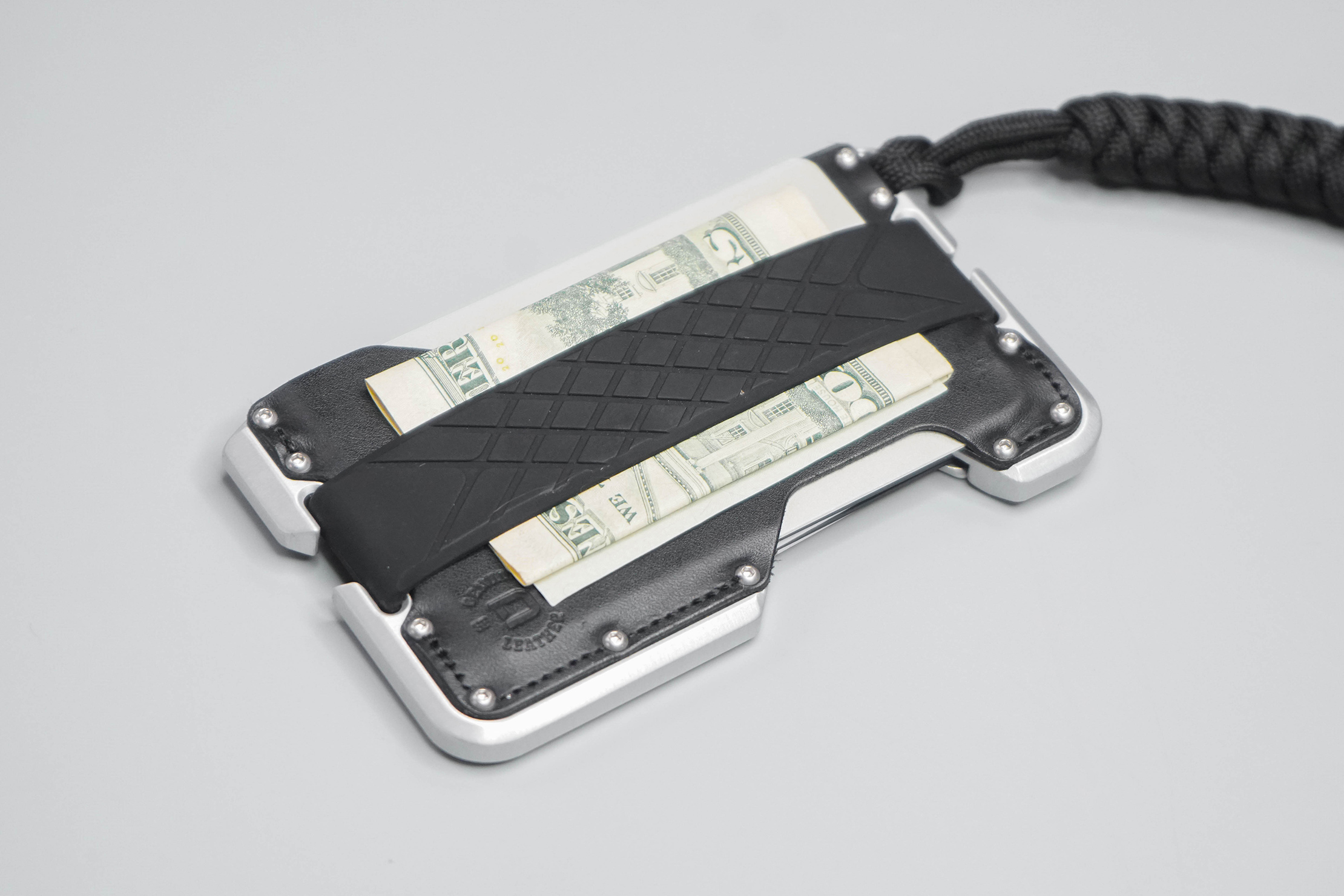 Then on the back, is a sleeve that fits up to three cards comfortably. The top card is the easiest to access, but there's the same issue of having to pull out all three and fan them out to get to the middle or bottom card. We've also noticed that if you are keeping cash underneath the silicone band, it can further obstruct your access to the cards.
You can at least be confident that your cards are safe from cybercriminals, as this wallet features RFID-blocking technology that prevents your information from being stolen out of thin air. We can't say exactly how prevalent this kind of attack is, but it's better to be safe than sorry, right?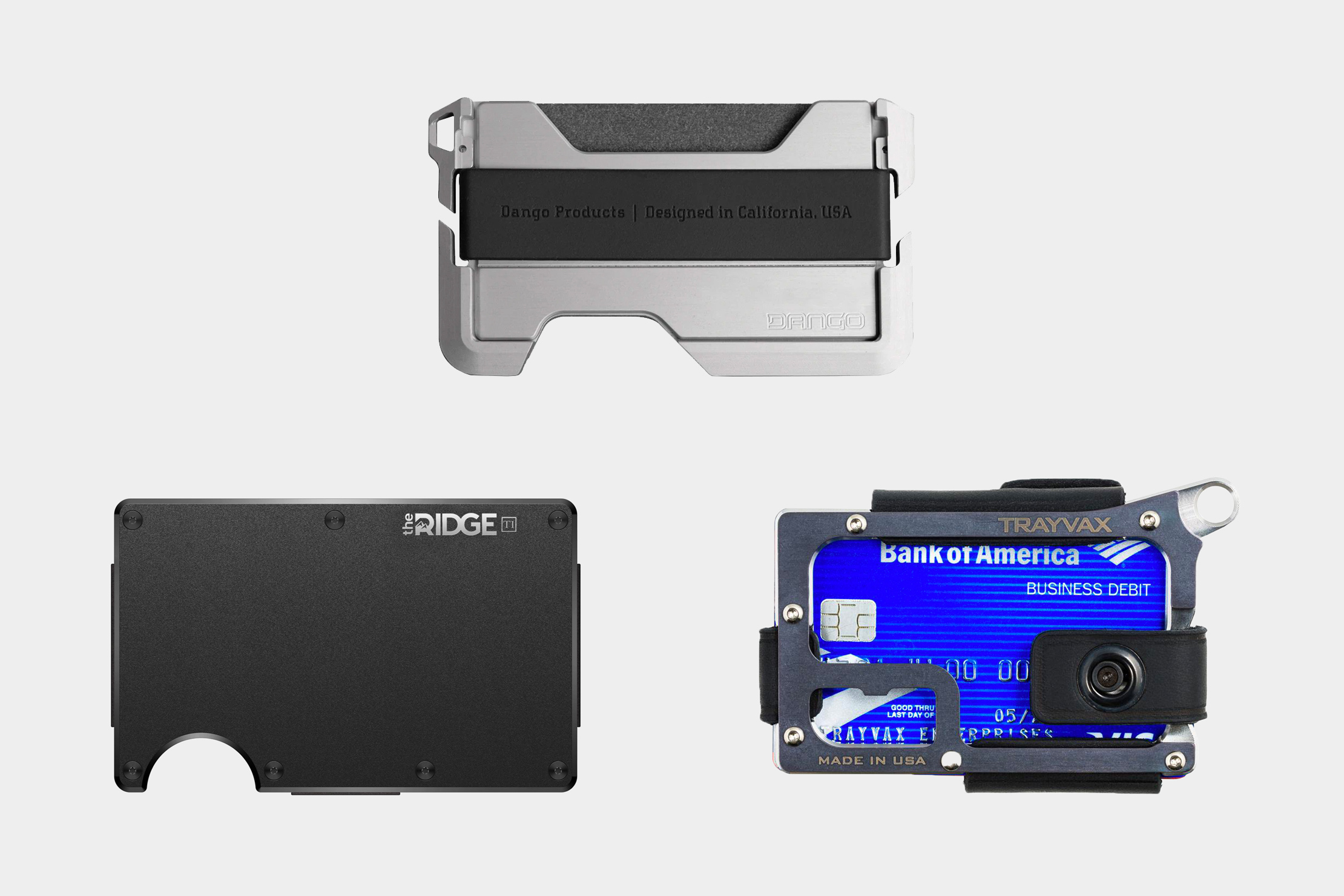 We've been lining the Dango D01 Dapper Wallet up next to other wallets in its category to see how its access performs in comparison. With the Trayvax Contour Wallet, for example, you can quickly and easily thumb your cards out of the top and grab the one you need. It's twice the price (at around 140 bucks), but also offers twice as fast access to your cards, which is something to note.
We also compared it to The Ridge Wallet—Titanium, which seems to be the in-between option of the three. It's similar to the D01 Dapper Wallet in that you can push your cards up with your thumb at one end, though we've found The Ridge does a better job of fanning the cards out so we don't have to remove all of them entirely.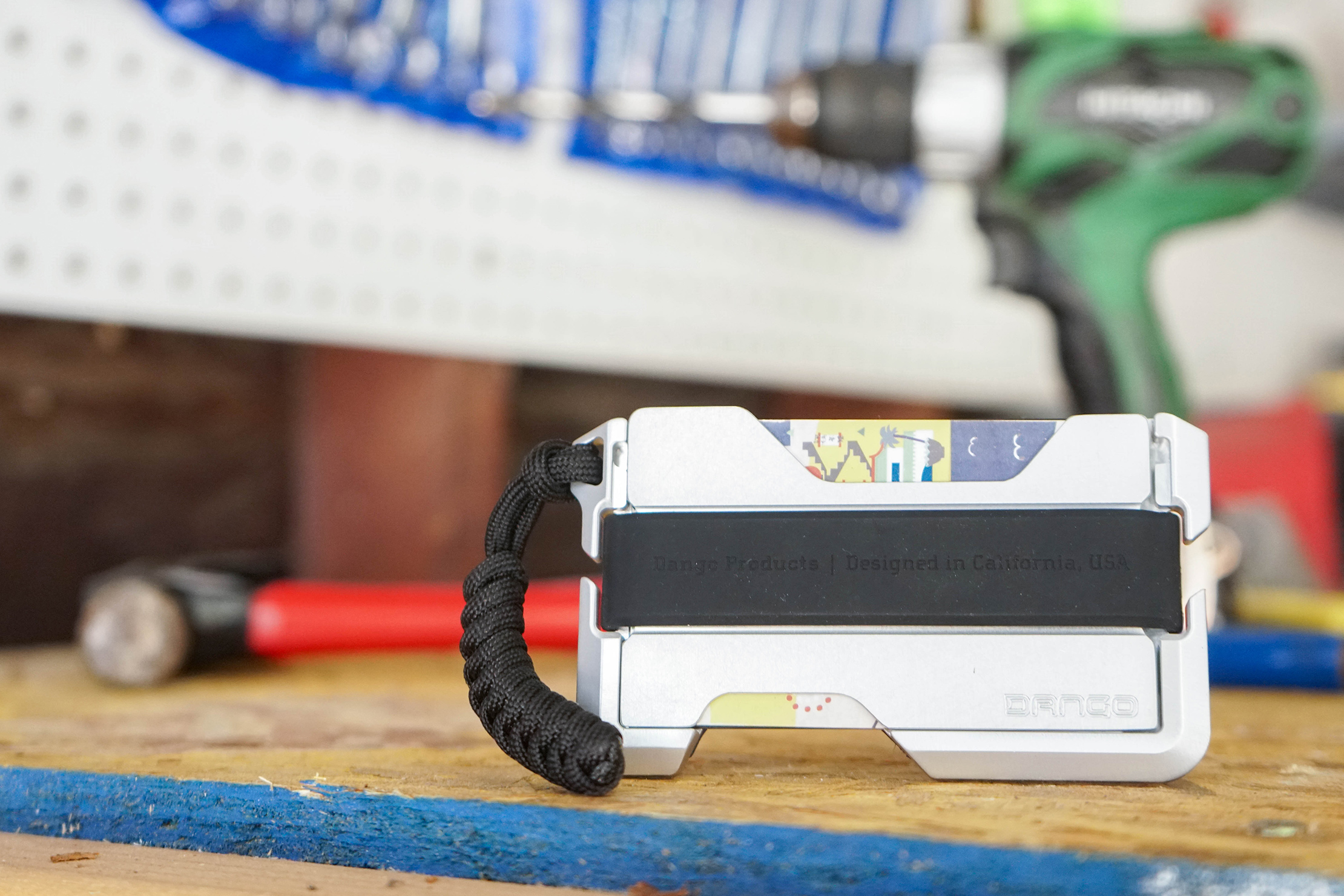 We're not saying it's impossible to get your cards in and out of the D01 Dapper Wallet, but this wallet is designed specifically for cards—and having to fumble around with the tab every time we need to use one may be a deal-breaker for you, so it's definitely something to keep in mind when choosing an everyday wallet.
Usage Timeline
Initial Usage
Condition: Excellent
Holds up to 12 cards with RFID blocking
Sleek, slim, and lightweight
Durable materials and construction
2 Weeks of Use
Condition: Excellent
The wallet is built like a tank and has some interesting design going on
The silicone cash band seems durable and easy to replace if anything happens—this can't be said about other leather wallets that stretch out
The paracord handle has been nicer than we thought—it's great to grab onto and pull the wallet out of your pocket
Cards are difficult to quickly access—sure, there's a little tab to open the main card pocket, but it's hard to operate—especially if there are more than 5 cards inside
The bottle opener feature is a nice touch that we appreciate with these types of wallet designs
1 Month of Use
Condition: Excellent
Nothing new to report, but still having problems quickly accessing the cards. We thought we'd be further along in the break-in period by now.
Access the Pro Community Discussion
Get your questions about the Dango D01 Dapper Wallet answered from our team and the Pro Community right here on the page. Plus, join discussions with other members about gear, guides, and more.
Other Organizers & Pouches Reviews