The Ridge Wallet (Titanium) Review
Between the strong elastic and titanium plates, the Ridge Wallet keeps your cards well-organized and secure—we just wish accessing them was quicker.
Our Verdict
Unlock the Pro Summary
Save time. Get access to brief summaries of our reviews so you can browse and make decisions more efficiently.
Pros
Cards & cash don't slip around
Wallet has a solid, durable feel
Blocks RFID
Cons
Access to cards is cumbersome when carrying 6+ cards
Titanium can attract marks & dust
Adjustment isn't intuitive
Recent Pack Hacker Video
Technical Details
Weight (oz)

2.5 oz (70.9 g)

Dimensions

3.39 in x 2.13 in x .24 in (8.6 x 5.4 x 0.6 cm)

Notable Materials

Titanium, Elastic

Manufacturing Country

China

Warranty Information
Full Review
The Ridge Wallet is a sleek, minimalist wallet made of durable materials for when you want a place to hold your cash and cards—and nothing else. We've been testing it for two weeks now and so far it's held up well, although accessing the cards can be a bit cumbersome.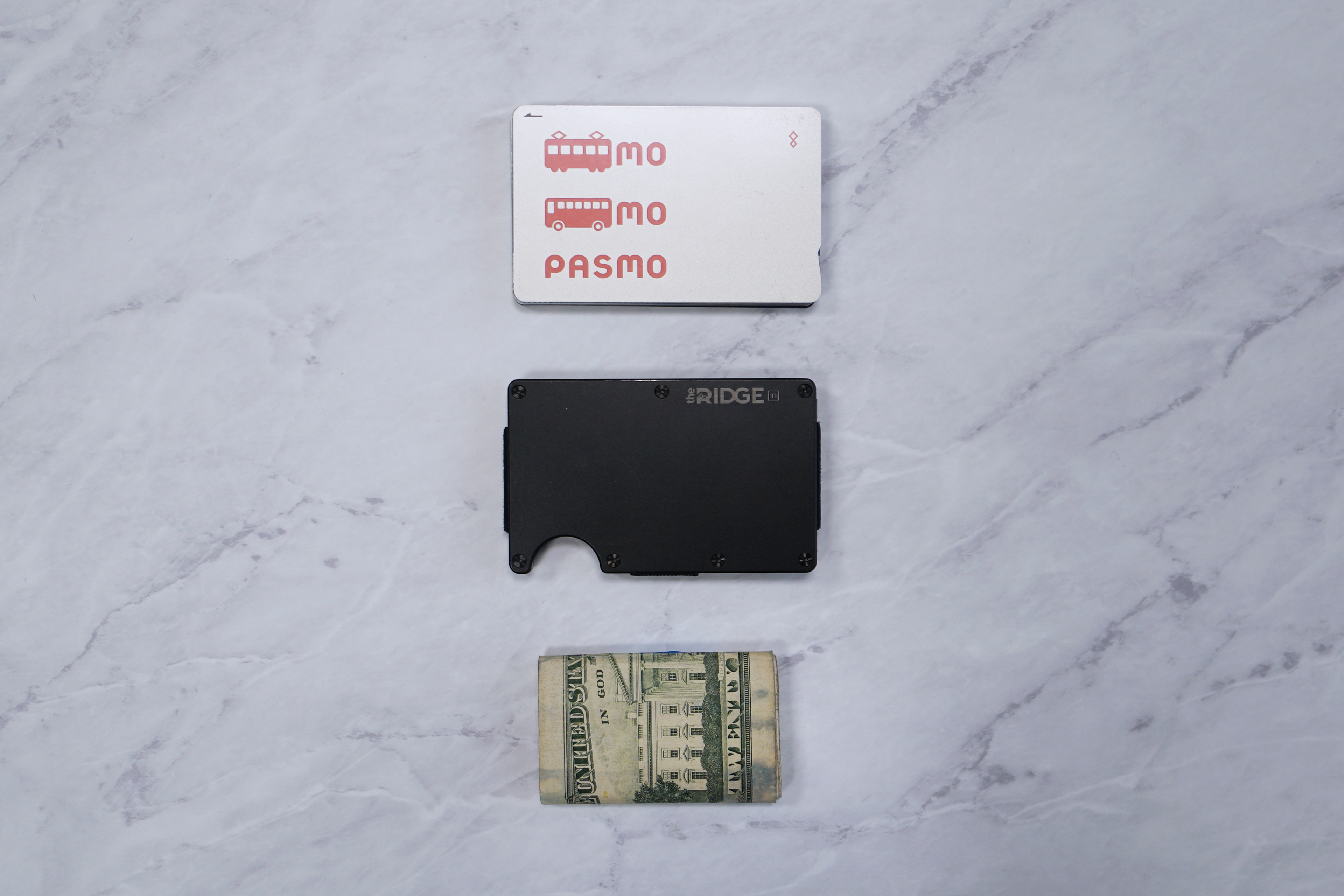 Materials
We've been testing the titanium version, which, wouldn't you know it, is made of two titanium plates and an elastic strap that wraps around the sides and bottom of the plates to secure your cards.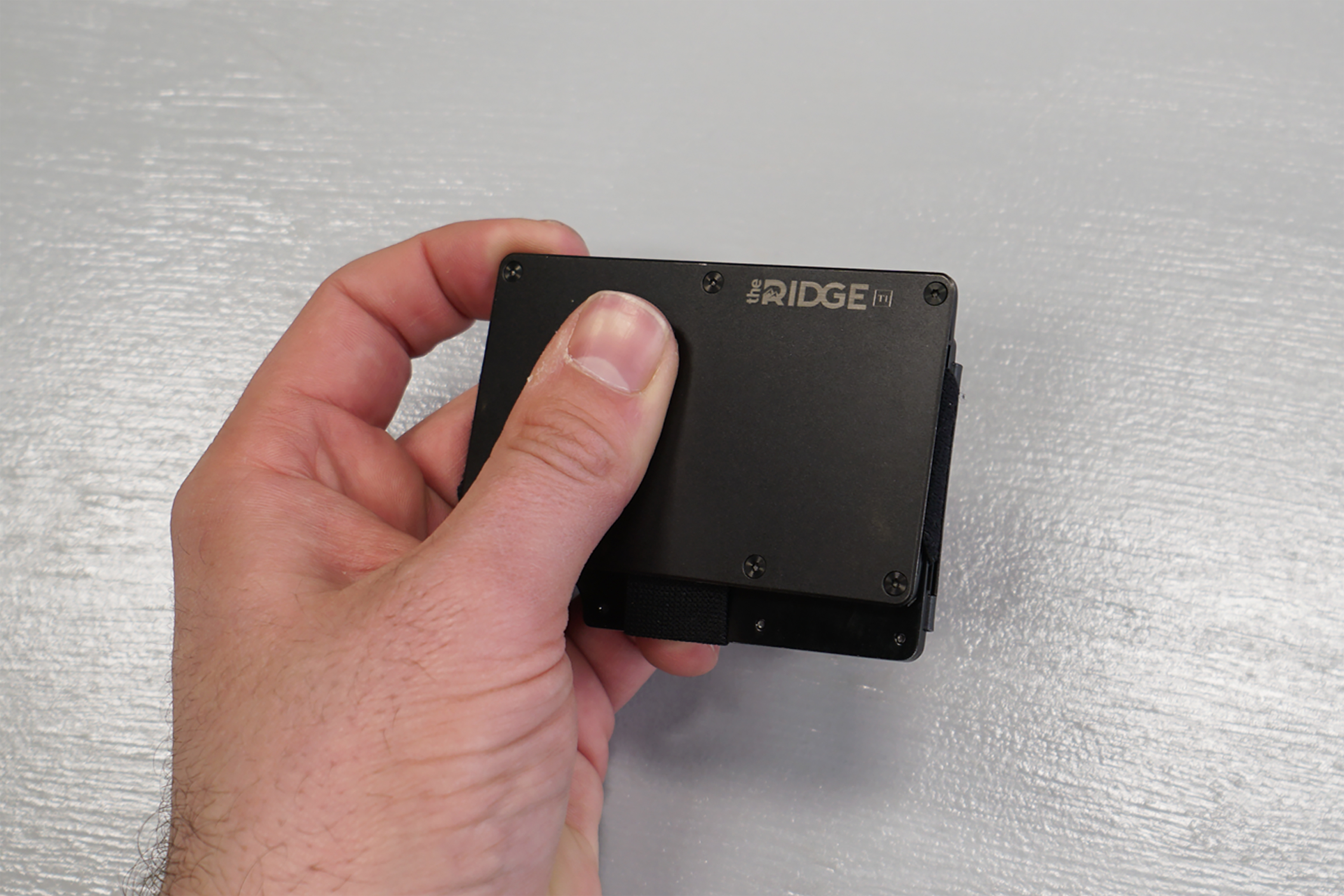 The titanium wallet comes in three different colorways: Burnt, Gunmetal, and Black. Any guesses on the color we chose? Yes, it was black.
We have the money clip, although you can choose to have a cash strap instead. And if you're feeling extra fancy, you can have both by purchasing whichever you didn't choose separately.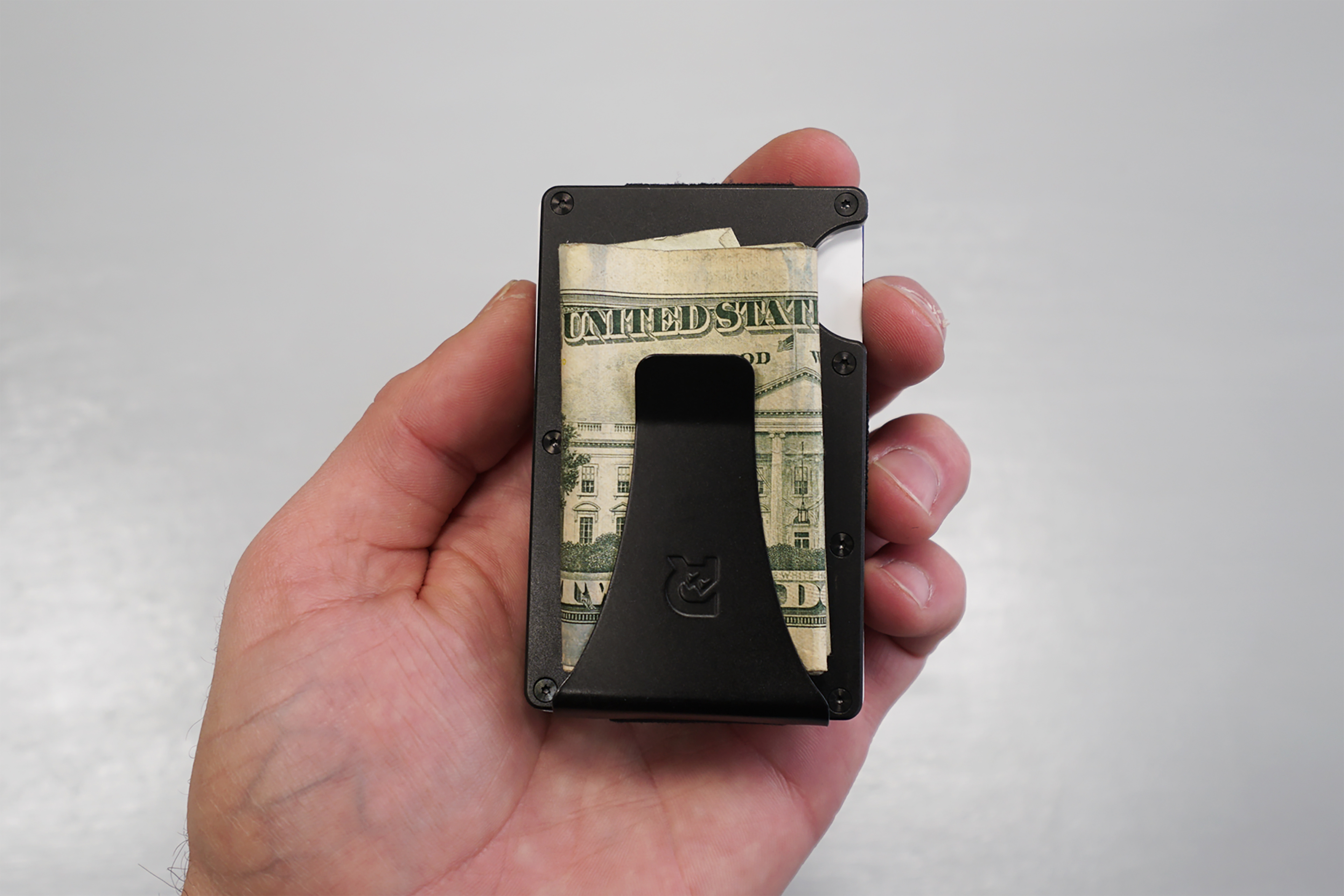 And while we've been testing the titanium version, we should clarify that Ridge also offers this wallet in aluminum and carbon fiber. The aluminum comes in a few different colorways and the carbon fiber comes in, well, that classic carbon fiber look.
There are screws on both the front and back plates so you can easily add or remove the clip or strap (conveniently the wallet comes with a screwdriver). You can even have one on either side. We won't go that crazy ourselves, but the option is there if you want it.
Your cards live between the two titanium plates, which you access by fanning them out. There's an indent on the bottom where you press your thumb to push the cards up. Once you line the cards up at the top, you squeeze the plates at the bottom and—voila—your cards are fanned out.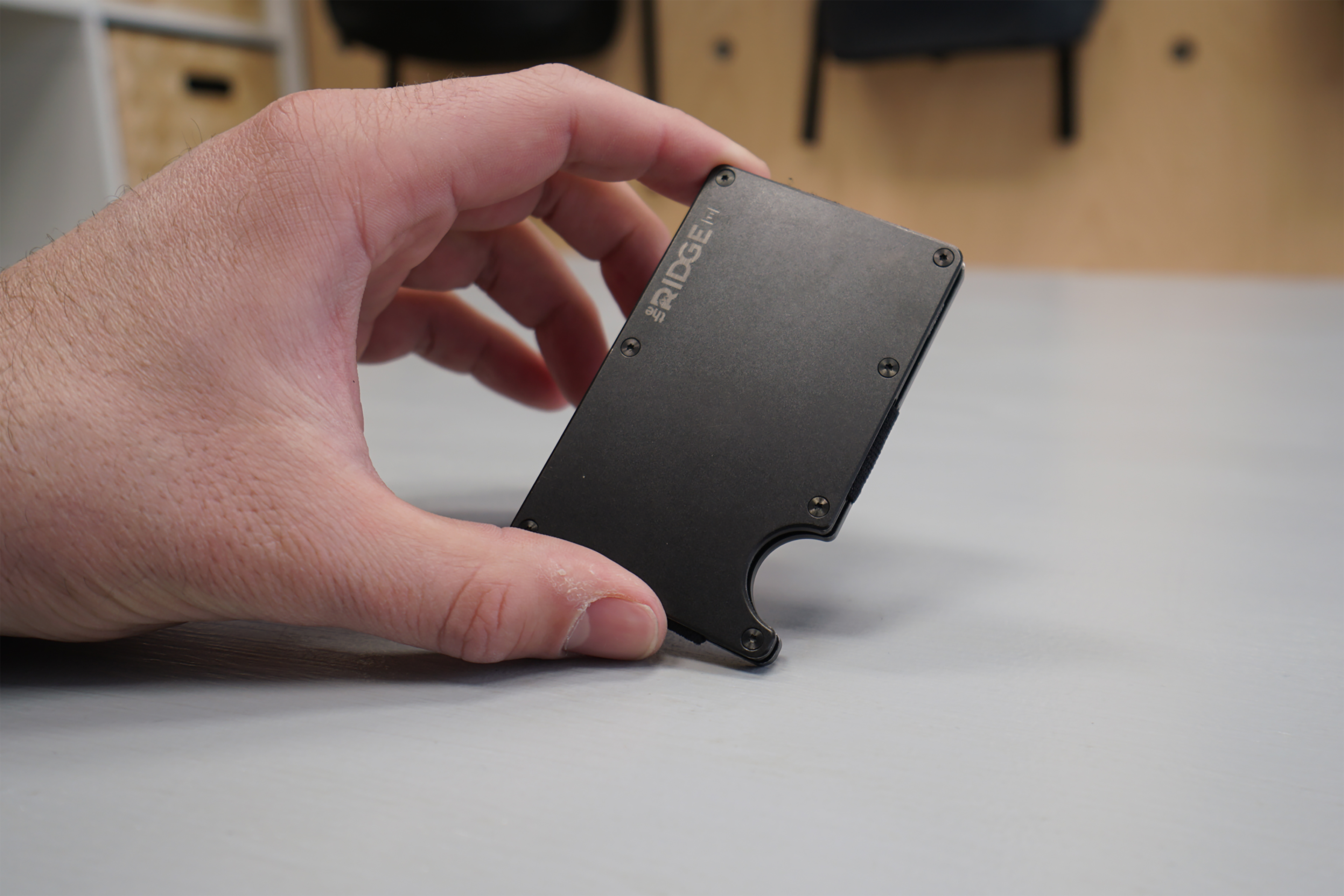 Now, we have to say that this process can be a bit finicky. Like Goldilocks, you have to take the time to get it just right. We put nine cards in here, which turned out to be quite a lot. Honestly, we found that anything over six cards makes it difficult to access. And on a few occasions, due to the magnetization of the titanium plates, we've had cards flying out the top, so be careful.
Another way that we've been accessing the cards—which isn't necessarily recommended—is by pressing the cards up at the bottom, fanning everything out with our fingers and then flipping through them. It's not ideal because it does seem to be putting undue stress on the elastic straps, but it can be more convenient than the first way we described.
Overall, accessing your cards can be a bit of a pain. Generally the fewer cards, the easier they are to access—so keep that in mind.
What We Like
One major pro to this wallet is that it is RFID-blocking. These days, hackers can capture your credit card information virtually through RFID—radio frequency identification—if you own cards have RFID sensor chips, which emit radio signals for conveniences like contactless credit card payments. RFID-blocking hardware interferes when a hacker tries to intercept this radio frequency and your information.
While not everyone has an RFID sensor chip in their card, and it's hard to know how many RFID financial crimes have been committed (it's tricky to say how stolen credit card information is gathered) it's something to keep in mind when traveling. So this is a big plus for us.
Additionally, your cards and cash are also firmly held by the magnetic titanium plates and elastic holds—so they won't slip around. Compare this to a leather wallet, which can loosen up as you use it, making it difficult to put two cards in a pocket that used to have three or four. We've all been there—you have the brilliant idea to clean out your wallet of excess cards, only to realize a day later that the few remaining cards are falling out willy-nilly. You'll never have that problem with this wallet, which is a huge plus in our minds.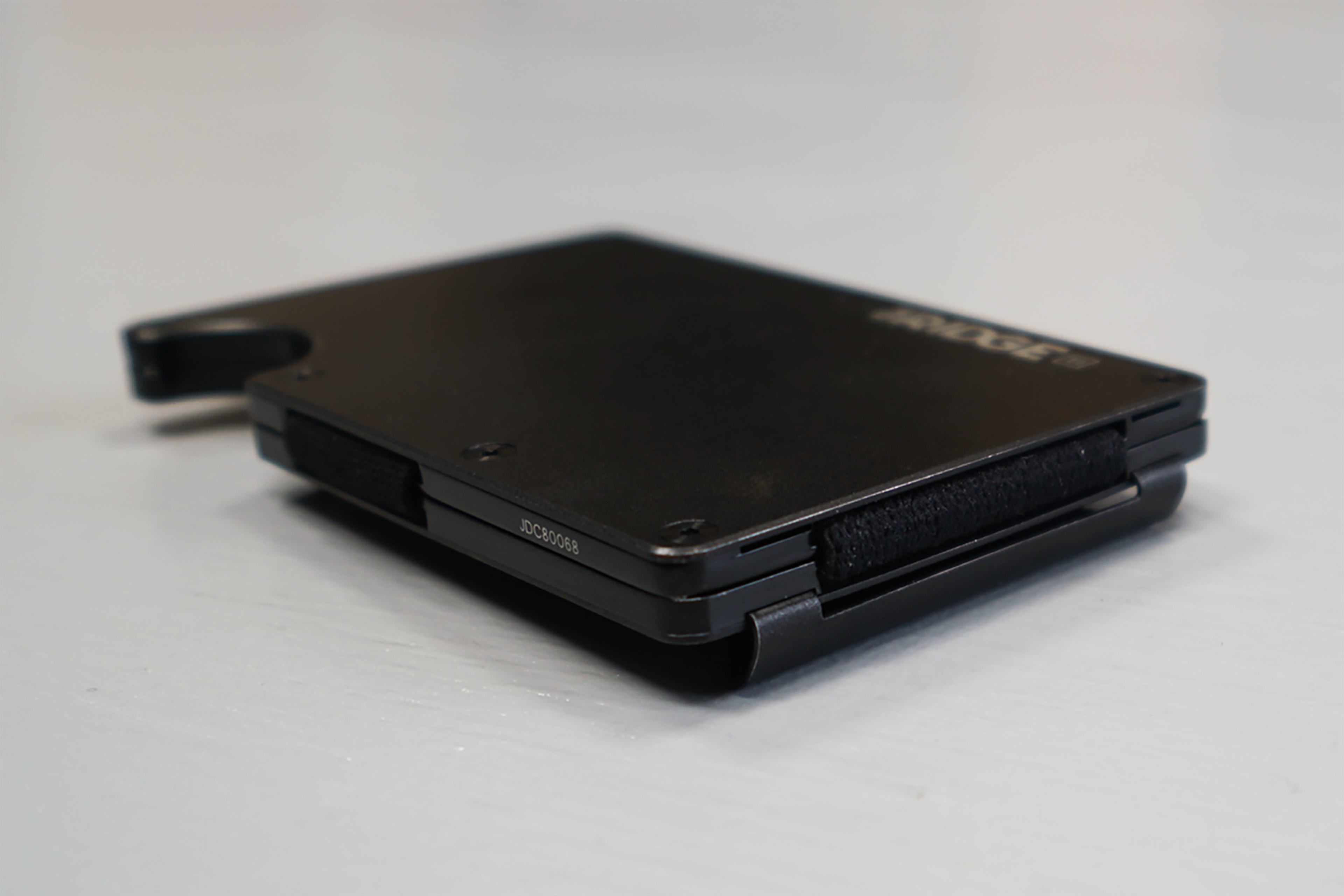 We also love how durable and solid the wallet feels. The Ridge team certainly didn't skimp on materials. If there's a weak spot it's the elastic, but we've had no problem with it so far, and you can also buy a replacement elastic if you ever do have an issue.

Lastly, the flexible elastic access concept is pretty unique, and we always like innovative design.
What We Think Could be Improved
As we already mentioned, accessing your cards can be cumbersome—especially when carrying over six (although Ridge reports the wallet can hold up to 12 cards, which seems excessive). We hope the folks at Ridge take this into consideration on their next iteration of this wallet.
Also, the titanium can attract marks and dust. We've seen these little "marks" when we pull out bills from the cash clip. We don't know if they're dust falling off the bills themselves or some of the coating coming off, but since it's a matte finish, those can easily be removed. We also have a few little nicks on the front plate.
The Ridge Wallet does have a warranty that's going to cover any manufacturing defects, however, anything that happens with usage, like any small marks or fraying of the elastic, probably won't be covered. Although we haven't had a reason to test the warranty, so we aren't able to say for sure.
And, finally, the adjustment isn't that intuitive as there are a lot of screws to undo and tweak.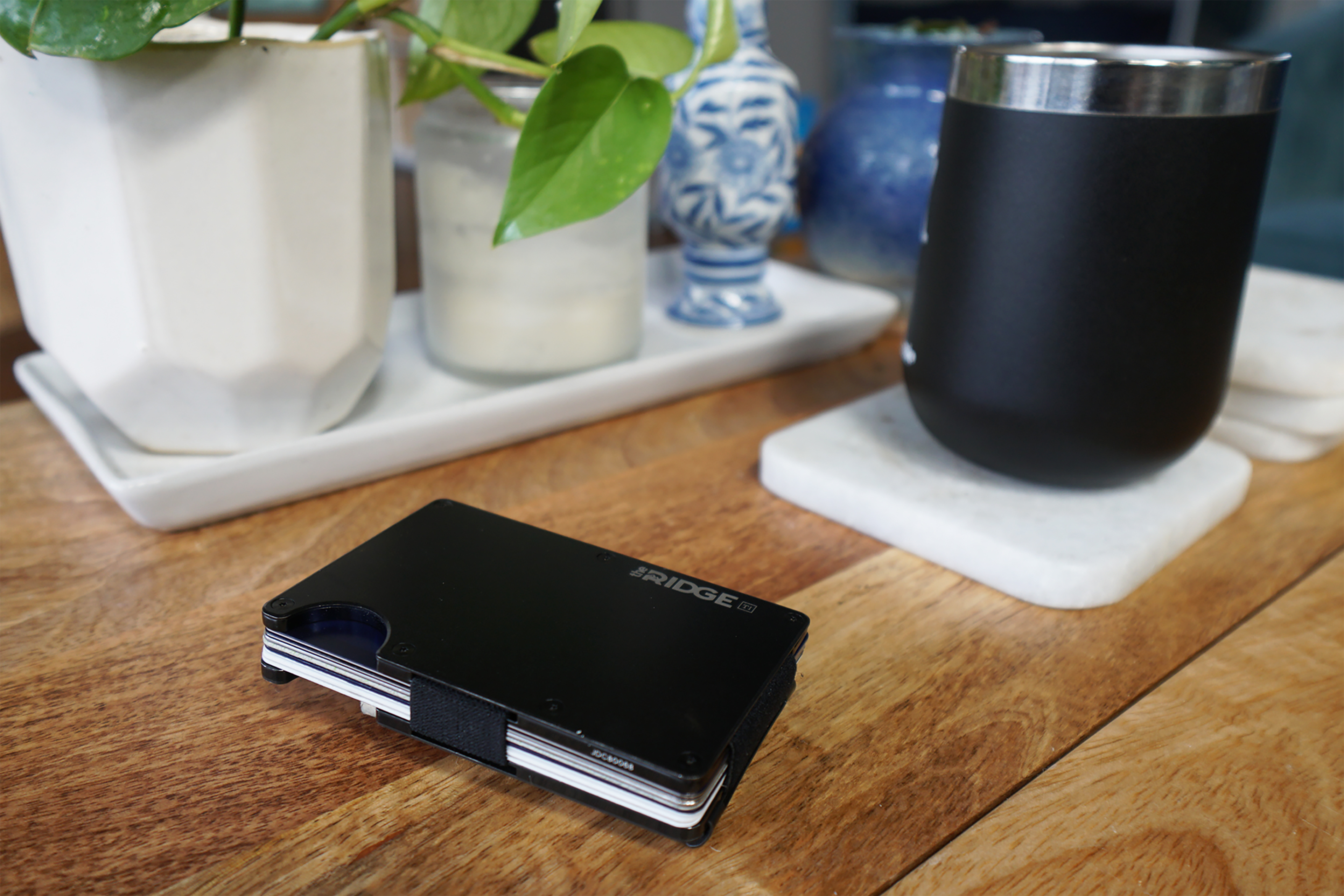 Overall, we've thoroughly enjoyed testing the Ridge Wallet. Between the strong, elastic, magnetic titanium plates, it keeps your cards and cash organized and secure. We just wish access to the cards was a little bit quicker—especially if you have a lot going on.
Usage Timeline
Initial Usage
Condition: Excellent
Solid & durable feel from the titanium to the elastic.
Incredibly easy to hold different quantities of cards, and we're not initially concerned about the wallet stretching out.
Fanning cards out doesn't seem quite as intuitive as the video – need to do some more learning here!
No option to segment and separate cards, which is a bit of a bummer with this type of design.
2 Weeks of Use
Condition: Good
A few minor nicks on the front plate, but in good shape overall.
Still difficult to access the cards.
Access the Pro Community Discussion
Get your questions about the The Ridge Wallet (Titanium) answered from our team and the Pro Community right here on the page. Plus, join discussions with other members about gear, guides, and more.
Other Organizers & Pouches Reviews