Stanley Go Bottle with Ceramivac 16 oz Review
The Stanley Go Bottle Ceramivac 16 oz doesn't have the familiar metallic taste you get with most bottles, but the removable plastic lid requires careful placement.
Our Verdict
Unlock the Pro Summary
Save time. Get access to brief summaries of our reviews so you can browse and make decisions more efficiently.
Pros
Ceramic coating prevents any metallic taste
Holds up well in automatic dishwashers
Screw-in lid seals and insulates well
Cons
Plastic lid is finicky to use and has shown discoloration
Handle swings easily around on a carabiner
Screw-in lid is not very quick to open
Recent Pack Hacker Video
Technical Details
Capacity

16oz

Weight (lb)

.73 lb (0.3 kg)

Dimensions

7.9 in x 3 in x 3 in (20.1 x 7.6 x 7.6 cm)

Notable Materials

Stainless Steel, Ceramic

Manufacturing Country

China

Warranty Information
Full Review
Bringing a good drink to your destination is a great way to make memories. Memories like waiting for your flight in a cold and half-empty terminal with a cup of warm coffee in your hand you poured from your insulated bottle. These are the kind of memories that warm the heart—because you remember the hot drink.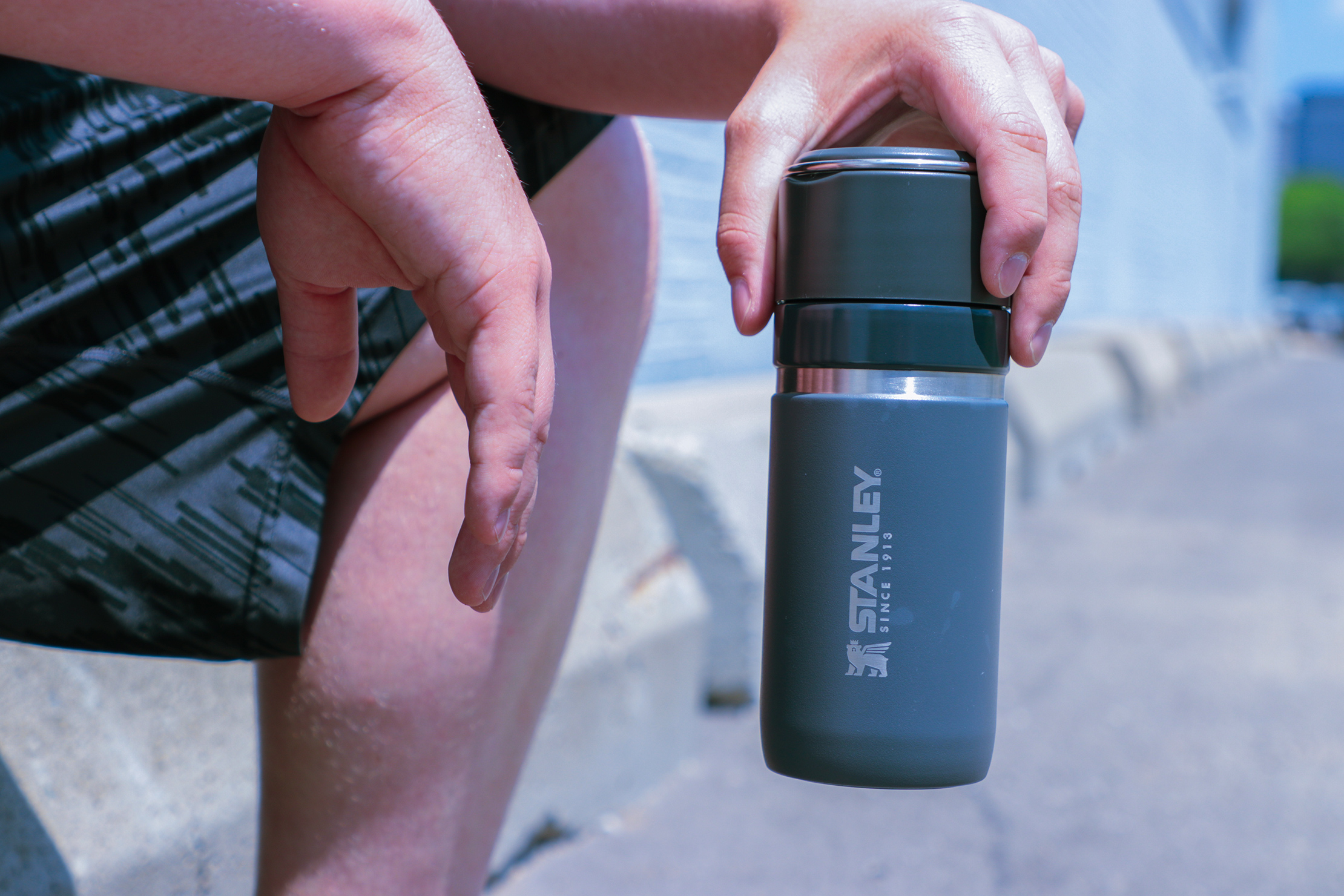 Insulated bottles are handy for these situations because they keep your drinks hot or cold when you need or want them. Stanley's Go Bottle goes even a step further by promising not to taint your drink with a metallic taste that often comes with stainless steel bottles. The trick? Ceramic coating. But does it work? Let's find out.
Materials & Aesthetic
As the name suggests, ceramic plays a big part in the Go Bottle's design. Whereas typical stainless steel bottles make do with just the basic material, the Go Bottle features Ceramivac, double-wall vacuum insulation that's BPA-free. That's marketing speak for stainless steel on the outside, ceramic on the inside. Oh, and there's rubber at the bottom as well for added grip on slippery surfaces. Anyway, ceramic's big role here is to do away with the familiar metallic taste often associated with stainless steel bottles. We'll get into that more later, but spoiler warning: it does make a palpable difference.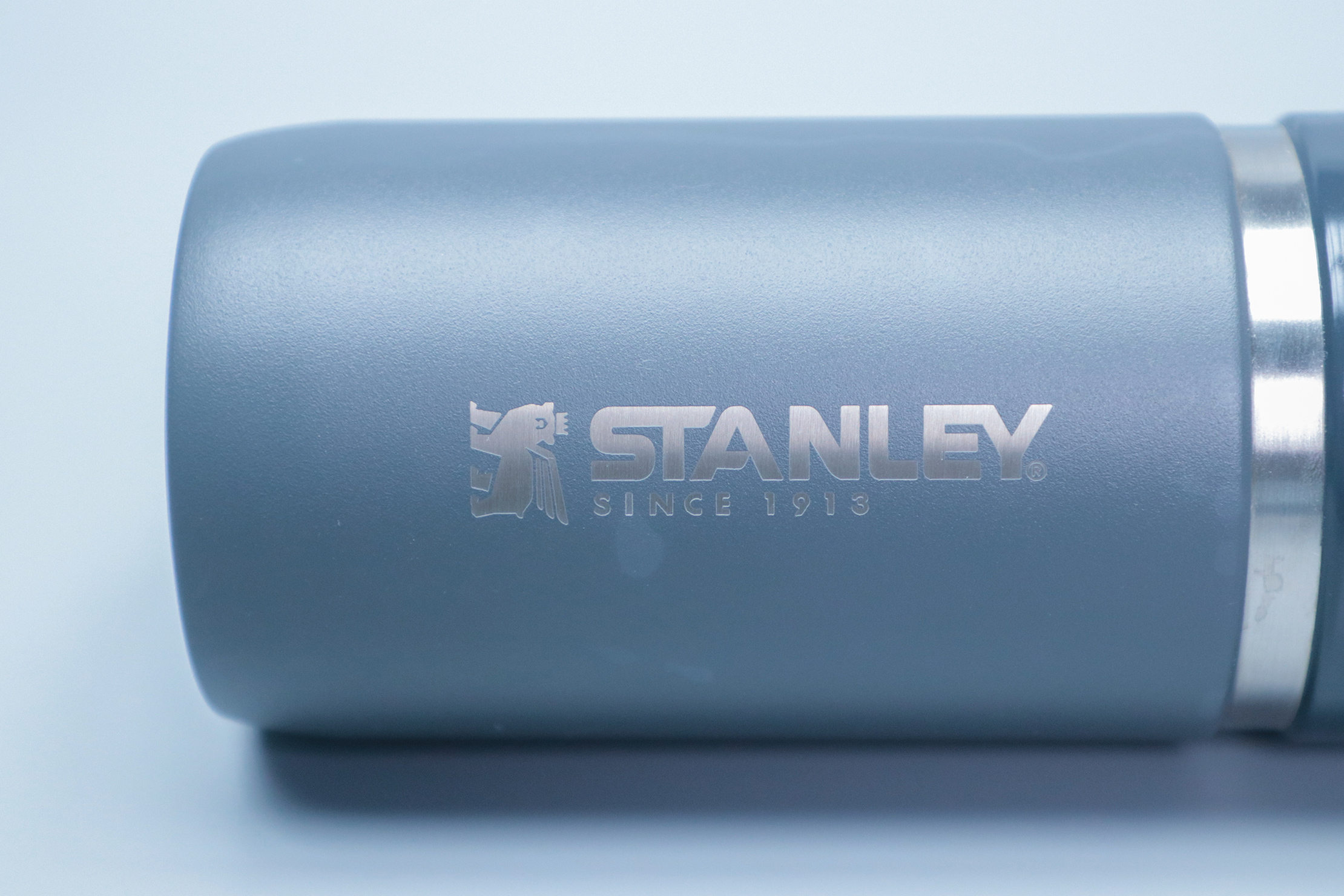 Apart from the tasteful difference ceramic makes, the Go Bottle's construction feels solid. It doesn't feel cheap, like it will buckle as soon as you grip it a little too hard. The Stanley logo is debossed, but you're unlikely to scratch the colored finish from the lettering's edges with your fingernails. Speaking of colors, the bottle comes in quite a few of them: Olive Drab, Salmon, Asphalt (gray), Tungsten (blue), Granite (very light gray), Hunter (cyan), and Nordic Blue.
We have the Asphalt version here, but a part of us favors the Olive Drab since we dig the old-school look of Stanley's products (the company itself dates back to 1913). But the overall aesthetic of the Go Bottle is more contemporary than classical, especially with the other colors. They make for a good two-tone look with the black cap if that's your thing. The branding is noticeable, but not in a tacky way—Stanley's been in the drinkware game for a long time, and the shiny logo makes it known.
Usage
The Go Bottle maintains a simple, very canister-like profile that doesn't have any protrusions or bits that stick out. A huge part of maintaining this sleeker profile is the hinged handle that folds down neatly around the cap. This minimizes the bulk of the bottle, which can be a big deal if you're already packing your bag tightly and need every bit of space you can muster. An extra inch saved can go a long way if you play your cards right after all.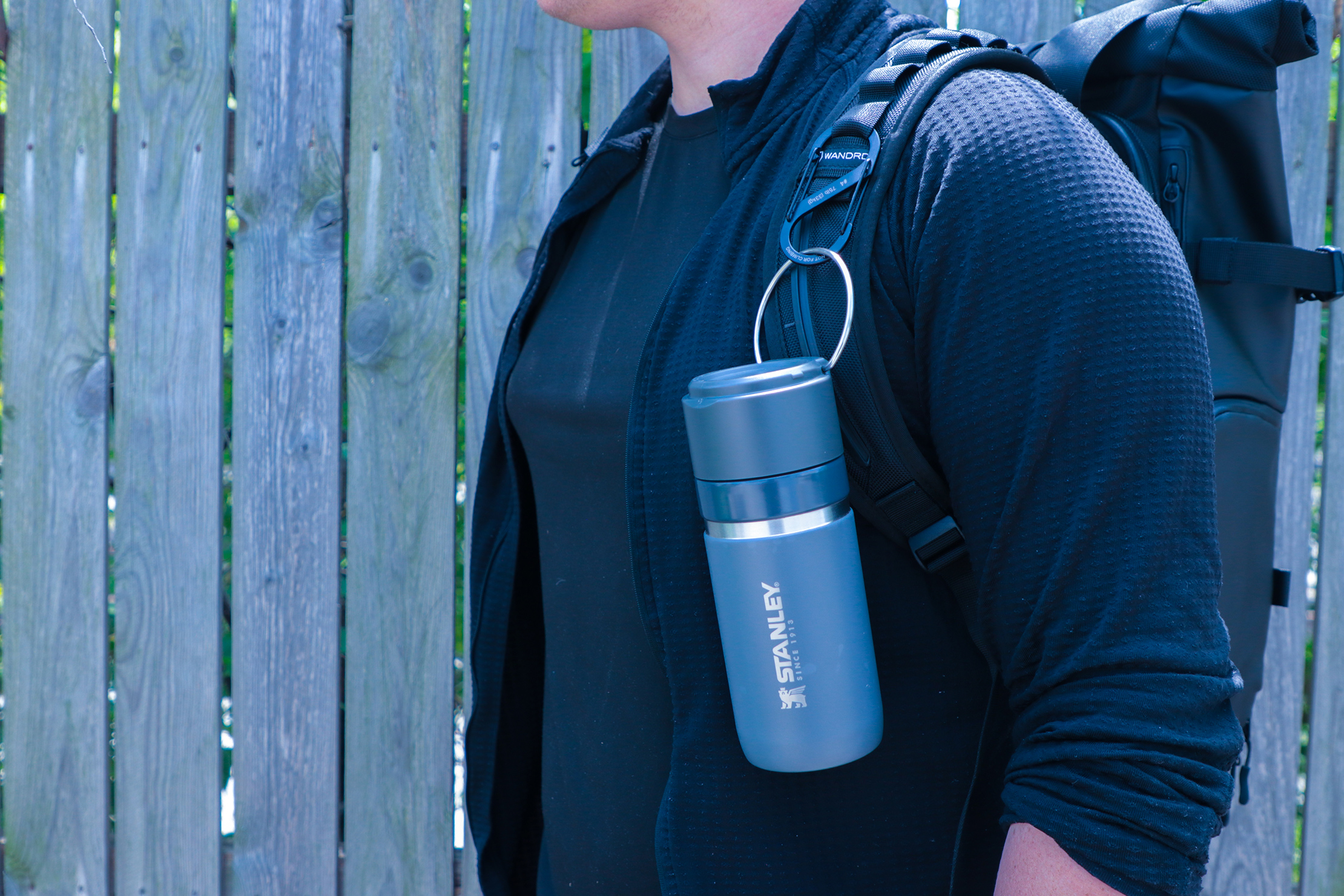 There is a trade-off with this type of handle, and that's the fact that it's hinged. It moves freely back and forth, which can be a good thing when you're carrying it by hand. However, when we attached the Go Bottle to our backpack's carabiner, we found that it can swing a lot. All of that said, none of these will be an issue if your bag has a dedicated water bottle pocket.
The bottom of the Go Bottle is rubberized, so it doesn't unnecessarily slip around your table. It doesn't happen often, but we have seen instances of half-empty stainless steel bottles casually gliding around moist, glossy tables. Fortunately, that's unlikely to happen to the Go Bottle because of this rubberized bottom.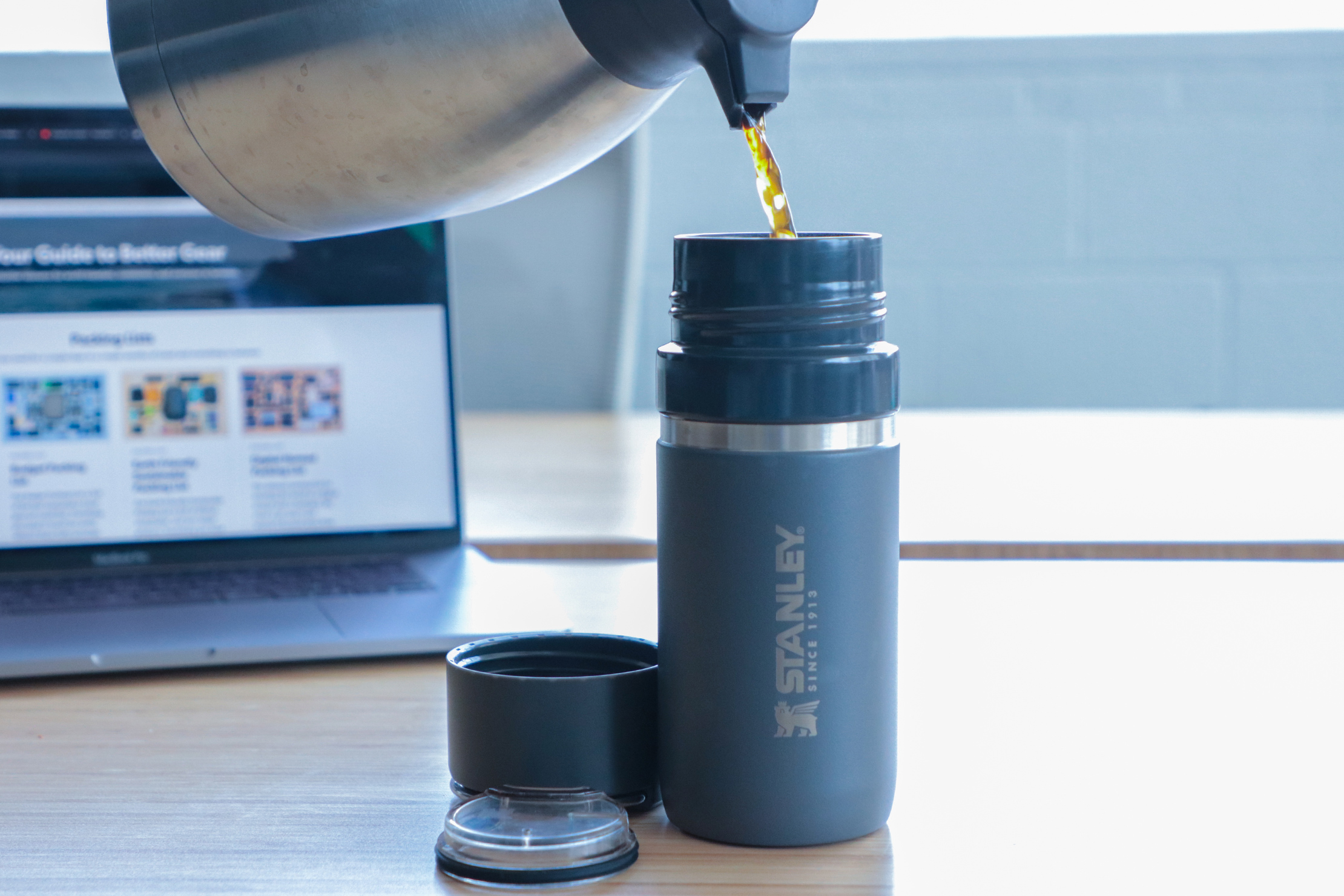 The lid on the Go Bottle screws in and seals around the bottle really well. For a 16-oz bottle, the lid is relatively tall and deep. It's not as quick to get open as other insulated bottles that have a pop-open lid, but it gets the job done.
Past the main lid is our biggest gripe with the Go Bottle: the removable see-through cap. It's not uncommon for insulated bottles to have this sort of component, but we found this one to be a little tricky to use. Once you've poured a hot beverage in, you need to place this cap carefully, so it gets seated properly. Otherwise, you might have to wiggle it around and risk overflowing your drink into the cap. There's even a slight chance that the cap can fall inside.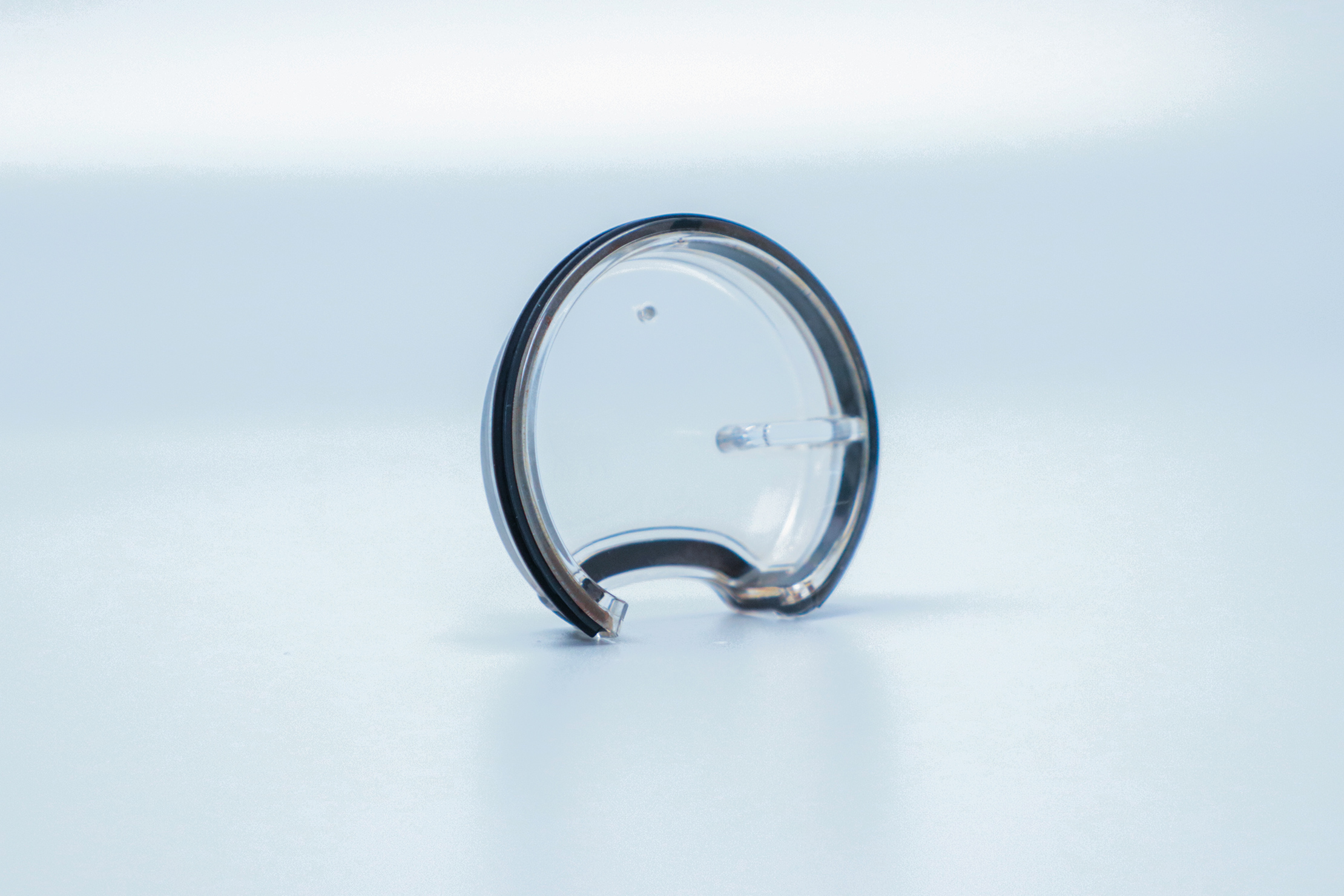 Furthermore, we observed a noticeable discoloration of the material after three months of use, even with frequent washing. Otherwise, the Go Bottle itself has held up well over repeated washing in our automatic dishwasher.
Once we had the plastic lid settled in and we poured ourselves a nice hot drink, the ceramic coating came into play. After countless encounters with stainless steel drinkware, we've grown familiar with the metallic taste associated with the material. But there's none of that with the Go Bottle, thanks to the ceramic coating. We double-checked by drinking cold water directly from the bottle, and it really doesn't have that metallic taste.
This is a huge plus if you're sensitive to the metallic taste or just simply want your beverage to retain its purest flavor. Some stainless steel bottles require multiple washes to get rid of this taste, but the Go Bottle has none of that from the get-go.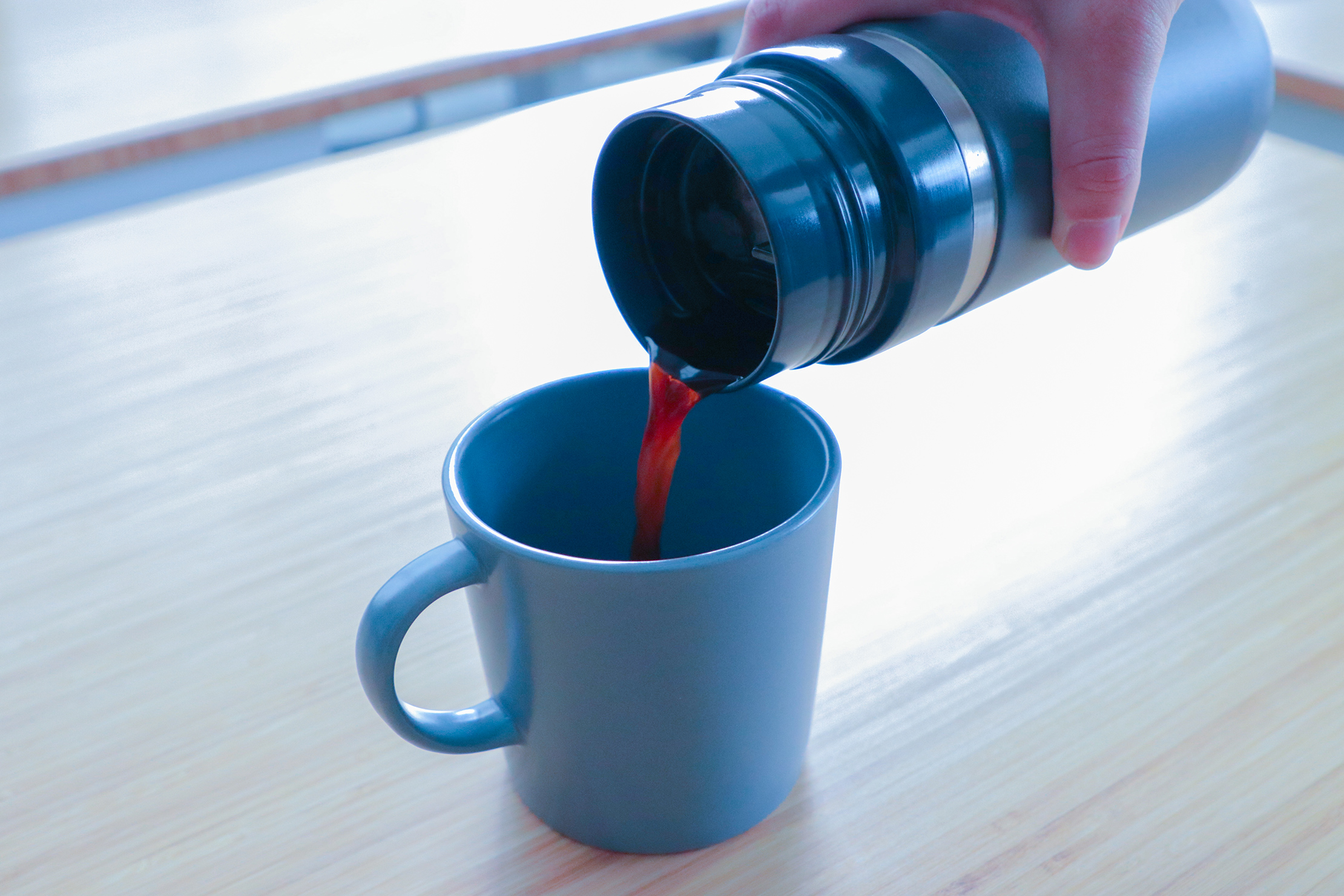 Using the Go Bottle wasn't the smoothest experience due to the plastic lid, but we did learn to live with it. We even made it a point to align the spout of the cap with the Stanley logo, so we always knew where the opening was pointing. It's a tiny hack, but one we think that's worth keeping in mind.
When companies say flashy terms like Ceramivac, we're usually skeptical and proceed with tempered expectations. The good news is it does work, and while the ceramic coating might not "wow" everyone, it makes a tasteful difference.
Usage Timeline
Initial Usage
Condition: Excellent
Ceramic finish helps get rid of any metallic taste or smell
Top loop makes it easy to hang off of a carabiner
Dishwasher safe
2 Weeks of Use
Condition: Excellent
In testing, we found that the top metal loop works great as a handle, but can swing around on a carabiner
The Ceramivac material really makes a difference when it comes to flavor—it's better than stainless steel in our opinion
The lid insert is a little tricky to get seated correctly each time
Ran it through the dishwasher just fine
1 Month of Use
Condition: Excellent
Still going as strong as ever
Still not digging the lid
It's been through the dishwasher a couple more times and still holding up well
3 Months of Use
Condition: Excellent
Still working great on a daily basis, but the small plastic lid is starting to become quite stained & discolored—even with frequent washing. Still going through the dishwasher just fine though!
Access the Pro Community Discussion
Get your questions about the Stanley Go Bottle with Ceramivac 16 oz answered from our team and the Pro Community right here on the page. Plus, join discussions with other members about gear, guides, and more.
Other Miscellaneous Reviews