Aer Travel Sling 2 Review
Carrying the Aer Travel Sling 2 three different ways adds welcome versatility, though the storage compartments reach full capacity quicker than we'd like.
Our Verdict
Unlock the Pro Summary
Save time. Get access to brief summaries of our reviews so you can browse and make decisions more efficiently.
Pros
Multiple carry options
Lots of internal organization
Easy to get on and take off
Cons
Difficult to pack bulky items
Internal pockets don't secure items
Adjustment strap is long and hard to stash away
Technical Details
98 %
Carry-On Compliance (Beta)
Capacity

12l

Weight (lb)

1.8 lb (0.8 kg)

Denier

1680D

Dimensions

16 in x 11 in x 4.5 in (40.6 x 27.9 x 11.4 cm)

Notable Materials

CORDURA® Ballistic Nylon, YKK Zippers, Duraflex Hardware

Manufacturing Country

China

Laptop Compartment Size

16"

Warranty Information
Full Review
Get up to 10% off the Travel Collection Aer with our Deals Vault • Join Pack Hacker Pro.
If you know us, you know we're no strangers to sling bags. Big or small, these guys can hold anything from a few essentials to a whole day's worth of gear. The Aer Travel Sling 2 is designed for the latter.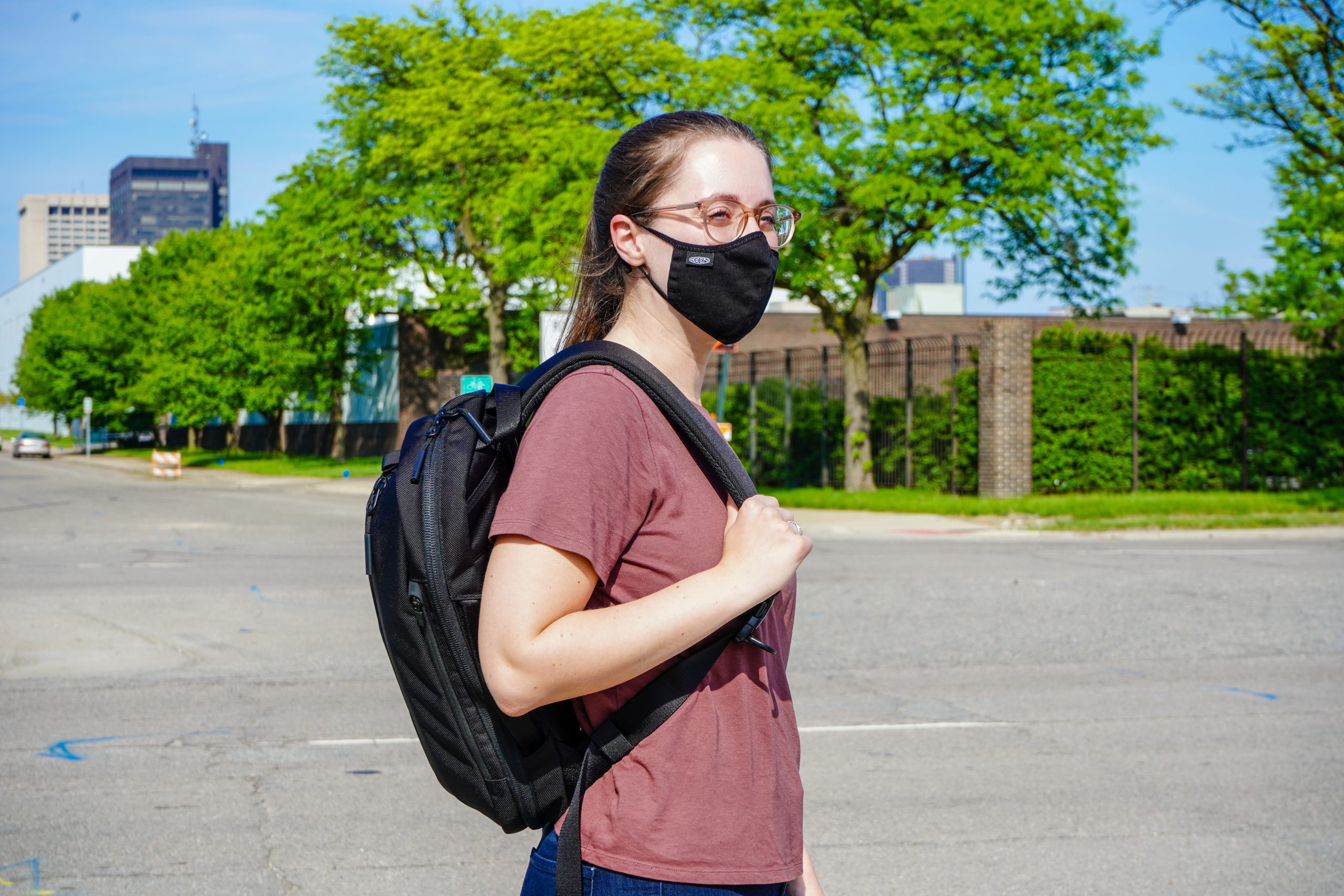 With a 12 liter capacity and plenty of pockets to fill, this sling is great for your daily commute or if your company loves to send you away on business trips. Its sleek design is exactly what we'd expect from Aer and keeps all of your tech in one very organized location.
This sling fits within Aer's Travel line, which is for frequent travelers (hey there, Pack Hacker readers!) who want to streamline their packing routine as much as possible. There are duffels, daypacks, day slings, pouches, and everything in between, but we'll be focusing on the largest of the sling options: the Aer Travel Sling 2.
Materials & Aesthetic
If you're familiar with Aer, you'll recognize this sling's materials from pretty much any of their other bags. If you're not familiar with Aer, we've noticed that they're particularly fond of 1680D CORDURA® ballistic nylon, YKK zippers, and Duraflex® plastic hardware, which is really just a fancy way of saying that their bags are durable.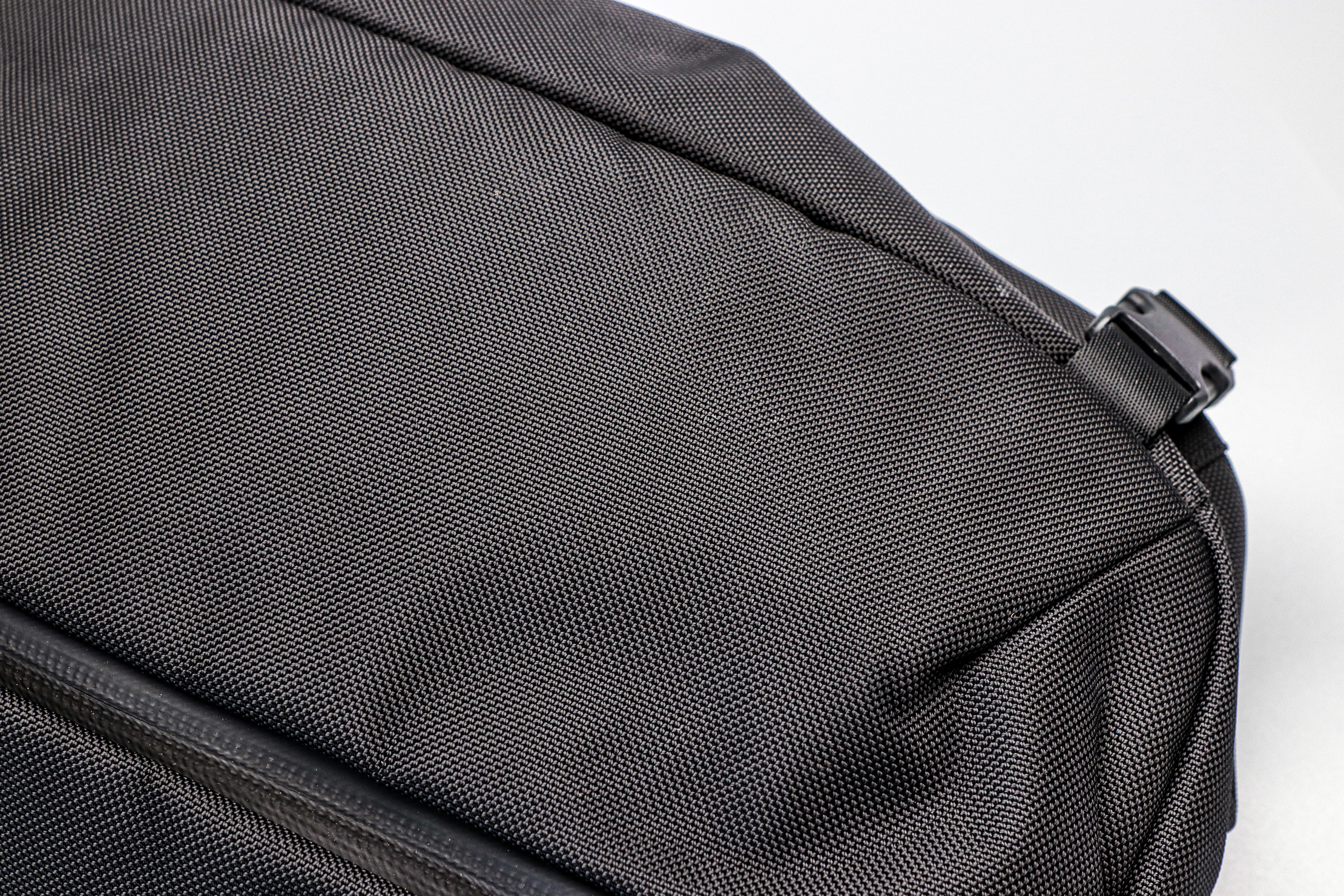 However, the gray colorway strays from the pack and is instead made with 900D Ecoya® eco-dyed polyester. We don't have it on hand to vouch for the material in comparison, but 900D fabric is pretty up there in terms of durability, and Ecoya® is a solid eco-friendly fabric option if you like to make an effort to be sustainable whenever you can.
As expected, Aer stuck to subtle branding by using the same white-on-black logo tag we've seen on almost all of the bags of theirs we've tested. There's also a little Aer etched into the zipper pull tabs, and it's worth noting that those tabs didn't clank together like they did for us on other Aer bags.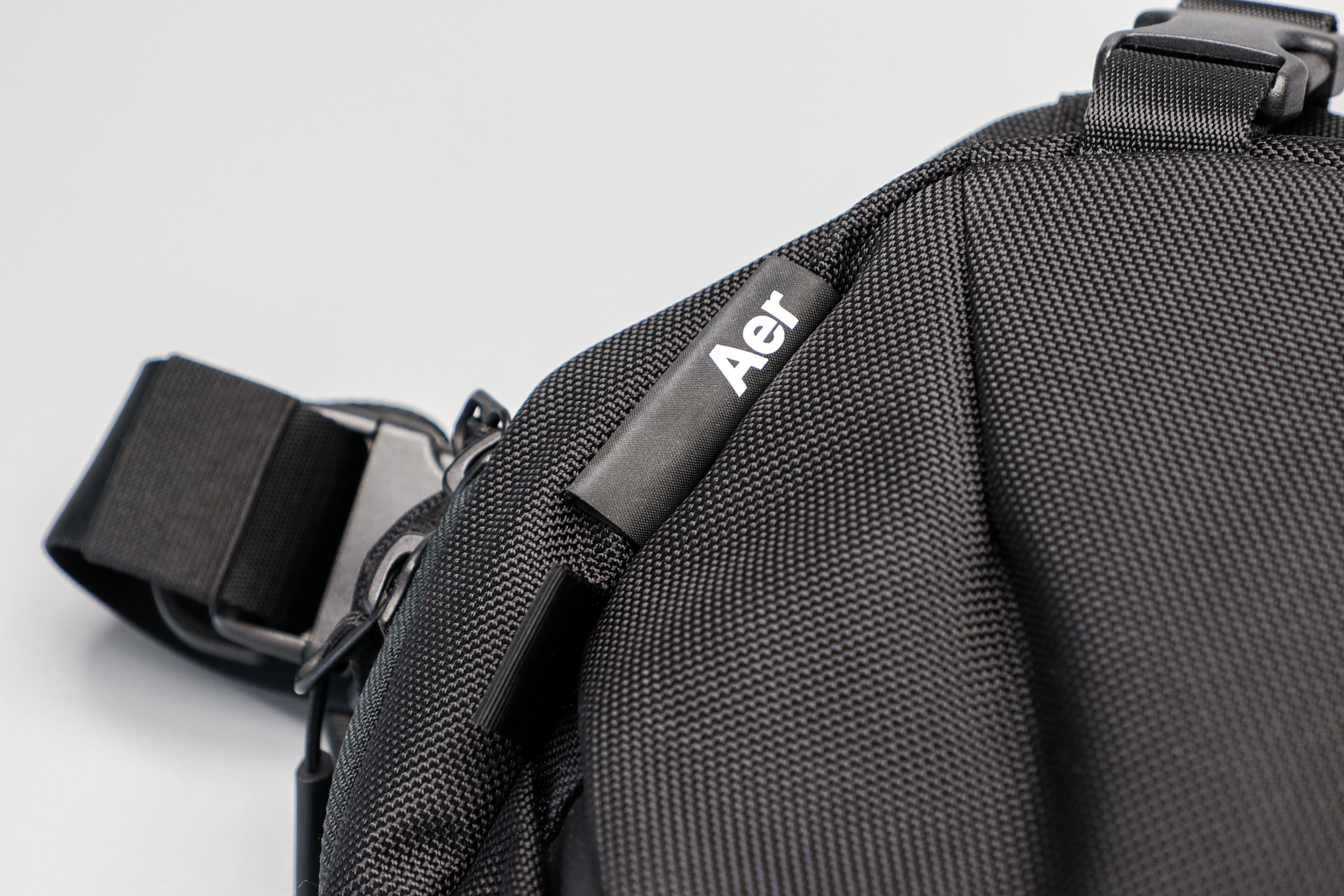 In terms of style, this bag is like if the Aer Tech Sling 2 and the Aer Day Sling 2 had a baby. It's got the briefcase-esque look of the Tech Sling 2, but it sits more diagonally across the back and has external zipper storage similar to the Day Sling 2. We really enjoy the look of it on—it makes us feel like young and hungry business professionals.
External Components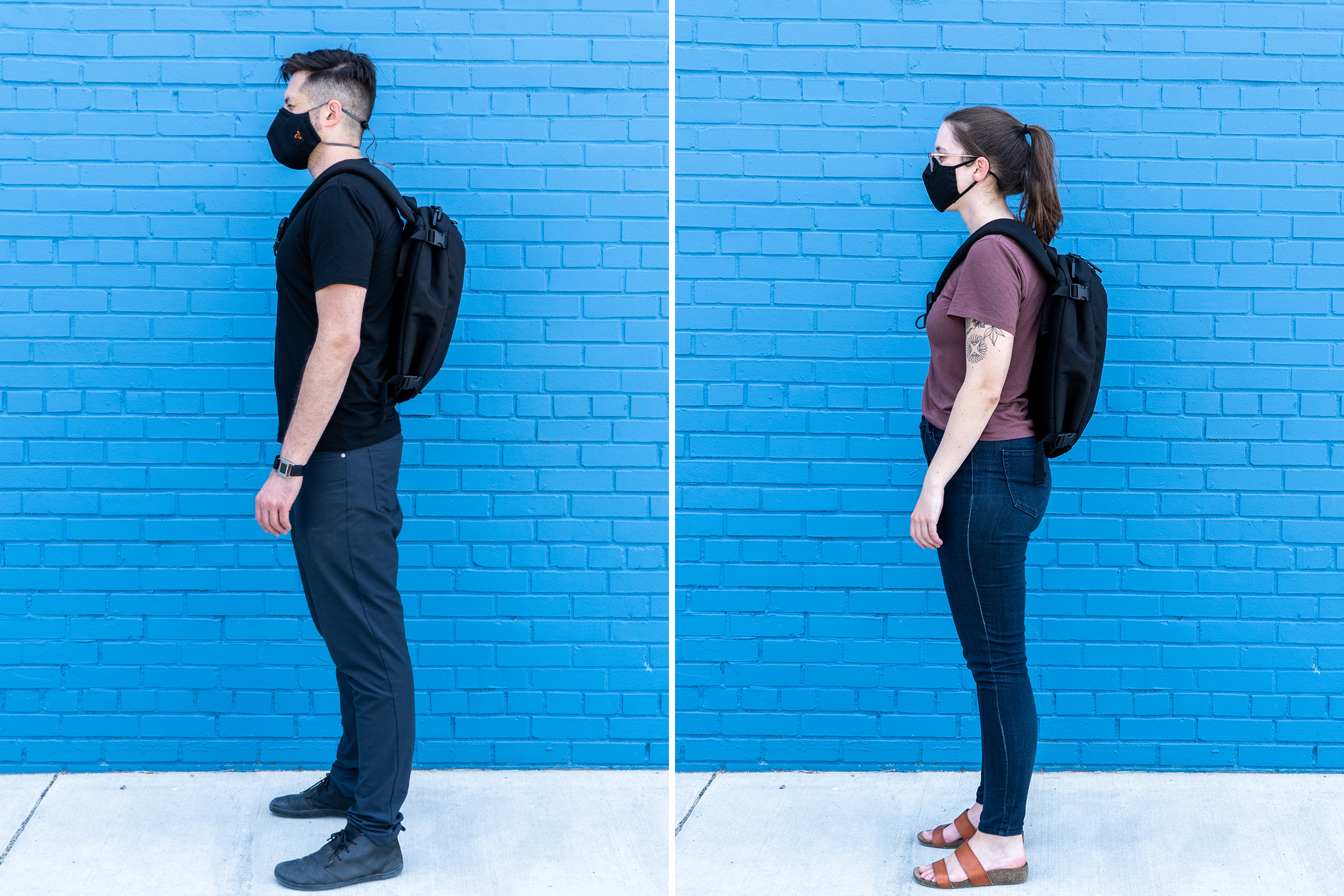 One of the biggest benefits of this sling is the multiple carrying options. You can wear it as a sling for maximum comfort over long distances, throw it over one shoulder if you'll be taking it off a bunch (like on public transit or when going from your car to a nearby building), or grab the carry handle to move it quickly.
Wearing it as a full sling is the most secure, though we found that carrying it over one shoulder was still comfortable and gave off major "cool kid in school who only wears a single backpack strap even though it has two for a reason," vibes. Except, because this sling is lightweight and the strap has a pretty thick and cushy mesh padding, we felt confident and cool carrying it as intended.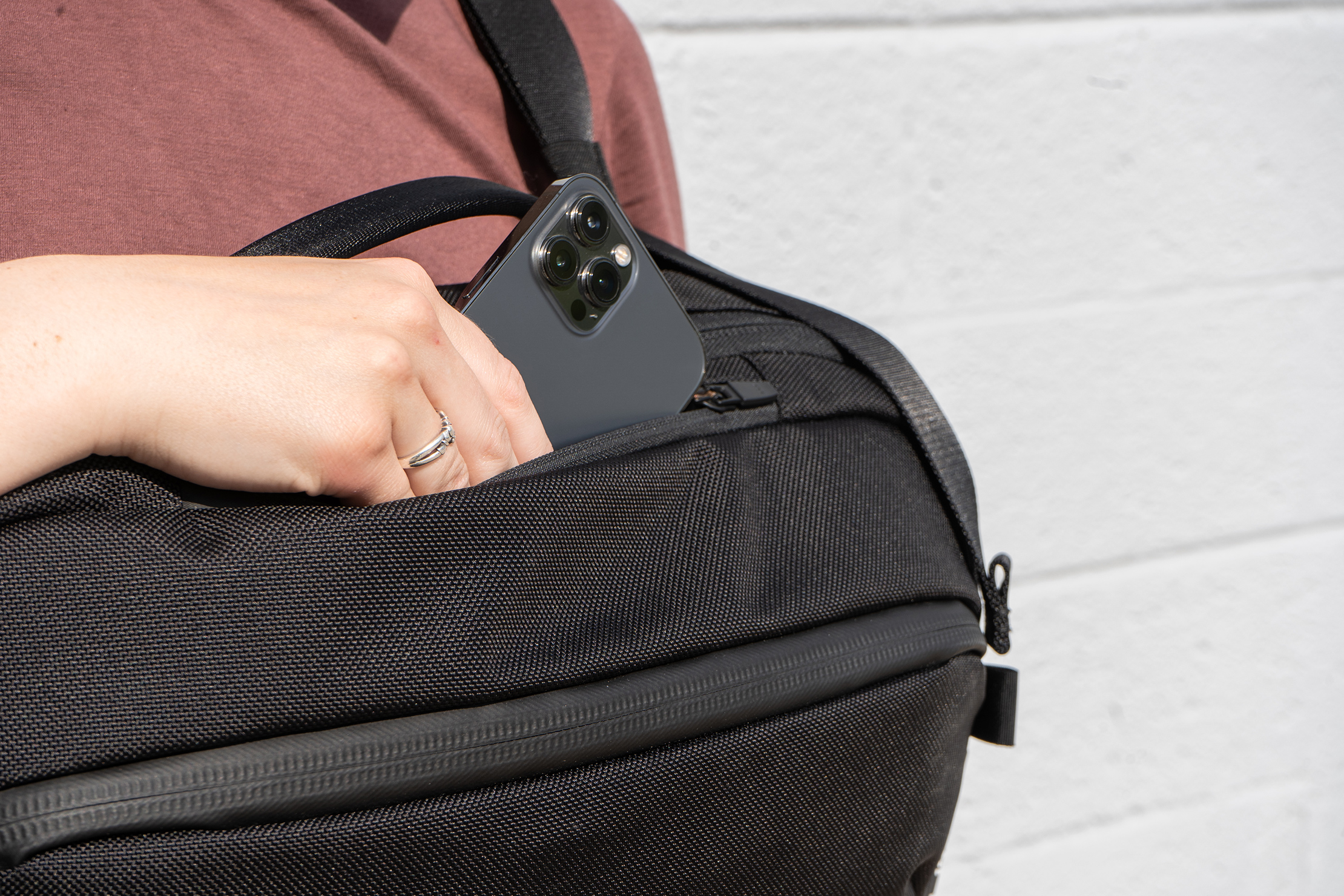 The carry handle is convenient if we needed to move it over short distances, but there's no place to secure the cross shoulder strap, so it just flaps around as you walk. This wasn't a huge bother, though we do wish there was a better option for tucking away the super long adjustment strap.
This is one of our main gripes with this sling. We like the quick adjustability—simply pull the D-ring to loosen the strap and pull down on the extra material when you want to tighten it—but there's a lot of strap to go around. There's an elastic strap keeper to help manage the extra length, but we found it difficult to use on the go and often settled for moving the keeper as far down as possible to keep the leftover material out of the way.
On the plus side, the buckle on the shoulder strap makes it easy to set it and forget it. If you don't want to adjust the length of the strap every time you want to take the sling off, just clip and unclip yourself as needed.
Unlike the Aer Sling Bag 3, the side this strap falls on is not adjustable with a clip. You can only wear it as a sling over your left shoulder or as a one-shoulder pack on your right, but because we found the swapping feature uncomfortable in the Sling Bag 3, this is more of a plus side than anything.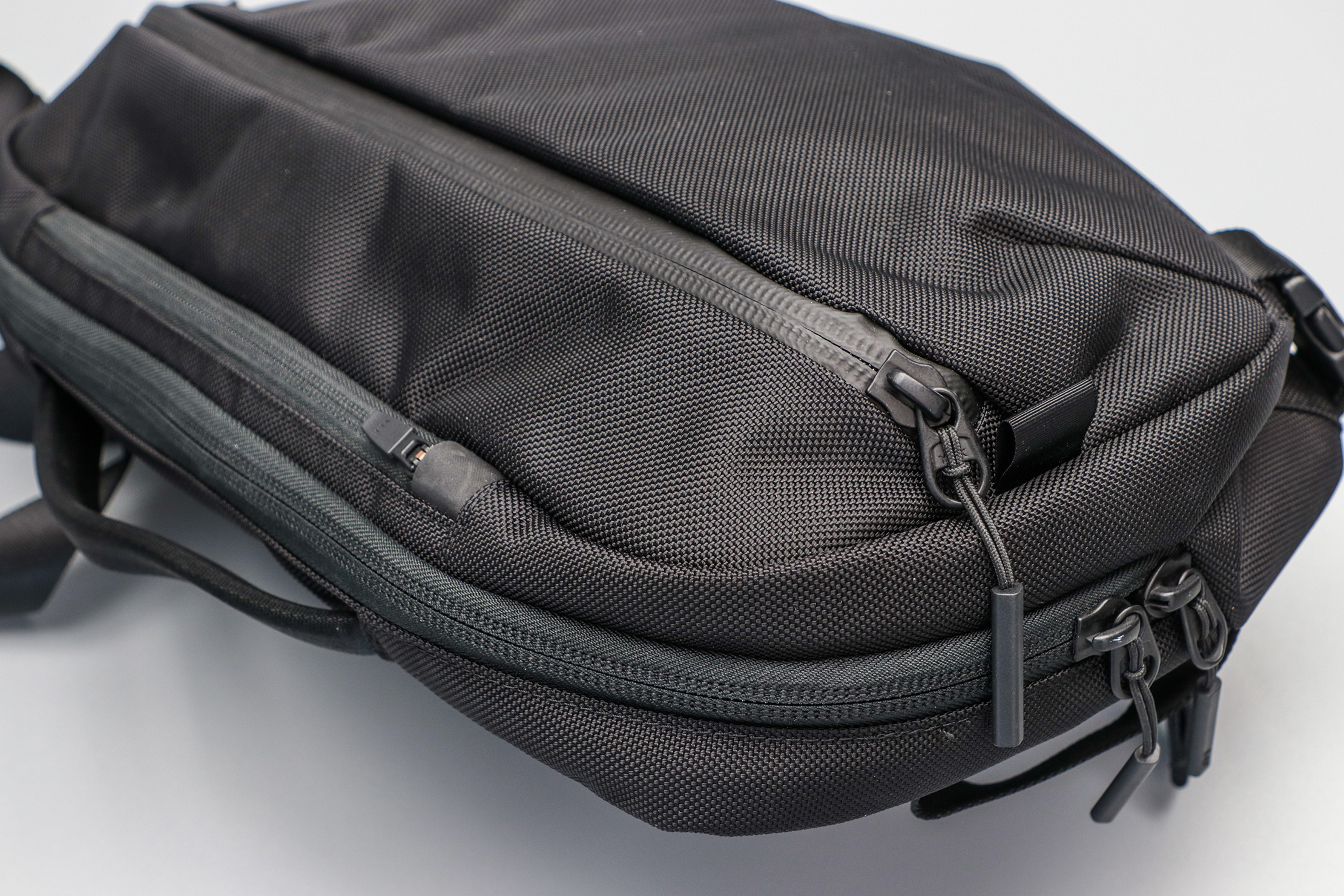 All three outside zippers are YKK, and the outermost pocket features Aquaguard for added weather resistance. There are loops on either side of that front pocket as well, which act as attachment points for anything you may want to hang on the outside, like a collapsible water bottle.
However, if you prefer to keep everything inside of the pack, there's plenty of space to organize your gear so that it's close at hand when you need it.
Inside The Sling
Though its low-profile design doesn't show it from the outside, this bag has oodles of storage and organization to get you through your day-to-day. When you want to get to your stuff, you can either take the pack off entirely or swing it around to your front while it's still on to access any of the three zippered compartments.
We'll start with the main compartment. There's a padded laptop sleeve that fits up to a 16" laptop and a second sleeve for a tablet or notebook. A velcro strap is there to hold these things in place, but we found it sometimes got in the way when we were trying to load and unload our stuff quickly.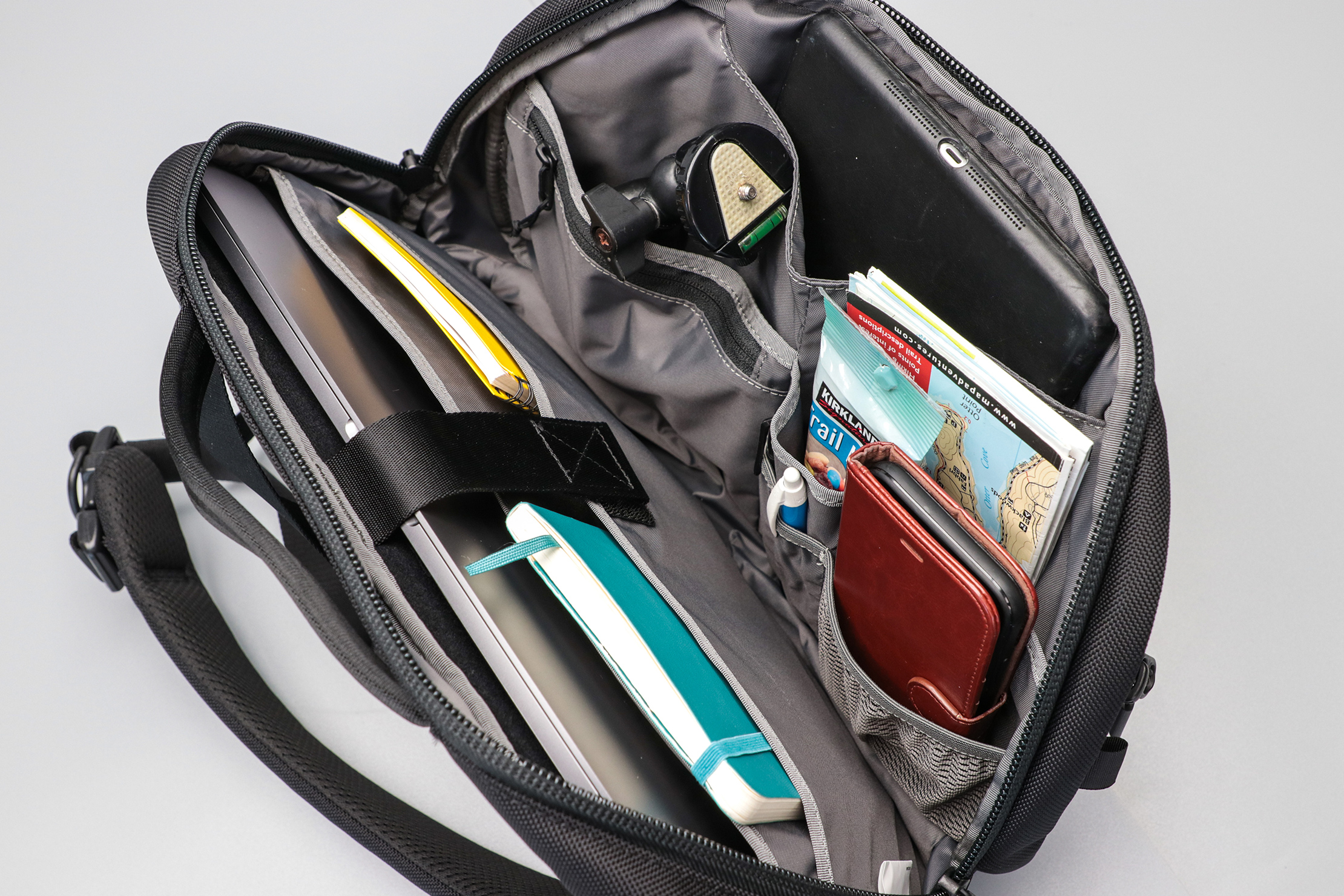 On the other side of this compartment is a range of pockets for organizing the rest of your gear, though we sometimes found the sizes a little too big. The large U-shaped pocket in the back holds the external quick-access pocket so that it doesn't get in the way of the main compartment's storage. In front of that is where the real magic happens.
Two pockets make up the width of the bag and are great for holding noise-canceling headphones, a tech pouch, or a small notebook. In front of that, there are two pen holders, a mesh pocket, and a zippered pocket to secure smaller items like eye drops and dental floss.
Unfortunately, packing smaller items into the outer pockets became difficult if the larger ones were too full. On the flip side, if the pockets weren't full enough, smaller items would often fall out once we put the sling on because there was nothing to hold them in place.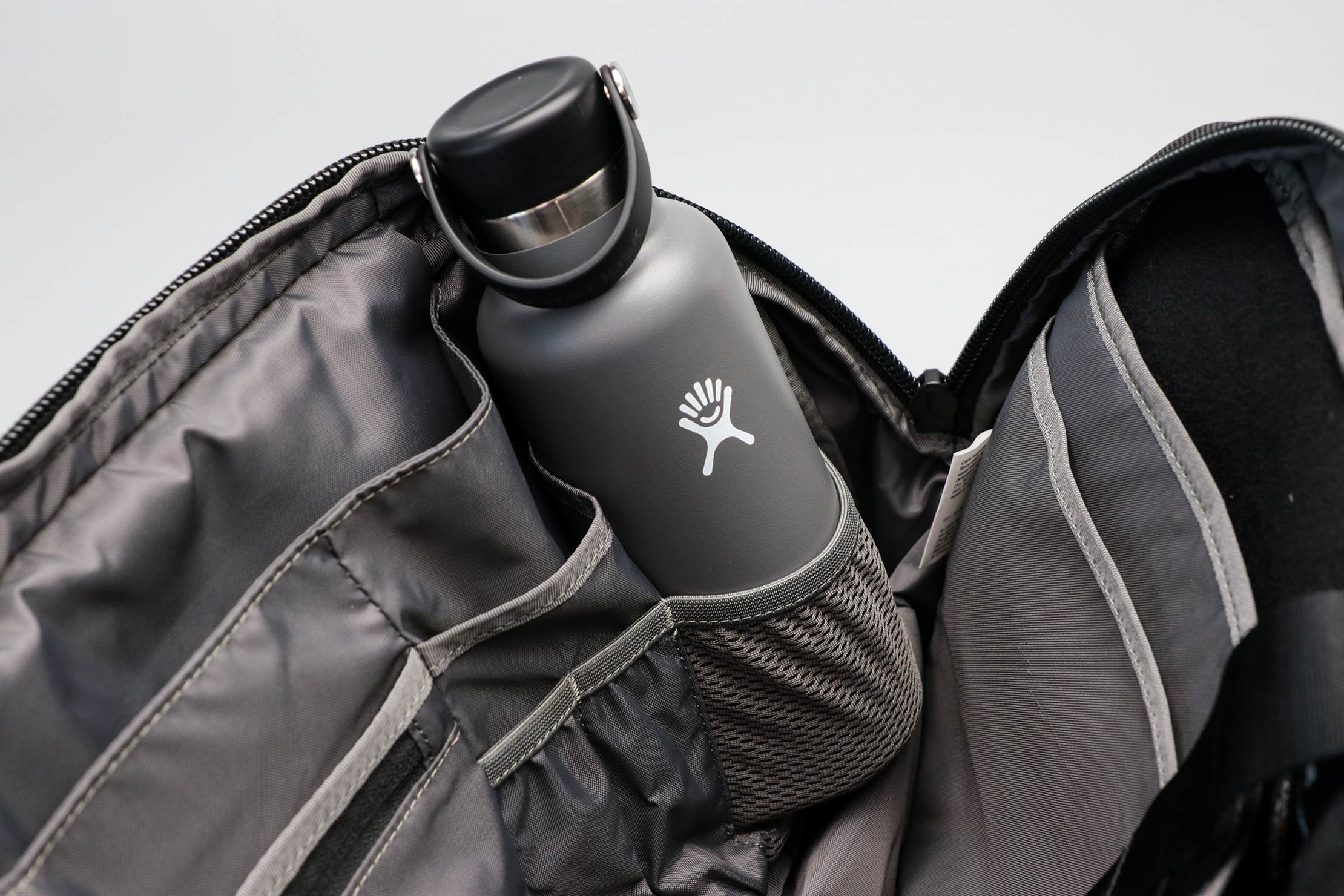 We found that even when there was plenty of room left in the sling, we had a hard time packing round things like a water bottle or Tupperware container. Carrying a laptop significantly reduces the flexibility of the sling, so if it's packed too full, it can be difficult to zip closed.
We can see this bag coming in handy for a digital nomad or someone who travels a lot for work. It easily attaches to rolling luggage and features enough organization to keep all of your gear in place while you hop from location to location. Though you can't pack it out with all of the clothing you need for a long weekend, having a designated spot for all of your tech and small gear leaves more space in your suitcase.

On the outside of the pack, two zippers make accessing gear easy. The smaller quick-access pocket is at the top of the bag near the handle and is great for holding things like your passport, boarding pass, or chapstick. It's the closest zipper to you when you flip the bag around to your front, which makes it ideal for items you don't want to be fumbling around for when you get to the front of the check-in line.
The large outer pocket fits oversized items you want to access often, like a thick wallet or keys. There's a key clip to keep them from flying around in there, but it's a little short to be able to use without detaching them, and we found that items we stuck in either of the two internal pockets stayed pretty secure without it.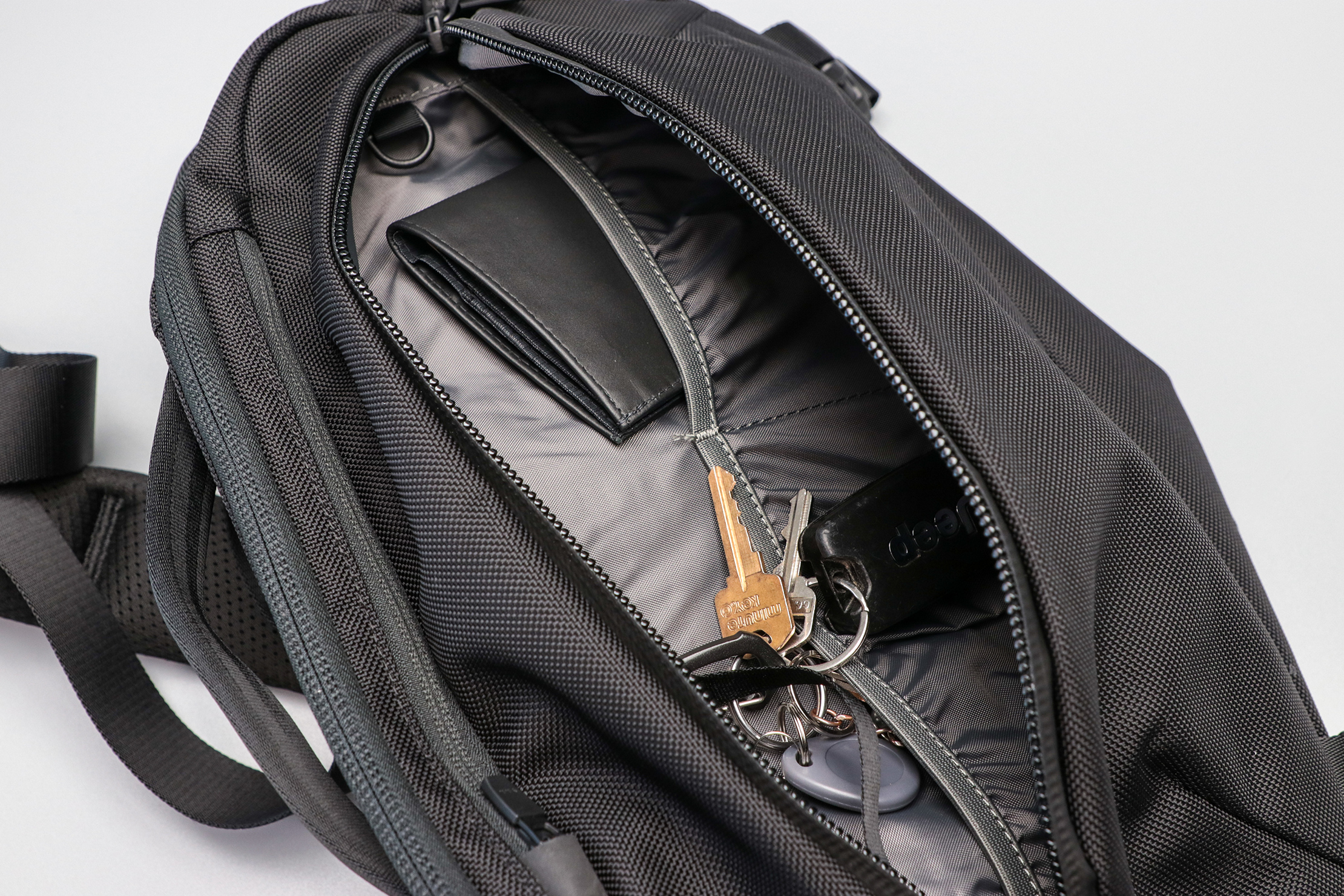 This front pocket is slightly larger than we ever needed, although it's handy to have if the main compartment is packed tight. That being said, we struggled to get any of the compartments to cooperate if they were too full, so we don't advise packing this sling out to capacity anyway.
Whether you travel for work or pleasure, the Aer Travel Sling 2 is a sleek way to get all of your gear from place to place in comfort and style. Though we wish it were a bit more versatile, and we found the low-profile fit limited its packability, it worked great as a daypack and provided more than enough internal organization to keep us efficient on the go.
Usage Timeline
Initial Usage
Condition: Excellent
You can carry it brief-style using the well-padded top handle
Has a good amount of depth comparable to a daypack
There's a variety of liner pockets inside for organization
2 Weeks of Use
Condition: Excellent
Strap adjusts quickly for easy on and offs
It can be hard to close the bag if it's too packed full
Main compartment zippers have a gap where they meet
Shoulder strap padding is a comfortable mesh padding
Front zipper can be difficult to close one-handed
Access the Pro Community Discussion
Get your questions about the Aer Travel Sling 2 answered from our team and the Pro Community right here on the page. Plus, join discussions with other members about gear, guides, and more.
Other Bags & Luggage Reviews