Aer Tech Sling 2 Review
While the Aer Tech Sling 2 is conveniently organized and comfortable to carry, you'll need to be intentional with what you pack and where.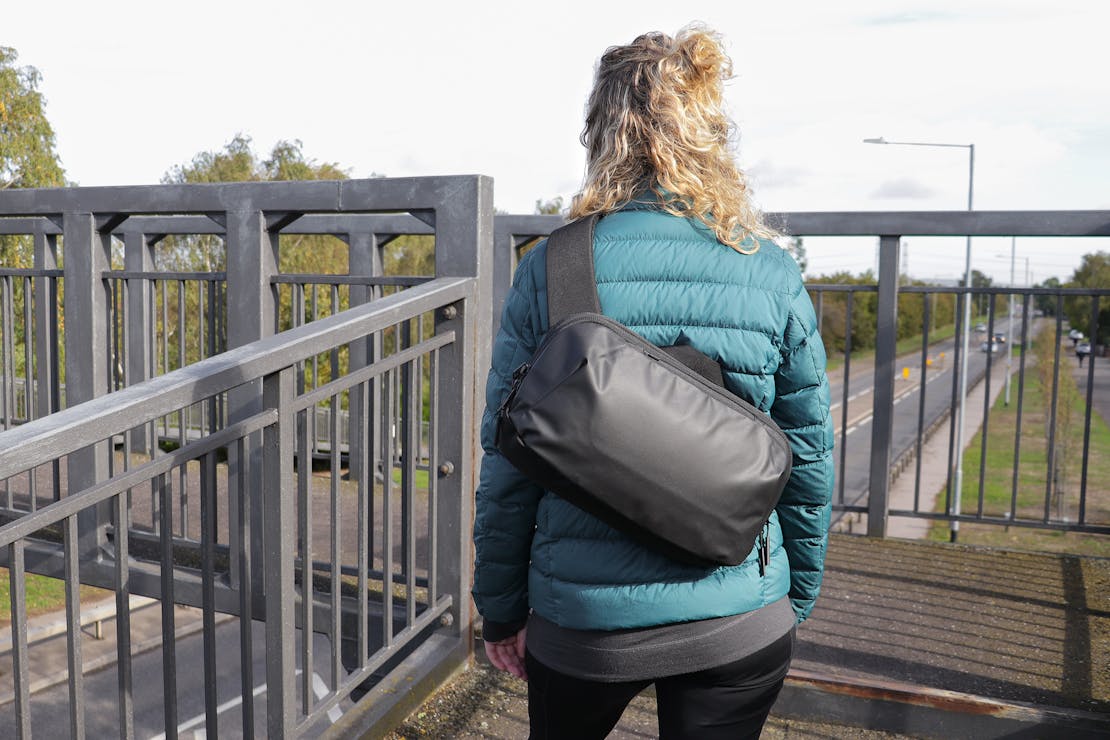 Our Verdict
Unlock the Pro Summary
Save time. Get access to brief summaries of our reviews so you can browse and make decisions more efficiently.
Pros
Great level of organization to segment gear
Slim profile when packed out
Simple & comfortable harness system for bag of its size
Cons
Need to be conscious while packing & not overloading compartments
Some pockets are deep & small gear can sink to the bottom (pouches help)
Jangly/noisy zippers
Technical Details
99 %
Carry-On Compliance (Beta)
Capacity

8l

Weight (lb)

1.4 lb (0.6 kg)

Denier

1680D

Bottom exterior

Dimensions

15.5 in x 9.5 in x 3.5 in (39.4 x 24.1 x 8.9 cm)

Notable Materials

Nylon, Polyurethane, CORDURA® Ballistic Nylon, YKK Zippers, Duraflex Hardware

Manufacturing Country

China

Laptop Compartment Size

13"

Warranty Information
Full Review
Get up to 10% off the Travel Collection Aer with our Deals Vault • Join Pack Hacker Pro.
If you haven't already guessed from the name, the Aer Tech Sling 2 is the new-and-and improved version of Aer's original Tech Sling with a comfortable carry and convenient organization for your tech and everyday gear.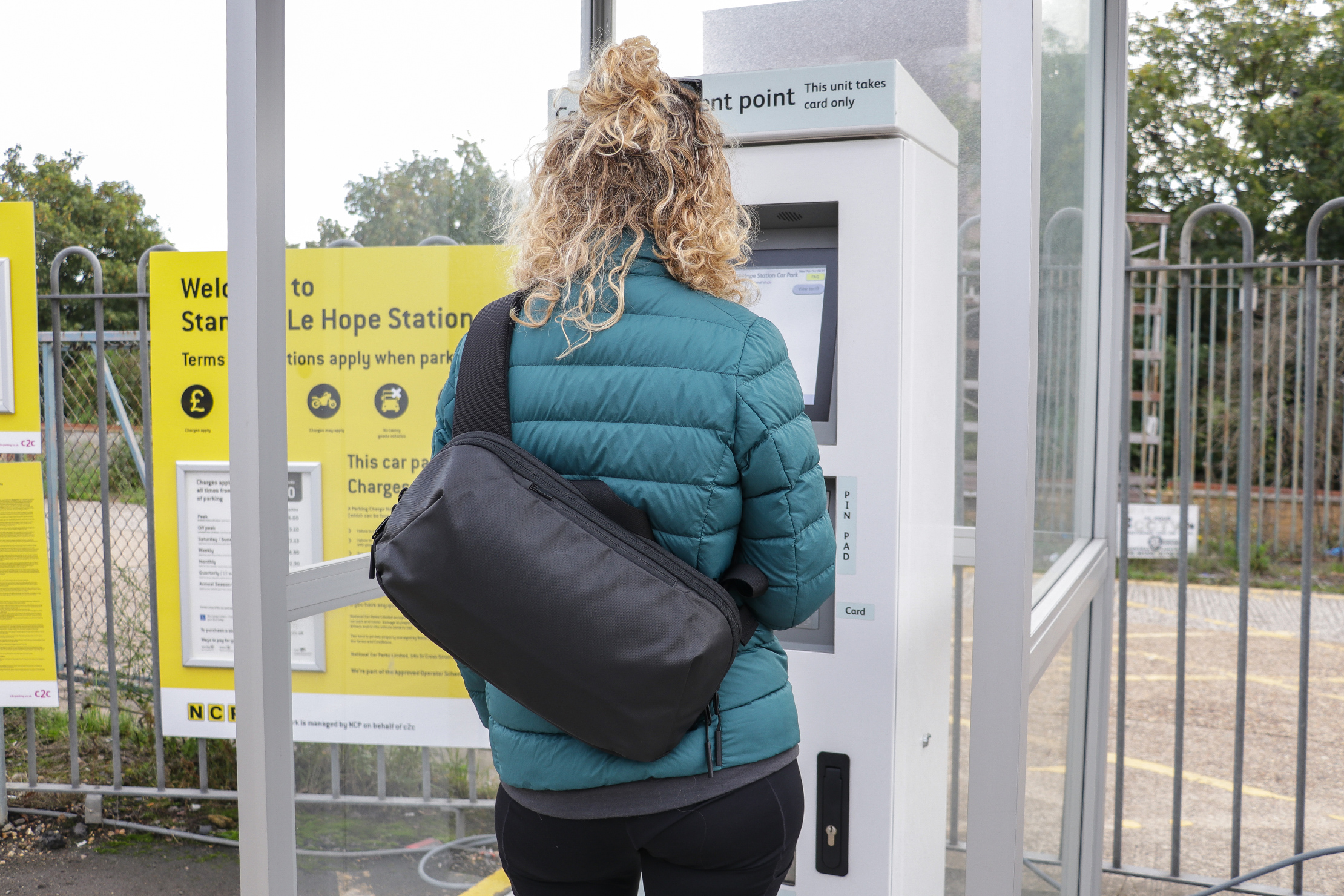 This sling comes to us from Aer's Work Collection which features both updated and new packs and products with a clean, subdued vibe that works well for the office (or wherever else you get work done). We have full reviews on several bags in this line, including the also tech-specific Tech Pack 2 that you can check out, though we'll be focusing on this sling in this review.
Aer you ready for this review? We sure are! Let's dive in.
Materials & Aesthetic
If you're looking for a statement piece in your daily line up of gear, we hate to tell you that the Tech Sling 2 is only available in Black at the time of this review. It immerses itself into the background more than it takes the spotlight and works well in more urban, citified settings. This sling's look is something our Instagram followers are evenly split on, considering its 50% rating on our poll—you're either content with this sling's subtlety or bored by it, it seems.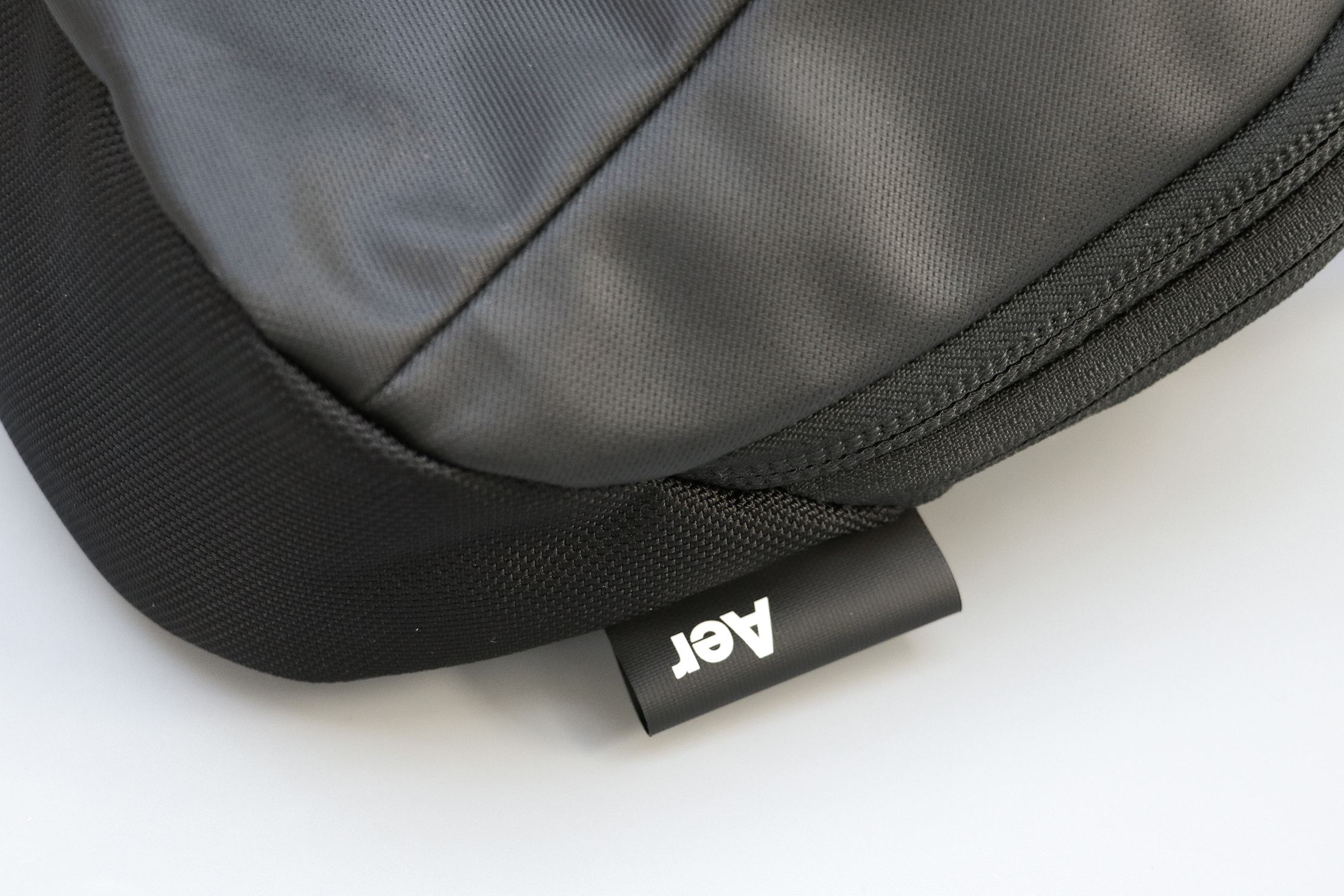 The classic Aer white-on-black tag appears on the side of this sling and blends in nicely with the surrounding fabric. Of course, branding isn't a necessity here by any means—with one look and feel of this bag's muted aesthetic and materials, it's clear this is an Aer sling through and through.
Speaking of materials, we're not surprised by the Tech Sling 2's fabric as it's pretty similar to what we've seen throughout the rest of the Work Collection: a durable 840D nylon face material with a water-resistant polyurethane coating, and 1680D CORDURA ballistic nylon on the bottom. Both materials are in great shape after two weeks of testing. We haven't spotted any scratches, and when it picks up dirt and other debris, it wipes off easily.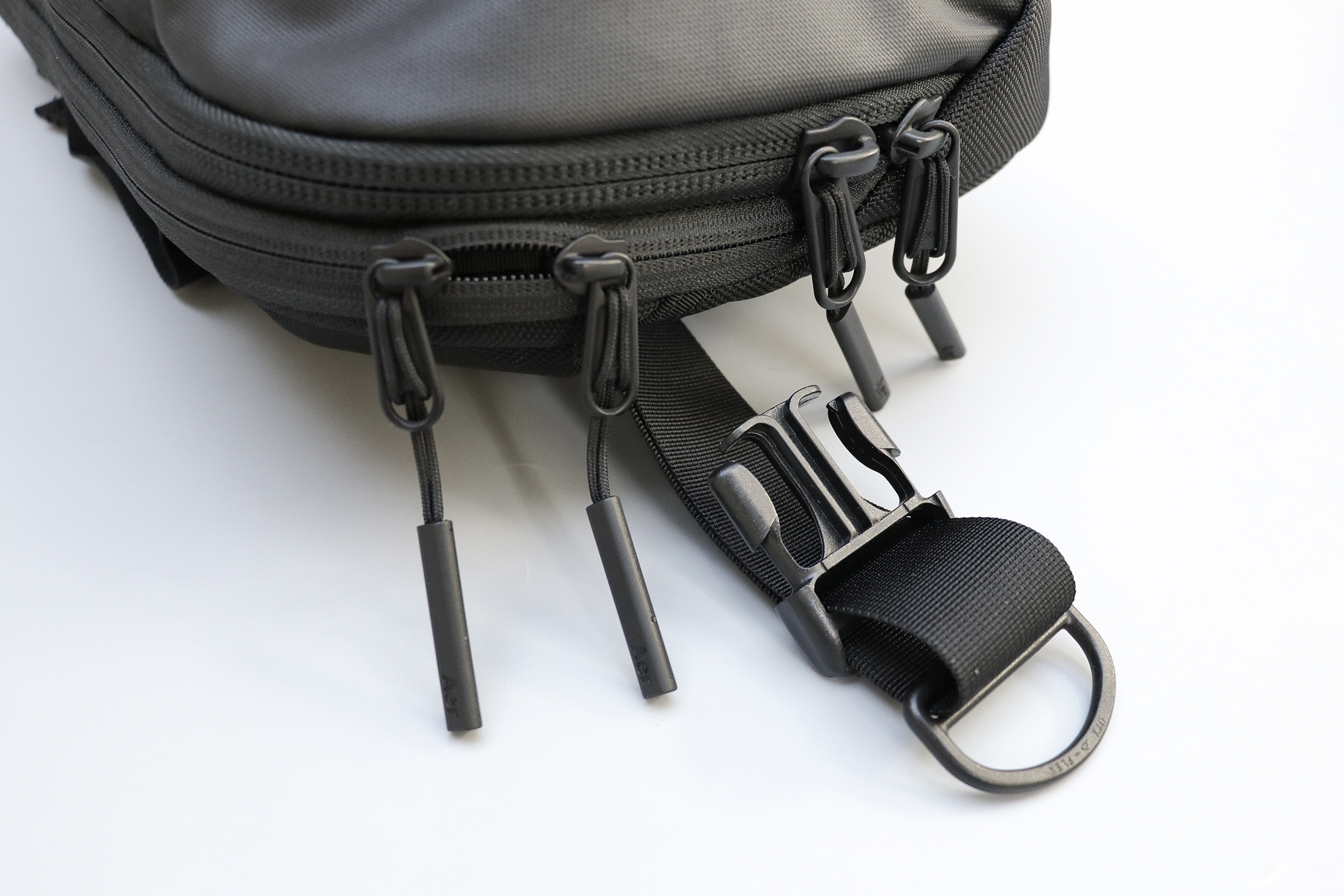 Per usual, the YKK zippers feel up to the task of securing our stuff and have been working well during testing. However, they're also rather jangly. The noise they make is mostly a nuisance (especially in more serious settings), but if you're ever performing "Jingle Bell Rock" around the holidays, these pulls make for the perfect instrument.
The Duraflex hardware on this sling has also been performing to standard. The D-loop on the shoulder strap in particular has made for easy adjusting throughout testing, and the buckle hasn't given us any trouble yet, either.
External Components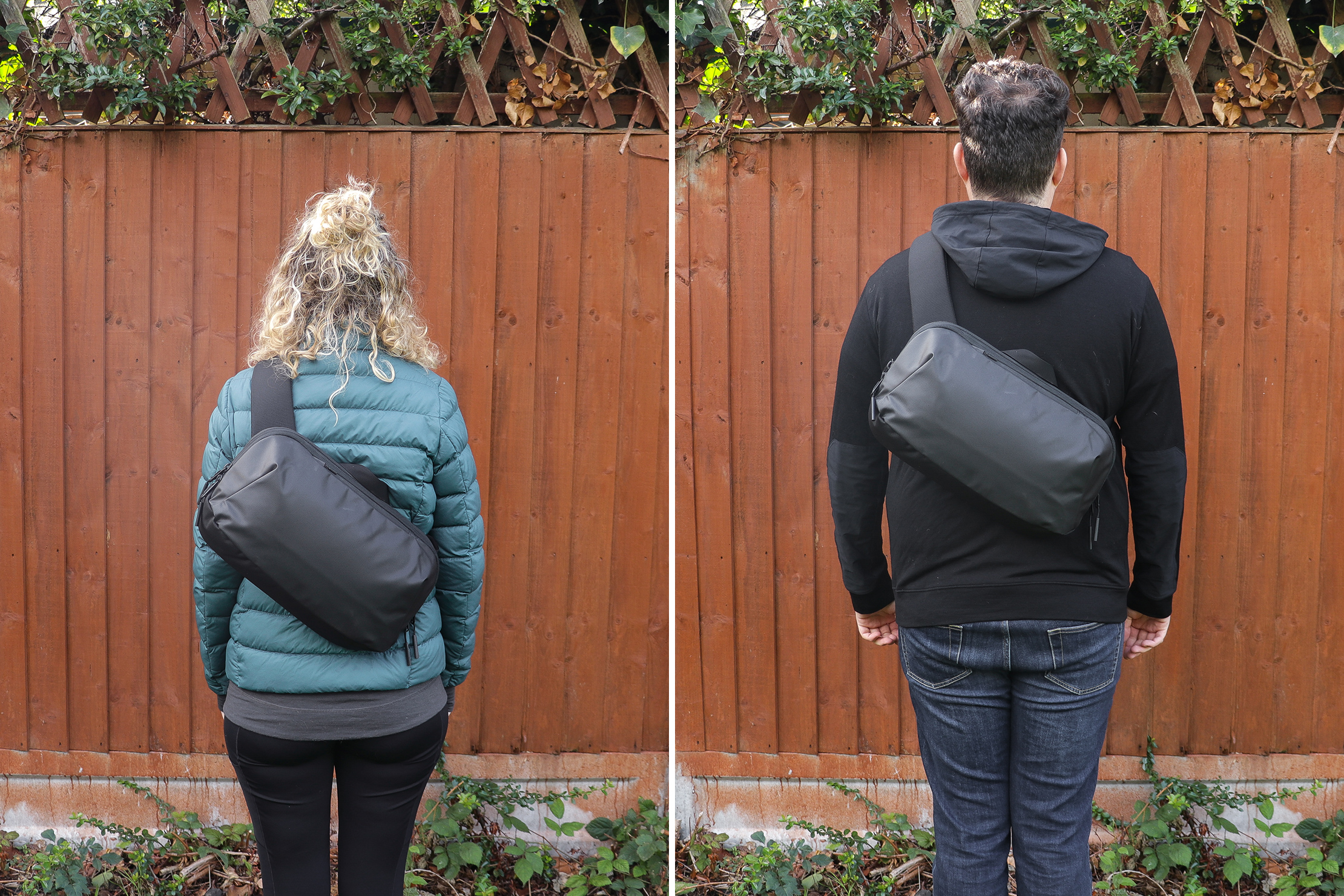 The shoulder strap is attached just below one of the top corners of the bag which we've found allows it to sit more comfortable over the shoulder than some other larger slings we've tested in the past. The strap itself also has some soft, cushy padding and a mesh lining on the underside that doesn't dig into the chest and keeps the air flowing.
Like we mentioned earlier, the D-loop makes for smooth and painless adjusting so you can tighten or loosen the strap depending on what feels most comfortable. However, tightening it all the way can leave a lot of excess strap. Thankfully, you have an elastic keeper to help manage any dangle. We've been rolling up the remaining strap and securing it with this keeper so it's out of the way and not dangling at the side.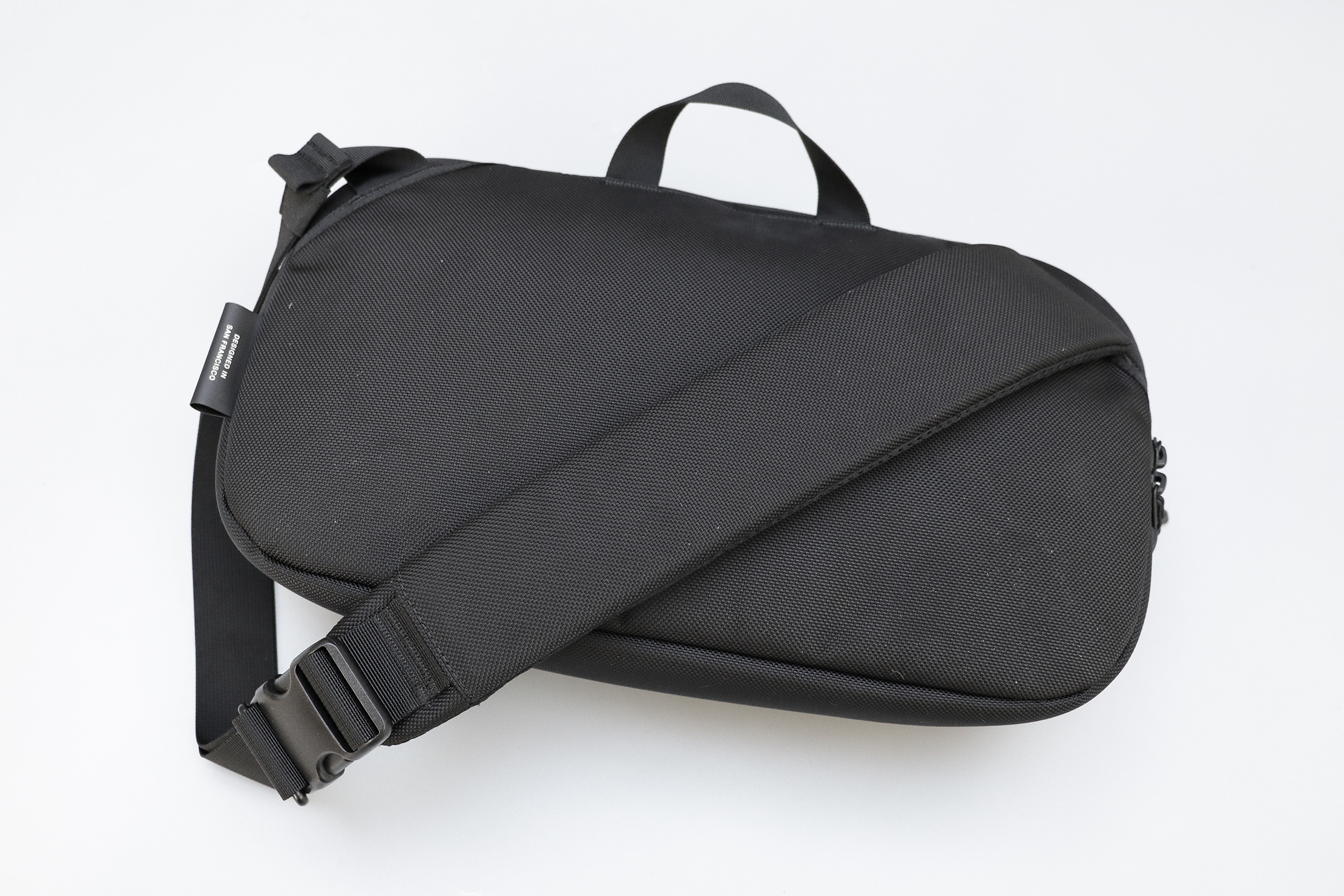 As for the back panel, you're not getting the same kind of cushion and ventilation that you do with the shoulder strap. That said, since this sling has a relatively slim profile, we've found it still sits comfortably against the back—it's not too stiff, and doesn't feel like it's hovering away in any spots, which is great.
Then, you have a small handle at the top you can grab when you're heading out the door or need to move the sling around while you're working. It's nothing special—just some thin nylon material—but we've found it to be really convenient during testing when we're on the go and don't have time to throw over the shoulder.
Inside The Sling
At 8L, the Tech Sling 2 is a bit on the larger side, so it has plenty of space for everything you're carrying in your daily line up, whether that means a whole bunch of tech gear or just the everyday essentials.
The first pocket we're going to point out is on the front of the sling and works as a spot to stash items you're constantly grabbing. It secures with a zipper that almost self-locks—what we mean by that is you can't push this zipper backward once its pull is down, meaning you don't have to worry about gear weaseling its way out of here through a small slit. There's also a garage at one end you can tuck the zipper into, so it's not up for grabs.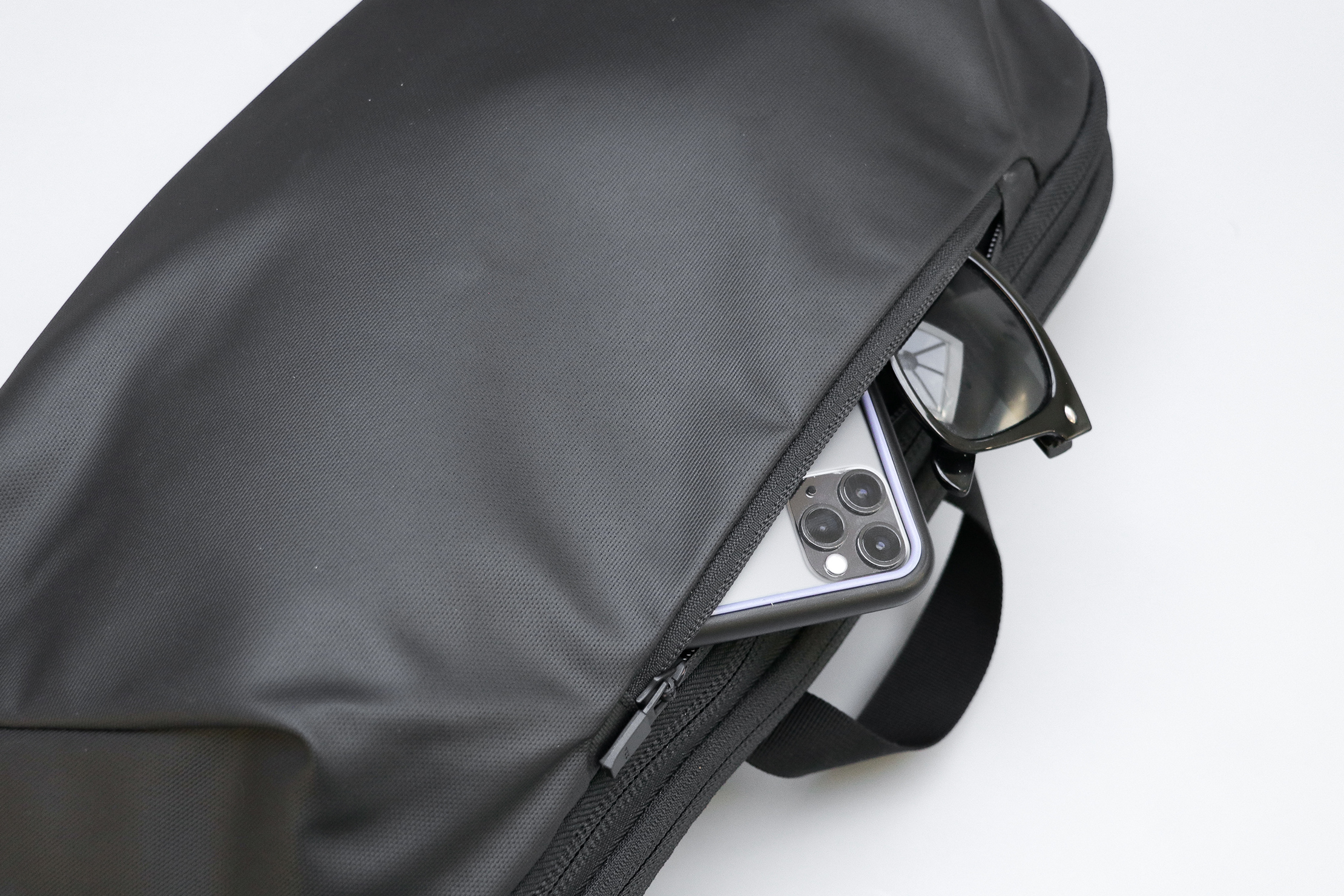 It has a nice, soft lining that makes it great for your phone, a pair of sunglasses, and anything else you don't want to get scratched up. One note here is that whatever you do pack inside will leave an outline in the material on the front, especially if it's on the bulkier side. Because of this, flatter items are your best bet.
Most of this sling's organization can be found in its front compartment. It opens up in a regular horseshoe-style fashion that makes for easy visibility and ease of access (not more so than if it opened fully clamshell, but we have no complaints).
Against the back wall is a sleeve where we've been keeping items like smaller notebooks so they're easy to find, though you can also use it for documents, a tablet, and the like. Flatter gear will work best so that the sleeve isn't eating up the free space you have in the remainder of the compartment to pack out.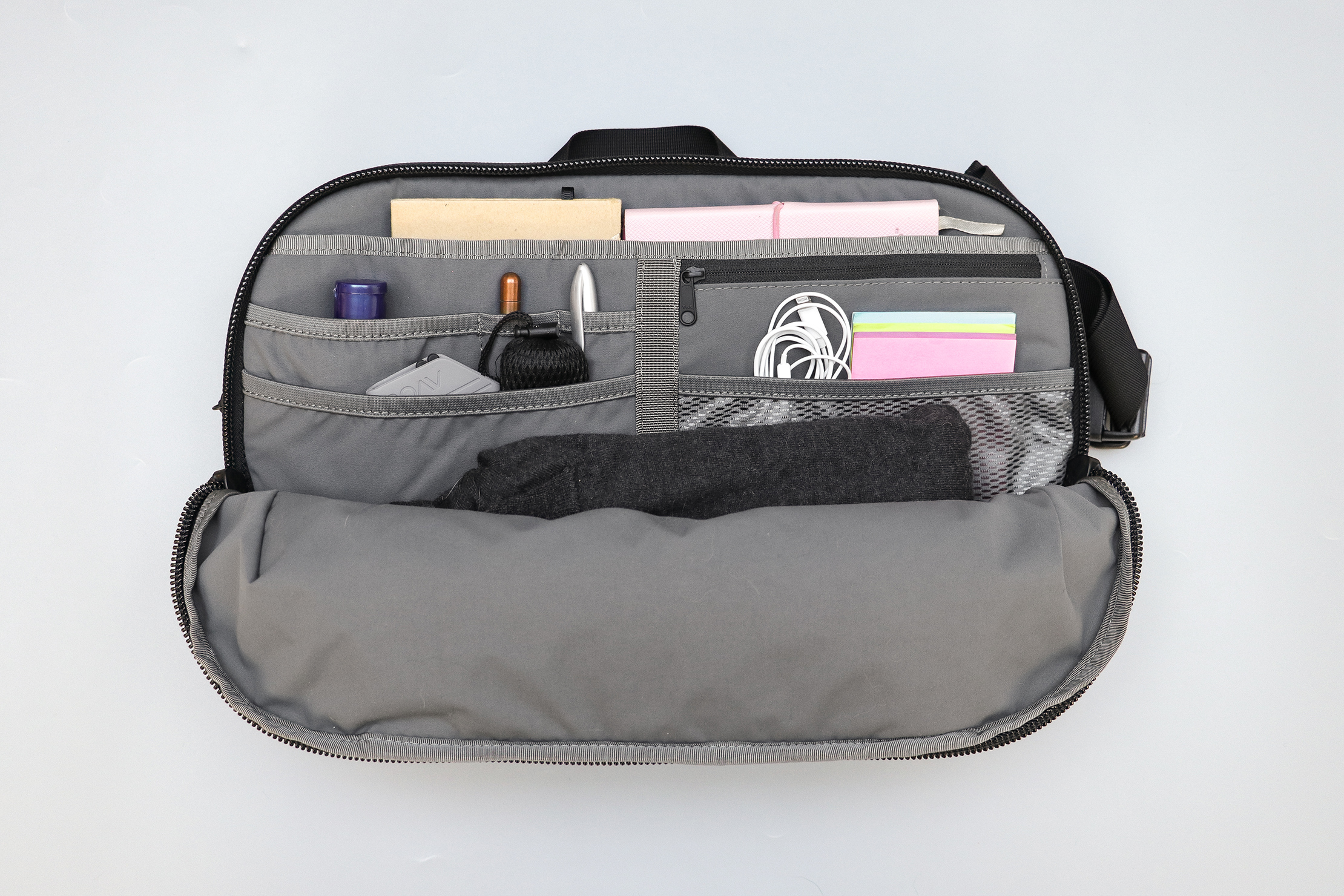 Below this sleeve are two large elasticated mesh pockets to compartmentalize anything from tech accessories to personal care items, to everyday essentials like your wallet or keys. They are rather deep, though, so tinier items will sink to the bottom and become harder to grab. Integrating some small pouches will help mitigate this and help make everything much easier to grab. You also have some smaller pockets within one of these mesh pockets where you can store pens, a mouse, a power bank, or anything else you need a spot for.
Above the other mesh pocket is a zippered pocket that houses a dedicated key leash with a small plastic clip you can attach your keys to so they're not free-floating around and scratching up other items. This pocket is the deepest in the compartment, so as we noted before, integrating a pouch or two can really help keep your smaller gear within reach.
Then you have quite a bit of free space at your disposal to pack away things like a jacket, umbrella, or water bottle so you always have them with you. Keep in mind though that if you're fully packing out this compartment and the quick-grab pocket, it can eat up space in the laptop compartment (which we'll talk about next). The bulk can limit what you're able to keep inside as a result—for example, a protective sleeve might be a tight fit—and can also make it more difficult to zip the compartment up.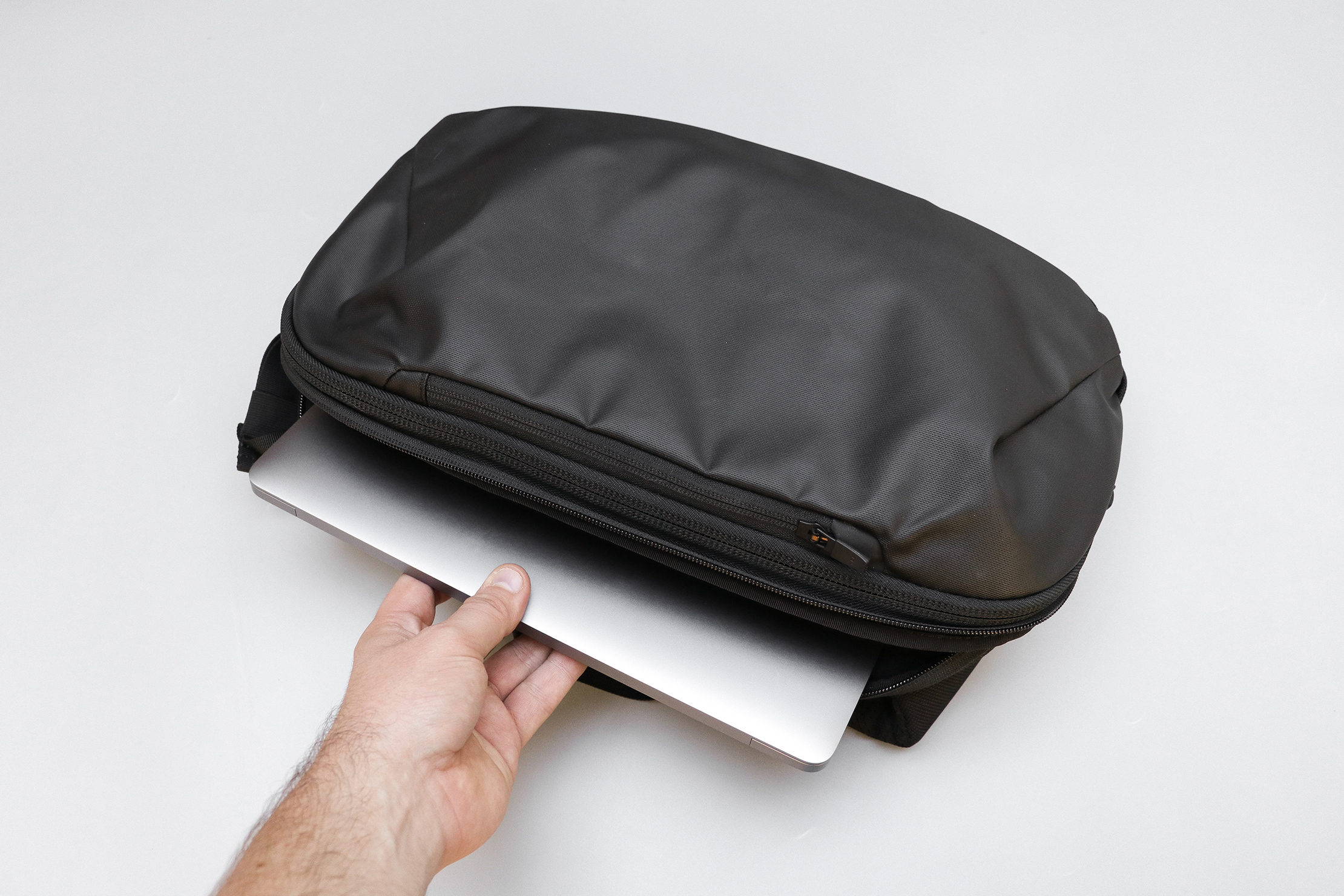 Speaking of, the laptop compartment is located at the very back of the bag and can hold up to a 13" laptop. We appreciate its soft, felt-like fabric that protects our tech from any scratches, as well as the little bit of padding built into each wall that acts as a cushion.
We're also fans of the lining that stretches around the perimeter of the compartment that acts as a bumper between the laptop and both the zipper and the bottom of the sling. This way, our tech is protected from getting caught and scratched by the zipper and has somewhat of a false bottom for when we drop it or set it down not-so-gently.
Again, you may have some trouble getting one with a protective case on it inside, especially if you have the previous compartments fully packed. If so, you're not getting a ton of extra protection that the sleeve would provide. You are receiving some support from the lining, but we still recommend practicing caution when slinging this thing around.
Usage Timeline
Initial Usage
Condition: Excellent
Slim profile keeps it close to your back
Made of durable and water-resistant materials
Lots of thick, soft padding in the laptop and quick-grab pockets
2 Weeks of Use
Condition: Excellent
The materials are durable and holding up well with some nice weather-resistance too
We also found that this material is really easy to clean and wipe down to keep this pack looking smart
There's a lot of internal organization going on with a variety of pockets, sleeves, and compartments
We found the quick-access pocket on the top of this bag super handy to hold a phone or other small items that you can grab without needing to access the main compartment
We did find that the pockets in the main compartment are quite deep so you may need some pouches for extra organization to keep track of smaller items inside this sling
We're really digging that this sling has a place for all of the daily essentials and having the extra space in the main compartment for a sweater or jacket came in very handy
The padded liner around the laptop compartment is a great feature and gives your laptop the extra protection that it needs
We found this strap to be very comfortable with a good amount of padding and the mesh is great for some breathability too
The strap keeper is a welcomed feature and keeps this pack from having any loose straps hanging down
When the main compartment is fully packed we found that this can eat up space in the laptop compartment and can show outlines of the items in the quick-access pocket at the front of the pack

Aer Tech Sling 2 Review Outline Of Item In Quick-Access Pocket
Access the Pro Community Discussion
Get your questions about the Aer Tech Sling 2 answered from our team and the Pro Community right here on the page. Plus, join discussions with other members about gear, guides, and more.
Other Bags & Luggage Reviews